Re: Ultimate Wrestling Mayhem
---
Turbo Feedback
Nice start with the real emphasis on the world title tourney, which is obviously taking centre stage here tonight with your two big semi-final matches. Have to say, I think youíre getting better with Coachman on commentary, and Iím really starting to enjoy what he says.
Aries promo by himself to kick it off? A bit surprised by that, but Iím certainly not going to complain since ĎA Doubleí owns pretty damn hard. Have to say, the promo from Aries, while just a short little promo to get himself some heat was pretty damn good as he tried to play on the fans nerves by asking for cheers and respect, while also talking himself up well. The calling of The Holiganz as losers with their loss to the comedy characters last week, albeit with Sydal doing it for them, was good too. Clever. Kendrick probably had to stand up for his team, although he still had next to no character here at the end of the promo which was a little disappointing. Still, loving what youíve been doing with Generation Next, as theyíre really becoming a highlight of your show.
Nice little match to start the show off with, with two of your more exciting guys on the roster. Aries picking up the win after the way the promo went was to be expected, as it seems youíll play on this winners and losers storyline up until The Massacre, which I donít mind. Good start to the show with the promo and match.
Nice little promo from Daniels here, with the character being pretty much on. He had to address the whole Helms situation, so to see him do it here was good. The shtick about how physical pain was only temporary and how he was mentally strong was nice, and made for a pretty good backstage interview. Good stuff.
Okay little promo keeping The Worldís Greatest Tag Team loosely connected here and hyping up the matches for later. Did its job just fine.
The Massacre is looking good thus far. Looks like youíll be having some good matches on there with the two title matches and Daniels vs. Helms looking to be your likely big matches at this stage.
Even though Haas owns and AJ is a good wrestler as a face, not sure they would have the time to put on a five star match on a one hour show.
The match seemed nice, and of course AJ picking up the win was to be expected since he always looked to be headed to The Massacre against Shelton Benjamin. The handshake after the match is interesting, showing Haas perhaps as a bit of a face, which could create some tension with Benjamin. Weíll see where that leads.
Nice little promo from Most Wanted here, with some really good arrogance to it. For a tag team youíve put together, I think youíve worked them in quite well, and the gimmick is working for mine. Good to see, as both guys (well, Harris when heís not obese) are fairly talented.
As expected, a little tension between Haas and Benjamin. Nice to see Haas really putting over AJís abilities with the simply phenomenal line. Pretty good promo here which served a good purpose in letting AJ look good, even without being involved in it.
Okay little segment here, I guess to set up for Lethal/Sydal at The Massacre. Have to say, I loved Strongís line of ďOr maybe you should get out of the wayĒ, and Lethal showing no fear and not backing down gives him some credibility. No doubt Lethal will get involved by making a run in or something to save The Hooliganz from a three on two beatdown in the next few weeks or something of the like, and weíll get Lethal/Sydal at the Pay-Per-View, which should be a pretty good match.
Okay promo from Styles here, although rather than cutting right from not knowing who heíd rather face to talking about his own fighting spirit, I would have liked to have seen him maybe talk about the good qualities of both men in the other semi-final and really try to put them over. Still, like I said, an okay promo with all things about Stylesí limitations on the mic considered.
Like I said in your newswire, I love The Naturals, so seeing them in UWM is something Iím very happy about. Most Wanted losing so quickly came about as a bit of a surprise, but I guess this gives a chance for the two teams to have a bit of a feud all of the way up to The Massacre, and it makes sure The Naturals really debut with a bang, which is certainly a good thing.
Little promo from Helms was alright here, showing his intensity, and no doubt foreshadowing his attack on Daniels in the main event to cost him a shot at the title. Glad to see Helms getting some real attention in this thread, as quite simply, he owns.
Nice little video to really build up the world title match at The Massacre. Good to see you paying such attention to the tournament tonight and making it as big as possible.
Battle royal at The Massacre could be a good way for you to bring some new guys into your company and allow some other guys some screen time to look good. Not so sure about the five minute off thing, but itíll be an interesting gimmick, I guess. The four way should still be a good preview.
The ending of this match was to be expected, with Helms costing Daniels the win so he can still have a shot at whoever becomes champion at The Massacre. Hardly a surprise, but it still works well. Benjamin vs. AJ should be a good final, and Helms vs. Daniels a nice match on the card too, giving you a few good matches for The Massacre.
Another pretty good show here, Crazian. Consistent throughout, and I thought that everything did what it had to do in terms of the angles youíve got going on. It doesnít seem like this thread has been around at all, but with just one more show to The Massacre, it really feels like this is moving at a good pace while still having a fresh feel to the thread, which is great. Looking forward to next weekís show to see how The Massacre card shapes up to finish with, and then of course The Massacre itself.
---
Re: Ultimate Wrestling Mayhem
---
I'd love to thank Shocker and Bkb Hulk for their continued feedback and support. I honestly think you guys are the only two really reading this thread, so I appreciate it. Here's some news by the way...

UWM Newswire


The May 25th edition of Tuesday Night Turbo received a 0.8 rating. The rating is the lowest yet, and only half of what TNT received last week. The rating is low due to having to compete with the NHL Stanley Cup Finals, and the NBA Championship Finals. Despite the minor rating setback, Ultimate Wrestling Mayhem is prepared to bounce back with the final Tuesday Night Turbo before The Massacre. Furthermore, it has been confirmed that a half hour show will be produced every Saturday on Ultimate Wrestling Mayhem's website. The show is set to be called Saturday Night Shockwave.

A couple of contracted wrestlers have yet to appear on Tuesday Night Turbo, but will make their debut at The Massacre. A few wrestlers will debut in the UWM Open Invitational Battle Royal, while possible free agents wrestlers will also try to impress in this battle royal. Word is that a few professional wrestling 'legends' will be making appearances in the show, as well as the battle royal.

The speculations can finally be put to rest. The "Phenomenal" AJ Styles takes on the "Gold Standard" Shelton Benjamin at The Massacre to crown the first ever UWM World Heavyweight Champion, BUT there is no word on who the winner is yet. Word is that creative is having a tough time deciding with the vote being split right down the middle at this point.

A few more matches are expected to be announced on the last edition of Tuesday Night Turbo before the The Massacre. The four hour pay-per-view currently has three announced matches with Gregory Helms versus Christopher Daniels being rumored as well. There will possibly be a match featuring Most Wanted as well.

The Naturals have SIGNED with Ultimate Wrestling Mayhem! Paul Heyman was excited about the fan reaction the two received last week against Most Wanted. The Naturals' appearance last week was suppose to be a one time deal, but they made the most of it. The two aren't expected to make a proper debut until after The Massacre.

More names are circulating around the internet as possible UWM signings. Most notably are Carlito Caribbean Cool, Jack Evans and Paul Burchill.

Lastly, with the The Massacre coming near, there is expected to be a huge change after the pay-per-view with creative wanting to change things up drastically now that things are settling down a bit.
---
---
Last edited by Crazian; 06-14-2010 at

11:41 PM

.
Moron
Join Date: Dec 2009
Posts: 3,750
Points: 0
Re: Ultimate Wrestling Mayhem
---
Good job with the ratings news-piece and how you've implemented outside influences such as the Stanley Cup finals. New show on Saturday? Sounds good to me. Will you be writing it or recapping it?
I like the prospect of a battle royal consisting of free-agents/legends looking to impress. I've actually done something like this before and it has good possibilities for a feud to come out of it, with the guy who is eliminated last feeling bitter at the winner etc.
I'm a big fan of The Naturals and have been ever since their TNA run starting in 2004. I missed their match with AMW but I look forward to seeing what they do here in UWM.
Burchill, Carlito, Evans - of them, I'd most like to see Evans and Carlito. However, Burchill can serve a purpose if you want him to, so I guess we'll have to wait and see.
For what it's worth, I think there's too much spacing between the 'newswire' logo and the news. Maybe space them out a little less. Whilst I'm here, I think you could do with losing the logo all together and just go with the plain blue text.
Things are looking good, Crazian. I've not been following this in the past I regret to say but after reading through most of it I can definately say that I will be doing so from now on.
Keep it up!
Re: Ultimate Wrestling Mayhem
---
Quote:
I'd love to thank Shocker and Bkb Hulk for their continued feedback and support. I honestly think you guys are the only two really reading this thread, so I appreciate it. Here's some news by the way...
]
I read this to, I'm just a little late on things.
Here's some Turbo feedback for the show before your last one, and I'll be getting to your last show after I get to BKB's Smackdown.
Turbo Feedback
The opening video package was good; as it helped me realize everything that has been going on in this thread. A tournament for the title, a Helms/Daniel feud, which looks like Helms is getting a huge push in, and a tag team feud involving Generation Next and a tandem containing Harris and Cade seems pretty damn good to me. I'm pumped to read this, mate.
at you calling the commentators handsome. I liked the arrogance from The Coach, and the comprehensive recap of what has been going on, and what Matthews and Coach think about it was done pretty well.
Helms started off decently enough, although I wasn't to sure about how he used the fans pop against them. Don't get me wrong, I like the idea of Helms trying to be an ass, and getting on the fans bad sides; however I don't understand how a pop was made because they were shocked. I'm pretty sure the audience would have just been happy because Helms lost. From here, the promo went pretty good again until Helms saying "mumbo jumbo". I get he's trying to be an edgy asshole, and as I said earlier I dig it, but I feel as if he should be a little more witty to be a success. A perfect example was your next line about the angel being fallen, that was brilliant, imo. I liked the bit about the prophecy to, although the hurricane comment doesn't cut it for me. I'd personally prefer if you'd sway from that, as it was a gimmick he had in a different company, so I really don't think he should be referring to it. Paul Heyman as GM is a little common in created feds, yet if you can make him entertaining enough I'll be sure to dig it. First issue, please don't have a passionate Heyman call Helms Gregory. Gregory just seems way too formal for how passionate you were trying to make Heyman sound. Whilst being passionate and all, its typical Heyman, which in a created fed is a bit boring for my liking these days, but I'll just have to wait and see how it goes. I don't really like the stipulation regarding Helms getting a shot whilst Daniels is champion; it's just being made far too early. I doubt Helms would be that worried about Lethal as well, after all Helms is supposed to be confident in his talent. Overall, an alright start, just a few little areas need work.
The match writing needs some work as well. Your sentences are way to short and choppy, try to have less full stops, and more commas, as it will allow for your matches to flow a hell of a lot more nicely. Anyway, a good win for Helms, although he probably should have been able to get the win clean, as after losing last week, it'd be a nice way for him to keep face. Whilst he still picked up the victory, he lost last week, and had to cheat to win this week, and if he's going to be credible when he faces Daniels, he is going to need some clean wins over guys like Lethal.
AJ interview was alright, but you probably made him a little too sickening. The part about Daniels was all good, but wishing Haas luck a week before the match just seems way to, well nice, tbh.
at the attempt to make Shelton seem charismatic, it didn't really work as I felt that his part was very generic. The only thing he did different then what anybody else could do, was he threw in a few nicknames. Getting dropped on his ass was good though, although the that's bullshit part really wasn't necessary.
Generation Next segment has me pretty intrigued, and everything seemed okay, yet Sydal's line where he said Rod twice in a row seemed a little awkward.
I didn't like the cheap rip off of Freddy Krueger for your PPV commercial.
Helms will be champ… Awesome.
I'm not to sure what to think of this tag team match. For one, I really thought The Hooliganz should have got the win, as they are a team that are number one contender's, and they need some momentum. On the other hand, I liked the way you had Sydal interfere; the Shark Boy thing was very clever, and I guess it was a good way to get heat. Even still, Shark Boy and Delirious are not even a proper tag team, so them getting the win over number one contenders kind of irks me.
Heyman and Gordon segment was alright, as the matches announced for next week means it is going to be a pretty epic show. With that being said, they both sold next week's show pretty well, yet they seemed a little to, well, robotic for my liking.
WGTT back together, even if for one night only equals huge ratings.
A Most Wanted push beginning next week is something I'm really looking forward to. I love original tag teams that I can really picture, and this is definitely one of them.
A terrific win for Styles and Daniels, especially since Styles had to compete through most of the match by himself. The WGTT didn't look all that good though, but I'm sure at least one of them will bounce back in the semi finals next week.
Overall, the show was pretty good. I loved it in terms of booking, yet there's a probably a little improvement to go in the writing scheme of things. Even so, I feel this has a lot of promise, and I'll continue to tune in when I can.
---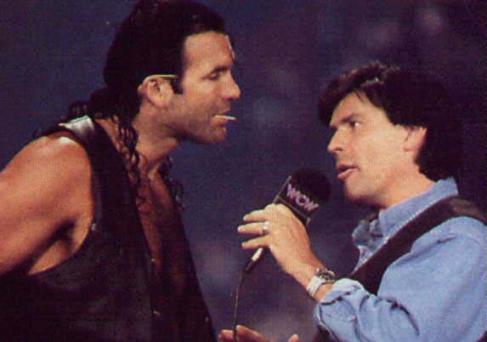 Moron
Join Date: Nov 2007
Location: England
Posts: 8,966
Points: 0
Re: Ultimate Wrestling Mayhem
---
Good news and notes Crazian, I hope you sign Carlito and Burchill as I rate them both and Evans coming in would be cool as well, as well as anybody you debut in the Batle Royal at The Massacre which I look forward to seeing. The huge shake-up sounds intruiging as well, don't see much that needs changing but I hope if it happens, it's good.

Looking forward to the preview.
Re: Ultimate Wrestling Mayhem
---
Finally caught up on this thread and I must say I like the originality. A non-WWE, WCW, ECW, TNA thread...very interesting. ESPN seems like a good fit, and the ratings drop is something that makes sense. Your on a Sports Network, your going to get hit in the ratings when some big sport event happens. What will be interesting is do you ever think ESPN will pre-empt you? LOL

Paul Burchill's Ripper Gimmick is my favorite from OVW...hope he does a version of that here if signed.

You've built Massicre pretty well with Benjamin/Styles and the title tournament...the Helms/Daniels match is the one I'm most looking forward too. OH and I know it was a few shows ago, but I loved the Shark Boy switch in the tag feud!

Looking very forward to the next TNT, will review it in full when posted.
Asking JAMES ELLSWORTH for Wrestling Advice
Join Date: Apr 2010
Location: Cork, Ireland
Posts: 372
Points: 0
Re: Ultimate Wrestling Mayhem
---
Similar to Klebold, Have not been following lately but after reading the last show and the previous news I certainly so so from now on, I will also review if I can.

Love the idea of the battle royal, looking forward to see who the Legends and Free Agents are.

Also looking forward to seeing what other matches will be announced for the PPV, Massacre is looking good at the moment.

I like the Naturals signing for UMW.

Hoping for Carlito to sign, not really farmiliar with who Jack Evans is, and I'm not a fan of Burchill.

I'm not really sure why you want to change things up, but still...well I'll just see what you have in store.

Don't have time to reveiw your show atm but I will reveiw your future shows.
Asking JAMES ELLSWORTH for Wrestling Advice
Join Date: Jun 2010
Location: Knoxville, TN
Posts: 439
Points: 0
Re: Ultimate Wrestling Mayhem
---
I started reading this thread a few days ago and I really like what you're doing. I'm sorry I don't usually review BTBs but if I have the time I'll try. Can't wait for Massacre.
---
[CENTER]"We got our asses kicked, plain and simple. No matter what we did, we could never get the upper hand. They had Henry, and we didn't. That's all there is to it."
- Eric Bischoff
---
Last edited by Apostle Lukes; 06-15-2010 at

12:24 PM

. Reason: grammatical error
Re: Ultimate Wrestling Mayhem
---
I'm now officially up to date.
Turbo Feedback
Video package revolving around the championship tournament and Helms much like last week, and itís pretty much to be expected, as itís the most exciting stuff youíve got going on, at the moment.
Austin Aries to open the show? A little unexpected, tbh, yet Iíll take it as the man OWNS. Honestly, I felt like the beginning of this promo was really awkward. I canít really explain it, although if you read up until the part about Aries asking the fans to understand greatness, I think youíll see that you definitely could have worded this a little better. Besides that, the promo was okay, except I wasnít a huge fan of Kendrick being called Spanky as itís a WWE term. When Kendrick came out the match should have just begun, the mic work from him, albeit short, was pretty embarrassing and not really needed.
Stating that he was going to kick Aries ass wasnít too bad, yet then mentioning the losing streak thing shows just how badly this was positioned. The kick ass line was definitely the go home line so to add something afterwards was a little silly, imo.
It was a pretty good opening match to start the show, although I will say I was a little disappointed with the match writing. Your sentences are way too short and choppy, it doesnít allow for the matches to have any real flow, which I think they need, even if it is in recap. The result was booked well though, as Aries looks good, and the ďlosing streakĒ continues.
The Christopher Daniels was pretty damn good, and when this Daniels/Helms feud explodes, which I think will begin this week, it is going to be awesome.
Haas/Benjamin segment was interesting, as I can kind of see these two guys fe3uding with Styles over the title later down the track.
The Massacre isnít far away. I canít wait.
The little bit of Haas and Styles that you did go into detail with seemed great, so Iím hoping these two can go at it some time on PPV. As for the match writing, once again it was really short and stop start, with far too many full stops. When Haas kept going into the ropes, with the leapfrog and all that, it should have all been continuous, all the full stops just ruined the flow, and I feel this was a perfect example of exactly what I was talking about. As for the actual match itself, I expected Styles to go over, whilst Haas still looks pretty good, and the hand shake afterwards was a nice touch. With Haas heading towards being a fully fledged face, I can maybe see him feuding with Benji sometime soon as well.
Most Wantedís interview was quite an entertaining read, although Iím not digging the whole Bang Ďní Bang thing, so hopefully that doesnít stick around.
Benjamin/Haas confrontation was all good, furthering my beliefs that perhaps these two are going to eventually feud. With that being said, the only thing I didnít like about this segment was when Haas was talking. Haas calling Styles simply phenomenal was way to kiss ass for my liking.
Iím quite enjoying what youíre doing with Jay Lethal, at the moment. Standing up to people and stuff, itís a little similar to what heís currently doing in TNA, but it is probably the perfect way to get him over. As for Generation Next, they looked a little bitchy not going on the attack here, so hopefully they get Lethal back next week or something. Hooligans and Lethal/Generation Next six man tag match would be pretty nice.
AJ Styles doesnít have good microphone work, and this seemed very generic. I guess I didnít really like this interview, as it could have been given to somebody like Helms, who disappointedly still hasnít been on the show.
Really not happy with what youíve done with Most Wanted here. Very disappointing, imo.
Finally Helms is on the show. The interview was a little too brief for my liking, yet I guess it got the point across.
I prefer this ĎWorld Titleí based video for The Massacre, much better.
The Battle Royal and the match next week, seems a pretty good idea to get everybody on the show, heading into the inaugural PPV. Heyman was pretty in character to.
An awesome main event to say the least, despite me still having issues with the match writing.
I always expected Benjamin to get the victory here, and Helms costing Daniels sets up possible another match for The Massacre. A great ending to a good show, mate.
Overall, I found this to be a little better than the last show I reviewed. The promos seemed to be more in character, and just written better for the most part, and the match quality would have been amazing, you just need to work on your match recaps a little. Things are shaping up to be pretty nice for The Massacre though, so Iím glad Iíve caught up, and can now get into the hype of the PPV. Good work on establishing this thread, mate.
---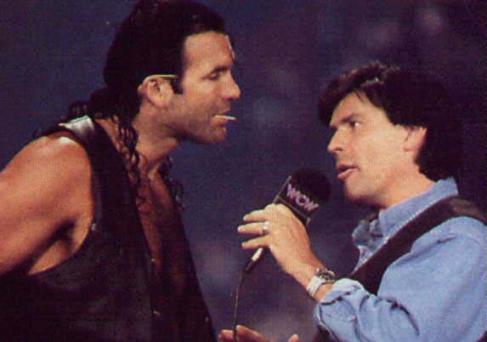 Re: Ultimate Wrestling Mayhem
---
@ all of the sudden comments. See, others do read, babe. They just need some encouragement to come out.
News looks okay. Certainly the most exciting things would be Carlito and Burchill signing, and the big shakeup, but it's also nice to see you keeping this somewhat realistic with the ratings battles of having to compete with ice hockey and the like,
---
Posting Rules

You may not post new threads

You may not post replies

You may not post attachments

You may not edit your posts

---

HTML code is Off

---