Re: WWE 2008: Bringin' the Pain!!
---
Hey man, I read your first show, the Raw after Mania. Will try and get some comments up when I have more time, but I noticed in the main event after Punk had defeated Orton you said he had beat the WWE Champions. Minor thing but I thought you could edit it to make that show look a little neater.
Re: WWE 2008: Bringin' the Pain!!
---

April 14th | US Cellular Arena | Milwaukee, Wisconsin

Monday Night Raw Preview

This week's giantic Monday Night Raw comes will come to you live from the US Cellular Arena in Milwaukee Wisconsin and it will feature a giant, double main event on the road to Backlash.

The first main event Monday in Milwaukee will feature the next champter in a bitter, three and a half year rivalary when former Evolution stablemates, the WWE Champion Randy Orton faces "The Game" Triple H. Their rivalary goes back to 2004 when Triple H took the World Heavyweight Championship away from Orton. The rivalary also re-newed in a Triple Threat Match with Orton's WWE Championship on the line at Wrestlemania 24 where Orton came out victorous over The Game and John Cena. Can Orton top the Game once again just three weeks before a giant Last Man Standing Match with John Cena at Backlash?

Speaking of that Last Man Standing match at Backlash, Cena will not have it any easier then Orton in our second main event of the evening when Cena goes one-on-one with the Big Show. Last week we saw Show go on a rampage that ended with him Knocking out Kane! Will Cena be the next to fall victim to Show's rage or will Cena keep on a roll headed to Backlash.

With Triple H set to go head-to-head with Orton his opponent at Backlash, Mr. Kennedy isn't quite getting the night off either in his home of Wisconsin. Kennedy is set to be in action tonight when he goes head-to-head with the up and coming David Hart Smith.

On the subject of up and comers we will see two of the best on Raw go at it this week. After stealing a win from Kofi Kingston to become the top contender for Chris Jericho's Intercontinetal Champion at Backlash Shelton Benjamin will be back in action this week against the man he stole a win from, Kofi Kingston. Can Shelton keep rolling on the road to his title match at Backlash, or will Kofi prove he was truly deserving of the title shot.

While we know that Benjamin will be challenging for the Intercontinental Title at Backlash, we don't know who is going to challenge Cody Rhodes and Hardcore Holly fo the World Tag Team Titles at Backlash. Well this week we'll find out. The Redneck Wrecking Crew as well as Paul London and Brian Kendrick have both had their issues with the World Tag Team Champions over the past few weeks but only one team can challenge at Backlash, we'll find out who that will be when they go at it this Monday on Raw.

Confirmed Matches
Non Title Match | WWE Champion Randy Orton vs. Triple H
John Cena vs. The Big Show
Shelton Benjamin vs. Kofi Kingston
World Tag Team Titles Number One Cotenders Match | Paul London & Brian Kendrick vs. The Redneck Wrecking Crew
Mr. Kennedy vs. David Hart Smith
---
Once upon a time the Pain was brought in 2008.......It will be brought again........
Soon....
FlyinStyles Returns to BTB, January 2014
Re: WWE 2008: Bringin' the Pain!!
---
April 14, 2008 | Milwaukee, Wisconsin | US Cellular Arena
A video recaps opening promo from last week establishing that it will be John Cena vs. Randy Orton in their final face-off a last man standing match for the WWE Title at Backlash. Then we see footage from the Main Event with JBL hitting the Clothesline from Hell on CM Punk to get the win for himself and Randy Orton. Then finally we see Cena checking on his friend Punk and Orton planting him with an RKO!
**Raw Opening Video**
Pyro
Pyro
Pyro
We pan through the arena and see the ring set up with a designer carpet over the over the actual ring and a small round table set up in the middle of the ring with two bottles and three glasses sitting on top of the table. Two chairs are placed next to the table
Jim Ross:
Ladies and Gentlemen welcome to another jam-packed edition of Monday Night Raw, I'm Jim Ross joined as always by my partner Jerry "The King" Lawler.
Lawler:
Thanks J.R. I'm very excited to be here tonight in Milwaukee especially since Raw tonight, is simply stacked.
Ross:
That it is King and it all starts with the main event. Longtime rivals collide when the WWE Champion Randy Orton faces "The Game" Triple H.
Lawler:
I can't wait J.R.! But that's not the only big match tonight.
Ross:
You're right King, don't forget about the Number One Contender to Orton's WWE Championship, John Cena.
Lawler:
That's right tonight Cena will go one-on-one with one of his former rivals. The Big Show.
**Longhorn**
The boos rain out throughout the arena as Raw's only self-made Millionaire John Bradshaw Layfield's music hits. JBL's limo pulls out onto the ramp and JBL comes out right after it stops moving. JBL stands up and walks around the limo wearing a dark grey suit jacket and dress pants with lavender shirt and purple tie along with his trademarked cowboy hat. JBL walks around to the backseat of his limo opens the door and two attractive young women come out. A blonde in a short red dress and a brunette in a short black dress. They both lock onto one of JBL's arms as he walks them down to the ring. He holds the ring ropes down as the two young ladies walk into the ring and sit down in the two chairs placed in the ring. JBL picks up a mic and begins.
JBL:
You know everything I've done in this great life of mine. All of the accomplishments, all of the great moments inside and outside of this ring have been for one man and one man only. Me!
Typical selfish JBL brings out the boos in Wisconsin
JBL:
When I made my first million dollars without the help of anyone else I didn't do it to impress anyone or get noticed, I did it for me.
More Boos
JBL:
When my I won my first WWE Championship back in two-thousand and four defeating the legendary Eddie Guerrero, I didn't do it so you people would applaud me or appreciate me. The only reason I did it was because I knew I was better than everyone else in this company and I owed to myself to have something to shove in your face saying I was officially better than everyone else.
Tons of boos
JBL:
And next in a few weeks at Backlash when I decimate CM Punk just like I have the past two weeks here on Raw and take his Money in the Bank Briefcase. I won't be to save you people from having to watch a worthless pathetic World Champion, it will be because I want the Money in the Bank Briefcase and when I want something, I get it.
More boos
JBL:
Then after I take that briefcase and cash it in and once again become a world champion. It won't be for you, it will be for me. It's been a while since I've been champion and I think you people are starting to forget about my greatness. So I once again owe it to myself to shove it in your face how much better I am than you!
The Boos pour the arena once again
JBL:
But tonight, I'm taking a break from being about me. I'm going to do something for you people!
This gets no reaction
JBL:
Shocker I know.
The Self-Made Millionaire walks over the top of his table set up in the ring and points at the bottles of wine.
JBL:
Do you see these? These are two of the finest, most expensive bottles of California wine I could fine. And unlike the five cent cans of beer the hillbillies that inhabit in this state seem to pride themselves on drinking, they're for people with actual class.
Calling the people in arena hillbillies = instant cheap heat
JBL:
Now I went out and found the only two beautiful women in this entire state. The only ones that aren't missing three teeth and don't have beer guts bigger than Hornswoggle.
The arena is just filling with heat as JBL continues to piss off the Milwaukee crowd.
JBL:
Now ladies, this right here is a bottle of two thousand and four Behrens and Hitchcock Cemetery Cabernet, one of the finest red wines you will ever taste in your life. Sought after by wine collectors everywhere.
JBL pours three glasses for himself and both ladies. They all share a drink
JBL:
Now how was that ladies
The Blonde one takes the mic
Blondey:
Delicious
She hands the mic back to JBL
JBL:
Just as I suspected it would be. Now on to the white wine…
**This Fire Burns**
The building in Milwaukee erupts as Mr. Money in the Bank himself, CM Punk comes out wearing jeans, a CM Punk sweatshirt with the Skeleton thing on it zipped half way up and no shirt underneath it. Punk enters the ring with a mic of his own.
JBL:
What in the Gawd's name are you doing out here? This wine tasting for people with class only. Not Chicago street thugs who walk around wearing jeans without shirts. Zero class.
Punk lifts his mic up and begins to talk to JBL
Punk:
John I'm gonna stop you right there, because you're right this wine tasting is definitely not the place for me.
JBL nods
Punk:
And I could go into all the reasons why someone like me doesn't belong at a wine tasting but quite frankly I don't want to bore the crap out of these people anymore so I'm just going to get straight to the point with you JBL.
This gets a pop
Punk:
Though while we're on the subject of being out place I do want to mention something. When I came to wrestling shows as a kid and I looked at this ring I expected to see Ricky Steamboat and Rowdy Rody Piper putting on amazing matches. I expected incredibly moments like Hulk Hogan slamming Andre the Giant, not wine tastings!
JBL looks angry as Punk gets a good cheer
Punk:
I mean seriously what would you guys rather see? A wrestling match
Pop
Punk:
Or a creepy middle aged man shoving drinks down some young ladies, who I should add may or may not be of the legal drinking age, throats hoping he can get a little lucky after the show.
JBL looks enraged as he takes his cowboy hat off as the crowd goes wild.
Punk:
John you're wasting everyone's time. I mean if you wanted to come down to the ring and talk about you're going to supposedly decimate at me at Backlash, blah blah, same typical speech we here someone give to start this show off every week that would've been fine but this, this is just stupid!
More cheers for Punk
Punk:
So at the risk of everyone just plain leaving because they aren't getting what they came here to see, wrestling. I've got a few things to say to you John.
An Angry JBL lips "oh really"
Punk:
Yes really John, now I can already tell you don't respect me. You don't think I stand a chance of beating you at Backlash
JBL:
Well ya finally got something right
Punk:
This right here is what I'm talking about Johny, you talk a big game you really do. All you want to do is come out here and say you're going to beat me and say you're going to take my Money in the Bank contract. It's easy for you, it's what you're good at it.
JBL looks confused.
Punk:
But you want to know what I'm good at John? What I'm good at, is wrestling. I don't drink fancy wines, hell the most potent drink I've ever had in my life was a diet vanilla Pepsi. I don't smoke, I don't do drugs, JBL I'm Straight Edge! The only thing I have in my life is wrestling and I need the highest prize in wrestling. The WWE Championship!
That gets a pop
Punk:
And you and I both know my Money in the Bank contract is a one way ticket to that contract. That's why you want it. That's why I want to keep it. It's almost a free pass to the top of the mountain.
JBL nods and lips "I'm already on top"
Punk:
We might both want the contract but here's where the differences between you and me begin to show. When I wanted this, I busted my ass off working hard to win an intense ladder match against seven of the best superstars in the world on the biggest stage of them all.
The crowd loves it when Punk does stuff like that
Punk:
But what do you do John? You hit me from behind and knowing I won't back down from a challenge provoke to putting my contract on the line. It was clever, I'll give you that, but it's not going to work.
Pop
Punk:
You forgot one key element in your plan, you have to beat me John. You have to beat and try to take everything I've ever worked for right out of my arms. You think I'm just going to let you have it John? Because that's not what's going to happen at Backlash.
JBL cuts him off
JBL:
You just shut your mouth right there. Who the hell do you think you are? Coming out here in my ring talking to me, a Wrestling GAWD like this. I have every right to beat the living hell out of you right now.
Punk cuts him off
Punk:
You might have every right to beat the living hell out of me right now, but you won't. Because that's not what John Bradshaw Layfield does.
Punk reaches over to the table and pops open the bottle of red wine.
Punk:
John Bradshaw Layfield talks a big game, attacks people from behind, and then goes "oh look at me I'm a gawd". You won't do anything as long as I'm right here standing in this ring, looking you straight in the eyes, will you?
JBL just keeps building up anger
Punk:
Now John, I came out here to give people a show, and right now I'm going to show people proof that JBL won't do anything if you stand up to him. Point and case right here
Punk pours the red wine into an empty glass and then throws it right on JBL's suit!! JBL looks enraged but doesn't respond yet. He takes his off and tells the girls to get out of the ring. Punk picks up his mic as JBL shakes his head and stares at Punk with angry look on his face. Punk turns his back to JBL and begins to face the crowd in the opposite direction from where JBL is and speaks again.
Punk:
See what I mean..
Punk stops as JBL grabs the bottle of white wine and bashes it over the back of Punk's head!!! Punk falls to the floor grabbing the back of his head you can see the blood dripping out of the back of his head. He holds his hands over the back of head and covers it with his hands. You can see the blood starting to stain his tape as the doctors run out to the ring along with security. The security people immediately pull JBL and his two dates to the back as the doctors grab Punk and sit him up applying towels to the back of his trying to clearly the glass from the ring. Punk is grimacing in pain as we pan through the crowd and see some shocked fans sitting in silence. JBL is escorted to the back as we cut to commercial.
Commercial Break
We return in a hallway backstage where security is dragging JBL (whose been stripped down to just a wife beater and dress pants) out of the building when the Raw GM William Regal comes up to him wearing a black suit with a white shirt and black tie. Regal orders security to stop for a second.
Regal:
Are you bloody out of your mind!! You realize if they glass lands the right way you could've killed him.
JBL:
Did you hear the way he was talking to me? William you're like me you're a veteran, you're a general manager, I'm a millionaire. Guys like us, we deserve respect and CM Punk wasn't giving that to me.
Regal nods his head
JBL:
You understand me right? He tried to embarrass me and threw wine on a very expensive suit, I had to do something.
Regal shakes his head.
Regal:
Mr. Layfield we are very similar in some regards but you have to listen to me right now. I have a job to do and I can't let these kind of stunts be pulled on my show. You put another's man life in danger. Get out.
JBL looks pissed off and shocked as security grabs him
JBL:
What!? You've got to be kidding, I deserve some damn respected!
Regal turns around and walks away as security drags JBL out of the scene.
Cut to Ringside
Ross:
Welcome back to what has already been a hectic Monday Raw Night Raw and we've already seen some a shocking event take place.
Lawler::
J.R. what JBL just did to CM Punk is despicable.
Ross:
As of right now we don't CM Punk's status after JBL just broke a wine bottle over his head.
Lawler:
Punk appeared to have some cuts on the back of his head, he was bleeding heavily from that area and as of right now his future status here on Raw is, well, unknown.
Ross:
And if we find out anything we'll let you know as soon as possible.
**Obsession**
The crowd goes nuts as the number one contender to the Women's Championship Mickie James comes out with Maria as Lillian Garcia announces this tag team match.
Ross:
But now we have to turn our attention away from the CM Punk situation and back to the ring in action
Lawler:
And may I say Mickie James and Maria are very easy to turn their attention to J.R.
Ross:
Not to mention Mickie has been on a bit of a win streak lately holding wins over the WWE Women's Champion Beth Phoenix and Melina in the last two weeks and I'm wondering if she can carry her momentum to Backlash when she challenges for the Women's title.
Lawler:
Mickie would look good wearing that title around her waste.
**Glamazon**
The Women's Champion Beth Phoenix, along with Melina come out glaring at Mickie James, Mickie smiles as they enter the ring and the match begins
Opening Match | Diva's Tag Team Match
Mickie James & Maria vs. Women's Champion Beth Phoenix & Melina
Pretty standard Diva's tag match. Mickie and Beth started off the match Mickie came in hot and hit a quick series of moves on Beth capped off by a neckbreaker and a nearfall. Mickie made a tag to Maria after the near fall hoping to get some rest. When Maria got in though Beth caught her off guard with a giant boot to the face. Beth over powered Maria until she got a tag into Melina. Melina and Beth went into typical heel domination mode working over Maria with a quick tags and physically overwhelming her. Every time Maria got the slightest bit of offense the heels quickly squashed her chances of getting a tag into Mickie. At about the four minute mark Maria appears to be about done when Beth took her up for a Glam Slam…Maria kicked and squirmed and eventually reversed out then pushed Beth away into the ropes. Maria pulled a drop kick out of no where! Beth drops to one knee as Maria falls close to her corner. Beth also needed a breather and jumped over to tag in Melina, Maria got the hot tag into Mickie as well. Both ladies go at each other, Mickie gained the upperhand with some clotheslines and a jumping body press that planted Melina. Mickie went for a cover but Beth came in and broke up the count at 2. Maria jumped her way back in and tried to get Beth from behind with some punches, Beth turned around and tried to whip Maria out of the ring but she caught onto the ropes. The Women's Champ really had it out for Maria as she charged over and knocked her down with a huge clothesline. As that little scruff was happening, Melina was getting up and walked into a Mick Kick! Mickie made the cover when Beth was distracted and got the 1………..2……….3!!
Winners: Mickie James & Maria via pinfall @ 3:57
After the match Maria crawls back into the ring as the ref raises her and Mickie's arms. Beth and Melina sit at ringside. Beth completely ignores Melina as Mickie smiles at her and makes the normal belt around her waist sign. Beth holds up the title mouthing the words "It's still mine". Mickie shakes her head and we can hear "Not for long" with just three weeks separating tonight and their match at Backlash.
Commercial Break
We return in the interview area where we see Todd Grisham standing by
Grisham:
Ladies and Gentleman may I present my guest at this time, John Cena!
We hear cheers from inside the arena as Cena puts his arm around Grisham and smiles for the camera. Cena is dressed as normal in his orange and black Cena shirt and jean shorts.
Grisham:
Now John tonight you face the Big Show, what are your thoughts facing an opponent of the Big Show's size and strength just three weeks before facing Randy Orton in a Last Man Standing match. A match that will be your last shot at the title as long as Randy Orton holds the belt.
Cena:
You know Todd I'm don't wanna sound like I'm giving a generic cookie cutter answer, but it's the only answer I can give you right now Todd. It's just like every other match. Is Big Show huge, sure he is but is that going to change what I'm going to do tonight? Absolutely not. I'm gonna walk into that ring and I'm going to looking to win my match.
Cena nods as Grisham looks at him
Cena:
I don't know if that's the dramatic answer you were looking for Todd but it's what I do. I go out there and I give it my all and I win matches. Now maybe facing the Big Show just a few weeks before maybe the biggest match of my career isn't idea.
Grisham looks puzzled thinking where or not he should answer.
Cena:
Let me answer that for you, probably not. But that's not gonna stop me from going out there and doing my job and defeating the Big Show and then coming back in a few weeks and defeating Randy Orton in a Last Man Standing Match to become the new WWE Champion!!
The crowd can be heard popping for that
Cena:
And Randy if you're watching this I got some words for you. I know you got a big match with Triple H tonight so I'll make this quick champ. Like I just said, I win matches. It's what I do and our match at Backlash is the biggest match of my career considering it's my last shot at that title and if you think you're going to be able to keep me down long enough to leave Backlash with your title, you're damn wrong.
The crowd pops.
Cena:
I know sometimes I like to joke around and have some fun, but May fourth I'm putting that completely aside Randy because I want my title back and I know the only way to get it back to deliver you an ass kicking that there's absolutely no chance you'll be able to get up from!
Another pop inside
Cena:
And Randy, if you're thinking that you can keep me down for a ten count, you're so damn wrong it's not funny because there is no way that in my last chance to become the WWE Champion again I'm gonna lose a contest of will power to you Randy Orton, it's not what I'm about and it's not what's gonna happen at Backlash.
One last pop
Cena:
Thanks for time Todd, now I gotta go take care of the Big Show.
Cena smiles then walks out of the scene and we cut to ringside
Cut to Ringside
Ross:
Ladies and gentleman welcome back to what's been an explosive Monday Night Raw already and it's going to continue on that way it appears later tonight when John Cena faces the Big Show.
Lawler:
And don't forget J.R.. Our huge main event, the WWE Champion himself Randy Orton, against Triple H!
**Turn up the Trouble**
A mixed reaction as Wisconsin's own Mr. Kennedy comes out in his Official WWE T-Shirt and wrestling trunks. Kennedy walks down into the ring and his mic falls.
Kennedy:
This match is scheduled for one fall now let me introduce to you first a man that weighs two-hundred and fourty-five pounds, hailing from Greeeeeeeeennnnn Bayyyy Wisconsinnnnnnnnnnnn!!!
A huge pop as the people's state gets mentioned
Kennedy:
Actually let's talk about Wisconsin for a second. This is the place where I grew up, where everything that made Mister Kennedy, Mister Kennedy happened. Before I was beating up the likes of Triple H and Ric Flair around the world, I was beating little chump kids here and taking their lunch money.
That gets some boos
Kennedy:
Hell that guy in the second row…
We pan to the fans looking at each other, Kennedy points at a larger individual. The guy nods and points back at himself like "Me?"
Kennedy:
Yeah you fatso, I'm pretty sure I took your ham sandwich in fifth grade. I remember because it was a bigger challenge than anything I've faced here in the WWE!
That gets a lot of boos.
Kennedy:
But it didn't matter because despite holding onto your sandwich with all your might, you still couldn't beat me. I took what I wanted because I could and that's exactly what I do around here.
He's finally got the crowd completely against him as they're booing away
Kennedy:
And at Backlash, that's exactly what I'm going to do to Triple H. I'll be the big kid on the block who takes what they want, and he'll be the scared little kid who falls to me just like everyone else. And that's just how it's gonna be because I'm…
The boos forcing him to stop
Kennedy:
Well I'm…
More boos, Kennedy smirks
Kennedy:
I'm MISTTTTEERRRRRRRRR KENNNNNNEEDDDDDDDYYYY!!!!
More heat
Kennedy:
Kenn-e-dyyy!
The boos come in more as Kennedy drops the mic and takes his shirt off
**Rule Britania**
David Hart Smith, the son of the British Bulldog Davey Boy Smith and the nephew of Wrestling Icon Bret "The Hitman" Hart comes to a decent pop looking read to go, he climbs into the ring. The crowd cheers the young man trained from the Hart Dungeon as he enters the ring and the bell rings
Match 2
Mr. Kennedy vs. David Hart Smith
If you were expecting Kennedy to squash Smith, you got what you expected. Kennedy came right out and went at the young up-and-comer with jabs. Kennedy would whip Smith off the ropes and plant with a jumping clothesline. Smith with get a little on the feet offense with in with some punches to the chin of KK before Kennedy landed a drop kick to Smith's knee sending him to the mat. Kennedy immediately went down and put Smith in an arm locked and worked that for a while, eventually Smith counter grabbled him and got Kennedy on the mat with a headlock Smith managed to work that but eventually KK regained his base and pushed Smith away.
After Kennedy sent Smith off the ropes, Smith came back at Kennedy and sent him with a shoulder block which would mark one of Smith's last bits of offense in the match as when he went for an elbow drop on Kennedy, KK rolled out of the way Smith went down hard grabbing his elbow and it all went downhill for him from there as Kennedy grabbed him from behind and planted him with a reversed DDT!
That was just the beginning of the end as Kennedy went for a cover but Smith kicked out at two. Kennedy thought it was a three count and begin to yell at the ref while he stomped away at the son of the British Bulldog. The ref repeatedly told him he only got two enough to the point where Kennedy got in his face about it. Smith was back on his feet and stood up to Kennedy with some jabs to the jaw. He whipped the Wisconsin Loud Mouth off the ropes and went for a clothesline on the way back but Kennedy ducked under then stopped himself putting him in a good position to drop Smith with a neck-breaker. Smith rolled on the floor grabbing his neck. Kennedy would intensely look at his opponent before standing Smith up and planted him down with the mic check!! Kennedy would make the academic cover for the 1………2……..3
Winner: Mr. Kennedy via pinfall @ 7:04
Kennedy's music hits and he smirks as his mic drops down and the lights go out and spot light comes down on Kennedy as Smith rolls out of the ring quietly.
Kennedy:
And the winner is Misterrrrrrrrrrrrrrrrr Kennnnnnnnneeeedddyyyyyyyyyy!!
The boos pour in as the crowd has completely turned against their home state hero
Kennedy:
Like you didn't see it coming…
Kennedy drops his mic and walks out of the ring and we fade to backstage.
Cut Backstage
We appear in the locker room where we see Paul London sitting on a bench dressed to wrestle taping his hands up as one half of the World Tag Team Champions Cody Rhodes walks in wearing a white button-up shirt with some jeans comes in and sits down next to his buddy London.
Rhodes:
Paul I just wanna talk about what happened in our match last week. All I gotta say is I'm sorry. I just should've just let you go in there and finish the match for us, my pride got in the way. I still respect you as a competitor and I don't want to have any issues with you man.
London nods
London
: I completely understand dude, I felt bad about what happened last week too. I still got respect for you and I still got respect for Bob Holly. After me and Brian beat the Redneck Wrecking Crew tonight I'm looking forward to facing you guys at Backlash.
Rhodes:
I'll be rooting for you guys tonight, not just because you and Brian are my friends, not just because I respect you guys and love wrestling you guys, hell not just because I can't stand those rednecks Cade and Murdoch. But the biggest reason I'm rooting for you guys, is because Bob isn't very happy with Brian right now and I don't think he'll shut up until he gets his hands on him.
Cody and Paul share a laugh about that
London:
Well ya know old Bobby might have something else to whine about if we win that title shot because you guys won't have those titles over your shoulders anymore.
London chuckles Cody gets a little more serious
Rhodes:
Now I wouldn't go that far Paul, because Me and Holly don't plan on losing these babies anytime soon.
Getting a little more serious
London:
Well that might be a problem won't it?
Rhodes and London stare at each other for a second then London breaks the awkward silence
London:
Well I gotta go find Brian before our match. You take care.
London walks out of the room as Cody stands there for a second and looks at the title he's holding over his shoulder as we fade to commercial.
Commercial Break
Images of big buildings and bright lights that you would see in Hollywood, Cameras flash, and finally the pyros on a WWE Stage

Narrator: What makes for a great party?

We see John Cena on the stage doing his normal entrance thingy, the Undertaker rising up from under the stage, and Edge raising his arms setting up his giant pyro.

Narrator: Is it the stars?

We see images of Triple H pedigreeing John Cena, Randy Orton hitting Chris Jericho with an RKO and HBK drilling Ken Kennedy with a Superkick.

Narrator: Or is it the action?

We see fast clips of MVP, John Morrison and the Miz, Batista, and the Big Show flash across the screen.

Narrator: Is it all a case of whose invited?

We get a clip of Cena planting Randy Orton with the FU and CM Punk putting John Morrison down with a GTS.

Narrator: Or a matter of what the people in attendance make of it?

One more clip of excited Cena charging the ring, Orton doing the Legend Killer Pose, Kennedy catching his mic, the Undertaker making the cut throat sign, Edge setting up for a Spear, Rey Mysterio standing on the top turnbuckle, CM Punk doing that weird thing with his hands, and lastly Triple H flexing on the middle turnbuckle.

Narrator: They know how to throw a party. The real question is, will you be there?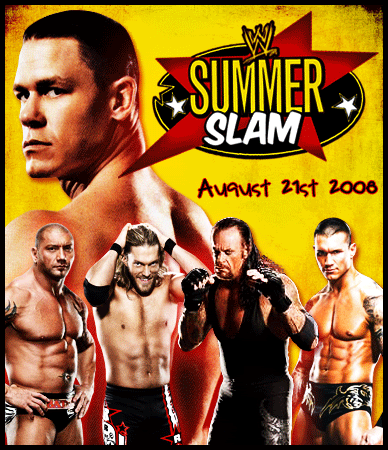 Cut Backstage
We return in the interview area once again where Todd Grisham is standing by..
Grisham:
My guest joining me at this time is the Intercontinental Champion, Chris Jericho!
A huge pop from inside the arena as we see Jericho wearing faded jeans and a black long sleeve thermal shirt.
Grisham:
Chris last week Shelton Benjamin won a Triple Threat match against Paul Burchill and Kofi Kingston to become the number one contender for your Intercontinental Championship at Backlash in a few weeks. What are your thoughts on the match and on Shelton Benjamin?
Jericho:
What are my thoughts on Shelton Benjamin? You really ask the hard hitters Todd. I have some interviewing experience, if you really want to here a good take on my match at Backlash with Shelton Benjamin, you let me ask the questions.
Grisham looks a little puzzled as Jericho takes the mic and makes a weird looking serious face.
Jericho:
"Chris do you believe you will leave Backlash the way you walked in, as Intercontinental Champion?"
Jericho turns his head and smiles looking like Regular Y2J
Jericho:
Of course I do I'm Chris Freaking Jericho! I'm the best there is. When I came back to the WWE to save everyone from the likes of people just like Shelton Benjamin I didn't come here with any intention of losing and I have no intention to lose to some like Shelton Benjamin, who quite frankly is just not as good as me.
"Y2J" chants break out inside the arena as Jericho turns his head and comes back around with the goofy interviewer face
Jericho:
"But Chris didn't Shelton pin you just two weeks in a tag match on Raw?"
Head turn, back to regular Jericho
Jericho:
Why yes he did and he can put that on his resume someday after he leaves the WWE and his applying at a McDonald's somewhere. Finance Degree, Can jump off a ladder, and pinned Chris Jericho in a tag team match the night after Wrestlemania twenty-four, what a fine employee you will make Mister Benjamin! You got the job!
You can the cheers from inside
Jericho:
Because that's about all that pin is worth to him, it'll look good but it has no effect on our match, zip, nada, zilch! Shelton you can pin me once, shame on me, but if you think you're gonna pin me twice, you're sadly mistaken.
That gets a pop as Jericho flips his head around and makes that weird interviewer face again.
Jericho:
"Chris you seem very confident that you're to defeat Shelton when Backlash rolls around, is that fair to say?"
Head turn, back to normal Jericho
Jericho:
Of course it's fair to say I'm confident, I'm always confident. Why wouldn't I be confident I think might be the real question, wow they need better interviewers around here..
That gets a laugh and a pop
Jericho:
But now honestly, there's no reason Shelton Benjamin can beat me at Backlash, is he talented, oh hell yeah he's talented and he's going to help me put on a great show for all the Jerichoholics watching. But he's not a champion, he doesn't have that edge that I do, he doesn't have that extra gear that all the great ones do. He doesn't have that it factor, where an opportunity presents itself that he just reaches out and grabs it and never lets go!
More "Y2J" in the background
Jericho:
And trust me when I say this, he'll need it to be and take my Intercontinental Title.
Jericho smiles as he leans in for one last message to Shelton Benjamin
Jericho:
Shelton dude, I wish you luck tonight because you're gonna need it to beat my boy Kofi Kingston, especially since he isn't happy about the way that triple threat ended last week. I'm even gonna wish you luck in our match at Backlash because quite frankly it won't matter, I know you're talented. I know you're gonna give me a fight. I know you're going to do something crazy that'll make the Highlight Reel. I know after the match all the Jerichoholics out there are gonna be in awe of how great of a match we just had, but I also know I'm going to win.
Big pop from inside
Jericho:
And if it's for one reason, and one reason alone, it's because I'm Y2J and you're not.
Jericho smiles and puts his arm around Todd Grisham
Jericho:
Now that was an interview!
Jericho walks out and we cut to ringside
Cut to Ringside
Ross:
Folks, welcome back to Monday Night Raw and that was an interesting interview to say the least with Chris Jericho.
Lawler:
It sure was J.R. he's definitely confident heading into his match at Backlash with Shelton Benjamin.
Ross:
That he was King
**Crank it Up**
One of Raw's newer members the Big Show comes out to some good heat after going crazy last week, not only knocking out Kane then screaming that he didn't need the fans and what not. Lillian announces this one fall match. Big show is wearing his normal black singlet and has an intense look on his face.
Ross:
King look at the intensity in that eyes of that giant man.
Lawler:
I don't know what happened to trigger Big Show's meltdown last week, it could've been some of the things Kane said about Big Show being a joke, it could've been losing to the significantly smaller Floyd Mayweather at Wrestlemania but something set this man off the deep end last week. Take a look
The replay of Big Show going nuts and knocking out Kane.
Ross:
What Big Show did to Kane last week was incredibly impressive King.
Lawler:
It was J.R. and it really shows why making this man angry is just not a very good idea.
Show enters the ring and nods his head as the crowd boos
**My Time is Now**
The boos quickly turn into cheers as John Cena comes out on stage in the typical Cena garb and does the normal Cena entrance with the crowd going wild.
Lawler:
You know J.R., if there's any man who isn't going to be afraid of the Big Show in a state like this, it's John Cena. The man fears no challenge and will never back down.
J.R.:
Hustle, Loyalty, and Respect. Those are the three words that define John Cena, and he's going to need all the three tonight if he wants to defeat the Big Show.
Lawler:
Which you know he does
J.R.:
You know King, earlier tonight Cena said he will not stop until he's regained his WWE Championship from Randy Orton but you have to wonder is going through with this match really a good idea with a huge match like the Last Man Standing Match at Backlash looming on the horizon?
Lawler:
Like Cena said earlier, it's not ideal but it's not going to stop him. Not many people are wired like John Cena is J.R.
J.R.:
You got that right King, he will not back down.
Cena throws his hat and shirt into the crowd and stares down his giant mass of an opponent both men get to the corners and the bell rings.
Match 3
The Big Show vs. John Cena
It's safe to say this wasn't the best match in the history of pro wrestling but it was nothing short of competitive. Cena landed some punches in the early stages of the match but Big Show turned it around by bear hugging Cena and driving him into the corner. Show went at Cena early with the power moves. Getting Cena with a headbut that staggered Cena into the corner allowing Show to five star the fan favorite across the chest to tons of "oooohs" from the crowd. Show picked Cena up and brought him down for a backbreaker the made the first cover of the match but Cena kicked out at two. Show got a little angry and yelled the ref giving Cena sometime to catch his breath. Show went for a punch on Cena but he ducked away and landed a series of punches to his former rival after getting about seven jabs into the World's Largest Athlete Cena went for a fisherman's suplex which he quickly realized would not work, Show reversed it and but Cena down with a back body drop. Cena would slowly pull himself up on the roads where Show met him again with a sick five star to the chest that forced Cena over the top rope and to the floor!! Show raised his arm and screamed getting some good heat from the crowd as we took a quick commercial break.
Commercial Break
We re-enter the match with Show in complete control of Cena laying Cena flat on his stomach driving his knee down into Cena's back. The former WWE Champion screamed in pain as the ref asked him if he wanted to tap. Show grows frustrated with Cena not tapping and releases the hold and stands up his former foe. The angry giant works Cena over to the corner and then tees away with punches to the organs within the ref's five count. Show hits Cena with a headbut for good measure making Cena fall to the ground. J.R. wonders if Cena regrets taking this match. Big Show raised his arm to the crowd signaling for a chokeslam, he slowly waits for Cena to stand up and goes for it! CENA BLCOKS THE CHOKESLAME ATTEMPT AND LIFTS SHOW UP ON HIS SHOULDERS FOR THE FU!!
No sooner than did Cena get Show, Show squirmed a little which was enough to wear down Cena's already beaten and battered body forcing him to drop the World's Largest Athlete. Cena hunched over and was grabbing his back when Show sent him straight down to the mat with a big boot to the face. Show cover but Cena somehow kicked out at two. Big Show's anger appears to be steaming up as he yells at the ref questioning his decision. Cena eats a few more slams and powers move before Show covered again but Cena managed another kick out at 2.
Big Show's frustration is mounting as he gives the ref another look of death. Cena gets to his knee but Show slaps the bag of Cena's head putting him down to the mat. Instead of going for the pin Show tries to put Cena in the camel clutch! Cena had another miraculous surge of life and pushed Show's arm down, Cena got the arm around the neck for the STFU but couldn't manage to the leg's connect as Cena was squirming around trying to get position for his patented submission Show got his massive hand around Cena's throat and stood up the man the took the US Title from him at Wrestlemania XX only to plant him back down with a chokeslam!! Show smiles and raises his arms to some giant heat. The booing seems to get to Show as begins to yell at the fans "SHUT UP, I'M BETTER THAN YOU. I DON'T NEED YOU!" Show's rant goes on long enough for Cena to jump back to his feet and take Show down with a jumping shoulder tackle.
Five moves of doom time? Kind of. Cena hits a second shoulder tackle then throws a few jabs at Big Show on the rebound. Show bounces off the ropes and Cena impressively picks him up and plants him with a side slam!! With his opponent on down on the mat, Cena know what time it is. The crowd goes nuts as Cena stands over Show with a "You can't see me!" Cena goes off the ropes and hits it. FIVE KNUCKLE SHUFFLE!! Show is rocked he stumbles to his feet, Cena looks like he's setting the up the FU when his attention gets turned to RANDY ORTON! Orton's on the apron. Cena goes after him but Orton quickly drops down to ringside. Cena turns around where Show is back and better than ever, HE DROPS CENA WITH A KNOCKOUT PUNCH! Cena is out! Show covers for the 1………….2…………3!! The Big Show has upset John Cena.
Winner: Big Show via pinfall @ 13:40
The crowd is not happy as Big Show stands over Cena smiling and "Crank it Up" hits. He's the least of their concerns as Orton smiles while slowing back peddling down the ramp holding his WWE Title in the air. Big Show screams victoriously over Cena one last time as we cut to break.
Commercial Break
We see a flashback to the end of last week's Smackdown where Mick Foley made his shocking return then hit Edge with a chair and put on the Mandible Claw on him.
Foley:
Next week, Smackdown gets a little taste of Mick Foley!!
We see another image of Foley charging down the ramp to the ring
Narrator:
He has returned
Foley is shown raising Mr. Socko to the crowd
Narrator:
But for what purpose?
We see Foley bashing Edge with the chair and smiling?
Narrator:
This week on Smackdown Mick Foley will make his official return to the blue brand, but what's in-store for Smackdown when the Hardcore Legend hits the arena. Find out this Friday on Smackdown!
Cut Backstage
We return Backstage where we Randy Orton walking wearing his wrestling trunks official T-Shirt, and holding the WWE Title over his shoulder just as he was when he attacked John Cena. Orton is looking at his title when he's approached by Todd Grisham.
Grisham:
Randy, can you please explain to everyone who just witnessed you cost John Cena his match with the Big Show why you did that?
Orton:
Todd I think it's clear why I did what I just did to John Cena. You were there earlier when John Cena said "there is no way in hell I'm going to be able to keep him down". Well Todd I was out to prove a point.
You can the hear the boos coming in from inside the US Cellular Arena.
Orton:
I just got John Cena knocked down, and he stayed down. And amazingly enough, I did it without laying a finger on him. Imagine what happens next week when I decide I want to hurt John Cena myself. When I plant him with an RKO or maybe when I decide to punt him in the skull. There will be no getting up, not now, not next week, and surely not in a Last Man Standing match at Backlash.
More boos from inside
Orton:
And this time when I put John Cena down, it won't just be for a count of ten. I'm going to put John Cena down, permanently!
Orton makes a quick head where to see his opponent Triple H just inches away from his face.
Triple H:
Some people just never change do they?
Orton grimaces as Triple H goes on
Triple H:
Randy lettme ask you something. Do you remember what happened about, three and a half years ago. You were the World Champion remember that Randy?
Orton's angers looks to be building as Triple H continues now
Triple H:
I mean I kicked the crap out of you and then three weeks later, I stood in the ring against you and I took your World Heavyweight Championship. Is it starting to become familiar again?
Orton:
What did you then was a cowardly act out of jealousy..
Triple H:
See Randy there is where you are wrong. It wasn't a cowardly act of jealousy. Was I jealous that you had the belt? You're damn right I was but what I did wasn't cowardly. No No No. It was a lesson in respect Randy!
Orton:
A lesson in respect! You call that a lesson in respect!
Triple H:
You're damn right I do. Randy back then you just a cocky talented little boy who managed to get a seat at the big boy table. You thought you ran the world Randy and that just wasn't the case and I proved it when I beat you for that title.
Orton lips "oh really"
Triple H:
Yes really Randy, and despite how many more World Titles you've won since then, despite this Age of Orton I'm supposed to be living in. You're still same cocky little boy who isn't ready to be on top of the world!
Orton glares to the eyes of arch rival and former stablemate
Triple H:
And tonight, I'm gonna have to teach you another lesson in respect Randy. Don't worry it's gonna look like a slap on the wrist compared to what I do to Ken Kennedy at Backlash, but it's still a point you need shoved down your throat. And when points need to be made around here, I'm the guy that makes them.
Orton looks up and stares into the cold eyes of the game
Orton:
I'm still a scared little boy am I? Well guess what Hunter, I'm a scared little boy that beat you at Wrestlemania. I'm a scared little boy that took this WWE Championship from you and I'm a scared little boy that's going to beat you tonight!
Triple H stares him down
Orton:
And then Hunter come Backlash, I'm going to prove to you and to everyone that the Age of Orton is untouchable and that I'm the man around here.
Triple H takes his turn
Triple H:
You know this is what I'm talking about. You're untouchable? You really think that.
Orton:
You're damn right I do!
Triple H:
Let me say something to you Randy, consider it a piece of friendly advice. If you were truly untouchable you wouldn't need to stand out there and distract John Cena then let Big Show do your dirty work.
Orton looks angry
Triple H:
If you really were untouchable, you'd have taken out John Cena yourself
Orton gets right up in Triple H's face but Triple H does the talking
Triple H:
Think about that.
Triple H walks away leaving the angry Orton alone in the hallway. Orton needs to take out his anger some way so he kicks over a trash can! We leave the scene there and cut to ringside
Cut to Ringside
Ross:
Those were some powerful words to Orton from the Game King.
Lawler:
That indeed they were J.R. and I can not wait to see these two face off tonight in the main event.
Ross:
King!! I have an update on that match, I've just received word from our General Manager William Regal to pass along in order to make sure nothing happens in that main event similar to what happened during the John Cena and Big Show match.
Lawler:
Wow J.R. that's huge!
**Hey You**
The crowd start to cheer as Paul London and Brian Kendrick come out, they high five the fans.
Ross:
King now it's time to decide who's facing are tag team champions Cody Rhodes and Hardcore Holly at Backlash.
Lawler:
J.R. my money is on these guys right here. Paul London and Brian Kendrick. They're talented and they're confident and they want to get back on top of the mountain in the tag division.
**Cowboys**
The boos start to come in as the Redneck Wrecking Crew, of Lance Cade and Trevor Murdoch come out and make their way down to the ring.
Ross:
But if anyone can beat them, it's these two power houses.
Lawler:
Not to mention the Crew have some momentum going for them after beating London and Cody Rhodes last week.
Ross:
Were in for a great one right here King.
Match 4 | World Tag Team Titles Number One Contenders Match
The Hooliganz vs. The Redneck Wrecking Crew
Another competitive match. The commentators talk about how much a title shot would mean to both teams in the early stages of the match were Kendrick and Cade briefly exchanged holds. Cade gained the early advantage you knew he'd get with his size and power. After physically working over Kendrick with slams Cade made the tag to Murdoch. Murdoch tried to tee away on Kendrick with punches, eventually Kendrick blocked one and whipped Murdoch away long enough to tag in his buddy London. Paul dug straight into his big move arsenal and used the ropes for a springboard flying that dropped one half of the Crew. London made a cover but Murdoch kicked out. London used his quickness to stay ahead of Murdoch getting some good offense in with a series of hard leg kicks capped off by a spinning back kick to the gut. London followed up with a neck breaker and cover attempt but Murdoch kicked out. With the match seemingly in their control at this point London tagged in Kendrick.
Kendrick landed a few punches to Murdoch but eventually one got blocked then Big Trev whipped Brian off the ropes and planted him with a huge clothesline on the way back before tagging in Lance Cade. Cade again overpowered London as he did in the early stages of the match. The high point of Cade's dominance came when Kendrick came off the ropes trying to mount some offense and the big man caught him and planted him with a massive slide slam! Cade a made cover but Kendrick somehow managed to roll his shoulder up at two. Murdoch pulled up Kendrick to his feet and planted him with a giant German suplex then went for the cover again but again Kendrick kicked out at 2! At this point Murdoch was getting frustrated so he tagged in his partner in crime Lance Cade. Cade worked Kendrick attacking his lower back briefly. Cade looked to put away Kendrick lifting him up for a powerbomb, KENDRICK REVERSES IT INTO A DDT! Both men are down! London starts to pump up the crowd and yell for the hot tag! Kendrick jumps over and gets over to London as Cade tags in Murdoch!!
The fresh men run in, London ducks a clothesline and goes for a quick school-boy but Murdoch kicks out at two. Both men hustle to their feet, Murdoch tees away at London with punches but the little man battles back with some shots of his own. After Murdoch blocked one of London's punches he set up for an STO, London reverses it into a small package!! He has it 1………..2…….CADE comes in and pulls London off his partner! Cade isn't done as he plants London with a gutwrench suplex! Cade turns around and Kendrick charges at him with his last burst of energy hitting the big man with a clothesline that took so much force it sent them both over the top rope! London staggers his feet and Murdoch measures him out as London gets out the Crew's legal man goes for a thrust kick! LONDON DUCKS UNDER!! Murdoch turns around and walks right into a superkick from Paul London!! Murdoch is out! London isn't done yet though, he goes to the top rope and his patented for 450 Splash!! He lands in the cover for the 1…….2……..3!! The Hooliganz are going to Backlash!
Winners: The Hooliganz via pinfall @ 7:29
The winners of the match get their arms raised in the center of the ring. Both men go to turnbuckles and signal that their going to win the titles.
**Out to Kill**
The World Tag Team Champions Cody Rhodes and Hardcore Holly come out on the ramp and point to the belts then shake their heads. Cody smiles then points to his friends that he's going to have to face come Backlash. Kendrick yells out "The belts are coming home" to which Holly raises his belt up to a pop from the crowd as we cut to commercial..
Commercial Break
Clips from Wrestlemania are shown, the fireworks, the arena, the glamour, the spectacular that was Wrestlemania 24

Narrator: The show is over

Clips of Shawn Michaels superkicking Ric Flair ending his career

Narrator: An Era was ended….

Clips of CM Punk climbing the Ladder and winning the Money in the Bank Contract

Narrator: But new eras began….

Clips of John Cena and Randy Orton staring each other down

Narrator: But not every war has ended…

Clips of Triple H chasing Mr. Kennedy out of the ring with the sledge and JBL smashing CM Punk over the head with the Money in the Bank Case

Narrator: While others have just begun…

The Backlash logo appears


Cut Backstage
We return from the commercial backstage where we see Todd Grisham talking to the newest Raw Diva, Kelly Kelly. We aren't sure what they're talking about but that doesn't really matter as we see a massive hand placed on Grisham's shoulder. He turns around looking shocked as Big Show is standing behind him.
Show:
Give me a mic.
Grisham looks almost paralyzed in fear
Grisham:
Wha-..What?
Show:
You heard me. Give me a damn mic!!
Grisham reaches into his suit and pulls out a mic and hands it to Show.
Show:
Now get out of my way!
Grisham and Kelly leave and go anywhere but by Big Show as fast as they can. Show lifts his mic up and begins to talk
Show:
KANE!!! Did you see that Kane!?
The boos begin to come in from inside the arena.
Show:
All these people that laughed at me, that mocked me. All the people that dared to say Big Show is joke, they just witnessed me totally decimating John Cena! The star of the show. I made him look like a joke just like I made you look like a joke last week Kane.
More boos come in
Show:
I knocked him out just like I knocked you out Kane.
More boos
Show:
It's amazing how things change isn't it Kane. A mere two weeks ago people everywhere, people like yourself were mocking me, calling me a joke because I lost to Floyd Mayweather at Wrestlemania.
More boos
Show:
Now Kane I know you're hiding in parts unknown because you fear me! You don't want to feel that embarrassment again, you don't want me to hurt you do you Kane! DO YOU!?!
Show is getting some great heat coming from inside the building as he smirks and goes back to talking.
Show:
Kane, if you don't ever come back to Raw I could understand that. I understand you're embarrassment, I understand your fear! But mark my words Kane, let John Cena be you're example. If you come back, this time I won't just embarrass you. I'll hurt you! No, I'll destroy you.
Show slams his mic to the ground and we cut to ringside..
Cut to Ringside
Ross:
Ladies and Gentlemen welcome back to Monday Night Raw, and wow King. The Big Show has really lost it hasn't he.
Lawler:
J.R. I don't know if everything is going right in his head but quite frankly I don't think it matters I would stay away from Big Show at all costs.
Ross:
That would be a smart decision.
**Aint No Stopping Me**
The silent crowd getting back to booing as the Top Contender to Chris Jericho's Intercontinental Title at Backlash, "The Gold Standard" Shelton Benjamin comes out to some good heat and makes his way down to the ring as Lillian announces the match.
Ross:
King it's time for another contest of two of Raw's exciting young superstars and first up is the number one contender to Chris Jericho's Intercontinental Championship at Backlash. King you'd have to think Jericho will be watching this match closely.
Lawler:
If I'm Shelton Benjamin I'm extra motivated for this one after listening to what Jericho said earlier.
Ross:
Jericho thinks Shelton is very talented, but he also thinks he's not Chris Jericho and he can't beat him come Backlash. A win here would be huge for Shelton on the road to Backlash.
**S.O.S.**
The crowd goes wild as the always happy Kofi Kingston comes to a massive pop and makes his way down to the ring
Lawler:
A win for Shelton would be huge tonight, but that's going to be easier said done J.R. as he's about ready to face one of Raw's best up and comers, Kofi Kingston.
Ross:
King you could make that case that Kofi should be number one contender after delivering the knock out blow to Paul Burchill last week only to have Shelton steal the win from him.
Lawler:
No doubt, Kofi is talented and not to mention he's got the full support of the Intercontinental Champion Chris Jericho.
Ross:
Jericho has taken Kofi under his wing of sorts, he was looking forward to facing him for the title at Backlash, he felt Kofi was going to beat Shelton and I think he feels the same thing will happen tonight.
Lawler:
I guess it's time to find out
Match 5
Shelton Benjamin vs. Kofi Kingston
The match starts with the typical exchange of holds. Towards the end of the sequence Shelton had Kofi in a hammerlock but Kofi broke free with some forearm to Shelton. Kofi followed up to with an Irish whip that sent The Gold Standard into the corner. Kofi went for a jumping splash but Shelton ducked out the way! Kofi stumbled and Shelton snuck in from behind and planted Kofi to the ground with a German Suplex. Shelton uses his mat wrestling advantage and controls Kofi on the mat working over the lower back of the Jamaican Sensation with a body triangle and driving his elbow into the back of his foe. Kofi manages to reverse out of the body triangle into kind of MMA guard position but then stands up in between Shelton's legs and hits a double leg drop in between Shelton's legs ala Jeff Hardy!
Kofi goes off the ropes and hits a fist drop onto Shelton, The Gold Standard sits up and Shelton goes off the opposite ropes and dives at Shelton with a sliding drop kick! He follows up with a cover but Shelton kicks out at two. Kofi lets Shelton get to his knees before drilling him in the side with a big kick that sends opponent to the mat. Kofi makes a trip to the top rope, slower than he normal would obvious with that bad lower back, just as King mentions the high risk, high reward style of Kingston, Shelton gets a sudden burst of energy and jumps up the top rope and grabs onto Kofi and throws him with a huge BELLY-TO-BELLY SUPLEX OFF THE TOP ROPE!! Both men hit the mat hard and are down in the center of the ring, Kofi screams in pain and grabs his lower back, Shelton inches over to the Dreadlock Dynamo and makes a cover 1………..2..Kofi kicked out just in time. Shelton looks tired and frustrated but goes back to work looking for a headlock, Kofi reverses it into a back-slide!! 1…….2..Shelton stands up and rolls Kofi into a small package!! 1………2…Kofi reverses to an inside cradle!! 1……….2…Shelton stands up and jumps down with a leg drop to Kofi! He covers for the two count but again Kofi kicks out.
Shelton pulls Kofi up and whips him off the ropes and gets him with a big chop across the chest on the way back. Shelton quickly follows back onto Kofi and grabs him and picks up him then sends him high into the air with a standing a vertical suplex!! Shelton plants the rising star down and makes a cover 1………..2…Kofi fights up again! Shelton takes a little time to agrue with the ref as Kofi pulls himself up using the turnbuckles. Shelton quickly stormed him with some uppercuts to the jaw. The Gold Standard follows up by whipping Kingston across the ring into the opposite turnbuckles. Shelton charges at Kofi and goes for a jumping splash to the back of the Jamaican Sensation but Kofi turns and Shelton crashes into the turnbuckles!! Benjamin bounces around and Kofi gets him with a leg kick. Kofi goes off the ropes and comes back with an axehandle that sends the number one contender to the mat. Kofi his normal "Boom, Boom, Boom" taunt as he waits for Shelton to get up, Shelton slowly makes his way back to his feet. TROUBLE IN PARADISE FROM KINGSTON, NO! Shelton ducks under it! Kofi catches and himself and wobbles back to having balance then turns around right into a PAYDIRT! Shelton covers 1…………..2………….3! That's all folks
Winner: Shelton Benjamin via pinfall @ 8:09
Post match the ref raises Shelton's arm and the Gold Standard's music hits. Shelton rolls out of the ring and goes over to the announce table and then picks up a microphone.
Benjamin:
Hey Jericho, you're right. I'm not Y2J.
A mixed reaction as the crowd doesn't know how to respond to that.
Benjamin:
I'm better.
Shelton sets the mic down and walks up the ramp to good heat as we fade to a commercial.
Commercial Break
We return to the arena at ringside where we are greeted by our friendly commentators.
Ross:
Ladies and Gentlemen welcome back to Monday Night Raw and coming into tonight the show was considered stacked and it has not disappointed, what a night King.
Lawler:
You're right J.R. it's been nothing short of incredible. And the main event is still to come!
Ross:
But before we get to that main event I would like to inform our viewers we have received some new information in regards to the condition of one CM Punk. Punk was taken to a local hospital is receiving stitches in his head as we speak.
Lawler:
Obviously injuries are part of the business but what JBL did to Punk was unnecessary and completely despicable, you just gotta hope Punk will still be good to go in three weeks at Backlash because at this point JBL deserves to be taken down.
**Burn in My Light**
The arena instantly fills with boos as the music of the WWE Champion Randy Orton this and the Champ follows making his way out onto holding his title. Orton slow makes his way down to the ring.
Ross:
There he is King! The WWE Champion, Randy Orton. Orton has already made his presence felt tonight getting involved in John Cena's match with the Big Show causing just enough of a distraction for Show to knock out Cena and pick up a win.
Lawler:
Orton got Cena knocked out tonight, but I'm not so sure that Cena hasn't gotten into Orton's head. I mean if Orton loses at Backlash he doesn't get a re-match. I think he's getting a little worried about his chances in that Last Man Standing Match.
Ross:
Especially considering keeping John Cena down for a ten count, seems like it may just be impossible.
**Time to Play The Game**
The arena goes dark and the crowd erupts from Triple H coming out doing his normal entrance thing.
Lawler:
But right now he needs to focus on this man, The Game Triple H!
Ross:
No doubt about it The Game and The Champ have a storied history King.
Lawler:
I'm just getting chills thinking about this match J.R. it should be great.
Ross:
Especially considering that all parties are banned from ringside so there's way that Mister Kennedy or anyone for that matter can cost us this match.
Lawler:
I'm so excited!
Main Event | Non-Title Match
WWE Champion Randy Orton vs. Triple H
The match starts with an intense stare down between the Game and The Legend Killer. Orton looks to tie up but Triple H got an early advantage with some punches before Orton could latch on. Triple H throws Orton off the ropes and looks like he's setting up for a running knee but Orton quickly rolled out of the ring hoping to get a breath of fresh air and not get killed by his former rival. Orton slowly climbs back into the ring as the ref gets his count to 5. Triple H goes for some punches but Orton blocks one and battles back with a few shots of his own. He pushes the game back into the corner and then drills him with a big uppercut. Orton sent the game to the mat with a big boot to the face followed by a cover 1…………2..Triple H kicked out. Orton didn't make a wasted motion and quickly puts his long time rival in a headlock.
Orton keeps the lock in for a good minute until the Tripper tries to break free but Orton drills him with a big uppercut! Orton whips him off the ropes as the Game comes back Orton plants him with a scoop slam!! Cover from Orton 1………..2…Triple H kicks out again The Legend Killer gets the game to his knees and pounds some punches straight down to Trip's forehead. Hunter slowly gets to his feet and the WWE Champion positions upright. Orton hits an uppercut then goes for an RKO! Triple pushes his rival away and catches him on the way back for the facebuster! Orton falls to the floor and Triple H covers 1………...2….Orton kicks out and The Game looks frustrated as we cut to a commercial.
Commercial Break
We return with Orton in control driving his knee into Triple H's back and pulling the arms of the King of Kings back. Triple H slowly stands up to his feet and breaks free from the hold but Orton quickly strikes down with a headlock back-breaker! Orton covers again but The Game kicks out at two! Orton gets a little angry and grabs Triple H planting him down with a suplex! Triple H kicks out again!! The look of frustration on Orton's face becomes more and more visible as he begins to yell at the ref. This gives the Game time to get back to his feet and drill the Legend Killer square in the draw with a big right hand! Orton angrily turns around and drills the game on the jaw! The two do this exchange three full times before Triple H throws the big right at Orton but the champ shot off the ropes, coming back he took the Tripper out with a big clothesline. Instead of covering Orton went for more damage trying to hit his big jumping knee drive but Triple H rolled out of the way!!
Orton staggered up limping on his knee and then eating a big running knee from the Game. Triple H made no wasted motion going for the cover but only got a two on his former rival. Now it's Triple H's turn to show some frustration as he stands Orton up and drops him back down with a clothesline! The Game picked up Orton and was setting up for a pedigree but Orton reversed it into a backdrop! J.R. reminds us that these two were stable mates in Evolution and know each other quite well. Triple H rolls over onto the apron and slowly stands up in between ropes in the perfect position for the WWE Champion to drill him with his patented second rope DDT!! Orton stares at the wounded warrior in front of him he appears to be lurking, waiting to strike for his RKO! Orton goes for it, but Trips blocks it again and pushes him off the ropes!! The Legend Killer shoots back right into Triple H's arms for a spinebuster!! The Game is feeling it as he flexes to a massive pop.
????:
Triple H…
The Game looks around the arena trying to hear were his name is coming from the voice sounds familiar, a lot like a guy that Triple H might be facing at Backlash…
???:
Don't look so confused Hunter, ya know it's me. Your old pal Mister Kennedy, but where am I Hunter? I'm not at ringside since I'm banned, where am I hiding?!
Orton gets to his knees and Triple H quickly drills with a boot to the face looking for Kennedy throughout the arena and getting visibly mad.
Kennedy:
What's the matter Hunter? Not the best at playing Where's Waldo? Don't worry I wasn't either, so it's a good thing I'm not the one playing!
Triple H yells "come out" as he stands frustrated in the ring
Kennedy:
You want me to come out? Why don't ya make me Hunter. You're the big bad King of Kings who rules Raw with an iron fist and beats respect into every punk out there. Make me come out.
Triple H is steaming in the center of the ring and turns in a different direction to look for Kennedy when suddenly he turns around into an RKO! Orton covers! 1………….2……….3!! Orton steals one.
Winner: Randy Orton via pinfall @ 14:17
Orton gets his arm raised and his title handed to him then slides out of the ring. Triple H lays there grabbing his head as we see the camera pan over to seat in the last row of lower deck where we get zoomed in on Ken Kennedy himself sitting there holding a mic and smiling. Kennedy makes his way down the stair and proceeds talking.
Kennedy:
Ooooh Hunter, tough break. I'd like to take credit for making you lose that match, but quite frankly it's not my fault I'm in your head is it? It's all on you!
The crowd is booing at Kennedy for costing the Game that match, Kennedy continues walking down towards the ring.
Kennedy:
I said it earlier, and I'll say it again, I always get what I want and that will never change.
More boos as Kennedy steps over the barricade smiling. He's got a cocky smirk as he walks into the ring and Triple H slowly tries to stand up recovering from that RKO..
Kennedy:
And Hunter, come Backlash all I want, the absolutely only thing I want! Is finish you off for good!!
Triple H gets back to his feet and throws a punch but Kennedy blocks it and then drills the game in the jaw! Kennedy quickly grabs Triple H and plants him with a Mic Check!! The boos fill the arena as Kennedy picks up the regular mic he had been using and throws it to the floor. He stands over his beaten down rival and signals for his trademark mic and it falls from the ceiling.
Kennedy:
Or my name isn't MISSSSSSTTTTERRRRRRR KENNEEDDDYYYY!!!
We hear some "You suck" chants. Kennedy leans down a few inches away from Triple H's face.
Kennedy:
Kennedy…
"Turn Up the Trouble" hits and Kennedy walks out leaving the Game laid out in the center of the ring as we fade away.
End of Show

Quick Results
Mickie James & Maria def. Beth Phoenix & Melina
Mr. Kennedy def. David Hart Smith
Big Show def. John Cena
Paul London & Brian Kendrick def. The Redneck Wrecking Crew
Shelton Benjamin def. Kofi Kingston
Randy Orton def. Triple H





Confirmed for Backlash
Date: Sunday May 4th, 2008
Location: Baltimore, Maryland

WWE Championship Match - Last Man Standing Match
Randy Orton (c) vs. John Cena

Triple H vs. Mr. Kennedy

Punk's Money in the Bank Contract on the line
CM Punk vs. JBL

Intercontinental Title Match
Chris Jericho (c) vs. Shelton Benjamin

World Tag Team Titles Match
Cody Rhodes & Hardcore Holly (c) vs. Paul London & Brian Kendrick

Women's Championship Match
Beth Phoenix (c) vs. Mickie James
---
Once upon a time the Pain was brought in 2008.......It will be brought again........
Soon....
FlyinStyles Returns to BTB, January 2014
---
Last edited by FlyinStyles; 07-13-2011 at

06:27 AM

.
Re: WWE 2008: Bringin' the Pain!!
---
Okay, finally giving you that review I promised and it's my first time reading your thread so I'm gonna start with this Raw and then try and get into it from there.

Two big matches tonight with Orton/Trips and Cena/Show and neither really interest me at first glance so let's see how you'll liven them up from their other encounters. A Cena/Orton feud doesn't really grab my attention but it makes sense and sort of has to be done here which I understand.

Starting the show with JBL after all the hype surrounding Cena and Orton is a little weird but I guess JBL/Punk is your second biggest feud. JBL's promo was a little generic as any heel could have said it in my opinion but that's not saying it was bad, which it wasn't. The wine tasting in the ring feels like something that happened in real life, although I can't quite remember. A little thing, but sometimes you don't have any punctuation to end your sentences so idk if MS Word picks that up or not but proof reading could help there. The promo gets better as it goes along, with Punk being written nicely and JBL getting better as well. The attack with the wine bottle is pretty brutal and makes this feud a little more personal, with Punk now having more of an incentive to fight.

I didn't see the point of the backstage segment with Regal but he's a good GM for the show.

Pretty standard women's match with three talented divas, and Maria. Good to see Beth as Women's Champ but Beth/Mickie is another feud that's been done before. I understand it always takes time to build your own feuds but if it's all stuff that was going on at that time in real life it's less interesting to read.

Typical John Cena promo and that's not a bad thing, especially considering you acknowledged it with John Cena saying it himself. It was what it was and you wrote Cena in character so good work.

Kennedy/Triple H, now this is a fresh and interesting feud. Kennedy with a good promo but I don't think the crowd would have started booing him just because he insulted some random guy. He should have talked down about the state as a whole and his hometown if he wanted them to stop cheering.

Quite a long match for a squash here, surprised to see DH Smith last that long. Hopefully he stays a jobber because Smith isn't interesting unless he's with the Hart Dynasty. The match should have probably been easier for Kennedy to make him look stronger.

Bit of an awkward promo backstage with Rhodes and London, neither would have been interesting to listen to at that point. I'm not too sure what the point of it was.

Already hyping up Summerslam I see? Someone's planning a head for a while. :P

Really nice Jericho interview backstage and he's really too good to be a midcard champ at this point in his career. I'm hoping for Shelton Eternalmidcarder Benjamin to take his title so Jericho can move up the card. Great promo.

Cena/Show wasn't the best match ever but I didn't get bored reading so that's a plus. I was shocked by the ending because even though I expected an interference from Orton I didn't expect TBS winning with a relatively clean pin.

Todd asks Orton a really stupid question backstage, lawl these interviewers are idiots. I love those 'turn around and someone's centimetres away from you' spots backstage and this was no different, it would be a great sight to see on TV. Some good back and forth from Trips and Orton with HHH especially having some good lines, another good promo.

The Hooliganz were always winning this match after the promo before and it's good to see them still relevant in the tag division. I hated the Rhodes/Holly team so please split them up, turn Cody heel and push him, and fire Hardcore Holly as soon as possible.

Show's backstage promo was okay, but were there really people there laughing at him and mocking him? I don't know it just seemed a little weird and Show doesn't really look like the monster that he should be as a heel when he says that stuff. Show/Kane is another feud that's been done before so it's not too exciting, there's probably someone else that either one could feud with who could actually use the momentum.

Shelton/Kofi is a nice match that I would have enjoyed seeing and it's good to see Kofi on Raw getting a rub with some more established names. Shelton with only two lines afterwards was a bit blah as he should have either said more or said nothing in my opinion, but then again he's not the best mic worker so keeping it short might be alright.

The main event is a good match, not as entertaining as the last one, but still okay. The ending just seemed a little dumb; if HHH knew Kennedy wasn't allowed to be at ringside, why would he be stupid enough to lose his focus from the match. Anyway it puts over Orton's sneakiness I guess but it just makes HHH look weak. I liked him laying out Trips to end the show in that it made him look really strong and like a main event player, but again HHH looks a bit too weak.

Overall a pretty good show. The main problem is a lack of fresh feuds and storylines and it seems like you're only really focusing on the three main feuds, which isn't that bad of a decision. Matches and promos were fine, could be better, but there were a lot of matches which usually means less advancement of storyline. I enjoyed it overall though.
Posting Rules

You may not post new threads

You may not post replies

You may not post attachments

You may not edit your posts

---

HTML code is Off

---