Chopped Liver
Join Date: Jan 2004
Location: Six inches from a computer screen
Posts: 5,397
Points: 213
Re: WWE: The Afterlife
---
It's been a while, hasn't it??
TBH, I'm a little lost at the outset, as I'm not entirely sure what point this is picking up from. Is it 2005?? The date would suggest so, as it matches up to the date after WrestleMania 21. A bit of a back story into the results from WrestleMania (assuming with the firing of Bischoff that you're not coming off the back of the real life results) probably would've helped for us to follow.
Vince was spot on here too. Eloquent, making his point, and doing so in a crystal clear fashion. I don't really like the stripping of the title belts idea, but it has it's merits in this situation, literally confirming the beginning of a new era.
Again, decent backstage meeting between Vince and RVD. Nothing wrong in my eyes, and I guess we'll soon find out if Vince took kindly to RVD confronting him like that with his choice of opponent later.
Personally, I would've liked it if the title matches had been spaced out over the coming weeks, rather than all being bundled onto the first show. Could've been a unique selling point in the coming weeks for a different title to be decided each week.
Looking at the four guys in the match, Mysterio looked the obvious winner, and Funaki looked like the jobber of the group. Funaki winning is a massive shock, but a nice one at the same time, as we never get to see Funaki taken seriously. It's definitely a clean slate for everyone, with Funaki taking the CW title.
Evil Kaientai FTW. Loved that gimmick, delighted to see it back in force with 'Funaki' declaring his intention of going to Smackdown.
If I'm remembering correctly, I think in your last thread you had a really funny promo with Simon Dean, so it's good to see him back. Some excellent put downs on California, and I could completely picture Dean in this promo.
LMAO at the kid spitting the drink out, only for Dean to claim he was joking. Excellent stuff. The Rock was definitely to the point and punctual, but for me, a little too quick to his point. A few more put downs on Dean would've been golden, so it was a slightly disappointing end to a fun promo.
Dudleys picking up the tag titles is fine, after all, they are undoubtedly the most successful team of this generation. The aftermath was the big talking point though, with X-Factor stating their intent taking out both teams. Looks like a potential three team feud over the titles. Been a long time since I've seen anyone utilise the X-Factor trio, and although I was far from a fan, it's something fresh.
Solid showdown between Christian and Cena. Hate to sound like a broken record, but it was, again, nicely in character, got the point across, and put some more emphasis on the championship match later. Would love to see a strong showing from Christian btw.
Looks like Vince didn't take the RVD confrontation too badly. Expected him to throw in a big monster of a man, so Kofi was a nice surprise. Would've been a terrific high flying contest, but Van Dam winning was probably the right choice imo.
Odd Orton promo. Came off as kinda robotic … so in character I guess.
. Still, even at that, the promo sort of just seemed thrown in there.
The ladies showdown felt, much like the Orton promo, thrown in there. Might've worked better had it happened a little earlier, but happening now, then immediately having the match didn't work.
Realistic time line for the match though, I must say. The women never get much TV time, so it's nice to see you keeping it real - and the match times have all been pretty realistic so far, which is a positive. Finish was pretty sweet too, given off the feeling that there was a bit of a mishap.
Goldberg taken out?? That'd be a brave soul. Being sandwiched between a match and another promo, it lost a little bit of it's impact. The JBL promo seemed to be just to get him on screen, and to build a little bit of suspense that the new GM isn't going to arrive on time.
Doink The Clown; lol. Surprised he and Santino lasted even a minute. Simon Dean eliminating The Rock was HUGE. I have a good feeling that you're planning to utilise Dean as the dick heel of the show, and given your ability to write entertaining segments with him, it seems a good idea. Looks like JBL and The Rock could be headed for a rivalry.
Couple more jobbers go before five men dump the Big Show and Henry. Not sure what role DDP could possibly play in the show, as the roster seems heavy enough in talent, and Page is pretty old
. Nice to see a little teamwork from Edge and Christian too, and was surprised to see Blackman last so long, reaching the final five. Hardcore title for him plz.
Holy fuck, CENA AND CHRISTIAN!!! Delighted you're pulling the trigger on a Christian push, but the no contest finish was a huge disappointment. Surely you're moving towards a one on one match at Backlash … but that'll be a decision for the new GM … PAUL HEYMAN.
I'm a mark for Heyman, so you've ended on a high for me. Shame about the finish to the battle royal.
Overall, it was a solid outing my friend. Nothing spectacular, but there was no clear signs of any 'rust', as I felt the promos were all pretty solid, and did their job. Show started to feel a little choppy towards the end, with the Orton cameo, the womens argument, then the out of nowhere Goldberg attack. Still, it's great to have you back.
Re: WWE: The Afterlife
---
Raw Feedback
Okay, this is my first time reviewing a show of yours, but I thought I would give it a crack because apparently you used to be fairly big around these parts. Anyway, letís get to it. First off, I noticed even from the open introduction, donít be afraid to use more commas and extend your sentences a little, everything seemed way to stop and start, so I guess just get rid of the full stops and try and make your sentences flow a little better. As for the actual opening promo itself, McMahon seemed pretty much in character, Why would you get rid of Eric Bischoff?
Hopefully you have something big planned for this new era of Raw, but Bischoff going is a severe blow, as he kind of owns. Iím not to sure about all the titles being vacant, it just seems like a rather random way for you to start fresh, I guess it kind of fits though. Iím going to have to see just how the show progresses, but it seems like youíre trying to start off with a bang, but hopefully the events that take place are good because the thought of whatís going to take place seems a bit better then what is actually going to happen at this stage. Hopefully my view changes as we go on.
The idea of RVD going to Vince and wondering why he didnít get his title shot was all good, but the way it was written was way off. I doubt RVD, who is supposed to be extreme and laid back would run up like a servant, and say ďMr McMahon, Mr McMahonĒ. Just seemed really off, and despite McMahon once again being okay, RVD could use some work, as he was sucking up way to much, despite the fact this man just stripped him from his title.
Decent enough for an opener, four guys who all know how to wrestle. The ending was very abrupt, but I guess it was okay. I donít think Funaki should be the first Cruiserweight champion of this thread though, as he is looked at as some what of a joke. Itís not exactly a good way to show that the Cruiserweight division has credibility. I wouldíve much rather seen Michinoku pick up the title. Anyway, just donít make Funaki seem like a joke, and he should be alright.
Funaki going to Smackdown, okay then. You shouldíve organized this over some kind of trade or something though, having Funaki announcing it like he runs the show is rather weird since he is so small time. He should be good on Smackdown though, as long as you donít make him a joke.
Simon Dean, oh I hated this guy, but the scary part about this promo was you probably got his character down more then what you did The Rocks. It was good to see Rock take out Dean and then get some separate mic time, however, Rock drifted in and out of character. When you write The Rock, you need to have him always speak in the third person, not start off in the third person and then switch to first person. Also, promo should have been more detailed, Rock should have talked about laying the Smackdown on someoneís candy ass, and throw in a few jokes, this was simply not good enough, especially when you were writing one of the easiest guys to write.
The Dudleyz vs The Hardyz is probably the best match to have for the tag titles, since theyíre probably the best two teams in your thread at the moment. Match recap should have had a bit more detail, tbh, saying that unbeknownst to the viewers that Matt was knocked out is simply lazy and not good enough. Dudleyz getting the win is okay though, this was before they were stale so I can accept them as champions. X Factor look as if theyíre going to be the next team challenging The Dudleyz, and despite the fact that I donít like Justin Credible, things should be good with a solid tag feud hopefully being set up from this point onwards.
A Christian and Cena feud would be rather nice, itíd be hard to top what Wolfyís done with it, but would be a good read none the less. This promo was written pretty well, Cena was alright, and Christian was perhaps a little generic, but probably the best promo, despite Vince, that youíve written so far. Nice that youíre hyping up your main event as well.
RVD getting the win is good, although I donít see the point of stripping the title off of him, if youíre just going to give it back. Itís little things like this that I havenít liked throughout, but Iím sure you will only get better as you go. Just seemed like a pointless booking decision to strip it.
Randy Orton/RVD Is a match I would like to see. One thing I donít like though, is I donít like the way youíve kind of just set this up with one line. Of dialogue. It comes off a little bit random, and if this big match does happen next week itís going to lack hype.
Trish and Victoria segment was another one that seemed rather random, especially considering we didnít know the match was going to happen. You need to hype better then this, youíre not going to get very far if you continue to book stuff like this.
Good of Stratus to get the win, clearly the best diva going around. Hopefully Victoriaís nose is not broken, because she is probably the only diva who can give her a decent rivalry at this stage.
Goldberg getting attacked could turn into an interesting storyline, it will have to be written very well though, as a lot of people have these attacker storylines going at the moment, Youíll have to try and make yours different to stand out.
Vince and JBL promo was alright, I donít know why JBL was needed really though.
Hmm, battle royal was probably the best segment of the night. Nice ending with the No Contest, clearly setting up a pretty fun title feud, well written. If I added up things correctly, JBL/Rock feud would be sweet promo wise, not to sure about how well it will go down match wise. Nice main event and potential feuds anyway.
Paul Heyman as General Manager is awesome, Bischoff is great and so is Heyman, Iím happy youíve replaced a great authority person with another. Good work.
Overall, hopefully it was just rust, but youíve got a whole lot to work on. Keep working hard and see what happens, youíve booked some decent feuds, and set up a couple of others, just keep working on your writing, in particular promos, but also the choppy sentences and then you should be alright. Good luck with the continuation of this thread.
---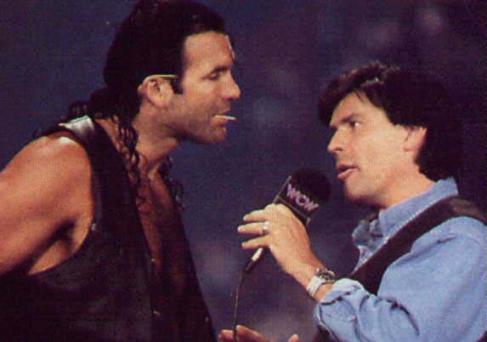 Challenging SCOTT STEINER's authority
Join Date: May 2004
Location: Central London
Posts: 4,641
Points: 0
Re: WWE: The Afterlife
---
Thanks a lot to the both of you for your replies, it is much appreciated and reviews for your recent shows will be coming very soon. More reviews are also welcome. Some good points, some points I need to work on, but obviously no one is perfect, and for my first show back in three years, I hope I delivered something work reading and following. Anyway, SmackDown, which will be in recap form I envisage, will be up during the week, with RAW next week. Here are some notes and news, some are real, some are fake, some are irrelevant.


News and Notes courtesy of 'The Wrestling Observer'



The appointment of Paul Heyman came as a shock to many backstage. His name came up in creative meetings but many had thought that Ric Flair would take over as General Manager. Some are still hopeful that Flair will have a role in the coming weeks.

The Cruiserweight Title will now be a permanent fixture on SmackDown.

The current plan for the Bill Goldberg attacker angle is for a mid-card talent to be revealed as the stalker and the hit-man. More news on that when we get it.

The plan for next week's RAW is for Randy Orton to challenge Rob Van Dam for the Intercontinental Title, and possibly be traded over to RAW following the match.

Don't look for Stone Cold Steve Austin to fight anything next to near a full time schedule. Austin has made it clear that his neck will not be able to hold up to the rigours of a full time schedule and has requested a limited schedule. Meanwhile look for The Undertaker upon his return to be thrust into a Main Event slot immediately, possibly with either MVP or Chris Jericho.

SmackDown is taped this Tuesday in Los Angeles with the only confirmed match being MVP vs. CM Punk for the United States Championship.

WWE is looking to hold the Extreme Rules Pay per View again in June, with the Great American Bash a July Pay Per View.
---
Last edited by The_Showstopper; 06-22-2009 at

07:01 PM

.
Posting Rules

You may not post new threads

You may not post replies

You may not post attachments

You may not edit your posts

---

HTML code is Off

---