| | |
| --- | --- |
| Cradle Shock | 06-13-2009 08:53 PM |
---
Bill Gates Presents the Gates Fighting Corporation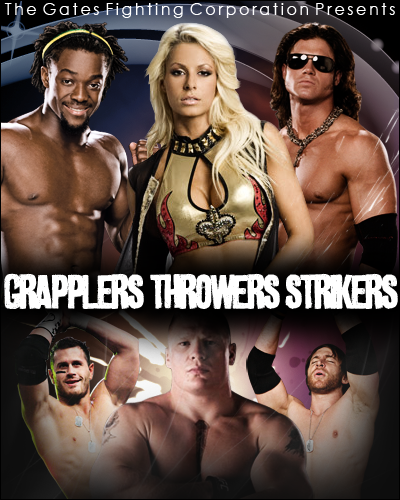 Welcome!, This is my 3rd time working on a BTB, both of which lasted shortly due to time constraints, but I have prepped this for months and am far ahead of schedule in show making.
This BTB will follow one show of a wrestling corporation founded by Mega-Billionaire Bill Gates, as the shows take place roughly one year into the future of this post. Enjoy.

THE STORY

Article from Pro Wrestling Illustrated (PWI), Apri1 1st 2010:
If someone told me a year ago that I'd be lurking my way through smelly church storage rooms, turned Indy wrestling locker rooms on a regular basis, I…Well I assume you get the point, that I'd be baffled, first of all not even knowing what the hell "Indy" wrestling was. It was at these venues from which I could truly discern in what shape the wrestling business was in. It was loosing interest in a faulting economy, and worst of all divided. This word is really key. The profit, if you could even call it that, in pro wrestling was divided, and there was less of a profit due to the fact that no one wanted to watch such a vast amount of shows, containing horribly combined rosters, with their favorite wrestlers dispersed in so many places, This, of course, led to lack of interest, lack of money for companies, and the overall process of the disintegration of two main flagships. As Vince McMahon and Jeff Jarrett were on the verge of loosing hope, I became aware of a business opportunity while looking over the current stock market. The biggest, most extreme, dire, drops in stock value lay on World Wrestling Entertainment, and Total Nonstop Action Wrestling. Through further exploration, I gained a significant amount of knowledge on both businesses, and in not too much time found the problems lying at the bottom of the pile of decay.
1. Terribly Divided Rosters.
2. A Bad Economy.
3. The departure of wrestlers, in anger of management. (For example John Cena leaving for TNA, we all know how that tremendously hurt both companies)
4. And finally, an overall lack of interest from fans.
Of course I wasn't the only person to see the big problems, modestly as possible; I just have the most money. This would all be easy to fix with large investments in athletes, buy-outs of the two companies, and then the creation of a world-wide powerhouse. The interest would come back, thus so would the money, and it would stay here , all of the money controlled by just one company. This is most important, at least to me it is.
But back to the smelly church storage room, this was my last endeavor, from marble floored spas and fitness centers in the WWE, to this place. In Pittsburgh Pennsylvania I went to a church for an Indy show, and bought back a few final pieces of the puzzle.
I, of course, operate many employees, and I believe to be fair, and so I wanted to give back as many jobs as possible that were lost in the downfall. One of my most recent accusations was in Hunter Helmsley, and while he may no longer wrestle due to suffering a broken back in the infamous Hell In A Cell (Career Match) vs. John Cena, I have decided to break the news and tell the wrestling world that he will be the Commander in Chief of the flagship wrestling show, of my grand company. With Mr. Helmsley as the head of our main show I have chosen a very specific roster, an accumulation of brands, a roster which truly outdoes any of the other shows, through focusing mainly on younger, more athletic talent, this show is literally and figuratively the future of wrestling.
My role in all of this is simple, I have chosen to stay way, way, behind the scenes, you will never see me, basically the opposite-McMahon, my influence is only on the paycheck, and the financial side of the corporation. There are four other names on the paycheck however, Hunter Helmsley, Vince McMahon, Shane McMahon, and Jeff Jarrett, who I have decided will control everything in the company to do with wrestling ( which is just about everything), and their own shows respectively. Vince commanding Wednesday Night Apocalypse, Jeff Jarrett commanding Friday Night Poison, Shane commanding Saturday Night Hydro, and finally, in regards to the grandest of our programs, Mr. Helmsley will be commanding our show on Monday Night, Grapplers Throwers and Strikers. I assure you, this is epic.

-Guest Columnist- William Henry Gates III
THE ROSTER

High Card:

Brock Lesnar

Finisher(s)- (F5, Triple Powerbomb, Brock Lock- Over the shoulder single leg boston crab, Shooting Star Press)

Accomplishments- Brock is not only 6 time WWE Champion, but also a 2 time UFC Heavyweight Champion. At around 290 pounds Brock has the power of a Super-Heavyweight and the speed of a cruiserweight.


Chris Daniels

Finisher(s)- (Angel's Wings, Best Moonsault Ever)

Accomplishments- Chris Daniels shined throughout ROH, TNA, and various other organizations, becoming a 2 time TNA World Heavyweight Champion, and 4 time X-Division Champion. His speed and high flying ability mixed with aggressive submissions make him a top contender any where he goes.


AJ Styles

Finisher(s)- (Flying Flip Armbar, Spiral Tap, Styles Clash)

Accomplishments- A 4 time TNA World Heavyweight Champion, 5 time TNA X-Division Champion, and 1 time WWE United States Champion has gained AJ Styles fame world wide. His WWE run in late 2009 wasn't all that he had hoped for but was still helpful in showing off his diverse wrestling style to a bigger audience.


R-Truth
Finisher(s)- (Corkscrew flying forearm smash, Corkscrew Scissors Kick)

Accomplishments- Ron Killings became a 3 time NWA-TNA Champion in the early 2000's, however after being punched down in the ranks, came to WWE in 2005, becoming a 3 time Intercontinental Champion, and close to a World Heavyweight Championship, in a Fatal Four way at Summerslam 2009.


John Morrison

Finisher(s)- (Moonlight Drive, Starship Pain, Nitro Blaster)
Accomplishments A 5 time WWE Tag Team Champion, 1 time ECW Champion, 3 time

Intercontinental Champion, and 1 time WWE Championship, has some saying Morrison was pushed to hard in the final months of WWE, being the last WWE Champion. Others say this push deserved, as his talent is exceptional.


Jack Swagger

Finisher(s)- (Red White and Blue Spinning Thunderbomb, Spinning Gutwrench Powerbomb)

Accomplishments A 3 time ECW Champion, and 1 time WWE Tag Team Championship with Christian Cage, has shown that while Swagger is young, the All American American is ambitious and always on the attack.


Dolph Ziggler

Finisher(s)- (Stardust- Jumping Russian Leg Sweep)

Accomplishments- This 2 time Tag Team Champion with the Miz has shown skill and prowess defeating the likes of Jeff Hardy at the 2009 Royal Rumble, and even a winning streak against The Undertaker on several occasions on Smackdown.


"The Gold Standard" Shelton Benjamin

Finisher(s)- (Paydirt, Superkick, T-Bone Exploder Suplex)

Accomplishments- Benjamin has good reason to be cocky in being a 2 time TNA Champion, 2 time World Tag Team Champion, and 3 time Intercontinental and US Champion. After not given opportunities in his later days at WWE, Benjamin's switch to TNA in 2008 would be successful for him, however, terrible for TNA's ratings. A switch to MMA was unsuccessful after the closure of TNA, as Shelton was knocked out by Quinton Jackson in mere seconds.



X-Division:

Evan "Air" Bourne

Finisher(s)- (Air Bourne-shooting star press, Double Helix-Belly to Belly Moonsault Slam)

Accomplishments- Best known for his aerial pursuit, Evan Bourne is a 1 time ECW Champion, however left for ROH at the end of ROH's days in 2009, hoping to revive the company, becoming a 1 time ROH Champion.


Kaz

Finisher(s)- (Flux Capacitor)

Accomplishments- The high flyer and martial artist Kaz was given a push in TNA in the year of 2006, however failing to lose to Christian Cage in two consecutive weeks for the title. He did however become a 2 time X-Division Champion, one of which was under his persona Suicide.


Paul London

Finisher(s)- (450 Splash, Waffle Makere- Chickenwing Facebuster)

Accomplishments- London is a 3 time WWE Tag Team Champion with Brian Kendrick, a 1 time Cruiserweight Champion, and also a 1 Time TNA Tag Team Champion with Amazing Red when he came to TNA in 2008.


Sonjay "Young Money" Dutt

Finisher(s)- (Sonjay Cutter,X2 Senton- Double rotation Senton Splash)

Accomplishments- In 2007 this playa from the Himalaya, had a great Tag Team run with The Black Machismo Jay Lethal, becoming a 1 time TNA Tag Team Champion, reigning for over 4 months. While Sonjay could never just win the X-Division title, TNA did however use him in what fans may call one of the worst decisions Vince Russo ever made, in making a lottery on Impact for a number one contendership for the TNA Championship where Sonjay "won". This proceeded to a squash match against Kurt Angle at Victory Road in 2009. Never mind the stupid management, Sonjay is a still a fantastically skilled high flyer.

Primetime" Elix Skipper

Finisher(s)- (Play of the Day-Overdrive, Instant Replay- One Armed Spinebbuster, New School- Rope Walk Hurricanrana))
Accomplishments- Primetime has a long storied past in many companies, as a 2 time WCW Cruiserweight and Cruiserweight Tag Team Champion, and a 3 time TNA X-Division and TNA Tag Team Champion with Chris Daniels, and also Low Ki.


Colt Cabana

Finisher(s)- (Colt 45- Double underhook overhead backbreaker drop, Chicago Crab- Inverted Boston Crab, Lake Shore Drive- Rope Hung Cutter)

Accomplishments- A cult favorite, known for innovative moves and humor, Cabana is a 1 time Intercontinental Champion and United States Champion under the persona Scotty Goldman in the WWE, as well as a 3 time ROH Tag Team Champion with CM Punk as the Second City Saints.


Human Tornado

Finisher(s)- (African Destroyer, House Party- Taunting kicks to an opponent seated in the corner, ending with a split legged low-blow)


Accomplishments- Known also as the African Destroyer, this high flyer has been all over the world, becoming a 2 time WWE Cruiserweight Champion when he was signed on in late 2008 to revive the division, as well as a 2 time PWG Champion, and 1 time WCW Cruiserweight Tag Team Champion in 2001 with Elix Skipper.


Kofi Kingston

Finisher(s)- (Ganja Hit- 360 Spin diving knee thrust to standing opponent, Trouble in Paradise-540 corkscrew roundhouse kick)

Accomplishments- Known world wide, the smiling Jamaican pot smoker, is a 3 time United States Champion, 1 time Intercontinental Champion, 1 time Tag Team Champion, and the 2009 King of the Ring. His success in the WWE really came to a high point in early 2010 when he was involved in a WWE Championship feud with John Morrison. While the fans liked them both, fans did not catch on to this, as most of the big stars were gone from WWE, and this lacked big name power.


El Generico

Finisher(s)- (Brainbustaaaahhh- Brainbuster driving opponents head into top turnbuckle)

Accomplishments- A 1 time TNA X-Division Champion in early 2010, 2 time ROH Tag Team Champion, and one time PWG Battle of Los Angeles WinnerKnown in PWG, ROH, and TNA, Generico is the Canadian Luchadore loved by many.


Chris Sabin

Finisher(s)- (Cradle Shock)
Accomplishments- Hail Sabin is not said without good meaning, a 3 time X Division Champion, 2 time New Japan Pro Wrestling Champion, 2 time TNA Tag Team Champion and 1 time New Japan Tag Team Champion, all of which solidifies his ego and the reason for why we hail him.


Alex Shelly

Finisher(s)- (Shellshock, Border City Stretch- Chickenwing over the shoulder crossface, Skull Fuck- Consecutive Pushup facebuster )

Accomplishments- A 2 time X Division Champion, 1 time Dragon Gate Champion, 2 time ROH Pure and Heavyweight Champion, one time Chikara Champion, 2 time PWG Tag Team Champion has given the young and fast Alex Shelley well deserved respect throughout the whole wrestling world. His teaming with Sabin is like poetry in motion, and he hopes to prove it in his time at Grapplers Throwers and Strikers.


Jimmy "The Cowboy" Wang Yang

Finisher(s)- (Yang Time-Moonsault onto standing opponent into pin)

Accomplishments- A 2 time WWE Cruiserweight Champion, and 1 time WWE Tag Team Champion with Trevor Murdoch, gives this Asian the power to be whatever character he wants to be, even a redneck.


El Brian Kendrick

Finisher(s)- (Sliced Bread #2)

Accomplishments- Kendrick has been in WWE, TNA, and the independents. Kendrick won the titles in all three as he is a 3 time WWE Tag Team Champion, 2 time WWE Cruiserweight Champion, 1 time New Japan Tag Team Champion, and also a 1 time X Division champion in 2009. After his release from the WWE, due to the failed THEE Partner angle, Kendrick came to TNA and found a little more success winning the X-Division title.


Billy Kidman

Finisher(s)- (BK Bomb-sitdown spinebuter, 7 Year Itch- shooting star press)

Accomplishments- A 5 time WCW Cruiserweight Champion, 2 time WCW Cruiserweight Tag Team Champion, 2 time WCW Television Champion, 4 time WWE Cruiserweight Champion, 3 time WWE Tag Team Champion, and the inaugural FCW Champion, Kidman has stacked up his titles as a well-known veteran. Remembered not only for his titles, but also his memorable win over Hulk Hogan at Slamboree 2000, and other various feuds mainly within the cruiserweight division.


Tag Team:

The Motor City Machine Guns- Chris Sabin and Alex Shelley

Finisher(s)- (Click Click Boom-powerbomb/double knee backbreaker)

Accomplishments- Being 3 time TNA Tag Team Champions, 1 time New Japan Tag Team Champions, and in many independent organizations around the world, this young team of hot shots were heavily recruited by the WWE however remaining true to TNA. Using a vast amount of kicks and aerial moves, Chris Sabin and Alex Shelley combined have more talent and skill than just about any one.


The Terminators- Nathan Jones and Matt Morgan

Finisher(s)- (Boot Sandwich- 1 big boot to front of head, one to back of head)

Accomplishments-The newly formed team of Nathan Jones and Matt Morgan have shown promise in organizations such as All Japan and Pro Wrestling Zero1, and throughout Asia and Europe. Since the two monster-like creatures were released from TNA in 2009, they have combined power to become a surely dominant force here at Grapplers Throwers and Strikers.


Natural Born Thrillers- Sean O'Haire and Chuck Palumbo

Finisher(s)- (License to Thrill- Spinebuster/Superkick combo, Total Thrillimination- Roundhouse kick/leg sweep combo)

Accomplishments- 5 time WCW Tag Team Champions, and 1 time WWE Champions during the Invasion, these two young athletes use a combination of high impact kicks and throws to dominate opponents and thrill crowds. Maybe not fan favorites, but any true wrestling fan cannot deny the mad skills of Sean O'Haire and Chuck Palumbo. And Surely under the command of the Fallen Angel cannot hurt them either.

El Generico and El Brian Kendrick

Finisher(s)- (Sliced Tortilla- Electric chair drop/spring board sliced bread combo, La Cabesa Crash- Powerbomb/Brainbuster combo)

Accomplishments- Another new tag team in Generico and Kendrick, we have seen Kendrick go from Thee Brian Kendrick to El Brian Kendrick, as the two young stars have completely absorbed themselves in the luchadore style of wrestling. Be sure to be amazed at some of the high risk spots these two pull off.


Asian Redneck Pimp Force- Sonjay Dutt and Jimmy Wang Yang

Finisher(s)- (Bang Time- Powerbomb/Top Rope Moonsault Takedown)

Accomplishments- An odd combination in a Redneck and a Pimp, but these two high flyers have something in common, their styles of wrestling. By going air on opponents Sonjay and Jimmy have gone on to pull of upsets on some of the best competition in Dragon Gate.


Stables:

Natural Born Thrillers (Chris Daniels, Sean O'Haire, and Chuck Palumbo)

Mission Statement- Under the guidance of Christopher Daniels, the two ex WCW martial artist power houses in O'Haire and Palumbo are here to eliminate everyone in their path in a thrilling fashion



The A-List (John Morrison, Motor City Machine Guns, Melina, and Maryse)

Mission Statement- Under the wing of ex. WWE Champion John Morrison, living celebrity lifestyles has become second nature to the guns, Melina, and Maryse. Cocky, smart, young, and rich, these sexy peeps are here to bring A-List lifestyle into GTS.



Eye Candy: (Non-Wrestling)

Candice Michelle (Kidman's Candy)

Candice Michelle wants only one thing for her man, an X-Division or Pure Championship around his waist. Kidman has crazy skills on his own, and if he wasn't great already, Candice's bust shouldn't hurt too much either.



Velvet Skyy (Swagger's Candy)

Known for her amazingly large rear end, and an undying seduction, Velvet Skyy is the candy of The All American American Jack Swagger. Watch out opponents, because her distraction can be your downfall…



Maryse (Morrison's Candy)

The French-Canadian bombshell Maryse is lucky to manage the former WWE Champion John Morrison, as she loves being with winners. Maryse's looks are always causing her to be noticed, as her and Morrison have been romantically involved since the dying days of the WWE.



Melina (MCMG's candy)

With the MCMG's it is hard to go wrong, and Melina, known for her outstanding ass, is here to give in to every need of the guns, in order to help these young A-List stars in getting the gold.



Personnel:

Commander in Chief: Mr. Hunter Helmsley
Commentators: Ric Flair and Jim Ross
Reporters: Jeremy Borash and Maria Kannelis

Titles:

World Heavyweight Championship: Vacant
Pure Wrestling Championship: Vacant
World Tag Team Championships: Vacant
X Division Championship: Vacant

Pay-Per-View Events:

January 11th: Death before Dishonor
February 7th: World War III
March 14th: The Main Event: Madison Square Garden
April 11thth: Bound for Glory
May 9th: Watergate
June 7th: The Great American Bash: A Night of Champions
July 5th: Bash at the Beach
August 2nd: The Battle of Los Angeles (Tournament)
September 13th: Lockdown
October 18th: Halloween Havoc
November 15th: Survivor Series
December 13th: Extreme Rules



Code:

Blue=Face, Red=Heel, Black=Tweener
Crowd Reaction levels:
Booing- *Heat*, *Hot Heat*, *Immense Hatred*, *FTW Pop*
Cheering- *Pop*, *Big Pop*, *Immense Pop*, *OMFG Pop*
Matches- Appear in ending form, or in case of elimination matches- in near ending to each pin fall or submission.