Re: BKB Star. Presents: World Wrestling Entertainment 2006
---
I didn't like the whole why is this so damn emotional thing. I don't know why, so don't ask, I just didn't like it. Flair/Edge is a nice money match, especially in Charlotte, Flair to put up a valiant effort but Edge to win of course.

I actually like the situation last week has put Angle in. It really gives him the opportunity to be that intense, uncontrollable beast on the look out for Edge. I am expecting something good with this, even if nothing takes place tonight, umm, there is an episode of Para's EPW that shows exactly what I want, when Angle is waiting for Edge at the parking lot. Do something similar, plz.

If Triple H loses to Kane I may just stop reading.

Shawn Michaels continues to struggle thanks to McMahon, seems like simple enough storyline progression. We better not get McMahon/Michaels at 'Mania.

The rest of the card seems decent enough, show should be pretty good if you make Gregory Helms win. That is all, for now.
---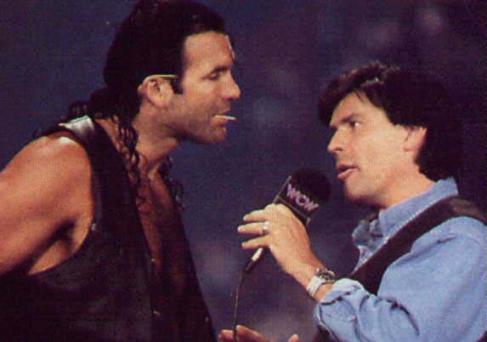 Mid-Card Champion
Join Date: Nov 2007
Location: Phoenix
Posts: 5,652
Points: 0
Re: BKB Star. Presents: World Wrestling Entertainment 2006
---
Edge vs. Flair, for the title, in a Street Fight, in Flair's hometown, all ingredients for a huge match. Should be absolutely awesome, and a huge momentum-booster for the new champ. Definitely looking forward to this one.

Angle is awesome, simple as. With him also lining up for Edge's title, I'm looking forward to seeing how he'll get involved further, especially after what went down last week. Should be good.

Triple H vs. Kane sounds like a far better match than Triple H vs. Big Show, but I'm sure it'll just be a set-up for the latter. I'm hoping you end things between Show and Hunter soon, or get the Tag Titles off him and Kane. Something has to give, so you can put some more focus on the Tag Titles.

I'm thinking that this time, it'll be Shawn who draws his opponents' blood, especially against Cade and Murdoch. Unless you're planning on pushing the duo, but we'll see. I'm thinking that Vince'll sweeten the deal with shots at the Tag Titles instead.

Masters vs. Chavo sounds like a good match, and I'm thinking Masters'll pick up the dirty win. Helms vs. Shelton also sounds like a winner, and at the cost of Shelton losing another match, I'm hoping Helms gets the win. And also a very interesting tag match, should be a very good one, and I'm interested in seeing how you go about it, as I don't think I've seen one like it. I'm not expecting Mickie to win, and so with that said, I'm pulling for Victoria here, with Ashley almost getting the win, only for Mickie to "accidentally" cost her.

Sounds like a very good show, BKB, I'll look out for it.
Re: BKB Star. Presents: World Wrestling Entertainment 2006
---
January 16th, 2006 | Charlotte Coliseum; Charlotte, North Carolina


Monday Night RAW opens up with the usual video and song combination, highlighting the superstars of the RAW roster. We then cut into the Charlotte Coliseum in Charlotte, North Carolina, with pyro exploding at the top of the stage, getting the crowd excited for the night of action ahead of them. We pan the crowd to see the many fans, all of whom look extremely excited to be here to witness some WWE wrestling. Eventually, we make our way to the announce table, where we see Joey Styles, Jerry 'The King' Lawler and Jonathan Coachman.
Joey Styles:
Ladies and gentlemen, welcome to Monday Night RAW, live from Charlotte, North Carolina. What a night we have in store for you tonight, as what could quite possibly be the most emotional nights in WWE history, with sixteen time champion, the man, the legend, the hometown hero, 'The Nature Boy' Ric Flair challenging the WWE Champion Edge for a shot at becoming an unprecedented seventeen time world champion. I am of course joined here at ringside by my colleagues, Jerry 'The King' Lawler and Jonathan Coachman.
Jerry Lawler:
What a night, Joey! We are here in Flair Country, and this crowd is going crazy! They cannot wait to see their very own Ric Flair challenge Edge for the title!
Jonathan Coachman:
This may just be the most anticipated RAW in the history of the WWE, King, but don't forget, we have a lot more scheduled for tonight.
Joey Styles:
That's right, Coach. Tonight, Shawn Michaels has another handicap match signed by Mr McMahon following last week's, as he takes on Lance Cade & Trevor Murdoch in, get this, a First Blood Match!
Jonathan Coachman:
Shelton Benjamin also goes one-on-one with Carlito, and 'The Game' Triple H is set to go one-on-one with Kane.
Jerry Lawler:
Don't forget about the divas!
Joey Styles:
And of course, your favourite match, King, as we find ourselves a new number one contender to the Women's Title when Victoria and Torrie Wilson go against Mickie James and Ashley, with the woman to gain the winning fall becoming the number one contender to the Women's Championship.
*Medal*
The crowd absolutely erupts into a mixed reaction, as Kurt Angle comes out onto the stage, being followed by Daivari. Despite not being dressed for action (rather wearing an 'Olympic Hero' t-shirt to go along with some tracksuit pants), Angle looks all business, as he walks down to the ring with a purpose.
Joey Styles:
Well we didn't expect to see him open up proceedings, but here is Kurt Angle, a man who as of late, has been on a mission to get himself the WWE Championship. Eight days ago, he failed to get it at New Year's Revolution inside the Elimination Chamber, but something tells me he doesn't think his quest for the gold is over.
Jerry Lawler:
He sure doesn't. Angle last week warned our new champion, Edge that he was coming for the gold, so he doesn't look out of it yet.
Jonathan Coachman:
Angle can come at Edge as hard as he wants 'cause it's gonna' take a lot to get the gold off Edge!
Angle now has a microphone in the ring, as he instantly looks to get cracking.
Kurt Angle:
Alright cut my music. Turn it off!
Angle's music now dies down as the mixed reaction is still being heard for Angle.
Kurt Angle:
For four months, I have been chasing the WWE Championship. I have been gunning for John Cena, I have been doing anything within my powers to become champion. I've beaten Cena down, I've beaten Cena up... hell, I've almost snapped his damn ankle... but yet, I just couldn't get that title away from him. I just couldn't get the WWE Championship.
Angle pauses for a moment.
Kurt Angle:
And believe me, it haunts me. It does. The WWE Championship... it's all I think about. When I close my eyes, it there's, when I go to sleep, it's there... I just can't stop thinking about it. For four long months, it's all I've wanted... it's been my life. Eight days ago, I fell short,
again
. But y'know, I can take that. I can accept that. What I can't take is the fact that someone can just walk in, and on their first attempt, take advantage of an injured man for the WWE Title. I can't take the fact that Edge was able to just walk in and
steal
the WWE Championship from Cena, after I had worked so long, after I had worked so hard on
earning
it.
Angle again pauses, with the crowd not sure what to think about him.
Kurt Angle:
Then Edge, last week, I warned you. I told you that despite the fact I had to team with you, I wasn't gonna' respect you, and that after that little tag match was done, my sights would be set on you. So then, after I said I'd wait until after we tagged before I started worrying about you, how do you think I felt when you walked out on me? How do you think I felt when you stabbed me in the back?
Angle laughs to himself.
Kurt Angle:
I'll tell you how I felt, Edge... I felt angry... I FELT PISSED OFF! And now, now you think nothing's gonna' come of it. Do ya' think I'd just forget what you did to me last week? Did you think I'd forget you leaving me to two men who wanted your blood, but could only have me? Edge, you don't just have two men who want your blood now... you have two men and one PISSED OFF OLYMPIC GOLD MEDALLIST!
The crowd gives a huge reaction, mostly of cheers.
Kurt Angle:
Last week, Edge, I told you I wanted your title. Now, now I don't just want that. I want MORE... I WANT YOUR BLOOD! So, Edge, I'm gonna' make this simple. You get out here right now, and unlike how you're used to winning titles, we'll do this like men!
Angle waits, with no one coming out.
Kurt Angle:
Come on, Edge! What have ya' got to lose? This is just between you and me. No belt on the line... just me kickin' your ass! Come on!
Angle waits once again, then hears...
*I'm Back*
Not exactly the music Angle wanted, as RAW's General Manager, Eric Bischoff comes out to a fair bit of heat. He only walks out onto the top of the ramp, not wanting to risk going down to the ring with a pissed off Angle. He already has a microphone in hand, as he stops and waits for his heat to die down.
Eric Bischoff:
Kurt. Kurt, Kurt Kurt Kurt Kurt, Kurt. I thought you'd know better. Edge isn't about to come out here. In fact, I won't let him!
Heat from the crowd as Bischoff smiles.
Eric Bischoff:
Y'see, Kurt, I have a big main event tonight... and I'm not prepared to risk it. That's why tonight, you won't be getting your hands on Edge... at all. Now while last week, I may have had my problems with Edge, but y'gotta understand Kurt... he's my champ. He's my money. But, since it seems that you're just oh so eager for action, I'll give you some. Now, I already had Triple H and Kane goin' one-on-one...
Pop.
Eric Bischoff:
But y'see, Kane wasn't the only man who wanted to climb in the ring with Triple H. His partner, the Big Show, he also wanted a piece of Triple H. Problem was, I didn't have a partner for Triple H... until now.
Kurt Angle:
And just why in the hell would I want to team with Triple H?
Eric Bischoff:
Y'know, I thought you'd ask that, Kurt. And I know that you know I only want you to team with Triple H to keep you away from Edge... so I thought to myself, "Just how can I make sure Kurt teams with Hunter?" And what do ya' know, it came to me. Y'see Kurt, you have that spot in the Rumble, don't ya'?
Bischoff smiles.
Eric Bischoff:
You do. But wouldn't it just be a crying shame if that spot were to say... disappear? I mean, things usually don't just vanish into thin air, but if you don't team with Triple H tonight... you spot in the Rumble may just do that.
Massive heat.
Kurt Angle:
Bischoff you no good son of a...
Eric Bischoff:
Ah, enough of that, Kurt, this is a family show. You wouldn't want your spot in the Rumble to disappear even if you were to team with Triple H, would ya'?
Angle starts to advance towards the ropes, though Daivari holds him back, telling him it's not worth it. At the top of the ramp Bischoff smiles smugly, knowing he's gotten into the head of Angle.
Eric Bischoff:
I didn't think so.
Bischoff continues to smile as Angle shakes with rage in the ring.
Eric Bischoff:
Oh, and Kurt... have a good night.
*I'm Back*
Bischoff smiles and leaves to the back, leaving Angle fuming in the ring. Daivari feverishly tries to calm Angle down, though it looks to no use as Angle shakes in rage in the ring as we head off to our first break of the night.
*Commercial Break*
We return from the break to see Shawn Michaels in his locker-room, garnering a big pop from the crowd. Michaels is busy tying his bootlaces, when a knock is heard at his door. The person at the door doesn't even have the courtesy to await a reply, as we see the door swinging open. The person walks into the room and stands over 'HBK', with the camera backing away to reveal the person to be none other than the owner of the WWE, Vincent Kennedy McMahon. Michaels glances up for a moment, only to look back down and go back to work on his boots, ignoring his boss. Vince is obviously annoyed by this, as he tries to get the attention of Michaels.
Vince McMahon:
Ahem...
Michaels once again raises his eyes, only to lower them again, now working on the other boot. Vince, despite being frustrated, attempts not to show it by keeping a calm expression on his face, sans the giveaway sign of his cheek quivering. Realising Shawn isn't about to pay attention, Vince decides it's best off to just begin his spiel.
Vince McMahon:
Shawn... I know it seems like I've been a bit unfair on you lately. I mean, I can understand you thinking I've tried to screw you over. I did after all have you enter the Elimination Chamber first. I prevented you from using Sweet Chin Music when up against 'The Monster' Kane. And last week, last week I made sure Carlito & Chris Masters... I made sure they
hurt
you. And even though there is a method behind my madness, I'd like to think I'm a nice guy. I'd like to think I'm a fair man. So
if
... and only
if
tonight, you're able to make both Lance Cade
and
Trevor Murdoch bleed in your First Blood Match against them, I will grant you a spot in the Royal Rumble.
The crowd pops, only for Michaels to continue to look down at the ground, despite the fact he has now finished with his bootlaces.
Vince McMahon:
But that's a big if, now isn't it?
McMahon smiles to himself, happy with his talk to Shawn. Shawn, still looking at the ground until this point, suddenly gets up to his feet and stares Vince right in the eyes, before walking out of his locker-room, leaving Vince standing there by himself.
We now cut back to ringside to hear the sound of...
*Ain't No Stoppin' Me Now*
The athletically stacked Shelton Benjamin walks out onto the stage looking rather calm, despite his current slump. Much like last week, he doesn't pay much attention to the fans, instead deciding to direct his attentions to the squared circle as he walks down to it. He doesn't even showcase his athleticism as per usual as he climbs up the steps, rather than jumping right up to the top of them, which we have become accustomed to seeing from Benjamin. He then climbs into the ring and circles it, looking to the top of the ramp, again, not paying too much attention to the fans despite the nice pop.
Joey Styles:
Ladies and gentlemen, welcome back to Monday Night RAW, and what a blockbuster beginning to the broadcast it has been. We started off with Kurt Angle calling our WWE Champion Edge out, only for RAW General Manager Eric Bischoff to make his presence felt by telling Angle he won't be getting Edge; rather he'll be teaming with Triple H tonight to take on the World Tag Team Champions, Kane and Big Show!
Jerry Lawler:
And if Angle doesn't team with Triple H, he'll lose his spot in the Rumble!
Jonathan Coachman:
I have to agree with our General Manager on this decision. While I am a fan of Angle, he has no right to come after the WWE Champion.
Joey Styles:
I don't know about that, Coach, but then after the break, we saw Vince McMahon tell Shawn Michaels that if he can make both of Lance Cade and Trevor Murdoch bleed in his match tonight, he'll earn himself a spot in the Rumble.
Jerry Lawler:
For Michaels it may as well be a Second Blood Match!
Lillian Garcia:
The following contest is scheduled for one fall. Introducing first, from Orangeburg, South Carolina, weighing 248 lbs, Shelton Benjamin!
*Firestorm*
The crowd gives out some decent heat as the self-confident and perhaps arrogant Gregory Helms walks out, nodding his head up and down with the beat, the top of his head covered with a beanie. He then tilts his head down and raises his hand, before walking down the ramp quickly, jawing off to some fans at ringside on the way. He then climbs up into the ring and proves that he is in a completely opposite state of mind to that of Shelton Benjamin by playing it up to the crowd as much as possible, getting good heat.
Joey Styles:
Well, after those two big announcements we have a very big match to start RAW off with here tonight, as Shelton Benjamin, a man who is in quite a slump at this very moment faces a man who is going the complete opposite way. Ever since turning his back on the fans, Gregory Helms' career has taken off. He's found such a rich vein of form that he in fact beat this man sitting beside me, Jerry 'The King' Lawler twice in two days.
Jerry Lawler:
No need to remind me, Joey. I can tell you that while he has an appalling attitude, Helms is one of the best young guys going around here on RAW. Whether or not he can capitalise on all of that talent or not is another thing.
Jonathan Coachman:
Appalling attitude? What, because he knows he's good? Gentlemen, when you 're as talented as Gregory Helms, or the Coach for that matter, you know that you're good!
Lillian Garcia:
And his opponent, from Raleigh, North Carolina, weighing 205 lbs, Gregory Helms!
| Match One |
| Singles Match |
| Shelton Benjamin vs Gregory Helms |
With two of the more gifted athletes on the RAW brand, this one kicks off at a nice pace. Despite Helms being in the better form out of the two men engaging in battle here, Shelton Benjamin is able to gain the early advantage, targeting the arm of the artist formerly known as The Hurricane. Helms looks like getting back in things as he nails a knee to the midsection of Benjamin, then dashes off to the ropes, only to be taken over with a stunning Japanese arm drag from Benjamin, showcasing his wrestling prowess. Benjamin then lifts Haas back up and tries to elevate him up onto the second rope in the corner by the arm, only for Helms to come off the second rope with a big arm drag, sending Benjamin hurtling down to the mat. Both men get back up, with Benjamin looking to go right at his foe with a boot to the midsection, only for Helms to catch his boot. Helms then throws Benjamin's boot around, leading into an attempt at the dragon whip from Benjamin. Helms is able to duck it at the last minute though, then run off the ropes and come back with a big leg lariat to the turning Shelton, sending him down to the mat.

Helms gets right on top of Benjamin, following up with a series of heavy mounted right hands. Helms keeps on the offensive here, taking control of the match completely, going to work on Benjamin's neck, waring it down. Benjamin is able to show his fight though, not staying down, instead kicking out of every pinning predicament brought in front of him, prompting Helms to apply a dragon sleeper, torturing the neck of Benjamin whilst also not allowing him to breath. Despite Helms having the hold synched in deep, Benjamin keeps his hand up the third time it is raised, then fights back to his feet. Benjamin looks like he's set to get right back when Helms suddenly nails a boot to the midsection. Helms then runs off to the ropes, bounces back and nails a blockbuster neckbreaker on Benjamin, taking him down for a two count. Helms gets to his knees and looks around, unsure of what to do, before deciding to head up top. He waits on Benjamin to get up, only for Benjamin to spot Helms as he rises back to his feet, prompting him to charge across and jump up to the top rope with Helms before he can react. He then hammers away on the back of Helms with some big right hands before taking him over with a huge superplex, crashing down to the mat.

Both men are down for a considerable time after the big move, taking their time to recover. Once they're up, Benjamin takes control of the match, blocking a wild right from Helms, then going on the attack himself with right hands. Benjamin then whips Helms off and scores on him with a flying clothesline on the return. Benjamin then stays on the offence, keeping on top of Helms with some solid offence, leading into a belly-to-belly suplex which scores Benjamin a two count. He gets back to his feet, then stops for a moment and considers his next move, before deciding upon sending Helms into the corner with an Irish whip. He goes in after Helms, looking to score with a big stinger splash, only for Helms to evade the move by coming out of the corner. Benjamin hits the corner hard, then comes back at Helms who goes for a clothesline. Benjamin is able to duck, then wait on Helms to turn around. Helms does just that, only to see a boot coming at him. The North Carolinian is able to catch it, then throw the leg of Benjamin around with Benjamin coming back with a huge dragon whip! Helms stumbles back into the corner, looking almost out on his feet, only for Benjamin to nail a huge stinger splash in the corner! Helms falls in a heap, with Benjamin going for the pain right afterwards... though only a two count comes of it!

Benjamin looks as if he can't believe it, questioning the ref, thinking his slump was over for sure. Alas, that is not to be, as Benjamin gets up and now waits on Helms to get up, looking for the T-Bone Suplex! Helms gets up and Helms gets him in position for it... though Helms comes out of nowhere with a small package... for a two count. Benjamin breaths in a sigh of relief, thinking he may have lost again before getting back up and charging at Helms. Helms is able to spot him though, then suddenly grab him by the legs and drop him across the top rope with a hot shot! Benjamin staggers back... Nightmare On Helm Street! Helms quickly makes the cover and gets the three, continuing Benjamin's losing streak.
Winner: Gregory Helms via pinfall @ 8:04
*Firestorm*
Lillian Garcia:
Here is your winner, Gregory Helms!
Helms gets back to his feet, getting his hand raised by the referee immediately to signify him as the winner. Helms then quickly drops down and rolls from the ring, walking up the ramp with his arms raised.
Joey Styles:
Once again Shelton Benjamin puts forth a tremendous effort, only for his losing streak to continue on.
Jerry Lawler:
Benjamin just can't buy a win!
Jonathan Coachman:
Guys, let's not lose focus on just who won here. While Shelton may have continued his current poor streak, Helms has continued on his winning streak. He has proved why...
Joey Styles:
Hang on Coach... get a look at who's at the top of the stage!
We see Helms continuing up to the top of the ramp now to the top of the stage, walking past Charlie Haas who has come onto the stage. The two look at each other for a moment, before Helms continues on. Haas meanwhile walks down the ramp, then climbs up into it to little response from the fans. The former All-American climbs up into the ring and looks at his former partner as he picks himself back up to his feet. Benjamin gets right up and sees Haas standing over him, looking shocked at first. He then pushes Haas back and suddenly leaves the ring, walking out on both his former partner and perhaps former friend.
Jerry Lawler:
Shelton looks as if he doesn't even want to see Charlie.
Jonathan Coachman:
Can you blame him, King? I'd be pissed off too if I were Benjamin. Benjamin just went to a hard fought loss. He doesn't need someone looking down on him now.
Joey Styles:
I don't know if Haas is looking down at Benjamin, Coach. He might just want to be looking out for his friend.
We now get a preview flashing across the screen for Ric Flair vs Edge in a Street Fight tonight, with the WWE Championship on the line.
Joey Styles:
Regardless, tonight still has a lot to come, with one of the biggest matches in RAW history to main event the show tonight. Ric Flair, in his hometown of Charlotte, will tonight challenge Edge for the WWE Championship in Edge's first ever title defence!
A preview for Shawn Michaels vs Lance Cade & Trevor Murdoch in a First Blood Match is now shown.
Jerry Lawler:
Not only that, but Shawn Michaels goes up against Lance Cade & Trevor Murdoch in a First Blood Match!
Joey Styles:
And King, that match is up next!
*Commercial Break*
We return from the break to see Todd Grisham standing by in the interview area.
Todd Grisham:
Ladies and gentlemen, please welcome my guests at this time, Lita, and the WWE Champion, Edge!
Huge heat as Edge walks into the picture wearing a 'Rated R Superstar' t-shirt, the WWE Title slung over his shoulder. Lita meanwhile has a 'Rated R Superstar' singlet, which has been cut to showcase her ample chest.
Todd Grisham:
Edge, tonight you defend your WWE Championship against Ric Flair in his hometown in a Street Fight. Now, while this is your first title defence, you already have many other superstars gunning after you, including John Cena, who you will face at the Royal Rumble if you beat Flair tonight, and Kurt...
Edge:
Whoa, what do you mean 'if'?
If
I beat Ric Flair? Todd, it's
when
I beat Ric Flair.
Massive heat.
Edge:
Now I know we're in Charlotte here tonight. Ric Flair's hometown... Flair Country!
Huge pop.
Edge:
Tonight's Ric Flair's big night... tonight, he can make it seventeen! He can become a seventeen time world... champion! And while normally, normally Ric Flair would be almost a shoe in to win in his hometown, that's not gonna' happen. Not tonight...
not to me
. Y'see, as much as I hate to break it to ya', tonight Ric... tonight's not your night... tonight's
my
night. Hell, it's not just my night; 2006 is
my year
! And the year, it's just begun, so if you think, Ric... if you think you're gonna' derail it for me already, you've got another thing comin'.
Heat as Edge pauses.
Edge:
Now, as far as Angle and Cena go, well really, they're nothing but an afterthought. For now, all I really care about is beating Ric Flair right here tonight. However, I did see Kurt come out tonight and give his little speech on me supposedly 'stealing' the title and how he'd done things the honourable way. Well Kurt, we all know that's a load of bull. As you said yourself, for months you were after Cena. You tried your heart out to win the title... you tried to do anything you could. But the fact is Kurt; you just couldn't quite do it, now could ya'? And then, then when I'm able to do it, when I'm able to beat Cena and become the WWE Champion, you just can't take it. You just can't take the fact that while you can't beat Cena, someone else can. You just can't take the fact that I, I'm the WWE Champion, and you... well, you're not, are ya'?
Edge pauses and smiles at Lita, as she smiles back, the two looking at each other almost sickeningly.
Edge:
And Kurt, you can say I stole the title all you want. You can say it's not what you would have done until you're red in the face, I really don't care. But besides the fact that I earned this briefcase by defeating five other man at WrestleMania last year, the question I have for you Kurt is are we all that different? Would you have not done what I did? Because Kurt, while you
claim
I stole the title, I know that if you were me, you would have done the exact same thing.
Edge pauses as heat comes in from the crowd.
Edge:
Tonight, it's Flair. At the Rumble, it's Cena. And at WrestleMania, if you're able to win the Rumble, it'll be me and you. And y'know what... I
dare you
to win the Rumble.
Edge smiles, then walks off with his girlfriend in tow. We then cut off elsewhere backstage, where we see Ashley warming up. She's busy, doing a calf stretch by pushing off the wall when suddenly Trish Stratus walks in to a big pop from the crowd.
Trish Stratus:
Hey Ashley.
Ashley looks up and suddenly sees Stratus, bringing a smile over her face as she moves away from the wall and hugs Stratus.
Ashley:
Hey Trish, how are ya'?
Trish Stratus:
I'm good thanks. I just came 'round to wish you good luck in your tag match tonight. Y'know, I'd love to defend my title against you at the Rumble, and just between us, I was kinda' hopin' you'd win tonight, since we are friends and all.
Ashley:
Hey, better me than Mickie, right?
Ashley laughs as Stratus looks somewhat uncomfortable at the remark.
Trish Stratus:
I don't know... I like Mickie and all... I just think she's a little...
Ashley:
Crazy?
Trish Stratus:
Look, I'm willing to give her a chance. Anyway, good luck in your match tonight, I'll be watching. I just gotta' go take care of some business for now.
Ashley:
Alright, well, I'll see you after the show.
Trish Stratus:
Yeah, sounds good. Good luck.
With that Stratus now leaves the locker-room. The camera follows her out as he watch her leave (causing King to cream himself). The camera then turns around to see Mickie James pressed against the wall with a confused look on her face, having perhaps listened in on their conversation. How much had she heard?

We'll never know (well, maybe not never, we just mightn't know for now), as we cut back to ringside to hear...
*Showtime*
Lance Cade & Trevor Murdoch now make their way out to a small reaction, storming down to the ring quickly, Murdoch looking pissed off as ever, while Cade tries to calm him down. The pair climb up into the ring, then climb up on the second rope, posing for the fans to still little heat.
Joey Styles:
We're back here on Monday Night RAW, and what a match we are about to see. Cade & Murdoch, Mr McMahon's stooges for the night, tonight face Shawn Michaels in a First Blood Match. Now while this isn't confirmed, we can expect that Mr McMahon will have promised Cade & Murdoch the same thing he promised Carlito & Chris Masters last week in a spot in the Rumble if they are able to make Michaels bleed. We also know that Michaels himself will get a spot in the Rumble if he is able to make both Cade & Murdoch bleed here tonight.
Jerry Lawler:
I think the only reason Mr McMahon offered Shawn up the spot in the Rumble is because he doesn't think Shawn has a chance of winning!
Jonathan Coachman:
Gentlemen, gentlemen. Mr McMahon is a highly esteemed individual. He would only offer up such a spot because he's a fair man, not because he doesn't think Shawn Michaels has a chance, which by the way, he doesn't.
Lillian Garcia:
The contest is a two-on-one handicap first blood match! Introducing first, weighing a combined weight of 502 lbs, Lance Cade & Trevor Murdoch.
*Sexy Boy*
The crowd erupts with a huge pop as Shawn Michaels swaggers his way out onto the stage where he prays to the heavens as pyro shoots out from behind him. Michaels then springs up and plays it up to the crowd on the way down to the ring, despite the serious match he's about to take part in. 'The Showstopper' climbs up into the ring and shows off his muscles, going down into his usual pose, only for Lance Cade to jump him from behind, nailing him with a big forearm to the back of the head, jumpstarting this match!
| Match Two |
| Two-On-One Handicap First Blood Match |
| Lance Cade & Trevor Murdoch vs Shawn Michaels |
The former student of Michaels aggressively starts the match, beating down the man who taught him with aggressive mounted shots right to the face, looking to cut him wide open. Unfortunately for Cade, he is unable to do that, at least for now. The tandem do have the early edge however, and are able to keep it up until Michaels suddenly comes out with a knife edge chop, slapping the chest of Murdoch with as much force as humanly possible, sending sweat flying off the unfit chest of the southerner. Michaels keeps on going with the chops, knowing they've being effective, before nailing Murdoch with a back body drop. Michaels then begins to toot up the band prematurely, as shown by the fact that Murdoch is able to duck under the oncoming boot of 'HBK'... AND DELIVER A LOW BLOW! Remember, it's no disqualifications here folks, so Murdoch goes unpunished for the normally illegal move. This of course instantly halts the momentum of Michaels, as well, it's hard to hurt people when your nuts are aching in pain. Cade & Murdoch continue to go after Michaels' face, looking to cut him open, even resorting to just plain raking and clawing at him to little success. The duo realise that they may as well not tag in and out as the referee can't do anything, with them now beginning to both stay legal, beating down Michaels.

Michaels finally starts to fight back as the tandem take the time to pose, getting more heat than in the rest of their career as a team combined (since well, they've never faced anyone ever near as over as Michaels), allowing Michaels to take turns at nailing both with right hands, hitting one after the other, getting the crowd to build into a frenzy. The wind is taken out of their sales immediately after though, as Cade & Murdoch storm the corner, hitting a flurry of random strikes, just trying to put Michaels down. They do this successfully, thinking now that they've got Michaels where they want him as they send him off with an Irish whip. On the rebound they go for a double clothesline, which Michaels is able to duck before nailing a big flying forearm on Murdoch, sending him down to the mat. Cade looks to get right on Michaels, though he kicks his leg up into his face, then kips back up to his feet! Cade & Murdoch both get up, getting flurry of right hands, knocking them right back down one after the other. Michaels follows up by scoring with an inverted atomic drop on Murdoch, then decking him with a right, before scooping Cade up and slamming him down across Murdoch. The crowd is going nuts as Michaels ascends his way up to the top turnbuckle, then comes off with a big flying elbow, landing on top of both men!

Michaels gets up, full of life as he pumps the crowd up, before tooting up the band for the second time in the match, wanting to score Sweet Chin Music on Murdoch (as Cade has left the ring, rolling out). Murdoch slowly gets up... BAM! SWEET CHIN MUSIC CONNECTS! Michaels looks to the crowd who roar in approval... BEFORE TURNING TO SEE LANCE CADE CHARGING AT HIM WITH A STEEL CHAIR --- WHICH MICHAELS DUCKS! Michaels kicks the turning Cade in the midsection and grabs the steel chair from him... SMACK! STEEL CHAIR RIGHT TO THE FACE OF CADE --- BUSTING HIM OPEN! Michaels then turns to Murdoch and waits on him... WHACK! STEEL CHAIR RIGHT TO THE FACE AND --- MURDOCH IS BLEEDING TOO! The referee sees this and immediately calls for the bell, signalling the end to this contest.
Winner: Shawn Michaels via first (or second?) blood @ 7:32
*Sexy Boy*
Lillian Garcia:
Here is your winner, Shawn Michaels!
Michaels looks to the crowd, a huge smile sweeping across his face. Michaels has done it, and he knows it; he has qualified for the Royal Rumble Match. While there's no doubt that Vince McMahon will be after him again at some point, Michaels takes this moment to enjoy himself for perhaps the first time in at least a month, as he climbs up to the second rope in the corner and plays it up to the Charlotte natives.
Joey Styles:
Oh my God! Shawn Michaels has done it! Shawn Michaels has overcome the odds tonight and he has earned himself a spot in this year's Royal Rumble!
Jerry Lawler:
Shawn Michaels may not have dealt with Vince McMahon for good, but this is a moment he can enjoy, Joey.
Jonathan Coachman:
Guys, I really don't know what all of the fuss is about. I mean, sure, Michaels won tonight, but do you really think Mr McMahon is gonna' take that lying down? I don't think so.
Joey Styles:
Coach, you have a point, however I see nothing wrong with allowing Shawn Michaels to enjoy this moment.
We see Michaels now leaving the ring, clapping his hands and enjoying his time with the fans at ringside before cutting away to see the incomparable 'Nature Boy', Ric Flair arriving in the arena earlier in the night as the crowd gives off a humongous pop, having seen it on the tron themselves. Flair has his big crooked grin etched into his face as he walks through the backstage area in a rather suave suit, wheeling his luggage along behind him. He shakes the hands of a few men on the way in, including his old buddy Arn Anderson, as well as fellow former Horseman, Dean Malenko.
Joey Styles:
Ladies and gentlemen, that is Ric Flair arriving here earlier tonight. He looks full of spirit ahead of his match with Edge tonight, however the question is can he do it? Can he become a
seventeen time
world champion?
We now get a preview of that match across our screens.
Jerry Lawler:
I don't know, Joey, but you better believe Ric will give it his best effort.
We then cut off to see an image of the divas tag match, which for those of you who didn't read or can't remember the preview, is Mickie James & Ashley teaming up to take on Victoria & Candice Michelle.
Joey Styles:
Ladies and gentlemen, that's later tonight in our main event, however coming up next we find our number one contender for the Women's Championship!
Jerry Lawler:
Oh, I can't wait! Bring on the divas!
Joey Styles:
You won't have to wait long, King, because that is next.
*Commercial Break*
We're back from the break, returning to see Eric Bischoff playing with his phone, getting a rather heated reaction from the crowd. Someone then walks into the room, with the camera now zooming out to see Triple H! The crowd gives a massive mixed reaction, as while Tripper's a heel, he's a pretty damn popular one. Hunter smirks, prompting Bischoff to look up and smile.
Eric Bischoff:
Triple H! To what do I owe this pleasure?
Triple H:
Cut the crap Bischoff, we both know why I'm here.
Bischoff looks somewhat nervous after the aggressiveness of 'The Game', gulping and shifting in his leather jacket a little uncomfortably.
Eric Bischoff:
Is it... is it because you're teamin' with Kurt Angle tonight?
Triple H:
You're a smart man, Eric. But y'know what'd make you even smarter? Changing that little match back to just me and Kane. Because in case you haven't noticed, I don't like Kurt Angle. I have never liked Kurt Angle. And while you may think this is a great way to distract Angle from his little troubles with Edge, I want nothing, and I mean nothing to do with him. Do I make myself clear?
Eric Bischoff:
Listen... I know you don't wanna' team with Angle. But Hunter, you gotta' understand... I
had
to do this. Tonight's main event... it's a Street Fight! That means no disqualifications, no count out, no nothin'! And while when I had that idea last week, it seemed like a good idea, with Angle now wanting Edge, it just doesn't work so well. So I had to distract Angle. I
had
to. It's too late to back out of the stipulation. Think of the backlash! Think of the angry fans! Think of how... think of how Mr McMahon would react! Hunter... I
had
to.
Bischoff stops, still looking rather nervous, and now flustered on top of that after his rushed little speech.
Triple H:
Eric, I don't think you're gettin' where I'm coming from... I don't care! I don't care about tonight's main event, I don't care about Edge, and I certainly, certainly don't care about Ric Flair...
To say the crowd gave absolutely fucking massive heat for this would be an understatement.
Triple H:
What I do care about, is the fact that now I have to team with Angle. You think you had Angle pissed off? Just think of how pissed
I'm
going to be if you don't fix this right... now.
The crowd reacts with a mixed response as Bischoff thinks, trying desperately to come up with an idea.
Eric Bischoff:
Alright, alright... I've got it. Okay, so y'know how I dealt with Angle at the start of the show? Giving him that ultimatum? Well, I've got a similar idea... though I think you're gonna' like this.
Triple H:
Go on...
Eric Bischoff:
Well...
The camera now cuts to black, drawing some major heat from the crowd, as they wanted to know exactly what was going on. The camera now cuts back to ringside, where we now see our announcers seated.
Joey Styles:
Triple H is not happy, though what I really have to wonder about is the deal he and our General Manager Eric Bischoff were about to discuss. What were they up to?
Jonathan Coachman:
Believe me, whatever Eric's offering up Triple H, it will appease him. Eric Bischoff is one of; if not the smartest man the wrestling business has ever seen.
Joey Styles:
Well, it's nice to know you're looking for a pay rise there, Coach.
*Obsession*
With the announcers done with their, as Mr T would put it, jibber jabber, Mickie James bounces out to a pretty big pop, because lesbians are hot, and chicks bouncing up and down when wearing a mini-skirt is always welcome. The charismatic diva bounces her way on down the ramp and slides into the ring, where she climbs up to the second rope in the corner and raises her arms to a nice pop.
Joey Styles:
Moving on, right here we're set to find our number one contender. Now, this is a tag match, make no mistake about it. However, the woman who scores the winning fall will become the number one contender to Trish Stratus' Women's Championship and as such, will go on to challenge her for that very belt at the Royal Rumble.
Jonathan Coachman:
Now it's just time to find out whether it'll be Candice or Victoria.
Jerry Lawler:
I actually agree with you, Coach. I mean, how are Ashley and Mickie going to co-exist, especially after Mickie heard Ashley bad-mouthing her earlier tonight?
Lillian Garcia:
The following contest is a divas tag team match with the woman who makes the pinfall or submission becoming the number one contender to the Women's Championship! Introducing first, from Richmond, Virginia, Mickie James!
*Be Yourself*
Ashley now walks out to a decent pop from the crowd, saluting them before walking down the ramp and joining Mickie in the ring, though not standing next to her.
Joey Styles:
Well, we don't know how much Mickie actually heard, King, but we do know she was listening in on Ashley and Trish earlier.
Jonathan Coachman:
I'm not sure how much she heard is important, Joe. She's nuts either way!
Lillian Garcia:
Her partner, from New York City, New York, Ashley!
*Don't Mess With*
Victoria & Candice Michelle now make their way out together, unlike their opponents, with Torrie Wilson accompanying them. The trio get a lukewarm reaction as they walk down to the ring rather confidently, Victoria climbing into the ring while Candice takes her gown off to reveal her wrestling attire. The duo join each other in the corner with Torrie on the apron, while Ashley stands in the opposite corner and Mickie stands outside the ring.
Jonathan Coachman:
Now look at this. Candice and Victoria come out together like a true unit.
Jerry Lawler:
Oh and they have Torrie with them!
Joey Styles:
Candice and Victoria coming out together may well be a telltale sign there, Coach. They'll definitely get along better than Ashley and Mickie will.
Lillian Garcia:
Their opponents, being accompanied by Torrie Wilson, the team of Victoria and Candice Michelle!
| Match Three |
| Tag Team Number One Contender Match |
| Mickie James & Ashley vs Victoria & Candice Michelle w/ Torrie Wilson |
So with four divas, two of which are complete shit, what do you expect this to be? Luckily, it's not too long. Ashley starts out dominating Candice and Victoria with some sloppy offence before Mickie takes it upon herself to reach over the top rope and tag herself in, much like last week. Mickie takes the control, using some nice arm drags, a Mickiecanrana, and then a go at the Mickie-DT, which Candice counters by pushing Mickie back into her corner, allowing Ashley to now make the blind tag in! Ashley climbs into the ring and mouths off with Mickie for a moment, giving Candice a chance to run across and deck her with a heavy shot to the back. Candice and Victoria seize the momentum, taking full control of the match by dominating Ashley. A few teases at the tag are made as Ashley almost makes it, coming ever so close only for Victoria to drag her away by the leg. Finally Ashley is able to nail a surprising enzuiguri, taking Candice down, before looking for the tag... THOUGH MICKIE DROPS DOWN FROM THE APRON! The crowd gives a slight reaction of boos as Ashley turns around, luckily getting some momentum going now as she hammers away on a charging Victoria with a heavy right hand, sending her stumbling back.

Ashley keeps the offence going, nailing a few more forearms before taking Victoria down with a big swinging faceplant. Candice makes her way into the ring and she gets a kick to the midsection then a quick swinging neckbreaker, taking her down. Ashley then turns back to Victoria and hits some big rights, sending her back to the corner before sending her off to the opposite corner with an Irish whip. The blonde beauty charges in after Victoria, looking to launch an attack, only to eat boot. Victoria then gets a stumbling Ashley up onto her shoulders and nails the swinging side slam, though only for a two count! Victoria can't believe it as she gets back up, then waits for Ashley to regain her footing. Ashley finally gets to her feet and instantly receives a kick to the midsection... VICTORIA GETS HER UP FOR THE WIDOW'S PEAK... BUT SHE SLIPS OUT AND ROLLS VICTORIA UP! The crowd counts... BUT NO REFEREE AS MICKIE JAMES HAS HIM DISTRACTED IN THE CORNER! CANDICE THEN HURRIES BACK INTO THE RING WITH HER BOOT IN HAND?! SHE NAILS ASHLEY IN THE BACK OF THE HEAD WITH IT! Ashley is out as Victoria rolls through and Mickie drops from the apron, gaining the three count.
Winners (and thus Victoria becoming number one contender): Victoria & Candice Michelle via pinfall @ 4:48
*Don't Mess With*
Lillian Garcia: Here are your winners, Candice Michelle and the new number one contender for the Women's Championship, Victoria!
Victoria falls off Ashley and rolls to the outside of the ring where Candice (along with her boot which she's holding) and Torrie join her, celebrating their victory and Victoria's shot at the gold. Inside the ring, Mickie James is now standing, looking down upon Ashley, who looks out after the shot from the boot of Candice. The face of Mickie is hard to read, as there seem to be elements of joy, mixed in with maybe confusion and even perhaps fear.
Joey Styles:
Well, Victoria is indeed the number one contender, but just in case anyone ever doubted it, here is proof. Just look at the expression on Mickie's face!
Jerry Lawler:
She... she almost looks like she can't believe what she did.
Jonathan Coachman:
And that's the most disturbing thing about all of this, King.
We take one more look at the psychotic Mickie James in the ring before heading off backstage into the locker-room of Shelton Benjamin. The crowd give little to no reaction as Shelton (in his street clothes on jeans and a Hawaiian shirt) zips his bag up and slings it over his shoulder. He then opens his locker-room door and looks to leave when he suddenly comes to a halt. Benjamin sighs as Charlie Haas is the reason he came to a halt, getting himself a small pop.
Shelton Benjamin:
What do
you
want?
Charlie Haas:
What I want, Shelton, is a moment of your time. Y'see I've been callin' you, e-mailin' you, droppin' you messages, doing anything I can do to try to contact you for months, yet you don't reply. So finally, finally I get Eric Bischoff to sign me to RAW, and you still ignore me? Shelton, I've been tryna' contact you ever since you entered this little slump of yours, tryna' get somethin' going between us. Because Shelton, you know, you know that
you
were at
your
best when
we
were at
our
best. You know that as a team, we were the best... we were the world's greatest.
Shelton Benjamin:
And why do you think I've been ignoring you, Charlie? Why? Me and you as a team... we're done. We were done years ago, and believe me, it's not gonna' be changing any time soon. So if ya' don't mind...
Charlie Haas:
What's the matter, Shelton? Are ya' scared of admitting that you need me? Are ya' scared of the fact that you're not the best singles guy in the world. Face it Shelton, you've been in a slump for a reason. But me and you as a team... we're unstoppable.
Benjamin looks at Haas, seemingly thinking for a moment. However, he just blows Haas off, walking on past him.
Charlie Haas:
(Shouting out to Benjamin)
Hey, listen... all I ask is that you...
Benjamin opens the door at the end of the corridor and shuts it, leaving Haas by himself.
Charlie Haas:
(Quietly to himself)
Think about it...
Haas looks at the hall, then hits it in frustration, before walking away from the camera with his hands on his hips, looking rather obviously pissed off as we head off to the break.
*Commercial Break*
We return from the commercial break to see the lovely Maria standing by in the interview area.
Maria:
Please welcome my guests at this time, Carlito and 'The Masterpiece' Chris Masters!
The crowd gives some decent heat as 'Lito and Masters walk into view, the Puerto Rican with his usual smirk, tossing his signature apple up and down in his left hand, 'The Masterpiece' meanwhile attempts to look dead serious, though it's hard when he as his entrance attire hanging from his back.
Maria:
Gentlemen, last week you two made Shawn Michaels bleed for Mr McMahon, earning yourselves spots in the Royal Rumble. My question is why did 'The Masterpiece' do all of the work?
Carlito:
WHAT?! Did jou not see 'da match? Carlito was out there with 'Da Masterpiece', and he worked just as hard! Just because 'Da Masterpiece' is 'da one who split Shawn Michaels open doesn't mean Carlito didn't do anything!
Chris Masters:
Carlito, calm down.
Carlito paces off in a circle, talking to himself in Spanish.
Chris Masters:
Now Maria, last week, me and Carlito, we took Shawn Michaels and we decimated him. Y'see, people like you, you might wanna' think that there's a wedge between me and 'Lito after what happened in the Elimination Chamber, but really, there's not. Last week Carlito admitted that he was wrong for eliminating me in the Chamber, and I accepted that. So now it's time we move on forward, and look to the Rumble.
Maria:
Well, what if Carlito was to eliminate you from the Rumble?
Chris Masters:
Carlito would never do that, would ya', 'Lito?
Carlito continues pacing around in his circle, muttering in Spanish (and probably swearing).
Chris Masters:
CARLITO!
Carlito:
Err, right... never.
Chris Masters:
See Maria, we're on the same page. We're two of the top young studs in this company, and in two weeks, we'll prove it. In two weeks it'll be the very same when one of us wins the Royal Rumble, booking a spot in the main event of WrestleMania 22.
Carlito:
Carlito main eventing WrestleMania? 'Dat... das' cool.
Chris Masters:
Now if you'll excuse me, Maria, I have a certain little Mexican bug to squash.
Masters paces off as we head back to ringside and hear...
"Ooooohhhhh Chavo"

*Chavito Ardiente*
This of course signals the arrival of Chavo Guerrero who walks out onto the stage to a rather nice pop. He walks down the ramp, pointing to the heavens and slapping the 'EG' band he has around his biceps before climbing into the ring and posing for the fans on the turnbuckle.
Joey Styles:
Ladies and gentlemen, welcome back to Monday Night RAW, where right here we're about to witness a battle between two men who last week punched in their spots in the Royal Rumble.
Jerry Lawler:
Both men were indeed impressive last week, Joey, so this should be a great match.
Lillian Garcia:
The following contest is scheduled for one fall. Introducing first, from El Paso, Texas, weighing 215 lbs, Chavo Guerrero!
*Masterpiece*
The narcissistic specimen known as Chris Masters now walks out to the top of the stage, where he squats down. As the music picks up he poses, showing off his tremendous physique to the audience who give some nice heat while some pyro sprays off behind him. He then strips off his little robe type deal and walks down the ramp, Carlito coming out to accompany him.
Joey Styles:
Well this man 'The Masterpiece' made a huge impression upon me last week with his attack on Shawn Michaels last week.
Jonathan Coachman:
Joey, Masters has looked good ever since he debuted, though last week may have been his coming out. He looks ready to make an impact.
Lillian Garcia:
His opponent, from Los Angeles, California, weighing 275 lbs, he is 'The Masterpiece' Chris Masters!
| Match Four |
| Singles Match |
| Chavo Guerrero vs Chris Masters w/ Carlito |
While seeming like somewhat of a collision of styles, this match is still able to deliver thanks to the experience of Chavo and the potential of Masters (fuck the haters; Masters owns). Chavo starts off at a fast pace, ducking and dodging the lunges of the bigger man, picking his shots as he unloads on him with some kicks to the leg of 'The Masterpiece'. This can only last so long though as Masters eventually catches Chavo and throws him into the corner, where he looks to deliver a right hand. However, the veteran experience of Chavo prevails as he ducks out of the corner and starts to go to work on Masters, nailing some right hands. He then pulls Masters out of the corner and sends him running off with an Irish whip. Masters hits the ropes and rebounds right back into an elbow from Chavo that sends the big man down for a two count. Chavo keeps his offence going, sending the big man back into the corner to tee off with right hands once again. He then tries to send Masters to the opposite corner, only for Masters to use his power, sending Chavo into the opposite corner at an extreme velocity, causing him to fall to the mat after whiplashing back off the turnbuckle. Masters follows right up, charging in after Guerrero and hammering away with him on the mat.

He keeps the assault going for the next few minutes, battering away with strikes, delivering some slams, suplexes and a few illegal chokes to boot. After choking Guerrero away with a boot across the throat in the corner Masters moves to the centre of the ring and shouts out to the crowd, gaining himself some heat. He then turns back to Chavo and tells him to get back to his feet, which he slowly does. At this point Masters gets under Guerrero... LIFTING HIM UP INTO A MILITARY PRESS! MASTERS WALKS AROUND WITH CHAVO FOR A MOMENT --- THOUGH CHAVO STRUGGLES, FINALLY SLIPPING OUT BEHIND MASTERS! Masters turns around and gets a dropkick right to the knees, causing him to fall to a knee in pain... DDT! CHAVO DROPS MASTERS ON HIS HEAD! Chavo doesn't have the energy to capitalise immediately, though he slowly gets back to his feet and sees Masters still down... SO HE DECIDES TO HEAD UP TOP! CHAVO SLAPS HIS CHEST, POINTS TO THE HEAVENS AND LAUNCHES HIMSELF FOR THE FROP SPLASH --- MASTERS MOVES --- BUT CHAVO ROLLS THROUGH! Masters gets back to his feet with Chavo going right after him, nailing some right hands before sending him off and scoring with a back body drop.

Chavo keeps the offence going, dominating Masters eventually leading into a beautiful missile dropkick from the top rope which gains him a two count. Chavo then gets up and swaggers around the ring, doing a little shimmy... BEFORE KICKING MASTERS IN THE MIDSECTON AND INITIATING THE THREE AMIGOS! HE NAILS THE FIRST TWO SUCCESSFULLY, THOUGH WHEN GOING FOR THE THIRD, CARLITO GRABS THE FOOT OF MASTERS FROM THE OUTSIDE! Masters nails some big rights to the midsection, having had time to recover thanks to Carlito buying him time. Masters then grabs Chavo by the midsection, lifting him up into the air and nailing him with a hot shot across the top rope. Chavo stumbles back holding his throat... MASTERS GOES FOR THE MASTERLOCK --- BUT CHAVO DROPS DOWN TO THE MAT AND HOOKS HIS LEGS AROUND MASTERS, TAKING HIM INTO A VICTORY ROLL --- ONLY TWO! Both men get back to their feet, with Chavo instantly kicking Masters in the midsection and taking him over with a suplex, before signalling it's time for the Frog Splash! Chavo heads up top, though Carlito sees the danger coming for Masters, climbing up to the apron and grabbing Chavo's leg. Chavo eventually kicks Carlito off... THEN LAUNCHES HIMSELF --- ONLY TO CRASH AND BURN! Carlito's distraction proved enough for Masters to regain his whereabouts, allowing him to move out of the way.

Masters then goes behind Chavo... MASTERLOCK! Chavo struggles at first, though to no avail, as there's no escaping the Masterlock, giving Masters a nice victory.
Winner: Chris Masters w/ Carlito via submission @ 5:59
*Masterpiece*
Lillian Garcia:
Here is your winner by submission, 'The Masterpiece' Chris Masters!
Masters doesn't worry about adding insult to injury this week, throwing Guerrero down to the mat after gaining the victory. He has his hands raised by the referee, smirking while doing so as his buddy Carlito joins him in the ring.
Joey Styles:
Even with the interference from Carlito, that was quite an impressive effort from Chris Masters.
Jonathan Coachman:
Ya' damn right it was, Joe. What'd I tell you? This man, along with a few select others, is the future of not just Monday nights, but the whole of the WWE.
Jerry Lawler:
He had a long way to go, though he was impressive as ever tonight. We can't forget Chavo though, who may well have had this match won had it not been for Carlito.
Jonathan Coachman:
Minor details my man, minor details.
We get another look at Masters standing in the ring victorious before heading off backstage where we see Ric Flair pacing back and forth in his locker-room, getting an amazing pop from the crowd. Despite his world title experience, 'Naitch' still looks extremely nervous. Flair's pacing comes to a halt when a knock is heard from his locker-room door, prompting him to welcome whoever it is that is at the door.
Ric Flair:
Come in!
The door opens with Shawn Michaels walking in to a huge pop from the crowd. He slaps Flair lightly on the shoulder, with Flair turning around to face him before the two lightly embrace for a moment and withdraw, with Michaels now looking Flair in the eye.
Shawn Michaels:
Ric, I'm gonna' be honest with ya'. If a year ago, someone had told me Ric Flair would be winnin' number seventeen; I'd have called them a liar. It's not because you lost the ability, Ric. It's not because you weren't good enough, because as the good lord knows, you're the best there is when it comes to the business. What I feared Ric was that you'd lost it... that you'd lose that fire in your belly, that desire to be number one. But today... today I stand before you, Ric, and I can honestly say I believe in you. I can honestly say I believe that tonight, you'll become a seventeen time world champion.
Michaels smiles for a moment, pausing.
Shawn Michaels:
And though you probably don't need it Ric, I'm here to simply say... good luck.
The crowd gives a nice pop for Michaels' well wishes.
Ric Flair:
Thank you Shawn. And y'know... you're right. A year ago... a year ago I was Triple H's lackey, but now... NOW I'M AS FIRED UP AS EVER! I'm no longer Ric Flair the lackey... I'm the jet stealin', kiss stealin', wheel dealin' son of a gun, and you better believe that I am
still
the man! Edge, he might be the WWE Champion, but Shawn, he has never beaten me... he has never beaten
the man
.
Flair pauses and smiles himself, much like Shawn did.
Ric Flair:
So Shawn, thank you.
The two embrace one last time as we head off to a commercial break.
*Commercial Break*
We return from the break to see a similar vignette to last week, hyping the return of Rob Van Dam as his theme 'One of a Kind' plays in the background. It shows how awesome RVD is in the ring before concluding with the message "RVD returns... Royal Rumble".
Joey Styles:
Ladies and gentlemen, what you saw there is true; RVD will indeed be returning at the Royal Rumble. But that's not all there will be.
Jerry Lawler:
That's right, Joey. The Women's Championship will be defended as Trish Stratus goes up against Victoria.
Jonathan Coachman:
That match was made earlier tonight after Mickie cost Ashley the win. Will Trish be distracted by these problems enough to let Victoria in a get the win?
Joey Styles:
Over on the SmackDown! side of things, 'The Animal' Batista will defend the World Heavyweight Championship against Mark Henry.
Jonathan Coachman:
Henry's made an impact on SmackDown!, no doubt about it, but can he defeat 'The Animal'?
Jerry Lawler:
The WWE Championship will be on the line, as either Edge or Ric Flair will defend the WWE Championship against Ric Flair, depending on who wins tonight's main event.
Joey Styles:
And then there's the Royal Rumble. Fifteen superstars from RAW and fifteen superstars from SmackDown!, all competing to go onto the main event of WrestleMania. One dream will be fulfilled, twenty-nine broken; who will punch themselves a ticket to the main event of WrestleMania 22?
"Well It's A Big Show!"

*Slow Chemical*
The crowd gives a pretty good pop as the World Tag Team Champions make their way out, walk down to the ring intently. Once both giants have climbed up over the top rope into the ring Kane raises his arms and throws them down, setting off his ringpost pyro.
Joey Styles:
The four men in this match will all be representing RAW in the Rumble. Can tonight be a way for them to soften one another up?
Jonathan Coachman:
It can, Joey. This is a big chance for them to get into the heads of one another. It's just up to them to take advantage of the situation.
Lillian Garcia:
The following contest is a tag team match, and it is scheduled for one fall. Introducing first, weighing a combined weight of 605 lbs, the World Tag Team Champions, Kane & Big Show!
*The Game*
The crowd erupts into a huge mixed reaction as the music of the 'Cerebral Assassin' begins. When the beat starts to kick in Triple H walks out to stand in the lone spotlight at the top of the ramp, head down, water bottle in hand. He drinks a little, then spits it out and starts on his way down the ramp, slowly making his way down to the ring where he does his usual water shtick on the apron before climbing into the ring as Kane and Big Show exit stage left.
Joey Styles:
'The Game' has had his problems with Big Show as of late, including when Triple H broke Big Show's hand in the lead-up to their match at New Year's Revolution. As you can see, the cast is now removed, but Big Show's hatred for Triple H is a completely different thing.
Jerry Lawler:
Well Kane last week said he wanted to get his hands on Triple H too, so Triple H may want to watch his back.
Lillian Garcia:
Their opponents, first, from Greenwich, Connecticut, weighing 275 lbs, Triple H!
*Medal*
The crowd erupts with a huge pop (as opposed to the mixed reaction they originally gave him) as Kurt Angle makes his way out full of intensity, screaming out to the fans. He walks up until halfway down the ramp with Daivari following, before posing as pyro explodes off behind him. Angle now walks down the rest of the ramp and climbs up into the ring where he stares down Triple H before climbing up to the second rope and posing for the fans.
Joey Styles:
Another problem for the team of Angle and Triple H is that I just can't see the two getting along, especially after that intense stare-down.
Jonathan Coachman:
If they're able to get along they'll be good together, Joe. These guys are two of the best wrestlers in the world. Unfortunately, it's a big if.
Lillian Garcia:
His partner, from Pittsburgh, Pennsylvania, weighing 225 lbs, he is the only Olympic Gold Medallist in WWE history, Kurt Angle!
| Match Five |
| Tag Team Match |
| Kane & Big Show vs Triple H & Kurt Angle w/ Daivari |
With Triple H going up against two men who want his blood, 'The Game' immediately shows he wants none of them as he heads straight for the apron, meaning Kurt Angle will be the one to start the match off for his team. He is soon joined by Kane as the match gets underway with two men, who surprisingly have chemistry (what, don't believe me? Watch WrestleMania X-8). Angle ducks and dodges at first, ducking a few shots from Kane before landing the first successful move of the match, taking Kane down with a single leg amateur takedown to a nice pop. Angle floats over the larger man, grabbing a front face lock which Kane doesn't seem to want to be stuck in too long, fighting back to his feet. He then backs Angle into the corner and looks for a right hand, only for Angle to duck it and go to town with some of his own. Angle then attempts to send Kane to the opposite corner, only for Kane to reverse, sending Angle in. Angle hits the buckle then comes back at Kane, being elevated up onto his shoulders for a moment, though only that moment as he slips out. Angle then waits for Kane to turn around before running at him, which proves to be a mistake as Kane nails a huge uppercut. This signals the beginning of some dominance from the champs who tag in and out rather quickly, using strikes at this early stage to work over Angle. Angle eventually makes his way back into the match as he dodges an avalanche attempt from the corner before walking over and tagging in Triple H. 'The Game' is able to stay on top of Show for awhile, using cheap tactics, though Show puts a halt to his offence when he grabs a charging Triple H around the head and nails a headbutt.

Show and Kane once again take over here with their power offence, using strikes mainly, as well as a sidewalk slam from both men, and a snapmare leading into a low dropkick from Kane just to make sure the crowd is still awake. This all leads up to Triple H finally making a comeback after escaping a Chokeslam attempt from Kane and nailing some heavy rights. He looks to send Kane off with an Irish whip, only for Kane to reverse, though that comes back to bite Kane in the ass as he bends down for a back body drop prematurely, copping a facebuster for his troubles before being sent down to the mat by a high knee from 'The Game'. Both men slowly recover and crawl around the ring, Kurt Angle getting the tag in while Kane went to the wrong corner! Angle runs into the ring to a big pop and sends Show off the apron, charging across to nail a big right hand. Angle then runs back to see Kane going for a right which he ducks before popping off three consecutive German suplexes on him to a huge pop. Big Show then climbs into the ring with the intense Angle going right after him, kicking on him as he slides under the bottom rope. Show slowly fights through it to get back to his feet... ANGLE SLAM! ANGLE NAILS SHOW WITH THE ANGLE SLAM! He turns back to Kane and dares him to get back to his feet... ANGLE SLAM TO KANE! The crowd roars in approval as Kane takes his straps down... ANKLE LOCK! ANGLE HAS THE ANKLE LOCK IN KANE! Kane looks as though he's being tortured with the crowd still erupting with cheers... which suddenly turn to boos? Kane struggles around, moving around so Angle is facing the other way... SPEAR?! EDGE NAILS THE SPEAR ON KURT ANGLE, BREAKING HIM IN HALF! The crowd gives some major heat as the referee calls for the bell.
Winners: Kurt Angle & Triple H by disqualification @ 9:12
Edge pulls his long locks back as we now see Lita at ringside, holding the WWE Championship. The WWE Champion now drops down to the mat and rolls from the ring, before searching under the ring and finding what he wants in a steel chair. The 'Rated R Superstar' rolls back into the ring and yells at Angle to get up, getting some amazing heat (while everyone has suddenly cleared the ring). Angle slowly starts to stir, though Edge doesn't get a chance to take his shot as...
"Woooooooooo!"

*Also Sprach Zarathustra*
The crowd goes FUCKING MENTAL as Ric Flair now jogs down the ramp, not wearing his robe, instead a 'Nature Boy' tee along with his wrestling gear. Edge sees him coming and turns his attention to Flair, telling him to hurry up. Flair quickly runs right to ringside and rolls into the ring... EDGE GOES FOR THE CHAIRSHOT --- BUT FLAIR DUCKS IT AND TEES OFF ON EDGE WITH RIGHT JABS! Flair then nails Edge with some hard chops, sending him back against the ropes before grabbing him by the head, running him across the ring and throwing him over the top rope to a huge pop. Meanwhile, the referee calls for the bell, meaning the main event will start right now!
| Main Event |
| WWE Championship |
| Street Fight |
| Ric Flair vs Edge (c) |
Flair starts to style and profile around the ring as we head to a break, right as this contest begins. When we return from the commercials Flair is still on top in this match, nailing Edge with some heavy chops and right jabs in the corner. We get shown a quick highlight package of what happened during the break which is basically Flair dominating Edge on the outside, throwing him into the ringpost and the steel steps, as well as taking care of Lita by snapping her over after she went for a sleeper on the outside, with Styles also mentioning that a seething Kurt Angle was taken backstage by officials. Back with the live action, Edge suddenly nails a thumb to the eye, stealing the momentum to some considerable heat from the crowd, before dragging Flair across to another corner and slamming his skull down into the top turnbuckle. Edge looks to go right back to work now as he swings for a right hand, though Flair ducks then scores with his very own thumb to the eye, generating a nice pop from the crowd. Edge staggers away to the middle of the ring, with Flair now bouncing off the ropes and coming back with a chop block, right to the back of the knee of Edge! Edge falls to a knee, before recovering, only to be nailed with a second chop block from Edge! Flair backs into the ropes, looking for a third, only for Lita to interject herself for the second time in the match, catching the leg of Flair. This distracts Flair, allowing Edge time to recover as he dashes across the ring and barges into the back of Flair, sending him tumbling through the ropes and down to the floor.

Edge follows up by bringing some weapons into the match for the first time, starting small with a baking tray and trash can lid. As we move back into the ring with Edge still in control he brings out the actual trash can, as well as a steep chair. Edge keeps his domination going for awhile, using the weapons without putting Flair away. Looking to do some real damage, Edge now lodges the trash can in between the second and top ropes before picking Flair up and peppering him with right hands, sending him retreating back to the opposite corner to where the trash can is placed. Our champ then follows up by attempting to Irish whip Edge into the opposite corner, only for Flair to reverse! Edge hits the trash can hard, falling to his knees and yelling out in pain... TRASH CAN LID TO THE FACE FROM FLAIR! Edge goes right down with Flair now going after the knee of Edge, hitting him time and time again with the lid to a huge ovation from the crowd. The can finally becomes damaged to the point where it's practically useless, at which point Flair disposes of it, going to work with just plain kicks to the back of the knee now. Edge crawls over to the ropes through the pain, only for Flair to stay right on him, continuing to kick away at him. The champ now regains his footing, only for Flair to lift him up and nail a shinbreaker before tripping Edge up... FIGURE FOUR LEGLOCK! EDGE GETS TRAPPED IN FLAIR'S FINISHER WITH FLAIR HAVING DRAGGED HIM TO THE CENTRE OF THE RING! The crowd shout for Edge to tap, wanting their hero to get number seventeen. The hold stays on, with Edge not being able to drag the weight of Flair along with him, the pain being too much. Finally, Edge raises his hand into the air, the crowd building to a fever pitch as...

LITA JUMPS THROUGH THE ROPES AND ON TOP OF FLAIR TO MASSIVE HEAT! She hammers away on Flair with right hands, finally causing him to break the hold and go after her. Flair gets back to his feet with Lita still trying to hit him, finally noticing it isn't affecting 'Naitch'. He backs her up into the corner with Lita shaking her head, scared before Flair suddenly starts gyrating! The crowd pops big as he shows what he'd like to do to her, however, Flair is unsuspecting that Edge is now back to his feet, waiting for him to turn. FLAIR SLOWLY TURNS AND EDGE CHARGES --- FLAIR GRABS EDGE BY THE CROTCH! Edge jumps up and down in pain, with Flair once again pushing Edge over... LOOKING FOR THE FIGURE FOUR LEGLOCK --- NO! EDGE PUSHES HIM OFF WITH HIS OTHER LEG! Flair bounces off the ropes then comes back at Edge... CRACK! EDGE GRABS A BAKING TRAY AND IN COMPLETE AND UTTER DESPERATION SWINGS WILDLY, CRACKING IT OFF THE SKULL OF FLAIR! Flair doesn't go down, rather he looks out on his feet, jellylegs and all. Edge gets back to his feet thinking he's got the win, going behind Flair... EDGE-O-MATIC CONNECTS! Edge makes the cover... FLAIR KICKS OUT! Edge can't believe it as he was certain Flair was out. The champ gets back to his feet and runs his long hair through his hands maniacally, before going back to the corner and squatting down. The living legend is slow to get to his feet, rolling to the ropes to do so before turning... SPEAR --- WAIT NO! FLAIR SIDESTEPS EDGE AND SENDS HIM THROUGH THE ROPES TO THE FLOOR! The crowd pops as Flair falls back then slowly rolls from the ring, going under it and pulling out... a table? Flair grabs the table and slides it into the ring, then goes after the steel ring steps, pulling them apart and taking the top bit.

Edge slowly gets back to his feet and turns around... SMASH! THE STEEL STEPS HIT THE SKULL OF EDGE! Edge falls like a good ol' sack of potatoes, with Flair dropping them down, knowing he can get the pin on the outside thanks to the stip of the match, though he only gets a two, much to the dismay of those in Flair Country. Flair gets back to his feet and looks around to the crowd, letting out a "Woo~!" before turning back to Edge... LOW BLOW! EDGE SHOCKS FLAIR WITH A SHOT TO THE NADS! Flair falls to his knees, holding his nuts in pain with Edge getting back to his feet and grabbing Flair around the head... EDGECUTION--- ON THE OUTSIDE?! FLAIR'S FACE LITERALLY BOUNCES OFF THE THIN PROTECTIVE MATS ON THE OUTSIDE, HIS HEAD HAVING PRACTICALLY HIT CONCRETE! Edge is slow to take advantage, still kind of out of it, though he now rolls Flair over and hooks the leg arrogantly, somehow only getting two. Edge gets to his knees and questions the referee as to why he can't count to three before going under the ring and pulling out a second table which he slides into the ring next to the one Flair slid in. Seeing Flair starting to recover Edge picks him up, then viciously throws him into the announce table, taking him out of commission for the time being! Edge now slides into the ring and kicks Flair's table to the side out of the way before grabbing the one he slid in and slowly setting it up in the corner. The slow nature of course gives Flair a chance to climb up onto the apron, with Edge seeing him and blasting him with a big boot that sends Flair down to a big groan from the crowd.

With Flair down in the ring (having fell through the ropes), Edge goes back to the corner and squats down, waiting on him to get up so he can nail him with the Spear. Flair slowly starts to stir... AND EDGE BEGINS TO RUN AT HIM --- THOUGH HE STOPS! EDGE LOOKS DOWN AT WHAT IS IN FRONT OF HIM --- A STEEL CHAIR! Edge picks up the steel chair, then waits for Flair to get up... CRACK! STEEL CHAIR TO THE CRANIUM! Flair goes down, looking knocked out from the shot which hit him so hard that the steel bent around his skull. Edge looks into the chair with some kind of sick desire... BEFORE SUDDENLY BRINGING IT DOWN ON FLAIR TIME AND TIME AGAIN! EDGE IS ABSOLUTELY DEMENTED! The crowd can't believe it as Edge stops for a moment, then looks to Lita and says "Get me another one." Lita smiles, then goes over to the timekeeper's area, bringing grabbing another chair WHILE EDGE PLACES THE CHAIR IN THE RING UNDER THE HEAD OF RIC FLAIR! Lita hands Edge the second chair and it's clear what Edge has in mind when...
*My Time Is Now*
Edge, who had raised the chair into the air suddenly stops and turns to see John Cena walk out to the top of the ramp. Cena stares down to the ring intensely before sprinting on down the ramp and sliding into the ring. Edge immediately goes for a chairshot, but Cena of course ducks and goes behind Edge, before turning him around and peppering him with right hands. He then kicks Edge in the midsection and snatches the steel chair from his hands. Edge stands up straight... AND HE GETS HIT IN THE RIBS WITH THE CHAIR, FORCING HIM TO BEND OVER --- CENA CRACKS THE CHAIR ACROSS EDGE'S BACK! Edge raises the chair into the air and shouts to the crowd before bringing his eyes down upon the table that hasn't been set up yet. Cena smiles and points at it, then begins to set it up next to Edge, who is slowly recovering. Cena finishes up his ring renovations, then turns to Edge and lifts the rising champion onto his shoulders... F-U? NO! EDGE NAILS SOME HEAVY ELBOWS TO THE SIDE OF THE HEAD OF CENA! Edge then grabs Cena by the jean shorts and throws him through the ropes out of the ring before turning to see Flair back up, out on his feet... EDGE NAILS THE SPEAR ON FLAIR... THROUGH THE TABLE IN THE CORNER! The crowd, which had got excited about Cena go completely dead as Edge drags Flair out of the corner and hooks his leg for the three.
Winner (and still WWE Champion): Edge via pinfall @ 14:43
*Metalingus*
Lillian Garcia:
Here is your winner, and still WWE Champion, Edge!
Edge gets back to his feet slowly as Lita hands him his WWE Championship, joining him in the ring. She quickly tugs on his arm and tells him to leave, which he agrees to.
Jonathan Coachman:
Edge has done it! Gentlemen, you are looking at the best in the world. Despite a two-on-one handicap in the end, Edge was able to get the job done!
Joey Styles:
Two-on-one handicap, Coach? Lita was the difference throughout, speaking of two-on-one handicap. If it hadn't been for her, Ric Flair may have made Edge tap.
Jerry Lawler:
Well, at least Edge is leaving peacefully...
Oh Jerry, so gullible. As Lita gets out to the apron Edge turns around and walks back to Flair, looking down at him with disgust, Lita still on the apron. Suddenly Edge is turning around though... F-U --- THROUGH THE TABLE! F-U THROUGH THE TABLE CENA SET UP! The crowd goes apeshit as Cena now looks down at Edge, bending down to pick up his WWE Championship. Cena looks into it, long and deep before laying it down across the fallen body of Edge, which is surrounded by debris. Cena then suddenly raises his hands up into the air, playing to the crowd who give a nice pop as his music starts up again. As Coach complains about how Cena took a cheap shot, Cena climbs out to the apron right next to Lita, before dropping down from the apron and walking off around to the ramp. The camera focuses back in on the body of Edge, surrounded by bits of the broken table, the WWE Championship resting on top of him as we fade away.
End.


----------



January 29th, 2006 | American Airlines Center; Miami, Florida

Royal Rumble Match
*Confirmed this far*
Big Show vs Bobby Lashley vs Carlito vs Chavo Guerrero vs Chris Masters vs Gregory Helms vs Hardcore Holly vs Kane vs Kurt Angle vs Matt Hardy vs Mr Kennedy vs Paul Burchill vs Randy Orton vs Rob Van Dam vs Shawn Michaels vs Triple H vs William Regal

WWE Championship
Edge (c) vs John Cena

World Heavyweight Championship
Batista (c) vs Mark Henry

Women's Championship
Trish Stratus (c) vs Victoria
---
Re: BKB Star. Presents: World Wrestling Entertainment 2006
---
Really, really sorry it's taken me so long to throw a review your way, bud. You've posted almost an entire months worth of shows now and this is the first time I appear? Bullshit. Sorry again, but I have been reading. All I can say is THANK GOD we've got another quality booker in this section. They're few and far between. Any time I get a new writer who I simply must read is a good thing. Anyway, enough ass kissin'. Raw time...
Right off the bat this is one hell of a card you have set up tonight. Not only do we have the WWE Championship match in Flair's home town (with the Street Fight sneakily replacing the TLC), but what sounds like a rather sexual Handicap First Blood match (TNA?), and a couple of solid mid-card bouts too. Always helps to have a solid backbone of matches as the basis for your show, and you've sure got that here. Not a squash in sight as far as I can see. Oh, btw, either turn King heel or fire his ass. No more dirty old man shenanigans please.
Kicking things off with Kurt Angle? Like Styles, I wasn't expecting this, but I have to say it's a pleasant surprise. At this time in the WWE, with Daivari as his manager, with his obnoxious gimmick of censoring his music, and just genuinely being a nut, Kurt was probably my favourite heel in the WWE. Brandon (Deadman) forced
my
hand in having to turn him face at the start of my thread and it still irks me to this day. What I gather from this opening promo is that you're going the same route.
"And believe me, it haunts me. It does. The WWE Championship... it's all I think about. When I close my eyes, it there's, when I go to sleep, it's there... I just can't stop thinking about it. For four long months, it's all I've wanted... it's been my life. Eight days ago, I fell short, again. But y'know, I can take that. I can accept that. What I can't take is the fact that someone can just walk in, and on their first attempt, take advantage of an injured man for the WWE Title. I can't take the fact that Edge was able to just walk in and steal the WWE Championship from Cena, after I had worked so long, after I had worked so hard on earning it."
A wonderful paragraph certainly, and the one that, perhaps even more so than his interaction with Eric Bischoff a few moments later, really convinces me that you are going the face (or as close as you can get with this nut) with Angle. The emphasis on hard work etc. plays up to his face persona, whilst, to state the obvious, his verbal attack on the much despised Edge accentuates this. That's basically two weeks now that Angle hasn't had a bad word to say about a major face, which I, of course, factor in to my theory. Am I happy about this imminent face(ish) turn? Not at all. Cena, Flair and HBK are doing a sterling job in that department, with Big Show and Kane supporting them if needs be. As for the heel ranks, Edge and Triple H aren't enough really, though I suppose if your intention with this Angle turn is to allow yourself to elevate up and comers like Carlito and Chris Masters to main event status, then I'm all for it. Still, being the diplomat I am, I shall reserve judgement until all is revealed.
Angle's interaction with Bischoff just furthers his face turn really. What was this if not the usual dick heel GM stacking the odds against the crowd favourite (future) face? Bischoff is basically that. He doesn't
really
have any alliance; his protection of Edge is a business decision, which I
love
. A smarmy, money obsessed GM just floats my boat in every way. And I thought this show was stacked already? Kane|Show versus Trips|Angle? That some PPV goodness right there. Odds are this will go some way toward furthering Angle's face turn, as hostilities with the
hated
Game would do nothing but bring the boys and girls at home even more on side. What this certainly has done is thrown a spanner in the works. It's created a sense of unpredictability around the already unpredictable Angle. Just whose side (or alignment) is he on? Angle's face runs in modern terms basically involve him having
no
alliances whatsoever and pretty much just beating up whoever the hell he want, so if this is the route you go with the man, we could have a very interesting Royal Rumble build (assuming, of course, he's still in it) over the next few weeks. Oh, and keep Daivari please; either as Angle's manager or manager of his enemy (like with Mark Henry). He's just cool in a really obnoxious sort of way. Great start to the show. Short and sweet promo, something I really struggle to do: get to the bloody point. Good job.
Now while I do have a
slight
problem with the way this HBK|McMahon feud has been going so far (it hasn't really differed from the real one much), I won't deny I enjoyed this little yet tension filled segment. Vince's line,
"And even though there is a method behind my madness, I'd like to think I'm a nice guy. I'd like to think I'm a fair man."
was wonderful, as he always is, as was Michaels' stoicness. It annoys me when Shawn is jovial even during extremely personal feuds. He got it right with Jericho last year, and you seem to have the right idea. I'm still lost though. I
know
you aren't going to do McMahon|Michaels at WM. You just
can't
. So where the hell is this thing going?
Quality,
quality
match up from Benjamin and Helms. Two of the better wrestlers on your roster and this was a nice little showcase for their actual in-ring ability, rather than the shit they usually have to do. It almost had a sort of 'Old School' NWA weekly feel to it or something, which is unsurprising since I know you are a well-travelled man in your knowledge of the wrestling world. Not surprised to see Helms pick up the win, as he is really the only one of the two being given any sort of a push right now and to have him loseto a man on a losing streak would flatten his momentum instantly. Intercontinental title on the horizon for Helms perhaps? As for Shelton? I
hate
losing streaks. Unless you are purposefully burying the guy, I don'y see what purpose they serve other than to make him look like a complete joke. End it soon please.
The aftermath with Haas is obviously going to be Shelton's way out of this rut, leading to him joining forces with his old partner ... I think. Can't see you going any other route with it.
Good interview from Edge. Nothing astronomical. It was what one expects from the heel champion before a big defence, especially Edge. A paranoid, arrogant, self-promoting speech, with a fixation on Kurt Angle so strong that you're almost giving away yur planned WrestleMania main event. He touched on Flair and
just
touched on Cena, but Angle? The man he's not even scheduled to face? Almost two full paragraphs worth of ranting. That reeks of future feud in my book. This closing line was wonderful:
"Tonight, it's Flair. At the Rumble, it's Cena. And at WrestleMania, if you're able to win the Rumble, it'll be me and you. And y'know what... I dare you to win the Rumble."
Don't really want to see Kurt with the Rumble though. Bit of a boring choice in my book.
Bit of a generic promo between Trish and the ultra bland Ashley, but, honestly, it's hard to help at this point, I know. You're kind of stuck with all of this build toward the inevitable Trish|Mickie match, and it kind of bogs down the Women's division. Just do something crazy to inject some life into it.
Disappointed that Cade & Murdoch are essentially worthless jobbers in this thread, as I've a really soft spot for them. I guess there was never any doubt about Shawn's involvement in the Royal Rumble though. He's a favourite, no doubt about it. Another very well written match up though. It's not easy to do this weekly ones, but you seem to handle them
extremely
comfortably.
Good backstage segment between Triple H and Bischoff. Glad Eric's showing a bit f backbone under all this scrutiny. Hunter's in No Man's Land right now as it relates to feuds, with this business with Big Show & Kane little more than a filler. Intrigued by Bischoff's obvious plan, but I'm not quite sure what it could be.
Hate on Ashley and Candice much? Fair enough. Ashely's obviously getting quite a big role in this Trish|Mickie business, as indicated here. Not really the heel turn we're all waiting for from Mickie, as it seems as though you're going the 'Conflicted' route with her. Victoria is awesome and she has sweet chemistry with Trish, so their match at the Rumble should be decent, and, I'd imagine, absolutely jam-packed with interference. Goody.
Well, I guess I was right with my earlier assumption. Charlie Haas really does represent Shelton's 'Salvation' in this storyline. Loved this line:
"You know that as a team, we were the best... we were the world's greatest."
Clever. Better get a move on with this story though, as Benjamin's losing streak can't end immediately if this is what you want to do, and WrestleMania isn't that far away, and I definitely see these two at least
challenging
for tag team gold at that event.
Loved
this little interview from Carlito and Masters. I really enjoy them as a team and individually, so, like I said earlier, I hope you continue this push you'ce been giving them. Surprised you had Masters do almost all of the talking, but I like him, so whatever, and Carlito's obvious bullshit in this feud was pretty funny. Again, like I said earlier with McMahon|Michaels, don't go the same route as the WWE did with this feud. Spice it up a little.
"...the potential of Masters (fuck the haters; Masters owns)."
Oh yeah, Money in the Bank for The Masterpiece please; he does indeed own. Good match between he and Chavo. Not quite up to the standard of the earlier Shelton|Helms bout, but good nonetheless, with the impressive relationship between Masters and Carlito the major talking point. After that comment, and this win here, I'm expecting big things from Masters in this thread, sir.
Pretty standard pre-match hype from Flair and Michaels which pushed all the right buttons. In character? Oh hells to the yes. No real prior story for these two or anything following on from it, so I see no real significance here.
Van Dam OWNS. Awesome showing in the Rumble plz.
Wow, Angle really is getting pushed as a dominant force in this thread. But a face force? That remains to be seen. He certainly impressed here with the ease he managed to best two former WWE Champions and the current tag team champions, with essentially little assistance from Trips. Edge's interferences continues this show's theme of setting up the future Edge|Angle WrestleMania match, but I LOVED the way it all transitioned straight into the WWE Championship Street Fight, making this Raw as unpredictable and insane as any I have read before...
A quality main event certainly that
finally
reminded us that Edge is actually feuding with someone other than Kurt Angle right now, as he had his hands full with John Cena as well as Ric Flair. Thugh there was obviously a lot of intereference from Lita, I still think you did a splendid job with the finish in making Edge, in his first title defence after all, look very strong. He might've had Lita interfering on his behalf, but Flair had JOHN FUCKIN' CENA, so you tell me what's better? And yet, Edge was
still
able to see off both men and pin Flair to retain the title. Just as perfectly booked as their TLC match in real life. You made the new champ look good in his first defence. Good on Flair. Feel good aftermath with Cena sending a real message to his Royal Rumble opponent, though I still think you should've gone with a different WWE title match than the one we got in reality. I mean, even sticking Flair in for a Triple Threat would've done. Just
something
original at least. Ah well, at least we know who
isn't
winnning...
Cracking first show for me to review, B. Brilliant match writing suggests great things for your first upcoming PPV and your promos were all pretty darn good too. The Angle situation has my head hurting, but, trust me, that's a good thing. Really impressed by you, mate. Thanks for giving me a new thread to follow
Re: BKB Star. Presents: World Wrestling Entertainment 2006
---
Just here to drop necessary feedback since you have for my shows thus far.

Quite a card you've got yourself for tonight. Stacked is probably the word I'm looking for and needless to say that might just be an understatement. Edge probably won't be dropping the title tonight to Flair but it'll probably be a pretty compelling match considering we're in Flair Country tonight. Looking forward to that especially.

Angle was on fire in this promo I felt. Loved the way you captured his passion to once again be WWE Champion; seems like one of those 'desperate' scenarios that usually come up. He is definitely looking like one of the favorites in the Rumble match, imo at least. Bischoff playing the hand of Angle was good, being the evil mind that he is. Once again, Kurt's looking like one of the favorites in my opinion, and I won't be shocked if he wins the Rumble with how he's been showcased thus far.

Really interested to see where this whole McMahon/Michaels angle is going to go. I foresee HBK making it into the Rumble because anything less of that would be completely ludicrous. The stuff from Vince made him seem quite in character, and this was short and sweet and to the point. Just... really interested in seeing where it all leads to.

Shelton Benjamin was definitely mishandled at this time so I'd like to think that you'll give him some respect in this thread, no? Hopefully so. Anyways, Helms on Raw is great and that's definitely where he should have stayed instead of owning with the CW belt on SD, imo. Looked to be a pretty good match, and Helms getting the victory is a pretty big win for him as big things could be in his future if you make him do so.

Haas|Benjamin interaction makes me think a WGTT reuniting is all but confirmed.

Edge in his typical form in this promo. Nothing really fantastic but it hypes up the title match for later on tonight more which is a good thing. The shots at Angle, Cena, and Flair were all good, although I found there to be way too much on ANgle. Just seems like an Angle|Edge encounter at WM could be even more likely. Just my two cents though, could be wrong of course.

Not really much to say about the diva promo with Trish and Ashley, 'cept that Mickie should soon get the title in my view. Change it up if you do go that route, and make it fresh and exciting, and different.

Thought the way you booked this match was good, and it makes Michaels look pretty strong heading into the Rumble now that he has overcome these odds. It was predictable and inevitiable, but the match looked to be decent. Coach alluding to Vinnie Mac not being finished with it most likely means this thing isn't over but as I said earlier, it's just a wonder how it's going to go down. Keep it interesting, plz.

Really liked the segment with Bischoff and Triple H. Thought h was good and was an absolute prick like he always is. Heel HHH > Face HHH most definitely, so hopefully for the time being it stays that way. Intrigued by Bischoff's plan, and of course, it's cut off. You've got me hooked.

Mickie being a deceiving little bitch in this match was a good decision. Trish/Victoria will be good as always, as they were probably the two best divas in terms of ring work at this time (course Mickie was an up and comer in the division). I can definitely see some dissension very soon with Trish, Mickie, and Ashley now that Mickie just cost Ashley the match. Like before, just keep it fresh and do something new to give some goodness to the Women's division and not make it so bland.

Good stuff in this Haas and Benjamin backstage promo. Really liked the "we were the world's greatest" line, much like Legend did also. WGTT should definitely be reuniting as Shelton's clearly in denial, and soon enough he'll be aligned with his former partner. It's almost obvious imo.

Really liked this interview with Masters & Carlito. Funny stuff, Carlito and Masters were great as a team and really could have been better if they were together longer so hopefully you keep them together for a lengthy amount of time. Masters v Chavo was a pretty decent match, probably the filler of the night though, and a good way to put Masters over. Really liked the guy honestly, so hopefully you keep him high up.

Nice hype for the WWE Title match with the Michaels and Flair interaction. Shame Flair probably won't be winning #17, but maybe some day in the future.

Jesus, Angle looked like a force in this one. Seems like the plan from Bischoff was to throw Edge into the mix, which was good, and can only mean Edge/Angle is teased once again for WM. None too surprised, and as I said before, Angle looked like a damn force. Good job w/ that.

Awesome transition into the title match and man did this one look good. Really loved how this one was booked as Edge looked like a million bucks fending off Cena and his opponent to retain the title. Excellent end to the show with Cena getting the last laugh, which adds to the build for their match at the Royal Rumble.

Overall, a pretty good show BKB. Really like where this thread is going and there will definitely be more reviews from me in the future and some more reading from me as well. Keep it up.
---
Asking JAMES ELLSWORTH for Wrestling Advice
Join Date: Sep 2008
Location: Brighton, England.
Posts: 287
Points: 0
Re: BKB Star. Presents: World Wrestling Entertainment 2006
---
Raw Review

-Good promo from Angle to open the show. Typical of Angle, in that it was relatively short and purposeful. Angle's got a huge problem with a world champion, Edge, going into the Rumble, so at the moment he's the favourite, but I'm not sure. Could be a decoy. Bischoff's reasoning for not letting Angle get Edge was logical, and the match made for tonight gives Angle something to do ahead of the Rumble. Overall this segment was quite short, but as I said earlier, that suits Angle, and it was well-structured and accomplished what it needed to. I forgot about Daivari even being out there until he held Angle back at the end. I think it would've been beneficial to give him a line or two.

-Glad that you're continuing the McMahon/HBK feud. It had potential, but like a lot of people, I didn't like the pay-off, as I think Michaels can be utilised better at WrestleMania. I'll reserve my judgment until I see where you're headed with this. Michaels silence suggests he's concerned, but then again, he is against Cade and Murdoch who don't pose too much of a threat, so I see him qualifying for the Rumble.

-Highly competitive opening bout with Benjamin and Helms. The match writing was decent throughout and it was given eight minutes. More than enough time for them. It looks as if Benjamin's set for a heel turn and Haas perhaps is to be the sacrificial lamb.

-The Edge interview was a great segment. He kept well in character though - self-centered and arrogant. It wasn't repetitive either, which is often an issue for these backstage interview segments in BTB.

-The Trish/Mickie angle was executed perfectly in real life and it seems you're going to follow a similar formula, keeping it slow built and Mickie's psycho character gradually surfacing. I liked this segment a lot. The dialogue was a little bit off, because Ashley came off a little bit bitchy herself. I think she could've been a little hesitant over the 'crazy' remark and perhaps remorseful after she said it. However, Mickie listening in was a nice touch. Maybe the trigger will be pulled on this feud a little sooner than in real life.

-As expected Michaels doesn't have too many problems taking care of Cade and Murdoch. He was fairly dominant in this match and I can't fault anything with it. A nice gimmick on the match and HBK overcoming the odds makes for a good face. McMahon won't be happy of course, but I'm glad Michaels is in the Rumble (for now), and he's one of the front-runners to win it.

-The Bischoff/Triple H backstage segment was well-written. At first it seemed Bischoff was a little too arrogant infront of the Game, to whom he's usually a pocket-GM, but it worked well in the end creating the suspense and myster with them discussing the deal.

-Well you've got the advantage of having a good divas angle to generate some interest in the division, and with Mickie knowing about Ashley's derogatory comments about her earlier inevitably there was going to be problems in their team. I can see why you had her drop from the apron as opposed to just nailing Ashley with a punch or a kick, as this alllowed for Candice and Victoria to pick up the win in a heel-ish manner. Victoria as the number one contender is good, as she was criminally under-utilised at this time. Obviously she's just going to be feuding with Trish up until Mickie's character completes her psychotic turn, but still. A good move.

-The Haas and Benjamin segment was okay if a little confusing. No idea whether they're set to feud or get back together, and who's supposed to be acting like a dick, because to be honest they both came of a little dickish. If that's what you're going for - to have both of them as a heel tag-team - then fine, but I'm not sure if that was the desired effect.

-The interview with Carlito and Chris Masters was great. Carlito came off looking slightly more face-ish, and Masters looking a little manipulative and bossy, which works. It's an interesting dynamic to have with a tag-team. It'll be interesting to see where they're headed as a team - or indeed as singles wrestlers should they split, which you seem to be teasing.

-As for the Masters vs. Chavo bout, I can't say too much about it, other than, six minutes was a little long. It got Masters over though and I'm not too bothered about Chavo jobbing.

-Short but sweet segment between Flair and Michaels. You write Flair very well, and he has a lot of confidence going into tonight's main event, which will surely be crushed by Edge. Michaels' involvement is intruiging, but I think it's nothing more than wishing his friend luck, and there's nothing cynical lying beneath - which was an idea I toyed with for a moment there.

-RVD returning for the Rumble... very interesting. I'm really thrown as to who will win currently, so many contenders.

-Exciting star-studded tag team match next, and I think you gave it more than enough time considering Show and Kane are involved. The finish was well done, and protects all of them involved. Overall a fine match, and I loved how Flair came out for the main event straight away.

-Inevitably Edge retains, but it was an enjoyable read if a little long. I skipped the first couple of paragraphs if I'm honest, but at least it felt like a main event and was a little special with the extra length. Cena getting involved had to happen really with the bad blood between the two, and the finish was decent with the spear through the table. The aftermath was something which was very much needed after the main event with Cena getting the advantage ahead of the Rumble. A fine way to end an exhilerating main event and the show.

OVERALL: Great show. The match-writing was brilliant throughout and the promos were also of high quality. The main event had great hype and delivery, and the angles were all progressed going into the Royal Rumble. Didn't find too much to fault with the show to be honest, it was very well-written.
Mid-Card Champion
Join Date: Nov 2007
Location: Phoenix
Posts: 5,652
Points: 0
Re: BKB Star. Presents: World Wrestling Entertainment 2006
---
RAW Feedback
Good intro by the commentators to hype up the show, especially that huge main event. Nice touch by saying that this is Flair's hometown, makes it seem that much more special. As for the opening promo, awesome. Angle was spot on right here, his character was perfect and he walked the tweener line gracefully (
). Bischoff was also great as that very hateable GM that he portrays to a "T", and the match featuring Hunter and Kane just got a whole lot interesting after some clever blackmail. Great stuff here.
Hmmm. Great segment here with Shawn and Vince, you did a good job in portraying Shawn as a man trying not to give in and just beat the hell out of Vince. A very interesting proposition by Vince, one I'm sure that Shawn'll live up to, but I'm wondering what Vince's motive behind it is. There has to be one, and I'm looking forward to finding out what.
Great back-and-forth match between Helms and Shelton. Very big win for Helms, you seem to be intent on pushing the man, something I'm not opposed to at all, and another tough loss from Benjamin. He's not been weak in his efforts, just not the better man. This situation with Haas is an interesting one that should provide great matches, if that's the route it's going. Good stuff here.
Strong words from Edge that really cement how big of a jerk he is, but a reasonable jerk, at that. He made a lot of good points, especially the one about Angle doing the same thing he did had he been Mr. MITB. It was also great build for the main event, and as of now, I'm pretty convinced that Angle will indeed be winning the Rumble. It'd be the perfect set-up to that huge match coming up between them. Great job here.
Great Divas segment here. I always love effort put into the women's division, and I'm glad that's the case here. Seems that Trish isn't going to give up on Mickie yet, a good touch, and maybe it's because I'm simply an absolutely huge Mickie fan, but I can't help but feel sorry for her after what was said about her. Anyway, I'm definitely looking forward to their match to see what goes down.
Predictable match in that Shawn would get both guys to bleed, but you gave Cade and Murdoch more offense than I thought you would've, so kudos there. They looked pretty good here, whereas I thought Shawn would try and succeed in finishing up fairly quickly, without too much damage being done on him. Anyway, good success story for Shawn, he's also one to possibly favor for the Rumble.
Very good hype for the title match. I'm loving that you're playing Flair up here perfectly, in that it's his hometown as he looks for his seventeenth World Title, and is getting good luck wishes from guys from his past. Making the match seem very important.
Good segment here between Hunter and Bischoff. The Flair comment was way too easy, but it had to be done. I'm really looking forward to that match even more know, as I want to know what sort of deal went down between the two.
Alright Divas tag match, considering that Ashley was the one in there for most of the match. Anywho, good psychology of Mickie abandoning Ashley and leaving her to fend for herself. She put up a good fight, but I'm very, very glad that you gave this match to Victoria. I'm hoping you shift the focus towards Victoria and Trish for next week, because at the moment, it seems like a throwaway match to stall for Trish/Mickie II. The biggest thing I didn't like was that you referred to Ashley as a "blonde beauty." I disagree, but other than that, good stuff, Mickie is awesome as always.
Good verbal progression from the Shelton and Haas story. I had a feeling that Haas wanted something like this, to get the team back together, and I'm liking that Shelton's not taking to it, should make for some great drama down the road. Good dialogue as well, that's what I really enjoyed the most here.
Awesome segment here. Carlito was brilliant, quickly rushing to defend himself and I loved his mumbling in Spanish. Masters was delusional to the fact that Carlito feels like he's being overlooked, and that should make for a fun split. I didn't like Maria's question, though, I know it was to set up this great segment, but it sounded silly. I guess Maria's in her ditzy character, which should explain that, but I've always felt interviewers should be reasonably intelligent and not ask questions like that.
Very solid match that did indeed deliver. Impressive performances from both men, and good showing of teamwork between Masters and Carlito to help him get the win, and a nice counter to the Three Amigos to boot. I was afraid that Chavo's momentum might've been halted by a loss, but I'm glad that wasn't the case. Good stuff here, good win for Masters as he garners momentum of his own.
Great segment here, although I felt it to be sorted of filler just to get Flair's catchphrases in. You're pimping the hell out of this match, but very effectively. Flair's definitely being built up as a major force with all of these segments, and it's gotten us incredibly amped for the huge match.
Decent match, wasn't expecting this to be the match of the night, but still good. Angle's face turn has been going very well, and I was impressed with him. Three Germans to Kane? Then an Angle Slam on Show? Then another Angle Slam for Kane? Good stuff. Hunter seemed like an afterthought when everything was said and done, with Edge trying to take Angle out with a chair. I'm guessing this is that deal Bischoff made with Triple H, getting Edge to take him out. Anyway, I love that you went right to the mega main event, already off to a huge start.
Awesome match, best of the night, definitely lived up to all the hype. Great psychology throughout, it had its fair share of sick spots, but it wasn't an absolute spotfest. Lita played her role very well, and even with all the help, Edge looked fantastic here, cemented his reign as legit with this huge win over Flair. Cena also got his ounce of payback against Edge by putting him through the table, added to Edge's next title match at the Rumble. Great stuff here, can't stress it enough.
Most of the show was devoted to the main event, hyping it to no end, and it totally delivered. The rest of the matches and going-ons were also very good, and like I said, you seem to get better with every show. Great job, you're building the Rumble very nicely with people having to earn their spots, and the other matches on the card are doing well, too. Next week, I'd like to see some interaction between Trish and Victoria to help that one out, as it's the one that needs it the most. Great job, BKB, keep it up, man. 8.5/10.
Chopped Liver
Join Date: Jan 2004
Location: Six inches from a computer screen
Posts: 5,433
Points: 321
Re: BKB Star. Presents: World Wrestling Entertainment 2006
---
Taken quite a while to get round to this, but, better late than never, right??

This is most certainly going to be an important show. Edge and Flair in a streetfight in 'Flair country'. Ratings.

Building off an excellent promo from Angle last week, you've certainly ran with the ball again here. Maybe I'm reading a little too much into it, but the feeling I'm getting is that the foundations are being placed for a slow burn Angle face turn, and an eventual Angle / Edge WrestleMania showdown. He's shown his disgust at Edge's actions, he's basically commended Cena, the numbers are beginning to add up.

Angle teaming with Triple H is a potential powder keg, with those two egos having to put up with one another. Wouldn't surprise me in the least if Angle got screwed over again by his partner, having a second tag partner in two weeks to walk out and leave him to fight alone. Bischoff being a prick as usual - characterization was spot on there. Strong promo to open proceedings. By far, Angle is the most interesting character developing right now.

Odds are firmly stacked against Michaels - again. I'm assuming he overcomes the odds tonight though, he NEEDS to be in the Rumble imo. Winning a first blood match too wouldn't make Cade and Murdoch look as weak, as it's possible to score a fluke win in a match like that, rather than outwrestle two guys. Hoping you add a twist to this angle soon though. Seems to be following the same 'Highway to Hell' route it went in real life.

Highly competitive, athletic contest to kick off the wrestling portion of the show, and kept to a more realistic length. Good match to book, as it gives Helms another win to boost his own profile, and allows the ongoing Benjamin losing streak to continue. Where is the light at the end of the tunnel for Shelton?? The one thing that always interests me in losing streaks is what initiates the turning point. That's where I'll judge the angle. If it's a lame MVP style turning point, then I'll be very said.

Looks like Charlie Haas though will be a big factor for Shelton to get over his slump, maybe with the two of them getting back together to find form. The tag division could certainly do with TWGTT back in the hunt.

Edge says Angle and Cena aren't at the forefront of his mind … just an afterthought … then goes on to berate Angle for the next couple minutes. Maybe could've held off on focusing so much on Angle, and spent a little more time for now on Cena and Flair … then worry about Angle.

Ah, the old listening in on a convo. That certainly wont end well for Ashley and Trish … Ashley more so. Nobody likes being called crazy. And I don't think Mickie would be the type to forgive and forget.

As I assumed, Michaels went over. Was sure we'd get the Sweet Chin Music into a chair, into the face of one of the two opponents. Disappointed you didn't give us that, as it would've been a sure crowd pleaser. Never expected anything other than a HBK win, as he would've been wasted on anything other than a Rumble spot. Obviously cant see him winning, as he appears to be too wrapped up in this VKM feud, but a win at the Rumble, and a jump to SD could put an end to that angle somewhat, and set up a fairly tasty Batista / Michaels showdown at the Big one.

Fucker. Just as the promo was getting interesting we cut off. I'm calling a Triple H walk out / no show to fuck over Angle, and possibly set up a short term feud between the two leading to the Rumble, and getting Angle over as a face. That's what I reckon the idea will be, but I'd imagine I'm wrong.

Why not just book a fatal four way?? The tag rules #1 contenders match just seems awkward imo. I agree, Victoria and Mickie ARE complete shit, but you gotta roll with the punches. Yeah, I'm kidding. Mickie definitely heard enough it would seem, as she just fucked Ashley over BIG TIME. Delighted to see Victoria getting the win, and setting up a mouth watering clash with Trish for the title. In the meantime, it also all but confirms a psycho heel turn for Mickie.

Liking Benjamin completely blowing off Haas. Should allow this angle to rumble on for the future, with Shelton against the idea of teaming with his former partner once more, having moved on. Cant wait to see what the straw that breaks the camels back is, and gets Benjamin back on track with Haas. This angle has legs, and hopefully you run with it for a while yet.

A burgeoning rift is likely to form at some point between Carlito and Masters. The foundations have been set, and it's ever so slowly being hinted at. I see the two remaining on the same page, but cracks showing, en route to WM (one eliminating the other in the Rumble for sure), before finally blowing over at WM in MITB where one screws the other over to win it. Big time prediction right there my man. Normally, I'd be against the angle, but for some reason, I'm actually willing to buy into this one. Hopefully you keep it moving.

There was a point in time when I was starting to buy into Masters as a legit future star, so hopefully you can find his niche somewhere. It certainly seems like that is what you plan to do; telling us he owns, having him featured fairly heavily, winning here. The guy is on a roll, and I'd love to see you make a star out of the guy.

Marvellous bit of hype for Flairs big match later. HBK was the right man for the convo, and now, we're all set for tonights main event, which ought to be a barn burner.

RVD - Final Four. That's the prediction. BOOK IT~!!

Just a curious thought; if Angle is turning face, I'd suggest that Daivari might be better suited elsewhere. The mans own mother probably couldn't love the guy if she tried.

Side point; agreed on Kane vs. Angle @ WM 18 (bar the fucked up finish). The two DO gel nicely imo. Unusual way to end the match, and then transition from that, straight into the main event. Expected the grand entrances, boxing type intros and all that jazz, but alas. The run in proves one thing though - you're setting yourself up for Angle and Edge for WrestleMania. That just seems like a cert now. The feud is completely overshadowing Edge and Flair, and Edge and Cena - who btw, was conspicuous by his absence this evening.

Alrighty, straight into it!!! Huge write up for an epic main event, and rightfully, it's the hometowner that dominates the early going, until the luscious Lita turns the tide for her man. Took a while to get into the hardcore element of the match, but that's fine, as you need to build to something. Almost couldn't believe it with Flair locking on the Figure Four, but had to expect Lita to once again save the Rated R Superstar from losing. At this stage, I'd fully expect her to be the difference maker. Some terrific, tense moments, with the figure four and spear both being avoided.

Would've liked you to describe Flair maybe struggling to lift the steps on the outside, and I'm truly shocked by the kickout from the Edgecution on the outside. Edges utter dominance looks to kill off Flairs fighting spirit, maniacally taking him apart, the Austin X-7 like chair shots and all. Well, I'd been expecting Cena at some point, as I didn't imagine going the whole show without him, and he appeared at just the right moment, and a moment that would've got him a spectacular pop from the Flair country fans.

Oh man, Edge managing to fight off Cena, then take out Flair for the win. How do you say "STRONG CHAMPION". That was an emphatic win for Edge. Even the FU after the match couldn't burst the mans bubble. Edge is OVER!!!

With one match, you've created a believable champion. Not a gutless coward, or a transitional champion, but a genuine champion. Edge came over as a beast here, even despite the help of Lita. Overcoming Cena and Flair to win clean was excellent.

If I had one complaint, I think we could've done with a Cena interview or promo at some point in the show, as his PPV title match with Edge has been completely overshadowed by the Edge/Angle, Edge/Flair programs thus far. A Cena promo could've solely focused on the title match at the Rumble. I hope the focus is on that one next week. Even maybe with Cena telling Edge to get his focus off Angle and onto him. The spotlight NEEDS to go on Cena and Edge next week. Ban Angle from the arena if needs be … just anything.

Overall, a quality show, with an EPIC main event.
Re: BKB Star. Presents: World Wrestling Entertainment 2006
---
Extremely pleased with all of the feedback, guys. Honestly didn't expect to see that much, and was quite surprised to see some people review, so thanks. I'm glad the Edge vs Flair match went down well, because it was a bitch to write. As some of you seem to have noticed, I enjoy writing matches like Helms vs Benjamin and much prefer writing those type of simple matches where you can showcase both a wrestler's ability and athleticism to put on a fun contest, rather than going out there with a whole bunch of gimmicks. Call me weird like that, but I enjoy it more.
As for Wolfy's point on Cena, I noticed it too while writing the show. I considered adding in a promo from him, but decided that since the focus of the night was on Flair to just leave it. I was hoping the ending would do enough for Cena.
Anyway, thread is moving a little slower thanks to school being back, however SmackDown! is indeed done. Until then, here's a preview...
----------

January 20th, 2006 | Preview


This week Friday Night SmackDown! rolls into the Florence Civic Center in Florence, South Carolina for what is guaranteed to be a huge night for the SmackDown! crew.

Two weeks ago 'The World's Strongest Man' Mark Henry made the ultimate impact when he made his return to Friday Night SmackDown!, making Batista's business his business by interrupting his tag team steel cage match with Rey Mysterio against MNM by tearing the door off the cage and beating the holy hell through Batista. Henry threw 'The Animal' around into the cage, hit him with the door and absolutely clubbed him, leaving the World Heavyweight Champion down and out, with Henry standing atop the steel cage as the show went off the air. To follow that up, Friday Night SmackDown! General Manager Theodore Long last week proclaimed Batista would not be in the building. He did however let us enjoy a high profile match as our main event, with Mark Henry taking on Rey Mysterio, the number one contendership for Batista's World Heavyweight Championship being on the line. After an affair which showcased the strengths of both men the big man ultimately prevailed, setting up a huge match with Batista at the Royal Rumble. That however was not enough for 'The World's Strongest Man' as he threw Mysterio to the outside after the match and began to tore away at the protective mats on the outside, looking to complete his decimation, only for Batista to come charging out, despite apparently not being in the building! The two giants brawled off as the show came to an end, Batista getting the upper hand as we closed away. With these events in mind and Batista confirmed to be in the building tonight after being medically cleared, just what exactly can we expect to see between these two unstoppable beasts?

The rivalry between Booker T and Chris Benoit is a long, complicated tale. After competing against one another for the United States Championship back in WCW in a best of seven series the two became the best of friends, sticking together through thick and thin. Almost a decade later Benoit once again held the gold last year after winning the gold from Orlando Jordan in just twenty-three seconds. Despite his wife Sharmell pleading with Booker to do anything possible to get his hands on the gold, Booker said no. He wanted to do things the honourable way... or at least that's what he told us. Finally, the ultimate double cross came as the charade ended before our very eyes on Friday Night SmackDown! in November of last year. Booker had just won the United States Championship thanks to an 'unknown' assist from his wife Sharmell when Booker's so-called 'friend' Chris Benoit confronted her, asking her why she felt the need to interfere in Booker's matches when he told her not to. Booker seemingly chastised his wife, only to suddenly turn around and absolutely drill Benoit with the gold, leaving him laying. After the pair had a match that went to a double pin draw, SmackDown! General Manager Theodore Long decreed that the title become vacant, with it to be decided in a best of seven series between the pair, reminiscent of their series in WCW. Booker starts out extremely strong, taking what looked to be an unassailable three-nil lead. However, Benoit was able to launch a comeback, winning the next match before Booker was injured at a WWE live event. Teddy Long decided the series had gone too long to end just right then and there, so he decided to allow Booker a substitute, meaning the series could continue. Two men came forward: Randy Orton and Orlando Jordan. While Booker laughed in the face of Jordan, telling him he had accomplished nothing besides tapping out to Chris Benoit three times in under twenty-five seconds, he accepted the offer from 'The Legend Killer'. Orton was hungry, coming off a loss in Hell in a Cell to The Undertaker at Armageddon, though that couldn't stop him from allowing Benoit to make it three apiece, with the seventh and final match being set for last week. With the US Title finally set to find a home Orton and Benoit looked to put on a wrestling classic, especially when Booker and Sharmell were booted from ringside. However the match degenerated into chaos when the referee was knocked from his feet, with Booker making his way back down to the ring, only to be locked into the Crippler Crossface. This wasn't the end of it though, with Orlando Jordan then jumping in the ring and assaulting Benoit with the US Title before Orton nailed the RKO and got the three count from the recovered official, stealing the US Title for Booker. After these events Booker T has promised us a celebration tonight, saying he plans on sharing his insight into what happened last week with the world. With the issue with Benoit still seemingly going on, what will go down between the pair this Friday, and what will we see of Orlando Jordan?

For weeks The Boogeyman has been making John Bradshaw Layfield's life a living hell, much to the amusement of the SmackDown! fans. Boogeyman has not only physically assaulted JBL, but has also psyched him out, using his worms to get into the mind of Layfield. Last week their story was set to come to an end when the pair were set to go one-on-one, only for JBL to get a doctor's certificate excusing him from the match on the grounds of him being allergic to worms. As JBL smiled smugly at Teddy Long, an old enemy of his in Matt Hardy suggested to Teddy that JBL should compete against Boogeyman this week if he were to get the Royal Rumble slot he had complained about for weeks. With Teddy agreeing to the idea JBL now finds himself in a compromising position. Does he wrestle The Boogeyman and risk being eaten alive, or does he walk away on a spot in the Rumble and subsequently, a chance at main eventing WrestleMania 22?

Six other men all interested in showing what they've got in the lead-up to the Royal Rumble are Rey Mysterio, Matt Hardy, Bobby Lashley, Finlay and The Bluebloods. This week they will all get their chance as in six man tag team action, Mysterio, Hardy & Lashley take on Finlay & The Bluebloods. While Mysterio is coming off a losing effort last week against Mark Henry, the little man has the heart of a champion and will no doubt want to bounce back, as will Matt Hardy after his unsuccessful run at JBL a few weeks ago. The Bluebloods will look to continue their form after a win last week, while Lashley and Finlay may have their own problems after Finlay blasted Lashley with his shillelagh in his debut match last week, causing him to lose via disqualification. Not all of these men can get what they want, so the question has to be asked: which team will come out victorious?

Last week a man who in his short time on Friday Night SmackDown! has made quite the impact made his return in one Mr (Ken) Kennedy. Kennedy had a lot to say, informing viewers of his impending return to the ring at the Royal Rumble in the Royal Rumble Match. While since his return match is set for the Rumble he won't be in action tonight, we have heard that Kennedy has requested himself some time to voice his opinion again this week. What will the upstart have to say?

Also in action this week will be Juventud and Nunzio as they vie for a shot at the Cruiserweight Championship at the Rumble. While Juventud is looking to regain the gold he lost to the champ Kid Kash back at Armageddon, Nunzio is looking to get the gold he held twice in 2005. In other championship related news, WWE Tag team Champion, Johnny Nitro will be taking on Shannon Moore this week, with his entourage in tow, no doubt. Who will win these two exciting contests?

With these question in mind SmackDown! is set to be a huge show this week, so be sure to tune into Friday Night SmackDown! this week, 9/8C on The CW Network.
---
Re: BKB Star. Presents: World Wrestling Entertainment 2006
---
RAW REVIEW
BY SC2004 >>>

Sorry this is so late, been very busy writing SMACKDOWN and NO MERCY. Anyway, enough excuses, let's get to it!!!

>>> You set the scene wonderfully as the show opened. The commentators really did an exceptional job of hyping the show from the get go, using lines such as "the most anticipated Raw in the history of the WWE." Your obviously setting the bar high. I'm not to fond of gimmick matches, especially a first blood match, that's been given away on TV. Very TNA of you, as is the stipulation you've applied to the divas tag match. With Flair V Edge for the title I'm not sure you needed a marquee match up such a Triple H V Kane, although this is 2006 and Kane is a glorified jobber to the top talent, so on second thoughts, no biggie.

>>> Is Kurt turning face, I mean this is all very confusing. Kurt chasing Edge, the hell champion. Eric Bischoff, the heel GM, screwing around with Kurt and threatening him. All the heel dynamics work, but it's just not as compelling because there isn't a face involved. Throwing Kurt with Triple and changing the originally announced match makes sense to me. Last week I mentioned how Kane and Show need to split and if you decide to do that, not having Kane squashed by Hunter tonight makes a lot of sense. I'm trying to think logically here. Cena/Edge is the money match moving forward. You've already made it clear that Angle is in the rumble match, so one would have to assume that something will happen with HHH and Angle tonight, yet they're both heels. Ugh! Heels, heels everywhere not a face to cheer. LOL.

>>> See this didn't work for me. Vince affording Michael's opportunities makes no sense. He despises Michael's, why would he want to give him motivation for his match up? Why would he want to give Shawn something to strive for when in essence Vince would like nothing more than for HBK to leave the WWE. Oh and in these situations, I can't get my head around the fact that Shawn appears so calm. Vince listed off the list of injustices he has put Shawn through and yet he doesn't react, doesn't act, fails to respond. I want more fight, more passion, more intensity. It's all to calm…

>>> I think I mentioned this when reviewing the last edition of RAW, but you do put yourself through a lot of unnecessary work and effort when you write out the superstars entrances and all the commentary before the matches. On a PPV it's fine, but on a TV show it seems needless. Yes you use the commentators to get people over, create heat, build PPV matches, feuds and reinforce storyline points, but you can do that with a lot less writing IMO.

>>> You played the opening match up well. Helms continues his winning streak and as The King said "Benjamin can't buy a win." great line. I was more intrigued by the aftermath, then the match up itself. You really got across Shelton's frustrations and left us wondering what is Haas doing on RAW. I had forgotten Flair V Edge was a street fight. That coupled with a handicap first blood match just screams TNA. It's just to much for one show. In fact I'd rarely book a street fight on TV, let alone a first blood match. Anyway, that's a personal preference, discard it if you wish.

>>> "I dare you to win the Royal Rumble" may just use that myself it was so good, in the context of this particular promo of course. Edge is confident here, not so much cocky, which I like. In fact he's exuding confidence, in that he has himself already booked in the WM main event. The problem here is not the promo, it was good. It's the fact that Edge and Cena at the Rumble seems to be set in stone and even if Flair wins, which he may very well do, he drops it back to Edge next week. That's the feeling I get from this promo.

>>> Before I even read the last line I knew Mickie was listening in, exactly how I would of written it and it worked a treat. To be honest with you, I don't know how you can take this is a new direction. The WWE IRL did such a great job with the feud. It'll be tough.

>>> Ugh! A first blood match goes on second, not on a PPV, but on a TV show. I know I'm being hard on you mate, but really, I just don't understand the logic behind this. Why not a normal handicap match, wouldn't that of been enough. Unless it was going on as the main event, I would of left it gimmick free. If you had made it the main event on a show, make it a cage match, not first blood. With two other huge matches on this show, this got lost in the shuffle and the real importance of Shawn's battle and win was overshadowed by the gimmick itself.

>>> The more I think about it, the more I have to question Bischoff's decision earlier tonight. Distracting Angle by teaming him up with HHH for the big tag match and threatening to take the Rumble spot away, fine. But how does that stop Angle from interfering in the Main Event of taking out Edge? It doesn't really, does it? Shouldn't Eric of simply informed Angle that if he puts a finger on Edge he's out of the Rumble, it makes more sense. Anyway, back to HHH. You made the tag team match more interesting tonight by simply showcasing Hunters dislike for Angle, hatred in fact. Nice tease at the end, good writing.

>>> Thank you so much… Victoria is the number one contender! If you had Candice or Ashley get the pin I was going to scrap the whole review and hate you forever. LOL. There's not a whole lot to say here. Trish and Victoria have always had great matches, so they should do alright at the Rumble.

>>> This was a little homoerotic, with all the "you need me" crap. But the theme of the actual segment was abundantly clear. Benjamin needs Haas and Haas needs Benjamin in order to be successful. I don't agree, they're both talented and could be huge stars, but from a storyline perspective and the way Benjamin has been booked of late, this works.

>>> Interesting… are you teasing the break up of Carlito and masters here? With me pushing you to split up Kane and Show, and you seemingly wanting to split these two up, RAW could be left with a weakened tag team division. Not that I care TBH.

>>> Masters wins, but gets the assist from Carlito. Chavo looked good here, even though he lost. What was most insightful was the commentary after the match in which Masters was named one of the future stars of the company. Carlito's name was not on that list. There you have the foundations for a decent mid card feud between both Masters and Carlito. DO IT!!!

>>> Wasn't that nice…. Sarcasm aside, this was nicely done. RAW has become a land of individuals, no factions or friends. Everyone is out for themselves, everyone wants to climb the ladder to the top and those on the top will stop at nothing to prevent that from happening. So in this selfish place we call RAW, it's nice to know that some superstars still care about each other. This was a nice contrast to everything that has gone before it on the show, a welcome change or mood and pace if you will. I liked it a lot.

>>> You can't tell me there's no commercial between the tag team match and the main event? Edge spearing Angle worked for two reasons. One it kept all four men in the tag match looking strong and none of them had to the job, not that Triple H would of!!! Also it answers my question from earlier, in that Eric's plan was flawed and Angle could still get to Edge tonight, but in a brilliant piece of booking, Edge got to Angle first.

>>> This was epic. I mean I'm not a fan of long matches on TV, as I've already mentioned, but this main event worked on every level. It was hard not to scroll down and see who won, but I genuinely though Flair was going to do it, you made be believe in the impossible. When Cena came out I thought "that's it" Flair will win, but Edge turned it around. Just brilliant match writing and I for one am not afraid to say that I certainly would not of been capable of producing a TV match of that calibre. Nice save at the end, with edge being put through the table. It brings the focus back around to the Rumble and also intensifies what is already a hot feud.

OVERALL This review has taken over an hour, so I'm not going into any more detail here. LOL. This was very good on a number of levels and although I didn't agree with certain booking decisions, they didn't detract from what was an entertaining (and very, very long hehe) show.

SEAN.
---
Posting Rules

You may not post new threads

You may not post replies

You may not post attachments

You may not edit your posts

---

HTML code is Off

---