Re: BKB Star. Presents: World Wrestling Entertainment 2006
---
Everything looks pretty standard here. Nothing to much to comment on. As long as you push my favorites everything should be fine. You know the deal if you don't make it to the Royal Rumble so get cracking.

Did I say good luck? I hope not because there is no such thing as luck in this world, just make magic happen.

Just to be sure, good luck.

<3
---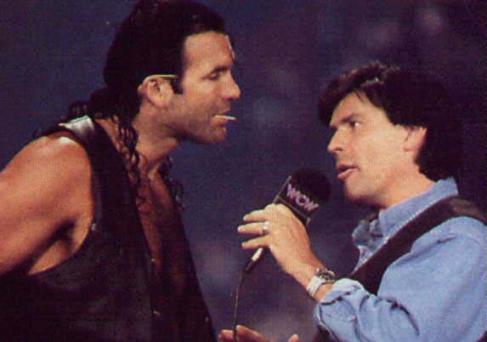 Re: BKB Star. Presents: World Wrestling Entertainment 2006
---
This looks hott for sure. If a Shelton push comes, this instantly becomes by favorite thread. Hope Rey gets some kind of decent role in this thread, maybe even a better booked title run. But most importantly, Kurt Angle is still around, and hopefully you can book him better than WWE in the last of his year with the company. Good luck man, should be epic.
---
WCW.
Re: BKB Star. Presents: World Wrestling Entertainment 2006
---
Thanks for all of the comments so far guys, I really appreciate it.
My first RAW is pretty much done and dusted, so expect a preview in a few days. Until then, here's some news which may or may not reveal which direction it is I'll be headed in as we go to Mania.
Quote:
~PWI Insider~
~ So, with the Royal Rumble just three weeks away, the talk around town is obviously about just who exactly it is that is going to win the 2006 Royal Rumble. Names from both brands have been thrown up as possibilities with quite a few contenders in what appears to be an even field this year. The top candidates from RAW are Triple H, Kurt Angle, Ric Flair (his name has been tossed around), Shawn Michaels (overcoming Vince McMahon), and Rob Van Dam (should the rumours of him returning be true). On the SmackDown! side of things, The Undertaker, Randy Orton and Rey Mysterio look to be the only actual chances. Odds are that we'll see a RAW winner this year.

~ As far as other matches at the Rumble go, having seen the Royal Rumble poster, I can confirm that it will most likely be Edge defending his WWE Championship against John Cena. Cena of course has a rematch after Edge cashed in Money in the Bank last night, so they aren't expected to waste any time on that feud. SmackDown! is meanwhile looking like having Batista vs Mark Henry, after Henry made a return last Friday by ripping the cage door off in the Seel cage Match between Batista& Rey Mysterio and MNM. After the assault on Batista, it's expected we'll get Henry vs 'Tista at the Rumble.

~ While people are hoping Henry will be better than he used to be after time away from WWE, we can confirm he isn't. In fact, his performance at a house show last Saturday as so poor that many people thought he had injured the fragile Batista, which we can now confirm is false. Vince McMahon, who hadn't seen him wrestle up until his return is said to be absolutely furious about the way Henry was wrestling, and was considering pulling him immediately. However, he will most likely stay on the roster in an attempt to make Batista look good, before they may send him off for good. When Vince isn't a fan of you it's definitely not a good thing, so Henry's in a terrible position here.

~ Trish Stratus and Mickie James are set to continue their storyline, though it'll likely be more dragged out. Don't expect the two to wrestle again until at least WrestleMania 22.

~ JBL is set for a big push in the company. While he had formerly been complaining of back-pain, JBL has gone to Germany to get treatment on his back with calf's blood. His back is said to be in much better shape, and he will probably stay in the ring until at least WrestleMania 23. This likely means a push, as we all know that Vince and JBL are good friends in real life, and even use the same barber.

~ Randy Orton is another person WWE will push... if he can keep his behaviour in check. Orton is said to be a real pain currently backstage, and he's doing himself quite a bit of harm. In fact, some are even saying that if he wasn't such a liability backstage, he may have defeated The Undertaker in their Hell in a Cell match back at Armageddon. We all know how that actually went down...

~ There were many rumours saying Juventud had been released from his contract with his profile being removed from wwe.com. However, we can now confirm that he is back on there. One suspects that it was a short suspension, especially with Juvi not being announced as being released by the WWE at any point.

~ In WrestleMania news, the card really hasn't taken much of a shape yet, though we do suspect that The Undertaker will face off against either Chris Benoit or possibly Rob Van Dam, which is to be set up at the Rumble. Kurt Angle vs Triple H is a chance too, since Angle has been getting a face reaction, and may as well just turn now, even with Daivari managing him. Vince McMahon vs Shawn Michaels also looks a lock at this stage with the way the feud has just started.

~ And finally in news relating to TNA, former ECW Champion, Rhino is said to be coming out of contract this May. With rumours that WWE may make ECW a third brand, there's a chance they'll go after Rhino. This is going to be a case of waiting and seeing.
---
---
Last edited by BkB Hulk; 06-10-2009 at

05:43 AM

.
Re: BKB Star. Presents: World Wrestling Entertainment 2006
---
Rumble's always only have around a handful of guys who can actually win it, it just has to be Rob Van Dam.
Edge/Cena should be a great match if it happens, however with the Rumble being a limited card as it is, you're going to need a hell of a Rumble to make up for Henry/Batista.
This definitely has to be false, Mark Henry owns in the ring.
Stratus/James has been done to death but is a good feud nonetheless, you're really going to need some good writing to make it seem original though.
at JBL fixing his back the same way Max Rooke fixed his hamstring.
Randy Orton will pull his head in because you love him. Knowing you i would pretty much guarantee Orton will be in the title picture come 'Mania.
Kid Kash > Juvi. If Juvi is Cruiserweight Champion with the likes of Kash and Noble on your Smackdown roster, and if you move Helms having him there to definitely means Juvi needs to be a jobber.
Shawn Michaels and Vince McMahon better be a lie otherwise your 'Mania will suck ass.
Rhino = GORE, GORE, GORE! Bring him in and push him to the moon.
News seem alright, jobber.
---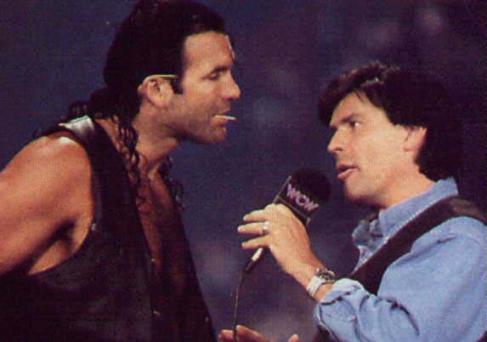 Asking JAMES ELLSWORTH for Wrestling Advice
Join Date: Oct 2007
Location: Australia
Posts: 357
Points: 0
Re: BKB Star. Presents: World Wrestling Entertainment 2006
---
You wanted comments: here they are <3.
Royal Rumble should be a great read, BUT I FOUND A BOTCH~!
. I think you mean with the Royal Rumble just three weeks away
. Anyway, good possibilites that you listed there, but I actually agree with that scummy club supporter and go with Rob Van Dam, coz' he pwns.
The WWE fucked Edge over by having him lose his WWE Championhip after one month, so plzplzplzplz don't have him lose it. Tista to retain over Mizzark IMO.
Batista not getting an injury is alright, and I LOL'ed at Henry fucking up in his first match with Vince seeing him, IDK why
. Send him to ECW and have him as a monster if you decide to bring ECW in.
Nothing much to say with the Trish and Mickie saga, so that's all that is said
.
LOLOL, Rooke sucks, Judd pwns
. Oh yeah, and alright to say Jibbles is going to continue wrasslin' to Mania 23, but him on commentary was quite teh funny.
Randy Orton pwns, so fuck the backstage shizz and have him as the World Heavyweight Champion by WrestleMania 22
.
Juventud not being released isn't a bad thing, as all it does it strengthen your Cruiserweight Division which is definitely a good thing.
As always, the Undertaker's WrestleMania opponent speculation begins, and I must say, those picks are good picks, and I found rather ironic with the Deadman facing Benoit
. Anyway, RVD to face Taker if he doesn't win the Rumble, Angle vs. HHH should be great, and th other match is rater obvious and actully kinda impressed IRL, so yeh, good decisions d00d.
Nice notes, much <3 bbz.
---
Yeboi.
Mid-Card Champion
Join Date: Nov 2007
Location: Phoenix
Posts: 5,652
Points: 0
Re: BKB Star. Presents: World Wrestling Entertainment 2006
---
Most of those guys could do without the Rumble win, although I wouldn't mind Rey or RVD. Make it happen.

Edge vs. Cena for the title should really go one way, with Edge retaining. Should be a great match, though. Don't care for Batista or Henry, either, but don't have Henry win the title. Do have Batista drop before 'Mania, though, I'd hate for him to have a year-long reign.

Henry being gone wouldn't be bad. Quite the opposite, really.

Mickie and Trish are pure win. Give them a very good program.

JBL getting pushed? Dang. Not really a fan of his in the ring, better suited as a manager, in my opinion. If he's going to get pushed, give him a ton of mic time.

Orton is more push-worthy than JBL, honestly. Would like to see him do good in this BTB.

Juvi is good, don't release him. Keep him on as champion.

The supposed matches we might be seeing all sound great, especially Angle/Hunter. RVD would be a great opponent for him if he doesn't win the Rumble, which he should.

Rhino would be a solid addition to the roster, especially if you're going to be bringing back ECW.

Good stuff, BKB, looking forward to your first show.
Re: BKB Star. Presents: World Wrestling Entertainment 2006
---
Speculation for the Rumble seems to begin! That would be insane if Flair, HBK, or RVD won, as the rest have won it (IRL)

I'm gonna say this for the Edge/Cena feud and the Mickie/Trish feud: Both have been done, but I will really enjoy both feuds much more than I did on TV if you make this storyline unique and original. Have some new concept be thrown into these feuds, as they are good with each other (respectivly) and I think if you be original and not approach these feuds the way they did IRL, then these 2 feuds will be sick.

Batista and Henry, to my mind, never really had a feud that resulted in many matches. Batista ended up finishing the RAW vs. SD! feud during Survivor Series and then got injured, so I don't think that he and Henry had an all out feud. Henry bores me in the ring, so I can't tell the direction you are going with for their feud, but nonetheless, I'll be watching/reading/wtvr lol

JBL was apart of the Sd! roster, right? Alright good, I enjoyed him very much on Sd than on RAW, so good.

Orton, while younger, was very entertaining. For some reason, I don't remember him on Sd! All I remember was him feuding with Taker, Rey, Angle and that's it....boring, make him more remember-able (is tht a word lol) plz kthx

Juvi back on Sd! good. I remember Psycosis and Super Crazy more than I did with Juv, so you gotta push him. Him, Chavo, and all the rest of the CW's on Sd! can make up one really fun division. Man, you got so much awesome potential and characters to use, like you have the tools to make these shows crazy!

Rhyno possibly coming to WWE, nice~ If you do make ECW you could make it os much better, like for real man.

Anywyas, great news feed, I'm not gna talk about Mania, because I wanna see how you're going to to do this, don't disappoint!
---
Re: BKB Star. Presents: World Wrestling Entertainment 2006
---
After 2003, I think 2006 was a year that the WWE could of picked up the ball and ran with it, but instead they focused on the top guys and gave us uninspiring storylines week after week. Pretty much like they're doing now if you think about. The rosters are solid. I find it quiet amusing that Edge and Batista are champion and on top of the brands, some things just never change. I think the Raw brand interests me most, mainly due to the strong divas presence with the likes of Trish, Victoria and Lita. Those were great days. It's good to here you're just done writing the first Raw, looking forward to checking that bad boy out.
---
Re: BKB Star. Presents: World Wrestling Entertainment 2006
---
You're my idol, so you know you have a reader in myself. Anyways, everything looks great. I wasn't watching a whole lot in 2006 so here's your chance to get me hooked on a WWE thread other than Sean's. Can't wait for everything to unfold.
Asking JAMES ELLSWORTH for Wrestling Advice
Join Date: Jun 2008
Location: Victoria, Australia
Posts: 468
Points: 223
Re: BKB Star. Presents: World Wrestling Entertainment 2006
---
James, this is looking good first up, second of all, I can see you having Rob Van Dam winning the Rumble with you writing well with him(As I seem to remember you saying)

Please get rid of the Henry, Batista match I beg of you. I hope the Edge and Cena match is done well though and let Edge win plz.

HENRY CAN BE A JOBBER. MAKE IT HAPPEN! Or just plain get rid of him. Either works.

I hope you don't have the storyline drag on, give each diva something else to do for Wrestlemania, I love womens wrestling.

JBL in line for a push is good and honestly, I cracked up laughing at the Calfs Blood statement and I think you know why.

Don't really care for Orton right now, I hope you do push him though as he can be a very good asset for you when you get further into this thread.

JUVI is plain awesome so I hope you keep him around.

I would love to see Benoit and Taker at Wrestlemania cause it would just be awesome, and I hope you do bring Rhino back tbh.
---
I need a new signature.
---
Last edited by Gards; 06-12-2009 at

09:02 AM

.
Posting Rules

You may not post new threads

You may not post replies

You may not post attachments

You may not edit your posts

---

HTML code is Off

---