Re: WWE: The Platinum Era
---
Melvisboy's No Way Out Feedback
Hey man. Sorry I'm late with this, I've just been so overloaded with work atm.
A good video package to start. Nothing special, but it addressed all the ongoing situations and hyped it all up that little bit more.
A very enjoyable opener, I thought. MNM winning was entirely the right decision, imo, but you certainly did a good job of making Hardy look very strong by lasting so long on his own. The Moore spot with the Superkick to the back of the head was just sick, I love it. I wish I could have seen it in real life, tbh, it was brutal to read, amazing to see, no doubt. Plus, you had MNM retain by basically flat out cheating with Nitro's Superkick, which really gets them over as the cheating bastards which they played so well. I would say that I thought your ALL-CAPS were a bit weird in places, tbh - I think you had 'Hardy THROWS some punches', or something to that effect. Just a bit strange to have
that
capitalised. I had no real qualms with the match content other than the plethora of eager pinfalls Nitro had to kick out of at the beginning. I get the feeling that Moore would really want to pay back Nitro for the hell he's put him through, and winning the match might have moved to the back of his mind a bit more, tbh. Other than that, the match itself would have been an entertaining watch. There were a few minor spelling errors, and a couple of long-winded sentences, but nothing that we haven't all done in the past. A strong start...
Quote:
Josh Matthews:
Kid Kash, after last month attacking Juventud and putting him on the sidelines with a concussion, you're finally forced to face him one on one in a match where if you get counted out or disqualified, you will lose your Cruiserweight Title to Juventud. Your thoughts?
Wasn't particularly necessary to add that bit, but tbh, I doubt it was intentional. I re-read through my Armageddon the other day, and I'd made dozens of similar mistakes. I was surprised no-one picked up on them, tbh. This segment was beautifully written, excellent characterization of the cocky Kid Kash. I love it. Especially loved the line about the 'dictatorship' on SD, nice touch. Great promo.
The Bottomless Pit? I'm going there on holiday this year. I hear it's nice. I felt we could have used a bit of description on the crowd reaction for Boogeyman, if I'm honest, so I could get a feel for just how the crowd is reacting to him. Frankly, I don't envy you one bit for the writing of this match. It's not an easy one to write, tbh.
Oh yes. Oh fuck yes. I love it. Albright SQUASHES
the Boogeyman
. I damn love it. Brilliant booking. Really gets Albright over as a total badass, and writes Boogey so far out of action, you never have to use him again if you don't want to. Really makes Brent's Crowbar looks like a beast, too. Well done.
I'm not high on Finlay physically admitting that he lost, especially as it didn't really lead anywhere. Being the tough heel he is, I kinda feel he shouldn't be admitting he was ever beaten in combat, it takes away from his badassness.
Quote:
The only difference between all of those other times an' tonight is that tonight, he's bringin' two of his little friends to the party, an' this time, I'm not just shootin' to knock the kid out ... I'm shootin' to win.
I think you're looking for 'playing to win', tbh, unless you do it differently in Australia. If that's the case, apologies, I've never been there. Other than that, a decent promo, nothing mind-blowing, but it served its purpose with hyping the feud up. Fair enough.
Haha, oops. I thought it was a 'Mania ad, it was SNME. Dear me. Anyway, that should be a good'un. Batista vs Edge should be good. Henry vs Edge seems somewhat unlikely, I think.
Cole running through Lashley was helpful. Thanks. A fair few people use him in their threads, I get mixed up.
Lashley eliminating Show and Kane was pretty beastly, no two ways about it. Certainly interesting that Finlay would decide not to fight Lashley after the previous interview, but it does show how wily he is, waiting for the right moment to try to capitalise and do one over on Lashley again. Nice to see you acknowledge Regal's striking power with that left arm, it goes without saying he's got some real power in it. Shame he wasn't in for longer, tbh, but again, it shows how much Finlay is a heel by the fact he's only ready to fight on his terms, which is a nice touch on your part. Very nice to see you following the usual tag team formula, with a bit of entertaining offence at the beginning for the faces, prior to the inevitable isolation. I'm glad you followed that. It would have been nice to have a bit of description about the referee admonishing the men who came in illegally, because he would have done that, surely. Certainly a crowd-pleasing finish, with Finlay getting his comeuppance, not just for trying to use the shillelagh, but for how he's been playing Lashley about, too. Makes me think you have different plans for both men heading into Mania. Ooh, I'm imaging Lashley with a very shiny briefcase, but he seems a bit above that. Hm. Time will tell. Good match, btw, I enjoyed reading it.
Well, it's taken me forever to get back to it, but it's time to get going again. Massive apologies for my huge lateness. Sorry!
Anyway, let's get back to business. Punk vignette was pretty good, should be good to see him on SmackDown. Looking forward to it.
JBL's promo was short, but it's fair to say it got the point across, about how he's really quite cocky and relaxed regarding his match - the fact that he can be so relaxed when he has to face Taker himself later speaks volumes for his character, so nice job there. Might have been nice for him to talk a bit about how he's done Undertaker a treat a lot recently, just to get over just how much JBL's been on top, and to get over a bit more that JBL's a real cocky bastard. Still, served its purpose, and the massages were a nice touch.
See, I know you've said I don't have to finish this, but I feel that I really should, plus the fact that it's an enjoyable read. So tough. I'm finishing it. It's about time I repayed the numerous reviews you've given me.
The Benoit-Booker video package did a terrific job of getting across to me what's happened so far in the rivalry. Good stuff.
You showed some great knowledge of the likely in-ring psychology at the beginning of the match here with the submission attempts - you showed how Benoit was almost taking OJ lightly cause of the previous victories, plus having OJ quite wary of them, because he doesn't want to suffer the same fate as the last three times. Very nicely done here to play on their history. The rest of the match was also good, especially the Booker-ference, which felt very smooth and I could see it happening. OJ's struggle in the Crossface was fantastic to read - the emotion in it was brilliant. You made OJ seriously credible here by getting across his will and desire to not tap out to Benoit again, and it really stood out. Nice one.
*sigh* Taking it one match at a time.
I'll get there. And btw, can't believe I got beaten by Stoj in the predo's. I demand a recount, tbh, this isn't possible.
Re: The World Wrestling Entertainment
---
Mhm, it's back. Now I understand it's been awhile, and originally I planned on waiting a little longer to get a few more shows stockpiled, but after talking to a few people, I really got the urge to bring this back, so here it is. Hopefully this adds a little bit of activity to the section.

Now, moving on to business.



~ Prediction Results ~
GardsJr7529: 12/26
Nige: 14/26
TKOW: 13/26
RatedRKO31: 12/26
FlyinStyles: 13/26
Wolf Beast: 16/26
Cubstommy: 12/26
Melvisboy: 14/26
Stojy: 15/26
PatMan: 12/26
y2j__legend: 12/26
Shocker: 19/26
Alcoholic: 14/26
rvd97405: 13/26
amrocky25: 17/26
Rated-R Champ: 14/26
The Diesel: 11/26
Legend: 11/26
RandomX: 11/26

As you can see, first was Shocker, second amrocky25, third Wolfy, fourth Stoj and fifth a tie between Alco, Melvisboy and Nige, all of whom will be receiving credits.

~ News & Notes ~
~ The main event of WrestleMania 22 is now officially confirmed, with wwe.com listing the match between Randy Orton and Batista for the World Heavyweight Champion under their WrestleMania 22 section. This means that there will likely be no more title defences for Batista before WrestleMania, and that all of the energy of Batista will now be focussed towards Randy Orton. Their program was expected to kickstart at No Way Out, with Orton refereeing the match between Batista and Mark Henry, but with no sneak attack from Orton, it is thought that Orton will put some heat into the feud this Friday on SmackDown!.

~ Meanwhile, before WrestleMania, at Saturday Night's Main Event, it is now official that Batista will meet the WWE Champion, Edge, in a clash of the champions match. No gold is set to be on the line.

~ Interestingly, there is one more match listed under the WrestleMania 22 section and that is the Money in the Bank Ladder Match. Now of course there are no competitors listed just yet, but there are eight black silhouettes, confirming the beliefs that WWE would add two more participants to the match this year and make it an inter-brand match. At this stage, the favourites to take out Money in the Bank appear to be out of Gregory Helms, who is receiving a strong push on RAW, Carlito, who has found himself in many main events in early 2006 on the red brand and looked competitive in all of them, Chris Masters, who has received the same treatment as Carlito and had a program with Shawn Michaels last year, Bobby Lashley, who is of course undefeated, Mr. Kennedy, despite losing his undefeated streak to Rey Mysterio at No Way Out, and Rey Mysterio himself, who has been pushed over the course of the past year, and now finds himself as someone who can compete in the heavyweight ranks in kayfabe terms following his victory over Kennedy. The dark horse at this stage may also be Ric Flair, who creative is said to want to give a seventeenth reign to.

~ The internet has been rife with speculation following Rob Van Dam costing The Undertaker his match against John 'Bradshaw' Layfield at No Way Out. Early rumours indicated that RVD had joined JBL and turned heel, although we hear that is not the case. It is thought that RVD will remain face throughout his program with The Undertaker, which is of course set to feature a match at WrestleMania 22.

~ Another match that now looks set to take place is the final encounter between Booker T and Chris Benoit, following Benoit's victory over Booker's protégé Orlando Jordan at No Way Out. This feud has been going for about half a year, so it is thought that an appropriate ending would be on the grandest stage of them all. Jordan, meanwhile, may be headed to Money in the Bank.

~ JBL finds himself in an interesting position following his win over The Undertaker at No Way Out. JBL of course won't be continuing his program with The Undertaker on to WrestleMania, as The Undertaker will be facing RVD. He also won't be challenging for the World Heavyweight Championship or United States Championship, so it appears there are two avenues that could be taken here. JBL has had a long standing rivalry with Matt Hardy, and it is a possibility that the two will go one on one at WrestleMania. The other possibility is that Hardy will win the WWE Tag Team Titles before WrestleMania, or find a new partner to continue to pursue MNM, and JBL will join forces with his 'Hired Gun' Brent Albright to gun for the gold themselves. Either way, it appears that JBL will be involved with young talent this year at WrestleMania.

~ On the theme of Matt Hardy, we can now confirm that his partner Shannon Moore is set to head off to have surgery on a knee injury. It is thought that Moore injured his knee back in December, and his push that he has received has only been because WWE are using it to set up something with Matt Hardy. The Boogeyman, who also appeared to be injured following No Way Out, has apparently been sent off to Booker T's wrestling school in Houston, Texas so he can learn the craft. At the current time The Boogeyman is one of the worst wrestlers in the world, and actually appears to be worse than all of the divas that the WWE have signed.

~ Surprisingly, at No Way Out Bobby Lashley pinned his rival Finlay, despite The Bluebloods also being in the match to take the fall. It is thought that London & Kendrick, along with The Bluebloods, were included in the match so that SmackDown!'s weak tag team division could gain some extra exposure, and that by not taking the pinfall the tag division is allowed to look strong. This also may be the conclusion to Lashley and Finlay's little feud, which has allowed Finlay to be introduced to the WWE audience and also given Lashley a win over someone who looks like a legitimate threat to him.

~ The Cruiserweight Title situation is in an interesting spot. Not only did Kid Kash beat Juventud, who was long thought to be headed into a WrestleMania match with Kash as either champion or challenger, but he also decimated him in the end, making himself look strong as champion, but also completing his domination over the cruiserweight division. With Kash having no prospective opponents, it is thought that the Cruiserweight Title will not be defended at WrestleMania, with Kash either entering Money in the Bank, or just not featuring for awhile until new challengers are built.

~ Finally, in news on Rhino, who was thought to be possibly resigning with WWE when his TNA deal expires in June. We can now confirm that Rhino's initial deal with TNA was indeed set to end in June, but since our last report, Rhino has resigned with TNA, ending any rumours of him heading back up north to New York.



Expect a RAW preview pretty soon.
---
Re: The World Wrestling Entertainment
---
I don't really comment much around these parts anymore, kind of lost my passion for BTB, yet this is one of the threads that I've always tried my best to keep up with.

News and notes looked pretty good, although regarding No Way Out, I think you made a few mistakes, as me not getting first in predictions contest is a travesty.

Anyway, good to see this back, hurry with the preview, thanks.

Collingwood > Geelong to.
---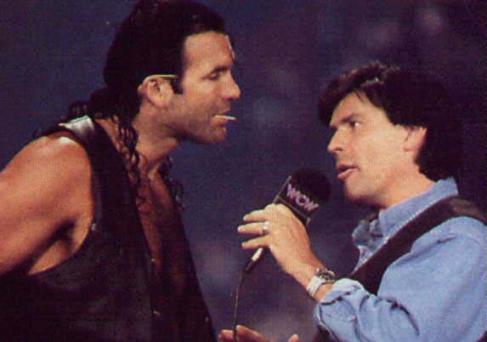 Re: The World Wrestling Entertainment
---
I've never seen this thread before but I'll definately be checking this out in the future.

I like your WM preview summary a lot.
Re: The World Wrestling Entertainment
---
I'm guessing the new name is just a transitional one until you can replace 'The Platinum Era'. Otherwise, 'the fuck you thinking?

Anyway, I'm very pleased to see you back in action and I look forward to seeing what you can do in the build to WrestleMania.
Re: The World Wrestling Entertainment
---
Nice name you got there
-- Sometimes the simplest of names are the most effective such as Wolfie's "
Be the Booker
"... can't be any more simpler or broad then that but it works. And to be honest, never really digged the whole Platnium thing but that's just me.
You're thread is now on it's home stretch to Wrestlemania where you have to really step it up, the weeks leading into it making new feuds and making others more personal- It's not the easiest few weeks to write, I can tell you that from experience but it's a lot of fun.
Lots of good matches already confirmed and will be made, such as Orton and Batista with the whole who really was the Evolution star can be used will be great along with RVD and Undertaker which imo should be held in some sort of gimmick match where RVD can showcase his high flying and old ECW\Hardcore maneuvers for a fun match along with MITB which is always good. I'm not to fond though of it being 8 people, too much of a clusterfuck imo and it's difficult to write let alone picture in your head, six is the most effective but that's me. Booker T and Benoit also have lots of history seeing as you can use the fact that they also did a best of series' in the old WCW (I can't remember who won that though) and that could be used in promos.
JBL should slide away from the whole Undertaker and RVD scenario and get into his own feud heading into mania and his own match, imo him facing Albright or Henry should be a good idea. And the whole Kid Kash thing can be used well to debut a cruiserweight of your'e chosing- Kash can use the whole "I am the best, I beat ever cruiser' there is around Smackdown! and anyone in the world that wants to take me on can" (makes an open challenge) and you bring someone in. debuting them. (AJ Styles imo would be epic)
Other then that, best of luck and I'll pop in again once shows are up.
---
Re: The World Wrestling Entertainment
---
Picking up from right here so forgive me for not being in tuned with everything going on. Orton/Batista & the MITB possibilities are the most intriguing of the news to me. Can't wait to begin reading! =)
---
Re: The World Wrestling Entertainment
---

February 20th, 2006 | Preview
This week Monday Night RAW heads into the Sovereign Bank Arena in Trenton, New Jersey, and with so little known about the show, so much promise is there to be had.
The major talking point coming off the back of last week's RAW was the conclusion, where, after spending the best part of the past six months struggling to control a portion of the RAW roster, RAW General Manager Eric Bischoff snapped following the WWE Champion, Edge inadvertently struck Bischoff as Bischoff tried top diffuse the explosive situation between Edge, John Cena and Kurt Angle. Eric Bischoff reacted to the situation by stating that the inmates would run the asylum this week, and wwe.com has learnt that the meaning behind that is that Eric Bischoff will not be in the arena for RAW! What could this possibly mean? How will RAW run with no one in charge? Who will establish themselves as the dominant force on RAW with no authority to govern the show?
Three men who may try to take up the chance are the three men involved in the brawl that led to Bischoff snapping. The trio of Edge, Cena and Angle have been at war for the past few months, and are the main three offenders when it comes to rebelling against Bischoff. With no Bischoff to restrain them, what lengths will the three go to to inflict pain on one another this week?
Another two men who should revel in a RAW with no authority are the newly reformed D-Generation X. After months of battling Mr. McMahon and his stooges alone, in the past month Shawn Michaels finally found himself an ally in his long-time enemy and even longer time friend, Triple H. Though the two didn't get along at first, last week we saw what looked to be the reunion of DX as Shawn Michaels hit Mr. McMahon with Sweet Chin Music and Michaels and Triple H embraced. With anarchy set to rule this week, word is Mr. McMahon isn't going to be in the arena tonight either for fear of his own safety. With that in mind, what can we expect to see from DX this week?
Last night we saw the SmackDown! exclusive Pay-Per-View No Way Out … only it didn't turn out to be so exclusive when Monday Night RAW superstar Rob Van Dam showed up in the arena and cost The Undertaker his match with John 'Bradshaw' Layfield. The question has been asked for the past twenty-four hours, and perhaps tonight an answer will come. Why did RVD attack The Undertaker? What motivation could he possibly have had? And will he confront The Undertaker face to face at some point down the line?
Despite anarchy ruling this week on RAW, we can confirm of two matches that will take place, as previously signed by Eric Bischoff … and both matches will feature gold on the line! The World Tag Team Champions, Kane & Big Show are set to try to continue their dominant reign of the tag division as they defend the gold against Intercontinental Champion, Ric Flair & Chavo Guerrero. Flair & Guerrero picked up a win over the tag champs a few weeks ago. Can they do the same tonight?
The Women's Championship will also be on the line, as Trish Stratus will defend her title against her long-time rival, Victoria. While Victoria fell short against Stratus a month ago at the Royal Rumble, Victoria earned a rematch a few weeks ago when she pinned Stratus in tag action. Which diva will pick up the decisive fall tonight and walk out with the gold?
Also set to be in the arena on RAW are a host of other superstars, including Gregory Helms, Charlie Haas, Shelton Benjamin, The Redneck Wrecking Crew, Carlito, and Chris Masters. To see all of this, and oh so much more, tune into the USA Network, 9/8C.
---
Re: The World Wrestling Entertainment
---
I see, an opening promo happening between the three main event players on Raw. Edge/Angle and Cena (three way match for mania is almost a lock) and each man rants baout how he is in charge and demands a shot at the title tonight. Cena being the "never back down" champion, obviously accepts and I am sure you will have en explosive main event with a weird ending. Maybe a surprise run in out of nowhere towards the end, to set something up for next week.

D-X reforming is an interesting concept, what they will do this week I am not entirely sure seeing as D-X 90% of the time make fun of the authority figures / the GM's being the immature children they are. With no authority around what sort of re-debut' will they have? Maybe the main event will be them two against two of the Angle/Cena/Edge. Now that would be something... However I am sure McMahon will be here to create order from this Raw Asylm you have created.

I see an short, promo by RVD seeing as he isn't good on the stick about why he did what he did. Undertaker will probably appear on the screen, play some mind games to freak him out and we shall begin our road to wrestlemania with them two going neck and neck.

Flair and Guerrero? An Odd couple to say the least. I haven't been up to date with much lately but never expected them to be a team. I am sure they will lose, one will blame it on the other and the Kane/Big Show to go in another direction to find more challengers for Mania while Flair and Chavo have tension- Chavo to win the title from Flair at Mania (please push him very underated).

Anywho, Raw looks to be a great show.

Ill try and return the review you gave me.
---
Re: The World Wrestling Entertainment
---
First of all, I'm very pleased to see this is up and running again. I think you have really shown the section (including me) that you do have what it takes to be one of the top bookers here. The build to WrestleMania has been quality and I know that from this point forward it can only get better. But, considering this is me who's talking here, I do have a few things to nitpick.
Straight off the bat, I think it's interesting to see that you seem to be headed for D-Generation X vs. The McMahons at WrestleMania (or some variant of that match). However, you still need to do more to make this feud different from its real life counterpart. Unless, of course, it's all a swerve and Triple H is still a heel, leading to Trips vs. HBK at WrestleMania. I doubt it, but I wouldn't be totally shocked.
One thing that was really a pleasant surprise was the RVD return at No Way Out. I'm excited to see how you continue this on RAW and explain RVD's actions perhaps more than anything else on the show.
The whole 'inmates run the asylum' is Era of Darkness-esque (in fact the whole mystery attacker storyline is Era of Darkness-esque you f***er
) and so I'm intrigued to see where you go with this. I think what you've done well to establish is that every RAW could be 'the night that the attacker is revealed', meaning every show is a must watch (or in are case read) show.
Don't keep me waiting jobber#2.
Posting Rules

You may not post new threads

You may not post replies

You may not post attachments

You may not edit your posts

---

HTML code is Off

---