Re: Stojy Freak Presents: WWF
---
If two titles are to be cut, then I'd
recommend
them being the European and
Women's
titles.
I liked the McMahon's off-screen bit - it was a nice slice of goodness to keep me going up until Raw.
Re: Stojy Freak Presents: WWF
---
World Wrestling Federation
WWF Raw is War
Staples Center, Los Angeles, California
April 3, 2000
*WRESTLEMANIA RECAP VIDEO*
*OPENING VIDEO*
*PYRO*

Jim Ross:
Hello everyone and we welcome you to Monday Night Raw. I'm good ol' JR, Jim Ross, and alongside me is my broadcast partner Jerry 'The King' Lawler, and we are live from the Staples Center in Los Angeles, California in what is sure to be a jam packed show since we are just twenty-four hours removed from the greatest Wrestlemania of all time, Wrestlemania Sixteen.
Jerry Lawler:
JR, last night really was an amazing night! Not only did we have me on commentary but we had everything, we had championships change hands, dreams shattered, friendships ruined and we even got to see some puppies, JR.
Jim Ross:
Speaking of dreams shattered, in an epic main event 'The People's Champion', The Rock came up short on his quest to become World Wrestling Federation Champion thanks to the despicable actions of one man and one man only: Vince McMahon.
Jerry Lawler:
I think you're forgetting the man who successfully retained the World Wrestling Federation Championship last night, that man being Triple H. Triple H defeated three men last night and if there were still any doubters out there who believed that Triple H did not deserve to be at the top of the mountain, well they were silenced last night.
Jim Ross:
What some of us may forget is that the main event last night was about a hell of a lot more then just the WWF Championship. In a night full of shocks, we witnessed the end of one of the greats in this business; we witnessed the last match of 'The Hardcore Legend' Mick Foley.
Jerry Lawler:
Foley is a better author then what he was a wrestler, stop dwelling on the past JR: let's talk about the impressive performance of The Big Show.
Jim Ross:
I'll tell you right now, ever since Shane McMahon has taken The Big Show under his wing, the angry giant has become a focused giant. His impressive performance last night showed us that sooner or later he will be a two time WWF Champion.
Jerry Lawler:
Thank you, JR. It is about time you started appreciating the real talent in this business, rather then fussing over former 'Hardcore Legends' who tarnish their legacy and become nothing but a laughing stock.
Jim Ross:
You're lucky we're on air partner. The one thing I will tell you, however, is that you're nothing but a jackass. If it wasn't for Mick Foley, so many superstars of today would never have been able to gain the inspiration to be what they now are. He revolutionized this business in ways that men such as you could only dream of.
Jerry Lawler:
Let's move on, shall we? We were lucky enough to also witness a match that will go down in history as one of the biggest travesties in this business, a two out of three falls match which saw Kurt Angle lose both the WWF Intercontinental and European Championships without being pinned or submitting.
Jim Ross:
Oh, life is hard, isn't it King? The fact is Kurt Angle was beginning to make everybody sick with his bragging and last night he was shut up. I admit the guy has talent, but he goes about things in the wrong way, and he is looked upon by the majority of the locker room as a clown.
Jerry Lawler:
You're just jealous, JR, and after thinking long and hard I have found two guys that your fat ass can't discredit, and they're the new World Wrestling Federation Tag Team Champions, Edge and Christian.
Jim Ross:
They put on the match of a life time, and they came out victorious, however credit must also go to The Hardy Boyz and the former champions, The Dudley Boyz…
Jerry Lawler:
You mean the losers?
Jim Ross:
Will you shut up and let me do my job, King? I know you think you're humorous but I, and the majority of fans out there realize that you're becoming nothing but a liability to this company. As I was saying, all three teams put on the performance of a life time and therefore all three teams deserve credit, no matter who the winners were.
Jerry Lawler:
Me? Liability? At least I can speak properly…
Before JR can bite back with a "witty" remark of his own the two old timers are interrupted by…
"No Chance In Hell" hits over the pa system and the amount of heat heard before Vince McMahon even steps through the curtain and into arena is simply amazing. Eventually, Vinnie Mac does indeed step through the curtain, and the heat some how actually picks up. McMahon doesn't seem to care as he struts towards the ring, custom made gray suit on and a smug on his face that can only mean one thing: McMahon is still happy with last nights events.
Jim Ross:
Here he is, King, the Chairman of the Board, our boss and the man who with one diabolical swing of a chair cost The Rock all of his hopes and dreams.
Jerry Lawler:
Why do you make everything seem so bad, JR? Lighten up will you, Vince is in a good mood, I am in a good mood, I am sure the entire McMahon family is in a good mood, all is well amongst the hierarchy of the WWF. I wonder what 'the great man' has to say about last night and about the future of the WWF.

At this point McMahon is in the ring, he has taken Howard Finkel's microphone away and had kicked him out of the ring. Finally, after what seems like an eternity, the crowd dies down enough for Vince McMahon to let them know what is on his mind.
Vince McMahon:
The chair shot heard around the world, huh?

Massive heat is given to McMahon by the crowd, as McMahon is clearly getting ready to gloat.
Vince McMahon:
Hey, don't get upset at me, I didn't start calling it that…(laughs) for those of you who have no clue what I'm talking about, take a look… Play the footage…
After a few moments wait, the titantron comes to life and it shows some footage from last night's main event. The footage shows The Rock getting prepared to nail The People's Elbow only to cop a chair shot from the one and only, Vince McMahon…
We return to the live arena to see the crowd already throwing garbage in the ring while McMahon continues to give them his smug, some what knowingly, smile.
Vince McMahon:
(reminiscently) That is without a doubt the greatest Wrestlemania moment of ALL TIME!
McMahon basks in his own glory, while some of the fans in the front row have to be held back by security.
Vince McMahon:
Bigger than Hogan slamming Andre… bigger than Stone Cold Steve Austin winning the WWF Championship at Wrestlemania fourteen and fifteen… bigger than anything that has ever been done before.
More heat for Vinnie Mac, as his gloating is simply becoming unbearable.
Vince McMahon:
I don't know why everybody seems to be so upset… all I did was create history…
McMahon mockingly acts confused while the crowd give him some more heat. McMahon then smartens up and fixes his tie, it seems as though he is about to get serious.
Vince McMahon:
Today, is simply put, a great day for the World Wrestling Federation. We have the greatest wrestler alive today, Triple H, as the WWF Champion, and the greatest women's wrestler alive today, Stephanie McMahon-Helmsley as the WWF Women's Champion.

Heat at the mention of the two champions, also a little 'slut' chant breaks out, referencing to Vince's daughter.
Vince McMahon:
Things are looking bright for the future of this company, as long as they stay the way they are, and as long as I'm around, that is exactly what'll happen.
More heat is heard, as McMahon continues to try and act all high and mighty.
Vince McMahon:
You people make me sick! You're all fans of the WWF, yet when I do something to protect the well being of the very business you and I both love, you decide to come out here and disrespect me like this?
A little 'Rocky' chant can be heard; however it is cut off by another chant, an 'asshole' one.
Vince McMahon:
The Rock is a hell of a guy, I mean the way he throws his elbow pad into the audience, the way he raises the People's Eyebrow so you idiots can go nuts…
Heat.
Vince McMahon:
He really has "all the tools" to be something big.
McMahon stops for a second and thinks about his next words carefully.
Vince McMahon:
I'm gonna' say this next bit really slow so you all understand, THE… ROCK… AS… CHAMPION… WOULD… BE… A… DISGRACE!
Probably the loudest reaction we've heard so far tonight comes at Vince's insulting of The Rock.
Vince McMahon:
As much as you don't like it, you've got to admit it, I am right. The Rock has built his whole career on talk; however when it comes to getting the job done in the ring, The Rock always seems to come up short…
Heat~!
Vince McMahon:
SHADDDDUUPPPP!
Epic amount of heat for the aggressiveness in McMahon's last statement.
Vince McMahon:
I'm trying to give everybody an explanation here so a little respect would be nice. As a matter of fact, I don't answer to any of you people… Rock, don't take it personally, it was just business!
McMahon uses the excuse of the century, to more heat.
Vince McMahon:
You don't measure up on the food chain Rock: you're incomparable to Triple H, and that is why last night, you lost… You can make all the excuses in the world but you're not good enough on the big stage… and that is why you can take your people, take your eyebrow, and take your little pretty boy persona back home to Miami, because you have NO CHANCE IN HELL of ever getting another shot at the World Wrestling Federation Championship.
Even more heat as McMahon smiles and then McMahon straightens up, giving him more of a formal look.
Vince McMahon:
However, enough about the loser of last nights main event, lets hear what the winner thinks, rather then hearing it from me, let's hear it from the horses mouth himself, ladies and gentleman, let me introduce to you, accompanied to the ring by the WWF Women's Champion, my lovely daughter, Stephanie McMahon Helmsley, he is on top of the mountain right now, he is the WWF Champion, ladies and gentleman, the greatest wrestler alive today, Triple H!
Everything is silent for a few moments before…

"My Time" hits over the pa system and both the WWF Champion and the WWF Women's Champion, Triple H and Stephanie McMahon-Helmsley, are standing at the top of the entrance ramp with big smirks on both of their faces. The most awesome couple in WWF history both walk down the ring, Triple H with his title on his shoulder, and Steph with hers on her waist: both stop half way and share a kiss which gains huge heat from the audience.
Jim Ross:
Here they are the two people on top of the mountain at this point in time, both Triple H and his jezebel of a wife, Stephanie McMahon-Helmsley.
Jerry Lawler:
Everybody stand up and give this man a standing ovation as he successfully defended his WWF Championship in what could be the greatest match EVER! Not only that: his wife Stephanie McMahon-Helmsley is the most dominating Women's champion in a LONG time.
The music then dies down and Vince McMahon surprisingly hands the microphone over to his beautiful daughter, Stephanie.
Stephanie McMahon:
Ladies and gentleman…
Steph is cut off by a 'slut' chant.
Stephanie McMahon:
I AM THE WOMEN'S CHAMPION… SHOW ME SOME RESPECT!
More heat before Steph finally decides to speak over them.
Stephanie McMahon:
I just wanted to send a little message from myself to The Rock… Rock, last night when you Rock Bottomed me…
Pop and small 'Rocky' chant.
Stephanie McMahon:
SHUT… UP! Last night you made the biggest mistake in my life, and I just want to let you know the pain I am in is nothing compared to what you will suffer: I promise you Rock, whether it be with my last gasp of air or last strain of energy you will get what's coming to you, so Rock, short and sweet, whether it be me, whether it be my dad, whether it be my husband, who is the champ in case you forgot, or whether it be some hired help, watch your back because you will get what is coming to you…
The crowd reaction continues to get worse for 'The Billion Dollar Princess' so she hands over the microphone to her husband, Triple H, as she was on the verge of tears, Triple H momentarily looks angry, however this quickly turns into a huge smile as he mockingly shines his WWF Title.

Triple H:
Y'know, I hate to say I told you so… but I did…
Heat is already heard at the cocky statement of Triple H as he continues.
Triple H:
Every single fan in this arena and every single fan across this world all expected to tune in tonight and see the triumphant Rock with his newly won World Wrestling Federation Championship. Everybody expected The Rock to win, from the road agents in the back to the arm chair experts at home. Now I am talking to each and every last one of ya' when I say, you were all WRONG!
More heat as Triple H lets out another devilish grin.
Triple H:
I went in last night as the champion and I walked out last night as the champion ,and despite what the people in denial say, it has nothing to do with Vince McMahon. The reason why I won last night was simply, I am better than The Rock.

'Rocky' chant begins but is drowned out quickly by Triple H's voice.
Triple H:
Rock, I know later in the night you're probably gonna' come out here and stake your claim for a rematch, well let me tell ya' something, it's not happening. Why in the hell do you deserve a rematch when you have had opportunity after opportunity and every single time you've proved that you can not get the job done?
Triple H rubs his chin before continuing.
Triple H:
Y'see Rock, what you fail to understand is that I am at the top of my game. Hell, I'm the king of the game… actually scrap that… I AM THE GAME!
Heat at the arrogance of 'The Game'.
Triple H:
I have been unbeatable on top of this mountain for so long and I'm not ready for that to end yet. Ever since I have become champion I have been living the life. I finally gained the support of my father in law; I have a beautiful wife… and get to stick it to each and every one of you people day in and day out until I decide I don't want the title anymore.
Triple H just continues to push the crowd's buttons.
Triple H:
As far as I'm concerned, this issue with me and The Rock is done, I was the victor. NOW, I look forward to moving on and being a fighting champion as I always have been, I look forward to facing whoever steps up and running them down as if they were Stone Cold Steve Austin in Detroit.
The crowd lets out a humungous amount of heat, so loud indeed that when Triple H goes to talk again he can't be heard over the thousands in attendance, realizing he was fighting a losing battle Triple H hands the mic back over to Vince McMahon.

…
Vince McMahon:
Y'know, Triple H, you're right: you've always been a fighting champion.
Triple raises his championship high into the air, only gaining more heat as Vinnie Mac continues.
Vince McMahon:
You're such a fighting champion that if any man were to step up right now and challenge you for the WWF Championship, I'm sure you'd accept.
Before Vince can go on tooting his son in laws horn he is interrupted when…

"No chance in hell" hits over the pa system and Vince looks very angry as we all think it is production problems, however this theory is quickly put to rest when Shane McMahon walks out in a nice black suit with grey tie, mic in hand and ready to interrupt his father.
Vince McMahon:
WHAT IN THE HELL DO YOU WANT?
Shane puts on an innocent face and shrugs his shoulders before mockingly asking…

Shane McMahon:
Why, what could I have done to get you so riled up?
The younger McMahon laughs and Vince quickly goes to tell off Shane however…
Shane McMahon:
SSHHADDDUUUPPPP!
The crowd cheers and laughs at Shane imitating his father while Vince looks as if he is about to have a fit.
Shane McMahon:
Seriously though, unlike you, DAD, I won't come out here and gloat about my achievements, I'm gonna' keep this as short and as sharp as possible. Y'see I was sitting in the back listening to all your usual crap and I distinctively heard the words 'fighting champion'. Personally, I don't believe it. So whaddya' say Triple H? Why don't you prove me wrong, why don't we make a big time match tonight, Triple H defending the WWF Championship against The Big Show!
The crowd let out an approving pop while Vince, Steph and Triple H don't seem to like the sound of that at all.
Triple H:
I'm actually a little sore tonight, so your request has been DENIED!
The crowd isn't happy at all while for some reason Shane just smirks.
Shane McMahon:
I thought you would have said something like that, so I brought a little insurance policy… So, mum, if you could please come out here and announce the main event for tonight.
All three in the ring begin to laugh thinking Shane is bluffing, however the crowd slowly begin to pop as Linda walks out with a mic in hand and her typical beige women's suit on. Linda, as per usual, is "radiating personality", as she ignores the crowd and gets straight down to business.
Linda McMahon:
When my son Shane came to me and asked me about The Big Show getting a title shot tonight, at first I was apprehensive…
Vince goes to say something but doesn't get the chance.
Linda McMahon:
HOWEVER, as of now, the match is on! Triple H has yet to defend the championship without interference ruining the match or altering the result, so Triple H, GOOD LUCK!
The crowd let out an enormous pop and Linda and Shane leave together, meanwhile in the ring Triple H and co are throwing a tantrum as we cut to a…
*COMMERCIAL BREAK*
We return from the commercial break and a few moments later "Medal" hits over the pa system as our American Hero, Kurt Angle steps through the curtain looking like a man possessed.
Jim Ross:
Welcome back to what is already proving to be a fiery edition of Monday Night Raw. Just before the commercial break we got the announcement that in the main event, Triple H will defend his WWF Championship against The Big Show. Not only this but the new WWF Tag Team Champions, Edge and Christian will be in non title action later tonight as well as a huge match up to open the show. As we can see, it will be a rather ticked off Kurt Angle going up against Chris Benoit and the WWF Intercontinental Championship will be on the line.
Jerry Lawler:
What took place last night was a conspiracy, JR. Kurt Angle lost two championships without even being beaten, so tonight, justice will prevail when Kurt Angle wins back some of his gold.
Ignoring the heat from the crowd, ignoring his pyro and ignoring his Olympic gold medals, Angle simply walks down the ramp, hops into the ring and waits, obviously meaning business after losing two championships last night. He waits in the ring, not even jaw jacking to the crowd, just jogging up and down warming up when…

"Rabid" then hits over the PA system and the crowd gives a mixed reaction, as they are happy someone other than Kurt Angle has some mid card gold. Chris Benoit steps through the curtain wearing a black pair of wrestling pants and the Intercontinental Title around his waist.

Jim Ross:
Here is the man who last night won his first piece of singles gold in the World Wrestling Federation when he defeated Kurt Angle and Chris Jericho to win the Intercontinental Title. As much as I don't like the man and some of his actions, I respect the heart he showed last night and he truly deserves exactly what he has.
Jerry Lawler:
That's a load of crap, JR. For Benoit to earn that title, he must defeat Kurt Angle one on one and that is exactly what he has the chance to do tonight. Until Benoit defeats Angle one on one, Benoit, no matter how much he defies the odds, does not deserve to be the champion.
We then cut back to the ring where Benoit tentatively gives the referee his title as the match up is about to get under way.
Match One
Chris Benoit © vs Kurt Angle
WWF Intercontinental Championship Match
This is quite the entertaining match up to start the in ring action of the new wrestling year. The match up begins with a lot of different tie ups and lock ups as both wrestlers go through a very long feeling out process. Non pure wrestling fans would perhaps even call the first few minutes of this match up boring, as there were no major spots or anything like that; it was just two technical guys, scrapping around on the canvas. Benoit, being one of the most naturally gifted athletes in the world today, gives it his all on the canvas, and despite being dominated for most of the technical wrestling with a Key Lock, Benoit was able to get the advantage in the end. Benoit was able to power out of the Key Lock and then nailed a deep Arm Drag, however, rather then letting go and speeding up things, getting some momentum going, Benoit continues to keep things slow by holding on the arm drag and applying a modified version of an Arm Bar. Angle struggled for a while but was unable to get out of the hold, with Benoit realizing that the frustration in Angle was building, but also knowing that Angle was not going to tap out from the Arm Bar, he waited for the right moment, and once the right moment came Benoit pounced letting go of the arm for one split second and switching Angle's body into a complete opposite direction and LOCKING IN THE CRIPPLER CROSSFACE! One little lapse of concentration could have failed Angle as Benoit has the Crippler Crossface locked in as Angle begins to yell out in agony, while Benoit pulls back with an extreme amount of intensity, however, this ends when Angle is able to reach the ropes and hold on long enough for Benoit to be forced to break the hold.
As the break is initiated there is a look in Angle's eyes: it is a look of frustration but he is so consumed by hunger for the gold that he looks slightly demented. Once both men get ready to lock back up, Angle changes his mind and decides to start laying into Benoit with right hands, and now that they have started brawling the story of the match up is oh so different. Angle just takes Benoit into the corner and peppers away with right hands, left hands, kicks, and shoulder rams, doing anything he can to wear 'The Rabid Wolverine' down. Once Benoit is beaten down, and actually bloodied a little bit because of Angle's aggressiveness, this allows Angle to hit a high Vertical Suplex. Angle goes for the win and gets near fall and follows up by hitting Benoit with a DDT and then a Scoop Slam. Angle is not sure what to do from here so he heads to the top rope and goes for a MOONSAULT, BUT BENOIT MOVES OUT OF THE WAY. Angle was sent crashing to the canvas and both men were down. Benoit gets to his feet and waits for Angle to get up, as Benoit grabs Angle around the waist with the deadly grip and nails Angle with a German Suplex, Benoit holds on and hits another one, Benoit goes to hit a third but Angle spins out, gets behind Benoit and nails Benoit with a German Suplex of his own keeping a bridge for the pin but Benoit just gets out at two. After this, Angle goes in for the kill nailing a Belly to Belly Suplex before waiting for Benoit to get up… Benoit gets up and Angle goes for the Angle Slam however…
BENOIT REVERSES IT INTO A CRIPPLER CROSSFACE! ANGLE IS IN THE CENTRE OF THE RING AND BENOIT IS PULLING HARD TRYING TO FORCE ANGLE TO TAP OUT. ANGLE SLIDES OVER A LITTLE TOWARDS THE ROPES AND IS JUST OUT OF REACH… WILL HE TAP OUT, HE IS SO CLOSE, SO, SO CLOSE, AND IN THE LAST SECOND ANGLE IS ABLE TO GRAB HOLD OF THE ROPES…
However, rather then waiting for the break, Angle turns over so he and Benoit are onto their back as Angle uses the ropes for leverage and reverses it into a variation of a pinfall, but Benoit then uses the ropes to his own advantage and reverses it into a small cradle and holds onto the ropes and gets the three count! Chris Benoit has retained his WWF Intercontinental Championship against Kurt Angle!
Chris Benoit def. Kurt Angle to retain the WWF Intercontinental Title

After the match, Benoit grabs his title and leaves the ring, knowing he got away with a cheap victory here tonight. Kurt Angle, meanwhile stayed in the ring, he didn't seem very happy at all. As a matter of fact, he looked quite mad, so much so that he then threatens Howard Finkel and grabs his microphone. It looks as if we're going to have some unscheduled mic time with Kurt Angle.
Kurt Angle:
BENOIT, GET BACK HERE RIGHT NOW!

Benoit, who is about to go back through the curtain, looks at Angle and shakes his head mouthing "I beat you, I'm the champ". Angle shakes his head in rage as Benoit heads to the back.
Kurt Angle:
Alright, fine, I can't have the Intercontinental Title, because just like last night I was cheated out of victory.
Heat as Angle looks as if he is about to cry.
Kurt Angle:
But there is still the European Championship, which means, Jericho, your days as champion are numbered, when I get my hands on you, I will make you scream, I will make you pay, and I will beat you.
Crowd give heat but the already annoyed Angle does not seem to care.
Kurt Angle:
Jericho, you're a disgrace to this company. How can the WWF be proud to have Chris Jericho representing the whole of Europe? He wouldn't even be a worthy representative of a third world country. Now I'm an American, red white and blue all the way, heck, I even wear our countries colors to the ring, but nobody, NOBODY, can be a better option to represent Europe then me.
More heat and a slight 'Angle sucks' chant starts up.
Kurt Angle:
So, come on Jericho, I don't care if I just wrestled a match, I am an Olympic Gold Medalist, I can go the extra distance, come out here now and defend the European Championship as a worthy champion would.
'Jericho' chants but the great man does not appear.
Kurt Angle:
Do you want to know Jericho isn't coming out here to face me? It's because he knows I have my three I's, intensity, integrity and intelligence and he is simply afraid of me…

Big heat for this one as just about nobody in the arena agrees with Angle.
Kurt Angle:
Why are you people booing me? I have accomplished more in four months in the WWF then what Jericho has accomplished in his whole career, your hero is simply afraid.
Heat and Angle smirks.
Kurt Angle:
I'm a one of a kind athlete; I am a REAL American Hero and when I get my shot, which I will, I will be the European Champion again.
The heat continues to come as Angle gets ready to rap things up.
Kurt Angle:
Just like how I won an Olympic Gold Medal, just like how I have had the most successful first year in the WWF then anyone in history, I will be the next WWF Intercontinental Champion, its true… IT'S DAMN TRUE!
Kurt Angle then leaves looking a little bit happier now that he has got all that off of his chest. The commentators then do their usual stuff.
Jim Ross:
What a terrific contest that was to open the show, but Kurt just couldn't let it be; he had to run his mouth afterwards, be a spoilt sport, and ruin the spirit in which the contest was fought.
Jerry Lawler:
Oh come on, JR. You know just as well as I do that just like last night, Kurt Angle was screwed again and I'm sure he is not going to stand for it.
Jim Ross:
Now I would love to continue arguing with you, King, but in some what of a unique situation, Michael Cole is standing by backstage with the new WWF European Champion, who requested an interview as soon as he heard Angle's tirade. Take it away, Michael.
We then cut backstage where we see Michael Cole standing by in a cheap suit and tie.
Michael Cole:
Ladies and gentleman at this time I would like to welcome the new World Wrestling Federation European Champion, Chris Jericho.
Jericho walks into view with the European Title on his shoulder, covering up a bit of his Canadian hockey jersey. The crowd goes completely wild upon seeing Jericho.
Michael Cole:
Now, Chris, I am going to get straight to the point; what're your thoughts on the comments just made by the former European Champion, Kurt Angle?
Jericho looks at Michael Cole a little weird before beginning to speak.
Chris Jericho:
Listen closely Mitchell Cole because I'm only going to say this once…
Jericho is interrupted as Cole takes the mic away from his mouth.
Michael Cole:
It's Michael!
Jericho snatches the mic completely out of Cole's hands.
Chris Jericho:
SHUT UP, JUNIOR!
Massive pop as Cole is put in his place.
Chris Jericho:
As for you Kurk Angel, you need to understand that I am the European Champion now. That means we do things on my terms, when I wanna' come to the ring and fight you, I'll do it, until then you can sit in your little house, and suck the milk of your mothers nipples… Oh yes Kurt, I know, it's true.
Pop and laughter at the same time. Stupid crowd can't make up their mind.
Chris Jericho:
What you need to understand is you've got to earn your way back in contention and losing to guys like Mr. Roboto is not a great way of doing that. Trying to beat me out isn't going to work, I'm just gonna' sit in the back and laugh at your feeble attempts, while all my Jericholics yell out for you to PLEASE SHUT THE HELL UP!
Another pop as Jericho continues…
Chris Jericho:
I mean, this is RAW is JERICHO: the last thing these people want to see is some cross dresser with bad body odor standing in the ring, bragging about something that he did four years ago.
Another pop as Jericho is ripping into Angle here.
Chris Jericho:
What've you done in the last forty eight hours Kurt? Oh wait, that's right, you've done nothing but lose…
Cut off by another pop as Jericho just can not help himself.
Chris Jericho:
Unlike you, Kurt, I will bring credibility to the European Championship. Me and all my Jerichoholics will continue to represent Europe, and I guarantee that for as long as I'm around Europe will never…. EEEEVVVVVVEEEERRRRR be disgraced by you againnnnnnn!
We get one final shot of Jericho giving the mic back to Cole before we cut to a commercial break.
*COMMERCIAL BREAK*
We return from the commercial break, but rather than going straight to in ring action, we cut backstage to see Kevin Kelly standing by.
Kevin Kelly:
Hi, I'm Kevin Kelly and standing by is the World Wrestling Federation Intercontinental Champion Chris Benoit… Eddie Guerrero… the WWF Light Heavyweight Champion Dean Malenko… and Perry Saturn, collectively known as The Radicalz.
The Radicalz come into shot, all looking rather cocky and comfortable, except for Benoit who is still sweating after his opening contest.
Kevin Kelly:
Last night at Wrestlemania, only one of you was able to pick up a victory and that was Chris Benoit. Before I get to Chris, my question is what is next for the guys in this group who lost last night?
The Radicalz look amongst each other, not sure who is going to answer, before Perry Saturn steps up to the plate.
Perry Saturn:
We came to the World Wrestling Federation, to simply make an impact. There is no way you can possibly say we haven't made that ever lasting impact. If we all retired now, people would remember our three months in the WWF as the most explosive three months in this company's history.
All three of his fellow members nod as Saturn, who seems to be enjoying the spotlight, continues.
Perry Saturn:
As I said, despite a little hiccup last night, we've done exactly what we came here to do. We said we would make an impact, and that impact has been made. Right now, we could retire happy men. I mean, we are dominating right now: we hold two of the five singles championships in the WWF today. My math' isn't that good but I'm sure that's practically unheard of.
Once again all three nod and agree and we even hear a "you tell 'em, esse" from Eddie Guerrero.
Perry Saturn:
Simply put, we're The Radicalz, and we're without a doubt the greatest faction to ever grace the WWF, and if you don't agree, come prove us wrong.
Saturn then steps back and joins the rest of the group, looking at Kelly intently as he moves on with the interview.
Kevin Kelly:
Now speaking of gold, don't mind if I single out one of you for a minute, Dean Malenko, you won the Light Heavyweight Championship pretty much as soon as you debuted in the company: my question to you is what do you think of the Light Heavyweight division, and do you feel that there is anyone in it that can challenge you?

Malenko steps up to the plate, not looking to confident as he rarely speaks.
Dean Malenko:
The Light Heavyweight division in this company is okay… However, okay is nothing compared to what I am. I make the division look mediocre because I am so good at what I do. There are great talents around, we have Scotty Too Hotty, X Pac, people like that, but when it comes down to it, they can't match up to The Iceman.
Malenko stops and takes a breath.
Kevin Kelly:
W…
Malenko interrupts, confidence perhaps growing?
Dean Malenko:
But you see, I am sick of being known as the short stumpy guy who couldn't do anything but beat up Cruiserweights. I am better then that, I am a man of one thousand holds, I am not one dimensional. If you put me in a match with any muscle bound goof in this company, it will be the same result: Dean Malenko walking out the winner.
The boys in the background nod their head as Malenko continues to vent his frustration.
Dean Malenko:
For some reason, I continue to be starved of opportunities and instead Eddie, Perry and I are stuck taking on jokes like Too Cool. Something better change and something better change soon; if I wanted to continue to be held down I would have stayed down south. If things continue to go the way they are, we've already made our impact around here and maybe it will be time to leave.
Malenko looks deadly serious as the rest of The Radicalz look shocked, letting us know it is an empty threat. Malenko looks back at his shocked team mates before continuing…

Dean Malenko:
Uhh…okay, so maybe that's an empty threat, but the fact is we are sick of being held back by the politics here in the World Wrestling Federation. We won't go back down south, which means we have to make it work here. We aren't getting opportunities we deserve, so we've obviously got to go out of our way to make it happen, so to everybody in the locker room, I am gonna' make this rather simple, The Radicalz are comin' so you better watch out.
Malenko then steps back and Kevin Kelly has yet another question.
Kevin Kelly:
I now have a question for Chris, if that is okay… Chris, tonight you successfully defended the WWF Intercontinental Championship against Kurt Angle, you have a championship and you seem to have a clean slate: what is next for you here in the WWF?
Benoit looks at Kevin as if he is stupid, before he shakes his head and then begins to speak.
Chris Benoit:
Have you not been listening to what Perry and Dean have both just said? It's not about me, hell its not even about championships, it's about us, our lifestyle, The Radicalz, being a success as one whole unit rather than separately. United we stand, divided we fall, and that is why we are on our way to cementing our legacy in this business.
Everyone in the background once again nods as 'The Rabid Wolverine' continues.
Chris Benoit:
What I'm trying to say is we know what has to be done. We know that we just have to take the opportunities that we're given both individually and as a group, and eventually we will rise up the ranks. We have been here for three months and we have already started that. We're focused, and we are the greatest athletes in the world and we're going to run through the roster one by damn one.
Benoit then looks around before smirking.
Chris Benoit:
Tell 'em Eddie!

Eddie Guerrero then steps forward to take the spotlight for the remainder of the evening.
Eddie Guerrero:
Its simple esse, y'see what we're trying to say is we are the best and nobody, NOBODY can stop The Radicalz!
The Radicalz go to walk off, however Kevin Kelly decides that he has one last question.
Kevin Kelly:
Ugggh, I'm not meaning to stick my foot into things but did you no, get stopped, or at least get knocked off the rails last night when you, Eddie, Perry and Dean lost to Too Cool and Chyna?

The Radicalz return and surround Kelly, while Eddie looks as if he is about to lose the plot.
Eddie Guerrero:
WHAT DID YOU SAY, HOLMES?... (takes a deep breath and relaxes a little) Chyna and those two other jokes didn't do anything to stop us last night, all they did was annoy us, esse. Chyna probably thinks she is better than me now, that she is a better athlete then me, well I DON'T THINK SO, VATO. Listen up, and listen up good Chyna, you're nothing but a two dollar *whore* who has a crush on LATINO HEAT!
Eddie's face slowly fades from red to pink, while everyone else around him looks shocked at the intensity of Guerrero.
Eddie Guerrero:
What you all fail tor realize is that them ladies love me. That's what this all came down to last night at Wrestlemania. Chyna is a woman, a woman who wants to be close to me: I am a man who wants nothing to do with Chyna. That's why last night, I ran around the ring trying to stay away from Chyna, I didn't want to give her the personal satisfaction of having some physical contact with me, esse. She beat me, because I don't like to hit women, but Chyna, let me tell you something, vato.
Kevin Kelly goes to take the microphone but Eddie holds it up; obviously he has more to say.
Eddie Guerrero:
La próxima vez que participe en mi empresa, no voy a ser tan amable y me golpeará con el pie derecho en el trasero de mi vida!
Just so you all know, this means (Next time you get involved in my business, I won't be so kind and I will kick your ass right out of my life!)
Eddie Guerrero:
But as of now, I am done with you, Chyna: you're just another Mamacita that I've kicked to the curb; I am one hundred percent focused on The Radicalz rise to the top of the World Wrestling Federation.
The Radicalz then walk off, with Eddie leading the way, while KK remains standing, speechless, with microphone in hand. We then cut back to ringside where Al Snow and Steve Blackman are already in the ring, and just hopping into the ring are their opponents, a team that was dominant last night, The Big Bossman and Bull Buchanan.
Jim Ross:
Well King, The Radicalz seem rather fired up but right now we have two hungry tag teams that will both be searching for a win, a win could put one of these teams in title contention.
Jerry Lawler:
I actually like both these teams, JR. I still like Bossman and Buchanan more, but now that Blackman and Snow have dropped that cheesy idiot, I really think they can do something big here in the WWF.
Enough pointless rambling, the match up begins.
Match Two
Al Snow and Steve Blackman vs Big Bossman and Bull Buchanan
Tag Team Match
Both teams went hard and put on a surprisingly good contest, as the match began with Al Snow and Steve Blackman going hard, seemingly having all the momentum. They started the match up with all four men in the ring as the referee just couldn't gain control of the match up, as the faces dominated and in the end, they Double Clotheslined both Big Bossman and Bull Buchanan outside of the ring and onto the cold, hard concrete floor. Snow and Blackman, not wanting to take huge risks and just wanting to get the job done, demand that the referee count out Bossman and Buchanan. The Big Bull gets up and plans to just go straight back into the ring, however, Bossman, being the wily veteran that he is, holds Buchanan back and the two heels milk the count up until nine on the outside before they slide back into the ring. Once back the ring, there is a stare down between all four men, but surprisingly, rather than all four men getting in a slug fest in the middle of the ring, both teams back off and huddle together and discuss strategies and what not as it looks as if this match is going to become a legit tag team match. After a long time, both teams decide who will start and it looks as if it will be Al Snow starting off with Bull Buchanan. BUT… this is not the case as revealing a bit of their new do whatever has to be done mentality, Blackman comes from behind and Scissor Kicks Buchanan right in the back, getting the early advantage for his team.
From that key moment in the match up, it became a pretty much normal tag team match, however it was a little weird as it seemed like both teams tried to be the heels. Even though this was the case, Buchanan and Bossman clearly had the heat on their side, as every time Snow came into the ring he seemed to find it hard to get heat with that goofy smile on his face. Anyway, back on topic, after having Snow and Blackman slowly trying to pick apart Buchanan, everything changed when they went for a Double Suplex, but Buchanan reversed it, and used all the strength he could muster to hit both Snow and Blackman with a Suplex. Then, in some what of an anti climactic situation, Buchanan was able to make the tag to Bossman, while in the meantime the referee ushered Snow out of the ring and it was Blackman and Bossman going at it one on one. Blackman had the early advantage, however Bossman changed that with one of his patented uppercuts, which literally knocked Blackman loopy as it earned Bossman a surprising two count. Bossman then just simply dominated the match up from here with Buchanan not really having much to do, until pretty much out of nowhere; Blackman got whipped into the ropes, ran hard at Bossman and got nailed with Bossman's brutal Sidewalk Slam. Bossman then hooked the leg and ONE…TWO…THREE!!!!... NO, Al Snow was just able to break up the pinfall at the last moment.
From this point onwards on the inside, we get basic maneuvers from the Bossman, who continues to just have his way with Blackman, but the really interesting action takes place on the outside. After interrupting the count, Snow is brutally attacked on the outside of the ring by Buchanan. We could tell by looking at Buchanan that he was a man with a bad temper, but the way he was mauling Snow on the outside with right hands is something the likes of which may have never have been seen before. Buchanan puts Snow's head against the ring post and just continuously nails him with right hand after right hand, it comes to the point where it becomes extremely vicious and Snow just drops to the floor. Before heading back into the ring, the camera zooms in on Snow's face to show blood coming out of his nose and mouth, and a shiner around his right eye is already visible. Buchanan stands tall, wipes Snow's blood onto his vest and then hops back onto the apron, but rather then just waiting for a tag, Buchanan looks as if he is lost the plot and he literally screams at Bossman to tag him in, not wanting to get his psycho partner mad, Bossman tags in Bull Buchanan.
Buchanan just starts choking Blackman viciously while ramming Blackmans head into the canvas numerous times and Bossman realizes that his team is about to get disqualified, so he does the only logical thing, as Bossman points at Snow and tells the referee to go check on him. The referee, not realizing that he was just a puppet in Bossman's plan, goes to the outside and checks on Snow while Buchanan, seemingly knowing what to do, climbs up to the top rope. Bossman shockingly sees that Blackman is getting back to his feet so he grabs Al Snow's "friend" 'Head' and nails Blackman with it, pretty much knocking him unconscious just like his tag partner. Buchanan then jumps off the top rope nailing his Top Rope Leg Drop and goes for the pin, as conveniently the referee slides back into the ring at this stage, and that was all she wrote for Steve Blackman and Al Snow.
Big Bossman and Bull Buchanan def. Al Snow and Steve Blackman
Bossman and Buchanan, not being very glamorous, have their arms raised by the referee before quickly leave the ring while Blackman is eventually awoken to see his partner, Al Snow, being taken away on a stretcher, clearly not feeling well after being decimated by the Big Bad Bull Buchanan.
Jim Ross:
Oh my god. I think somebody needs to check on Al Snow. He does not look good at all, this could be a serious injury.
Jerry Lawler:
Yeah, it's terrible… But did you see the performance by the three hundred pound Bull Buchanan, this man along with the smarts of the Big Bossman is sure to make it big one day.
Jim Ross:
I second that, King, and while we're waiting for Al Snow to be taken to hospital we're going to cut to a commercial break. Still to come tonight, the tag team champions in action and the World Wrestling Federation Championship on the line when Triple H defends against Big Show.
Jerry Lawler:
Oh JR I can't wait!
Jim Ross:
Will be back right after this…

…

For some strange reason, rather then cutting to a commercial break, we go backstage where the new World Wrestling Federation Hardcore Champion in Hardcore Holly is walking around, title on his shoulder, wearing casual clothing in the form of an all black outfit which consists of a singlet and tracksuit pants. Just as we think everything is normal, Hardcore Holly is attacked by none other than The Headbangers…

The Headbangers in Thrasher and Mosh get to work after bringing Holly to the ground by just mauling him with kicks to the ribs and head area. The referee who they brought with him flinches and flinches as these shots are really taking their toll on 'The Hardcore One' (trying something different with that nickname). After a good ten more seconds, Thrasher walks off, nobody exactly sure on what is going to come next... Then out of nowhere…

BANG!!! Mosh drops to the floor, because in shocking circumstances he has been hit in the back of the head with a chair by his own partner Thrasher! Thrasher, sensing this is his chance, waits poised, wanting Holly to get up. Holly gets up and Thrasher swings the chair but Holly ducks, before he kicks in the stomach and Holly nails a deadly DDT on the concrete. Holly, thinking this is the end of it but wanting to be cautious, picks up the chair and continues walking while Thrasher and Mosh are laid out on the cold, hard concrete, as Holly is walking we can hear him mouthing "I'm Hardcore, baby".

The WWF Champion continues to walk backstage until finally he stops, seemingly hearing footsteps, as he turns and curiously looks behind to see nobody. He turns back around and continues on his merry way, before turning around and smashing the chair over something… The camera zooms down to show none other than a busted open and unconscious former WWF Hardcore Champion, Crash Holly…

'The Hardcore One' Hardcore Holly looks down at his younger cousin and smirks before leaving the scene of the crime, chair still in hand, looking extremely happy with himself and the carnage he has left behind him. We then cut to what we were meant to cut to a while ago, a…
*COMMERCIAL BREAK*
After the commercial break we head straight to the ring where the former World Wrestling Federation Tag Team Champions, The Dudley Boyz are in the ring awaiting the arrival of their opponents…
Jim Ross:
This team, arguably the greatest team in the history of this industry, The Dudley Boyz, tried their hearts out last night, as did The Hardy Boyz and the new WWF Tag Team Champions Edge and Christian. Both these teams will be battered and bruised, and it will be interesting to see who recovers better and gets the victory tonight.
Jerry Lawler:
I couldn't have said it better myself JR, I can't wait to see this one…
"You think You Know Me" hits over the PA system and the camera darts to all different sections of the crowd as everybody in the arena is wondering just where the champs are going to come out from. Then the heat begins to pile in, however there is slight applause as the crowd respect the performance Edge and Christian put on last night, as they walk through the curtain, not coming through the audience.
Jim Ross:
Here they are, the men who earned the Tag Team Championships in a wonderful match. They don't look in the best of shape so it will be interesting to see exactly how they fair against one of the most decorated tag teams in history.
Jerry Lawler:
Why do you always praise the team who lost? The team who the crowd loves, you're nothing but a suck up JR and it makes me sick. The fact of the matter is, Edge and Christian are the better team, they proved it last night, and they will prove it again tonight.
Edge and Christian roll into the ring rather gingerly and walk straight up to The Dudleyz, who don't look great, themselves and extend their hands for a hand shake.
Match Three
Edge and Christian vs The Dudley Boyz
Tag Team Match
The audience all begin to squirm in their seats as they really don't want The Dudleyz to accept the "respectful" proposal from the champions. Bubba and D-Von both look at each other apprehensively, before nodding and shaking the hands of Edge and Christian. The crowd momentarily erupts at this terrific sign of sportsmanship; however it is quickly ended when Edge and Christian nail both Dudley brothers with thumbs to the eye. From this point onwards, the crowd is firmly on the side of The Dudley Boyz as Edge and Christian go to town with right hands, Edge backing D-Von into one of the corners and Christian backing Bubba into the other. Edge and Christian pummel their opponents before irish whipping both back towards the centre of the ring, however The Dudleys reverse and whip Edge and Christian into the centre of the ring where they clonk heads in the centre of the ring. Both Edge and Christian, reeling in pain, back into the ropes and The Dudleyz run at them going for Clotheslines, but Edge and Christian duck their heads and Back Body Drop both Dudleyz over the top rope and to the cold, hard, concrete floor. The referee tried to hold back the champions while The Dudleyz recover on the outside: this does not last very long though because while Edge distracts the referee, Christian attempts to Baseball Slide Bubba as he is trying to get up on the outside, but Bubba Ray is able to avoid contact. Christian is caught on the outside of the ring and after a moment of fear, Christian is double teamed by The Dudleyz and nailed with a 3D on the cold, hard floor…
Edge's jaw drops, he looks as if he can't believe it, while on the outside of the ring Christian looks as if he is out of commission. Bubba and D-Von smirk and both slide back into the ring and back Edge into a corner, as Edge wants no piece of The Dudleyz without his partner. However, fortunately enough for Edge, the referee steps in between the three men, wanting to regain some order. The referee gives The Dudley an ultimatum, that being that they must choose who will legally begin this match, but just as they begin to discuss, something unexpected happens: Edge begins attacking D-Von, choosing who will start the match legally for The Dudley Boyz. Edge pummels D-Von into the corner before throwing him into the ropes. D-Von comes back and Edge nails a picture perfect Drop Kick. In some what of a state of urgency, Edge then goes for a quick cover but D-Von kicks out at the count of two. Edge shakes his head and frustration before continuing the assault, most of the time using moves like Suplexes, Slams and even a DDT, not wanting to take to much of a risk but also wanting to attempt to do enough to put D-Von away. Edge, having just downed D-Von with a Spinning Heel Kick, looks outside the ring to see that Christian is still yet to move so he is forced to go back to D-Von and lock in a Reverse Chin Lock.
After the rest period is finished (D-Von gets out of the hold), D-Von nails a Back Suplex and both men are down for the count… The referee gets up to the count of six when Edge gets to his feet and grabs D-Von by the leg before he can tag in the fresh Bubba Ray Dudley, as Edge then spins D-Von around but D-Von shows tremendous balance by sticking to his feet and nailing Edge with an explosive Clothesline. Unfortunately for Edge, on this occasion, D-Von is able to make a tag, and in comes the fresh, perhaps beefy, Bubba Ray. Bubba goes to town from the get go, nailing Edge with a few Clotheslines, a Back Body Drop and then not wasting time, as easy as you like, nails Edge with The Bubba Bomb. Bubba goes for the pin, however he is stopped by a shouting D-Von, before Bubba raises Edge legs in the air and D-Von climbs to the top rope. However, just as D-Von is about to leap off, Christian jumps onto the apron and pushes D-Von sending him sailing into the barricade! Bubba then drops Edge and runs at Christian, however Christian hangs Bubba up on the apron and all of a sudden it is advantage to the champs. Edge, rather tired after fighting a majority of the match up alone, quickly tags in Christian, as he has earned a bit of a breather.
Christian begins by peppering Bubba with stomps, in a very bad mood after what happened earlier in the match up. Christian continues to be rather aggressive even going as far as to choke Bubba, however this stops soon after as the referee threatens to disqualify Christian. Christian, after a few more minutes of pure domination, slowly, almost methodically, lifts up Bubba and nails his patented Reverse DDT. Christian then brings Edge back into the match with a tag and they hit a Double Elbow Drop before Christian heads to the outside, for some strange reason Christian does not stay on the apron but rather heads to the floor, more specifically towards the bell table. While Christian is grabbing the ring bell, Edge goes for a Spear in the ring, however Bubba moves out of the way, Edge runs into the corner and hurts his shoulder, and then when Edge turns around, he gets nailed with a huge Bubba Cutter! Bubba goes for the cover and as the referee counts to two, he is distracted by Christian ramming D-Von into the steel steps. The referee peeks his head out of the ropes to check on D-Von, and this gives Christian the time to slide the ring bell to Edge. Edge, still rather groggy, turns around and with all the strength in the world nails Bubba in the face with the ring bell before disposing of the weapon. Edge then makes the cover and waits for the referee to make the count. The referee, finally comes to the make the count, and after what seems like an eternity, the referee counts, one… two… … … … three!
Edge and Christian def. The Dudley Boyz
Edge and Christian grab their tag titles and stagger backstage, just wanting to get out of dodge after taking place in a tough match against one of their two main rivals.
Jerry Lawler:
What an awesome performance by the champs, JR.
Jim Ross:
They cheated King, plain and simple… Anyway, at this time we would like to take a look back on one of the greatest career in the history of this business, the career of Mick Foley.
***
The titantron comes to life and on it is a picture of Mick Foley. 'Nutshell' by Alice in Chains then hits as a video begins.
Daylight.
Pictures of Foley in his early days of wrestling, as an especially huge pop is heard for a few vintage backyard wrestling shots.
See the dew on the sunflower.
Foley, in the independent scene, for the first time nailing his famous Elbow Drop from the apron to the outside.
And a rose that is fading.
Foley, walking through the curtain to head into the action for the last time, last night at Wrestlemania.
Roses wither away.
Foley getting nailed with the Pedigree last night.
Like the sunflower.
Foley going for the Elbow Drop through the announce table last night but failing miserably.
I yearn to turn my face to the dawn.
Foley peppering Triple H with right hands.
I am waiting for the day…
Foley pulling out Mr. Socko.
Midnight…
Just as the song really begins to kick in, we get highlight after highlight of Mick Foley disposing of many opponents which includes a who's who of the business such as Stone Cold, The Rock, The Undertaker and Kane…

Then things settle down a little for the ending of the song.
Touch me.
Foley nailing Austin with a Double Arm DDT.
It's so easy to leave me.

Taker throwing Foley off of the Hell in a Cell and through the Spanish announce table.
All alone with the memory.
Taker Choke slamming Mick Foley through the roof of the Hell in a Cell.
Of my days in the sun.

Foley holding up the World Wrestling Federation Championship.
If you touch me.
Foley hugging The Rock back in the days of the Rock 'n' Sock Connection.
You'll understand what happiness is.
Foley, as Mankind, with his mask off sharing a huge smile with the fans of a sold out arena.
Look.
Foley raising his arm to the crowd upon making his entrance last night.
A new day has begun.
We get one last shot of Foley walking through the curtain, saying goodbye to the fans, last night…

The titantron then fades to black and we come back to the arena where the crowd are giving a standing ovation and there is a huge 'Foley' chant spreading across the building.
Jim Ross:
That man was a true old time wrestler, and I for one am definitely going to miss him.
Jerry Lawler:
He did have a great career but the last few months he was nothing but a joke. He was Triple H's whipping boy.
…

"If Ya' Smell" hits over the pa system and perhaps an ovation louder than the one heard just moment ago for Mick Foley is heard as 'The People's Champion' The Rock steps through the curtain in his wrestling gear, not looking in a good mood at all.
Jim Ross:
Here is the guy who should be the World Wrestling Federation Champion right now, and he does not look in a good mood at all. If I was in the McMahon family I would be leaving the state fast.
Jerry Lawler:
This man is a woman basher. He deserves to be locked, he is nothing but a criminal and I'm going to make sure justice prevails.
Jim Ross:
Good! Call the police, and then maybe I can tell them about the time you w…
Jerry Lawler:
Shhh JR, The Crock is about to speak. HAHA!
By this time, The Rock is in the ring, microphone in hand, and he is ready to begin talking.
The Rock:
FINALLY…. THE ROCK… HAS COME BACK TO… LOS ANGELES!
The crowd all go crazy, however The Rock doesn't seem as if he is in the best of moods tonight.

The Rock:
Last night… was the night The Rock had been waiting for… The Rock had been waiting for three hundred and sixty and four days… THREE HUNDRED AND SIXTY FOUR DAYS… to once again headline Wrestlemania… last night was supposed to be The Rock's night.
Massive amounts of heat is heard as The Rock pauses.
The Rock:
The Rock was dominating… The Rock had the match won… until being betrayed by none other than a man The Rock considered to be a friend… none other then Vince McMahon!
The heat at the mention of Vince McMahon is absolutely phenomenal.
The Rock:
Now Vince, The Rock isn't gonna' come out here and ask for an explanation, because The Rock KNOWS why you did what you did, THE ROCK KNOWS you did it for yourself, THE ROCK KNOWS you did it for your family…AND THE ROCK KNOWS YOU DID IT SO TRIPLE H COULD STICK HIS HEAD RIGHT BACK UP YOUR CANDY ASS!
Massive pop at the insult of Triple H.
The Rock:
The Rock just wants you to know one thing: you didn't just screw The Rock out of the WWF Championship… You screwed The People out of the WWF Championship…
'Rocky' chant begins as they love the way he relates to them.
The Rock:
So Vince, the people don't wanna' know who you did it for, because either way, whether you did it for the big nosed sumbitch Triple H… Whether you did it for the silver spoon asshole Shane McMahon… Or even whether you did it for that two dollar slut, Stephanie McMahon Helmsley.
YAY for The Rock!
The Rock:
It simply DOESN'T MATTER!

Rock stops for a second, regaining his composure before continuing.
The Rock:
The only thing that matters is that tonight in front of the MILLIONS…
AND MILLIONS!
The Rock:
AND MILLIONS of The Rock's fans, The Rock wants some action… No, no The Rock doesn't want Stephanie McMahon Helmsley's pie…
The Rock is cut off mid sentence by another pop as the crowd hate Stephanie.
The Rock:
NO NO NO… The Rock doesn't want the smelly pie… What The Rock wants is a match with any jabroni in the locker room, not later in the night, not next week on Raw, not Thursday on Smackdown… BUT RIGHT NOW!
Another huge pop as The Rock could have some in ring action tonight.
The Rock:
So who's it gonna be, Vince? Which jabroni is gonna' step up to the plate… Which one of your ass kissers wants to go ONE ON ONE WITH THE GREAT ONE?
The Rock waits and nobody makes their way to the ring.
The Rock:
The Rock isn't in the mood for waiting… The Rock will come back there and whip some candy ass if he has to…
Just as The Rock says this, he is interrupted, but it is not by who he thought it would be, he is not interrupted by a wrestler, he is not even interrupted by a member of The McMahon Family, he is interrupted by none other than security guards for the arena. Security motion for The Rock to step out the ring and come with them, but before he does, The Rock has something else to say.
The Rock:
You can't keep The Rock down all night… The Rock is pumped… The Rock is primed… The Rock is ready to go… YEAH, The Rock is leaving for now with these sons a bitches… BUT The Rock guarantees… hell The Rock GUARANDAMTEES that by the end of tonight, the entire McMahon family… From Vince to Shane to Stephanie, to Triple H, to Triple H's nose, to Linda McMahon herself, and to any other family member that you might have… by the end of the night you will know… That you can't stop… CANT STOP… THE ROCK!!!
The crowd pops as the security begin to climb the stairs getting ready to head into the ring.
The Rock:
Hold on jabroni's The Rock almost done… IF YA SMELLLLLLLLL…. LALALALALALOW… WHAT THE ROCK…
Rock looks towards the audience and unleashes the merchandise machine, The People's Eyebrow.
The Rock:
IS COOKING!!!
The Rock then slides outside the ring, making sure that security does not touch him, as the crowd boo the roof of the place, not happy at all with the fact that The People's Champion is being ejected from ringside.

We then cut to a dreaded…

*COMMERCIAL BREAK*
When we return from the commercial break we are in the office of The APA, the Acolytes Protection Agency as Bradshaw, Faarooq and Jacqueline seem to be playing a game of poker. For some strange reason, Jacqueline is sitting there playing in bra and panties, while beers and cigarettes are spread out all over the table. They are heading towards the end of the game when all of a sudden Bradshaw laughs and slaps his cards onto the table.

Bradshaw:
Read 'em and weep… FULL HOUSE… HA-HA!
After Bradshaw's drunken laugh the camera zooms in on Jacqueline who stands up revealing her nicely shaped body for the world to see. Jacqueline licks her lips, looking very sexy as she does, trying her best to look sexy as she undoes the clip that holds her bra on. Just as the bra falls, we may have seen a tiny little shot of a nicely shaped, brown nipple, when the camera switches back to show Bradshaw in a state of shock having fallen off his chair, and Faarooq looking at Jacqueline memorized, before he says the words which some up the whole situation.
Faarooq:
…DAMN!!!
We then cut to the ring where The Hardy Boyz and their new valet Lita are in the ring awaiting the arrival of their opponents.

…

The music of the still relatively new tag team T&A hits and the crowd pops the moment they walk through the curtain, because with them is their sexy valet, Trish Stratus.
Jim Ross:
The Hardy Boyz are a great young team with a bright future, but after that brutal ladder match they had last night, I'm not to sure they're going to be able to be much competition for the two young studs Test and Albert here tonight.
Jerry Lawler:
THAT'S BECAUSE THEY'RE NOT EDGE AND CHRISTIAN… You don't realize just how good our champs are JR.
JR rolls his eyes at The King's biased commentating.
Jerry Lawler:
OH and PUPPIES JR, PUPPIES. HAVE A LOOK AT TRISH… HAVE A LOOK AT LITA… OH MY GOD, JR. I don't think I can breathe.
With the entrances out of the way, let the match begin.
Match Four
T&A w/ Trish Stratus vs The Hardy Boyz w/ Lita
Tag Team Match
This match, unlike the previous tag matches of the night, actually starts off orderly with only two men in the ring, one from each team. The men that begin this contest are Jeff Hardy and Test, and the match begins straight off the bat, showing the contrast in style between the two teams. The match begins with a lock up which immediately favors Test as he uses his strength to back Jeff into a neutral corner. The referee gets in between the two wrestlers and calls for a break and surprisingly enough, even for Jeff who covers up his face, Test gives a clean break and heads back to the centre of the ring, perhaps showing a tad of arrogance. They lock up again and once again Test backs Jeff into a neutral corner, this time the break is not so clean as Test swings at Jeff but Jeff ducks and as soon as Jeff gets out of the corner he goes crazy with lefts and rights, striking the big man as fast as he can because that's exactly what he has to do. Jeff then grabs Test's arm and begins to work on the arm before dragging him to The Hardyz corner and tagging in Matt Hardy. Matt hits Test with a Clothesline but Test bounces back to his feet, showing off some toughness so Matt goes for another Clothesline, however Test ducks and is able to nail a Neck breaker. Test then makes the quick tag to Albert, who runs in full head of steam, jumps up high and then nails Matt with a Leg Drop, as Albert then tries to finish things off by going for the cover but Matt is able to kick out at two.
The majority of the contest is pretty much Albert and Test from here dominating Matt using several power moves, especially working on the back which would be sore after all the bumps Matt took last night. The two big men were using quick tags to make sure both stayed fresh, while Matt got beaten down and towards the end of the match you could literally see that Matt was in tremendous pain. Test was in the ring and he began to get very cocky, as he slapped Matt numerous times and on the fifth slap, Matt took it up a level, kicking Test in the gut and nailing a desperation Swinging Neck Breaker. Both men are down and both men begin to crawl towards their respective partners, and as per usual in this situation, the heel team makes the tag first, bringing in Albert. However, by the time he gets into the ring, Jeff Hardy has been tagged in and is waiting on the top rope. Albert comes running full steam ahead and runs right into a top rope Dropkick from the man with the rainbow colored hair. Jeff then hits a Jaw Breaker causing Albert to be dazed, Test then runs into the ring and out of nowhere nails Jeff with a Big Boot. Matt then runs into the ring and Spears Test taking both he and Test outside the ring, where they are left to brawl. Trish Stratus then gets on the apron obviously with some idea in her head, however Lita grabs her and throws her off and Lita begins pummeling Trish to.
Meanwhile in the ring Albert bends down to pick up Jeff but Jeff gets Albert into a Small Cradle… ONE… TWO… THREE!
NO!
Albert gets out and then runs at Jeff who kicks him in the gut and then gets him in a front face lock, before he nails Albert with his brother's patented Twist of Fate, and this time its as easy as ONE… TWO… THREE!

The Hardy Boyz def. Test and Albert
The Hardyz celebrate in the ring, while Test and Albert go backstage with Trish in the shits.

No commentating, as instead we cut straight to a commercial break.
*COMMERCIAL BREAK*
Big Show and Shane McMahon are already in the ring waiting, when 'My Time' hits and the WWF Champion makes his way to the ring and he looks like he is ready for action.
Jim Ross:
ITS TIME, KING, ITS TIME, I'M EXCITED, I CAN'T WAIT, WILL IT BE GAME OVER TONIGHT?
Jerry Lawler:
I hope not, but it's going to be tough for The Game.
Main Event
WWF Championship Match
Triple H © vs Big Show
Singles Match
WARNING:
THIS IS A BRIEF SUMMARY AS MY FUCKED UP COMPUTER DELETED MY 3000 WORD MATCH RECAP!
In what was a less then flattering contest, Big Show pretty much dominated. It was a match of epic proportions on paper but it just didn't live up, with Show keeping things at a slow pace for a majority. Triple H, even though meant to be the heel as Show is playing a tweener role at the moment, was being cheered by the crowd because they wanted him to speed things up a bit.
Things got exciting when the referee got knocked out and Road Dogg and X Pac, D Generation X run down the ramp. Both men hop in the ring and do a number on Show, evening things up before…
BANG~!!!!!!
FIRE COMES FROM ALL SIDES OF THE RING AND THE STAGE AND KANE WALKS DOWN THE RING LOOKING VERY MENACING. KANE COMES TO THE RING AND BOTH MEMBERS OF DX SCRAM… WITH ALL ATTENTION BEING BROUGHT TO KANE AND DX NOBODY REALISES THAT…
THE ROCK HAD SNUCK THROUGH THE CROWD AND GOTTEN INSIDE THE RING… THE CROWD ARE GOING OFF AS SHOW TURNS AROUND AND COPS A ROCK BOTTOM! THE ROCK THEN TURNS TO GET TRIPLE H BUT TRIPLE H HAS ROLLED OUT OF THE RING ALREADY AND IS HEADING TO THE BACK!
No Contest.
The Rock then rolls out of the ring and grabs the WWF Championship and celebrates with it as we cue to the commentators for the ending of the show.
Jerry Lawler:
WOW! What a show is all I can say.
Jim Ross:
THE ROCK CAME, THE ROCK GOT AWAY, THE ROCK DID IT. SHOW GOT WHAT HE DESERVED AND TRIPLE H WILL GET WHAT IS COMING TO HIM EVENTUALLY AS WILL THE ENTIRE MCMAHON FAMILY. WHAT AN INSANE ENDING, LADIES AND GENTLEMAN THIS IS ALL WE GOT TIME FOR, WE GOT TO GO NOW AND WE WILL BE SURE TO SEE YOU AT THE SAME TIME NEXT WEEK!
The show then ends before Jim Ross has a stroke.

*END*
---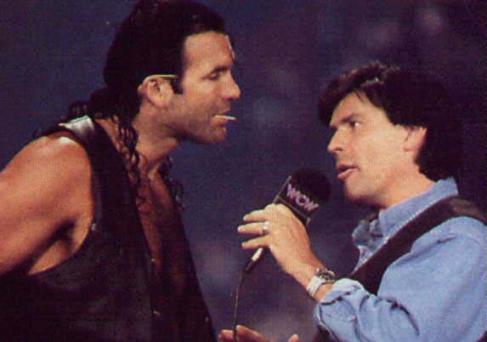 Re: Stojy Freak Presents: WWF
---
First time I've given feedback in this forum, you must feel so lucky. Anyway...

-Funny comentary to kick it off, it's always good to read the old heel King, don't know why he had to turn in real life. I don't know if he'd ever make fun of JR' s bells palsy but be that as it may, it was good.

-Excellent opening segment, exactly what was needed after what happened at Mania. The characters of Vince and HHH were well written especially. you got the characters down well. Vince was as wonderfully deluded as ever Vince calling it ''the greatest moment in Wrestlemania history'' and HHH was the cocky b*stard that he should be.

-Can't argue with Benoit/Angle as the first match on the show, the show definitely kicked off with a bang and the match was written really well. Champions should always get automatic rematches ASAP so it was good to see that and the continuation of a feud with Jericho. It should be interesting to see who Benoit faces if Angle is focusing on Jericho. Hooray for goofy Angle, I miss him acting like that.

-Loved the Kurk Angel and Mr. Roboto references in the Jericho interview, the interview wouldn't have been coplete without them. It was well written and continued to set up Jericho/Angle which should be a fun feud.

-Radicalz segment was well written but Perry Saturn, Dean Malenko and Chris Benoit are so serious and devoid of charisma that it was probably the weakest of the promos that on the show, That's not your fault of course, that's just who they are/were. I've got all the respect in the world for their wrestling ability but Eddie was always needed in the Radicalz for me, they needed someone to lighten the mood and he did so in this promo.

-Boo at Head Cheese losing and Snow getting injured but it looks like you're keeping to your word about the workers that impressed at Mania getting rewarded.

-E & C rightfully won to keep up their momentum after winning the belts, wondering if all three teams will have another match or if the champs will feud with one or the other for a while.

-Great Foley video package, can easily imagine it. You can always trust King to ruin a great moment like that.

-Another great promo but this time from The Rock, it was very realistic and you got everything in there, it'll be interesting to see how you handle his feud with The McMahon-Helmsleys.

-Funny APA segment, they were always entertaining back then so I'll hope we get to see some more segments that lead on from this one and hopefully they'll have a few good angles aswell.

-Good way to get The Hardys back on track but T and A were booked strongly and were caught cold with a quick pinfall, they didn't lose much by losing the match.

-It's a shame you lost your writeup, computers are great when they work but when they don't, they are such a pain, Good way to the end the match with DX and Kane coming in, looks like their feud will be continuing after Mania then. Looks like JR loves The Rock just as much as he loves Austin after the way the show ended.

Overall, a great show, I enjoyed reading that. You handled the fallout from Wrestlemania really well storyline and match wise. This was a great time to watch wrestling and I think you'll do it justice. No doubt you'll have plenty of readers already but as someone that hasn't ready any of your work before I'll say that the show has kept me interested in this BTB.
Re: Stojy Freak Presents: WWF
---
Hello. I would've commented on this show sooner, but my holiday has slowed me down considerably when it comes to giving feedback out to fellow BTB'ers. Anywho, as you know, I am the ultimate nitpicker, so bare with me.
RAW Feedback
Firstly,
'Not only did we have me on commentary.'
I know you're trying to show Lawler as a heel, but he's not an arrogant, Coachman/JBL kind of heel commentator where he consistently brags about himself. It is a very tiny detail, I know; but in the long run it'll improve your overall ability for characterisation.
'The one thing I will tell you, however, is that you're nothing but a jackass.'
I don't think I've ever heard Jim Ross call Jerry Lawler a jackass. Paul Heyman? Oh hell yes. Lawler? Not at all. Again, not a major deal, but if you're going to try and portray this relationship between JR and The King, make sure you don't try too hard to make them seem like they're constantly arguing.
'Will you shut up and let me do my job, King? I know you think you're humorous but I, and the majority of fans out there realize that you're becoming nothing but a liability to this company.'
- Now you're REALLY overdoing it.
'...bigger than Stone Cold Steve Austin winning the WWF Championship at WrestleMania fourteen and fifteen'
- This line seemed a little out of place. The McMahon character hates Austin, so I don't think he'd regard Austin winning the WWF Title as a 'great' moment. Apart from that, I quite liked this promo. The characterisation was pretty much there, and Vince's reason for screwing The Rock was explained well.
Stephanie's part was alright; pretty much the best you can do with her character at that time. One thing I would advise you to do is look at grammar. A lot of your sentences are long-winded (albeit with lots of commas) and it would make for easier reading if you shortened some of them.
The characterisation of Triple H was pretty much spot on, and for some reason, I get the feeling you watched some YouTube videos before writing this show.
Although, the line
'...so your request has been DENIED!'
seemed a little off. He's not a computer.
Hold on, Shane and Linda
together?
As far as I know, all four McMahon's were at each other's throats heading into WrestleMania 2000. When did Linda and Shane unite? Shane was a heel in 2000, supporting The Big Show. I think you've made a mistake with your research here. Nonetheless, Show vs. Triple H for the WWF Championship is a standard announcement in the Attitude Era but still important.
'That's a load of crap, JR.'
- You're doing it again.
I HATED this next angle. Angle loses what looked to be a very good match against Benoit for the Intercontinental Championship, then almost immediately relegates himself to the European Championship? No way. The way that Angle called Benoit back and was dismissed made him look like an absolute bitch, and not in a good way. This whole promo made Angle drop (in my eyes, at least) from upper midcard to midcard status. Sorry, but poor booking bud.
I'm not too sure about this next angle either. Why would Jericho request an interview to answer Angle? Why not just go out to the ring and shut him up, either verbally or physically? I know Jericho kind of explained it in his promo, but you (as the booker) didn't explain well enough. Anyway,
'It's Michael!'
seemed a little too courageous a line for Michael Cole to say to a wrestler. As for the blatant misspelling of 'Kurk Angel'; I don't know if you were trying to make it sound like how Jericho would say it, but really, it wasn't needed. I can't argue much with the characterisation; I think that's one of your stronger attributes, albeit a few mistakes here and there.
It's "simply to make an impact", not 'to simply make an impact'. Small mistakes like this are still evident and they leave a sour taste in my mouth, so to speak. You may not think it's important, but trust me, if you get all these little things correct you will leave a positive impression on the reader. I can't really comment on Saturn's promo much since he didn't really talk much back in the WWF days, but what I read was decent. Something I noticed in Dean Malenko's part was that you mentioned X-Pac as a light-heavyweight. X-Pac didn't have anything to do with the Light-Heavyweight division until he beat Billy Kidman in 2001. Before then he was still a member of D-X, so to mention him in the light-heavyweight sense is inaccurate. Also, for a character that is nicknamed "The Iceman", Malenko seemed to have a little too much talking to do here. Of all the promos tonight, Malenko was probably the worst. His opening lines were good, but from there it seemed to fall apart.
Ugh, I'm starting to get bored reading this. This promo is way too long. You should've just had Benoit and Eddie talk with the other two nodding their heads. Eddie's part was better than the rest, but still, by the end I just wanted the promo to end. Make sure you read through your promos and time them. Try and see if they are too short or too long.
I'm not going to lie to you; I skipped the next match after seeing the names involved and the length. My advice to you is not to burn yourself out so quickly by wasting time on writing a lot for matches. Plus, no one really cares about full matches on a TV show anyway. It looks like Buchanan is getting pushed, and having him injure Snow is the best way to get the push going. I never saw anything special in Buchanan but hey, you're the booker.
The Holly/Headbangers segment was decent and was exactly what the Hardcore Title division was at the time: a complete clusterfuck. I got confused at a few points and had to read a few sentences twice, so be sure to be clearer next time.
The Tag Team match was alright, and it was interesting to see Edge and Christian steal the victory. With this win, I see the Dudleyz out of title contention now, which means we're probably looking at an E&C/Hardyz program.
Sorry, but knowing you, the Foley video seemed like an attempt at filler for the show. You could've summarised the video much shorter with some sort of summary. Instead, you stretched it out for no apparent reason. For some reason, even with this video package, I see Foley making a return to the WWF in some capacity.
You obviously enjoyed writing the next promo, didn't you? The Rock promo was undoubtedly the best of the night. Good characterisation, served its purpose, etc.
@ the APA segment. Could've been a
little
longer though.
As far as I can remember, Lita joined the Hardyz in early 2001, not 2000. Again, another mistake in your research. The right team went over, and as I already said earlier, with a solid win over T&A, the Hardyz prepare to chase E&C for the tag team championships. Solid booking.
Well, if your computer well and did truly fuck up then fair enough, but you could've put a little more effort into the revised ending for the show. Still, the ending itself was good. The Attitude Era was full of endings like this - run ins, screwy finishes, etc - so the realism was there. Kane's interference was a bit random but that was pretty much Kane in those days.
With Big Show not actually losing and Rock still chasing The Game, I think we'll see a Triple Threat match at Backlash for the WWF Title, unless Rock and Big Show face off against each other on Smackdown. Oh, I almost forgot - you could've done with a segment in-between the previous match and the main event, other than the commercial break.
Final comments:
Overall, the only parts of the show that I really enjoyed were the opening promo and the Rock's promo. That may seem a little harsh, but I'm just being honest. I told you before you started that if you do a retro BTB it would be difficult, so I'll give it a few more shows before I judge the complete success of this BTB. I really didn't like the way you handled the Angle/Jericho situations, and your commentary at the start was flawed (although it did improve throughout the show). Some parts of the show suggested a lack of research, so I'd get reading on Wikipedia/OWW now. You have a few interesting storylines developing so we'll see how you handle them with your next shows. Take note of my nitpicking because it will help you in the long run; I guarantee it.
Chopped Liver
Join Date: Jan 2004
Location: Six inches from a computer screen
Posts: 5,433
Points: 321
Re: Stojy Freak Presents: WWF
---
In agreeing with TKOW, J.R and King didn't really have a volatile relationship at this point. King was still very much a heel announcer, but J.R, whilst he'd side with the faces, would tolerate Kings attitude, rather than call him a jackass etc, and King would never call J.R a fat ass. The dynamic between the two is all wrong.
The Vince promo was nicely done, hyping his chair shot as the biggest WrestleMania moment of all time. Also, while I remember, I don't get the ongoing hatred against Triple H as champion from the fans. At this point in time he was the most over heel in the company - not like when he was champion forever in 2003 when no one wanted to see him as champion. Confused about that.
Decent run down on The Rock and his failings from Vince, generating heat nicely, whilst getting the fans behind The Rock some more. 'No chance in hell' had to be dropped in there, but it's a matter of time before The Rock takes the belt from Triple H - it just has to happen eventually.
Good to get Stephanies bit out of the way before moving onto Triple H. Could be a nice side issue with Stephanie looking to exact revenge on The Rock for the Rock Bottom at WM.
Whilst Triple H was bang in form, the line where he was talking about being at the top of the game, the king of the game, and then proclaiming himself the game was a pretty weak link. It almost came off as this was the first time he's thought of himself as The Game. And why would he decide he doesn't want the belt anymore at any time in the future??
Another thing that I was confused about; the comment about running them down like Austin in Detroit. Was that Triple H just making an analogy, or admitting to being behind the incident?? Hoping for the former, as it's way to early (and way too poor a reveal) to be dishing out who ran down Austin.
Not sure about the use of Shane as the rebel McMahon, considering there appeared to be the makings of a reconciliation at WrestleMania between Shane and Vince right at the end, but then again, I think it was a week or so after the event before Shane fully joined the ranks of the group. As for Shane coming off as a face here, I'm not so sure about it, considering he was a heel only twenty four hours ago. Main event should be okay, as it's never going to be PPV worthy, and it saves having to use The Rock just yet. Where were Road Dogg and X-Pac though?? Shouldn't they have came out with Triple H??
Credit to you for using Benoit, and using him in the manner he would've been, had it not been for his reprehensible actions. As hard as it is to remember him now for anything else, I'll certainly try. Rather surprised you've went into quite a lot of detail, although I hope all the matches are quite as detailed as this; after all, it is the attitude era, with about seven or eight matches per show, at about three minutes each. Impressed that Angle didn't use the ankle lock, as it was a long way from coming at this point. Benoit finding a way to retain was of no shock to me, as he only just won the belt.
For a minute, I thought you were going to do a totally intense Angle promo, but thankfully you added some of his early geeky quirkiness too. He hasn't quite had the best debut year just yet, wait for KOTR and the WWE title for that accomplishment methinks. Mishap at the end too; after concentrating on calling out Jericho, he then vows to be the next IC champion
.
Great interview from Jericho. Momentarily, I was going to say it was a little catchphrase heavy, but then again, that was Jericho in a nutshell back then. Marking out for Kirk Angel too
. Jericho vs. Angle over the next month or so should be a really entertaining angle.
The Radicalz interview was pretty much all over the place imo. Saturn talking about having a great three months, and being happy to retire now given their impact, then Malenko complaining about being held down, and shooting on the company that saved them from WCW confused the hell out of me. Benoit was okay, as you'd expect, whilst again, Eddie confused me. He briefly ran over the fact that Chyna had a crush on him, but basically that he wasn't interested. From what I remember it started off the exact opposite, with Eddie chasing Chyna, and her not wanting anything to do with him. What happened so suddenly to change his mind??
Filler match to kill all filler matches. Throw Blackman and Bull into the Hardcore division (I was a secret mark for Bull back in the day, so utilise him plz) and keep Al Snow as comic relief. Not sure what you should do with Bossman tbh. Looks like if one of these teams is going somewhere, it's Bossman and Bull with two wins in two night, whilst Snow and Blackman have the exact opposite record. With Snow having to be carted out, it adds a lot of credibility to the Bossman and Bull team as genuine ass kickers.
Glad to see you're going to run with 24/7. An incredible gimmick that (for me anyway) never got old. Hopefully Crash gets the belt back soon though
.
Again, contradicting yourself, initially saying the fans had been squirming at the thought of a handshake between the two teams, then erupting when they did. For the record, whether heel or face, I could never imagine Bubba and D' Von accepting a handshake from any heel team. Again, seemed like a long match for Raw, but liked the early 3D on the floor to Christian, leaving Edge to fend for himself for the majority, switching things up, leaving the heel team at a disadvantage. Looks like this feud could rumble on to Backlash, and solidify E&C as champions.
Touching tribute for Mick Foley. Nice job.
Not sure if The Rock would ever consider Vince 'a friend'. It was definitely more of a business relationship. Bar that blip, I'd say this was the best promo of the night so far, as you captured the essence of The Rocks character nicely, with plenty of put downs, plenty of fan friendly comments, and enough catchphrases that didn't seem like overkill. No need to add Linda McMahon to the equation of threats though, as she is definitely the face McMahon.
I must've missed the time that Jacqueline was sexy. Nice segment to get them on the show though.
T&A with Trish were a great threesome imo. One of my oddest fondest memories was indeed, the six person tag match between the two teams at Fully Loaded in 2000. Not sure why, but remembering that match always makes me smile. Soft spot for both teams, so I enjoyed seeing them paired off here. A nice six person feud would be good to get the Hardys established with Lita.
Glad you didn't do the big write up for the main event. Save that type of nonsense for PPV matches, instead of killing yourself for a weekly show. Finish was pretty sweet, with The Rock getting his face into proceedings, but Triple H avoiding any contact with his nemesis. Great way to keep the fans wanting more, as the chase is most certainly on. Not sure what part Kane will have to play in this set up, as his feud with X-Pac is stale at this point, so will he move on and try to challenge The Game too?? Plenty of questions coming out of the main event.
Overall, a patchy show if I'm honest. Quite a few negatives, especially the really awkward Radicalz interview, and sudden scaling back on matches, and making them longer, compared to 7 / 8 matches a week that lasted three minutes or so. Despite that, it's something to build on, and hopefully you don't fall out of love with this idea too soon.
Posting Rules

You may not post new threads

You may not post replies

You may not post attachments

You may not edit your posts

---

HTML code is Off

---