Be the Booker Showcase Thread
---
In this thread you can post any single matches, ideas for a PPV, storylines, promos, etc. This should be easy and a good tool for bookers that are currently inactive and are not booking/or waiting for their 30 days to end. Just make sure you don't double post in the thread.

EDIT - 12TH FEBRUARY: I've decided to make a small alteration to the gist of this thread which I believe is a fairly good idea.

From now on, if you want to post some of your old work from BTBs you've had in the past that you perhaps want to share with bookers that weren't around when it was originally posted, then it is welcome in here.
---
Last edited by Shock; 02-12-2011 at

10:05 AM

. Reason: Old work can now be posted in here.
Re: Be the Booker Showcase Thread
---
Just thought I would put a promo that i once wrote out in the open. I believe it is my best work to date.



***



***No Chance In Hell***

An ungodly amount of heat is heard throughout the arena as the familiar tune of the boss hits and the Chairman of the Board Vince McMahon steps through the curtain with one of his custom grey suits with a white shirt and gray tie. Surprisingly though, Vince McMahon is not with Stone Cold Steve Austin, but the World Wrestling Federation title is planted firmly on his right shoulder.

Jim Ross: Speak of the devil, and the devil shall appear, and that is why we are greeted by…

Paul Heyman: (cuts off JR) GREETED BY the greatest man to ever be involved with our industry V…

Jim Ross: (cuts off Heyman) And the biggest egomaniac that I have ever met in my life, unfortunately my boss, Vince McMahon.

The crowd continues to look quite unimpressed as Vince McMahon struts down the ramp like only Vince McMahon can. McMahon continues to swings his arms like a mad man as he stomps up the stairs and steps into the ring, looking like he is in a peaceful mood tonight. Vinnie Mac then walks over to Howard Finkel and grabs his microphone, before practically kicking 'The Fink' out of the ring. The owner of the WWF then waits for the heat to die down so he can begin speaking.

Vince McMahon: Ladies and gentleman… Welcome to the new and improved Monday Night Raw!

McMahon lets out a shit eating grin referring to the new champion and the crowd catch on, reigning down an unmerciful amount of heat, as they make Vince wait for them to be silent once again so he can continue.

Vince McMahon: Better yet, welcome to my Monday Night Raw. We are entering a new era here in the World Wrestling Federation, and this new era will be run by Vincent Kennedy McMahon and the new World Wrestling Federation Champion Stone Cold Steve Austin.

Massive heat at the mention of Austin, but Vince's mood can not be ruined tonight.

Vince McMahon: A lot of you people are probably wondering why or how everything came about last night, and why I hit The Rock over the head with a chair. Well Rock, I just want you to know right now it's nothing personal, I actually don't mind you, despite me not sharing the obsession that you seem to have with shoving objects up other male's asses, I have nothing personally against you.

McMahon pauses before putting extra emphasis on his next line.

Vince McMahon: It's just business.

The crowd gives out some more heat at the mention of the some what universal catchphrase.

Vince McMahon: Anyway enough of me gloating, I am not one of the most successful businessmen in the world by gloating and resting on my reputation… The reason why I am out here tonight is to explain why from my side of the story, joining forces with Stone Cold Steve Austin was the only option.

McMahon pauses, obviously trying to choose his words carefully before he decides to continue.

Vince McMahon: We may have had a brutal history, I may have cost him championships, he may have cost me a whole heap of money, we both may have attacked each other on numerous occasions, but in the end… it didn't matter, because the only thing that mattered was the fact that Stone Cold Steve Austin wanted to be the World Wrestling Federation Champion and YOU people wouldn't let him.

The crowd is at riot level after this statement, as they know this is far from the truth.

Vince McMahon: He came out here day in and day out, and made the mistake of trying to impress all of you people. Anyone will tell you it is not about whether or not you are liked or disliked that counts, it's how successful you are, and that was the main difference that I had with Steve.

McMahon nods his head.

Vince McMahon: When I watched No Way Out in February and I saw the performance Stone Cold put on in the Three Stages of Hell match against Triple H, I finally realized that Stone Cold Steve Austin knew how to wrestle. Stone Cold Steve Austin was somebody who I could build my company around.

A slight cheer actually went up at the mention of Austin's win at No Way Out.

Vince McMahon: It's like I had some kind of epiphany, so I went and spoke to Steve later that night and we planned for everything to come about. Stone Cold sold himself to the devil himself so he could win the WWF Championship and you idiots, just like The Rock, never saw it coming.

Major heat comes from the capacity crowd once again, as it seems as though Vince only said that to get a reaction from the audience.

Vince McMahon: Enough about the past, lets move on to the present. Let's talk about the real reason why I came out here…

Vince continues with a visible smirk on his face.

Vince McMahon: Tonight I am out here to simply introduce and bask in the greatness of the greatest World Wrestling Federation Champion in the history of this business, because tonight is the greatest night in the history of the World Wrestling Federation, tonight is the first night run by the McMahon/Austin era.

The crowd boos, as this era seems to be making everybody ill.

Vince McMahon: So, without further ado…

The crowd begins to rumble with anticipation, knowing what is coming.

Vince McMahon: Let me introduce to you…

The Texans begin to pop for their hometown "hero".

Vince McMahon: The new World Wrestling Federation Champion, The Texas Rattlesnake, STONE COLD STEVE AUSTIN!

…

***Glass Shatters***

A mixed reaction leaning towards cheers like never heard before is given as the new World Wrestling Federation Champion Stone Cold Steve Austin steps through the curtain, wearing a t-shirt that says "hell yeah" and a pair of his denim shorts. Austin continues down the ramp with his bad mother fucker walk (BMF), as he is ready to claim what is rightfully his inside the ring.

Jim Ross: Here he is ladies and gentleman, the man of the moment, the man who defeated The Rock last night, but more importantly the man who sold his soul to the devil, Stone Cold Steve Austin.

Paul Heyman: Shut your mouth and bow down JR, as we are in the presence of greatness. This man is the toughest SOB in the World Wrestling Federation, he is your former best friend and he is going to be at the top of this company for years to come.

Jim Ross: I just hope he can see the light before he gets sucked in too deep.

Paul Heyman: Don't you listen you ignorant jackass, he has seen the light and that is why he decided to team up with Vince McMahon.

Austin then walks up the stairs and hops through the ropes like only he can, before he comes face to face with his new "friend" Vince McMahon. There is a moment of unbearable tension, before Austin and McMahon embrace in a nice hug which drives the crowd nuts. Austin then gets given the WWF Championship and he struts over to each of the four corners and raises the championship in the air. (He only raises the hand with the championship and not both, something he started doing at Wrestlemania Seventeen, I am not to sure why.) Austin then hops down from the last turnbuckle and grabs a microphone before standing silent, waiting for his music and the crowd ovation to die down.

Vince McMahon: Yes, that's right here he is, the new and improved Corporate Stone Cold Steve Austin.

Austin raises his title one last time to another very loud mixed reaction, before Austin raises the microphone to his mouth, wanting to give his husky voice a work out.

Stone Cold: …

The crowd begins chanting "you sold out" at Austin while Austin and McMahon just shake their heads at the audacity of the Texas crowd.

Stone Cold: I ain't gonna' lie, it feels kinda' weird standing here next to this sumbitch that I have Stunned so many times over the years.

There is a rumble heard from within the crowd, as nobody is exactly sure where Austin is going with this.

Stone Cold: Everybody out there knows ol' Stone Cold ain't the type a' guy to come out here and flap my gums and beat around the bush for half the damn show.

Another little round of applause, as the Texans can't help but cheer their hometown heroes' honesty.

Stone Cold: I'm just gonna' come out and say that I am not sure I like coming out here and huggin' this old wrinkly bastard… I guess….

Austin is cut off by a monstrous pop due to the insult of McMahon, while McMahon does the famous bobbing adams apple expression.

Stone Cold: I guess what I'm tryin' ta' say is… If ya' want Stone Cold Steve Austin to open up a can of whoop ass on Vince McMahon, gimme' a HELL YEAH!

HELL YEAH~!

Stone Cold: WHAT?

HELL YEAH~!

Stone Cold: SHUT THE HELL UP!

A stupendous amount of heat as Austin is stringing the crowd along for a ride.

Stone Cold: I am a seven time World Wrestling Federation Champion, I am the best of the best, do ya' really think that I was gonna' listen to anything that a bunch a' Rednecks tell me to do?

The crowd laughs as they find this comment to be hilarious because Austin is a Texan native also. Could he be a hypocrite?

Stone Cold: Why is that funny? Do ya' think ol' Stone Cold is a Redneck?

Positive reaction as it's pretty obvious that Stone Cold is a redneck.

Stone Cold: Well… ANH ANH!!!

HEAT!

Stone Cold: Stone Cold will be a lotta' things in his life, but the one thing that he is not is a Redneck. I moved outta' my ranch in Texas and I am now livin' in GREENWICH CONNECTICUT!

Cheap heat.

Stone Cold: It's time ta' get down to business anyway. Vince, for you this was a business decision but for me it was the total opposite. My decision to team up with you and take ova' the World Wrestling Federation was absolutely one hundred percent personal.

The crowd remains awfully silent, as it seems Austin is finally getting down to business.

Stone Cold: Don't worry, don't get upset. There is no need to get your little beady eyes all teary 'coz I ain't done, there is more to the story. Y'see this wasn't a spur of the moment decision.

Austin pauses and rubs his goatee, thinking of the correct words to use before continuing on with his speech.

Stone Cold: If ya' think back ta' a couple a' years ago in November of 1999 at Survivor Series, I was run over by some fat sumbitch.

Crowd give a mini pop at the insult of Rikishi, however it does not last long as everyone is to intent on listening to Stone Cold's explanation.

Stone Cold: That took me outta' action for ten LONG months, and durin' those ten LONG months while sittin' at the house doin' nothin' all day, I thought ta' myself, these ten LONG months are ten months gone from my career.

Austin pauses for a second, as it seems him being out for so long still angers him to this day. Austin takes a deep breath before continuing.

Stone Cold: Worse than that, it was ten LOOOONNNGGG months from my livelihood, and that made me think, when I got back, I would have less time ta' get the title that I crave… The title that I need, the title that I can't live, breathe, eat and sleep wiv' out, (pointing at title) what I'm tryin' ta' say is that I need this title to live.

The crowd remained in a stunned silence, as Austin takes another deep breath letting his intensity drop back down.

Stone Cold: So as I was sayin' I was sittin' at home thinkin' and I decided that the easiest way for me to get MY title back would be ta' get an ally that has a whole heap a' power within the dubbya' dubbya' eff. And, well…

Austin looks at McMahon.

Stone Cold: Ya' won't find anybody with more power then Vince McMahon!

Vince McMahon takes a bow, obviously very proud of himself and surprisingly the Texans give him a mixed reaction, obviously because he is associated with Stone Cold.

Stone Cold: What I'm tryin' ta' get at is, I think my reasons for doin' what I did are normal, all I am doin' is makin' up for the ten months that missed out on, you can all hate me as much as ya' like but the fact of the matter is you are all just jealous SONS A' BITCHES and if it came down to it, I could open up a can a' WHOOP ASS ON EVERY PIECE OF SCUM IN THIS BUILDIN' TONIGHT!

Austin then raises his championship in the air while the crowd reign heat down on him, one crowd member even throws their beer into the ring but rather than making a fuss out of it, Austin plays on it.

Stone Cold: Ya' just reminded me of what I wanted ta' do, just 'coz I ain't the same as I used ta' be, it don't mean I don't like a Steveweiser, so hit my music and throw us some beers, 'coz McMahon and I are celebratin' the beginning of my title reign STONE COLD STYLE!

Austin's music hits and he climbs up to the top rope on the corner closest to the time keepers' table as the time keeper opens up the cooler that conveniently happens to be at his feet, and begins throwing Austin some Steveweisers. Austin and McMahon celebrate and hug in the ring and drink two beers each, before Austin's music stops. They don't pay any attention and Austin begins swimming in beer, while the evil McMahon laughs and the crowd can't help but cheer even though they hate him. Everything and I do mean everything seems to go slow motion for a moment and stops until.

…


***IF YAAA SMELLLLLL!***

The crowd jumps to their feet and they give an epic ovation practically shoving it up the ass of their hometown "hero" as The People's Champion the Rock walks through the curtain and stops at the foot of the entrance ramp. The Rock is wearing his "Layeth the Smacketh Down" t shirt with his black with white stripes sweat pants, not in the mood to mess around with the crowd. The Rock then takes off his sunglasses to reveal an intensity in his eyes the likes of which has never been seen before, as he then pulls a microphone out of his pocket and gets ready to speak before being interrupted, not by his music but by Stone Cold Steve Austin himself.

Stone Cold: Don't come out here and try and sing ya' little nursery rhymes and piss me off, 'coz it ain't gonna' work. Me bein' champion has nothin' ta' do with you', ya' just happened ta' be at the wrong place at the wrong time, so I suggest you put cha' little Versace wanna' be glasses back on, tuck your tail between your legs and leave before I come up there and make ya' leave ya' silly little bastard.

Austin takes another sip of his beer before The Rock gets ready to speak.

The Rock: … … …

The Rock drops his microphone and sprints down the ramp as the crowd go absolutely ape shit, the yellow bastard Vince McMahon quickly rolls out of the ring in fear while Austin picks up his WWF Championship and a furious Rock slides into the ring. Once in the ring, Rock quickly runs at Austin who swings wildly at Rock with his championship belt, The Brahma Bull ducks and then goes to town, peppering Austin with right hands and backing him against the ropes. Austin drops the title belt and Rock picks it up and hits Austin with it, sending Austin through the ropes and to the floor. Rock then climbs to the top rope and raises the championship above his head to massive cheers from the sold out crowd (who seemed to have turned their back on Austin) and Rock then throws the title at a now busted open Austin, who picks it up and along with McMahon, jogs up the ramp trying to get the hell out of dodge. Rock however hops out of the ring and follows as he has vengeance on his mind tonight on Monday Night Raw.



***



Thoughts??
---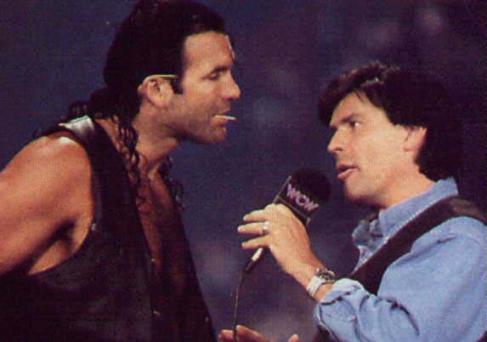 Re: Be the Booker Showcase Thread
---
Backstory:

Kurt Angle was granted his release from the WWE on August 25, 2006 and signed with TNA shortly thereafter. However, the following match will be taking place as if that event never happened. I'm erasing what happened in reality and I'm replacing it with an entirely different scenario.

Let's imagine that Kurt Angle did not sign a TNA contract but instead took a 6 month sabbatical from the sport of professional wrestling to mend his mind and body. After 6 months away from the grueling business, Angle decided it was time to step back into the squared circle. Angle eagerly resigned with the WWE with hopes of recapturing all of his glory.

Angle returned to the WWE at the 2007 No Way Out PPV by making his way to the ring to cut an in-ring promo. However, before Angle is able to say a word he is abruptly interrupted by Fit Finlay, "The Man Who Loves to Fight". (In this alternate reality, Finlay is heel and Hornswoggle–less.)

Finlay berates Angle, chastising him for abandoning the wrestling business; an industry which Finlay claims to have poured his heart and soul into every day of his life. Finlay professes that even when he didn't wrestle on TV, he still spent every last breath of his teaching other guys the ins and outs of professional wrestling as a trainer. But what did Angle do? Abandon it as if it were yesterday's garbage? Finlay tells Angle that he doesn't deserve back into the business.

Finlay's comments infuriate Angle. He angrily responds to Finlay by saying that he has sacrificed his body for the business more times than he can count. Finlay shrugs it off as if it were no big deal, asking him "Who hasn't?" Angle lists all of his accolades trying to prove to Finlay what he's worth to the sport of professional wrestling. Finlay explains to Angle that his list means nothing to him because there is one glaring omission; Angle has never beaten him in a match. Angle steps toe-to-toe with Finlay as if he'd be more than happy to wrestle him. He begs Finlay to take the first shot.

Finlay smirks at Angle, his war-battered teeth on full display. Finlay swings his fist into Angle's face and a brawl is ignited. They brawl to the outside of the ring where Finlay uses the steel steps to gain the advantage over Angle. Finlay finds his shillelagh in the corner of the ring and uses it to cave Angle's stomach in with repeated strikes.

After Finlay's brutal assault, Angle would require an emergency trip to the hospital where he would be diagnosed with a severe case of stomach ulcers. As a result of the doctor's diagnosis, Angle's return to the ring would ultimately be delayed, his injuries necessitating more time off.

Finlay would use this event to gain massive heel heat. His constant bragging about it in the weeks following would propel him as a top heel.

3 months later, Angle makes his surprise return to the WWE and goes right after Finlay with retribution on his mind.

It is now 4 months later and Angle and Finlay's feud is more heated than ever. Both Angle and Finlay have had their fair share of victories over each other but neither man has remained satisfied. They want to fight each other until the meat on their bones begins to tear off.

This would explain why such terrifying stipulations have been set for this upcoming contest. The following match will take place inside of a steel cage until one man cannot answer a ten count. The match will be a Last Man Standing Cage Match, pitting the "Olympic Gold Medalist" Kurt Angle .vs. "The Belfast Brawler" Fit Finlay. As the steel cage surrounds the ring, the shadows of the chain-link fence will be plastered into the canvas on all 4 sides. There will be no cage door and no escape because the only route to victory will be to knock your opponent out cold. A match of this magnitude can only lead to one outcome… The Survival of the Fittest…


Unforgiven 2007
Kurt Angle .vs. Fit Finlay
Last Man Standing Cage Match


Ominous music blares through the arena's amplifiers as the steel cage makes its descent from the rafters. Both competitors have already made their entrances and are now standing nose-to-nose in a deadlock stare down. Their patience is wearing thin as they wait for the cage to be set in place. Their bloodthirsty eyes are staring each other down as they stand just inches apart. Spit comes spewing out of Angle's mouth as he and Finlay threaten each other with piercing words of violence. The cage is finally locked into place and the ref signals for the bell.

The crowd bursts in excitement as the match gets underway with a bombardment of right hands from both wrestlers. Neither man is succumbing to the blows, as they continue to clock each other with straight right hands. After a combination of 20 plus punches from both men, Finlay breaks the harmonic exchange by shoving both of his arms into Angle's chest to push him away. Finlay uses the separation to add some extra power to his punch. Finlay rears back on his right leg and thrusts his fist towards Angle like a pitcher winding up in baseball. But Angle blocks Finlay's strike and fires back with a knife-edge chop. This doesn't sway Finlay as he immediately retaliates by waylaying Angle in the face with a punch. Angle repays Finlay with a second knife-edge chop. They go back and forth with Finlay throwing punches and Angle smacking Finlay's chest with chops. Eventually, Angle gains the upper hand over Finlay by throwing his hardest chop yet. Finlay staggers backwards but quickly snaps out of his chop-induced dream state. Finlay pulls down the straps on his singlet and urges Angle to chop him harder, telling him that it'll take a lot more than that to knock him down.

In response to Finlay's bold declaration, Angle belts Finlay across his chest with a chop that pulsates throughout the entire venue. For a split second, a grimace of pain can be seen expressed on Finlay's face. However, Finlay quickly erases the image from his face, trying to prove to Angle that his chops aren't going to faze him. Finlay slaps his chest and tells Angle to chop him again. Angle abides by Finlay's request and repeatedly slashes Finlay's chest with knife-edge chops until Finlay has no other choice but to admit that Angle's chops hurt like hell. Finlay drops to one knee and holds onto his chest as if it were about to explode.

Finlay's temper flares up as he comes to the realization that Angle got the better of him in that exchange. Finlay rises to his feet and aggressively attacks Angle with knee strikes to the stomach, trying to erase the embarrassment of surrendering to Angle's chops. Angle is backed into the steel cage by Finlay as he receives a barrage of stiff knees to the midsection. Angle appears to be in a deep amount of trouble when all of a sudden Finlay stops his onslaught of knee strikes. For some reason Finlay backs away from Angle as if he had some type of contagious disease. The cameraman at ringside zooms into Angle's face where red liquid can be seen leaking out from Angle's mouth. It is only about 1 and a half minutes into the match and Angle is already coughing up blood. Red stains appear on the white canvas as Angle's blood splatters all over the ring floor. The commentators speculate whether Finlay's knee strikes could have possibly reaggravated Angle's stomach ulcers.

At first, Finlay appeared to be shocked to see Angle churning out blood so early in the match but his current demeanor now depicts a different story. Finlay looks at Angle's bloodstained lips with a smile on his face, rejoicing over the fact that his knee strikes have drew blood. Finlay reaches out to grab Angle's head but the ref wards him off, showing concern for Angle's well-being. Finlay disregards the ref's wishes and simply moves around him so that he could grab Angle by the head. Finlay pulls Angle up into his arms before dumping him to the ground with a scoop slam. Finlay tells the ref that if Angle wants to quit he'll stay down. But of course, Angle stubbornly rises back up to his feet before the ref can even reach the count of 2. Finlay walks up to Angle and kicks him right back down to the canvas with a boot to the head. A puddle of blood begins to coagulate on the mat next to Angle's mouth as blood continues to trickle out of Angle's mouth.

As Angle gets to all fours, Finlay's boot emerges into Angle's stomach as Finlay punts Angle in the gut as if he were a football. Finlay tips Angle over so that he is lying down on his back, making his stomach an easy target for further attacks. Finlay lifts his knee over Angle's stomach before dropping down on it with all of his weight. Angle groans from the pain caused by Finlay's knee drop. Finlay gets to his feet and contemplates his next maneuver. Instead of going for another knee drop, Finlay simply steps on top of Angle and shoves his boot into Angle's abdomen as if he were trying to scrape off a piece of gum from the bottom of his boot. Finlay lifts Angle back up to his feet and double underhooks his arms, tightening his grip so that Angle would stop squirming around. Finlay nestles Angle into a cramp position before lifting his knee up to inflict further damage to Angle's abdominal region. Finlay transitions into a front face lock and takes Angle up into the air for a delayed vertical suplex. Angle is held upside down by Finlay for what seems like an eternity as blood begins to drip from Angle's mouth onto Finlay's arms, the blood streaming down Finlay's arms like a spilled beverage. Finlay keeps Angle up for a little while longer before finally planting him down with the suplex. Finlay gets to a vertical basis and admires the work he's done on Angle as the ref begins a 10 count.

1
2
3
4
5
6
7
8

Angle slowly crawls his way back up, looking as if he were a soldier who had just lost a limb. But as soon as Angle reaches his feet, he miraculously transforms into a modern day gladiator and dashes after Finlay, driving Finlay into the canvas with an Olympian style takedown. Angle goes to work on the mat and puts Finlay in a variety of wrestling holds, a flashback to his early days as an amateur wrestler. However, Finlay somehow shifts into a guard and manages to capture Angle with a guillotine choke, preventing Angle from applying any more holds. But Finlay's guillotine choke does not remain a permanent solution as the Olympic gold medalist finds a counter to the hold within seconds. Angle slips out and utilizes his knees to press Finlay's legs into the ground so that Finlay becomes stuck in a butterfly stretch position. Angle mounts Finlay but instead of going for elbow strikes or right hands, Angle secures Finlay by the head with both of his arms and begins to headbutt him over and over again. Angle is taking out all of his frustration on Finlay with an assembly line of devastating headbutts. Finlay goes into panic mode and dips into his bag of underhanded tactics to put an end to the brutality. Finlay extends 2 of his fingers outwards and pokes Angle in the eyes, ending the succession of headbutts that were decimating his skull.

Finlay crawls over to the ropes and uses them to help get up. Angle recovers from the temporary blindness caused by Finlay's eye gauge and stands back up. Angle traverses his way over to Finlay but before Angle can lay a hand on Finlay, he gets hit in the gut by Finlay's shoulder. Angle bends over from the sudden blow while Finlay distances himself away from Angle by walking to the opposite corner. Finlay waits for Angle to stand upright before charging after him. Angle runs after Finlay at the same time and they meet in the center of the ring. Angle wraps himself around Finlay like a cocoon and gracefully executes a spinning belly to belly overhead suplex. The ref starts a 10 count for both men as Angle stays down to catch his breath.

1
2
3
4
5

Angle gets up and feels around his mouth with his hand. Fortunately for Angle, blood appears to have stopped gushing out from his mouth. The ref continues to count out Finlay.

6
7
8

Finlay regains his footing but staggers right into a kick to the stomach. Angle lifts Finlay up to the top rope and sets him down in a seated position. Angle scales up to the top rope in front of Finlay and administers the classic 10 punch routine, with the crowd tallying up each one of Angle's punches. However, right before Angle is able to complete the 10 punch combination; Finlay desperately reaches out and grabs hold of Angle's throat. Finlay tightens his grip around Angle's throat and slams him into the steel cage. Angle's head careens off the steel cage and he collapses to the canvas. But Finlay has little time to regroup as Angle wills himself to quickly get back up. Finlay tries to kick Angle in the face while still perched on the top rope but Angle snares Finlay's leg before it does any damage. Unfortunately for Angle, he did not take into account that Finlay still had his other leg available and gets kicked in the face anyways. Finlay's kick sends Angle tumbling backwards, giving Finlay ample time to stand up from his seated position on the top rope, but not nearly enough time to react to Angle's speedy recovery. Angle leaps up and routs Finlay with a European uppercut, dispatching Finlay off the top rope. Finlay falls from the top rope and finds himself stuck in the slot between the ring ropes and the steel cage enclosure. Angle attacks Finlay with a flurry of right hands, the back of Finlay's head ricocheting off the steel cage after each strike. Finlay is definitely not in a desirable position. After 20 or so lashings, the ref has seen enough. He draws Angle aside and asks him to show remorse. Angle ignores the ref's request and begins to stomp a mudhole on Finlay, seeking revenge for the blood he shed earlier in the match. After about 15 stomps, Finlay finds himself horizontal to the mat, his barely responsive body still clinging to the steel cage. Angle finally decides to back off and allows the ref the opportunity to count Finlay out.

1
2
3
4
5
6
7
8

Finlay uses the ring ropes and manages to pull himself back up. Angle races after him and vies for a lariat. But Finlay foils the attempt and hooks Angle with a time-honored submission maneuver; the dreaded abdominal stretch. Angle instantly cries out from the prickling pain as Finlay tightens his grip on the move. However, Finlay quickly grows tired of the move and searches for a way to enhance the move. Finlay recalls the old heel tactic of using the ring ropes for extra leverage and formulates a way to upgrade the technique. While still maintaining his hold on Angle, Finlay seizes hold of the steel cage's wall and begins to climb it, putting added pressure on Angle's abdomen. Finlay hangs onto the steel cage like a monkey swaying from a tree branch as Angle yells out from the excruciating pain. After about 20 seconds, Finlay relinquishes the hold on Angle but adheres to his position on the steel cage, a few feet above the ground. Finlay scales up a little bit higher before he capers off and catches Angle with a modified gutbuster. But Finlay does not end his foray of offense there. Finlay runs off the ropes and clobbers Angle in the stomach with a basement lariat, hoping to see crimson red seep from Angle's mouth once again. Finlay swaddles Angle around his waist and carries him to the center of the ring, synching in a reverse bearhug, once again pinpointing Angle's decrepit stomach.

Finlay holds onto the hold for a long time before Angle finally finds a way out of it. Angle swings his elbow backwards and rocks Finlay in the face, loosening Finlay's grip enough to get back to his feet. Angle continues to plaster Finlay in the face with elbow strikes before he lifts Finlay onto his shoulders and executes his trademark Angle Slam. Immediately after the move, Angle falls to the ground next to Finlay, using the break in action to rejuvenate his body.

1
2
3
4
5
6
7
8

Both Angle and Finlay get back to a vertical basis. Angle is the first to move. He tackles Finlay to the mat and seizes his lower leg, locking in his dangerous finishing move, the Ankle Lock. Finlay crawls around the ring, trying to shake Angle off of his ankle like a fish trying to unhook himself from a fishing pole. But Angle is glued to Finlay's ankle and it doesn't look like he's going to release Finlay from the hold any time soon. Finlay inches his way to the side of the ring and snatches onto the ring ropes. But Finlay does not receive the rope break he had anticipated on receiving because there are no rope breaks in this type of match. Angle keeps Finlay locked in the hold even though Finlay is hugging the ropes. Finlay wails out in agony as his ankle is twisted in all kinds of unnatural angles with no end in sight. The pain becomes so unbearable that Finlay even begins to tap out. But tapping out is worthless in this type of match, because there is only one way to lose the match, and that is by not answering a 10 count. After well over a minute of applying the Ankle Lock, Angle finally exonerates Finlay from the hold. Angle drags Finlay to the center of the ring and the ref begins to count Finlay out.

1
2
3

But Angle isn't content with just watching the ref count Finlay out. Angle is climbing up to the top of the cage! The ref becomes distracted by Angle's ascension to the top rope, causing Finlay to be counted out at a slower rate.

4
5

Angle's fingertips reach the very top of the cage.

6

Angle begins to pull himself up, using the cable apparatus that lowered the cage from the rafters to keep his balance.

7
8

The crowd rises to their feet in anticipation for whatever Angle has in mind. Angle is now standing on top of the cage, bringing back memories of the cage match where he broke his neck after moonsaulting from the top of the cage. But Finlay is rolling out of the way! The crowd groans in displeasure as Finlay moves out of harm's way, forcing Angle to climb back down.

9

Finlay rolls over to the opposite corner and uses the turnbuckle pads to pick himself back up, putting an end to the ref's count. Finlay is limping on one foot, still feeling the effects of Angle's Ankle Lock. Angle lands back on the flat surface of the ring and goes straight after Finlay. But when Angle approaches, Finlay corrals him by his shoulders and tosses him into the corner. Finlay traps Angle in the corner and peppers him in the face with an array of punches. Finlay then rams his shoulder into Angle's stomach, zeroing in on Angle's impaired innards. Finlay batters his shoulder into Angle several more times before pulling him out of the corner. Finlay wraps his arms around Angle's stomach and catapults him into the air with a gutwrench suplex. Finlay mimics the mercury of a hot thermometer and quickly pulls Angle back up to his feet. He shoves his boot into Angle's stomach and wraps his arms around Angle's gut, lifting him up with yet another gutwrench. However, instead of being driven to the mat with a suplex, Angle finds himself in an even worse predicament. Finlay hoists Angle up onto his shoulders and folds Angle like an accordion with a Running Gutwrench Powerbomb into the Steel Cage! The ref begins to count Angle out.

1
2
3
4
5
6
7
8
9

No! The match continues as Angle makes a miraculous recovery and gets back up to his feet. Finlay is in disbelief. Finlay converges upon Angle and captures Angle's right arm with an arm wrench. Finlay drops to one knee and then hurtles his shoulder into Angle's gut with a shoulder block. Angle begins to gag after Finlay repeats the procedure a second time. Finlay wrenches Angle's arm once again but instead of following it up with another shoulder block, Finlay tugs Angle's arm and shellacs him with a short-arm clothesline.

1
2
3
4

Angle tries to rise back up, but he gets squashed right back into the canvas via a seated senton from Finlay; the move crushing Angle' already obliterated stomach. Finlay remains sitting on top of Angle as if he were a bar stool, adding insult to injury. Finlay gets up and the ref begins to count Angle out.

1
2
3
4
5
6

Once again, Angle strives to get up. Finlay laughs at Angle, sneering at Angle's pathetic display of tenacity. Finlay runs off the ropes and goes for a second seated senton. But Angle counters! Angle cranes his feet into the air and pitches Finlay into the steel cage with a move resembling a monkey flip. Finlay's head maniacally bounces off the steel cage and he slumps to the canvas. Angle gets back up to a vertical basis and scoops Finlay onto his shoulders… Angle Slam!

1
2
3
4
5
6
7

Finlay is back up! Angle trips Finlay back down to the mat and grabs hold of his ankle… Ankle Lock! No! Finlay uses his free leg and hurls Angle into the steel cage. Angle disintegrates to the canvas after his skull careens off of the chain-link fence with lethal force. Finlay scoots his way to the opposite side of the ring and slowly gets back to his feet. Finlay stands on the opposite side of the ring and anxiously waits for Angle to stand back up. Eventually Angle gets back up and Finlay annihilates him with a running knee to the gut that sends him flipping head over heels. Angle is in bad shape as Finlay lingers over his maimed body, coaxing him to call it quits. But Angle's die-hardism won't allow him to give up just yet. Angle slowly gets back up to his knees but is unaware that Finlay is prowling right behind him. Finlay allows Angle to get back up to his feet but he brings Angle right back down to the canvas with a sleeperhold.

Angle finds himself confined in the hold for a long period of time before the crowd helps inject Angle back to life. Angle gradually finds himself rising back to his feet, feeding off of the crowd's energy. Angle elbows Finlay in the stomach and tries to find a way out of Finlay's grasp by attempting a back suplex. But Finlay reverses Angle's attempt and falls back to the canvas with Angle's head still secured in the sleeperhold. Angle's eyes begin to involuntarily roll to the back of his head as the pressure from the hold becomes unbearable. The crowd rises to their feet, making as much noise in support of Angle as they possibly could. Angle hears the crowd's hysteria and uses it to augment his adrenaline. Angle surges back up to his feet and pummels Finlay in the side of his face with an abundance of back elbow strikes. Finlay finally relinquishes the hold but manages to ducks under the path of Angle's oncoming back elbow. Finlay crouches under Angle's arm and lifts him up over his shoulder. For a fleeting moment, Angle is hanging upside down on top of Finlay's shoulder in position for the Celtic Cross. But instead of driving Angle's head into the canvas, Finlay decides to pull off something entirely different. Finlay runs into one of the steel cage walls and flattens the entire side of Angle's body into the chain-link fence!

Finlay still hasn't let go! He keeps Angle suspended over his shoulder and lugs him around the ring, displaying a great amount of strength. Finlay gazes at the other side of the steel cage like a mad scientist contemplating the next step in an experiment. Finlay readjusts his grip on Angle and sprints towards the other side of the ring. Finlay makes a full on collision with the steel cage, sandwiching Angle into the cage for the second consecutive time.

Finlay makes way back to the center of the ring with Angle still draped over his shoulder. He drives Angle into the canvas with a back-to-belly piledriver… The Celtic Cross!

1
2
3
4
5
6
7
8
9

No! Impossible! Angle is standing back up!

Finlay's jaw drops. He can't believe it. Angle is stumbling around the ring like a mutilated robot. Finlay meets him in the center of the ring and lifts him over his shoulder… the Celtic Cross!

No! Angle slips off of Finlay's shoulders and falls back down to the canvas. Angle takes Finlay down with a back heel trip… Ankle Lock!

Angle rips away at Finlay's ankle, twisting it in all sorts of unnatural angles. The screams from Finlay's mouth can be heard from a mile away as he squirms around the ring from the intense pain. Finlay contorts his body into all types of shapes, hoping to find the one that'll help him escape the move, but none of them are working out. After 40 excruciating seconds, Finlay begins to tap out. He begs the ref to make Angle stop, claiming that his ankle has already been broken. This creates a dilemma for the ref, because the match stipulations state that the winner can only be decided if one man cannot answer a 10 count, not by submission. Finlay suffers 20 more seconds in the hold before the ref finally decides to ask Angle to break the hold. But Angle refuses to let go! Angle argues with the ref while keeping the Ankle Lock synched in. 20 seconds pass and the ref is still asking Angle to break the hold, warning him that his defiant behavior could cost him the match.

5 seconds later and Angle finally releases the hold, tired of the ref reprimanding him. He shouts at the ref, telling him to go ahead and count Finlay out if that's all he cares about. Finlay is flat on his back, caressing his "broken" ankle.

1
2
3
4
5
6
7

Finlay shows signs of wanting to get back up. However, Finlay quickly abandons that quest when he realizes that Angle is standing right in front of him, ready to put him right back into the Ankle Lock. Finlay holds his hands out in front of him (ala Ric Flair), rising the suspicions of Kurt Angle. But it appears Finlay is just reaffirming his surrender, not wanting to have his other ankle broken by Angle.

8
9
10!
Mid-Card Champion
Join Date: Nov 2007
Location: Phoenix
Posts: 5,652
Points: 0
Re: Be the Booker Showcase Thread
---
Women's wrestling doesn't get a love in real life, or BTB, but I personally am a big fan, and I try to book it as pretty important. One of my favorite matches that I've written was an extended recap of my Women's Title Match for my Judgement Day PPV, so I'll put it out for this thread.


- XXX -

We then cut back to the arena, where Victoria's music plays to loud heat. The Black Widow comes out, looking angry but incredibly focused, knowing what's at stake in this match. She makes her way down to the crowd, throwing dirty looks at the fans who continue to boo, then enters the ring. She looks out across the arena with a frown, as the crowd returns their dislike for her. She then turns to the stage, awaiting her opponent, and more importantly, the title she'll be wearing.

After a second, the music of the Women's Champion plays to a big pop, and Mickie James comes out from the back! The Sexy Sweetheart has a big smile on her face, and is full of energy. She wears her Women's Title over her shoulder, and skips down the ramp, high-fiving the fans. She slides into the ring, looking up at Victoria, but then heads to the turnbuckles to pose for the fans with her title. She does this at every corner, then climbs down. She doesn't take her eyes off Victoria, who meets her gaze, and she hands her belt over to the ref. He holds it up, the prize in this interbrand match, then passes it to a worker, and calls for the bell.

WWE Women's Title Match:
Victoria vs. Mickie James (c)

Finish: Two of the best women wrestlers in the entire world met up here in a Backlash rematch, and both women wrestled fiercely in an attempt to secure the title. Victoria was the aggressor in the early going, looking for several power moves, but the ever-intelligent Mickie managed to find counters to some of these moves, taking control of the match. Now, Mickie hammers away at Victoria with punches and forearms, then whips her off the ropes. Victoria rebounds, right into a Lou Thesz press! Mickie then continues the onslaught of fists, with Victoria frantically trying to get her off. Mickie tries to grab her leg for a pin attempt, but Victoria manages to shove her off. Mickie quickly rises to her feet, but Victoria's a little slower, and it costs her, as Mickie is able to land a spinning kick to her midsection! This doubles Victoria over in pain, and Mickie is able to hit the ropes, come back at Victoria, and sunset-flip over her, bringing her down, trapping Victoria's arms for a pin...

1...

2...

Kick out!

Victoria is able to barely get her shoulder off the mat, but Mickie wastes no time in getting back to the offense. She gets up and tries to help Victoria, but the Black Widow repays her by giving her a forearm to the stomache! Victoria then places her shoulder in Mickie's midsection, and drives her across the ring, crashing her into the turnbuckles! Victoria then starts to ram her shoulder repeatedly, knocking the wind out of Mickie, then backs up at the ref's request. Victoria lets up, but grabs Mickie, and whips her across the ring, into the corner! Mickie stumbles out, holding her back from the impact, but inadvertently walks into a kick to the midsection. Victoria sets her up, and hits a powerful vertical suplex. She gets up, looking down at Mickie with anger, then hits the ropes for some added momentum, and hits a jumping elbow drop! She covers Mickie, hooking the leg...

1...

2...

Shoulder up!

Mickie manages to save her Women's Title by kicking out, but Victoria doesn't look pleased at all. She picks Mickie up by the hair, getting some heat from the ref for that, but she pays no mind. She lands a few punches before whipping her off the ropes, but Mickie ducks under the clothesline attempt! She rebounds off the ropes, and again ducks under a clothesline, this time by sliding between Victoria's legs! Mickie springs back up, showing energy, with a kick to the midsection of Victoria! Mickie grabs her in a front facelock, and yells out at the crowd, who pop back. The Sexy Sweetheart then jumps for the Mickie-DT, but Victoria, with a little help from Mickie's jumping momentum, is able to push Mickie off, backdropping her to the mat!

Both women are down, but Victoria is the one that gets up first. She walks over to Mickie, grabbing her by the hair again, and sets her up for another suplex attempt. She tries to lift Mickie up, but the Women's Champion prevents herself from being lifted fully, then tries to hit her own suplex. However, Victoria's also able to fight against the lift, then the Black Widow knees her in the midsection! Victoria then whips her off the ropes, and catches Mickie in a fireman's carry! She holds her for a second, before spinning Mickie, hitting the Spider's Web! Victoria doesn't go for the cover right away, as she stands up, and pretends to kick dust over Mickie, garnering heat from the crowd, but Victoria pays no mind, and nails an impressive standing moonsault! She covers this time, again hooking the leg...

1...

2...

Mickie kicks out!

Victoria's in shock that she wasn't able to pick up win right there, and briefly argues with the ref about the decision. She snarls at him, then gets up, picking Mickie up by her top this time, wisening up about the ref's previous warnings about a disqualification. Victoria then picks her up in a second fireman's carry, and once again tries to hit the Spider's Web, but somehow, Mickie is able to counter, using the throw's momentum to snap off a hurricanrana!

The Women's Champion gets back in the match, and climbs to her feet. Victoria, angered by being caught off-gaurd, rises up and tries to hit a clothesline, but Mickie ducks under it, catches her arm, and hits a neckbreaker! The two women are down, but the fans are lively, chanting for Mickie. The two women start stirring, and a few seconds later, are stumbling at each other, fists ready. Victoria fires off first, but Mickie blocks it, and returns fire. She hits a couple of fists, then a standing dropkick that sends her to the mat. Mickie quickly gets to her feet, while Victoria's a little slower, enabling Mickie to come off the ropes for a second dropkick, this time to the face!

Mickie then springs up, and points up top! She steps through the ropes and climbs up the corner, but Victoria spots her out of the corner of her eye, and makes a mad dash into the corner, wildly swinging, connecting with Mickie's face! Mickie loses her footing on the ropes, allowing Victoria to climb up as well! She hooks Mickie up for a suplex, but as she tries to lift her up, Mickie holds on to the ring rope apparatus, then starts delivering shots to Victoria's midsection. Mickie weakens the Black Widow enough, then pushes her off, with Victoria crashing to the mat! However, Victoria manages to roll onto her stomache, and shortly starts to get back up. This only helps the Women's Champion, as she dives off the top with a big crossbody! Mickie holds the position for a pin...

1...

2...

Kick-out!

Victoria doesn't let up, getting the shoulder up at the last possible moment. Mickie doesn't waste any time in getting to her feet, and waits for Victoria to get to hers. When she does, Mickie pulls her in for a kiss, getting a pop from the crowd, then Mickie looks for the Goodnight Kiss kick! Somehow, Victoria's able to overcome the spell of Mickie's kiss, and duck underneath the kick, but also manages to lift Mickie up in an electric chair position! Before Victoria can take advantage of the move, Mickie spins around on her shoulders, and hits a hurricanrana!

Mickie gets back up quickly, as does Victoria, and Mickie tries a clothesline. However, Victoria ducks underneath, then kicks Mickie in the midsection when she turns around. Victoria grabs her around the waist, and lifts her up onto her shoulder, looking for the Widow's Peak! But in an impressive maneuvor, Mickie is able to free her head, and flips through Victoria's legs, bringing her shoulders down with a sunset flip pin!

1...

2...

Near-fall!

Again, Victoria is able to kick out of Mickie's counter, then climbs to her feet. However, Mickie was ready and waiting, with a kick to the midsection! Mickie grabs ahold of her head in a front facelock again, and yells out to the crowd, now on their feet! Mickie jumps, spins in the air, and plants Victoria right on her head with a thunderous Mickie-DT! Mickie hooks the leg with the cover...

1...

2...

3!

Mickie retains her title!

Winner and Still WWE Women's Champion:
Mickie James
(13:25)

Cole: Mickie James retains the Women's Title and keeps it on RAW!

Coach: As much as I love Mickie, I was really hoping Victoria would bring the title to SmackDown!

Joey: Victoria tried to pull the hat trick by making the Women's Title the third title in a row to change hands here tonight, but couldn't beat Mickie James here tonight!

Tazz: A tough loss for Victoria, but what a match that was! Incredible!

Mickie celebrates her big win over Victoria after a great match. The ref hands her her Women's Title, and she thrusts it into the air as the crowd cheers for her and her win. She poses atop the turnbuckles, proudly holding up the title she fought so hard to retain, and pointing at the crowd who supported her all throughout. She then climbs down, and spots Victoria, picking herself up using the ropes, still in pain after the Mickie-DT. She looks at Mickie with a vengeful stare, and Mickie approaches her carefully. She extends her hand, showing respect for the opponent that took her to the limits. Victoria just looks at her, then down at her hand, and surprisingly, accepts, to a big pop! The two women shake hands, and give each other nods, but the angry look never leaves Victoria's face. Mickie then rolls out of the ring and starts making her way to the back, high-fiving the fans. Despite the pain she's in, Mickie gives them all a big, genuine smile, and waves at the SmackDown! audience at the top of the stage, before turning around and heading to the back.
Heel Turn on James Ellsworth
Join Date: Mar 2009
Location: Toronto, Ontario, Canada
Posts: 2,010
Points: 36
Re: Be the Booker Showcase Thread
---
I had a TNA BTB, but I discontinued it because I did not like how the PPV turned out. Here is a match that I wrote before deciding to stop writing Lockdown. I felt that this match was entertaining. It is Suicide vs A;ex Shelley for the X Division Championship, enjoy!


(Video Package)

-Over 5 weeks ago, Suicide flies to the ring on his zipline and attacks Shelley, but ends up clocked with his X Division Championship
- Shelley cuts promos on how Suicide attacks him after his matches and calls him a coward
- Shelley calls out Suicide, but runs away
- Cornette announces Suicide/Shelley at Lockdown

(Cut to the ring)

*Motor City* hits as Alex Shelley looks a bit nervous. He gulps for a bit and makes his way slowly to the ring.

Mike Tenay: It seems as if Alex Shelley likes to whine and complain about Suicide when he attacks him after his matches.

Don West: Well, that's because Shelley is frustrated and I can't blame him.

*Suicide* plays as the lights go out in the arena. The lights go back on and Suicide attacks Shelley from behind with a running dropkick.

X Division Championship
Suicide © vs Alex Shelley

Recap: Suicide continues to work on Alex Shelley since the opening bell. In a funny moment, Shelley tried to run towards the door, but Suicide grabbed his ankle and Shelley kept on crawling until Suicide lifted his ankle and slammed him into the mat. Shelley gets back up and he receives a headbutt! Then, Suicide takes him down with a Lou Thesz Press, followed with a flurry of punches. Shelley looks defenseless as Suicide is bringing it. He stops after a while and places Shelley on his feet. Suicide whips him towards the ropes. Shelley jumps over him, runs off the opposite set of ropes and CONNECTS WITH A TILT A WHIRL HEAD SCIZZORS TAKEDOWN! He poses to the crowd! Shelley grabs his head and hooks the leg and delivers a swinging fisherman suplex. Shelley runs off the ropes and finishes it off with a senton. He goes for a pin,

1…

2…

Suicide kicked out!

Shelley is not done as he drops to his knees and imitates Suicide by giving him a flurry of punches! Shelley stops and stalks him. He charges, however Suicide kicks him in the midsection. Shelley stumbles and Suicide hits an atomic drop before knocking him down to the canvas with a spinning wheel kick. He makes a quick pin attempt,

1…

2…

Shelley kicks out at 2!

Suicide places Shelley on his feet and delivers a couple of knife-edge chops! It brings out some Woooos from the crowd. Suicide whips Shelley into the ropes and hits him with a running elbow strike as he comes back! Then, he runs at Shelley and drives him into the canvas with a thundering Tornado DDT! Suicide whips him to the corner and Shelley's back collides with the top turnbuckle. He charges towards Shelley, but he walks into a drop-toe hold and Suicide crashes face first onto the bottom turnbuckle! Shelley runs off the ropes and attacks Suicide with a double knee strike in the corner, followed by a standing roll-up,

1…

2…

Suicide rolls into a pin of his own…

1…

2…

Shelley makes another kickout!



Both men get up, trying to get an advantage. Shelley hits Suicide with a couple of shoot kicks. Suicide blocks a third attempt and Shelley responds with a leg feed enziguri. He holds Suicide's arm and locks in the Border City Stretch (Chickenwing over the shoulder crossface). It is short lived, as Suicide crosses with Shelley's front leg and trips him face-first, releasing the hold! Suicide climbs to the top rope, and attempts a leg drop from the top…and Shelley rolls out of the way! He picks up Suicide and drops down with a sitout jawbreaker. Shelley strikes Suicide in the torso with a spinning sole kick! He follows it up by grabbing his head and takes him down with a double knee facebreaker!

1…


2…


Suicide got the shoulder up!

Shelley waits for Suicide to get back on his feet. He tries a LARIAT, but Suicide grabs the arm and counters with an STO! He places Shelley in a sitting position, runs off the ropes, and hits a running front dropkick. He picks up Shelley and delivers a couple of forearm shots to his head. Suicide raises him up in the air and holds him for several seconds, before he crashes into the canvas with a delayed vertical suplex! Suicide poses to the crowd and places Shelley's head between his legs. Suicide attempts the DOA, but Shelley counters into a jackknife pin!

1…


2…


NOOOO….Suicide kicks out of it!

Shelley charges at Suicide and clocks him with a leg lariat. He places Suicide onto the top rope and knocks his head off with a superkick (figure of speech). He wraps his arm around Suicide's head for a superplex attempt, however Suicide blocks it and Shelley places him on his shoulders instead! Then, he HITS THE KRYPTONITE KRUNCH (FIREMAN"S CARRY BELLY TO BACK PILEDRIVER) FROM THE TOP ROPE and covers Suicide,

1…


2…


SUICIDE KICKED OUT AGAIN!

Shelley tries to whip Suicide towards the ropes, but he reverses into a whip of his own. Shelley comes back and slides under his legs! Suicide charges at Shelley, and he moves out of the way and pushes him into the ropes. Suicide comes back AND WALKS INTO A SUPERKICK! While Suicide is stumbling, Shelley scoops him up and drops him on his head with A BRAINBUSTER AND PLACES HIS ARM ON SUICIDE,

1…



2…



Thr….SUICIDE GOT THE SHOULDER UP! WHAT A MATCH!

Shelley grabs Suicide's head and attempts to finish it off with the Slice Bread #2, but SUICIDE PUSHES HIM INTO THE TURNBUCKLE! SHELLEY COMES BACK AND SUICIDE HOOKS THE LEG. HE HITS THE SUICIDE SOLUTION AND FALLS ONTO SHELLEY,

1…



2…


SHELLEY HAS THE FOOT ON THE ROPE!

Suicide places Shelley in a facelock and drives him into the turnbuckle with a running snapmare driver. Then, Shelley stumbles and is placed on Suicide's shoulders. Shelley slides off his shoulders and grabs his head, going for Sliced Bread, but Suicide frees himself! HE HOOKS THE LEG AND HITS A SECOND SUICIDE SOLUTION!

1…




2…


3…..SUICIDE RETAINS!

Winner: Suicide (Still X Division Champion)
Length: 10:06

The lights go out, and Suicide disappears. Shelley sits up and wants to know where Suicide is.
---
"If you don't know who I am, then maybe your best course is to tread lightly."

Re: Be the Booker Showcase Thread
---
For my old BTB!


MATCH 8
Grudge Match
Batista v John Cena
(Last Man Standing)

The match begins with the two competitors staring each other down. John Cena goes to lock up but Batista pushes him away into the ropes. Cena tries again to grapple but Batista doesn't want to and instead he grabs Cena and hits him with some punches to the chest. He backs Cena into the corner and continues striking, and because of the rules the referee can't do anything about it. However, Cena manages to push the Animal away and deliver some right hands of his own. Cena begins to attack Batista with punches himself, but then Batista connects with a haymaker that knocks Cena to his knees. Cena gets up but Batista puts him into a side headlock and wrenches his neck. Cena doesn't allow himself to be worn down though and he spins himself out of the hold. Both men are face to face once again and glaring at each other, with sweat dripping off their foreheads and both panting heavily.

They lock up and Batista gets Cena in another side headlock, before whipping him into the ropes. Cena comes flying back and Batista goes for a clothesline but Cena moves out of the way and keep running. He then rebounds off the opposite ropes and hits Tista with a flying shoulder block. Batista is down and Cena motions for the 5 Knuckle Shuffle but when he runs to the ropes for the move, Batista rolls away and out of the ring, to catch his breath. Cena follows and rolls out of the ring, before walking over to Batista, who is resting on the apron. Cena catches him with a right hand to the jaw and goes to grab him, but then Batista boots Cena in the gut. He grabs the Chain Gang Commander and rams him into the ring apron, making him hold his back in pain. Batista grabs him again and drives him back into the side of the ring once more. Batista pulls Cena away and then pushes him into the apron a final time, and after this third blow, Cena slumps to the floor, holding his back in pain.

The referee begins to count but Cena uses the ring apron to pick himself up off the ground. Cena staggers away from Batista but the Animal follows and whips Cena into the ring post back first, crushing his spine in the process. Batista then picks up Cena and drags him over to the announcing tables. He goes to drive Cena into the table's edge, but Cena connects with a knee to the gut. He then kicks Batista in the stomach before Irish whipping him into the table. Batista hits the announce table front first and his momentum sends him rolling across the table and onto the floor on the other side, making the announcer's scatter from the area. The referee counts,

1...

2...

3...

4...

Cena walks over to Batista and picks him up. He punches him in the gut before throwing him into the barricade behind him. Cena boots Batista in the gut over and over again. The referee pleads with him to stop but Cena refuses and keeps kicking away at Batista, to a very loud mixed reaction from the crowd.

Cena then throws Batista back over the announce table, and he is sent rolling over it, before hitting the floor on the other side of it. Cena gets up onto the announce table and waits for Batista to start getting up. Batista gets to his feet slowly and bends over to catch his breath, and this is when Cena strikes. He jumps for the Diving Fame Asser but Batista instinctively moves, as if he knew the move would be coming. Batista catches his breath as Cena painfully uses the announce table to pull himself back to a standing basis. Batista goes over to Cena and clubs him with a forearm but Cena responds with a punch to the gut. Cena then hits a hard uppercut before climbing onto the announce table. Batista soon follows and the two trade punches on top of the table. Cena eventually gets an upper hand before raking the eyes of Batista to boos from the crowd and lifting him on his shoulders. Cena goes for the FU but Batista struggles his way back down, before nailing Cena with a Spinebuster, taking him through the table.

The table lies broken on the ground with both Batista and Cena lying in its wreckage. The referee begins counting to go with the Last Man Standing rules of the match.

1...

2...

3...

4...

Batista manages to get up and shake off the blow.

5...

6...

Cena begins to move,

7...

Cena starts to get up

8...

9...

John Cena makes it back to his feet and the match continues.

Batista connects with another punch to Cena's jaw and then goes and looks under the ring for a weapon. Batista pulls out a chair and throws it to the side, before searching even further and pulling out a trash can. Batista turns around, having found what he wanted, but then sees John Cena standing up behind him with the steel chair in his hand. Cena whacks Tista across the side of the head with the chair and the Animal falls to the ground. Cena wails on Batista with the chair, hitting him in the back a number of times. The referee counts as Batista is down, 1...2...3...4...5...6... Batista's perseverance allows him to get back up to his feet using the ring apron to pull himself up.

Cena drops the chair and goes over to the trash can that Batista retrieved from under the ring. He takes the lid off and inside the trash can it is revealed that there is a Singapore Cane. Cena picks up the cane and walks back to Batista. He swings it at the Animal but Tista ducks. John tries again to hit him with the cane but this time Batista bats it out of his hand before he can hit him. Batista then suddenly regains all him energy and out of nowhere nails John Cena with a Spear! John Cena rolls around on the ground holding his stomach as Batista picks up the cane. He strikes Cena with it in the stomach and chest and then pulls it across his arm and hits a standing elbow drop to the throat, with the cane choking Cena. Batista picks up Cena and throws him into the ring apron, before rolling him into the ring. Tista then slides the chair, the cane and the trash can into the ring, before going back under the ring to search for more. Batista takes out a spool of barbed wire from under the ring and then pulls out a large table. He slides these into the ring before rolling in himself.

Batista places the table in the corner of the ring and then grabs the spool of barbed wire. He also takes the cane and then wraps the wire around the cane, making it an even more dangerous weapon. Batista takes this dangerous cane and goes to hit Cena with it, but before he does, Cena realises the danger and rolls out of the ring to the outside. Batista follows him with the cane and Cena runs around the outside of the ring, picking up the trash can lid on his way. Cena runs up the ramp with Batista in hot pursuit. Batista runs after Cena up the ramp and onto the stage. Referees come out and state that Cena must remain in the ring area or he loses. Cena turns around and swings the trash can lid at Batista, but it is knocked away by the cane. Batista then strikes Cena in the chest with the barbed wire cane. Cena falls to the ground and Batista scrapes the cane across his back, busting him open. Batista rubs some of Cena's blood onto John's own face and stomps on his fallen body.

Batista takes John and strikes him once more in the back with the cane, before picking him up. Batista gives John the thumbs down and then picks him up. He brings John down with a huge Batista Bomb right onto the stage.

1...

2...

3...

4...

Cena is not stirring,

5...

6...

7...

Cena begins to move his body,

8...

Cena crawls up to his knees,

9...

Cena manages to get to his feet and avoid losing.

Batista takes Cena and Irish whips him down the ramp, but Cena has lost so much energy and just collapses half way down to the ring. Batista picks up the trash can lid and walks over to Cena. He slams the lid onto Cena and then picks him up, hitting him with a powerslam right onto the lid. Batista then takes Cena and puts him in a sleeper hold. In the submission, he drags John all the way back to the ring. He eventually releases the hold and rolls Cena into the ring. Batista then goes back up the ramp to grab the cane and throws it into the ring.

Batista slides into the ring himself and immediately picks up the steel chair upon entry he hits Cena a few times with the steel chair and then places it on the ground. He puts Cena on the chair and stomps on him, before hitting a knee drop. Batista then picks Cena up and lifts him onto his shoulders in position for the Batista Bomb, but Cena falls forward and drops back a bit, hitting a falling Lou Thesz press on Batista. Cena struggles with the ropes to get to his feet but Batista is fresher and in already up. Tista takes the steel chair again and quickly whacks Cena across the face with it, sending him slumping back down to the canvas, with his face busted open. Batista grabs the spool of barbed wire and uses the last of it by wrapping it around the table set up in the corner, so that anyone who goes through it experiences even more pain. Cena uses the ropes to get himself up but then Batista nails him with a big boot, before dragging him to the corner and placing him against the table.

Batista runs at Cena from the opposite corner and goes for a Spear, but at the last second Cena falls to the side and Batista flies head first through the barbed wire table, breaking it in half and leaving Tista busted open at the skull. Batista rolls around in pain and neither man is moving after a while.

1...

2...

3...

4...

5...

6...

Cena begins to move and crawl,

7...

8...

Cena uses the ropes to get to his feet as Batista begins to stir as well.

9...

...

Batista finally gets to his feet just as the word 'ten' is coming out of the referee's mouth.

Cena takes Batista and kicks him in the gut. He lifts him up for the FU, but Batista floats over and gets back to his feet. He lifts Cena up for the Batista Bomb, but Cena moves his feet away and grabs Batista's head, before coming down in position for the STFU. Cena has the submission locked in and Batista taps, though it is of no use in this type of match. Cena keeps the hold applied for a long time and Batista looks to almost be completely out. However, Cena then grabs the cane from next to him on the mat and slips it under Batista chin, applying the STFU with the barbed wire cane, increasing the pain by a huge amount. After some more suffering, Cena eventually breaks the hold and Batista looks to almost be out cold. Cen picks him up onto his shoulders, and in one last burst of energy, he puts all of his passion into a huge FU that sends Batista right through the trash can!

1...

2...

3...

4...

5...

John gets to his feet and looks over Batista's fallen body,

6...

7...

8...

Batista begins to move slightly, and he realises the drastic-ness of the situation,

9...

Batista begins to crawl and manages to get to his knees,

...

Batista falls back through exhaustion and realises he has no energy left whatsoever,

...10!

John Cena wins and is the Last Man Standing in this epic feud. Cena's music plays and he stands over Batista, with both men bleeding and barely alive. Cena pulls Batista to his feet and Tista nods to Cena, before extending his hand. Cena shakes it as the crowd cheers and the match comes to a close.

WINNER- John Cena by PINFALL in 21:21

Re: BTB Advertisement Thread
---
Here is a Main Event contest I wrote for my Backlash pay-per-view a few months back. The thread never got off the ground, but I was sort of proud of this match.


WWE Championship Match – Fatal Fourway
Triple H(c) vs. Randy Orton vs. Mark Henry vs. Batista

All four men stand in respective corners of the ring, staring one another down. Batista then paces to the middle of the ring, assuming an athletic position. Orton darts in but changes his mind, just before Henry bull rushes The Animal. Henry drives Batista back to his corner, as Triple H and Orton begin to trade right hands in the middle of the ring. Triple H blocks a right hand from Orton drives him back to the ropes as Batista reverses Henry in the corner and begins to nail some big rights. Triple H connects with a big shoulder knockdown as Batista attempts to whip Henry across the ring. Henry reverses, sending The Animal instead. Henry charges, but Batista connects with a vicious elbow. Henry staggers backwards, where Triple H is waiting with a big series of right hands. Triple H tries to whip Henry into the corner, but Henry reverses, sending Triple H instead. The champion crashes off the turnbuckle and lands on the canvas. Batista meets Henry with a big right hand and the two giants trade punches yet again. Orton turns his attention to Triple H, stomping away at him. Henry connects with a thumb to the eyes of Batista before whipping him from the ring. Henry then throws Orton away from Triple H before stomping away at the champion himself. Orton rushes back at Henry, and the two trade right hands in the middle of the ring. Henry gets the advantage, sending Orton off the ropes before connecting with a vicious clothesline. Triple H gets back to his feet, and Henry whips him across the ring into the corner. The World's Strongest Man charges, connecting with a splash that staggers The Game. Henry then lifts Triple H into the air, but Triple H lands on his feet behind Henry, avoiding a slam attempt. Triple H fights back with big rights before running to the ropes. Unfortunately, Henry refuses to budge when The Game connects with a clothesline. Triple H bounces off the ropes again, and Henry scores with a shot of his own, knocking The Game back to the canvas. Henry turns his attention to Randy Orton, pulling him from the corner and sending him thundering across the ring. Orton hits the opposite turnbuckle with a sickening thud, crashing to the canvas. Henry pursues Orton with some stomps, but the Legend Killer rolls to the outside to avoid Henry. Henry turns as Batista reenters the ring, poised for a fight. Batista and Henry trade right hands, and Batista runs for the ropes. He connects with a clothesline that staggers Henry, Batista bounces off the ropes again, and this time he takes Henry down with a big clothesline. Triple H reaches his feet, as he and Batista make eye contact. They lift Henry and team to whip him from one turnbuckle to another. Henry crashes to the canvas with tremendous force, overwhelmed by the combined effort of Triple H and Batista. For now, Batista and Triple H work together. Batista lifts Henry to his feet, connecting with hard right hands in the corner. Triple H hits some shots, before Batista charges, connecting with a clothesline in the corner. Henry staggers, and Triple H bounces off the ropes, connecting with a chop block that takes the giant down. Batista and Triple H then team to lift Henry to his feet before whipping him out of the ring. Triple H and Batista are the only ones left in the ring at this stage, and they begin to stare each other down. They get in each other's face, neither man showing any sign of backing down. Triple H then connects with a right and Batista returns in kind. They trade right hands until Batista gets the advantage and sends The Game off the ropes. Triple H ducks a clothesline from Batista before bouncing off the ropes again. Both men connect with shoulders and both fall to the ground. Orton reenters the battle at this stage and begins to stomp away at a downed Triple H. The Game rolls to the corner but Orton continues to nail him with stomps and a series of blasts to the face and head. Orton turns his attention to Batista, connecting with a stomp to the knee before taking Batista down and stomping away at his legs. Batista powers Orton away, but the Legend Killer gets back on Batista as The Animal tries to use the ropes to rise. Orton charges and takes himself and Batista over the ropes with a clothesline attempt. Orton pulls Batista to his feet, bashing his head off the ring post. Back in the ring, Mark Henry enters, and he and Triple H begin to exchange right hands. Orton tries to send Batista into the steel steps, but Batista reverses and sends Orton for the ride instead. Batista then lifts Orton to his feet, giving him a hotshot over the guard railing. Back in the ring, Henry is nailing Triple H with right hands in the corner. The Game connects with a thumb to the eyes before bouncing off the ropes. Triple H connects with a chop block that takes Henry down. Batista joins the action, driving The Game away from Henry before whipping him to the corner. Triple H crashes off the turnbuckle with tremendous velocity, staggering across the ring. Batista lifts him into the air, dropping him with a Military Press Slam. Batista turns, only to be drilled by a big clothesline from Henry. This time, Henry lifts Batista into the air, giving him a Military Press Slam from the ring. Batista hits the ground hard, and Henry heads to the outside after him. Henry lifts Batista to his feet, hitting some big right hands. Batista fights back, but Henry gets the advantage, sending him into another set of steel steps. Back in the ring, Orton begins to stomp away at a fallen Triple H in the corner. Henry lifts Batista into a Bearhug like position before ramming his back into the ring post. Henry does this a second time, before allowing Batista to slump to the ground. Back in the ring, Orton is working on a downed Triple H with a painful rear-chinlock. Henry lifts the set of steel steps, throwing them over the top rope and into the ring. Orton sees this and desperately gets to his feet. Orton meets Henry who has reentered the ring, and begins reasoning with him, pointing to Triple H. Henry has none of it, knocking Orton down with a big right hand before lifting him to his feet. Henry sends Orton off the ropes before connecting with a big Back Body Drop. Henry then lifts the upper portion of steel steps with him in the ring, poised to use them. Triple H is the first to rise, and Henry throws the steps at the champion. Triple H is knocked from the ring by the impact. Henry then turns his attention to Orton. Henry lifts the steps again, throwing them at the Legend Killer as he rises. Orton is sent crashing to the canvas. Henry stalks Orton, the steps in hand. Like a man possessed, Henry slowly watches as Orton rises yet again. Henry charges with the steel steps, using them as a weapon to ram Orton. The Legend Killer falls to the ground, as Henry throws the steel steps from the ring. He then lifts Orton, delivering a Guerilla Press Slam that sends Orton from the ring. Mark Henry stands alone in the ring, his opponents wounded on the outside at his hands. At this point, The World's Strongest Man seems unstoppable. Henry taunts his enemies before choosing which one to pursue. He chooses Batista, and heads to the outside after The Animal. Batista unloads with some right hands, and Henry fights back. Henry clasps Batista around the waist, once again ramming him into the ring post. This proves effective yet again. Henry lifts Batista by both legs, draping The Animal over his right shoulder before throwing him forcefully against the ring post. Batista slumps to the ground, and Henry rolls him back into the ring. Henry begins to choke Batista in the corner with his boot, slowly draining the life from him. Henry ends his attack before lifting Batista to his feet yet again. Henry expertly drags Batista to the center of the ring, lifting The Animal into the air. Henry connects with a big Delayed Vertical Suplex. Henry rolls Batista over, before attempting the first cover of the match.

1!
2!

The Animal drapes a leg over the ropes, ending the count. Henry is furious upon realizing this. Triple H then begins to pull Henry out of the ring by his legs. Henry resists, but The Game manages to pull him out after a brief struggle. Triple H and Henry trade right hands, before Triple H goes downstairs with a shot to the gut. He then plants Henry on the outside with a tremendous DDT. Triple H slowly rolls back into the ring, as The Legend Killer does the same. Batista begins to rise, as all three former members of Evolution stare one another down. Triple H and Orton begin to exchange right hands, as Batista rests in the corner. Triple H gets the advantage before sending Orton off the ropes. He tries a big right that Orton ducks before bouncing off the ropes yet again. Orton ducks a clothesline from The Game before leaping to deliver a big dropkick that sends him to the canvas. Orton then clasps Triple H's throat, choking him temporarily, before turning his attention to Batista in the corner. Orton hits some thunderous right hands before attempting to send Batista across the ring, but the Animal reverses, sending Orton instead. Batista charges, but Orton gets a boot up. Batista is staggered, and Orton takes advantage by drilling him with a big dropkick. Orton turns to Henry, who has now staggered back up on the ring apron. Orton heads in his direction, pulling Henry's head through the ropes before executing his special Implant DDT. Orton then turns his attention to the WWE Champion. Orton mounts Triple H in the corner, connecting with a big series of right hands. Orton nails Triple H with ten consecutive blows before turning his attention elsewhere. Triple H sinks to the canvas, as Orton lifts Henry to his feet. Orton blasts The World's Strongest Man with a straight European Uppercut before connecting with an Inverted Headlock Backbreaker. Orton covers Henry.

1!
2!

Batista dives atop Orton to break up the count, and the Legend Killer quickly regains his vertical base. Orton and Batista trade big right hands before Batista gets the advantage. He sends Orton off the ropes before bending for a Back Body Drop. Orton if lifted, but the Legend Killer lands on his feet. Orton kicks Batista in the knees before nailing an Inverted Headlock Backbreaker on him as well. Orton once again attempts a cover.

1!
2!

Batista is able to kick out, and Orton seems frustrated. He angrily works on the arm of Batista, wrenching it twice before going downstairs with a nasty stomp to the knee. With Batista on one knee, Orton now applies a chinlock. Triple H gets to his feet, and charges forward, knocking Orton to the ground. Triple H mounts Orton, firing away with a big series of straight right hands. Triple H then targets Batista, waiting for The Animal to rise. Triple H connects with a Neckbreaker on Batista. Triple H pulls Orton to his feet, sending him off the ropes. Triple H tries a clothesline but Orton ducks the attempt. Orton bounces off the ropes again, and Triple H goes downstairs with a kick to the gut. Orton staggers and Triple H bounces off the ropes, using momentum to deliver a huge uppercut to the jaw. Batista rises, and Triple H goes downstairs with another shot to the gut. Triple H gives Batista a big suplex. The Game seems fired up, bouncing off the ropes and dropping a knee in Batista's face. He then bounces off the ropes again, giving Orton the same treatment. Triple H then turns his attention to Mark Henry, dishing out some big right hands in the corner. Triple H then charges Henry, hitting a big elbow in the corner. The World's Strongest Man staggers forward, and Triple H takes him down from behind with a nasty chop block. Triple H fires several stomps and right hands at Henry's leg, attempting to further weaken the body part. Triple H then pulls Orton to his feet, before whipping The Legend Killer into the corner. Triple H hits a big series of right hands, before Orton slumps to the ground. Triple H then turns his attention to a rising Henry, nailing him with a big stomp to the face. Triple H then attempts to whip Henry into the corner where Orton is seated, but Henry reverses and sends The Game there. Orton rolls around the canvas in pain while Triple H falls to one knee. Henry returns the stomp to the face The Game dished out earlier, but he seems hard pressed to stand. Henry does not realize Batista is behind him, and The Animal takes Henry down with a big right hand. Batista then lifts Henry to his feet, hitting another series of rights before sending Henry off the ropes. Batista bends, sending Henry into the air with a massive Back Body Drop. To make matters worse, Henry lands directly on top of Randy Orton. Batista falls to the ground, clutching his back, while Henry and Orton roll around the canvas. Triple H is also down. With all four superstars down, it appears no man is in position to emerge as champion. Triple H attempts to stand, steadying himself in the corner. He charges forward, stomping Henry in the face and chest. He then turns his attention to Orton, stomping away at him as well. Batista gets to his feet, as he and The Game trade right hands. This time, the punches are slow and methodical, with each man winding back to deliver the maximum amount of impact. Batista gets the advantage, and The Game teeters very close to the ropes. Batista charges, but Triple H is ready. The Cerebral Assassin uses Batista's own momentum against him, hurling Batista over the top rope to the outside of the ring. Batista hits the ground with a sickening thud. Triple H then begins to nail Mark Henry with straight right hands. With Orton rolled to the outside, Triple H tries to send Henry off the ropes, but The World's Strongest Man reverses. Triple H is ready, and connects with a Facebuster upon bouncing from the ropes. Triple H then runs for the ropes himself, taking Henry down with a huge clothesline. The Game falls to the mat, applying a headlock on the World's Strongest Man – trying to force the air from his body. There is a long struggle, and Henry appears on the verge of giving up, but he never does so. The World's Strongest man shows impressive resilience, slowly but surely rising to one knee. Triple H keeps up the pressure, but Henry begins to connect with some vicious elbows. Triple H runs for the ropes, realizing he cannot sustain the hold. This time, it is Henry who connects with an elbow to the face. Triple H falls to the ground, as Henry stands over him. Henry runs for the ropes himself, dropping all of his weight on to Triple H with a massive splash. He hooks the leg, believing he has won the WWE Championship.

1!
2!

The Cerebral Assassin kicks out. Henry cannot believe it. He argues with the official, but the referee insists the count was only a long two. Henry is frustrated, and spots Randy Orton climbing back on the ring apron. Henry knocks him off yet again with a hard right hand. Orton falls to the outside, and Henry follows. Henry finds the set of steel steps he used so effectively earlier, this time positioning them on the base of the entrance ramp closest to the ring. Henry then scoops Orton into the air, before dropping him on the steel steps. Orton writhes in pain, as Henry lifts him again. This time, Henry holds Orton in front of him, before delivering a deadly Fall Away Slam that sends Orton crashing into the steps yet again. Henry seems pleased with himself as he heads around the ring where a fallen Batista is beginning to rise. The two big men trade right hands on the outside, as Batista seems determined not to go quietly. He staggers Henry, and then bashes his head off the announce table. Batista then rams Henry's head into the steel ring post. Batista goes downstairs with a kick to the gut and attempts to suplex Henry, but the World's Strongest Man refuses to budge. Suddenly, Triple H joins the effort. He and Batista make eye contact once more, and they team to nail Henry with a suplex on the outside. Henry writhes in pain, as Triple H commands Batista to roll the big man back into the ring. The Animal does so, as a watching Triple H clutches his back. Both men reenter the ring, and begin to stalk a downed Henry. The World's Strongest Man rises, and Triple H bounces off the ropes, nailing Henry with a big clothesline that takes him down. Triple H looks at Batista, smiling and commenting on his hard shot. Batista returns a sly grin, before assuming an athletic position. As Henry rises, Batista is the one who bounces off the ropes. He then nails Henry with a hard shot of his own, taking the giant down. Triple H and Batista continue to exchange words, in an obvious contest at the expense of Henry. Triple H allows Henry to rise, before lifting instructing Batista to watch him. Triple H shows amazing strength, scooping Henry into the air before dropping him with a Body Slam. Batista seems impressed, but insists he can do one better. He allows the fallen Henry to stagger to his feet, before lifting the giant into position. Batista hits a Gutbuster, driving his knee into Henry's gut, causing the World's Strongest Man to writhe in pain. Triple H and Batista have their eyes on Henry when they see a desperate Randy Orton rolling back into the ring. Orton realizes he has walked into a bad situation when he observes the fact Triple H and Batista are both staring downward at him. Orton pleads his case but it's no use. Triple H and Batista begin to stomp away at him, mercilessly nailing him in the corner with several vile shots. They then lift him to his feet. Triple H goes downstairs with a kick to the midsection before whipping Orton into an opposite turnbuckle. Batista charges, connecting with a clothesline. As Orton staggers forward, he walks directly into a running knee from Triple H. Orton rolls to the ground, as Batista seems coiled and ready to strike. Triple H lifts Henry to his feet, sending the monster outside of the ring as Batista continues to have his sights set on Orton. As Orton, he tries to stagger forward, throwing a right hand. Batista blocks the shot before connecting with a big Spinebuster. Triple H seems very impressed, grinning at Batista. However, The Game then lifts Orton, whipping him off the ropes. This time, it is The Game that connects with a huge Leviathan Spinebuster. Orton writhes in pain, his back having absorbed so much punishment at the hands of Henry and the steel steps, and the double-team from Triple H and Batista. Triple H casts his eye towards the string of broadcast tables on the outside, and the duo of Batista and Triple H waste little time hurling Orton towards the outside. They follow, and command the Spanish broadcast team to get out of the way. Batista clears the table, as Triple H readies Orton. Batista and Triple H join together in a final act of teamwork, lifting Orton into the air and crashing him through the Spanish announce table with a tremendous double-suplex. Orton merely rolls to his back with the table split beneath him. His eyes are closed, and a small trickle of blood emerges from his mouth. Batista and Triple H get to their feet, and the WWE Champion rolls into the ring as Batista continues to watch Orton. Batista turns to see The Cerebral Assassin, standing in the ring, motioning for The Animal to enter. "It's you and me, now," Triple H says. Batista smiles, commenting, "I know." Batista rolls into the ring, as he and The Game stare one another down yet again. Suddenly, Triple H is blindsided by Mark Henry. Henry then begins to nail Batista with some hard shots in the corner. Henry gets a head of steam before nailing Batista with a clothesline. Henry then whips Batista to an opposite corner, charging to deliver another hard clothesline. Henry lifts Batista into the air as The Animal staggers forward, dropping him with a big Sidewalk Slam. Henry attempts a cover, certain he has won.

1!
2!

Batista barely is able to get a shoulder up, and Henry seems furious about it. He angrily lifts Batista to his feet, connecting with some huge uppercuts in the corner that cause The Animal to slump to the ground. Henry then lifts Triple H into the air, sending him to the ground with a big Body Slam. Henry lifts Batista to his feet before whipping The Animal off the ropes. Henry connects with a big Tilt-O-Whirl Falling Slam that rocks Batista. The World's Strongest Man beats his chest in triumph, pacing around the ring. He looks on at his two fallen foes, before angrily lifting Triple H to his feet. Henry nails Triple H with a big Belly to Belly Throw, before kicking The Game out of the ring. The WWE Champion falls to the outside, as Henry turns his attention to the fallen Animal. Suddenly, Henry seems to have a change of plans. He goes to the outside himself, retrieving a steel chair from around the ringside area. Henry bashes the chair against his own skull in frustration. He heads back into the ring, and watches as Batista reaches his feet. Henry swings with everything he has, smashing Batista in the skull with the steel chair. Henry then begins to swing again and again, nailing Batista in the back with the weapon. Henry nails Batista with the steel chair seven times. Henry triumphantly parades around the ring, showcasing the dented chair. He then angrily tosses the chair into the crowd. Batista is unable to stand, and Henry watches as a dazed Triple H crawls back into the ring. Henry kicks The Game in the head, causing the WWE Champion to fall towards the mat. Henry then heads to the outside again, methodically looking to destroy his opponents. Henry gets another steel chair, patiently heading back into the ring with the weapon. Triple H barely manages to stand as Henry enters the ring, The World's Strongest Man charges, but Triple H avoids the blow before connecting with a vile stomp to the gut. Triple H hooks Henry's arms as the giant drops his second chair. Triple H is about to pull the trigger on the Pedigree, but Henry powers out, dropping The Game with a big Back Body Drop. Henry retrieves his steel chair, aware that nothing can stop him now. He slowly waits for The Game to rise, stalking the WWE Champion in an effort to deliver a final blow. Henry then swings, nailing Triple H with the steel weapon. Henry crashes the chair a second time over a fallen Triple H's skull, before throwing it too into the crowd. Henry then lifts The Game into the air, ready to end the contest now. In the center of the ring, Henry pulls the trigger, delivering The World's Strongest Slam to a battered WWE Champion. Henry makes the cover.

1!
2!

At the last possible moment, a valiant Batista somehow manages to break up the count. Henry cannot believe it, and he angrily argues with the referee. Henry backs the official into a corner, furious at the "slow" count. While this is going on, Triple H rolls out of the ring. Batista slowly begins to rise, as Henry's discussion with the referee continues. Across the ring, Batista anchors himself with the ropes, preparing himself for the battle he knows is to come. When Henry turns, he is met with a right hand from Batista. The Animal staggers Henry, who quickly responds with another big right hand. Batista is staggered, and he bounces off the ropes to deliver another shot. Henry soon fires another big blow, and again Batista staggers backwards. The Animal bounces off the ropes again, but this time Henry blocks his shot. Henry connects with a sickening headbutt Batista staggering backwards into the ropes. Henry whips The Animal across the ring, connecting with a huge Powerslam. He reaches his feet again, beating his chest and parading around the ring as if the match was already finished. Henry waits for Batista to rise, before lifting him into position. As Henry prepares to pull the trigger for the World's Strongest Slam, The Game reenters the equation, his sledgehammer in hand. Triple H nails Henry with a low blow using the sledgehammer, and The Game watches as Henry staggers backwards and crumples to the ground. With Batista down in the corner, Triple H rips Henry from the canvas, positioning him for the Pedigree. Triple H pulls the trigger, delivering a thunderous Pedigree, and desperately hooks a leg as the official scrambles into position.

1!
2!
3!

Winner: Triple H(c) (22:49)
---
Greater love hath no man than this, that a man lay down his life for his friend. - John 15:13
Re: Be the Booker Showcase Thread
---
These two matches, I wrote for an older BTB, I feel these two were the two best I have ever written (single's normal matches)





Main Event Match
Samoa Joe © vs. Dave Batista
SWF Championship match

*Bell rings*


Dave Batista and Samoa Joe each respectively circle the ring a few times trying to get behind their opponent and trying to psyche each other out. After three full turns of the ring; Batista and Samoa Joe stand in opposite ends of the ring each against the corner. Batista then tries to get in the head of his opponent and to make him feel fear; Batista flexes his muscles and stands in his corner taunting. Samoa Joe smiles as he does the same cracking his knuckles and getting ready for action as the crowd are heavily behind him. When Samoa Joe and Batista walk up to each other in the middle of the ring and meet half way; Batista and Samoa Joe stare at each other and then Batista throws a right hand out of nowhere and then a second but before a third could have been hit Samoa Joe retaliates with a few shots of his own and now it is one shot each; back and forth in the middle of the ring. Both men are giving it their all and the first one who blinks is going to be the loser as neither man seems to be budging in this slug fest. Samoa Joe has had enough of all of this and goes to kick Batista in the gut; Batista grabs the leg of Samoa Joe and shakes his head in disgust as Samoa Joe hops around on one leg. Batista smiled as he slammed Samoa Joe's leg back down to the mat and then swings his left arm back and then hits a hard clothesline taking Samoa Joe down.


Dave Batista had Joe on the mat momentarily and stood next to him; He then put his left arm out flexed it and showed his biceps as he then dropped the elbow and the huge tree trunk of a left arm into Samoa Joe's chest as the referee came down for the pin fall. Samoa Joe though had kicked out at one and a little bit barely even beginning to come down for the second count. Batista then stood up but not before grabbing Samoa Joe by his head and taking him to his feet with him. Dave Batista had Samoa Joe leaning forward as he was in the palm of his hands and as Samoa Joe stood there on spaghetti legs all groggy and weary. Dave Batista backed at the ropes and ran at him; though it was apparent that Samoa Joe was playing possum when Batista was caught and then hit with a hard Samoan Drop into the side of the ring sending Dave Batista near the ropes. Though Dave Batista was no easy man to lift up over and onto his shoulders as Samoa Joe instantly felt pain in the lower back and went down to one knee. When Samoa Joe stood back up onto his feet he grabbed Dave Batista by the head and then takes him over to the middle of the ring much like Batista did to Samoa Joe just seconds ago. Samoa Joe holds Dave Batista's head and goes to do something but long before he could Dave Batista beat him to the blow and was able to give him a hard knee shot to the mid section near the ribs; that brought Samoa Joe down to his knees as Dave Batista began clubbing him in the back with closed fists multiple times. Samoa Joe then stands up straight and looks at Batista right in the eyes man to man with a pissed off look on his face.

Batista pushes him back but Samoa Joe just smiles as he looks at the mat; Batista runs at him going to big boot him down with his right foot in the air ready for contact with Samoa Joe. But Samoa Joe ducks underneath it and from behind Batista grabs him and hits a back body drop in the middle of the ring. Samoa Joe then runs at the ropes behind him and drops a hard knee to the face on Batista adding insult to injury. When Samoa Joe comes back up to his feet; Samoa Joe grabs both of Batista's legs while his back is on the mat and tries to turn him over for a possible Boston Crab submission hold. Batista though counters it with his animalistic like strength and overpowers Samoa Joe; he uses both legs to push Samoa Joe back at the turnbuckles in the corner of the ring. Batista soon after raced up to his feet and ran at Samoa Joe at the turnbuckles and goes to sandwich him in them and hit a devastating clothesline on his opponent. Samoa Joe had the wherewithal in the last moment to move out of the way and get out of dodge; Batista was then in the corner of the ring and then Samoa Joe, begun pummeling him with hard continuous rights and lefts. Samoa Joe then placed Batista once he was groggy up onto the second rope and then moved up to the second turnbuckle himself soon after. Samoa Joe hit a few hard head butt stops onto Batista to make sure he was down and out for now before lifting him up onto his shoulders for a giant Muscle Buster! It took lots of strain but Batista was on Samoa Joe's shoulders and Samoa Joe hoisted him up and took him over to the center of the ring.

Batista was visibly seen moving his legs about in the air trying to release himself from the grasp of Samoa Joe but he could not and moments later Samoa Joe dropped Batista down onto the mat with a hard ring shattering Muscle Buster. Samoa Joe smiled as he then hooked both legs for the pin fall as he believes he has this matchup won. 1………………...2…….. But Batista was able to muster up enough energy to kick out. Samoa Joe sat up and could not believe it. Samoa Joe though had to believe it and do something fast before Batista was able to gain any momentum and he knew that; Samoa Joe saw that Batista was slowly getting into the pushup position as Samoa Joe stood up on his two feet and ran at the ropes in the direction of Batista on the rebound. When Samoa Joe came running back Batista pounced on his opponent, the current champion and hit a devastating earth shattering Spear and took Samoa Joe by surprise as he went flying inside and out. Dave Batista then took a few more moments to stand up onto his feet with the aid of the ring ropes for leverage and moved up to Samoa Joe who was staggering on one knee. He grabbed him by the tights and pulled him in between his legs before shaking the ropes and giving the thumbs down to the Champion signaling the Batista Bomb and signaling the end of this matchup.

Samoa Joe then was lifted up onto Batista's shoulders; it took a few seconds for Batista to gain his balance back again as Samoa Joe's weight distribution took him off guard and Batista wobbled back a few steps trying to hold onto him and not let go. But Batista took a deep breath and with all of his power he slammed Samoa Joe down to the mat with a thunderous Batista Bomb. That could have even been heard up in the rafters up in the top of the crowd in the 'Nose bleed' area. Samoa Joe was seemingly knocked out and Batista had a huge smile on his face as he thinks he is the new champion in the making. Batista crawled on top of Samoa Joe slowly and covered him for the pin fall just lying on top of him not hooking either leg; which could have been his downfall as at the count of two and a half Samoa Joe grabbed both arms of his opponent wrapped his legs around the neck and chin area of Batista and amazingly got him into a Triangle Choke hold. It didn't take long for Batista to tap out.


Winner and still SWF Champion
Samoa Joe!

---

Be awesome for comments
---
Last edited by That Guy; 10-04-2009 at

02:53 AM

.
Re: Be the Booker Showcase Thread
---
You wanna talk potential? This, peeps, is potential. Szumi's always going on about Jushin Liger. Well, my man, how's this? This is a year old, and it's an incomplete match, just 6 minutes long, and I've no real plans to finish it, but here it is. Kenta Kobashi Vs. Sting.

Icon versus Icon Match
Kenta Kobashi Vs. Sting
The Clash of the Dragons begins; once the bell has sounded, a mystique surrounds the four corners of the squared circle, a sense of importance and grandeur. The Dragon of the East, Kobashi, finds himself in a foreign circumstance, one of unimaginable implication. The Dragon of the West, Sting, gazes upon his storied contemporary; from his eyes, you can see the engagements of yore culminating in this one historic encounter. The pride in their souls compel neither man to make a move; like sentinels, they merely stand in place, awaiting the other to cross the thresholds into the precipice. In order to properly begin the epic match, the Los Angeles fans begin chanting, "Sting! Sting," as if in a feeble effort to egg him on. The fans' seemingly unending plethora of chants clearly overwhelms him, as he gazes into the arena, his eyes searing with humble passion. Finally, after some strong persuasion, Sting steps forward onto the middle of the ring. This titan step causes a chain reaction, and as it were, it's an infectious one, as Kobashi himself is compelled to move forward like his opposite. The clamoring begins, and as such, the Dragons glare into each other's eyes, the rapturous fire in their souls burning, just itching to surpass one another.

Nonetheless, regardless of the circumstance, one of the Dragons, Sting, poises himself in a relaxed manner and extends his hand in a show of pre-match respect. Kobashi switches glances from Sting's hand to his eyes, and in this one moment, he senses the goodness in his intent. The Eastern Dragon, in a gesture of compliance, closes his eyes, and lowers his head, bowing before his enemy. Subsequently, Kobashi opens his eyes once more and reaches for Sting's hand, clasping and shaking it prominently. The Dragons nod to one another in accordance before departing to their respective side of the ring. Turning their backs against each other, as if on cue, their necks jerk to the side and their eyes, like stars chained to destiny's mercy, cross each other's glances and for a brief second or two, a moment of silence precedes uncertainty as the dragons begin to pace the ring, focused and prepared. Encircling each other, the time has come for action; as Kobashi slaps his shoulders, he contracts his eyes and reaches out for his rival, but Sting eludes his touch and attempts a grapple of his own. It's to no avail, however, as Kobashi swiftly outmaneuvers him and wraps his arms around Sting's torso, rendering him docile for the time being.

The Icon struggles as Kobashi keeps him centered and cemented in one irregular position, his arm pulled high; the pain comes full circle as Kobashi applies a measure of pressure, his half-nelson submission maneuver proving a fortified offense. The Eastern Dragon, focused and determined, pulls further on the right arm, raises his rival upwards, and subsequently releases him, propelling him into the air with a vicious Half Nelson suplex! The Stinger lands on his head; his dazed expression preceding a thump onto the canvas. The fans "Ooo," as he's laid out upon the mat; Kobashi rubs his nose and slaps his shoulder, repositioning the bones in order. His intense disposition forces Sting's hand, as the former WCW Champion grabs a hold of the ropes and uses it as leverage, his determination unabated by a mere crash onto the canvas. After taking a deep breath, he rests upon the ropes and glances over at Kobashi's position, envious of this stalwart of whom seems to presage his every maneuver. The Stinger glares into Kobashi's eyes, and as the japanese icon crouches in preparation, he hints a smile and proceeds to provoke his western contemporary, slapping his shoulders and gesturing, "Come on," to the California native.

The fans boo as Kobashi continues until the scorpion bites back, his resolve unshaken by Kobashi's feeble provocation. The dragons tussle in a grapple, a collar-and-elbow tie up. The fans' unbridled allegiance for Sting pulls through in the form of cheers for his every triumph in this spectacle of strength. It degenerates into fisticuffs soon enough, and once Kobashi strikes the favored legend, a "Booo," accompanies it. When Sting strikes him, though, it's a loud "Yeah!" The phrases go back and forth, and the fans are unable to keep it together long enough for them to become a garbled mess. Once the final strike ends on the part of the former WCW Champion's, Kobashi retaliates with a rigid discus chop; "Boos" pour from the stands in the audience. Of course, he's a foreigner, it's bound to occur. Nevertheless, he follows up, a precise backhand chop creates a red mark on Sting's pecs. The fans boo once more as the scorpion falls back into disarray, stumbling into the ropes. Kobashi proceeds, but he's hindered by a rather impotent kick to the face from Sting. The Stinger takes a brief breather, buying himself some time before going back on the offensive, nailing Kobashi with another kick, this time to the midsection. The japanese dragon fumbles, and the scorpion begins domination; he grabs a hold of Kobashi's head, and hastily plummets, nailing him with a Snap DDT! The eastern dragon crashes face-first onto the canvas, enabling Sting to take advantage and go for the pin!

1 .......................................... 2 ........................................... NO!

Kobashi's shoulder goes up, and our epic match continues. The Stinger raises himself off of Kobashi and grabs him by the hair, though the eastern dragon has other plans; once the scorpion has him in his poisonous grasp, a sleeper, Kobashi immediately coerces him into the ropes and urges him through force to the opposite side of the ring. Upon return, Sting uses his momentum and attempts a clothesline, but Kobashi ducks, eluding him, and upon Sting's turnaround, a shoulder block knocks him off his feet. Kobashi's stoic demeanor precedes a calm moment as he waits for his opponent to return to form, and indeed he does; upon landing on the ring mat, Sting makes a steadfast recovery and regains footing, much to the indifference of Kobashi. The Stinger's gaze pierces through him, like a snake, and he catches him off guard, striking him with a right hand. Once the eastern dragon staggers, the scorpion's poisonous touch turns into a fucking hellacious backhand chop, one I'm deeming, The Chop heard 'round the World! The fans bellow a loud "Woooo!" once the chop lands on Kobashi's exposed chest; the irritation causes him to lose balance, the anguish too much to bear. Oh, that's what I want you to think. This man, his tactics of making the enemy believe in their supposed superiority, falls through and as his enemy proceeds to wooo the crowd, quite literally, Kobashi recoils and goes one for one, landing a particularly nasty kesagiri chop across the side of the Stinger's head!

The fans boo as their favored icon loses a measure of face upon being struck in the neck; although the damage is as clear as day, Kobashi, on the other hand, continues on, allowing no time for rest. He succeeds his prior chop with another, this time on the head, though this one is not quite as potent as the last. Still, the impression it leaves on Sting is one of harrowing agony, his neck pulsating with every beat of his heart. Once he staggers in pain, Kobashi goes for another one; NO! The Stinger grabs a hold of his hand, and delivers, albeit weakly, a chop of his own! Unfortunately for him, the chop has absolutely no effect on Kobashi and the eastern dragon cooks up another chop, one so scintillating it causes Sting to lose significant balance. The Stinger clutches his chest in a pain so thorough, the pigment on the particular section of skin ceases to be no more than a hue of red once he removes his arms from it. Kobashi remains rather impassive, unable to convey a hint of gratification regarding his enemy's anguish. Like a samurai of yore, he restrains himself from going any further in his actions until Sting has reasonably healed. His eyes remain ever vigilant even as his body and spirit are at relative ease; he has seen of the cunning of his opposite many times before, in studying him. Perhaps.... CHOP!

Kobashi had closed his eyes for a single moment, and lo and behold, another damn chop! When will it stop? Read on, please. The Stinger, upon Kobashi's ease of mind and body, healed and from his cunning, managed to seduce his opposite into a state of inaction. The backhand chop had stirred, or perhaps rekindled, Kobashi's unfounded samurai essence, one of his ancestors. Opening his eyes, it had consumed him, and upon looking the deadly scorpion in the eyes, he unleashed a flurry of chops! Soon enough, his combo of chops becomes increasingly domineering, and in due time, his persistence causes an irked...
Re: Be the Booker Showcase Thread
---
'99 Problems' smashes out from the huge amps and the fans pop vociferously, despite their small size, as the imposing figure known as Eddie Kingston emerges from behind the glistening black curtain. Kingston's icy glare remains constant as he storms down the basketball key on the sports hall floor and around the ringside area. Soon he fixes his gaze on the timekeeper who hurries to get a microphone to 'The King Of Diamonds', desperate to avoid the ass-kicking which, from the look on Eddie's face, is an inevitability for someone tonight. Once he has the mic, Eddie rolls into the ring and presses his finger to his lips, hushing the crowd. Once they quieten down sufficiently, Kingston, complete with signature New Yorker inflection, begins his monologue.

Eddie Kingston: Y'know, my whole life, I've been overlooked. That's what happens to guys like me, guys who are ahead of the curve!

After losing his control momentarily, Kingston composes himself before continuing.

Eddie Kingston: And tonight, it's happened once again. Tonight, 10 men will step in this ring to try and win the PWE world title, and Eddie Kingston, 'The last of a dying fucking breed', won't be there!

Once again, Kingston reels in the anger that built to an explicit crescendo at the end of the sentence back and calms down.

Eddie Kingston: Eddie Kingston has been robbed of his shot of being a champion, and it's not for the first time! NO! Y'see they expect me to come out here first, kick the living shit out of some jobber, go to the back, get me pay check and leave with a smile on my face!

Kingston's snapped and quits trying to control himself.

Eddie Kingston: But that's just not going to happen. I WILL beat this guy who you're going to put in front of me in a few minutes, and then I'm going to come out, invited or not, in the Battle Royale and make my presence known! The people up stairs, and the people in charge have slept on Eddie Kingston.

The furious Kingston slaps the ropes and the top turnbuckle as he talks, his anger spilling out of him like an overflowing bucket.

Eddie Kingston: But sleep is the cousin of death. And when you sleep on Eddie Kingston, death is soon to follow. I don't care who I've got to go through, because I'm getting what I deserve! And that's the a fair chance at the PWE World Championship! But now each and everyone of you are aware of my plans, I'm going to give you a little demonstration on what is to come to all those who have slept on me, who have ignored me and who have treated me like a piece of shit in this business which I have literally gave my entire life for.

Despite his hellish ways, the fans cheer the ice-cold Kingston.

Eddie Kingston: And the unfortunate guy who's going to have to take the beating…is Slim J.

Pop for the mention of the high-flying wigger.

Eddie Kingston: And Slim J, unfortunately for you, you're going to be made to pay for all the heartache that I have felt - not just tonight, but my entire life!

Kingston smashes his head onto the top turnbuckle in a rage before gazing out into the crowd maniacally, even the smarky fans are starting to suspect that 'The King Of Diamonds' might have finally lost it.

Eddie Kingston: Tonight, Slim J, I promise you that I will give you the most disgusting, the most gruesome beating you have ever experienced in your entire life. I am going to break your sole and leave your lifeless heap of a body in that ring for the world to see. I will take you blood, your life force and wipe it across my chest, as a badge of honour. So then maybe people will see that Eddie Kingston is for real!

Chants of 'Eddie's going to Kill you'.

Eddie Kingston: Y'see Slim J, even these people don't understand the extent to which I'm willing to go to punish you. I don't want to kill you, that'd be to easy, I want to TORTURE you!!!

Some fans pop, others look on in shock, actually scared of the seemingly snapped Kingston.

Eddie Kingston: You can call me sick, but the world is cold…bundle up!

Kingston lashes the microphone down hard onto the canvas before pressing his back into the corner like a predatory beast, waiting for his prey to emerge from the cage that is the locker room. Eventually after a unusually long wait, Slim J makes hi way out from behind the curtain. His lithe frame shakes as he walks towards the ring, a look of sheer, unbridled fear across his face. Extremely reluctantly J finally roll into the ring and is charged straight away by Kingston who smashes him in the gut with a bone-breaking Spear, getting the match underway.

Singles Match
Eddie Kingston vs. Slim J
Kingston dishes out a vile beating to his opponent just as promised, methodically tearing apart Slim's body, all the while sporting a look of unadulterated rage. Kingston uses a wide range of Suplexes, the highlight of which being a sick Tiger Suplex where J's head smashes onto the second middle turnbuckle on the way down, creating a violent whiplash effect. We also get our first colour in this match as Slim's forehead opens up violently after a face-wash kick. After a good few minutes J finally manages to mount his first bit of offence. J connects with a couple of punches, but it doesn't last long as Eddie shakes them off before cracking him hard in the jaw with a powerful lariat which almost turn him inside out. J's corpse falls to the ground, his back hunching over, his face lifeless after one of the most one-sided matches you'll see anywhere. Kingston lifts J up to his feet and looks into his eyes like a serial killer, almost trying to send the pain Kingston feels about a lifetime of rejection to J's unreceptive body. Kingston cracks a smile as the blood rolls down J's face and drops on to Eddie's chest, just like he prophesized. Eddie uses his left to rub the blood in before finally putting the first victim before using his right to put his opponent out of his misery with the Back Fist To The Future!!!! The ref mercifully slaps the mat the obligatory three times to possibly spare the life of the poor, disfigured Slim J.
Posting Rules

You may not post new threads

You may not post replies

You may not post attachments

You may not edit your posts

---

HTML code is Off

---