Re: WWF 2001 - The Monopolized Era
---
All looks pretty well set out, JBWinner. Definitely liking the likely adition of RVD to the roster, because he should really just add onto the amazing roster you've already got going in this time period.
---
Chopped Liver
Join Date: Jan 2004
Location: Six inches from a computer screen
Posts: 5,432
Points: 318
Re: WWF 2001 - The Monopolized Era
---
Free agent HAS to be Rob Van Dam. By far and away, the most valuable asset ECW had at then end.
Re: WWF 2001 - The Monopolized Era
---

Official Preview for RAW is WAR!
April 2, 2001

Off the heels of arguably the greatest WrestleMania of all-time, RAW is WAR! will be airing live from Fort Worth, Texas on TNN!

In one of the greatest and most memorable nights in wrestling history, 5 of the 6 Championships decided changed hands. But none were no bigger or more discussed than the biggest one of them all, the World Wrestling Federation Championship. In an astounding main event, The Rock and Stone Cold Steve Austin battled in an epic encounter. But the most shocking of events took place, as Steve Austin joined forces with the man everyone believed hated him the most, the Chairman of the World Wrestling Federation himself, Vince McMahon!! In the words of Jim Ross, Austin shook hands with 'Satan himself,' after proving to be victorious over The Great One and once again stood tall at WrestleMania as the NEW World Wrestling Federation Champion. There should no doubt be an explosive situation when Austin stands before the fans in attendance in Fort Worth, when he no doubt will be asked the question on the mind of almost, if not every single WWF fan in the world -- why Austin, why?

WrestleMania also saw the second installment of one of the most innovative matches in this generation. The Tables, Ladders, and Chairs II arguably set the bar higher than it ever was set before in front of 67,925 strong at the Reliant Astrodome, as Edge & Christian captured the World Tag Team Championships for the 7th time in their illustrious history as a tag team, and painted a similar picture to last year when they won the Triangle Ladder Match to become the Tag Team Champions at WrestleMania 2000. The Hardy Boyz and The Dudley Boyz should both prove to be in attendance this evening and should begin their hunt to gain the Tag Team Championships that they came so close to gaining, or in The Dudley's case, retaining. We have learned that Edge and Christian will be taking on Too Cool in a non-title match, and Jeff Hardy will be taking on Edge and Christian's new found friend Rhyno in singles action. Don't miss what should be two indicators of where the top three teams in the World Wrestling Federation are after last night's hellacious thriller.

All of this, plus Chris Jericho defending his Intercontinental Championship against X-Pac, and plenty more tonight on RAW is WAR!

Confirmed Matches:
Edge & Christian vs. Too Cool
Chris Jericho (c) vs. X-Pac - Intercontinental Championship Match
Jeff Hardy vs. Rhyno
OOC: RAW, if all goes right tonight, could be up as early as tomorrow. If not, expect it by mid-week.
---
---
Last edited by JBLoser; 05-17-2009 at

07:05 PM

.
Re: WWF 2001 - The Monopolized Era
---
Austin promo should open the show and should be absolute gold. Most definitely something to look forward to. Hoping that E & C also move on from The Hardy Boyz and The Dudley Boyz, so that you can make some fresh matches and elevate some new teams. The feuds between the three had pretty much been done to the point where nothing more could be done anymore (especially between E & C and The Hardy Boyz), so hopefully you move them on.

Should be a big show, and I'll definitely try to get a review up when possible.
---
Re: WWF 2001 - The Monopolized Era
---
OOC: Well, hopefully this goes over well. Bear with me, as I have not written a show like this in quite some time. I'll try to return any/all feedback that this show gets. Enjoy.
***
WWF RAW is WAR!
April 2, 2001
Fort Worth, Texas
WrestleMania X-Seven Recap Video
Opening Video
Pyro~!
Jim Ross:
We are live tonight in Fort Worth, Texas off the heels of one of the most amazing, one of the most spectacular, and one of the most controversial WrestleMania's of all-time! And tonight marks the beginning of a new era in sports entertainment as the World Wrestling Federation is standing alone, unopposed, on TNN for RAW is WAR!!
Paul Heyman:
Oh it's a lovely day, today cowboy. I know that you can't get enough of what we all saw last night at WrestleMania, but what a joy it is to know that we won't have to deal with the smoldering load of crap, known as World Championship Wrestling any longer opposing us over at "Turner Network Television."
Heyman, failing to disappoint, adds his own air quotes.
Jim Ross:
Well Paul I agree, but I'm not so sure what you mean from your statement before that.
Paul Heyman:
Oh gimme a break Jim. You were up in arms, having crapped your pants, at the shock, at the sight of Stone Cold Steve Austin, the smartest man in the company, shaking hands with the owner of this company, the catalyst, the victor, the dominant promoter in professional wrestling – VIN-CENT KEN-NEDY MAC-MAHON!
Jim Ross:
Well I don't know what Austin was thinking personally--
Paul cuts him off.
Paul Heyman:
Oh you know, J.R. You know Steve Austin, your friend, slaved himself for over a year after having been run over by a damn automobile, after getting surgery, after defying everything thrown against him. You knew he won the Royal Rumble. You know he went through not one, not two but three stages of hell with Triple H, one of the best in the business today, and you know… you KNOW that he was a desperate man. And desperate men,
they do desperate things
. But this is different, this was the SMARTEST thing Stone Cold could have ever done, and I for one, must applaud him once again for his decision last night.
Heyman stands up and takes his headset off and starts to clap his hands for Austin, as he smiles from ear to ear while doing so. He yells at J.R., "Come on!"
Jim Ross:
Oh shut up and do your damn job!
'NO CHANCE! THAT'S WHAT YOU'VE GOT!'
Almost on cue, Heyman flops down to his seat and music starts to fill the arena as well as a rousing amount of boos. They are being directed towards none other than the man who J.R. refers to as 'Satan himself,' Mr. McMahon! In a less than traditional stride, Vinnie Mac makes his way down to the ring, all smiles tonight. Shockingly, the boss is calm mannered even despite losing the war with his son, and Owner of World Championship Wrestling, Shane McMahon, at WrestleMania X-Seven. However, the thought of last night's late triumph, by aligning himself with the new World Wrestling Federation Champion Stone Cold Steve Austin. Vince gets into the ring, slowly at that, and takes the microphone from the still green Lillian Garcia.
Mr. McMahon:
Ladies and gentlemen, welcome to RAW is WAR!!
A small cheap pop, shockingly coming after the words of the boss.
Mr. McMahon:
You know, it feels good to say that again. It feels good to come down to this very ring, stand before all of you, and not worry a damn bit about the competition. And why is that? Because World Championship Wrestling… is NO MORE!
Mixed reaction, as obviously the WCW fanboys are in the house.
Mr. McMahon:
And tonight is a monumental night. Tonight is a night that will be remembered in history, FOREVER! And why is that you ask? Well, I'll tell you. Tonight is a special night, because tonight RAW is WAR is unopposed by ANY form of competition in the business of sports entertainment, and professional wrestling, for the FIRST TIME in six years!
Once again, another mixed reaction.
Mr. McMahon:
Now I know what most of you are probably thinking. Some of you are probably saying to yourselves, "Vince, your son Shane not only bought WCW… he
BEAT
you last night at WrestleMania!"
Crowd pops.
Mr. McMahon:
Well to that I say, you're right. My son Shane McMahon, he kicked my ass last night! My son Shane, he pinned me last night, in the middle of the ring, in front of over 67,000 people in the Reliant Astrodome, and a worldwide audience. And my son Shane, last week, he DID in fact purchase World Championship Wrestling, like the scoundrel he is, right from under me!
Crowd pops again, and the rumblings of a "SHANE-O-MAC" chant can be heard.
Mr. McMahon:
But none of that is going to matter. None of that is going to matter, because Shane McMahon has purchased something that cannot be fixed, cannot be returned, and is already DEAD.
Crowd boos.
Mr. McMahon:
World Championship Wrestling, as far as I, Vincent Kennedy McMahon is concerned, is buried deep beneath the ground and its legacy is in the depths of heeelllll.
Crowd boos.
Mr. McMahon:
There's not a damn thing that Shane McMahon, my son, can do with World Championship Wrestling. Nobody and I mean NOBODY wants it on television. Ted Turner, and his little network TNT, even its superstation TBS, they want nothing to do with it. Our former home, the USA Network, they don't want a damn thing to do about it. There isn't a channel on network television or cable television that wants a damn thing to do with WCW!
The crowd boos, as Vince sneers at the thought of his former competition being defeated.
Mr. McMahon:
And there is not a chance in HELL… that WCW will ever run another Pay Per View again, because the Pay Per View business wants nothing to do with it. If this business was Rock 'n Roll I would say that WCW has LEFT THE BUILDING!
The fans, getting annoyed at Vinnie Mac's words, kick up an "ASSHOLE" chant.
Mr. McMahon:
… SHADDUP!
Crowd boos.
Mr. McMahon:
Don't you EVER call me, Mister McMahon, an asshole ever again!
Boos… ASSHOLE!
Mr. McMahon:
Now before I was interrupted, I was continuing to… oh yes berate and trash my former competition.
Vince laughs and smiles, as he looks around.
Mr. McMahon:
Shane, I don't know how many times I dropped you on your head when you were younger. It might've been three, it might have been seven, hell it may be a number in the triple digits. But never… never would I ever think that you could make such a stupid decision in your life, until last week when I came to the realization… that I don't need WCW.
The crowd boos, as Vince takes a deep breath.
Mr. McMahon:
But don't mistake this for an olive branch, Shane. Don't mistake this as a peace offering, and by God, don't think that the war is anywhere near to being over between the two of us. In my mind you're nothing more than a spoiled little brat, who one day is going to pay for being an unruly child. You could have had the company Shane… after I moved on and it had grown tired of this business but now I'm not even sure if I'm going to ever welcome you to the family dinner table again.
More jeers from the crowd as Vinnie Mac keeps on going.
Mr. McMahon:
Hell, I don't know if I can even put up with your mother anymore, Shane. Linda, last night your kick to my grapefruits was the biggest rush of adrenaline down in that region that I've felt since I was 18!
The lewd and disgusting comments from Vince usher in another heated reaction from the crowd.
Mr. McMahon:
But enough about the disgraceful side of my family because it's time to talk about the newest addition to my reign as Chairman of the World Wrestling Federation!!
The crowd pops, as they know who Vince is referring to.
Mr. McMahon:
For those OF you who watched WrestleMania 17 last night, you all know what I'm talking about. You all know, and you ALL were fooled, when Stone Cold Steve Austin, beat the holy hell out of the man that you call 'The People's Champion,' The Rock, and became the World Wrestling Federation Champion
ONCE AGAIN
!
A big, big mixed reaction from the crowd follows these words.
Mr. McMahon:
It was… the essential WrestleMania moment. It was the moment that was over a year in the making for Stone Cold Steve Austin. Austin, as it was well documented, has come back from neck surgery, has come back from being run over by a car, and has come over knee surgeries, to win the Royal Rumble in January, and last night fulfill the dream of every superstar that enters this profession, and became the World Wrestling Federation Champion again.
Crowd pops.
Mr. McMahon:
Now most of you are asking me, why, Vince? Why'd you do it; WHY would you align yourself with the man who's made your life a living hell for close to four years? Well, ladies and gentlemen I have an answer to that question. And that answer is… it's just… business.
Boos.
Mr. McMahon:
But let me reassure you that Stone Cold Steve Austin will not be unheard from tonight. I have spoken to Stone Cold and he is going to be here later on tonight
The crowd pops at the statement, cutting Vince off.
Mr. McMahon:
I'm
TALKING
DAMMIT! Don't you interrupt me!
Boos, yet again of course for the boss.
Mr. McMahon:
Once again, Stone Cold Steve Austin will be here later on tonight, and he will have a statement that he handwrote himself. And Stone Cold Steve Austin has told me that in that statement, he will address to all of the fans around the world, all of the people that have become a fan of him over the last few years, as to why he decided to align himself with me last night at WrestleMania. And I can guarantee that you will see a NEW Stone Cold Steve Austin, here tonight, a man who is proud to be a CHAMPION of this company, and the NEW FACE of professional wrestling!
Mixed response, as Austin, albeit that he is a heel now, can still get the crowd behind him.
Mr. McMahon:
Now, as for the man who Stone Cold Steve Austin beat
'TIME TO PLAY THE GAME!'
The crowd pops, surprisingly enough, as Motorhead's 'The Game' hits, bringing out Vince's own son-in-law TRIPLE H! Hunter, dressed in a leather jacket, jeans, and a black shirt, doesn't look too pleased, and isn't coming down to the ring alone. His lovely wife, Stephanie McMahon-Helmsley is joining him as she primps her way down to the ring as the most dominant couple in the biz briskly trot down to the ring. The boss gulps, as possibly his biggest trouble is now standing a few feet away from him.
Triple H:
You know, I'm sitting back there in the dressing room, watching you come out here, in triumph of your 'victory' over… Dubya See Dubya… and I'm also sitting back there, wondering what the hell you're doing with Steve Austin.
HHH stops his pace in front of Vince.
Mr. McMahon:
Look, it's business, okay? I've told these people that, I've
Triple H:
No, listen.
Cheers as Vince is interrupted yet again. Vince looks to continue but…
Triple H:
What I can't seem to understand is, is the fact that Stone Cold Steve Austin has made a living, out of making your life a living hell. Stone Cold Steve Austin has made a CAREER out of humiliating you, embarrassing you, kicking your ass, pissing you off, pissing your pants, and you help him win the one thing that he desired more than anything in the world… the World Wrestling Federation Title?
The crowd pops for the remarks from HHH on Austin making Vince's life a living hell.
Triple H:
What I don't get, is that when you had to come to whatever asinine decision that you made, to come down to this ring last night at WrestleMania, and you took it upon yourself to give the one guy that doesn't give a crap about anyone else but himself, the one guy who's ass I've kicked for almost an entire year, you practically hand the guy the WWF Title on a silver platter!?
HHH looks at Vince with a cold stare.
Triple H:
…I think that's a load of bullshit!
Crowd pops, as the camera spots Stephanie looking a bit shocked at her husband's words, as Vince looks a bit enraged.
Mr. McMahon:
Listen, Hunter you know as well as I do that I'm the kind of guy who doesn't give a damn about friendships or grudges. Stone Cold may have done what he did to me in the past, but that's all it is to me anymore. It's in the past, and it's going to remain there as far as I'm concerned.
Boos from the crowd, as Triple H scratches his chin.
Triple H:
The past, huh? Well do you remember two years ago, when I kicked your ass after I married her?
Points to Stephanie, as the crowd cheers again.
Triple H:
Unlike you, I wouldn't keep the past in the past, if I got an opportunity to.
The crowd pops as Vince shockingly steps back, as Stephanie looks shocked as well. She comes over and takes the microphone away from her husband.
Stephanie McMahon-Helmsley:
Hunter, hold on a minute!
Boos.
Stephanie McMahon-Helmsley:
As much as I love you Hunter, I don't want you coming in the way of my father's business. And I don't want you hurting him either!!
Boos for the Billion Dollar Princess, as HHH sneers at her.
Stephanie McMahon-Helmsley:
I don't want this family falling apart again! We can ALLLL be one… big… happy… family again, if we try to
Stephanie's mic is swiped by 'The Game.'
Triple H:
You think I give a damn about the stability of this family of yours? I don't care if I'm your son-in-law, (turning to Vince), I'll kick your ass if I want to Vince, and I couldn't care less of any repercussions. Because there's obviously some sense that needs to be knocked in your senile ass, after you aligned yourself with Austin last night.
Huge pop for 'The Game,' surprisingly enough.
Mr. McMahon:
You wanna play like that, Hunter?
Triple H:
Yeah, I'm the DAMN game, Vince. I'll play it however I want to play it. In fact, I'm making a vow right now, that just because Stone Cold Steve Austin, is your "business partner," or whatever the hell he is to you now, there's gonna be a guy still making your life miserable. There's going to be a guy, making your life a living hell.
Triple H pauses, as he looks into Vince's eyes.
Triple H:
…AND IT'S GONNA BE ME!
The crowd cheers, as Vince takes a big gulp knowing that his son-in-law is now going to be in hot pursuit of him now.
Mr. McMahon:
Hunter, I would advise you under the heaviest of circumstances, that you take back what you've said. Because if there's anything that I can guarantee, it's that if you decide to make my life a living hell… then I'm gonna make yours one as well.
Boos, as HHH looks down and then brings his head up.
Triple H:
Vince, if it didn't look like I cared before, the words that just came out of your mouth haven't made me care any more.
Pop from the crowd.
Mr. McMahon:
Well then Hunter… if that's the way that it's going to be… then so be it. But don't say that I didn't warn you.
McMahon goes to walk to the steps, but suddenly he is grabbed by his arm! TRIPLE H pulls him around, and KICKS HIM IN THE GUT, and locks him between his legs. The crowd is on their feet as Stephanie tries to convince her husband not to do anything, but 'The Game' doesn't listen to her, as he DROPS VINCE WITH THE PEDIGREE!! The crowd roars as Vince is down and out in the middle of the ring, while 'The Game' stands over him with a fierce look in his eyes.
Jim Ross:
My GOD!! Triple H has just Pedigreed his own father-in-law!!
Paul Heyman:
What the hell is Triple H thinking!?!? He just not only struck his father-in-law, he struck the owner of this company! There's going to be hell to pay for what he just did J.R.!!
Jim Ross:
Well as we take a look at this again, Triple H did not seem like he was intimidated by his father-in-law's words, and BAM! He delivers his own finishing move, The Pedigree, to the boss!!
Paul Heyman:
This may be one of the most shocking moments I have ever seen in this show's entire history!
It seems as if Triple H's promise to make Vince's life a living hell, after he aligned himself with the man Triple H hates more than anyone, Stone Cold Steve Austin, has started to come into fruition. Stephanie drops in shock to check on her father, as HHH looks back at the scene, not looking like he's showing any sign of remorse. Steph then gets out of the ring in pursuit of her husband, who waits with patience as he begins to smirk, looking at what he's done to his father-in-law.
Jim Ross:
And it appears that Triple H's wife Stephanie is not happy with her husband's actions!! Ladies and gentlemen, stay tuned because this has already turned out to be a shocking night!
---COMMERCIAL BREAK---
We return to the broadcast, but first before we go live, we see a video with "During the Break" written on the bottom right corner. We see that Triple H is in picture, walking along with Stephanie McMahon-Helmsley, who hurriedly tries to catch her husband. She grabs onto his shoulder.
Stephanie McMahon-Helmsley:
Hunter!
Triple H:
WHAT?
Stephanie McMahon-Helmsley:
Do you have any idea what you've just done!? You just hurt my father!
Triple H:
Do you think I give a damn about your father!? He sure as hell, wasn't looking out for me, a member of YOUR family, OUR family, last night when he aligned himself with Steve Austin. You know as well as I do, that I hate him more than anyone in the entire world! And your father, my father-in-law, practically gives him the title, that I've desired ever since I lost it last year?! Steph, that's BULLSHIT!
A roar can be heard from the crowd watching, as there is a momentary pause in the conversation between HHH and SMH. Steph tries to take hold of what he just said… even though, he's completely right, in his view.
Triple H:
So if you honestly, honestly think I give a damn about any possible repercussions for what I just did… think again.
HHH walks away from the scene, as Stephanie stands there, in shock and trying to understand where her husband is coming from.
We now cut away from the video, and we are right back in the view of Mr. McMahon, who looks furious. He turns a corner, and storms into Commissioner William Regal's office. Regal gets up immediately from his seat.
William Regal:
Mista' McMahon…
Mr. McMahon:
SHADDUP!
Regal shuts his mouth at the request of the boss.
Mr. McMahon:
Can you believe that?! Can, can you believe what Triple… GOD DAMMIT!
McMahon slams his hands down on Regal's desk, as we see Regal flinch in shock.
William Regal:
Mista' McMahon, if there's anything that I can do to help you feel better, I'll do it. I'm the Commissioner of this company, I can make any match that I want to, and if you want I'll make sure Triple H, really gets his punishment tonight for what he did to you, which is reprehensible in my mind!
Vince suddenly begins to calm, as his face softens. An idea comes into his head, as we see him smirk now.
Mr. McMahon:
Alright, we're going to put Tirple H in a match. That's for sure. And you know what? We're going to put him, in a match against the man that he lost to last night.
Crowd pops from inside as Vince pauses.
Mr. McMahon:
Oh yeah, we're going to put him in a match, against… The Undertaker!
Huge pop from the crowd, as Regal shakes his head.
William Regal:
I will get right to it, sir.
Mr. McMahon:
Good, good. We're going to make that son of a bitch suffer!
McMahon seethes as Triple H/Undertaker II has been made for right here tonight in Fort Worth!! We cut away from the office, and right back to the announce booth and Paul Heyman and Jim Ross.
Jim Ross:
Well an already amazing night has just gotten even better! Triple H and The Undertaker, will meet one on one for the second night in a row, right here on RAW!
Paul Heyman:
J.R., I promise you. Triple H is going to regret what he did just a few moments ago. And I can't remember, ever rooting for The Undertaker, like I'm going to be later on tonight.
Jim Ross:
And fans if you're just joining us here right now, before our last commercial break, Triple H did what some thought was the unthinkable, and hit his own father-in-law, the owner of this company, Vince McMahon with the Pedigree. And Paul, that wasn't the only thing that went down during that segment, as we heard that our new WWF Champion, the controversial Stone Cold Steve Austin will join us here later on tonight, to address this crowd in Fort Worth.
Paul Heyman:
And J.R., you damn well know that that may very well be the highlight of what is looking like it's going to be a fantastic show.
After Paul's sentence completes, we hear 'Loaded' fill the P.A. system inside the arena. The crowd gets to their feet, as coming out through the curtain are the high flyers, the daredevils, the men who risked life and limb to try and become the WWF World Tag Team Champions last night in TLC II, The Hardy Boyz!! However, going away from their forte, the exciting tag team will be in singles action tonight, as it will be Jeff Hardy who will be competing. Hardy leads ahead of his brother, as the two of them slap hands with the fans at ringside.
Hardy gets in the ring and does his usual posing in the corner before leaping off the ropes and standing in the ring. After a few seconds, 'Manbeast' hits and out comes the last ECW Champion, the man simply known as Rhyno, who helped Edge and Christian become the World Tag Team Champions last night in TLC II at WrestleMania. Hardy, knowing he has a tough task at hand, waits in the ring patiently, before taking to the skies as he splashes down on Rhyno on the outside to jumpstart the match!!
Match 1
Singles Match
Jeff Hardy w/ Matt Hardy vs. Rhyno
After Hardy's beginning fight, there is not that much the high flyer can do to combat Rhyno. The Man Beast eventually takes control of the match, and would find himself dominating throughout until the final bell rang. He would power Hardy down constantly with powerslams and would pummel him with shoulder thrusts to the sternum and constantly drove his right and left hands into his face. It was not long until Rhyno found himself in the corner, yelling at Jeff to get up, before he broke him in half with the GORE! GORE! GORE!! Academic three count follows.
Winner: Rhyno at 4:35.
The lifeless Hardy remains without movement in the ring as Rhyno shakes away the referee's hands as he went to bring it up into the air. Jeff's brother Matt comes into the ring to attend to his brother, as Rhyno looks at him as well. Matt stares him down, and then looks down at his brother, before Rhyno suddenly charges over and blasts him in the face with his boot! The crowd boos, as Rhyno drags Matt by his hair, and tosses him into the corner. Rhyno drives his shoulder into his gut repeatedly, before kicking him in the gut as well. He then takes a few steps back, and as Matt comes out of the corner, he breaks him in half with THE GORE as well!! Rhyno, in transition, rolls out of the ring and raises his fists up into the air as Matt holds the area in agonizing pain.
Jim Ross:
Well Paul, I still don't know a lot about this guy Rhyno, but I know you do. And from what I see, he may just be one of the most dominant superstars on this roster now that he has arrived her e in the World Wrestling Federation.
Paul Heyman:
The man who was the last ECW Champion. The man who tore through the entire roster in ECW. The man who is known as 'The Man Beast.' The man, who destroys each and every living and breathing soul in his sights with the GORE, J.R., the man known as Rhyno. And you are looking at what I believe will be a World Champion some day in this company. He could get it done in ECW, and he has sure as hell gotten it done in the short time that he has been here in the WWF. And there is more to come from him, I can promise you that.
The camera cuts away, to the backstage area. We notice that we are inside the locker room of the group known as The Radicalz. Eddie Guerrero, the new European Champion, is joined with Perry Saturn and Dean Malenko. We see Eddie cherishing his newly won Championship belt, as he seems to feel good about carrying 20 pounds of gold on his shoulder. Malenko and Saturn are talking a few feet away, as Eddie looks up and feels the need to now interject himself in the conversation as he gets up from his chair, and walks on over to the two of them, putting his Championship belt in his right hand as he puts his arms around his two buddies.
Eddie Guerrero:
Guys, hombres… we should be celebrating man! I'm the new European Champion essas, we don't have a damn thing to worry about in the world!
Eddie smiles as he looks at Dean and Perry who look like they agree with what he's saying.
Eddie Guerrero:
I mean, think about it. What do we have to worry about? Test? That guy couldn't beat me last night, just like I knew he couldn't. And now, now essa I've got the European Championship around my waist. And the Latino Heat is rising!!
Eddie smiles as he pats his title belt.
Eddie Guerrero:
So what I'm thinkin' is that after the show guys, we ditch this crappy town of Fort Worth, head up to the real place to party in Texas, up in El Paso, find some girls, drink some Tequila, you know what I'm saying? You know what I'm sayin' holmes!!
Eddie's vision for partying seems to get through the minds of Malenko and Saturn, and suddenly Eddie's good mood gets interrupted, by the Commish.
Eddie Guerrero:
What do you want?
William Regal:
Eddie, I'm very, very sorry to interrupt whatever was going on here. But Mista' McMahon has advised me to inform you that this Thursday on SmackDown, you will be defending your newly won European Championship.
The first thought of it gets to Eddie, but he suddenly shakes it off.
Eddie Guerrero:
Alright, essa. Whoever I gotta face, I'll face 'em. Did you see me last night? I dominated Test to win this baby, and I'm not letting go of it anytime soon. No way, Jose.
William Regal:
Yes, yes I did see you Eddie, and I also saw just how that match went down, as did Mista' McMahon who as you know has not been in a good mood as of late.
Eddie, obviously, doesn't know what he's talking about.
Eddie Guerrero:
…Whaddya mean? I won the title, I pinned Test one-two-three, I'm the Champion!
William Regal:
Yes but you see, you had the help of these two to take advantage of the situation, and Mista' McMahon was very upset with how that went down. So on Thursday night you will be facing Test in a rematch for the European Championship… and I regret to inform you that both you Dean and Perry will not be allowed at the ringside area.
A bombshell dropped, as The Radicalz looked pissed.
Eddie Guerrero:
Hold on a minute
William Regal:
Mista'… McMahon's decision, gone through me, is
final
. Have a good day, oh, and also, you have a match next, the three of you, against Test and the A.P.A.
Regal leaves the office, having made a huge decision, as Eddie looks frightened at the thought that he won't have his boys there to help him this Thursday night on SmackDown. He grips onto his newly won European Championship, as he looks at Saturn and Malenko, as the camera fades.
---COMMERCIAL BREAK---
When RAW is WAR! returns from the break, The Radicalz are standing inside the ring in complete disarray. Having just heard that Eddie will be defending the European Championship on SmackDown this Thursday without his buddies to be there with him to back him up, they seem to be arguing about the situation for whatever reason. Out come The A.P.A. soon enough to their music as they get a pretty good pop from the crowd in Fort Worth. Bradshaw, the native Texan, points his finger up in the air as they head down the ramp, and then stop as they get to the bottom. Moments later, 'This is a Test' hits and soon to come out is the now former European Champion Test, who looks intent on getting some damage done on Eddie before their match Thursday on SmackDown for the European Championship. Test pounds fists with The A.P.A. before the three enter the ring.
Match 2
Six-Man Tag Team Match
The Radicalz vs. Test and The A.P.A.
The match starts off as a bit of a clusterfuck, with Test pursuing Eddie, looking to soften him up before the title match on Thursday and looking to try and get an advantage over him so he can have an easier chance in his mind at regaining the European Championship that he lost last night at WrestleMania. Eddie however evades him, becoming the illegal man most of the time, as Test first finds himself battling with Perry Saturn. Test seems to subdue Saturn, as he isolates him away from his partners and tags in Bradshaw who now works over him. Bradshaw swings him out of the corner and to the ropes and Bradshaw hits him with a big boot, taking him off his feet and onto his back. Bradshaw would drop down to go for the cover but Saturn kicked out at the count of two. He would take him up off his feet and drive him back into the corner. He slammed his head down a few times on the top turnbuckle, before grabbing his arm and hitting him with a short arm clothesline. He tagged in his partner Faarooq, who lifted him up into the air and drove him right back down with a scoop slam.
We saw that Eddie was trying to get into the ring, but Faarooq saw this coming and then drilled him with a right hand as he then rolled right out of the ring. This short time allowed for Saturn to regain his composure and as Faarooq turned around he drilled him with a dropkick to the chest. Perfectly executed, he headed over to his partner and tagged in Dean Malenko. The Iceman kicked and stomped on Faarooq, before lifting him up to a vertical base, and quickly hit him with a snap suplex. He rolled onto his knees and clamped down on Faarooq quickly, locking him in a headlock as The Man of 1,000 Holds began to display his craft. Faarooq, after about a minute being locked in, rose up to his feet and shouldered his way out of the hold. He ran off the ropes, but Malenko dropped him down on his face with a drop toe hold. Malenko then quickly grabbed Faarooq's legs, and applied the Texas Cloverleaf!! A bit of a pop arose from the crowd as Malenko had his famed submission maneuver synched in, as Faarooq tried to power out of it. Test and Bradshaw tried to will their partner on, while The Radicalz were trying to will Dean on to make Faarooq submit. The referee, down on the ground, asked Faarooq if he'd want to submit, but he continually said no as he pushed for the ropes.
Soon enough, Faarooq reached the ropes and it was time for Malenko to let go of the hold. He did so, and went over to grab Faarooq, and did so, and hit him with a half-nelson back suplex to wow the crowd, and went for the cover, but Test came in to break it up! The crowd cheered for that, as Test then ran over to Eddie who quickly leaped off of the apron. Test backed away and went to his corner, as Malenko was back up to his feet shortly after being hit by Test. He went to grab Faarooq, but Faarooq shoved him away and Malenko fell into Guerrero, as the referee signaled that it was a tag!! Guerrero came inside, going after Faarooq, but Faarooq would tag in TEST!! The crowd roared as Test soon found himself on the offensive, as The A.P.A. suddenly got themselves into a brawl with the other members of The Radicalz. Eddie would scratch Test's eyes and then head to the top, after Test went for the Pumphandle Slam. Eddie leaped off the top rope, looking for a cross body block, but Test caught him in mid-air!! Test would, with his enormous amount of strength, lift Eddie up onto his shoulders, and hit the Pumphandle Slam!! The crowd watched as Test dropped down to his knees, hooked both legs, and pinned the European Champion!!
Winners: Test and The A.P.A at 8:32.
Test celebrates this huge victory by getting up and getting his hand raised and then raising his arms up in the air as he exits the ring. He groups up with The A.P.A. who raise his hands up in victory as Eddie has fallen to him tonight, just 24 hours after it was vice versa at WrestleMania X-Seven. Test, possibly with momentum on his side now, looks at the ring with anxiousness, knowing now he has only a few days to wait to challenge for the European Championship once again.
Jim Ross:
Test has done it!! Test has pinned the European Champion Eddie Guerrero!
Paul Heyman:
Boy, you wanna talk about capitalizing when the time was right, this situation is the prime example of just that. Test, just a few days away from challenging for the European Championship that he lost last night to Eddie Guerrero, has now pinned him in the middle of the ring. There is no doubt now that Test can defeat Guerrero, but the real question now is can he defeat him with the title on the line, this Thursday night on SmackDown?
Jim Ross:
Well we're going to have to wait and see this Thursday night on UPN, if we indeed will crown a new European Champion, just after we crowned one last night at WrestleMania. And speaking of WrestleMania, kekvin Kelly is backstage with a man who also picked up a victory last night at WrestleMania.
Cutting to the back, and to interviewer Kevin Kelly.
Kevin Kelly:
Thanks J.R. and ladies and gentlemen J.R. is indeed correct. Because joining me now is the man who last night defeated Chris Benoit at WrestleMania, the Olympic Gold Medalist Kurt Angle!
The crowd boos as Kurt Angle comes into view, all smiles.
Kevin Kelly:
Kurt last night you and Chris put on a classic match, no doubt about it. But what everyone is talking about is what ha
Kurt Angle:
Whoa, whoa, hold on a second!
Boos as Angle interrupts KK.
Kurt Angle:
First of all Kevin, what the hell kind of introduction was that? Olympic Gold Medalist? Newsflash, I've been known as
THE ONLY
Olympic Gold Medalist, in World Wrestling Federation history!! Get it right next time, buddy. And second of all, what the hell are you talking about? The only thing I've been hearing from people, and the only thing I've been hearing people talk about, is how I whooped Chris Benoit last night in front of over sixty seven thousand people at the Reliant Astrodome, and finally shut that toothless idiot up!
Crowd boos.
Kurt Angle:
I mean, I know that people are talking about Stone Cold Steve Austin joining forces with Mister McMahon, which I don't understand much like Triple H. But I can't think of ANYTHING related to last night, that people could possibly be talking about, besides my big victory against a Canadian, I might add, last night at WrestleMania.
Kevin Kelly:
Well Kurt, what I was going to say was people are talking about how you tapped out.
Kurt Angle:
What?
Kurt looks confused.
Kurt Angle:
When did I ever tap out last night? Oh, you're talk, oh no. You see, I never officially tapped out to Chris Benoit. Much like last week when Benoit made me tap in that ring, with no official to call it, no bell ringing, and last night he did the same damn thing right back here in the backstage area. Well, not here, because why the hell would WrestleMania come to a dump like Fort Worth?
Cheap heat from The Olympian.
Kurt Angle:
Se I don't understand why people are making such a big deal about it. Until Chris Benoit makes me officially tap out, I've never tapped out to him or his Crippler Crossface! If it's not officially in the record books, it never happened! My win last night against Chris Benoit… that did happen! That will be forever remembered as one of the greatest matches in WrestleMania history. That will have its own place in history, and Chris attacking me from behind and making me tap back here, will be an afterthought that nobody will care about years from now, when I become the greatest superstar to ever walk through this company.
The heat is rising for Angle, as his ego is overtaking. Suddenly, the crowd cheers as Angle doesn't look happy, as Chris Benoit comes into view!
Kurt Angle:
What do you want now, Chris? You going to try and attack me from behind again? Cause I'm ready for anything you've got.
Chris Benoit:
That really wouldn't be worth my time anymore Kurt…
Kurt Angle:
Oh really, Chris? Then explain to me why you've done it the past two weeks.
Chris Benoit:
I was trying to prove a point Kurt… that I could beat you.
Kurt Angle:
Oh really? Then how come you haven't yet Chris? Huh? How come you couldn't beat me last night at WrestleMania, the biggest stage of them all?
Chris laughs.
Chris Benoit:
Everybody has their days, Kurt. Everyone has their days where they're off, or maybe even their days where nobody can touch them. But I'm not concerned about last night. I'm looking to the future, and in the future, I see myself being better… than you… and making you tap… out… "officially."
Crowd pops, as Angle bites his lip.
Chris Benoit:
In fact I see it happening sooner rather than later, Kurt. And do you wanna know why?
Kurt Angle:
Why Chris? Why?
Chris Benoit:
Well, I just came back from Commissioner Regal's office… and after a bit of convincing, he's given me a match… with
you
… in a couple of weeks at Backlash.
Crowd pops.
Kurt Angle:
Oh big deal. Another chance for me to prove that I'm better than you, Chris. Thank you very mu
Chris Benoit:
Ah, I'm not finished. Kurt, this match… it's not going to be, your basic one-on-one, mono y mono match. No, this match… it's going to be… a Submission Match.
Kurt looks intrigued, as the crowd cheers.
Chris Benoit:
Where the only… way to win… is to make your opponent… tap… out… and Kurt, like I said, I've proved my point already. I can make you tap out. Now all I have to do… is do it at the right place… at the right time…
Chris grins.
Chris Benoit:
So I'll see you around Kurt. Take care.
The crowd and fans watching at home see Benoit with a toothy grin walk away from his now opponent at Backlash, as Angle looks at him irately from the interview position. He turns to Kevin Kelly, and then shoves him away out of frustration, as he turns back around and shakes his head in frustration.
---COMMERCIAL BREAK---
We return from the break and immediately head over to the announce table.
Jim Ross:
Welcome back to RAW is WAR! ladies and gentlemen as we are approaching the WAR Zone, and Paul what an announcement we heard before the break, as we already have one match confirmed at this point for Backlash!
Paul Heyman:
And it's going to feature two of the best that the World Wrestling Federation currently have to offer. Chris Benoit, Kurt Angle, in a Submission Match at Backlash. That should no doubt be a technical masterpiece, and the only way someone's going to win, is by making the other man tap out.
Jim Ross:
And Chris Benoit, as we know, has made Kurt Angle tap out twice
Paul Heyman:
UNOFFICIALLY
…
Jim Ross:
That may be true but regardless Chris Benoit may have an edge over the only Olympic Gold Medalist in WWF history. But Kurt Angle has officially defeated Chris Benoit, and that was last night at WrestleMania in what was a great contest.
Paul Heyman:
And it should be even better at Backlash.
We now are hearing the ever famous countdown as we now await the imminent arrival of the Intercontinental Champion, Chris Jericho!! After an explosion of fireworks, Jericho walks out and down the ramp, as we see the Intercontinental Championship is strapped around Jericho's waist. He walks down eagerly, dressed to compete, and steps onto the apron and looks out to the crowd who cheer for him as he does so. He gets into the ring and takes the microphone from Lillian Garcia.
Chris Jericho:
WELCOME TOOOO… RAW… IS… JERICHOOOO!!!
Crowd cheers.
Chris Jericho:
You know last night at WrestleMania, in front of over 60,000 plus fans in the Astrodome I embarrassed and defeated William Regal to keep this Intercontinental Championship around my gorgeous, gorgeous waist… and now tonight, I am going to do the exact same thing.
More cheers as the Jericholics are fired up.
Chris Jericho:
Except, this time I'm going to be doing it against a guy named X-Pac.
Minor, or would you say, "X-Pac heat."
Chris Jericho:
X-Pac, X-Punk, Tupac, or dare I say... SYXX... you've gone out of your way tonight to challenge me for this Intercontinental Championship? Well junior, it's safe to say that your idiocy will be your own undoing. Because there is no way that you will EVERRR… E-E-E-EEVERRRR take this title… from me!
Crowd pops.
Chris Jericho:
So ladies and gentlemen, Jerichoholics of all ages I give you the next man who is going to fall flat on his face, to the Millenium Man, the King… of the World… X-Pac!!
'AY YO YOU DEALIN' WITH DA X-FACTA!'
Coming down the aisle after the rap tune begins to fill the arena is in fact the man formerly known as Syxx, X-Pac! Joined along with Justin Credible, X-Pac comes down the ramp, looking a bit angered by the words of Chris Jericho, who stands in the ring, waiting for him to enter. Jericho takes off his jacket and throws it over the ropes to the floor, and we see X-Pac leap onto the apron, and climb inside the ring as the bell sounds.
Match 3
World Wrestling Federation Intercontinental Championship Match
Chris Jericho © vs. X-Pac w/ Justin Credible
The match starts off with a bit of a stare down, before X-Pac slaps Jericho in the face and then goes to work quickly to try and gain the upper hand over the IC Champion. Pac drills him with a few right hands before taking him out of the corner, but Jericho swings at the last second and X-Pac is instead the man to be sent into the corner across the ring. Jericho levels him with an elbow on his return and then drops an elbow. He quickly goes to cover him, it would appear, but instead he starts to repeatedly hit him with right hand after right hand. The referee tells him to quit it, but Jericho at first does not choose to listen, but then gets the idea after the referee starts counting to five. He grabs X-Pac by the hair, and takes his bandana and undoes it, something not normally done by any opponent before him as X-Pac's hair unravels itself. Jericho rares back and hits a chop to the chest before he takes him to the ground with a dropkick after X-Pac staggered into the ropes. He would go for the cover, looking to retain the Championship, but X-Pac kicked out of the early pinfall attempt and Jericho lets out an aggressive side by going over and once again repeatedly hits right hands on X-Pac's face.
Over the next few minutes both men attempted to take the gold and both men had their fair share of advantages. Justin Credible found himself getting involved but Jericho would launch himself onto the second rope in the corner and hit a dropkick on Credible to take him off the apron. After this occurred, X-Pac would surprise Jericho with the X-Factor, but Jericho got a shoulder up at the count of two. X-Pac argued with the official for a moment and Jericho was able to capitalize by getting up and hitting him in the back with his forearm. He then sent him across the ring with an Irish whip but X-Pac turned it around. Jericho rebounded off and leaped in the air and hit X-Pac with a reverse elbow and then went off the ropes and hit a running bulldog on X-Pac as he got up to his feet!! The crowd cheered as Jericho quickly got up to his feet again and ran over X-Pac to go to the ropes, leaped up in the air and then hit the Lionsault!! The crowd cheered as Jericho hooked both legs as the referee dropped down to count, along with the fans, as Jericho got the three and retained his Intercontinental Championship for the second night in a row!!
Winner and STILL Intercontinental Champion: Chris Jericho at 7:23.
Jericho rolls out of the ring quickly as Credible came into the ring right after the pinfall was made. He takes his Intercontinental Championship and raises his arms up and clutches on the Championship he just retained, for once again the second night in a row.
Jim Ross:
And Jericho does it!! Once again, Chris Jericho has defended the Intercontinental Championship, and this time he has defeated X-Pac.
Paul Heyman:
You know J.R., I may not like Chris Jericho a lot. But I brought him to ECW back in the day, for reasons like we just saw here tonight. Jericho is one hell of a competitor, and that's why he's the Intercontinental Champion. I really, really like what I saw from him tonight.
Jim Ross:
Ladies and gentlemen, when we return we will kick off the WAR Zone with the NEW World Tag Team Champions, Edge and Christian, who will be in action after last night's hellacious TLC match, against Too Cool.
---COMMERCIAL BREAK---
As we return from the break, Too Cool are already in the ring, juking and jiving to their beats from the music playing through the arena. And suddenly it is cut off, as we now hear the words…
'YOU THINK YOU KNOW ME?'
And out come the NEW World Tag Team Champions, Edge and Christian!! They get a pretty decent reaction, to much surprise, as they look a bit banged up from the Tables, Ladders and Chairs (OH MY~) match last night at WrestleMania X-Seven. They still look ready to go in this non-title match, as they slide into the ring and set their eyes on their opponents. As the bell rings, they immediately dart ahead and start to beat up on their opponents.
Match 4
Non-Title Tag Team Match
WWF World Tag Team Champions Edge and Christian vs. Too Cool
This match did not seem very competitive at all as Grandmaster Sexay and Scotty Too Hotty, albeit deserved, don't seem to get any respect by E&C. They are picked apart early, practically from the get-go of this match, and it never truly looked bright for them. Sexay was thrown out of the ring hard by Christian, as he landed very hard on the ground below, while Scotty was being decimated by the Tag Team Champions, who throughout the match seemed like they wanted to prove a point. Edge would take Scotty out of the corner that he had him in and whip him off to the ropes. Edge then took off and broke him in half with a SPEAR and Christian watched as Edge quickly made the cover on Scotty, getting the easy three count victory.
Winners: Edge & Christian at 3:32.
The crowd watches as Edge and Christian look down at their opponents as their music begins to play. Edge then starts demanding a microphone, which he receives shortly thereafter.
Edge:
Folks you might be asking yourselves why we just beat the hell, out of these two jackasses right now. And the answer, in our view, is really, really simple.
Edge hands the mic off to Christian.
Christian:
See for some reason, the last twenty four hours for us has been nothing but in question. For some reason, despite the fact that we TOTALLY reak of awesomeness, our ability has been put into question.
And Christian hands the microphone back off to Edge.
Edge:
Yeah, for some reason people are doubting us. People are putting our victory last night in one of the most death-defying, spectacular and amazing matches in WrestleMania history…
in doubt
. People are telling us, that we wouldn't have won these Tag Team Championships, without the help of our good buddy Rhyno.
Edge, not looking too amused, continues to talk.
Edge:
Well to that, my brother and I have something to ask to you good people of Fort Worth, Texas.
A cheap pop, out of the ordinary for E&C.
Edge:
Did we need Rhyno last year, when we won the Tag Team Titles, in the Triangle Ladder Match? Did we need Rhyno, when we won the FIRST TLC Match last year at Summerslam? And did we need Rhyno for any other of our awesome Tag Team Title reigns, and victories? The answer to that simple question… is no!
A mixed reaction, as Edge hands the mic off to Christian.
Christian:
See the fact of the matter is, yeah we like to joke around. We like to be ourselves, and we like to be awesome, and fun, and not seem to care about anything. But in reality, the two of us are probably the most competitive people in this entire industry.
A few minor pops from the fans of E&C inside the arena.
Christian:
So don't even think of underestimating our abilities. Because there's no doubt that we are the best tag team in the entire world.
Christian hands the microphone back to Edge.
Edge:
So boys in the back, I'm talking to the Hardy's, the Dudley's, the Holly's, every single tag team there, you don't stand a chance against us, and that's a
'YEAH… WE'RE COMING DOWN!'
A huge pyro explosion goes off on the ramp, as the music of the FORMER World Tag Team Champions hits. The Dudley Boyz presumably are about to come out, and E&C drop their belts and look ready to go. The fans are on their feet, cheering for The Dudley Boyz, and waiting for them to come out into the arena. The fans continue to wait, as E&C look at each other confusingly, wondering what's going on. Suddenly, someone appears at the top of the ramp. But it's not Bubba Ray, it's not D-Von, no it's SPIKE!! Little Spike Dudley comes out looking to fight, and Edge sends Christian off to get him.
Christian obliges to the order and rolls out of the ring, and Spike suddenly turns around and starts running away!! Christian decides to chase after him, and Edge walks ahead to the ropes. While this is going on, the crowd suddenly explodes as BUBBA RAY AND D-VON SLIDE INTO THE RING!!! Edge doesn't realize it, as he watches as his brother turns around, not wanting to go and pursue Spike, and he sees that The Dudleys are in the ring. Christian yells to his brother, telling him to get out, and Edge questions it and turns around… RIGHT INTO THE 3-D!!! The Dudley Boyz hit their impactful finishing maneuver, and then slide right back out of the ring and into the crowd as Christian sprints down the ramp and attends to his fallen comrade.
Jim Ross:
Well by God, those damn Dudleys sure have made an impact here tonight!!
Paul Heyman:
Just like I always knew, those damn Dudleys are so smart. They knew Edge and Christian would take the bait of little Spike Dudley, coming out here into the arena, and when the timing was right, when they fell hook line and sinker, The Dudley Boyz came out through the crowd, went into the ring, and hit Edge with the Dudley Death Drop. Perfectly executed Jim Ross, perfectly executed.
Jim Ross:
Well folks let us remind you while we have the time, that later on tonight, The Undertaker will take on Triple H, in a rematch from last night at WrestleMania. And also, when he arrives here tonight, we will hear from the controversial and new World Wrestling Federation Champion, 'The Rattlesnake' Stone Cold Steve Austin!
---COMMERCIAL BREAK---
Returning from the break, we appear to be in the trenches of the arena. A dimly lit area and we delve into it, hearing the sounds of someone throwing punches. The camera shows that it is in fact, arguably the most respected individual in the WWF today, The Undertaker!
Jim Ross:
Well ladies and gentlemen, there he is. The man that is as bad as they come. The man who's left the past decade in destruction. The man who is 'The Phenom' of the World Wrestling Federation; 'The American Bad Ass' The Undertaker. And later on tonight, he will go one on one with 'The Game' Triple H, for the second night in a row. And Paul if last night taught us anything, that match is going to be a slobber knocker.
Cutting back to ringside.
Paul Heyman:
That it is J.R. But you just have to wonder, the kind of mindset that Triple H is currently in. The Undertaker is going to be facing a different Triple H tonight. Triple H, tonight, hit The Pedigree on the owner of this company, Vince McMahon. And Triple H is not in a good mood. If The Undertaker leaves anything behind in this match tonight, the result of this match is going to be much, much different than last night's. I will tell you that right here, and right now J.R.
Jim Ross:
Well I'm sure you're right Paul and--
The camera suddenly shifts over to the parking lot. The crowd thunders as they see a black pickup truck drive wildly into the arena's parking lot. It stops suddenly, as we see the driver inside – and it's STONE COLD STEVE AUSTIN!!
Jim Ross:
Well by God there he is! The new World Wrestling Federation Champion, Stone Cold Steve Austin is here in Fort Worth.
Paul Heyman:
Oh come on J.R. That was so, so underwhelming. Here, I'll do it.
MY GOD! MY GOD! STONE COLD! STONE COLD IS HERE! STONE COLD IS IN THE BUILDING!! HE'S GONNA WHOOP SOMEBODY'S ASS, AND HE'S GOING TO RAISE HELL LIKE NOBODY HAS EVER RAISED HELL BEFORE!!
Jim Ross:
Oh would you shut your damn mouth!!
Paul Heyman:
I am only, ONLY speaking the truth, J.R.
Cutting to the back, we see Vince McMahon staring into the television screen, as he sees Stone Cold leave his car and walk through the parking lot. He seems to have calmed himself from earlier on in the night when things were just not going right for him. The door in his office suddenly opens, and we see that is his daughter, Stephanie McMahon-Helmsley.
Stephanie McMahon-Helmsley:
Dad.
Mr. McMahon:
What? What do you want Stephanie?
Stephanie McMahon-Helmsley:
Look, dad. I apologize for my husband's actions earlier on, they were reprehensible. But I
Mr. McMahon:
Do you think I give a damn about him? Do you think I give a damn about my son-in-law, after he said he was going to make my life a living hell? I don't care Stephanie! If your husband wants to play hardball, we'll play hardball dammit. Now is there anything else that you want?
Stephanie McMahon-Helmsley:
Yes, yes dad. Last night, that…BITCH…Trish Stratus
humiliated
you
Mr. McMahon:
Yes, yes she did…
Stephanie McMahon-Helmsley:
And I want her, right here, tonight!
Crowd cheers.
Mr. McMahon:
Well Steph, I'd love to grant you that match. In fact I wish I could, but you see Trish, she's not here tonight in Fort Worth. But I'm going to make sure she attends SmackDown on Thursday, and you will get her in the ring, on SmackDown this Thursday night.
Stephanie McMahon-Helmsley:
Good, because I want to make sure she knows, that she'll pay for screwing with the McMahon family, and screwing with you especially.
Well, Steph, she probably already did that. Well played there.
Mr. McMahon:
Well I'm glad to see that at least WE are on the same page.
Stephanie McMahon-Helmsley:
Always daddy, always.
Stephanie leaves the office, as Vince breathes a sigh of relief and turns back towards his television monitor.
---COMMERCIAL BREAK---
'WELLLLLLL… WELL IT'S THE BIG SHOW!'
Seconds after this famed opening hits, the 7ft. 500 lbs. mammoth known as The Big Show makes his way out to the ring. Big Show, as reminded by the dynamic duo of J.R. and Heyman, was involved in the Hardcore Triple Threat Match last night that pitted him, Raven, and the new Hardcore Champion Kane against each other. In the end as it is told, Kane walked out of WrestleMania victorious with the Hardcore Championship. But The Big Show is looking to prove that he did not come out looking like the weakest of the bunch in this upcoming contest, as we can see that RAVEN is already in the ring, ready and willing to fight with the 500 pounder.
Match 5
Hardcore Singles Match
The Big Show vs. Raven
Remember what I said about Edge and Christian/Too Cool being non-competitive? This match was even worse. Despite a couple of shots from Raven with various weapons, The Big Show cleanly dominated this less than stellar squash match. Show found himself piling on the hits in the corner, and then took a trash can and put it in the center of the ring. He grabbed onto Raven's neck, and then lifted him all the way in the air and dropped him down on the garbage can with the Showstopper!! Show simply put his hand atop Raven's chest, and watched as the referee counted to three, and Show got up and celebrated his victory.
Winner: The Big Show at 3:15.
Paul Heyman:
If I may interrupt J.R., what we just witnessed was quite possibly the most dominating performance that I have ever seen out of The Big Show.
Jim Ross:
You may very well be right Paul, and this man will stop at nothing to destroy anything and everything in his path. We have learned that over the last two years that he has been in the WWF, and there's no telling what the future will hold for him.
Paul Heyman:
If the future is anything like what we just saw, the locker room may be in for some big, big trouble. No pun intended though, J.R.
The camera turns to the back, where we see Triple H turning out of a corner in the hallway. The crowd pops as they watch him walk, with his wife in tow, down the hallway and passing various WWF superstars. But suddenly, he stops in his tracks, as he locks eyes with someone bigger than them all… none other… than the WWF CHAMPION HIMSELF – STONE COLD STEVE AUSTIN! The crowd roars, as HHH starts to grunt heavily, as Austin merely looks at him with eyes of no intent whatsoever. He tightens the grip he has over the WWF title belt thrown over his shoulder, as HHH looks down at it.
Triple H:
Get outta my way!
Triple H brushes past Austin, bumping shoulders, as Stephanie tries to go ahead towards him. Austin turns around, and smirks, and then begins to laugh, as he then walks away from the area and down the hallway.
Jim Ross:
Oh my God what a situation that almost was!!
Paul Heyman:
Tensions are at an all-time high J.R.!!
Jim Ross:
And up next, Triple H will take on The Undertaker, and will we see 'The Rattlesnake' make his presence known in that encounter!? We'll be sure to find out, when we return!!
---COMMERCIAL BREAK---
WWF Slam of the Night: Triple H comes close to ending the undefeated streak of The Undertaker, but falls short like so many others. Undertaker sends him for a ride, The Last Ride to be precise, and defeats him in front of his hometown crowd of Houston, Texas last night at WrestleMania.
The broadcast returns live, and the lights go out inside the arena, as we hear those familiar words once again.
'TIME TO PLAY THE GAME!'
Standing up are the fans in attendance tonight as they watch as Triple H makes his slow and methodical way of walking out inside the arena. The spotlight shines down upon him, as he carries his trademark water bottle along with him. He drinks up and spits it out as his wife Stephanie follows him down to the ring, who is looking excellent here tonight. H drinks up one more time before throwing his water bottle into the seats, as he climbs up on the apron. He looks around, before doing his patented water spit as the crowd can't get enough of it. He goes inside the ring and walks to the corner, where he stands upon the second rope, and poses for the crowd before going down and pacing around the ring.
The crowd then watches as another set of familiar words are heard through the P.A. system…
'DEADMAN WALKIN…'
'Rollin'' by Limp Bizkit blasts through the airwaves, as 'The American Bad Ass' rides out on his motorcycle on stage. He beats his chest before throwing his fist up in the air, and then rides down the ramp and around the ring. Triple H can't keep his eyes off of his opponent, wanting to forget the loss last night at WrestleMania and also wanting to let out his aggression even more tonight. The Undertaker parks his bike and then gets off of it, and climbs into the ring where immediately Triple H darts over and throws a right hand and the match begins!!
Match 6
Singles Match – WrestleMania X-Seven Rematch
Triple H vs. The Undertaker
Right after the punches were thrown by Triple H, the referee called for the bell for the match to begin. The onslaught of punches thrown by The Game were unkempt by The Undertaker, who was caught off guard by the shots and could not find a way out of taking them. Triple H would take Undertaker off his feet with one big blow to the cheekbone as the crowd found a way to cheer for him, while the rest booed as a mixed reaction was being generated for Hunter. He grabbed him by the head and hit him with another right hand taking him off his feet and into the ropes. HHH grabbed his arm and shot him off to the ropes and clotheslined him thereafter as he then taunted the crowd, eliciting yet another mixed reaction. Stephanie cheered for her man as she watched him then kick him in the gut and took him into the corner. He kicked him in the gut and then yelled at 'Taker before striking him with his sternum. He threw him across the ring with an Irish whip and HHH once again hit a short arm clothesline as things were all in The Game's favor in the beginning of this match.
HHH then went to clothesline Undertaker out of the ring, but 'Taker ducked underneath. HHH stopped himself from going over the ropes, but Undertaker turned him around and struck him with an uppercut to the chin. He took off his bandana and then went to work hitting him with his patented soup bones to all areas of his body and then hit a boot to the face after whipping him to the ropes. After an unsuccessful pin attempt, The Undertaker didn't stop the offense and then mounted atop Triple H and started to blast him with rights and lefts. The referee told him to stop, but 'Taker didn't listen, but HHH gouged at 'Taker's eyes and then kicked him in the face as he got up to his feet. HHH dropped his elbow down on him, and then dropped it again before making the cover. A near fall occurred, and this angered HHH. He would grab him by the hair and slammed him down on the top turnbuckle, and went to attack him but Undertaker jabbed at him with his elbow. The Undertaker then took him down on the mat with a sidewalk slam and went for a cover, but once again he fell short of getting the three count.
The match would go on to the outside, as HHH was sent over the top of the announce table. Heyman and Ross got out of dodge at the right time and at the right place. Undertaker would grab him by the throat and went for the Chokeslam through the table, but HHH kicked him where it hurts and then sent him over the top and THROUGH THE ANNOUNCE TABLE WITH A BACK DROP! HHH then brought Undertaker up to his feet and sent him barreling into the steel steps, as The Phenom hit them with a scintillating thud. Hunter grabbed 'Taker and went for the PEDIGREE onto the steel steps, but The Undertaker countered and grabbed him by his legs and catapulted him up in the air and into the ring post!! HHH staggered and fell to his knees, curling himself up in pain as Stephanie went over to tend to her husband. Undertaker walked on over and grabbed HHH by his hair and threw him into the ring. We could now see that HHH had started to bleed, and 'Taker looked to seize on this. He beat up on his face for about a minute, before the referee ordered that he stop.
Undertaker obliged, and then would hit a leg drop on 'The Game,' and went for the cover, but got two once again. A commercial break then followed this, and when we came back, the tide had shifted and HHH had Undertaker locked in a sleeper hold. A "During the Break" video was shown, and we saw that Stephanie had slid the sledgehammer into the ring and then distracted the referee, giving HHH ample time to strike with the unholy equalizer and got the momentum from there. Steph was seen clapping for HHH, who tried desperately to put his rival to bed with the sleeper hold. But Undertaker fought back and elbowed himself out of the hold and then hit his flying lariat after ducking a clothesline from The Game. The Deadman then lifted HHH onto his shoulders and dropped him face first onto the top turnbuckle with snake eyes, and then hit a running boot into his face. Undertaker then grabbed his arm and twisted it and then walked over to the corner. He went up to the top, as the rowdy Texan fans in the arena loudly projected "OLD SCHOOOOOOOOL." Undertaker then dropped his fist down onto HHH's shoulder with his 'Old School' maneuver as the crowd came to its feet.
'Taker would then go old school once again, making the throat slashing gesture as he waited for HHH to get up to his feet. Stirring, he grabbed onto the ropes and turned around, and walked right into The Undertaker who lifted him up into the air and onto his shoulder. The American Bad Ass attempted to bring him down for the Tombstone Piledriver, but HHH scurried and freed himself from The Undertaker's grasp!! Triple H turns Undertaker around, and kicks him in the gut and locks him between his legs and hits The Pedigree!!! The crowd jumps to its feet as HHH turns Undertaker on his back, and goes for the cover, and picks up the surprising victory!!
Winner: Triple H at 12:52.
Jim Ross:
My GOD The Game did it!!
Paul Heyman:
Well like I said J.R., clearly The Undertaker left something behind. And Triple H, against the odds of our boss, Mister McMahon has defeated The Undertaker. And this is not going to make Vince McMahon very happy.
Cutting to the back, we see that Vince is CERTAINLY not happy with what has gone on. We see STONE COLD come up from behind, and grab him by the shoulder as Vince turns around.
Mr. McMahon:
Jesus, you scared me. Are you ready?
Austin nods, yes.
Mr. McMahon:
Well then in the words of good ol' J.R.… business, is about to pick up.
Austin and McMahon walk out of the office… and appear to be heading toward the ring.
---COMMERCIAL BREAK---
'NO CHANCE! THAT'S WHAT YOU'VE GOT!'
The crowd rises to their feet and begin to boo as the most powerful man in the industry, Vincent Kennedy McMahon, Jr. that is, makes his way to the ring for the second time in a row. Frustration is on his face, but he doesn't appear to be all that frustrated as he knows that this is the time and the moment that people have been waiting for, for the last 24 hours. Vince quickly strides down the ramp and goes into the ring, where he takes the microphone from Lillian Garcia.
Mr. McMahon:
Cut my music, cut my music!
The music is cut, per order.
Mr. McMahon:
Ladies and gentlemen, I know that this is the moment that you all have been waiting for…
A slow "Austin" chant starts up…
Mr. McMahon:
Allow me to introduce to you… the NEW WORLD WRESTLING FEDERATION CHAMPION… AND THE NEW FACE OF PROFESSIONAL WRESTLING… STONE! COLD! STEVE! AUSTINNNNNNNNNNNNN!!!
*GLASS SHATTERS*
The crowd comes unglued, albeit with a mixed reaction, as momentarily as 'Glass Shatters' by Disturbed plays, the arrival of the WWF Champion is imminent now. And soon enough, 'The Texas Rattlesnake' steps through the curtain and walks out into the arena. He wields the WWF Championship belt in his right hand as he jaws off to the fans as he comes down doing the BMF walk. He gets up and walks into the ring and goes to each corner and raises his arms up in the air every time, and demands a microphone and catches it as it goes airborne.
Stone Cold Steve Austin:
…
"AUSTIN" chants, and boos are ringing through the Champion's ears.
Stone Cold Steve Austin:
Shut up you pieces of trash I'm trying to talk here!
HUGE heat, almost deafening which is unheard of for anything Austin's ever done.
Stone Cold Steve Austin:
I've been walkin' around for the last day or so and people have been comin' up to me, cryin' and whinin' about how I turned my back on each and everyone of you people. They're askin' me, "WHY STONE COLD, WHY!?" Lemme make something real clear to each of you, I never liked any of you.
More boos circulate around the crowd.
Stone Cold Steve Austin:
I don't owe you people anything because all Stone Cold's ever done is risk my life and my career, my well being just to have one thing and one thing only.
"AUSTIN SUCKS" "AUSTIN SUCKS" "AUSTIN SUCKS"
Stone Cold Steve Austin:
Does Stone Cold Steve Austin give a damn about what you pieces of crap think? HELLLLLL NO!
Crowd boos.
Stone Cold Steve Austin:
Stone Cold Steve Austin cares about one thing, and one thing only. And that is the World Wrestling Federation Championship. And last night at WrestleMania, Stone Cold Steve Austin did exactly what he said he was going to do. Steve Austin walked into WrestleMania, Steve Austin walked to the ring, Steve Austin walked up to the face of The Rock, the sorriest piece of trash living on this earth, and whooped his sorry ass all over Houston, Texas, and Steve Austin won the Dubya Dubya Eff Championship!
Mixed reaction from the fans, as Austin looks around, and then turns to Vince.
Stone Cold Steve Austin:
Wipe that sorry look off your face you piece of crap.
Huge, huge, HUGE pop from the crowd.
Stone Cold Steve Austin:
I heard you out here earlier tonight. I heard you talkin', running your mouth like you always do. You have the audacity to give yourself credit for helping me win the title? Son, Steve Austin can win the World Wrestling Federation Championship anytime any place, and as far as I'm concerned I don't need you for nothing.
Another big ovation from the crowd.
Stone Cold Steve Austin:
But quite frankly, you are the boss. You run the damn show around here, and as much as I hate your guts, you can make things a hell of a lot easier for Stone Cold can't you?
Vince nods his head.
Stone Cold Steve Austin:
Well by golly there you have it! Stone Cold Steve Austin, and Vince McMahon, two people you never thought you'd see align themselves, are working together!
Huge heat as J.R. from his seat can't believe what he's seeing.
Stone Cold Steve Austin:
And if you think for one second that Stone Cold Steve Austin did this because he can't beat The Rock, your sorry ass is wrong. I beat The Rock two years ago at WrestleMania fifteen, whooped his sorry ass at Backlash a month later, and last night I whooped his sorry ass again even without this man's help. And that piece of crap, wants to call himself a Champion, 'The People's Champion?' That's the biggest hide of bullshit I've ever heard.
The heat rises for Austin.
Stone Cold Steve Austin:
So Stone Cold Steve Austin has provided you people with an answer as to why I joined forces with this man. Stone Cold Steve Austin has proven he can beat The Rock any given day of the week. And Stone Cold Steve Austin is the World Wrestling Federation Champion. AND THAT'S THE BOTTOM LINEEEEE… CAUSE STONEEEE COLDDD
???:
AUSTIN!
The camera goes away from Austin and McMahon in the ring, and suddenly to the Titantron… where THE ROCK appears, standing in front of what seems to be a bridge… reminiscent of those promos back in 1997/1998.
The Rock:
AUSTIN…
"ROCKY!" "ROCKY!" "ROCKY!"
The Rock:
Austin, before The Rock continues… let me take care of one thing… because FINALLY, THE ROCK… HAS COME BACK TO FOOOOOORT WORTHHHH!!!
A huge reaction from the crowd, as 'The Brahma Bull' has just made his presence known.
The Rock:
Stone Cold Steve Austin, you've said you've proven that you're the Champion, you've said you've proven that you can beat The Rock, you've said that you've proven why you joined forces, with that stupid pile of crap Vince McMahon, but you forgot one thing… you've forgotten, that you've proven, that you are without a doubt, THE BIGGEST PIECE, OF REDNECK TRAILER PARK TRASH THAT HAS EVER GRACED GOD'S GREEN EARTH!!
Once again the crowd raucously cheers for The Rock as Austin looks angered in the ring.
The Rock:
Stone Cold, last night it was without a doubt, an amazing night. The biggest WrestleMania ever. Arguably the best WrestleMania ever. And you gave The Rock YOUR AB-SO-LUTE BEST… but that wasn't enough, was it Austin?
The camera pans to Austin, who doesn't respond.
The Rock:
You see The Rock doesn't want you to answer that question. The Rock knows that answer, because The Rock knows your nothing but a coward. That yellow stripe down your back, that reaches all the way up to your big bald head, and all the way down to your candy ass, is showing clearer than ever before. But The Rock also knows, that there's nothing The Rock can do about it.
Boos from the crowd, as The Rock takes off his shades.
The Rock:
But The Rock wants you to take a step down memory lane, Austin. You see you may not know this, but this is the exact same bridge, the very bridge, that The Rock sent you barreling over just two years ago when The Rock sent you down to the depths of hell, along with your Smoking Skull belt!
An excited pop from the crowd as they remember that very moment.
Stone Cold Steve Austin:
What in the hell are you tryin' to prove you jackass?
The Rock:
Excuse The Rock one minute, Austin. First of all, don't you ever and I mean EVER interrupt The Rock, when he's trying to make a point. Now where was The Rock, oh yeah? Listen Austin. The Rock wants you to remember the times, where you weren't better than The Great One. The Rock wants you to remember, the times when THE MILLIONS-
AND MILLIONS!
The Rock:
And millions, of The Rock's fans, watched The Rock kick your ass all over God's green Earth!
Crowd pops as Austin does not look too happy.
The Rock:
And The Rock wants you to remember… every time The Rock took his size 15 boot, shined it up real nice, turned that sumbitch sideways and stuck it straight up your candy ass!!!
Huge pop, once again for 'The People's Champion.'
The Rock:
And The Rock wants you to remem—
All of a sudden, the screen on the Titantron cuts. Static appears on screen, as Austin and McMahon don't know what's going on. The static goes on, as a frustrated McMahon now speaks.
Mr. McMahon:
What the hell's going on!? Dammit, let's get some damn work back there in the truck!
The static still appears, as we apparently have lost our feed to 'The Great One.' The crowd boos, loudly at that, but they won't be for long…
Mr. McMahon:
Dammit! Somebody's gonna get fired for this! I guarantee it!!
And the same static continues…
Mr. McMahon:
That's it!! I'm going back there, and if nobody does anything, then I'm gonna do something about it myself!!
Vince, in a fit of rage, after tirelessly dealing with everything tonight, gets out of the ring and walks down the steps. The crowd is still booing, and that same static is still going on the Titantron.
Jim Ross:
We apologize for the technical difficulties everyone.
Oh, no apology is needed J.R. Everything has a purpose…
And SUDDENLY, the screen on the Titantron cuts to black. Momentarily, all seems to be well, but the static now RETURNS!! But a loud beat can be heard in the background, blaring through the P.A. system. The crowd wonders what's going on, as images start forming on the Titantron. Nobody can really make them out though, but suddenly, they begin to get a little clearer. However the images suddenly break up and more static appears. Then suddenly, letters begin appearing. Nobody can make them out, until the screen starts shaking. With each shake a heartbeat is heard, almost as if someone is on their last breath. The beats start quickening, as the crowd watches with befuddlement, along with Vince McMahon. Suddenly, the beats stop and a long beep is heard, as if someone has just died. But all of a sudden, the beats start up again, and the static stops. And words appear on screen that shock everyone inside the arena, and the crowd becomes unglued as heartbeats start being heard once again, slowly but surely. As the words on screen are now visible...
WCW
IS

COMING
The screen cuts off once again, as the crowd cannot BELIEVE what they have seen… and neither can Vince. Vince in a tirade storms up the ramp and to the back, with the intent to kill somebody at this rate. This leaves Steve Austin, the WWF Champion… all alone… when the crowd thunders again, as the camera pans over to the audience, as we see THE ROCK RUNNING THROUGH THE CROWD!!!
Jim Ross:
OH MY GOD, IT'S THE ROCK!!!
Paul Heyman:
OH NO!
Jim Ross:
AND AUSTIN! AUSTIN!! HE HAS NO IDEA!!!
The Rock slides underneath the ropes, underneath the ring, calling for Austin to turn around as he waits to pounce. Austin sees him now on the Titantron, and he turns around… RIGHT INTO THE ROCK BOTTOM!!! The crowd BOOMS as The Rock trash talks Austin and gets down to the ground, mouthing off to Austin like he has always done to everyone else. The Rock's music begins to play, as he grabs the World Wrestling Federation Championship belt and goes to the corner and raises it high into the air.
Jim Ross:
MY GOD, AN UNPRECEDENTED TURN OF EVENTS HAVE OCCURRED ON THE WAR ZONE HERE TONIGHT!!
Paul Heyman:
J.R., that all may be true, but who in the HELL was behind that video! WCW!!!!??!?
Jim Ross:
I have no idea Paul, but what I do know is, THE ROCK HAS ARRIVED, AND THE ROCK IS READY TO FIGHT!!! BAH GAWD, WE'LL SEE YOU NEXT WEEK! GOODNIGHT EVERYBODY!!!
End of Show
***
The World Wrestling Federation Presents: Backlash
April 29, 2001
Allstate Arena, Rosemont, IL
Submission Match
Chris Benoit vs. Kurt Angle
---
---
Last edited by JBLoser; 05-18-2009 at

03:07 PM

.
Re: WWF 2001 - The Monopolized Era
---
What an awesome show. I won't lie, I got a warm and fuzzy feeling reading this lol. Yay for nostalgia!

Anyways, Trips tween turn was to be expected but I love how you did it. Perhaps a Steph/Trips break up is on the way if she decides to side with Vince. Speaking of Steph, I loved Steph/Trish throughout 00/01 and can't wait to see what you do with their mini feud lol. I was a bit surprised that HHH got the win over Taker but they're all square now.

I'm guessing Austin and Rock at Backlash from the poster. Great way to go IMO. Although everything seems thrown up in the air with that brilliant WCW promo. Hopefully your invasion angle will own and I have every feeling that it will. Having WCW's best go against WWF's best should be great to read. If that's even where you decide to go.

I loved the commentary throughout the show and Vince was awesome lol. I'm loving Kurt/Benoit at Backlash and old school Jericho owns! Really looking forward to Smackdown. Great start to what I hope will be a kickass thread.
Re: WWF 2001 - The Monopolized Era
---
Raw Feedback
Well done. Seriously, you really canít open a show much better than this. Vince McMahon was great, doing just as Vince would do, gloating and what not, nothing much to say. Triple H turning face is something I will really like, I mean the power trip was good and all, but you canít do it and be different to irl. Triple H is going to be the new Austin it would seem; this makes me think that by next years ĎMania Triple H will be champion. Whoever feuds with Vince is the new man. So, as I said earlier, awesome way to start the show. Quick question though, whatís happening with The Rock?
More epicness from Triple H here. I hope he and Stephanie remain together and he becomes the son in law from hell, would be a lot more original then just having them divorce and then everyone hating Triple H. This is my opinion anyway.
William Regal as Commissioner brings back some awesome memories. Taker/Triple H 2 should be great, McMahon should have been out of commission for a while though, you just made Triple Hís finisher look rather weak.
Rhyno getting the win over Jeff Hardy is something I was very happy with. For one, Hardy is a spot monkey who I really donít like. Two, Rhyno owns and not enough people realize that. Hopefully this is the start of some kind of push, at this stage in time Edge and Christian were kind of goof balls, Rhyno needs to get away from them and be on his own. Make it happen, and push him to the moon.
Eddie does all the talking, He seemed rather in character, but you tried to play on the Mexican heritage way to much. Like, Eddie never says no way, Jose, lol, it just made me laugh, there is such thing as in character and stereotypes and I think you got a little bit lost between the two. Also, even though on Smackdown there is going to be a big tag match, I feel as if maybe you took to long talking about that and the match for tonight was some what of an after thought. It should be a good match but I just donít like tonight being over shadowed by Smackdown.
Another fairly decent match up, even matches that donít really shine were good in the attitude era. As I said, seemed like a decent enough contest, and having Test pin Eddie is a great way to have Eddie still panicking for his match on Smackdown. I just hope you do something with Malenko and Saturn as well, and donít just have Eddie do everything.
Fairly lengthy interview here with Chris Benoit and Kurt Angle. I loved Angle, he was completely on song and just another great interview. As for Benoit, he didnít talk much around this time, but he did seem decent enough. Limited lines for him is good. As for the submission match, it should be great, I can see an epic build up, just picture it, the ankle lock vs the crippler crossface. It has awesome written all over it, do it right please.
Old school Chris Jericho is for the win in so many different ways that it is not funny. Everything was great, I lolíd at the Tupac line as well. Only thing I didnít like was Jericho calling himself the ďKing of the worldĒ he didnít start that until 2002.
Nice win for Jericho over X Pac. X Pac and Justin Credible never got going irl and I cant see them getting any further in this thread. Thatís why 2000 is so much better, DX
.
Too Cool being squashed is not cool, they were an okay tag team. Not in Edge and Christianís league, and I know the new champs have to get the win, but they could have had a bit of a better showing then this.
Edge and Christian getting some decent mic time was good to, one thing I have noticed is that in BTB, a lot of people never give their tag division mic time. Spike Dudley as bait, I get the idea, but I still donít see why Christian would chase Spike? Besides this, another good segment.
The Undertaker is warming up. Even just showing people getting ready for their matches, its something the WWE never does anymore, and its something that I really liked.
Austin is here as well. Great.
Stephanie and Vince are still talking. Good to not see Vince try and pry Trips and Steph apart, this means Trips shall own because he will stay in the family. Trish vs Stephanie is what I like to call a stinker.
Big Show squashing Raven. Ugh, I know you love Show, but please do something decent with Raven as well.
What an epic main event. Not only was it an epic main event but some how, some way Triple H picked up the victory. Just great all around, I know where Triple H is going from here, but I am curious to see just what you do with The Undertaker.
Business is about to pick up~! Oh SHIT~!
Austin was pretty good in this promo, his explanation was simple yet effective, and working with Vince makes things easier. As much as I liked this promo, at times it seemed a little to formal to be Austin so maybe just work on that for next time. The Rock was pretty awesome to if I am honest, I really donít know why he was standing at the bridge, I found it to be unneeded, if not a little stupid. An explanation would be nice.
WCWÖ
Rock with the ambush, simply great work. Well done.
Overall, a very enjoyable show, hops of positives barely any negatives, keep it up my good friend.
---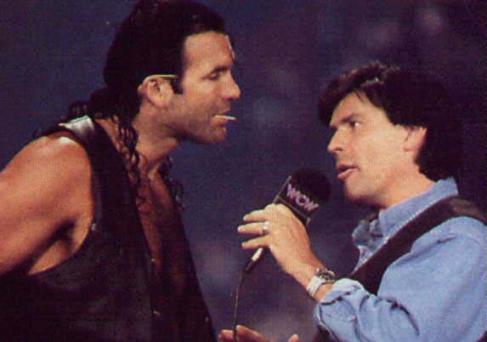 Re: WWF 2001 - The Monopolized Era
---
Just bumped into this thread, and got to say I'm glad I did. You obviously have ability, and after skimming through the first show I'm anxious to see where this goes - especially with the 'WCW IS COMING' thing. Got to say, I would have preferred if you didn't re-write the Invasion, but whatever. Best of luck, hope you stick with it and shizz.
Chopped Liver
Join Date: Jan 2004
Location: Six inches from a computer screen
Posts: 5,432
Points: 318
Re: WWF 2001 - The Monopolized Era
---
Straight off, Paul Heyman on commentary was captured perfectly. IMO, the very best colour analyst in WWF/WWE history. Ultra talented, and this was a perfect role for him.
Anyway, onto the stuff that really matters.
Most certainly knocked the opening promo out of the ballpark. Felt you kicked right into gear, coming hot off the heels of the big WrestleMania. It was always going to be tricky to measure what point Vince should address first; WCW or his new alliance with Austin. Even now, I'm on the fence as to what Vince should've remarked on first, but you measured it well, and segued nicely from the WCW talk and into the Austin alliance topic. Seems pretty clear that Vince and Austin wont be friends, but have aligned simply for their own personal gains. Now that dynamic jumps out as being interesting, and most certainly could allow plenty of tension between the boss and the champion.
This one certainly threw me. Triple H being the one to question Vince DOES make sense, perfect sense, I just didn't expect it. Sets up instantly the mouth watering prospect of a bad-ass (in his prime to boot) Triple H face turn, and a turnaround in the dated Austin - Triple H storied rivalry, with the face / heel balance switched. It would look likely that The Game is heading into the direction of a face turn, but where exactly will that leave a vengeful Rock in this equation??
A terrific promo to kick off a promising thread, with an immediate tease of a MAJOR face turn along with a major potential angle. Many places to go with it too, as Stephanie could find herself torn between family and husband in the long run, along with what could be an epic face Game vs. heel Austin feud, and it looks like it's going to be handled the correct way too, and not just forced upon us. Great opening (albeit a little too heavy on the use of 'bullshit'), although giving away Triple H vs. Undertaker for free the night after they had a memorable match at WrestleMania is questionable. That rematch is money.
Everytime I seen Regal utter 'Mista' I kept thinking Booker T, or the like. I get that you're trying to portray the accent, but I personally don't believe it works for Regal to pronounce it 'Mista'.
Big things in the pipeline for Rhyno IMO. The guy was an absolute beast upon his debut, and with Heyman shilling him to hell, week in, week out, he's bound to be going upward and onwards. Hoping he can make a huge impact, and build off this win.
Return match for Test on Smackdown sounds fun. Getting the match on Smackdown gives it a chance of getting near 10 minutes to do it's job, but I fully expect Guerrero to retain, and prosper with a long, fruitful title reign.
Makes sense too for Test to beat Eddie in the pre-cursor six man tag. Their match at that Mania was a fun undercard match, and it could well be a decent mid card feud for the next number of weeks if you decide to go in that direction. Hopefully Test continues his upward spiral too, as I fondly remember thinking he'd be the King of the Ring in 2001 and go on to big things. Think he lost in the first round to Edge
. Enough of the nostalgia though
.
Delighted that Angle/Benoit will be continuing on. Decent promo from Angle, playing off his typical annoying heel persona, and completely no selling Benoits crossface. Great, classic Angle, and the booking of the Submission match is cool too. Not as awesome as the Ultimate Submission match, but I do applaud you for not just copying the WWE playbook, whilst still staying true to the root of the angle, when it started out like this, as a battle of the two submissions. A truly mouth watering prospect for Backlash already.
Jericho and X-Pac had some decent matches (I think, if I remember right) around Autumn 2000, so it's pleasing to see a good match to carry the in ring portion of the show. The defence for Jericho was to be expected, but there was a lot of random, out of the blue title matches back in the day, coming out of nowhere like this. Glad you're sticking to that system, and not instantly turning to the more recent way of handling title matches. I cant see the X-Factor group going too far tbh, but I could be wrong of course.
Assuming Too Cool are on the outs?? Getting jobbed out big time to a less than 100% E&C came as a bit of a surprise. I'm not sure how much steam is left in the E&C / Dudley / Hardy triangle feud, as it does feel like WM 17 was closure. Those three teams though are by far and away the most bankable teams available, but something needs shaken up in the tag division to keep the three teams fresh if they are all remaining together. E&C vs. The Dudleys isn't appealing to me right now, but hopefully you can add some more spark to the rivalry.
Plenty of hype for Smackdown it seems, albeit with lesser matches being announced; but build up none the less. The role of Trish Stratus in the coming weeks and months will be interesting to keep an eye on, as she fell off the radar after WM 17 initially, doing very little for the coming months.
Please don't job out Raven. Raven = RATINGS
. He's a valuable asset, and hopefully you catch his potential, even if it is limited to the Hardcore division. Big crossroads for Big Show too, as he just seemed to aimlessly drift for months, nay, years at this time. A big potential talent, but where does he go??
Foreshadowing what's to come?? Triple H and Austin head to head just adds to the simmering tension brewing.
Rather disappointing that there has been so little mention of The Rock on the show. After the biggest main event in WrestleMania history, his name has barely been mentioned. I'm expecting a late appearance, but I'd expected to hear more from the commentary about him.
Surprised Triple H picked up the clean win, grabbing his heat back from the previous night. It's only step one though in the build for an epic rivalry between Triple H and the Austin / Vince alliance.
Vince referring to Austin as the 'new face' in professional wrestling. Wasn't that 1998?? Anyway, after you kicked the show off with a great promo, you've delivered again with a dynamite conclusion to a good show. Austin remained 100% bad-ass, but in a whole new light. As good as you wrote Austin, I was thrown a little by his attitude to Vince. Why would Vince suddenly allow himself to be talked to like that by Austin, after years of putting Austin through hell for that same attitude??
We definitely need more closure on what exactly made this arrangement happen between Vince and Austin, as it seems like Austin still despises the boss. For now though, I'm taking it that Austin has aligned with Vince to save himself more hassle, whilst Vince has aligned with Austin for??
Anyway, moving on for now, if Austin was dynamite, The Rock was ON FIRE. Super, super, super promo from The Rock, unfortunately cut short, but at the same time, cut short by an alarming WCW promo, that really took me by surprise. Didn't expect a WCW tease this early, but it looks like you're going all out for it. Big question that I'm sure many will ask, or be thinking … did The Rock know anything about it?? It certainly played to his advantage, as it served a chance to distract Vince and Austin, and then allowed him to gain a measure of revenge.
Simple, but effective Rock Bottom sends the message, loud and clear, and we have ourselves a sure fire Backlash main event set, with Rock and Austin looking to settle the score. Gimmick match please.
Excellent show to kick off with, setting the foundations for a promising thread, although we definitely need a clear, firm explanation for why exactly Vince and Austin are together.
Re: WWF 2001 - The Monopolized Era
---
So we open the show up with Vince McMahon? Right move, since he and Austin joining together is what stole the show in the end. Vince was pretty much awesome. Really, really liked it. He was in-character as hell in not only just the words he used, but also in the way that he just bragged, as well as the little obscene comment at the expense of Linda. The absolute hyping of how WCW is worthless makes you think there will definitely be WCW involvement at some stage down the road, but hey, I could be wrong. Basically, Vince was awesome to begin with. While I was kinda disappointed at the "It was just business." explanation since it was pretty much expected, there's nothing wrong with it. It's the easiest route to go down, and it makes things simple, so I don't blame you for it. Triple H coming down and pretty much going from a complete heel to a complete face was unexpected, though awesome. Keeping Triple H and Austin juxtaposed is good since we know the two can have some insane feuds, and with Vince added into the mix, it's a great move. The whole portion of the promo from Triple H was great, and I loved the fact that you had Steph there, telling him to stop. Triple H nailing the Pedigree to send the segment off really has set the tone for this war, and I have to say, it's a great start. I'm interested in seeing just how long you can keep this going for.
Good way to really hammer what happened down here with Steph and Tripper. This could be big, especially if you keep the two related in this storyline.
Huge match here, with a good start to making Hunter's life hell. Give Tripper the win here plz, to really get him going.
Basic squash pretty much here, which looks to really set Rhyno up. I wasn't too big on the attack on Matt afterwards, as it seems that he wouldn't have been sufficiently weakened to be hit with the Gore. Could've just had Rhyno beat Matt on SmackDown! too. I think it would have worked just as well.
Nice way to get the rematch set up for SmackDown!, as well as a nice six man for tonight announced. I really wasn't too big on Eddie at times since you really overplayed how Mexican he is. Things like using tequilla were a bit too stereotypical, imo.
A nice solid match here. Liked how you got Eddie involved with Test, with him not wanting the tag yet still being made to be legal by the referee thanks to the inadvertant contact. A fine match really for what it was, with a good ending. Nice to build Test up before the match on Thursday, though I'm sure you'll have Eddie retain. I wouldn't mind seeing a test push continue after going down to Eddie, since he wasn't so roided up at this point in time.
Angle was pretty damn solid as the heel in denial, playing his role well. Nice to see you keeping Benout around, and while I found it somewhat annoying to read his portion of the promo with all of the pauses (since I think you overdid it a little), you definitely delivered a big match here. It's going to be hard for you to keep the feud between these two interesting with another seven shows before Backlash after this (especially with Benoit being as bland as he is), though I'm most definitely interested in seeing how it is that you'll go about it. Good luck with it.
Nice basic little promo from Jericho before his match. Character was fine, and I smiled at the owning of Pac. Pretty much a simple defence here for Jericho, just filling in time. Nice comprehensive win keeps his momentum going for now until you find something else for him.
Not feeling too much love for Scotty and Lawler II here. The promo afterwards from E & C wasn't too bad, though I would've marked for a pose from them.
This was more about being serious though, so I get where you're going. Not too sure about more from The Dudleyz and E & C since the teams had done pretty much all they could up until this point, so you're making it hard on yourself. The ending itself was very smart though, and something you don't see too often, so kudos on that. However, I see it being very tough on you to keep this going without doing what's already been done time and time again between these two teams.
Big hype for Austin here. His promo really needs to deliver after all the hype you've given it. This stuff between Heyman and JR has been awesome all night btw, and this was certainly no exception.
Good to see you still incorporating the daddy's girl into Steph's gimmick, as it was big around now. She's definitely caught in a hard place. Hopefully you keep her with Tripper for at least awhile, before the predictable turn happens.
Ugh, pretty much the third squash of the night, which is a tad disappointing. Hype Big Show up in the hardcore element for a few more shows, then unleash Show vs Kane upon us plz. Should be big at Backlash.
Oh shit son. Awesome little confrontation between Triple H and Austin. How long until we see this feud? When we get it, it's going to be epic.
Liking the mixed reaction from the crowd here. Triple H is yet to establish himself properly as a face. The fans were booing him just a night ago against the same man, so they can't be expected to instantly adopt him as their new hero. Surprised you had Triple H and Steph working as well as they did together since I thought you'd have at least a bit of heat betwen the two. I guess Steph hasn't officially picked a side yet, which as I stated earlier, I like. Tripper had to win this for his momentum, which really needs to start to pick up here eith the push right back up the card that he's definitely getting.
Great start right off the bat from Austin; insulting the fans and really establishing that he is indeed a heel to get rid of the crowd reaction towards him. A smart move right away. Austin showing he hates McMahon is kinda making this relationship a bit odd. I just think that you need to maybe establish it a bit further than Vince doing it because he thinks it's good for business, and Austin doing it because he thinks it's easier for him. Hopefully you progress it along a bit further than that. Austin as a character throughout his whole bit was certainly on, and the sudden interruption from The Rock was awesome. Rocky too was awesome, and to be perfectly honest, the ending was pretty much perfect. The WCW hype is abso-fucking-lutely huge, and Rocky coming in to nail the Rock Bottom to finish the show cements what should be an absolutely amazing match at Backlash. Really, really an awesome ending to the show.
I came into this thread knowing you were a solid booker with your last thread, but honestly, this really blew me away. An amazing show promo-wise, with some great ideas going around. If you ocntinue to churn out quality stuff, there's no doubt that this thread will be one of the best. A really good start to what I hope is a long-lasting thread.
---
Posting Rules

You may not post new threads

You may not post replies

You may not post attachments

You may not edit your posts

---

HTML code is Off

---