2004 Was The Year - A Kanefan4e Production
---

2004 WAS THE YEAR - A KANEFAN4E PRODUCTION
WRITTEN AND PRODUCED BY KANEFAN4E
-Images by Roflcopta-

WRESTLEMANIA XX RESULTS
In the opening match of the evening, Smackdown's fastest rising star, John Cena managed to defeat the mammoth Big Show in a WWE United States Championship bout. Show was always the favourite heading into the encounter, but Cena showed all the determination in the world to slay the 'beast'. Cena had to resort to not one, but two massive F-U's to get the one, two, three. After the first attempt, Cena was caught off guard as The Big Show kicked out of the pinning predicament with authority. Cena, not wanting to be put off, used his brass knucks to his advantage, knocking Show clean out, before slamming him back down to the canvas with another huge F-U. This time, it was enough, and Cena became the new WWE United States Champion.

RAW's World Tag Team Champions Rob Van Dam and Booker T went into the second bout with a huge disadvantage, being that they didn't even have to be pinned to lose the straps. However, they showed grit and determination much like John Cena did, and eventually walked out of Wrestlemania still the World Tag Team Champions. It took a lot of effort, but it paid off in the end as Van Dam and Booker T celebrated way into the night. In order to retain the straps they saw off Cade and Jindrak. The Dudley Boys and La Resistance, in one of the best fatal four way tag team matches in WWE history.

The third bout was a much more personal affair. Two former friends in Christian and Chris Jericho went to do battle over the modern day femme fatale named Trish Stratus. In the end, Jericho displayed a heart and went to check on Trish Stratus who was hurt in the corner after entering the ring mid-match. However, Trish gave Jericho a few solid elbows to the face. Once she spotted that it was actually Jericho (her former boyfriend) that she'd hit, she pleaded with him that she thought it was Christian. Jericho, of course believed her, but got caught off guard with an iconic Unprettier, courtesy of Christian. After the match, Christian celebrated, and watched as Trish Stratus turned on Jericho and slapped him twice, square in the face, before making out with her new love interest Christian right in front of a distraught Chris Jericho.

The Rock and Mick Foley made their returns to the squared circle in match number four, taking on the evil corporation that ran RAW, also known as Evolution. With the dirtiest player in the game Ric Flair fronting the group during this match, and two of RAW's biggest rising stars Batista and Randy Orton alongside him, The Rock and Sock Connection had their work cut out. They did however give the crowd an entertaining battle, but in the end, Evolution were just too much to handle as The Legend Killer Randy Orton smashed Mick Foley with a devastating RKO, before ending the match with a pinfall, giving Evolution the victory at Wrestlemania twenty. Foley argued the toss with the referee that it was nothing more than a two count, but the ref had the final decision, and Foley and The Rock walked out of Wrestlemania as the losers.

The divas had time to shine in the next match as RAW's Stacey Keibler and Miss Jackie took on Smackdowns Torrie Wilson and Sable in what was supposed to be the first ever Playboy Evening Gown match. However, before the match got underway, Sable and Torrie Wilson decided to start the match with their gowns off, giving the fans in Madison Square Garden something to cheer about. This caused unnecessary tension between Keibler and Jackie, which ultimately caused them to lose the match. Still, the WWE fans were happy!

Chavo Guerrero retained the WWE Cruiserweight Championship in the next contest, after a gruelling Cruiserweight open featuring Ultimo Dragon, Shannon Moore, Jamie Noble, Funaki, Nunzio, Billy Kidman, Tajiri, Rey Mysterio and Akio. After their fantastic showcase last month at Smackdown's No Way Out pay-per-view, Chavo Guerrero and Rey Mysterio were the final two competitors again. Rey Mysterio gave it his all, but unfortunately for him, Chavo Senior was able to distract the former Cruiserweight Champion, and help Chavo Guerrero to victory.

The seventh brawl was one of, if not the most anticipated battle in WWE history as Goldberg and Brock Lesnar went to battle with Stone Cold Steve Austin stepping in as the law enforcement. It took a while to get going, but once it did, Goldberg and Brock Lesnar proved why they were two of the most dominant superstars in sports entertainment. Eventually, after both men gave the other a taste of their special moves, Goldberg was able to smash Lesnar down to the canvas with a massive Jackhammer, giving him the three count. Stone Cold couldn't leave however until he had smashed both competitors with his iconic Stone Cold Stunner, and downed a couple of his precious 'cold ones'.

The next match saw another fatal four way tag team match, this time for the Smackdown brand, and for the WWE Tag Team Championships. Rikishi and Scotty 2 Hotty went into the match as Champions, and like Booker T and Rob van Dam from RAW, left Wrestlemania as the WWE Tag Team Champions, but not before a hard fought battle against The Worlds Greatest Tag Team (Shelton Benjamin and Charlie Haas), Doug and Danny The Basham Brothers and Farooq and Bradshaw, better known as The APA. Rikishi and Scotty 2 Hotty then decided to perform a post match dance, to get the crowd in the Too Cool mood.

The divas made history in the next match as Molly Holly lost everything. Not only did she loose her WWE Women's Championship match against Victoria, but she also lost all of her hair per stipulation. Molly started off strongly at the beginning of the match, but her performance seemed to drop, letting Victoria nip in and take the three count via a simple, yet effective roll-up, to retain the WWE Women's Championship and get the opportunity to shave Molly Holly bald, and take away her dignity.

The next match was main event quality in its own right. WWE Champion Eddie Guerrero, who went through a gruelling battle to win the belt last month at No Way Out, took on The Olympic gold medallist Kurt Angle, with the belt on the line. Eddie Guerrero and Kurt Angle used to be the best of friends, until their friendship took a turn for the worst, and the pair became heated rivals. Angle thought he had the match won as he continuously wore down Guerrero with his patented Ankle Lock. However, Eddie had the last laugh. As Angle locked in the Ankle Lock, Eddie Guerrero loosened his boot and sent Angle flying, with the boot in his hands. Eddie then managed to roll Kurt Angle up for the three count, retaining the WWE Championship in the process.

The phenom, The Undertaker returned from beyond the grave next as he went one on one with the very same man that aided Mr. McMahon in burying him alive last year at Survivor Series; his very own brother Kane. Undertaker returned to the WWE alongside his father Paul Bearer who understandably wanted nothing to do with Kane. At first, Kane didn't believe his brother was inches away, but he had no choice but to believe it when he was planted head first with a Tombstone Piledriver. Kane laid on the canvas as a victorious Undertaker glided to the back with his father Paul Bearer.

Chris Benoit rose to the occasion in the Wrestlemania twenty main event, in the triple threat, World Heavyweight Championship bout featuring Benoit, Shawn Michaels and Evolution's Triple H. Hunter held the gold heading into the event, but it was Chris Benoit who left with it. It was an emotional night for Chris Benoit, his eighteen year long dream had finally come true. The match was one of the greatest Wrestlemania main events of all time, and featured plenty of blood, sweat and tears from all three men. With Chris Benoit in the ring holding up his World Heavyweight Championship, his best friend, and Smackdown's WWE Champion Eddie Guerrero came out to celebrate, ending the biggest Wrestlemania in history on a high note.

*****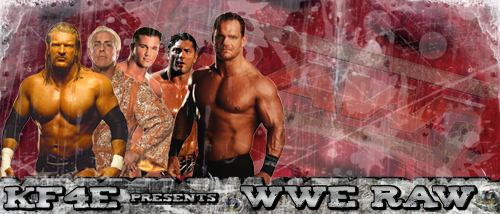 WWE Monday Night RAW
Bill Goldberg
Steve Austin
Booker T
Shawn Michaels
Rob Van Dam
Kane
Spike Dudley
The Hurricane
Val Venis
Al Snow
Maven
Test
Triple H.
Ric Flair
Chris Jericho
The Rock
Batista
Randy Orton
Lance Storm
William Regal
Bubba Dudley
Dvon Dudley
Christian
Rodney Mac
Rico
Chuck Palumbo
Sylvain Grenier
Rene Dupree
Rob Conway
Chris Benoit
Garrison Cade
Mark Jindrak
Mick Foley
Chuck Palumbo

Trish Stratus
Molly Holly
Victoria
Lita
Stacey Keibler
Miss Jackie
Gail Kim

Raw General Manager
Eric Bischoff


World Heavyweight Champion
Chris Benoit

Intercontinental Champion
Randy Orton (Evolution)

WWE Women's Champion
Victoria

World Tag Team Champions
Rob Van Dam and Booker T

Raw Announcing Team
Jim Ross
Jerry The King Lawler

In Ring Announcers
Lillian Garcia
Howard Finkel



WWE Thursday Night Smackdown
Kurt Angle
Undertaker
Edge
Rhyno
Eddie Guerrero
Chavo Guerrero
Rey Mysterio
Rikishi
Jeff Hardy
Billy Kidman
Funaki
Paul London
Ultimo Dragon
Hardcore Holly
Brock Lesnar
John Cena
Big Show
A-Train
Matt Hardy
Charlie Haas
Shelton Benjamin
Tajiri
Akio
Sakoda
Shannon Moore
Jamie Noble
Nunzio
Johnny Stamboli
Doug Basham
Danny Basham
Scotty 2 Hotty
Bradshaw
Farooq

Shaniqua
Torrie Wilson
Sable

Smackdown General Manager
Paul Heyman


WWE Champion
Eddie Guerrero

United States Champion
John Cena

Cruiserweight Champion
Chavo Guerrero

WWE Tag Team Champions
Rikishi and Scotty 2 Hotty

Smackdown Announcing Team
Michael Cole
Tazz

Smackdown In Ring Announcer
Tony Chimmel

*****
---
Last edited by Mr. Kanefan; 05-09-2009 at

06:09 PM

.
Re: 2004 Was The Year - A Kanefan4e Production
---
Well, you know da deal. I wish you good luck, and may this thread prosper, and may
YOU
find your niche for once, my friend. WM20 results were near and dear the same, though I feel the PPV was a letdown when I saw it. Hopefully you make 2004
your
year, and you use the Cruisers to their full potential. Ultimo Dragon for Champ, plz.
Learning to break kayfabe
Join Date: Apr 2008
Posts: 231
Points: 0
Re: 2004 Was The Year - A Kanefan4e Production
---
Hey, KF4E, I thought you were doing the wrestling memoirs thing, but this is as good, and I'll be reading and reviewing, hopefully you stick with this one, because your last BTB Projects were really good, but you stopped posting in them.
---
In the year 3000... Youtube, Twitter and Facebook will merge to form one super time wasting website called Youtwitface.
Re: 2004 Was The Year - A Kanefan4e Production
---
I'll be back when this thread reaches five pages. Seriously though, best of luck and all the rest. I need not say more than just stick with it and prove people wrong. You've shown in the past that you can write, so I hope to see it on a consistent level with lots of shows!
Tag Teaming With James Ellsworth
Join Date: Oct 2008
Location: Land of the Green
Posts: 1,203
Points: 6
Re: 2004 Was The Year - A Kanefan4e Production
---
Well, I believe that you've posted a BTB from this time period before which I've read as a guest but this looks better and a nice layout and love how you wrote the results. Nice potential with the rosters and also great Graphics for this.
I loved 2004 from this time until SummerSlam so hopefully you can turn things around in this one, I'll definitely be reading this BTB. Also, I hope that you can prove many people wrong and at least reach a few pages, which you managed to do with the ECW BTB that I actually loved reading, you're a great writer and hopefully you can stick with this.
Good luck!
P.S. Giving the Cruiserweights more time will get
HUGE
ratings from me!
Re: 2004 Was The Year - A Kanefan4e Production
---

RAW AND SMACKDOWN TO JOIN IN PPV'S
WWE.COM ANNOUNCEMENT – Mon 15th March
-Image from freewebs.com-

WWE is happy to inform fans worldwide that beginning at the Backlash pay-per-view on Sunday April 25th 2004, all pay-per-view events will be presented by both the RAW and Smackdown brands.

RAW General Manager Eric Bischoff met with Smackdown General Manager Paul Heyman last night in a post Wrestlemania meeting. Although the two power hungry men hate each other's guts, they were able to come to an agreement under the watchful eye of World Wrestling Entertainment Chairman Mr. McMahon.

The deal will mean that RAW and Smackdown talent will be able to showcase their talent each month, in some of the most entertaining matches yet. For more information on this, and interviews with RAW General Manager Eric Bischoff, and Smackdown General Manager Paul Heyman, click here.

*****



NEW PPV DEAL, ROSTER CLEANUP, ECONOMIC CRISIS, AND MORE
PWINSIDER.COM ANNOUNCEMENT – Mon 15th March
-Image from Imageshack.com-

The World Wrestling Entertainment just released information regarding the new joint PPV's on their official website. WWE boss Mr. McMahon, and WWE CEO Linda McMahon met with clients for a potential new backer heading into this new WWE season. After hours of being behind closed doors, the McMahon's emerged with a new sponsorship deal for their PPV's. The deal was made with Skittles. The reason the WWE changed sponsors was because of the current economic crisis that seems to be hitting America by storm.

It's not just PPV sponsorship deals that are changing because of the current economic climate. Earlier today, WWE Corporate announced that a number of redundancies were to be staged in the coming weeks. This means roster cuts and job cuts to you and me.

Following last night's Wrestlemania Twenty event, Bill Goldberg from RAW and Brock Lesnar from Smackdown have both been released from the World Wrestling Entertainment. Apparently, both men, and the fans for that matter knew of this news before their scheduled match at the PPV. It has been rumoured that both Lesnar and Goldberg decided to screw their PPV match up in return for the chants from the crowd; thus putting on a less than average bout. Something that Mr. McMahon was furious over.

Finally, after returning to the company last night, Mark Callaway, or better known as The Undertaker will be out for six weeks, until after the Backlash pay-per-view. This was granted before the decision to bring him back. The Undertaker character will be making a real return early May, after Bcklash.

Another roster member on the shelf is RAW's Michael Hickenbottom (Shawn Michaels). He requested time off after his triple threat match with Chris Benoit and Triple H. Michaels is rumoured to be back in June.

*****
---
Last edited by Mr. Kanefan; 05-10-2009 at

11:11 AM

.
Moron
Join Date: Feb 2005
Location: New Jersey
Posts: 9,285
Points: 4,447
Re: 2004 Was The Year - A Kanefan4e Production
---
I do not really recall an "Economic Crisis" in 2004.
It has been awhile since I have been around, lurking in BTB. You are still around I see with another thread. Good luck with this.
Re: 2004 Was The Year - A Kanefan4e Production
---

WWE MONDAY NIGHT RAW
MONDAY 15TH MARCH 2004
MADISON SQUARE GARDEN
THE PREVIEW

Tonight, the superstars of the WWE's flagship programme, Monday Night RAW shuffle into New York's Madison Square Garden for the fallout of last night's Wrestlemania XX pay-per-view. Tonight, rivalries will be ended, and rivalries will begin as the road to Backlash officially begins.

Last night at Wrestlemania, Chris Benoit lived out his life long dream of becoming the World Heavyweight Champion, something he's strived to do for the past eighteen years of his career. Finally, last night at Wrestlemania, Chris Benoit was able to do that in front of millions of fans worldwide. Not only did he take the World Heavyweight Championship away from Evolution's leader Triple H, but he made The Game tap with embarrassment. The third party in the triple threat main event, Shawn Michaels stated in a post match interview that he's happy for Chris, but unfortunately won't be at RAW this evening due to injuries. Shawn in fact won't be scheduled to return to RAW until June. What does that mean for the World Title scene? Will Triple H want retribution on Chris Benoit? Will he cut Benoit's celebrations short? Tune into Monday Night RAW to find out.

Evolution did get one massive victory last night at Wrestlemania however, as the tandem of WWE Intercontinental Champion Randy Orton and Batista, fronted by The Nature Boy Ric Flair defeated The Rock and Mick Foley. It was The Legend Killer Randy Orton who managed to get the pin fall, after smashing The Hardcore Legend Mick Foley with a devastating RKO. RAW General Manager Eric Bischoff has booked a massive main event quality match for tonight's broadcast as Randy Orton will go one on one with Mick Foley, with his Intercontinental Championship on the line. Can Mick Foley salvage what he couldn't last night? Or will The Legend Killer end Mick Foley's career once and for all? Tune into Monday Night RAW to find out.

At Wrestlemania, two divas made history as Victoria managed to defeat Molly Holly to retain the WWE Women's Championship. Not only that, but she also won the opportunity to shave the number one contender bald. Molly Holly walked out of Wrestlemania with a new shiny bald head. However, we have reports that Molly Holly has been searching wig shops all over New York City, and that she will be at RAW tonight to exact revenge. What is swirling around Molly Holly's mind, and will she exact revenge tonight? Tune into RAW to find out.

RAW's very own femme fatale Trish Stratus viciously turned on former partner Chris Jericho last night at Wrestlemania XX, and made out with the dirty CLB Christian. All three RAW superstars are scheduled to appear at RAW tonight, but in what state will Jericho be in? Will we find out more about the Christian/Trish Stratus partnership? Tune into RAW tonight to find out.

Also last night at Wrestlemania XX, Kane was defeated by a presence from beyond the grave, Stacey Keibler and Miss Jackie came to blows backstage after losing to Smackdown's Torrie Wilson and Sable, and Rob Van Dam and Booker T retained the World Tag Team Championships in a fatal four way match. Catch all the reaction, and the fallout tonight!

All of this and much, much more, tonight on WWE Monday Night RAW, live on SpikeTV.

*****
---
Last edited by Mr. Kanefan; 05-11-2009 at

03:19 PM

.
Moron
Join Date: Apr 2009
Location: England
Posts: 6,893
Points: 0
Re: 2004 Was The Year - A Kanefan4e Production
---
So... no Shawn or Taker? Interesting twist. Will definitely look forward to Raw... When you post it.
Posting Rules

You may not post new threads

You may not post replies

You may not post attachments

You may not edit your posts

---

HTML code is Off

---