Re: WWE: Turning The Corner
---
Nige's Smackdown Feedback

Batista opening the show had to happen after the shocking turn at Unforgiven. I was looking forward to what he would say, and it was all very realistic in my book. I enjoyed writing Batista as a heel in my last thread as he has so many more levels he can go to with the aggression he has, and this should be great with The Undertaker. Edge coming out was unexpected as it seemed to be two heels going at it, and throws into question the entire event of Batista turning on The Undertaker as I can't see the fans caring too much about Batista and Edge later on, although I haven't a clue who the partners will be, but Taker will be present in some manner. Edge is getting another easy match then at No Mercy against Rey, but decent promo. Edge was great though

Opener would be cool to watch and it all seemed quite fun, and I liked that you highlighted the sunset flip powerbomb to the floor. Kidman picking up a win over Kazarian is fine and maybe the cruiserweight division will take off from here

Edge & MVP was quite fun to read and I thought that MVP was going to let the power ranger line go, but he got his shot in at the end. It was fun like I said and obviously sets up how the match will go later on, with these two getting at each other and losing the match to make Batista look dominant. The only thing I didn't like was that MVP gave too much information away on the phone call. The just being here next week adds more suspense and we kind of now what was going to happen, taking the surprise element out of it

Masters/Richards wasn't anything too special, but I see you're trying to make some sort of Masters push out of this. The DQ doesn't really help, but the Masterlock afterwards does and I expect him to beat Richards like a bitch next week

Batista interview was fine, but I just thought you should have wrapped it up with the line about beating the hell out of The Undertaker as it went from aggressive to flat again if you know what I mean. The heel turn is working out and I'm glad you said he wasn't assed about the match tonight and that Taker is all that matters

Rey and Finlay going at it for the number one contender's spot is fine and it was a really good match to read. I'm curious to why it's so low down the card though as the winner will be facing Edge for the World title. We all know Edge will retain, but this was not going to help Rey get some serious momentum behind him, and the manner he won too doesn't help. Finlay losing thanks to Kane works, but it just doesn't feel right, maybe because of the position of the match against its significance

Noble & Kash just went one better than the last match as it was some real great action that I love to read. Kash has been on a role lately, but it was doubtful that he would win this one. With the cruiserweight title, I wouldn't be surprised to see it change hands at a TV taping, but it's better that it doesn't. Noble saving himself and then beating Kash was awesome at the end and it really gets him some credibility back, as well as some heat. Kash as a face though, not sure!

It's great to see Regal getting behind the team of Burchill & McIntyre as they need a voice, and Regal's is perfect. Calling The Major's tarts was really funny and appropriate too. The match like you said was a squash, but it pushes these two really well. I like these guys a lot as you know from my thread and think that they can do something on Smackdown, with Burchill being the stand out of the two

MVP & Matt was another decent promo, but boy, MVP caved easy to give Matt a title match. I don't think either want to be tag champions, but I can see that MVP would like the double gold position so it's tricky to say. I'm not sure if I like Matt having the last word in their promos though, and MVP's phone call will help him out, but how would he know about needing help next week before setting up the match, unless it was a lucky coincidence for him

Flair & Dykstra worked pretty well for both parties as well as Chavo. I like that you're thinking outside the box as I'm sure Chavo has never been involved with Flair before IRL or in BTB, so that gets marks straight away. Chavo screwing Flair in this way was good and effective, plus it gives Kenny some credibility too, which is awesome as he is a talent for sure

Edge interview was real good and probably the best promo of the night. It was very realistic and aggressive towards both Rey and Batista, but maybe a little close to the match itself. I was expecting Batista to come out alone and then Taker would come and be his partner, so when I read Kane was coming to the rescue, I was shocked. It's a cool decision as obviously there would be some heat between Kane and Batista now. I expect to see Finlay and Taker now by the way. The match was alright, nothing special until it turned into chaos. Finlay was always going to return the favour, but I didn't count on Rey coming out. All we needed was Matt to top it all off, but it worked as Rey managed to get one up and then the long awaited gong. Keeping everyone guessing and waiting was the right call and I've made a few bad calls this week have haunted me on the poker table, so I can appreciate the right decisions now. The words Taker came out with were more than acceptable for him as he rarely speaks, and this was very realistic. The timing was great as I read another Taker promo today that went the other way, so I can really back this up. Taker/Batista Hell in a Cell! No, not again. We've seen it in real life recently and I just read one for kid o mac's Starrcade. I don't like the choice of match but it should be brutal for sure

Overall. It was a very good show overall with some nice booking decisions involving Chavo/Flair/Dykstra, Noble/Kash and the debut of The UK Connection. There were some things I didn't like or agree with, but nothing too major
Re: WWE: Turning The Corner
---
Kane01's Smackdown Review

The opening promo didn't do it for me. It seemed like Batista was starting a feud with The Undertaker, and then a few minutes later he was starting a feud with Edge over the World Heavyweight Championship. You had them in character though which was a good thing. Having Batista go heel was a very creative choice, but again in this promo he started off hating The Undertaker in typical heel fashion, but then when the biggest heel on the show came out he started acting like a face around him. Two nice matches were announced in this promo, and I'm also glad to see Finlay in the main event.

A nice little opening match here, and like you said it had no meaning. The spot sounds pretty awesome, and I would have loved to see it happen. You had the right team win in my opinion. Again good match to start us off here.

Edge asking MVP was a good little segment. I didn't like how the first person he asked said yes. Although saying that, Edge and MVP teaming up seems like a very nice combination. They seemed on and off character throughout though.

Nice to see somebody else other than me using Chris Masters. It was also very nice seeing Masters getting disqualified. It really did give him more of a character. The match itself was quite entertaining to read. Masters locking in the master lock after the match just furthered his character, and I can see big things for him one day.

Batista's interview was good. I can't wait to see who Batista's partner is. Batista was in character in this promo, but again it left me confused as to whether he is a face or a heel.

Rey and Finlay had a brilliant match here. I love the way you write recapped matches. Having Kane come down and cost Finlay the match was a good booking choice. It adds fire to their feud, and it also crowns a number one contender at the same time. I would have liked to see Finlay get a one on one championship shot, but his feud with Kane will do just fine.

Another DQ on the show was a bad move in my opinion. You already used the DQ finish in the Masters match. The match itself was enjoyable to say the least. Jamie Noble as the badass cruiserweight is a good thing to see. That's how I love Noble best.

In my opinion there should have been a bit more of a build up for this UK Connection. It's a good idea because it gets them on TV and they can damn wrestle that's for sure. But like I said, there should have been promo tapes etc to add hype for their debut. Just having Regal introduce them in a couple of lines didn't do it for me.

A nice stipulation was added to the united states championship situation. Having Hardy forfeit the titles if he doesn't get a title shot was great. However I do think MVP would have tried to get out of defending his championship, and then if he had to, defend it.

I'm guessing you haven't got the Flair losing = Flair retiring storyline running. You seem very creative with your shows and your ideas. Having Chavo dressed as Flair and also using his entrance music was great. Keep up the good work man.

Edge backstage again, this was a bit overkill in my opinion. However it got the point across and I can see a Batista/Edge feud brewing.

Kane as the partner was cool. However I don't like how everyone is involved in each others feuds if you get me. Like as if you've picked a select bunch and decided to use them in every feud. However this main event was superbly written. I liked the fact that Batista and Kane won. Batista needed to win really. The aftermath was the bit that intrigued me most though. Undertaker and Batista for No Mercy is brilliant. Hell In A Cell makes it better too. The message from Undertaker was well written too.

Overall this was a good show, I like the things going on, but like I said before, it seems like just a select bunch are involved in most of the feuds. However I enjoyed reading and I will check out this thread more often.
Years I've Been a Fan > Years You've Been Alive
Join Date: Jun 2005
Location: Kansas City - At the Argosy, Playing Blackjack with Harley Race
Posts: 808
Points: 0
Re: WWE: Turning The Corner
---
Wow, Kane01, I didn't even realize you had your own thread. Cool! I haven't the time right now, but I just wanted to let you know I will be tuning in, as you've always been so good to me. I will try to read up, and have a full understanding, and leave some somments on the next show. Good luck friend.
---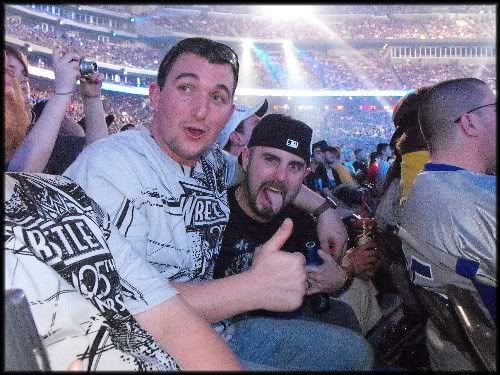 Tag Teaming With James Ellsworth
Join Date: Mar 2005
Posts: 1,214
Points: 0
Re: WWE: Turning The Corner
---
Quote:

Wrestling News and Rumours



The biggest news of the week by far, was Stone Cold Steve Austin returning to the WWE as the General Manager of Raw. The WWE had apparently been contacting Steve Austin for a number of months to make a comeback in a permanent role on Raw. Austin at first wasn't too interested, but after a lot of though and discussion Austin accepted Vince's offer. It is expected that Austin will have a long reign as General Manager of Raw.

On the Smackdown side of things, recently we have witnessed Batista in a more heelish character. At the moment the WWE see Batista in a more of a tweener role, as they are undecided whether to fully turn him heel or not. This will give them some time to think about if they should turn Batista heel or not.

Also just one week after having his final match with the WWE, Booker T along with his wife Sharmell have signed a contract to join TNA Wrestling. It has been reported that Booker T's arrival has been met with a positive response, with the younger guys believing that Booker T's experience could help them.
WWE Raw Preview
This week, Monday Night Raw rolls into Milwaukee Wisconsin with a new General Manager, and his name is Stone Cold Steve Austin. And with the toughest SOB in WWE History as General Manager, one thing you can expect is mayhem.

Last week saw an explosive confrontation between Chris Jericho and his father Vince McMahon. Chris Jericho has promised to open the show off to address a certain situation, what will Chris Jericho have in store for us tonight.

Also last week Umaga attacked Triple H after his steel cage match, coming off the top of the cage with a Body Splash onto Triple H's helpless body. What carnage will Umaga unleash tonight, and will the Game seek revenge on the Samoan Bulldozer?

The biggest match announced for Raw so far is a 3 on 2 handicap match, as CM Punk teams up with RVD to take on John Morrison, Kevin Thorn and Intercontinental Champion Carlito. Also announced for tonight is a big clash between Cody Rhodes and Hardcore Holly. Last week Holly mistook Cody for hitting him with the chair, and hit Cody with the Alabama Slammer. Will Cody fall victim to the Alabama Slammer again tonight?

Also expect to see the likes of WWE Champion Randy Orton, John Cena, Ken Kennedy and much more in action tonight. Make sure to tune into Monday Night Raw, this Monday live on the USA Network at 9/8 ET!
Matches Confirmed
Cryme Time v The Redneck Wrecking Crew
Carlito, John Morrison and Kevin Thorn v CM Punk and Rob Van Dam
Cody Rhodes v Hardcore Holly
Raw should be posted by Wednesday
Re: WWE: Turning The Corner
---
Kane01 Raw is looking really good. It will be refreshing to see Stone Cold back in charge on the red brand. Things will certainly heat up.
It looks like you have Jericho as the son of Vince. Thats really good. I wonder what he will have to say this week.
All the matches look cool, I'll be reading and reviewing
Tag Teaming With James Ellsworth
Join Date: Jun 2005
Location: Sidford, England
Posts: 1,864
Points: 0
Re: WWE: Turning The Corner
---
I've loved the start that this thread has made, with Unforgiven being one of the most 'WWE' ppv's I've ever seen in BTB... every thing that happened on the show I could see actually happening on a WWE ppv, which is good to see.

The Jericho comeback as Vince's son is definately unique and an interesting approach to take to get him back in the thread. Loved the way he managed to get Austin as the GM as well which means that Raw is going to see some explosive action. It looks as if it is being set-up for Cena to get back the title at some point, possibly Survivor Series of Wrestlemania, while all the time the New Corporation try to keep him and Jericho down

Smackdown is looking good as well with the heel turn of Batista (he should go fully heel) to take down the Undertaker, while the Edge/Rey feud should at least produce a good title match, even though I don't see him winning the title (although it would be a nice surprise if he did)
Re: WWE: Turning The Corner
---
RAW is looking awsome. Austin as the new GM will be fun to watch. Everyone knows anything can happen when Stone Cold is around. Looking forward to The Games reaction to the Umaga attack. He's going to be pissed. jericho opening the show is always clever, especially on the stick! great talker and i'm sure Vince will come out, so that should be a great opener to the show. Liking the two matches you signed, they're solid.
---
Re: WWE: Turning The Corner
---
Kane01's SmackDown Feedback
Sorry it's so late, bud
Right off the bat, I think that the actions of Batista at Unforgiven would be an instant heel turn, as opposed to a simple attack on a rival. He annihilated the most over face in the company. I just can't see him getting cheered, or even getting mixed reactions anymore. I love intense 'Tista though, so this promo definately agreed with me from that angle, although at times Big Dave transformed into Scott 'The Man' Steiner:
"Edge if I was you, you Blonde Haired Bitch! I would get the hell out of this ring, before I kick your ass!"
Come on, I can't be the nly one to see the Poppa Pump likeness here. Its littred throughout this promo from The Animal. Pretty cool. Edge was okay as well, although I hated the line,
"And Batista since you haven't got anything around your waist, except for an exceeding belly line".
It sounded out of character from Edge to me, but the rest of his involvement seemed suitable. The Main Event is obviously epic, but I really hate the fact that Batista is still being presented as a face. It just wouldn't happen.
Yang > Kaz > Kidman for me, but it's still a nice little cliq of Cruiserweight wrestlers you have there. I'm probably only sick of Kidman because he keeps getting Jesus pushes in BTB, and I've never really been that high on him in the first place. Moore takes the fall though, which makes it acceptable. Monster push for the CW's plz.
Good choice of partner for Edge tonight with MVP, and I enjoyed the scattered tension between the two men. MVP owned Edge a bit with the
"I am Better than Edge…"
line, although I think Porter should have held his ground a little better with the Champ, rather than running away.
I thought Steviehad gone over Masters cleanly at first, but it seems as though you are planting the seeds for some kind of monster heel push for him. If you do it like he was in '05, then you could very well be on to something.
Oh man, Batista is sounding SO like Steiner at the moment it's scary. I'm just waiing for him to throw a
"Mean Gene"
in there at some poin. I'll be interested to see who Big Dave gets as his partner, but if it is a fully fledged face, then it will be a little strange.
It's a bit wierd to see a #1 Contenders match third on the card to be honest. I would have expected it firs or last for some semblance of importance to be honest. Good contest, although it was fairly obvious that Rey Rey was picking up the win. Kane's intereference adds something personalto his feud with Finlay. Hopefully he and Kane can get a brutal match at No Mercy.
Awesome match and segment between Kid Kash and Jamie Noble here. These two guys work brillantly together, since either man can work heel and face. I hope they hold the CW division for a while. The beatdown afterwards was a nice touch too. I mark for the Dragon Sleeper to be honest.
Regal is so awesome it's not even funny. Great little promo from him here, although I was a little disappointed to see them relegated to the role of jobbers so soon. They could be valuable to the tag division later on. Burchilland McIntyre are a great team, so this pushlooks good so far.
Quite a simple yet effective little segment between MVP and Hardy here. Porter is great on the stick, and Matt is pretty underrated to be honest. Really looking forward to the U.S title match next week, but something tells me that we'll be seeing a DQ for Montel.
I'm not really up to date with this Flair/Chavo feud, but if it means both men are getting sufficient pushes then I'm all for it. Also, Dykstra not being a jobber makes me happy.
Nice little interview from the Rated R Superstar next. He's been very intense tonight. Very much like his late '04 and '05 character when he was a nut. I really quite enjoyed that version of hs character to be honest. Hopefully we get some more shots at Rey Rey over the net few weeks.
Great Main Event It was very TNA-esque with the amount of intereference. Finlay and Kane is shaping up nicely, but I have to say that MVP ended up looking like a bit of a jobber, given how easily Big Dave put him away. No real surprise to see Rey Rey take it to Edge at the end, and The Undertaker's short promo was a superb note to end on. I really think 'Tista needs to fully turn heel though, to make the feud that bit more effective. Hell In A Cell should be sweet, and I'll be interested to see what kind of personal twist you can put on the match.
Overal this was a vry good show, Kane, ne of the better ones around here to read. The only feud I was lost with was the Chavo/Flair one, but that's for obvious reasons. Other than that, everything is ticking along swimmingly
Re: WWE: Turning The Corner
---
RAW looks good Kane, expect some comments when it's up.
---
***

Re: WWE: Turning The Corner
---
I'll be sure to read RAW when it's posted kane. Looks to be good.
---
Posting Rules

You may not post new threads

You may not post replies

You may not post attachments

You may not edit your posts

---

HTML code is Off

---