The Inner Circle Presents - The BTB Newsletter
---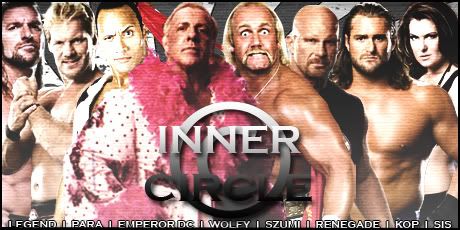 Alrighty, I'm back again. This time, as what I suppose you could call the Co-Writer and Co-Runner of the BTB Newsletter as I'll be running this thing along with my old pal Szumi (that jobber Renegade is a contributor too). Since it was confirmed, we have been working on what to include in order to give you the best possible edition, and we feel we have done that in terms of this month's edition.

I'll be continuing to write and set things out, but god knows what I will be writing. It all depends on what myself and Szumi decide, and who else writes what. Just be sure, this will be going nowhere anytime soon. It's here to stay.

Without further adieu, let's get this thing started. The first man to be interviewed in the New Editions of the BTB Newsletter is the man that has brought created federations back to life with his BTB project; Evolution Pro Wrestling. He may not be extremely active, but when he is, he turns out some good shit. He is of course PARANoIR~!

The Interview - by Emperor DC

Disclaimer: Some of the sentiments in this interview are not to be confused with the very independent stance the BTB Newsletter staff has towards all things BTB.

---

DC: Alrighty, let's begin. First off, the basics.

When did you first arrive at WF, and in BTB?

Para: Um. October or November in 2006... same time as Legend I think so whenever that was. Didn't start BTB for a month or two after though because I always read them and because the quality was so good then I wasn't sure if I'd cut it so it took me a while to convince myself to give it a crack.

DC: What projects have you done before your current one, EPW, and what happened to them?

Para: Never had one before EPW, was only ever going to be a onetime thing.

DC: Did you not partner with Apple Spitter? I know you might want to forget that time in your career, but still.

Para: That was after EPW - I quit EPW for a while to partner with him, but then he ditched it so I went back to it.

DC: I should really get my facts straight. I clearly don't deserve this job.

Para: I had to prove myself before teaming with someone as "illustrious" as Apple Spitter

DC: I'd imagine. So, how did EPW come about? Was it wanting to do something different as a conscious effort?

Para: I hate WWE at the best of times, if Eddie Guerrero had of been alive - EPW would never have happened because I would've written him all day but other than that WWE had zero appeal to write when I could "sign" the very few WWE folk that I wanted to use which I think was only 4 or 5 people - but basically yeah, I wanted to be something different.

DC: But did you see EPW being the success it is today and be regarded by many of BTB's greatest as one of the greatest created feds to hit WF? Was it ever intended to be a long-term thing, and did you expect it to catch on?

Para: I didn't know if it would catch on – and I still don't think it has too much, it has a solid fan base which is good but I was fairly confident it would go long term. I had an immense about of planning done and some good ideas which was handy; when my computer fried and I lost everything I thought it could've been over but it didn't wanna die.

DC: That's my next question. Did it knock you back when you did lose that stuff and how hard was it to get back into the swing of writing it again once you continued?

Para: Yeah that was hard, couldn't bring myself to re-write what I'd lost. I lost an entire PPV including a TLC Match between Edge and RVD that was some ridiculous amount of words long, so that pissed me off.

DC: So, moving onto the stuff you have produced, what have you enjoyed most since starting to write EPW, and what do you feel have been some of your great successes?

Para: None of it? lol I kid - I enjoyed my Punk v Hassan feud. That was good fun.

DC: BE SERIOUS! RESPECT MY AUTHORITAH!

Para: I've enjoyed actually making a Cruiserweight Title mean something, and I'm enjoying my Mick Foley/Bryan Danielson feud.

DC: What a random pairing too. Did you think of that while smoking the weed?

Para: I wanted to find away to move "AmDrag" up a few notches and I thought "who better than Kanyon.... I mean Foley"

DC: Kanyon is great. Gay, but great!

Para: You only think he's great because he's gay.

DC: No comment. Nick is the only man for me.

DC: So, let's get your thoughts. Best feud yet, and why, and best match written yet, and why?

Para: Best match or favorite match or both?

DC: Both. Fuck it, we have time. You're the one paying for the privilege.

Para: Best match I wrote was Edge v Shawn Michaels for a King of the Ring PPV when I was with Apple Spitter. It never got to see the light of day though, which was a damn shame, because it was a good match - and I never say that about my matches.

Favorite match was LAX v The World's Greatest Tag Team at Out of Exile in the Ladder Match.

I was enjoying RVD v Edge until I lost it most of it... I'm really enjoying Edge v Kurt Angle. So probably that.

DC: So, what does the future hold for EPW, without giving too much away?

Para: That's a good question - the immediate future I don't think is too bright because my work life is hectic at the moment. I haven't had a day off in over a month, so I don't have much time for BTB.

DC: Bad news, but I assume you are going to give us some good news by stating that EPW is not dead and will be returning soon enough?

Para: It'll return eventually - the same thing happened this time last year. Winter for me is absolutely nuts, so we'll see what happens.

DC: Alright, moving onto other things. BTB at the moment, how good is it? Seems like certain people feel BTB needs new people, whilst most others think BTB is strong and does not need any help? Your thoughts on the subject?

Para: I don't think BTB needs new people at all - there's already a shitload of people. How many more do we need? I don't think it needs help at all atm. All this constant talk of new ideas all the time is a load of shit. It's been proved time and time again that ideas other than ones like the Mega Standings and the Newsletter simply do not work. End of story.

DC: Wow, did you hear that BTB? Strong words, bitches!

DC: Alright, we are coming up to Wrestlemania time, and that normally means it's time to crown some Hall of Famers. Myself, I don't feel anyone at the moment deserves a Hall of Fame spot, but you may feel different. What's your take? Does anyone already not in the hall deserve a spot?

Para: Nope

DC: Simple, but true. Some of you could learn from this man.

DC: Alrighty then, now another controversial topic. Tournaments. Just a quick word on what you think of them. Are they hyped too much considering how much shit goes on, and how it ruins the forum for sometimes months on end?

Para: Well, I've never been involved in a BTB tournament - does that answer the question?

DC: I think so.


Para: In all honestly, they aren't worth all the shit that goes with. It just shows how many people in this place are ungrateful bastards because they whine about scoring standards etc and just basically become a major pain in the ass to the organizers of the tournaments - who are always the same people, the same people who try to make this section better but they just get shit on because ..

Little Johnny thinks his match was better than the score he got. in my opinion, little Johnny can fuck off coz he's shit and tournaments can go as well.

DC: Interesting.


DC: Right, let's play some Word Association, shall we?

Para: Oh boy, do I have to be honest?

DC: I think so. It's what the constitution tells us

Wolf Beast

Para: *Bows* He's a GOD.

DC: Szumi?

Para: Virgin.

DC: I also heard he is as dry as the Sahara Desert

Para: Makes sense.

DC: KOP?

Para: Heavily underrated nowadays - I don't think people appreciate just how good he is anymore... more so the nubs to the section. He's probably my favorite booker over my time at WF, deserves more love then he gets in these times.

DC: The Inner Circle taking over the BTB world and destroying it?

Para: *Thumbs Up*

The nubs thinking this is the end of the world is the most amusing part.

DC: The person who is interviewing you right now, Emperor DC~!

Para: Controversial.

DC: I agree.

Para: Lol, next.

DC: No rush baby, no rush.

DC: The WWE

Para: Yuck.

DC: TNA

Para: Overrated… but I could make it epic.

DC: ROH

Para: Not sure - don't see much of it anymore, used to download it all the time when they had the likes of Punk, Joe and Homicide.

DC: Back to BTB'ers~! KaneFan4Ever

Para: Who?

DC: Legend

Para: I love this guy! He was the first person to review my thread for every show, I have nothing bad to say about him. He needs to bring back his thread though.

DC: Grendrill

Para: The first thing that comes to mind with him is the sig of him kissing his ugly girlfriend or his so called million dollar riches.

DC: Did you know he is using his inheritance to boost your economy?

Para: He should buy himself a decent looking missus before he worries about boosting the economy.

DC: New Zealand

Para: Australia's lesser brother.


DC: Right, that is enough of that. Now tell BTB about the man behind the username! Fee; free to avoid possible comments which would enable stalkers to latch onto you, the BTB Newsletter does not condone stalking or any other crime … ESPECIALLY INCEST!!

Para: Well, There's not too much to tell at the moment. I work way too much. In fact, I need to go do that soon. I also enjoy sleep.

DC: You are an interesting guy!

Para: I just don't want to be stalked.

DC: I'd be gentle.

So, any final thoughts on anything of your choice?

Para: I would like to close by saying this interview has been brought to you by the IC.

DC: It has also been approved by the IC. WE'RE TAKING OVER!

Para: lol, indeed!

DC: Thanks for joining us Para. As Para heads out to work, I'll end by plugging Para's Evolution Pro Wrestling. It's probably the best created fed going, and let's all hope it returns to prominence soon, just as soon as he stops being a jobber.


---

I have been DC, and you have all been reading. Thanks very much, and enjoy. I'll be back again next time, in whatever capacity. It's been fun doing this, and I hope you have all gained a new 'understanding' of how random my old mate Para really is.

---

Spotlight Column on The Egotistical, Nazi (Szumi) - by Renegade

Since he came around to the BTB forum about 3 years ago now, Szumi has always been seen as the king of promo's and rightfully so. The amazing depth, characterization, emotion and consistency he can add to and produce his promo's with are un-matched by any other booker in this section. Wolfy, Mac, Legend, myself, KOP, Paranoir, Patman, DC, you can go on and on listing bookers who can produce some great stuff promo wise now and then, but nobody else has the consistency that Szumi has when it comes to producing promo's.

When Szumi first reared his ugly head back in 2006, he was relatively unknown. But by the end of that same year, he was extremely well known, making a big impact on the section with the incredible quality and consistency of his promo's. Sure, even the promo king himself can't make EVERY promo great, but he has done it more often than not so regularly, it's scary. Even Wolf Beast, long regarded as the best at everything in this section, recognized that this man had something extra in the promo writing department. BTB tournaments and World Cups would see Szumi edge out everybody he was drawn against promo wise, because even when against top class bookers, and I can remember when he came up against Forever-Delayed, one of the sections best produced in the years gone by, wrote a terrific promo which I felt for sure would win, only for this man Szumi to produce something even more incredible.

The sheer fact is that BTB has never seen anyone so talented in the promo writing department, ever. Szumi's tremendous promo writing skill has rubbed off on the entire forum as a whole, and has encouraged everyone else to improve their promo quality. For anyone aspiring booker(s) who want to know how to become a better and more consistent promo writer, all you really should be doing is trying to take in all you can from reading this man's promo work. And Szumi's last Nitro, posted just a few days ago, is the absolute pinnacle of the section at this point in time. I urge for all who have not checked it yet, to do so by clicking here

http://www.wrestlingforum.com/booker...ml#post6919129

It is epicness in every sense of the word. The Hall/Nash invasion of the Michaels' household is terrific. The comedy elements of Scott Hall perfectly complemented by Kevin Nash at his dastardly and conniving best, made it a chilling segment not to be missed. There are also two other nWo members running a muck, in the form of Jarrett & Henning, who while their Outsider buddies are busy with ruining Shawn Michaels' life, decide they'll do likewise to another legend of the business in Ric Flair. The first of two parts sees them visit David Flair in a rehab centre, before they then take a trip to the Flair household later in the show. All 3 videos are wonderfully written, the attention to detail is excellent, and all the characters are written perfectly. Nash & Jarrett are at their absolute, ingenious best throughout.

However, it is not just these videos that make the show. The work with Booker T is extremely impressive, right down to each and every little bit of ghetto babble Szumi is able to translate from English. Ric Flair and Shawn Michaels, portrayed as the hapless heroes, are brilliantly captured as such during the course of the night. This show is truly one of the very best I have EVER seen in over 4 years on these forums, and I may even say that it just takes the cake as THE BEST I have read.

Szumi has taken a brand not many have had success with at all, WCW, and while it's without some of its biggest stars (Goldberg, Sting, DDP, using Hogan in a limited role, retiring Flair, etc) he has used the likes of Booker T, Steiner, Flair, this new nWo (Nash, Hall, Jarrett, Hogan, Hennig, Awesome, Bischoff and Keibler) to create some excellent reading. The return of the Four Horsemen and a shocking debut of Shawn Michaels, along with some good tag team and cruiserweight division exposure, has led to him having one of the best threads around in this section alongside the King of BTB, Wolf Beast. Wolfy has the premiere WWE thread, while Szumi has the premiere non WWE thread.

While it is his promo's that normally are talked about and rightfully so, Szumi is also a very good match writer as proven by his PPV efforts in the past (his Starrcade PPV won the Best PPV of 2008), and also a sound booker with regards to angles and storylines being constructed and played out. People sometimes overlook these qualities of Szum just to concentrate on his top promo skill, but he has enough skill in every department to be considered one of the very best that has ever graced this section.

In closing, while he's not been without his controversy (Grendrill debacle, IC ftw <3) Szumi has always been helping the section with the running of the Awards, Newsletter, Mega Standings, BTB Yellow Pages and the HOF ceremonies too, and this along with his terrific work as one of the sections very best bookers, makes this guy a real inspiration for writers. Hell I know once I read his stuff, I instantly stepped up my game overall and I still couldn't hold a candle to this man's promo stuff 99.9&#37; of the time, as neither could the rest of the BTB section if Szumi is on the money, and he usually is. The man may have an ego the size of Triple H's nose, and he may be a Nazi, but I'll be damned if he's not the funniest and most valuable one this section has ever and will ever need.

---

The Following Advertisement Has Been Paid For by The Inner Circle

"I would like to announce that by the power invested in me by the IC, that WWE - 2006: Stop Your Grinnin' And Drop Your Linen' will be returning to the BTB section ... soon. Oh yeah, we're taking over."



-Legend



---

The Hall of Fame - by Szumi

The BTB Hall of Fame.

It's the pinnacle of a BTB career, is it not? It is the sign that you as a booker are one of the best in the history of Be The Booker, and your name is enshrined and inducted in a frame of glory. From the early legends of BTB – A-Dust, Red Cold, The Hollywood Event, The Showstopper – to the middle, golden generation – Wolf Beast, Forever-Delayed, King of Pain, Renegade – to the newer crop/generation of BTBers – DDMac and myself, Szumi – the Hall of Fame is forever that symbol of greatness.

Now, when we think of a Hall of Fame and its inductees, we do tend to associate the present with it. No, we think of past stars who are no longer active (i.e. pretty much every nominee in the WWE Hall of Fame at the time of their induction) finally getting their due being enshrined in the Hall of Fame. However, BTB, it seems, is going at things backwards. For the past two years, we have not done our job to honor the past stars who are yet to receive their due (Jushin Liger, Rated R Superstar), but instead, have fixated ourselves and inducted bookers who were either still active at the time of their induction, and/or are still active today (Forever-Delayed, King of Pain, myself, DDMac, and Renegade). I include myself in the list of people who were too fixated on the present, and not the past. Last year, I know I voted for Renegade to be inducted into the Hall of Fame, and I had qualms with going into the Hall of Fame. This year, I could see this same trend going; the current crop of new stars – Legend, Nige, PARANoIR – will be honored and inducted into the Hall of Fame, when really, their time to shine that bright has not yet come.

Now, as a member of the BTB Hall of Fame, I may yield some power to stop that from happening. According to the man running the Hall of Fame show, the sister-loving King of Pain, there is a new system for how the Hall of Fame system will work. As we see in the awards, there will be a nomination round. The entire BTB public can nominate bookers to be inducted into the Hall of Fame, and the list of nominations will be collected by KOP and then be presented to the current members of the BTB Hall of Fame. From there, the HOF'ers will vote/decide on who the actual inductees will be. Now while it cannot be determined how many HOF'ers will be partaking in this, there are at least six or seven Hall of Famers who are still active in the zone.

It seems as if I am not the only person believes that the trend we have seen in the past years is not the way to approach the Hall of Fame. The general BTB population tends to consist of newer members who simply just do not know enough about the past BTB stars to vote them into the Hall of Fame. The Hall of Famers, obviously, have been around the section for a minimum of a few years, and are more likely to know about the history of the place. Hopefully that means if an older member of the zone is able to get enough votes to warrant them as a final nominee for the Hall of Fame, the HOF crew will vote them in as an inductee.

There are several people that immediately spring to my mind as people who could be worthy of going into the Hall of Fame, but have not gotten their rightful share of glory.

Jushin Liger – I challenge you to find a better pure match writer in the history of BTB here at WF. I consider Wolfy, Spart, KOP, Renegade, and Legend as five top match writers in their individual day, but guess what? None of them can compare to Jushin Liger. He brought a new style of writing to BTB, mixing a lot of the Japanese puro style matches and wrestlers into the zone. Besides being the best match writer in the zone, he also was a founding member of this very BTB Newsletter with myself and Forever-Delayed. Apart from his top notch solo projects, he also had the original and innovating Super J Cup thread, which pitted the top junior heavyweights from booker's BTBs and had them compete in a tournament.

-JLA Puroesu
-Super J Cup
-JLA Combat Wrestling
-JLA Wrestling

Rated R Superstar – Non-WWE BTBs never have gotten their fair share of credit throughout the history of Be The Booker, including created feds. When we talk about the best created BTBs in this places history, you'll hear Renegade jizz over his WIWA – and for good reason – and you will hear the new class fawn over Para's EPW. However, this is one BTB everyone forgets – New Wrestling Federation. RRS had some top notch booking and solid writing, and really produced a quality read.

-NWF: New Wrestling Federation

kane01 – The first thing that springs to my mind when I hear this name – Most Underrated Booker, ever. Kane01 is best known for being the partner of FD in the split Forever-Delayed and kane01 Do WWE. For anyone who was around back then, you'll know it was one of the best – if not thee best – BTBs at the time. However, it was really only FD who got praise as an excellent writer and booker; kane01 was written off as talented, but lazy/unmotivated and unable to match up to FD. However, I call that bluff. Kane01 proved himself to be credible on his own, and looking back at the split, his work was clearly top notch and if it was not for him, I truly doubt that BTB would have been as successful and long lasting as it was.

-Forever-Delayed and kane01 Do WWE
-WWE: Turning The Corner

On an ending note, I want to let some of the Hall of Famers speak out, tell us what their initial thoughts were on going into the Hall of Fame. What you will find, I think, is a generalized summary of the main points in this article, fittingly enough.

Wolf Beast – "At first, I sort of felt awkward if I'm honest. I'd only been on the forums for little over a year, and to be in the first Hall of Fame in BTB was probably too much. I'd have felt much more pride had I been inducted in '06 rather than '05, as I would've felt like it was a deserved reward then. My thought has been, and always has been I got my spot a year too early."

DDMac – "It's... I don't wanna say an honor 'cause that's a bit cheesy and melodramatic considering what we're talking about, but it's... quite the deal to be told by your peers - all of which do the same recreational 'hobby' as you -- that "You have been doing this better than most, and here is your recognition for it -- the highest one we can give, the HOF." It's... nice."

Renegade – "Being voted into the HOF last year was a great moment for me. It truly does make you feel like all your hard work for the section was acknowledged and that people also appreciate your booking. I was told by many I should've been voted in the year before and while I won't disagree with that, I was extremely happy to go in the same class as the egotistical, nazi promo king and Diet Wolf Beast. <3."

Szumi – "I think it's not necessarily an honor, but a high symbol of respect that says, "you're the best." It's a good feeling to be told by the BTB population that you're the best at what you do, and in terms of a BTB career (which just seems silly to say, but I think you understand what I mean), it's a great thing.

Actually, I lied. I want to add another thing to this column about the Hall of Fame. However, it is not about the 2009 BTB Hall of Fame that is about to begin very soon. It is about a constant reminder of the Hall of Fame instead of the yearly event it is. By this, I am talking about a sub-forum for Be The Booker. I've seen it at multiple other BTBs sections, and what I would like to see – no, what I purpose – is a sub-forum that can be used to hold the top BTB threads of the past (defunct BTBs of Hall of Famers and the likes) and some of the most historic BTB Tournaments (the 2006 and 2007 World Cup). Also, I propose a showcase for the current members in the Hall of Fame. In this sub-forum, a thread can be made that members of the HOF can post (or have posted for them by others since some HOF'ers are no longer active in the section in any way, shape, or form) their best matches and promos. It's a constant and visible reminder to the zone just who the best was and is, and a tribute to those who have come before us.

I leave you all with that, and I hope for two things: that you use your logic when nominating bookers for the 2009 Hall of Fame, and that the BTB community, and then staff, takes up my proposal for that sub-forum. I believe it would be a classy way to pay homage to the HOFers, especially the former top notch guys like Red Cold, The Hollywood Event, etc.



Oh, and the following column has been paid for, and approved by, the Inner Circle.

---

The IC would like to thank you for tuning into the February 2009 edition of the BTB Newsletter. The Inner Circle's presentation will return in April 2009.




The following Newsletter was paid for and brought to you by the Inner Circle. All content and opinions is of the copyright and trademark of the IC. If you don't like it, don't vocalize it - when the IC takes over, your kind will be the first to be hunted down and systematically eliminated.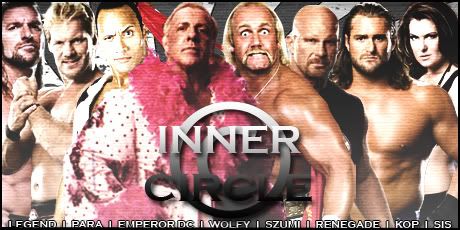 And finally, the Inner Circle would proudly like to thank WCW Rules for creating providing such a beautiful banner for us. You, WCW, created a masterpiece, and your ability to show the relationship between KOP and his beloved sister was phenomenal. The IC applauds you. May your star shine on, forever more.
---
When An Empire Falls - The Tale of World Championship Wrestling
Szumi's back, but not in black - back in BTB! And yeah, I know, he's doing WCW again - so unoriginal.
My Awards:
2008 - Best PPV - Starrcade
2008, 2007, & 2006 - Best Promo Writer
2007 & 2006 - Best Promo(s)
2007 - Most Creative
2007 - Best Feedbacker
2006 & 2007 BTB World Cup - Top Overall Scorer
2007 BTB World Cup - Booker of the Tournament
Only Person to Ever Score Perfect Score in a Tournament
BTB Hall of Famer
World Championship Wrestling 2001 - The Trio Ownership
This was The Trio Ownership; I did it a long time ago, for a long time. T'was a good ready, I think. People liked it and stuff.
Re: The Inner Circle Presents - The BTB Newsletter
---
Quote:
DC: Back to BTB'ers~! KaneFan4Ever

Para: Who?
That pretty much made the whole newsletter.
Interesting read.
Wheelman for James Ellsworth
Join Date: Dec 2008
Posts: 834
Points: 3
Re: The Inner Circle Presents - The BTB Newsletter
---
Was an interesting read. I don't get why you guys are continuing this 'IC takeover' joke, though. Just seems dumb to purposely provoke certain members, who clearly find it annoying. Anyway, will this be the sort of thing that you post with every issue, or will it be more varied? The whole newsletter is very focused on veterans and the past, and it would bge nice to see a short article or something about newer people, or people outside of your close-knit group.

Either way, I enjoyed reading it, cheers for doing it.
Mid-Card Champion
Join Date: Nov 2007
Location: Phoenix
Posts: 5,652
Points: 0
Re: The Inner Circle Presents - The BTB Newsletter
---
Awesome read all throughout. I really enjoyed the interview between PARANoIR and DC, and the words from those in the Hall of Fame. I also liked the idea of a subforum for past works, I'd really love to check them out. Great read, great job, IC.
And that's a geniune response, not done to attempt avoiding elimination.
Re: The Inner Circle Presents - The BTB Newsletter
---
Great read. Loved it, more sexyness next time plz.
Standing Still But Moving Forward
Join Date: Sep 2005
Location: Toronto
Posts: 842
Points: 0
Re: The Inner Circle Presents - The BTB Newsletter
---
Seem like a shameless way for you guys to promote yourselves and talk about your "IC". I remember when the newsletter was actually interesting. I also suggest you change the name of it to The Inner Circle presents The Inner Circle Newsletter. Seem like it would fit it better.
---
Last edited by Duke; 02-26-2009 at

06:52 PM

.
Re: The Inner Circle Presents - The BTB Newsletter
---
was it a BTB newsletter or an IC newsletter, I honestly couldn't tell. I enjoyed the interview, these are always great to read. You obviously put a great deal of effort into it. I hope the next edition will encompass articles that are relevant and involve the general BTB community more. Even so, thanks for doing this.
---
Re: The Inner Circle Presents - The BTB Newsletter
---
Too F*****g right
Re: The Inner Circle Presents - The BTB Newsletter
---
All the negativity. Of course this first edition was gonna revolve around the creators.
Re: The Inner Circle Presents - The BTB Newsletter
---
Not being negative, just voicing an opinion. That opinion being that I would like to see this project focus on the BTB section as a whole in the future and not just a select number of individuals. The writing was great and it was well presented.
---
Posting Rules

You may not post new threads

You may not post replies

You may not post attachments

You may not edit your posts

---

HTML code is Off

---