Re: Renegade™ & PARANoIR Present: WWE 2006
---
Bout time I got this up, right?
<3
Opening line = controversy. Controversy creates cash. So, thumbs up.
RAW Feedback
Edge's opening promo was okay but nothing special. That's not your particularly your fault but a lot of the lines seemed generic. It was a good decision to have him open the show though after last week's ended with Rock winning the Battle Royal. It just makes the series seem to flow, so to speak.
As I said on MSN, Rock's promo was great and I can tell you enjoy writing his promos. The characterisation was solid and 'That's a real touching story Brock. Too bad The Rock doesn't give a monkeys nut sack!' was definitely my favourite line.
Lesnar's little speech was okay and you did well with it considering he is a very difficult character to write promos for. I don't know if it was a typo but 'Big deal, the word there, is almost' should've been 'Big deal. The word there is "almost".' Yes I'm nitpicking
, but punctuation is important and even the slightest mistake can put people off. Cena was okay but didn't really say enough for me to evaluate. I liked the announcement of the 6-Man Tag match as well as Foley warning Cena. It was simple and straight to the point, much like an authority figure should be. Overall, a good opening segment.
I really enjoyed the opening contest. Most people just give some short match recaps but this one was neither too long nor too short. Being a Hardcore match, you did well to bring the weapons and "hardcore" element into it with suplex on the ramp, etc. Jindrak's interference was expected and I think it would've been a bit too soon for Cade to win any title just yet so it was a good decision to keep the belt on Rhino.
An OK promo from Shane, and as I said on MSN, I know who's coming back with that little challenge Shane made being 3 minutes long.
The promo wasn't bad but seemed quite generic. Then again, it is Shane so I'm not being too picky on this one.
I can't comment too much on the Diva's match since it was so short but I can say it was a nice way to end the match with all their finishers, and it made Beth look strong heading into her title match with Trish Stratus.
I think Coach should've done more talking for Monty Brown in the next promo. That's the whole purpose of a manager, isn't it? If the wrestler does most of the talking, it diminishes the manager's role. I wasn't too sure about the mention of Kane's promo either. That's a very subtle way of breaking the fourth wall (suggesting everything the audience is seeing is a show). Anyway, OK promo.
Obviously The Alpha Male was going over in this
squash
singles match. Not much to comment on here.
@ 'drink some bear'.
That little typo aside, this was a good promo from Christian. This feud you have going between these two is one of the best things you have going on RAW right now so keep up the good work. You seem to have both characters well scouted and overall the characterisation was good. I think you may have overdone the 'creepy little bastard' phrase.
"That big thing with the beard" was a perfect Austin line for Tomko. The impromptu match idea was okay but since when can Christian just book Austin in a match? It might've made more sense if Christian challenged Austin to take on Tomko, then Tomko blindsided Austin.
Austin going over here was obvious but the only logical decision. Good to see a match finally being confirmed for Armageddon.
The Rock/Triple H promo was decent but I don't think it was particularly necessary. It just seemed like filler more than anything. Unless of course, this is the start of a very slow build to another Rock/Triple H feud. Whatever the reason, it does the job of promoting the main event so it gets a tick.
Kane/Masters was okay but as I said earlier, small match recaps can't really be commented on. Anyway, Brown flooring Kane after the match was okay but I could've done without it since we already saw Brown assert his dominance earlier in the show.
The Foley/Shelton/AJ segment was good although it seems predictable that Shelton will retain the title at Armageddon. Still, the build-up for this match is going nicely.
@ the Disc. Thread shot in the next promo. I really like this idea of Jim Cornette as Brock Lesnar's manager. There is no denying Lesnar is one of those big guy characters who works so much better with a mouthpiece like Cornette, so this was a good decision.
IRL, the main event would've been match of the night simply due to star power and the quality these six men can bring to the ring, but I was a little confused by the writing. It seemed like one big clusterfuck, but in the wrong way. Yes, Six Man Tag = everyone all over the place, but just be a little more careful how you write it out so people don't get confused. I had to read over a few of the sentences more than once to see who was doing what. I really liked the finish though. Psycho Edge = ratingz. With Rock winning the Battle Royal last week, it was a good booking decision to have Edge look strong in the ending of the show.
OVERALL
: There were a few things here and there that I thought were okay, some things good, but nothing bad. I think you're still getting back into the flow of writing so I'm trying not to sound too critical.
One thing I enjoyed in particular was the opening match, tbh. That might seem like a weird choice but I thought it was really well written, so keep 'em hardcore ATTITUDE ERA!~ matches coming boyo.
The opening promo was the promo of the night and right now, I don't think you've got any other character down as well as The Rock. Above average show, but I know there's a lot more to come from you. <3
Re: Renegade™ & PARANoIR Present: WWE 2006
---
Thanks for that, about time you stopped jobbing.
Now seeing as Test passed away and all earlier in the week, I will no longer be using him (haven't used him for a while a anyways, HEAT jobber ftw) so yeah, no more Andrew Martin in my thread anymore. RIP.
Quote:
WWE.com

The WWE has sadly learned of an official report, in which Andrew Martin, better known to the WWE universe as Test has passed away. Our condolensces go out to his family and friends. Test was just 33 years old. Details will not be disclosed at this point in time.
I'll likely pay tribute to him on one of the next RAWs in some form too, as I always liked the guy, I felt he never got the props he deserved, especially for a big man who actually had some in ring ability.
RIP Test.
---
***

---
Last edited by Renegade™; 03-22-2009 at

02:02 AM

.
Re: Renegade™ & PARANoIR Present: WWE 2006
---
Yes, I'm aware it's been a while. This show has been a bitch to post. A bitch to write. And I haven't had time to proof read it. Please excuse any errors.
WWE SmackDown Recap
7/12/06
Target Centre, - Minnesota; Minneapolis
SmackDown's theme "Rise Up" and the opening video plays, showcasing superstars such as Randy Orton, Chris Jericho, John "Bradshaw" Layfield, Booker T, AMW, Rey Mysterio and finally Kurt Angle, holding up his World Heavyweight Championship.

**PYRO**
**PYRO**PYRO**
**PYRO**

Whilst the pyro explodes throughout the arena, the camera pans around the Target Centre momentarily before Michael Cole's voice cuts in, almost putting everyone to sleep.

Michael Cole: Welcome Ladies and Gentlemen to another jam-packed edition of Thursday Night SmackDown! I'm Michael Cole and joining me at ringside is none other than Tazz, and partner we've got some HUGE matches on the card tonight!

Tazz: We sure do, Cole. Up soon, we've got Mr Kennedy challenging Matt Hardy for the United States Championship and also tonight we'll see the debut of the son of the legendary British Bulldog, Davey Boy Smith – Harry Smith! The young lad will take on Hardcore Holly later in the show!

Michael Cole: And who can forget, Tazz, the chilling actions of Randy Orton last week when he viciously punted Chris Jericho, causing him to be taken to a near by medical facility and leaving him out indefinitely. We'll have an update on Jericho's condition later in the show, the actions Orton certainly riled one superstar backstage, a close friend of Chris Jericho's, BOOKER T! Booker was not shy in speaking out against The Legend Killer during the week on WWE.com and tonight GM Paul Heyman has booked Randy Orton versus Booker T as our Main Event under NO DISQUALIFICATIONS!!!

Thankfully, Cole finally shuts up when he's interrupted by...

**LIVE FOR THE MOMENT**

The fans explode as the music of The United States Champion; Matt Hardy makes his way out. With his gold strapped around his waist, Matt throws up the V1 symbol, which most of the fans reciprocate as The Champion makes his way down the aisle enthusiastically, looking ready to go.

Michael Cole: This is a big match for Matt Hardy. Mr Kennedy has had the wood over him in recent weeks and certainly has all the momentum heading into this match.

Thank you Captain Obvious.

**TURN UP THE TREBLE**

A solid amount of heat emanates from the fans as the loudmouth Mr Kennedy swaggers arrogantly down to the ring. Ignoring the fans and gesturing to Hardy that the gold will soon be around his waist, Kennedy then slides under the bottom rope and into the ring before holding his hand to the roof, as his personal microphone drops from the ceiling.

Mr Kennedy: I weigh in toni...

Suddenly the arena then explodes as Matt Hardy comes flying in from behind Kennedy and clubs him across the back, dropping him to the canvas in one foul swoop and the bell rings, signifying the match is underway!

Match 1
Singles Match; United States Championship
Matt Hardy (c) v Mr Kennedy
Not surprisingly, Hardy and Kennedy put on an entertaining match up with several counters and near falls. Neither man though, is able to garner a clear cut advantage during the match, with the momentum swinging back and forward numerous times. Matt is currently in control of his challenger, with Kennedy sat up in the corner, eating some hard right hands before he is whipped off the ropes. KK bounces back but he runs straight into a reverse elbow from Hardy, sending him plummeting to the mat! Wasting no time, the US Champion quickly climbs to the middle turnbuckle and lets out a loud yell while throwing up the V1 symbol again with both hands before he then leaps off looking for a Diving Elbow Drop... BUT KENNEDY GETS HIS BOOT UP IN THE FACE OF MATT HARDY!!! The fans react indifferently as Hardy staggers backwards, his head in his hands while Kennedy quickly gets to his feet and adds further insult to injury; nailing Hardy with a DDT! The challenger quickly hooks the leg! 1... 2... NO!

Hardy kicks out to a big pop but Kennedy surprisingly doesn't let it fluster him as he gets a clutch of the Champion's hair and pulls him up to his feet and then sends him into the ropes again, as Hardy shoots back, Kennedy goes for a clothesline... but Matt ducks under it! Kennedy turns to face Matt again but is met with a kick to the gut! Kennedy curls over as the Champion looks to set up for the Twist of Fate... but Kennedy manages to weasel out of it and he pushes Hardy into the ropes again before catching him in an inside cradle! 1... 2... NO! Hardy kicks out and springs straight up to his feet but Kennedy is already up and he drills Matt with a hard right hand. Matt staggers backward a few steps before responding with a right of his own... but it's blocked by Kennedy! Double K then sets Hardy up for the MIC CHECK!!! BUT HARDY COUNTERS INTO A SIDE EFFECT!!! The fans pop huge as Matt throws his arms out wide and gestures for Kennedy to get back to his feet. After a few seconds of constant chants of "HARDY... HARDY... HARDY!" Kennedy gets back to his vertical base and walks straight into a kick to the gut... BUT HE CATCHES MATT'S FOOT! The crowd lets out a collective groan as Kennedy then goes for a step over Windmill Kick but Hardy ducks that too! Kennedy then stumbles slightly, losing his balance just long enough for Hardy to apply an inverted front face lock and then NAIL THE TWIST OF FATE!!! The fans pop huge as Hardy hooks the leg! 1... 2... 3!! IT'S OVER!!

Winner & STILL United States Champion: Matt Hardy @ 14:30

**LIVE FOR THE MOMENT** hits to a huge ovation as Hardy is handed his Championship belt by the referee. Knowing that he's been in a battle and has come very close to losing his title, Matt wearily holds his title up to the crowd before taking a final glance down at Mr Kennedy and exiting the ring.

Michael Cole: Matt Hardy did it! He has beaten Mr Kennedy and managed to hold on to his treasured United States Championship belt!

Tazz: What a match, Cole! I think that's one o' the best matches we've seen on SmackDown this year! Mr Kennedy and Matt Hardy have lifted the bar big time here and the rest of the show have a hell of a lot to follow after this match, man!

We get a final shot of Matt Hardy celebrating at the top of the aisle, holding his title up in the air, looking very pleased with the result as we head to a commercial.

*COMMERCIAL*

We return from commercial and fortunately we not greeted by the horrid voice of Michael Cole, instead we are met by the equally unpleasant voice of Bill Goldberg. As angry, and ridiculous as ever, The 'Berg gets right up close to the camera, roaring with intensity. Goldberg runs down Kurt Angle for a moment, telling him that he should be thanking Shawn Michaels for kicking him in the face last week because if he hadn't there'd be no telling what he would've done. He tells Kurt that he wants him and he wants his title, he proved last week that he's better than him and now all he has to do is take his title to add an exclamation mark! He then addresses Shawn Michaels, telling him to stay the hell out of his business. He says he will be getting a title shot against Kurt Angle very soon and he will not be letting Michaels get in the way of it. Goldberg challenges Michaels to a match next week and he says that after he's done "kickin' the crap" out of the Heartbreak Kid, Shawn Michaels will never stick his nose in anyone else's business again!

The fans let out a generic yawn as Goldberg finally gets off our screen and the camera pans back out to ringside where we get another horrendous shot of Michael Cole. Man, I can't wait for the day Big Show lands on that guy.

Michael Cole: Welcome back to SmackDown ladies and gentlemen and Tazz, that first match was certainly a great way to kick the night off!

Tazz: Damn skippy, man. Mr Kennedy sure put up a hell of a fight!

With that said, a minimal amount of heat emits from the arena as...

**OOOH CHAVO**

The Mexican Warrior, Chavo Guerrero makes his way out, taunting the crowd in his usual fashion. Chavo strolls down the aisle, ignoring the heckling of the fans, simply laughing at them, which apparently irritates them even more. Guerrero eventually arrives at ringside and climbs up the ring steps and enters the ring, joining his partners who are already in the ring, Doug & Danny – The Basham Brothers.

Tazz: Chavito' lookin' confident tonight, Cole!

**PITBULL**

With Guerrero inside the ring now, the music of Jamie Noble blasts out over the PA System. Similar to Chavo, Noble doesn't draw a big reaction from the fans because they're simply too stupid to realise how fuckin' awesome he is. Jamie swaggers down the aisle, looking as pissed off as ever but at the same time, focused on the job at hand.

Michael Cole: Jamie Noble, lookin' like he's got a point to prove tonight!

**LONDON CALLING**

The fans pop a little as the music of the Cruiserweight Champion, Paul London hits, but the crowds ovation grows louder when the popular Brian Kendrick runs out by his side. The two sprint quickly down the aisle and slide into the ring, forcing the heels to back out of the ring. The duo immediately ascend the camera side turnbuckles and quickly fly off, each performing Moonsaults/Backflips type things and land on their feet in the ring, effectively waking the fans from a mini slumber.

**GUILTY**

The fans leap to their feet, as the music of the WWE Tag Team Champions, James Storm and Chris Harris; America's Most Wanted hits. The champions make their way down the aisle with their belts strapped around their waists. AMW slide into the ring, slap hands with London & Kendrick before unhooking their belts and holding them up proudly for all to see.

Match 2
8 Man Tag Team Match
Brian Kendrick, Cruiserweight Champion;Paul London & WWE Tag Team Champions; James Storm & Chris Harris
Vs
Jamie Noble, Chavo Guerrero & The Basham Brothers
This match turns out to be a bit of a clusterfuck, with the four cruiserweights given plenty of ring time. The ring is currently occupied by Paul London and Chavo Guerrero. London is in total control of Chavo, nailing such moves as a Springboard Crossbody, a Superkick and a jumping heel kick enzuigiri. With Chavo on his last legs, he's whipped off the ropes and when he bounces back he's nailed with a Standing Dropkick by the Cruiserweight Champion! The fans pop big as he begins to climb to the top rope and sets up for the 450 Splash! BUT JAMIE NOBLE STORMS THE RING AND PUSHES HIM OFF THE TURNBUCKLE!! Noble is then thwarted by Brian Kendrick and James Storm as they both mob him, following his interference. Doug Basham rushes the ring to even things up a little while Chavo Guerrero manages to crawl over to his corner and tag in Danny Basham! Basham goes straight out and brings Paul London back into the ring while the referee tries to bring some order back to the match. The brawl surges to the outside while Basham whips London into the ropes... BUT HE'S CLOSE ENOUGH FOR HARRIS TO MAKE THE BLIND TAG WHICH GOES UNNOTICED BY BASHAM! Basham drills London with a Clothesline as he shoots off the ropes and he immediately turns around, apparently about to taunt the fans but he turns right into a SPINNING SPINEBUSTER FROM CHRIS HARRIS!!! 1... 2... 3!

Winners: Paul London, Brian Kendrick, James Storm & Chris Harris @ 8:34

The fans explode as Harris rolls off Danny Basham as **GUILTY** hits and Harris and his team celebrates with his opponents all on the outside looking quite pissed off. Chavo nursing a sore head, and the other Basham down clutching his head while Jamie Noble backs up the aisle just shaking his head.

Michael Cole: The fan favourites, pickin' up the win here tonight! We've had a great start to the evening, Tazz, with two great matches!

Tazz: For sure man, and up next we've got the debut of Harry Smith!

The camera then pans backstage to find Harry Smith, walking in a hallway, presumably towards the ring, ready to wrestle, with a suited up William Regal in toe.

**COMMERCIAL*

We return back to the arena to find Hardcore Holly in the ring awaiting his opponent, looking as focused and intense as ever but the real talking point here is the fact that this nub is still employed.

Michael Cole: Welcome back to Thursday night SmackDown! It's been a great night thus far and it's about to get a whole lot better as you can see there, the veteran Hardcore Holly is awaiting the arrival of the exciting young, Harry Smith!

Tazz: I can't wait to see Smith go, man. You can't have such good family genes and not be talented. This dude has the bloodlines of Davey Boy Smith, Owen Hart, Bret Hart and of course the legendary Stu Hart running through his veins!

RULE, BRITTANNIA!

The fans pop quite loudly at first as the popular theme hits but it quickly dies down as Harry Smith smugly makes his way out with Regal following close behind with a sly grin on his face. Dressed in trunks with the British flag on the back, Smith makes his way down just smirking at Hardcore Holly arrogantly. Smith slides into the ring and stares at Holly and just as Hardcore steps towards Harry, William Regal steps in and shows his right fist to him, which is covered by a set of shiny gold knuckle dusters (brass knux, whatever the fuck you want to call them). Holly stares a hole through Regal as Smith throws his arms up proudly, taunting the fans.

Match 3
Singles Match
Hardcore Holly v Harry Smith w/ William Regal
Both Holly and Smith manage to get in a solid amount of offence throughout the match with neither being able to take the upper hand until Holly manages to keep Harry caught up in a corner, nailing right hand after right before he whips him off the ropes. Smith shoots back and looks to catch Hardcore off guard with a clothesline but Holly ducks right underneath it! Smith turns to face Holly again and he quickly hoists him up for the ALABAMA SLAM!!! With Smith up on his shoulders, Holly goes to complete the move but Smith manages to shift his weight and slide off just as William Regal climbs up on the apron at ringside, drawing the attention of the referee! LOW BLOW! SMITH DRILLS HOLLY RIGHT IN THE NUTS!!! The fans dump heat on the baby bulldog as he drags Holly up to his feet and sends him reeling into the ropes. Hardcore hits the ropes hard and bounces back, straight into a BELLY TO BELLY SUPLEX!!! Smith smiles a little while Regal shouts something at him Harry wrenches Holly to his feet before hoisting him up for a delayed VERTICAL SUPLEX! Showing immense strength, even drawing a sound of awe from the crowd as Smith holds Holly up in the air for a few seconds before eventually drilling him with A BRAIN BUSTER!! Instead of the moving being a delayed Vertical Suplex, Smith drills the BRAIN BUSTER!!! Refusing to go for the cover, Harry brings Holly to his feet and throws him off the ropes to which he follows up by nailing an impressive Single Leg Running Dropkick! The fans gasp again as Smith drags Holly up again and immediately hoists him up on his shoulder before NAILING THE RUNNING POWERSLAM PAYING HOMAGE TO HIS FATHER!! Smith proudly hooks the leg! 1... 2... 3! It's over!

Winner: Harry Smith @ 7:23

Smith slowly gets back to his feet as **RULE BRITANNIA** hits, standing over the fallen Hardcore Holly as Regal clambers into the ring under the bottom rope and holds his arm up to the fans for all to see. Regal just looks down at the fallen body of Hardcore Holly, looking like he was about to take to him with his Brass Knux but he just shrugs his shoulders, apparently thinking better of it and just leaving the ring with his protégée, garnering quite a decent amount of heat.

Michael Cole: Wow. That was certainly a very impressive showing from young Harry Smith, Tazz!

Tazz: Indeed it was, Cole. Harry Smith is the real deal man, and with Regal by his side, he will be hard to stop. I wonder if this victory for Harry Smith was enough of an "impact" to satisfy what Booker T had to say last week?

The camera then heads backstage to find Randy Orton walking down a hall. The fans dump a tonne of heat upon on The Legend Killer until he suddenly comes face to face with... THE BIG SHOW!! The fans pop for Show, as he gets right into Randy's face.

Big Show: Randy... I want to squash you like a bug for what you did to Chris Jericho last week, but luckily for you, I'm gonna leave that to Booker T tonight.

Orton goes to speak but Show shuts him up.

Big Show: Next week... or the week after... you might not be so lucky.

Show stares a hole through Orton for a moment before Randy just puts his head down

**COMMERCIAL**

We return from commercial and immediately head backstage to find Steve Romero standing by with none other than... SHAWN MICHAELS! The fans pop big for HBK and he immediately addresses Goldberg's challenge. Shawn reminds us (and mainly Goldberg) that what he said last week about not comin' to SmackDown to steal other people's title shots was true. He said he's not here to step on anyone's toes, he continues in saying that he accepts Goldberg's challenge so next week, for the FIRST... TIME... EVER, it will be Bill Goldberg versus The Heartbreak Kid... Shawn Michaels! Shawn ends the promo saying that maybe, just maybe, when he's done beating Goldberg, he might lay claim a title shot.

The camera then pans back out to the arena, and thankfully we're not subjected to hearing Michael Cole's voice instead...

**LOADED**

The fans explode as the music of Jeff Hardy hits. Hardy makes his way out enthusiastically despite his loss last week to Mr Kennedy, he still looks confident. Hardy sets off his pyro display before making his way down the aisle, slapping hands with the fans along the way.

Michael Cole: This is a big opportunity tonight for Jeff Hardy to get back on the winners list after his loss for Mr Kennedy last week.

**LONGHORN**

The fans jubilation then turns to dismay as the familiar music of John "Bradshaw" Layfield hits to an extremely unpleasant reaction from the Minnesota fans. Bradshaw's white stretch limo rolls out to the ring as the man himself clambers out with his trademark white towel draped over his shoulders and his cowboy hat sat neatly atop his head. Bradshaw removes the hat and holds it up to the fans happily, generating even more heat as he strolls down to the ring.

Match 4
Singles Match
Jeff Hardy v John "Bradshaw" Layfield
Jeff and JBL both get in a solid amount of offence with both men looking good but neither gets any decisive advantage until Hardy managed to nail a reverse mule kick to Bradshaw out of no where. Hardy manages to dominate JBL for a short time after nailing two reverse elbows and a standing leg drop. As JBL gets back to his feet following the leg drop, Hardy shoots off the ropes and as he comes back he flies at Bradshaw looking for a cross body... BUT HE'S CAUGHT BY JBL! BRADSHAW ROCKS BACK AND NAILS THE LAST CALL! Jeff flies half way across the ring and hits the canvas hard as Bradshaw stalks him momentarily before bouncing off the ropes and nailing CLOTHESLINE FROM HELL AS SOON AS HE GOT BACK TO HIS FEET! Bradshaw hooks Jeff's far leg and puts both feet on the ropes for extra leverage. 1... 2... 3!

Winner: John "Bradshaw" Layfield @ 7:34

**LONGHORN** hits again to a massive amount of heat as the referees raises JBL's arm as he gets back to his feet before heading to the edge of the ring, demanding a microphone.

JBL: Cut the music... CUT THE DAMN MUSIC!

Huge heat.

JBL: Last week... I was the victim of a great injustice!

More heat.

JBL: I had Kurt Angle... The World Heavyweight Champion, on the ropes... I had him all but... BEATEN.

Chants of "ANGLE... ANGLE... ANGLE" begin.

JBL: That is until... that psychotic moron, Bill Goldberg decided to involve himself in MY match and cost me MY title shot.

Heat again.

JBL: Take this as your one and only warning, Bill. (Growing more emotional and intense) If you EVER interfere in MY business again, it is YOU... that will be next! Not Kurt Angle... Not Shawn Michaels... Not JBL... NOT ANYONE ELSE... BUT YOU!

Mixed reaction for the Goldberg bagging.

JBL: I promise you, Bill. IF you ever cost me a title match again, I WILL personally ensure that it is the last thing you EVER do!

Another big mixed reaction.

JBL: As if the involvement of this ignoramus wasn't enough, once he was done... Shawn Michaels decides to rear his ugly head, play some mind games with Kurt Angle and with Goldberg and then all but declare his intentions of winning the World Championship!

Big pop.

JBL: Well... I got some news for ya'll. I am the RIGHTFUL Number 1 Contender and I demand my title opportunity next week that was stolen from me by Goldberg and Shawn Michaels!

Massive heat.

JBL: I should be facing Kurt Angle in the Main Event tonight, ONE... ON ONE for the World Heavyweight Championship, but NO... here I am, taking on nobodies like Jeff Hardy.

More heat for the Hardy bagging.

JBL:So, Paul Heyman, I know you're listenin' back there, all you need do now is come on out and grant me a title shot NEXT WEEK!

JBL pauses again as the fans boo him some more.

JBL: Come on Paul, I kno...

**EXTREME**

The fans erupt as Bradshaw is cut off by the music of Paul Heyman. The cheers soon turn to heat as the fans remember that they actually don't like Heyman either but they're just happy that Bradshaw has finally shut the fuck up. Heyman struts out on stage in a suit with his baseball cap on and microphone in hand, immediately addressing JBL.

Heyman: SO, BRADSHAW! You DEMAND I grant you a title shot next week, 'huh?

JBL: You're damn...

Heyman: Okay... fine.

Bradshaw's face lights up as the fans boo the fuck out of Heyman for apparently making this decision.

Heyman: NEXT WEEK! RIGHT HERE ON SMACKDOWN! It will be... ONE ON ONE... John "Bradshaw" Layfield versus...

Heyman pauses as JBL stares at the GM in eager anticipation.

Heyman: MATT HARDY... FOR THE UNITED STATES CHAMPIONSHIP!!!

The fans piss themselves laughing at JBL's jaw hits the floor before he mouths "NO! That's the wrong title!" **EXTREME** hits against as Heyman just shows that he couldn't give a fuck about JBL's displeasure as he exits to the back.

Michael Cole: WOW! What an announcement! JBL certainly didn't expect that one, Tazz!

**COMMERCIAL**

When we return, a video hype package airs, and it's of the Straight Edge Superstar, CM Punk! The video basically summarizes Punk's life and career up to date and includes shots of him in action then finally, it states that he's coming to SmackDown, in two weeks, from his home town of CHICAGO, ILLINOIS.

Instead of the camera heading back to ringside, it heads backstage again to find a dejected looking Mr Kennedy walking past a series of doors. Kennedy then reaches a door labelled "SHAWN MICHAELS", which draws a big pop from the crowd.

Mr Kennedy: (solemnly) He even gets his own change room.

Kennedy sighs and continues on his way as the camera then heads to another location backstage to find Randy Orton again, this time he comes face to face with Rey Mysterio. Rey stands right up in Orton's face (well as much as physically possible). Shaking with intensity, Rey goes to speak but changes his mind at the last minute and turns his back on Orton, walking away and shaking his head.

Michael Cole: Randy Orton is clearly not popular backstage tonight, Tazz. Rey couldn't even bring himself to speak to him.

Tazz: I got a feelin' that Randy and Rey might cross paths over the next few weeks. I think Rey might be out for redemption, following what Orton did to his good friend.

**MY NAME IS FINLAY... AND I LOVE TO FIGHT**

A solid amount of heat pours out of the fans as The Fighting Irishman, Fit Finlay, emerges from the curtain and the man himself strolls down the aisle with a scowl on his face. Ignoring the fans taunts, thus irritating them even more, Finlay climbs in the ring and awaits his opponent.

Michael Cole: Finlay certainly has a golden opportunity tonight to elevate himself right up the pecking order here on SmackDown!

Why is that, you ask? Well the answer is simple.

**MEDAL**

The room blows off the arena as the music of the World Heavyweight Champion, Kurt Angle hits. Dressed in his traditional attire, Kurt makes his way out and sets off his impressive pryo display. Angle swaggers down the aisle with the fans in full voice, cheering him on. He climbs into the ring and immediately unhooks his title, holding it up in the face of Finlay before the bell rings.

Michael Cole: If Finlay can do tonight, what JBL couldn't last week, it will certainly be one of the biggest upsets we've seen on SmackDown this year!

Tazz: Damn straight, Cole. One has to wonder though, will Bill Goldberg play a part in this match?

Match 5
Singles Match; Non Title
World Heavyweight Champion; Kurt Angle v Finlay
As one would expect, Kurt and Finlay put on a very technical style based match. Kurt dominates Finlay for the most part, but the Irishman manages to hold his own for some time as well. The momentum looked to swing in Finlay's favour though, when he raked the eyes of Angle and then went to bring his Shillelagh but the referee immediately thwarts any attempt to do so, seising the opportunity with the referee having his back turned, Finlay catches Angle with a thumb to the eye again and attempts to follow up with a Short Arm Clothesline but Angle ducks underneath it and immediately goes behind Finlay, wrenching his arms and nailing a GERMAN SUPLEX!!! Finlay flies across the ring and bounces back up to his feet, straight into an ANGLE SLAM!!!!! The fans pop huge as Angle pulls his straps down off his shoulders and lets out a roar of intensity before slapping on THE ANKLE LOCK!!! From there, it's purely elementary for Finlay as he taps out merely seconds after the move being applied!!!!

Winner: Kurt Angle @ 6:02

**MEDAL** hits again as Angle immediately throws Finlay's leg away following the bell ringing and he then goes and requests a microphone from ringside, similar to JBL after the previous match.

Kurt wastes no time, immediately directing his attention towards Shawn Michaels. He says he's beaten Michaels before, and he'll beat him again, so it doesn't matter whether he intends to challenge him or not. He then addresses the fact that HBK made the save for him last week, by saying "Thanks... but no thanks." Angle then goes on to Goldberg, he calls him gutless and a coward. He tells Goldberg to get his ass out to the ring and face him like a man, face to face. After another minute or so of berating and waiting on Goldberg, Angle closes by saying that he knew he was right. Goldberg IS a coward.

Michael Cole: Strong words from Kurt Angle, clearly Goldberg hit a nerve last week.

The camera then pans backstage to find William Regal and Harry Smith, suited up and leaving the arena, bags in hand.

William Regal: Well young lad... that was a successful first outing. You certainly made an impact. Now... we celebrate!

Harry Smith: That sounds bloo...

Smith stops half way through the sentence as Regal suddenly turns on his heel and walks back towards the arena mumbling "an impact" as Smith throws his arms out wide in a WTF type motion.

William Regal: C'mon, Harry! I'll explain on the way, we've got one more thing to do tonight!

Michael Cole: One can only wonder what William Regal is up to backstage. Well ladies and gentlemen, up next, our Main Event, during the week, Booker T made comments to wwe.com expression his disgust at the actions of Randy Orton last week towards Chris Jericho. Tonight we have Booker T v Randy Orton one on one in a NO DISQUALIFICATION MATCH

**COMMERCIAL**

We return from Friday Night SmackDown and head straight into a video package recap of the events last week between Randy Orton and Chris Jericho.



Quote:

Originally Posted by Last Week on SmackDown!

A collective groan emerges from the crowd as Orton, like a viper, slithers up behind Jericho who still has The Walls applied on a now motionless Finlay, and wasting no time, ORTON LEAPS UP AND DRILLS CHRIS JERICHO WITH THE RKO!!! The fans dump immense heat on Orton as he stands over Jericho, apparently refusing to make the cover just yet, simply laughing shallowly. Orton then drops down in a push up position and pumps himself up and down on the canvas over the top of Jericho, yelling "I TOLD YOU CHRIS... GIVE UP ON THE FANs, THEY'RE NOT WORTH YOUR CAREER!" Orton gets back up to his feet as Rey Mysterio makes his way back in to the ring and he charges straight towards Randy Orton, but TLK is one step ahead of him and he leap frogs over him, showing fantastic agility as Mysterio stops in his tracks, apparently a little surprised at how agile Orton is but unfortunately for Rey he turns right into another DEVESTATING RKO!!!! The fans boo the fuck out of Orton again as he bounces straight up to his feet with his sick smile on his face.

Quote:

Originally Posted by Last Week on SmackDown!


Out of the corner of his eye, Orton then catches a glimpse of the courageous Chris Jericho on all fours, attempting to climb back to his feet when Randy then takes a few steps backwards, and lines up Y2J before nailing him with a decapitating and sickening PUNT KICK TO THE HEAD!!! Jericho falls in a heap, back on the canvas and starts to convulse from the immense pain, otherwise showing no signs of life. A fear grows across the face of the referee, as he immediately throws the match out!

Later on...

We see the EMT's in the ring, treating Chris Jericho while Rey Mysterio is still on his knees, trying to help, clearly very concerned for the well-being of his friend as the EMT's strap him onto a back board before sliding Y2J slowly out of the ring and securing him on the stretcher and then wheeling him up the aisle while than fans let out a generous applause and a small "Y2J" chant.

Last in the night...

We see footage of Chris Jericho strapped to a stretched, wearing a neck brace as he's being wheeled towards an ambulance vehicle. The camera then zooms out to see a sadistic looking RANDY ORTON, watching the developments from a distance. Orton watches as the stretcher stops just short of the ambulance as the medics prepare to carefully slide him on to the back of the vehicle when suddenly begins to move towards the vehicle... and the lifeless Jericho! The medics notice that he's coming and attempt to thwart his arrival but The Legend Killer simply swats one off and then throws another one on to a near-by table as he the stands over the still unconscious and motionless Chris Jericho, staring at his lifeless face.

Randy Orton: (Intensely)I TOLD YOU CHRIS... you should've listened to me last week! The moment you put me in The Walls of Jericho, things got a lot worse for you... and as long as you keep respecting and appreciating your fans... your JERICHOHOLICS... you will NEVER win another Championship belt in the WWE.

The fans boo Orton massively.

Randy Orton: YOU could've prevented this easily Chris. I HOPE, if nothing else, I kicked some sense into you tonight.



The fans boo the video package as it ends but the camera then heads backstage and Booker T appears on the screen to a deafening ovation. In a very intense fashion, Booker runs down Orton and his actions last week towards Jericho. He says Orton's punt to Jericho was the most cowardly thing he's ever seen. He says tonight is about Redemption in defence of his friend, Chris Jericho, he tells Orton that tonight he's gonna see a side of the 5 time... 5 time... 5 time... 5 time... 5 time WCW Champion, that he's never seen before!

The camera quickly heads back to the arena to find Michael Cole and Tazz at ringside.

Michael Cole: What could Booker T mean, Tazz? We're gonna see a whole new side to him?

Tazz: I'm not sure Cole, but Randy Orton better be on his game tonight!

**CAN YOU DIG IT... SUCKAAAAAAAAAAAAAAA?!**

The fans explode as Booker T made his way out, without his usual up-beat antics. Booker makes his way out, still looking intense and focused, neglecting to set off his pyro, Booker heads down to the ring, climbing in, under the bottom rope.

Michael Cole: Booker T certainly looks focused on the job at hand tonight!

**BURN IN MY LIGHT**

The fans unload with an unbelievable amount of heat as the sadistic Randy Orton steps through the curtain and out on to the stage. As Orton gets closer to the ring, the heat grows louder and Booker becomes visibly even more intense, shouting at Orton, breathing deeply while Orton remains motionless, with the same sick, demonic on his face. RKO slithers into the ring, under the bottom rope, coming face to face with Booker immediately.

Michael Cole: Look at the hate in the eyes of Booker T, I haven't seen this side of him in a long time, Tazz.

Match 6
Singles Match; No Disqualifications
Booker T v Randy Orton
Booker and Orton put on a brutal encounter with all sorts of savage spots with the crowd insanely hot for it. Their hatred for Orton was clearly evident with their heat immense anytime he mounted any sort of offence, while whenever Booker managed to get on to the attack, they were on their feet at their loudest.

The duo are currently situated on the outside, with Booker laid hard up against the guard rail and Orton nailing him with multiple right hands. He then acts promptly, whipping Booker straight into the steel turnbuckle, busting him open! With blood trickling from his forehead, Booker staggers backward, right into Randy Orton who immediately nails him with an Inverted Backbreaker, right across his knee! Smiling sadistically, Orton wrenches Booker's hair causing him to scream in pain before he throws him back first, into the commentators table! Cole, the pussy, scatters quickly screaming "OH MY! OH MY!" like the homo that he is, while Tazz gets up fairly casually as Orton rolls the motionless Booker on to the table.

Instead of climbing straight on to the table as well, Orton goes and retrieves a steel chair from over near Tony Chimel and carries it back over towards the table, laying it down near Booker's head before climbing up on to the table as well. Randy slowly brings Booker up to his feet and immediately goes to nail the RKO! BUT BOOKER BLOCKS IT AND PUSHES HIM AWAY TO A HUGE POP! Somehow, Randy manages to maintain his balance on the table and stays standing and immediately turns back to Booker, attempting a clothesline on top of the announcers table, but BOOKER DUCKS UNDERNEATH IT AND NAILS THE BOOK END, DRIVING HIM RIGHT THROUGH THE ANNOUNCE TABLE!!!

The fans pop huge again as both men crash and burn through the table, leaving it in a million pieces at ringside! After well over a minute, maybe even two, Booker finally begins to stir, climbing up to his feet slowly and bringing Orton with him. Book walks Randy over towards the ring and rolls him straight in, under the bottom rope. Booker then retrieves a garbage (TRASH) can that Randy had left in the ring earlier and lays it down near where Orton lies before performing... THE SPINEROONI!!!!

The fans go nuts again for Booker as he spins around the ring like a moron before getting up to his feet again all the while Orton begins to stir, slowly getting back to his feet. Now back on a vertical base, Booker immediately runs towards the ropes while Orton gets back up to his feet, but still remains arched over. Booker bounces off the ropes and charges back towards Randy Orton, presumably looking to finish him off with the Scissors Kick... but just when he's about to wind up...HE'S DRILLED WITH A SHOT TO THE SIDE OF THE HEAD COURTESY OF A PAIR OF BRASS KNUX BEING BRANDISHED BY NONE OTHER THAN...

WILLIAM REGAL!

With Harry Smith in tow, to immense heat, Regal smiles smugly as Booker staggers backward, his head in his hands, still surprisingly on his feet although now bleeding more profusely, with blood dripping through his hands. Seemingly not knowing where he's at, Booker turns around, into a savage RKO FROM RANDY ORTON DRILLING HIM DOWN ON TOP OF THE GARBAGE CAN HE SET UP EARLIER, ADDING FURTHER INSULT TO INJURY! The referee can do nothing but simply look on as Orton falls on top of Booker to make the cover. 1... 2... 3! It's over!

Winner: Randy Orton @ 15:34

**BURN IN MY LIGHT** hits to immense heat as Orton doesn't even as much as draw a smile as he just rolls out of the ring arrogantly, ignoring the fans as he just slithers up the aisle, not even casting a glance at William Regal or Harry Smith. As Orton gets to the top of the aisle his music cuts out as their appears to be action in the ring again, as Regal is directing traffic as Harry Smith grabs Booker by a clutch of his hair and he quickly hoists him up on his shoulder and drills the already crippled Booker T with a RUNNING POWERSLAM!!!!!

Regal then calls for a microphone from Tony "fat ****" Chimel.

William Regal: There's your bloody impact!

Regal looks to leave the ring but he then changes his mind and drops down to humiliates Booker even more, nailing him with the microphone! The fans dump a tonne of heat upon Regal and Smith as the duo slowly make their way out of the ring, snarling.

Michael Cole: This must have been what William Regal was talking about backstage earlier, Tazz!

Oh really, Michael? You're a fucking genius.

Michael Cole: Clearly the words of Booker T last week worried William Regal more than he let on.

Smith and Regal slowly walk up the aisle, ignoring the fans as Booker remains motionless in the ring.

Michael Cole: Well tonight, Booker's attention has quickly turned from an issue he has with one superstar to another issue, he's going to have with another superstar nex... HOLD ON! WE'RE GETTING WORD THAT SOMETHING HAS HAPPENED BACKSTAGE!

Yes, WWE goes all TNA as the camera heads backstage frenetically and it heads into a room, past a door with the name plate of "SHAWN MICHAELS". As soon as the camera gets inside the room it finds a bloodied and battered Shawn Michaels on the floor. A gasp of shock emits from the fans as the camera zooms in on Shawn, blood slowly dripping from his mouth.

Michael Cole: What the hell is going on here?!

Officials and Road Agents rush into the room, coming to Michaels aid. Paul Heyman even makes his way in, looking concerned. After a close inspection of Michaels current state from Heyman, the GM addresses the room.

Paul Heyman: (Sighing) There's any number of people that could've been the cause of this... someone get Bill Goldberg in my office. That's probably a good place to start.

Michael Cole: Damn right Bill Goldberg would be a good place to start! Seems to me like he's trying to get an early advantage ahead of the big match next week – until then, ladies and gentlemen, it's goodnight, see you next week when Bill Goldberg is scheduled go one on one with Shawn Michaels, but given this heinous assault, that match up must now be in jeopardy!

SmackDown fades to black with Paul Heyman running his right hand through his hair, looking down at the motionless body of Shawn Michaels, while some agents scurry out the door behind him.
Re: Renegade™ & PARANoIR Present: WWE 2006
---
@ Hardy owning Kennedy there. Good way to kick the show off and Hardy retaining wasn't a surprise. I dont think this is the end of this angle tho, Kennedy will surely chase another match for the strap
THE BERG! RATINGS!~. Seriously, Goldberg = win. That is all
I love clusterfuck matches, keep booking them plz. AMW own, and get the win. Good stuff. Oh and btw, London > Kendrick. Kendrick sucks. I beg you not to give him that stupid fucking THE gimmick. My god, that's bad. Anyways, lovely match for a weekly show and good to see the Bashams jobbing. What else are they good for?
Holly jobbing is no shock, altho perhaps SmackDown! could use someone else as their resident jobber and give Hardcore something different. Anyways, this British tandem has promise, and something tells me you may have further stable additions in the works
Everyone hating on Orton. Cool. Big Show? Not cool
I understand you dont like Berg promo's, but why no HBK promo in full? Confused by that. Anyways, it got the message across, next week is gonna be massive. Just massive. I think this could be a good feud with the way it's started off
Jeff Hardy jobbing is awesome. Wow, JBL promo was MONEY. Absolutely loved it, perfect characterisation and just had him down to an absolute tee.
@ Heyman giving him a US Title shot, funny. Can't see Bradshaw winning that, but this was the highlight of the show, very impressive promo
Kennedy a little upset about losing earlier. I'm sure he'll be loud and proud again next week. lol Orton is nobody's favourite tonigh is he?
Angle owns. Finlay is an Irish Wanker. The result was inevitable tbh. Atleast the champ got some exposure on a show that is certainately focused on the men after his strap (Berg, HBK, JBL, Booker & Orton later)
Nice main event. The impact is made once again by the Brits, they're messing with Da Book constantly, wouldn't be surprised to see Booker vs Regal or Smith next week after this. Orton winning didn't surprise me because he's looking strong in this thread and his feud with Y2J is hot shit, altho not Jericho tonight (understandably) made me a sad panda, coz he rules ya know
Good work bud, I'm just glad it finally got up, your browser fucked you for a week. You're doing well, Mr. Overworked
. <3.
---
***

Tag Teaming With James Ellsworth
Join Date: Apr 2005
Posts: 1,710
Points: 0
Re: Renegade™ & PARANoIR Present: WWE 2006
---
Smackdown Review

First off Para, I've been wanting to review a show of yours for a while, but haven't gotten the chance. So with this new show being posted, I'll review this one.

Hardy/Kennedy: Well I had these two have engage in a little feud a few years back in my thread. It seems that with this match, these two put on a great back and forth match, with neither man looking weak throughout the match. Matt winning was expected, as it seems like he is getting a push in this thread. Wouldn't be surprised to see another match between these two.

Goldberg's Promo: Surprised to see Goldberg still in this thread, even though this is a 2006 thread. With that said, a Goldberg/Michaels match for next week's show seems to be interesting.

Tag Team Match: Before I comment on the match, I must admit the comedy points added into the show make it more entertaining. With that said, while he does get a bit of a bad rep I think Cole is a good commentator, and does his job of putting over the faces and putting over the storylines. As far as the match goes, surprised to see with eight men involved that this match got so much time. With that said not surprised at the winners of the match.

Smith/Holly: While I'm surprised to see Holly in this thread, I'm not surprised that you had Smith go over him in this match. Even though it was his first match in this thread, it seems as if you plan to have Smith be a heel, unless I'm reading too much into the recap. However it seems like it can work especially with Regal being his manager.

Show/Orton Segment: While it was a short segment it established Show's presence and his demeanor. A Show/Orton feud sounds very good.

Michaels' Segment: Short and to the point…but Michaels vs. Goldberg…First Time Ever on Next Week's show…Even though Goldberg isn't a big time force in the modern era (as he is retired from the business IRL), I can't see this match ending cleanly, as these two will have their first proper real match take place on PPV.

JBL/Jeff Hardy: Surprised to see Jeff basically get OWNED in this match by JBL, as even when he made his return to the WWE IRL, he received a good push, (I believe he won the IC and World Tag Team Titles within a year of his return),so it's kind of a surprise to see him lose like this. With that said, JBL's promo on Goldberg was great. However the star of the segment was Paul Heyman, as he completely OWNED JBL by giving him a US title shot against Matt on next week's show instead of the World Title match he wanted for next week's show. Great job!

CM PUNK is coming to this thread in two weeks…and debuting from his hometown of Chi-Town?! Looking forward to see how the Straight Edge Superstar is booked in this thread, though I wouldn't be surprised if he receives a huge push almost immediately after debuting

I haven't read this thread in awhile, so I'm not sure what happened with Orton, but it must be a huge point of interest on the Smackdown side of things in this thread.

Angle/Finlay-While Angle and Finlay wrestling would be a technical classic, it was no surprise that Angle was going over in this match. Angle seems focused as he draws his attention to Michaels and Goldberg following the match. With all of that said, I have a feeling that JBL might just get involved in next week's title match.

Regal/Smith Segment: Like I mentioned earlier I wouldn't be surprised to see Smith turn heel, as it seems like he's heading that way with Regal by his side. Something tells me that since Regal decided to head back to the arena, that the two will play a part in the Main Event.

Video Package: WOW! Great way to get heel heat on Orton, with his attack to Jericho on last week's show. That was truly an effective way to make Orton the Number 1 Heel on Smackdown.

Main Event: This was MOTN. Not surprised that Book and Orton put on a great match. I KNEW IT! Smith and Regal are officially heels as they turn on Booker and cost him the match. The attack to Booker was effective in the sense that it put over Smith as a heel. With that said…MICHAELS BEING ATTACKED TO CONCLUDE THE SHOW?! WOW! This show has been filled with a bunch of attacks and twists and turns. While Goldberg would be the obvious choice, I have a feeling that the attacker will be revealed as none other than JBL. Well we'll see with next week's show.

Overall Comments: Great show as always Para. As I mentioned before I've been meaning to review a show of yours for a while, but haven't gotten the chance. You really build up next week's show, and I'm looking forward to it.
---
[U]KOM has returned to BTB with WWE 2007: The Legacy and Aftermath of WrestleMania!
[U]
Re: Renegade™ & PARANoIR Present: WWE 2006
---
Smackdown Feedback
Opening the show with a match up? I like it when people do this at times. Nice aggression from Hardy shown at the beginning with him interrupting Kennedy's normal speech at the start. Kennedy has had the advantage but a nice, solid win for Hardy here putting him over as a very good champion, who can fight against the odds. I got a feeling this thing is far from over though, if I am right it will be interesting to see where things go from here.
Typical intense promo from the shit stain that is Bill Goldberg. Running down his opponents and that, and despite my dislike for him I admit he can be a useful main event player in a BTB, just please keep him away from Kurt Angle's title. If you somehow made Goldberg beat Angle, I would not be held responsible for what I would do to you.
Ewwww, yuck clusterfuck match to be honest. Even though the competitors in the match can certainly wrestle, I just hate the whole clusterfuck feeling. The Bashams didn't really fit into this match because they are shit, and I was shattered to see Jamie Noble lose. However, taking away me being a little mark, I must say it was probably the correct booking decision, as you are making your champions look really strong. This being good because we don't want pussies running around with all the gold.
As I said last week I am loving this slow push of Harry Smith with William Regal by his side. Even with a crappy opponent like Hardcore Holly, he gets the win and that is what he needed to get rolling. I probably would have preferred if Regal didn't have to distract the ref and have Smith do it alone, as Holly is nothing but a glorified jobber. Hopefully things only get better for Smith as I believe you could have a huge thing here, don't give him quality opponents to early though, let him build up more momentum first.
Big Show, perhaps building some kind of filler feud with Orton over the next couple of weeks. Probably a smart move as Orton's whole twisted and dominating side will look a whole lot better if Orton goes over Show.
Shawn Michaels promo was another one of those generic little ones. Michaels better do very well and defeat Goldberg or perhaps a No Contest so we get a triple threat wit Angle. All I know is that I don't want Goldberg near the championship.
I am glad that Jeff Hardy lost to JBL as I really don't like Jeffro, where as JBL is a legend on the microphone. Speaking of the microphone, now he is going to be talking. Pretty basic yet effective JBL stuff here, hopefully even he gets a shot at Angle, just please, please, keep Bill Goldberg away from the title. I lol'd at Heyman being cocky and giving JBL a US Title shot.
CM Punk equals mega push k?
Mr Kennedy shows a hint of jealousy and that could be an okay feud as well. Your main event picture is very crowded at this stage, I am not sure exactly what is going on. Unpredictability is a good thing, as long as it doesn't get confusing which it hasn't yet.
What's with your commentators talking about Randy Orton and Rey Mysterio backstage, did I accidentally skip a segment or sis you just stuff up?
Kurt Angle was always going to go over Finlay and I don't think one of your champions have lost tonight. Nice, Angle talk as well, and this main event situation and who will feud with who has me very intrigued.
Ooooh the English guys are going to make an impact, I like the sound of it.
Booker T was going to get the victory only to be cost by the Englishmen.I thought you would want Harry Smith to have a few more wins before getting a quality opponent but obviously I was wrong. Got a good feud set up between the Englishmen and Booker T and Orton and Jericho will be great when Jericho gets back.
Shawn Michaels attacked. Oh, I do love these cliff hangers. It wasn't Goldberg was it? I bet it was Kennedy! Nice ending brah.
Overall a nice show, first hour could have perhaps been a little on the boring side, but the second half was sexy. Good work PARA!
---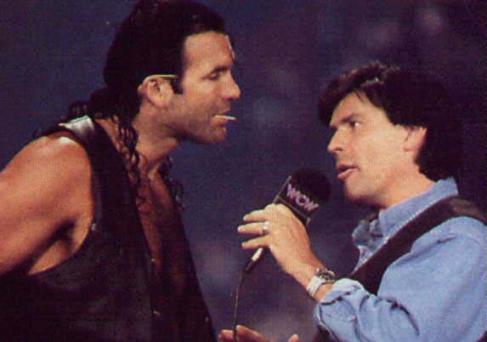 Re: Renegade™ & PARANoIR Present: WWE 2006
---
Good to see ya 'round you workaholic.
Just a quick point here, it's Friday Night SmackDown! now. It changed to Friday nights in 05, though you're probably not going to care. >_>
Starting off with a match is a nice change up, especially one with gold on the line. Quite liked the countering nature of the match, which pretty much shows the two to be near equal in ability. Hardy going over Kennedy is a must since Kennedy is everyone's golden boy for no real reason. Kennedy losing will always equal ratings in my books.
Quite liked the finish with lots of reversals leading to a neat little finish. Good way to open a show to get the crowd into things.
Goldberg sucks, but I gotta admit his intense promos do = money. =/ Keep going with that, because really it's the only thing about him that's worth giving a shit about.
Kendrick more popular than London? You damn skippy, whippy. The guy kinda has a tendency to own, tbfh. The Bashams really don't belong in the ring with these other six men, because the others have that little thing called 'talent'. An amazing thing it is, really. Guess you just had to throw two people in there, so they got the job. Clusterfuck matches are generally fun anyway, so it's hard to fuck 'em up unless most of the guys in there are bad. Thumbs up for AMW getting the win for their team, keeping them looking strong, though Noble taking the pin is a big, big nono. You of all people should know that.
Smith over Holly sounds about right, though I'm kinda disappointed you let Holly have any offence at all since he sucks and such. I guess it's a nice way to debut Smith, and making sure he gets heat with the low blow being included is a nice little touch. I'm quite the fan of young Smith, so I wouldn't question a megapush of the Brits.
Good use of Show. He's the absolute shits, but at least you're using his character well.
Try to get Michaels segments out in full, plz.
Michaels vs Goldberg sounds rather epic, maybe even a bit of a throw away? I don't know, but it's a big match in terms of potential hype to be giving away on SmackDown!
No more jobbing Jeff, plz. The guy owns, whether you wanna admit it or not. Hell, you even said the fans exploded for him. Give 'em what they want.
While I liked the idea of JBL using a dirty trick to maybe draw extra heat at the end, I'm not so sure about why he would do it. I know he's a heel, but doesn't that show a lack of confidence in the power of the Clothesline From Hell? If it's his big move he should think that he's got them put away without even second guessing whether or not he should look for any assistance, regardless of whether he's a heel or a face.
JBL was pretty much on here with a good promo. Liked how he regained his heat by bagging Jeff (who owns) after coming off like quite the good guy by bagging out Goldberg. I found the Heyman announcement kinda amusing, though I think it sorta demeans the title when someone's like "NO I DON'T WANT TO WRESTLE FOR THAT~!" Title defenses on SmackDown! are always fun though.
Punk on your brand? I expect him to be holding all of the gold on SmackDown! by Royal Rumble, with him set to be declared God at WrestleMania. That's if you push him the slow way too.
Hinting at KK vs HBK? That'd be nice. I don't know what else you were trying to do with the promo, as Kennedy's not really in any kind of a slump right now.
, ReyRey standing up to Orton?
Finlay's not a wanker this week? Rather disappointing. He was never going to beat Angle here. Hell, you even had the commentators acknowledge this before the match.
No confrontation between Angle and Goldberg is kind of a letdown. Would have liked to have seen some interaction between the two, though I guess you have a long time before your next Pay Per View.
Good job making Smith and Regal sound… erm… British. Cole spoils exactly what's happening here by saying that the Main Event with Booker T in it is next right after wondering what Regal meant by an impact. >_>
It seems everyone wants to fuck Jericho. That's wonderful, isn't it?
Orton with monster heat is ratings.
@ the Cole bagging. It's been petty entertaining for the whole show. Didn't like the spineroonie happening during a match where Booker's so intense. I don't see why he'd be too intense to do his pyro shtick, but not too intense for a spineroonie. Spinning around like an idiot doesn't scream intensity. >_> Regal interference was pretty much guaranteed thanks to Cole, so it wasn't any surprise, though I quite liked the attack after the match and Regal rubbing it in by yelling at him.
Being like TNA is never, ever a good thing, k?
Well, we know this was probably either Goldberg or Kennedy (unless he was just meant to point out he has a locker room, which would be weird), though I wouldn't be shocked if it was Angle, setting up maybe Angle vs Michaels in a WrestleMania rematch down the line. That'd be sexy, tbfh.
Pretty good stuff, Para on this show. Loved the hate towards Orton, really making him seem like a megaheel. Capitalize on this momentum and I'll love you. Anyway, to sum it up; quit your job. kthnx.
---
Re: Renegade™ & PARANoIR Present: WWE 2006
---
I know this is going to be a bit like spam but the thread is at the top anyway - just wanted to touch on one thing. Jamie Noble didn't take the fall in the 8 man tag. One of the Bashams did. As if I'd job Noble... do you people think I'm crazy???
Anyways - thank you all for the positive feedback, I'll touch on more comments later.
BTW, BKB, unless you're willing to pay my mortgage, I won't be quitting my job
Re: Renegade™ & PARANoIR Present: WWE 2006
---
Thanks for all the reviews for Para's SmackDown!

I'm sorry but there will be NO RAW preview this week, as I hate writing them and simply can't be assed to write one.

So yeah, looks for RAW in no more than 48 hours.
---
***

Re: Renegade™ & PARANoIR Present: WWE 2006
---
So I'll eat my own words, I've decided a preview really should go up, even if it's a **** to write them. Here's some news and such too...

WWE News & Rumours

It's been all but confirmed that the WWE have signed Natalya Neidhart, daughter of the legendary Jim "The Anvil" to a contract with the RAW brand. It is expected the WWE will send her to OVW before she debuts on the RAW brand, presumably sometime after Wrestlemania.

As for The Naturals, they're slated to make their TV debut on RAW after the Royal Rumble. It is thought with MNM already planned to have an opponent for Wrestemania, that The Naturals can be showcased and built up until after Wrestlemania, when they're expected to make the push towards the tag titles, regardless of the champions at that time.

After Wrestlemania, The Rock has confirmed he will be returning to Hollywood to shoot another film. Rock is expected to be off screens from the end of April and won't be back until after the summer at this stage.

Part 2 of the draft will happen IMMEDIATELY following Armageddon this Sunday, with there expected to be a bit more of a midcard and upper card shake up, compared to the main event and tag scene that was the main focus of Part 1. The third and final part of the draft isn't expected to occur until after Wrestlemania 23.

Speaking on WM23, it's all but confirmed Steve Austin will officially retire from the business following the event. Austin has said while he's still feeling in decent condition, he doesn't want to press his luck and wants to remain healthy, hence his decision.

===

Preview time. Here we go...

WWE RAW Preview for 12/8/06
Miami Arena; Miami - FL

The superstars of RAW roll into Miami tonight for what is sure to be a huge show.

A huge main event has already been confirmed which will see Miami's own, The Rock, taking on "The Next Big Thing" Brock Lesnar. With both men in action at Armageddon, who is going to take momentum with them to the PPV by getting the victory in this blockbuster confrontation.

The WWE Champion, Edge is only six days away from facing The Brahma Bull, but his actions of last week have done nothing but sour his already minutely small positive reputation when he snapped and assaulted Rob Van Dam in the main event. RVD will not be at RAW this week, although he has confirmed he'll be showing up to face Brock Lesnar at Armageddon regardless. Tonight, a long time friend of RVD, Tommy Dreamer, will look to avenge his friend's savage beating when he challenges Edge to an ECW Rules matchup. Can Tommy D make a winning return to RAW? Or will the Rated R Superstar have too much for the legendary Dreamer?

Last week, Shane McMahon challenged Triple H to face him in a 3 Minute match this week on RAW. The Game will no doubt show up looking to put the hurt on Shane O Mac ahead of their Ambulance match at Armageddon, but does Shane have something up his sleeve?

Carlito's Cabana will return this week with Carlito's guests being Stone Cold Steve Austin and Christian. With the two set to face off at Armageddon, can they possibly co-exist so close to each other, considering their heated history with each other?

And what of John Cena, who's been nothing short of a wrecking machine lately in his attempts to keep The Rock away from the WWE Championship? What will Cena have instore for everyone tonight?

All this plus AJ Styles, Kane, Monty Brown, Shelton Benjamin, Cryme Tyme, MNM, Trish Stratus & Beth Phoenix will all be the building, the lead up to Armageddon is guaranteed to heat up

***

Confirmed Matches/Events

The Rock vs Brock Lesnar w/Jim Cornette

Tommy Dreamer vs Edge - ECW Rules

Triple H vs Shane McMahon - 3 Minute time limit match

Carlito's Cabana with "Stone Cold" Steve Austin & Christian

===

Yeah I know, I said I wouldnt do a preview blah blah blah. RAW is still going up within the next two days, so look for it <3.
---
***

---
Last edited by Renegade™; 04-10-2009 at

11:02 AM

.
Posting Rules

You may not post new threads

You may not post replies

You may not post attachments

You may not edit your posts

---

HTML code is Off

---