Re: Renegadeô & PARANoIR Present: WWE 2006
---
Sorry for the lateness, had a PPV to review
Raw Feedback
Typical Edge really, complaining and getting under the skin of the fans. I liked when he mentioned the eye for an eye, because it shows he believes what he did to RVD was right, and he perhaps is showing off a sadistic side. Also a good heel, is a heel who believes in his own reasons. Then he went back to ripping into ECW and what not, this was nothing stand out, but a nice standard promo here from Edge anyway. Interruption from Tommy Dreamer means he is really going to get slaughtered.
As for this match up, I am confused, are you a fan of Tommy Dreamer or not? It certainly seemed as if you are letting him get this much offense in against the champion, I thought we were going to see a new sadistic side of Edge and while we still got the spoty, and the attempted con chair to after the match, for this to fully work we needed Edge to fuck him up even worse then this.
The Rock coming out in his hometown would have been an awesome sight. The Rock is usually your best character, but I felt him to be a little on and off here. For the most part he was good but I donít know, certain parts like the monkey crap but and KY Jelly bit seemed forced. Usually his promoís flowed so well, here it seemed as if you were just listing catch phrases for the sake of it.
Layla > The Naturals tbh. Let her ditch the jobbers and look sexy by herself.
Trish Stratus and Beth Phoenix is a nice situation especially since Trish brought Phoenix into the WWE. Despite the fact that you love Trish Stratus (as do i), I think that Phoenix would be the perfect challenger for Trish as they have yet to face off. Also, if Trish was to lose you could continue the feud, so I really think this is a good idea.
Reney, seriously, this set up was fucking epic. I really loved it. Itís an easy set up, but itís the simplicity of it that makes it so effective. This really did remind me of back in the Attitude Era days which is the good thing. Shane O was awesome, lol, this whole thing just made me laugh, it was a nice big tease. 3 Minute Warning FTW by the way, I really like themÖ They equal entertainment.
Jim Cornette is pure ownage as Brock Lesnarís mouth piece, I donít know what else to say but Cornette is old school and I love the fact that somebody on the forum is actually using him. Brings back great memories. Lesar is a monster but I believe tonight is Rockís night.
Trish Stratus gets some nice momentum with a win over Victoria, stare down with Phoenix over equals mind games as you said. I donít know what else to say, everything is pretty spot on here at the moment, and I expect this feud to continue on past Armageddon.
Royal Rumble advertising. Will it be in full?
Four of the men in the ten man tag match, sitting there altogether, I lolíd at Kane not talking. AJ Styles should do well, Cryme Tyme is shit, they better stay away from the tag team gold after Arnageddon.
Clusterfuck matches are definitely not for the win. I really dislike them, you just donít know exactly what is going on at what stage. Nice to get a whole heap of feuds in the spotlight though, AJ Styles getting one up on Shelton is great to, I really believe their feud can become epic.
Epic Cabana here, nothing to do with Carlito though. Christian and Austin has so far been very hot, I really do. Austin and Christian going at each other, mouthing at each other here was great and well Christian really got one up on Austin here. Austinís truck getting ruined and then being set up backstage, before being thrown through a glass window is why I rate you so highly. This is all attitude era like and that is what we love, therefore I love you because you remind me of my favorite time of wrestling.
Epic main event really. Lesnar/Rock in Miami of all places means immediate ratings. I expected the hometown hero to get the win, you know the happy reunion and what not, but this did not take place thanks to John Cena. I guess I should have expected it as Cena was not on the show at all, but I just didnít expect it. Lesnar gets a big win which will give him momentum while Rock will feud with Cena after Edge so everything is looking nice on Raw at this point in time.
Reney, you equal attitude era booker, attitude era equals my favorite time in wrestling. This equation means that even though this wasnít your best show I still thoroughly enjoyed it, Armageddon should be great. <3
Smackdown Feedback
Starting the show with Randy Orton? This really doesnít surprise me as you have told me how much you enjoy writing Randy Orton right now. Despite the enjoyment and what ever I am going to be honest with you here. At the beginning of this promo I did not think this was on at all, it just didnít seem to flow the best. It was still typical Orton, but it was kind of choppy, I donít know how to explain it. But I donít know what happened from about half way through this promo, itís like you switched a gear as the rest was amazing. Orton PUNTING Cole is fucking epic dude. Will he be getting killed off now? I fucking hope so. Orton in a handicap match next week, the twists continue to come as Orton right now is the most interesting character on Smackdown.
Heyman STILL in the ring after the break? Geez, he knows how to wear out his welcome doesnít he.
Orton will be fired if he loses, I guess Jericho will be coming back then and causing a DQ. Joey Styles wasnít predictable at all, is the best choice though.
Brian Kendrick getting the win was a bit of a shock as I was expecting Noble to be the main man for London to deal with. However, with this happening, we could get London/Kendrick or some kind of multi man match, either way with the Cruiserweight division you have, whatever you match you decide to go with should own.
JBL was spot on here. He is so up himself it makes me laugh so much, I expect him to not win the US Title and continue to be a valuable guy who can feud with anyone. Going to ramble here, but thatís what I like about JBL, he can fit in a high profile feud with absolutely anybody.
James Storm and Chris Harris defeating The Bashams. Obviously just trying to continue the champs winning ways, I am not quite sure who can challenge them at the moment. Hopefully you get something good going for ĎMania.
William Regal and Harry Smith are two that I eventually see big things from. You just really need to go slowly with them. Regal on the microphone was okay, however I would have liked a few of his trade mark insults thrown in there such as toe rag.
Geez, Regal got dominated by Booker T here and still picked up the victory, I really donít mind however as I think Harry Smith is easily the one who is being made to benefit out of their partnership. Smith was probably the reason for the win in the end, and I am sure Booker/Smith is on the horizon for some time soon.
Shawn Michaels all serious and that, but still takes the time to list off all his catch phrases. I know this is typical Michaels, but I would have preferred if you ignored the catch phrases and just showed more of his anger.
JBL loses to Matt Hardy just as I thought he would to be honest. Matt Hardy continues to be a very strong US Champ, I think he may have a bright future in this thread, I personally donít like the guy so I will have to see where you take him from here. JBL, will of course continue his little vendetta with Heyman, but I think he needs to find something else as I can see JBL being overshadowed by Orton in the coming weeks.
Mysterio and Show equals generic little meeting, nothing else to say.
CM Punk next week. Let the push begin.
I know what Matt will be doing now, I totally forgot about Kennedy. I expect Hardy to go over Kennedy when they finally meet for the last time, you donít strike me as a huge Kennedy fan. Donít worry, neither am i.
Lol at Show vs Marella seriously, itís just funny. Show can act tough all he wants, he ainít going over Orton next week.
Goldberg as the intense man who doesnít say much is good, the less of him on camera the better. I am not a huge fan of him, but he can be a asset and that is something I have realized in the last week or two. I wouldnít have him sniffing around the World Title for to long though. Kurt Angle to OWN the fuck out of Goldbert at Royal Rumble.
Shawn Michaels and Goldberg is a fairly epic main event, you and Reney both know how to book weekly shows with matches that are not all shit. It is a talent that so many on this forum do not have so for that I applaud you PARA. Nice match up, when Goldberg was about to go over, I was about to riot, I am really glad that did not take place. Kurt Angle is my hero because of what he did, Angle to go over Goldberg at the Rumble (youíve announced it a bit early havenít you), leaves me pondering exactly what Michaels will do. Good ending though.
PARA, your shows continue to be solid, you know I love your work and I am sure the brilliance is only going to lift as the Rumble gets closer. Keep working hard mate, youíve settled in well. <3
---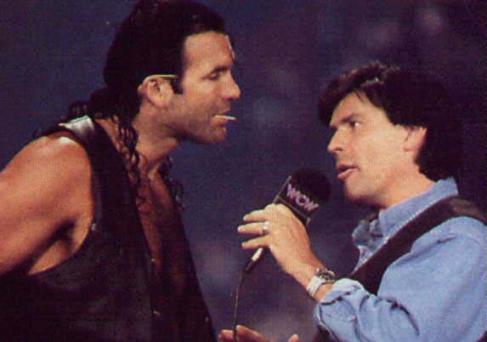 Chopped Liver
Join Date: Jan 2004
Location: Six inches from a computer screen
Posts: 5,401
Points: 225
Re: Renegade™ & PARANoIR Present: WWE 2006
---
WWE RAW
Finally got around to it, eh??
RVD going down last week to Edge was a really interesting end to the show, as it would appear youíre building to something long term with those two, rather than focus on the here and now with Edge and Rock. I expect that angle to take over tonight, especially with Van Dam not in the building.
Seems like there has been a few big 8 man / 10 man tag team matches in the last few weeks. Iím a mark for huge tag matches, but not twice a month
.
Was necessary for Edge to cast back to last week, as it was a pretty big deal. The more focus on this angle makes me pretty sure we can expect this one to either build toward WrestleMania, or be the feud that keeps Edge busy up until WM time.
Nice segue way into Tommy Dreamer, and even, lo and behold, a mention for The Rock. Whoída thunk it. Disappointed that it was Dreamer to interrupt, rather than The Rock, because we couldíve done with an epic showdown between the two guys that are headlining the next PPV. Maybe later though. Overall, a decent opening promo, but not anywhere on the level of the epic Edge promo you delivered on the second show back.
REALLY nice opening match, with Dreamer obviously going down, but with a heck of a fight, rather than a by the numbers squash. Great hardcore match for TV, thoroughly enjoyable.
Thank the lord, Rock DOES make an appearance to face Edge, and it looks like weíre about to crank up the intensity a little for this lacklustre feud thus far.
Quote:
Rock: And you might aswell take comfort in the fact that The Rock is pretty sure last week's chair shot wasn't the first time Lita has been blasted in the face by another guy!
ABSOLUTE FUCKING GOLD~!! How do you follow that line??
UmmÖ with another
.
Quote:
Rock: Whoa Edge, calm down there. The Rock understands that kind of thing is hard to swallow for you, but for Lita on the other hand, nothing's hard for her to swallow!
You really just saved this feud from being meaningless. Terrific stuff from The Rock, and a promo that made me laugh much more than I can remember in a long time. Great stuff. More of the same from Rock plz. With material like that, youíre making his presence worthwhile, rather than just another Ďnameí for the sake of it.
Naturals suck. Layla (whichever it is, the 2005 runner up, or the 2006 winner) = GODDESS.
Trish has beaten them all Ö but Beth is a fuckin beast. No chance for Ms. Stratus at Armageddon. But perhaps a rematch at the grand stage and finally a win over the Glamazon. Bit of an out there predic for now, but you heard it here first
Heh, correct me if Iím wrong, but Iím damn near sure I called 3MW interfering when this challenge was announced. Go me. If I didnít say it, I definitely thought it. Anyway, although Umaga > Jamal, I was a mark for 3MW anyway, so allís good. Wth Shane using them as his heavies, he now has a heck of a shot at beating Triple H at Armageddon. He wont. But he now has a big shot. Great attack to help build up the showdown between Shane and Trips at Armageddon. Ought to be a magnificent spot fest, and by far, the match Ií looking forward to most at Armageddon.
Still not sold on Cornette and Lesnar. Might take a while to get used to them together. Goes without saying though, Lesnar IS better off with a mouthpiece.
Do I have to love The King?? :@
No shocks that Trish - with a title to defend in six days - goes over Victoria. Decent match to have, and put more emphasis on the womens match on PPV. Bit of a showdown before Ö a title change??
Ugh. Very jobberific face line up (Cryme Tyme, Jindrak, the human spot machine, and Kane) Not worthy of any promo time.
Monty Brown had better go over in this one, but he didnít. Thatís for Armageddon surely. Styles with the win helps him look like a threat for the IC title. Oh joy. Hopefully with him winning here, heíll lose when it comes to the title shot on Sunday. Heís not worthy of the belt.
Had to laugh at Austins reaction to being offered an apple. Couldnít quite imagine the beer drinker taking an apple. Seemed like a lot of filler just until Christian arrived. LMAO at the CLB Ďaccidentallyí dropping the beer. Such an asshole.
Loved the destruction of Austins 4x4, and the attack which followed, making Captain Charisma a true threat to Austin, with a vicious attack, sending a clear message to his veteran opponent. Slamming the door into Austin, and then the glass window spot was excellent. Wouldíve liked to see Christian hit the Unprettier on the bonnet, especially after saying about Austin delivering numerous stunners on it in the past. Still, the attack was extremely effective. Nice job.
Two great TV matches on one show is fantastic, and very much enjoyed this main event between two excellent workers. Run ins galore at the end with Cena and Edge attacking The Rock, making sure the #1 Contender doesnít get the W.
Nice wrap up too, with Cena getting suspended (which greatly helps to postpone his inevitable meeting with The Rock, and not have to dance around it for the next few months).
Overall, a decent show, with enough build up to make me want to see Armageddon, after a few weeks that, whilst good shows, hadnít really got me incredibly interested in the PPV. Did a much greater job of it tonight, and the PPV is set up nicely indeed.
Predictions for WWE Armageddon
8) WWE Championship Match
The Rock vs
Edge
(c)
With Cena suspended, Edge will likely have to do this cleanly. Or, he cheats his way to a win, and sets up a rematch for the Royal Rumble with some sort of gimmick attached to it, to keep both men busy until the build up for WrestleMania.
6)
Stone Cold Steve Austin
vs Christian w/Tomko
Itís Christians time imo, but I see Austin going over, looking strong for his dream match with Goldberg that is likely for WM. If CC wins, itíll be in screwy fashion, but I see run ins backfiring, and Austin prevailing.
7) Ambulance Match
Triple H
vs Shane McMahon
Despite all kinds of interference, The Game beats Shane in this one. MOTN without a doubt though, with Shane doing something sick.
4)
Rob Van Dam
vs Brock Lesnar w/Jim Cornette
Hard to call. This could go Lesnars way, if you play into RVD being less than 100%, but with RVD my early pick for the Rumble, a win here, against the odds, could do him the world of good.
3) Kane vs
Monty Brown
w/The Coach
Monty is gearing up to face Taker at WrestleMania. Kane should be retired. HAS to be a win for Monty.
1) Intercontinental Championship Match
AJ Styles vs
Shelton Benjamin
(c)
Heís lost to AJ too often, so he has to win here.
2) World Tag Team Championship Match
Cryme Tyme (c) vs
MNM
w/Melina
For the love of God Ö PLEASEEEEEE!!!
5) Women's Championship Match
Trish Stratus (c) vs
Beth Phoenix
I gave my thoughts earlier.
Questions
1. What match will open the PPV? - The IC title match.
2. How many title changes will occur, if any? - Hopefully two.
3. Will there be any surprise appearances? If so, who? Vince and 3MW (if they count), and Mickie to screw Trish.
4. Predict the match order. Done above.
Re: Renegadeô & PARANoIR Present: WWE 2006
---
Well thank you for all the feedback RAW recieved, unfortunate that Para has been ignored largely this week but shit happens. Any others are still more than welcome, and infact encouraged, to drop a line for Para's Smackdown show, just thought I'd take the time to answer a few questions and post some news in the lead up to Armageddon...
For those doubting The Naturals, plz, give it a chance. We all know Layla is a goddess too, no shocker there.
I'll be the first to admit that the PPV build has been shallow, but in between trying to piece the bigger angles together and sorting out the second part of the draft (Which's results will be revealed to all on the RAW & SD! after Armageddon) I kinda lost the hype in the shuffle. I apologize
Onto some notes and news and etc
With the tag team scene again going through an overhaul, a team that is expected to be coming towards the end of their run is The Johnnies. Originally put together to compete for the tag straps, they were turned into the gimmick jobber team of the RAW brand and have had no exposure since Survivor Series, when they were done away easily anyway. It is thought that while Johnny Jeter would remain contracted to the WWE, Johnny Parisi is coming to the end of his deal and management isn't too high on him, with him one of the guys expected to be on the way out of the company.

Another man looking like he could be on the way out is D'Lo Brown. Brown has been nothing short of a HEAT wrestler lately, trading victories with Paul Burchill and Rob Conway, and it is widely expected that D'Lo will not have his contract renewed at the end of next month, much like with Johnny Parisi.

Meanwhile Billy Kidman is continuing to improve following a long injury layoff and has been promoted back to the official WWE SmackDown! roster

Matt Striker has been told he will be forming a new stable soon on RAW. Striker was recently working with the team of Chris Masters & Test before Andrew Martin passed away earlier this month. A few names have been thrown around as to who will join Striker & Masters, including Rob Conway, Mark Jindrak and former WWE superstars Chris Nowinski and also Barry "Bull" Buchanan.

Creative have still not "decided" (revealed to the leakers) who will win this years Royal Rumble match. Sources close to the WWE have speculated a bunch of names including Christian, Rob Van Dam, Brock Lesnar, Shawn Michaels, Chris Jerichp and Randy Orton because they truly want this years winner to be a surprise to the fans.

It is thought when Natalya Neidhart begins to work on RAW, she will be placed in an alliance with fellow Canadian Trish Stratus in an effort to help get her over at first. Alot of people backstage have been impressed with her showings already in OVW. Natalya won't be on a RAW show until after Wrestlemania though, with the Trish/Beth program currently running.

During the Christmas/New Years holiday week, the WWE superstars are given the week off with no live show taking place on Christmas day, the WWE will instead air a "Best Of 2006" edition for both RAW and SmackDown! with highlights of the year gone by, including some memorable promo's and matches that happened on the respective shows during the year.
===
HEAT Results for 11/8/06

D'Lo Brown def. Rob Conway @ 8:37

Mickie James def. Melina @ 5:12

Lance Cade def. Goldust @ 4:45

Matt Striker, Chris Masters & Charlie Haas def. The Dudley Boyz & Rhyno @ 9:56
===
That's all for now, expect to see the recapped Armageddon PPV up by the end of the week, most likely on Saturday.
Anyone wanting to predic the PPV who haven't done so already, here is the card...
===
Current Card for WWE Armageddon
Energy Solutions Arena
Salt Lake City; Utah
Event Music: Breaking Benjamin - "Had Enough"
Sponsored by Miller Chill
WWE Championship Match
The Rock vs Edge (c)
Stone Cold Steve Austin vs Christian w/Tomko
Ambulance Match
Triple H vs Shane McMahon
Rob Van Dam vs Brock Lesnar w/Jim Cornette
Kane vs Monty Brown w/The Coach
Intercontinental Championship Match
AJ Styles vs Shelton Benjamin (c)
World Tag Team Championship Match
Cryme Tyme (c) vs MNM w/Melina
Women's Championship Match
Trish Stratus (c) vs Beth Phoenix
Questions
1. What match will open the PPV?
2. How many title changes will occur, if any?
3. Will there be any surprise appearances? If so, who?
4. Predict the match order
===
So yeah, look for the PPV come Saturday.
---
***

---
Last edited by Renegadeô; 10-20-2013 at

09:59 AM

.
Re: Renegadeô & PARANoIR Present: WWE 2006
---
at The Johnnies, seriously, what were you thinking? Glad to see they are splitting up.
D Lo Brown is underrated, people who don't use him are silly. USE HIM, please, don't release him.
Billy Kidman equals mid card champion by Summerslam.
Nowinski and Striker would fit perfectly to be honest. Both being know alls and what not.
Lesnar to win the Rumble. I love him.
Natalya Neidhart will be the next womens chsmpion, alliance turned feud with Trish would be awesome.
Best of 2006 show... Maybe i can read some of your previous work.
Amrageddon is going to be great, i can't wait. <3
Re: Renegadeô & PARANoIR Present: WWE 2006
---
First off, I told ya' I'd be up to date on your thread soon, and thats what most of my free time has been dedicated too. You two are a fantastic duo, and I look forward to hitting you both up with reviews in the future. Bibbys back. Don't release D'lo. That is all.

8. WWE Championship Match
The Rock vs Edge (c)

6. Stone Cold Steve Austin vs Christian w/Tomko

7. Ambulance Match
Triple H vs Shane McMahon

5. Rob Van Dam vs Brock Lesnar w/Jim Cornette

3. Kane vs Monty Brown w/The Coach

4. Intercontinental Championship Match
AJ Styles vs Shelton Benjamin (c)

1. World Tag Team Championship Match
Cryme Tyme (c) vs MNM w/Melina

2. Women's Championship Match
Trish Stratus (c) vs Beth Phoenix

Questions

1. What match will open the PPV? Tag Team Championsip
2. How many title changes will occur, if any? 2
3. Will there be any surprise appearances? If so, who? John Cena
4. Predict the match order; done above.
---
WCW.
Re: Renegade™ & PARANoIR Present: WWE 2006
---
WWE Championship Match
8. The Rock vs Edge (c)
If you let The Cock win the Title, I'll riot.

6. Stone Cold Steve Austin vs Christian w/Tomko
If you're going to have these old crocks, it's time to make them job out to the new guys at least.

7. Ambulance Match
Triple H vs Shane McMahon
It pains me to say Shane O Mac will lose, but I call it like I see it.

5. Rob Van Dam vs Brock Lesnar w/Jim Cornette
Lesnar + Old School Manager = Success

4. Kane vs Monty Brown w/The Coach
Kane is a Jobber to the STAAAAAAAAAAAAAAAAAAARS~! PERIOD.

1. Intercontinental Championship Match
AJ Styles vs Shelton Benjamin (c)
Because I don't like neg Benjamin.

2. World Tag Team Championship Match
Cryme Tyme (c) vs MNM w/Melina
I have no reason.

3. Women's Championship Match
Trish Stratus (c) vs Beth Phoenix
See above

Questions

1. What match will open the PPV? AJ vs. Benjamin
2. How many title changes will occur, if any? 3?
3. Will there be any surprise appearances? If so, who? Fuck if I know.
4. Predict the match order

---
When An Empire Falls - The Tale of World Championship Wrestling
Szumi's back, but not in black - back in BTB! And yeah, I know, he's doing WCW again - so unoriginal.
My Awards:
2008 - Best PPV - Starrcade
2008, 2007, & 2006 - Best Promo Writer
2007 & 2006 - Best Promo(s)
2007 - Most Creative
2007 - Best Feedbacker
2006 & 2007 BTB World Cup - Top Overall Scorer
2007 BTB World Cup - Booker of the Tournament
Only Person to Ever Score Perfect Score in a Tournament
BTB Hall of Famer
World Championship Wrestling 2001 - The Trio Ownership
This was The Trio Ownership; I did it a long time ago, for a long time. T'was a good ready, I think. People liked it and stuff.
Asking SCOTT STEINER for Wrestling Advice
Join Date: Apr 2009
Posts: 493
Points: 0
Re: Renegade™ & PARANoIR Present: WWE 2006
---
WWE Championship Match
8. The Rock vs Edge (c)

7. Stone Cold Steve Austin vs Christian w/Tomko

Ambulance Match
6. Triple H vs Shane McMahon

5.Rob Van Dam vs Brock Lesnar w/Jim Cornette

2. Kane vs Monty Brown w/The Coach

4. Intercontinental Championship Match
AJ Styles vs Shelton Benjamin (c)

1. World Tag Team Championship Match
Cryme Tyme (c) vs MNM w/Melina

3. Women's Championship Match
Trish Stratus (c) vs Beth Phoenix

Questions

1. What match will open the PPV? Tag Team Championship
2. How many title changes will occur, if any? 1
3. Will there be any surprise appearances? If so, who? John Cena
4. Predict the match order
---
It all comes down to the match between Chelsea and Man United on Saturday. The winner of that match will go to win the league

I just hope Berbatov can get off his arse and score two like he did against Bolton
Re: Renegadeô & PARANoIR Present: WWE 2006
---
Sunday Night HEAT

Lance Cade def. Mark Jindrak @ 4:12

Carlito, Rhyno & Maven def. Chris Masters, Charlie Haas, Matt Striker @ 7:47

***

WWE Armageddon
A RAW Production
Sponsored by Miller Genuine Draught
Event Music: Breaking Benjamin - "Had Enough"




*Hype Video*

*PYRO*
*PYRO**PYRO*
*PYRO*
*PYRO**PYRO**PYRO*
*PYRO**PYRO*
*PYRO*
*PYRO**PYRO**PYRO**PYRO*
*PYRO**PYRO**PYRO*
*PYRO**PYRO*
*PYRO*
*PYRO**PYRO**PYRO**PYRO**PYRO*
*PYRO*

JR & King welcome everyone to the event, and as the camera pans around the arena showcasing the fans, they hard sell all the matches tonight before we kick off the action, in style

WWE Intercontinental Championship Match
AJ Styles vs Shelton Benjamin (c)
The match is begun with both men trying to our wrestle the other, with alot of reversals and jockeying for position. After a brief stand off which is applauded by the fans, Benji tries to cheap shot AJ but it's blocked by AJ, and the Phenomenal One begins to unload on Shelton with right hands, backing the champ to the ropes. AJ then whips Shelton to the ropes, only for Shelton to rebound and knock AJ over with a shoulder block. Shelton smirks down at AJ and then rebounds off the ropes again, only to come back into an Arm Drag from Styles! Shelton quickly gets back up but AJ is quicker and takes him down with another Arm Drag! Shelton gets up again and AJ scores with a clothesline this time. AJ is back to his feet in an instant, while Shelton gets up and instead of going at AJ again, rolls to the outside, showing his frustrations at being out done by Styles. Benji garners a "You Suck" chant as he stands on the outside, looking back at AJ who tells him to get back in the ring. Shelton waves AJ off and grabs his IC title, looking to leave the match BUT AJ STYLES COMES FLYING OVER THE ROPES WITH A CORKSCREW ATTACK ONTO SHELTON! The crowd erupts as Styles produces a trademark spot and continues to look impressive here.

The match continues to go in AJ's favour as he hits a Hurricanrana on Shelton and follows up with a pinfall for a two count. AJ continues to mount the offensive as Shelton rakes the eyes to free himself from a grapple and then goes for a Suplex, only for AJ to slip out of it and score with a Falling Neck Breaker! Cover 1...2..kickout by Benji. AJ keeps Shelton on the back foot, hitting a Dropkick and then climbing up to the top rope. Shelton however reacts quickly to this and darts across the ring, SHOVING AJ OFF WITH STYLES CRASHING DOWN INTO THE BARRICADE BELOW AT RINGSIDE! Scattered "Holy Shit" chants break out as Shelton has finally halted AJ's hot start to the match and Benji is more than happy to catch a rest as Chad Patton utilizes his ten count. AJ manages to recover and beat the count as it reaches eight, but Shelton begins to take control as he pummels on AJ with right hands, not even letting Styles get properly back into the ring. Shelton brings AJ up with Styles still on the apron and SUPLEXES HIM OVER THE ROPES AND BACK INTO THE RING! Cover 1...2..kickout by Styles. Shelton pulls AJ up and whips him to the ropes, meeting him on the return with a Belly To Belly Suplex! Shelton again covers but again can only get a two count.

Shelton wears AJ down in the corner with a series of right hands, then whips AJ across the ring with fierce velocity, so hard that AJ does a HBK style tumble up and over to the floor! AJ holds his back after that nasty bump and slowly begins to get to his feet as Chad Patton starts to again count his way to ten. What the camera doesn't immediately pick up on however is Shelton's where abouts as suddenly SHELTON LEAPS TO THE TOP TURNBUCKLE THEN COMES OFF WITH A MOONSAULT ONTO AJ! The crowd erupts as Shelton shows he can match AJ's athleticism from earlier and both men are down. Benji recovers first and after slamming AJ's face into the ring apron, rolls Styles back into the ring and covers him, but AJ is able to kick out before the three. Benjamin locks a Sleeper Hold on AJ, wearing the challenger down, but with the crowd firmly behind him, AJ is willed on back to his feet. Styles fires a few shots to the midsection of Benjamin to free himself and then hits a right hand. AJ rebounds off the ropes...RIGHT INTO A ROUNDHOUSE KICK TO THE FACE! Shelton covers 1...2..shoulder up! AJ stays alive with a close call there. Shelton stays on top of AJ, lifting him up and scoring with a Double Underhook Powerbomb! Cover but AJ again sc****s a shoulder off the mat, and Shelton is a little frustrated, asking Patton for a quicker count. Benji brings AJ up and looks to finish the match with the T-BONE SUPLEX...but AJ hits an elbow to the side of Shelton's head, fighting free, and then begins to unload with a flurry of rights and lefts at Shelton, backing the IC Champ to the ropes. AJ attempts to Irish Whip Shelton but it's reversed, only for AJ to come back with a Cross Body!

AJ then hits a clothesline knockdown on Shelton, then catches a wild right hand from Benji and takes Shelton down with a PELE KICK! Both men down. The starts a "Let's Go AJ" chant as the two get back to their feet. AJ unleashes with a Knife Edge Chop to Shelton who fights back with a right hand. AJ again hits a chop, lighting up Benji who covers up, only for AJ to hit a right hand this time. Styles then looks to go for a Starmaker, but Shelton counters it and sends AJ to the ropes, looking for a kick which is blocked by AJ...ONLY FOR SHELTON TO NAIL THE DRAGON WHIP! Shelton covers after smacking Styles on the chops with the trademark kick 1...2...kickout again! Benji isn't happy at all this time and gets in Chad Patton's face about it, which leaves AJ with time to get his wits about him again. Shelton stops arguing and turns back to AJ, WHO ROLLS SHELTON UP WITH A SMALL PACKAGE 1...2...NO! Shelton escapes an embarrassing way to lose and takes AJ down with a clothesline. Shelton brings AJ up and whips him to the ropes looking to hit another clothesline but ducks under it, rebounds off the other side and comes back with a Wheel Kick to Shelton! Shelton gets back to his feet and AJ kicks him in the gut and goes for the STYLES CLASH, but Shelton counters and elevates AJ over with a Back Body Drop. Shelton now hits a Northern Lights Suplex and bridges it with a pin 1...2...AJ SHOWS INCREDIBLE WILL TO POWER OUT OF IT...AND SPINS SHELTON AROUND WITH A BACKSLIDE PIN 1...2...NO! Shelton kicks out just in time. Both men quickly back to their feet and AJ trips Shelton down and makes a Jackknife Pin on him 1...2...THIS TIME IT'S SHELTON WHO POWERS OUT AND TURNS IT AROUND GOING FOR A GUT WRENCH POWERBOMB...BUT AJ COUNTERS WITH A ROLLING HH PIN 1...2...SHELTON ROLLS OUT OF IT AND PUSHES AJ BY THE LEGS INTO A PINNING POSITION 1...2...SHELTON HAS HIS FEET ALL OVER THE ROPES...3!
Winner @ 14:55 - Shelton Benjamin
Retains WWE Intercontinental Championship

Backstage now and Monty & Coach are standing by. Coach first off talks about how Brown is gonna destroy Kane tonight and continue to show why Monty Brown ain't no joke. Monty then says that Kane is going to suffer like never before as he gets taken to the Serengeti and finished off like the "broken down" machine he has become

The Naturals Hype Video airs

Kane vs Monty Brown w/The Coach
It's a typical big man match with both hitting each other hard in the early going. Kane gets the upper hand, showing he's still got it in him and pulls off an impressive Tilt-A-Whirl Powerslam on Monty by only gets a two count. Kane continues to get the better of Monty until the fight spills to the outside and Coach distracts Kane long enough for Brown to recover from a bad start and hang Kane out over the barricade at ringside. Monty then rams Kane back first into the ring apron multiple times before rolling him back into the ring. Monty impressively begins to dominate Kane from here scoring with a Powerslam for a two count, and then rough housing Kane into the corner and thrusting his shoulder into Kane's gut a few times.
Monty continues to wear down Kane, clubbing over his back, then sending him to the ropes and hitting a big clothesline on the return, but Kane kicks out easily.

Monty's spell of dominance begins to shorten as Kane fires off a few trademark right hands, rocking Brown for a moment, but Monty plows a knee into the gut of Kane and then delivers a Gut Wrench Powerbomb to Kane! Awesome show of strength from Monty who makes the cover 1...2...kickout by Kane. Monty brings Kane to his feet, looking for the Alpha Bomb, but Kane counters and drops Brown onto his back with a Back Body Drop. Brown gets up and eats a huge uppercut from Kane. Monty hits back with a right of his own and then rebounds off the ropes right into a Big Boot from Kane! Kane takes a moment to shake the cobwebs loose and mounts the top turnbuckle. Monty gets up and turns right into a Flying Clothesline from Kane! Cover 1...2..kickout by Brown. The crowd can sense Kane is getting right back into it here and a small "Kane" chant breaks out as Kane makes a signal that the end is near. Kane stalks Brown, readying him and then goozles him, going for the CHOKESLAM FROM HELL...BUT BROWN BREAKS FREE FROM THE GRIP AND HITS THE ALPHALUTION TO KANE! Monty covers 1...2...NO! Kane kicks out. Brown is livid and let's out a roar to show, before death staring the referee for a moment. Now it's Monty who signals the end for his opponent as he drags Kane to his feet and whips him to the ropes, looking for the POUNCE...ONLY FOR KANE TO AVOID IT! Monty rebounds off the ropes, missing his move and comes right back into Kane who loads him up for a TOMBSTONE PILEDRIVER...NO...BROWN SLIDES OUT THE BACK AND SHOVES KANE TO THE ROPES...WHAM! Monty scores with the POUNCE! Cover 1...2...3.
Winner @ 9:23 - Monty Brown w/The Coach

The feed cuts to the back and we see the arrival of Shane McMahon, who gets a huge amount of heat from the fans. Shane hops out of his limo in an expensive suit He is stopped by Todd Grisham who attempts to speak to Shane about the assault that he orchestrated on Triple H six days ago. Shane tells Todd he always thinks a step ahead, and Triple H may be known as "The Game", but Shane played his own game too well for Trips, and Shane boldly walks off whispering "Tonight, for Triple H it's Game Over, for good..."


World Tag Team Championships Match
Cryme Tyme(c) vs MNM w/Melina
Shad starts off with Nitro, bossing him around with his power advantage. It sees Shad score with a bunch of right hand knock downs, and Nitro tags out to Mercury, who receives the same treatment. Shad tags in JTG who quickens the pace with a few Arm Drag take downs on Mercury, keeping the last one locked on into an Arm Bar. JTG pumps the crowd up and then clotheslines Mercury out to the floor as the champs have all the early momentum. Nitro consoles with his partner on the outside and Melina joins her boys, talking them up before Mercury gets back into the ring and offers a test of strength to JTG. JTG reluctantly agrees but is cheaply kicked in the gut by Mercury who then rebounds off the ropes, only to get taken down by a Cyclone Attack by JTG! JTG then backs Mercury to the Cryme Tyme corner with a series of right hands and tags back in big Shad, who scoops Joey Mercury up and Scoop Slams him down. Cover 1...kickout.

Shad now brings Mercury up, who socks Shad in the gut with a right hand and then attempts an Irish whip, but Shad counters and pulls Mercury back into a stiff clothesline! Shad now taunts Nitro to a pop and drops an elbow to Mercury. Cover 1...2.kickout. Nitro gets into the ring and clubs Shad across the back, distracting the big man long enough for Mercury to regain his footing and hit a Dropkick to him. Mercury tags in Nitro and the duo send Shad to the ropes and score with a Double Reverse Elbow. Nitro then drops a leg across the throat of Shad and covers 1...kickout. Nitro brings Shad to his feet and tries to Suplex the big man, but Shad is too strong and blocks it, then delivers a Suplex of his own to Nitro! Shad tags back in JTG who scales the top turnbuckle and leaps off, hitting a Body Splash! Cover 1...2..kickout by Nitro! Melina notices her boys are in trouble and gets onto the apron, grabbing JTG's attention as she begins to play with her already extremely short skirt, as JTG mouths "Dayum". JTG has forgotten all about Nitro meanwhile, and Johnny sneaks up behind him and plants him with a Back Suplex!

Now begins the isolation of JTG from his partner as Nitro & Mercury take turns to wear him down. MNM throw in some nice tandem moves too, really doing a number on JTG. MNM put JTG down with a Russian Leg Sweep/Neckbreaker double team move and then Mercury covers 1...2..Shad breaks up the fall. As the ref ushers Shad back to his corner, Nitro hops into the ring and he and Mercury hit a Double Underhook Backbreaker on JTG, and Nitro claps his hands together, making the sound of a tag, despite there actually being no legal tag made between the two, and Nitro remains in the ring while Mercury hops out to the apron. Nitro works over JTG in the corner of the challengers and then distracts the ref while Joey Mercury chokes JTG with the tag rope! Mercury let's go of it and JTG stumbles out, short of breath, into a European Uppercut from Nitro, and then Johnny follows up with a cover 1...2..kickout by JTG. MNM continue to pick JTG apart as they shoot JTG to the ropes and then attempt to elevate him over their shoulders, BUT JTG USES HIS OWN MOMENTUM AND COUNTERS BY DDT'ING BOTH MEN DOWN TO THE MAT! The crowd pops as JTG makes the hot tag to Shad!

Shad comes in and scores with a double clothesline to both members of MNM, and then hits the ropes and comes back with a Diving shoulder block to Nitro. Shad now takes over on Mercury, hitting some big right hands, backing him to the corner. Shad now whips Mercury across to the opposite buckle and looks to follow in, but Mercury gets an elbow up in the face of the big man. Shad staggers backwards holding his jaw, and Mercury climbs the turnbuckle, then jumps off looking for a Crossbody...BUT SHAD CATCHES HIM MID AIR AND COUNTERS IT INTO A POWERSLAM! Johnny Nitro clubs Shad across the back and attempts to shoot the big man to the ropes, but Shad reverses it, ONLY FOR NITRO TO SPRINGBOARD OFF THE ROPES AND COME BACK WITH A SHIN KICK TO THE FACE! Nitro covers following the impressive move 1...2..kickout by Shad. Nitro stomps on Shad as the big man tries to roll away, then drops an elbow to him. Johnny now brings Shad back to his feet and goes for a DDT...but Shad shoves Nitro to the ropes and the two smack heads on the rebound in a nasty collision. Both men slowly get back to their feet when Shad is mobbed from behind by Mercury. MNM set Shad up looking to finish the big man off, but JTG comes back into the match with a right hand to Mercury. JTG begins to unload on Joey with right hand after right hand, backing Mercury to the ropes. JTG then looks to send Mercury out of the ring, but Joey ducks and pulls the top rope down, causing JTG to tumble out to the floor. Shad doesn't see this as he scoops Nitro up on his shoulders, only for Mercury to pull Nitro off...AND SHAD TURNS AROUND INTO THE SNAPSHOT FROM MNM! Cover 1...2...3!
Winners @ NEW World Tag Team Champions @ 11:36 - MNM

MNM have pulled it off, CLEAN aswell. Melina grabs the straps for her boys and they celebrate up the ramp way to some heat as JTG rolls back into the ring to check on Shad

Royal Rumble Advert

WWE Women's Championship Match
Trish Stratus (c) vs Beth Phoenix
Trish starts off bravely against her bigger opponent, using her speed advantage over Phoenix to frustrate The Glamazon. Trish takes Beth down with a Snapmare and locks a chin lock on Phoenix, who powers out of it with Trish on her back, then grabs Stratus by the hair and slams her down to the mat with ease! Phoenix then covers Trish 1...2..kickout by Stratus.

And so begins Beth's dominance of the match, continually pounding on Stratus but unable to put the great Canadian away. Trish attempts a comeback as she hits a few strikes to the face of Phoenix, but as she hits the ropes, she comes right back into the grasp of Beth who powers Trish into the air and drops her with a Military Press Slam! Beth covers again 1...2..shoulder up by Trish. Phoenix is looking extremely impressive as she sets Trish up on the top rope, but as she attempts to SUPERPLEX Trish off, Trish holds onto the ropes and Phoenix goes crashing face first to the mat! Trish now sees her chance to get back in the match and waits for Beth to regain her footing before leaping off and catching Beth with a Hurricanrana! Crowd pops for a fresh spot in Trish's moveset and Phoenix gets back up rather quickly (being that she's a butch machine and all) and is met by a hard clothesline by Trish. Stratus is building momentum here and grabs Beth by the head in the Bulldog position and goes for the STRATUSFACTION...BUT BETH COUNTERS IT AND TOSSES STRATUS ACROSS THE RING! Again the power of Phoenix is on show here and The Glamazon glares at Trish who gets up holding her head, and is flattened by a huge clothesline! Beth covers 1...2..kickout again by Trish.

Beth now gets to her feet looking at her downed opponent and makes a motion that she's gonna end it right here. Phoenix brings Trish to her feet and loads her up for the DOWN IN FLAMES...BUT TRISH SLIPS OUT THE BACK AND PHOENIX TURNS INTO A CHICK KICK! The crowd erupts as Trish falls ontop of Phoenix and the count is made 1...2...3!
Winner @ 6:41 - Trish Stratus
Retains WWE Women's Championship

RVD is interviewed next. Van Dam has taping around his ribs after the savage attack he suffered at the hands of Edge two weeks ago on RAW and despite being asked by Grisham whether it's going to affect him against Brock Lesnar tonight, Van Dam bravely (or stupidly?) shrugs it off saying he's gonna show everyone that he's still the Whole Damn Show and that RVD 4.20 is gonna smoke Brock Lesnar's ass

Camera pans around the fans as JR & King talk up the big four matches coming up

Rob Van Dam vs Brock Lesnar
RVD is a brave man tonight, despite having a bandage wrapped around his forehead and his ribs heavily taped up, he shows up to fight the Vanilla Gorilla and comes out all guns blazing with some right hands, then scores with a Wheel Kick to Lesnar and quickly covers 1..Lesnar powers out easily.
The crowd is firmly behind Van Dam and he attempts to whip Lesnar to the ropes, but Brock easily reverses it and catches RVD on the rebound with a Belly To Belly Suplex! Lesnar covers 1...2.shoulder up by Van Dam. Lesnar doesn't take long to go after Van Dam's cracked rib and drops him to the mat with a hard Scoop Slam, then rolls RVD onto his front and drops an elbow across the back of Van Dam.
Cornette watches on from ringside as Lesnar paces around the ring with a cocky smirk on his face, knowing he's gonna be able to pick RVD's midsection apart at this rate.
Brock pulls RVD up but Van Dam catches him by surprise, breaking free of his grasp and hitting a few right hands to the face of Lesnar. Brock takes a wild swing back at RVD, who ducks under it and takes Lesnar down with a Legsweep. RVD then hits a Standing Moonsault Splash and covers Brock but Lesnar powers out before the count of 2 again.

Lesnar gets back to his feet and Van Dam scores with a Thrusting Sidekick to the jaw of Brock who stumbles backwards to the ropes, and RVD follows up with a clothesline, taking "The Next Big Thing" out to the floor. RVD looks out to the crowd who come alive for one of their favourites, and then Mr. PPV hits the ropes, gaining speed and then PULLS OFF A PLANCHA OVER THE ROPES, DOWN ONTO BROCK LESNAR! The crowd erupts with an "RVD" chant as Van Dam hurts his own body in the process, immediately clutching at his ribs on impact. Cornette has a slightly worried look on his face and walks towards his client Lesnar, only to be warned about his actions by the referee, making sure Corny doesn't try and give his client any upper hand in this match. Both RVD & Lesnar reach their vertical base again and RVD hits a right hand to Brock, who responds by tackling RVD into the barricade! Lesnar rams RVD into the barricade again, brutalizing Van Dam's ribs and back here before making it back to the ring to break up the ten count of the referee.

It's now where Lesnar really takes control, as he brings RVD back to the ring and works on Van Dam's ribs time after time, keeping RVD grounded and limiting his unorthodox offense. Lesnar loads RVD up on his shoulder and rams him back into the turnbuckle and begins to thrust his shoulder into the ribs of RVD multiple times, each one damaging those cracked ribs even more. The crowd starts a "Lesnar Sucks" chant, which Brock laughs off, seemingly enjoying the picking apart of Van Dam. Brock shoots RVD to the corner and looks to follow up, BUT RVD ROLLS OVER THE ON COMING LESNAR'S SHOULDER ATTACK! The crowd pops as Lesnar's face eats the middle turnbuckle and Brock turns around into a Spinning Crescent Kick! RVD is able to buy himself some time to recover, but not too long as Brock gets back to his feet, and swats away the in coming RVD with a clothesline. Lesnar glares down at RVD and brings him up then drills him to the mat with a Powerbomb! Lesnar covers 1...2...NO! RVD kicks out. Brock looks a tad annoyed at RVD's resilience, but Cornette calms his man down, telling him to keep focused. Brock grins down at Van Dam who is holding his ribs and breathing heavily, really struggling here against the Vanilla Gorilla. Brock brings RVD up and tells him he's finished, and locks in the Bearhug!

The crowd begins to rally behind RVD, but it doesn't seem to be helping as he fades away in the hold, and the referee checks his hand, which drops for a one count. The ref checks for a second time, and again, RVD's hand drops. Lesnar is nodding and yelling "Good night Rob" as the ref checks the hand for a final time...BUT RVD REFUSES TO LET IT DROP! The crowd pops and starts another "RVD" chant as Van Dam feeds off their noise and battles his way back to his feet, and fires a few shots to the ribs of Lesnar. Brock's grip on RVD loosens and Van Dam rebounds off the ropes...BUT LESNAR SCOOPS RVD UP ON HIS SHOULDERS FOR THE F5...ONLY FOR RVD TO COUNTER IT MID AIR WITH A TORNADO DDT! RVD makes the cover as Cornette is again looking slightly worried 1...2..Lesnar kicks out. RVD fires up, bringing some trademark moves to the match, albeit he is clearly trying to avoid hurting himself as he scores with the Step Over Windmill Kick and rolls onto his back, clutching at the ribs again. Van Dam then throws caution out the window and follows up with the Split Legged Moonsault! Cover 1...2...Lesnar just gets a shoulder up! Van Dam gets back to his feet holding his midsection again, but again ignores the pain and rebounds off the ropes and hits the Rolling Thunder to Lesnar! Cover 1...2...again Brock escapes, just. RVD is feeling it here and Cornette gets on the apron, trying to take RVD's attention off of Lesnar, but RVD scores with a High Kick to the face of Corny to a pop from the crowd. Van Dam now sees Lesnar getting up and fires a few right hands, and Lesnar throws them back, before raising a knee to the gut of Van Dam. Brock goes for a Suplex, but Van Dam slips out the back and rolls Lesnar up with a Schoolboy 1...2...NO! Lesnar barely kicks out of that, most of the crowd thought it was all over.

Van Dam and Lesnar both get to their feet and RVD scores with a Heel Kick, taking Lesnar down again. Van Dam now mounts the top rope, battling through the pain in his ribs, and gets ready to fly when Jim Cornette gets back on the apron! Cornette comes to RVD who sees him and kicks him off again, but this allows Lesnar to leap up and charge to the corner, AND BRING RVD ONTO HIS SHOULDERS...AND SCORE WITH AN EMPHATIC F5! Brock hooks the leg 1...2...3!
Winner @ 8:46 - Brock Lesnar

It's promo time with Christian next as he, confident as ever, talks up his match with Austin and how he'll be putting the Rattlesnake in his place. Christian reminds us Stone Cold is not what he once was, and simply won't be able to match up to Captain Charisma in the ring tonight. Christian talks about how he's shown the world Austin's flaws in recent weeks, with him being off the pace and sluggish, and that tonight won't be any different for Austin. Christian then says once Austin has been beaten, he'll be the hottest commodity in the business and there won't be anything as big as Christian, ever again

Stone Cold Steve Austin vs Christian w/Tyson Tomko
The crowd is firmly behind Austin although as per the norm lately, there is a bunch of Christian marks who make themselves heard throughout the match. Austin begins the match with all the intensity we've come to expect from him over the years as he unleashes a flurry of right hands to Christian before the brawl spills to the outside with Stone Cold taking Christian right to the woodshed as JR says. The fight comes around to the announce tables and Austin slams Christian's face into it multiple times as the crowd counts along. Austin then sends Christian into the crowd at ringside and follows him over, with Jack Doan letting the action go and not bothering with counting both men out. Austin beats Christian up and down the aisles in the crowd with those trademark right hands, and also counters Christian's attempted Piledriver attempt with a Back Body Drop, Christian's back splatting onto the cold floor. Eventually the two make their way back to ringside and Austin hangs Christian out over the barricade at ringside, dropping the CLB chest first across it.

Finally Austin rolls Christian back into the ring after giving him a lesson in how to fight and Stone Cold makes a cover 1...2.kickout by Christian. Stone Cold brings Christian up and shoots him to the ropes and catches him with a Reverse elbow on the return. Austin now pulls Christian to his feet again and puts Captain Charisma down to the mat with a Scoop Slam. Stone Cold looks out to the crowd who respond in rowdy fashion, and then the Rattlesnake mounts the middle buckle and leaps off, scoring with the Diving Front Elbow Drop! Austin covers again 1...2..kickout by Christian once more. Austin glares at Jack Doan for a moment and mouths "WHAT" to the crowd's glee as they chant "WHAT" on cue. Stone Cold gets to his feet and the crowd again goes nuts for him and an "Austin" chant breaks out, with the veteran in firm control of Christian here. Austin drags Christian to the corner and begins to Mudhole Stomp the shit outta Christian, and walk it dry [/JR]. The crowd chants along "WHAT" to every stomp, and eventually the ref intervenes and begins to tell Austin to break it off, to which Austin replies with a flip of the bird! The crowd erupts as Austin turns the middle finger salute to Christian and gives him one final stomp for good measure. The Rattlesnake pulls Christian out of the corner and places him over the middle rope, then charges in and hits the Outlaw attack to Christian, who clutches at his throat, the wind taken out of him there. Stone Cold makes another lateral press 1...2..shoulder up.

Austin now gets to his feet and crouches, readying Christian for the end. CLB struggles back to his feet after one hell of an ass whipping, and turns around into the STUNNER...NO! CHRISTIAN COUNTERS AND SHOVES AUSTIN INTO THE TURNBUCKLE! Austin staggers out and Christian takes advantage, planting him with the Falling Reverse DDT! Christian makes a weak cover 1...2.kickout by Austin. Christian rolls out of the ring to catch his breath and Tomko consoles with his buddy as Austin gets his where abouts back and goes out after Christian, only for Captain Charisma to spot him coming and kick Austin in the midsection as he approaches. Christian now kicks out Austin's left leg, taking him down to his knees, and begins to choke Austin with the cables! He scores some heat for this and Doan steps in to break it up, but the wily Christian walks away, taking the ref with him, and while the ref's back is turned, TOMKO DRILLS AUSTIN WITH THE BIG BOOT! Major heat for that as Tomko rolls Austin into the ring and Christian darts in after him and makes the cover 1...2...NO! Austin kicks out! Christian now mounts Austin and begins pummeling him with right hands and talking trash to him as he does it. Christian gets to his feet looking extremely camp as he's now in the driver's seat and he smirks and begins to pound his chest, gaining a huge amount of the crowd's jeers in the process, although his tiny "Peepulation" here mark like fuck for him.

Christian continues to remain in control for the majority of the contest, despite the odd flurry or right hands now and then from Austin, who at the moment can't seem to get back into the match he started off dominating. Christian brings Austin up and looks to end him with the UNPRETTIER...BUT AUSTIN SPINS THROUGH IT AND TAKES CHRISTIAN DOWN WITH A BACKSLIDE PIN 1...2...NO! Christian just gets a shoulder up! Both men get to their feet but Christian is quickest to it, poking Austin in the eye to some cheap heat. Christian then takes Austin down with an Inverted Facelock Backbreaker! Cover 1...2..Austin kicks out. Christian continues to work over Austin but Stone Cold comes back with another trademark rally of right hands which has the CLB reeling, but Christian ducks a shot and locks the Sleeper Hold on Austin. Austin refuses to give in though and after stopping his hand from dropping for a third time, he gets back to a vertical base and unloads with right hands to the gut of Christian. Austin manages to get free and hits the ropes, Christian goes for a clothesline which Austin ducks under, rebounds off the other side and comes back with the Lou Thesz Press! Austin takes Christian down to a huge pop and fires those piston like right's to the head of Captain Charisma. Stone Cold then gets up and hits the ropes again, coming back with the F*ck You elbow drop! Cover 1...2...kickout by Christian.

Austin is building momentum again and Tomko realizes this and hops onto the apron, only to eat a right hand from Austin! Austin turns back to Christian who's recovering in the corner, but sees Austin coming in and raises a knee to the ribs of Stone Cold. Christian places Austin in the corner and hits a right hand, then socks Austin in the gut with one too. Christian then makes a big mistake and SLAPS AUSTIN ACROSS THE FACE! The CLB smirks and once again pounds his chest with the palm of his hand, when Austin turns the tables on Christian and begins to unload on him with right hands! Christian is getting rocked and resorts to raking the eyes of Austin to escape his wrath! The crowd boos this and Christian charges at Austin who stumbles away from the corner...ONLY TO GET CAUGHT AND DROPPED WITH THE STUNNER! The crowd erupts as Austin scores and covers Christian 1...2...THE COUNT STOPS! TOMKO PUTS CHRISTIAN'S FOOT ON THE ROPES! Massive heat for this and Austin can already tell what's happened as he rolls out of the ring and nails Tomko from behind with a shot across the back of the Problem Solver. Austin now gets back in the ring and brings Christian to his feet and whips him to the ropes and catches him with a Whiplash Spinebuster! Stone Cold looks to cover but out of the corner of his eye, spots Tomko getting into the ring and TOMKO CHARGES IN TO TAKE AUSTIN OUT WITH A BIG BOOT...BUT AUSTIN DUCKS AND TOMKO TURNS INTO A STUNNER! The crowd erupts as Austin drops down and talks some trash to Tomko after hitting his signature move and taking him out of this match. Austin get to his feet however and CHRISTIAN PLANTS HIM WITH THE UNPRETTIER! From nowhere! Christian hooks both legs 1...2...3!
Winner @ 13:21 - Christian

Shane O Mac is shown getting ready for his upcoming war, and then the screen splits in half and shows Triple H taping and lacing up

WWE SmackDown! advert

The ambulance gets backed out onto the top of the stage for the upcoming match

Ambulance Match
Triple H vs Shane McMahon
The match begins with Shane leaping through the ropes onto Trips, catching The Game by surprise. Shane unloads with right hands to HHH and gains an early advantage. Shane then whips Trips into the steel steps and follows up with it by jumping at The Game with another shot. Shane O Mac gets to his feet and begins to dance around in trademark fashion to some heat from the fans. Triple H gets back to his feet and Shane begins the SHANE O MAC SHUFFLE!~ Shane fires multiple left and right handed jabs at the face of The Game and then winds up a big finishing blow, clotheslining Hunter off his feet. Shane now brings Triple H to his feet and tries to walk him to the ambulance, foolishly thinking he's done enough to beat The Game, and HHH drives an elbow to the midsection of Shane, freeing himself from Shane's grip, and then hits a straight right hand to McMahon, rocking him. Shane comes back at Trips, only to cop another right hand, and then Hunter takes Shane and throws him violently into the barricade! Trips takes a moment to catch his breath after being caught off guard at the start of the match by Shane. Hunter pulls Shane up and walks him over to the ring, and then slams Shane's face right into the apron. Trips then rolls Shane into the ring before reaching under the ring and pulling out a Trash Can! HHH chucks the weapon into the ring, and then pulls another one out from under the ring, and also a few lids with it. Hunter places them in the ring too and gets onto the apron ready to enter the ring, but Shane chucks a Trash Can at Trips, who catches it! However SHANE HITS A FRONT DROPKICK, SENDING THE CAN INTO TRIPLE H'S FACE! This takes Hunter off the apron as he tumbles to the outside.

Shane takes a moment to show off, earning some heat, before stepping onto the apron and awaiting Triple H to get back up. As Hunter regains his footing, Shane comes off the apron with an Axe Handle over the back of The Game. Shane reaches into the ring and grabs a trash can lid. Shane measures up HHH and swings the lid at Hunter's face, but HHH avoids it, and then kicks Shane in the gut, winding him and causing him to drop the lid. Triple H picks the trash can lid up and blasts Shane across the head with it! The crowd pops as finally Triple H brings the weaponary to McMahon, who drops to a knee and Triple H follows up with another shot to the head of Shane! With the led dented, The Game throws the lid away and scoops McMahon up, and rams him face first into the ring post! Shane is in trouble now and the crowd can sense the Cerebral Assassin getting in the zone. Trips stands over Shane and gives him a DX chop to a huge pop from the crowd. Triple H now picks Shane up and walks him towards the ambulance, but Shane socks him in the midsection, trying to get away from Triple H, who has none of it and levels Shane with a right hand.
The two men continue to fight it out around the ambulance for a few minutes, with Triple H getting his face dropped into a light structure and Shane's back smacking into the stage set.

Eventually, Shane tries to nail Triple H with a boom camera, but Triple H catches him coming in and DRILLS HIM WITH A HH SPINEBUSTER THROUGH A SMALL WORKSTATION TABLE! Crowd pops for the spot, the first one of the match as Shane is driven through a table and some equipment. Triple H now gets a near motionless Shane and drags him over to the ambulance, ready to finish the match off. Hunter drops Shane and opens the doors, ONLY FOR 3 MINUTE WARNING TO LEAP OUT OF THE AMBULANCE ONTO THE GAME! Massive heat is given as Rosey & Jamal, Shane's hired guns, begin to beat the fuck out of Triple H, who valiantly tries to fight the mammoth duo off to no luck. Rico begins to revive Shane McMahon as his two huge henchmen do a number on Triple H as the crowd starts a "Bullshit" chant. As the match goes on, Rosey & Jamal continue to destroy Hunter and drag him back to the ring. Jamal grabs one of the trash cans and slams it over the cranium of Triple H, as Rosey takes the other one and sticks it in the corner, in between the top and middle turnbuckles. Jamal brings Triple H, who has been busted open after the mugging he's received, to his feet and whips him hard into the corner, with HHH's back crashing into the trash can! Rosey then follows in and a huge Body Avalanche, squashing Triple H back in the corner between the near 400 pounds of Rosey and the trash can!

The Game, spaghetti legged and all, staggers out of the corner on dream street into a Samoan Drop from Jamal! The crowd continues to show their displeasure of seeing Triple H picked apart here. Shane has recovered and he orders 3MW to get HHH out of the ring. The trio nod their heads and Rico heads to the ambulance as Rosey & Jamal toss Trips out of the ring. However, Shane stops them and then points to something else instead...THE SPANISH ANNOUNCE TABLE! The crowd already can tell what Shane O Mac wants to do as he tells 3MW to put Triple H on the table. The duo do as they're told and walk The Game around and lay him out on the table, and just to make sure he stays down, Jamal pummels Trips with a few right hands. Shane then climbs the top turnbuckle inside the ring and balances himself, with the crowd coming to their feet, AND SHANE THEN LEAPS OFF WITH AN ELBOW DROP...SOARING THROUGH THE AIR...DRIVING TRIPLE H THROUGH THE SPANISH ANNOUNCE TABLE! The crowd goes apeshit with a huge "Holy Shit" chant breaking out and it seems as if the final nail has been put in Triple H's coffin here. 3MW attend to Shane, trying to get McMahon back to his feet after the crazy spot. It takes over a minute for them to get Shane back to the real world, and then they bring O Mac to his feet, only for Shane to collapse again. Triple H hasn't moved meanwhile.

Shane can barely stand and has Rico basically holding him up as Rosey & Jamal reach through the rubble and pull a lifeless Triple H to his feet. The two big men drag Hunter around the ring and up the ramp towards the ambulance at the top of the stage area, taunting the crowd as they do. Rico leaves Shane rested up against the barricade and opens the doors to the ambulance, and Shane yells at 3MW to thrown Triple H into it, but TRIPLE H IN DESPERATION HITS A DOUBLE LOW BLOW TO ROSEY & JAMAL! The crowd erupts as The Game digs deep to get back into the match. Rico sees this and attempts to hit a right hand to HHH, but it is blocked, and Rico is then tossed face first into the side of the ambulance! A "Triple H" chant breaks out as he struggles back to his feet. Rosey & Jamal are still winded, holding their groin areas and Trips capitalizes as he grabs ahold of one of the doors to the ambo, and SLAMS IT INTO THE FACE OF ROSEY! The crowd pops as Triple H brings Rosey's head back up and SLAMS THE DOOR INTO THE FACE OF ROSEY ONCE AGAIN! The Game now turns to Jamal and brings the big 350 pounder to his feet, before SLAMMING JAMAL'S HEAD RIGHT THROUGH THE GLASS PANEL ON THE AMBULANCE DOOR! The crowd erupts with a "Holy Shit" chant as Jamal, like his partner Rosey, have both been taken out by The Game.

Triple H fires the crowd up, feeling the momentum shifting, but is stopped in his tracks by a CHAIR SHOT TO THE BACK FROM SHANE O MAC! Triple H crumbles to his knees as Shane begins to do his shuffle dance again, moving freely after ample recovery time from his spot earlier. Shane winds up a huge chair shot to finish The Game off...BUT TRIPLE H DROP TOE HOLDS SHANE DOWN...AND SHANE'S FACE SMACKS INTO THE STEEL CHAIR! Triple H gets to his feet and takes the steel chair in his hands, sizing up Shane O Mac, and then BLASTS SHANE OVER THE HEAD WITH THE CHAIR! The Game is in the zone now as he sees Rico getting back to his feet, and Triple H BENDS THE CHAIR OVER THE SKULL OF RICO TOO! Trips drops the chair and wipes the blood away from his face and looks around at the carnage he's caused. He still doesn't seem to want to put Shane inside the ambulance yet, as he begins to stagger back towards the ring. Hunter looks under the apron for a moment before pulling out the SLEDGEHAMMER! The crowd erupts and Triple H looks at his trademark weapon like a slightly possessed man. Triple H walks with the tool of destruction in his hand back to Shane McMahon, but sees Rosey getting back to his feet, and Trips BURIES THE HAMMER INTO THE GUT OF ROSEY! Triple H then turns his attention to Jamal who is also attempting to get back up, and Trips CRACKS THE HAMMER OVER THE BACK OF JAMAL!

The Game now raises the hammer high getting a rowdy response from the fans and turns to Shane O Mac, who attempts to scurry away from Hunter. Shane leads Triple H around the ambulance in circles a few times, before climbing up the front of the vehicle. Triple H drops his hammer and follows Shane up, as the two climb onto the roof of the ambulance. Shane kicks at Triple H, hitting him right in his bloodied face as The Game tries to grab Shane by the leg. Shane gets to his feet and hits a snap jab to Triple H, and then another. Shane then winds up a right hand to finish off the combo, but Triple H blocks it! Trips fights back, hitting Shane with a right hand, rocking Shane backwards. Trips hit Shane again, and then again as Shane gets backed towards the egde of the ambo roof. Triple H hits Shane once more, leaving Shane O Mac reeling by the edge of the roof, and Triple H then does another DX chop to a resounding reaction from the fans, boots Shane in the gut and DELIVERS THE PEDIGREE TO SHANE, AND BOTH MEN GO CRASHING THROUGH THE ROOF OF THE AMBULANCE INTO THE BACK OF THE VEHICLE BELOW! The crowd goes nuts as the overhead camera zooms in on the two men amongst all the broken equipment inside the ambulance. Officials rush to the ambulance to check on both men, as the crowd await to see what happens in anticipation. It takes nearly a minute, but finally Triple H crawls out from the back of the ambulance to a huge pop. The Game musters the energy to shut the doors, and get the win!
Winner @ 16:58 - Triple H

Edge is interviewed ahead of his title defense against The Rock, and the Rated R Superstar cuts a powerful promo, full of his hatred for Rocky and putting over the fact he would do ANYTHING to make sure he comes out of this match, still the WWE Champion

Main Event
WWE Championship Match
The Rock vs Edge (c)
The match kicks off with The Rock and Edge trading blows with Rocky getting the upper hand. Rock shoots Edge off the ropes and catches him with an Arm Drag, and then takes Edge down with another as the Rated R Superstar charges at The Rock again. Rock this time keeps Edge grounded with an arm bar hold. Edge gets back to his feet, only for Rock to work over the left arm, smashing his elbow down across Edge's arm, then wrenching it around again, increasing the torque on it. Edge fights back with a right hand, but Rock then sends Edge to the ropes again and meets him on the rebound with a Belly To Belly Overhead Throw! Rock makes a cover 1...Edge kicks out.
Edge gets out of the ring, frustrated with Rocky being all over him as Rock stands in the ring and tells Edge to "Just Bring It" to a pop from the fans.
Edge's eyes widen in fury and he hops on the apron, drawing Rock closer to him, and as Rock reaches for the Rated R Superstar, Edge grabs Rocky and guillotine's him across the ropes! Edge quickly slides into the ring and goes for an early SPEAR...but Rock avoids it, Edge rebounds off the ropes right into a right hand from The Rock! Rock unloads on Edge and then proceeds to Lay the Smackdown on him, with the final right hand shot sending Edge out through the ropes to the outside.

Rock introduces Edge's face to the steel steps and then attempts to whip him towards the ring post, but Edge counters it, and ROCK IS SENT INTO THE RING POST!
This signifies a turn in momentum as Edge takes control of The Rock, much to the displeasure of the crowd. Edge rolls Rock into the ring and covers him 1...2..kickout.
Edge then begins to methodically work on Rock's shoulder which took the brunt of the ring post collision, dropping elbows onto it, stomping on it, and hitting a Shoulderbreaker manouver. Edge covers 1...2.kickout again by The Rock.
The crowd gets behind Rock with a booming *Rocky* chant, and Rock attempts to fight back with a few right hands, but Edge rakes the eyes of The Rock and plants him with a Half Nelson Bulldog! Cover 1...2..shoulder up from The Rock.
Edge goes right back to the left shoulder of The Rock, dropping his knees to it, and then slapping on a modified arm bar, with the pressure higher up on the body part than normal, close to the shoulder of Rocky.
The crowd rallies, supporting The Rock with another *Rocky* chant as The Brahma Bull battles to a vertical base and fires a shot to the gut of Edge, and then another, and Rock then pushes Edge off into the ropes, but Edge comes right back with a Big Boot to the face of The Rock. Cover 1...2.Rock kicks out again.

Edge shows the first sign of frustration and yells at referee Mike Chioda for a faster count. He locks on his signature Seated Chinlock to wear out The Rock again, but once again the fans get behind Rocky and the People's Champion battles out of the hold and takes Edge down with a Back Suplex! After both men recover, Edge throws a right hand, but it's blocked by Rocky, who begins to hammer away at Edge with right hand after right hand. Edge however breaks the momentum build as he raises a knee to Rock's midsection. Edge hits the ropes and comes back at Rock, BUT IS MET WITH A SAMOAN DROP! Rock makes a cover 1...2..Edge kicks out. Both men get to their feet and Rock scores with a knock down on Edge, and then as Edge gets back up, Rock clotheslines him down again. Rock holds his shoulder for a moment as Edge crawls to the corner, but Rock follows him in and places a boot to the gut of Edge. Rocky now attempts to whip Edge across the ring, but Edge reverses it and sends Rock to the opposite corner and follows in...BUT ROCK EXPLODES FROM THE CORNER WITH A HUGE CLOTHESLINE, TURNING EDGE INSIDE OUT! The crowd erupts as Edge groggily gets back up and Rock plants him with the People's DDT! Rock hooks the leg 1...2...Edge just kicks out!

Rock is feeling it and he sets Edge up, looking for the ROCK BOTTOM...but Edge gets an elbow to the head of The Rock up in time, and then another to free himself from Rock's grasp. Rock stumbles and Edge hits the ropes and SCORES WITH A SPEAR! The crowd boos and Edge's face lights up with a beaming grin as he covers The Rock 1...2...NO! Rock kicks out! The crowd erupts and Edge is beside himself, sure that he had a three. Edge gets in Mike Chioda's face and berates the top RAW official for a good while as The Rock struggles back to his feet. Edge sees this and crouches down, setting Rock up for a second Spear. Rock finally gets to his feet and turns around and Edge uncoils with a SPEAR...BUT ROCK SIDESTEPS IT AND EDGE EATS THE TURNBUCKLE! The crowd erupts as Edge staggers out holding his jaw...RIGHT INTO A ROCK BOTTOM FROM THE ROCK! The crowd goes wild as Rock scores with the finisher, but he's slow to make a cover, and it's far from a convincing one 1...2...NO! Edge kicks out!
The crowd groans in disappointment as Edge stays alive in this match and it's The Rock who's annoyed this time, as he glares towards Mike Chioda who holds a two count up.
Rock again clutches at his left shoulder before trying to shake it loose as he gets back to his feet.

Rock brings Edge back to his feet and socks him with a hard right hand, and Edge returns in kind, with neither man having much punch left in them as Rock fires one back. Edge staggers backwards and Rock looks to Lay the Smackdown again, but Edge ducks under it, and scores with the Edge-O-Matic! Edge hooks both the legs 1...2...Rock kicks out! Edge slaps the mat in frustration, thinking he had Rock beaten then. The Rated R Superstar gets a "You Suck" chant from the fans to which he responds with a "Fuck off" gesture, getting some major heat. Edge turns back to The Rock and brings him up and places him in a Front facelock, setting Rock up for the EDGEACUTION...BUT ROCK TRIPS EDGE DOWN AND SLAPS THE SHARPSHOOTER ON! The crowd goes wild as Rock applies the famous hold to Edge right in the middle of the ring. Edge tries to make it to the ropes but Rock has the hold in tight and the WWE Champion is in all kinds of trouble now. Edge tries to roll out of the hold, but the pain is too much and he can't pull it off. Edge now begins to crawl with all his might towards the ropes, all the while yelling in pain as Rock tells him to tap. Edge struggles closer and closer to the ropes and is almost there when ROCK PULLS HIM BACK TO THE CENTER OF THE RING! The crowd erupts and a "Tap! Tap! Tap!" chant begins as Edge's hand is shaking, his whole body wrapped in pain. Edge again tries to crawl to the ropes, but Rock keeps him near the middle of the ring and eventually EDGE TAPS! EDGE TAPS! The crowd explodes...BUT MIKE CHIODA IS BEING DISTRACTED...BY LITA!

Major heat pours down from the fans as Lita, covered with a face mask (think Trish Stratus 04) is on the apron, distracting Mike Chioda, making sure her man doesn't lose his title and receiving the usual "Slut" chants. The Rock releases the hold on Edge and the Brahma Bull's eyes widen in fury, as he then GRABS LITA AND PULLS HER INTO THE RING! Lita tries to beg off but it doesn't work as ROCK PLANTS HER WITH A ROCK BOTTOM! The crowd loves it as Lita is taken out. Edge has seen this and with a rush of adrenaline, charges at Rock and tackles him into the corner...SANDWICHING MIKE CHIODA IN BETWEEN IT ALL! Chioda crumbles to the mat as Edge begins to pummel the shit out of The Rock with rights and lefts after seeing Rocky take out his girlfriend. Rock fights back with a right hand of his own, and then another, ONLY FOR EDGE TO KICK THE ROCK SQUARE IN THE GROIN!
Huge heat for the cheap shot as Edge notices Chioda down, and then a demonic grin appears on his face as he looks to the outside. Edge exits the ring and walks around to the time keeper's position and grabs a Steel Chair! Edge slides the chair into the ring and then follows in, picking up the weapon and BLASTING THE ROCK OVER THE HEAD WITH IT! Rock goes down and Edge grins, having taken The Rock out of the match. Edge however, isn't done, as he looks down at The Rock and then places the steel chair, under The Rock's head! The crowd know what's coming next as Edge makes a signal for a Con-Chair-To, and surprisingly the crowd comes alive. Edge too seems surprised by the reaction, but finds out it's not for him, it's for ROB VAN DAM...WHO THROWS A CHAIR AT EDGE...EDGE CATCHES IT...AND VAN DAM DELIVERS THE VAN DAMINATOR TO EDGE! The crowd marks like fuck for that as RVD scores some revenge for Edge's brutal attack on him on RAW a few weeks back. RVD grabs both steel chairs and tosses them out of the ring and then makes himself scarce, jumping into the crowd leaving Edge and Rock layed out in the ring to "RVD" chants. Mike Chioda begins to stir in the corner, gingerly regaining his footing while both Rock and Edge are still down in the middle of the ring when suddenly THE ROCK KIPS UP! The crowd explodes as Rock sees Edge down and stands at the Rated R Superstars head, kicks the shoulder, takes off his elbow pad, chucks it into the crowd, then hits the ropes and DROPS THE PEOPLE'S ELBOW TO EDGE! Rock hooks both legs 1...2...3!
Winner @ 20:18 - The Rock
New WWE Champion

There's pandamonium in the crowd as Rock has won his first Championship in over four years. Rock's music hits and he is handed the WWE Title by Mike Chioda, and Rock climbs the turnbuckle and does his pose, soaking up the incredible ovation from the fans as JR & King talk about all that's gone down tonight and hard sell tomorrow night's RAW with the second part of the draft and all of the fall out from tonight. The screen fades to black with a shot of Edge still down in the ring and Rock posing on another turnbuckle

***
Thank fuck it's done tbh. Won't lie, it was a bit of a bitch to get through for one reason or another, but it's finally done. I'm gonna love some of the reaction on certain things, mainly Rocky winning the strap, but fear not, it's all part of myself and Para's master plans. Enjoy.
As usual, all feedback will be appreciated and returned when I can <3.
---
***

Chopped Liver
Join Date: Jan 2004
Location: Six inches from a computer screen
Posts: 5,401
Points: 225
Re: Renegade™ & PARANoIR Present: WWE 2006
---
Opening up in style. Perfect choice to kick proceedings off, even if I'm not the biggest fan of either guy, I can see the quality
. Didn't take long to break out the high flying offence, after the feeling out process, which is good. Save the wrestling mumbo jumbo for someone else, and lets these two fly around. Steady stream of offence for Benjamin, putting his stamp on Styles, and gotta say, great job on the eye catching leaping to the top rope / moonsault combo. Benjamin > Styles. Action got a little boring until the Styles comeback, after withstanding heavy offence from the champion, but from the Pele Kick, you kicked the contest up a gear, with the pendulum of advantage swinging constantly from side to side. Surprising finish really, after the shifting pin attempts, to end it on one (albeit with feet on the ropes) caught me off guard - but in a good way, as I'm used to seeing those earlier in a contest. Next time, we'll not be so sure that it's just a filler spot to create a bit of buzz. Good job. Finish suggests a rematch, as Styles wont take this loss lying down.
Monty Brown interview = fail. No mention of the Pounce, and no PERIOD.
Naturals = DOUBLE FAIL.
Kane vs. Brown gave the impression of your by the numbers, lumbering Kane match - so marks for realism there. A Kane chant?? No thanks. Not a terribly great match to read, even in recap form, but the finish moments were decent, with both finishers being initially avoided, before the right man wins, and thankfully, he does it clean. Hopefully you continue to book Monty as a beast to build his momentum for a Taker clash at WrestleMania. Off to a good start, but make sure you keep it up from here.
Something tells me Shane is going to be leaving in an Ambulance.
Another match I don't really care to see, but for the third match in a row, the right person (people) went over. Cryme Tyme has no business challenging for, or holding tag titles. MNM are, by far and away, the most bankable team you've got on Raw, and rightfully, they've now got the belts (CLEAN TOO!!!). At least you got it over with quickly. I'm guessing it's a waiting game now for The Naturals to come in (and do nothing for the tag division
)
Well, if you're planning on representing the womens division at WrestleMania, THIS is the match you should be looking at. Without a doubt, the two biggest talents in the division at your disposal. Simple, but effective story told, with Trish doing her utmost to stay away from the challenger, and avoid being trapped by the powerful Phoenix … but not to much degree of success
. Phoenix dominance didn't seem to last too long, but given the time womens matches are given, I guess it was a good portion of domination. Trish busting out a hurricanrana?? I'll dig that. Despite that comeback, you still pushed the power of Beth by tossing off the Stratusfaction, but good to see the champion eeking out the win, with a sudden chick kick, just as it looked like the title was escaping her. Expected the title change here, but you cant go wrong with either of these two as champions. Trish is the hotter one by a mile, so I'm guessing that's what swung it for you??
Surprised to see this one get jipped for time, as I could envisage some really good contests with their clash of styles. Rather enjoyed this one, with RVD selling the ribs like a trooper, along with Brock working on them plenty, and eventually, that nagging injury most likely cost him, as he struggled to climb the ropes for the failed Five Star (although Cornette might disagree about what cost him). Only has himself to blame for making the ribs worse with dives to the outside etc
. Good use of Cornette too, having him keeping Lesnar calm and controlled, and eventually getting involved to try and save the match for his client. Decent win for Lesnar, although I'm sure RVD will want to settle the score, having had a golden opportunity to pick up the in, only for Cornette, and his bad ribs.
No surprise to me that Austin started out as the aggressor, wasting no time at all to take the action to the outside. Typical Austin. Kinda expected things to transpire as they did, with Austin dominant in the early going, and Christian barely getting in any offence (and any he does is countered, or thrown off), before turning the tide. Austin going for that early Stunner was a nice curveball, making him inches away from totally dominating Christian for the win. The Tomko interference was to be expected, and throughout too, with Christian needing to play off that CLB persona, and Austin getting to look like the BMF he is. In the end though, it seemed like Christian never really got a huge period of momentum going to keep Austin down and build up his heat, before heading into the hot finish. The slap to Austin, and the following celebration made me smile, typifying the cockiness of Captain Charisma. Tomko in the end is the major difference maker, not only saving Christian from the loss, but taking a hit himself to allow Christian the chance to strike Austin, and grab the win. Much like the opening match, I'm betting on a rematch down the road, as Austin wont be happy at how he lost this match, and something like a cage match would make sense to me, to keep it man to man. We'll see what happens though, as I'm fairly sure you'll be looking to move towards Goldberg and Austin at WrestleMania.
LMAO @ the Shane Shuffle getting the BOLD treatment, like it's a newsworthy move. Expected Triple H to be the aggressor, especially after how things went down on Raw, so to see Shane take the early advantage was a surprise. Glad that it didn't take long to bring in the weapons, and I had visions of RVD in ECW when Shane threw the can at Triple H to catch, then dropkicked him. Took The Game way too long to really gain the advantage, and when he did, he didn't really make Shane pay, really just going through the motions. Glad to see the fight spilling towards the destination point, even at this early stage, as there's no point in 15 minutes of going at in the ring, then 5 minutes of building towards the ambulance. And, when it gets to the destination point, matches like these finally come to life; and this ambulance match is no exception. 3MW time their interference to perfection, following that sick spine buster spot, and hid in a good place too
(do they really need Rico too btw?? He kinda takes away from the bad ass nature of the duo). The standard Shane-O elbow makes it's appearance as always, and with Rosey and Jamal there to help, surely they should be carrying Triple H up the ramp for him here to save time, as soon as Shane crashed on him, rather than wasting time helping Shane up??
Alas they finally have the sense to do that, although surely they should've realised Shane would've wanted them to carry Triple H up the ramp anyway?? Had to know that that wouldn't do it, and even though he had to resort to desperate tactics, Triple H DOES survive. And man, from here, IT REALLY picks up. Trips goes psycho, and uses the Ambulance to maim 3MW (glass rules as a prop in wrestling imo). Shane is no match for The Game on his own, especially not with Triple H hitting his stride, and I'm loving the chair shot for Rico too. With the sledgehammer brought into play, the end looks to be nigh for Shane, with 3MW most certainly out of the equation now, and what a fucking finish with the Pedigree THROUGH THE FUCKING ROOF!!! Roof of the ambulance is bust, and I'd dare say that the roof just got blown off the arena for that spot
. Great finish to what turned out to be a fun match to read. Looks like Shane can go join his father now
.
And main event time. Rock over Edge?? Seriously?? Another ridiculously short reign for Edge as champ, whilst the 'trapped in 2000' Rock picks up the title, when he really could do without it at this stage. Does come off as a disappointment for Edge after his big promo the night after Survivor Series to drop the belt so soon into what promised to be an entertaining run on top. Really, I cant say I'm looking forward to seeing The Rock with the belt again. I can only assume he's going to be a transitional champion, as his pending feud with Cena doesn't need a title belt to make it interesting. Indeed, having them fight over the belt would take away from what the feud was born out of originally.
Although I've bitched there, I'll give you credit for throwing in a big surprise win in the main event. Something we do see very little of in BTB nowadays. Being honest, my negative reaction to the change was probably a little bit too over the top (after all, it's not like you had a TNA guy debut and win the rumble on his first night. Or have I just given away a massive spoiler
), so I'll give the benefit of the doubt, as I'm assuming there is something more behind the change with this is likely to be something that fits around your master plan. Unless the plan is to teleport back to 1999. That would be an epic fail. I'm hoping the ends justify the means on this title change, and something big does come of it, and it's not just a title change to pander with your lust of the now dead attitude era.
As for the match btw, bravo. An 'electric' main event, filled with all the bells and whistles you could want. You saved the big multiple finisher attempts for this match, and it worked magnificently in it's favour, making it stand out as something special, and capped off a strong show very well. And having thoroughly expected Edge to walk out victorious, I expected the Rock Bottom on Lita to be The Rocks big moment in the match to savour.
And, with Rock having his visual win with the unseen tap out, I was just waiting for the screw job finish … and indeed it came … but not in the manner I had expected, with RVD the one to run in, and cost Edge. It's obvious that a feud with RVD is where Edge is headed after losing the belt, but still, I'm disappointed with seeing The Rock back on top. The grand scheme had better be good to win me over.
Although the build up for this event was hit and miss, the PPV itself delivered big time, with two great matches to close the show, strongly supported by three good upper card matches (Brock - RVD, SCSA-Christian, IC title), and the filler matches served their purpose. Good effort, nice job.
Re: Renegadeô & PARANoIR Present: WWE 2006
---
Armageddon Feedback
You made me wait for ages, Iím very excited, this better not disappoint.
Intercontinental Championship Match
Great match to open the show really, two great athletes going at it hard, itís a sure thing that it will entertain the crowd. Nice way to start with the whole wrestling, one upsmanship scenario, from the minority that I do watch these days it doesnít really happen anymore but is a nice, cheap way to get the crowd involved. Then Styles takes Benjamin to school a bit before the big outside spot, Styles looking quite dominating early, which I know wonít last, but I really have nothing to complain about from this start, simple but sweet, good work.
Styles continued to dominate for a while, however it was a nice way how Shelton finally got the advantage. Once again, simple but effective. I hate when some people try and do this epic shit and fail, you just do what needs to be done, and it actually makes the reading experience more enjoyable. Someone crashing down from the top rope to the barricade isnít exactly holy shit worthy, stop trying to make yourself seem epic, that chant inserted there equals cheap
. In all seriousness though, the holy shit chant was a bit undeserved. Suplex over the ropes? Surprised not to see a counter tbh, but I guess Benjamin has to dominate for a while, after all he is the heel.
A little bit of not worth mentioning action before another spot occurs. I love how these two have the potential to put on a spot fest, but your not just going high risk to high risk because that takes away from the in ring psychology. Moonsault by Benji was pretty sick though. Another simple teaser here, Benji locks in the Sleeper Hold for Styles to threaten to come back only to get kicked in the face. I just love the way youíre teasing us with this match up. Didnít like Styles first move to shift back the momentum being a Cross Body, I donít know why but that move never really interests me, especially when the person who hits it has just finished being beaten down for the last few minutes.
I could tell this last paragraph was the final sequence from the start, things began to heat up right from the get go and you definitely didnít disappoint with the ending. Just a beautiful set of counters, they deserved to be bold
and the finish this one has means this certainly canít be the end between these two. Hopefully next time they meet this one can be in full.
Monty Brown and Coach promo? As Wolf said, no good because he didnít mention The Pounce You fail life for this one, Reney.
Iím just going to ignore The Naturals at this stage.

Kane vs Monty Brown
Not to sure about this big man match tbh, you swear Kane is still a monster in this thread but ever since I have been reading he has done nothing to excite me. Monty Brown is the man who should be getting pushed, so I would have preferred for him to start off well, before Kane took over, noyl to have Coach distract him. Kane dominating from the get go until Coach gets involved makes Brown seem a tad weak in the beginning, and this is definitely not something we want if you are indeed building him up to face The Undertaker.
Hmm, it seems you addressed what I was concerned about for the rest of this contest. I was worried about Brown looking weak but really he pretty much dominated from here, so I must commend you for that. Nice not to see Coach getting involved in the finish and letting Brown do it alone and he did it well, with THE POUUNNNCEEEE!!!! Awesome finish, I probably enjoyed this more then the first match, the finish that is, and only because The Pounce was done. Great booking decision regarding this whole match up to, now bring on ĎTaker.
Shane McMahon seems rather confident, I smell a plan. Great suspense for me personally, for this match anyway.

World Tag Team Championship Match
Iím not going to sugar coat this at all, but for a PPV that has such a strong card Iím afraid this match doesnít belong. Seriously, expect me to rant a bit during this one, Iím really not looking forward to the read. To make it worse you begin the match with Cryme Tyme, the team that really doesnít belong on PPV dominating MNM. I know you donít want any squash matches on a PPV, but I would seriously probably prefer a squash match rather then what weíre getting here tonight. MNM better take over soon, my attention is already drifting away as I see myself opening youtube.
I was glad to see MNM finally begin to slowly dominate, however despite the fucking up off Cryme Tyme, the only thing that has stood out so far as slightly entertaining was the Melina skirt raising. This distraction equals epic, I will continue your review later, I need to go google search MelinaÖ So, Iím back and ready to go.
One thing I have noticed that I really like is how much of the attitude era actually comes off on your matches, The fake tags, the messing with the tag rope, its all so attitude era and it is something that made me reminisce and actually enjoy the match a little bit. Still far from great, but MNM had a nice solid period of dominating, and the Double DDT by JTG probably would have been entertaining as well, as much as I hate to admit it.
The ending simply was the generic face come back until MNM thwarted them and picked up the win with the Snapshot. As much as I hate Cryme Tyme and found this match to be a little dull, I must admit the formula in which the match followed and the way it was written was nicely, it really is a shame you couldnít have had two decent teams in it. At least MNM are champions now, I guess.
MNM have pulled it off and CLEAN as well? You make out as if this was some kind of big achievement, geez for such a good booker; you really have your jobber moments. <3
Womens Championship Match
Trish uses her speed to her advantage by nailing a Snap Mare and then locking in a Chin Lock? Wow, how exciting. Also, I really canít see Trish locking in a Chin Lock at all against Beth Phoenix, especially this early. Use some logic, please.
Nice to see some pure dominance from Phoenix come into play to, its exactly what she needs, so just incase she loses she can still look credible. Just a quick question, if Phoenix is going for a Suplerplex, and Trish holds on and Phoenix falls how does she land face first? Does she get pushed to learn face first, or is she just a spastic, either way some clarification would have been nice. Hurricanrana from the top rope, new move for Trish is good; because itís a move I can actually picture her doing. Stratusfaction being reversed was very nice indeed, showing off some more of Phoenix strength. I can seriously see her being a monster champion for a six month plus reign in the future, as much as you and I both love Trish, the inevitable title change has to happen soon. It just HAS to.
Very quick ending here, kind of out of the blue, it was good for shock value but if this is the match that ends their feud I will be extremely disappointed.
RVD of course is going to be brave and confident but he is losing tonightÖ If he doesnít I will riot.
RVD vs Brock Lesnar
I loved the way the match started; I could picture it in my head, crowd cheering the hell out of RVD as he goes on the attack only to be stopped by the monster, Brock Lesnar. Dead set, no lie, I enjoy things like this. From just the opening I can tell this is going to be a match where Lesnar has the advantage and RVD just shows flashes of brilliance, but due to his injuries he never fully gets into the contest. If I am indeed right, it will be great as it reeks of in ring psychology, which is something I am a huge fan of. Even if the match doesnít go the way I think it will pan out, great start.
Nice, some more domination from RVD here, ending with the big spot on the outside. I must admit that the domination went on for a little bit longer then expected, which could perhaps make Lesnar look a little weak against a weakened RVD, however, everything seemed to get better when Lesnar rammed RVD into the barricade. From here, there should be a period of total dominance from Lesnar before the heated ending, imo.
From here on in, it was exactly what I expected it to be, and exactly what it needed to be, pure domination from Lesnar. After the Powerbomb, nice little bit of detail having Cornette calm Lesnar down; makes Lesnar seem more unstable which is something I really like. Lesnar locking in the Bear Hug and this is a deadly move, I would mark for a finish where the ref has to stop the match due to RVDís injuries, I really canít see it happening though.
The arm didnít drop for the third time, as much as I am happy this match is continuing, I cant help but feel a little let down that the finish I marked for didnít take place. I was going to mark for what would have been just as epic but RVD countered the F5 as well :@. Seriously though, awesome counter, really put the result of the match up in smoke as RVD began to dominate. This match has gone exactly the way I thought it would, which in essence is the sensible way, however I cant help but feel that maybe RVDís roll here at the end has gone a tad to long. Jim Cornette interference botch is a little disheartening since I love the guy.
I actually thought RVD had the win for a minute here, really nice stringing along done by you. Jim Cornette redeems himself, which also made me wet myself and then F5. Nice, yet obvious ending, and just like all your matches, bar the womens one, I think you made the right decision here. Sick match.
Nice Christian interview, pure arrogance which is pretty much what I expected, running down Austin was good to, of course it would have been in character you right this man awesomely. Should be a great match, I donít know who I want to win though.
Stone Cold Steve Austin vs Christian
Pretty explosive stuff to start off with, Iím not going to get into the act of summarizing thing, but great brawling early, outside of the ring and back inside the ring, itís the typical beginning to an Austin match, good work.
More pure domination by Austin, I really didnít expect this, I guess this is the whole proving that he is not to old and not past hit prime thing, but if Christian doesnít get some offence soon he is going to be looking like the Creepy, Little, Bitch. Yeah, itís a nice one, you may use itÖ Seriously though, you seem to leave the line thin at times to making some of your superstars look like bitches, you may want to watch that a little for future shows.
Stunner this early would have made me riot, so I was very happy to see Christian nail the Reverse DDT. This was quite a resourceful move and that is exactly what Christian is as a heel, resourceful. So, I donít know if you meant it or not, but not only did you use a move from his move list, but you captured his way off thinking, imo. Nice interference from Tomko, and I understand the emotion and what not, but considering Austin being such a veteran him falling for that comes across as nothing but dumb. I was disappointed with Austinís lack of intelligence, however I am happy Christian is finally getting some offense in.
Christian remaining in control for the rest of the majority of the contest was a must considering how bad he looked early on. Austin reversing the Unprettier into a Back Slide is rather creative, but I just cant picture Austin doing a Backslide in my head. It seems a little to technical for him. Christian gets back in control but the few momentum shifts we had here were amazing, really would have had the crowd up and down like a roller coaster ride, end by the end of it Austin was in control. By the way, I mark for the Lou Thesz Press and Fuck you Elbow combination.
Wait, just as I thought Austin was about to take over there was another momentum change, this must mean the finishing sequence
. The slap across the face was awesome and it lit a fire under Austin which is what the match needed to get the ball rolling for the finale. Seriously, this ending was awesome, Stunner and we thought it was over, Tomko saves then interferes and Christian gets the win. Itís a recipe for brilliance what you wrote here, and well I was torn for this one as I love both men but I guess it is good to put the younger talent over. Another good match.
The old split screen warm ups, oh how I miss them.
A bit of a weird place to have a Smackdown ad, donít you think? :S
Ambulance Match
I was quite shocked with the start, as unless Iíve missed something Shane McMahon is the heel of the feud. Shane O Mac always starts off strong when he is a face, but always gets his ass kicked when he is a heel, so to see Shane start off so strong just had me second guessing what his status was in this thread. You confused me
Although I didnít like Shane kicking off so well, I have to admit, I love the innovative offense as Shane O Mac and trash can lids is extreme.
Triple H, after hitting Shane in the head with the trash can lid twice tries to put him in the ambulance? I thought Triple H would know he has to wear Shane down a little more, nice try, trying to tease us though. Involving a light structure and the stage set shows me that this match is getting more and more brutal as it goes, and from where Iím sitting its only going to get worse, as dare I say it, despite the amount of weaponry used, things really havenít heated up all that much yet.
Beautiful counter by Triple H nailing Shane with the Spinebuster through the table. I could honestly see it ending there, so to have 3 Minute Warning come out of the ambulance and do a number on the game was a great false finish. I guess this is why, as I predicted, Shane was so confident earlier, he had a plan.
3MW continue to decimate Triple H, which is good, not only does it make Shane look smart, but it makes the young tag duo look very strong. The Spanish announce table, oh no. HUGE, HUGE SPOT with Shane diving through the Spanish announce table, it really is typical Shane O Mac, and I was expecting Triple H to own Shane so bad that we wouldnít see any vintage Shane. Kudos to you for washing away my doubts.
This is what I was waiting for, and if the intensity of this match could have been lifted anymore this is exactly how. Triple H weasels his way out of dodge and takes out 3MW and Rico. In my opinion, it was just great the way he used his ambulance to advantage and now I would fully expect Triple H to dominate again, just as he should.
, the chair shot Shane nailed Triple H with just made me laugh, it was from behind and just stopped all the momentum Triple H was building, I like it because it makes Shane seem like an annoying fly and if you go watch when he used to compete, thatís pretty much exactly what he was. Nice counter by Trips with the Drop Toe Hold who then goes nuts, one thing I love is how now theyíre outside the ring your not trying to incorporate actual wrestling, your just letting them have a down and dirty street fight. SLEDGEHAMMER~! Sledgehammer equals awesome.
Geez, what a fucking way to end the match. A bit of cat and mouse followed by a Pedigree through the roof of the ambulance. I never expected the ambulance roof to cave in so I have to give you your props on another great, innovative finish. Iím not exactly sure, for probably the first time tonight, exactly what both these competitors will be doing next, but Triple H should be set up for something rather big.
Nice promo form Edge, probably lolÖ
WWE Championship Match
A pretty explosive start here, not as good as the previous two matches, but explosive none the less, however I do have a concern. Besides when he was Rocky Maivia can you please explain to me when Rock has ever used an Arm Drag in the opening minute of the match. This could have easily been a Clothesline or something, and I know its only small but since Iím such a huge fan of Rock, it kind of took a bit away from the beginning for me. Nice tease with the Spear early though.
Oh, the old change of momentum on the outside of the ring routine, even this rarely happens these days but I think it was terrific to read. Edge now with the advantage and he is working on a body part, I donít know but for a championship match, I know there has to be in ring psychology, Iím not stupid, but I donít like the match to be very slow so hopefully working on the body part doesnít last to long. Nice Big Boot by Edge to, hopefully this means working on the arm/shoulder is finished.
Can I just ask, I donít watch much wrestling these days, but the bit that I have watched I havenít seen it; do people still do Back Suplexes?
Anyway, nice period of domination from Rock this really brought back some great memories, I mean the Samoan Drop, Clothesline from the corner and DDT, its all vintage Rock.
Here we go, let the false finishes begin. Edge hits the Spear and I knew it wasnít going to be over, just because I could see that there was more of the match belowÖ Rock then moments later hits a Rock Bottom and this I thought may have been over but it wasnít the case. Nice way to start stringing me along, as even though I have been into the match from the get go, it probably hasnít been as good as some of the other thus far.
Wow, what a showing by The Rock he was able to lock in the Sharpshooter and he held it for a while didnít he? When you wrote Edge tapped I simply thought no way, but then I realized that Lita was distracting the referee, another great false finish Reney, absolutely nothing to complain about.
Lita getting Rock Bottomed is something I love, but if she is sore I am up to giving her a rub. Nice, ironic referee bump, ohh kick to the groin followed by a chair shotÖ Great heel tactics by Edge and I so expected him to pick up the victory from here. An appearance from RVD? Definitely something I didnít expect but I guess youíre going with a feud between RVD and Edge which leaves The Rock with the title. Nice, fun main event, not as good of a read as the last two matches, imo, but good read none the less.
Overall, a very nice PPV Reney, I thoroughly enjoyed it, I really did. There was only one match I felt didnít belong, but we wont go back into that. Great work my friend, the road to the Rumble should be fun.
---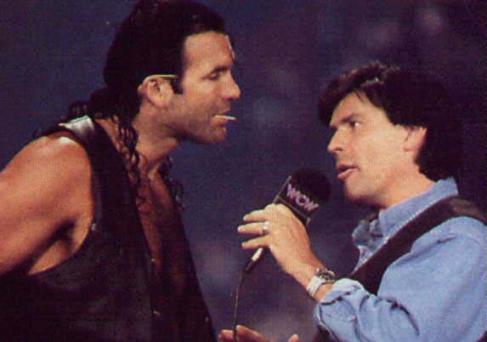 Posting Rules

You may not post new threads

You may not post replies

You may not post attachments

You may not edit your posts

---

HTML code is Off

---