Re: Paul Heyman's World Alliance of Professional Wrestling!
---
24/7 thing is a rather interesting concept and something i am willing to give a chance. The writing would have to be very good to make it worth reading though, so if you do follow through with this idea, you'll have to write it really well.
So, basically Kennedy is being used as a tool for a Abyss monster push. I personally like it as i think so many people push Kennedy in BTB for no reason what so ever, he really is not that great and i would love to see him get taken out.
Ranking system? This is actually another idea that i would like and is something i was going to bring into one of my previous threads. Make it happen, plz.
Why are your ratings getting lower as your shows are getting better?
---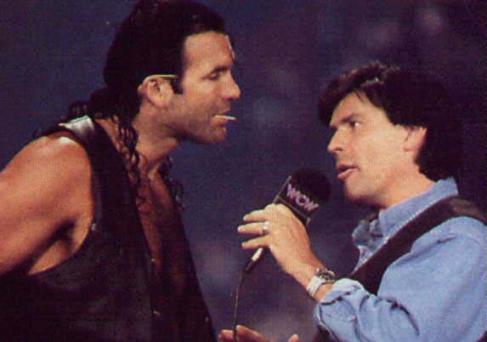 Re: Paul Heyman's World Alliance of Professional Wrestling!
---
Tonight's Card For Wednesday Night Hazard!

- 'Anti Saint' Ken Doane vs. Sugar Daddy Lance
- Roderick Strong vs. Cousin Eddie Kingston
- Street Inc. (JTG & Shad) vs. The UK (Nigel McGuiness & Shamus O'Shaunessy)
- WAPW Champion MVP vs. Abyss

Two hours of non-stop action which can only be seen in the WAPW!
Re: Paul Heyman's World Alliance of Professional Wrestling!
---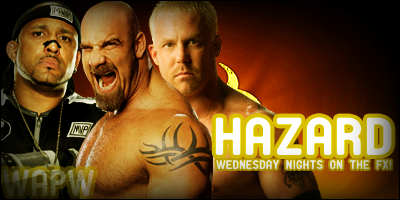 World Alliance Professional Wrestling presents – HAZARD!
Wednesday 11th March 2009
McKenzie Arena, Tennessee
Last week: Aries, Strong & MVP vs. Team 3D & Christian Cage
The back and forth main-event culminates in it all spilling out of proportion; Cage and MVP fighting on the outside rabidly, whilst Elijah Burke, Aries & Strong beat-down Team 3D inside of the ring! The referee has no choice but to put a stop to the main-event when GOLDBERG heads the ring in search of Elijah Burke! Sending a message to Burke, he enters the ring and immediately spears Austin Aries to the mat, before sending Roderick Strong out of the ring with a big boot to the chest. With Goldberg leering at Elijah Burke who had hopped the barricade to get a safe distance from him, he surprises many by spearing Brother Ray to the mat! The penultimate clip is of Goldy' hoisting up Brother Devon for a Jackhammer - the show then ending with Goldberg yelling into a microphone whilst leaning over the ropes "BURKE, AT FULL THROTTLE...YOU'RE NEXT!" The final sentiments from the man standing tall in the ring echo as we fade into the usual intro.
*OPENING VIDEO - 'HELL YEAH'*
*PYRO*
|Live Arena|
After panning the crowd as usual we transition straight to the broadcast booth.
Joey Styles -
Hello everybody and welcome to Wednesday night Hazard! I'm your host Joey Styles alongside my partner and your teacher, Matt Striker!
Matt Striker –
Glad to be here in Tennessee, we're at the McKenzie Arena and I cannot wait to call tonight's action because we're less than two weeks away from Full Throttle and you can bet your bottom dollar that many thing's will be going down here tonight, as always, on Hazard.
Joey Styles -
Of course matches will be made, feuds will be reaching boiling point - I cannot wait! Last week we witnessed Goldberg's rampant pursuit of the man who brutally attacked him, Elijah Burke and boy did he ever make an impact - hitting the ring in our main-event and taking out both Gen Ex and Team 3D!
Matt Striker -
Well how could we forget!? The man is on a mission and that is to get his hands on Elijah Burke, and we're hearing rumors that he may just get his chance at Full Throttle.
Joey Styles -
I cannot wait for that one if that is indeed the case, but we're going to kick thing's off by rolling a video package. Now folks what you are about to see was shot earlier this evening before the live broadcast, MVP the WAPW champion and the boss Paul Heyman having a little discussion regarding the WAPW title scene. We've not seen this in its entirety so let's waste no time, guys in the truck - roll it!
|Backstage|
After a brief pause due to the show being live we finally cut backstage to witness MVP making a brief walk through the corridor. He is wearing a typical white suit and has his title slung over his shoulder. His expression outside (and in) the office is that of distain. Knock at the door. Instead of waiting for Paul Heyman to tell him to enter he pushes down on the door handle and enters the room, slamming its wooden frame before taking a seat, all the while Heyman looks on in disbelief.
MVP -
(He tries to spit out what he is attempting to say, but can't, instead unable to muster the control to speak).
H-h-hoow. W-w-whyy?!
Paul Heyman looks rightfully puzzled.
Paul Heyman -
(attempts to speak but is cut of by MVP, who motions with his hands for Heyman to stop). Well I do'...
After pondering on what to say, rubbing his chin and looking to the heavens for answers, he finally speaks.
MVP -
What, inside the screwed up head of yours, made you put me in a match with Christian Cage at Full Throttle? A title match?!
The crowd pop for the mention of Christian and their match.
MVP -
Why, why did you book me against him - again - after pinning him twice already? What? Third time lucky or something?! What?
Paul Heyman -
Listen here, champ, as the boss around here I get to make all kinds of decisions with my 'screwed up' head. There's going to be some massive changes in WAPW soon, but seeing as I'm the boss - I get to book whoever I want, whenever I want. Heck, Montel ... champ ... I could put you in a title match tonight if I really wanted to.
MVP shakes his head in annoyance.
Paul Heyman -
So the next time you barge into MY office, one of two thing's will happen: you're either going to find yourself in a title match - or your ass will be unemployed and on the street. K?
In a somewhat tongue in cheek manner, he nods his head reluctantly.
Paul Heyman -
So,
(in a slightly sarcastic tone)
what can Paul-E do for ya'?
MVP -
Well since you've already booked me against ya' boy Christian and Bret Hart at Full Throttle, Paul E, I think the odds are stacked WAAAY against me. So, I think, Paul E, that you should reconsider booking the match. Whadda'ya say?
Heyman feigns considering it before replying...
Paul Heyman -
Weeell, I su-ppose we could always ... not! Listen MVP you're a champion and I'm going to treat you like a champion. You say you're the best, then prove it by facing the rest.
MVP -
Oh hell no, I've faced the rest - and I beat them all. Battle Lines - Goldberg, Kennedy and ya' boy Christian. Oh, let's not forget Bret Hart - the man you two both put there to ensure that I walked out without this belt right here. The way I see it, in under 3 weeks I've had to face
FOUR
men for this title. Some companies have there guys wrestle
once
a
month
! Look I'm a fighting champion, there's no doubt about that - but to tell you the truth, man, I'm pretty banged up right now.
Heyman continues to subliminally mock the champion by pretending to be concerned, placing his hand over his mouth and looking gob smacked.
Paul Heyman -
You know what, we'll change it. We'll change the match with you and Christian at Full Throttle. As of 11pm tonight - you won't be defending the WAPW title at Full Throttle.
MVP jumps up from his seat, grinning from ear to ear and laughing with joy. He slaps his title over his shoulder before making a move towards the door.
Paul Heyman - Unless
of course you
lose
your match tonight, that is.
As the boss proceeds to rifle through some paperwork on his desk, MVP stops in his tracks and turns around with a look of confusion on his face.
MVP -
... my match tonight?
Heyman looks up, puzzled.
Paul Heyman -
Oh yeah, your match tonight with Abyss.
MVP now bares a look of shock as his eyes widen, though he tries to hide it and keep calm.
MVP -
... okay. Okay, okay Paul, that I can - yeah, I can deal with that. No sweat. Me - Abyss - one on one tonight, you gotcha. I mean, it's pretty fair. No title defense at Full Throttle ... in return for a match with Abyss. I can - I can, deal with that. Yeah, I'm the champ I can deal with a match with him.
MVP swiftly makes an exit for the door almost fearing Paul's next words.
Paul Heyman -
And if you lose the match tonight - you will be defending the title at Full Throttle, with Bret Hart as guest referee.
Heyman momentarily ducks down to his work, though MVP races back towards him, slapping his hands down on the table.
Paul Heyman -
Wait, you thought I was just gonna let you off the hook that easily? No comprende` amigo, you're not getting out of a match just like that. As long as I'm in charge here, you have to
earn
it by beating Abyss tonight.
MVP -
EARN IT!? Paul, these bumps and bruises all over my body from the match at Battle Lines - that's how I EARNT it. This TITLE right here, this shows how I EARNT it! As WAPW champion, I deserve a break! I'm the Franchise Player of this company, the highest paid ath-el-ete in this damn sport.
He regains his cool, before continuing.
MVP -
As champion, I am respectfully declining both the match with Abyss tonight - and the match with Christian at the PPV.
Paul Heyman -
Okay then if that's what you want, if you're that intent on weaseling your way out of matches - as boss of WAPW - I'm
respectfully
going to strip you of your championship right here on the spot!
As the live audience pop, MVP runs his hand over his head before coming to his final conclusion.
MVP -
Alright ... my match tonight with Abyss ... it's on. BUT - you and all the people of Tennessee can bet your cheap asses that at Full Throttle - there's no title defense. Once I win tonight, there's no Bret Hart, there's no Christian Cage - and there's no PAUL HEYMAN trying to screw me out of my title.
MVP looms over Paul's desk, staring darkly into his eyes, before ousting himself and slamming the door.
|Elsewhere Backstage|
We're now on location in the backstage area - a narrow hallway with cream-brick walls, and we see both Chase Stevens and Andy Douglas emerge from a doorway. Dressed in casual gear of light-blue jeans and t-shirts, they set off walking. All seems well as they continue their walk until we hear the squeaking of shoes on the cold floor - Jay Briscoe bursts into the scene and leaps at Chase Stevens from behind! The kafuffle turns into a fully-fledged attack as Briscoe pins Stevens down and lays into him with hard fists to the face and body. Stevens covers up - it's all he can do! Meanwhile their other-half's are in action of sort, trying to separate the two of them. Unable to do so, eventually Jay gets to his feet, leaving Chase in a state and curled into a painful ball. As Douglas tends to him, Mark and Jay scedaddle. A WAPW backstage-worker comes to the scene attempting to get to Chase, but the battered man laid out on the floor is determined to do everything himself. Using Douglas to drag himself to his feet, he staggers around in the direction that the Briscoes went. Eventually he is sat down on a chair and a medic comes into view, attending Chase.
COMMERCIALS
|Video Package|
A short video clip of the chorus from Rev Theory's 'Hell Yeah' plays. Afterwards a graphic appears stating that they will be performing live during the Full Throttle PPV. (Note - they also played to open the inaugural WAPW Hazard show. The official theme song for FT is "The Bleeding" by Five Finger Death Punch.
|Live Arena|
The preliminary bell sounds and it is time for our opening contest!
*CRASH*
Sirens play through the speakers before turning into a heavy metal beat, as Ken Doane strides out onto the ramp. Wearing black shorts, pads and boots manager Jake 'The Snake' Roberts follows him to the ring. He hops through the ropes and stretches, bearing a look of steely determination whilst being instructed by The Snake.
*SUGAR SWEET*
Tailing a parade of two smokin' hot babes, the 'Sugar Daddy' Lance Hoyt steps out onto the runway. He sports tight white leather pants, a matching white top-hat and holds a now signature metallic walking (pimp) stick. His strut to the ring however turns sour, as two of his girls begin arguing, stopping in the middle of the ramp and trading harsh words. Eventually 'blondie' pushes 'red-head' and before-long a bitch-fight erupts! They take each other down, hair-pulling and all, before scrapping on the ground and rolling all the way down to the ring!! Lance watches on looking fairly amused, hopping up onto the apron and watching on as a couple members of security separate the two of them…
Match One – 'Anti Saint' Ken Doane vs. Sugar Daddy Lance
With Lance's back turned whilst on the apron Anti Saint Ken Doane jumps him from behind, clubbing him from off and onto the mat below! His assault continues furiously, laying into Lance with hard punches and a two-handed choke – legal since the match has yet to begin. His aggression would get the better of him once again, using it to stomp a hole into the body of his opponent. Eventually, after slamming his head into the apron several times, he roles him into the ring as the match finally begins.
Doane would naturally start the match with momentum after the beat-down outside the ring, barely taking a breath between his relentless attacks. Eventually the domination ended, with Lance in the corner Doane would run at him for a splash but find the cold ring-post! The Sugar Daddy follows up with a hard clothesline, evening the contest up a little.
The two would go on to joust for dominance, both scoring with near-falls and putting the hurt on their opposite number. Eventually approaching the eight minute mark, Doane would be hot off of a second wind and finds himself in the drivers seat. After hitting a highly forceful superplex to Lance, he waits for him to get to his feet – waiting for a chance to hit the forward-jumping DDT. However, the referee has no choice but to ring the bell as …
Winner @ 7.50 minutes – No Contest
The crowd are shocked as GOLDBERG of all people makes a beeline for the ring, charging down with fierce intentions in his eyes! Upon entering, he immediately spears the Anti Saint, sending him into the corner and clutching his gut. After taunting the crowd and getting them pumped up he turns his attentions to Lance, hitting him with a spear of his own! After a pause and staring into the masses he hoists the Texan up high in the air, before JACKHAMMERING him into the canvas below!!
*WHO'S NEXT*
Goldberg's theme music plays triumphantly as he stands solitarily in the ring above the motionless figures of the two men that got in his way. He approaches a cameraman in the corner and stares into the camera, letting out a smile. He raises his hands once again, receiving a great pop, before heading up the entrance ramp. After reaching the peak of the ramp he turns and faces the crowd, grinning, before leaving the scene.
|Interview Area|
We cut to the back where in front of the WAPW logo set, Shane Douglas holds a microphone alongside Mr. Kennedy.
Douglas –
Ladies and gentlemen I am the Franchise Shane Douglas and I am standing by with Ken Kennedy! Kennedy...
Kennedy -
What?
Shane looks confused, and rightfully so.
Douglas –
... Kennedy, las...
Kennedy gives a look of the peverbial face-palm, before continuing.
Kennedy -
Kennedy Kennedy? No, no, no, no, no. This, Shane, is WAPW and I am a wrestler now. I'm Mr. Ken Kennedy -
period
.
Mr. Kennedy ... period, gives a nod of approval to Shane, who attempts to restart the interview.
Douglas –
Ken, last week on Hazard we witnessed you lock your rival Abyss with his father James Mitchell in the lockerroom for virtually the entire show. Upon Abyss being freed, you attacked him. Aren't you worried of the impending war of which Abyss will ignite?
Kennedy -
(Speaking in a typically quick tempo)
Well Shano, if anybody's igniting a war then you can bet your ass it's Mr. Kennedy. See that sack is the reason that I'm not standing before you as WAPW champion, and last week was just a
teensy slice
of what's in store for the two of them. And by attacking him and beating him even more senseless than he already was, I sent a message. I sent out a message, Shano, to him and the rest of the lockerroom that 'nobody messes with Mr. Kennedy and leaves with there asshole in tact'. I hope that message hit home Abyss, but if it didn't, I'm coming after your ass tonight, next week and wherever the hell you're at! Hell, I'll follow your stupid-ass all the way to the asylum, to the padded cells that you call home. Wherever you go, Mr. Kennedy goes, and you can bet your sorry-self that...
*BEEP BEEP*
The sound of a phone-ringing cuts Kennedy off mid-sentence. At first he wears a look of disgust before looking at the caller ID and smiling, then answering the phone. The camera follows him as his takes a step out of the shot.
Kennedy -
Yeah? Yeah this is Mr. Kennedy. Yes, I am the man who called earlier ... Yes ... Yes ... And how much would do you charge? ... Per body, or for the whole set? ... Really? Excellant! In that case I'd like to order three of your finest strippers! ... Yep. Uh-huh. No way, is that even legal? ... Well as a matter of fact they're needed a.s.a.p - I'm here at the McKenzie Arena. Yes. Okay. Na, na, na Mr. Kennedy doesn't swing that way I'm afraid.
Kennedy notices the camera following him, prompting him to take off with a smile on his face.
COMMERCIALS
|Lockerroom Area|
JTG and Shad are seated around a small, circular table, along with Jamie Noble and Brent Albright. All four of them are holding playing cards in their hands, and in the middle of the table lays a pile of crumpled up bills. Street Inc. and the Hardcore Champion Jamie Noble are smoking away at their cigars, whilst Albright remains in default mode. As the three share a laugh at the expense of Noble who dumps a handful of cash into the middle of the table, the door bursts open and in comes Colt Cabana.
Cabana –
(In a comically high-pitch tone of voice)
WHAT'S UP GANG-STAZ?!
Brent and Jamie look at each other wondering what the hell is going on, but JTG and Shad know all too well.
JTG –
(Reluctantly)
Oh – hey, Colt. We were just in the middle of a game...
Staggering from left to right, clutching intently at beer bottles in each of his hands, he makes a move towards the table bearing a intoxicated grin.
JTG –
Look man, we got a game goin' on here, so...
Cabana –
You want me to join in? Thanks guys, means a lot!
The table look on in annoyance as Colt pulls up a seat. As he goes to fall down he falls backwards, missing the chair completely and puling the poker table down in the process! Everybody groans, especially Noble and Albright who are furious at the game being ruined.
JTG –
You drunk again, homie, AGAIN?!
Cabana –
(In the slyest way possible, and still on the floor holding his ass)
A little.
Shad –
Listen Colt, you need to get yo' cracker ass in check, ite. You gots problems.
Colt looks offended, and shocked. He grabs onto Shads arm and attempts to pull himself up, but fails again, falling back onto the cold concrete floor. After letting out a cry of pain, he stays on the floor and looks at Shad.
Cabana –
I got problems? Na, na, na - you got's problems. My 'cracker' ass is perfectly fine, you're the ones who have problems. I mean, would it kill you to get a decent table? And how about a decent set of chairs?
Albright and Noble up and leave, glaring at Colt as they walk by him. Colt reaches out to a bottle beside him, but Brent stamps on it and crushes it.
Cabana –
Argh! No! No, no, no. NO!
Colt rolls over onto his side and appears to be crying, or at least sulking. JTG then gets up from his seat, and crouches down beside Colt, consoling him almost with his hand on his shoulder.
JTG –
Look, I know we ain't exactly known each other a long time, but man - you need help. Jeez homie, we gonna get you help. You a joke around here. Next week, we gonna get you off that damn alcohol, okay man? You a damn athlete, you can't go around drinking ten can'a shit ever' night, ite? JT, we gotta match to get ready fo'.
JTG pats Colt on the back before heading out of shot, leaving Colt teary-eyed and surrounded by broken glass, cards, and next to an upside down table. Colt shoots up onto his knees and drags himself to the wet pile of broken glass, where he begins slurping the alcohol from the ground.
|Ringside Area|
Howard Finkel is situated in the center of the ring, surrounded by the yellow and black setting. He introduces Alex Shelley, who apparently feels the urge for a PROMO.
*ALL ABOUT ALEX*
The crowd greet the cocky youngster with a healthy round of booes, as he struts out through the curtain and down the aisle carrying a burlap sack and wearing 'his' TNA X-Division title belt. He hops up onto the apron and stands facing the fans, leaning back on the ropes and raising both hands with his eyes closed. He soon enters, and snatches Finkel's mic, before motioning for him to get out. He drops the sack in front of him before beginning.
Shelley –
Well here I am in Tennessee, wow. What to say, what to say, what to say. Looking around at you people, it's side-tracking me from why I'm actually out here. So on that note I'm going to forget about your appearances and the foul odors that my senses are being r.a.p.e.d by, and get on track.
After soaking in the expected booes, he carries on. He's in a much more calm mood than usual, and has a purpose.
Shelley –
My point of coming out here, is Rey Mysterio. I guess, I guess you people would call him my 'adversary'. Well I'm afraid I'm gonna have to disagree with you all on that one, see there isn't an ounce of 'adversity' that Rey Mysterio can inflict on me. Nothing he's done, or will do, will mean anything to Alex Shelley anymore. I hate to dwell on the past, but my history with Rey is a fairly short one. I mean, I grow up admiring the man and all he's done, and what happens when we finally tangle in the ring? He get's lucky. He get's lucky at my expense. To tell you the truth, it hurt. At the time, it hurt. Now however I've come to accept that every dog has it's day, even a dog the size of Rey Mysterio.
Shelley paces around the ring a little bit, gathering his thoughts and looking deep into the Tennessee crowd. He radiates confidence and sheer arrogance.
Shelley –
Some say it's not about the 'size of the dog', but the 'size of the fight' that the dog brings. That's all well and good. I mean, you people can believe whatever you want, but I on the other hand - am a truth seeker. I like to revel in the truth and nothing but. It is with that in mind that I have the pleasure of informing you that at Full Throttle in under 2 weeks, I get the match which I have been wanting, and what you people have been wanting. It's keeping you wet at night, huh. Well now it's going to become a reality because at Full Throttle on PPV, I step into the ring with Rey Mysterio and finally vanquish him from the memory of my WAPW career.
After speaking slowly and concisely, he pauses to grin in the sea of mild heat.
Shelley –
Little 'Rey Rey' is the man who put a blot on my WAPW win-loss career, and who ruined my start here. My first shot at a main-stream promotion, and he got in the way. I'm all for getting beaten by a better man; or at least I would be if such a man existed. At Full Throttle you will all witness moi, Alex 'Best in the entire freaking god-damn world' Shelley - serve up Rey Mysterio Jr's comeuppance. Now, I'm hearing rumors that Rey isn't here tonight, well entirely here tonight. However fret not my fans, for Total Nonstop Alex has the next best thing...
He drops the mic and steps across to the burlap sack. He leans down and picks it up, pulling the strings until they loosen up so Shelley can place his hand inside. After a short rummage around, he pulls out REY MYSTERIO'S MASK! This generates incredible heat from the fans, all the while the Detroit-native is wearing a massive smile of confidence. He is loving the show he's putting on. Speaking of putting on, he places the red mask from last week on his head, pulling it down across his face. He picks up the mic once more.
Shelley –
Apparently in Mexico a mask is the source of a wrestlers mystique, and a part of who they are. For Rey, it's more than just a way to cover his ugly face - well at least that's what he will claim. Well, Rey, if you're watching, I spit on who you are. I could care less about your heritage, and the legacy of your uncle and all of the Mysterio family. This is 2009, and as I said, I've forgotten the past. From here on out - it's 'All About Alex'.
Shelley raises his hands high in the air, receiving even more booes, before being interrupted by the music of Rey's friend, Mistico!
*MISTERY*
The 'other' masked man receives a great reception; 1) because he's interrupting the hated Alex Shelley, 2) because he's the shit. He steps out and immediately makes tracks down the aisle and into the ring, Shelley backs against the opposite set of ropes - still in the ring. Alex drops the mic, taking a small step inwards. He is seen to be asking Mistico if he wants to go, and Shelley appears to be willing to fight. He removes his black t-shirt, stretches a little bit, before taking another step in. Mistico then makes a move towards him, but Alex retracts and hops out of the ring through the ropes!!
Styles –
Well it would appear that Alex doesn't want anything to do with Mistico!
Striker –
Yes, either that or he hasn't had a shot for swine flu just yet...
Alex carefully circles the ring, eventually getting around to the ramp-side. He soon begins to back up and leave, disappointing Mistico who is more than ready to throw-down. The fans boo and hiss incessantly, as Shelley is now at the rope of the ramp facing the ring. However - from through the curtain comes REY MYSTERIO!! The man we thought was resting up at home is here in Tennessee and on Hazard! He blind0sides Alex, sending him forward, before a braw erupts. Rey unloads with a flurry of punches until they are outside of the ring. With Rey taking the offensive and looking good for his money, Shelley takes the easy way out with a well placed thumb to the eye! This allows him to hop the barrier and escape though the crowd before Rey or Mistico can get to him. As the two fan-favorites embrace stand alongside eachother, Shelley is on his way out of the arena apparently - escorted by a few large security guards of course.
COMMERCIALS
|Video Package|
Hazard returns in the form of a video package. All the action, all the drama and all of the stars of WAPW will be taking part in the 'Crossing Borders' tour! The four episodes of Hazard following Full Throttle will air from four different countries – Mexico on the 25th March, England 1st April, Japan 8th & India 15th. WAPW – Crossing Borders!
|Live Arena|
With a one on one bout on our hands, Howard Finkel is standing in ring to introduce the following contest.
*BRONX ANTHEM*
New York born and bred, the cousin of Ray and Devon makes his way to the ring to a decent reception. Accompanied by Spike, to even the numbers, they wait in the ring for Eddie's opponents.
*THE EX LEVEL*
Without fail Roderick Strong is followed by Austin Aries to the ring, garnering a typical heel reaction. Though a little apprehensive, they soon enter the ring, with Austin loosening up the shoulders of his partner before the match gets under way.
Match Two – Cousin Eddie vs. Roderick Strong
After being brought into WAPW along with Spike Dudley by cousins Ray and Devon, Eddie Kingston was immediately embroiled in the hateful feud between possibly the two best tag-teams in the world. He was itching for a win in this match after falling short with Spike against Gen Ex a couple of weeks ago, and was also unsuccessful in his ventures for the Hardcore Title last week as well. He would be going into this match looking to soften up Strong for when the two teams ultimately meet at Full Throttle. Last week Team 3D offered the youngsters any type of stipulation match they would like, and later on in the show Gen Ex will give us an answer.
The tide of the match swept in both men's favor during the course of the match. Eddie Kingston's power and ruggedness would contest Roderick's sheer technical ability. Mid-way in the bout a stiff forearm busted the lip of Strong, drawing a constant trickle of blood for the remainder of the fight. Decisively in the eleventh minute the match came to a close, when Eddie Kingston picked up the win. With Roderick seemingly on course for a somewhat fortunate win, he was fired off into the ropes by Eddie. When he hit the ropes Spike Dudley was on hand to grab hold of the leg of Strong momentarily, distracting him. This allowed Eddie to hit the awesome spinning-back fist to the mouth, setting up the win.
Winner @ 11.08 minutes – Eddie Kingston
Styles –
Turnabouts fair play! Spike Dudley taking a page out of Gen Ex's underhand play book!
Striker –
Pfft, taking a page? Joe, those damn Dudley's wrote that damn playbook!
Aries would soon jump Spike Dudley in anger, causing a brawl on the outside. It soon entered the ring, as all four men fought amongst themselves. Aries and Strong had gained the advantage in this fight, stomping down their respective counterparts. However, the champions, Team 3D, soon hit the ring prompting their nemesis' to flee ever so typically. As Devon kneels down to tend to his half-brother and cousin, Ray stares down the two on the outside, attempting to goad them into the ring.
COMMERCIALS
|Interview Area|
The lovely Torrie Wilson is standing by with Austin Aries and Roderick Strong. Strong is holding his neck following the brawl, and Aries is out of breath after fleeing.
Torrie –
Hey everybody, I'm Torrie Wilson and I'm joined at this ti...
Austin Aries immediately snatches the microphone from Torrie, prompting her to retreat to the back of the scene.
Aries –
3D!
(He breathes heavily into the microphone before continuing)
LAST WEEK, YOU GAVE US AN ULTIMATUM! YOU GAVE US THE CHOICE OF STIPULATION AT FULL THROTTLE! I THINK IT'S PRETTY DAMN FUNNY, HOW THE ONLY TIMES YOU STEP INTO THE RING WITH US IS WHEN THERE'S A STIPULATION INVOLVED! You KNOW, that you can't BEAT US in a regular tag-team match! But you know what, we accept your challenge for Full Throttle. We're going to stoop to your level, AGAIN, and show you up on PPV.
Austin slaps the chest of his partner Roderick, who grins.
Aries –
See, myself and Roderick, we mulled over what stipulation to choose. We looked through every possible match-up, and every possible gimmick, and we've found one. We looked at Cages, Street Fights - hey, you guys would just LOVE if we chose the street fight wouldn't ya! Well sorry about your damn luck champs, but at Full Throttle we take the tag-team titles from you - in a
LADDER MATCH
! Haha!
He passes the microphone over to a much calmer Roderick Strong.
Strong –
Austin is right, it is going to funny - funny seeing if you can both haul your fat asses up that ladder and retrieve the belts! It's not about who can throw who through a table, or who can hit harder with a steel chair. In this match it's about speed, athleticism and bravery - three thing's that you can't hold a candle to us at. At Full Throttle we beat you, and we beat you good. Those belts - they're coming home to the Messiah of the Backbreaker, Roderick Strong, and Double A, Austin Aries.
Both look at each other knowingly before rushing out of the scene.
|Paul Heyman's Office|
Sitting at his desk is Paul Heyman. He looks at his watch as if to be anticipating an arrival. Shortly after, he gets his wish as GOLDBERG enters the room.
Heyman –
Bill, take a seat.
Goldberg looks at the chair in front at him and turns his nose up at it, instead electing to stand in front of Paul's desk.
Heyman –
Alright then.
Goldberg –
Look man, I'm not a 'take a seat', 'suit and tie' type of guy. You called me in here, so what do you want?
Heyman –
Well Bill I respect that you are who you are, and you do what you want to do, but I called you into my office here to ask why you felt the need to interfere in a match earlier tonight?
Goldberg smiles to himself, whilst Heyman looks up at him with intrigue.
Heyman –
You don't give a damn, do you?
Goldberg –
Paul, I'm gonna be straight with ya. Earlier tonight was nothing personal against those two guys, it was business.
Heyman –
Business? What business do you have with Ken Doane and Sugar Lance?!
Goldberg –
Well I figured one of those two guys was in line for a shot at Burke's title at Full Throttle, so I did what needed to be done. Understand this Paul, at Full Throttle it's me that faces Burke for the title. Not Kenny, not Lance, ME.
Heyman –
I respect that you want a shot, but if you think that's the way to go about getting one - you're sadly mistaken. As for Full Throttle, as of right now - I haven't decided who the number one contender is. BUT, Bill, if you want an OPPORTUNITY at a title shot - it can be arranged. You need to understand that you have no special privileges, no special dispensation - no nothing, until I give it to you, and for that you have to earn it in the ring. So Bill here's what I'm going to do.
Goldberg places his hand on his hip, and with his other one rubs the beard on his chin, intently listening to Heyman.
Heyman –
Next week on Hazard I'm booking a match with you, Ken Doane, and Sugar Daddy Lance. The rules of the match are pretty simple - you will start off the match with either Lance, or Kenny, and after you pin them or they pin you, you face the other immediately. Pretty innovative, huh.
Goldberg –
Yeah, that's really neat, Paul.
Heyman –
However until then, all I ask of you is to keep your hands clean and stay out of other peoples matches, okay?
Goldberg nods, smiling also.
Goldberg –
Ha, we'll see.
After Goldberg vacates the room, Heyman relaxes in his chair, taking a deep breath and a long sigh as he loosens his tie.
|Video Package|
THE ACTION! THE EXCITEMENT! THE
ADRENALINE
! WAPW ADRENALINE - COMING SOON TO FX EVERY THURSDAY NIGHT! PREMIERES NEXT THURSDAY!
COMMERCIALS
|Live Arena|
We return from commercials to see The UK, Nigel McGuiness and Shamus O'Shaunessy standing in the corner of the ring ready for tag-team action.
*HITTIN' THE STREETS*
Street Inc. emerge through the entrance way to a positive crowd response. Big Shad follows the enthusiastic JTG to the ring, remaining calm and determined as JT jives his way down the ramp and into the ring. The boys from the streets take off their bling and expensive 'hood wear' and ready themselves for action.
Match Three – The UK vs. Street Inc.
Both teams knew that a win here on Hazard would put them in the title picture following Full Throttle. With so many great tag teams in WA' both The UK and Street Inc. will have to get wins under their belts in order to move up the pecking order.
Nothing remarkable about the fairly short bout; Nigel McGuiness sported a heavily taped right arm due to a long-standing bicep injury, though looked in top-form in the bout. With McGuiness and JTG the legal men at the six-minute mark, Colt Cabana decided to make his way down the ramp, stumbling his way to the apron drinking from a beer bottle. With Shad and JTG looking on in annoyance, Colt would hop up onto the apron. The referee is tying to keep Shad from entering the ring, inadvertently distracting him in the process. Nigel and JT' take the fight over to where Cabana is standing, and in an act of alcohol fueled disillusion, Colt swings with the beer bottle attempting to hit Nigel - but instead
SMASHING
his buddy!! Colt cannot believe what he has done, and is soon knocked down onto the apron by the Brit. JTG falls to his knees clutching at his head, allowing McGuiness to back up and hit a low-angle
LARIAT
!! 1,2 - put a fork in it.
Winners @ 6.49 minutes – The UK
The victors choose to scarper and fast, as Shad tends to JTG in the ring. The UK celebrate on the ramp, but in the ring Colt is looking on at what he has caused. Shad shoots up and berates Cabana, pushing him into the ropes. Colt retaliates with an attempted right-hand, but misses by a large margin. Upon turning to face Shad he is floored with a big boot to the sternum knocking him out of the ring.
|Lockerroom Area|
We cut immediately to the back and our cameras latch onto some commotion involving Abyss and Jim Mitchell. The camera is waiting outside the lockerroom, the door 90% closed, where we can here the screams of Abyss. Mitchell can be heard distinctively shouting for Abyss to "Just hit them" but apparently to no avail. After ten seconds the camera man finally does his job and slowly enters through the door where at the opposite side of the big, plain room – Abyss is cornered by three male strippers! We can see the bare naked behinds of the three men, dancing in front of Abyss who is powerless! He can't bare to look. Seconds pass and they continue their erotic dance. Soon enough James Mitchell remerges with a fire-extinguisher in hand, firing a smog of white into the direction of the strippers. We can now see nothing of the men, and Abyss soon crawls out, coughing and spluttering.
Striker –
(Laughing)
You talk about permanent mental scarring!
Styles –
As if Abyss didn't have his problems already! I think that this may just be the work of one Ken Kennedy!
COMMERCIALS
|Announce Table|
Joey Styles and Matt Striker are seated as usual at ringside, and both are hyping up the next match – the main-event – Abyss and MVP!
Styles –
Welcome back everybody to Hazard, Joey Styles with Matt Striker, and coming up next is the match that determines what happens at Full Throttle. Will MVP defend the title on PPV against Christian Cage? Not if he has anything to say about it! If he defeats Abyss tonight – then he gets a free-pass at Full Throttle!
Striker –
What was it that the champ told us earlier – four title opponents in the space of four weeks? It's ridiculous quite frankly. No athlete, especially one in a sport such as wrestling, should have to put their bodies on the line so many times against so many times – and plus, ya know, he is the champ – he should get a say in what goes down.
Styles –
Well in any event, he's putting it on the line one more time in just a few short moments against the monster, the crazed Abyss – imagine what a win would do for the career of Ab…
Joey Styles stops mid-sentence, his attention swayed as Matt Michaels runs down the entrance ramp and around the commentary booth. Out of breath and with a black up-side down cross painted in-between his eyebrows he speaks maniacally to the commentators. His voice is filled with panic and a sense of urgency.
Michaels –
Put me on! P-put me on the air! God, please damnit! You all need to know. You need to know before it's too late. Years, months, weeks, days – it's all running out. It's upon us! He's upon us Matt, he's upon us Joey! He'll be here before it's too late – no, it IS too late. 2009 years too late. It's time, men, damnit! Argh! 25 – 3 – 3 – 25. Purity he's not, he … white … contradictory! He's coming. Azrael. Azrael, Azrael – Azrael. 25 – 3 – 25 – 3.
*BIG THING'S POPPIN'*
As the WAPW champions music hits, Matt Michaels scatters. The champ doesn't look entirely pleased to have to compete here tonight, and gives Michaels a strange look as he runs up the ramp past him. Soon, the champ enters the ring, parading his title high into the sky and rather emotionlessly prepares himself for the next match.
*INTO THE ABYSS*
MVP remains a look of calmness and collection in the ring, no small feat for a man who's stepping into the ring to do battle with Abyss. The big man storms down and into the ring, tailed by 'his father' Jim Mitchell. The chains from around Abyss' neck are tossed into the corner of the ring, as this match nears its inception.
Match Four – MVP vs. Abyss
After a shaky and apprehensive start for the champion he soon found his trademark confidence and displayed just why he is the champion. With the crowd rooting for Abyss for this match, they most certainly wanted to see MVP fail and thus defend again Christian at Full Throttle.
The match wasn't pretty – a low tempo bout with the pace rarely picking up. Abyss' tunnel-vision-like aggression would be often countered by the careful and methodical ways of Porter. After nearly fifteen minutes of this contest the end finally came; MVP looked the most likely to get the win, countering a black-hole slam attempt into a DDT. With the champ set to earn a night-off at Full Throttle the referee found himself knocked down after an inadvertent clothesline from Abyss. This would allow Christian Cage to briskly make his way down to ringside, to do a little bit more than just survey the surroundings of Tennessee. After passing by the bell-ringers table to grab the title he slides in under the ropes and into the ring. MVP is down and slowly making his way to his feet –
CRACK!
Christian runs and nails him with the belt! Abyss and Cage then lock eyes on each other. Cage walks aw… -
CRACK!
He surprises everyone by nailing Abyss, too! With the referee still down Cage raises MVP to a level-base before downing him with an Unprettier! Abyss slings his arm over; 1 … 2 … 3 … 4 …5 – BRET HART! The Hitman emerges from the tunnel wearing a referee's shirt!! He swiftly hops through the ropes and makes the cover – 1, 2, 3!!
Winners @ 14.41 minutes – Abyss
Bret Hart stands amidst a great reception, taking in the crowds reaction. With MVP down, it isn't long before Elijah Burke and Jack Evans make their way into the ring to help cordon off their man. Abyss exits the ring at Mitchell's orders, leaving Christian on the outside of the ring looking in. He runs his thumb over his lip and bares a grin of accomplishment before exiting with Bret. At the top of the ramp is where the show ends, with the visual of Cage and Bret shaking hands before embracing in a heartfelt hug.
Fin.
Re: Paul Heyman's World Alliance of Professional Wrestling!
---
another great show

really gettin into kennedy as a face very funny segments
colt cabana funny as allways
goldberg runing the match to try and get a title shot was good as well
---
hello and welcome to the iwc take a seat and ill explane the rules
john cena basshing is a must do this at all times
randy orton and john morrison are your gods and should be worshiped
the attitude era will allways be the best times ever
every one should a heel with a bad ass attitude
any one who pins any one is berrying them
hhh has ruined every ones lives in some way
hhh is only at the top because of his wife
Quote:
Originally Posted by
CradleShockSabin
View Post
Its because no-one will never...ever...be the charismatic, pimptacular, hand clapping, foot tapping, pimp slapping, blinging attire, always on fire Pope that is D'Angelo Dinero!
---
Last edited by KOP; 05-10-2009 at

08:43 PM

. Reason: Warned for Spam
Re: Paul Heyman's World Alliance of Professional Wrestling!
---
MVP and Paul Heyman: A very interesting and well-written segment Power, I didn't expect that, both MVP and Heyman were very in character and everything just flowed really, really well. I felt engaged in the promo, I could picture it all in my mind so well done on that. It had a bit of everything I thought and a nice Main Event scheduled, it was a nice touch having MVP say he isn't defending the title because he is the champ of the brand and Heyman cutting him down a peg, well done. Great stuff.

Douglas/Stevens/Briscoes: Another good little segment, the way you describe everything is great, 'cold' floor, a nice touch no matter how small it is. Jay just seemed vicious in this, I must say although if I were Douglas I'd be attacking Jay just as much as if I was Mark I would've been attacking Douglas or Stevens. It's interesting to see were you go and having Chase try and do it on his own showed he was determined to exact revenge, hopefully we do see some continuation of this.

Doane vs. Hoyt: A decent opening contest, you have created some real nice characters for these two, it's something different. Some good writing, some of the moves were put in the right places and such but I felt the Goldberg run-in overshadowed the match, there is nothing wrong with that as Goldberg seems a bit of a Loose Cannon right now and I don't mind that. The only thing is, unless I read it wrong, you had the referee stop the bout because of the interference. Now, I believe he stops it before Goldberg does anything? I guess that's okay, but usually wouldn't the referee wait until he has done something before ringing the bell which means Doane would've won since he attacked Hoyt first? Either way, there was no wrong answer, just a little confused.

Mr. Kennedy Interview: Interesting interview, not sure about him dropping the Kennedy… Kennedy bit but I guess it means he might be taken more seriously. The phone call about strippers in mid-promo kind of took away from it I think but it was a decent promo nonetheless. Kennedy firmly believes he should be WAPW Champ and it seems he and Abyss have unfinished business.

Colt Segment: I thought this was a rather amusing segment, again it's something different even playing cards and then Colt coming in drunk, it's interesting and I will be following to see where it goes. It seems everyone is tired of Colt's drunkenness and we'll see where that leads us. Good segment though.

Shelley/Mysterio/Mistico: Again, another good little segment, Alex Shelley's lines were written incredibly well and if he said half of that in the ring in real-life if he was ever in the same company as Rey then he would, I'm sure, get incredible heat. I liked that Mistico came out though trying to protect his friend and then Shelley left, I didn't expect Rey to come out but it was a nice touch that he did but in the end Shelley escaped, I'm looking forward to further confrontations and the match at Full Throttle between the two.

Kingston vs. Strong: It was a no so 'strong' performance from Roderick Strong but a good match, Kingston getting the win, in my opinion was the right direction to go and the frustration of Aries and co. after the match was taken out on Spike prompting Team 3D to come up, advancing the feud which helps, I am looking forward to this one too. Also, the stipulation of a Ladder Match, surprising choice but a good choice. Austin seemed really intense and angry too. I'm thinking after what was said that Team 3D will win but I guess we'll need to see.

Goldberg/Heyman: Goldberg just seems like a raving lunatic right now, but that is a good thing, he seems like he is just nuts and could take down anyone at any moment and that was shown in the opening contest. I want to see Burke/Goldberg and I'm pretty sure we will end up seeing that, I certainly hope we do.

The UK vs. Street Inc.: A nice little contest, I like that you referenced McGuinness' biceps injury too. Colt coming out was unexpected and the you know what has hit the fan between Colt and Street and I expect to see further confrontations, you can go down a number of routes with this too.

Abyss Segment: Oh, that's what the strippers were for! Nice man, nice I didn't expect that, very funny segment, Abyss certainly didn't seem to enjoy that, that's for sure.

Matt Michaels Segment: Can I ask, since I have only started following this again, is Matt Michaels, Matt Bentley the cousin of Shawn Michaels? Anyway, weird little bit from Matt here, really weird who is Arzeal and what does 25-3 mean? I'm confused and intrigued at the same time.

Main Event: A very good main event, I've always said it should be the best of the night and it was. A lot of action it seemed and I like how Christian screwed over MVP to get the match to stay on but hit Abyss too, unexpectedly. Bret Hart coming out was also nice and I'm looking forward to Full Throttle.

Overall, a very good show that has me VERY interested in Full Throttle, we will see were you can go from here man.
Re: Paul Heyman's World Alliance of Professional Wrestling!
---
Here's the official banner for WAPW Full Throttle. It's nothing much, but I've decided I'm going to make one for each show. With just one show to go before Full Throttle, many matches are to be announced! I'll be posting the weekly news-round-up sometime this week, also.


Matches announced so far;

Christian Cage vs. MVP (c) for the WAPW Championship
Team 3D (c) vs. Gen Ex (Strong & Aries) for the WAPW Tag-Team Championships

Take care everyone, Jon.
Re: Paul Heyman's World Alliance of Professional Wrestling!
---
Hazard Feedback
Nice opening backstage with the champ and Paul Heyman. I don't see MVP as the cowardly champion, I see him more as the cocky guy that will talk himself up. Although he did get their in the end, I think the early stages were not that good. MVP repeating himself on numerous occasions and what not was a bit to "scared" for my liking, besides that good ending. Heyman was great, sarcasm was great, now you just need to turn him heel.
Oooohhh nice brawl, perhaps a tad more detail could have been put into it rather then the summary that we got, but in terms of booking and entertainment value it was the correct decision.
Okay, first off I just have to say The Godfather > Lance Hoyt. This "Sugar" shit just id not going over with me right now. As for the match itself, I love the direction you have been taking Ken Doane and I would have much preferred for him to have the victory before Goldberg interrupted. Anyway, Goldberg is some what of a loose cannon at the moment, don't put him in a rivalry, have him continuously bash people, it would be awesome.
Mr Kennedy. Period. He seemed very bad ass here rather then cocky, I actually prefer that, he needs to be bad ass as his in ring skills are almost non existent. Abyss to go over in this feud plz. Umm, a tad weird, Kennedy ordering strippers, I am now intrigued.
Nah, hopefully this isn't one of those piss poor attempts at humor.
I don't like this Colt Cabana situation at all. If it is not going to involve some actual wrestling, I hope it is only a matter of time before it is scrapped.
Alex Shelley was quite weird here. Where usually I would love his cockiness, I found this promo for some reason to be boring. I think it may have been the fact that the writing was all blocked up, rather then split up, it made me read the same line numerous times and make it some what of a chore to read. I guess what he actually said was pretty good though. Mistico appearance is the ratings. Mysterio attack was also quite good and keeps their feud pumping.
The tour is set, why would you not be coming to Australia?
Eddie Kingston defeated Roderick Strong. Dude, just no. I know it is a way to further the current tag team feud, but this is simply not good enough. You need to have a line between which talent can defeat which talent; I believe this line was a little blurred here.
Roderick Strong definitely the better out of these two, however this backstage segment was pretty much spot on, nothing to complain about. Ladder match should be of the epic kind if Team 3D lose some weight tbh.
Match with Goldberg sounds good for next week. Really glad Paul did most of the talking here, I still think Goldberg may have seemed a little to civil and not explosive enough. That needs to change.
The UK were always going to get the win here, Colt Cabana needs to get released at this stage, he has talent so if he is not going to wrestler seriously, I don't want to see him wrestle at all. Have I mentioned how much I love Nigel?
The strippers attack. In a way it will get Abyss extremely pissed which is good, but as I said earlier and in my last review in created threads you need to stay away from comedy, and focus on the wrestling, that is the beauty of them, IMO.
Matt Michaels equals I'm confused. Sounds interesting enough though.
Main event, would have been as you said ugly, however it definitely had the star power (in this thread) to work. Nice ending really, with Christian and Bret Hart both getting involved, MVP just got screwed again. I am sure he won't stop complaining about this now, anyway good main event. Also, on a side note, I was glad that unlike other ones on this show, this match recap told a nice story. In ring psychology FTW.
Overall Power, this was a quite enjoyable show. I don't know it just felt good to read. I remember when I first reviewed this thread I felt as if your shows dragged, that's definitely not the case now, you're improving as you go, it's only a matter of time before you hit your peak. Keep it goin' <3
EDIT:
The Full Throttle card in the early stages is looking like it could be a great PPV, you may have to write this one in full.
---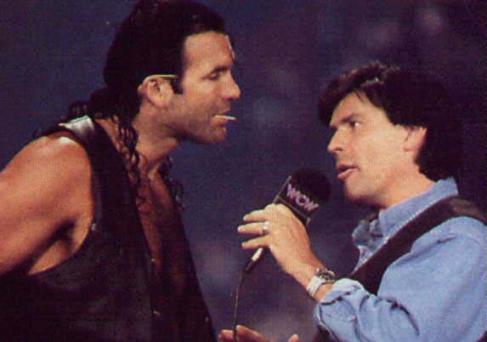 ---
Last edited by Stojy; 05-12-2009 at

03:54 PM

.
Re: Paul Heyman's World Alliance of Professional Wrestling!
---
Sorry, life's kinda been busy lately, but I'm here, I'm
queer
reviewing your show now, get used to it.
Quite like how you had this 'taped from earlier'. Just makes it seem a bit different and important. The conversation between the two seemed pretty natural, though I found Heyman to be maybe a bit too patronising. He just seemed like too much of a dickhead. MVP agreeing to face Abyss so he doesn't have to face Cage as if it's much easier for him isn't something that I like too much, as it kinda undersells how big and destructive Abyss is meant to be. While I don't mind that you're using Abyss in this role, I don't think you went about it the right way in the promo. Big move there with Hart, which should prove at the very least, interesting. I'm sure we'll be getting a title match at Full Throttle, so an Abyss win is almost guaranteed.
I don't like that we went straight from this to a backstage brawl. You really should have immediately cut back to ringside to have Styles/Striker hype up just how big of a move that is, before getting one of them to say that they've just been told that there's a brawl backstage and that they have to cross to see it. Just makes everything seem a bit more significant, imo. Not too big on you using The Briscoes for the heel turn, as opposed to The Natural Franchise, since The Briscoes are high-flyers and thus easier for the crowd to get behind, especially since their style would seem somewhat revolutionary to the national audience. Both Stevens and Douglas lack character, so making them arrogant, conceited heels would have done them the world of good. I definitely think you would have been better off going the other way here.
Doane/Lance isn't really the ideal choice for an opener, especially with Lance seemingly dominated and thus not getting much offence in, though it all makes sense when Goldberg interferes to end the match. Definitely looks like the 'Berg wants a piece of Burke, and you've really hyped that well thus far this show. I don't know if Goldberg vs Burke can go down too well, since one man has to lose and thus lose a ton of momentum (which Goldberg has already done after starting off as by far the biggest star in the promotion), so good luck with it.
Proverbial, not however the how you spelt it.
Anyway, Kennedy started off alright, though the promo kinda cooled off by the time you had Kennedy talking to the guy about male strippers. It started off pretty good, but it just lost a lot of steam as the promo went on. I think you were trying to be a bit too funny too with Kennedy's dialogue, especially bringing in the fagtastic strippers. By the way, if there's one thing Big Dick Johnson has taught us, it's that men dancing around in a jockstrap – or even less than that – is completely and utterly disgusting.
I'm not too sure on why you introduced the Hardcore Title, since the champion is only appearing as a bit part in a backstage segment. If you're going to have a title, use it, otherwise it appears pretty much worthless. When a champion isn't wrestling, it suggests there's something wrong with the division he's part of. The same could be said about Brent Albright, who you gave quite the push to begin with. You've really let him cool off to the point where he has no momentum. Why is Lance Hoyt in a match over him on the card? You definitely had Albright looking stronger than Hoyt, though you haven't really capitalised on it since Battle Lines, which is a disappointment. Not liking this whole Cabana/Street Inc thing, since most of Cabana's actual humour is from what he does in the ring, and how he acts, as opposed to just acting like a jackass. You're portraying him as a moron, when in fact he's very capable in the ring, not just some Santino Marella.
Shelley was pretty damn solid throughout. Staying arrogant, egotistical and narcissistic throughout, this is definitely how you should keep him. The cheap heat at the start – while perhaps not quite necessary – set a good tone for the promo, showing what Shelley was about right off the bat. The promo kept at a good pace, not dropping off like the previous one, and finishing for Shelley with a few of his signature catchphrases that kinda own. Mistico coming in for Rey? Do they even know each other?
I'm sure the crowd thinks "They're both Mexican and they both wear masks so they must know each other!' so it really isn't a problem. Rey ending up coming out to kick the youngsters ass sent him a message about 'respect', though we've already had that happen numerous times throughout this feud, so I just expect Shelley to come back just as disrespectful as always next week – which is, by the way, a very good thing.
While usually Roddy losing to Eddie Kingston would be something to complain about, I don't have a problem with it since: a) It sets up your next promo and, b) You had Spike cheat to get revenge on Gen Ex, thus furthering the storyline a bit anyway. It also goes further to establishing a relatively new guy to your company, which is always good... even if it is Eddie Kingston *shudder*.
Nice promo from Aries and Roddy, with good dialogue really for both of them. I liked how you emphasized how they had just escaped with how they rushed in and out. Nice touch. As far as the match itself goes, it makes sense that Gen Ex would choose that stip, as shown by what Roderick stated. Definitely liked both the promo, and the choice of match. Makes for a great gimmick match at Full Throttle to top this feud off nicely. Gen Ex for the win, plz.
Liked the attitude of Goldberg in this promo. You write The 'Berg pretty damn well in both angles and mannerisms and promos. That's shown again by what you've booked for next week. The only problem I have with it is that it'll probably kill all the momentum Doane had going, whilst Goldberg doesn't seem like he should be a midcard champion, so you're then going to kill all his momentum with Burke. You're going to have to surprise me next week to pull this off well. Maybe have Goldberg beat Lance, then have Burke run in and beat him down in Doane's part causing the DQ? That'd work well, imo. Interested to see how the next few weeks play out with this.
You won't be actually writing out Adrenaline, will you? Hope not.
Ugh, I've already told you what I think of the stuff with Cabana and Street Inc. Use him properly asap, plz.
Already told you what I think about the male strippers too.
Interesting from Matt Michaels. Could very easily see him being the pawn used to bring in Christopher Daniels. I hope that's the case, because the Fallen Angel owns.
You said yourself that it was a poor match, so I'm not too big on you having this last fifteen minutes. The run in from Cage was the right move, and having Hart run in and make the count was definitely a nice touch, especially with that result making him the referee for the match at Full Throttle. A big way to finish the show, which also sets up what should no doubt be some big promos next week, with Hart, MVP and Cage all involved. Great way to go off the air.
I know I may have sounded critical in a lot of places in this review, and that's because some of the booking wasn't really what I would have gone with. However, what you need to understand is that while I don't agree with some things, it really is a great read. It's just so easy to read, and I actually find myself having a fair bit of fun doing so. The writing itself is extremely good, and I find myself loving what you're writing. Full Throttle is also looking great, so I expect a good card to be finished up from you by then. Hopefully it's in full.


Overall, good work.
---
---
Last edited by BkB Hulk; 05-13-2009 at

05:01 AM

.
Tag Teaming With James Ellsworth
Join Date: Oct 2008
Location: Land of the Green
Posts: 1,203
Points: 6
Re: Paul Heyman's World Alliance of Professional Wrestling!
---
Panic! Review

~ First of all, having a Heyman/MVP backstage segment was a good way to kick off the show. Loved how you managed and were able to keep both of these men's characters intact and I congratulate you on that, bravo! After just reading this segment, I love MVP as the champion of your show but after a good main event announced for tonight, I can definitely see MVP losing to keep his match with Christian on the PPV card. Good opening segment but like BKB stated, I don't like how Abyss was kinda' put down a little here when MVP agreed to face him as it does make him look like self destructive monster that he is but nevertheless, it was a good opening to the show.

~ Nice backstage brawl that happened here, I know that more interesting things will hopefully come out of this.

~ This was a good opening contest to kick off the show and I would've preferred a winner to come out of this rather than 'No Contest' the match due to the fact that I'd like these two to face in real life sometime (not that it's a dream contest LOL
) but having Goldberg destroy the living hell outta' them is good for me, and hopefully he can continue to do stuff just like what occurred.

~ Very good Kennedy promo that was done and I don't know what to think of KK dropping his usual 'Kennedy…..KENNEDY!' phrase but maybe I'll be seeing another side to this Mr. Kennedy character now, so it's all good for me. The strippers call kinda' confused me for some reason a little but I can see a twist coming out of this somewhere, but I hope Abyss goes over in the KK/Abyss feud.

~ To be quite honest man, I don't really like this thing going on with Colt Cabana and I have nothing left to say on it than that so hopefully you drop the whole thing…very soon!

~ Lovely promo that you made Alex Shelley execute, it was a great promo and I have nothing bad to say about it, I really don't. His promo lines were great and he was kept in great character, perfecto and perfectly executed. Mistico coming out was good as he is standing up for Rey I guess, this was good but I loved how Shelley backed off but then, Rey comes out of nowhere! Never expected that to occur and when I read those lines, I was shocked to say the least. Nice how Shelley was able to escape and I'm definitely looking forward for the match between these two at Full Throttle, it should be good!

~ I was definitely looking for a nice Roderick Strong win here but Eddie Kingston grabbing the win is no problem with me, although I still think Strong should've got the win. The match was good though and liked how this tag team feud went up the ranks after the brawl that occurred and Team 3D running down to the ring, I can see a Tables Match coming up between these two tag teams.

~ Shocked that the stipulation is going to a Tables Match but a Ladder Match is fine and loved how Aries/Strong brought up the fact that 3D can't even climb their fat asses up a ladder, but my question is if this will be a good match or not because 3D don't really suit Ladder Matches but I guess that I'll just have to wait and see until the PPV arrives on the scene.

~ Goldberg seems a mad man right now and I'm beginning to actually like this although I think that he needs to be 'madder' if you get what I'm saying, hopefully you can do that. Heyman doing most of the promo talking in this segment was good right here and a nice match set up for next week also. I'm begging you not to have some sort of twist so the PPV Match turns into a Four Way for Burke's Title since I want to see Goldberg/Burke but then again, it's up to you and I'll see what you can do with this.

~ Good tag team contest to have right here and glad that this type of match was added onto the card. So glad that The UK was able to pick up the win in this one but absolutely hated how they won this match due to Colt, although I expected him to interfere somehow in this match. Hopefully you can drop this crap and actually make Colt wrestle and actually be comical in the ring or just release him altogether, no offense man >3.

~ Actually kinda liked how you done this with the strippers/Abyss. This was good way to make Kennedy get to Abyss and hopefully Abyss can vow revenge by next week or by the end of the night, good stuff that occurred here.

~ Always knew from when this match was made that this was going to be 'Match of the Night' and it was. Good stuff happened here during the match and MVP getting screwed again actually mixes things up in a good way, despite me thinking that MVP was going to pick up the victory. Also a very good ending with Christian/Bret Hart and I'm definitely looking forward to the next show for next week, nice work here for the ending of the show.

Feedback ~ Well overall, it was an alright show and I'll start with the bad points first to get them out of the way for this. The first thing that I want to get onto you about is the interference in the matches. No offense here but out of the four matches, there was three interferences including one after the match between Kingston/Strong. You just need to cut down on those interferences and when you do, it should be fine, maybe just one, not every week but now and again if you know what I mean. Another bad point that I want to clear is that there's too many damn video packages but don't listen to me on that because that's just me
, suppose it's not a problem for you or anyone else but I hate large amounts of video packages.

Onto the good points though, Promos and matches (despite them being in summary, which I actually prefer) were excellently written and one of those promos used for one guy were one of the best I've read in these type of BTBs and that was Alex Shelley, who I hope you push to the very limit. Storylines/Angles are going very well and after an enjoyable show, I really can't wait until the Full Throttle PPV.

Total Rating ~ GRADE C+
Re: Paul Heyman's World Alliance of Professional Wrestling!
---
New Head of WAPW?

Gerweck is reporting that Paul Heyman is set to step down as on-screen head of WAPW. After seven weeks Paul has apparently decided that it would be best if he focused all of his creative energies behind the scenes, aiding head booker John Richards. While this is not confirmed or even mentioned as of yet by Heyman, it is likely that he will announce it in under five weeks at the 'Uprising' pay-per-view.

Heyman may have already teased stepping down, mentioning 'big changes' several times over the past two weeks. Names are being tossed around currently as to who would take over, and currently the favourite seems to be Ric Flair. Flair's soon Reid recently signed for WAPW and the Naitch' has mentioned his desire to mentor his son on and off-screen. Another possible candidate is Eric Bischoff, who has just finished working alongside Hulk Hogan for 'Celebrity Championship Wrestling'.


Lashley/WAPW – Big Names In Talks

Former WWE main-eventer and ECW champion Bobby Lashley is set for a surprise return to professional wresting. If what we are hearing is true, Bobby is in talks with WAPW management about a possible deal. After leaving WWE in 2007 he has been concentrating on his budding MMA career where he currently holds a record of 2-0 and after defeating Jason Guida less than 48 hours ago.

This story has shocked the majority of wrestling people, most of whom weren't expecting Lashley to return to the sport. If he is to return it is thought that he will balance both careers, possibly working a shorter-term schedule for WAPW. Bobby is said to be keen on working his way up the ramps, though head of WAPW Paul Heyman and chief booker John Walters are believed to be seeking him on a full-time contract.

As well as Lashley WAPW are in talks with 'at least three other big-names'. WA' owner, South-African car vehicle giant Michael Morton, told a British newspaper that he was homing in on more big names from both WWE and TNA. In the interview Kurt Angle, AJ Styles and Ric Flair are brought up, with Morton stating that he would like talent the size of them. Of the three Ric Flair seems the most likely to join, following the signing of son Reid. Kurt Angle's contract expires in a few months and WAPW could take-up the option of buying out his contract. The same applies to AJ, though he has a deal up until mid-2010. WAPW came under huge media scrutiny when they bought out over twenty WWE, TNA and ROH superstars contracts. TNA are seeking legal advice, while WWE are already in court seeking bigger compensation packages.


Update On WAPW International Ticket Sales

So far WAPW's Crossing Borders tour is selling above expectations. Shows will be hosted in Japan, Mexico, India and the UK. So far, WAPW Hazard tickets in Japan have sold over 25,000. Their show will be hosted in the famous Tokyo Dome which has a capacity of over 50,000. WAPW officials are expecting another five thousand at least before April 8th when the show airs. Tickets have been on sale for 16 days now.

Mexico is also selling very strongly, with 12,300 being sold for the Arena Mexico show following Full Throttle on March 25th. That venue holds around 16,500 and is famous across the Mexican wrestling community for the number of shows to have been held there across the years.

India has so far sold the highest ratio of tickets – of the 10,000 capacity at the Municipal Stadium in Radjkot, it has sold just under 8,500. This will be the last stop before the Uprising PPV, with Hazard being held on April 15th.

England have sold their fair share of tickets for Hazard too – 9,000 have been sold with another 3,500 expected to go before showtime on April 1st.

The WAPW roster is said to be stoked about travelling across the globe after working only once per week for nearly two months. WAPW is seeing this as a real money-spinner and something which will expand there brand across the world.
Posting Rules

You may not post new threads

You may not post replies

You may not post attachments

You may not edit your posts

---

HTML code is Off

---