Re: Paul Heyman's World Alliance of Professional Wrestling!
---
Hey everybody. Just to get it out there that the last show before Battle Lines will be posted late tonight hopefully, but if not then sometime tomorow. I'm quite happy with the show, the layout is slightly different and better in my opinion. I've been pondering all sorts of storylines post-Battle Lines, featuring some big names. Anyways, thanks and hope you're all healthy!
Re: Paul Heyman's World Alliance of Professional Wrestling!
---
La French Connection? If used you should eventually go with Rene Dupree and Rob Conway. They were the best of the threesome team. Conway is a leader on any tag team. I'm not sure if you have seen Ohio Valley Wrestling, but he was awesome there. Good backstory--way to get people interested! I will keep reading!!
Re: Paul Heyman's World Alliance of Professional Wrestling!
---
World Alliance Professional Wrestling presents – HAZARD!
Wednesday 18th February 2009
Idaho Centre, Boise, Idaho
*OPENING CREDITS*
*PYRO*
Joey Styles:
Ladies and gentleman we welcome you live to Wednesday Night Hazard! I'm Joey Styles, alongside Matt Striker as always and fans we are just four short days away from WAPW's first PPV extravaganza - Battle Lines! Are you excited, Matt?
Matt Striker:
As always Joe, as always. Just four days away from Battle Lines and you can bet your house that all will be revealed as to what will go down on Sunday - here tonight on Hazard!
Joey Styles:
Our main-event for the evening features two of the biggest stars in WAPW going at it in one on one competition - Mr Kennedy faces the challenge of the unstable 'monster' Abyss who last week aligned himself once again with Father James Mitchell. The two of them have a long and storied history together, and have reunited here in WAPW.
Matt Striker:
Joe, you gotta believe every man on the roster has Abyss in the back of their mind right now! That man is a
TANK
!
*'HART OF A CANADIAN'*
The sound of Teddy Hart's music, a slight resemblance of the Canadian national anthem, blares through the HD system garnering considerable boos. Dressed in gold pants with a gold waist-coat, be has the Cruiserweight Title slung over his shoulder as he arrogantly makes his way to the ring.
*PITBULL*
The heavy sound of Jamie Noble's music plays, and Jamie Noble strides to the ring, his face showing no apprehension of the task at hand. He slides into the ring, raises his hand high and circles Teddy, anticipating the bell.
Match One
Jamie Noble vs. Teddy Hart
SUMMARY
After losing his debut match against Elijah Burke in a previous week, Jamie Noble was doubly determined to impress WAPW officials - and get a win under his belt. In his way was Teddy Hart, Cruiserweight Champion, who seems to think that he can win with minimal effort. He was nearly caught napping early on, as Noble attempted his patented Noble Bomb. Luckily for the champion, he slid out of the ring and took a breather. Noble was relentless in his attempts at getting Hart grounded, but ultimately came up short. Hart got his knees up and blocked Nobles attempt at a frog splash, which then allowed Hart to execute a back suplex, spun out into a sit out powerbomb - "The Hart Rate" as Matt Striker reminded us.
Winner @ 5.42 mins – Teddy Hart
Teddy Hart stands in the ring and demands his title be passed t him through the ropes. When he receives the gold, he forces ring announcer Howard Finkel to strap it onto him in a similar way to how he made Paul Heyman do it when he first won the belt. The camera pans to the back in a split screen to show Paul London sitting in the locker-room watching a TV monitor very closely. As we return to ringside...
*LIGHTS OUT*
*INTO THE ABYSS*
Teddy Hart is mortified to see Abyss slowly make his way to the ring with James Mitchell backing him up - so much so that he hops out of the ring and into the crowd, where he hides behind several members of security. Abyss makes his intentions clear - destruction. As Jamie Noble gets to his feet, James Mitchell signals 'click - doomsday'. Abyss begins to pummel Noble in the corner with his fists and forearm, before choking him with both hands. He then lifts Noble up into a torture rack position, with 'shock treatment' in mind, when suddenly
BRENT ALBRIGHT
charges down to the ring with a lead-pipe in hand!! Abyss backs-up slightly, as he and Albright trade punches. Eventually however Albright clobbers the big man with a pipe-shot, sending him out of the ring and to the care of Mitchell. As the two evil figures back-up the ramp, Albright stands on the turnbuckle and beats his chest, all the while glaring at Abyss.
Joey Styles:
Ladies and gentleman remember, Brent Albright is the guy who defeated Abyss twice in the last two weeks but was shockingly attacked after their match on Hazard last week.
Matt Striker:
I think Albright's learnt from his mistake last week, Joe, what with turning his back on Abyss - he's certainly asserted himself here tonight on Hazard!
Joey Styles:
Well fans when Hazard returns, we have an exclusive in-depth interview conducted by myself with Jake 'The Snake' Roberts and his protégé - the newest member of the WAPW roster!
COMMERCIALS
WAPW returns to see Mr. Kennedy arriving via limo. Joey Styles narrates as the vehicle pulls up and the driver as per usual opens the door for the passenger. Kennedy steps out, wearing a white tank top and light blue jeans. Striker refers to the fact that Kennedy is seeking a spot in the main-event at Battle Lines, is Christian, MVP and Goldberg. Styles then leads us into a pre-recorded interview with new signing, Ken Doane. He brands it an 'interesting experience'.
Somewhere backstage in a dimly lit room, three chairs are aligned parallel to each other. Seated are Joey Styles, Ken Doane and Jake 'The Snake' Roberts.
Joey Styles:
Ladies and gentlemen I am glad to say that I am joined at this time by Wrestling legend Jake 'The Snake' Roberts, and his protégé - one who surely has a fantastic career ahead of him - Ken Doane.
Styles extends his hand to Doane across the arm of the chair, who leers at it before quietly laughing to himself.
Ken Doane:
I'm here to be interviewed, Styles, do your damn job.
Styles retracts his hand before composing himself. Jake Roberts nods his head at Styles in acknowledgment.
Joey Styles:
So Kenny.. sorry, Ken..
Doane grins to himself once again, before his look sours.
Ken Doane:
I suggest that you pick your words carefully, Styles, my name is Ken Doane you pencil-necked prick. You understand me?
Styles timidly nods, the aggression in Doane's eyes evident.
Joey Styles:
... So Jake, you were instrumental in bringing Ken here into WAPW, what do you think his poten...
Ken Doane:
See there you go again, running your mouth. Get this into your thick head, Styles - nobody
got
Ken Doane into WAPW - my talent is what got me here.
Doane's rage seems to be boiling over, but he is calmed by the hand of Jake Roberts preventing him from getting out of his seat.
Joey Styles:
... Jake, how much potential does your client have?
Jake Roberts:
Joey I've been around the block a few times in pro-wrasslin', and I've seen a lot of talented guys. These guys, they all have talent physically - I mean, they wouldn't be in the business if they didn't. However what they lacked to make it to the very top was the mental strength. The edge. The aggression, the toughness - whatever the hell you wanna call it. You're looking at a guy who at 22 years old has been in wrasslin' for 10 years. This son of a bitch made his debut as a thirteen year old kid back in Boston. I remember hearin' things 'bout him, and how he's supposed to be the next great guy in the business. Naturally, I picked myself out of the gutter and I called him, arranged to meet up with him. When we met, Joey, you know what he did?
Styles shakes his head.
Jake Roberts:
He slapped the piss out of me, that's what. And you know what, Joe? I liked it. See I saw that fire in his eyes, the burning embers of aggression. I trained him liked a god-damn animal. For the last 3 months all he's been thinking 'bout is how he's gonna get back in a wrestling ring and tear some poor bastard a new asshole. So here in WAPW, Ken Doane is ready for whoever they have to offer.
The camera shows Doane smiling as he pats his mentor forcefully on the back.
Joey Styles:
Having been in the business for so long then, how long is it before the wrestling world sees Ken Doane wearing WAPW gold?
Doane butts in, leaning forward and leering into Joey Styles' eyes.
Ken Doane:
Hmph. It'll happen whenever the hell I want it to happen, Styles. I'm ready for anybody on the damn roster. Hell, next week after the pay-per-view, Ken Doane will make his debut. When that happens, whoever the hell thinks they've got the balls to step into the ring with me, they'll find out why I am who I am, and why I do what I do.
As the youngster leans back once again, Roberts continues.
Jake Roberts:
Joey, when Ken gets into the ring, the poor sucker who has to face him won't be leaving by choice. Ken's gonn' go out to the ring and make an impression and when he does – he'll keep on beating people again, and again – and again until he's the champion.
Joey attempts to field another question, but is stopped in his tracks as Doane bursts to his feet and looms over him. Doane stares at him like a piece of meat before Roberts gets up and escorts Ken out of the room. Joey loosens his tie and breathes a sigh of relief.
*ADVERTISEMENT VIGNETTE - MICKEY ROURKE STARS IN 'THE WRESTLER'*
Backstage, Torrie Wilson stands by with Chase Stevens and Andy Douglas - The Franchise Two. Both look lively and glad to be a part of WAPW.
Torrie Wilson:
Chase Stevens, you will tonight be making your debut in the World Alliance of Professional Wrestling – teaming with Mark Briscoe of 'The Briscoe Brothers' against another odd-couple pairing - Sylvan Grenier of 'La French Connection' and Nigel McGuiness of 'The United Kingdom'. How does it feel to be part of WAPW?
Chase Stevens:
Torrie, me and Andy have been together as a team for nearly ten years. We've held titles across America and we're both ecstatic to be a part of this. So being here in WAPW, it's the next stop for the two of us. We've come here to make an impact as a team and to win titles.
Torrie Wilson:
You're certainly confident alongside Andy Douglas, but how do you think you and Mark will work as a team later on tonight?
Chase Stevens:
Well, I've never tagged with Mark before - but we're both tag-team specialists. We can adapt to the situation and I'm sure that we can get the job done...
Chase is cut off mid-way through the sentence by Jack Evans, backed up by Gen Ex. They surround Evans who has a microphone clasped in his hand. The Naturals are out of shot, and have seemingly left the scene.
Jack Evans:
You know what time it is, WAPW. Jack Evans... f-f-f-f-from the Heavens is here and he has something to say. See ratings have been through the roof for pro-wrestling since WAPW debuted, and you know the only thing that they can be attributed to – is Gen Ex. See, we know that we're the reason you people turn on the TV, flick over to FX and tune into WAPW. I mean honestly, without us, WAPW is just another wrestling company. I'm no business man, but I'm pretty sure that there should be some form of a reward coming our way preeetty soon.
Evans pouts ridiculously and extends his hand, humorously motioning with his fingers by rubbing them together for 'money'.
Jack Evans:
Now onto Sunday night. Earthlings, I'd like to refresh your memories and ask you to think back to last week on Hazard where I issued an open challenge to any Cruiserweight or high-flyer in the world for a match at Battle Lines. As of now the challenge has yet to be accepted, but let's be honest - who can really blame them? I mean, think of all the talent here, and all across the world. Why would they want to come all the way here with their 'precious reputations', only to be annihilated by the Evans express? Regardless - I am a man of the people, a charitable man, and I will give any one of you fools an opportunity on Sunday. Be there – or be
circle
.
Evans leaves the scene, before returning.
Jack Evans:
Oh, and Ted Hart, Paul London – once I dispose of
my
opponent – I'm coming for that Cruiserweight belt.
Evans grins maniacally before leading Gen Ex out of the camera shot. Torrie is left looking rather bewildered.
COMMERCIALS
Joey Styles welcomes us back from the commercial break and briefly, along with Matt Striker, narrates the short-history between Rey Mysterio and Alex Shelley. A montage of clips depicts:
- Rey beating Shelley
- Shelley scoffing at Rey's offer of a handshake last week and telling him 'he got lucky'
- Shelley costing Rey his match with Lance Hoyt last week where he nailed Mysterio with his TNA X-Division Title belt.
The camera shot soon switches backstage to the parking lot where Shane Douglas is awaiting an arrivals. Suddenly a motorcycle comes into shot, with a heavily leathered figure riding in on a Harley Davidson. The Franchise approaches the figure, cautiously, trying to figure out who it is. The crowd erupts as
BILL GOLDBERG
removes his black helmet and rubs the sweat from his head. He parks it up and begins to walk.
Shane Douglas:
Bill Goldberg, you're live on WAPW Hazard, you're live in Ohio, what do you have planned for tonight my friend?!
Bill Goldberg:
Shane, I got a lot of thing's planned tonight, the majority of them being for MVP ... Ken Kennedy... and Christian Cage. See they all want a shot at the title, and that means they're in my way! Tonight, Shane, I found out – who's next!
*RED ALERT*
The Amazing Red is given a decent reception as he swiftly makes his way to the ring eager to impress everybody in attendance. He flips over the ropes and raises his hands, garnering a positive reaction.
*ALL ABOUT ALEX*
Red watches on as his opponent cockily and confidently strides to the ring, looking at the fans as if they were rodent. He hops up onto the apron, leaning back on against the ropes and raises both arms aloft with his eyes closed. He steps into the ring finally.
Match Two
Alex Shelley vs. The Amazing Red
SUMMARY
As expected the WAPW fans got a treat when these two locked horns. Both quick, agile and able to wow the crowd. Though trying his hardest not to, Alex Shelley must have earned the fans respect somewhat with an impressive performance. With Rey Mysterio in the back of his mind, Alex displayed an array of technical skill which got him close to winning. You could have been forgiven for expecting him to win, as after hitting a trade mark version of the 'kryptanite krunch' - an over the shoulder, belly to back piledriver it looked destined to be over. The powers that be didn't agree, however, as none other than Rey Mysterio made a beeline towards the ring, in-turn distracting Shelley momentarily. Rey stood there soaking in the verbal assault from Shelley - but giving Red a chance to recuperate, too. It paid off for Rey, as he watched the sprightly New Yorker miraculously make it to his feet and role up Shelley for a surprise win!
Winner @ 7.52 mins – The Amazing Red
Alex is bemused, kneeling in the ring and gradually coming to his senses somewhat. He realizes what has come to pass, and judging by the grin on Rey's face - justice has been served. Red and Rey shake hands on the ramp, with Rey raising the victors hand, all the while leering at a distraught Alex Shelley.
The camera shot arrives backstage in with Gen-Ex. The scene is set with Elijah Burke shadow boxing and stretching. Jack Evans is with him the entire time, humorously encouraging him - Rocky style.
Jack Evans:
That's right ... BHAM ... what's your name? BURKE! BHAM! Who's the chump? MISTICO! BHAM! He's your's Eli, he's ALLLL your's... BHAM. Harder? Hit them chump harder... BHAM... HARDER, Eli, HARDER! FASTER! HARDER! FASTER! HARDER! Boy betta know, Gen Ex is who we are damnit - BAM! Hit him harder - these Mexicans are slippery bastards. BHAM! Harder - he's still crossing borders - crossing OUR border! BHAM! You call that hard?! BHA-
Elijah retracts his arm, and leers at Evans, his face a picture of annoyance. Evans backs up, letting Elijah continue to shadow box.
Jack Evans:
Number one, baby. Number one! ELIJAH BURKE - NEXT NORTH AMERICAN CHAMPEEEEEENE! ... BHAM!
COMMERCIALS
Buh-bye commercials for the next twelve minutes! WAPW Hazard returns, and we're backstage in Paul Heyman's office. He's got his head down and is seemingly getting some paperwork done. Who would of thought - a knock at the door?
Paul Heyman:
Come in..
Alex Shelley storms in looking despondent, yet furious.
Paul Heyman:
Ahh, Alex. What can I do for you?
The loser from the previous match is fuming, pausing and breathing heavily before speaking. Paul is still looking down at his desk amassed in his paperwork.
Alex Shelley:
Paul, did you just see that? D-Did you just see Rey Mysterio cost me my match with Red? Did you?!
Paul is still looking down at his desk busy at work, nodding as if Shelley was still talking.
Alex Shelley:
ARE YOU EVEN LISTENING TO ME, HEYMAN?!
Paul eventually looks up and speaks in a slighly frustrated tone.
Paul Heyman:
Alex, Alex, Alex. What exactly are you asking of me? I get it, Rey cost you your match, but let's be honest - you cost him a title qualifier last week. In any event, you've stormed into my office - so what do you want?
Alex Shelley:
Don't partionize me, Paul, I'm the hottest commodity on this damn show and I'd appreciate it if you'd treat me as such.
Paul raises his head once again, with a look of disgust on his face. He clearly restrains himself, before asking in a exxagaratedly calm tone.
Paul Heyman:
What is it that you want, Mr. Shelley?
Alex Shelley:
What I want Paul, is what I'm gonna get, and that's a match with that little virus of a man Rey Mysterio - this Sunday at Battle Lines!
Paul grins, quietly letting at a laugh, which upsets Alex further.
Alex Shelley:
What the hell is funny, Paul?! Am I getting my match with Rey so I can wipe him out from this roster for good - or not?
Paul Heyman:
Okay, you know what, I've been polite for long enough and I've heard enough of this. You think you're the only one on the roster who wants a match at Battle Lines? You think that I've had a nice peaceful day in my office enjoying the show, without every Tom, Dick and Harry barging in and demanding this, that and the other? I've got news for ya - I decide who gets what and what gets who. So Alex, sit tight, keep an eye on the monitor - because later on tonight in the middle of the ring I'm going to announce the
ENTIRE
card for WAPW Battle Lines. Is that okay with you, Mr. Shelley?
Alex walks off, leaving Paul Heyman, who exerts a long sigh.
*KENNEDY VS. ABYSS LATER ON TONIGHT*
*ELIJAH BURKE VS. MISTICO LATER ON TONIGHT*
The camera shot returns to the live audience where Howard Finkel stands in the middle of the ring.
*BRITANIA*
The non-diagetic sound of The UK's music plays - before both Nigel McGuiness and S.O.S make their way to the ring. McGuiness is dressed in wrestling gear whilst O'Shaunessey is dressed in tracksuit pants and a black UK t-shirt. The Irish man waves the union jack flag proudly, drawing heel heat.
*LA NATION*
His partner soon joins him in similar fashion. Rene Dupree accompanies Sylvan to the ring, dressed in blue gowns, waving a French national flag, and garnering a similarly negative response.
*OVER-DRIVE*
The mood is soon lifted as the Briscoe Brothers head to the ring, Jay following Mark who waits outside the ring for his partner.
*NATURAL FRANCHISE*
His partner soon comes in the form of Chase Stevens, accompanied by Andy Douglas. All four touch knuckles at the bottom of the ramp, before sliding in and prompting their opponents to exit. Eventually, Chase and Mark stand in the ring with Sylvan and Nigel.
Match Three
Chase Stevens & Mark Briscoe vs. Nigel McGuiness and Sylvan Grenier
SUMMARY
With four teams pairing up amongst each other, the complexion of the match was interesting to say the least. How would each 'team' react to their partner? Well in a battle seemingly of USA versus the rest of the world, the rest of the world came out on top. The match was entertaining in the ring, with the heels working the crowd perfectly - capitalizing on their heat by using underhand tactics to get the win.
As Mark had Nigel ready for a powerbomb maneuver, Sylvan Grenier took it upon himself to scuttle across the ring and slap Chase Stevens on the apron. This prompted Stevens to attempt to get into the ring and get at Sylvan, but the referee blocked him. This allowed Sylvan to hit a low blow on Briscoe, which McGuiness followed up with a running frontal-lariat! Sigh, dastardly heels.
Winner @ 6.32 mins – Nigel McGuiness & Sylvan Grenier
Jay Briscoe and Andy Douglas slide into the ring prompting Sylvan, Rene, S.O.S and Nigel to exit swiftly. They all shake hands looking pleased with the way the matched panned out. They wave their respective flags, combating a progressive 'USA' chant. Yep, a USA chant. Unbelievable.
COMMERCIALS
A brief clip is narrated by the dynamic duo, depicting fan-favorite Christian Cage arriving during the commercials in a rather swank Mercedes.
MVP is backstage and doesn't look too amused. He's alone and striding down the hall-way, passing doors left and right. He passes various backstage trolls and lower-beings, before standing infront of Paul Heyman's door. He beings knocking repeatedly, and asking 'Heyman – you in there?'. He continues knocking and asking, but eventually thumps the door and leaves furiously. The camera is still fixated on the door, and we witness is slowly open, creaking rather humorously. Heyman pokes his head around, looking both ways, before stepping out. He has a piece of paper in his hand, and seemingly blue-tacs it to the door. The door shuts, and the paper reads – "Sorry, we're closed".
Ringside, and Striker-Styles take us through the tournament brackets for the North American title qualifiers. It shows the ending to every match so far.
- Sugar Daddy Lance def. Abyss via roll-up
- Rey Mysterio def. Alex Shelley via West Coast Pop
- Elijah Burke def. Jamie Noble via The Elijah Experience
- Mistico def. Matt Michaels via La Mistica
Sugar Daddy Lance def. Rey Mysterio via Alex Shelley interference, Suplex to Powerbomb
*THE EX LEVEL*
Elijah Burke makes his way through the curtain accompanied by Jack Evans. As Burke walks to the ring amidst a heel reception, Evans is talking at him, seemingly trying to encourage him and get him fired up.
*MISTERY*
The fans get behind the masked man from Mexico, Mistico! He makes his way to the ring wearing a green attire, and readies himself for this semi-final match-up.
The camera briefly shows Sugar Daddy Lance backstage in his locker room watching a monitor, with two blondes on his knees. Lance will face the winner at Battle Lines.
Match Four
Mistico vs. Elijah Burke
SUMMARY
With Sugar Lance watching on intently scouting his potential opponents, both men were given extra incentive to make an impression.
In a match that lasted 14 minutes, and carried on after the commercial breaks, it was very even. Mistico had wowed the crowd during the course of the bout with some of his unique offense, whilst Elijah showed his technical prowess.
The presence of Jack Evans at ringside was supposed to be an advantage, but towards the end of the rather epic match-up - it nearly backfired.
COMMERCIALS
Eleven minutes in and just after returning from commercials, Mistico had control. The masked man was on the apron, and was seemingly looking to suplex Elijah from inside of the ring to the hard, unforgiving mat below! However Evans had a plan, a not-so-full proof plan. He attempted to pull the legs out from under Mistico, but has instead greeted with a hard kick to the head. Evans shook it off eventually, and hopped onto the apron. He swung for Mistico, but nailed Elijah instead! Mistico then punched Evans off of the apron, and performed a wonderful springboard flying forearm.
Despite Mistico's domination in the latter parts of the match, Burke's where with all somehow got him the win. Just when he looked like he couldn't take any more, he managed to counter a head scissors attempt and caught him in a Russian leg sweep position - THE ELIJAH EXPERIENCE!! Out for nowhere, well and truly! It had taken a lot out of Burke, though, who got Mistico to his feet and irish whipped him straight into the corner. BHAM! He comes crashing in with both knees - THE ELIJAH EXPRESS!! Mistico crumples to the mat, and succumbs to the pain.
Winner @ 14.34 mins – Elijah Burke
As Elijah celebrates in the ring with Jack Evans, the camera briefly cuts backstage to show Sugar Daddy Lance watching on, with a brunette and a red-head on his knee.
Matt Striker:
Hang on a sec, Joe, are they that two
different
girls with Lance?
Joey Styles:
It would appear so, partner.
Matt Striker
: Ha! What Joey Styles wouldn't give be the Sugar Daddy for one night, ladies and gentlemen.
Joey Styles:
I have a wife who's watching Hazard, as it happens, Matt.
Matt Striker
: Yeah. Hmm, maybe Lance will bring her to Battle Lines with him. That'd be fun to watch.
Elijah and Jack are joined by Austin Aries and Roderick Strong, both who are clapping their hands as they make their way down and into the ring. They congratulate Elijah who signals that he wants gold to the camera.
We then switch to backstage as Torrie Wilson stands by with Mr Kennedy! The fans give Torrie a great reception, being in her hometown of Boise, Idaho.
Torrie Wilson
: Ladies and gentlemen I'm Torrie Wilson and I'm joined at this time by none other than the man who…
Kennedy without looking at Torrie, places his finger on her lips. He gradually removes it. Torrie then attempts to speak once more but Kennedy 'shh's' her once again – this time by places his hand on the head of the microphone. After a period of silence, Kennedy begins to speak in a slow manner, before gradually going into his enthusiastic tone of voice.
Mr. Kennedy:
Idaho, Torrie. Hazard this week crashes into, Idaho. You're home, Torrie.
The crowd pop for their own, Torrie Wilson.
Mr. Kennedy:
See - Idaho - as dull and as boring as this place is – tonight Mr. Kennedy will light it up, he'll bring the razzle-dazzle, the showman ship and the excitement that only HE can. Tonight, for one night, Idaho will be known as a town where something great happened - where something ground-breaking happened. Tonight, Idaho, after I defeat Abyss in the main-event, you will bear witness to Mr. Kennedy being awarded his rightful spot in the main-event at Battle Lines.
Some fans cheer him, though the majority of the Idaho crowd boos him. He snatches the mic from Torrie's grasp.
Mr. Kennedy:
See I don't know who I have to beat, whether it be that maple-leaf punk Christian (POP), that cornrow-boasting, black Tony Soprano – MVP (BOOS) – or that bold-headed bastard, Bill Goldberg. (MASSIVE POP) Personally, I don't give a rat's ass which one I have to get in the ring with, because the outcome will always be the same. Howard Finkel will stand dead centre of the ring, and the referee will raise the hand of you're winner – the one, the only – the soon to be WAPW Champion – MISTTERRRRRRRRRRRRRRRRRRRR ~ ~ ~KEEEENEDDDDY!
The crowd are mostly now cheering for Mr. Kennedy. He extends his arm and offers the microphone to Torrie. As she tries to grasp it, he retracts it.
Mr. Kennedy:
(whispers) … period.
He passes it to her finally, before leaving the scene.
In-ring – Gen Ex are still there in the form of Roderick Strong and Austin Aries. Remember, they were there with Elijah Burke after his match, and seemingly have something to say. The fans don't take too kindly to their cocky and disrespectful nature.
Austin Aries:
Team 3D, against out own will – we're here to once again address the two of you. As much as the two of us would rather be associating ourselves with wrestlers more credible than the tweo of you, it would appear that your ghost needs to be laid to rest once and for all. I'm going to take you back to three weeks ago – Hazard – the first match in WAPW history. Austin Aries and Roderick Strong defeat Brother Ray and Brother Devon.
The crowd boo, remembering that Gen Ex effectively cheated.
Austin Aries:
You would think that after destroying supposedly (air quotes) 'the greatest tag-team in the world' – that Gen Ex would be bound for bigger and greater things. However as it turns out, Team 3D are pals with the boss. Paul – god damn – Heyman. He has the gall, he has the audacity – or as anyone with sense sees it, stupidity – to give Team 3D another shot in the ring with us. As much as myself and Roddy wanted some better competition, we agreed to give them –
one
last shot at the big-time. So last week, what happened? LAST WEEK – WE BEAT YOU BOTH AGAIN!!
Austin composes himself, listening to the crowds jeers. Roderick stands unaffected rubbing his hands together continuously.
Austin Aries:
You need to realize 3D, that the only reason you got a second chance was because you kissed Paul Heyman's ass!! If that wasn't ludicrous enough, apparently, that delusioned soul Paul Heyman is to book a tag-team title match between us at BATTLE LINES!?! Paul, you're a supposed business man, and by that I mean you ran ECW out of business, but how in the hell does booking us and them make sense?! So Paul, I hope your sitting comfy, at…
*TURN THE TABLES*
The crowd are saved by the sound of Team 3D's music! They both emerge carrying tables. Devon and Ray set two up alongside eachother at the top of the ramp. They then make their way half way down the ramp and address Gen Ex.
Austin Aries:
Lemme' guess – you two have heard enough? You wanna come down here, play the role of the gutsy WAPW soldier, pander to these morons, and put us in our place? Well ya' know what - talks cheap
Brother Ray:
Actually Austin, we're not here to please anyone. We're not here to kiss ass, as you so put it. We're not here to convince you why we deserve a match at Battle Lines. See guys there comes a time where the talking has to be done in the ring, and at Battle Lin-
Austin Aries:
3D, THE TALKING WAS DONE – IN THE RING! WE BEAT YOU TWICE - IN THE RING! I think, I think you've done enough talking and now it's time for you to do the honorable thing both for WAPW and for these fans – and walk away.
The heat is still rolling in, as Team 3D consider 'walking away'. They look at each other and after a long period of silence turn away from the ring and begin walking up the ramp.
Joey Styles:
Th-they're leaving?
Aries and Strong look extremely pleased with themselves, watching on as Team 3D continue their walk away. Just as they make it past the tables, they turn around to face their counterparts, and Ray puts the microphone to his lips.
Brother Ray:
You know what Aries, as easy as it would be to walk away from here - quit listening to the shit that spews from out of your mouth - myself and Devon aren't quitters. We didn't win our twenty tag-team titles by walking away. That's not who we are. You're right on one thing boys, talk
is
cheap, so at Battle Lines we're going to do our talking in the ring when we put the two of you through tables!
Big pop for wood!
Brother Ray:
Putting sons of bitches through tables, is what we do best, no matter how many people you bring with you - now matter how many members of Gen Ex you bring along - you can guarantee that Team 3D will not be alone! So boys, your luck runs out on Sunday. It all comes to an end, the cheap shots, the trash talk. The defining moment of your short careers will be the image of you both laid out, at the hands of the WAPW Tag-team champions - TEAM 3D!
Devon grins as Ray and he head to the back as their music plays. Strong and Aries look pissed in the ring.
*NEXT - ABYSS VS. MR. KENNEDY*
COMMERCIALS
Styles and Striker welcome us back to Hazard and it's main-event time!
*INTO THE ABYSS*
Abyss with James Mitchell makes his way to the ring, striding down the aisle and eager to inflict destruction. Mitchell wears an evil grin to accompany his all-red suit.
*LOVE-HATE*
The fans have no choice but to get behind Mr. Kennedy as he makes his way to the ring, confident as ever. Howard Finkel retains his job as ring announcer, this time.
Match Five
Abyss vs. Mr. Kennedy
SUMMARY
They say confidence is the most important thing. Mr. Kennedy has it in abundance and he showed it against Abyss. Unfazed against the monster, he demonstrated just why he should be in the main-event at Battle Lines. A smart competitor, he picked his moves carefully, and kept Abyss' continuous offense to a minimum.
Still trying to pick up the pieces from his past career, Abyss, once again under the guidance of James Mitchell, looked back to his destructive self. Fans tuning into WAPW having not watched TNA in the past would fail to imagine the old Abyss, but were starting to get a good idea of his capability.
Towards the end, Abyss was in control. Kennedy's slip up was capitalized by the sinister Abyss who was relentless in his assault. The end looked fairly near, but with the end gradually approaching he managed to get back ontop. Just as the confidence was back, who else but MVP made a run-in! The bell was called for as he and Kennedy began brawling. Mitchell led Abyss out of the ring to a safe-zone.
Winner @ 11.12 mins - No Contest
MVP had the advantage in the assault picking apart the tired Kennedy. It continued with MVP stomping away at him. However who else but
CHRISTIAN CAGE
ran down to the ring and joined in the fun, taking down MVP and continuing the anarchy! MVP and Kennedy aligned shortly, beating on the Canadian fan-favorite. 2 on 1 - but not for long. Enter -
BILL GOLDBERG
!! The crowd erupt once again as Da Man enters the fray, spearing Kennedy out of the ring and smashing MVP with a big-boot. MVP smartly retreats, leaving Cage and Bill. Cage and MVP talk trash to each other, but as Cage turns around - SPEAR!! The crowd can't believe it. Soon enough Paul Heyman and Bret Hart emerge, leading security down to the ring to section off all four men. Heyman and Hart enter the now-empty ring. Oooh the tension!
COMMERCIALS
Back live to Hazard, and Paul Heyman has the microphone!
Paul Heyman:
Idaho and the rest of the viewing world, it's time now for the announcement that you've all been waiting for. I, Paul Heyman have in my and piece of paper listing the eight matches which will come to pass this Sunday at Battle Lines! One of which being the main-event match which will determine the
FIRST-EVER
WAPW Champion! So without further ado, Jack Evans, make your way down the ramp.
Evans complies, emerging and accompanied by a security guard.
Paul Heyman:
You've wined, you've moaned, you've bitched for a shot at the Cruiserweight title. When I put you into a match with Paul London with a shot at the title on the line, ya' lost. So last week you issued a challenge (reading off paper) to 'any Cruiserweight in the world' for a match at Battle Lines. Well Jack, you're in luck. You have an opponent. This opponent and I are very close friends, we've known eachother for nearly fifteen years. He's a former - WORLD CHAMPION! This man is a very unique individual, and at Battle Lines, you and he will fight!
Evans looks puzzled, mouthing - "who".
Paul Heyman:
Dismissed.
The security guard leads Evans to the back.
Paul Heyman:
Also on the card is an eight-man tag-team match made just 20 minutes ago. It will pit The Briscoe Brother, teaming up with the Natural Franchise, taking on the teams of 'La French Connection' - and The UK. I had guys from each team come to me earlier and request a match, so on Sunday - I'm turning you all loose on eachother!
The camera flicks to backstage where it shows the two separate alliances sitting with each other.
Paul Heyman:
Ahem. This next match I will announce features one half of the main-event match which you just witnessed, Abyss - will take on the man who defeated him twice - Brent Albright.
Albright is accompanied by a security guard onto the ramp, where he beats his chest and points at Abyss who's at ringside.
Paul Heyman:
Dismissed. ~ Half way there. Match number four of the night will be for the WAPW TAG-TEAM CHAMPIONSHIPS! This heated rivalry will hit boiling point on Sunday at Battle Lines where Team 3D take on Gen Ex's Roderick Strong and Austin Aries - in a tables match! Like it or not Gen Ex, to be the best - you're going have to beat the best for the titles!
*GEN-EX backstage looking pissed/Team 3D nodding in approval*
Paul Heyman:
Also, with WAPW gold on the line - Teddy Hart, the nephew of the man standing to my left Bret Hart, will defend his newly won Cruiserweight championship against the man who took him to the limit in the gauntlet match three weeks ago. That man, of course, is Paul London!
Paul London and Ted Hart are led out onto the ramp, separated by two security officers.
Paul Heyman:
Boys, I'm sure you will both have a great, great match-up, but until then - dismissed. ~ Now, can Alex Shelley and Rey Mysterio please make their way out here.
On-cue, lead out by two different security guards.
Paul Heyman:
Without doubt, two of the best in the world. You both have your differences, and you both want this match. So at Battle Lines I'm proud to announce that thw two of you will have the chance to settle those differences in the ring. Boys, you're both immensely talented - put on a damn classic!
The crowd are jacked at this mouth-watering prospect.
Paul Heyman:
Dis-missed.
He wipes the sweat from his forehead, before continuing.
Paul Heyman:
We're almost there. Phew. This match I am now going to announce is the product of four shows of build-up. It is the culmination of the WAPW North-American Title Tournament! The Sugar Daddy Superstar, Lance Hoyt! The Guiding Light of WAPW - Elijah Burke!
Both are shown on a split-screen backstage, along with the rest of the roster.
Paul Heyman:
You two will make your mark in wrestling history and one of you will become the FIRST-EVER WAPW North-American Champion! In the many years to come we will look back at this match and one of you will be seen as the first to ever hold the title. Boys, I hope you're ready, at Battle Lines - I wish you the best of luck. ~ Guards, if you could please, escort the four men into the ring.
MVP, Kennedy, Cage and Goldberg are all escorted into the ring, separated in each corner.
Paul Heyman:
I suppose there was only one thing I could do. You four are four very special athletes, and you each want the same thing - the WAPW Title. So the main-event for Battle Lines, I guess, was a formality. Without further ado, the main-event for Battle Lines will be a FOUR-CORNERS MATCH with MVP - BILL GOLDBERG - CHRISTIAN - AND MR. KENNEDY!!
The fans applaud at the huge match-up.
Paul Heyman:
For a match of this magnitude there could only be solution - a special guest referee! It is my great honor to present to you all the man who will officiate this match - ladies and gentlemen - BRET 'THE HITMAN' HART!!
The biggest pop of the night for Bret, who receives the mic.
Bret Hart:
Idaho it's fair to say that Bret Hart feels damn good to be back in a wrestling ring, in such a wonderful promotion. When Paul approached me and offered me the chance to 'keep order' in the main-event, I jumped at the chance. It's been what, 8 years since I've been in a wrestling ring at this level, and on Sunday I'm happy to be a part of the biggest wrestling event in recent memory! You four - some I know, some I don't really know - SOME - (looks to Bill Goldberg) I know
very
, very well. What's happened in the past means nothing now, and at Battle Lines, I will raise one of your hands in victory. Until then, you're going to respect me as a person, as a wrestler - and as an official. If one of you as much as attempts to lay a finger on me, I will not hesitate in putting you in your place.
Hart passes the microphone back to Heyman, who signs us off for the night...
All four men want a piece of eachother but are luckily restrained by the 7 security guards in the ring. Battle Lines is upon us.
Re: Paul Heyman's World Alliance of Professional Wrestling!
---
Hazzard Feedback
Okay, so I have heard some good things about you and this is my first time in here so forgive any fucked up comments. Anyway enough shit talking, here we goÖ
Okay so opening contest and well glad to see your opening up with a match, at times I really love shows that are wrestling heavy and I think this style suits a created fed better. Anyway I have seen bits of Teddy Hart but itís not like I know everything about him or anything and he is your Cruiserweight Champion so I kindaí expected him to go over. You mentioned that Jamie Noble lost last week as well. Noble OWNS please donít make him losing as a common occurrence or else I may not be able to read anymore.
I joke, but honestly, decent start to the show with this opener, nothing overly entertaining but would have been a very solid match.
Paul London ay? Now there is a man I am a fan of. Showing him watching the champ makes me think that they will be meeting at the PPV. Is this correct? If so it should be a pretty good match and for some reason it seems like I am hating on Teddy Hart a bit but itís just cause your Cruiserweight division seems to rock a little bit and there is to many guys that I favor over him.
LOL @ Teddy Hart running away from Abyss, I canít blame him tbh. I am not a huge fan of Abyss and I hated him even more when hem put his hands on my boy Jamie Noble. Okay, so Brent Albright and Abyss are feuding right? If this is the case as much as I like him (fuck you and your epic roster tbh <3) I can see Abyss destroying him as in this company he has yet to be established as the monster he was in TNA. Even though we all know he is a monster we need him to make his reputation in the new company before we can take him as a credible monster. Tell me, if I can go back to a previous show and see him do some dominant shit but until then he ainít no monster to me. Albright getting the better of Abyss here, even with the pipe is something that has me stooped as like I sad earlier Abyss is meant to be your monster. He really NEEDS to beat Albright. Ooohhh I just read the commentary, Albright has beaten Abyss two weeks in a row well due to reasons I explained above that disappoints me. Hopefully Abyss gets the big win soon enough.
Kennedy is here. Here we go, lol another guy that I mark for. Your roster seriously is one that doesnít have that many big names but I have fallen in love with it anyway. ErmmmÖ Kennedy is seeking a spot in the main-event at Battle Lines, is Christian, MVP and Goldberg. Is this meant to be as is Christian, MVP and Goldberg or did you just completely mix up a part of a segment. I just thought I would ask because I donít know who is involved with who.
Ken Doane and Jake ďThe SnakeĒ Roberts is a pairing at first look I wasnít to sure about but I have to admit I like the way you have Roberts as the guy who keeps Doane calm. I also like the aggressive Doane attitude it is definitely something different and something I could see becoming something awesome. He kind of reminded me of intense Angle at parts in this interview except of course more heelish. Nice interview but, Ken Doane is a guy I am not a huge fan of but he is a solid worker and you seem to have given him a decent role in this thread.
The Wrestler advertisement is unneeded and unwanted in my point of view. Seems like a stupid little thing to make your show a line longer. Unless you have some kind of sponsor deal or something I canít understand why you would bother to include this.
Fuck Chase Stevens to be honest, I love the Briscoe Brothers and I heart Jack Evans even more. Evans is the man, have him win every match and your thread will be fine.
Alex Shelley and Rey Mysterio is a feud I would really like to see.
Letís see what Goldberg does tonight. Should be explosiveÖ Shane Douglas as an interviewer is a tad weird, tbh.
Fuck Rey Mysterio, running everything. I donít know who this Amazing Red poof is but I know I love Alex Shelley so to see him lose like this was quite depressing. Also just so you know when I begin just talking about the events and not giving you feedback its cozí I think everything is good. Shelley must go over Mysterio k?
Jack Evans was annoying me here. Just the hint of annoyance shows me subtle hints of an eventful Evans and Burke feud. Donít rush it though make it take ages that way we can get some exciting build.
Paul Heyman as a face is something I donít like. I am assuming he is face because he is arguing with Shelley. Heel turn pleaseÖ Would really make your thread a whole lot better. The entire card being released later tonight, WOW, maybe I am not so far behind after all.
Very weird pairings in this contest but sometimes weird pairings are entertaining and that is what I found this to be. Nigel is so great, as is Briscoe so either way this one went I was happy with. I guess when I actually have a proper grasp on the storylines I will be able to make a better decision.
I heart Christian tbfh.
LOL 2 Heyman dissing MVP like that. MVP is like my favorite rassler donít make this a current occurrence either.
Elijah Burke with the win was something I was happy with. All the guys getting involved kind of had me confused a bit but who gives a fuck. I will get use to it. Well worked match with some TNA interference type of stuff
Kennedy interview was nice showing hints of cockiness but focus also.
Aries OWNS. Team 3D are quite stale hopefully you make something of them.
Sounded like a nice main event shattered MVP made sure there would be no winner. Abyss once again is made to look like a pussy and if you read my rant from earlier on I donít like that at all.
Goldberg just about OWNS everyone. AWESOME ending of the aftermath now for the PPV card. Hope it doesnít disappoint.
Card for PPV after hearing Heyman talks is quite epic. I just wannaí know do you want me to leave predics now or are you posting a preview.
Good show. You have promise, but I donít know the show seemed to drag a bit for me. Hit it hard though, youíre doing well.
---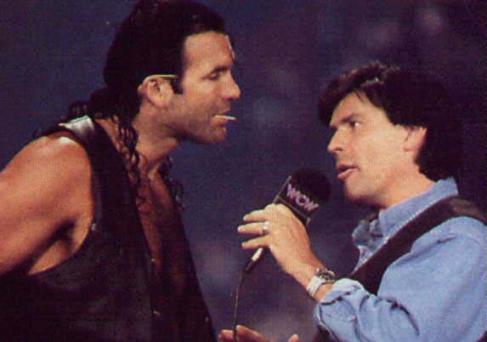 Re: Paul Heyman's World Alliance of Professional Wrestling!
---
Credit - The Observer

WAPW are said to be seriously considering a feud involving Hollywood actor, and recent multi-award winner, Mickie Rourke. WAPW has been running promotional vignetted during the last two shows and it is thought that WAPW owner Michael Morton wants Mickie to get involved in the company.

While the owner is enthusiastic, Paul Heyman is said to not be so thrilled at the idea. As head booker he wants a more wrestling-based product and doesn't see Rourke in the ring as something he'd want to see. That being said, an un-named source has indicated that Mickie's presence and publicity would elicit a positive reaction from Heyman.


Credit - Gerweck

As we found out last night, Jake 'The Snake' Roberts is in WAPW. He made his first appearance alongside mentor Ken(ny Dykstra) Doane on Hazard in a special interview segment. It was later confirmed via WAPW's official website that Roberts has signed a one-year deal and is to be Doane's full-time manager.

Doane is said to be enthusiastic about working with 'Snake' and is hoping for a long-term push as 'The Anti Saint'.


Credit - The Sun / Gerweck

British news giants 'The Sun' recently conducted a special interview with country man, and WAPW star, Nigel McGuiness. In the half-hour long interview with Joseph McCurran, chief Wrestling editor for the paper, Nigel spoke of many topics including WAPW and ROH.

The major story coming out of the interview was that WAPW was to plan touring England in the next month. Though unofficial, Nigel said he is 'hoping the rumours of a tour are true' and is 'looking forward to returning home on such a grand stage'.

When asked of ever working for ROH again, McGuiness intrestingly enough stated that WAPW are not ruling out letting talent perform for them. However it is apparent that Paul Heyman doesn't want his stars injured, so he would be restricting it to special events only. Austin Aries, Roderick Strong, Jack Evans and Brent Albright are some who are said to be appearing at the seven year anniversary show in the coming months.

Nigel also mentioned that he and the entire roster were excited with how things are going. He went on to say that he was 'hoping for a major singles push in the future' but is content with his tag-team alliance with Shamus O'Shaunessy - The UK. He, Shamus, Sylvan Grenier and Rene Dupree all team up to face both Jay and Mark Briscoe, as well as The Natural Franchise - Chase Stevens and Andy Douglas at Battle Lines.


Credit - Gerweck/No DQ

WAPW are said to have hit a stumbling block with regard to contract negotiations with 'The American Dragon' Brian Danielson. Talks have been going on for nearly three weeks and it's rumoured that Danielson is holding out for a higher spot on the roster than what's being offered.

Some are predicting that Brian Danielson will be the former World Champion who answers Jack Evans' open-challenge this weekend at WAPW's Battle Lines PPV. There is no word from either party so don't take this as fact. The internet is a funny thing, as Danielson has never competed in WWE, TNA, WCW or ECW - the four promotions that WAPW were said to be referring too. Other stars rumoured to be in the running for the spot on the card are unbeliveably AJ Styles, Rob Van Dam - and somewhat laughably - Chris Jericho.
Re: Paul Heyman's World Alliance of Professional Wrestling!
---
Mickey Rourke is a big NO, i would much rather see a wrestling based product, Heyman better put his foot down.

Hopefully Doane doesn't stay with Roberts for the whole year it won't take him that long to get over.

McGuiness OWNS all...

Brian Danielson should get what he want imo.

Anyway news is aiight, t'is all for now.
---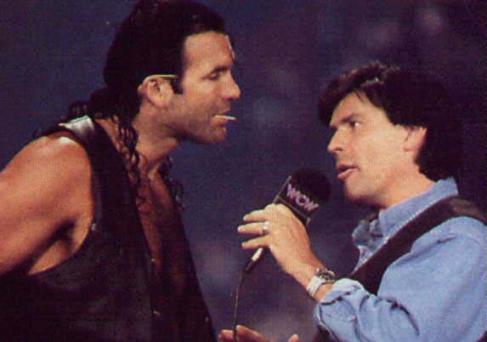 Re: Paul Heyman's World Alliance of Professional Wrestling!
---
Hazard Feedback

Since you got on your knees and begged me (as well as something else
), I guess I'll be kind enough to drop off a review. Hey, what can I say? I'm a good person.


@ Abyss being a 'tank'. I;d have gone with fat sack of shit, but whatever Striker reckons.

Starting off with the cruiserweights is a good move. If you're not starting with a promo then they're always the way to go because they get the energry going. You get points for using Noble, but those points are instantly taken away for that jobbing out of Noble to that faggot Teddy Hart. That fat sack of shit wandering down after the match and beating on him is a sin. You're going to hell. Super srs. Albright running in and making the save is k, though I don't understand why he would have gone to use punches instead of using the pipe right off the bat. Doesn't make much sense.

Ken Doane = ratings tbfh. The kid's an absolute star. As for Roberts as a mentor, it's interesting. I'm not sure if you're going to incorperate the snake bit into Doane's gimmick, but I'd advise against it. It doesn't seem right with him. If you're just going to keep him aggressive then I'm fine with that. Oh and btw, Roberts' didn't sound anywhere near drunk enough.


The Franchise Two? Much prefer either The Naturals or maybe just The Franchise (Douglas is retired anyway
). Stevens was generic, though The Naturals always were. Character development plz. Evans coming in and making the segment worthwhile was gooood. You seem to have fun writing Evans as a bit of a smartass show-off. You're doing it well, so you should defo push him.

Doesn't Goldberg find out who's next?


I wouldn't have gone with another cruiserweight match now. Probably better off breaking them up. Shelley losing to Red is a crime, especially since Red can't perform a move without botching it some way
. Not liking the losses for Shelley, though hopefully he'll kick ReyRey's ass at Battle Lines.

Hit him harder - these Mexicans are slippery bastards. BHAM! Harder - he's still crossing borders - crossing OUR border! BHAM!

roflroflroflroflroflroflrofl

Meh. Heyman seemed alright in htis promo, though Shelley isn't as fun angry. He needs to be a cool smartass tbfh.

The tag match just seemed like filler to get more faces on the show. Don't just cram everyone in needlessly, plz.


@ Heyman. What a star.

Burke beating Mistico is meh. I like both men, though the dream match of Mistico pwning Mysterio was already gone. Mistico got to look good in the process though with a rather long match, as well as fighting back against the interference, so that gets you a
.

The Kennedy promo was pretty good with him showcasing his arrogance. The city bashing was good for some cheap heat too.
I don't like the main event you've got set up here. Abyss is a fresh heel and Kennedy is most definitely a heel. The crowd would probably shit on the match since they wouldn't want either man to win.

Aries getting all the mic time for Gen Ex is good since Roddy has noreal personality to him, and it'd be unrealistic for him to suddenly be a sensational speaker. The promo was alright, though the two teams just mouthing off at each other seems to be getting a little old - especially from the Gen Ex side of things. ALl they've done is really called 3D washed up for the whole feud.

A heel running in on a heel vs heel match just seems off. You would've been much better off placing Cage in the match against Abyss to really balance things out. That way you still could have had MVP run in. Goldberg again ends up standing tall after Spearing Cage? He's really in the power position here. You've made it clear that he's the biggest star on the show, so you really have to give him the belt now.

A former world champion to face Evans? Raven or RVD, imo. Iunno if you're sticking with a cw though. The promo was reasonably done from Heyman, though it seemed kinda odd. Guess I've never seen anything like it before, though I don't think it's a bad thing.
@ you botching Hart's big line, tbfh. If one of you lays a finger on you? I believe it was meant to be if one of you lays a finger on me, right? Good message to finish the show off with, though it would have been better if you hadn't fucked it up.
Again, solid enough. You're really hitting a point here where you've shown good consistancy for four shows, which is great. The build to Battle Lines has been pretty awesome, so finish it off plz.
---
Re: Paul Heyman's World Alliance of Professional Wrestling!
---
Gerweck.net (Sunday - 6pm)

Mere ours away from WAPW PPV 'Battle Lines' and it is rumoured that Paul London has pulled out of his match with Teddy Hart. London was all set to challenge Hart for the WAPW Cruiserweight Championship until he apparently suffered a rather nasty elbow injury. The promotion has yet to comment on whether or not the Texan will compete, but it is said that they are lining up a replacement from within their own roster.


Gerweck.net (Sunday - 6pm)

WAPW have confirmed the signing of former WWF/E talent, David 'Gangrel' Heath. Heath, now 40, is said to have signed a short-term deal. Nothing more is known at this moment in time; more to come as we get it.

You're never alone, you're never disconnected...
Join Date: Aug 2008
Location: BELIEVELAND, OHIO
Posts: 4,889
Points: 4,769
Re: Paul Heyman's World Alliance of Professional Wrestling!
---
Good overview of the match. Not a bad opener. A Hart was seen a mile away, though. With Jamie Noble in there, it's a safe bet. Hart playing the obvious heel for Abyss to come in? Never saw Abyss as a face. And what kind of Hart family member hides behind the crowd? In any case, nice set-up for the Albright/Abyss fight.

Kennedy arriving: what a short and useless hype. No matter how believable that was.

Why is Joey Styles an interviewer in a Paul Heyman promotion. Anyway, decent hype build-up for the Snake and Kenny. Never really saw them together, but just as well. The Snake kinda preached too much too.

Good way to give the heels some face time – by cutting in on a face interview. Be there or be circle? I know it was meant to be lame, but not that lame. Still, nice to see a cocky heel (Evans) with title interntions.

Short Billy Goldberg segment… not bad. But three backstage interviews in a row?

Two faces putting over a heel. Not bad. And it seems like Rey Rey and Shelley were staring long enough that Shelley should've done something to Rey. And the ref should've told Rey to leave, as he was distracting the match.

More useless backstage hype. I care not for these segments, but they are believable.

Typical move with the heel coming in and complaining on how he was screwed over. Great to see Heyman's got something big in store. Still, announcing the card all at once doesn't sound right. I'm use to the card unfolding as the shows progress on.

Dastardly heels indeed. And yeah, a USA chant is unbelievable. But hey, man. It's your thread.

Heyman being secrective… oooo… MVP didn't really need the TV time if that's all he's gonna be used for.

Nice to see a clean win for a heel every now and then.

Black Tony Soprano? What kind of weak insult was that? As an African-American, I resent that comment, good sir! You need to work on Kennedy's trash-talking, but the rest was good.

Lot of heat in the tag team division. Good segment, expect the fact that you didn't add in "OH MY BROTHER, TESTIFY" at the end. What's up with that?

If MVP and Kennedy are brawling, that's not a "No Contest," it's a DQ on Abyss. Crazy aftermath to this one. I like how this actually leads to a Paul and Bret segment. Good choice.

Jack Evans and either Van Dam or Dreamer. That friend of Heyman's thing gave it away. I know none of the teams in the next match, but foreigners against the other guys is always the way to go. Albright and Abyss was expected. Team 3D and Gen Ex was expected, but the tables match was an unexpected move, mainly because we all know what it's gonna lead to. London was actually one of my favorite cruiserweights and I would've loved to see him fight Hart. But, I'm sure you have bigger plans. Mysterio and Shelley was expected. Hoyt and Burke wasn't too bad (Hoyt FTW, though). WHAT THE HELL IS MVP DOING IN A MAIN EVENT, WORLD TITLE MATCH??? Everybody else in that match is actually among my favorite wrestlers, but who gave you permission to put a jobber in a main eventer's place? That's just awful, just awful. In any case, I was kinda surprised to learn that Bret Hart's gonna be calling the shots. I was even more surprised when the show ended on such a sour note. Where's the action, where the explosion, where's the big ending. Instead, "Paul Heyman just signed us off?"

Overall, the colorful words and un-biased writing keep me entertained the whole time. There's not a lot of BTBs like that. Keep it up…
---
Re: Paul Heyman's World Alliance of Professional Wrestling!
---
I'm guessing London got injured in EWR or something? Not good, my friend.
Yuck, Gangrel. The only cool thing about him was his entrance. Perhaps that can be the only thing you do with him.
Looking forward to Battle Lines. Preview soon, plz.
---
Posting Rules

You may not post new threads

You may not post replies

You may not post attachments

You may not edit your posts

---

HTML code is Off

---