Forever
Join Date: Aug 2006
Location: From Downtown, outta nowhere, in a heartbeat!
Posts: 5,138
Points: 87
Re: Paul Heyman's World Alliance of Professional Wrestling!
---
I like the PPV names too :0 *EWR* cough *EWR*
. Seriously though it's actual a hard thing to do, to pull out the decent names on there compared to some of the crap they have. Although I do lol at the Terry Funk Retirment Show XVIII.
Re: Paul Heyman's World Alliance of Professional Wrestling!
---
Nice roster. Can't wait for the action.
---
Marking for: Edge, Shawn Michaels, The Brian Kendrick, Chris Jericho, CM Punk, Christian Cage and John Morrison.


-NOT REMOVING THIS UNTIL THE BRIAN KENDRICK WEARS GOLD-
(Though I'm starting to doubt it will happen)
Re: Paul Heyman's World Alliance of Professional Wrestling!
---
I like how you have started, not rushing into. A good heathly roster, filled with soem good names, Amazing Red is one of my favourites so push plz.
Overall it's looking fairly decent so far, good luck and I will be reading.
---
Or is it?
Re: Paul Heyman's World Alliance of Professional Wrestling!
---
Hey mate i thought i had already popped in here but turns out i haven't. Created feds are something i love reading however i hate reading created feds where the quality of shows is not very good. So please... Please impress me and get me hooked
---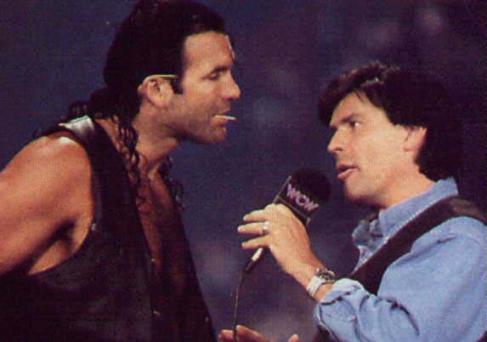 Re: Paul Heyman's World Alliance of Professional Wrestling!
---
Bookers Note -
Hola! Just to let everybody know that I'm extremely grateful for all the support and what-not - it really helps. There's been a technical hitch - in that I couldn't make it onto a laptop last night so I have to try and finish it all tonight. It shouldn't be too hard or time-consuming as it's just the final promo, and then the main-event in an extended recap. Would be great to get some reviews, which will all be gratiously retured, though all things considered I haven't been actively writing BTB for the best part of seven months. Excuses aside, hopefully getting the opening show out of the way will allow me to get into the swing of it some more! Here's the card for the first ever edition of WAPW 'Hazard'!
- Team 3D (Brother Ray & Brother Devon) vs. Austin Aries and Roderick Strong!
- Abyss vs. Sugar Daddy Lance in a North American Title Qualifier!
- Rey Mysterio Jr. vs. Alex Shelley in a North American Title Qualifier!
- Puma, The Amazing Red, Teddy Hart, Paul London, Jack Evans and Mistico in a gauntlet match for the WAPW Cruiserweight Title!
<3
Jon
.
P.S - Who rated the thread already ;p lulz.

P.P.S - Shaman, 'Extreme Warfare' will be a O.N.S style PPV, so hope that makes up for the other 11 being generic
Re: Paul Heyman's World Alliance of Professional Wrestling!
---
If The Amazing Red doesn't win ... I riot, Jon
All looks pretty good tbh. Mysterio versus Shelley should be pretty awesome tbh. Show plz.
---
Or is it?
Asking JAMES ELLSWORTH for Wrestling Advice
Join Date: Sep 2008
Location: Brighton, England.
Posts: 287
Points: 0
Re: Paul Heyman's World Alliance of Professional Wrestling!
---
The roster looks good, and pretty realistic. MVP as a main eventer should be excellent if you book him correctly. The PPVs you revealed don't appeal to me. Maybe I'm wrong, but none of them seem to be distinctive. Like WWE have ONS being all-gimmicked and Cyber Sunday being fans' choice. All of yours seem like your average generic PPV.

I'm really looking forward to the first show. Shelley/Mysterio should be great. And that gauntlet match will be epic! In full more so, but recap will do.

Good luck with the thread. Has a ton of potential.
Re: Paul Heyman's World Alliance of Professional Wrestling!
---
World Alliance Professional Wrestling presents – HAZARD!
Wednesday 28th January 2009
Von Braun Centre, Alabama
Following a hair-loss commercial the screen of the viewers television set suddenly fades to black. Technical fault? No. After approximately 15 seconds the non-diagetic sound of cheering fans accompanies the blank screen, with 'Heyman' chants able to be distinguished. A sense of anticipation builds up like no other.
After 30 seconds of darkness, the shot is fixated on Paul Heyman. He once again stands in the middle of a wrestling ring, microphone in hand with signature leather trench coat and baseball cap! No announcers, no theme music – just Paul Heyman and a ruckus Alabama crowd! Eventually, the crowd dies down in anticipation for Paul's words. Paul is visibly moved by his surroundings. He attempts to speak but is cut off once more by the ecstatic crowd! He soon conducts the fans into a silence.
Heyman –
Huntsville Alabama, America, and the rest of the viewing world, it is with great pleasure that I present to all of you – World Alliance Professional Wrestling!
A great pop, as expected.
And I'm gonna be honest with you, it's been a long time in the making, it's been a brain-child of mine for nearly eight years now. I painted that picture in my mind of what a wrestling company should be like – and it's all come to fruition right before my very eyes here tonight. There's a lot of people that I would like to thank for making this possible – guys like Michael Morton for bankrolling this promotion and helping us make it to the big time. There's also John Maynard, a very close friend of mine who helped get me back into the business and get this up and running. And then – of course, most importantly – there's you. The fans!
Another big pop, as Paul points to everybody in the arena with his finger.
Without all of you, whether you're here in the Von Braun centre, whether your at home watching on FX, wherever you are – whatever country you're from, from whatever walk of life – from the bottom of my heart thank you for making this moment possible.
Applause, rather than rabid cheers, rings out.
There's also one more man who I'd like to thank. Now don't get me wrong, I don't want to go on and on and on - but I feel that this man deserves special thanks. This man shaped this business, he brought it to the forefront and is seen as The Godfather of this industry. Ladies and gentlemen, please give thanks to Vince McMahon!
Boos emerge at the mention of Vince's name.
Vince, who I'm sure is back in Stamford, Connecticut watching Hazard tonight, you'd think I'd be bitter for what you have turned ECW into – but I'm not, because the fact of the matter is everybody knows that ECW died in 2001 and has been resting in peace ever since. What I would like to thank you sincerely for, is for re-igniting the fire inside my soul
shouting emotionally
and for giving me the will-power to rewrite wrestling with what you see before you now - W ... A ... P ... W!
The fans are giving out a rapturous response. Heyman pauses and calms himself down before continuing.
Vince, what I want you to do is get comfy in-front of your television, sit back, relax and watch what wrestling is all about. Now enough of the past, onto tonight. Tonight is of course the inaugural show for World Alliance Pro Wrestling, and we need to kick things off in the right spirit. So with that firmly in mind I would like to announce tonight's main-event. It will feature six of the most athletic, gutsy, and entertaining
wrestlers
in the world going at it in an elimination gauntlet for the WAPW Cruiserweight Championship. Jack Evans, Teddy Hart, Paul London, Mistico, Puma and The Amazing Red will contest it with two men starting, and another entering after a pin-fall is made. The winner will be the holder of the Cruiserweight Championship belt!
The camera briefly cuts to backstage where every star is seated, the camera scanning across all the six mentioned stars.
Also tonight you will the first two matches in the tournament to crown the first ever WAPW North-American Champion! Eight men will turn six by the end of the night, and by the 22nd of February at our first ever PPV, Battle Lines, the final two will fight it out with a champion being decided. Now, before I head to the back, sit my ass down in my office and watch the rest of the show unfold, I want to take this time to present to you the voice of WAPW Hazard from here on in - ladies and gentlemen your commentary team of Matt Striker and Joey Styles!!
Hazard's theme song "Hell Yeah" by Rev Theory plays as a suited and tied Matt Striker and Joey Styles step out onto the ramp to a great reaction. They both grin, and wave to the cheering crowd. Paul Heyman meanwhile has stepped out of the ring and walks up the ramp to greet them - still with a microphone in hand. He extends his hand to Matt Striker and shakes, before extending to Joey. The two shake hands before embracing in a heart-felt hug. They exchange a few words and a quick laugh before the two make there way down to there announce table. Paul meanwhile puts the microphone to his lips and faces the fans.
Heyman –
Ladies and gentlemen I am Paul Heyman - and this is W ... A ... P ... W!!
He drops the mic before aggressively raising both hands to the cheering masses. He heads to the back and we head for a commercial break.
COMMERCIAL BREAK
We return from the first dire instalment of commercials with WAPW Hazard's theme tune. However it's not in the usual form of a video package, no, no. The camera is fixated on the top of the ramp which has temporarily been converted into a stage - as Rev Theory stand all set to play!! With Rich Luzzi on vocals, they treat the fans to what will be known as the theme song for WAPW Hazard - "Hell Yeah"!! After the three-minute performance the band pause to soak in the applause, before the pyro's explode into action with an immense sequence, before the crowd is panned. The camera eventually fixates on Joey Styles and Matt Striker at ringside.
Styles –
Ladies and gentlemen across the world you are looking live at a ruckus crowd here in Huntsville Alabama and the weeks of anticipation are finally over – WAPW has arrived! I'm Joey Styles here on Hazard alongside the man who will be my broadcast colleague hopefully for a long time to come – give it up for Matt Striker…
Striker –
Thank you very much Joey, it's always a pleasure, and even more so here tonight in Huntsville for the inaugural edition of WAPW Hazard – a great show in prospect and an even better future lies ahead and I'm sure as hell excited to be a part of it!
Styles –
I'm with you on that one Matt. The talk of the wrestling world for the last month has been World Alliance Professional Wrestling and the time has finally come – it's here, it's live and we have a great line-up to kick things off in the right spirits. As Paul Heyman earlier announced it will be a six man elimination gauntlet for the Cruiserweight title! Puma, Jack Evans, Paul London, Teddy Hart, Mistico and The Amazing Red will all go at it in your main-event.
Striker –
In addition to that, there's going to be four tournament matches tonight in the fight for the North American championship belt. That of course, along with the three other title belts, is vacant and Paul Heyman promised that at Battle Lines, a champion will be crowned!
4 matches
Styles –
All that yet to come here on Hazard, but to kick things off Tag-tea…
Joey Styles is rudely cut off by the sound of a familiar voice. The words 'Big things poppin' are spoken before transcending into an energetic hip-hop theme. MVP steps out onto the ramp dressed smartly with an all-white suit, with black sun-glasses. He gets half-way down the ramp, to a mixed reaction, before four men emerge and follow him up and into the ring. Elijah Burke, Austin Aries, Roderick Strong and Jack Evans all enter dressed in casual black track-suit pants and black tracksuit jackets. MVP stands in the middle of the ring with a microphone in hand.
MVP –
So, this is it. This is W-A-P-W. Well Huntsville you're looking at WAPW's Franchise Player You're looking at Mr Primetime. I'm MVP; I'm half man, half amazing, though you already know that. Now as much as I would have liked to have sat down in MVP's V.I.P locker-room and watched the show unfold until the end of the night, I felt the need to grace all of you people with the presence of greatness. It's true. I could be in the back surrounded by swarms of busty blondes, beautiful brunettes, and ravishing redheads – but instead, I'm being leered at by the women, and men, of Huntsville Alabama.
The boos begin reeling in as MVP conducts the crowd with typical charisma and prowess.
Hey, don't you boo me – I'm potentially sacrificing my image by coming out here and socialising with you. You people clearly don't know how bad this looks for me, talking to fourteen thousand hicks from a place like this, and with faces like that. I mean let's face if, none of you are fit to clean my thousand dollar loafers.
The boos continue before MVP continues tearing into the crowd.
Now get one thing straight, I didn't come out here to talk smack to all of you, I didn't come out here to trade hate with you - because everybody knows you people are all racist anyway.
MVP is jeered like never before by the Alabama fans.
No, I came out here to lay down the law and to signal my intentions. See I don't know if you people understood earlier when Paul Heyman addressed the viewing world, but it would appear that the WAPW World Title is currently vacant. He also said that throughout the course of the next four weeks we would determine who would be challenging to be the first every WAPW Champion. So what I'm about to say applies to everybody in this arena, everybody in the locker-room, and the millions across the world sitting in front of their television screen, so listen up and listen good. I am Montel Vontavious Porter and I am the face of this business, and come 'Battle Lines', the first ever pay-per-view event of WAPW, I will be crown my career with the biggest prize in this damn industry - the WAPW heavyweight championship! Now, until then it would seem that there's a small matter of 3 more weeks to kill until I get my title belt, and I know, I know that there's a whole locker room of arrogant punks in the back who want to get in between me and my goal. So with that in mind - I'd like to direct your googly eyes to what you see standing around me, and what you see is an assembly of the best young talent in this business! Let me introduce you to Austin Aries ... to Roderick Strong ... to Elijah Burke ... and to Jack Evans.
A small pop from a section of the crowd.
They are the answer to anyone of the fools in the back who want a piece of me, because no one is getting to me without going through these first. Whoever it is that wants to lay there filthy hands on the Primetime Superstar will have to wait until an official match in an official WAPW ring.
MVP looks smug, raising his hands in the air with a wide grin on his face.
So as I depart to my V.I.P lounge backstage, I'd like to introduce the opening contest for WAPW Hazard.
He clears his throat and speaks as it he was an announcer.
Hailing from Milwaukee Wisconsin, and Tampa Florida respectively ... weighing in at a combined weight of 440 lbs ... give it up for Austin Aries, and Roderick Strong!!
The fans boo, as MVP grins, touching knuckles with both competitors before we prepare for a commercial break.
Styles –
Ladies and gentlemen don't go anywhere, because coming up next - Brother Ray and Devon - the most decorated team in the history of wrestling, are in action!
COMMERCIAL BREAK
Returning from the second instalment of commercials and Shane Douglas is standing outside of Paul Heyman's office. He wears a wide grin and pauses before speaking to the fans in an energetic tone.
Douglas –
Good evening wrestling fans I'm 'The Franchise' Shane Douglas here on WAPW's inaugural edition of Hazard and the atmosphere backstage is electric! Everybody I've met tonight, the wrestlers, the referees ...hell even us interviewers - we're all excited to be a part of this, and right now I'm standing outside the office of WAPW honcho - Paul Heyman! We're going to try and get word with Paul on what is set to be an amazing night.
Shane Douglas knocks on the door. Shortly after, Paul Heyman opens with a wide grin painted across his face. He steps out of the door and hugs Shane Douglas, sharing a brief "It's good to see you/it's been a while" moment. Both men compose themselves.
Douglas –
Paul the talk of the town, and in fact the entire world, is of World Alliance Professional Wrestling! FX statisticians have predicted all-time high ratings for wrestling on cable with Hazard - and Paul I've gotta ask you what is on everybody's mind. It's been talked about for weeks leading into this, Paul - who...
Heyman –
... who is the mystery man that's been hyped up by everybody associated with WAPW? Is that what you were gonna ask me, Shane?
Shane smile and nods.
Well I don't blame you, and in all honesty you're probably the hundredth person this evening to have asked me. But while I cannot physically tell you who he is - I can tell you that tonight, you're gonna see guys like MVP, Christian Cage, Rey Mysterio Jr, Ken Kennedy - and by the end of the night I guarantee you that this mystery guy will be unveiled as the most decorated heavyweight wrestler of them all!
Douglas –
I appreciate that, but Paul what I and the millions of other fans are dying to know is what's going to be happening with regards to the Tag-team titles and the WAPW World title? How are you going to decide a champion?!
Heyman –
Well Shane whilst other promotions may 'award' their golden boys with World Titles on 'merit', and others may give every title in the organization to one man - we will decide our champions here in WAPW in the true spirit of wrestling. And by that I mean that for instance, the tag-team title contenders will be decided, taking into consideration who has impressed over the course of the four weeks leading into our first pay-per-view extravaganza - Battle Lines. The top tag-teams will fight it out, with the winner of that match being crowned as the first ever, tag-team champions. And the World Title, you ask? It's much the same story my friend, all in due time and we'll decide the contenders! Now until then – I'd be honoured, Shane, if you would join me in my office to watch the opening contest.
Shane laughs before following Paul into the office.
Back at ringside, and the bell sounds. Howard Finkel stands in the centre of the ring and announces the following contest, and the opponents for Roderick Strong and Austin Aries (who are standing at ringside).
Match One
Austin Aries and Roderick Strong vs. Team 3D
SUMMARY
With MVP, Jack Evans and Elijah Burke at ringside, the youngsters definitely had the numbers advantage with them. Not surprisingly – it came into play at the most important time. After eight minutes of solid action, Team 3D had finally got the advantage with Devon finally getting the tag to Bubba who came in like a house on fire. However he couldn't quite make the most of this advantage. With Aries laid out on the outside, Bubba had the legs of Roderick split open as Devon headed to the top rope. Everyone in attendance saw it coming, but Team 3D didn't. Whilst Jack Evans distracted the referee – Elijah Burke hopped onto the turnbuckle and pushed Devon off, and into Bubba. Devon was up, but groggy, whilst Ray was knocked out of the ring. However it all ended when Devon walked straight into a half-nelson backbreaker and inevitably the three count.
Winners @ 6.52 mins – Austin Aries
As the winners quickly scarper up the ramp looking extremely pleased with themselves, MVP leading them to the back. Joey Styles and Matt Striker highlight that they 'Stole one' and that it 'won't be the last of these two's conflict'. Ray and Devon look pissed in the ring.
The camera eventually switches to the back where it shows Christian Cage making his way into the arena. A black Bentley pulls up in the parking lot at speed as he steps out. He opens the back seat, pulling a large shoulder bag out. He slings it over him and locks the door. Interviewer Scott Hudson soon approaches him with a sense of urgency.
Hudson –
Christian Cage! Christian Cage! Scott Hudson here from WAPW – you're live on Hazard with millions and millions of fans watching at home on FX. Anything you want to say?
Cage –
Wait, did you just say 'millions and millions'?
Hudson nods. Christian looks amused.
Humph, it's been a while. Scott Hudson, you want my thoughts? The millions of fans, you all want my thoughts?
Cheers from the arena.
Well that's what you're gonna get later on tonight when Captain Charisma -
Pop
- enters the Von Braun Arena and addresses the millions and millions of peeps watching at home and here in Alabama. See I know that coming into WAPW there's an entire locker-room comprised of the absolute best talent from across the world, and that every single one of them wants nothing more than to be the WAPW Champion at Battle Lines in under four weeks time. See knowing that tells me that I'm going to have to give every bit of blood in my heart, every drop of sweat in my body and every damn tear from my eyes – in order to get that WAPW title around my waist. But until then, Scott, Christian Cage is going to go into the locker-room, meet some old friends and make some new enemies. See you around.
Christian heads off as Scott Hudson stands in front of the camera watching him exit.
COMMERCIAL BREAK
The camera is fixated on Paul London. He receives a decent face pop as he stands in front of a caged area backstage, with a WAPW logo behind him. Interviewer Torrie Wilson then steps into the shot, to a great reaction!
Wilson –
Paul London, tonight on Hazard you compete in the main-event – a gauntlet for the vacant Cruiserweight Championship. What would it mean to you to be the first ever Cruiserweight Champion here in WAPW?
London –
Well Torrie, as a life-long wrestling fan I thought getting signed by ROH was the best moment in my life. I had a great time there and met some wonderful people, and won a few titles along the way. Then I signed for TNA, the second largest promotion in America at the time. Then I made it to the WWE. I won the Cruiserweight title there, I won the tag-team title there but for whatever reason I never got the chance I deserved. Now don't get me wrong, I enjoyed my time in all three organizations, Torrie, but here in WAPW – tonight winning the Cruiserweight Title will be the greatest moment in Paul London's life and the kick-start to my career!
Wilson –
You certainly seem confident. What do you make of the other five competitors, and the fact that you will be entering the gauntlet first?
London –
Ha, well I'll admit it's a pretty big damn obstacle. And the five guys are all awesome competitors, but the thing that will separate me from them is simple – and that's heart.
He taps his chest with the thumb of his right hand.
I eat, sleep and bleed wrestling. So I know it's gonna be tough, but come the end of the night I will be the first ever Cruiserweight Champion! After that – I begin my journey to become WAPW – World Champion.
London briskly exits the scene leaving Torrie.
The camera switches to a backstage hall-way where the massive figure of Abyss powerfully strides towards a door. Styles and Striker hype him up with voice-over.
The preliminary bell then rings as Lance Hoyt emerges, wearing a top hot, stylish leather jacket with matching pants, as well as holding what can only be described as a 'pimp' stick. He makes his way half way down the ramp before extending both of his arms out sideways. With that, two attractive young women in skimpy attire make there way down and grab on to each arm of Hoyt. He eventually makes his way into the ring, kissing both before readying himself.
The lights dim before a pyro explodes and Abyss emerges, with chains around his throat and dangling down to his waist. He storms down the aisle and into the ring.
Match Two
Abyss vs. Sugar Daddy Lance
SUMMARY
The two largest athletes in WAPW collided in only the second match of the night on Hazard and despite being the underdog in many eyes before the match – it was Lance Hoyt who gained the win over Abyss and a place in the semi-finals of the North American Title Tournament! If anyone dominated more so than the other, it was probably Abyss, but by hook or by crook it was the super-confident "Sugar Daddy Superstar" who gained the pin-fall.
The end came approximately 8 minutes in, and Abyss had irish whipped Lance off into the ropes with a Black Hole Slam in mind. However as Abyss grabbed hold of him and attempted to slam him to the ground, Lance somehow slid out and found himself standing behind Abyss. He then pushed "The Monster" off into the ropes, front-first, before he was rolled up for the three count!
Winner @ 6.12 mins – Sugar Daddy Lance
Abyss sits in the middle of the ring with his head in his hands, whilst Lance and his two girls quickly flee the scene fearing the anger of Abyss. As they exit through the top of the ramp, who else but JAMES MITCHELL steps out onto the silver platform! He is wearing a crimson red suit, and looks at Abyss with pity. Abyss finally realises who it is, and instantly gets to his feet. Both stare at each other before we go to a commercial break.
COMMERCIAL BREAK
Returning from a break and Mitchell slowly makes his way down the aisle and hesitantly gets into the ring. He puts a microphone to his lips.
Mitchell –
Abyss, words cannot describe the measure of disappointment that I feel looking at you right now. After raising you from spoilt brat, and turning you into the most devastating and unstoppable commodity in this business – seeing you slump so another pathetic defeat brings shame on this family. See I don't know if these people here know, but I would hope that you haven't forgot. I came to be a part of your family when you were a young child, when I fell in love with your mother and adopted you as my own. Abyss – that woman – that vile, traitorous WHORE, is the reason for the situation that you're in. That WHORE has wormed her way into your membrane, and has turned you into what we all see before us now – a loser. See, when it was the two of us – you were The Monster, you were a human wrecking ball damnit! Before your mother came back into your life and infected you with her lies and her deceit – you were a champion. So Abyss … son … what I'm here for … the only reason I would come to a place like this, is to get you back. Abyss … son … what I want is for us to be a family again! Like father – and son!
James Mitchell looks up to Abyss with his menacing eyes before finally extending his hand to his 'son'. Abyss looks to both sides of the fans for guidance, but holds his head and yells. He then slaps the hand of James Mitchell away and makes his way to the back. His 'Father' stands looking disappointed.
In the parking-lot once more, and Team 3D stand behind their car and are packing there bags into the trunk. Shane Douglas makes his way towards them.
Douglas –
Brother Ray and Devon earlier on tonight you were defeated by the team of Austin Aries and Roderick Strong, and I've gotta ask ya – what are your thoughts on how the match went down and do you have anything you'd like to say to the two of them?!
Ray turns to Douglas and removes the black sun-glasses from his face and looks intently at the camera, and then at Shane. He is wearing casual wear of jeans, a shirt and a leather jacket.
Ray –
Shane I've gotta little story I'd like to tell you, the story of our life in wrestling so far. Once upon a time there was ECW, where The Dudley Boys won the tag-team titles eight times. The next chapter in our story was the WWF, where me and my brother won their title belts ten freakin' times. The penultimate chapter was TNA, where Team 3D won both the NWA tag-team titles and the TNA tag-team titles. So Shane my math may not be what it used to, but I reckon that those twenty god-damn tag title reigns makes us the best in this industry. We came to WAPW for competition, for some fresh meat. Roderick Strong and Austin Aries haven't even made a splash of significance in this industry and those punks think that they can cheat their way to a victory, at our expense? On the first ever edition of Hazard – in the first match in the HISTORY of WAPW? Well boys we've got news for ya.
Ray turns back to the trunk of the car to organise his bags.
Devon –
Oh brothers, we've got news for you. See in twelve years a lot of cocky punks like yourselves have tried to get up in our faces and to make a name for themselves in this business at our expense. We've seen a lot of them come, but ultimately – all of them had to go. I don't think you realise just what you did, and just what that match meant to us as professionals – but boys next week on Hazard, you're gonna realise because now – you're both at the top of Team 3D's hit list - and that goes for that snotty Canadian punk, the failed-MMA fighter and the Al Capone wannabe, too.
After Devon finishes, Ray sends the trunk lid slamming down for emphasis. Looking into the camera and putting his glasses back onto his face before both get into the car, with Devon in the drivers seat. Howard Finkel stands in the middle of the ring and announces that the next contest is a North American Title Tournament match. An energetic Rey Mysterio makes his way to the ring to a fantastic ovation. His opponent Alex Shelley gets some heel heat as he swaggers down and into the ring wearing a black jacket on top of his attire. As he stands on the turnbuckle he reveals the TNA X-DIVISION TITLE around his waist, which had since been vacated.
Match Three
Rey Mysterio vs. Alex Shelley
SUMMARY
The arrogance of Alex Shelley reared its ugly head and may have proved his downfall as he succumbed to being pinned by Rey Mysterio! In a very technical and even match, it really could have gone either way with Alex Shelley nearly getting a three count on the stroke of 7 minutes. However he spent too long reacting to the crowd when he had Rey in a suplex position, which resulted in him being shoved down onto the bottom rope. Rey then used this chance to hit a '619', before following that up with a move not seen in a WWE ring in a while - the West Coast Pop!
Winner @ 8.02 mins – Rey Mysterio
As Rey Mysterio celebrates his win on the turnbuckle, garnering a favorable reaction in the process, Alex Shelley is less than happy. He finally gets to his feet rubs his sore head. He looks the referee in the eye and ridiculously questions whether it was a three - when clearly he was beaten fairly. Rey hops down and offers his hand to Alex as a good gesture. However the cocky youngster isn't taking the loss well, as he spits on the mat beside where Rey is standing and exits, kicking the steel steps on his way to the back.
COMMERCIAL BREAK
Returning from commercials the camera man's next stop is back in Paul Heyman's office where he is watching the television screen, clearly happy with the match he has just witnessed on Hazard. The lovely Torrie Wilson knocks before entering with a mic in hand.
Heyman –
Torrie, Torrie, Torrie. Lovely to see you here in World Alliance Pro Wrestling. What can I do for you?
Wilson –
Well Paul we're live on Hazard and we would all know your thoughts on the very first edition of Hazard, and in particular the mystery man that has been promised to show up tonight?
Heyman –
Paul claps his hands and grins.
Torrie I won't hide that tonight has been a huge success, and in all honesty it's only gonna get better. Three stellar match-ups, including two North-American title qualifiers, which by the way - will continue next week on Hazard. Now, as for the mys..
Paul hears his cell phone ring and immediately springs for his pocket. He pulls out his phone, opens it, takes a deep breath and puts it to his ear.
Heyman –
... tell me you're ringing to tell me that you're almost here.
Paul pauses momentarily to listen to the other end of the line.
You are?!! Y-you sure?!
Paul is overjoyed.
YES!!! Thank-you! Thank-you Sir. Yes.. yeah ... yes I understand that ... yeah ... haha, well pal after tonight you're gonna be searching for one more World Title to add to that cabinet!
Paul pauses and looks as if he's been told off
. Okay ... mantel-piece, whatever you want to call it. As soon as you enter the building, get to my office! .. oka... he-hello?
Paul looks bemused as he closes the lid of the phone, before clapping his hands together with happiness. He then grins, sits down in the leather wheely-chair and spins around at a 360 degree angle, clearly overjoyed at what he heard on the phone! Torrie has her hand over her mouth laughing to herself, trying not to spoil the moment for Paul.
The camera soon turns to the arena, briefly scanning the ruckus crowd. The shot soon turns to the entrance way when the energetic music of 'Kennedd-eeeh' hits to a mixed reaction. He leaps out through the curtain and surveys his new surroundings, standing and chewing his gum before making his way down into the ring. He is passes a microphone by a ringside troll
Kennedy –
Ladies and gentlemen, boys and girls, Alabama ... and the civilised world, my name is Misteeeeeeeeeeeeeeeeeeeeeeeeer ...
he hops up onto the second rope with the mic being held aloft
... Keeeeee-neeee-dyy!
He hops back down, pauses, as the crowd expect a typical repetition.
... PERIOD! Now then Huntsville, tonight is a very special knight for Mr Kennedy. Tonight is a very important night, for Mr Kennedy. Tonight, ladies and gentlemen, is the night that Mr Kennedy arrives here in WAPW! And what better way than to address every chump in the back who has their eyes on the prize. So for you people watching on your monitors in your shared-locker rooms, Mr Kennedy has but one small notion to share with you, with MVP's of this world, the Rey Mysterio's, the Abyss's, everybody allllll the way down to the Christian Cage's of this world - I am here for one thing, and one thing only - the most coveted championship belt in all of World Alliance Pro Wrestling - the WAPW title! So for the stains that want to get in my way - this is Mr Kennedy's world, and you're all going to play by Mr Kennedy's rules!
With a smirk etched on his face he once again hops onto the second rope, chewing his gum for all to see, before the arena suddenly fades to black!?
Styles –
Uh-oh! Lights out here in Alabama on Hazard! That can't be good.
Striker –
And if you weren't sure before, this show
is
being run by Paul Heyman...
The screen soon focuses on the tron.
10
9
8
7
6
5
4
3
2
1
"WAPW - This - is Christian Cage!" Christian soon walks onto the ramp looking determined, yet pleased to be a part of Hazard. He looks deep into the crowd before making his way down into the ring. Kennedy doesn't look thrilled to say the least.
Cage –
For those who don't quite remember just who the hell I am, and for the benefit of the man standing in this ring before me - MY NAME, is CHRISTIAN CAGE...
The crowd cheer frantically for the Canadian.
... and
steps closer to Kennedy and looks him in the eyes
if you don't know - NOW YOU KNOW.
The crowd pop again.
See for the past 4 weeks since my TNA contract expired I've been asked the same question over and over and over and over again by hundreds and thousands of you fans. And that question was - 'Christian, is it true that you are joining WAPW'? And 'Is it true that you're leaving TNA to join a brand-new wrestling organization?' See I got asked a similar question nearly four years ago when I walked out on the WWE, and that question was 'Why are you leaving WWE, to join TNA'? And I graciously told them straight, that TNA was the 'new thing' in wrestling, and that TNA was 'where it's at'. But fast-forward to January 2009 and I'm standing in the middle of thousands and thousands of people - LIVE - and i'm giving the same damn answers to the same questions. So for all of you that are in doubt, let me make it clear to the world - World Alliance Professional Wrestling is 'Where it's at'!
Another Christian chant breaks out
Now, some of you may be wondering why I chose WAPW over WWE, and over TNA. Was it money? Was it the need for a new adventure? Was it even as simple as to be performing live in front of different people every week at sold out venues across America? Well, in all honesty, yeah – it's probably a bit of all three. But let me get this straight, I'm here to make a name for myself in front of the millions of fans watching, and I'm here to build a legacy as the best in this sport today!
Pop from the crowd.
You can call me what you want, whether it be Christian Cage, or Captain Charisma, The Instant Classic ... the CLB ...
a small round of boos from the Alabama crowd
... but all that matters is that sooner rather than later, you will all be calling me your WAPW World CHAMPION. So contrary to what the man beside me wants to believe, at Battle Lines, it's going to be Christian Cage - WAPW Champ.
Kennedy leers at Christian before putting his arm out of the ring and asking for something. It is then that a lower-being passes him a bottle of water. He unscrews the top and tosses it into the crowd, before pouring a considerable quantity over his own head and 'turning on the waterworks'
Kennedy –
Wow, Christian, that was deep. Really. I'm touched. Your rags to riches story, your moral dilemmas - they touch me. I'm honoured to be in the ring with a true champ like you. Kennedy
puts on a cheesy grin before patting Cage on the back in an over exaggerated fashion. He then slaps himself and looks almost as if a light has been switched on inside his head.
Oh wait - I'm Mr Kennedy, and you should be honoured to be inside the ring with someone like ME!
Christian grins and squares up to Kennedy. Suddenly 'Big Things Poppin' hits as MVP steps out onto the ramp. He is backed up by Evans, Burke, Aries and Strong.
MVP –
Now, now, I know what you're thinking and you can all stop rubbing your eyes because it's true - you all get to see MVP twice in one night! Now of course I must be out here for something important because I sure as hell wouldn't manna come out in front of you people again. Boos throughout the arena. So one that note, I'd like to remind the two of you that WAPW'S MVP has already addressed the world, and already put down a marker for the WAPW Title.
He begins walking down the apron and talking.
So with that in mind, I'm going to have to ask the two of you to leave quietly because this is my V.I.P lounge when I'm out here - and Christian, Kennedy - you're not invited.
He walks up the steps and onto the apron. He stares at Christian, who challenges MVP to get into the ring. As Cage is so focused on MVP, Kennedy jumps the Canadian from behind. It isn't long before MVP joins in, stomping away at Christian. The beating is one-sided, as the odds are firmly stacked in their favour.
A heavy and familiar drum pattern echo's through the arena, and the crowd explode onto their feet. Soon enough, the music kicks into gear as an immense pyrotechnics display explodes into action. "
GOLDBERG
IS IN WAPW" screams Joey Styles.
He emerges from the smoke and begins striding down towards the ring. One by one, MVP's men try to attack GOLDBERG but are disposed of; Evans sent flying with a boot, Elijah floored with a hard right-hand punch, Aries tossed into the crowd and Strong thrown into the steel barrier! In the ring, MVP and Kennedy look like two deer's stuck in headlights; shocked at what they see before them.
Goldberg enters through the ropes and is immediately swarmed by the two of them but manages to fend them off temporarily. Just as they look to get the 2 on 1 again, Cage gets back up and evens the score, eventually clothe lining MVP over the ropes whilst Kennedy walks straight into a spear!!!
Styles –
Goldberg and Christian Cage just cleaned house!!
Kennedy with MVP and his group make their way to the back after a stare down with the two men in the ring. Cage and Goldberg share a couple of quiet words, but seem to see eye to eye on the matter at hand. We go to a commercial break, with the main-event to follow in the last two segments.
COMMERCIAL BREAK
Howard Finkel stands dead-centre in the ring, and after the bell rings he announces the following Gauntlet match. The first two competitors make their way to the ring, first Paul London and then Jack Evans.
Match Four
Six Man Gauntlet Match For The Cruiserweight Championship
SUMMARY
Paul London and Jack Evans knew before hand that winning a six man gauntlet match was going to be hard, but starting as one of the first in the ring made it near impossible. Neither were willing to go down without a fight, the high-flying Jack Evan's nearly pinning Paul London after a stunning shooting-star-cross body - however it only garnered a two count. Paul London was the man to progress, pinning Jack Evan's after a leg-sweep DDT.
Eliminated @ 4.39 mins – Jack Evans
As Jack Evan's was 'escorted' to the back by WAPW officials, Puma made his way down the ramp and to the ring. The masked man started things off as they would surely go on, hopping up onto the top rope and nailing a perfect hurricarana, driving Paul into the canvas. That in itself could have sent the Texan out early, but no, as it was London who continued his momentum through, beating Puma. The end came as Puma went for a cross-body but was floored with a super-kick in mid-air!
Eliminated @ 3.48 mins – Puma
The next man standing in the way of London was the Mexican, Mistico! The match was slowed down in order to conserve energy by the man who started the match off, and it paid off, beating Mistico. The finish came to pass as Mistico perched London up on the top rope, stood parralel to him on the second rope, but was downed with an awesome sun-set-flip from the top rope for the three! Mistico shook Paul's hand before exiting.
Eliminated @ 4.20 mins – Mistico
COMMERCIAL BREAK
The penultimate test was The Amazing Red, and with just two men to go, Paul could surely sense that the title was close. Red put his friend-ship with London aside, getting straight to work and immediately making an impact just a minute into the match-up with a running (Red) star press, but only to a two count. The bout was seemingly dominated by the Brooklyn native, hitting a picture-perfect lionsault which similarly only got a two. The end came after 7 minutes of these two competitors - and the resilience of Paul London paid off. As Amazing Red went to the top rope, London somehow got his knees up and blocked a 450 splash! As both stars got to a vertical base, London managed to get a small-package cover for the three!!
Eliminated @ 7.04 mins – The Amazing Red
Only one man stood in Paul London's way now - Teddy Hart. The brash Canadian wasted no time, sprinting into the ring and immediately covering his tired opponent, nearly paying off but a two count only. Hart went straight to the referee and complained, but then went straight back to work on London, punching him whilst on the floor. A couple of minutes had passed, and London had finally gotten back into the frame. Hart's clothesline attempt ducked, and was sent down with a spine-buster! London signalled to the top, the perfect way to end with a shooting star press - but no. Teddy Hart somehow slipped out of the way and London crashed straight into the unforgiving mat! The fans booed as Teddy laid in wait for his opponent to groggily get to his feet, and when he did, he was greeted with a back suplex, spun out into a sit out powerbomb - "The Hart Rate" as Matt Striker excitedly referred to it as. 1, 2 and 3.
Winner and Cruiserweight Champion @ 3.56 mins – Teddy Hart
The fans cannot believe what they have seen, after all the effort Paul London put into that match - only to have it deemed worthless as Teddy Hart is awarded the title. He isn't content with that, as he gets on the mic and demands that Paul Heyman officially straps the title around his 'magnificent' waist. Heyman makes his way down with no music-accompaniment, and complies, holding Hart's hand aloft.
Fin.
Booker's Note -
Okay, I'm glad I got the first show out of the way. Anyone who's ever written a created-fed will agree that it's probably the hardest one to write. I appreciate it's pretty long, but thing's can only get better - and shorter. All reviews returned. Thanks, Jon.
Re: Paul Heyman's World Alliance of Professional Wrestling!
---
Credit - Gerweck.net

WAPW have confirmed via their official website the signings of WWE's Jamie Noble, and ROH's Brent Albright. It is reported that both were backstage in Huntsville Alabama for the inaugural edition of Hazard and contracts were officially signed this morning. Noble is said to have signed a one year deal, whereas Albright has put pen to paper on a 3 year contract. Both are now on WAPW's roster page and are expected to be involved in the North American Title tournament, commencing at WAPW's first ever PPV – 'Battle Lines'.

Moron
Join Date: Oct 2008
Posts: 38
Points: 0
Re: Paul Heyman's World Alliance of Professional Wrestling!
---
Jingles WAPW Review!!

Heyman's opening speech

Well when I first glanced at this I fort that by the lenght of his speech, its going to be dragged out and boring but you really kept it toghether and I really fort it was good. I fort we seen a kind of soft side to Heyman but it was creative. Also regarding tonights match I like how you are different in nearly all of the created feds people always have their top titles won and usually other titles but I like how you have just had the
Cruiserweight title won.

MVP's segment

Now this was one of my favourtie parts of the show. Man you really write MVP good. You have written him to play off the heat from the crowd, its really creative. With Burke, Aries, Roderick and Evans alongside him I think he will play a good strong role in this promotion.
Match 1

Decent opening match, I expected Aries and Strong to pick up the win with the clan at ringside. I liked how the ending played out getting some of the stable involved establisng that they are ready to get in on the action. The ending helped kick start a feud between the two sides.

Christian Cage Babyiii..

Nice addition to WAPW, of course he will be going for the title although i cant say im a fan of Cage but you did write him out well.

London segment

Well Torrie as an interviewer, I've always prefered her as a wrestler/valet. But anyways nice build-up to tonights main event I think London will possibly win saying as he the one being interview lol .

Match 2

Sugar Daddy Lance i really like the gimmick lol, I think he will make it through to the final round but a duno
wether he'll win. It was a good match and with the storyline coming on for Abyss i think it was right for him to only be beat by roll-up. I liked Mitchells segment with Abyss, i didnt really think Mitchell would want Abyss back. I fort he would have wanted revenge but I looking forward to this seeing how this storyine enrolls.

Dudleys Segment

Man you are really good at keeping in character. I enjoyed this segment they actd it out really well and it helps start their fued.

Match 3

Nice way to get some heel heat on Shelly by having him wear the TNA X-Division title, very creative. Another
strong match and I was positive that fan favourite Rey Mysterio would win.

Heyman Phone Call Segment

Once again this was really good but it seemed weird like it was Heyman speaking to like higher managment but mmmm,... whos the mystery guy!!!!

World Title Segment

This was a good way to set up the challengers for the WAPW World Title. Kennedy, Christian and MVP are all
good players and then GOLDBERG!! Yesss so he was the mystery guy . Goldberg is a good addition to the roster
but I think he really has the title in the bag coz basically he is to powerful for the rest of them. But i bet you can come up with soon sneaky creative way for another champ :P.

Main Event

Well a great fast paced main event, I would have loved to see this match in real life it would be awesome. As the match played out I new London wouldnt win it was just too much for him. Im liking the new champion and im sure London will be chasing down the title as he got so close.

Overall

Well this is one of the better shows I've read in a while, you just seem to have this great creative sense lke WCW Rules just not as good yet lol. But if you keep going this thread will be up there. You certainly no how to write people in character. Please keep this thread going as I really enjoyed it and I will be back for the next show.
Posting Rules

You may not post new threads

You may not post replies

You may not post attachments

You may not edit your posts

---

HTML code is Off

---