Moron
Join Date: Nov 2007
Location: England
Posts: 8,966
Points: 0
Re: Dub A P Dub
---
WAPW is back... WOO WOO WOO! YOU KNOW IT! [/awesome catchphrase from awesome Ryder]
Nice that this is back, good that you've chosen this over Tee En Ayy, and 7.1 in Mejico is rather astonishing, although with Mistico and Rey-Rey I guess it could be slightly justified.
Quote:
As we discovered last week, WAPW has brought in Chris Hero to play the role of the mysterious character 'Azrael'. WAFuck. Off. revealed that he signed a two and a half year deal with the company.
O...k.
Quote:
Ric Flair has reportedly taken a step closer to signing with TNA.
You mean Dub A P Dub, am I right?
Anyways, the return show should be great, hopefully you can get back in the swing o'things.
bye bye now.
Re: Paul Heyman's WAPW
---
It's great to see this back as you have always had a lot of potential and this thread has always had a lot of promise. I don't see how Hazard could be taped and then shown live which is how you put it. It would be nice to see Flair come in but I doubt it and I seriously lol'd at WAPW being sued. They would be sued for a
lot
more than just under a million. Mysterio alone would be worth that with the merch he brings in. Other than that bout of nitpicking good luck once again
---
---
Last edited by Bradley; 10-27-2009 at

04:20 PM

.
Mid-Card Champion
Join Date: Nov 2007
Location: Phoenix
Posts: 5,652
Points: 0
Re: Paul Heyman's WAPW
---
Glad to see this back, Jon. I'd never posted, but I'd read frequently, and this had great potential. I know you can take this places, and I want along for the ride. Good luck, my man.
Re: Paul Heyman's WAPW
---
Swerve~!

I thought for sure you were going with TNA, especially after telling me you were lol

But I cant be mad at you for this because this was one of my favorite when you had it running and I cant wait till you get back in the swing of things and get this show on the road, the notes were good and I'm glad your stickin to this for now Jon.
---
Re: Paul Heyman's World Alliance of Professional Wrestling!
---


Tonight's Card For Wednesday Night Hazard!

- The UK (Nigel McGuiness & Shamus O'Shaunessy) vs. The Natural Franchise (Chase Stevens & Andy Douglas)!
- Abyss Lays Down An Open Challenge!
- Sugar Daddy Lance vs. 'Anti Saint' Ken Doane!
- WAPW Cruiserweight Champion Teddy Hart vs. Pac!
- Christian vs. WAPW North American Champion Elijah Burke!

Two hours of non-stop action, the likes of which can only be seen in the WAPW!
---
Last edited by Jon Staley; 10-28-2009 at

12:47 PM

.
Re: Paul Heyman's WAPW
---
Well I'm certain your ban is just a few days, so I'll take the time to comment on this while I can. I am definitely, definitely, definitely happy that you've gone back to this, as you know I was a big fan. tbh, things were in a bit of a rut for you when you were last here, and I'm almost certain that's why you left it, although getting out of that rut is your next challenge, I guess.

Only thing in your news worth commenting on is the Flair situation. While I hope to see him in WAPW, I don't want to see him just being there. Make it for a purpose, plz.

Matchwise, PAC vs Teddy will absolutely steal the show. Looking forward to that one for sure.

Hopefully you're unbanned soon and posting again.
---
Re: Paul Heyman's WAPW
---
- The UK (Nigel McGuiness & Shamus O'Shaunessy) vs. The Natural Franchise (Chase Stevens & Andy Douglas)!
- Abyss Lays Down An Open Challenge!
- Sugar Daddy Lance vs. 'Anti Saint' Ken Doane!
- WAPW Cruiserweight Champion Teddy Hart vs. Pac!
- Christian vs. WAPW North American Champion Elijah Burke!
---
Re: Paul Heyman's World Alliance of Professional Wrestling!
---
I've had this show written up for a while now and I thought that I may as well go ahead and post it. It may be the last WAPW show that I write, or at least post, for I'm currently dabbling with a new project which hopefully works out. Of course who's to say that feedback from this show doesn't change my mind?
Lol, I don't expect much in the way of reviews but nevertheless, I present to you - WAPW: Wednesday Night Hazard...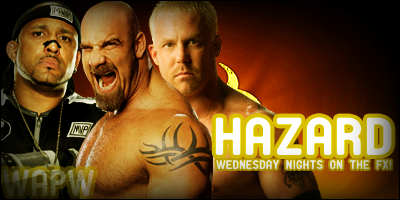 World Alliance Professional Wrestling presents – HAZARD!
Wednesday 1st April 2009
Newcastle Metro Radio Arena, England

*OPENING VIDEO - 'HELL YEAH'*
*PYRO*
|Live Arena|
Following an extravagant pyrotechnic display the cameras pan deep into the arena, showcasing the excited fans on hand. One sign in particular reads 'WAPW, Welcome To The UK', amidst a sea of British flags. After a considerable amount of time passes the voices of Joey Styles and Matt Striker are heard as they introduce us for the show. The camera soon fixates on them, seated at their announcer's desk at ringside.
Joey Styles –
You are looking at the Newcastle Metro Radio Arena in Newcastle England - tonight's host for WAPW Hazard! As part of the Crossing Borders tour Hazard comes to you from the UK, and on behalf of everybody involved in the WA' I am thrilled to be here!
Matt Striker –
As am I Joe, as am I, and by the sounds of it the British fans are pretty happy about it too - this place is electric. They're all excited to be a part of WAPW tonight!
Joey Styles –
I'm Joey Styles alongside my broadcast partner and your teacher Matt Striker, and these fans are excited for a good reason because folks lets check out tonight's
blockbuster
show;
*** On Screen Graphic - Abyss Will Lay Down Another Open Challenge ***
*** On Screen Graphic - Cruiserweight Champion Teddy Hart vs. The UK's own PAC ***
*** On Screen Graphic - 'Anti Saint' Ken Doane vs. 'Sugar Daddy' Lance ***
*** On Screen Graphic - Main-Event - North American Champion Elijah Burke vs. Christian ***
After narrating each of these and hyping them up, it's time for our opening contest!
*BRITANIA*
The crowd, as expected, pop big for their fellow Brits - Nigel McGuiness and Sheamus O'Shaunnessy. The two emerge bearing Union Jack flags and proudly wave them to the fans. They both enter the ring, climb to the second rope and parade them again, neither smiling too joyously, rather remaining focused and on-task.
Matt Striker -
You've got to believe that a win here in England would most certainly put them in contention for the WAPW tag-team titles - they have been on a roll as of late - still undefeated in WAPW.
*NATURAL FRANCHISE*
Not too phased about playing the roles of the heels tonight in England, the Natural Franchise are mostly unaffected by the boos they receive. More so than usual the reaction for them is poor, mostly out of love for their opponents, but the youngsters have a cocky swagger about them that would draw the ire of many a man.
Match One – The United Kingdom vs. The Natural Franchise
In a rematch from last weeks show in Mexico, the Natural Franchise were given an opportunity to stop the rot and put an end to their poor run of losses. Tonight's opponents were on the opposite side of the spectrum, gaining both momentum and popularity already - a win tonight would surely put them in the running for a title shot at the 'Scars And Stripes' PPV in just under two months.
Upon starting the match the fans would let their feelings be known, cheering everything that The UK did and booing everything Stevens and Douglas did. To start off the bout The UK dominated, with Nigel getting in considerable offense before tagging in Sheamus who inflicted more damage. In one notable spot early on, with Chase Stevens on the outside of the ring, Sheamus executed a fall-away slam sending
DOUGLAS FLYING OUT AND OVER THE ROPES ONTO HIS PARTNER!
The fans were definitely impressed by the Irish mans show of incredible strength. As the match wore on The Natural Franchise inevitably got the advantage; Chase Stevens slipped out of the corner and out of the path of the on-running Sheamus, allowing a quick tag and spell of double-team domination.
Even with The Briscoes watching, who made there way down to the bottom of the ramp at the six minute mark to observe, the match was no formality for The UK but in the end, after over ten minutes of action, they got the win. With Nigel just off of the hot-tag he was cleaning house - lariat for Douglas, lariat for Stevens! After hammering away on Douglas with right hands, forearms and uppercuts he planted him with a delayed-brainbuster parallel to the turnbuckle where Sheamus was standing on the apron. After looking to the fans and pumping them up, he tagged in O'Shaunnessy and pointed to the top rope! With that, the man in green trunks climbed to the top, readying himself and gaining balance. Soon enough he was standing tall high-above the prone body of his opponent Douglas. Chase Stevens got to his feet and attempted to intervene but was turned
INSIDE OUT
with an
EPIC
lariat!! With that, Sheamus hit a stunning
CELTIC SPLASH
!! 1, 2, 3!!!
Winners @ 10.13 minutes – The United Kingdom
*BRITANIA*
After continuing their superb momentum The UK celebrate in ring, immediately retrieving their flags and waving for their British fans. Joey Styles and Matt Striker are impressed with the duo, praising the athleticism and power of Sheamus with the finishing maneuver. During the post-match celebrations their attentions turn to The Briscoe's, as both of whom hop up onto the apron and look directly at their counterparts. After a brief stare-down between the two teams it seems as if it's going to come to blows. The UK drop their flags and take a step back, almost daring them to enter. After staring each other out some more The Briscoe's hop down from the apron, electing not to get physically involved. As they back up the ramp, The UK come closer to the ropes, motioning 'What?' to the brothers. In response, they signal to the Brits that it is THEY who are seeking the title shot and THEY who will be getting it - not The UK.
COMMERCIALS
|Interview Area|
Hazard returns with interviewer Scott Hudson standing by with Gen Ex, Roderick Strong, Jack Evans and Austin Aries. They stand too the right of Hudson with the champions' tag-team titles slung over their shoulders.
Scott Hudson -
I'm Scott Hudson here on Hazard and I'm standing by with former tag-team champions, Gen Ex. You requested this time?
Aries snatches the microphone from Scott Hudson and takes a step forward into the camera shot.
Austin Aries -
(With a sense of urgency in his voice)
Yeah, yeah as a matter of fact I did, Scott. See myself and Roddy aren't gonna stand idly by whilst Paul Heyman plays Russian Roulette with our careers. Gen Ex, aren't anyone's bitches!
He breathes fairly heavily, adrenaline clearly running through his veins.
Austin Aries -
See what I'm hear to address is the simple fact of the
POLITICS
that are being played inside WAPW. Talent, using relationships with the brass to get a better place on the roster. 3D, Ray, Devon - I'm talking to you! See we're not accepting the way that you boys and Pal Heyman are running the tag-team division! Word in the back is that Heyman's lining up
ANOTHER
shot at Gen Ex and our tag-team titles!
He turns to his left and questions Scott Hudson.
Austin Aries -
Scott, you're a fact-buff – you know your shit right?
Hudson shrugs his shoulders suggesting that he does.
Austin Aries -
Well lemme' ask you this - who, in the first month of WAPW programming, defeated Team 3D -
TWICE
? Who beat them - fair and square, twice in a row, and
STILL
didn't get the titles?
Scott Hudson -
Well I-I guess that would be you two gentlemen.
Austin Aries -
Thank you. After
TWO
wins, fair and square,
TWO
clean pin-falls - they
STILL
got a chance to win the tag-team titles. Scott, let me ask you another question - even after losing two matches in a row to us, who got to decide the stipulation? Who did the stipulation favor?!
Scott Hudson -
That would be Team 3D.
Austin Aries -
Yeah, you're right, it would. See, the
FAVOURTISM
, and that's what it is - blatant
FAVOURITISM
- it's screwing us over. So what, we don't have time to kiss the asses of Paul Heyman and the rest of the WAPW officials. So what, we were never in that garbage promotion - ECW. Even after defeating those brown-nosing bastards three times - they get another shot at us.
Aries shrugs his shoulders in a contained rage. He doesn't know what more to say. He collects himself.
Austin Aries -
I'm tired of this. Team 3D ... Paul Heyman - I'm sick and tired of it. If you want to give those guys another chance at us, I guess we can't stop you.
BUT
, I know one thing for sure, if they're getting a shot - it's gonna be on our terms.
Aries looks to Roderick, who grins.
Austin Aries -
That's right. Battle Lines - they had their patented Tables match. Full Throttle - we beat them in a Ladder match. Uprising - ultimate submission. Wait, no, how about a
CAGE MATCH
? No, falls count anywhere? I quit - it doesn't
MATTER
what we pick. The simple reality is that when we beat you, 3D -
(in a somber tone)
you
retire
. You heard me. If you want to risk it all, rise up and attempt to snatch these babies
*slaps title on his shoulder*
then you're going to have to put your career on the line.
Austin and Roderick stare at each other once more, Aries slapping the title on Strong's shoulder.
Austin Aries -
Pal Heyman - make it happen. 3D, at Uprising - it's going to be the end of your careers.
The camera pans to the left of the champions to Scott Hudson.
Scott Hudson -
Well WAPW you heard it here first, at Uprising it's going to be titles vs. careers - but finally Gen Ex, what do you have to say after turning on Eddie Kingston last week, and then attacking both him and Team 3D in the treatment room?
Austin Aries smirks. Roderick is to field this question.
Roderick Strong -
Scott, it's pretty obvious those who come from the Dudley family aren't the sharpest knifes in the drawer. Eddie Kingston is no exception. At Full Throttle we saw an opportunity to prevent him from screwing us over, so we took that. When we were done with him, after we were done
using
him - we kicked his ass to the curb, it's as simple as that.
|Live Arena|
We cut back to the live arena with the camera briefly fixated on the fans in attendance. Joey Styles and Matt Striker take a moment to reiterate the ramifications of the match between 3D and Gen Ex, if 3D decide to accept.
*ALL ABOUT ALEX*
Out steps the flamboyant youngster, Alex Shelley. Wearing skin-tight, shiny-silver pants and a tight-black tank top he makes his way down the ramp and into the ring, ignoring the fans surrounding him. He hops up onto the apron and leans back on the ropes, closing his eyes as he raises both hands. He receives a microphone from Howard Finkel before beginning.
Alex Shelley -
Ya know, I've been lucky enough to have traveled the world doing what I love for a living. Wrestling has taken me all across the globe, I've been to some beautiful and historic places - but I gotta say, England, you take the cake.
The fans pop for Alex Shelley momentarily...
Alex Shelley -
Yep, that's right England, you are by far the ugliest ... smelliest ... most ill-educated country on the face of this planet
The pervious applause swiftly turns to huge heat for the youngster. He grins, pouting to the camera.
Alex Shelley -
Frankly I think it's a disgrace that the most charismatic young star in the business has to put up with the likes of you. Look around you. Look around at the people that fill this arena - and then look at me. Stark comparison. England, I'm simply too good to have to come to your country and perform in front of all of you.
He briefly walks around the ring before stopping in a different spot.
Alex Shelley -
I'm a positive person. I like to think that there's a little good in all of us, and it's with that in mind that I thank you England. I mean, you people make me so proud, and so happy to be an American. It's times like this that you realise how great your life is and how all of your problems are put into perspective when thinking of people like you.
Heat continues to rain down on Shelley, who is clearly enjoying himself out there.
Alex Shelley -
See I come from a place called Detroit - a
real
city. Our sporting honors are stuff of legend. The Tigers, The Red Wings - you name it, Detroit has won it.
He motions with both hands as if he was weighing up with scales.
Alex Shelley -
Newcastle on the other hand, well, that really does speak for itself doesn't it.
He looks questioningly to the crowd as they respond negatively to his cheap shots.
Alex Shelley -
Now as much as I could say and as long as I could go on, I'm not out here to give you that satisfaction of Alex-interaction. I'm out here to address someone who like you, isn't worthy of my time. That person, is
Rey Mysterio
.
An obvious pop for the Mexican.
Alex Shelley -
You like him huh? You all like
Rey-Rey
? Well I've got news for ya - I don't. You're not going to like what I plan on doing to Rey the next time I get my hands on him. You're going to sit back in your chairs at home, or sit in your little chairs in the audience, and shudder. You'll cringe. You'll cry, you'll scream, you'll shout 'No Shelley, No', when you witness what I do to him. 'Cause what he did, and the mockery he made of me, him and his little immigrant buddy Mistico - they'll pay. They like the two on one attacks, they like to double up on me with an unfair advantage because they know, one on one - they wouldn't last three minutes in the ring with me.
He runs his hand through his slick hair.
Alex Shelley -
At Uprising, come hell or high water, I'm getting a match with him. Paul Heyman you're sitting in the back with your finger up your ass, how about you, for once, do what's best for the promotion and more importantly for me and grant me a match with Rey Mysterio. Huh, how about it? Rey's going round the back feigning a knee injury and telling everyone how he can't wrestle for over a month, well you know what I call it? I don't know what you idiots call it, but on Planet Shelley - we call it 'ducking'. Yeah, that's right, Rey Mysterio is ducking a one-on-one match with Total-Nonstop-Alex.
Shelley pulls 'his' X-Division title belt from his left shoulder and then places it over his right one.
Alex Shelley -
In closing, Rey, just like you took my credibility by getting lucky and beating me down with your illegal buddy, I'm taking your mask, Rey. I'm beating you at Uprising, and raping your heritage, and all that you think it stands f...
*DIAL IT UP*
Alex is stopped in his tracks and the fans erupt. Soon enough Rey emerges at the top of the ramp, his left leg bearing a metallic brace over his blue pants. He raises both hands high into the air and smiles. He is holding a microphone.
Rey Mysterio -
What's up England?!
The usual mega-pop is heard, as Rey pauses momentarily.
Rey Mysterio -
Unlike this chump in the ring, I am
PROUD
and
HONOURED
to be here tonight in front of you fans.
Aaaand another pop ~ !
Rey Mysterio -
Alex it takes a real tough guy to try and get a match with someone who's injured doesn't it? You know as well as everybody else does that at Full Throttle, thanks to you, I suffered a ligament injury in my left knee. They say it'll only keep me out of action for a few weeks, but it does mean that I miss out on kicking your ass at Uprising.
Boos are heard upon hearing that Rey can't compete at Uprising.
Rey Mysterio -
I can wait, Alex, I can bite my tongue and be patient but I can't wait for too long. You on the other hand, you're eager to fight at Uprising though, right?
Alex Shelley -
You're damn right I'm eager, Rey. I'm ready, willing and able, and it's a shame that you're too much of a coward to compete.
Rey Mysterio -
Well that's great! That's the best news I've since I heard we were coming to England..
W00t.
Rey Mysterio -
Because, if you're so 'eager to fight' and ready to do some damage at Uprising - then hell, since I can't compete - how about I find you a replacement?
Shelley looks questioningly at Rey.
Rey Mysterio -
Since I'm out of action until Scars And Stripes, why don't I hand-pick the guy who will take my place and beat you?
Alex Shelley -
Rey, do you not understand me? It's all about Alex baby, and I'm ready, willing - and able to beat the snot out of whoever you have in mind.
Rey Mysterio -
Well then, with that in mind, let me introduce my replacement. You seem to want to get your hands on him, and believe me - he wants to get you in the ring just as bad! Your opponent at Uprising ... give it up England, for
MISTICOOOOO
!!
*MISTERIOUS*
There's a great reception for Mistico who emerges energetically, jumping with his arms held high. He eventually alligns himself next to Rey in looking down at Alex in the ring. Shelley's body language and expressions don't give away much of how he's feeling about facing Mistico. Mistico gets on the mic, surveying the arena before beginning.
Mistico -
Alex, que quieres en levantamiento así que tienes conmigo. Usted quería líos con el toro, que está recibiendo los cuernos. Voy a tomar en el levantamiento WAPW Uprising los cuernos y le lanza en la victoria. Nos vemos en Uprising!
The fans pop, most of them not understanding a lick of what he just said, including Alex, who gives a perplexed look. Rey is in a joyous mood as is his pal.
Rey Mysterio -
He said he'll see you - at Uprising!
OLLALLEEY!!
*DIAL IT UP*
We head to a commercial break as Rey raises Mistico's hand, all the while staring and pointing to Alex in the ring.
COMMERCIALS
|Video Package|
Inside one of the most high-tec training facilities in the country stands newcomer Brian Danielson. The video is of him pushing his body to the limit using all sorts of weight-lifting equipment, fitness drills and wrestling with a sparring partner. Throughout it is narrated by various wrestlers and personalities, changing as with the locations.
Austin Aries -
Brian Danielson? The first thing that comes to my mind is special. I mean, this guy is, in my mind, the best in the world. He's got a little bit of everything. Submissions, lucha libre, brawling, mat wrestling - there's not a flaw in his game.
Alex Shelley -
I've had the privilege of wrestling Brian on a number of occasions and taking all things into consideration he's probably the toughest opponent I've ever had. He can counter anything you throw at him and then some. He's just that damn good.
Christian Cage -
Of all the guys outside of WAPW that I would love to face, and know in my heart that we would put on the match that would steal the show - it's him. I've heard so much about him, seen so much of him - WAPW is the ultimate test. Brian's gonna have to step his game up, and I hope he does.
Brent Albright -
Brian Danielson, is, the man. He is the best in the world. He's finally made it to the biggest stage in wrestling and I think now he'll improve even more. It's quite scary actually when you think about it.
Paul Heyman -
He's the man who when I first was asked by WAPW owner Michael Morton after the first ever Hazard, who I wanted to bring in - I immediately told him that I wanted Brian in my company. It's been a long wait for Brian to make the step up to a mainstream wrestling organization, but now the stage is set. It's all down to him now. He's going to help WAPW redefine mainstream wrestling I think.
Joey Styles -
He's got all the hype, all the momentum in his corner. He's got all the attention on him - it's his time to deliver the goods. Whoever he faces at Uprising in his first match, they're in for one hell of a battle.
|Interview Area|
We're backstage, and the always-beautiful Torrie Wilson is joined by Christian Cage!
Torrie Wilson -
Ladies and gentlemen I'm Torrie Wilson and I am joined at this time by none other than 'Captain Charisma' - Christian Cage. Christian, tonight in a match made by Paul Heyman, you face off with North American Champion Elijah Burke in a non-title match. What are your thoughts?
Christian, not looking into the camera seems to be oblivious to Torrie. She continues to hold a microphone to his mouth before he finally comes around.
Christian Cage -
Huh? I'm sorry Torrie, what was that?
Torrie Wilson -
(After gathering her words again)
Uh, tonight you face Elijah Burke in a non-title match. How do you feel going into this?
Again, Christian is not all there, seemingly listening to something far-away. Torrie waves her hand slowly in front of Christian's face, bringing him too again.
Christian Cage -
Huh-wha? I'm sorry Torrie. Ya see,
(enthusiastically)
I was too busy listening to the ever-increasing chants felt across England by my peeps, of 'Christian - Christian - Christian - Christian ~ !
He fades out as the fans in attendances begin to chant. This brings a grin to the Canadians face.
Christian Cage -
Now, where were we? Elijah Burke? Main-event? Non-title match? How do I feel? Torrie, I feel good. As a matter of fact, I feel -
great
. Never better, for at Uprising, I get a chance at redemption, a chance at the WAPW World Championship - something that should have been mine a long time ago. Never one to get caught up in the past, Captain Charisma is simply looking forward and looking to Uprising where
destiny
will be fulflled. It's been one hell of a ride the past two months, and there've been certain roadblocks in my path, but Torrie now it's all come to pass and I've risen above all of it - there is
nothing
that can stop me.
He pauses to once more look into a different zone. He then returns to
Christian Cage -
I feel reborn, better than ever. I woke up this morning to the sound of birds chirping cheerfully, to the smell of freshly-picked roses and freshly-cut grass, hopped out of bed, looked in the mirror and thought to myself - wow, 'what a wonderful world'.
He and Torrie look at each other.
Christian Cage -
Tonight with Elijah Burke is all about the two p's - preview, and pay-back.
Preview
because tonight I face on half of my opponents at Uprising in the winner take all tag-team match and I get to hand out some
pay-back
for getting his nose stuck in my business for all this time. He's a good, young competitor sure, a future WAPW champion even - but Elijah, you're not Christian Cage. You've got skills - but I've got more. You've got a title - but not for long, because at Uprising when I pin either you or MVP I'm picking up the World Title, and you're
LOSING
your North American Title that you've worked oh-so hard to get.
He stares directly into the camera one last time.
Christian Cage -
Sorry kid, that's just how I roll, and if you didn't know - well, you will later on tonight.
Torrie Wilson -
My final question and one which everybody wants to know - can you trust Goldberg as your partner at Uprising?
He looks to her for a moment, displaying little more than a grin.
Christian Cage -
Hm, well Torrie, I guess we'll have to just wait and see.
He winks at her before making his exit out of the scene.
|Live Arena| -
*INTO THE ABYSS*
The daunting sound of Abyss' music greets the ears of the fans in the arena, prompting a mixed reaction. Trailing his 'father', James Mitchell, who is dressed in an extravagant all-green suit, he makes his way slowly down and into the ring. He carries chains which are dangling from his neck. As usual he is wearing his orange prison-clothing with 'PARK' emblazoned on the back. Mitchell receives a microphone and begins.
James Mitchell -
Well, well, well, first Mexico and now here we are in England. I'm not out here to bad-mouth you people and your country, because in all honesty - your pitiful lives really do speak for themselves don't they.
Cheap heat.
James Mitchell -
Regardless of geographical alignment the outcome will always be the same. I will cut to the chase and inform both you fans, and all of the men in the back, that myself and Chris are out here - like last week - in search of a challenger. Yes, you heard me. After last weeks total destruction and annihilation of one James Noble, Abyss still has the taste for blood deep inside his bones. See, as with Kennedy, he wasn't enough to sooth my sons blood-lust.
The camera hones in on the looming figure of Abyss, who jolts forward in the direction of the camera in anger.
James Mitchell -
Some might say I'm wasting my time by coming out here. They may believe so, because let's face it - who in the back would actually
want
to step into the ring with this wrecking ball?! Maybe I am wasting my time. Maybe nobody will accept our little proposal. However, in the unfortunate case of no one person
VOLUNTARILY
mixing it up with Abyss - he will have no choice but to march right down that aisle and find somebody to
DESTROY
!!
Mitchell's microphone-bearing arm falls to his side as both he and his son wait in anticipation for a taker. As seconds quickly pass, it would appear that nobody is willing to take them up on the offer. They make a move to the ropes, when ...
*PITBULL*
To the complete shock of the fans in attendance and James Mitchell in the ring, the music of Jamie Noble hits, the man who Abyss decimated last week on Hazard!
Matt Striker -
Please tell me this is a joke. H-he can't be serious about coming out here, Joe.
After a pause without any sight of Noble - he appears. Wearing jean shorts and a flannel-waist jacket, he walks out onto the entrance ramp. His ribs are heavily bandaged and he is wearing black braces on both of his knees, as well as the Hardcore title in the grasp of his right-hand...
Joey Styles -
Folks Jamie Noble is clearly in no position to be competing tonight after last week.
Noble is trash-talking Abyss from the top f the ramp, ignoring the pleas of his girlfriend, Nidia. She has a hold of his arm but he is relentless in making his way to ringside. He drops his Hardcore title to the mat without a second-thought and then bravely attempts to slide in under the ropes but can only make it onto the apron and not quite under. He's clearly in excruciating pain...
Match Two – Jamie Noble vs. Abyss
Somewhat inhumanely the bell sounds. Not letting up for a split-second, Abyss paces towards Noble on the apron and begins stopping him through the ropes, driving his huge foot down into the abdomen of the fallen-champion! The big man drops to his knee and pulls Noble head-first from under the ropes up onto his feet, displaying his far superior strength. Abyss then cups Noble's head with his left hand and fires away on the head and body with his right in perfect 1-1 sequence. He eventually crumples to his knees, and is a sitting duck for a running boot to the face from the wrecking ball! Abyss stands over him, figuratively drooling at what he could possibly do next. Eventually Noble gets to a level-base somehow, clutching his gut. He is sent flying into the corner with a stiff-right hand, where he's conveniently propped up. The big-man backs up into the opposite corner and proceeds to sprint at him,
CRUSHING
him with a huge corner splash!! Noble then would stagger forward and after a well-placed boot to the mid-section, he is lain across the back of Abyss and hoisted up onto his shoulders -
SHOCK TREATMENT
!! Noble's back comes crashing down over the unforgiving frame of Abyss, and the impact sends the hardcore champion flying too.
Joey Styles -
Referee please, just count the three and end this now...
1...2... Abyss lifts the shoulder up from the mat! The camera shows the face of a horrified Nidia at ringside who is screaming 'Jamie' repeatedly. Inside the ring and Abyss is kneeling over the prone-body of his 'opponent'. He's certainly not posing and offense, though. Saliva flies through the masks bar-holes from Abyss, and it's obvious that he is reaching an emotional climax. He scrambles to his feet and leers at Noble, daring him to get up. Somehow - he does. Using the referee for leverage he drags himself up, but is helpless as he walks straight into a vicious
BLACK HOLE SLAM!!
1,2 and mercifully - 3.
Winners @ 2.13 minutes – Abyss
*INTO THE ABYSS*
The referee immediately takes the initiative and checks on Jamie Noble, attempting to cordon him off from any further assault.
Joey Styles -
The outcome was never really in doubt, but lets just hope that Abyss has got his 'fix' and is done with Jamie Noble.
The words of Joey Styles serve as a jinx of sorts, as Abyss soon makes a move towards his fallen opponent and drags him throat-first to his feet. Noble can barely even struggle as he is throttled brutally and gasping for air. Abyss than places one hand on the lower back of Noble and powers him up - then down for a CHOKESLAM! He looms over him, shaking visibly and in a frenzied state.
"AAARRRGHHH!" he yells aggressively, as he kneels over him and lays into him with left and right hands, one after the other!
Joey Styles -
(solemnly)
This is, this is just despicable. Security are surely on their way, EMT's too one would hope. This needs to stop soon or Jamie Noble may suffer some serious damage.
On cue, minus a few seconds, both EMT's and security guards stream down through the aisle, bearing a stretcher. The three security guards manage to drag Abyss off of his battered rival, but the blood is already flowing from the hairline of the Hardcore champion. James Mitchell orders Abyss into the corner and the two partake in watching on as the carnage is dealt with. The camera pans to the top of the ramp where Noble's girlfriend Nidia comes sprinting down urgently. She runs up the steps wearing cut-off jean shorts and a tight white top, though she's not wearing any footwear. She pushes through the wall of security guards and kneels over her boyfriend, yelling "JAMIE" repeatedly. She is visibly and rightfully shaken. The commentary team until this point have been silent but for a few apt comments on what is happening, but they come to voice as Abyss makes a move - towards NIDIA!
Matt Striker -
Oh, oh no.
She is oblivious to the monster that is standing parallel to her, but she perks up when the security guards pull her away from him. For her safety they take her to the other side of the ring, as Abyss looks on with a deranged look in his eyes. Suddenly, she jolts forwards and lunges at Abyss, slapping him in a flurry of aggression!! Not the wisest thing to do, but Abyss doesn't know how to react to it. He smiles. He bears a wide grin of sadistic affection. As the security guards restrain her she's still within an arms distance of him, as he extends his club-like arm and gently runs his two fingers through her curly, brown hair. Eventually she's forcefully restrained and dragged to safety, and we cut to a commercial...
COMMERCIALS
|Live Arena|
-
*CRASH*
Back from a bombardment of advertisements and we're ready for action! The familiar sound of a car-crash followed up by a trash-metal beat grabs the viewer by the throat and demands attention. Out steps 'Anti Saint' Ken Doane, dressed in all black (shorts, knee-pads, elbow-pads, boots). He makes no fuss or goes to no length to be extravagant. After climbing onto the second rope and looking deep into the crowd emotionlessly he erupts with a roar and raises both clenched-hands high.
*SUGAR SWEET*
Contrary to the demeanor of his opponent, Sugar Daddy Lance emerges wearing his usual extravagant attire, similar to that of an 80's glam rocker. He is tailed by two girls, both of whom are carrying a small glass-bottle of whisky. Half-way down the ramp and the trio stop, as Lance pours the liquid over the chest of one of his scantily-clad brunettes, before rubbing his face in it! The English crowd pop. Before Lance can proceed to do likewise with the other girl, Ken Doane comes running up the ramp and attacks Lance from behind...
Match Three - 'Anti Saint' Ken Doane vs. Sugar Daddy Lance
Though the match didn't begin officially for a short-while, the action certainly did! Ken takes Lance to his knees with a running clothesline to the back and proceeds to batter him with hard elbows to the forehead from behind. After having enough of striking his helpless opponent he drags him to his feet by the hair and using the hair, tosses Lance down and flying into the steel steps!! The Anti Saint is driven and is not wasting any time! After stomping away rabidly at the back of Lance he finds it necessary to throw him in under the ropes and start the match.
Though starting off on top, and for a good while dominating, showing not only his ruthlessness but his undoubted potential, Lance would strike lucky and find a way back in to the bout. The match became a contest when Doane was told to get off of his opponent after a five count filled with punches, leading to the Anti Saint to approach the referee, grab him by the shirt and yell at him. Lance would proceed to gather himself and hit a low blow, which the referee unsurprisingly turned a blind eye to. For the following five minutes it would be evenly fought, but if anyone had the most offense in it was Doane.
The end came near the seven minute mark. After a run of momentum, Ken Doane hit his finishing maneuver - the kick to the gut followed by a forward-jumping DDT. He would get to his feet and rather than pinning and winning the bout, he makes a move for the outside! With his eyes set on a steel-chair, he snatches one from Howard Finkel, slapping him in the face for good measure! While this takes place Jake Roberts, Doane's estranged manager makes his way down to ringside to watch the finish unfold. With Doane back in the ring and with the chair, his attention is taken by the sight of The Snake. He shouts at him, and tells him to get out of here. Roberts does, backing up a few steps to diffuse the situation. This though allows Lance up, and Doane walks straight into a boot - slamming the chair straight into his own skull!! He covers, and the referee counts for three.
Winner @ 6:45 minutes - Sugar Daddy Lance!
The winner briefly gets his hand raised and swiftly exits the ring and makes his way to the back eagerly with his girls.
Matt Striker -
Joe, I wish I could be a fly on the wall at the Sugar Daddy's celebration party tonight!
Still standing outside and looking on, Jake Roberts is summoned to the ring by an enraged Ken Doane. The former manager obliges, slowly and hesitantly entering. Doane has a microphone, as he grabs Roberts by the throat and backs him into the corner.
Ken Doane - ROBERTS!
He pauses, breathing heavily due to exhaustion.
Ken Doane -
Roberts, if you
EVER
... and I do mean,
EVER
, get in
MY
business again - I won't blink before I break your neck!
He pauses again, this time to wipe the sweat off of his forehead with the wrist of the hand holding the microphone.
Ken Doane -
I've told you once and I'll tell the whole world now, I do not
NEED
a manager. Snake, with you by my side for that short-while where did we go? What did we win? Nothin', that's what. I am ... (!!!!)
THE ANTI SAINT
(!!!!) ... and I answer to
no one
, got it?!
Roberts reluctantly nods, as Doane backs off. As Ken turns around he looks down at the floor to see the chair which lost him the match. He picks it up and looks at it, looks to Roberts, before then looking at the referee in the corner of the ring, nailing him in the forehead with it!!
Matt Striker -
Dear Lord... that is uncalled for. That's just wrong.
After pondering his actions and seemingly regretting them, Doane has a rush of blood to the head once more, as he hops through the ropes to the outside, and repeatedly smashes the steel-chair against the cold, silver ring-post!!
Joey Styles -
Ken Doane has gone
berserk
. He is a loose-cannon!
After practically destroying the chair, an immense feat in itself, he stops, tossing it to the side. He runs his hand through his spiked, brown hair and turns to the top of the ramp to exit. However, who else but PAUL HEYMAN steps out, dressed formally, and with a microphone in hand.
Paul Heyman -
I don't know who in the hell you
think
you are, but I'll tell you
what
you are, and that is
suspended
!
Doane looks to him with an enraged look on his face.
Paul Heyman -
I've got referees in my ear fearing for their health, telling me that they don't want to officiate your matches. Not only are you a threat to those around you, be it commentators, ring announcers and hell, I wouldn't doubt that you wanna swing for me right now, but you're a threat to yourself.
Doane's look is slightly perplexed.
Paul Heyman -
Kenny, you like to think of yourself as the future of this business, and if I'm honest, quite a lot of us think you are too. But, the way you are acting is not only costing those around you, but it's costing you. So, with that in mind, you are gone until further notice and if you return a second sooner - we will be wishing you well in your future endeavors and you will be
FIRED
.
Don't cross the boss ~ ! Heyman leaves Doane looking pissed and holding his head in his hands.
COMMERCIALS
|Backstage|
In a dark location backstage are Azrael, David (Heath), Paul (London) and Matthew (Michaels). The faces of the latter three are visible only by the candle-light of which they are holding. Azrael cannot be seen, only heard in his deep-toned murmur.
Azrael -
Tonight, my disciples, is the first night of the initiation period. Over the course of the next two weeks all three of you will have faced a challenge, an obstacle placed in front of you by me ... Azrael. Your job is simple, and it is to overcome those who stand before you. In my house there are many doors, but no rooms for the weak. With my father, who art in Heaven watching on, I want you to give your soul to the cause. Tonight, Paul, is
your night
.
Both David and Matthew fade from the picture as they blow their candles out.
Azrael -
The job is simple, but not simple enough for someone undeserving of my elixir. Do it well and you come a step closer to Heaven, where together we will drink the blood of the sinners.
It's time.
|Interview Area|
Shane Douglas is standing by with Team 3D.
Shane Douglas -
Team 3D you requested this interview time, what's on your mind?
Brother Devon -
Shane, this is to address those Gen Ex punks, Aries and Strong.
Douglas politely steps out of the shot as Devon looks at the camera.
Brother Devon -
Earlier on tonight you offered us a rematch at those tag-team titles at the Uprising, but on one condition - the condition that if we lose that match, then we're through. If we lose, we're done. If we lose at Uprising - we, retire. Haha,
YOU WANTED A WAR?!
Brotha,
I THINK THEY GOT IT
!!
Ray slaps the back of Devon.
Brother Ray -
Gen Ex in nearly twenty years of being in this business, through all the titles, the opponents, the companies - you punks are the most arrogant, self-righteous, little pricks of them all! You've got balls, I'll give you that. What you did to us at Full Throttle, what you got our cousin to do, it took balls. However, I think you'll find that Uprising, requesting this match didn't take balls - it took inexperience. Boys when the chips are down, and when everything's riding on a match, everybody that knows something about this business knows, that we deliver. We're the most decorated tag-team ...
ever
. You brats are barely past rookie status, and you made a rookie mistake in giving us this match. When the pressure is on - we thrive off of it. When the single most important thing to us in the world is on the line -
WE WILL BRING IT LIKE NEVER BEFORE
! If you thought that the matches on Hazard were tough ... if you thought that our tables match at Uprising was hard ... and if you thought that the Ladder match at Full Throttle took everything you had and then some -
*calmly*
wait until Uprising.
The angry demeanor changes to a calmer one.
Brother Devon -
Shane, I think my brotha' said all that needed to be said. Uprising ... April 19th ... no stipulations, no interference, no funny stuff ... just two teams, fighting to see who's the best in the world.
|Live Arena|
The camera returns to briefly survey the front-row of the arena, where the fans are nothing short of ruckus. Joey Styles and Matt Striker identify none other than Newcastle United football players Kevin Nolan and Steven Taylor seated at ringside. They both grin at the direction of the camera, before it switches to a shot of the ring where Howard Finkel is standing. It's time for our next contest!
*HART OF A CANADIAN*
The WAPW Cruiserweight Champion makes his entrance, emerging from the tunnel looking displeased and generally not happy to be here. He wears baggy gold pants and has a matching golden waist-coat, of which the buttons are undone. He tips his glasses down and looks at the crowd, before pushing them back up the bridge of his nose and making his way to the ring. His swagger is evident as he enters the ring, holding his title belt high with both hands.
Match Four – Pac vs. Teddy Hart
England's own Pac was given the opportunity of a lifetime when he stepped into the ring with the Cruiserweight Champion of the world, Teddy Hart. Though not a title match, a win or an impressive performance with the world watching and in front of his own country would certainly do wonders for his career. At only 22 years of age 'the man who gravity forgot' had a game-plan which was to throw caution to the wind and simply go for it. He did just that, immediately going on the offensive as soon as the bell rung, landing multiple forearms to Teddy and backing him into the ropes. Pac continued a high-pressure start, backing up before charging at him and taking Teddy out of the ring with a clothesline!! The fans were into this match from the get-go, and it was never more clear than after Pac's first impressive high-flying stunt as he climbed onto the apron and then ran at Teddy, hitting a stunning
shooting star press
of which took a lot out of both competitors!! The fans were in for nothing less than a treat with Pac's high-octane style impressing enthralling the audience.
Commercial Break.
The commercial break came just over a minute into the bout and upon returning the action was back in the ring, with Pac raining down on Ted Hart with the ten-punch in the corner. After counting to seven, Pac was put in a precarious position when Teddy walked forward in a powerbomb position. However, the wherewithal of the youngster allowed him to land a couple more punches and eventually turn the move into a high-impact hurricarana! Hart's head connected with the canvas in an ugly way, resulting in the referee checking him over. In the mean-time, the Englishman threw his hands into the air, garnering a great response.
The pause for the champion allowed the match to slow down and for the momentum to be quelled. Hart, doing what champions do best, dictated the tempo for the next period of the match and began to take control. It would be back and forth for the duration of the remaining eight minutes, with both men putting on a show. Eventually, class began to shine through and the champion was earning his stripes, as he countered a cross-body from the top rope with a drop-kick to the gut! Upon getting to his feet Pac walked straight into a stern boot to the mid-section, followed by Hart's version of the
Canadian Destroyer
! The crowd erupted upon impact, applauding the daring move. This took a lot out of both men, with Hart not going for the pin immediately, but when he did he only scored a two and a half count. Slowly he got back to his feet and awaited Pac to do the same. After pulling himself to his feet Pac was clearly dazed, as the English-men backpedalled straight into Teddy's signature maneuver the '
Hart Rate
' – a devastating belly to back suplex turned into a sitout powerbomb! The result was unquestionable as the referee counted three!!
Winner @ 15:45 minutes – Teddy Hart!
*** HART OF A CANADIAN ***
After shrugging off the referees futile attempt at raising Hart's hand, the champion whilst clutching his gut gets to his feet and demands his title. A lower-being rushes to hand the referee the belt through the ropes to give to Hart. Hart however doesn't accept the title in his hands, as he forces the apprehensive referee to strap the belt on his waist. When done, Hart raises both hands and basks in his own glory. Suddenly though, from through the crowd comes Paul London from The Diciples! Dressed in black pants, boots and wrist-tape, he hops the barricade and slides in under the ropes into the ring and attacks Hart!
Joey Styles –
Paul London? What business does he have out here?!
London knocks Hart into the corner with a hard club to the back, before unloading with hard-punches to the face and body! The referee attempts to call London off of Hart, but is scared away. Meanwhile Azrael emerges at the top of the ramp, watching on with his arms crossed. Hart though is in a bad way, and is dropped with a vicious spike-piledriver in the middle of the ring! When all is said and done London stands over the champion with the Cruiserweight title belt in his left-hand, and with his right he makes the sign of a cross on his chest. He grins as we go to a video package.
|Video Package|
A short Uprising promotional video airs. It advertises the two matches to be announced so far – Christian and Goldberg vs. MVP and Elijah Burke, and Team 3D vs. Gen Ex
COMMERCIALS
|Video Package|
With the camera shot fixated downwards with an extreme close-up, a pair of hands rapidly type away at a keyboard. Seconds pass with the hands continuing to type. The screen suddenly fades to black. Seconds later it returns as we see a computer screen with a wall of text. The shot zooms out a little to show the back of the man typing away. We don't see his identity, only that he is clean-cut and wearing a crisp white shirt. The screen fades to black again briefly, before frantically these words begin to flash up on the screen one after another: RUMOUR, SCANDAL, DRUGS, SEX, WWE, TNA, MID-CARD, JOBBER, RATINGS, SPOILERS – before the screen pauses, before finishing with the words "The IWC – coming soon to WAPW"
|Live Arena|
After the commentators very briefly ask each other what the previous video was all about, they gear us up for our main-event of the evening!
*** ON-SCREEN GRAPHIC – CHRISTIAN VS. ELIJAH BURKE – NEXT! ***
*** THE EX LEVEL ***
As Gen Ex's familiar hip-hop beat entrance theme blares as loud as ever, North American Champion Elijah Burke steps out onto the stage. His title belt is slung proudly across his shoulder and he is accompanied by a track-suit wearing Jack Evans, who acts as Burke's manager, massaging his shoulders as he walks and trying to pump him up energetically.
*** 5, 4, 3, 2, 1 – CHRISTIAN ***
The second half of tonight's huge main-event is next to make his entrance. The crowd react very positively to the Canadian, with a Christian chant circulating very loudly. He makes his usual entrance after looking deep into the arena with his hand on his head.
Match Five – Christian vs. Elijah Burke
Both men had one thing on their mind going into this match and that was to make a statement. This would be a warm-up of sorts for their huge tag-team match-up at Uprising, of which both the WAPW World Title and the WAPW North American Title would be on the line. Christian was at an obvious disadvantage for its entirety, as Elijah Burke was backed up by fellow Gen Ex member Jack Evans. Never shy in putting himself at harms way in order to help his team-mates, Christian had to have this in the back of his mind.
After just-over thirteen minutes of back and forth action, Elijah Burke had his opponent right where he wanted him. Just moments earlier he had connected with the Elijah Express only for Christian to get his foot on the rope to avoid being pinned. This got under the skin of the North American champ' who clearly thought he had done enough to win and wasn't shy in letting the referee know about it. After he was done remonstrating Christian was just about on his feet, using the turnbuckle for leverage to pull his lethargic legs to a vertical base. In came Elijah at full-speed ready to clatter into him for a second time, only for Christian to side-step in a split-second and send him crashing into the corner! The champion's momentum sent him backpedalling into the middle of the ring where he slumped to the floor. The referee would check on him, as he held his left-knee writhing in pain. Christian meanwhile held his stomach in the corner once more, trying to catch his breath. With the referee busy with Burke, Jack Evans saw an opportunity to leap up onto the apron and attempt a right-hand, only for his hand to be blocked. Evans utilized this, grabbing Cage's other hand to pull him from the corner to more a more central position on the apron and to keep him there. Seemingly unable to move from that particular spot, Burke miraculously recovered, backing up and sprinting towards his opponent for another
Elijah Express
. However, like the first one Cage somehow found away to avert trouble, ripping his hands away from Jack Evans' grasp and sending his nemesis
crashing into him!!
With Evans knocked from the apron and to ringside, the momentum was clearly with Christian! Sensing the opportune moment he waited for Burke to walk straight into a boot to the mid-section followed by a decisive unprettier!!! Immediately he hooked the leg and the referee counted
1-2-3
!!
Winner @ 15:03 minutes – Christian!
Christian was not given any time whatsoever for his victory to sink in as immediately after the end of the match, Jack Evans snuck back in and decked him with his own sneaker, delivering a harsh blow to the back of the head! Evans, clearly at the request of Gen Ex leader MVP, began to lay into Christian with stomps to the body, coupled with a bout of harsh punches and elbows to the head! MVP likes what he sees and soon enough makes his way down to ringside, dressed in his all-white suit. He enters the ring with his title belt in hand and orders Evans and the groggy Elijah Burke to hold Christian up. With the Canadian defenseless, the WAPW Champion floors him with a cruel title-shot to the head!
Joey Styles –
Somebody needs to put a stop to this! They are taking out their Uprising opponent, Christian, and it isn't right!
As the three men in the ring stomp away at Christian's motionless body…
Joey Styles
– GOLDBERG! GOLDBERG IS HERE!!
Gen Ex turn their attention to the oncoming Goldberg, with Jack Evans backing up and leaping over the ropes at Goldberg – only to be CAUGHT IN MID-AIR!! Goldberg places Evans onto his shoulders and proceeds to send him like a javelin into the cold steel-ring post!! As Evans crumples to the protective mat clutching at his gut, Goldberg points to MVP and Burke in the ring – his two opponents at Uprising. 'Berg climbs the steel-steps and enters the ring, flooring the on-running Burke immediately! MVP stays in the corner, letting Burke deal with their angry nemesis for the time being. Goldberg unloads a flurry of punches sending Burke back-peddling onto the ropes, which Goldberg clotheslines him over! As the former Buffalo Bills football player leers at the champion who is writhing in pain on the outside, another champion stands behind him, waiting for the right opportunity to strike. As Goldberg turns to face MVP, the WAPW champion attempts the title-belt shot, but it's ducked! MVP is greeted with a stern kick to the mid-section before eventually being hoisted up high for a JACK-HAMMER!!!!
Joey Styles
– Goldberg has cleaned house!!
The fans take in everything which they have just witnessed, as does Goldberg who looks down at the fallen WAPW champion. Christian finally gets to his feet, oblivious to his Uprising tag-team partner. He pats Goldberg on the back in a social way, but what comes next sure wasn't social! Goldberg knows not who it is and immediately continues his rampage by turning and decimating Christian with a SPEAR!!! The fans don't believe what they've seen, and neither does Goldberg, who stands over Christian with a blank look on his face. Did he mean to do what he just did?! Did he know who it was?!
Quick Results:
The UK def. The Natural Franchise - ***
Abyss def.
WAPW Hardcore Champion
Jamie Noble - ** ½
Sugar Daddy Lance def. 'Anti Saint' Ken Doane - ***
WAPW Cruiserweight Champion
Teddy Hart def. Pac - *** ¾
Christian def.
WAPW North American Champion
Elijah Burke – *** ½
---
Last edited by Jon Staley; 12-27-2009 at

07:13 PM

.
Posting Rules

You may not post new threads

You may not post replies

You may not post attachments

You may not edit your posts

---

HTML code is Off

---