Re: Paul Heyman's World Alliance of Professional Wrestling!
---
Good to hear you're sticking with this my friend. I know how easy it is to loose interest and motivation. In regards to the long term booking hindering you, I'd advise you not to book long term, but in quarters. 3 month periods of time. that's what I tend to do and I don't get overwhelmed by the task at hand, or frustrated by the fact I'm moving too slowly. I'm just getting into the project, doing some back reading as I'm off worth right now, so for that reason alone you're obligated to continue... lol.
---
Re: Paul Heyman's World Alliance of Professional Wrestling!
---
Quote:
Thank you for the feedback recieved for Ful Throttle. WAPW has been a long-term project of mine ever since January, and I'm happy I've got to eight TV-shows. I've had great fun concocting different storylines for everyone on the roster, from guys like MVP all the way down to Colt Cabana. I've probably thought too far ahead, which is hindering me in the short-term. It's really hard right now to just get down to writing, which is really annoying for me. By no means am I quitting, but I'm going to be evaluating things some more.

Thanks, Jon.
I know how you feel, it's a bit of a bitch when that happens. It happened to me multiple times when I was writing EPW and it's taught me to try not to plan overly far ahead with my current thread.
Re: Paul Heyman's World Alliance of Professional Wrestling!
---
Sup?
Business as usual. Expect more shows, more often. I've had my mini-break from writing and I've gotta say I feel good about BTB again. This weeks show is part of the Crossing Borders tour and is held in Mexico. The next three shows will also be held overseas (Japan, England and India). Hope you enjoy it. It might not be my finest work but all I'm worried about it getting back into the flow. Oh, and excuse any errors with the layout.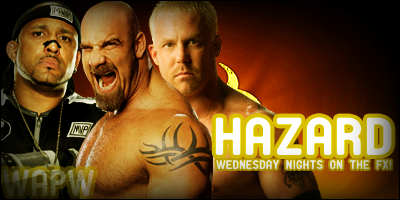 World Alliance Professional Wrestling presents – HAZARD!
Wednesday 25th March 2009
Arena Mexico, Mexico
Full Throttle:
Hazard kicks off in the form of a video package, highlighting the main-event from Sundays PPV Full Throttle! After going through each match individually, starting with The Briscoes vs. The Natural Franchise, it would show the big spots and finishes from each match along with any aftermath. After an extended showing of Goldberg vs. Elijah Burke in a title match, in which Elijah Burke purposely got himself counted out, the package his overdrive with the main-event. After showing clips of the entrances it kicked into gear with dramatic, back and forth highlights leading up to the seventeen minute mark. Up until this point, Christian had come close on numerous occasions, and was looking the man to win. However it didn't go his way, as courtesy of a Mickey Rourke swerve ~ ! With Bret Hart knocked down temporarily, Mickey Rourke made his way into to the ring, seemingly to aid Christian, but instead turning and nailing him with a punch to the jaw! This is followed up by a boot to the crotch, and then a playmaker from MVP! Bret Hart, disgusted, would make the bold decision to refuse to make the pin-count, and instead disqualify the champion. The show ends with Bret consoling Christian, and MVP on the shoulders of Gen Ex, holding the title belt aloft!

*OPENING VIDEO - 'HELL YEAH'*

*PYRO*
|Live Arena| After an impressive pyro display and the extra-long surveying of an insane Mexican crowd, we pan to the broadcast booth where our team of Joey Styles and Matt Striker gear us up for tonight's show!
Joey Styles – Hello everybody and welcome – to Wednesday Night Hazard! We're coming to you LIVE as part of the 'Crossing Borders' tour from the world famous Arena Mexico in the heart-land of professional wrestling here in Mexic...
Before Styles can continue introducing tonight's show, the action begins as the camera fixates on the top of the entrance ramp where Goldberg has Elijah Burke by the hair, dragging him towards and up into the ring! The fans are going crazy already, as Goldberg demands a microphone, which is swiftly handed to him. With one hand he still has control of Burke, and with the other he puts the mic to his lips.
Bill Goldberg –Mexico, you see this?! Heyman, do you see this? I do, and there's somethin' deeply wrong about this picture, and that is that I am NOT the WAPW North-American champion!
The 'Berg breathes heavily into the microphone following his sentiments, listening to intense crowds cheers.
Bill Goldberg –Paul, you know I respect you and that I think that you're a good guy, and believe you me - Bill Goldberg doesn't think that of too many people. I like you Paul, and I know that the last thing that you want on your show, especially one of the magnitude of this, is a champion in intensive care. So what I propose to you, to make this short and sweet, is you come out here as the boss of WAPW, and you order one of these men at ringisde to ring the bell, SO I CAN HAVE MY REMATCH!!
The fans are in mark-out mode, responding to an angry should-be champion. Heyman doesn't appear, all the while Goldberg maintains his tight grip around the braided hair of the champ.
Bill Goldberg –Okay, Paul, I asked nicely man. I asked real nice, so how about this, if the bell does not sound at your orders within ten seconds - I BREAK every BONE in this punks body!!!
'Berg drops the mic, conducting the crowds chant with his free hand, and with it he counts 1..2..3..4..5..6..7..8 - but with that, there is movement at the entrance way. Paul Heyman tentatively emerges from onto the top of the ramp, motioning with his hands for Goldberg to calm himself. He hurries himself down into the ring, receiving a microphone, looking at MVP before then setting his sight on 'Berg.
Paul Heyman –Bill, I appreciate the sentiments about us being friends, and your right, the last thing I want here in the Arena Mexico is a controversy surrounding an injured champion, so with that in my mind and before I do anything - I'm going to have to ask you to release Elijah Burke from your grasp.
Goldberg looks at Heyman, not with the anger, as that has subsided mostly, but with a sort of grin. He feels in control of the situation. After pausing, he violently pushes his nemesis to the mat. He clutches his head, crouching behind Heyman, a safe distance from Goldberg.
Paul Heyman –Thank you.
Bill Goldberg –Look man, enough of this alright, I've done what you've asked me to, so now you do - what I'm telling you to do.
Big pop from our foreign friends. Heyman looks at Goldberg as if he didn't hear him right, clearly unimpressed by being ordered around.
Bill Goldberg –There's no easy way to go about this, but I'll tell you one thing - there sure as hell is a right way. The only way for this to be settled, is for you to make the rematch - RIGHT HERE ... RIGHT NOW!!
Another huge pop from the fans, soaking in the WAPW action.
Paul Heyman –Bill, you're right. What went down at Full Throttle on Sunday night was WRONG, Bill, it was WRONG. As head of WAPW, the last thing I want on pay-per-view night is for the matches to be tainted, and Elijah - that's exactly what you did. Champ, you ruined one of the two main-events single-handedly, and in turn - spoiled the show. The only way to go about this IS a rematch, and I guess at some point in time, you're going to get it!
Elijah suddenly regains his motion, leaping to his feet and getting in the face of Heyman, pissed at the prospect of a match with Goldy. He soon retreats behind the boss when Bill takes a couple steps towards him.
Paul Heyman – Next we...
*5, 4, 3, 2, 1 - CHRISTIAN CAGE*
Joey Styles -
Well here's another man who surely feels hard-done-by coming out of Full Throttle! The man who was
SCREWED
out of the WAPW World title belt by Mickey Rourke and MVP ... here comes Christian Cage!
Christian is all smiles for the foreign crowd, looking deep into the arena before slapping his chest three times. The Canadian then makes his way to the ring, climbing the steps and stepping through the ropes, immediately receiving a microphone and making a move towards the ropes, leaning over slightly and looking to the crowd.
Christian Cage –
Well as great as it feels to be here in the capital of wrestling in MEXICO ...
The usual pop is given, before Cage continues.
Christian Cage –
It doesn't feel as great as it should, because of one thing and one thing only. And that is that I am
NOT
the WAPW champion. See Mexico, the night before Full Throttle, last Saturday, I was kicking back in my home state of Miami Florida ... originally of Canada, eh.
Ever patriotic, he humorously places his hand on his heart and pauses.
Christian Cage –
I was kicking back as the number one contender should, my wife sat alongside me, and all that was running through my head was 'how should I celebrate my title victory after Full Throttle in Mexico?' It was bugging me that whole weekend, even up until my match. Should I ... have a victory parade? Ya know, an open-top bus drive me around the city? How about a commemorative celebratory evening, with confetti, a podium - maybe some champagne? It also occurred to me, 'why not have a live sex celebration'?
The crowd pops. Horny devils.
Christian Cage –
See while I never decided on how to celebrate, now, after what took place, it doesn't even matter. I went into Full Throttle with a game-plan, and that was to win the title. To an extent, it worked. I kicked MVP's ass all over the building and then some, but what I wasn't counting on was that traitorous ... conniving ...
Matt Striker –
Uh oh.
Christian Cage –
... devious, piece of crap named
MICKEY ROURKE
.
Mexico pop at the mention of the heel. Bless 'em.
Christian Cage –
What's done is done and I can't turn back time and do the match all over.
BUT
, what I will say, and this is directed straight to you Paul, is that I want my
REMATCH
!!
Heyman loosens the collar on his white buttoned shirt, takes a deep breath and readies himself for the impending demands.
Christian Cage –
I've done a lot of soul-searching over the past three days, I've considered my options and I appreciate that you've got a lot going on, but I'm not going to stand here and neither are you, and pretend that what went on at Full Throttle wasn't a crock of shit!!
Paul Heyman –
Christian, I'm not going to stand here and pretend that what went down wasn't ... dishonest ... and believe me, in due course, you will get what you deserve, but right now, you're just going to have to relax and wait until that day.
Christian Cage –
Ha. I'm sorry if I come off sounding like someone who got
SCREWED
out of the biggest prize in our industry ... but I am not one to sit around with my thumb up my ass with a brown nose, and wait for my chance! Paul, I want my title rematch and I want it here
TONIGHT
!!
As the crowd continues to ring-out with cheers, Goldberg makes a move towards Christian.
Bill Goldberg –
Well I guess that makes two of us. Christian, we don't have a problem with eachother, but tonight - this is my night, and
I'M
getting my rematch.
There is a tense stand-off between the two, who lock eyes on eachother and look as if some commotion is to follow, until Heyman intervenes.
Paul Heyman –
Guys, this is WAPW. In this company, it's the
BOSS
who makes the matches, not the talent! Nobody is making matches behind my back, so the two of you are going to have to wait.
Neither look impressed with Heyman playing the authoritarian, clearly caught up in the HEAT OF THE MOMENT ~
Christian Cage –
I've waited. I waited ever since Battle Lines to get my shot, four long weeks, and when I did get it - it was taken right from under my nose by MVP.
There's now another stand-off, with both Cage and Goldberg facing Paul Heyman, the two demanding matches for tonight.
*BIG THING'S POPPIN'*
MVP -
Well I guess I'm the fourth and final piece to this puzzle aren't I. The 'crown jewell' of the WAPW roster. Paul, I don't know what games you playin', but you ain't the only one with power around here. In case you forgot,
I AM
the WAPW Champion.
The brash superstar raises his title hig above his head, parading it for the entire audience to see.
MVP -
No one, and I mean, no one - makes matches involving me and my title, without consulting me first. Not only am I the champion of the world ... the greatest man to have ever lived ... WAPW's MVP ... but I'm
damn
good lookin' too. So, considering all that, Christian, I'm sorry to dissapoint, but you're gonna have to move your ass on out of my ring, and that goes for the other three of you.
Nobody moves, instead, Christian and Goldberg take a step towards MVP.
MVP -
I suggest ... no ...
I DEMAND
that you proceed to take your belt-less asses on out of here, so myself and the
guiding light
of WAPW Elijah Burke can celebrate our title wins! Ladies, if you will...
MVP clicks his fingers and turns his attention to the ramp, as three scantilly-clad women emerge, carrying two champagne bottles and glasses.
MVP -
See Christian, unlike you, and this entire country for that matter,
WE
actually have something to celebrate.
The fans, who understand English, boo intently. Christian turns to face the women on the ramp.
Christian Cage –
Skanks ... take on step further, and your boys over here will find those champagne bottles
STRAIGHT UP THEIR ASSES
!
As the 'skanks' turn away and exit, MVP begins trash-talking Christian off of the mic. Heyman, sensing a brawl, intervenes once again.
Paul Heyman –
Christian, Montel - easy.
Christian Cage –
They sure were...
Paul Heyman –
Look, enough. I've had it up to here personally with all four of you. You both want title matches, and frankly you both deserve those title matches. So, I guess what comes next is an impromptu PPV main-event announcement. Next month, at Uprising, when the WA' returns to the USA, the two of you are going to put it
ALL
on the line.
Burke and Montel look questioningly at the boss.
Paul Heyman –
That's right, you heard me correctly, but what you didn't hear was the stipulation. See, the term 'all on the line' is a little vague, so let me clear it up for you; at Uprising next month live on PPV, Montel, the WAPW champion - you will team with Elijah, the North American champion, and
TOGETHER
... you will defend
BOTH
titles against the team of
CHRISTIAN
... AND
BILL GOLDBERG
!!
Both MVP and Elijah Burke flip, pleading with Heyman not to go through with this, but the figures of Goldberg and Christian quiten them.
Paul Heyman –
At Uprising ... one of you two teams are going to have to 'rise up' and stake your claim as the two best champions, because it's
WINNER TAKE ALL
!!
*HELL YEAH*
Paul drops the microphone and exits the ring to the theme music of Hazard. We head to a commerical break with the visual of MVP and Elijah Burke on one side of the ring alongside eachother, staring straight into the eyes of their Uprising opponents - Bill Goldberg and Christian!
COMMERCIALS
Following a brief recap of what went down before the break, it's time for our opening contest! Joey Styles and Mat Striker remind us that this is a rematch from Sunday's PPV event, and before the entrance a short video package plays; detailing the ending of Albright vs. Doane (Jake Roberts inadveterantly distracts his own protégé leading to an Albright win, and Doane snapping, hitting a kick to the mid-section followed by a forward-jumping DDT).
*CRASH*
The familiar drone of sirens blare, before Doane's theme transcends into a trash metal beat. Doane isn't trailed to the ring by Jake 'The Snake' tonight, after Doane floored his manager at FT. He emerges wearing an attire of black boots, knee pads, red trunks and black wrist tape. The 'Antisaint' enters the ring with intensity and does not need any further motivation for the match.
*FOR REAL*
Confident but focused following his PPV win on Sunday, Brent Albright soon makes his entrance. Wasting no time to pose or slap the hands of fans, he strides to the ring, using the ring steps to make his way up and in. He hops up onto a turnbuckle and looks deep into the crowd, taking in the Mexican surroundings, before beating his chest and turning to face his opponent.
Match One - Brent Albright vs. Ken Doane
Picking up from where both of these stars left off on Sunday night, the match starts at a fast-pace, immediately tieing up with intensity and Doane pushing Albright into the corner. Upon locking up again, Doane is pushed into the corner. Brent swings for a chop, but it is ducked, as Doane slips out from under the arm of Albright and pushes him back into the corner. His quest for momentum is blocked again, as he is backed all the way into the other corner by means of repeated, stinging chops! The bout continues in a hard-hitting and fast-paced manner, until Doane is eventually clotheslined out over the ropes and onto the outside. The brawl swings in Doane's favour and as they re-enter the ring he continues, dominating for the following three minutes. Albright, as intense and tenacious as he is, is clearly flustered by that of his opponent. The Anti Saint would roar with every punch landed and clothesline executed. As always the tide would have to turn, and at seven minutes, it did. With Albright firmly in control, Doane slips out of the ring and retrieves a steel chair. He has flipped yet again. By this time (former?) manager Jake Roberts would make a beeline to the ring, climbing onto the apron for a confrontation with Doane. "Don't you use that -
DON'T USE THE FUCKING CHAIR
" Roberts would yell, but it was futile, at least as far as intentions were concerned. Doane turns away from Jake and lifts the chair high in the direction of Albright, but is scuppered by a boot to the gut and then a devastatingly effective
CROWBAR
!! Doane has no hope, as Albright cranks the arm more and more, and within four seconds he taps.
Winner @ 8.47 minutes - Brent Albright
*FOR REAL*
As Albright stands above Ken Doane, who is clutching his arm in agony, his is raised in victory by the referee. After hopping up onto each turnbuckle to briefly raise both hands in the air, he makes his exit, leaving Ken Doane, standing, and Jake Roberts who has just entered the ring.
Joey Styles -
Talk about combustible elements! After what we saw at Full Throttle - you know there's gonna be trouble now!
Nice one, Joe, way to jinx us. As The Snake apprehensively makes his way towards a visibly distraught Ken Doane, he tries to apologise half-heartedly. Doane shakes his head and points to the ramp, hinting where he wanted Jake to head. He turns down the offer of leaving, and continues to try and make it right with the Antisaint. After repeatedly being told to go verbally, Doane has had enough, grabbing Jake by the throat with by hands and pushing him up against the ropes. Seething, yet bearing a face of collectedness, he tells Roberts soberly, "don't get in my way ever again". After Roberts reluctantly, but obviously has to, agree(s), Doane releases him and storms to the back. Jake stands in the ring with his hands on his hips, wondering what he's just let slip away.
***TONIGHTS MAIN-EVENT - MISTICO VS. ALEX SHELLEY***
|Paul Heyman's Office|
We cut backstage to find Paul Heyman seated, looking up at a rather negative WAPW Champion. MVP waits for the right moment before beginning, letting tension build, yano?
MVP -
Paul, i-it's not funny.
Heyman ponders asking MVP what he means, but elects to sit and listen.
MVP -
Let's get some facts straight, Paul; you're the boss here, right?
The boss nods, cause he's the boss 'n stuff.
MVP -
A pretty good one at that you'd like to imagine, huh?
Mostly staving away from a grin, he shrugs his shoulders in agreement.
MVP -
Paul, if you want to be taken seriously around here as a promoter, you don't screw around with the champion. I made this company, and just like
*Clicks Fingers*
that - I can break it. Nielsens, Paul, you're pretty high on them, right? Well they're pretty high on WAPW too, or should I say, they're high on MVP. I'm the one these people tune in to see. Not Christian, as much as you'd like to say otherwise. I'm the champ, and I have power around here, ite?
Paul Heyman -
Well I...
MVP -
... I ain't through talkin' at you yet, man. I'm the champ, and I'm the last person you wanna piss off - so what the
HELL
were you smokin' when you decided to put my title on the line in a tag-match, huh?! What the
HELL
was goin' through your mind, Paul? Ain't it enough that at Battle Lines, I had not one, not two, but THREE opponents? At Full Throttle, after pinning Christian's punk-ass before, you give him the match
*clicks fingers*
like
THAT
. To make matters worse, you like to put Bret Hart as the referee a lot for me, don't ya? Well as far as you try to undermine and scheme away at my title reign - it ain't been to successful now has it.
Heyman shakes his head, not in agreement, but rather annoyance at MVP's accusations.
MVP -
Uprising ... it's a new low for you Paul. I can lose my title ... without being pinned?
Paul Heyman -
Well Montel, that is part of the stipulation. However you can also
RETAIN
the title without being the one that pins. That ought to even the score, huh.
The champion looks to the floor, more specifically to his $10000 shoes. Though out of shot, they're obviously expensive. He's the champ, k? He grins before looking back up.
MVP -
Paul, you and I both know - Elijah ... he's good ... a phenomenal prospect ... but come on, we know - he ain't got on their levels. He's not ready for that responsibility. He'll be the death of my reign, man.
Just as Montel finishes his last sentence, Elijah emerges into the scene. MVP is oblivious. Heyman looks up once before rubbing his chin and clearly laughing on the inside at what might occur.
MVP -
Hell, you may as well make it a handicap match, ite. If I'm outta the ring, and he steps in with either Goldberg or Christian ... man he ain't gonna last the distance. I won the title ... on my own ... and I should defend it ... on my own. This latest ploy in the whole anti-MVP saga, it's low, man. It ain't right. I'm an A-lister ... the rated-R mister ... the ballin' superstar ... the MVP - of WAPW. This ain't no way to treat yo' champion.
Paul, decides he's heard enough, and looks directly at Elijah Burke, who doesn't look too cheery. The crowd pop, as MVP slowly turns to face his buddy. There is an awkward silence.
Elijah Burke -
So it's like that, huh? That's the way we're gonna roll?
MVP tries to reason with him, but is cut off.
Elijah Burke -
N-n-nah. You don't think I'm a worthy guy to be competing with your title at stake. That's fine, that's real fine, but need I remind you of just what the hell I have at stake? All I've worked for the past two months - the crown jewell of my career? The WAPW north-american championship? If you haven't got the confidence in me ... then why the hell should I have the confidence in you? ... Especially without Mickey Rourke - at ringside.
The last comment draws a look of sheer annoyance from the WAPW champion, as the two stare eachother down. Another long pause occurs.
Elijah Burke -
I won my title on my own, Montel. Without me ... without Jack, Roddy and Austin - and without your Hollywood friends - where would
you
be?
Burke leaves MVP to ponder the question, as he exits the scene. Heyman is sat looking amused, whilst MVP holds his head in his hands. If he didn't have confidence in Elijah Burke when they were friends - what if they're enemies? What would that mean for the title? Why am I questioning?
COMMERCIALS
*THE EX LEVEL*
The hip-hop/techno beat which serves as Gen Ex' theme music plays loudly throughout the Arena Mexico, prompting a mixed reaction from the eager fans. Roderick, Jack, Austin and EDDIE KINGSTON make a slow walk to the ring, all dressed in smart suits reminiscent to their leader if you will, MVP. One after another they enter the ring, first the tag-champions, Aries & Strong, then Jack Evans, who in a rather immature way sneaks in as Eddie was going to climb through the ropes ... and then, er, Eddie. All four men raise their hands high into the air and look deep into the crowd. Jack jumps onto the second rope in the corner of the ring and maniacally 'Wooos' before yelling 'Gen Ex baby'. He climbs onto the top rope before back-flipping off onto the mat. He bows before the fans - but as he's walking backwards, bumps into Eddie Kingston. He immediately scuppers. Aries has a mic...
Austin Aries -
Well isn't this just perfect. Off the back of Full Throttle, we stand before you - your NEW Tag-team Champions!
They pause to parade their titles some more.
Austin Aries -
Well, actually, no. See, we are in the cesspool, known as Mexico.
A rather unnesscasry, but effective, cheap shot from Aries.
Austin Aries -
What you see before you are current champions...
He grins cheesily to the camera and points with his thumb and finger.
Austin Aries -
Future champions...
The camera pans Eddie Kingston, who is standing with hands on hips. Jack Evans sprints away up onto the top rope, where he raises both hands again, before once again back-flipping off. Aries and Strong don't look happy, with a perverbial face-palm look.
Austin Aries -
A group that over a short period of time has been assembled, consisting of the
BEST
young talent in the world today. The past, present and future is what the world is looking at right now, and damnit - we're lookin' good.
Aries and Strong grin, whilst Evans makes a move to the top rope, but is pulled off by Eddie Kingston.
Austin Aries -
It's been a hard-journey to get there, courtesy of Team 3D's
PAL
Heyman, but we finally got there in the end, to ensure that with all that's wrong in the world, be it hunger, the economy, and swine-flu...
Aries tilts his black sunglasses down momentarily to look to the crowd, accusingly.
Austin Aries -
With all of that which is wrong - all that
MATTERS
, is right. Gen Ex, Aries and Strong, are the WAPW Tag-team champions. It took three wins to ensure that the shackles of Brother Ray and Devon are finally off of us, but what's done is done. That's all in the past, and more importantly - Team 3D are in the past. I mean let's face it, they're good, great even, phenomenal in their day - but their day, Mexico, is plain and simply not today. It wasn't their day on Sunday, nor will it be
EVER
again, not as long as we're the tag-team champions. Ray, Devon - you thought you one-upped us at Battle Lines when you brought in your cousins to do your dirty work for you. You thought that was pretty smart, well on Sunday - that was pretty damn smart too, huh?! You selfish bastards, brought Eddie Kingston into WAPW for the sole purpose of winning you the tag-team titles and keeping you safe. Is that
REALLY
how you guys operate? You forget about family-values, and instead use them for your own gain? For the month that he's been in WAPW, Eddie Kingston was floundered. See, all he was used for by you was a henchman. He had no direction under the wings of you two. But now, Eddie, you're in the place where
ALL
of the rest want to be - but where
ONLY
the
BEST
are accepted.
Aries extends his hand to Kingston, who accepts it and shakes.
Austin Aries -
The latest addition to Gen Ex ... the last of a dying breed ... Eddie
KINGSTON
!
Boos trickle in from the crowd as he raises his hands aloft, bearing a straight face.
Austin Aries -
Eddie, as a member of Gen Ex, I assure you that your talent will be nourished, enhanced, and in time - fulfilled. The stage is yours, amigo.
There is a long pause after Kingston is handed the mic, pondering what to say. After a while, he begins.
Eddie Kingston -
Now Team 3D, cousin Ray, cousin Devon - I want you to hear where I'm comin' from. We're family. Family, especially the Dudley family, watch out for eachother. I came in to WAPW, watched your back, and got what in return? What? Too many bigger fish to fry?
GOT NO TIME FOR COUSIN EDDIE
?! Well to tell you the truth, it's over. That's history now. I understand the veteran attitude that you two have, I do. All that you two want is to keep a hold ... or, now,
REGAIN
, those tag-team titles. That's all you want. That's why you brought me here. You didn't bring me or Spike in because you wanted us to be competing in WAPW for titles. You weren't lookin' out for us. You used us.
Eddie pauses, listening to the boos. He is in a rather sombre state.
Eddie Kingston -
Now whatever Austin said about family values meanin' shit, I don't care. Family - is family. You're my family, and I love you. I-I can't choose who my family are, and to be honest, I wouldn't want to change it. Whether you're lookin' out for me in WAPW or not, you're still a part of my heart. That's why, Devon, Ray, at Full Throttle, is was with a heavy heart that I did what I had to. It wasn't about money, or titles, it was about recognition. You boys look out for yo' best interests - and now, I do too. I did what I had to for the best interests of Eddie Kingston. By joining Gen Ex, my potential soared. It's not about hatred for you, it's about what I want in my career. Titles, titles - and to never have to come back to this place, again.
Austin enjoyed that one, laughing in the faces of the thousands in attendance.
Eddie Kingston -
3D, our paths - they'll no doubt cross. You two are gunning for me, that's great, I guess we're gunning for you two. It's not personal, what I'm gonna have to do to you if you push it - it's simply business.
Kingston pauses, before handing the mic back to Austin.
Austin Aries -
As Team 3D found out at Full Throttle,
GEN EX
are in the business of
WINNING
. Third times a charm, and now, we look forward to whatever new challenges await us in the future. Any tag-teams out there, that want us at Uprising - you know where we are. We're not ducking anybody, or any
THING
. We've gone through tables, climbed ladders, just to get here, and Gen Ex - aren't ever giving it up.
Aries assembles a line, where the four members of Gen Ex in the ring raise each others hands in the air! As Austin and Roderick take a step forward towards the ropes, Evans keeps a hold of Kingston's. The New Yorker gives him an odd look, before being shocked with a SUCKER PUNCH TO THE MOUTH!!! The crowd are in shock, and rightfully so. So are the tag-champions apparently, who turn back and separate the two, both holding Eddie back. They calm the situation before leaving again. As Eddie continues to stare down Evans intensely, he is SHOCKED once again by a clothesline to the back by Austin Aries!! As Kingston stumbles forward he immediately turns to Aries, and is met with two middle-fingers. He doesn't know what the hell is going on, and even more so when he is mugged by Evans, followed by Aries and Strong!! They floor him with punches before stomping away of the downed Gen Ex 'member'. The beatdown continues savagely, as Strong and Aries pummel him into the corner! Jack Evans sneaks out of the ring and retrieves a chair, with everybody still in shock. The commentators have yet to form a single legible word. Evans passes the weapon to Aries, who uses it to choke out Kingston, pressing it hard up against his neck in the corner of the ring!!
Joey Styles -
They used him! They turned him against his own family damnit, and now look what he gets in return!! This is sickening!
Matt Striker -
Well who knows, maybe he still gets the $20k and the title shot. That's worth a beating, right?
Joey Styles -
I do not believe this! Somebody has to put a stop to this carnage! Gen Ex have taken it to the next level alright - they've crossed the line.
Kingston is dragged into the centre of the ring, laying front first, and is beaten down with chair-shots to the back repeatedly! Whilst Aries and Strong take turns in working over the defenceless Kingston, Jack Evans retrieves a TABLE. After sliding it into the ring, it's set up to the side of Eddie. Luckily for him, before they get to use it, who else but TEAM 3D make a beeline to the ring, both bearing baseball bats!! Some might question why they would want to save the person that cost them the titles, but no one can say that the beating was right! Gen Ex split as 3D enter the ring. They've left their mark. All three gather on the ramp triumphantly, Aries and Strong taunting 3D with the title-belts. Devon, none to impressed, makes a move towards the ropes, prompting Gen Ex to pick up the pace, before retracting. They watch on as Gen Ex exit the scene eventually, before turning their attention to Kingston. Their cousin uses the ropes to pull himself to his feet, clutching at his gut. He looks soulfully at his cousins and clearly mouths, 'I'm sorry'. 3D look at eachother, and Ray pats Eddie on the back. Kingston hobbles forwards - but is caught off guard when Devon delivers a hard kick to the gut, before lifting him up above the table - and then finally being slammed by Ray THROUGH THE TABLE with a 3D!!! Talk about carnage!
Joey Styles -
Dear
LORD
!! Team 3D are in no mood for happy families with Eddie Kingston that's for sure!
Ray and Devon stand above their downed Cousin, almost sorry for what they've done, all the while knowing that it had to happen. Ray pats Devon on the back, before they make their exit from the ring. As they are at the bottom of the ramp, they look up to see in the distance both Jay and Mark Briscoe. Both observe the scene briefly, taking in the surroundings, before signalling to 3D that THEY'RE next in line for the titles...
***TONIGHTS MAIN-EVENT - MISTICO VS. ALEX SHELLEY***
|Video Package|
The camera depicts the back of a man standing at the top of a cliff, staring deeply into the scenic surroundings yonder. He wears a black hooded top as well as black sweat pants. He speaks candidly as if he were in conversation.
??? -
Every so long, for every generation in wrestling, emerges the new top-guy, a man who would take the business and almost single handedly change the way it was run. The eightees had Hogan ... the ninetees, Austin ...
The hooded man turns from the cliff and embarks on a long downhill run through the trees and greenery; the camera has yet to show his face.
??? -
Here we are in 2009. Fast forward through Harley Race, Ric Flair, Hogan, Michaels, Austin - it's my time. What I'm coming to WAPW to do is to set a new standard. I want to take this company, and make it bigger and better. At the end of my career they're going to be talking about me for as long as wrestling exists. I'll go down as the best of all time.
After reaching the bottom of the woodlands he drops to all fours and frantically begins performing push-ups and then sit-ups.
??? -
The business needs someone like me. They need Brian Danielson.
Danielson stands beneath an enormous tree, looking up at its many outward-pointing branches. Like a cat, he leaps vertically and grabs ahold of one of its branches, performing strenuous pull-ups in mid-air.
Brian Danielson -
My names not nearly as big as it should be. I've turned down WWE, I've turned down TNA -- I've fought all over the world; Japan, Mexico, Canada, England - all across America on the independents. Wherever I go - great things follow. I'm widely acknowledged, and rightfully so, as the best in the world. Like a hand into a glove, my name with that title, it was meant to be.
Brian grabs an axe and begins wielding it into a tree with force, yelling from the top of his lungs with each ounce of contact made.
Brian Danielson -
I've trained in the dojo's, the dungeons, every top-class training facility across the world. I want to get better and better, and I will get better and better. I'm the complete athlete. Never has there been a wrestler as well-rounded and as skilled in all forms as combat as The American Dragon.
He stops finally, driving the axe into the tree one last time before turning to face the camera, speaking before signing off with a grin.
Brian Danielson -
I'm Brian Danielson, and I
AM
wrestling.
COMMERCIALS
*INTO THE ABYSS*
|Live Arena|
The daunting theme music of 'The Monster' Abyss plays to a mixed reaction
, and in turn, he emerges being lead up the ramp and into the ring by 'Father' James Mitchell. Abyss is wearing tram-like blue jeans and a cut-off cream coloured straight jacket. Mitchell scans the arena before beginning.
James Mitchell -
So here we are, Mexico, myself and Abyss have come full circle. After last Sunday's dismantling of Mr. Kennedy, just like a prophesised, Abyss is finally back to his destructive best. We have had to wait longer than I had anticipated, but the bright light shone through and lead us to the promise land once again. See, at Full Throttle, there was blood, sweat and broken bones for Kenneth. He was foolish enough to go into that match thinking that he had a hope in hell of winning, and look where he is now. He's laid out, injured,
CRIPPLED
, at the hands of my son.
Abyss rubs his hands together maniacally.
James Mitchell -
Kennedy was lucky to last seven minutes against him, and now, they don't know if he's
EVER
coming back! You're cooped up in a hospital bed somewhere, and I hope they have cable, because I want you to hear what I have to say, and this goes for everybody in the back too, for that matter; the wrestlers, the referees, the EMT's, even
YOU
Paul Heyman. I hope to Satan himself that the WAPW locker-room has taken notice, and heeded the warning, because if anybody gets in the way of this wrecking ball and the WAPW title,
YOU
will wind up in the same hospital ward as Kennedy. So, WAPW, the further emphasise how Abyss plans on destroying, dismantling, and obliterating the entire roster, he's instructed me to lay down an open-challenge. You're all watching in the comforts of your locker-rooms, far, far away from ringside, and I wouldn't be surprised if nobody showed the guts to come out here and face this man! Tonight is a holy night, for many reasons beyond my control, but for anybody who answers the challenge - it will be your
LAST
!
Abyss is left solitary in the ring, as his father steps out through the ropes and takes his place at ringside. Seconds pass and the monster awaits an opponent...
*PITBULL*
Joey Styles -
Jamie Noble?
The camera shows the puzzled, and slightly amused face of Mitchell at ringside, as well as Abyss', as Hardcore Champion Jamie Noble emerges from the back. With his title slung over his left shoulder he carries a microphone in his right hand, stepping into the ring with no fear.
Jamie Noble -
So lemme' get this straight boy, you lookin' for an opponent, right here right now?
Abyss nods eagerly.
Jamie Noble -
Good, cause' to tell you the truth, I'm been itchin' for a fight too. See, last Sunday at the Full Throttle, I didn't get no place on the show. Eight matches and dang it, I wasn't on any of 'em. So right now, I'm gonna show to Mexican, to America, the entire world, just why I'm the WAPW Hardcore champ...
With that being said, Noble crashes the microphone over the head of Abyss, catching him completely off-guard.
Match Two - Abyss vs. Jamie Noble
Despite starting the match off by catching the big man by surprise, in the end the finish was inevitable. Abyss would go on to win comfortably, but only after resisting Noble's many attempted-comebacks. Like a rabid dog, Noble wouldn't quit, worming his way out of the black hole slam after just one minute and unloading with a barrage of punches. Clotheslines were ineffective and in the end, his downfall, running straight into a this time successful black hole slam for the three. For all his tenacity and guts, after just under five minutes it was all over.
Winner @ 4.49 minutes - Abyss
*INTO THE ABYSS*
With Jamie Noble crumpled in a heap in the corner of the ring, James Mitchell joins his son, praising him for the pain he had just inflicted. Abyss seems to take a step towards Noble, as blood-thirsty as ever, but Mitchell instructs him to do otherwise. After lapping up the boo's of the Mexican crowd, Mitchell leads Abyss out of the ring. He steps out through the ropes and jumps to the mat below, however as the monster attempts to exit, be is BLIND-SIGHTED by a rejuvenated Jamie Noble! More guts than brains were displayed as he attacked the big man from behind, clubbing him with the inside of his arm, and then striking him i the lower-back repeatedly with forearms.
Joey Styles -
He just never knows when he's been beat, does Jamie Noble!
Abyss turns to Noble and sends him flying across the ring with a right-hand, but is met with a running dropkick to the sternum, sending him into the corner. After one corner-splash, he attempts another, but is caught in mid-air second time around, and slammed down with a running spine-buster! As Noble hurries to his feet he is lifted up and laid across the shoulders of Abyss, before being slammed down onto them back-first with the SHOCK TREATMENT!!!
Matt Striker -
He may have the mental capacity to never give in, Joe, but physically he is out for the count.
After sitting and regaining his composure in the middle of the ring next to the motionless body of Jamie Noble, he finally gets to a level base and exits the ring slowly. He meets Mitchell outside and is shaking violently, comforted by his father. As the two make tracks up the ramp towards the back, about three-quarters of the way up, amazingly, Abyss is jumped AGAIN by Jamie Noble!!
Joey Styles -
What the?! He's gone after Abyss - a-again!
The Pitbull lives up to and exceeds his name, pouncing on Abyss and taking him to the ground, laying into the back of his head and upper-back with hard fists. He is soon tossed away, allowing Abyss to get to his knees, but he's soon flattened by a running kick to the head!! Abyss is rocked, falling backwards, but still kneeling. Noble wipes the trickling sweat from just inside his hairline, before backing up. He then charges at Abyss once more and connects with a SECOND running kick to the head! As the big man teeters, Noble takes an even bigger step back, aiming to finish him off with another hard kick.
Matt Striker -
You know those kicks to the head of Abyss may hurt like hell, but they're not exactly going to make much of a lasting difference to his psyche are they...
Noble roars, before sprinting towards Abyss, attempting to deliver a final punt, but is instead caught by the open-palm of his rival. Abyss raises his arm high into the air and wraps it around Jamie's neck, stopping him in his tracks and choking him. Mitchell likes what he sees as his soon gets to his feet and directs Noble further and further up the ramp. Eventually they divert left towards the edge of the stage, the Hardcore champion still in Abyss' grasp. Noble is pushes closer and closer towards the edge, beneath which is a ten-foot drop onto goodness-knows what. Temporarily, Noble breaks free, raking the eye of Abyss and then attempting to know HIM off of the edge. He backs up and swings big for the masked man, but tragically it is countered into a choke once again, this time Abyss would lift Noble into the air and SLAM NOBLE OFF OF THE STAGE!!!!
Joey Styles - OH MY GOD
!!!!
As expected there is a long pause following Noble's demise. Abyss and Mitchell would leave grinning, and as Mitchell had promised, EMT's flooded onto the scene. The commentators are silent for the majority of the time, occasionally chipping in with a sombre comment. Noble lays in amongst shattered would and all sorts of wiring. He apparently crashed through multiple tables, barely missing the electrical equipment, and is eventually lifted up onto stretcher carefully and a neck-brace is placed around him. Surprisingly, a worried NIDIA would rush out and down to Noble, accompanying him whilst being stretchered away. The camera would follow Noble's enforced exit, showing his seemingly unconscious face the whole time. At the top of the ramp the Hardcore champions eyes would open slightly, and you can just about make out what he is trying to say - 'Abyss, I ain't done with him, let me out, I ain't done'.
***TONIGHTS MAIN-EVENT - MISTICO VS. ALEX SHELLEY***
|Backstage Area|
A backstage corridor is chillingly walked by four figures, one of which leading the other three. The leader is dressed in a black cloak, hooded. We can only see the back of him, but his followers are Paul London, David 'Gangrel' Heath and Matthew Michaels. They are all dressed similarly, with black trousers and long-sleeve shirts, buttoned at the top. Their walk commences as the camera stops following them and instead sees them from afar.
COMMERCIALS
|Voice Over/Live Backstage|
Joey Styles briefly takes us back to what happened before the break, narrating the shocking moment where Jamie Noble was chokeslammed off of the stage, "OMG 50 FEET TO THE FLOOR ~ !". Yeah. After falling fifteen feet through several tables, narrowly evading electrical equipment, we see a live shot of Noble being loaded up into an ambulance. Nidia watches on in a state of shock.
|Live Arena|
Hazard returns in front of the live Mexican audience following the commercial break. The camera pans a small section of the fans at the front-row, before the action continues.
*SUGAR SWEET*
To the delight of the crowd 'Sugar Daddy' Lance emerges. Dressed in 80's rock and roll attire, tight and flamboyant black pants with a leopard-skin top-hat, he is joined by two of his ring-girls. The two, let's call them blondie and brunette, are in-front and behind their man, due to the 'slipping out' that occurred last week. Reminding us of what went down, Joey Styles briefly narrates a censored version of a clip from last week, where Brunette would rip the top from her counter-part, leaving her bare. Back in the ring, Sugar Lance has a microphone and is standing confidently in front of the fans.
Sugar Lance – Hey Mexico – OLLALEEEY!
The crowd react positively to Lance's Spanish interaction.
Sugar Lance – Well, that's about all I got. Fear not though, Mexico, for the Sugar Daddy has a Sugar Sweet surprise for you!
Lance laughs rather sinisterly. All in good humour, though.
Sugar Lance – See for the past two weeks, my girls have been having some 'issues'. CLIMAXING – in last week's incident in which Allison got her shirt ripped off. Haha, it was a sad, sad day for Men-kind.
He laughs at his sentiments; the men in the arena don't seem to be TOO horrified by the breasts on show last week.
Sugar Lance – Their differences quite obviously need to be settled, and what better way to do so than in a match that will allow the opportunity for revenge after last week. What I'm referring to, girls, is a SUGAR DADDY STRIP-DOWN MATCH!!!
The Mexican audience pops enthusiastically, as does Lance.
Sugar Lance – The object of this match, Allison, Hannah, is to strip your opponent of their clothes. The winner, bar every single man inside the Arena Mexico and watching at home, is whoever can stand in-front of their naked opponent with clothes on their back!!
The girls on either side of Lance begin to trash-talk each other, wagging their fingers at each other.
Sugar Lance – Hey, hey, hey – girls, girls, girls – come on, save it for the match.
Lance momentarily holds the girls apart, before looking to his wrist-watch.
Sugar Lance – Which by the way, starts (he takes another observative glance at his rather flashy wrist watch) – NOW!
Lance takes a single step backwards allowing the two females to begin their 'match'. Blonde Allison performs a single-legged take-down before locking in an ankle lock, before transcending into an STF. The two trade-submissions and epic top rope spots through-out their fifty minute classic. Hm. Actually, they scrap maniacally, screaming and trying to rip the clothes from each other. Lance acts as referee, although he spends the majority of the time observing his two girls with a glad expression on his face. After around thirty seconds of the cat fight, the mood drastically changes. The camera fixates on the top of the ramp suddenly, where Matthew, Paul and David stand bowed.
Matt Striker –Well there stand Matt Michaels, David Heath and Paul London, the apparent associates of 'Azrael'. The question is, what now? What do they have planned?
In the ring, Lance senses something is going down, and calls a stop to the match prematurely. He keeps an eye on the three whilst shepherding the girls out of the ring. Allison and Hannah both cross their arms and are more concerned with finishing their contest. They leave through the crowd, escorted by security. The gothic individuals soon make a move down the ramp, each carrying a large candle. They enter the ring, and the light dims considerably. It's still visible what is happening, but there is an obvious sense of anticipation building. After entering they look around the arena with little emotion. Eventually they align in the centre; down on one knee each. Their candles are infront of eachother and their heads are bowed.
*ORGAN*
The eerie sound of a church-organ plays, soon to be accompanied by a drum beat and the pace quickens in the song. A hooded man soon emerges. Azrael. His head is low and in the darkness it is hard to decipher his identity. His arms are slightly outstretched so to lift the hooded trench coat from the ground. Upon entering the ring the lights brighten once more, which is the cue for him to remove the hood from his head and face. His head perks up as he stares into the arena whilst rooted to the spot. His hair is long, wetted, and of a light-brown colour. He is bearded; thinly going down the sides of his face with a thick goatee. Some recognise him as Chris Hero. He speaks slowly and precisely.
Azrael –
So it had been written, so it had been prophesised, and so it has now come to pass.
He pauses for a while, pondering.
Azrael –
I, am Azrael. Today is the twenty-fifth day of the third month. It's been two-thousand and nine years in the making, has this day. Too long I have been waiting for an opportunity to walk the earth with such a purpose, with such a
power.
God once sent his first-born son to save the world, to open its inhabitant's eyes and to save it from the nothingness of which it was becoming. God would watch on as thief's, murderers and other sinners walked his land. Jesus was sent to change the direction of the earth, and he did. He opened eyes, momentarily. He cure the old, taught right from wrong, and is credited with helping the world continue to exist.
Still looking down, he grins slightly.
Azrael –
Still, with God's blessing, God's orders and God's love – he failed. He was crucified on a cross. Some see his death, as a noble one.
Some
, actually believe that he did more in death, made more of an impact in death, than he did whilst a mortal. Jesus, though, proved that he was weak. Even with all of the power in the world, he found himself nailed to a cross and made to suffer a humiliating death.
He raises his head rather dramatically.
Azrael –
What some fail to understand is that there is no such thing as a noble death. Dying, is not a figment of nobility. You are judged by what you have done on this earth, and Jesus – failed. I, though, will not fail in my quest. I won't crumble under pressure and fall where others have fallen. Azrael, does not ignore the past, and therefore is not doomed to repeat it.
There is an underlying sound of boos directed at him. He turns around to face his three accompaniments, before looking to the crowd once more.
Azrael –
What you see assembled behind me is a gathering. A progeny. A group of men who are willing to give their mind, body and soul to Azrael's cause. David ... Matthew ... Paul – you stand at my side with the sole intention of becoming my disciples. You seek guidance, you seek knowledge and you seek power (~). I, can give it to you. At the mere clicking of a finger I can confront the higher power and take whatever it is that we please. However, to gain such a lucrative position, to earn eternal life at Azrael's side, you need to earn it. You need to prove your worth and show me why I should give power to
YOU
. Of all the billions of mortals walking the earth, the three of you are being groomed as my disciples.
He begins to slowly circle the three men, all of whom are kneeling deadly still with their candles.
Azrael –
Over the coming weeks, leading to Uprising, there will be – an Uprising. The three of you will have to rise up to gain my elixir, and to be anointed to my side. In the three weeks, the three of you will face individual challenges. You will face tasks of which the average man in WAPW couldn't handle. You will prove to me why I should invest such time and energy into you, or you shall fall into damnation. Only the strong will survive, men, and I will not accept failure. Paul...
Azrael moves towards London, who hops to his feet and gives full attention to him.
Azrael –
Do you promise to uphold my commands, and give your soul to my cause?
London smirks slightly and then nods. Azrael moves to David, and Paul kneels once more. David gets to his feet.
Azrael –
David, will you uphlod my orders and give
your
soul to my cause?
Heath nods once.
Azrael –
Good. Now Matthew, can I trust you to uphold my commands and to give your soul to my cause?
Michaels nods in response before kneeling along with David and Paul. Azrael steps away and looks to the heavens with his eyes closed.
Azrael –
O'Lord, I promise to rid WAPW of the sin, the sleaze and the wrong-doers. Father, you gave me life. You sent me from heaven, to bring the sinners hell. I will not fail you.
His head lowers and he looks into the camera, closing his eyes once again and slowly symbolising a holy cross on his chest with his right-hand.
*ORGAN*
His theme music hits suddenly and his eyes open wide. After leering at the camera for a short while he soon exits, his followers quick to follow. He leads them up the ramp, pausing at the top to look back at the crowd. He then continues and makes his exit.
COMMERCIALS
***TONIGHTS MAIN-EVENT - MISTICO VS. ALEX SHELLEY***

*BRITANIA*
The familiar sound of the triumphant trumpet plays through the sound system, accompanying the calm and collected entrance of Nigel McGuiness and big Shamus O'Shaunnessy. The fans are mostly indifferent, though leaning towards a heel reaction. McGuinness chews his gum brashly, wearing his trademark black sunglasses whilst leading the man in green down to the ring.
*NATURAL FRANCHISE*
The tempo picks up with the entrance of the flamboyant and somewhat over-confident youngsters. Dressed in matching black and pink shorts they make their entrance to a mixed reception. Stevens enters the ring with Douglas, hopping up onto the turnbuckle and pointing to the camera.
Match Three - The UK vs. The Natural Franchise
The low-key Brits have been going about their business in an admirable fashion as of late. Winning their previous three bouts, they were certainly on a roll. Many are talking about the performances of Nigel McGuiness and the ability of which he possesses. He showed it off in this match with the youngsters Andy Douglas and Chase Stevens. Starting off in the ring, he immediately made his presence known, following up an arm-wrench on Stevens and taking him down with a fire-mans carry. For all of a minute he dominated Chase, slapping on a head-lock before continuing his vertical offence with a shoulder block, sending Stevens back to his corner. Both men made the tags to their partners. SOS was soon to show why he's an integral part of the UK's good fortune, starting off with a military-press on the on-running Andy Douglas. After a spate of hard-hitting offence Douglas managed to squirm out of a powerbomb attempt, and then chopping the big man down with a drop-kick to his legs.
As the match continued both teams got in considerable offence, but none looked more likely to win than The UK. With Stevens and McGuiness in the ring once more at seven and a half minutes, the end came. McGuiness was picking up a full head of steam, taking down Stevens time after time with arm drags and then body slams. With his opponent dazed, he lent back through the ropes for n attempted flying-lariat, but found himself doing so on Douglas' ropes, being met with a hard club to the back. This distracted Nige, but it all worked out in the end, as he moved out of the way of the on-coming Chase Stevens who crashed into his partner! McGuiness took a few steps back before taking Stevens' head off with a brutal lariat!! 1,2 and 3!
Winners @ 8.02 minutes - The UK
Andy Douglas makes a sensible decision in pulling his partner out of the ring and to safety, as the proud winners stand tall with their arms aloft. McGuinness makes a move to the turnbuckles signalling that they too want title gold around their waists. He hops down and slaps the chest of his partner, who smiles at Nige. As the two make a move for the back, the camera briefly depicts the Briscoes watching on from the comfort of the lockerrom. Joey Styles adds, before sending us to the back, that both the UK and the Briscoes want title shots.
|Interview Area|
The lovely Torrie Wilson is standing by backstage with Elijah Burke. The crowd pop loudly for her.
Torrie Wilson -
Elijah Burke, earlier on tonight in Paul Heyman's office there appeared to be friction between yourself and the man who you will be teaming with at Uprising, MVP...
The North American champion scoffs.
Elijah Burke -
Friction? Baby, that wasn't friction. What you saw earlier on wasn't my and MVP's association being severed. There is no middle way with me, and if there's a real problem between the two of us - he'll know about it. However, what went down earlier, was only human. I mean, MVP's the WAPW World Champion. He's worked his ass off to get that title, and I guess now, after about an hour of mulling things over and considering where he's coming from - I understand why he's concerned. I'm no veteran, and I'm no WAPW World Champ, but aside from MVP - I'm the best thing going today. I am the black Pope. I am WAPW's guiding light. More importantly than all of my accolades - I'm the North American champion. If Montel doesn't feel like I'm up to the challenge of keeping his title around
HIS
waist, then good - it means I've got something to prove. Torrie, when it's all said and done, at the end of Uprising, when Elijah Burke and MVP stand tall in the middle of that ring - we'll
BOTH
be champions still.
Looking pleased and assured with himself, he leaves, grinning at Wilson. She smiles at the camera as we go to a commercial.
COMMERCIALS
|Physio Room|
Eddie Kingston is seated on a physio bed, holding an ice pack to the back of his neck. He looks despondent, staring down at the hard, cream-coloured floor. He perks up as the door opens and Team 3D make their way in, slowly, standing above their cousin. There is a long pause as Eddie looks at both of them. The conversation progresses slowly throughout.
Eddie Kingston -
I-I screwed up, man.
Brother Ray -
You're right, cuz, you did screw up. You made the mistake in trusting those no-good weasels of Gen Ex.
Eddie Kingston
- I know, you guys, I-I'm sorry.
Brother Ray -
Don't be, alright. The fact that you showed balls in standing for what you wanted, I'm proud. You did what you thought was right for you, and you career, and that's how it should be. So you decided that Gen Ex was the way to do it, and costing us our titles was how you were gonna get somewhere, but man - they used you. They made you turn on us, cost us our belts, and kicked you to the curb.
Eddie Kingston -
Guess I ain't gonna be so stupid next time. Eh, but what about earlier - do we got beef?
Ray looks to Devon, his is standing with his arms crossed.
Brother Ray -
No, there ain't no beef with family, man. You made a mistake, and you manned up. But, if you ever get in our way on your little journey - we'll make you regret it, family or no family.
Kingston nods in reluctant agreement. Ray smiles at his cousin. Suddenly, the door swings open again and GEN EX ATTACK TEAM 3D!! Aries, Strong and Evans all charge in and immediately go to work on Ray and Devon in particular, laying in with punches and kicks when they're floored. As Eddie tries to intervene, Jack Evans socks him, sending him down onto the floor via the wall! Gen Ex waste no time, and in gang-fashion, do there job and quickly scupper!
|Live Arena|
Following their reaction to the attack on 3D, the commentators inform us that it's time for our main-event of the evening!
*DIAL IT UP*
What follows is the single biggest pop of the night, as none other than Mexico's own REY MYSTERIO appears!!! Dressed casually he slowly makes his way down to the ring with a mic in hand, taking the time to slap as many fans hands as possible. Eventually he gets into the ring and addresses his people ... in Spanish...
Rey Mysterio -
Hola Mexico! Es con gran orgullo que me regreso a mi hermoso país, como parte de WAPW. El cruce de fronteras ha recorrido realmente me llevó a casa. Ha sido demasiado largo y estoy tan feliz de estar aquí. Te quiero a todos. Gracias. Gracias. Lo siento que no estoy aquí esta noche la lucha libre, pero lo que ahora voy a hacer es introducir a mi hijo, la mitad de los principales del evento. Él es mi hijo, es Mexico los mejores jóvenes talentos en el mundo de la lucha libre. Señoras y señores, le dan hasta - para
MISTICO!!!!
The fans are in raptures for their other favourite, the masked luchadore MISTICO!
*MISTERIOUS*
The fans cheers are still deafening as the music of Mistico hits, similar to Rey's haunting theme in his early WCW days. He makes his entrance, slapping the hands of all the fans, running down the right side of the aisle and circling the ring to slap all of the fans hands. He then goes back up the ramp to the top to slap all of the left-sides hands! He then slides in under the ropes and embraces his friend, Rey Mysterio. The two share a word and a laugh off mic.
*ALL ABOUT ALEX*
Contrary to the huge reaction for the two Mexican stars, naturally, the fans are on the back of Alex Shelley. The extravagantly disrespectful younger emerges wearing a protective face mask (think, doctors). To boot he is wearing a hair-net and rubber gloves. In his right gloved hand he holds a see-through bottle with a spray-nozzle on the head. He confidently makes his way down and into ring, making sure to spray the ropes of the ring and then the canvas. This annoys Rey Mysterio in particular, as he sprays it in the direction of the Mexican fans.
Matt Striker -
I think it's fair to say that Alex Shelley is more than a little worried about the swine-flu that's plagued Mexico recently.
Shelley then sprays it in the direction of Rey, provoking him to swiftly make a move towards him. The referee though steps in between the two and escorts Rey to the outside of the ring.
Match Four - Alex Shelley vs. Mistico
Mistico strived to begin the affair respectfully, offering his hand to Alex Shelley. This was a bold move, especially with Alex' usual demeanour in mind. Mistico's good nature wasn't rewarded, instead he found himself being sprayed in the eyes with whatever was contained in that container! Joey Styles speculates that it was bleach or 'some form of disinfectant'. With Mistico temporarily blinded his opponent took full advantage, driving his boot straight into the masked-mans gut and hammering away with forearms. After backing him into the corner he delivered a hard irish whip using every drop of power, sending Mistico flying into the opposite turnbuckle! He falls forward holding his back, and Shelley would continue the early-going in control. Never one to pass up an opening he would work over Mistico, keeping him grounded or in submission whenever he could. After slapping on an arm-wrench after just one minute, Mistico tried to get the match going, using the ropes to perform a back-flip and get out of the hold. For all his trouble, he was downed with a clothesline. Shelley's game-plan was obvious; he knew that Mistico would want to keep the bout at a fast pace and try to wow his fans with lucha libre offense so he would have to keep dictating the speed of the match. The match would progress in such a way, with Mistico's stunning offense often coming from out of nowhere, but it wasn't a case of sustained domination. Teasing for the La Mistica a couple times during the bout to excite the crowd, it seemed that Alex had his counterparts number, twice evading the finishing manoeuvre from a head-scissors position.
Time would pass, and Alex Shelley's tactics were working. At twelve minutes he had just countered attempted diving head-scissors with a powerbomb, ending Mistico's spell in control. Story of the match. Matt Striker talks up Shelley through-out, speaking of his craftiness and ring psychology. He is definitely using that to great effect on Hazard tonight. At fifteen minutes we watch as Mistico seemingly rises from the ashes, kicking out of a top-rope death valley driver! The fans are unbelievably hot for this match-up and from this point on a Mistico chant thickens - climaxing at the end of the encounter.
Mistico's in control approaching the final hurdle and he has a swarm of momentum on his side. Like a boxer facing the oncoming barrage of punches, Shelley seems shocked, succumbing to Mistico's offense one after another. After kicking out of a fishermans suplex Shelley walks straight into a barrage of chops, each one bringing the decibel level of the crowd up a couple notches! We've reached a climax, the fans anticipation for Mistico to kill off the match is at an all-time high. After a good two minutes of quick-fire offense and Shelley not being able to do anything about it - it has to end now surely. Mistico stands in one corner, waiting for Shelley to stand, the crowd sensing La Mistica to finally end this match. Ever the spoilsport, though, Alex slides out of the ring, immediately making a move towards the announcers table. He retrieves 'his' TNA X-Division title belt, referred to by an irate Joey Styles as
"that damn toy belt!"
and decides to make a move away from the ring and to the back! Unearthly boos are directed at him, but he doesn't care, breathing ever-so heavily as he makes his way towards the ramp. At the foot of it and heading forward however, Mistico slides out of the ring in pursuit, grabbing his shoulder, but is greeted with a thumb to the eye! Surely Shelley's ways won't steal this contest? He grabs Mistico by the mask and tosses him in under the ropes, followed by entering himself. He stands in the corner similar to where Mistico was just a minute previous, sizing him up with the title belt. The referee is telling him not to, but he doesn't care about a DQ. After wiping the sweat from his forehead one last time he makes his move -
VIPER
like. Swinging wildly,
MISTICO DUCKS
!! The momentum sends him into the corner. Upon walking out he receives his comeuppance in the way of a kick to the mid-section and then - after a few steps back from Mistico -
HE IS NAILED WITH LA MISTICA
!!! He acrobatically performs the tilt–a–whirl head scissors takedown, transitioning into a single arm DDT floated over into a Fujiwara armbar!!! Shelley taps immediately!!
Winner @ 18.47 minutes - Mistico
As expected the crowd are on their feet and a deafening reaction rings out. Mistico's hand is raised by the referee, and he briefly slumps to his knees in exhaustion.
Joey Styles -
Folks give Alex Shelley credit - he went in there with a game-plan and it very nearly paid off. He made Mistico work extremely hard for every drop of offense that he could get in, but in the end it's an amazing victory for this young star.
Following the match-up Mistico and Rey celebrate joyously, embracing in a hug once more and raising eachothers hands. Mistico bows to all sides of the arena, prompting immense crowd cheers. The celebrations are put on hold momentarily as Alex Shelley attempts to jump the two of them, but is soon regretting it! Rey Mysterio drop toe-holds him down into the second rope, and the fans know what's next! Mysterio backs up before running forth and hitting a 619, connecting to the mouth of the Detroit-native! The fans love it. Rey and Mistico talk briefly, before match-winner signals to the crowd for a 619 of his own! He takes a step back and hits it, knocking Shelley back and rolling out of the ring!!
Joey Styles -
Join us next week, as WAPW Hazard emanates from
THE UK
! Good night everybody - and thanks for watching.
This special-edition of Hazard ends on a joyous note, as Mistico and Rey raise eachothers hands once more.
Re: Paul Heyman's World Alliance of Professional Wrestling!
---
Hazard Feedback
Nice video package, reminding me of just what happened at Full Throttle, I really needed that, and now I look forward to what should be a good show, coming off the PPV. I expect new feuds to begin, old feuds to continue, and a rise in the overall quality of this show compared to the PPV.
Goldberg as this explosive bully type is awesome, so dragging Burke by the hair is a good option. Goldberg was a decent enough on the mic, all intense and that, although Iíve already spotted a few typos, and I really hope that is not setting a trend for the rest of the show. One thing I didnít like about the promo, and it came during a good line was this,
ďI like you Paul, and I know that the last thing that you want on your show, especially one of the magnitude of this, is a champion in intensive care.Ē
Goldberg is pissed off; heís not going to say I like you Paul. Itís totally contradicting his character, and itís something I felt totally ruined the mood. The intensive care bit was spot on, top notch line, although once again a pissed off Goldberg, actually even a civil Goldberg, is not going to use the word magnitude. It just seems way out of character, and sometimes you have to remember that it is the wrestler talking, and not you. Besides these two issues, Bill was okay though.
ďHe hurries himself down into the ring, receiving a microphone, looking at MVP before then setting his sight on ĎBerg.Ē
Okay, first query, when the hell did MVP come out? I havenít heard anything about him yet, and this just seems like a clumsy, lazy mistake. If this is the case, you must proof read. Also, with Goldberg so angry, do you really think that Heyman would just walk straight into the ring? Iím pretty sure heíd wait at the entrance ramp. Sorry, but little things like this count, imo. The rest of Heyman was pretty good, however I donít understand why when Heyman said next week, Goldberg didnít get mad again. He doesnít seem like the patient type to me.
Christian Cage? Iím not to sure how he fits into the situation, but Iím pretty sure he wants the exact same thing as Goldberg, just a different title. Either way, I think this could have been kept for later in the show, but letís see how you go with it. Christian was pretty good, showing a nice mix of seriousness and comedy, which is pretty much what his character would be like in this situation.
ďWell I guess Iím the fourth and final piece to the puzzle arenít I. The Ďcrown Jewellí of the WAPW roster.Ē
Awesome line, great way to kick off the MVP promo, this line just exuded arrogance, and thatís exactly what his character should be like. From here, I felt as if the cockiness was a little forced, but I guess it was still decent enough. The ladies coming out was a nice touch, looks like MVP made a call to an escort service.
ďThe fans, who understand English, boo intently.Ē
, classic, imo. A nice main event for the PPV has been announced, although I would have preferred for the tag match to happen on a weekly show. Although, I guess this is a way for one of the feuds to continue, as the man who doesnít get pinned is still going to want a shot. Decent start to the show, although bits and pieces of the promo could have been better, it looks as if everything is set for the next month now, my only problem is perhaps you made the match announcement a bit early.
Before I start reading the opening contest, Iíd just like to add that I love the fact that Doane has dumped Roberts, I can really see him going far now. Nice win for Albright, thanks to a Roberts incidental distraction? Either way, good start to the in ring action, and Iím interested to see just whether Roberts continues to pursue Doane, and just what happens. It looks like an explosive situation in the making. Another thing Iím curious about is I wonder exactly what is going to happen to Albright. He has got an impressive win, and I truly believe there should be gold in his future.
ďMistico vs Alex Shelley!Ē
Canít wait to read it, to be honest.
Nice argument between Heyman and MVP, absolutely nothing wrong with the way the thing was written, and from this it looks like youíre trying to build some conflict between MVP and Burke. I loved Burkeís reply to MVP, and itíll be interesting to see just where this heads, but it seems as if youíre trying to stack the odds against MVP, and I get the feeling he is going to have a JBL type championship reign.
Gen Ex in the houseÖ Austin Aries with a typical victory speech, nothing overly great, although nothing bad, but Iím definitely looking forward to hearing from Eddie Kingston more. AndÖHereÖWeÖGo.
ďNow Team 3D.Ē
Is this really the way he would speak to his family? You should have left this bit out, just didnít feel right at the start. Besides this, Kingston was pretty spot on, and I actually enjoyed the way his character seemed to be going.
Although, that ended when he got attacked pretty quickly, but this is all about Gen Ex, and theyíre definitely going somewhere in this thread. This put over their conniving side, and just what they will do to win the tag team championships. Thought it was awesome, and twist with Team 3D taking out Kingston was great to, it shows that the most important things to all the teams are tag titles, and could add a lot of depth to things a little later on.
Jay and Mark Briscoe did not need to be mentioned here, donít try and move some things to fast.
Just by looking at this video package I can see big things in store for Brian Danielson, and why not? Is it not Bryan Danielson though? Iím not to sure myself now.
Anyway, check the spelling, and then have him own in this thread.
James Mitchell laying down an open challenge for Abyss, with a pretty cool speech to go with it. I call good work on this; it was a very fun read.
Jamie Noble accepting the challenge is definitely something I didnít expect, although it does excite me greatly. A push for this man would be off the hook, but unfortunately, I can only see a loss in his future tonight.
Abyss gets the big win, and Iím disappointed Noble, who is a champion in your thread, only went under five minutes with the big man.
This brawl after the match was written really well, Power. Seriously, you should pat yourself on the back for this one. You had Abyss continue to remain like a monster, and dominate physically, however the resilience you gave Noble showed me that he does indeed have a future in this thread, and thatís something I really am happy to see.
ďAbyss, I ainít done with him, let me out, I ainít done.Ē
This line personifies the whole ĎPitbullí character, and an Abyss/Noble feud would be interesting, but I couldnít help but feel itíd be a little one sided, so hopefully itís just a little thing.
Hmm, New Brood? If so, youíve got some work to do, as teams with the word new in it never really work.
Noble was awake, so it wonít make sense, if he isnít back next week, so hopefully he is back with a vengeance for your next show.
Sugar Lances speech bored me, it seemed to have no use what so ever, and this is exactly the opposite to what a created fed should be heading towards.
Chris Hero as this Azrael character? Weird, but Iím willing to give it a chance. I love these type of gimmicks, and this promo was definitely my favorite of the night so far.
ďAt the mere clicking of a finger I can confront the higher power and take whatever it is that we please.Ē
This mention of the higher power makes me think that Azrael is not the real leader, hopefully this is the case and this Ďhigher powerí becomes more and more of a mystery in the coming months. Itís a shame James Mitchell is busy, I could see him leading these guys to success perfectly, but for now, Hero will do, and Iím definitely looking forward to what these guys do in the future of this thread. I say the future because Iím pretty sure the next three weeks are going to be pretty standard with each one of Azraelís minions picking up a victory to prove themselves.
Nice win here by The UK, they were the only option, as I really donít like the team of Douglas and Stevens all that much. Looks like another team want a crack at the tag division, and is it weird that I find your tag division to be the most exciting of your whole thread?
Ugh, I didnít like the way Burke had changed his tune from earlier in the program. Earlier in the show, things were looking exciting for MVP, now they are looking dull, and it looks as if it could just be a normal two on two feud.
ďIím no veteran, and Iím no WAPW World Champ, but aside from MVP Ė Iím the best thing going today.Ē
With this line being said right here, can you explain to me just why they were arguing earlier in the show? I really think youíve dropped the ball with this one, and I feel as if your whole main event scene just dropped a level in excitement.
Nice little family reunion, and this further emphasized my point that Team 3D will do anything for the gold. Putting their family before gold, and letting Kingston know they would do it again if he got in their way just shows me that there definitely could be a heel turn for 3D in the future. They donít care about anything but gold, theyíre greedy. For now though, they are the face team, and as much a is think theyíre stale as faces, they have a good role in this thread at this point in time. Gen EX attack was well done, and I think we may have a six man tag in the future.
Rey Mysterio makes an appearance for no reason at all other then the fact that they are in Mexico, right?
Anyway, probably would have been good if you could have translated what he said under the Spanish text.
Awesome, main event by the sounds of it. Probably could have been written out a little better, but I got the picture that it was an epic match anyway so it didnít really matter. Big win for Mistico in his home town as well.
Good for Rey Rey to after the match get a bit over on his rival, Shelley. This just adds some fuel to the fire, and makes me look forward to what else will happen between these guys in the coming weeks.
Overall, the show was better then decent but not great. Good is probably the world Iím looking for. Iím loving the look of your tag division, while the rest can use a little bit of work. Shelley/Rey is good, Doane is looking promising as hell, and I will have to wait and see what happens with this Azrael thing. Your main event scene I believe needs some work, and to ignore it as much as you did through this show (no main eventers had a match is not a good way to start, although you still have plenty of time to fix things. This was definitely a step up in quality from the PPV you produced, and besides the things Iíve mentioned, there are also a few clumsy mistakes that Iíve mentioned throughout that shouldnít be around. Youíre doing okay anyway, keep it up.


---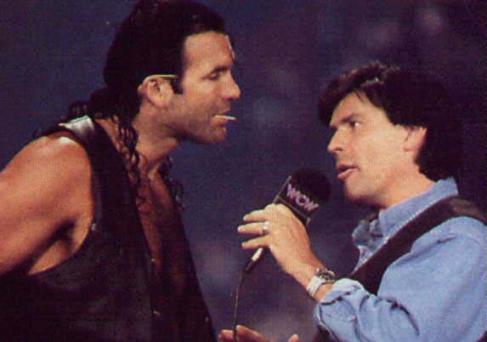 Re: Paul Heyman's World Alliance of Professional Wrestling!
---
Power's Review Of Stojy's Review...
"He hurries himself down into the ring, receiving a microphone, looking at MVP before then setting his sight on 'Berg." Okay, first query, when the hell did MVP come out? I haven't heard anything about him yet, and this just seems like a clumsy, lazy mistake. If this is the case, you must proof read. Also, with Goldberg so angry, do you really think that Heyman would just walk straight into the ring? I'm pretty sure he'd wait at the entrance ramp. Sorry, but little things like this count, imo. The rest of Heyman was pretty good, however I don't understand why when Heyman said next week, Goldberg didn't get mad again. He doesn't seem like the patient type to me.
MVP was one of apparently many typo's. I've been having computer troubles for the last year or so and thus it's really hard for me to write these days. My 'laptop' needs a monitor to be classified as usable, due to the screen being completely boned. Such errors will be eradicated in the next show.
Before I start reading the opening contest, I'd just like to add that I love the fact that Doane has dumped Roberts, I can really see him going far now. Nice win for Albright, thanks to a Roberts incidental distraction? Either way, good start to the in ring action, and I'm interested to see just whether Roberts continues to pursue Doane, and just what happens. It looks like an explosive situation in the making. Another thing I'm curious about is I wonder exactly what is going to happen to Albright. He has got an impressive win, and I truly believe there should be gold in his future.
Due to Doane and Roberts both having volatile personalities there's trouble going down at the moment. Doane is too stubborn to listen to his mentors advice and as a young man, puts his recent losses down to Roberts. I can tell you that there's a more to come from them as a duo, and a lot more to come from 'Anti Saint' Ken Doane.
Nice argument between Heyman and MVP, absolutely nothing wrong with the way the thing was written, and from this it looks like you're trying to build some conflict between MVP and Burke. I loved Burke's reply to MVP, and it'll be interesting to see just where this heads, but it seems as if you're trying to stack the odds against MVP, and I get the feeling he is going to have a JBL type championship reign.
MVP's certainly got 'the cabinet' in place, but twelve months would be a bit extreme.
Jay and Mark Briscoe did not need to be mentioned here, don't try and move some things to fast.
Yeah, you're probably right. Fear not though, for they aren't in the title contention just yet. Just wanted it known that another team was watching over. The UK are also, so that's two teams who want to be next for title shots.
Just by looking at this video package I can see big things in store for Brian Danielson, and why not? Is it not Bryan Danielson though? I'm not to sure myself now.
Anyway, check the spelling, and then have him own in this thread.
I'm going to try my best to treat him like a big deal from the start. There's no point in me building him up as a nobody so I'm going to drop him in the upper-midcard and start from
there. He won't be in any hit and runs any time soon, so he'll be establishing himself on his wrestling ability for now.
Hmm, New Brood? If so, you've got some work to do, as teams with the word new in it never really work.
I don't remember refering to them as the New Brood.
Nevermind.
Sugar Lances speech bored me, it seemed to have no use what so ever, and this is exactly the opposite to what a created fed should be heading towards.
That was totally only there to benefit Azrael's segment. I'm pretty ashamed of that promo with Lance and his ring-girls but it's hardly a big feud or anything.
Nice win here by The UK, they were the only option, as I really don't like the team of Douglas and Stevens all that much. Looks like another team want a crack at the tag division, and is it weird that I find your tag division to be the most exciting of your whole thread?
Lol, not at all.
Glad you do.
Ugh, I didn't like the way Burke had changed his tune from earlier in the program. Earlier in the show, things were looking exciting for MVP, now they are looking dull, and it looks as if it could just be a normal two on two feud. "I'm no veteran, and I'm no WAPW World Champ, but aside from MVP – I'm the best thing going today." With this line being said right here, can you explain to me just why they were arguing earlier in the show? I really think you've dropped the ball with this one, and I feel as if your whole main event scene just dropped a level in excitement.
After mulling over for it for the better part of an hour he came to his MVP-loving senses. I'll admit I dropped the ball a little with their feud and I'll look to address it and improve it considerably in the next show.
Awesome, main event by the sounds of it. Probably could have been written out a little better, but I got the picture that it was an epic match anyway so it didn't really matter. Big win for Mistico in his home town as well.
Yeah, there's only so much a half-assed recap can do. Luckily, with two guys like Mistico and Alex, anything less than pretty good would be probably be impossible. I'm not a good writer or match-recaps, but at this time, PPV's as well, it's the best for me as it keeps me writing as a whole.
Good for Rey Rey to after the match get a bit over on his rival, Shelley. This just adds some fuel to the fire, and makes me look forward to what else will happen between these guys in the coming weeks.
I can tell you that Rey is 'real life' injured for the time being, so his pal Mistico will fight for his honour until he returns. Gotta love killing off some of my top stars (Kennedy, Rey, London for a couple months).
Anyways man, thanks a hell of a lot for the review. There's a lot of things that you've brought to my attention that need to be improved, which I'm grateful for. Also, It was something like 22 pages on Word, and I appreciate that it will have taken a while to review, so for that, and for generally being awesomes, thnx.
Re: Paul Heyman's World Alliance of Professional Wrestling!
---
WAPW Adrenaline Quick Results;

Reid Flair def. Jim Jacobs in the 'To Be The Man' challenge @ 4.23 mins
La French Connection (Sylvan & Rene) def. Jerelle Clark & David Young @ 3.44 mins
Tyler Blaze def. Ken Omega @ 12.12 mins

Notes;

- Show taped before WAPW Hazard.
- Jimmy Jacobs competed as Jim Jacobs, sporting a regular look.
- Kenny Omega worked a second successive Adrenaline show.
Re: Paul Heyman's World Alliance of Professional Wrestling!
---
Hazard Feedback
Sup? Good to see you back. Now no more sabbaticals plz.
A recap video to start us off was much needed, tbh. Good to see it, since itís been that long since between shows.
Intense start, with Styles and Striker not even getting to go through their little bit. As I said, I donít like the way this angle has gone, as it really canít benefit anyone. Was hoping youíd have dropped the title part of it after the Pay-Per-View, but I see that isnít so. The ĎBerg wasnít too bad here, as you showed intensity, which is what makes Goldberg good. It was actually pretty good, imo. Heyman playing the good guy was alright, nothing wrong with him either. Christian Cage coming out took away from the intensity of Goldberg and kinda shifts the limelight a bit too far away from him, imo. I would have preferred to have maybe seen this close the show. What he said was all alright, reasonably in character with a bit of fun mixed in with the serious Christian. Heyman giving neither man a match for now, really getting angry; heel turn coming, perhaps? Seems like a sign to me. Promo had a hit a wall at this point with not much more you could do, so Iím glad MVP is getting involved. MVP was alright, though rather than him saying he was good looking, you probably would have been better off having him spout off a line about how heís highly paid or something. The little skank lines were pretty funny from Cage, though Iím not big on the main event for the next PPV. Idk, I donít like tag matches with titles on the line too much, although I guess it provides a way to keep the gold on Burke, which is pretty smart. I just donít generally think singles titles should be decided in tag matches. Anyway, as far as the whole promo goes, it was kinda up and down. It was solid throughout, though it picked up in a few places and dropped back down to that solid level again, if you know what I mean. Not bad, but nothing spectacular.
Pay-Per-View rematch does its job, as you keep Albright going on at a strong level, while also continuing the Doane/Roberts storyline. Not sure where you plan on going with it, but itís going somewhere at least. As for Albright; donít lose him in the shuffle this month, plz. The guy would make a good opponent for maybe Elijah Burke after ĎBerg, so keep him simmering along.
MŪstico vs Shelley? Smart main event for Arena Mexico.
Alright promo to keep the little tension between MVP and Burke going that you had start a few weeks back. Not liking the idea of the stable falling apart already, since itís only been two months together, so hopefully this is just a swerve. The dialogue was alright, with MVP finally spouting off his catchphrases which probably should have been used earlier. Decent stuff.
First thing I notice is you making Kingston look kind of like he doesnít fit in (at least thatís what it seems like). Hopefully you donít have him just turn back, as that would be kind of boring. I think now youíve made the decision to stick him into Gen Ex, it should stick. Anyway, your Aries promos have always been pretty good and this is no exception. You write him very well, getting his cockiness across in a great way. Kingston talking about how he still loved his family and stuff kinda pointed to him never fitting in with Gen Ex, and well, the idea of them using Kingston is one you donít see too often, so well done on doing something different I guess. Kingstonís in an odd spot, as 3D obviously hate him too, with them 3Díing him through the table showing that. Itíll be interesting to see your next move.
Danielson promo was interesting, though I should point out itís spelt Bryan, obviously with the y. The only real problem I had was Danielson talking about how he would get better, only to say he was the complete athlete the next sentence, which kinda contradicts what he just said. He canít be complete if heíll continue to improve. Danielsonís epic, so I expect great things. You could throw him in the cruiser division like Para did and have some epic matches, or possibly throw him in there with Albright. Lots of options so I look forward to seeing what you do.
You captured Mitchell pretty well like always. Maybe a bit shorter this week, but I guess thatís because he had a match to follow. Only real complaint was Mitchell calling Kennedy Kenneth, as well, it sounded kinda dorky. Apart from that, a solid promo to say the least for Mitchell. As for Noble accepting the challenge, Iím kind of torn. I donít like seeing champions job, but I also like the courage youíre having him show by putting his hand up, showcasing him well. The promo from Noble was probably a bit overdone in terms of Southerner mannerisms. Dang it? Iíd rather not hear him say that. The aftermath of the match I think did a great job for both men and was an excellent idea. Showcasing both Nobleís fight and Abyssí power and destruction well, youíve put over the two key aspects of both performers in one segment here, which is great. Interested to see what you have next for both men, as I canít see too much of a feud happening between the two.
I was questioning why you would waste time with such a segment until you had the hyped debut of Azrael interrupt the little catfight. Disappointed in the choice of Hero tbh, as he plays the cocky character to a tee, really getting under the skin of the fans well. Would really have preferred to have seen him come in as regular old Chris Hero. Having Hero interrupt Hoyt makes sense I guess, since this biblical figure wouldnít approve of a thing such as catfights (which makes me wonder why you never mentioned it throughout the promo). The promo was kinda meh, as while the character was clear, Iím just not a big fan of the idea. I mean, Mordecai was a fail gimmick and itís not that far off it, only with an actual good wrestler stuck in it. It seems like you can only do so much with the gimmick (with Azrael protesting against sinners), so Iím interested to see how long this can last. As for the challenges over the next three weeks, I guess itís all well and good. Anything to get London back in the ring. Was hoping heíd be a permanent fixture in the cruiser division, but I guess not now heís stuck in this. Prove me wrong with this faction and make it go places, plz.
I thought The Natural franchise made their official heel turn on The Briscoes? Guess not. This match served its purpose well, getting the other tag teams on the show, possibly creating a little feud for The Briscoes and The UK, as both teams want the gold. Good to see you continuing to push these teams to get them Ďmore overí. Nice work.
Elijah backing down here made him kinda look like a bitch, tbh, though Iím glad it seems like all is well between Gen Ex. Breaking them apart this early would definitely be a mistake. Keep the gold on Elijah and push him up the card slowly, plz.
Well, I guess connecting 3D and Kingston back up was the best move since Eddie was in limbo here, and I liked that you emphasized that because theyíre family and that they stick together and all that stuff. The attack from Gen Ex was pretty damn smart, keeping the feud going at an personal level, while showing that Gen Ex are desperate to get a shot in at 3D. Good segment.
Glad to see this in the main event in Mexico, and well, the use of Mysterio to introduce MŪstico in Spanish was pretty clever. The heelish entrance of Shelley was absolute gold too, so great work with that. Heís probably the character you use best, and it really showed there. I also want to say thatís itís great to see you really show that this is the main event with a real write-up, much longer than the others and as such, making it seem more important (which it is as itís the cherry on top of the show). The match was written pretty well, with Shelley playing the role of spoilsport throughout really well. MŪstico ultimately overcoming him and winning was definitely the right move in Mexico, and it was great to see it get some real time. Having MŪstico and Mysterio play it up to the crowd at the end was the right way to end.
Glad to see you back here with what I thought was a pretty good show. The promos were pretty good, the angles solid and the match writing stepped up this week. A smart way to finish the international show, this was probably one of the smarter booked shows youíve had, coming off a Pay-Per-View that probably needed some good booking coming out of it. Good way to bounce back.
---
Dub A P Dub
---
Hiatus - Part Deux

Rather than just ending this via not posting, I'm just going on record to say that I'm taking another break from WAPW. When I took one a little over a month ago, I thought that I'd actually get some work done and do my best to make this thread a success. However, once again I've encountered problems.

For those who are wondering what; well for the last year or so I've been using a laptop with a smashed-up screen, therefore whenever I need to use it - I have to plug a big, heavy-duty moniter in. What's worse, is that my laptop no longer recieves wireless, so in addition to it being uncomfortable and the hassle it causes when I can't get the screen on, I have to sit right next to the intenet adapter. I hope you understand where I'm coming from. This is also why I rarely/never review anybody elses work.

The next show is actually almost done, but I'm going to refrain from posting for a while. I want to get them all written up, so it's not 'a show every month'.


Jon.
---
Last edited by Jon Staley; 10-27-2009 at

02:32 PM

.
Learning to break kayfabe
Join Date: Jul 2009
Posts: 102
Points: 0
Re: Paul Heyman's WAPW
---
Edit: Spam....
---
Last edited by KOP; 08-24-2009 at

04:07 PM

.
Re: Dub A P Dub
---
News And Notes - 31st March 2009

WAPW has been ordered by the court of law to pay WWE and TNA a further $970k in compensation. The verdict comes after both companies filed a law-suit against WAPW for 'breaching contracts' and 'poaching their employees'. MVP, Ken Kennedy, Christian Cage and Rey Mysterio are the most noted to be signed from the WWE, whilst Alex Shelley, Abyss, Sugar Daddy Lance (Hoyt) and Team 3D also joined from TNA. This is on-top of an original compensation package of around $500k and $80k to both respective companies. Both WWE and TNA are said to be appeased to a degree, whilst WAPW have yet to comment on the situation. The ruling also stated that WAPW are to not approach contracted individuals, as it could result in a very more serious course of action.

Ric Flair has reportedly taken a step closer to signing with WAPW. WA' officials flew him in to New York city this past Monday for further contract talks. Said talks were reportedly very positive, and it is almost set in stone that the legendary Naitch will appear on WAPW programming sooner rather than later.

Last weeks WAPW Hazard drew a 3.9 rating. It has beaten Raw for a ninth successive week, this time by a .1 margin. In Mexico. where Hazard was held, it drew an incredible 7.1 rating, defeating any WWE programme for a long-while. WAPW are said to not be paying much attention to their ratings at the present, and are instead waiting until they achieve a consistent run to really see how they compare to WWE. As reported two days ago, TNA Impact drew a year-low 1.0 rating, down from the previous weeks 1.1.

As we discovered last week, WAPW has brought in Chris Hero to play the role of the mysterious character 'Azrael'. WAPW's official website revealed that he signed a two and a half year deal with the company.

This weeks Hazard will be held at the Newcastle Metro Radio Arena in England. It will be taped later tonight and is to air tomorrow night live on British television on FX, and then on US-FX as its usual date and time.



For those wondering I am indeed bringing back WAPW. I got nine shows posted and I feel that there's still a lot to be achieved within this thread. It brought some good recognition and won me an award, so I'm definately looking to pick up where I left off. With Szumi's return as well as Mikey's NXG making a strong debut, I've got my work cut out to establish this as one of the top non-WWE threads, but I genuinely feel that in time I will do so. I'll actually be posting the second show following the Full Throttle PPV within the next two days as I've made considerable progress with it over the last few days.

Jon
---
Last edited by Jon Staley; 10-27-2009 at

02:59 PM

.
Posting Rules

You may not post new threads

You may not post replies

You may not post attachments

You may not edit your posts

---

HTML code is Off

---