Re: Paul Heyman's World Alliance of Professional Wrestling!
---
An updated version of the WAPW roster.
On Air Talent
Commissioner –
Paul Heyman
Commentators –
Joey Styles and Matt Striker
Interviewers –
Shane Douglas, Scott Hudson and Torrie Wilson
Ring Announcer –
Howard Finkel
WAPW Title Contenders
MVP(c)
Abyss
(Managed by 'Father' James Mitchell)
Christian Cage
Ken Kennedy
Goldberg
North American & Hardcore Title Contenders
Elijah Burke (c)
Jamie Noble (c)
Rey Mysterio
Alex Shelley
'Sugar Daddy' Lance
Brent Albright
Ken Doane
Cousin Eddie
Colt Cabana
Spike Dudley
Cruiserweight Title Contenders
Teddy Hart (c)
Puma
Amazing Red
Mistico
Jack Evans
Paul London
Tag Team Title Contenders
Team 3D (c) –
Devon and Ray
Street Inc. –
JTG and Shad
La French Connection –
Rene Dupree and Sylvan
The Briscoe Brothers –
Mark and Jay Briscoe
The United Kingdom –
Shamus O'Shaunessey and Nigel McGuiness
The Natural Franchise –
Chase Stevens and Andy Douglas
Alliances
Gen Ex - MVP, Elijah Burke, Jack Evans, Roderick Strong & Austin Aries
Team 3D, Spike Dudley and Cousin Eddie
The UK & La French Connection
Street Inc. & Colt Cabana
Mistico & Rey Mysterio
Edit - Shut ya' pie-hole, Stoj.
Re: Paul Heyman's World Alliance of Professional Wrestling!
---
Fuck, this just reminded me how sexy your roster is. Ummm, besides the crowning of champions, what else has really changed since your initial rosters post? If nothing, I don't see why this was needed. I call spam.
<3 you.
---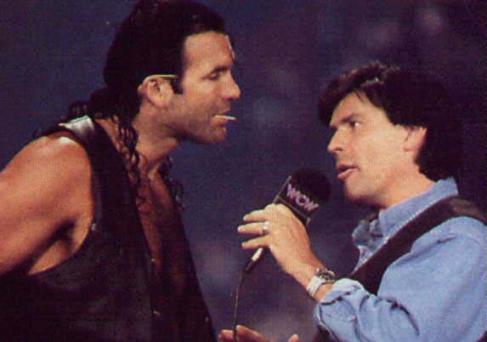 Re: Paul Heyman's World Alliance of Professional Wrestling!
---
This Week's Card For Wednesday Night Hazard!

- Goldberg vs. 'Anti Saint' Ken Doane | Winner vs. Sugar Daddy Lance - North-American Title Number One Contenders Match
- Colt Cabana & Street Inc. (JTG & Shad) vs. Sylvan The UK (Nigel McGuiness & Shamus O'Shaunessy)
Jay Briscoe vs. Chase Stevens
Alex Shelley vs. Matt Michaels
- Cruiserweight Champion Teddy Hart vs. Hardcore Champion Jamie Noble

Two hours of non-stop action, the likes of which can only be seen in the WAPW!
Tag Teaming With James Ellsworth
Join Date: Oct 2008
Location: Land of the Green
Posts: 1,203
Points: 6
Re: Paul Heyman's World Alliance of Professional Wrestling!
---
Holy shit, that looks like such a great card for this week, I'll definitely be checking this one out as soon as it gets posted
. The reason I think that is because looking at those matches such as the six man tag team match, Shelley/Michaels, and Goldberg/Doane makes me 'wanna see this show. PM me when the show is posted plz.
Re: Paul Heyman's World Alliance of Professional Wrestling!
---
I'd prefer a real preview thanks, you lazy son ah mah gun.
The card itself looks pretty good. Doane jobbing makes me rather sad, since I would have rathered have seen the Berg beat Hoyt, then have Burke come in and beat him down for the DQ win. Poor Doane's momentum is about to be steamrolled.
Besides that and Shelley's squash win, the rest of the card looks alright. I'll check it out, as per usual.
---
Re: Paul Heyman's World Alliance of Professional Wrestling!
---
Hey Power. How's it going. I'm going to be releasing my new BTB soon, so I though I better get into some BTB's. Yours caught me eye, tbfh.

Nice preview. I assume from previous posts that your previews are usually longer, so I forgive and forget. Not a bad card. since I haven't been following this thread, I'm going to go off what I know, tbh. what I know is Goldberg is a bigger star than Ken Doane. The obvious thing would be to say he will go over. Though I hope he doesn't. He's an old prototype of 'tista. So basically, he sucks.

The rest of the card looks ace. Make Shelley win plz, and good luck. I'll be reading and reviewing.

Laterz.
Re: Paul Heyman's World Alliance of Professional Wrestling!
---
World Alliance Professional Wrestling presents – HAZARD!
Wednesday 18th March 2009
TD Banknorth Gardens, Boston
Last week:
MVP vs. Abyss
Hazard kicks off in the form of a video package, highlighting the main-event from last week. It features the entrances of both Abyss and MVP, before all the in-ring action kicks into gear. MVP looked the most likely to get the win, countering a black-hole slam attempt into a DDT. With the champ set to earn a night-off at Full Throttle the referee found himself knocked down after an inadvertent clothesline from Abyss. This would allow Christian Cage to briskly make his way down to ringside, to do a little bit more than just survey the surroundings of Tennessee. After passing by the bell-ringers table to grab the title he slides in under the ropes and into the ring. MVP is down and slowly making his way to his feet –
CRACK!
Christian runs and nails him with the belt! Abyss and Cage then lock eyes on each other. Cage walks aw… -
CRACK!
He surprises everyone by nailing Abyss, too! With the referee still down Cage raises MVP to a level-base before downing him with an Unprettier! Abyss slings his arm over; 1 … 2 … 3 … 4 …5 – BRET HART! The Hitman emerges from the tunnel wearing a referee's shirt!! He swiftly hops through the ropes and makes the cover – 1, 2, 3!! The video ends with Bret Hart raising the hand of Christian at the top of the ramp, and with MVP seething, leering at them from through the ropes.
*OPENING VIDEO - 'HELL YEAH'*
*PYRO*
|Live Arena|
After an impressive pyro display and the usual surveying of the Boston crowd, we pan to the broadcast booth where our team of Joey Styles and Matt Striker gear us up for tonight's show!
Joey Styles –
Hello everybody and welcome – to Wednesday Night Hazard! We are just four days away from Full Throttle and tonight WAPW comes to you live from the TD Banknorth Gardens in Boston! I'm Joey Styles, joined as always by my broadcast colleague – Matt Striker!
Matt Striker –
Good evening everyone, great to be here in Boston, not so great to be here with Joe Styles, but nevertheless the show tonight I'm sure will more than make up for it – the card is stacked from top to bottom.
Joey Styles –
Thank you, Matt, and the card is indeed stacked – how about this for a main-event? Champion vs. Champion – Cruiserweight Champ vs. Hardcore Champ – Teddy Hart taking on Jamie Noble! I cannot wait for that one!
Matt Striker –
Well you do love your man-on-man Hardcore action, Joe, but I too am looking forward to the clash of the champions here on Hazard.
Joey Styles –
We've got six-man tag action coming up later on tonight: Street Inc. and Colt Cabana vs. The United Kindgom and Sylvan of The French Connection! Sure will be interesting to see Colt Cabana in action after his troubled past few weeks!
Matt Striker –
No kidding, Joe. This is his idea of 'making it up' to Street Inc. after he cost them their match last week on Hazard with The UK.
Joey Styles –
Will they be better off without Colt Cabana, we'll have to wait and see, but what millions of people are waiting for – a name synonymous with this industry – BRET HART is here tonight on Hazard to address you, the fans! That's all coming up throughout the show but first we're heading straight to the ring. WAPW is where the action is and we bring you the very best, non-stop! This match made last week Goldberg vs. Lance Hoyt, and then the winner of that match immediately faces 'Anti Saint' Ken Doane.
|Video Package|
Joey Styles briefly narrates a clip from last week, Goldberg making his way to the ring during Lance vs. Doane and taking out both men!
|Live Arena|
Howard Finkel stands dead-square in the middle of the ring and proceeds to announce the following 'number one contenders, special challenge match'.
*SUGAR SWEET*
The Sugar Daddy Superstar emerges from the tunnel tailing two of his finest women. Both women make way on each side of the ramp, arms crossed and looking angry at each other after the bitch-fight between them last week. Lance is dressed in tight purple leather pants and wearing his usual shiny black leather jacket and extravagant top-hat. He smiles into the camera showing off his gold-encrusted grills, before suddenly the camera jolts to behind him – they women are fighting again!
Matt Striker –
Oh go on Joe, we all know you want to say it…
Joey Styles –
(clears throat)
CAT FIGHT!!!
Blondie and Red-head as they are affectionately known after both wearing hot-pants and small tube-tops. Blondie takes down Red-head and they drop to the ramp, pulling at each others hair and rolling down to the ringside area!! Lance does little to stop it, instead watching on in interest. The crowd eat it up, and as security guards head towards the ring, begin a 'let them fight' chant! Both women have ahold of eachothers tops, pulling and pulling, occasionally pausing to deliver a slap or a tug at their counterparts' hair. Soon enough, the unthinkable happens. On live television, though post-watershed, Blondies top is ripped up, over and off of her head, revealing her bare breasts!!
Joey Styles –
OH MY GOD!!!!!
Red-head parades the top around the top of her head, swinging it around before tossing it down on her enemy. It isn't long before she covers herself up with the garment, looking shocked at what has taken place. The crowd is stunned, and apparently so are the commentators! Lance finally enters the ring, grinning, before both women are escorted to the back. After a short-while, a Goldberg chant begins, growing louder and louder with the passing seconds. Then, a very familiar tune blares through the HD system…
*WHO'S NEXT*
The mood in the arena shifts instantaneously. The focus is soon off of the nudity and bitch-fighting – it's on Goldberg and the action that will follow. Unphazed as usual, he emerges through the stream of pyrotechnics, snorting and spitting before striding purposely down into the ring. He circles his prey, never ceasing to make eye-contact, rather striking fear into the heart of Sugar Lance.
Match One – Part One – Goldberg vs. 'Sugar Daddy' Lance
For Sugar Lance, there is a title-opportunity at stake. The chance to wrestle Elijah Burke for the North-American title belt at Full Throttle. Burke, let's remember, is the man who defeated Lance in the finals FOR the title at Battle Lines, so a degree of pride is on the line, too.
For Goldberg, there is more than just a title match on the line. A chance at Burke is a chance at retribution. Three weeks ago Goldberg was savagely attacked by a mystery assailant, who we later found out to be Elijah Burke doing the dirty-work of MVP. Goldberg has stalked the champion ever-since and now has the chance at a one on one match. To get it, he must defeat not one but TWO of WAPW's youngest and hungriest talents!
Goldberg was surprisingly slow getting to an advantage point. The crafty Sugar Daddy Superstar would use his agility to keep Goldberg guessing. For a big man, Lance really is impressive. Goldberg found himself being dominated for a short-period of time, with Lance working on the legs of 'Berg, keeping him grounded and trying to wear him down and slow down the pace of the match wherever he could. Lance knew that that spear can come out of nowhere. However his defense couldn't last forever; Goldberg, towards the five-minute mark came out of his shell, countering an irish-whip attempt and sending Hoyt back-first into the corner. He then drove his shoulder repeatedly into his opponent, softening him up for an impending spear. 'Berg followed it up with a superplex, driving the taller man down and into the mat from at least 5 foot in the air!! 1,2 – NO. Lance may have been better off staying down, as Goldberg would then back into the corner, cocked like a pistol –
SMASH
!! Goldberg scores with a ferocious
SPEAR
!!! 1,2 and 3!
Winner Of The First Challenge – Goldberg!
After dragging Lance to his feet and tossing him out through the ropes, the winner of the first fall stands ready for the final competitor. Goldberg slaps himself numerous times, psyching himself up even more, anticipating the next victim, perhaps.
Joey Styles –
Well it's one down, and one to go for Bill Goldberg!
*CRASH*
Sirens blare monotonously for a short-period of time before transcending into a heavy-metal beat. The Anti-Saint Ken Doane's face is a picture of determination, showing no fear as he hops up onto the apron and into the ring. Jake Roberts watches on as usual from ringside.
Match One – Part Two – Goldberg vs. 'Anti Saint' Ken Doane
After entering the ring Doane immediately gets up in Goldberg's face, trash-talking him and staring him out. Before long, Doane slaps Goldberg across the face before proceeding to lay into him with hard punches to the head, repeatedly, so many that Goldberg is knocked back and into the corner where he falls to the mat. As Doane begins to choke Goldberg with both hands, the referee has a job to get the Anti Saint away and prevent him from DQ. The Snake soon climbs up onto the apron via the stairs and attempts to calm his protégé down and prevent him from a DQ loss.
Not intimidated in the slightest, Doane takes the fight to the much more experienced opponent in an uberly-aggressive manner. Doane never seems to let up the offense, with the referee often having to step in and lure him away. All good things do ultimately come to an end and this time for Ken. With Goldberg in the corner, Doane is firing away with right-hand shots to the head one after the other. However, 'Berg somehow grabs the hand of Doane before contact and proceeds to clutch at it maniacally, squeezing it so hard that it sends Ken to his knees in agony. With Doane at his mercy, Goldberg's offense picks up at last. An irish-whip into the corner (again) is followed up by a running clothesline, sending Doane down. He snaps back up, and is floored this time with a side-kick to the head! An irish-whip into the ropes this time sets Doane up for a military press maneuver, lifting him high above his own shoulders before dropping him and slamming him with a running powerslam!! 1,2 – NO! Somehow, Ken Doane gets the shoulder up. Goldberg is surprised, and shakes his head in amazement.
He takes to the corner, laying in wait once again for his opponent to get to his feet. Goldberg has a spear on his mind right now and has his eyes locked on the Anti Saint. His trail of thought is broken though as he sees Elijah Burke out of the corner of his eye make his way down to ringside, parading the title belt. Roberts manages to distract the referee, as Goldberg leans down and sticks his head out and over the second rope to tell Burke exactly how he feels. Not a wise move though, as Burke sends the title belt
CRASHING
into the skull of his nemesis!! He crumples backwards onto the mat, where Ken Doane manages to pin him. 1,2 – kick out! The guts of Bill Goldberg shine through as he kicks out of the vicious belt shot. Bleeding a little bit, he turns to face Doane again, and the two slug it out with hard-right hand shots. In the mean time, Elijah Burke skips round the outside of the ring and retrieves' Howard Finkel's chair! He hands it to Jake Roberts, before Burke skips back around to the opposite side of the ring and hops onto the apron. Distracting the referee, Roberts slides the chair in for Doane. Goldberg knocks Burke off of the apron with one punch, but turns around and walks straight into a
STEEL CHAIR SHOT!!!
Goldberg is down and out, bleeding continuously – but the referee saw it! Disqualification!
Winner @ 4.35 seconds – Goldberg!
As Goldberg lays motionless on the mat, blood dripping from the cut above his right eyebrow, Ken Doane stands over him in a state of confusion. The look on his face is of that of a mad man. He still has hold of the chair and intends to use it some more, raising it high above his head – but luckily for Goldy', Jake Roberts enters the ring and grabs it from Doane's merciless grasp. As the Antisaint is reprimanded by his manager, Elijah Burke stands on the outside of the ring, watching on in horror as it all sinks in – GOLDBERG IS THE NUMBER ONE CONTENDER! He holds his head with both hands, title d.r.a.p.e.d around his left shoulder.
Joey Styles –
As much as he tried to get out of it – as much as he schemed and wormed his way out fighting Goldberg like a true-champion – he's now facing him at Full Throttle for that title!
With Elijah Burke still looking on at the ring in despair, Goldberg begins to move. He manages to drag his body from the middle of the ring to beneath the ropes near to where Elijah was standing on the ramp. Blood trickling down the right-side of his face, he clasps the bottom rope with both hands, pulling himself closer to the apron. With another pull he jolts forward and leans a fraction of the way through the ropes, staring at Burke with a far-away look in his eyes. Soon, the blank stare turns to a sinister grin, the tongue hanging through the front of his mouth. Goldberg knows that he's got the match that he wanted.
COMMERCIALS
|Video Package|
THE ACTION! THE EXCITEMENT! THE ADRENALINE! WAPW ADRENALINE - PREMIERES TOMORROW NIGHT ON THE FX!
*INTO THE ABYSS*
|Live Arena|
Returning to the live broadcast, the daunting sound of Abyss' theme music plays to a heel reaction. Dressed in orange prison-apparel with the name 'PARKS' printed onto the back, he is lead to the ring by his father, James Mitchell. The sinister one instructs his son to get into the ring, grabbing a microphone and immediately getting down to business.
James Mitchell –
Okay Boston, you wretched people of this wretched city, it's time to address something that needed to be addressed a few weeks ago now. What I'm talking about of course, is that parasite, that disease – Mr. Kennedy.
A slight pop emerges for Ken.
James Mitchell –
Oh yeah, you like that Boston? You people enjoy to cheer for an immature, high-school prankster like Kennedy? That alone makes your lives sad and unenviable. The way you enjoy watching a grown man enflict such tedious and gutless attacks on both the body and the psyche, of my son Abyss. Take last week for example – the man calls up the local gay-strip joint and orders a triad of strippers to come and bombard Abyss in the lockerroom area.
The Boston crowd laugh, clearly amused at what happened last week.
James Mitchell –
Let me guess
, YOU THINK THAT'S FUNNY
?! Well it's not! It's not funny, it's not amusing – it's sad. It's a sad reflection on Mr. Kennedy, a sad reflection of you people – and of society as a whole. See, what separates myself and my son from the rest of this world is the way we were raised. I myself was raised by an abusive father. He would enforce 'tough love' on me. If I stepped out of line as a child or as a young-man – he wouldn't hesitate to beat my ass and make me pay for my sins. He wouldn't let me get away with the wrong-doing of my youth, he would reform me into a man of honour. I respected my old-man a great deal, after all he taught me a lot. I took that knowledge and I in-turn passed it on to my son, Abyss.
Grinning sadisticly, he looks up at Abyss and pats him on the back.
James Mitchell –
When I married his mother, I adopted Chris as my own. He was just a young boy, no different to anyone else who might be watching and of a similar age. He would like to go out with his petulant friends, play sports and disobey his parents. Needless to say, it wasn't long before I put a stop to all of that. We are all influenced by everything around us, and even at Abyss' age at a child – there will still a soul to warp and mould into something much, much more powerful. I took his characteristics, his DNA and everything that made him normal – and systematically changed the way he lived. The way he thought, the way he acted and the way he eventually grew up into an adult – is all down to me.
Abyss rubs his hands together, Mitchell looking on with pleasure on his face.
James Mitchell –
I turned Abyss' life around. I turned him from a floundering, simpleton – no different to any of you watching Hazard tonight – and instead molded him into a crossbreed. He is now a higher-being than any of you could ever envisage being. He thinks how a predatory animal thinks, and he acts how a ruthless animal acts. He is the ultimate in destruction. Kennedy, you may think that you got one over on Abyss with your silly little pranks. You may think that you have gotten into the head of my son and unlocked a part of him which contains a degree of normalcy – but I assure you, all of his sinister ways are still in tact.
*LOVE-HATE*
The high-tempo anthem for Mr. Kennedy hits to a very positive reaction, and the charismatic individual confidently strides out onto the ramp, strolling a quarter of the way down. Already possessing a microphone, he surveys the arena before focusing his attention on the two in the ring. Mitchell instructs Abyss to calm down and stay in the ring.
Mr. Kennedy –
I hate to come out here and interrupt your little 'This Is Your Life' segment that you had going on here – I mean, really touching stuff – but I to have something too get off of my chest. You come out here and put over just how you raised Abyss from a human being into this 350lb
FREAK
that stands before us, and you brag about it. You call it genetic engineering – but it sounds to me an awful lot like plain incest!
With the crowd responding to Kennedy's remarks, Mitchell angrily cuts in.
James Mitchell –
Oh how original! How humorous you are Mr. Kennedy. You come out here and you begin to crack your witty, satirical jokes – bravo!
Mr. Kennedy –
I appreciate your kudos James, but Mr. Kennedy wasn't joking. Incest and family values aside, what I'm really out here for – is a fight!
As expected, the fans pop at the prospect of a brawl.
Mr. Kennedy –
I've pursued one for weeks now and to be quite honest with you – I just can't take anymore of waiting! Ever since you cost me my WAPW title match at Battle Lines, I've been biding my time – waiting for the time for my chance at redemption. Seconds, minutes, hours, days, weeks – it doesn't matter anymore! I'm tired of waiting, and if it was up to me I'd march right on down into that ring, whip your fat ass, whip his ass and call it the end of the book. However, as much as I'd like to lodge my foot in your asses – the powers that be have instructed me to hold fire.
Kennedy composes himself before speaking in a much less urgent voice then before.
Mr. Kennedy –
Paul Heyman has instructed me to hold fire – for another four days. See, Paulie, he agreed with my viewpoint and sympathized with my situation. He understood that Mr. Kennedy is the
BEST DAMN THING GOING TODAY
– and that it's in the best interest of WAPW to give me what is rightfully mine. So, in order to get what I wanted – I had to agree to restrain myself physically until Full Throttle on Sunday night! The whole thing with the strippers, Chris, if you can understand me, it wasn't to mess with your fat head – it wasn't a whole misunderstanding with speed-dial – it was plain and simply something funny for you to look back on because I guarantee you this – it will be the only thing funny for you about our feud after I'm done with beating on your chunk-ass!!
Kennedy pauses, soaking in the growing adulation of the fans, before Jim Mitchell begins.
James Mitchell –
That's what you call it? Something funny for us to look back on? Ken, it's going to be funny after what happens at Full Throttle – it's going to be HYSTERICAL. We will look back at the tape of Abyss' match with you time and time again, reliving the destruction and pain of which were inflicted on you!
Mr. Kennedy –
Hmm. I gotta say I do agree with you on one thing, Abyss will inflict pain and destruction on me – but when it's personal like it is now – it's about who can inflict the most, and there ain't a hope in hell that it's going to be you!!
Pausing once more from his quickfire comments to take in his surroundings again, he then continues.
Mr. Kennedy –
At Full Throttle it's all business from Mr. Kennedy. I'm walking in with a face of determination, and come hell or high water, I'm leaving with a smile and my hand held high – as Howard Finkel announces your
WINNER
of the bout …..
Miiiiissssssteeeeeeeeeeeeeeeeeerrrrrrrrrr
…
Keennnneeeeddddyyyyyyyyyyyyy
!!!
Kennedy turns away from the ring and walks back up to the top of the ramp, facing the ring once again.
Mr. Kennedy –… PERIOD!
*LOVE-HATE*
Kennedy leaves on his own terms, heading to the back to a great reaction. In the ring, Abyss and Mitchell are left looking one-upped. (We head to a commercial break a couple minutes early, due to over-running in the first quarter-hour)
*BRET HART ADDRESSES THE WORLD – LATER ON TONIGHT!*
COMMERCIALS
|Physio Room|
Back on Hazard and Joey Styles narrates the scene; Bill Goldberg is being tended to by two medical staff after his deep wound from a chair shot earlier tonight. 'Berg is clearly dazed and is looking somewhat psychotic, laughing quietly to himself as the light is shone into his eye and the gash is tended too. After the two doctors leave the scene, Goldy jolts forward and grabs the camera, looking deep into it whilst still seated.
Goldberg –
Hey there, Burke. How've you been? Good I hope. I know your watching, sitting in the back on MVP's lap, running around for him getting what he needs. Well, what you should be worried about is not your boss – but me, and what I'm going to do to you at Full Throttle. Haha, this wound on my head – kinda sore. My eyes – kinda glazed over. I'm pretty banged up, man. This pain is only temporary – but what I do to you – you'll remember it for the rest of your life.
'Berg leans back so to be propped up by a wall. With his eyes closed, he rips off the bandage from his head and pulls the camera closer to his face.
Goldberg –
(Whispering)
You're next.
Eyes still closed, he forcefully propels the expensive camera forward and out of his hands – sending it crashing onto the cold-white floor. We hear the sound of Goldberg laughing to himself before cutting back to the arena.
*STILL TO COME – JAY BRISCOE VS. CHASE STEVENS*
*STILL TO COME – TEDDY HART VS. JAMIE NOBLE*
|Live Video Package|
After hyping up the two matches aforementioned, Joey Styles and Matt Striker take us back to last week on Hazard, narrating a video package of Colt Cabana staggering down to the ring during Street Inc. vs. The UK and nailing JTG with the beer bottle!
The video from last week is followed immediately by a short-clip from earlier on today, involving Colt Cabana and Street Inc.: Street Inc. are walking alongside eachother through a backstage hallway carrying shoulder bags. With their game faces on, they pass several lower-beings such as crew guys. During their travels however they are approached by Colt Cabana in the distance, as he repeatedly shouts "Guys". They elect to ignore him, after he cost them their match last week. Eventually Colt sprints up and into the scene.
Cabana –
Guys, what's up?! I've been trying to get ahold of you both all week. You won't answer my calls, return my emails – what's up? Look, if it's about last week, I'm sorry.
Still walking and talking, Cabana tries his damndest to talk to his 'friends'. They continue walking and respond without even looking at him.
JTG –
Get the hell away, yo.
Colt is left standing there, as Street Inc. continue walking. Colt chases them up again, shouting "Wait up, guys".
Cabana –
Look I'm sorry alright, I screwed up big time. I cost you your match, I hit you JT with the beer bottle – I'm real sorry, guys.
Shad –
We accept yo' apology.
Street Inc. keep going, whilst Colt temporarily pauses, before catching up with them once more.
Cabana –
How about them Red Sox, huh? Pretty neat, right?!
JTG –
Get lost, man.
Cabana –
Nah, me neither, never been much of a Hockey fan. (Both continue walking, prompting Colt to quickly get back on topic) Hey, hey, hey, guys come on! Look, I've apoligised, I've sent you flowers – I haven't drank in days – come on, just give me a chance to make this right. I owe you.
With that said, the two stop, clearly irritated by their 'friends' relentless persuit.
JTG –
Look man, we get it – you screwed up, you sorry – we get it. The thing is – you ARE a screw-up. You a drunk screw-up. You put stitches in ma' head last week homie, you cracked a freakin' bottle over my skull, man. The only thing you can do to make it up to us – is by staying the hell away from our matches. Comprende?
Cabana –
Oui, but guys I've got a proposition for ya. Tonight you have a match – a tag-team match – with the English guys. Now, I was thinking, how about we up the anti a little. How about we make it a six-man – me teaming with you against The UK and one of the Italian guys.
JTG –
Italian guys?
Cabana –
Ya know – Sylvan, Rene. Anyways, I spoke to Heyman and he seemed to like the idea – how about it? I'd do all the work, no sweat.
JTG –
You'd do all the work?
Colt nods, smiling, all the while trying to convince Street to let him tag with them.
JTG –
Well on one hand – you could go and screw up another one of our matches … but on the other … you could go get yo' drunk ass straightened out by them three. You got yo'self a deal, wigga.
The video ends with Colt looking awfully happy, jumping up and punching the air in joy.
|Live Arena|
We swiftly cut back to the arena, and it's match time!
*BRITANIA*
To a typical patriotic-heel reaction, the two from Britain emerge emotionlessly. Nigel leads Shamus mid-way down the ramp, the latter who is bearing a Union Jack flag. One fan in particular is heckling The UK, prompting Nige' to flip him the two fingers. With that they pause, awaiting their partners arrival.
*LA NATION*
To a similar reaction, Sylvan strolls down the ramp to greet his partners, accompanied by a French-flag bearing Rene Dupree. He looks at both knowingly, bowing his head, before all four make a move into the ring.
*HITTIN THE STREETS*
The crowds spirits pick up upon hearing the hip-hop beat of Street Inc.'s entrance music. Both men emerge side by side, and stare intently at their opponents in the ring. Both men look 100% focused on the task at hand, Shad rubbing his hands together in preperation.
*PARTY BOY COLT*
With his opponents already in the ring, Colt Cabana's high-tempo club theme blares through the HD system here in Boston, and he paces out onto the ramp! To a good reaction Cabana, holding his head, takes a deep breath before sprinting down to the ring, attempting to slide in and under, but instead only hitting the inside of his left thigh on the apron! Colt falls back in agony, pausing momentarily to shake his leg, before entering the ring. Street Inc. bare faces of annoyance.
Match Two – Colt Cabana & Street Inc. vs. Sylvan & The UK
The emphasis for this match was mostly on the sober and apparently reinvigorated Colt Cabana. Promising his 'pals' that he would repay them for costing the team their match last week, the pressure was clearly on the hung over Colt.
Cabana started the match against Nigel McGuiness, looking decent in the opening couple of minutes. Seemingly embarrassing Nige' with some of his antics, he tagged in JTG and went out on top. The relentless McGuiness soon gained the upperhand after around two minutes of competition with JT', getting him into their corner and double teaming him with Shamus. After working over JTG, Shamus found himself coming under pressure, with JTG catching a second wind. Both men would tag in their respective partners; Colt and Nigel (again). Cabana came in positively, flooring McGuiness a couple of times with clotheslines before then hitting an front-atomic drop! McGuiness, crouched, is sent onto his back with a running knee smash to the face! Colt turns his attention to the guys on the apron, knocking both Sylvan and Shamus off with right-hand shots. The tide suddenly turns however as Colt holds his gut, breathing extremely heavily. Tired, he gets back to a vertical base and approaches Nige, but is turned inside-out with a devastating lariat! 1-2-3!
Winners @ 6.43 mins – The UK & Sylvan!
With The UK celebrating another victory with their French counterparts, Cabana is left in the ring holding his shoulder in pain. The winners soon make a move up the ramp and begin flying their flags, but the focus is on what's going down in the ring. JTG and Shad look at eachother on the apron, unimpressed by Colt losing them another match, and decide to make their way through the ropes and into the ring. Staring down at Colt who is now seated with his head in his hands, Shad places a firm hand down on his left shoulder. This causes Cabana to look up in a worried manner. JTG then slams his down on Colt's right shoulder. They then proceed to lift him to his feet forcefully, before JTG begins shouting at him for 'losing another one'. Before long, after a considerable amount of JT' going off at him, Colt SLAPS him!!
Matt Striker –
Uh … oh.
Street Inc. are overcome by shock more than anything, as is Colt. He stands there shaking, not believing what he has just done. With that JTG fires away with right-hands to the face sending him over onto the ropes. He backs up before running at him, but luckily for Colt he slips away under the ropes. In the ring, Shad restrains his partner. We go to a commercial break with Cabana jogging up the ramp holding his head and out of breath, and JTG yelling at him from inside the ring.
|Parking Lot Area|
Before heading to a commercial break we see Teddy Hart emerge from a limousine, dressed in baggy gold wrestling pants and a white, unbuttoned shirt. With the Cruiserweight title around his waist, he brashly makes his way out of the parking area and into the main building. Joey Styles reminds us that tonight's main-event is champion vs. champion!
*BRET HART ADDRESSES THE WORLD – LATER ON TONIGHT!*
COMMERCIALS
|Interview Area|
"You could have a full head of hair in just three weeks!" WAPW Hazard returns, and Shane Douglas and Hardcore Champion Jamie Noble join us from the backstage interview area!
Shane Douglas –
Jamie Noble, tonight in Hazard's HUGE main-event match you step into the ring with a champion, much like yourself. You do battle with Teddy Hart, the top Cruiserweight in the world today. I've gotta ask, Jamie, what are your thoughts?
Jamie Noble –
(In his typically Virginian accent)
My thoughts, Shane? My thoughts are right where they should be – on my match tonight. See it's champion vs. champion, and I guess the winner of that match will be the better man – the better
champion
. Well I tell you this, Shane, I've worked too damn hard for too damn long for a shot at the big time, and this match tonight is the biggest of my career. I've been ever'where: Dubya' See Dubya , Dubya' Dubya' E, ROH , Japan – I've wrestled across the world and held titles across the world. This title you see on my shoulder, represents a large piece of my wrestling career. Winning this baby gave me two things: number one, money so me and my family can afford to eat … and umber two, it gave me a chance to achieve all I ever wanted in life.
He slaps his titles with the palm of his hand.
Jamie Noble –
See, having this title, it means that I've achieved something and that I'm a worthy champion. By holding this, people look at me as something special. My dream in professional-wrestling is to be WAPW Champion of the entire world, and holding this belt right here is a platform to make my way to the top, and to achieve all I've ever dreamed of. By beating Teddy Hart tonight, is another big step towards the big one. If I fail tonight, I may never get my shot at the big one. If I win, I prove that I'm not only a worthy Hardcore champion, not only a worthy Cruiserweight champion – but a worthy WORLD Champion.
Shane Douglas –
Is there anything you'd like to say to your opponent tonight?
Jamie Noble –
Yeah, Shane, funny enough I do. Punk, if you're watchin' – you'd best get your eyes sharp and your ears pricked. Tonight, you step in my way. You attempt to derail my career, for the greater good of yours.
WELL BOYYY – IT AIN'T GONN' HAPPEN! JAMIE NOBLE, AIN'T GONNA LET IT HAPPEN! TONIGHT PUNK
, all I see is a threat to me and my career – and I will not hesitate in wiping it out.
Noble, clearly pumped for his match tonight, exits the picture.
|Live Arena|
Howard Finkel is standing in the middle of the ring ready to introduce the next match.
Howard Finkel –
The following contest is a singles bout, and is scheduled for one fall.
The bell rings, but before any entrance music can play, Matt Michaels makes his way down through the entrance tunnel, bearing a huge upside down cross seemingly branded onto his flesh. He is wearing tight black pants as well as boots and fingerless gloves.
Joey Styles –
Well that's Matt Michaels; the man who is scheduled for competition in this next match. I–I guess he must have mistimed his entrance?
Michaels approaches Howard Finkel immediately after sliding in under the ropes and into the ring. He snatches the microphone with a sense of urgency, grasping it with his sweaty, shaking hand.
Matt Michaels –
If you didn't get the message last week, and if you haven't already prepared, I'm here to tell you that there is still time! Time to prepare for what is coming … for what the books and scriptures warn us of! 25/3, 25/3! In case you were wondering – that's next week. Azrael … 25/3 … Azrael.
Michaels looks down to his chest and rubs the satanic cross which was branded onto him.
Matt Michaels –
Before the war … before, hell on earth … I ask of you,
WAPW, REPENT
! The seven days you have are seven days to eradicate your sins. If not, your mind, body and soul will not be spared.
He grins before dropping to his knees and looking up to the rafters.
*ALL ABOUT ALEX*
The familiar theme music of one Alex Shelley plays, the crowd booing before he even appears. When he does however they are in for a surprise as he emerges in REY MYSTERIO'S ATTIRE! Wearing red Mysterio' pants as well as the trademark mask (which he stole two weeks ago) and unbelievably – a white tanktop with the initials E.G written on, he makes his way down the ramp as if he were Rey himself.
Joey Styles –
Talk about disrespect to a mans heritage… he's really 'Crossed the line' here.
Matt Striker –
Mind your puns, Joseph …
Shelley continues, approaching a young fan in a Rey mask (plant), grabbing his head and placing it against his own – before pushing the child backwards! This draws unbelievable heat – the biggest of the night. Shelley soon enters the ring, hops up onto the turnbuckle and points to the sky, even more disrespectfully. After hopping down from the turnbuckle he removes the tank top, tossing it to the outside as if it were garbage.
Match Three – Alex Shelley vs. Matt Michaels
This match was clearly just a chance for Alex Shelley to showcase his execution of Rey Mysterio's arsenal. Bearing his attire and all of his mannerisms, this was all about respect, or a lack thereof, shown towards Rey.
Whilst nothing else is noteworthy, during the match Paul London and Gangrel appeared at the top of the ramp to watch the match, both dressed in a gothic fashion.
To end the match Michaels was taken down with leg-scissors sending him into the second rope, before being hit with a 619! The fans couldn't believe it. Shelley however thrived off of the attention and heat; from the other side of the apron he hopped up onto the top rope and hit a marvelous Mysterio-esque west coast pop!! 1,2,3!
Winners @ 5.43 mins – Alex Shelley!
After Michaels rolls out of the ring to nurse his wounds on the outside, Alex Shelley celebrates his win. He doesn't get long to bask in the glory though however, as Rey Mysterio soon makes a beeline for the ring, spooking Shelley into exiting! As the two stare each other down, Shelley makes his way up the ramp, getting to the half way point before removing the mask from his head. It is with that that he points at Rey and then SPITS on the mask, drops it, and then rubs his foot into it on the floor! He winks to the camera, before heading off up the ramp.
Joey Styles –
This man just radiates sheer arrogance and disrespect! He makes me sick!
After Shelley exits, Gangrel and Paul London soon make their way down to ringside, passing Rey in the process, but all the while their eyes are locked on Matt Michaels. They loom over him as he is on his knees, before they both grab him by the arms and escort him to the back. He yells things of 'Azrael' and '25/3' for the duration.
|Interview Area|
Colt Cabana is walking through a dark, dank corridor backstage by the loading dock. He passes forklifts, crates and other equipment. He looks glum. With his hands in the pockets of his baggy, grey sweatpants, he is clearly down after what went on earlier. Walking, he encounters a beer can on the ground. He bends to pick it up, looking at with a fierce resolve in his eyes. He looks around before taking a deep breath and opening it. He aggressively chugs it down his neck, spilling a majority of it all down his white t-shirt. After tossing the empty can to the side, he encounters another! He downs the seconds beer, breathing heavily and continuing his walk in search of more. After another two cans he begins to follow a trail of which has been strategically set, leading him to a destination. He grasps two more cans in his hands before approaching an open crate. The large crate is on its side, so that the lid is flat on the floor. The camera follows Colt as he paces into it. It is there that he finds an entire refrigerator of beer cans and bottles!! He yells enthusiastically and as the camera retracts we hear a lot of commotion going on in there and a lot of grunting. Beer can after beer bottle is flung out of there, not a drop to spare. He sure is enjoying himself! Soon however, both JTG and Shad approach the crate from the two sides so that their 'bud' is oblivios to their presence.
JTG –
(Whispering)
Okay, on three?
Shad nods. With that, JTG leaps up onto the top of the crate, whilst Shad runs around to the entrance.
Colt Cabana –
Hey guys, you'll never guess what I found! ... G-Guys? GUYS!
With that, we watch from above as Shad lifts up the entrance panel and slams it up against the frame – trapping him in there! A ton of banging and smashing of bottles can be heard from within, as JTG secures the lock on the roof of the object.
Colt Cabana –
Heyy! Heyyy! SHAD!? JTG!? Anybody? I-I think I'm trapped in here. I said
I THINK I'M TRAPPED IN HERE
. Guys?! What happened?
As the banging persists, the camera pans around the front of the crate to reveal a sign on the front reading 'AA'. Shad pats it before looking to JTG.
JTG –
We did the right thing.
Street Inc. smile knowingly to eachother before exiting the scene. It's time for a commercial break…
COMMERCIALS
|Video Package|
A short video clip of the chorus from Rev Theory's 'Hell Yeah' plays. Afterwards a graphic appears stating that they will be performing live during the Full Throttle PPV. (Note - they also played to open the inaugural WAPW Hazard show. The official theme song for FT is "The Bleeding" by Five Finger Death Punch.
|Live Arena|
The preliminary bell sounds and it is time for our fourth contest of the night!
*OVERDRIVE*
Accompanied by his brother Mark, Jay Briscoe makes his way to the ring looking focused and ready to seemingly settle a score. While not getting much of a reaction, a small group of the crowd proceeds to chant 'Briscoe'.
*NATURAL FRANCHISE*
To a slightly more heelish reaction than that of The Briscoes, Chase Stevens with Andy Douglas strides down to the ring swiftly. After sliding in under the ropes and back flipping from the top rope to the mat, he gets ready for the match.
Match Four – Chase Stevens vs. Jay Briscoe
Bad blood has been boiling ever since the Battle Lines pay-per-view where an eight-man tag team match finished under unfortunate circumstances as Chase Stevens inadvertently hit team-mate Mark Briscoe with a wild-right hand, leading to Nigel McGuiness' lariat and the pin. Heated words soon turned to physical violence and they've been at each others throats ever since. A match here would surely end the feud, right?
In an even and balanced bout there wasn't much to choose between either man. It kicked off at a high-tempo, punches being thrown rather than traditional wrestling moves. As it cooled down it turned into a match between the better man, and eventually the hard-hitting Jay Briscoe secured the win. With Chase Stevens groggy after a stiff running-jumping knee strike to the gut in the corner, he would stagger forward and straight into Briscoe's cruciple finisher – a sitout suplex slam! 1,2,3.
Winner @ 5.53 mins – Jay Briscoe!
Following the bout both competitors' respective partners enter the ring to see to each other. Whilst Mark and Jay celebrate in one corner, in another it's a totally different story. Chase Stevens immediately shoots up and confronts his opponent, slapping him!! They are separated by their partners immediately, with Chase being sent back to the corner. Whilst Mark and Jay have their backs turned in their corner, Andy Douglas makes his way over their and low blows Mark!! Before Jay can realize what just happened, TNF have gotten away.
Joey Styles –
Well if it wasn't personal between these two teams before – it sure as hell is now! We thought this was between Jay Briscoe and Chase Stevens – but now Andy Douglas has gotten involved!
Looking pleased with themselves, The Natural Franchise rush up the ramp, whilst their adversaries are in the corner of the ring, Jay standing over the fallen Mark.
|Backstage|
After everything that's just occurred settles in the camera soon switches to the back; Jake 'The Snake' Roberts is backstage and as we arrive he is embroiled in an argument with his protégé, Ken Doane.
Jake Roberts –
YOU WANT RESPECT? YOU WANT RESPECT, YOU EARN IT DAMNIT! AS LONG AS I'M YOU MANAGER – THE ONE WHO GOT YOUR ASS HERE – YOU SHOW ME RESPECT PUNK!
Doane gets right up his Roberts' face, seething and almost foaming at the mouth.
Jake Roberts –
Oh you're gonna hit me?
GO AHEAD AND HIT ME YA' PIECE OF SHIT!
COME ON! HIT THE MAN WHO GOT YOU HERE – THROW YOUR DAMN CAREER DOWN THE TOILET! COME ON!?
Roberts then gets up in Doane's, who is trying to restrain himself.
Jake Roberts – DAMN IT KEN
!! You're the best young wrestler in this freakin' industry – but you're damn aggression is
RUINING
it for you! You threaten the
REFS
… you go for
WEAPONS
… you
CHOKE 'EM
… you get your stupid ass
DQ'ed
. I swear to God, Ken, I swear to
GOD
that if you don't get it under control and
CHANNEL IT PROPLERLY IN THE RING
…
The Snake pauses to contemplate what he will say, as well as calms himself.
Jake Roberts –
If you don't start to control yourself – then you can kiss goodbye to your career, and you can kiss my ass goodbye too. Are we clear? Is that understood?
It seems to be working, as The Antisaint looks Roberts in the eye and nods in acknowledgment ever so slightly, reluctant to lose any pride. Roberts, not totally convinced by Doane…
Jake Roberts – I SAID IS THAT UNDERSTOOD, PUNK!
Roberts SLAPS Doane in the face!! The Antisaint's eyes light up, the red surfaces in his face – but despite breathing so heavily, he pulls it together, nodding more convincingly this time.
Jake Roberts –
Good, I should damn well think so too.
With both men's eyes lock onto eachothers, Brent Albright enters the scene wearing casual wear of blue jeans, white sneakers and a white tanktop. He immediately stands facing both men with an air of purpose about him.
Brent Albright –
You know amongst all the kicking and screaming and crying, I thought I heard you say, Jake, that your boy here is letting his aggression get the better of him.
Neither men reply, but now lock their sight on Albright.
Brent Albright –
Is that right, Ken? Is that the reason you lost your match tonight against Goldberg? Look, you may have saved yourself from getting pinned by Goldberg earlier tonight, but at Full Throttle I've been promised a match by Paul Heyman with anybody of my choosing. So, how about Kenny, that we find out if your aggression gets the better of you at Full Throttle in the ring – or we find out that I am
better
than you?
Doane is clearly beginning to become angered, and looks at Roberts seemingly for help. His manager fields the question.
Jake Roberts –
Punk, you're seeking a match with my protégé right here? You want it bad enough? You've got him. And I'll tell you this, when he beats your ass he won't need excuses. He won't need to put any losses down to his temper, because believe me boy when this train gets up and running there ain't a man in this business that can stop him from steamrollering over your ass!
Brent Albright –
Is that so? Ken, you let your mouthpiece do all the talking for ya' – at Full Throttle, I do mine in the ring, cause Brent Albright, Ken – is
FOR REAL
.
It is with Brent getting the last word that he exits the scene, leaving a very emotional Ken Doane with his unimpressed manager, Jake 'The Snake' Roberts.
COMMERCIALS
*BRET HART ADDRESSES THE WORLD – LATER ON TONIGHT!*
Joey Styles –
Ladies and gentlemen as we return from Hazard we are just moments away from main-event time! It's champion vs. champion! An epic contest between two men who will forever have their names etched into the annals of WAPW history. It needs no hype, no talking up, but let's take you back with two brief video clips of just how these men became champions!
|Video Package|
As promised by Joey-boy, Hazard airs two short clips of how each man won their title. It starts with Teddy Hart's triumph, highlighting how Paul London went through four other men in the gauntlet only to fall to Hart. It ends with him celebrating in the ring and forcing Paul Heyman to strap the belt onto him. The second short clip is of Noble's Hardcore title win, showing the gauntlet from a couple of weeks ago and how he overcame Terry Funk by Noble-bombing him through a table!
*PITBULL*
To a quietly mixed reaction the Hardcore champion makes his entrance. After making a move onto the height of the entrance ramp he stands and looks deep into the arena, taking a deep breath before pacing down towards the ring. After climbing the ring steps he raises his title belt high in the air before handing it over to the referee and then readying himself for his opponent.
*HART OF A CANADIAN*
Following the entrance of Jamie Noble, the usually over-confident Ted Hart makes his entrance in a more focused manner than usual. Acknowledging the importance of this match he makes his way down the ramp wearing baggy gold pants and an un-buttoned white shirt. He ignores the fans who give off a fair amount of heat as he hops up onto the apron and climbs in through the ropes. After parading his Cruiserweight title around to al four corners of the crowd he holds it above the head of his opponent, provoking him to push him away. With both titles handed over the referee suggests and handshake. Jamie Noble extends his hand, but it is slapped away by Hart. Both men back up into their corners and the bell soon rings.
Match Five – Jamie Noble vs. Teddy Hart
The video package which preceded gave this contest all of the hype that it needed – two champions tangling in the ring to see who the better man is. WAPW clearly anticipated the possibility of a long affair, thus giving the bout a maximum of forty minutes in order to find a winner.
This bout would favor Teddy Hart if anyone. After all, Jamie Noble is currently plying his trade solely in the Hardcore division, and the regular rules of this contest would not accommodate all that Noble is used to. However, being the technical stud that he is in the ring, he would put up more than a valiant effort.
The match progressed slowly, with Jamie Noble starting off on top. Using stiff knee shots, kicks and chops, Jamie Noble was displaying just why he wasn't just restricted to weapon usage. The tide would ultimately turn over the course of the match multiple time, such with the nature of the highly competitive match. Before long the action would spill out of the ring, and Noble wasn't shy with introducing Hart to the steel railing and steel steps. After breaking the referees ten count three times, Teddy Hart tossed his opponent into ring after irish whipping him into the steel steps.
The slower-pace definitely suited Noble, but it certainly didn't hinder the Cruiserweight champion. A fairly untraditional Cruiserweight, he wouldn't implement submissions into the bout, including his legendary uncles sharpshooter. Towards the twelve-minute mark both men found themselves on the mat, courtesy of an epically original double clothesline. This would signal the end of the contest nearing. After Noble gains an advantage once again, against the run of momentum, walks straight into a stiff kick followed up by his own finisher – the noble bomb! He couldn't finish him off, though he very easily could have. Hart would then stalk his opponent, waiting for him to get to his feet, but only to walk straight into a stalling brainbuster!! Noble would hold Hart high up into the air for over twenty seconds before dropping him.
/match? Possibly. Jamie grabs the sweaty right-arm of Ted Hart, pulling him closer to the turnbuckle. Despite the referees' calls, he steps through the ropes and ascends to the top rope. The crowd stood in anticipation suspecting what he might do. Standing high and facing his opponent, he was set for go for Teddy's move – the shooting star press! Just as the hardcore champion was about to take off, Hart manages to grab the shirt of the referee and push him into the ropes – crotching Noble! After the referee gives Hart a stern talking to, he makes his way towards Jamie once again. Stepping onto the bottom rope with both feet, he has something in mind for him, but his mind is swayed completely when The Amazing Red and Puma jog down to the ring waving their hands about in an attempt to distract their rival. It works – Hart grabs Noble and tosses him into the middle of the ring, then jumps to the top rope to hurl abuse their way. This gives Noble the chance to regain his senses and make a move towards his opponent who's back is turned. He sees an opportunity, clubbing the back of Hart before placing the back of his head through his legs. He then grabs the torso of him and propels him across the ring with a running
NOBLE BOMB
!! Slowly, he covers him. 1,2,3!
Winner @ 15.33 mins – Jamie Noble !
The sound of victory is Jamie Noble's theme song, Pitbull, playing as his hand is raised by the referee. He does not crack a smile, rather his mouth is wide open from tiredness. He grabs his title belt from the referee and makes his way around the ring and up the ramp. On his way he passes both Puma and The Amazing Red, giving both of them a suspicious look. Red is the one to break the ice, extending his hand in respect to Noble. He takes a few seconds to mull it over before shaking it, as both Puma and Red raise the victors hand! A small slice of payback after Hart struck them both with chairs a three weeks ago.
*BRET HART ADDRESSES THE WORLD – NEXT!*
COMMERCIALS
|Live Arena|
We cut straight to a shot of the ring canvas where there lies a single solitary microphone. The commentators elect not to speak, and rather let the moment speak for itself.
*HITMAN*
The crowd pop understandably noisily, rising to their feet for the last televised appearance of Bret Hart. After a short while of the camera shot being fixed on the top of the ramp, Hart emerges, bowing before the 10,000 fans before waving, then finally making his way down and into the ring. He climbs the steps and walks across the apron, wiping his feet so to speak, before entering. A long period of silence is what follows, Hart attempting to speak a couple times only to be cut off by the fans chants of 'Welcome back' and 'Bret'. Eventually he begins.
Bret Hart –
Wow. I'm so, so happy to stand here and say that I'm back in wrestling again, and even happier to say that I am a part of the WAPW. The match that we just witnessed before hand between those two tremendous young men, seeing something like that, it really galvanizes you. Matches like that make you happy to be a wrestling fan and for me, it made me yurn for
my
wrestling days. For guys like me, my place in this business is now plain and simply to give
them
a helping hand. That's why last month before I refereed the match at Battle Lines, when Paul Heyman called me up and asked me to come aboard, I owed it to wrestling to do so. For too long Bret Hart has stood in the shadows and watched the business fade away. For too long I stayed away when I knew I still had something to give. So, by officiating the title match this Sunday night live on Pay-per-view I'd like to think that I'm helping the careers of both of those young men. Christian Cage, a talent who I have mentored over the years. A young man whom personally, I share a close bond with. Then there's the champion, MVP.
The first round of boos are spurred on by the mention of the heel WAPW champion.
Bret Hart –
Now MVP, the person, is different to MVP, the wrestler. See whilst MVP and myself share the close bond and friendship of which his opponent and myself do, I respect that man for all he has achieved and for all he will undoubtedly achieve in the future. It's guys like him, and like Christian, that make the future so bright here in WAPW. Now, the match itself on pay-per-view will be of no doubt a good one. While all the fans that paid there hard-earned money to come and watch will have a great time and a great viewing, it is I who will have the best seat in the house. When I stand in that ring for the final time as the striped official, it's going to be called with dignity and honesty. I pride myself on being exactly that, and I will 'do what is right for the business that made me'.
The majority of the crowd is still listening to Bret in mostly silence, though some construe the reference that Bret has made to Montreal.
Bret Hart –
I know that MVP seems to bear a little grudge against me, and that's fine, he seems to believe that myself, Paul and Christian are all in cahoots as it were, trying to ensure that he doesn't leave the pay-per-view with the title. All I can say to that, really, is that we will find out on the night just where my loyalties lie.
*BIG THINGS POPPIN'*
Brets face doesn't sour, rather he is intrigued to see what follows. Soon, MVP emerges dressed as smartly as ever in a cream coloured suit, the title d.r.a.p.e.d over his shoulder. With a microphone in hand, he begins talking whilst on the ramp, making his way swiftly down and into the ring.
MVP –
Where your loyalties lye? Did I just hear that right? Where your loyalties lie? Last time I checked, your loyalties were up your boy Christian's ass!
A round of heat is conjured, and MVP steps into the ring.
MVP –
Yeah, that's right Boston, boo all you want, boo all you want. You can boo, hiss, heckle – whatever you want – you get to do that because you paid to. You paid for the right to express whatever feelings you may have in the right way. You can bring your little signs and wear your little t-shirts of whoever you want, but just remember, every single one of you came here to see
ME
.
MVP bears a look of distain for the masses who boo him.
MVP –
Not Bret Hart. Not Christian Cage. Not the two punks who were in the match before – not nobody, cept me … MVP … your WAPW champion.
He raises his title proudly to all four sides of the ring.
MVP –
Now Bret, I hear what you saying, but I don't think I know what you feelin'. At Battle Lines, I know – I
KNOW
, you tried yo' damndest to screw me out of my title.
Bret has a look of disbelief, mouthing 'What'.
MVP –
Don't try to deny it, Bret. Look, all I sayin' is that at Full Throttle it's up to you to convince me where your loyalties lye, okay? You can one of two things; the first being that you come out to the ring in yo' little striped shirt, you break the submissions on five, you stop me for rope-breaks but most importantly – you count the 1,2,3 when I beat Christian's ass, fair and square. Now, the second, Bret, the second choice is that you stroll down to the ring with a shirt that supposedly symbolizes authority and fairness, and you try a stunt like last time – and you try and cost me my title again.
Bret Hart –
Cost you your title? You know that's not the case, Mont…
MVP –
Eh, eh, eh, eh, eh – Bret, I told you, that was at Battle Lines. It's in the past now, ite?
Bret, off the microphone, mouths to MVP once again that he didn't try anything at Battle Lines.
MVP –
That was then, now all that matters is Sunday night at Full Throttle. Liiive on pay-per-view, all of you people here in Boston and everybody around the world pay your $20 to see MVP defend his title. Like the old saying goes, 'I'm walking in as the champion', and Cage, Bret, Paul and everybody else, you can all bet your sorry asses that 'I'm walking out as WAPW champion'.
As MVP pauses to raise his WAPW title high amidst the boos of the crowd, their spirits are soon lifted as the music of Christian Cage himself plays!
*5,4,3,2,1 - CHRISTIAN*
Christian –
We've seen the guest referee, and we've seen the champion, now I think it's time that we hear from the challenger.
The fans pop enthusiastically for Christian's appearance.
MVP –
Man, you just being out here is hearing enough from you. These people didn't wanna see you – they paid to see me.
Christian –
Is that so? They paid to see you? Boston, from the top of your lungs – DID ANYBODY HERE PAY TO SEE MVP?!
The majority of the crowd shouts 'NO' as loud as they can, bar a few smart-asses. Christian shrugs his shoulders to MVP humorously, as the champion shakes his head.
Christian –
Well Boston I'm sorry to disappoint, but if you pay to see MVP walk into Full Throttle with his title – I'm afraid to say that you won't see him walking out with it. Thing is, now that I've got my chance, one on one, fair and square, there isn't a damn way you can wriggle out of losing that title to me this time.
MVP –
Fair and square? Fair and square?! You call the champ having to defend his title against the bosses hand-picked challenger, and his buddy as referee? People like me, winners, don't call that fair and square, we call it
bull shit
. Maybe one day when you become a champion, you'll understand about it Christian. But until that day comes, you can ride the free passes that
PAL
Heyman gives you for the rest of your career – but one day, when your sick, dieing, and on your death bed and your life flashes before your eyes – you'll know that you didn't deserve any of what you got! This title here –
MINE
! These people – wouldn't be here if it wasn't for
ME
! Ratings for wrestling have been at a recent-high – all … down … to
ME
!
The champion is now in the drivers seat, or so he thinks, chewing his gum evers-so confidently.
MVP –
WAPW was built around me, and for me not to hold its title – would be the end of this company. I hold the key to the gates of success, and at Full Throttle, I'm not about to let you in.
Christian considers MVP's sentiments, pausing, before replying.
Christian –
Montel, at Full Throttle you don't need to surrender the keys to the gates of success. You don't need to lay down and surrender the title – because I … will …
TAKE
it! For me, the title belts are all about the sucess. It was never about the ratings for me, and it never will be. I could have cared less whether it was a 1.1, a 1.2, or even a 4.3. Champ, later on tonight when you go home to your nice, big, expensive house in LA, when you lay down to sleep with your title belt – savour it. Savour the moments that you have left, because at Full Throttle it's going to belong to me! My career, my journey, my odyssey has lead me to WAPW. I've been around the block in WWE and TNA but now finally my career can finally culminate in winning the big one. The WAPW title is the one belt of which I crave, of which I
NEED
. As a wrestler, this is what it's about.
Christian extends his right-index finger, tapping MVP's belt with it. The champion takes a step back, wiping the title 'clean'. There is another long pause, Orton-style, and the mood changes in Christian's tone.
Christian –
To come to WAPW was a big risk. Not only was it a big risk for Paul Heyman, but it was also a big risk for me. As I sat myself down with my wife I had to make a decision. Do I take the contract at TNA, sign it and spend the rest of my career working for Jeff Jarrett? Do I accept the offer which Vince McMahon and the WWE have offered me? To come to WAPW I risked jumping onto a failing project, one which could collapse and one which could die at any moment. But after signing, the first WAPW Hazard show I stood there infront of 10,000 screaming fans and I knew at that point that this was the right decision. I knew, and I still know, that this is the place to be.
He points down to the mat, garnering applause.
Christian –
That's why, MVP, that the title you have is
the
title to have. At Full Throttle, it's all about reaching the pinnacle of my career.
MVP and Christian lock eyes on eachother, stopping a couple times to look around the crowd. The long period of silence continues, serving the purpose of building anticipation.
Christian –
I've said all I needed to say. You've said what you needed to say. Bret's done talking, I say the only thing left before Full Throttle … … … is a handshake.
MVP looks questioningly at Cage, and rightfully so. The champion mouths 'What' to him, not believing what he has heard. Christian extends his hand to MVP who looks at it like it were a ticking time-bomb. Seconds pass and Christian's hand is still extended, both men looking eachother in the eyes with a steely determination evident for all to say. Eventually – THE CHAMPION ACCEPTS, shaking his hand, all the while keeping his eyes on Cage.
Joey Styles –
What a way for Christian to sign off here on Hazard before Full Throttle, what a great sport he is.
After shaking, they stop, hands still locked tight on eachother. MVP is the first to make the move away, turning his back to Christian – but then suddenly turning back and SWINGING FOR HIM!! Luckily, the challenger telegraphs it perfectly, and in one movement he turns it into an EPIC unprettier!!! The crowd rapturously applaud and pop, as Christian stands over MVP's downed-self. Bret bends down to pick up the title belt lying next to MVP, looking at it respectfully before handing it to Christian. Cage grins, accepting it, looking at it soulfully and running his finger over the eagle indentations. Afterwards, he places it beside MVP once again.
We go off air for the final time before Full Throttle with Christian and Bret standing alongside eachother over MVP and the title belt.
Fin.
Final Card for Full Throttle – Sunday, March 23, 2009
WAPW title: MVP (c) vs. Christian Cage
North American title: Goldberg vs. Elijah Burke (c)
Tag-team titles: Strong & Aries vs. Team 3D (c) – Ladder match?
Alex Shelley vs. Rey Mysterio
Mr. Kennedy vs. Abyss
Cruiserweight title: Teddy Hart (c) vs. Puma vs. Mistico
Brent Albright vs. Ken Doane
The Briscoes vs. The Natural Franchise
Booker's Note - Wow, will be interesting to read feedback for this show. It's either going to be the best show I've written, or the worst I think. Been spaced out over a very long period of time due to time constraints. Oh, and the above 'Card' is the latest feature to be taken from Szumi (disclaimer).
Re: Paul Heyman's World Alliance of Professional Wrestling!
---
Hazard Feedback
Hey jobber.
Not a big fan of Striker trying to heel it up to the max at the start here. Bagging out his fellow commentator is not something he does. Heís not a heel really as a commentator and he certainly doesnít need to be. The constant digs at Joey were kinda just annoying, tbh. Saying he likes men is a bit odd when he commentates wrestling too, btw.
Zomfg bewbs. Goldberg seemed a little tame against Hoyt. I mean, Iím alright with Hoyt having a little offence, but Goldberg only hit some shoulder thrusts, a superplex which seemed like an odd choice for a move, and a spear. While it shows off his power in a way, I think Hoyt looked maybe a little too strong here. Seeing The Berg being kept down by Hoyt will give Burke confidence when he should be fearing the impending assault from Goldberg. While Burke interference was the way to go, he should have led to the DQ by attempting to brutalise Goldberg, not Doane. I kniow it fits in with Doaneís character, but having Burke come down and beat the absolute snot through Berg with a chair would have shown Burkeís desperation to try to stop him. This was the same sort of thing, just with a weaker message.
Nice hype job for Adrenaline. Needs to be done, and itís been done well.
Mitchell was very good, even if it started off as a ĎThis Is Your Lifeí type deal. Youíve got his character going well, and youíve really hammered home what type of a person he is, which is really, really good. Kennedy on the other hand tried to be jovial and funny, but he just came off sounding like a bit of a jackass tbh. Youíve done better with him before. I just think youíre trying to be too funny, when you donít need to be. All you need to worry about is capturing his character, and not trying to face him up so much that heís throwing out shitty insults left and right. Chunk-ass wasnít good, and itís definitely not something heíd say since Iíve sure as hell never heard of it. An English insult, perhaps? You announced the big match for the Pay-Per-View, but outside of that, not a fan of the Kennedy part. Youíre better off with him as a an absolute heel or not such a softcock, trust me.
Simple but intense from Goldberg. Pretty much what he needs to be too. Heís best in short bursts, whether it be in the ring or on the stick.
Cabana was oretty damn funny in this promo. Laughed at the mention of the Red Sox as a hockey team, as well as him speaking French to Jayís Spanish, and calling the French guys Italian. Street Inc were pretty good for character and dialogue as well, so this was a more than just an average promo. Quite impressed, really. Good job. Only thing that bothers me is why on the previw you advertised it as a six man tag when it was still a tag match at that point.
Iím split on how youíve made Colt an absolute buffoon. On one hand, it can be pretty damn funny (I laughed at him failing to slide into the ring), but on the other hand, he can be funny at the same time as showing that heís talented. It kinda bothers me that you had a six man tag match where two men never saw the light of day (one from each team), especially a heel when heels are meant to tag very regularly as part of tag team wrestling psychology. Cabana suddenly just being tired seems a little stupid, but whatever. I donít know if this is a Street Inc heel turn or what, but whatever.
Good to see you heavily featuring Hart tonight since the cruiserweights have kinda fallen off the map lately. Fix that tonight, plz.
Noble talked in what Iíd say is a bit too much of a civilised way for his character. The intensity that was needed picked up at the end, but before that it was kinda meh. Too generic of a promo really when you can do a bit more with Noble.
Christopher Daniels, plz. The Shelley dressing up stuff here is pretty smart. Itís cheap heat, sure, but itís something you donít see too often, so itís all good. Props for that.
@ him shoving the kid too. Absolute ownage. Shelley imitating Reyís offence too was good stuff, and it works well against your jobber. The cheap heat again from Shelley after Rey ran in by basically owning his mask is really top stuff. You write Shelley well in terms of character. As far as this gothic stable goes, at least youíre using Paul London, since he owns and stuffs.
@ the crate. Reminded me of when I used to watch Looney Tunes when I was little.
Liked that you acknowledged that neither of these teams are really over. Youíre building them up and getting their names out there by putting them on TV every week, which is good. Wouldíve marked for the Jay Driller, tbh. I think this match could have also done with a few more minutes, as The Briscoes will get a chance to get more over if you show the Ďcrowdí what they can do, which is a fair bit (besides just no selling that is). The aftermath here seemed quite sloppy, and I couldnít see it working too well. The image in my head was really hard to capture.
Kinda disappointed you donít let Doane speak since he carries himself on the mic well, but the character youíve got going for him is definitely interesting. Youíve given him a real edge and made him look good, which is great. Albrightís alive? Thatís a shock.
Not liking random filler matches with no real story on Pay-Per-View, as they may as well be on here. Matches on Pay-Per-View should always have some type of a build behind them, imo. I donít like the TNA way of just getting everyone on there for the sake of it.
After both of these men havenít done much lately, itís good to see them on the show. I donít know about main event, as while it is a champion vs champion match, you acknowledged Noble getting next to no reaction, and that certainly isnít good for a main eventer. Nice heelish stuff from hart right from the start, not wanting to shake hands. While itís good to see this match get some good time, I wouldíve preferred to have seen Noble go for the cover after the Brainbuster, as well as not seen interference in the end of the match, since it kinda leads to a letdown for it to be a screwy finish, especially after Noble made it seem like the match meant oh so much. If you hadnít have mentioned why Red and Puma got revenge on Hart at the end, I wouldnít have known. This Ďfeudí has definitely lacked steam/exposure.
While Hart lacks charisma, you started this off well. I actually like the tune youíre playing with Hart. It makes sense, and itís giving him material to actually use, instead of just being old, boring Bret. The playing on the relationships of MVP and Cage with Bret was good, as it shows exactly while MVP should be worried (even though you botched it slightly when Bret was talking about MVP the person
). You smartly hyped MVP up a lot with this promo, really building him up, which he needed after losing last week. MVP coming out and being an instant dick was good. Rather ftw, tbh. Also liked the cheap heat tactics, because it reminds me of the MVP of old (not the gay WWE one we have atm). MVP carried himself pretty well for the rest of the bit, before Cage introduces himself well. Cage playing all face-like was pretty nicely done, as itís somewhat similar to what we see from him irl. The exchange between MVP and Cage was ehh, not too bad, not too good. It was solid though. The ending was probably the best way to go out before the Pay-Per-View, with the last picture painted what you shouldíve done; Cage and Hart standing above MVP. Pretty good way to end the show.
Overall, again this wasnít your best show, but it wasnít your worst. It lacked hype for Gen Ex vs Team 3D, which really should have topped off their feud, considering itís probably been one of the best feuds youíve had going. Outside of that, it was up and down, with some good bits and some lesser bits. Hoping the PPV pays off for you, as youíve done pretty well to get to your second. Get the PPV up this year plz. <3
---
Asking JAMES ELLSWORTH for Wrestling Advice
Join Date: Mar 2007
Posts: 356
Points: 0
Re: Paul Heyman's World Alliance of Professional Wrestling!
---
Hey man, I've been keeping up with this BTB for a while, and I've enjoyed it a lot so I thought that I should drop some feedback instead of just lurking silently.

First of all, I'm liking the Striker/Styles chemistry you've set up through all your shows. The way you write them just works. Anyways, on to the opening. Quite frankly, not to sure about the whole stripping naked thing. Unless it develops into something in future shows, I'm not sure why it was really needed. But it's not a big thing though. Goldberg ftw. It seems like kind of a step down for him to go from being one of the core stars of WAPW to wrestling for the midcard title. I was kind of rooting that Kenny would win, just so Goldberg could flip out and MURDER everybody in the ring. The pairing of Jake Roberts and Kenny btw is magnificent, Roberts has a lot of potential as a manager. Of course, Burke interferes though, and I guess we'll be seeing 'Berg/Burke. Hmm, I'm interested in seeing what the result will be of that, because if Goldberg wins he's going to be stuck with the midcard title, which wouldn't be good for him, while if Burke wins, he gets really over but at the expense of Goldberg.

Loving your characterization of James Mitchell, he really sounds like a dickhead, which suits his role. Kennedy comes out, personally don't like him that much, but hey, you write him pretty well. However he sounded like a big asshole, which I guess is his character, but he hasn't seemed very sympathetic in this feud.

Goldberg promo was alright, standard stuff, but you write out his intensity well enough.

This whole Cabana being an alcoholic angle....is fucking gold man. My god, what a way to use guys like Street Inc. and Cabana. You've given them enough focus, while still playing on their strengths, which is comedy. Now, onto the segment. I can buy Shad and JTG being a bit pissed off with Cabana, as he DID cost them the match. For some reason, the highlight of this segment to me is when JTG said that they accept his apology, but he's still a screw-up. I really liked reading that one. Of course, they give Cabana a chance, and I'm guessing Colt's gonna ruin it. Hopefully this ends up in a Cabana/Steet Inc. full out feud, which would be fun to read.

Decent match, but eh, the finish requires a big suspension of disbelief, that the alcohol would ONLY affect Colt right at the finish of the match. Although I'm not exactly an expert on that sort of thing, so I might be wrong. The aftermath was good, and it definitely got the point across that Cabana is beginning to snap.

Noble promo was well-written, got the point across that he was really driven. Good stuff, and should be a good match. The Champion vs. Champion match isn't a title match is it?

Hmm, Azrael. If Matt Michael's is talking about the same Azrael i'm thinking of, then I'm familiar with him. I'm intrigued and will look forward to what'll happen next week.

Yeah, Alex Shelley owns. Coming out dressed in Rey's attire AND abusing a little kid? He's becoming one of your top heels, and I'd love to see him go over cleanly at the end of the feud. Matt Michaels never really stood a chance. Shelley is really taking this feud personally, spitting on the mask as well.

Stevens/Briscoe is what can be expected, and I'm digging your tag team scene, has a lot of depth in it.

Once again, I have to say that Jake Roberts ftw. Your writing of him is pretty well done. Doane probably should've said SOMETHING, but I can understand why he didn't. Good to see Brent Albright back on TV, because quite frankly he's lost some momentum since his huge win over Abyss.

Noble only getting a mixed reaction? Not good for the Hardcore Champion, but I guess he has to earn those cheers. Match was well written, and the image of PUMA and Amazing Red around the ring waving their arms in the air just cracks me up. Good win for Noble, should give him more credibility in the eyes of the crowd.

Bret Hart's promo was pretty good to start the final segment, and you write him well as a "grandfather" type wrestler. I didn't like how he said that he had a close friendship with MVP, respect is fine, but friendship is a bit to much imo. MVP comes out of course, decent promo, a bit generic though. However he got the point across. Now, Christian's part was the real highlight of the promo for me, and after he came out, things REALLY heated up. I'm stoked for their match, really can't wait to read it.

I enjoyed this show a lot Power, bar the few things that I mentioned. Gonna' get my predictions for Full Throttle up when I can, and i'm excited for it.
Re: Paul Heyman's World Alliance of Professional Wrestling!
---
I'm alive. Schools done, so expect me to be more active. Expect me to be posting more efficiently and to be returning all reviews and feedback. Oh, and this thread is officially #9 on the forum in the mega-standings, so thank you to those who voted!


WAPW Adrenaline: Quick Results

- Reid Flair def. Eddie Edwards @ 6 minutes (Before the match Flair came out dressed in a red-robe, sporting newly bleached-blonde hair. He cut a short promo stating that as the old saying goes 'To be the man, you have to beat the man'. He then stated that every week he will offer anybody across the world a chance to be the man, in the 'To be the man challenge'.

- Tyler Blaze def. Kenny Omega @ 11 minutes


WAPW In Talks With Ric Flair

Gerweck.net can officially reveal that 16 time World-champion and wrestling legend Ric Flair is in contractual talks with the World Alliance of Professional Wrestling. For weeks there has been constant speculation surrounding Flair, 60, and a possible deal. Discussions are said to be at preliminary stages only, but both sides are reportedly keen to work out some sort of agreement, be it a short-term or long-term deal.

We're hearing from Flair's side, that he is interested in return to the ring competitively. It is less than 12 months removed from Flair's 'final' match and goodbye ceremony, but he has supposedly got the itch to get back. He is also we understand suffering financially and has approached both WWE and WAPW about returning in any capacity. Whilst no one has heard WA's take on this, one has to wonder what role Naitch will fill if he indeed signs.

Flair still has two weeks remaining on his WWE contract which while it doesn't obligate him to appear on-screen for the 'E, does keep him from appearing for either TNA or WAPW.


Television Ratings

WAPW Hazard –
25/2 (4.4)
4/3 (4.0)
11/3 (4.1)
18/3 (4.4)

WWE Raw –
23/2 (4.1)
2/3 (3.8)
9/3 (3.8)
16/3 (3.6)

TNA Impact –
26/2 (1.2)
5/3 (1.3)
12/3 (1.2)
19/3 (1.2)


WAPW/Azrael

The previous two editions of Hazard have featured the hyping of the debut of 'Azrael' on the post-Full Throttle show. Surpsigingly, nobody has caught wind of who will be playing the role, or even if WAPW have decided on whom. One name being tossed around and rumoured is that of Ryan Wilson, better known as 'Trytan' from TNA. Wilson recently signed a deal following a stint in OVW and has yet to be featured on television.

Regardless of who he is, we know that he will be leading a gothic faction including Paul London, David 'Gangrel' Heath and Matt Michaels. Paul, David and Mathew were three of Jesus' disciples in biblical terms, whilst the name Azrael in mythology is that of God's avenger.

Interestingly enough, on the subject of David Heath, White Wolf Inc, owners of the 'Gangrel' name and likeness, are letting WAPW use the term. White Wolf are currently in court with WWE over trademark infringement and are attempting to sue them for misuse dating back to Heath's 2004 return to WWE.
Posting Rules

You may not post new threads

You may not post replies

You may not post attachments

You may not edit your posts

---

HTML code is Off

---