Re: Renegade Presents: WWE 2003 - Now Go Home And Get Your Fucking Shinebox
---
Raw comments

The opening was decent, Nash seemed angry and animated. I didn't like it when Nash said it wouldn't be a 'wrestling classic' because in kayfaybe terms people are trying to win a match whether it is a street fight or regular match. That is the focus, in kayfabe terms a regular match isn't figure skating.

Expected win for Christian and the angle with Stacy is interesting. I think Bad Blood is a good PPV 'brand' and the card looks good. I liked the Rock promo, I can imagine him being tricky to write because he is so good in real life, but I thought this was good. Not sure about the finish to the Road Dogg match. I quite like unusual ways(/moves) of people winning matches but a head lock takedown seems like a transitional move to me.

I think the main event would have been better as a tornado tag match because with that many guys in a match and situation like this things are likelier to get out of hand. I didn't like when you said 'hot tags in Bubba' because that goes against kayfabe, and during a show I think it should be narration rather than analysis.
Forever
Join Date: Aug 2006
Location: From Downtown, outta nowhere, in a heartbeat!
Posts: 5,137
Points: 84
Re: Renegade Presents: WWE 2003 - Now Go Home And Get Your Fucking Shinebox
---
One of my old fave BTB threads
Just a quick notes from me for the last RAW.
Criticism
Firstly what is the deal with Road Dogg? It seemed very random and I am not sure if he is back full time? or just one off to be squashed.
Secondly the opening with Kevin Nash was odd. It seemed that the second segment we had with was not neeeded. Bischoff already hyped the match up and I felt it was over-hype.
I am not sure if The Rock/Steiner segment worked. I guess I find it difficult for the fans to be cheering for Steiner at all. Surely they would be so pro-Rock, they would not enjoy Steiner at all. 3MW seemed random, but it maybe because I have not been reading the shows, have they been involved with Rocky? or feuding with Steiner recently?
Also the 6 Man tag added to BB at the last minute? You had 7 matches and I think that is plenty enough.
Good Stuff
Firstly I am loving the Maven vs. Flair feud and I hope Maven gets pushed here.
Christian/Test is intriguing but again I feel this will be too predictable with Stacey turning on Test.
Tag Teams are really getting some airtime and has that "main event" type of feel, which is great. RVD & Kane are able to have Main Event Quality matches when put with the right opponents.
Goldberg being totally dominant is great.
Re: Renegade Presents: WWE 2003 - Now Go Home And Get Your Fucking Shinebox
---
Preview is short, coz spare time this past week has been.
***




WWE SmackDown! Preview for 6/12/03

The TD Waterhouse Center in Orlando; Florida will serve as the next stop on the road for the superstars of SmackDown!

In a chaotic ending to last week's main event, The Undertaker returned and helped Brock Lesnar and Stone Cold Steve Austin fend off an attack by Kurt Angle, The Big Show & A-Train. Taker has challenged A-Train to a Biker Chain match on tonight's show. What will happen when these two bitter enemies lock up in what promises to be a brutal match?

What of the continual chaos in the chase for Brock Lesnar and his WWE Championship? Will we get any clarification from Stephanie McMahon about Austin, Angle, Show or Taker being the next challenger to Lesnars gold?

The return of Piper's Pit is upon us and Roddy Piper has promised us a huge guest will be present. Who does "Hot Rod" have up his sleeve?

Matt Hardy will defend his Cruiserweight title against Rey Mysterio, Billy Kidman, Jamie Noble and Tajiri in a 5 Way Dance.

All this plus Los Guerreros/FBI step into the ring to try and settle their differences, and Chris Benoit & Rhyno will team up to take on John Cena & Mike Awesome

***

Confirmed Matches

Biker Chain Match
The Undertaker vs A-Train

Cruiserweight Championship; 5 Way Dance Match
Rey Mysterio vs Billy Kidman vs Tajiri vs Jamie Noble vs Matt Hardy (c)

Chris Benoit & Rhyno vs John Cena & Mike Awesome

Eddie Guerrero w/Chavo vs Johnny Stamboli w/Nunzio & Chuck Palumbo

PLUS: The return of Piper's Pit

***
Smackers up in 3 days or so tbh.
---
***

---
Last edited by Renegade™; 05-13-2011 at

12:09 PM

.
Re: Renegade Presents: WWE 2003 - Now Go Home And Get Your Fucking Shinebox
---
Honestly, whilst it's not the most star studded card in the world, I'm looking forward to every single match that you've announced. Smackdown a few weeks ago, I felt was in a bit of trouble, but you seem to be digging your way out of that whole pretty quickly. Promo with all the main event players should be tops (I'm expecting we will get one), and Piper's Pit should OWN if you can get Piper's characterisation right.

I'll be reading like usual, so, uhh, hurry up and post.
---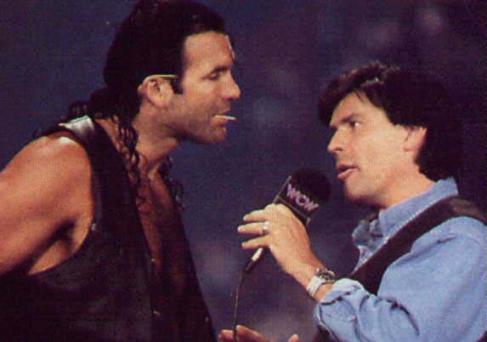 Re: Renegade Presents: WWE 2003 - Now Go Home And Get Your Fucking Shinebox
---
Just a quick update for everyone.
Been getting hammered at work lately with alot of people calling in sick with the flu, bunch of pussies, and I'm having to go in every day and cover a shift it seems. Hence why Smackers isn't up yet. And why I haven't dropped comments in anyones thread (Legend, in the words of the great man... YOU'RE NEXT!
).
Really hoping to have it up on Wednesday, if not, defo will be up Thursday when I finally have a day off. Don't think I've quit or lost interest, that couldn't be further from the truth, I'm still enjoying writing, just haven't had any time of late to do so.
.
---
***

Re: Renegade Presents: WWE 2003 - Now Go Home And Get Your Fucking Shinebox
---
[CENTER]


WWE SmackDown!
6/12/03
TD Waterhouse Center
Orlando; Florida

*Opening Video*

*PYRO*

We are shown a brief package of last week's chaotic main event with The Undertaker making the save for Austin & Lesnar and challenging A-Train to a Biker Chain Match tonight and also the announcement of the 5 man match for the Cruiserweight title, and the Tag Titles also on the line. Stephanie McMahon appears at the end and says "Two title matches and a first ever Biker Chain match, plus the return of Piper's Pit? Top that, Eric Bischoff" as she grins and the video ends

The camera pans around the arena before Cole & Tazz welcome us to the show

*HOT ROD*

The crowd ERUPTS with a huge ovation as the legendary "Rowdy" Roddy Piper makes his way out for the return of Piper's Pit. Piper takes his time heading to the ring as he taunts a couple of fans at ringside. Piper enters the ring and takes a mic off the stool as he waits for his music to die off

Piper begins by welcoming everyone to the return of Piper's Pit. Big pop. Piper says it's great to be back in the WWE to another positive response from the crowd. Hot Rod thinks back to the last time he was in a WWE ring, as he remembers hitting Hulk Hogan with a steel pipe! That gets some heat from the fans. Piper says at the time, emotions got the better of him, and his hatred for Hogan shone through. Piper says that's in the past now, and he's not gonna bother reminiscing about that anymore. Piper says he's got a big guest tonight. Piper says this man is a machine. A pure monster of a competitor. Roddy Piper says he may be one of the baddest men around. Piper introduces his guest, the WWE Champion, Br-

*MEDAL*

However much to the chagrin of Piper and to a huge chorus of boos from the crowd, it's Kurt Angle who makes his way out. Angle has a mic in hand and mockingly thanks Roddy for the generous introduction. Heat. Angle points out that Hot Rod made a small mistake, he should've said "the rightful and soon to be WWE Champion". Piper smirks and says he's sure he got it right, because Kurt Angle isn't the man he wants to speak to. Roddy goes to add something but Angle cuts him off, asking who he could possibly want to interview more than the greatest wrestler alive? Crowd starts an "Angle Sucks" chant. Kurt says there isn't a hotter commodity in this business. Piper asks Angle if he really does believe his own bullcrap? Pop. Angle gets annoyed. Hot Rod says he knows all about Kurt Angle. He gives Angle his props, he's a great wrestler, he's a bad man, he's a wrestling machine. But he wasn't talking about Angle when he said all those things earlier because the man he was talking about is th-

"WELLLLLLLLLLLLLLL, WELL IT'S A BIG SHOW"

*BIG*

The Big Show comes out on stage. Roddy Piper is yelling "Cut! Cut!" and shaking his head. Big Show tells Piper to shut up, be a good host and let the main attraction talk. Big Show says Kurt Angle is delusional. He can't accept he isn't getting another title shot. Big Show says there's only one person on SmackDown! who's getting a title shot, and that's him. Piper tells Big Show nobody tells the Hot Rod what to do, and asks him why he thinks his fat ass deserves a title shot? Huge pop. Big Show says he's the most dominant, the most powerful going today, and unlike Kurt Angle, has actually beaten Brock Lesnar. Has dominated Brock Lesnar. And will do it again. Kurt Angle counters that, saying if he was given his rightful rematch he'd be the WWE Champion by now. Kurt says he can't wait much longer, and he may have to take things into his own hands once again. Angle warns Big Show he's trying to get in his way. Big Show says he is in Angle's way and he's not moving. Roddy Piper, not wanting to be overshadowed, says Big Show's in everyones way at the moment which gets a nice cheer. Piper says both men have spouted a bunch of crap. Piper says neither man was his guest for Piper's Pit, and they should take their whining elsewhere. Big Show turns to Piper and says he told him to shut up earlier. Piper doesn't back down and says no one tells him what to do, before hocking a loogie on Show! This leads to Big Show grabbing Piper and dropping him with a right hand! Big Show starts to put a beating on Hot Rod in the corner, before Kurt Angle gets involved, TAKING SHOW DOWN WITH THE ANKLE LOCK!

*HERE COMES THE PAIN*

The crowd erupts as Brock Lesnar finally comes out to a huge cheer. Brock darts to the ring as Kurt Angle lets go of the Ankle Lock on Show and the two get into a fist fight which Brock wins. Lesnar takes Angle to the corner and hits some knee strikes to Angle. Brock then tries to muscle Kurt up for the F5...but Angle grabs onto the ropes to block it. Brock then looks to try something else but Big Show boots him in the face, causing him to drop Angle! Big Show goozles Lesnar now and readies the WWE Champion for the Showstopper

*GLASS SHATTERS*

*I WON'T DO WHAT YOU TELL ME*

Stone Cold makes a beeline to the ring to a MASSIVE pop. Big Show lets go of his grip on Lesnar as Austin slides into the ring and beats Show to the punch, unloading with right hands, rocking Big Show! Austin boots Show in the gut and goes for the STUNNER...but Show shoves Austin away INTO KURT ANGLE WHO GOES FOR THE ANGLE SLAM...BUT AUSTIN SLIPS OUT THE SIDE AND BEGINS BRAWLING WITH ANGLE! Brock and Big Show are also brawling as

*ALL GROWN UP*

Stephanie McMahon comes out on stage. Steph says she's had enough of this. She says week in week out, these guys are beating the hell out of each other, causing chaos and destruction, and next week on SmackDown! we will find out our next challenger for Brock Lesnar's WWE Championship because it's gonna be "Stone Cold" Steve Austin vs Kurt Angle vs The Big Show vs the winner of Undertaker/A-Train tonight in a Fatal 4 Way match! Crowd erupts. Stephanie orders security to separate everyone and says the ring had better be clear when we return from the commercial break

-Commercials-

*WHATEVER*

Chris Benoit makes his way out to a huge pop from the fans. The US Champion raises his title up high on his way to the ring

*DEBONAIRE*

There's a solid cheer as Rhyno storms out, pounding on his chest and then raising his hands to the crowd. Rhyno heads to join his friend and partner Benoit

*MANIAC ATTACK*

Mike Awesome comes out to heat from the fans. Awesome smirks at Rhyno and Benoit after having gotten the better of both men the last couple of weeks

*BASIC THUGANOMICS*

More heat fills the arena as John Cena struts out on stage in a Miami HEAT jersey, getting some loud cheap heat for that. Cena is forgoing his rap tonight it seems, as he joins Mike Awesome in the ring

Match #1
Tag Team Contest
Chris Benoit & Rhyno vs Mike Awesome & John Cena
In a solid opening contest, all four men get the chance to show off their movesets in the first exchanges of the match which sees Benoit & Rhyno isolate and work on John Cena. Finally Awesome gets a tag in after Cena rakes the eyes of Benoit and The "Career Killer" brawls with the US Champ. Cena comes in and hangs with the Wolverine too but gets caught out trying to take Benoit down, as he's hit with an Enzuigiri! Both men down, Cena tags Awesome, Benoit tags Rhyno!

The Man Beast comes in and flattens Awesome with a clothesline, then another, then another, before taking him down with a Belly to Belly Side Suplex! Rhyno then gets attacked by Cena, but Rhyno counters an Irish whip and plants Cena with a Spinning Spinebuster! Rhyno crouches down, ready to unleash the GORE...but Awesome scores with a Superkick to the side of the head! Cover 1...2...Benoit breaks it up! Benoit unloads with knife edge chops to Awesome, then ducks a shot and hits a German Suplex! Benoit then gets clotheslined out to the floor and the momentum takes Cena over too. Mike Awesome struggles to his feet meanwhile and as he does RHYNO SCORES WITH THE GORE! Cover 1...2...CENA PULLS RHYNO OUT OF THE RING! In the ensuing chaos, Cena gets sent into the crowd, whilst Benoit ends up being in the ring, not even the legal man, and gets BLASTED WITH THE US TITLE BY MIKE AWESOME! With Rhyno occupied with Cena in the crowd he doesn't see this, as Nick Patrick counts the fall after Awesome discards the evidence 1...2...3!
Winners @ 7:29 - Mike Awesome & John Cena

-Commercials-

We return backstage now and Matt Hardy is interviewed by Torrie Wilson. Torrie asks Matt Hardy how he feels ahead of defending his Cruiserweight title in a 5 Way Dance? Hardy says last week he stood atop of the division, and that made Stephanie McMahon annoyed that the rest of the Cruiserweights couldn't hang with him, so she booked all of them in a match at the same time to try and give Matt some competition. Matt Hardy goes on to say that it doesn't matter if she made it a 10 man match, because none of the others have the Mattributes required to be the champ. And that Matt Hardy, Version One, will show us that tonight as he leaves, still the Cruiserweight Champion

Match #2
Singles Contest
Bill DeMott vs Sean O'Haire
Nothing much more than a squash of sorts to get O'Haire back on TV and in the winning circle as he and DeMott hit each other hard, then harder, and harder. After a couple of minutes of looking the better competitor, O'Haire puts the rugged DeMott down with a WIDOW MAKER and covers him 1...2...3 for the elementary pin to mark a winning return to the show
Winner @ 3:26 - Sean O'Haire

Backstage now and Team Angle are interviewed by Funaki, SmackDown!'s Number One
Announcer. Funaki asks Shelton & Charlie how they're feeling ahead of defending their WWE Tag Titles against The APA? Benjamin says they're as calm as can be. He says last week, The APA won in their specialty match, if you can call it a match, but tonight, they're challenging Team Angle in a straight up wrestling contest, and there is no way they can hang with them. Haas takes over now and reminds us that last time these two met in a proper tag match, Team Angle came out on top, and it's gonna be the same story later tonight when they teach Bradshaw & Faarooq a wrestling lesson

-Commercials-



*Video Plays*

A solitary figure in black stands in the middle of a very dimly lit ring. The figure doesn't move, and doesn't say a word as the single light that is shining over him flickers on and off, and then a loud bang is heard, like a thunderous clap, as the feed cuts, and the following words are displayed on the screen in white

Shadows hide his appearance
The noise masks his presence
In the dark, he's there, watching
Nearing the time, patiently
Get ready, he's coming

The black screen engulfs the words and then a white flash comes and goes, wiping away the black, as the screen shows a video of a dark, stormy night setting as (presumably) the same figure, still completely un-identifiable, walks into view again, head dropped, looking to the ground. A loud "cawww" is heard as a crow flies over the figure. The figure then slowly begins to raise it's head when another white flash hits the screen and the video cuts out altogether

*Video Ends*



Back live and Kanyon is standing by with Josh Matthews. Kanyon says he's sick of those silly videos playing every week. Attention and airtime should be focused on important things like himself, the MVP of SmackDown! Matthews asks Kanyon how he's feeling with his recent form inside the ring. Kanyon says he's moving up, and it won't be long before he becomes a household name world wide once more. Kanyon says he's the "Champagne" of the show, he's got the total package and he's gonna be bigger than Hulk Hogan, bigger than The Rock, bigger than Steve Austin. Fans will chant his name, erupt when his music hits, and he'll be the greatest thing since sliced bread! Kanyon asks WHO BETTER THAN KANYON to lead SmackDown! out of it's current mediocrity? And before Josh Matthews can respond Kanyon cuts him off saying "no one, exactly!" before walking off

*MEDAL*

For the second time tonight the crowd boos as members of Team Angle, the WWE Tag Team Champions, Shelton Benjamin & Charlie Haas, make their way to the ring to defend their crown. Benji & Haas taunt the fans with the title belts as they get in the ring, ignoring the "You Suck" chants

*PROTECTION*

Bradshaw & Faarooq head to the ring with a purpose to a big cheer from the fans. The APA waste no time marching to the ring and getting the match underway in trademark Acolyte fashion

Match #3
WWE Tag Team Championships
The APA vs Team Angle (c)
After the opening brawl referee Jimmy Cordaris gets control of the contest as Faarooq and Shelton Benjamin kick things off. Faarooq muscles Benji into the corner and pounds on him with right hands, then shoots him to the ropes and catches him with a Snap Powerslam! Cover 1...2.kickout. Ron Simmons brings Shelton up and tags in Bradshaw, before using an Abdominal Stretch to expose the ribs of Benji as Bradshaw sticks his boot into them, before clubbing him over the back, causing Shelton to drop to his knees. Bradshaw then plants Shelton with a Swinging Neckbreaker! Lateral press made 1...2..kickout.

Bradshaw looks to continue the domination of Benji but Shelton resourcefully rakes the eyes and tags in Charlie Haas, who charges at Bradshaw, but the big Texan catches him and plants him with the Last Call Fallaway Slam! Cover 1...2.kickout. Bradshaw whips Haas to the corner and follows in but Haas gets an elbow up in the face, then runs towards Bradshaw, but gets caught with a stinging knife edfge chop! Haas rolls out of the ring and recouperates with Shelton as the duo show frustration of being out gunned and grab their titles, looking to leave the match, but in predictable fashion, The APA chase them up the ramp and attack them, bringing them back to the ring.

With the brief loss of control as Cordaris restrains Faarooq, Bradshaw cops a low blow from Haas, then a Superkick on the jaw from Shelton, as Haas then catches Bradshaw and hits a German Suplex with a bridge 1...2...FAAROOQ MAKES THE SAVE! However with Bradshaw down, he gets isolated as we head to a commercial

-Commercials-

Back to live action and Shelton is in the ring with Bradshaw now, stomping away at him and talking him through it "how you like that boy? Huh? Hows that feel?" as he continues to stomp on Bradshaw. Shelton brings him up and hits a right hand, then sends him to the corner and comes in with a Stinger Splash! Bradshaw staggers out and Shelton takes him down with an Arm DDT! Benji tags in Haas as the duo go to work on Bradshaw's right arm, taking away the chance to use the Clothesline From Hell. As Ron Simmons tries to intervene Team Angle take advantage with Haas pulling Bradshaw's arm out of socket as Shelton lays right hands to the shoulder and upper arm area.

The isolation continues until Haas makes the mistake of going for the HAAS OF PAIN, but Bradshaw is able to get under him and hit a Mountain Bomb! Both men down. The crowd gets behind Bradshaw as he struggles to make a tag, Haas tags in Shelton and BRADSHAW HOT TAGS FAAROOQ! Simmons comes in like a house of fire, plowing through Shelton with a series of clotheslines, then hitting a Back Body Drop, before dropping Haas with a clothesline too. Shelton groggily clubs Faarooq from behind and continues to pummel away, then is joined by Haas, as the duo go for the World's Greatest Tag Move, but as Shelton rebounds off the ropes, BRADSHAW FLATTENS HIM WITH THE CLOTHESLINE FROM HELL OUTTA NOWHERE!

Bradshaw rolls around holding his weakened right arm as Charlie Haas quickly reacts to this, dropkicking Bradshaw in the back, causing him to tumble to the outside. Faarooq however then plants Haas with a Spinebuster! Faarooq looks to cover Haas but Jimmy Cordaris reminds him that Shelton is the legal man. Faarooq gets up and takes it to Shelton in the corner, then loads him up for the DOMINATOR...but Shelton kicks like a mad man and drops out the back, as Charlie Haas slides a tag title belt into the ring!

Shelton picks it up and looks to use it, but Cordaris is quick to stop him and take the belt off him. As Shelton berates the ref however Charlie Haas slides in armed with the second belt and TAKES FAAROOQ'S HEAD OFF WITH IT! Haas quickly discards of the belt as Bradshaw trips him up and drags him to the outside, meanwhile Shelton pounces on a downed Faarooq 1...2...3! Bradshaw attempts to make the save but Charlie Haas holds him back just long enough! Team Angle steal it again!
Winners @ 10:18 - Team Angle
Retain WWE Tag Team Championships

Team Angle steal it again and quickly high tail it as Bradshaw tends to Faarooq, fuming that they've been robbed again in their quest for the gold

-Commercials-

We return and Stone Cold Steve Austin is standing by with Torrie Wilson. Wilson asks Stone Cold what his reaction to the Fatal 4 Way match next week is? Austin says he's been out of the title scene for too long. Austin says just a few months ago, everyone was saying that he was done, he was past it, he'd wrestled his last match. Stone Cold said he even doubted himself for a moment. But that's now in the past. Austin says he's feeling good. He may not be the same he was five years ago, but he'll be damned if he's not gonna go out there next week, open up the biggest can of whoop ass on whoever's in his way, and become the number one contender for Brock Lesnar's WWE Championship. Austin says THAT'S THE BOTTOM LINE...COZ STONE COLD SAID SO! Austin goes to walk off but he walks right into THE UNDERTAKER! Mega reaction for the Austin/Taker face off. Neither man says a word for what seems like an eternity, with the two knowing each other after some classic battles in the past. Eventually Undertaker breaks the silence, letting Austin know the Big Dog is back, and that ring is still his yard, and he's gonna prove that tonight against the A-Train as he beats some respect into him. Taker says that'll serve as a reminder heading into the match next week, coz Taker's got some unfinished business with Brock Lesnar, and he'll be the one taking that contendership spot. WHAT? Austin replies. Taker smirks, refusing to buy into Austin's game. Austin doesn't back down from Taker and says they'll just have to wait and see, WHAT? The two men face off for a few more moments before Austin brushes past Taker and mutters "good luck tonight" somewhat sarcastically

"VIVA LA RAZA"

*LIE, CHEAT AND STEAL*

The crowd resonates a good pop as the increasingly popular Los Guerreros make their way down to the ring. Eddie is dressed for action whilst Chavo is accompanying his uncle to the ring. Eddie soaks up the cheers from the fans as he mounts the turnbuckle

*NO SLEEP TILL BROOKLYN*

Johnny Stamboli comes out to heat from the fans, with Chuck Palumbo and Nunzio by his side. The FBI take the time to taunt the fans as they head to the ring, with Eddie looking keen for payback after the assault from the Full Blooded Italians last week

Match #4
Singles Contest
Eddie Guerrero w/Chavo Guerrero vs Johnny Stamboli w/Chuck Palumbo & Nunzio
It's nothing short of a brawl with hardly any wrestling taking place as Eddie takes it right to Stamboli who's completely taken off his game by the hunger Eddie shows. Guerrero comes close to ending it with a Slingshot Hilo but Nunzio distracts the ref! Chavo yanks Nunzio off the apron and begins brawling with him, however Chuck Palumbo sneaks in behind Mark Sparks' back, steel chair in hand and SWINGS THE CHAIR...AND CONNECTS...WITH STAMBOLI'S SKULL! The crowd erupts as Eddie quickly hits a Jumping Calf Kick, sending the chair back into the face of Palumbo, then scales the turnbuckle and leaps off, scoring with a FROG SPLASH! Eddie covers 1...2...3!
Winner @ 4:39 - Eddie Guerrero

Eddie has his hand raised by Sparks but he's soon wiped out by Palumbo! Chuck puts the boots to Eddie to heat however Chavo enters the ring and rocks Chuck Palumbo with right hands, backing him to the ropes, and then clotheslines him to the outside! Chavo helps Eddie up and Los Guerreros gain a measure of revenge for last week, as The FBI re-group on the outside with Nunzio threatening "this isn't over!"



*Video Plays*

Narrator: When you are wronged...

Brock Lesnar holding up the WWE Championship

Narrator: When you seek to even the score...

Kurt Angle pulling down his straps

Narrator: When the line is crossed...

Big Show throwing up his right hand

Narrator: When there is retribution on offer...

Stone Cold saluting the fans on the turnbuckle

Narrator: And the time comes...

Undertaker riding down on his chopper

Narrator: VENGEANCE will be delivered!




WWE Vengeance
Live from the Pepsi Center
Denver; Colarado
6/27/03
Theme Music: Godsmack - Straight Outta Line

*Video Ends*





-Commercials-



We return and see Rey Mysterio warming up, when Billy Kidman walks in. The two friends exchange some brief pleasantries before Kidman wishes Rey luck, which Mysterio returns to Billy. Rey says he's waited a long time for another shot at Hardy and he aims on taking back the CW Title, but Kidman reminds Rey that it was Hardy who beat Billy Kidman to become Cruiserweight Champion back at No Way Out, so if anyones waited long enough, it's Kidman. The two shake hands before Kidman exits the room

*A COUNTRY BOY CAN SURVIVE*

Jamie Noble storms to the ring in a foul looking mood. With Nidia by his side, Noble receives a good luck frencher which the trailer park duo have become accustomed to, before sliding into the ring

*YOU CAN RUN*

The crowd pops as Billy Kidman emerges from the back, arms raised into the air. Kidman slaps hands with a few fans at ringside as he heads down the ramp before sliding into the ring and mounting the turnbuckle, pumping the crowd up

*ASIATTACKER*

Tajiri creeps his way to the ring with his usual crouched walk in full swing, gaining some decent heat from the fans. Somewhat of an outsider in the title scene as of late, he slides into the ring and eyes up his opponents

*619*

The crowd erupts with a big pop as Rey Mysterio leaps up on stage from behind his pyro set. Mysterio runs to the end of the stage and salutes the fans before heading down to the ring, slapping hands with fans at ringside. Rey enters the ring and climbs the corner, playing to the crowd some more

"LOAD VERSION 1..."

"10%...30%...70%...LOAD COMPLETE"

"OH YEAHHHHHH!"

*LIVE FOR THE MOMENT*

Matt Hardy makes his way out, throwing up the V1 sign to big heat from the fans. Hardy has no back up tonight with Shannon Moore & Crash Holly suspended from ringside and looks less confident that usual. The Sensei of Mattitude enters the ring and holds his CW Title up in the face of Noble, then Tajiri, then Kidman and finally Rey Mysterio, who takes exception and tackles Matt Hardy down, kickstarting the match!
Match #5
Cruiserweight Championship; 5 Way Dance
Rey Mysterio vs Billy Kidman vs Tajiri vs Jamie Noble vs Matt Hardy (c)
It's total chaos as Rey hammers on Matt, before Noble pulls him off and has a go, Kidman then drags Noble away and pounds on Hardy and finally Tajiri kicks Kidman to knock him off and The Japanese Buzzsaw goes for Matt Hardy! This leads to the challengers arguing amongst themselves before breaking off into separate brawls as Rey and Noble, Kidman and Tajiri pair off whilst Hardy recovers on the outside.

There's plenty of exciting action as Noble whips Rey to the ropes but Mysterio uses this and springboards up onto the top rope BEFORE LEAPING TO THE OUTSIDE AND TAKING HARDY DOWN WITH A HEADSCISSORS TAKEDOWN! The crowd erupts for the spot. Rey and Hardy both get up slowly from that and Jamie Noble comes off the top rope with a FLYING CROSSBODY! As the three men struggle to their feet Tajiri clears the ropes with a CORKSCREW ATTACK TAKING EVERYONE DOWN! The crowd is on their feet as Kidman now balances himself on the top and as the four men get to their feet KIDMAN LEAPS OFF WITH A SHOOTING STAR PRESS DOWN ONTO EVERYBODY! "Holy Shit" chants break out after the spotty passage of moves.

As the action returns to the ring and Nick Patrick gets control, Kidman covers Hardy 1...2..kickout.
Kidman works on Hardy in the corner until Jamie Noble tags in. Noble shoves Kidman away and starts kicking and punching at Hardy, which annoys BK who socks Noble with a right hand! This allows Matt Hardy time to escape as he tags out to Tajiri! Tajiri comes in and lights up Noble with some chops, then shoots him to the ropes and scores with a Spinning Heel Kick! Cover 1...2.kickout.

Tajiri tries to lock Noble in the Tarantula in the corner but Matt Hardy punches him in the face, knocking him off to the outside and constituting as a tag according to Nick Patrick. Hardy takes Noble down with a Side Effect and covers 1...2..kickout. Hardy whips Noble to the ropes and Rey blind tags in, as Hardy scores with a clothesline on Noble, Rey springboards into the ring and takes Hardy down with a Seated Senton! Rey unloads with right hands on a stunned Hardy. Mysterio quickens the pace some more, kicking Hardy's thigh then rebounding off the ropes and leaping at Matt with a body scissors, taking Hardy down with a Wheelbarrow Bulldog! We cut to a commercial with Rey taking it to Hardy in the corner.

-Commercials-

Back from the break and Jamie Noble is putting the boots to Billy Kidman and talking trash as he does it. Noble then mounts the turnbuckle and leaps off BUT KIDMAN GETS A BOOT UP RIGHT ON THE JAW OF NOBLE! Jamie goes out like a light and Kidman struggles back to his feet, climbing to the top rope, readying for the SHOOTING STAR...but Tajiri distracts him, trying to pull him off the buckle, but Kidman kicks Tajiri away, only for Jamie Noble to recover and bump the ropes, causing BK to lose his balance and straddle groin first over the turnbuckle! Noble ascends up and takes Kidman off with a Superplex! Lazy arm cover 1...2...Hardy breaks it up.

Noble threatens Hardy and then brings Kidman up, socking him with a right hand. Kidman throws a weak punch in return, only for Noble to lift a knee to the gut and score with a Double Underhook Suplex! Noble floats into a cover 1...2..shoulder up. Jamie Noble attempts to lock on the TRAILER HITCH but Kidman grabs the ropes and Nick Patrick gets Noble away.

Tajiri sneak tags in from Noble and grabs Billy, bringing him up and shoots him to the ropes, but it's reversed by Kidman only for Tajiri to come back with the Handspring Back Elbow! Hook of the legs 1...2..kickout. Tajiri looks to measure Kidman for the BUZZSAW KICK...but Kidman ducks it and rolls Tajiri up with a Schoolboy 1...2...shoulder up. Both men get to their feet and Kidman plants Tajiri with the BK BOMB from nowhere and covers 1...2...REY MYSTERIO BREAKS IT UP!

This leads to an argument between the two friends in Mysterio and Kidman and ends in the two trading blows! Nick Patrick loses control of the match now as Matt Hardy and Jamie Noble get into the ring and all hell breaks loose. Jamie Noble hits the TIGER BOMB on Billy Kidman, and Kidman gets cleaned up by a TWIST OF FATE from Matt Hardy. Hardy stalks Rey and goes for the Twist again, but Rey shoves Hardy away and then scores with a Wheel Kick to Hardy. Tajiri goes to spray the GREEN MIST to Rey...BUT REY DUCKS IT...THEN TRIPS TAJIRI DOWN ONTO THE MIDDLE ROPE! Rey dials it up and rebounds off the ropes and scores with the 619 to Tajiri. Rey then DROPS THE DIME to Tajiri...and Hardy quickly throws Rey to the outside and covers The Japanese Buzzsaw 1...2...3!
Winner @ 13:27 - Matt Hardy
Retains Cruiserweight Championship

Matt Hardy escapes with his title intact much to the annoyance of the crowd. Hardy is joined by his Mattitude followers Moore & Crash as they help their fatigued leader to the back whilst Rey Mysterio stands hands on hips, bemused to the finish of the match

-Commercials-

Backstage we see Mattitude celebrating Hardy remaining the CW champ as Michael Cole claims it makes him sick after how it went down

A-Train cuts a short promo on his main event with The Undertaker tonight. Train is armed with a biker chain of his own and snarls that he's gonna finish Taker off tonight. A-Train says two weeks ago was the first sign that "Big Evil" is past it. A-Train says he's stronger, younger, meaner and hungrier than "that old bastard" and he's gonna make full use of the no disqualifications stip and beat and bloody Taker into retirement. A-Train finishes off the spitfire by saying everyone says he's a woolly mammoth, and he'll eat any dog, big or small, for breakfast. And that includes old yella, The Undertaker!

Match #6
Singles Contest
Grandmaster Sexay vs Chris Kanyon
Sexay takes it to Kanyon for the opening moments, before Kanyon shows that cowardly yet impressive streak in him as he picks his spot to change the momentum of the contest by a cheaky low blow when Brian Hebner isn't able to clearly see. Kanyon takes over and works down Grandmaster Sexay, and despite a brief rally from the fan favourite towards the end, Kanyon manages to end the match with the I'M BETTER THAN YOU!
Winner @ 2:54 - Chris Kanyon

Kanyon celebrates his win in his new found self absorbed idiocy and looks to make a statement on Sexay but Rikishi steps into the ring and stares down Kanyon, who freezes and rethinks it, exiting the ring and basking in his own ego

Backstage now and Brock Lesnar is interviewed by Josh Matthews. Matthews asks Lesnar how he feels about all the superstars gunning for him and the WWE Championship? Lesnar says he's not scared, the whole damn locker room could be gunning for him for all he cares. Brock says he's beaten The Big Show before, he's beaten Taker three times, he beat Kurt Angle at WrestleMania and if Stone Cold wants to add himself to the list by winning next week, he'll be glad to do so. Brock says he gave everything he had to become the champ again, and almost broke his neck in doing so, and he'll have to have his neck broken before he even considers giving the title up. Lesnar walks off looking intense

-Commercials-

We return and see The Undertaker warming up backstage with a punching bag held by Nathan Jones who's pumping up his mentor as Taker throws those big soup bones and jabs at the bag

Kurt Angle is now seen knocking on the door of Stephanie McMahon. Angle bursts in catching Steph off guard and demands she explain why she feels Austin, Show, Taker and A-Train deserve a shot to be the number one contender? Steph says she doesn't have to explain anything to Kurt Angle. She says Kurt should be glad she considered him after all he's done to tarnish her image as General Manager, but she couldn't ignore the hunger he's shown. Angle says Austin especially shouldn't have been considered and it was a sympathy pick, after Angle beat him at Judgment Day. Steph smirks and questions why Angle is so obsessed with Austin staying away from the title? Is it coz he's afraid of what Austin can do? Angle dismisses that and Stephanie tells Kurt to leave, because this is going nowhere and her decision is final. Angle grunts and begrudgingly exits, shaking his head

*DERAILED*

A-Train scores some solid heat from the crowd as he marches to the ring, armed with his own biker chain ahead of this match. A-Train taunts the fans at ringside before entering the ring

"DEADMAN WALKIN"

*ROLLIN'*

The crowd EXPLODES as The Undertaker rides his Harley Davidson to ringside, circling the ring before parking at the foot of the ramp. Taker hops off and grabs a chain of his own from the bike before sliding into the ring and getting ready for a fight

Match #7
MAIN EVENT
Biker Chain Contest
The Undertaker vs A-Train
Charles Robinson rings the bell as both men wield their chains, eyeing each other off. The two men swing with the chains, clashing in the middle, neither man copping the steel to their skin, but Taker quickly reacts and rocks Train with a soup bone! Taker continues to rock Train back into the corner with rights, then continues the beat down. Taker shoots A-Train to the ropes and scores with a Big Boot, taking him down. A-Train rolls to the outside but Taker follows him and slams his face into the steel steps! A-Train bounces off and Taker tattoo's him with a right, then scoops him up and drops him over the security barricade.

Taker places A-Train on the apron now and climbs up onto it, before running along and dropping a Leg Drop to Train, causing him to flip over Taker's leg to the floor! Undertaker picks Train up and goes to whip him to the ropes, but A-Train reverses it and Taker crashes knee's first into the steps! Taker writhes around clutching at his knee's on the impact.

A-Train takes Undertaker over to the commentators table and introduces his face into it, then removes the top cover and picks up a monitor, BLASTING TAKER OVER THE HEAD WITH IT! Taker goes down and A-Train clears the announcers table, shoving Tazz and Cole aside. Train drags Taker up and gets him on the table, motioning for a Powerbomb, BUT TAKER BLOCKS IT AND ELEVATES TRAIN UP AND OVER WITH A BACK BODY DROP, SENDING HIM CRASHING THROUGH THE TABLE AND TAKER GOES WITH HIM AS IT COLLAPSES!

"Holy Shit" chants break out. Big Evil stirs and pulls himself up, hobbling slightly as he gets A-Train and drags him to the ring, rolling him in, and sliding in afterwards and covering 1...2...NO! Kickout by A-Train! Undertaker gets A-Train up and goozles him, going for the Chokeslam, but A-Train elbows free and then takes The American Bad Ass' head off with a Bicycle Kick! A-Train takes his time to recover and make the fall 1...2.kickout.

From here, A-Train takes over, targeting the ribs of Undertaker which are still not fully healed it seems by the way Taker sells every shot to his midsection. Train drives a series of knees into the ribs then scoops Taker up and plants him with a Rib Breaker! A-Train shows his strength by keeping a hold of Taker and powering the 300 pounder back up, before hitting a second Rib Breaker! Cover 1...2..kickout. A-Train gets up and confidently yells out "Oh yeah!" knowing he's in control to heat from the fans who start a "Shave Your Back!" chant in return. A-Train brings Taker up and whips him hard into the corner and follows in with a Body Avalanche, crushing Taker into the corner!

Undertaker drops to the mat and A-Train covers 1...2..shoulder up. Train starts paint brushing Big Evil in a sign of disrespect, before his eyes catch sight of those biker chains! A-Train picks up one and snarls out a "Yeah!" before walking back over and using it to choke out Taker! Charles Robinson berates Train's use of the weapon but he's easily intimidated away by the woolly mammoth. A-Train then sees Undertaker on all fours catching his breath, and using the chain like a whip, slams it down over the back of the Deadman! Taker writhes around holding his back as A-Train repeats the dosage. A-Train then drops the chain and brings Taker up, and hits a huge TRAINWRECK! Cover 1...2...NO! TAKER GETS A SHOULDER UP! The crowd goes wild and Train is furious as we cut to the final commercial break

-Commercials-

We return and see Undertaker mount a brief comeback with a flurry of right hands before Train grounds him with a clothesline. A-Train then drops a knee to the ribs of Taker and locks on a grounded Bear Hug. Undertaker gets the crowd behind him with an "Un-der-taker" chant as he tries to battle back to his feet, but A-Train has the lock in tight, however Undertaker resourcefully counters into the Triangle Choke! A-Train frantically looks to break the hold but Taker has it locked on, but A-Train grabs the steel chain and PUNCHES TAKER IN THE FACE WITH IT! Taker lets go of the Triangle Choke and is busted open from the shot.

Both men to their feet and A-Train wraps the chain around his fist looking to finish Taker off, but Big Evil ducks it and then lays into Train with some big time soup bones. Train gets rocked back, dropping the chain, but comes back with a throat thrust to Taker, then shoots Taker to the ropes, but lowers his head too early and Undertaker scores with the Running DDT! Both men down again. The two slowly get back to their feet and Taker rocks Train with a soup bone, and Train comes back with a right of his own. The two go back and forth and predictably the Deadman wins the fight, until Train halts him with a rake of the eyes. A-Train goes to whip Taker to the ropes, but Taker counters and pulls Train in to a goozle and plants him with the Chokeslam! Cover 1...2...NO! Train gets a shoulder up!

Undertaker is feeling the momentum as he takes the biker chain now to a huge cheer from the fans. As Train tries to get up, Taker turns the tables on A-Train, slamming the chain down over his back like Train did to him earlier. Taker does it again, and again, as A-Train rolls away. Undertaker now grabs Train by the arm and wrenches it, before ascending the top rope and calling for Old School, but A-Train yanks Taker off the ropes! Train stalks Big Evil and goes for the DERAILER...but as he powers Undertaker up, TAKER SCORES WITH THE BIKER CHAIN TO THE FACE!

Train drops Taker and goes down to a knee, and Undertaker measures him up and DROPS HIM WITH A HUGE SOUP BONE WITH THE CHAIN WRAPPED AROUND HIS FIST! A-Train goes down like a sack of potatoes. The Undertaker isn't done as to the crowds joy he brings A-Train up, gives him a verbal lashing and then scoops him up and plants him with a TOMBSTONE PILEDRIVER! Taker pins A-Train 1...2...3!
Winner @ 11:37 - The Undertaker

Undertaker ends the show saluting the fans, knowing he's heading into the Fatal 4 Way next week with Austin, Angle and Show, and have gotten his revenge on A-Train

Fade to black

***
Apologies it's so late, been busy at work, combine that with losing my laptop to a virus and using a slow ass PC, a bit of motivation lacking and yeah, that idiot DaveTheJags halting things by having the section removed for a couple of hours. Ahwell. Wasn't feeling this one much, apart from some good matches. Hopefully I'll get the motivation back with Bad Blood. Reviews coming for BULK, Legend, Wolf, Stojy and 619 in the next few days as I work on Bad Blood. I'll start the predics contest for the Bad Blood card next week, would like to see some love for SD! first. Cheers
.
---
***

Re: Renegade Presents: WWE 2003 - Now Go Home And Get Your Fucking Shinebox
---
Smackdown was pretty good man.

Absolutely loved the opening segment. Very well done.
The fatal 4 way announced for next week was great.
You have a lot of star power on your show lol.
I love the way you built up Matt Hardy.
The tag team was also good. I like that you made Haas and Benjamin win.
Benoit/Rhyno/Awesome feud is also being built up nicely.

Everything else was all right. Good show overall though.
Re: Renegade Presents: WWE 2003 - Now Go Home And Get Your Fucking Shinebox
---
Smackdown Feedback
Wow at kicking off with Piper's Pit. I thought that would have been saved for the main event spot tbh. Certainly getting off to a flyer this week. Also disapointed this was in recap form, would have loved to see you take a crack at Piper's manerisms. Anyway, typical heel Angle coming out to interupt him, but again I'd have loved this to be in full. Angle and Piper trading verbals would have been immense. Big Show out, and I liked the little digs from Piper about Show's weight. No surprise to see the segment descend into a fight, but surprising to see Angle turn around and slap the ankle lock on Show. Would have thought he would be more than happy to see Piper take a few shots. Lesnar and then Austin out makes sense, with three challengers stepping forward for Lesnar's title. The match next week sounds massive, a real great main event for a TV show. Looking forward to that. Although I felt you didn't really do the 'Pipers Pit' true justice by using it in recap, it served it's purpose of setting up a big time main event for next week. Will Piper be sticking around is one question that springs to mind though?
Solid win here for Cena and Awesome, makes sense considering Awesome's recent call to challenge Benoit. Not really a whole lot to say other than it was a nice bit of by the numbers booking.
Version One <3 And for some reason 'mattributes' made me chuckle. Use that word more often plz.
Um yeah, O'Haire > DeMott. All day.
Can't see you taking the titles off Haas and Benjamin anytime soon tbh. Although the way you've presented the different levels of skills between the two teams has been good. But yeah, Haas and Benjamin should win the 'wrestling' match tonight.
I'll be rather upset if that's not Sting tbh. I'd consider it a Russo-esque swerve, and you don't want to stoop that low.
at the way you use Kanyon. I never saw all that match in him irl, but you certainly have a knack for using him well.
Nice bit of action here, especially considering the talent of the two teams. Typical heel action from Haas and Benjamin, with them trying to walk out on the match matching up well with what they said earlier. Really liked the way you had Bradshaw's arm worked on, weakening the CFH, that was a nice bit of psychology. Btw, the referee's name you were going for is 'Korderas', not that awful attempt at spelling it you had.
Anyway, Team Angle ftw, but with the nature of the match and the way the ending happened, I gotta change what I said earlier. Title change could happen soon, as I don't think this feud is over yet.
Wow, big moment between Austin and Taker. Would mark for a feud between the two of them tbh.
Still surprised you're going with this feud, but I guess it gives Eddie something to do for a while, and a secondary tag team feud is always a good thing. After the previous match between the two teams, rather predictable, but makes sense to have Eddie take this one. Possibly a singles match for Chavo and then a tag team rematch is on the cards.
Another good title match, but once again not expecting a title change here. Some real good action throughout, that shooting star press to the outside was a great spot. Actually think that might have been the better point to go to a commercial, but that's nit picking at it's best. The fact that the finish saw Rey hit the big move, only for Hardy to steal the win suggests that you'll be going back with Rey and Hardy for the title in the near future. That should be as good as this match when it comes. Top stuff here.
at Albert describing himself as 'a wooly mammoth'. Makes him sound more cuddly than menancing.
Another quick match with an obvious outcome. Sounds familliar to me.
Main event time, and jeezus, has it really been 7 matches on a Smackdown episode? Pretty crazy tbh, can't have happened all that often irl. Sounded like a brutal match tbh, but I guess that's to be expected given the nature of the match. 'Taker of course has to win, he's needed in the fatal four way, but Albert came out of the match looking pretty solid too. Can't really fault this, obvious winner but the right call and the loser was left looking good too.
Overall, an enjoyable show. A bit dissapointed with the way Piper's Pit turned out, and it seemed a bit crazy to haev 7 matches, but apart from that not a whole lot to complain about. Most of the matches were rather predicable, but we've all been guilty of that from time to time haven't we?
Good stuff man, keep it going.
---
WWE: The Evolution Of Greed
2007 King of the Ring Has Been Posted!!!
Re: Renegade Presents: WWE 2003 - Now Go Home And Get Your Fucking Shinebox
---
Official Card for WWE Bad Blood
Live from the Compaq Center
Houston; Texas
6/15/03
Theme Music: Trapt - Headstrong


World Heavyweight Championship Match
Goldberg vs Triple H ©
Streetfight
Kevin Nash vs Chris Jericho
Steel Pipe & Strap Match
Scott Steiner vs The Rock
Intercontinental Championship Match; Stacy's Keibler's Services on the Line
Test w/Stacy Keibler vs Christian ©
World Tag Team Championships; Four Corners Match
RVD & Kane © vs The Dudley Boyz vs Lance Storm & William Regal vs Evolution
One on One
Maven vs Ric Flair
Women's Championship Match
Trish Stratus © vs Victoria

6 Man Tag Team Match
Jeff Hardy, The Hurricane & Goldust vs Thuggin' & Buggin' Enterprises w/Teddy Long

***

Bonus Questions
1) Predict the match order?
2) How many title changes (if any) will occur?
3) What match will be the longest?
4) What match will be the shortest?
5) Will there be any surprise appearances and if so, who?

***
Alright thanks to those who bothered leaving feedback for SmackDown! this week. I apologize about the sluggishness lately both in this thread and feedbacking others. Hopefully I'll be over this little dip as I get into writing Bad Blood, which should be done in 14 days or so in extended recap, possibly full, depending on how I go.
PREDICS ARE NOW OPEN.
Good luck to all and any other feedback for SD! and predics for this will be returned.
---
***

Posting Rules

You may not post new threads

You may not post replies

You may not post attachments

You may not edit your posts

---

HTML code is Off

---