Asking JAMES ELLSWORTH for Wrestling Advice
Join Date: Apr 2011
Location: Glasgow, Scotland
Posts: 466
Points: 0
Re: Renegade Presents: WWE 2003 - Now Go Home And Get Your Fucking Shinebox
---
Smackdown Feedback

Another great show Renegade.

Very strong way to open the show with Big Show and A-Train coming out to joke about their actions last week. Angle, Lesnar and Stone Cold cold coming out was good and it was a crazy brawl to start the show which led to Stephanie making a big main event.

Your Cena is spot on i thought the rap was great as it is exactly like Cena was like when he was the doctor of Thuganomics. It was a short match but it was supposed to be and helps push Cena.

A big match between the F.B.I and Los Guererros is on the cards very soon.

Sable beating Nidia was good and is good to see Sable getting a push.

The Tajiri and Rey match was good and fast paced. The brawl that broke out afterwards was crazy with all the cruiserweight contenders trying to go one up over their rivals. Stephanie's announcement about the five way dance match for the title was exciting and looking forward to that next week.

The video was interesting and i am interested to see who it is.

The Bar Room Brawl was fun. The A.P.A had to win as it is their turf although Haas and Benjamin put up a good fight.

Kanyon is getting a push which is good.

I really like the way you do your promos for the pay per views. They are great.

Mike Awesome winning was good and the attack sets up him vs Benoit well.

The main event was good. A-Train intervening i expected as he wanted to get his own back on Angle and it was done well. The Undertaker coming out was really cool. His beatdown of A-Train was good and the challenge for next week to face him in a biker chain match sets up next weeks show really well.

Can't wait for the next installment Renegade. Keep up the good work.
Re: Renegade Presents: WWE 2003 - Now Go Home And Get Your Fucking Shinebox
---
Smackdown Feedback
After what went down last week it was smart to open the show with Big Show and A Train. Both men aren't that great on the mic, but Show is definitely better than Train, so props for that. Stuff showed said was expected, hyping what they did last week, whilst putting themselves somewhat in the title picture. Nothing to complain about. I was really surprised to see Kurt Angle come out rather than Brock Lesnar though. Angle pretty much picked up the overall quality of the segment. From his determination to get the title shot, to claiming his the best thing on the show, everything was good.
at A Train being Show's woolly bucko as well. Brock Lesnar was okay on the mic as well, but things really picked up when the brawl started. The stare down between Lesnar and Austin was really interesting as well, I mean, really interesting. Stephanie coming out and making the main event is all pretty stock standard stuff. Definitely a solid, entertaining segment to open the show.
The APA and Bar Room Brawls OWN. I can't wait for that, tbh.
I felt as if the first two verses of Cena's rap were a tad dodgy again, but once you got into it, it was good stuff.
Cena was always going over Kendrick here. He continues to look beastly.
at Eddie Guerrero having brought a new plasma. Segment was pretty good, telling us that Eddie and Chavo still want the tag team gold, but they are going to have to deal with The FBI first. Pretty smart having an attack after what went down last week as well.
I can't see this thing with Nidia being a long time thing, so I'm really intrigued to see just how you use Sable. With that being said, tonight was a good win for her. One thing I didn't like was Noble getting hit by Sable. I know it's something Sable used to always do, but I just don't like Noble looking like a bitch.
Nice little segment, putting over Noble's anger nicely. He'll probably target one of these two Cruiserweights now.
Definitely an interesting confrontation between Lesnar and Austin, almost picking up where Lesnar and Undertaker left off. Either way, the tension between top faces is always exciting to see, and you write it pretty damn well too.
The match between Rey Mysterio and Tajiri was a pretty good read, tbh. A lot of the cool Cruiserweight spots, and I sometimes enjoy it when matches go over ten minutes, so marks for that. The interference from Noble, Kidman, Hardy and co. was brilliant, definitely exciting. Matt Hardy coming out on top was good as well, simply because it makes sense, considering he has his Mattitude Followers by his side. Hardy was alright on the mic, pretty basic stuff. Steph does the usual face GM thing again, and five way for next week should be awesome to read. I really dug this match, and aftermath, entertaining and continued things along nicely for next week.
How long are these video packages going to play for? STING now, please.
at The APA ordering another two beers when they know they are about to compete, epic stuff. I thought it was a little weird how they just stood there and argued, and then allowed Shelton to get the first blow in. It just doesn't seem very APA like, imo. The Bar Room Brawl was an awesome read, just as you said it would be. My favourite part without a doubt was the Spinebuster through the pool table, that's a sick spot. Handing out the beer after the match was a good touch as well.
Big Show and Kurt Angle segment, much like Lesnar and Austin earlier, was pretty good. I'm loving the ultra intense Kurt Angle tonight.
I was happy to see KANYON get some promo time. His delusional behaviour is something I've been loving for a while now. It's followed by a victory over Bill DeMott. All was good, except I would have liked Kanyon to hit some sort of finisher, rather than just winning with a Small Package.
My Vengeance > yours. Although you will definitely get to yours first.
Another good win for Mike Awesome over Rhyno. I like Rhyno though, so a bit disappointed he's being used as a bitch to promote a feud that probably won't even involve him. The ending to this match was a slick spot though. Benoit making the save after the match was to be expected, logical booking.
Piper's Pit seems really random. I'm intrigued.
The main event was pretty well written, with most of the excitement coming with Show and Angle not getting along. The ending was nice with A Train causing a No Contest. It definitely makes sense because if Angle made Lesnar tap, Angle would probably deserve a title shot. The Undertaker making an appearance after the match was nice, and the biker chain match next week should be fairly great.
Overall, Raw impresses me more, due to that show being in full, and having the PPV coming up. This was definitely solid though, SD seems to be plotting along nicely.
---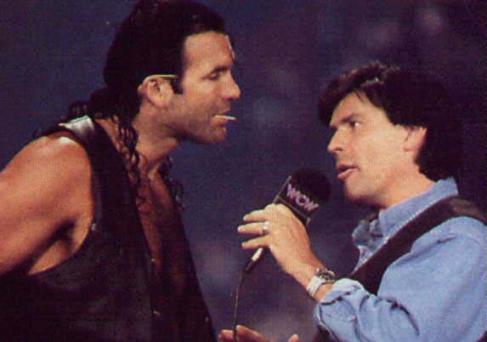 Re: Renegade Presents: WWE 2003 - Now Go Home And Get Your Fucking Shinebox
---
Thanks for the feedback fellas, much appreciated...
***




Monday Night RAW Preview for 6/9/03

RAW will be coming to you live from the home town of The Rock, Miami; Florida and with just six days to go till Bad Blood, you can be sure the AmericanAirlines Arena will be full of chaos

Last week's show ended on a sour close as Goldberg was beaten and bloodied at the hands of Triple H and Evolution. With their World Heavyweight Championship show down less than a week away, will "Da Man" strike back or is Triple H going to have all the momentum heading into their clash? Triple H and Evolution will have their hands full tonight as the trio of Triple H, Randy Orton & Batista will take on The Dudley Boyz in the main event in Six Man Tag action after the heated exchange between the two factions last week.

No doubt the man the majority of the Miami crowd will want to see is none other than "The Great One" The Rock. The Rock is confirmed to be in the building for RAW, but what of his opponent Scott Steiner? The two men will meet in a Strap Match this Sunday, with a Steel Pipe also being legalized in the contest. You can be sure Scott Steiner will brave the pro Rock crowd, what's gonna happen between these two fierce rivals?

Also on last week's RAW we witnessed one of the most gross and henious actions we've seen in the history of the WWE as Chris Jericho attacked Shawn Michaels in his own home. After such disgraceful behaviour Eric Bischoff has suspended Jericho from appearing on tonight's broadcast, although we are sure to hear from Kevin Nash, who stood in the ring, unable to do anything as his best friend was left a bloodied mess in his own home. What will Nash have to say?

As the tag team title chase heats up, the current champs Rob Van Dam & Kane will be in action against another one of their challengers this Sunday in Lance Storm & William Regal. Are the champs going to pick up some momentum or will the Bischoff Administration rock the boat further?

Trish Stratus and Victoria will face off one final time for the Women's Championship at Bad Blood. Victoria, after being shaved bald on the RAW Roulette has made a personal crusade to get revenge on the women that did it. Jacqueline and Ivory were first before Trish made the save, and last week it was Trish who lost a clump of her hair. The two divas will be in Mixed Tag action tonight as Stratus teams with Tommy Dreamer to face Victoria & Steven Richards.

Stacy Keibler has been the center of attention lately between current boyfriend Test and the Intercontinental Champion, Christian. Last week Christian gave Test one final shot at the IC Title he's been chasing for so long, aslong as he put up the services of Stacy in return. Test shocked us all by accepting, clearly upsetting his long time girlfriend in the process. Test assured Stacy later in the night of his ability to win, but will Christian get in his or indeed her head again, just six days away from the big match? Christian will be in action against Al Snow.

Also confirmed is the return of the White Boy Challenge as Rodney Mack throws an open challenge down.

All this plus further developments on the Maven/Ric Flair scenario are sure to follow and more on RAW, 9/8pm central on Spike TV

***

Confirmed Matches

Six Man Tag Match
The Dudley Boyz vs Evolution

Singles Match; Non Title
Al Snow vs Christian

Tag Team Match; Non Title
RVD & Kane vs Lance Storm & William Regal

Mixed Tag Team Match
Tommy Dreamer & Trish Stratus vs Steven Richards & Victoria

The White Boy Challenge with Rodney Mack

***
RAW will be up in 48 hours or so, unfortunately is gonna be in recap though, been so busy at work this week with the Easter/ANZAC day long weekend, been working every day, just haven't had the time for a full show. This has left me with more time for Bad Blood however, which may end up being in full at this rate. Anyways yeah, comments plz, and look for the show in 48 hours or so.
.
---
***

Re: Renegade Presents: WWE 2003 - Now Go Home And Get Your Fucking Shinebox
---
Looks like this will be a good show, I will be reading. Having a strap match with a steel pipe legal seems a bit too gimmicky for one of the main matches on a PPV, just my opinion though.
Re: Renegade Presents: WWE 2003 - Now Go Home And Get Your Fucking Shinebox
---
Looks like a really good show. I hope that Triple H keeps the momentum but I can see Goldberg getting some sort of momentum. Maybe destroying Orton, Batista & Flair and Triple H escapes through the crowd or something.
Looking forward to what happens between Steiner/Rock. Surprised this rivalry has worked but you have made it work well and the stipulation added to the upcoming match is awesome in my opinion.
No idea what to expect from Nash. Maybe Jericho in a disguise gets into the building? Or something with another one of Nash's close friends.
Overall, looking forward to this.
Re: Renegade Presents: WWE 2003 - Now Go Home And Get Your Fucking Shinebox
---
First off, apologies about the recap, been really busy at work lately and just haven't had the time for a full show this week
***




WWE RAW
6/9/03
American Airlines Arena
Miami; Florida

*Opening Video*

*PYRO*

The camera pans around the arena as JR & King welcome us to the show

"HOWLLLLLLLLLLLL"

*WOLFPAC*

The crowd erupts with a huge pop as Kevin Nash trudges out on stage. Nash doesn't throw up the wolf sign like usual, and looks a cold and angry figure as he saunters to the ring. Kevin Nash takes a mic and then gets into the ring, again, not taunting, as he waits for his music to die down. Nash says last week, he saw his best friend Shawn Michaels beaten, bloodied and brutalized. But he didn't see it happen here in the ring, he didn't see it happen backstage, he witnessed it happen in his own home. Shawn's own home. Massive heat from the crowd as Big Sexy shakes his head in anger. Nash says he knew Chris Jericho was a spineless coward and a manipulative bastard, but he says last week he crossed the line. Nash said he invaded the privacy of someone's home, and that is going too far. Kev goes on to say that he's seen Shawn since who's been recovering in hospital, and Shawn has promised he will be back, and he will entertain us all again. Nash says however, the same cannot be said for Chris Jericho, because Nash is gonna destroy Jericho! Nash says it's time to finish things, right here, right now. Crowd erupts. Kevin Nash paces back and forth, awaiting Jericho but the King of the World doesn't show. Nash tells Jericho to quit stalling, because he's not going anywhere until he shows up and they settle this

*I'M BACK*

Eric Bischoff makes his way out to huge heat from the fans as per usual, with a mic in hand. Bischoff tells Nash that he understands he's upset. Bischoff says he can't imagine what it's like to see your best friend attacked and beaten like Shawn Michaels was last week. Nash snaps back at The Bisch, saying he doesn't need to involve himself, this is between Nash and Jericho. Easy E however tells Nash he does need to involve himself as it's his show this is taking place on. Bischoff says Jericho's actions last week were totally out of order, taking out one of the company's biggest names and one of Bischoff's guaranteed draw cards, once again, to further his own personal vendetta and Bischoff continues on saying he simply won't accept that. Bischoff says he simply cannot condone what Kevin Nash wants tonight, he's given Chris Jericho a leave of absence for the evening! Mixed reaction but it quickly degenerates into jeers. Kevin Nash isn't happy about that and says Bischoff's showing his true colours. Bischoff tells Nash that's not the case, because he is going to give Nash a match with Chris Jericho, at a time where it will not only suit Nash, but it will also suit Bischoff as it will be good for business. And that is what everyone wants to see, on Sunday, at Bad Blood, Kevin Nash versus Chris Jericho, one on one...IN A STREETFIGHT! The crowd erupts for that and Kevin Nash seems much more pleased now as Bischoff tells Kevin Nash to be backstage by the time we return from a commercial otherwise he'll take that match away. Big Sexy accepts the decision and begins to exit the ring

-Commercials-

We return from the break and see Terri Runnels catching up to Kevin Nash. Terri asks Nash how he feels about finally being given a chance to face Chris Jericho? Nash says he doesn't care about facing Jericho, because there will be no wrestling classic, it's a Streetfight, and it's gonna be the most brutal match of Chris Jericho's career. Nash says the rage inside him is going to be unleashed on Jericho this Sunday at Bad Blood, and there isn't a damn thing that is going to stop him from putting Y2J through absolute hell. Kevin turns to the camera and says if the Jackknife through the ring was brutal, it's gonna pale in comparison to what he does once he gets his hands on Jericho this Sunday! Crowd pops for that as Nash trudges off and Terri sends us back to ringside

*AT LAST*

To some pretty impressive heat, Christian makes his way out on stage. The Intercontinental Champion slaps his chest then points out to a few of his "Peeps" in the audience before heading to the ring, getting in and climbing the turnbuckle, raising his IC Title up

*WHAT DOES EVERYBODY WANT?*

The crowd erupts for the ever popular Al Snow as he heads to the ring to the resounding "Head!" chants from the crowd. Snow looks ready to go as he gets into the ring

Match #1
Singles Contest; Non Title
Al Snow vs Christian
The crowd starts a "We Want Head!" chant as Snow takes it Christian in the early going, rocking him with right hands, then sending him to the ropes and scoring a Kitchen Sink Knee Lift to the gut of Christian. With the IC Champ doubled over, Snow rebounds off the ropes and takes him down with a Swinging Neckbreaker and covers 1...2.kickout. Christian exits the ring, and Snow follows, but it's a ploy as 'Captain Charisma' as he dubbed himself the other week cheap shots Snow, then WHIPS HIM INTO THE STEEL STEPS! Al Snow's shoulder takes the brunt of the impact.

Christian rolls Snow back into the ring and begins to wear down the veteran as he hits the Inverted Facelock Backbreaker and hooks the leg 1...2..kickout. Christian takes Snow to the corner and hits an open palm slap to the chest, then socks him with a right hand. Al Snow rallies back with rights but Christian halts him with a rake of the eyes, then scores with a Standing Dropkick, taking Al Snow down. Christian continues to stay in control, applying a Sleeper Hold. The crowd gets behind Al Snow and a booming "Head! Head! Head!" chant breaks out as he battles back to his feet and fires an elbow to the gut of Christian and attempts to run to the ropes, but Christian keeps ahold of him and drops him with the Inverted DDT! Cover 1...2...shoulder up by Snow!

Christian looks to put Snow away with the UNPRETTIER...but Snow shoves Christian into the corner. Al charges in but cops an elbow to the jaw as he staggers backwards. Christian boots Snow in the gut and again tries to lock him up for the Unprettier by turning him, but Snow turns right through and takes Christian down with a Backslide 1...2..kickout. Both men get up quickly and Snow beats Christian to the punch, rocking him with right hands, then going for the SNOWPLOW...but Christian slips out the side, grabs Snow and twists him around and plants him with the UNPRETTIER! Cover 1...2...3!
Winner @ 5:46 - Christian

Christian has his hand raised by Tim White in victory and then takes a mic. Christian says in six days at Bad Blood, the opponent will be different, but the result will be the same. Christian says Test has become a shell of the man he was, and he'll be the one leaving Bad Blood not only as the Intercontinental Champion still, but he'll have Stacy Keibler by his side aswell. Christian says it's no secret there's a connection between him and Stacy. Test is jealous of it. And Stacy is afraid to admit it. But everyone wants a piece of "Captain Charisma" and soon enough, Stacy can have it all! Crowd boos Christian as he smirks and slaps his chest again and exits the ring

-Commercials-

We return backstage to see Christian bump into Stacy Keibler! Christian attempts to put the moves on Stacy who no sells it to a laugh from the crowd. Christian asks Stacy how she feels after Test put her services on the line at Bad Blood? Stacy said she was initially shocked, but she fully believes that Test can beat Christian and will leave as the Intercontinental Champion. Christian tells Stacy she's got her chance to leave that second rate nobody and join the big leagues. Christian moves in close and grabs Stacy, pulling her in for a kiss as Keibler resists, when Test storms onto the scene, causing Christian to scurry away, however he does so with a smirk. Test comforts Stacy as he mutters "I can't wait to kick his ass" as Keibler's facial expression seems to be a little bit of enthralment before she seems to "snap out of it" and scorn

*Video Plays*

Narrator: Sometimes, the Backlash isn't enough...

A pool of blood begins to slowly bubble

Narrator: And when issues are taken further...

The blood begins to bubble quicker

Narrator: And the hatred runs deep...

Again, the blood bubbles quicker

Narrator: The blood will run hot...

The blood reaches boiling point and the screen is engulfed in red

Narrator: And the Bad Blood will be shed!



WWE Bad Blood
Live from the Compaq Center
Houston; Texas
6/15/03
Theme Music: "Trapt - Headstrong"

*Video Ends*

Backstage again and we see the World Tag Team Champions, Rob Van Dam & Kane talking to a huge pop from the fans when in walk The Dudley Boyz! The two face teams acknowledge each other's help over the past few weeks. Bubba then says despite all this, and the respect they have for RVD & Kane, come Sunday, that's going on the back burner, because there's only two things on their minds at Bad Blood, and D-Von taps the belt on Kane's shoulder, then Van Dam's as Bubba mentions the titles. RVD says he understands that. RVD then wishes The Dudleyz good luck tonight in their match against Evolution. Bubba does likewise with RVD/Kane's match with Regal/Storm as Kane tightens his glove and nods. The Dudleyz then have a brief face off and fixate their eyes on the tag titles again as Kane takes his off from his left shoulder and slings it over his right, whilst RVD adjusts his. Bubba and D-Von then leave as RVD & Kane head off, ready for their match

*PYRO*

*ONE OF A KIND/SLOW CHEMICAL REMIX*

The crowd erupts as the World Tag Team Champions, Rob Van Dam & Kane make their way out. RVD stops and does his self thumb point as Lilian Garcia announces him as Kane tightens his glove again before setting off his pyro from the turnbuckles

*BORN NAUGHTY*

Heat fills the arena as William Regal & Lance Storm head to the ring accompanied by Chief Morley. The Bischoff Administration taunt the fans on their way to the ring with Morley taking a mic. Morley tells referee Chad Patton he has been re-assigned to officiate another match later because Chief Morley is appointing himself the referee in this match!

Match #2
Tag Team Contest; Non Title
Guest Referee: Chief Morley
Rob Van Dam & Kane vs William Regal & Lance Storm
The match as you can predict is a total charade as Chief Morley is all over anything RVD or Kane do, constantly harassing them for whatever he can whilst he conveniently ignores the cheap tactics of Regal and Storm who use the tag rope to choke out RVD and then nail a Wishbone Split as Morley is restraining Kane! The bias officiating continues as RVD's brief fight back is stopped by Lance Storm who kicks Van Dam in the balls, but Morley says he got him above the belt! Kane gets into the ring once more, remonstrating but Morley occupies himself by restraining him as Regal gets into the ring without a tag and the duo hit a Double Suplex on RVD. Regal covers and Morley quick counts 1-2-RVD kicks out. This trend continues on as RVD gets isolated as Storm and Regal tag in and out and bend the rules which Morley is happy to let them do. Finally RVD manages to duck a clothesline from Storm, hit a Spinning Crescent Kick to him and then tag in Kane.

Kane comes in and levels both men with right hands, then sends Regal to the outside before catching Storm and planting him with a Sidewalk Slam! Kane now climbs the turnbuckle to the top rope and leaps off, hitting the Flying Clothesline on Lance Storm! Kane measures Lance Storm up and goozles him, only to have Regal charge at him, but Kane catches him with a Big Boot and then gets ready to Chokeslam down Storm...WHEN CHIEF MORLEY LOW BLOWS HIM FROM BEHIND! The crowd boos as Morley involves himself in the match physically and Kane doubles over, as Lance Storm scores with a Superkick! Cover 1-2-3! Morley fast counts Kane!
Winners @ 6:39 - Lance Storm & William Regal

The Administration celebrate stealing a win here as RVD joins Kane in the ring and the champs mouth off at Storm/Regal/Morley as the heels back away up the ramp, having gained some momentum heading into Sunday

-Commercials-

We return to see Spike Dudley heading through the halls. Spike however stops as in his way stands Randy Orton & Batista! Spike backs off from the Evolution members. Orton gets in Spike's face and asks how he feels about coming up against the big dogs tonight? Batista joins in, saying he must feel out of place, being nothing more than a runt. Spike tries not to take the bait and back away but Triple H & Ric Flair are standing behind him, blocking him off. Triple H says he bets Spike was proud of his brothers standing up to "big bad Evolution" last week. Spike smirks. The Game then says by the end of the night, Spike won't be grinning anymore. Orton then gets back in his face and says on Sunday, his brothers are losing their tag titles to Orton & Batista, so incase they don't already accept it, Spike had better run along and remind them. Suddenly however we hear "that won't be necessary" as D-Von and Bubba come into view to a cheer from the fans. D-Von says they heard it all. Bubba gets nose to nose with Triple H's massive schnoz as D-Von does so with Orton. Batista and Flair move in as the Dudleyz and Evolution have an intense stare down, before The Game grins and Evolution walk off as he says "We'll see you boys later"

*MACMILITANT*

Rodney Mack heads to the ring with Teddy Long, Mark Henry & D'Lo Brown all by his side. Thuggin' & Buggin' taunt the fans as they get in the ring as we're shown a video from Sunday Night HEAT



Quote:

Goldust vs Hurricane went to a No Contest @ 4:36 after Thuggin' & Buggin' Enterprises invaded the ring and beat down on both men. Teddy Long grabs a mic and says "Mr. Bischoff, the statement has begun" as Mark Henry squashes Hurricane with a WORLD'S STRONGEST SLAM and follows up with a Body Splash, whilst Rodney Mack hits the Cobra Clutch Slam and D'Lo comes off the top rope with the LO DOWN! Thuggin' & Buggin' stand tall as HEAT comes to a close

Teddy Long has a mic in hand now and says what happened on Sunday Night HEAT was the beginning. He says Thuggin' & Buggin' are gonna make a huge statement on RAW, and it continues tonight with the return of the "White Boy Challenge". Rodney Mack taunts to heat as Teddy says "bring on the white boy"

*LOADED*

The crowd pops as Jeff Hardy makes his way out. JR points out that this is Hardy's first appearance since Backlash, as he's been suffering with a shoulder problem. Hardy does his insane dance on stage before jogging down to the ring

Match #3
5 Minute White Boy Challenge
Jeff Hardy vs Rodney Mack w/Thuggin' & Buggin' Enterprises
In a fairly patchy contest with Mack far from amazing in the ring and Jeff's unique offense, the match never really reaches any exciting moments, as Hardy proves a tough challenge for Rodney Mack. However with D'Lo and Henry at ringside, they pounce on Hardy as Mack distracts the ref and beat him down, before Henry rams him spine first into the ring apron. D'Lo rolls Jeff Hardy back into the ring and Rodney Mack starts to dominate Hardy, coming close after hitting a Back Suplex and covering 1...2..kickout. Mack attempts to lock the BLACKOUT in but Hardy is close enough to grab the ropes, however as Jack Doan restrains Mack, D'Lo reaches through the ropes and socks Jeff with a right hand! Mack gets Hardy up and shoots him to the corner, but Jeff quickly leaps to the top rope and comes off with the Whisper In The Wind! Both men down.

Hardy and Mack get back to their feet and start slugging it out as Jeff gains the upper hand, going crazy with a wild flurry of lefts and rights. Hardy tries to whip Rodney Mack to the ropes but it's reversed, however Hardy comes back with a Crossbody! 1...2.kickout. Jeff boots Mack in the gut and looks to go for the TWIST OF FATE...but Mack shoves him away...INTO A SKY HIGH FROM D'LO BROWN! Jack Doan calls for the bell
Winner @ 3:18 via DQ - Jeff Hardy

The crowd boos as Mark Henry also gets into the ring and Thuggin' & Buggin' begin to dismantle Jeff Hardy, stomping away at him. Teddy Long tells them to crush him as they bring Jeff to his feet

GOLDUST AND HURRICANE ARE COMING DOWN TO THE RING!

The two men who were victims of an identical attack on Sunday night come to Jeff Hardy's rescue and start clearing the ring as Goldust clotheslines D'Lo out and Hurricane low bridges the on rushing Mark Henry. Rodney Mack then gets taken down by a Dropkick from Jeff Hardy and Thuggin' & Buggin' regroup on the outside with Teddy Long mouthing back at Jeff Hardy, Goldust & The Hurricane they'll pay for this

-Commercials-

We return to an outside shot of the arena as JR & King inform us that Eric Bischoff has booked Jeff Hardy/Goldust/Hurricane vs Thuggin' & Buggin' in a Six Man Tag Match at Bad Blood

"YA SMELL IT, CAN YA?"

*IS COOKIN'*

The Rock makes his way down to the ring to a MASSIVE home town pop, despite his tweener status, he's got 100% of the crowd behind him tonight in his home town. The Rock takes a mic and flirts with Lilian Garcia for a bit as Garcia blushes and giggles, and The Rock then enters the ring and mounts the turnbuckle, soaking up the incredible ovation from the Miami crowd. The Rock's music dies down and before he can say anything a BOOMING "Rocky!" chant breaks out. The Rock says "Finally, The Rock has come...home!" to another amazing pop. The Rock says this Sunday at Bad Blood, he's going to "whip Scott Steiner's whisker biscuit monkey ass all over Houston!" to another booming reaction. Rocky tells us that this Sunday, it's not even going to be close. The Rock says he's got Steiner covered from all over, and the match at Bad Blood will last approximately a minute. The crowd pops as Rocky states "oh The Rock said ONE MINUTE". Rock says that'll be enough time to lay the smack down on Steiner - WHAM - Spinebuster - WHAM - Hollywood Elbow - WHAM - Rock Bottom and then The Rock will touch all four corners as he drags Steiner's whisker biscuit ass around the ring! The crowd eats this up. The Rock then says he's gonna "take the Steel Pipe hanging from the corner, shine that sum bitch up real good, turn it sideways and STICK IT STRAIGHT UP STEINER'S CANDY ASS!" Rocky then tilts his head back and clears his throat "IF YA SMELLLLLL...WHAT THE ROCK...IS COOKIN'!"

*HOLLA IF YA HEAR ME*

The crowd erupts into a huge pop, although there are some noticeable boos in there with this being Rocky's home town as 'Big Poppa Pump' Scott Steiner steps out on stage with a mic in hand. Steiner says The Rock loves to talk his trash, week in week out, but then when push comes to shove and things get serious, he's proven time and time again he's got no Brahma Balls! Crowd marks for that before some heat overcomes it. A decent "Steiner" chant breaks out, as The Rock demands Steiner remind us "who the hell he thinks he is, interrupting The Rock in his home town?" Steiner falls for the bait as Rocky cuts him off "IT DOESN'T MATTER WHO YOU ARE!" to a huge pop, but Steiner says it does matter who he is, coz he's gonna be the man beating The Rock all the way back to Hollywood on Sunday. Scott Steiner says he doesn't give a damn it's a Strap match, he's only thinking about the Steel Pipe being legal, because he's gonna take that Pipe down as soon as the match starts, and he's gonna bend it over Rock's skull! Crowd pops but soon drowns it out with huge heat. The Rock dares Steiner to come to the ring and say that to his face. Steiner obliges but stops, kneels down and pulls out a STEEL PIPE from his boot. The Rock's facial expression changes as he sees this and Scott Steiner enters the ring and THE ROCK EXITS THE RING! This gets some heat even from his home town as The Great One taps his temple, as if to say "I'm too smart for that". Steiner motions for The Rock to come back but Rocky stands at the foot of the ramp, distracting him, and we see why as ROSEY & JAMAL COME THROUGH THE CROWD! 3MW sneak into the ring but Scott Steiner's aware of their presence and DROPS ROSEY WITH THE PIPE! JAMAL TOO! The crowd erupts as Steiner foils The Rock's bait trap. Big Poppa Pump turns back to The Rock in time to catch him attempting to step through the ropes and sneak attack. The Rock freezes as Steiner points to him and says "you're mine asshole!" but as Steiner goes to swing the pipe The Rock hops off the apron again and begins retreating as we head to a commercial with one final stare down between Steiner and The Rock

-Commercials-

As we return we're in the parking lot when a barracuda screeches into view, pulls up and parks, the out steps GOLDBERG to a mega pop. The Berg sporting a dressing over his forehead, selling the Sledgehammer attack by Triple H last week, marches into the arena and out of sight of the camera

"YES I'VE LOST MY MINDDD"

*ALL THE THINGS SHE SAID*

Victoria & Steven Richards make their way down to the ring to decent heat. Victoria this week is sporting a watch cap over her head. Victoria does her usual taunt as Richards then comforts her as the two talk strategy

*TIME TO ROCK AND ROLL*

Trish Stratus comes out to a big pop from the fans, throwing up her Women's Championship. Victoria glares at Trish as the Canadian makes her way down the ramp and awaits her partner

*BAD DREAM*

The crowd pops as Tommy Dreamer joins Trish tonight as her partner. Dreamer eyes off Richards, the two no strangers to each other from their ECW days

Match #4
Mixed Tag Contest
Tommy Dreamer & Trish Stratus vs Steven Richards & Victoria
In a fairly formulaic match, Dreamer and Richards kick things off and Dreamer gets the upper hand. Trish and Victoria then get their spot as they go at each other in a preview of what this weekend's match will be, as Victoria talks alot of crazy trash as she puts Trish down. Stratus makes a comeback but Steven Richards slaps her on the back as she hits the ropes. Trish turns around and nails Richards but Victoria flattens her with a Torture Rack transitioned into a Sidewalk Slam! Cover 1...2...kickout. Victoria locks a Sleeper hold on Trish but with the crowd behind her, Trish battles back up and takes Vickie down with a Back Suplex! The impact almost causes Victoria's watch cap to come off but she's able to keep it on as she tags in to Richards as Stratus tags Dreamer! Tommy D is too hot to handle for Richards as he scores with a series of knock downs, then gets Richards up for the DREAMER DRIVER...but Victoria pulls Steven Richards off of Dreamer's shoulders! Dreamer turns to Victoria who talks some trash at Tommy and then slaps him hard across the face! The crowd "Ooo's" as Dreamer shapes to lash back, causing Victoria to flinch, but Dreamer then REMOVES VICTORIA'S WATCH CAP! The crowd erupts as we get a brief shot at the near bald cranium of Vickie before she covers up and exits the ring in a fit, quickly heading to the back to avoid the attention on her. Steven Richards meanwhile cops a CHICK KICK from Trish, with referee Chad Patton not seeing it as he's watching Victoria retreat up the ramp, and Richards staggers into Dreamer who scores with the DREAMER DRIVER! Cover 1...2...3!
Winners @ 4:31 - Tommy Dreamer & Trish Stratus

Dreamer and Trish celebrate the win together as we cut backstage to see a shot of Victoria trying to evade the camera's as she screams "get that camera away from me!" as Trish laughs back in the ring, enjoying the humiliation of the psychotic diva on the titantron

Backstage now and Teddy Long is interviewed by Marc Lloyd. Teddy cuts a promo on Jeff Hardy, The Hurricane & Goldust saying that "3 crazy cracka's" aren't gonna stop Thuggin' & Buggin' from becoming the most dominant faction of all time. Teddy says "the man" can't hold them down anymore, and come Bad Blood the impact is well and truly gonna be made, and it's gonna be made thanks to Hardy, Goldust and Hurricane being their first stepping stone up the ladder

-Commercials-

As we return we are with The Coach who interviews Evolution. Coach asks how they're feeling ahead of their six man tag against The Dudley Boyz? Triple H takes the mic from Coach and says tonight The Dudleyz are gonna get taught a lesson, and that is the lesson that Shawn Michaels has learned, Scott Steiner has learned, Booker T has learned and most recently, Goldberg learned last week and that is you don't mess with Evolution. The Game says last week Bubba & D-Von made the biggest mistake of their lives coming out and interrupting Evolution, and tonight, they pay the price. Randy Orton then says it's only gonna be a preview of what's to come on Sunday at Bad Blood. Orton says he and Batista are not only the future of the tag division, but they're the future of this business full stop, and winning the World Tag Titles is the first step. Coach turns back to Triple H and asks if he's aware that Goldberg is in the building tonight? The crowd roars for this obviously as Triple H tells us that Goldberg should take last week as a warning not to mess with Evolution tonight, otherwise he may not make it to Bad Blood on Sunday. Coach finally questions Ric Flair on Maven as The Nature Boy tells us last week Maven tried but in the end, couldn't hang with the top dogs, and no fluke rollup got him out of jail, and it's gonna be the same come Sunday, coz Flair is gonna take Maven's punk ass to school... WOO! Batista pats Naitch on the shoulder and Evolution walk off full of confidence as we cut back to ringside

*HONOR ROLL*

Brash and arrogant youngster Chris Nowinski makes his way out to heat from the fans. Nowinski acts like the total ass we've come to know him as lately as he enters the ring and taunts some more

*OH YOU DIDN'T KNOW?*

"YOUR ASS BETTER CALL SOMEBODYYYYYYYYYYYYYYY!"

The crowd ERUPTS out of total shock as the familiar music of a certain legendary team hits the airwaves and after a couple of seconds none other than THE ROAD DOGG walks out on stage to a HUGE ovation from the fans, many standing to greet the ever popular superstar. Inside the ring, Chris Nowinski scrunches his face up at his opponent as Road Dogg goes through his traditional pre-match hype up speech, welcoming us all to the Dogg House. Road Dogg says once it's all said and done, he's gonna have Nowinski shedding two tears in a bucket, and if he's not down with that then Dogg's got two words for him "SUCK IT!"

Match #5
Singles Contest
Road Dogg vs Chris Nowinski
The crowd is mega hot for the Road Dogg in this one as he starts off losing a tie up to Nowinski, with the Harvard graduate having the size advantage, but Road Dogg's veteran instincts take over as he tattoo's Nowinski with rights in the corner. Chris staggers out into a snap jab, then another, then another as Road Dogg hits the Shake, Rattle & Roll combo, taking Nowinski down with a big right to finish it off. Road Dogg then hits the ropes and drops the Shaking Knee to Nowinski as the crowd marks out. Cover 1...2.kickout. Road Dogg gets Nowinski in position for a Pump Handle but stalls for too long as he does a little "doggystyle" taunt to a big pop from the fans, but this allows Nowinski to get an elbow up in the face of the Dogg. Nowinski then takes him down with a Russian Leg Sweep and takes over.

Chris Nowinski stomps away at Road Dogg before whipping him hard to the corner and nailing a clothesline. Nowinski then loads Road Dogg up and plants him with a Thrust Spinebuster! Hook of the leg 1...2..kickout. Nowinski locks in a waist lock which Road Dogg battles out of and manages to rock Nowinski with right hands, then scores with a Flying Forearm Smash! Road Dogg goes for the PUMP HANDLE DROP...but Nowinski holds onto the ropes, blocking it, then takes Road Dogg down with a Headlock Takedown and pins Dogg's shoulders to the mat, in the process placing his feet all over the ropes for leverage 1...2...3!
Winner @ 4:21 - Chris Nowinski

Nowinski celebrates like he's won the lottery and rubs it in to the fans as Road Dogg remonstrates to referee

Backstage now and Maven cuts a short and sweet promo hyping up his match with Ric Flair at Bad Blood, basically giving us the usual underdog story stuff that the crowd buys into, and tells us all that come Sunday he's gonna show everyone that he deserves to be here, and that beating Flair 3 times will surely no longer be called a fluke

We now cut to see Kevin Nash who looks to be leaving the arena. Big Sexy trudges out into the parking lot when suddenly he's jumped from behind by CHRIS JERICHO! Jericho, disguised as a camera man, with a fake mustache and a cap on to hide his hair, nails Nash over the back with the camera, taking Kevin down. Jericho then begins beating Nash with right hands, talking trash as he does saying "You'll never get me junior!" as the fight continues. Jericho then locks the WALLS OF JERICHO on Big Sexy until security arrive on the scene, causing Jericho to flee, as they chase off after him with the King of the World having made his statement ahead of this Sunday

-Commercials-

As we return we're at ringside with Jim Ross and Jerry Lawler who run down the Bad Blood card. They give the most hype of course to the Goldberg/Triple H World Heavyweight Championship match, then the Kevin Nash/Chris Jericho Streetfight and the Scott Steiner/The Rock Strap & Steel Pipe Match. They move on to the remaining matches of Test/Christian for the Intercontinental Championship, then the RVD & Kane/Dudley Boyz/Regal & Storm/Evolution World Tag Team Championship match, Maven/Ric Flair, Trish Stratus/Victoria for the Women's Championship and finally the least hype to the match made earlier with Jeff Hardy, Goldust & The Hurricane/Thuggin' & Buggin' Enterprises match

"YEAH, WE'RE COMIN' DOWN"
*PYRO*
*DROP DA BOMBSHELLS*

The crowd erupts with a huge pop as Bubba Ray, D-Von & Spike Dudley, collectively known as The Dudley Boyz, make their way out on stage, pumping up the capacity crowd. The Dudley trio march to the ring as one, with JR & King bringing up Spike maybe not all there mentally after Evolution getting into his head earlier

*LINE IN THE SAND*

Lemmy's raspy voice fills the sound as Triple H, Randy Orton & Batista step out from behind the curtain with Ric Flair by their side, applauding his stable mates. Evolution make their way to the ring as Triple H does his usual routine on the ring apron, spraying water into the air, as Orton & Batista get into the ring and start mouthing off with The Dudleyz, before HHH joins in, as the six men bicker amongst themselves

Match #6
MAIN EVENT
Six Man Tag Contest
The Dudley Boyz vs Evolution w/Ric Flair
After a short opening brawl which sees Bubba pair off with Triple H, D-Von with Batista and Spike with Orton, Earl Hebner is able to get control of the match and D-Von kicks things off with Randy Orton. D-Von gets the better of Orton and backs him to the corner, tagging Bubba into the match to a big pop. Bubba hits a jab, then another, then another, before winding up for the Bionic Elbow as he tells Orton to "suck on this" before taking him off his feet. Bubba then places Orton up in the corner and nails a harsh open palm slap to the chest. The echo goes around the arena as Bubba hits another slap to the chest. Bubba turns to Triple H and yells out "I got one for you too Pinocchio!" which gets a huge cheer from the crowd. Bubba tags D-Von back in and whips Randy to the ropes who takes Orton down on the rebound with a Cyclone Attack. Cover 1...2..kickout. D-Von gets Orton up, but Randy breaks free with a rake to the eyes, then boots D-Von in the midsection and slams him face first into the Evolution turnbuckle. Orton tags Batista in as The Animal wails on D-Von, but to the Dudley's credit he battles out with right hands, only to get whipped to the ropes, but D-Von ducks a clothesline from Batista, then plants him with a DDT. D-Von tags in Spike Dudley now who comes off the top with a Double Stomp down onto Batista and covers 1...2..Batista powers out.

Spike tries to stay in control as he pounds on Batista, then hits the ropes and gets caught by Batista who muscles him up and drives him down with a Powerslam! Batista then tags in Triple H! The Game gets Spike up and nails a knife edge chop, then hits a right hand on Spike, who staggers back into the corner. The Game stomps away at little Spike before Earl Hebner gets in his face and tells him to work a fair match, as Triple H pulls Hebner out of the way, the ref has had enough and starts to bemoan the lack of respect HHH is showing him, but this only serves as a positive as Ric Flair uses his jacket to choke Spike down in the corner. Bubba & D-Von look to make the save but Hebner blocks them off as Triple H claps his hands together to make it sound as a tag was made as Batista comes back in and sends Spike to the ropes with ease and swats him down with a clothesline on the return. Cover 1...2..kickout. Batista then drives Spike Dudley into the corner and delivers a series of shoulder thrusts to the ribs of the Runt of the Dudley litter. Batista then raises Spike up with a Two Handed Chokelift and then slams him down to the mat with a Chokebomb and covers 1...2...D-Von breaks it up. Batista tags Triple H back in and The Game locks a Reverse Chinlock on Spike in the middle of the ring. The crowd gets behind Spike as he battles to his feet and then sits down suddenly, hitting a Jawbreaker on HHH! The Game holds his jaw as he reaches out and tags in Randy Orton AND SPIKE LEAPS AND HOT TAGS IN BUBBA!

The biggest of the Dudley Boyz comes in and flattens Orton with a clothesline, then another, before catching Batista with one too. Bubba shoots Orton to the ropes and takes him down with a Back Body Drop, before ducking a shot from Batista and taking him down with the Bubba Bomb! Bubba then tells D-Von to "get up!" to a huge pop as D-Von climbs the top buckle and soars off with the WHASSUP? D-Von spins around before doing the cross sign as Bubba pushes him and says "D-VON...GET THE-" as Triple H clotheslines Bubba down from behind and interrupts him to heat. Trips then gets into a brawl with D-Von, and D-Von holds his own in the fist fight with Hunter until Randy Orton comes to the aide of his leader. The duo send D-Von from the ring, then grab Bubba and whip him to the ropes, but Spike Dudley blind tags in, unbeknownst to Evolution as they hit a Double Flapjack on Bubba, Spike comes charging in, grabbing Randy Orton from behind and hitting the DUDLEY DOG! Triple H tries to get ahold of Spike but Bubba is back up and clotheslines him out to the floor! D-Von and Batista are also duking it out on the floor as Spike covers Orton...BUT FLAIR IS UP ON THE APRON DISTRACTING EARL HEBNER! The crowd boos this but suddenly MAVEN YANKS NAITCH OFF THE APRON! Maven begins brawling with Ric Flair to a big cheer from the fans.

Back in the ring, Spike climbs to the top rope with Orton downed but Batista SHOVES SPIKE OFF DOWN TO THE CANVAS! Triple H tags in from Orton now as D-Von pairs off with Orton as does Bubba with Batista and The Game picks Spike up and hits the PEDIGREE! Cover 1...2...3!
Winners @ 10:38 - Evolution

Triple H isn't done there as he goes to put a further beating on little Spike, but Bubba & D-Von make the save however WILLIAM REGAL, LANCE STORM & CHIEF MORLEY run down to the ring and attack The Dudleyz! The Dudleyz try to fight them off but the numbers catch up on them as Orton & Batista join the beat down. Maven and Flair are still going at it on the outside as ROB VAN DAM & KANE make a beeline for the ring to a huge pop. Kane starts rocking everyone with right hands as RVD follows suit. In amongst the chaos of it all we seem to have lost order

*INVASION*

The crowd comes UNLGUED as GOLDBERG storms to the ring. The camera instantly cuts to Triple H who, seeing his Evolution team mates busy fighting their own battles, exits the ring as Goldberg enters, not wanting any piece of The Berg. As RVD, Kane, The Dudleyz, Evolution, Regal and Storm all end up on the outside of the ring, poor old Chief Morley turns around AND GETS BROKEN IN HALF BY A SPEAR! The crowd erupts as Goldberg turns to Triple H, grinning and cackling like a mad man, before grunting and pulling Morley up, and facing a frozen World Heavyweight Champion who's standing on the ring apron, Goldberg powers Chief Morley up into the air before drilling him with a devastating JACKHAMMER! Goldberg slowly stands up as his music hits again, and once more grins his trademark evil grin as The Game, who's shaking with intensity as JR says "My God...Goldberg...Triple H...this Sunday!" and the show ends with Goldberg making the final emphatic statement to Trips, daring him to get into the ring with him

Fade to black

***




Current Card for WWE Bad Blood
Live from the Compaq Center
Houston; Texas
6/15/03
Theme Music: Trapt - Headstrong

World Heavyweight Championship Match
Goldberg vs Triple H ©

Steel Pipe vs Strap Match
Scott Steiner vs The Rock

Streetfight
Kevin Nash vs Chris Jericho

Intercontinental Championship
Stacy Keibler's Services on the line
Test w/Stacy Keibler vs Christian ©

World Tag Team Championships
Four Corners Match
RVD & Kane © vs The Dudley Boyz vs William Regal & Lance Storm vs Evolution

One on One
Maven vs Ric Flair

Women's Championship Match
Trish Stratus © vs Victoria

6 Man Tag Match
Jeff Hardy, The Hurricane & Goldust vs Thuggin' & Buggin' Enterprises w/Teddy Long

***
Alright, there we go. Once again apologies it's not in full but I've been very busy, workred 13/14 days, the only day off was Easter sunday which was spent at a family get together, so I've just not had the time.
DO NOT
post predics yet, I'll open predics after SmackDown! has gone up and such.
---
***

Finally Out of Cutey Sleep
Join Date: Jul 2006
Location: The Fountain of Dreams
Posts: 2,020
Points: 9
Re: Renegade Presents: WWE 2003 - Now Go Home And Get Your Fucking Shinebox
---
FINALLY I get the chance to give RAW some feedback. You keep pumpin' out shows and I get left behind. Recaps ftw
619s Feedback for Renes Monday Night RAW
I've actually read the past few RAWs, just haven't said much about them. Big Sexy wanting to kill Jericho is fine by me, although I'll throw a mini-riot if he actually wins. Always thought it'd be fun to see a Jericho/Nash feud/match for the simple fact that Nash always kept Jericho back. Hope that actually comes up (if it hasn't already) and implemented into storyline plz.

Stacy's legs are about as tall as Christian is, lol. That aside, nice to see Christian gaining a win here going into BB. I don't really doubt he'll retain with the help of Stacy, but I'm not sure how high you are on Test. Lengthy IC reign for Christian plz.

Meh. Uneasiness between face champions and face contenders. Always awkward.

Isn't Morley Val Venis? How many different names does that guy have? Anyway, pretty straightforward tomfoolery on the side of a biased referee, although I wasn't really expecting him to get physically involved in the finish. No surprises here although I don't really like Kane taking the fall.

Awwww…I kinda wanted to see Spike beaten the shit out of…

Implementing Heat into an actual storyline is something I haven't seen in a long, long time. Glad to see Hardy being used here, although if I'm aware, you're not that high on him (but he may be high on something
). Glad we got some lower-midcard stuff going on here. Gives some folks something to do with the wierdos and the black guys goin at it.

I felt the first half of this promo is a little preview of IRL RAW next week for Rock's birthday. To the promo in the thread itself, pretty standard Rocky stuff here, gave me some giggles with a pipe being something that can legitimately be shined up and stuck up someone's ass. Anyways, Steiner finally evening the odds with the pipe to 3MW gives him a little bit of momentum, and Rocky…well he always has momentum.

Bald Victoria just makes her seem more psychotic to me than embarrassing, really. Again, I like reading you doing things with the lower midcard besides completely jobbing them out, gives the entire roster some purpose, which again, I'm still taking notes on. I'm hoping Trish doesn't retain come BB. She bores me as champ, personally, but there's not many better WWE chicks than her, is there?

The most disappointing part for me not even remembering this time period much is I missed Evolution's apparent monster run. No surprise to see them displaying a great deal of confidence and I really wouldn't be surprised if they walked out with the gold come Sunday.

Road Dogg???? Not the #1 guy I'd bring in if I had the chance, but him being pinned with a headlock takedown is lulz. Foreshadowing his permanent jobber role, perhaps? Anyways, yeah. Nothing more than job meat, plz.

Never took Maven seriously. Never have, never really will. Not even in my thread. /cheapplug

I put the Nash beatdown in a real life situation, for some reason. Had this happened in modern day WWE, with the IWC Jericho dick riding. I would expect to see things like "JERICHO IS EPIC MUSTACHE". In terms of this, Jericho has always seemed like the guy to do this, although I would've liked a more thorough beatdown before security stopped him.

Nice main event tag team match here, with everything really going as expected. Up until the end. Good lord, talk about a take home show finish. Half the card for the PPV was out there, fucking Christ. I don't really see a problem with that, but that's…let's see…13 people in/around that ring at one time? Jesus, that's chaotic if I've ever seen it. Gives the tag team division a good little push to be featured in the main event like that, and Goldberg killing Morley is always a nice touch.

Overall, not much to complain about, really. Just as solid and as much a lesson in Booking 101 as Smackdown is for you, although this one had a good many heels come out on top for the take-home. That said, I was a little disappointed up until the main event. It was all good booking, just nothing jumped out of the show as a whole until the very last minutes of it. I guess I can attribute that to your work schedule, though nonetheless, a great take-home with a very fun ending. Keep teaching us jobbers.
---
CUTENESS˛
AOW: Art of War Wrestling - The Greatest Affair
It's Baaaaack...
.:Oblivion Edition 39/40 Recap NOW POSTED!!:.
Asking JAMES ELLSWORTH for Wrestling Advice
Join Date: Apr 2011
Location: Glasgow, Scotland
Posts: 466
Points: 0
Re: Renegade Presents: WWE 2003 - Now Go Home And Get Your Fucking Shinebox
---
CAB feedback for RAW

-Good opening to the show. Nash seems really angry as you would expect and the street fight stipulation for the bad blood match is great. That is going to be a brutal match and Jericho's attack will add even more hatred which will fire Nash up more. I can see Nash beating the heck out of Jericho for most of that match.

-Christian vs Al Snow was a decent opener, Christian is going into Bad Blood with confidence. Test is going to be desperate not to lose Keibler so it will be a good match to watch.

-RVD and Kane are going to have their work cut out in the 4 way tag match. The tag match was good and Morley's attack helped set up Sunday well.

-Mack's whiteboy challenge with Hardy was going well until the attack from D Lo but that was expected with the Bad Blood match coming up soon.

-The Rock and Steiner promo was great. That is going to be a good match. I like the way you write Rock as a heel as it is pretty spot on to what he was like as a heel.

-Victoria is still crazy ! Stratus getting the upperhand was good and it sets up their title match well.

-Road Dogg returning was great! Should be fun to see what he gets up to back in the WWE.

-The main event was hectic in a good way. The brawl was crazy with so many people involved and the Goldberg return was great. That is going to be another big match in what has shaped up to be a big ppv.

Keep up the good work Renegade.
Re: Renegade Presents: WWE 2003 - Now Go Home And Get Your Fucking Shinebox
---
Raw Feedback
Kevin Nash to open the show was a little unexpected, but it makes a whole heap of sense considering what went down last week with Chris Jericho and Shawn Michaels. Going by the fact that everything is in recap, there's not all that much to say about Nash's part of the promo. Everything he said seemed like something a pissed off guy like Nash would say. I also thought it was good how you didn't have him throwing up the Wolfpac sign as he usually would, indicating just the type of mood he's in. Fully expected him to call out Jericho as well. Eric Bischoff getting involved isn't really something I expected, but after reading the promo it made a whole heap of sense. Jericho getting the night off is alright, as I don't think there is much you can do to add to the heat between Nash and Jericho at the minute. Bischoff making the match for Bad Blood, whilst maintaining the whole it's good for business deal was nice, as was the little threat by Bischoff, forcing Nash to leave the ring as well. A good way to start the show, and make yet another epic match for Bad Blood.
Nash interview after the commercial break was alright as well, nothing to complain about in terms of content. After hearing from Nash in the middle of the ring to begin the show though, I don't really want to hear from him again straight after the commercial break. I thought this interview could've been placed better.
Much like you, I also love the attitude era, but Al Snow ever popular in 2003? I don't think so. Anyway, nothing but a solid match to give Christian another win heading into the PPV. One thing I don't like is the fact this match went for five minutes, as I'm pretty sure a few weeks ago Christian beat Test in four minutes. Allowing somebody who is doing nothing like Snow last longer than the number one contender just seems really silly, imo. As I said though, a good win for Christian, and his shit on the mic was good hype for Bad Blood too.
Again you have Christian right back on after the commercial break? Again, after hearing from him in the ring, maybe could have put something in between these segments. Anyway, Christian and Stacy confrontation was nice, as was the arrival of Test. I would have been pissed had Test not been on this show, so I definitely felt this segment was needed. A nice tease for the possible and Stojy predicted Keibler turn with the look of enthrallment on her face as well.
Bad Blood being in full is alright, although I always thought much like me you weren't a big fan of PPV's outside of the big four being in full. It's going to be the first PPV of yours I've read in full anyway, so I'm looking forward to it.
An interesting meeting between RVD and Kane and The Dudley Boyz. I always like watching the tension between competitors in times like these, and despite being in recap, I still think you captured the tension pretty well, so good job.
Chief Morley as referee is simply typical 2003. Cheap tactics in the tag division, ftw. I'm really glad you've kept Morley around the tag division for this long. His hatred for RVD and Kane, and The Dudleyz really adds something. It almost makes the division seem more important because Morley is directly linked to Bischoff, even if you haven't made much reference to that since Backlash.
I expected Regal and Storm to pick up the victory once Morley was announced the referee. A good win for them, whilst the champions keep face, solid booking.
at Evolution trying to pick on Spike Dudley. Typical heel tactic that works well, but it's just funny. Anyway, once Spike's brothers came along things got interesting. This segment did its job in giving us some solid hype for tonight's main event.
Good to see you acknowledge that something noteworthy has actually taken place on Sunday Night Heat. Not a lot of people do this, and I think it can be used as a valuable tool. I like the idea of Teddy Long and his crew ready to step it up to the next level. The beat down on Jeff Hardy, who is a credible opponent, by the group was nice, and the save coming from Hurricane and Goldust adds a nice little feud for D'Lo, Mack and Henry to all take part in.
I thought it was going to be a feud that wouldn't make PPV. Really weak to have a match between the six added to Bad Blood just like that. The PPV has a good enough card without it.
Another promo from The Rock? Absolute ratings for that, the more of The Rock the better. A bit of a shame that this is in recap though, as it means you won't be able to get the usual awesomeness you do out of his character. With that being said, the promo itself was still pretty decent, with Rocky basically working through his usual bunch of catchphrases. Steiner's interrupting, and bit on the microphone was pretty good you.
at the "it doesn't matter" spot, surely one day somebody is going to wizen up to it. Steiner pulling out the pipe before coming to the ring made things exciting, as did Steiner taking out Rosey and Jamal. The final stare down was nice as well, with this being the final confrontation before the match that will end what has been an epic feud.
Goldberg arriving? That's a trademark Stojy segment, pretty sure I show Goldberg walking into the arena almost every week.
Anyway, I marked for the Barricuda.
Mixed tag team match did its job, hyping Stratus and Vickie's feud, and having the two ex ECW guys going at it is clever as well. Vickie's bald head getting shown every week is going to get old fast. Whilst I enjoyed Vickie being psycho, I still haven't really liked the way you've played up Vickie's baldness throughout this scenario.
Teddy Long interview is nice, hyping Bad Blood match that I'm not a fan of.
Evolution's interview was pretty good, hyping the main event, and also all their agendas for Bad Blood. The threat from Triple H to Goldberg was good as well, and yeah, definitely a smart interview.
I marked for the Road Dogg appearance. NEW AGE OUTLAWS, please. Anyway, was a little disappointed to see Nowinski pick up the win, but I guess it's not a huge thing, as who knows if the Dogg will even stick around long. Despite using the ropes, a Headlock Takedown is a really weak finish, not to sure what you were thinking with that, tbh.
Maven interview sounded like a typical Maven interview. I'm praying he goes over Flair at Bad Blood though, as we seem to be the only guys who actually appreciate Maven.
A nice attack by Jericho, as he continues to be probably one of the best things on this show, atm.
The run down of the Bad Blood card shows that it is going to be a very strong PPV. I'm still disappointed about that six man being added to it though.
at Bubba calling Triple H Pinocchio. Anyway, the main event was a pretty fun contest, as I really do love all the six man tags you book, as you'd be able to tell judging by some of the recent booking in my thread. Anyway, a good win for Evolution. The aftermath with EVERYBODY getting involved was awesome, and I marked for The Berg taking out Chief Morley. The final stare down between Triple H and Goldberg was nice as well.
Overall, despite the shitty recap, it was still a DAMN entertaining show. Whether it be PPV month or not, I feel Raw has a lot more going for it than what SD does right now. Anyway, this show was another great read, and did everything it should as a go home show. My only real issue is that six man tag announced for Bad Blood, but besides that, it's a fairly epic card. Keep it up, Reney.

---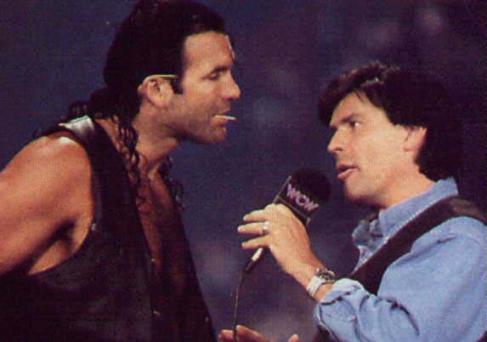 Wheelman for James Ellsworth
Join Date: Jan 2011
Posts: 501
Points: 0
Re: Renegade Presents: WWE 2003 - Now Go Home And Get Your Fucking Shinebox
---
Raw feedback



Good way to open things with Kevin Nash. Liked how he was down to business here, no Wolfpack signs or anything, just to the point in wanting Jericho out there after what went down last week. Good stuff. Bischoff giving Jericho a leave of absence is classic Bisch. Good way for some heat and the announcement for Bad Blood was a good one, should be a straight up fight between these two.

Good little interview after the break, getting Nash's thoughts now he has what he wants was good to hear and no surprise in him saying it's not gonna be a wrestling classic.

Christian/Snow, only one winner here, right decision and a good little momentum builder for CC. Nice little after match speech, looking forward to his match with Test at Bad Blood, still expect Stacy to turn, well hoping as well as expecting as I'd love to see ya go that route.

The interview after the break again sees all the signs point to a Stacy turn, it was well done here on Christian's part, everything from the scurrying to the smirk. I think Stojy mentioned it above, only gripe would be the fact that we came back from the break to the same people twice now, maybe coulda spread it out slightly.

Good little backstage bit with the champs and the Dudleyz. I liked how you showed they respect each other but the real issue is those tag titles at Bad Blood.

Morley as ref in this match meant only one team was winning and I liked how you went about it. Gives these three even more heat and adds to the match on Sunday.

Enjoyed this bit backstage with Evolution hunting down Spike. I like how you portray the Dudleyz in this thread, real no nonsense, care free S.O.Bs it feels and it should be a good one later tonight.

White Boy challenge is a brilliant idea haha. Jeff Hardy was a slight surprise and I'm not too sure on this whole Hardy/Hurricane/Goldust partnership against Thuggin and Buggin now. But I spose it's something to do for them after all.

Rocky time, once again great stuff from the great one and I'm glad you didn't try and get him to try and get heat cos there would be no way in hell it happened. Steiner coming out is expected, though I expected a more negative reaction for him to be honest. Loved how Rock cut him off with the 'it doesn't matter' line. 3MW coming down was surprising but Steiner fends them off easily and Rocky backtracks once more. Good, solid segment here and their match Sunday should be a good one.

Mixed tag match doesn't bother me too much, woulda liked to see Victoria get her hands on Trish just slightly but ah well, not too concerning.

Decent little interview with Evolution, got all the points across well ahead of later on tonight, good build up again.

Road Dogg was very surprising here, but a nice little win for Nowinski. I'm not too keen on the guy but if you wanna push him, I'm all for it just to see how you go about it.

Maven getting a word in was nice, though again I really couldn't care less about the guy, I think you'll give him the win on Sunday however.

Jericho getting the upper hand on Nash once again was sweet to see. Loved the Walls of Jericho on the floor, just love seeing it used outside the ring for some reason. Thought we wouldn't go all night with no Jericho sighting.

Good main event here just as expected. Glad to see Maven getting involved to fend off Flair. Evolution get the win as expected but the aftermath was where it was at here. Great to see all these guys getting involved, gives them all a great rub being in and around the main event guys. Goldberg getting the last laugh on The Game was nice to see and their one on Sunday should be interesting.

Despite it being recap this show certainly got the job done and I enjoyed it as ever, looking forward to Bad Blood, keep up the good work man.
Posting Rules

You may not post new threads

You may not post replies

You may not post attachments

You may not edit your posts

---

HTML code is Off

---