Re: Renegade Presents: WWE 2003 - Now Go Home And Get Your Fucking Shinebox
---
Smackdown Feedback



Yeah, obviously you open up with a video recap of what went down at Judgment Day. Booking 101, tbh.

Opening the show with Angle and co? Awesome. Why? Because the only guy better than Angle on SD right now is Kanyon, that's why. I was a little surprised to see Haas and Benjamin get to talk before Angle. We all know Kurt loved the spotlight, and usually he speaks for the WGTT, so needless to say, I was a little shocked. I don't necessarily think it's a bad thing though, because even though they are as bland as wood, as long as you keep Benji and Haas short and sweet, it'll get the point across, and not bore the shit out of me. You did the job here well, with them putting themselves over The APA and what not. The promo, even in recap, definitely lifted entertainment wise when Angle got on the mic. It's just typical Angle really, making up an excuse for Austin lasting that long. Signalling his intention for the gold was to be expected as well, everything's been alright so far. I expected Austin to interrupt, simply because of how much shit Angle was talking. Honestly, I didn't really feel Austin tonight, which was a surprise. It started off alright, but I don't think I ever heard Austin say spout. I could be wrong, but I just didn't like it anyway. Also, making fun of the three I's is good, but I don't know, in 2003 Angle rarely mentioned the three I's, I kind of felt the joke was a few years too late. The bickering between the two was alright besides that, and Austin not even caring about the numbers advantage is good. The APA evening the odds was nice, and Steph sets up the main event for the evening. Decent enough opening to the show.

A decent enough opening contest, but I can't help but be surprised with the result. I definitely did not expect The FBI to get the win here. After this, I'm really interested to see where you take things with both teams.

Matt Hardy interview was pretty basic stuff, with him gloating, and of course getting annoyed when they said he cheated. Kidman challenging Hardy was nice, and once again, Steph is on the scene to make it happen, solid stuff.

As per usual, Cena rap = ratings. Clearly the best I've seen with them so far, not that many people attempt them, but still it's an accomplishment.

Another solid win for Cena, as he continues to rise in this thread. I would have liked to know how he played possum and lured The Kish to the outside, but yeah, I know match recaps for weekly shows don't need much detail. I marked for the Stinkface too.

That video package is a huge swerve, that's not Sting. I'm definitely intrigued to find out just who it is though.

KANYON~! Immediate ratings for him getting more time on the mic. I loved how he thinks that the audience loves him, it's just all around great stuff. Trying to lead the fans in a chant would have been fun to.

Kanyon > sliced break > Funaki. That is all.

The APA and Austin drinking and smoking together is honestly, awesome. I'm actually really surprised this never got one in real life, or at least I can't remember it off the top of my head. Anyway, as I was saying, just a small, meaningless segment, giving some sort of hype for the main event, but I thought it was epic.

Umm, not much to say regarding what Lesnar had to say, kind of a typical, boring face promo if I'm honest. Even once The Big Show and A Train came out, whilst the excitement would have built a little bit, I really haven't found myself enjoying this promo all that much. Nothing they really said has been wrong just lacks that certain something, imo. Anyway, the brawl was easily the best thing that could have happened here, and Show and Train getting the upper hand makes sense. I kind of expected The Undertaker to appear since he and Lesnar respect each other now, and the heels coming out on top was unexpected. I'm guessing we will get some sort of tag match next week? Anyway, decent segment got better once the talking stopped.

Despite being paired with the awesome Matt Hardy (he sucks when he's not V1 though), Holly and Moore are nothing but jobbers. Anyway, a good win for Mysterio and Benoit, keeping Benoit on screen, and as you said, helping Rey get over his loss at JD. Not much else to add, except that maybe Rey will want to have another crack at Hardy sometime soon.

I expected something along these lines to happen, although I was surprised to see singles matches, as I predicted the tag one. Lesnar/Show and Train/'Taker means you've got some main event shit happening next week, even if they will be boring as hell, match wise. With Lesnar having a crack at Undertaker being his guardian angel as well, I'd be more than surprised if these guys didn't face off again down the track, before Lesnar moves on to Angle.

Hopefully you make it to Bad Blood.

Kidman and Hardy went alright; it was a pretty good contest, with Hardy working over the arm. This is smart stuff, as the larger Cruiserweights always try and ground their opponents. I sure as hell didn't expect to see Tajiri, although he has made a HUGE impact tonight, so I'll wait and see where you go with the Cruiserweight scene from here.

A nice interview from Mike Awesome, getting him on screen. I mark for Awesome, so a US Title push on the cards sounds good to me. He MUST take the gold though, good stuff anyway.

The main event seemed to begin with a frantic pace which I liked, because it'd make things a whole heap more exciting. Umm, not sure how the referee missed Shelton Super kicking Faarooq. I mean, unless Austin and Bradshaw are mind readers and were in the ring before it happened, it doesn't make sense that the ref would be distracted. The rest of the match went along nicely, with a good ending. Not only that, but the faces get an important win after all losing at JD. Angle/Austin continuing is another thing I like, as one week of build before JD was nowhere near enough for two men of that calibre.

Overall, a very solid show. More Kanyon next week, and hopefully some storylines advance; you don't want things to become stagnant, good work.
---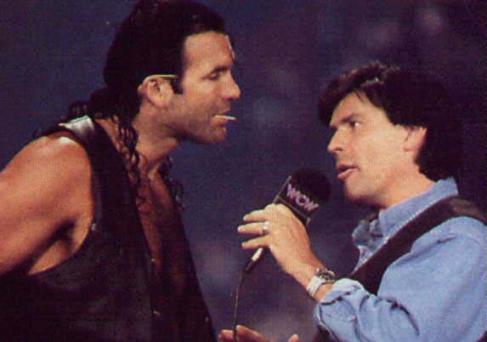 Re: Renegade Presents: WWE 2003 - Now Go Home And Get Your Fucking Shinebox
---
Hello.....Since I reviewed the Pay Per View I do have a sense what is going on. So let's see what we have for the first SD! after the PPV.

Kurt Angle & team Angle starting things off, is fine with me. Angle has been a pretty good product especially after a win against Austin not to mention Team Angle has the belts (even though they cheated) still one of the top things going in this thread.. A decent promo out of Team Angle and Austin and a huge main event made for tonight.

Surprise to see the Guerreros lose again after what happen at Judgement day. It was a decent match with plenty of good description.

Another nice match made between Kidman and Hardy. After what happened at JD, I'm glad by the extra stip you put in there but I have to say Matt Hardy as Mattitude I kind of want him to pull out the victory here. That character owned in all honesty.

Epic John Cena rap. You really have the raps down to a tee. Kind of seemed odd that Cena could finish off Rakishi in what seemed to be a pretty quick fashion if you ask me. Only a little over four mins I expected a bit more competiton but nonetheless, Cena picks up a nice win.

I don't know much about Kanyon but a nice little promo before the match. I love him trying to lead the Kanyon chants. Maybe this is why I'm upset about the Cena/Kish match. I mean this is a squash match through and through and yet you have him finish him off at three min. That is why I say expand the Cena/Kish match because it almost seems like two squash matches in a row if you ask me time wise.

Mehh I don't know if I really like this for Lesnar right now. I mean I like the whole respect for Taker thing because that was one hell of a match the two had, but I feel like you took focus away from the championship with this. Now it seems like we won't get another Lesnar/Taker battle and now these two top superstars will be focused on A-Train and Show and teaming up together maybe for a couple of weeks.

Much like Stoj said above me Mattitude are really just a bunch of jobbers and there was no way they were coming out of this with a win. Benoit keeps rolling, and Mysterio gets over the tough loss to Cena.

Single matches eh? Well I guess we might see Taker/Lesnar II after that promo. But tbh if it happens keep the belt on Lesnar. I really want to see Lesnar/Angle. So i say ignore my earlier note about what I said about focus being taken away. It seems to be back on after the "guardian angel" line.

Another surprise as this was a good match-up but tossing Tajiri into the picture is good. A. it was a pleasant surprise and B. You're taking full potential of the cruiserweights on SD! Interesting to see what happens in the title picture now.

A solid promo from Awesome. Him into the United States picture is interesting, and I like all the jabs at Rhyno not being there. This has potential to be a decent feud with some intense matches between these two.

A really decent and fast paced main event. A nice series of counters between Austin and Angle after Angle had the Ankle lock of Faarooq. A good ending with all the faces get retribution after all suffering tough losses at JD. Seems like we get more Austin/Angle which means Lesnar/Taker seems to be a lock too which is fine considering both were great matches at JD.

Overall: Sorry if the review seems short but I really hoped some of these notes helped. Anyway a decent show in which I hope we see more developments in storylines (Awesome v. Benoit, Tajiri and the CW title) etc. Good show and keep it up.
---

THANKS TO CHAMPVIADQ/FOURTHWALL/ABROWN0718 FOR THE BANNERS
Re: Renegade Presents: WWE 2003 - Now Go Home And Get Your Fucking Shinebox
---
Smackdown Feedback
Sad that Smackdown is in recap, as it was real good leading up to the PPV, but understandable. Anyway, on with the show...
Makes sense that we hear from Team Angle first, especially considering how Judgement Day went for them. Surprised that Haas and Benjamin got the mic first, but they were just the build up Angle. Solid enough from the two of them, putting themselves over at The APA's expense is smart booking. Angle is the bigger issue, and I loved the whole food poisioning bit, that was a cheap heel tactic to use. Angle logically asking for the title shot makes sense, and unless you want to keep 'Taker/Lesnar going, it should be Angle's turn. Here comes Austin, his version of the three I's drew a chuckle. Austin into the ring, and the fight is on. APA put for the save, which kinda gets them back a bit of momentum after their loss. Steph out to book the obvious six man, just some real smart booking here, you set it up and then delivered. A good start to the show.
A solid enough first match of the night, but wow at the outcome. Very surprised to see The FBI pick up the win. Gotta think there could be a feud here perhaps, or something at least, as I'd be very surprised if you just left things as a FBI victory. Intrigued to see what happens with both teams now.
Basic enough promo from Matt, it ticked all the boxes with regards to his effort at Judgment Day. Steph again, and the match with Kidman should be good, especially since Moore and Holly are banned from ringside. Kidman to win surely, getting himself a title shot.
I like Cena's raps in this thread. Always worth a laugh.
Another good win for Cena, building off his win at Judgment Day. Rather surprised at how Cena just kinda stood up after the stinkface and walked straight into the FU, I'd have rather seen Rikishi attempt another move that Cena escaped from before the finish. But the outcome was the right one, Cena is on the rise.
You seem determined to make Kanyon a somebody in this thread, and some brief mic time will help that. The duelling chants was a nice touch. Not much to say about the match, nothing more than a squash really.
Lol at The APA and Austin having a drinking sesh. Makes sense really when you think about it.
Nice bit of respect shown from Lesnar to 'Taker, nothing wrong with that. Show and A-Train's comments abotu wanting to make an impact makes sense, no bigger impact at this point in time than by attacking Lesnar. The brawl was the highlight of the segment, and it was great to see A-Train hit the bicycle kick before the inevitable 'Taker save. Wow @ Show and A-Train getting the upperhand once again. That's instant promotion up the card right there, with both these guys being relevant again. Still think they'll lose a tag team match to Lesnar and Taker, but this was good for them to look so dominant.
Oh dear, poor Moore and Holly. No way they're winning this one, despite the fact you gave the match some decent time and it was far from a squash. Storylines for Benoit and Rey asap plz.
Singles matches? Little bit surprising, thought for sure a tag team match was a stick on. Can't see both guys winning tbh, a bit of controversy would be to have one of them lose. Perhaps Taker will be the one to lose?
Kidman/Hardy seemed like it was a pretty good match, although I always prefer the bigger cruiserweights to target the leg, taking away a bit of speed. But anyway, whoa at Tajiri. Really wasn't expecting that, but he made quite the impact once he got involved. The fact he tagged both men with moves suggests a triple threat moving forward. But yeah, Tajiri is back in the hunt defo.
Cool to hear from Awesome, especially after the big win at Judgment Day. Good to hear he's going after the US Title, a Benoit/Awesome feud sounds golden. I wouldn't mind the title on Awesome, but plz don't rush it. A two or even three match feud would be sweet as, with Awesome winning eventually.
Main event seemed really fast paced, with some good action throughout. Tend to agree with Stoj, you weren't all that clear with regards to Robinson missing the superkick. Perhaps you coulda worded that better. Liked the multiple no-finishes between Austin and Angle, added a good bit of drama to the finish. Nice bit of payback for the faces after their defeats at the ppv. Seems very much like Angle and Austin will continue after this, esepcially after that last line from Angle.
Overall, a really solid post PPV show. The two main storylines on the show (Angle/Austin and Taker/Lesnar) seem set to continue, nothing wrong with that. A few things seemed to develop, with Benoit and Awesome being the one I am most looking forward to. Good stuff man, I'll be back for Raw of course.
---
World Wrestling Federation: The Montreal Fallout
New BTB. Check it out, eh?
Finally Out of Cutey Sleep
Join Date: Jul 2006
Location: The Fountain of Dreams
Posts: 2,020
Points: 9
Re: Renegade Presents: WWE 2003 - Now Go Home And Get Your Fucking Shinebox
---
I hate you and your ability to draw reviews from virtually the entire section.
619s Feedback for Renes Thursday Night Smackdown
Not a fan of recapped promos, even though I do them myself. WGTT seemed as generic as they always seem on the mike, and Angle's excuse made me lol. Austin was a solid as he could be in recap form I suppose (although I could still hear the 'what' chants in my head), and not really surprised by the 6-man tag announcement. Either way, great set up for the rest of the show, although I kinda wanna hear from Brock more than anything.

Los Guerreros getting the L here is in my dislike column, especially against jobber team FBI. I guess you have to give them a little bit of credibility…but not too much.

Interesting little tidbit between Hardy and Kidman. For some reason, Kidman rubs me the wrong way (maybe b/c the bastard divorced Torrie Wilson, idk), so here's hoping he doesn't get the win, but if not him, I'm not sure how deep you are in Cruiserweight faces to challenge Hardy.

Rappers and their oh so genius 'witty observation' skills. Overrated, imo, but Cena's rap was pretty sweet. As for the match itself, I like the variety you threw at Cena in the last few opponents. Facing the CW Rey and now facing the heavyset Rikishi showed he can hang with both, and a huge FU to Rikishi is always a good way to make a guy look strong. Someone to rub in Cena getting Rikishi's ass rubbed in his face plz.

This package again, eh? I still say it's Goldust with a pet crow.


at Kanyon. I would've laughed even harder had Funaki won here, and I was kinda expecting it. Give that man some love.

Oh wow. Big guys making a huge statement here, definitely wanna see what this leads to. I'm guessing nothing more than Lesnar and 'Taker taking down the big fellas next week or something similar. I'm hoping you don't milk this a bit too much. Big guy fights tend to bore.

Meh, not much to say about Benoit and Rey owning Mattitude here. No real surprises, just a small booking decision that I kinda need to take notes on. Straightforward booking, but smart.

…and you are milking it. Perhaps the two are just devices used to get Lesnar and 'Taker a little closer before a rematch…?

Holy shit, a crazy Asian in the house. I have a soft spot for folks gone psycho, but I gotta say Tajiri going nuts was not one I was expecting. A Triple Threat might be in the cards, but I really wanna know what made the Buzzsaw snap like that before anything else is established.

Great bit of detail for the main event in relation to the rest of the card, good call. I saw this as more of a feel good match for all involved, as pretty much all the folks on the winning side needed the win after their losses Sunday. Not much to say here other than with Angle not getting the fall, I can see he and Angle's feuding continue a good bit more
.

Overall, a pretty straightforward PPV fallout show, although I was hoping a little something bigger to happen tonight, but what happened was pretty solid as well. Can't really complain about the show, although I did take good notes on 'character recovery' I guess, which may be something I've been lacking for meself. A well booked show, although maybe not so much entertaining. So thnx for the notes and overall pretty solid show.
---
CUTENESS²
AOW: Art of War Wrestling - The Greatest Affair
It's Baaaaack...
.:Oblivion Edition 39/40 Recap NOW POSTED!!:.
Re: Renegade Presents: WWE 2003 - Now Go Home And Get Your Fucking Shinebox
---
SmackDown! Feedback
My apologies for not getting this up sooner. Just been a lazy fuck for a while tbh.
Team Angle promo at the beginning of the show works for me considering they were the prime focus of Judgment Day aside from the WWE Title match. Haas and Benjamin seemed generic but given their characters, it's exactly what I'd expect. Kurt picks things up nicely here and seems to allude that Lesnar/Angle II could be happening soon. I'd be a fan. Austin comes out now and he looked to be as solid as he can be. Keep him around plz. BRAWL looked to be good and APA evening the odds was a smart choice. Six man main event looks to be good. Moving on, pretty good tag team match between the Guerreros and The F.B.I., and The F.B.I. getting the win here, via hook or crook, seems to further this, or possibly turn both teams in different directions. Can't imagine The F.B.I. pursuing the Tag Titles in a heel/heel scenario so I'm wondering where both of these teams are going to be going now. Matt Hardy kind of owned back then tbh so I hope you keep him, and Mattitude, relevant. Kidman/Hardy looks to be good for later imo and I see Hardy stealing a victory here even though he'll be without his MF'ers.
at Cena's rap. You might be right
Cena getting the victory here was no shock to me. Okay, I feel like this video package you have here is DEFINITELY not going to be Sting. Even though the beginning letters in the words "on the screen" spell out ... STING
I have this hunch that I know who it's going to be, but I'm going to keep my mouth shut until whomever this is, debuts.
at Kanyon
Reading that recapped promo made me legit laugh out loud. No surprise here with a squash, but two matches less than 5 minutes each, kind of irked me. Nice little segment with the APA and SCSA drinking beer. Not much else to really say. Seemed like a generic promo from Lesnar but that's really no disrespect to him. Happens with guys like him. Show and A-Train owning both Lesnar and Taker kind of clouds up the title scene. I'd enjoy if Show got a title shot somehow out of it, because he owns IMO. Keep this going plz. Nothing really shocking about Mattitude losing to two established guys like Mysterio and Benoit. Would have been utterly shocked tbh if it went any other way. Tag team match next week furthers all of this, and I'm glad to see that. Looking forward to Bad Blood imo. WHOA, did not expect Tajiri to get involved in this. Looks as if, for now, we're going to see a triple threat feud. I can dig it. Tajiri is pretty awesome, as are most if not all the cruiserweights. Mike Awesome/Chris Benoit feud sounds like it could be pretty good stuff to see, so I'm very interested in seeing where you take that. Sits well with me. Chaotic six-man clusterfuck tag team match looked to be pretty good and the faces winning makes them look good coming off of losses on Sunday. SCSA/Angle looks to be continuing which I'm a fan of.
Overall, good stuff as per Renegade. Good booking and recovery from PPV losses all around.
---
Re: Renegade Presents: WWE 2003 - Now Go Home And Get Your Fucking Shinebox
---
Alright figured I'd drop some comments since it's been a damn long time...
Here we go! Team Angle is without a doubt the shit so it's great to see them kicking off the show. I took a look at Judgment Day but forgive me because I can't really remember everything that happened. Angle is one of the best at giving excuses to the fans so glad you incorporated that and well honestly the rest of the stuff was just elementary to set the main event up for later in the night.
Very shocked somewhat to see the FBI defeat Los' Guerreros'. I'm with the others in wondering just whom is going to be going after the tag team titles but hey I mean the FBI isn't too bad of an option I guess.
Matt Hardy V1 OWNS without a doubt. The absolute best character that Hardy ever played but I think you know that. If you keep this character than he can be pretty relevant in the thread.
Cena rap is right down your alley so I know you enjoy writing them and you've always done a really good job with them. Big win for Cena over Rikishi and I don't know how you've used 'Kishi in the thread before but maybe perhaps a bigger deal should have been made over the fact that Cena beat such a big man, etc. Then again he might have beat Big Show in here before already? I'm not really sure. Either way it would have gave Cena some major props for defeating "a giant" I guess is what I'm getting at.
Hmmm, Kanyon LOLZ. Not a fan of Kanyon tbh. Not really much to say either on him but if you're going to use him at least use him effectively I guess.
The next promo and stuff seemed to go swell and just as well as it really honestly could have been. Seems as if we're going to be going down the real life road around this time perhaps with Lesnar/Show and A-Train/'Taker. A-Train is the man though so please use him well!
I'm shocked that Benoit just won the US title and now he's relevated to taking on Team Mattitude in a tag team match. Kind of makes the US Champ weak after having just won the championship but hopefully you have him put in a program soon.
Seems as if we'll be having those singles matches that I mentioned earlier next week now. Cruiserweight situation had me a little confused with Tajiri randomly appearing but I want to say that he was in the CW Match at Judgment Day if I remember correctly so maybe that explains it.
Eh, Mike Awesome. Not much of a fan either but I know how you are briging in all of these random old farts.
And the main event seemed to be your normal PPV fallout tag team match stuff so I think it went off well.
Good decision with having the APA get the pin fall instead of Austin as Austin honestly probably didn't need it as much and it gives Bradshaw a good credible win to put the APA over even more. I think you're making a good decision continuing the Angle/Austin stuff as honestly it's going to be one hell of a feud and to be honest I remember their feuds from back in the day and it was some WINNING stuff.
Not a bad show. It's been a while so I'm going to try and stay caught up with everything in the thread.
Re: Renegade Presents: WWE 2003 - Now Go Home And Get Your Fucking Shinebox
---
A few things...
First off the Hair vs Hair match from the Roulette. I know some weren't too keen on it (don't have a heart attack iMac
) but really, with the other matches that had been booked, I didn't want the predictable Bra & Panties match or Gravy Bowl match for such a feud with two very talented workers. You guys know me, I love the unpredictable, and a bit out of the ordinary. It will stay relevant in the lead up to Bad Blood and future angles, I wouldn't have booked it just for the fun of it.
Also, Hollywood Rock is sticking around incase anyone is wondering. I have good plans for Rocky and don't plan on doing the usual "Rock's returning to Hollywood blah blah" thing. Plus, is there anyone more entertaining than him anyways? Hell no.
Onto SmackDown! and I realise atm that things are a little stagnant compared to RAW, but with RAW having the upcoming PPV, not SD!, that's where the majority of the effort goes. Next week's Smackers will develop some angles alot better and start to shape some things leading to Vengeance and wrap up some on going feuds too.
Oh and KOP you jobber, Mike Awesome is not old. In this time period, he was only 38.
***

The Rumour Mill

We can all but confirm Monty Brown has accepted a deal to join the WWE. Brown, who worked a few shows for NWA upstart promotion Total Nonstop Action last year had been in negotiations for around a month or so, and a deal has finally been settled on. Monty is expected to skip a stint in developmental and be promoted straight to the main roster in the coming weeks. Possible plans at this stage have him placed in Thuggin' & Buggin' Enterprises or as part of a new tag team.

The WWE is still rumoured/confirmed to be talking with various other talent. After the return of Grandmaster Sexay to team with Rikishi and X-Pac's impressive showing against Triple H last month, there are plenty of others who are either negotiating a contract with the company or set to work a few dark matches in the hope of getting another contract. Alongside X-Pac we can confirm the WWE have or are holding talks with Road Dogg, The Big Bossman, Diamond Dallas Page, Buff Bagwell, Scott Hall and former Women's Champion Sable. The Legion Of Doom, also known as The Road Warriors, are also said to be close to tying up a short term contract after Michael Hengstrand's (Hawk) victory over his battle with alcoholism and drug addictions, the WWE seem to think the legendary team deserve one final run in the company

Vince McMahon is said to be returning to SmackDown! soon under his Mr. McMahon character. The storyline of Vince being banned from interfering in Stephanie's booking of the show is said to stick, but that McMahon could be back to continue his feud with Hulk Hogan

Speaking of Hulk Hogan, the reason for his recent write off is actually for a problem with his hip. Hogan is still under contract until the summer and is expected to be back to work an angle leading into Summerslam, although he is rumoured to be close enough to a return that an appearance on the card at Vengeance is quite possible

Ultimo Dragon is set to debut soon on SmackDown! Dragon signed a deal just after Wrestlemania and the legendary Japanese cruiserweight is definitely being considered for a debut after Vengeance at this point in time

Meanwhile La Resistance are said to have been kept out of RAW because of some poorly worked matches on HEAT lately. La Resistance were hyped for a few weeks following Wrestlemania but their originally planned debut on April 28th was scrapped. They have since been sent back to OVW to further enhance themselves in the ring and the latest news is a post Summerslam debut

Finally, speculation continues about the video package that played at Judgment Day and then again on SmackDown! Many sources claim it is none other than legendary WCW icon, Sting, but there are rumours that WWE could tease this and then pull a total swerve. Sting has held talks with the WWE before and is said to be in some discussion at the moment, but nothing concrete has happened of yet
***
Just thought I'd clear some things up and it's been a while since I posted a news/rumours page.
Thank you everyone for the comments on SmackDown! it really does mean alot to have a good response. I've left feedback for all the regulars already (Wolfy, Stojy, JBWinner, iMac) and next on the list is KOP's Royal Rumble, then 619's SmackDown! RatedRKO I will try and find the time to drop some comments on your Wrestlemania but don't hold your breath. May have to wait until you're doing weekly shows again for me to return
Expect the RAW preview up within 48 hrs, and RAW definitely by Wednesday, most likely Tuesday tho
---
***

---
Last edited by Renegade™; 04-02-2011 at

04:31 AM

.
Re: Renegade Presents: WWE 2003 - Now Go Home And Get Your Fucking Shinebox
---
Monty Brown OWNS hard, everybody knows it. I'm shattered I didn't get to see enough of it, but in your WWE 2006 thread apparently you proved you knew how to book Monty well. It may have been a feud with a certain Deadman that had Wolfy creaming? If that's the case, I can't wait to see what you do with him in here. I'd mark if your brought in Road Dogg and did the New Age Outlaws gimmick, although it'd be weird to see, after Billy went through his 'Billy and Chuck' phase. The Big Bossman OWNS too, although I'm hoping nobody else comes in, because you don't want to over do it. The Legion of Doom were no good at this point in time, please DON'T bring them in.

Mr. McMahon in an on screen role, whilst not being able to get in that power struggle with Steph is the perfect thing to do. I'm not a HUGE fan of the Hogan/Vinnie Mac thing, although I guess it does need some sort of closure.

I never seen much of Ultimo in his glory days, but I remember him botching at Mania XX, therefore I've never really liked the guy, so I could care less if he comes in. I guess he could be okay to strengthen your CW division, although if you started using him as a main attraction for it, I'll fuck you up.

La Resistance aren't really needed on Raw, at the moment. The division is going along pretty nicely as it is, and we don't want them to just be jobbers.

I just can't ever believe you'd make the Sting video package that obvious, hence why I think it's somebody else. I'd mark if it was a video package for CHRIS KANYON'S DARKER ALTER EGO, I doubt it though.
---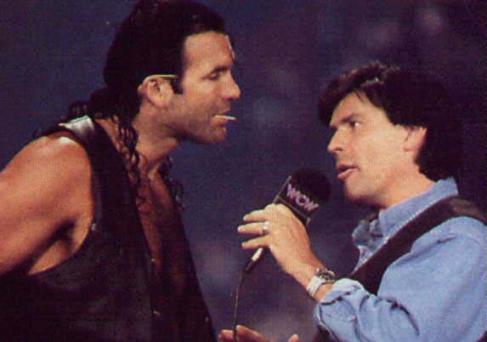 Chopped Liver
Join Date: Jan 2004
Location: Six inches from a computer screen
Posts: 5,433
Points: 321
Re: Renegade Presents: WWE 2003 - Now Go Home And Get Your Fucking Shinebox
---
Some random general thoughts
In all honesty, I dont have too many negatives, and though my main gripe is the old guys still running the show, it's down to personal preference, so I'll not berate you for it. Goldberg has been handled brilliantly thus far (which I'm sure I said in one of my early posts in this thread). His debut, I remember, was epic, 100% Goldberg, and although I think I might've said to pull the trigger and go with HHH/Berg right away, I think now it might've worked out to hold it off until Summerslam, rather than Vengeance.
Was disappointed that Bookers run was cut so short. I generally HATE brief title runs like that, and I'd have preferred he hadnt won the belt at all, rather than win it, then lose it so quickly. After reading how he lost it too, I was kinda on the fence. It's not a good look for a top face to say the words 'I Quit', but then again, it makes the guy human - not super Cena/Hogan/Austin. I hope though, you keep him off the show for a bit to sell the severity of the injury, and at least make it look like he took far too much punishment before finally quitting, rather than coming out on Raw next week kicking ass and doing a spin-a-roonie.
I've enjoyed Steiners feud with The Rock for entertainment purposes ... but once that ends, I dont know what else you can do with the guy. He might be entertaining on the mic, but that's where the fun stops. And as for The Rock, he's one of the few guys I DO want to stick around. The 'Hollywood' Rock persona never got the long term run it deserved, and I'm really happy to see him here now for the long run. More greatness please.
As for Nash ... he just seems lost in the shuffle. Too many other big personalities on Raw for him to really have his place imo. It's interesting to see Maven getting a push on the show, whilst Batista and Orton are coming off as poor lackeys for Trips - not the future World Champions we know them as now. Overall, Raw is progressing swimmingly, with fresh feuds (if not fresh faces
) and plenty of entertaining angles.
Whereas Smackdown needs ... I dont know. The ingredients are there for a quality show, the talent is there - better talent than on Raw, wrestling wise at least - but it all feels very much; been there done that. Austin and Angle feuded for the second half of 2001, Taker and Brock only had a title feud 8 months or so ago ... I think things need shaken up a little. I'd like to see you push Benoit and Guerrero into the mix, just to freshen things up.
I get the impression you're looking to save Brock vs Angle II for Summerslam, which is fine, though there isnt anyone else to keep him busy in the mean time, unless you go with Show or Cena (both of which were done in the real world anyway), so you've got a dilemma there to prevent Lesnar becoming stale as champion. I think maybe a few trades between Raw and Smackdown would benefit Smackdown right now, as guys like Jericho and Michaels are having to play second fiddle to the other big hitters on Raw, and could really freshen up the main event scene over on SD, while someone like Taker might get a new lease of life on Raw.
My main problem with keeping Austin around isnt really the neck (and countless other brittle body parts) issue, but more that there doesnt seem to be anything new for him to do. Everything has been done, and done again, ad nauseum. I'm not saying to turn him into a suit wearing heel or anything, but if you're intent on keeping him around, give us something new or fresh for him to do. With Hogan still around, I think the only thing left is to build toward the ultimate dream match at WrestleMania 20; Hogan vs Austin. If you miss out on doing that; the main focus of the first decade of WM vs the main focus of the second decade of the PPV, then you should be strung up. Starting dropping hints for that one soon, and keep building it throughout the year. Has to happen. Only thing worth keeping both men around for, and the only thing left for both of them too.
It's fun reading the evolution of John Cena, even if I'm not the biggest fan of the raps. Credit to you for sticking to it though, as your attempts have been pretty decent for the most part. Oh, and Matt Hardy Version 1 = RATINGS. There's other things I've missed, but this was just a brief; here's my thoughts piece.
Re: Renegade Presents: WWE 2003 - Now Go Home And Get Your Fucking Shinebox
---
Much obliged Wolfy, a few things for you...
Quote:
In all honesty, I dont have too many negatives, and though my main gripe is the old guys still running the show, it's down to personal preference, so I'll not berate you for it
You had the "old guys" running the show in your thread for the first 4 years of it, and that was 04-06 thread time. This point doesn't count
Quote:
Goldberg has been handled brilliantly thus far (which I'm sure I said in one of my early posts in this thread). His debut, I remember, was epic, 100% Goldberg
Goldberg IS the man. Yeah, I remember you saying this was the way the WWE should've debuted Goldberg IRL and you also said go with Berg/HHH right away but I knew I could keep him interesting while I wrapped up Bookers feud with The Game.
Quote:
Was disappointed that Bookers run was cut so short.
You're not the only one, but I wanted Booker to be the champ atleast once, even if it was an Edge-esque reign. Believe me though, this will keep Booker relevant on his return whilst I can go with Goldberg/HHH before it becomes stale. Booker will be back with a justifiable right to a rematch
Steiner's one I'm still not sure on how long he'll be around. I enjoy writing him so I will work something out, I have a couple of options planned out already. As for Nash, he's feuding with Jericho and it's a pretty big deal, I'm surprised you're not sold on it as much after what Y2J did to Nash's best friend. And onto Batista/Orton, this is 03, they weren't anything much until the second half of the year anyway. Cool your jets son, don't expect either guy near the World or WWE titles, they simply don't deserve to be yet. Both will be much more credible soon enough though.
As for SD! I have that feeling but I've got things set up to keep things fairly fresh even if we see guys who feuded IRL do the same in here, the way it comes about and the build up will be much different. Austin's got a few feuds he hasn't had yet which I've got mapped out, he's definitely staying as a top dog, like it or not
. I think you're the only one who doesn't appreciate John Cena rapping. No marks for you
.
Thanks for the kind(ish) words tho, I marked when I saw you'd posted in here tbh
***




WWE RAW Preview for 5/26/03

RAW will be live from the sold out Civic Center in Mobile; Alabama for what is sure to be an explosive night as the fallout from the second ever RAW Roulette begins

Triple H managed to defeat bitter rival Booker T in a brutal I Quit Match last week in the main event of the Roulette as Booker finally said "I Quit" after having his knee demolished by The Game and his sledgehammer. Triple H will be addressing the fans on tonight's show after a grueling victory last week.

As for Booker T, the early prognosis is unclear at this time, but Jim Ross has conducted a sit down interview with the former World Heavyweight Champion as JR visited Booker's home over the weekend. What will Booker say about last week, and what will the update on his condition be?

Also last week Goldberg was able to survive a Gauntlet Match against Evolution's Ric Flair, Batista & Randy Orton. With Goldberg's win securing him a future title shot and the absence of Booker T, will "Da Man" be the next to step up to Triple H?

Rob Van Dam & Kane retained their World Tag Team Titles in a Dumpster Match against William Regal & Lance Storm, despite interference from Chief Morley. The Dudley Boyz came out to even the score and allow the champions to finish off the match. Tonight The Dudleyz will face Regal & Storm, who will win and will that affect the next challengers to the tag titles?

For the second time this year The Hurricane scored a shock victory over The Rock in the first ever "Clash of the Superheroes" Match last week. In a very similar way to his first win back in March, Hurricane rolled up a distracted Rock for the 3 count. The Rock was distracted by Scott Steiner after Steiner had been hit with a steel pipe by The Rock in Steiners earlier match with Mark Henry, allowing the "World's Strongest Man" to get the win. The Rock will be in the building as will Scott Steiner, what will go down between these two superstars?

Trish Stratus retained her Women's Championship over Victoria in a Hair vs Hair Match, meaning Victoria had to have her head shaved. Victoria did try and escape but Jacqueline & Ivory helped Trish get the psychotic diva into the barbers chair before Stratus proceeded to shave Victoria nearly bald. Victoria has got a chance to gain revenge tonight as she teams with Molly Holly to face Jacqueline & Ivory in a tag team match.

Finally Chris Jericho will be hosting the Highlight Reel. Jericho is yet to announce his special guest. Who will it be? All will be revealed this Monday at 9/8pm central on Spike TV.

Confirmed Matches

The Dudley Boyz vs William Regal & Lance Storm

Jacqueline & Ivory vs Victoria & Molly Holly

PLUS

The return of the Highlight Reel

JR interviews Booker T

***
RAW up in 24 hours imo.
---
***

Posting Rules

You may not post new threads

You may not post replies

You may not post attachments

You may not edit your posts

---

HTML code is Off

---