Re: Renegade Presents: WWE 2003 - Now Go Home And Get Your Fucking Shinebox
---
I didn't follow this thread as much as I should have back in the day, so I'm thrilled to see that it's back in business. I'm not up to speed with your roster or feuds at all sadly, so the first show will be a more inriguing read than usual. Good luck.
Re: Renegade Presents: WWE 2003 - Now Go Home And Get Your Fucking Shinebox
---
Reney, I'm so glad you've brought this back, the few shows you have posted in this thread have definitely been the shit, and I seriously can't wait for you to get back into the swing of things. Hurry up and post some shows please, I want to see some Rock/Steiner epicness. Good luck with this, nobody. (Yah, I do cheap shots now)

I <3 you.
---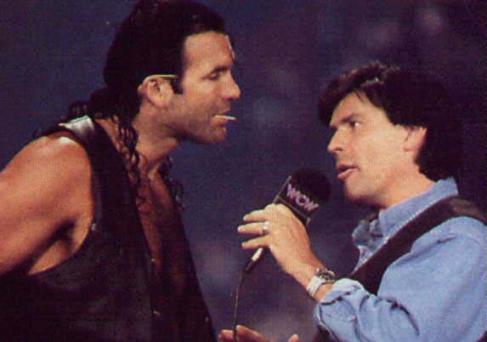 Re: Renegade Presents: WWE 2003 - Now Go Home And Get Your Fucking Shinebox
---
Quote:
I want to see some Rock/Steiner epicness.
You'll have to wait for that, as SmackDown! is coming first. When it comes however, I'm not so sure. Likely within the week if things go smoothly.
---
***

Re: Renegade Presents: WWE 2003 - Now Go Home And Get Your Fucking Shinebox
---
You make me a happy man, Reney, even if I already forget EVERYTHING - barring Scott Steiner's beefy goodness - that happened in this BTB. However, I ensure you that that, and that alone, will always keep me coming back. <3.

Oh btw, more MSN appearance plz.
---
When An Empire Falls - The Tale of World Championship Wrestling
Szumi's back, but not in black - back in BTB! And yeah, I know, he's doing WCW again - so unoriginal.
My Awards:
2008 - Best PPV - Starrcade
2008, 2007, & 2006 - Best Promo Writer
2007 & 2006 - Best Promo(s)
2007 - Most Creative
2007 - Best Feedbacker
2006 & 2007 BTB World Cup - Top Overall Scorer
2007 BTB World Cup - Booker of the Tournament
Only Person to Ever Score Perfect Score in a Tournament
BTB Hall of Famer
World Championship Wrestling 2001 - The Trio Ownership
This was The Trio Ownership; I did it a long time ago, for a long time. T'was a good ready, I think. People liked it and stuff.
Re: Renegade Presents: WWE 2003 - Now Go Home And Get Your Fucking Shinebox
---
SmackDown!
4/17/03
Richmond; Virginia

*Opening Video*

*PYRO*

The show kicks off with a change to the last few weeks of Lesnar/Angle/Taker/Hogan promo's as Tony Chimel announces that the first of the two United States Championship Tournament first round matches will be taking place. *Latino Heat* hits and "Latino Heat" Eddie Guerrero heads to the ring to a decent pop. Guerrero has the dis-advantage of being drawn against the mystery ma in this tourney and he gets into the ring as we await the arrival of the surprise entrant. After a few moments of silence *AWESOME BOMB* begins to play and a vast majority of the crowd mark out, whilst some people have no clue what's going on (typical jobber casual fans) as MIKE AWESOME walks out on stage. Eddie looks surprised as anything as the big man makes his way down to ringside while Michael Cole in VINTAGE!~ fashion goes over the top, hyping Mike Awesome and Tazz goes along with it, talking about his ECW days and how badass Awesome is

United States Championship Tournament; First Round Match
Eddie Guerrero vs Mike Awesome
Solid opening contest sees Eddie struggle to cope with the power and athleticism of Mike Awesome, who really goes to work on Guerrero for the majority of the match. Despite being portrayed as a heel, there are some Awesome fans in the audience tonight who constantly chant "ECW" during the match. Awesome's in ring return to the WWE goes well until he misses a Big Boot attempt and crashes into the turnbuckle. Eddie rallies following the opening and begins to fight back with some of his trademark moves, but he is stopped in his tracks as he attempts a Hurricanrana, only for Awesome to counter it and look for the AWESOME BOMB...BUT EDDIE MANAGES TO COUNTER BACK WITH A HH ROLLING PIN! 1...2..Awesome kicks out. Both men spring to their feet and Awesome wipes Eddie out with a clothesline. Cover 1...2..kickout. Awesome brings Eddie to his feet and looks to hit a German Suplex, but Eddie manages to land on his feet, and then rolls Awesome up with a School Boy! 1...2...NO! Awesome kicks out. Both men are quick to their feet again but this time Eddie catches Awesome with a dropkick right on the jaw. Eddie now rolls out of the ring and grabs a steel chair! Eddie slides the chair into the ring but the ref stops him from using the weapon as Awesome regains his footing. Eddie, having being dis-armed charges at Mike Awesome, who shoves Eddie backwards, and Guerrero crashes into the ref! As the ref stumbles around clutching at his face, Awesome charges at Eddie, who avoids contact and then picks up the steel chair! Eddie looks set to clean Awesome's clock, but to everyone's surprise stops in his tracks. Even Awesome doesn't know what to make of this, but Eddie glances over to the ref who is shaking the cobwebs loose and Eddie then SLAMS THE CHAIR AGAINST THE CANVAS...AND CHUCKS IT TO AWESOME WHO CATCHES THE CHAIR...AND EDDIE THEN COLLAPSES TO THE MAT LIKE HE HAS JUST BEEN SHOT! The ref hears the sound of the chair shot and recovers in time to see Eddie down and Mike Awesome wielding the weapon, and calls for the match to end!
Winner @ 11:34 via DQ - Eddie Guerrero
Advances to Semi Finals

Mixed response for the finish, with some still a little confused as Eddie rolls out of the ring with a huge shit eating grin on his face, as he celebrates with some fans at ringside. In the ring Mike Awesome looks dumb struck by what has just happened in his WWE return, and Eddie can be seen pointing to his head and mouthing "I got you holmes"

-Commercial Break-

As we return, Cole & Tazz hype up the Cruiserweight Battle Royal and the main event, a tag team match as The Undertaker & Hulk Hogan will face Shelton Benjamin & Charlie Haas, before we cut to a promotional video

The video begins in similar fashion as the ones in previous weeks have, talking about how "No one has raised more hell, caused more controversy" before a graphic for the upcoming PPV, Backlash is displayed and then the narrator continues "At Backlash, the man returns and that man is..."

The video is cut off by none other than VINCE MCMAHON! Vince gains heat for once again ruining the hype package. Vince says at Backlash, no matter who this person is, them showing up should not overshadow this company's own Chairman making an appearance at the event. Vince says his announcement is going to shake up things in the WWE, and that should be seen as a more important thing to be advertising, rather than someone's return to the company. Vince says Stephanie is continuing to disappoint him, by treating him like this and putting on a random video package rather than giving her father time on the show. Vince looks to want to continue, but STEPHANIE MCMAHON shows up to a decent pop from the fans. Stephanie says that Vince isn't doing himself any favours by continually cutting off the hype video's of a certain someone. Vince boasts about the fact he doesn't give a damn, and that he's got grapefruits so damn big, he's not worried at all. In fact, Vince ends his appearance tonight by saying he dares whoever this superstar is, to confront him at Backlash and tell him face to face how he feels. Stephanie warns Vince that it's not a good idea, but Vince just smirks at his daughter, before turning it to a frown and he walks off, whispering back at Stephanie "See you at Backlash..."

We come back to ringside as *BIG SHOW* hits and out comes the mammoth team of The Big Show, A-Train and FBI members Chuck Palumbo and Johnny Stamboli. The foursome get into the ring and await their opponents. *WHATEVER* hits and the crowd erupts as Chris Benoit & Rhyno make their way out. Benoit & Rhyno stop at the bottom of the ramp and wait for their partners. *APA* blasts through the sounds and the crowd erupts again and it's none other than BRADSHAW & FAAROOQ! Benoit & Rhyno have big grins on their faces, while the re-united APA look glad to be back, and the fans love it

8 Man Tag Team Match
Chris Benoit, Rhyno & The APA
vs
The Big Show, A-Train, Chuck Palumbo & Johnny Stamboli w/Nunzio
The match kicks off as a clusterfuck, before Benoit gets isolated by the mammoth Big Show. Benoit gets worked over for a few minutes by the heels with A-Train hitting him with a nasty Shoulder Breaker and the FBI double teaming him with a Wishbone Split while Big Show impeded the referee's view. Finally Benoit ducks a clothesline attempt from Stamboli and takes the Bull down with a German Suplex. As Stamboli crawls to tag in Palumbo, BENOIT HOT TAGS IN BRADSHAW! The crowd pops as Bradshaw steam rolls Chuck with a shoulder block, then lifts a Big Boot to Big Show, knocking him off the apron. Palumbo gets back up and Bradshaw hits him with a big right hand, rocking him back to the ropes. Bradshaw nails a knife edge chop to Chuck then whips him across the ring, scooping him up on the rebound and hitting the Fall Away Slam! A-Train comes into the ring and attacks Bradshaw from behind, bringing in Faarooq to his partners aid. Big Show meanwhile gets back into the ring and Bradshaw turns around, right into Show, who throttles him and gets ready to load him up, BUT RHYNO COMES FROM NO WHERE AND NAILS A MASSIVE GORE TO BIG SHOW! The crowd erupts for the Man Beast who impressively takes Big Show down with his trademark move. Rhyno pounds on his chest but doesn't see Johnny Stamboli sneak up behind him and nail a Superkick to the back of his head, sending Rhyno tumbling out to the floor. Stamboli turns around, right into a SPINEBUSTER from Faarooq! Faarooq is then put down with the DERAILER by A-Train! The Train gets to his feet and Bradshaw clotheslines him out of the ring. The ref has lost control of this one as Palumbo grabs Bradshaw and whips him to the corner. Chuck follows in, looking for a Body Splash, but Bradshaw avoids the contact and Palumbo crashes sternum first into the turnbuckle, as Bradshaw rebounds off the ropes and SCORES WITH THE CLOTHESLINE FROM HELL! Chuck is wiped out by Bradshaw, and Chris Benoit climbs the top turnbuckle, gets tagged in by Bradshaw who goes after A-Train on the outside, as BENOIT SOARS OFF THE TOP ROPE WITH THE DIVING HEADBUTT TO PALUMBO! Cover 1...2...3!
Winners @ 6:26 - Chris Benoit, Rhyno & The APA

-Commercial Break-

Back from the break and Stephanie McMahon hits the ring. Steph plays to the fans for a moment, and then says she's not going to take up too much time, but she had an important announcement to make regarding the upcoming PPV, Backlash. Steph says that despite what Kurt Angle has said and done in recent weeks, it doesn't change the fact that he DID NOT have a rematch clause written into the contract between himself and Brock Lesnar from Mania 19. Steph then goes on to mention the fact that The Undertaker and Hulk Hogan have both meanwhile, secured Wrestlemania victories, and therefore have been moved up in the pecking order to determine Brock Lesnar's next opponent. Steph then goes to make her Backlash announcement when she is cut off by the familiar tune of *MEDAL* and the crowd greets it with a mixture of groans and heat as Kurt Angle strolls out on stage, with Team Angle flanking him ahead of their main event clash, but there is yet again no sign of Paul Heyman, much like last week. Angle carries on like a baby without his rattle, saying this is no way to treat the only Olympic Gold Medalist in WWE history. Angle says Steph had better sort things out and get him his "deserved" WWE Title shot, or he'll be forced to take further action. Steph says she can't make it any clearer than she already has, Angle has no rematch clause to activate, and therefore, can't and will not demand anything from her. Steph then goes on to announce at Backlash, The Undertaker and Hulk Hogan will face off with the winner becoming the Number One Contender for Brock Lesnar's WWE Title! Crowd loves it, but Angle is furious and begins to complain again, but he's interrupted by *HERE COMES THE PAIN* as Brock Lesnar, dressed in track pants and a tank top, steps out on stage. Angle is fuming, daring Lesnar to fight him, but Lesnar grins and tells Kurt and Steph he has a suggestion. Lesnar says he knows Kurt Angle has no rematch clause, but wants to bring his attention to something, as he points to the titantron

A video airs from two weeks ago on SmackDown! where Kurt Angle locks Lesnar in the Ankle Lock and refuses to break it, and begins yelling at Lesnar to "beg me to let go!"

The video ends and Angle can't help but enjoy that, while Lesnar continues. Lesnar says he told Kurt two weeks ago, if he wants another chance to get into the title picture, he'll have to beg. The crowd pops and Lesnar grins while Angle rolls his eyes. Lesnar asks Stephanie to add Kurt to the Taker/Hogan match at Backlash, if he does indeed beg for it. Stephanie says if that's what Brock wants, she'll do it, but she advises Lesnar against it, however Brock has none of it and says if Kurt delivers, he's got his chance. Angle looks ready to explode, while Shelton & Haas are irate with Lesnar's demands. Brock asks Angle if he's going to, and after a while, Angle takes a deep breath and begins to speak, only for Lesnar to cut him off, and tell Kurt he'll only accept it, if Kurt gets down on his knees and begs, like he wanted Lesnar to do in the video he just aired (coz technically in the Ankle Lock, you're on one knee people). The crowd erupts for that, and Angle at first refuses, which leaves Brock to say "that's a damn shame" in the best sarcastic voice he can put on. Brock begins to walk away, but Kurt Angle calls him back and tells him to wait. Angle runs the palm of his hand down his face, in deep thought, and after taking another deep breath, ANGLE DROPS TO HIS KNEES! The crowd erupts as Lesnar can't contain his pleasure at seeing Angle on his knees, begging for another chance at the title. Lesnar says "What were you going to say Kurt?" and Angle, through gritted teeth, fuming and going as red as a tomato, mutters "Please". Heat for that and Lesnar shakes his head, and follows up by saying he can't hear Angle. Angle bites his bottom lip in anger as Lesnar says "Say it again Kurt, I can't hear you!" and laughs as soon as he's finished. Angle snaps and yells out "PLEASE BROCK, PLEASE GOD DAMMIT!" Brock then asks for a "pretty please with a cherry on top? to a loud cheer from the fans, while Angle goes nuts and refuses to say anymore. Brock then says he doesn't feel like Angle was being genuine, and unless he hears those words from Angle, he's not gonna get into the number one contenders match. Angle looks to the heavens and shakes his head, and then utters the words "Pretty please Brock, with a cherry on top?" as the crowd eats it up. Lesnar looks satisfied finally, and Stephanie McMahon makes the change and announces at Backlash it will now be The Undertaker vs Hulk Hogan vs Kurt Angle in the Number One Contender's match. Angle is relieved to hear that, but it's short lifted as Stephanie adds that BROCK LESNAR WILL BE THE SPECIAL GUEST REFEREE! Kurt is severely pissed as Lesnar's music hits and "The Next Big Thing" exits to the back, leaving Team Angle in the ring fuming

-Commercial Break-

Cruiserweight Championship; Battle Royal Match
Rey Mysterio vs Paul London vs Billy Kidman vs Spanky vs Crash Holly vs Matt Hardy (c) vs Shannon Moore vs Funaki vs Tajiri vs Nunzio
The match starts off with all the cruiserweights banding together and going after the Mattitude followers, as Matt Hardy hightails it out of the ring and harm's way for now, Crash and Shannon Moore are mobbed and subsequently eliminated in stereo. The crowd pops for that brief alliance, as Nunzio taunts Hardy, Kidman sneaks up on the Guido and dumps him out of the ring. The match goes through a commercial break and Spanky is eliminated during, as we are shown on the return. Matt Hardy continues to avoid everyone at all costs, especially Rey Mysterio, who gets rid of Funaki. Matt Hardy then mirrors Road Dogg from the 2000 Royal Rumble and cowers in the corner, wrapping himself around the bottom ring ropes as he gets stomped at by the remaining superstars. Paul London is the next to go as he gets sprayed with the Green Mist by Tajiri and unable to see, Matt Hardy takes the time to get up and toss London out of the match, and then quickly darts back to the corner again. Rey & Kidman team up and get rid of Tajiri, with the Buzzsaw receiving a Double Suplex to the outside. Rey & Kidman see Hardy cowering in the corner and decide to strike a deal and get rid of Hardy, but Kidman suddenly swerves and grabs Rey, and throws him over the top rope, but Rey is able to hold on! Kidman sees this and with his back turned on Matt Hardy, doesn't see V1 sneak up on him and spin him around into a TWIST OF FATE! Matt picks up an out cold Kidman and eliminates him from the match, leaving it down to him and Mysterio. Hardy throws up the V1 sign to heat, but Rey gets back in the ring and tackles Hardy down to the ground and the crowd pops as Rey finally gets his hands on Hardy. Rey takes Hardy to the ropes and looks to get rid of him, but Crash Holly & Shannon Moore come back down the ramp to heat. The Mattitude followers distract Rey, who is then hit with a LOW BLOW by Hardy, and then dumped out of the ring!
Winner @ 10:45 & STILL Cruiserweight Champion - Matt Hardy

-Commercial Break-

Back from the break and were are in the presence of "The Immortal" Hulk Hogan. The crowd marks like fuck for Hogan, and then come alive again when The Undertaker walks into the Hulkster's locker room. The tension in the room can be felt as the two share an awkward silence, before Taker tells Hogan that tonight, they put their business on hold to take care of Team Angle. Hogan agrees and tells Taker he'll bring his A-Game, and Taker says that's good, coz he "doesn't wanna have to carry Hulk's ass like the six man tag the other week" to a mixed reaction from the fans. Taker looks ready to walk off but Hogan stops him, and tells Undertaker that "Hulkamania is alive and well, and doesn't need carrying by anybody, BROTHER!" to a huge pop. The two mega faces share a stare off, and just as Taker goes to leave, he turns back to Hogan once more and makes the motion that he'll be watching him out there tonight

We come back to ringside and *BASIC THUGANOMICS* hits to a mixed reaction as John Cena struts out, mic in hand

Cena: The US Title's coming back and John Cena's in the mix
Chavo may lie, cheat and steal but I got the real tricks
See there's this one when I say these magic words, gee
Chavo Guerrero, make you disappear, You Can't See Me!

Magician on the mic, my rhymes can make you explode,
I'll embarrass yourself like you just blew your load!
I'm worth a million bucks and you barely worth a Peso,
You ain't in my league and that's my damn say-so

After tonight you'll find out I'm real and you're a phony,
Forget Vinnie Mac, I got the big grapefruits and Chavo's got no cahones!
Tonight's gonna be like a massacre, your blood spattered all over the walls
Atleast after that, you can go back to nibbling Eddie's balls!

Word Life!

United States Championship Tournament; First Round Match
Chavo Guerrero vs John Cena
Chavo comes like a house of fire from the go, taking it to the smart mouthed Cena. Cena begins to get back into the match and from then it's a back and forth contest, and despite giving a good showing, Chavo just can't match up to the impressive Cena who puts Chavo away with an emphatic FU!
Winner @ 5:36 - John Cena
Advances to Semi Finals

-Commercial Break-

Brock Lesnar is now backstage with Steve Romero, but before the interview can get underway, The Undertaker shows up to speak with Lesnar. Taker gets into Lesnar's face about having Kurt Angle added to the Taker/Hogan match at Backlash, saying Lesnar should've kept him and his issues with Angle out of Taker's chance to get back in the title hunt. Taker warns Lesnar that Brock is holding the title in his yard, and the big dog's getting mighty hungry. Lesnar to his credit, doesn't back down from Taker at all and says he doesn't care if it's Taker, Hogan or Angle he faces next, he won't back down from anybody and he'll show them why he's the Next Big Thing, before sarcastically wishing Taker luck in the main event and walking off

Backlash Hype Video

Main Event; Tag Team Match; Non Title
The Undertaker & Hulk Hogan vs Team Angle w/Kurt Angle
High energy main event sees Taker & Hogan beat down on Benji and Haas for a while and also keep their eyes not only on Kurt Angle at ringside, but on each other too after their encounters over the past few weeks. Eventually Hogan is isolated and Team Angle go to work on the Hulkster's left knee, wearing the veteran down and keeping him away from Taker. Soon enough however, Hogan begins to HULK UP!~ to the joy of the Hulkamaniacs inside the Coliseum and after unloading with those deadly BIG RIGHT HANDS...OF DOOM!~ to both Benji and Haas, Hogan's knee begins to buckle and he makes a hard tag to the Undertaker. Taker glares at Hogan as The Immortal one falls back to the corner to recover, and Taker gets in the ring and begins bossing Shelton with a few big Soup Bones, before draping Haas over the opposite corner with a Snake Eyes and following in with a Big Boot! Taker then throttles Benji by the throat and delivers a CHOKESLAM! Cover 1...2...ANGLE PUTS SHELTON'S FEET ON THE ROPES! Kurt's smarts has saved Team Angle and he quickly tosses one of the tag title belts to Charlie Haas in the corner. Angle gets up on the apron, distracting the referee, and HAAS WIPES OUT TAKER WITH THE TITLE BELT! Haas discards of the evidence and drags Shelton on top of Taker, as Angle gets off the apron, allowing the ref to see the pinfall attempt and make the count 1...2...HOGAN DROPS A LEG ACROSS SHELTON TO BREAK THE FALL! The crowd erupts as Hulk keeps the match alive and he goes after Charlie Haas now as Angle again picks up the tag title belt and sneaks into the ring behind the ref's back, who is focused on Hogan & Haas. Angle stalks a groggy Taker, waiting for the American Badass to get to his feet, when suddenly, BROCK LESNAR COMES RUNNING DOWN THE RAMP! Lesnar slides in after Angle and tackles the Olympic Gold Medalist to the ground, as the two roll out of the ring and begin brawling with each other, The Undertaker shakes the cobwebs loose and scoops up Shelton Benjamin and drops him with a TOMBSTONE PILEDRIVER! Cover 1...2...3!
Winners @ 14:31 - The Undertaker & Hulk Hogan

===
Yeah, almost a week late, and not as polished as I would've hoped, but I'm just glad I managed to get my shit together for this one. If time wasn't such a bitch I would've written the Steph/Angle/Lesnar segment in full as I really felt it, but hey, atleast you got a John Cena Rap in full
===



Current Card for WWE Backlash

World Heavyweight Championship; Cage Match
Booker T vs Triple H (c)

The Return of the Intercontinental Championship; 20 Man Battle Royal Match
Shawn Michaels, Kevin Nash, Maven, Rob Van Dam, Kane, Test, Jeff Hardy, Chris Jericho, Christian, Ric Flair, Randy Orton, Batista, D'Lo Brown and more!

Singles Match
Scott Steiner vs The Rock

Triple Threat Match for Number One Contendership to the WWE Title
Guest Referee; Brock Lesnar
The Undertaker vs Hulk Hogan vs Kurt Angle

United States Championship Tournament; Semi Final Match
Eddie Guerrero vs Rhyno OR The Big Show

United States Championship Tournament; Semi Final Match
John Cena vs Chris Benoit OR A-Train

PLUS: Vince McMahon's announcement
---
***

---
Last edited by Renegade™; 10-01-2009 at

04:20 AM

.
Re: Renegade Presents: WWE 2003 - Now Go Home And Get Your Fucking Shinebox
---
Just letting everyone know I'm still going ahead with this thread, just been a little busy the last few months.

With one RAW and one SmackDown! show left before Backlash I am planning on posting an extended summary of both shows hopefully by the end of the week if not, then early next week. With that done, I can get past Backlash and kick on with this thread proper, a few changes will take place after Backlash as I sort out some stuff, but nothing major.

So yeah, just letting ya all know I'm alive, the thread is well alive and expect the RAW/SD! double soon. <3.
---
***

Re: Renegade Presents: WWE 2003 - Now Go Home And Get Your Fucking Shinebox
---
Some stuff to tide peeps over with the wait for the RAW/SD! recaps...

Reports have been leaked suggesting the WWE is after a "major" former WCW star. No further details have been disclosed but it is thought there could be some development on this story which could lead to a debut around Summerslam time.

Apparently, the creative team has decided to squash the plans to bring back the Right's To Censor group already. It is thought Rodney Mack will re join Thuggin' & Buggin' Enterprises while Richards & Nowinski will stick around as a tag team until a new idea is pitched to them.

The divas division will be getting an injection of new talent in the coming months as current divas like Jacqueline and Ivory are winding down their careers. The WWE has some good talents in their sights including Angelina Williams, Talia Madison, Melina Perez and Alexis Laree.

Altho originally ruled out until after Wrestlemania 20, there is speculation that Edge could be able to make a return in January or February.

Yeah, that's all for now. Look for the recaps sometime over the weekend/early next week.
---
***

Re: Renegade Presents: WWE 2003 - Now Go Home And Get Your Fucking Shinebox
---
Very happy to see this back and moving. While your '06 thread was alright, having read the first show, I can say with confidence that this absolutely owns it. Laughed at possible inclusion of Madison and Melina since they were rookies (had Madison even debuted by this time) who would have been shit, although apart from that, this little update is fine. Now get this moving plz.

And Merry Christmas.
---
Learning to break kayfabe
Join Date: Nov 2009
Location: England
Posts: 218
Points: 0
Re: Renegade Presents: WWE 2003 - Now Go Home And Get Your Fucking Shinebox
---
Updates look good im guessing the WCW star is Sting, dissapointed to see Right To Censor go as i always loved them together, not sure about Madison, Melina and the most of the other divas they were no where near good enough for the WWE Back then, Edge Return is good and glad to see this thread is back
Re: Renegade Presents: WWE 2003 - Now Go Home And Get Your Fucking Shinebox
---
Hot diggety. Really pleased to see this returning, although I'd be even more pleased if you stuck with it for once.
Posting Rules

You may not post new threads

You may not post replies

You may not post attachments

You may not edit your posts

---

HTML code is Off

---