Re: GWE: Global Wrestling Enterprise
---


Global Wrestling Enterprise: News and Notes

Eric Bischoff made his on-screen debut last week and did that in controversial fashion. While the fans in the arena certainly didn't like his actions, the ratings went up, as last week's episode drew a 2.5 rating, which is very very strong. Again, TNA Impact couldn't even lay a finger on GWE, which has no doubt already surpassed TNA.

GWE is in talks with several wrestlers worldwide, to try and make them a part of the GWE project. Names that have leaked are Monty Brown, Ron "The Truth" Killings and two very surprising names. Those two names are Yoshihiro Asai, better known as Ultimo Dragon and Mistico, the top star in the CMLL promotion, based in Mexico. These last two individuals are known for their high-impact, highflying style, something Hogan is said not to be a fan of. However, others with an important function in the company, namely Sylvester Stallone and Mike Bucci, like the highflying style and action-filled matches. Whether or not these wrestlers will sign with GWE is yet to be seen though. More info regarding this subject soon.

-Source: PWHeadlines.com/Gerweck.net
Re: GWE: Global Wrestling Enterprise
---
Alcho some good news there mate. The possible new signings are about average. The only one I am looking forward to hopefully signing with GWE is Monty Brown, because I really haven't seen one thread that makes something out of him. I have to say also you really are progressing nicely, this is one of the BTB's that has had a lot of though. Can't wait till the next show, and I wonder whether or not the ratings will suprass those of the WWE one day
Re: GWE: Global Wrestling Enterprise
---
-Ouch, Super Crazy really came off looking like a bitch. Carlito got him out of the 619, gave him plenty of time to recover while Rey kicked Carlito's ass, and still ended up losing right after Rey got into the match. Ouchies. However, no way should Crazy had advanced anyways, so it's still the right decision for Rey to win the match. Just buries Crazy though.
-I really wish you would lose the quotations with your promos. They're still annoying. The promo itself, just didn't do it for me. I found all of it to be incredibly boring, and Kash especially was rather bland. Just a yukky segment. The beat down afterwards was good enough, although the Basham's have been far too bad ass to take a beat down from those vanilla midgets.
-Ken Doane needs to get his thumb out of his ass and team up with my boy Waltman. The X is the ratings. THE RATINGS, I TELL YOU~! Oh, and I wasn't too fond of the ending to Doane vs. Wight. I don't like Wight caught in the middle of this Waltman/Doane shit. Wight should be running and gunning the top. That and the ending was just silly with Doane getting intentionally DQ'ed.
-Still not that big on Parisi and Jindrak... when you insert a small child into the angle with Parisi, THEN WE'RE TALKING~!
-Ew, yuk. Matt Sydal advances? Matt Sydal? The guy who hasn't done a single thing since the debut show, at least to my recollection? Yeah, bad move. I know it was a fluke roll up, but still. Just out of nowhere, and Carlito looks like a
real
bitch now. Gets upped by Rey twice in one night. Caribbean nonsense? Dude, it's not a language
.
-Yuk, never call Joey Styles 'Joe'. It's just not natural. However, I love the power struggle between Hulk Hogan and Eric Bischoff already. This would be amazing for Hogan to inadvertenly show his ego, which he actually did in this promo once or twice actually, which really made me chuckle. Bischoff and Hogan battling egos with each other should be some damn good stuff, and glad to see my boy Albert get an instant push. However, not referencing his sexy chest and back hair = disappointing. Bloom taking out Hogan with the Baldo Bomb through the table was exactly what Bloom needed to get some credibility. Now he looks like a legitimate threat to Hogan. And he's Albert, so he's the shit.
Overall, okay show. The show was incredibly weak until the ending segment. The opening match was good, but the Bashams/Invaders stuff was bland, the Waltman/Doane/Wight stuff didn't keep my interest this week because of how it was booked, and Sydal going over out of the blue was a bad decision to me. However, I liked the ending segment very much. The stuff between Hogan and Bischoff was solid, and Mr. Shave Your Back himself debuting, getting an immediate feud with Hogan, and putting him through the table with a Baldo Bomb is awesomesauce.
---
When An Empire Falls - The Tale of World Championship Wrestling
Szumi's back, but not in black - back in BTB! And yeah, I know, he's doing WCW again - so unoriginal.
My Awards:
2008 - Best PPV - Starrcade
2008, 2007, & 2006 - Best Promo Writer
2007 & 2006 - Best Promo(s)
2007 - Most Creative
2007 - Best Feedbacker
2006 & 2007 BTB World Cup - Top Overall Scorer
2007 BTB World Cup - Booker of the Tournament
Only Person to Ever Score Perfect Score in a Tournament
BTB Hall of Famer
World Championship Wrestling 2001 - The Trio Ownership
This was The Trio Ownership; I did it a long time ago, for a long time. T'was a good ready, I think. People liked it and stuff.
Re: GWE: Global Wrestling Enterprise
---
So perhaps it's time to explain a thing or two. Please note that this is in no way bumping my thread. I just felt like I should explain some of my booking decisions as well as a brief look at the future of this thread.
-I've intentionally made Carlito look like a little bitch over the past couple of weeks. His feud with Mysterio is far from over, and I felt that if I made Carlito look like the more powerful one in this feud, it would take a direction I wouldn't want the feud to take. I want this to continue for quite a while, like I said, eventually perhaps implementing a 'retirement' angle somewhere down the line. Long story short, the fact Carlito has looked like a little bitch the past few weeks was intentional, but I know what I eventually want to accomplish with Carlito, so don't none of you worry your little heads.
-So yea, to make Carlito look totally weak, someone had to beat him in the Tourney. I scanned my roster and found no-one that really deserved going through to the semi finals. I made a random decision to pick Matt Sydal, who's style I'm a fan of and who I have big plans with in the (far) future of this thread. Those plans won't become clear just yet though, as of course, he's too inexperienced and too young right now to be pushed to the moon. I feel like Sydal is one of those guys that can be over already though, without doing earth-shattering things, so that's why I picked him.
-I'm having loads of fun writing the Bischoff-Hogan clash, although I must admit it's extremely hard to book. I have to look at the story from all diffrent angles all the times to make sure the angle comes off the best way possible and to make sure I don't make any stupid mistakes. This angle will continue for quite a while as well, as I want to build my show around this in the near future. I hope that the angle is liked by you readers and that it comes off the way I want it to.
-I've recently noticed I have not one black wrestler on my roster.
. God damn, I must look like a racist. That has to change in the future
.
-So it was somewhat difficult for me adapting to writing a one-hour format, since I did nothing but write two-hour shows in the past. Now that i'm adapted though, I'm having a lot of fun writing in the one hour format. And Dynamite will definitely be kept in this format till at least Easter Extravaganza. After that show I will host a poll, though, to see if you readers want me to continue with the one hour shows, or rather have a two-hour format. You could always already give your thoughts on the matter, however, right now, but it isn't necessary.
-Last but not least(I have a feeling I forgot something, but I don't care at this juncture), I'm having so much fun doing this "project" that I want to continue doing this for a long time. Sure, this thread may seem inactive at times, but rest assured that I plan on continuing this as long as possible, and I have high hopes that I will be able to throughout at least half of 08. I hope you've all enjoyed the thread so far and I'm hoping more constructive feedback(ala Szumi's, thanks
brother
) and motivating comments will come my way. Thanks to all.
Re: GWE: Global Wrestling Enterprise
---
I have to say. I didn't like the feud between Rey and Carly at first. but I have grown to like it, and week by week it gets more entertaining. I feel something big will happen to really ignite the feud this week. It's also good to see that you're having fun with the whole Bischof/Hogan stuff. it reall comes through in your shows and it's easily the most exciting angle going on at the moment.
Sorry that this reply is a bit late. I didn't notice it though
Anyway looking forward to Dynamite, as you know
Re: GWE: Global Wrestling Enterprise
---


GWE Dynamite! Preview

The first March edition of Thursday night Dynamite will take place at the Resch Center in Greenbay, Wisconsin. What will go down in the city of celebrations?

Last week, Eric Bischoff was officially welcomed into the GWE as it's new co-owner. And along with Bischoff comes controversy, and it was no different last week. Bischoff immediately used his might to sign a new superstar to GWE, namely Matt "The Train" Bloom. And Matt Bloom immediately made a huge impact, as he drove none other than Hulk Hogan himself through a table! What will the Hulkster have to say about all this? And will Bischoff execute his power once again?

This week, the Road to the Gold Tournament continues, with the two semi finals on the card! Rob Van Dam will take on the young sensation Matt Sydal, while Rey Mysterio will have to give everything he has in a true David vs. Goliath battle, against Paul "The Great" Wight. Who will advance through the finals next week? Who will have the ultimate opportunity at a title shot, and who'll be left with empty hands?

Find out all this and many many more, this Thursday only on the ESPN Network!

Confirmed matches:

-Rob Van Dam vs. Matt Sydal
-Paul "The Great" Wight vs. Rey Mysterio
Short preview here. Didn't really know what to add in, other than what is already there. Show might be up tonight, or tomorrow at the latest.
Re: GWE: Global Wrestling Enterprise
---
I say it should be up tonight as you already know
Naaa anyway the preview is looking good. The Road to the Gold tournament is shaping up nicely. I can see Carlito screwing Mysterio and the final being Paul Wight vs. Rob Van Dam. That would be awesome. I'm also looking forward to seeing what happens next with the whole Bischoff/Train/Hogan angle.
I'll be reading mate.
Years I've Been a Fan > Years You've Been Alive
Join Date: Jun 2005
Location: Kansas City - At the Argosy, Playing Blackjack with Harley Race
Posts: 808
Points: 0
Re: GWE: Global Wrestling Enterprise
---
Preview looks nifty there Alcy. LOL @ GWE already surpasing TNA from the news up above too. Got peeps ahead of you, but I'll be sure to get you some comments when the time is right.
---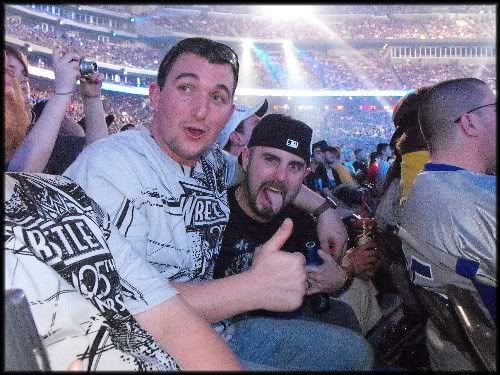 Re: GWE: Global Wrestling Enterprise
---
GWE Dynamite! 03-06-2008 Resch Center, Green bay, Wisconsin
*Opening Video*

**Pyro**
**Pyro**
**Pyro**
"Welcome to the Jungle" is blaring through the speakers as the camera pans the jam packed Resch Center. We see all the fans go crazy and holding up signs like "I Hate Bischoff", "Hulkamania!" and "Super Loco!". The camera then switches to ringside, where Joey Styles and Mike Bucci are ready to welcome us all!
Joey Styles:
Ladies and gentlemen, welcome, to the sixth edition of GWE Dynamite! Tonight, controversy will no doubt be the order of the day, as Eric Bischoff will be leaving his mark on the show once again. I am Joey Styles, along with Mike Bucci and Mike, what are your thoughts on the heinous actions of Bischoff last week?
Mike Bucci:
Joey, controversy creates cash! And I have no doubt that this will create cash as well. Bischoff is a genius, Joey, and I trust him to make this the biggest company in the world! With Bischoff on the team, GWE might as well have the best of the best in the office and well, he and Matt Bloom may have laid out Hogan last week, but it was no doubt in the best interest of the company!
Joey Styles:
What? Am I hearing right? Bischoff ridiculed his partner!

Mike Bucci:
Hey, I ridicule you all the time and I don't hear anyone complaining!
"I'm Back" hits the P.A. system and out comes Eric Bischoff, the new co-owner of GWE. He is not alone, as Matt "The Train" Bloom is coming down to the ring with him and as expected, both get instant mega-heat! Bischoff and Bloom both get into the ring but it is only Bischoff that is handed a microphone.
Bischoff:
Thank you, thank you, for the warm welcome you're all giving me!
*MEGA HEAT*
Bischoff:
And I am standing here with your new hero! The man you've all come to worship. The man responsible for YOUR entertainment! Matt "The Train" Bloom!
*Again, the crowd erupts in mega heat!*
Bischoff:
Last week, Matt and myself made our on-screen debuts on GWE Dynamite. And I know that the people in Green Bay, they have a short tension span and it is very difficult for you people to remember anything earlier than three minutes ago (Bischoff has to stop due to the enormous heat)…so that's why I'm going to show you what happened last week one more time. Roll the footage!
Quote:
**VIDEO PACKAGE**

"I'm back" hits the P.A. system as Eric Bischoff, still carrying the briefcase, walks down the entrance ramp to a mixed reaction from the crowd. Some love him, some hate him. Most hate him. He gets into the ring and puts the briefcase onto the table/desk, as Joey Styles hands Bischoff a microphone before leaving the ring himself.

~

Bischoff: Please give a warm welcome to the man formerly known as A-train and Giant Bernard…Matt "the Train" Bloom!

"Bending tracks" hits the P.A. system as Matt "The Train" Bloom makes his way to the ring, wearing nothing but his wrestling trunks, looking physically impressive. He is showered in heat, but he couldn't care less, as he steps into the ring and shakes Bischoff's hand. Bischoff then opens the briefcase and takes out a contract and a pen. He lays them on the table and grabs his microphone.

~

Matt Bloom: Hulk Hogan, at Easter Extravaganza, what ya gonna do when The Train runs wild on you?!

~

Bischoff gets an even more evil smirk than usual on his face, as he looks at Matt Bloom and nods, as if he's giving permission for something.

Then, all of, a sudden, Bloom goes for Hulk Hogan, who is totally caught of guard. Bloom grabs Hogan by the vest and pulls him over the table/desk. He then clasps both of his hands around Hogan's neck and hoists him up in the air, before drilling him trough the table with a massive choke bomb!

~

We see Bloom and Bischoff standing tall over a fallen Hogan as the screen fades to black and the show comes to an end.

**VIDEO PACKAGE**
Bischoff:
You all love that, don't you? But this segment, it just went to show you, that this program drives on chaos. This show is nothing but an undisciplined bunch of wrestlers trying to prove themselves by interfering in matches that could easily do without all those interferences. And that is exactly why my man Matt laid out Hogan last week. To make a statement. There has to come an end to all the shenanigans going on in this show, to all the uncontrolled, instinctive nonsense the audience has to suffer through week in and week out and to the lack of authority that Hulk Hogan is showing every damn week!
*Heat*
Bischoff:
And that's why I have come up with a solution that is approved by the board of directors and of course, myself. I have took it upon myself to name an official General Manager of Dynamite! That's right, from now on, we're going to bring some discipline into this show! And of course, who could be good enough to lead this show every single week? He has to be a man with an iron fist. He has to be a man that shows authority by merely blinking his eyes! He has to be a man that will keep this show disciplined, without losing the entertainment! And I've gone through a whole list of names that would be able to do this job but I only saw one name that really had all the qualities to run this program. And guess what, you're pal, Eric Bischoff, has brought this man to Dynamite tonight! So, without any further ado, let me present to you, the NEW General Manager of Dynamite!...
"I'm back" hits the P.A. system as the crowd is confused and Bischoff starts laughing uncontrollably.
Bischoff:
Ahahaaha, hahaha, This is great! Hahaha! It's me! That's right, I have appointed MYSELF as General Manager of Dynamite!
*The crowd erupts into HUGE heat as Bischoff and Bloom are still laughing like Hyena's on pot*
Bischoff:
And this means I have FULL control of the Dynamite program, which means that…
"Real American" suddenly hits as the roof is blown off for Hulk Hogan, who interrupts Eric Bischoff! Hogan comes out wearing costume pants and a white tank top, along with a white bandana. He has a microphone in hand and stops on top of the ramp. Apparently, he won't come all the way down to the ring.
Hulk Hogan:
You know somethin', brother, you could do us all a favour AND SHUT YOUR MOUTH!

*The crowd erupts into a massive pop*

Hulk Hogan:
First of all, I don't like it one damn bit that you're the general manager of Dynamite, dude! Secondly, I CERTAINLY don't like it that your big clown over there threw me through a table last week. And finally, I DEFINITELY DON'T LIKE YOU, BROTHER!
*Huge pop yet again*
Hulk Hogan:
But for this company to be successful, Bischoff, you and I will have to learn to work together, brother!

Eric Bischoff smiles profusely as he brings the mic to his mouth.
Bischoff:
Oh but that's where you're wrong, Hogan. Terribly wrong. You see, as long as the board of directors support me, as long as the board of directors are on my side, I can do whatever I want, WHENEVER I WANNA DO IT! Because the fact of the matter is, Hulk Hogan, that they scratch my back and I scratch their backs! I fill their pocketbooks and they fill mine. And since every single member of the board KNOWS that I am going to boost this company through the glass ceiling, I, Hulk Hogan, have ALL the power!
*Tremendous heat*

Hulk Hogan:
You have gone out on a limb to make me look like a fool, brother, but let me tell you this, jack! I WON'T LET YOU DOMINATE MY COMPANY, YOU GOT THAT, BROTHER?! And rest you're skinny little ass assured, that the first time you make a mistake, dude, I will personally make sure you are OUTTA HERE, BROTHER!
*Mega pop*
Bischoff:
Hogan, Hogan, Hogan. That must've been your gums speaking for you, because you know very damn well that I don't make mistakes! I know this business better than I know the birthdays of my wife and children! But I explained all of that last week. So let's move on to more important issues. As General Manager of Dynamite, it is my duty to make matches that everybody wants to see. And that's exactly what I'm about to do. Because the man standing here next to me, he is in desperate need of a warm-up for his title match at Easter Extravaganza. He can't wait to show his amazing strength and ability to the world! And that's why tonight, Matt "The Train" Bloom will make his in-ring debut on Dynamite!

*Huge heat on Bischoff and Bloom. The fans don't want to see Bloom in action*
Bischoff:
And you know something, Hulk Hogan. I'm going to make an offer to you. I am inviting you to come watch the main event tonight. Who knows, you could learn a thing or two about Mister Bloom here that might come in handy at your Title defence at Easter Extravaganza. So what do you say, Hulk?
Hulk Hogan:
Hey, maybe it's my
gums
talking here, brother, but you know what, I will come down to the ring tonight and watch that match. But if you're friend there tries to get at me, I swear to god, dude, I'll be gathering all the energy off all the Hulkamaniacs in this arena AND BEAT HIS ASS ALL OVER GREENBAY, BROTHER! And WHATCHA GONNA DO, WHEN HULKAMANIA RUNS WILD ON YOU?!
"Real American" hits as the fans go bananas for Hulk Hogan. In the ring Eric Bischoff and Matt Bloom are seen smiling. They are not afraid of Hulk Hogan whatsoever.
*COMMERCIAL BREAK*
As we come back, the camera switches to a backstage area, where we see a open door. The camera approaches the door and peeks inside. Inside the room, we see a dozen of GWE workers doing various stuff, like hanging up photos and cleaning up a desk. Behind the desk, we see the back of a black, leather chair. Suddenly, the chair turns and inside is none other than Dynamite's new General Manager, Eric Bischoff! Bischoff smiles, before saying "That's it, boys, keep up the good work!".

We then switch back to ringside, to Mike Bucci and Joey Styles.
Joey Styles:
Welcome back, ladies and gentlemen, as you just saw, Eric Bischoff installing himself as the new general manager of Dynamite, and it looks like he's feeling good, Mike!
Mike Bucci:
This is what Eric's best at, and that's executing authority! And he seems to be loving every second of it! I have a feeling this ain't the last we've seen of Eric Bischoff, Joey!
Joey Styles:
But right now, Mike, it's time for action! Both of the semi-finals of the Road-To-The-Gold Tournament will take place here tonight, with the first one taking off, right now! It will be Rob Van Dam taking on Matt Sydal, who shocked the world last week!
Mike Bucci:
He sure did shock the world, Joey! Matt Sydal is the kind of athlete you can expect anything from, even a victory against Rob Van Dam tonight! I love this kid and I hope he has another amazing showing for us tonight!
"Wake Up" hits as Matt Sydal comes out to a surprisingly big pop from the fans. He gains more and more support every week and seems to be enjoying it. Sydal walks towards the ring, slapping hands with some enthusiastic fans at ringside, before sliding into the squared circle.

"Walk" hits as Rob Van Dam appears on stage to an enormous pop from the fans! He does his signature R V D taunt, before walking down to the ring, taking all the cheers in. He slides into the ring and to everyone's surprise, Rob Van Dam slaps hands with Sydal briefly, as a sign of respect! The crowd erupts into a massive pop, before the bell rings and the contest is underway!
Road-to-the-Gold Tournament (1/2 Finals): Rob Van Dam vs. Matt Sydal
Summary:
The fans were granted a thriller of a match-up here, filled with high-pace, high-impact action that would sure please every single fan in the arena. Rob Van Dam controlled the early going of the match with a variety of kicks to the gut, legs and head of Sydal. Sydal used his fair share of kicks as well though, to fight his way back into the match. Sydal seized control for a minute or so, keeping Van Dam grounded with an enzuigiri, followed by a springboard bulldog. Sydal only got the two count, however. Sydal then tried to go for one of his signature moves, namely the "Here we go" driver, a pumphandle, half nelson driver, but Van Dam jumped out of it and countered with a surprise and lightning quick double underhook facebuster. Van Dam went for the cover, but only got a long two count. Van Dam continued to show dominance though, as he went for a second turnbuckle leg drop and connected. Van Dam was on fire and went for the Rolling Thunder, but suddenly, Sydal jumped up and nailed an ultra fast hurricanrana into a pin, but didn't score the surprise pinfall. The two opponents were now face to face once again as the crowd was red hot for this battle. Van Dam and Sydal locked up once again and it was like this contest restarted all over again.

It was Sydal who surprisingly got the upperhand at this point, nailing Van Dam with a step up enzuigiri. Van Dam was down and Sydal hit his signature standing moonsault. Sydal now got confident and climbed to the top rope. He fired up and leaped up in the air, going for the Shooting Star Press, but Van Dam moved out of the way at the last second! Van Dam quickly ran into the ropes and finally nailed with Rolling Thunder! The crowd was all behind Van Dam now, as he went to the top rope, scouting Sydal for his Five Star Frog Splash. Van Dam flew through the air and connected with the Frog Splash to an enormous pop from the crowd! Van Dam hooked Sydal's leg and the referee counted the one, two, three!

Winner(8:48) and advancing in the RTTG Tourney: Rob Van Dam!
Joey Styles:
Rob Van Dam wins this amazing contest, Mike! He had to dig deep but he was finally able to pull out the victory! What an awe-inspiring wrestling match we saw here!
Mike Bucci:
To put it in your words, Joey, Oh my god! This is exactly what GWE stands for, Joey, excellent wrestling and matches that EVERYBODY can enjoy! This was a great contest and Rob Van Dam pulled out everything he had in that small body of his to grab the well deserved victory. But don't forget about that kid that's just about to crawl up right there, Joey! Matt Sydal delivered a great performance today and there's no way that this kid doesn't have a bright future ahead of him!
We see Rob Van Dam celebrating on all turnbuckles, doing his patented R V D taunt for the rabid fans. And as Rob Van Dam comes down from the turnbuckle, Sydal is back on his feet, looking Van Dam straight in the eyes. Van Dam approaches Sydal and reaches out his hand to Matt Sydal! Sydal looks around the arena, asking approval it seems, before shaking Rob Van Dam's hand! The handshake transitions into a hug as the crowd erupts into a massive pop! Van Dam raises Sydal's hand as the fans go crazy and we cut to a backstage area.
We are in a corridor, in front of a locker room door, which reads "Sean Waltman". Suddenly Ken Doane walks into screen and stops in front of the locker room door. Doane looks to be a bit anxious to knock on the door, seemingly nervous, but finally does. The door opens and out comes Sean Waltman, wearing a T-shirt and jeans.
Waltman:
Well, well, well, look what the cat dragged in…
Doane:
Look, Sean, it's simple. I wanna thank you. I wanna thank you for what you did last week, helping me out an' all. That giant ape could've destroyed my career and my body last week. But you helped me and I appreciate that, man, I really do.
Waltman:
I did it because when I look at you, I see myself all those years ago. I see a main event waiting to happen. But Paul Wight, he was about to break you in half, and I couldn't let that happen. You are the future of this company and of this business, Ken Doane. But look, I'm not going to ask you again. My offer still stands and if you wanna accept, then I'll be happy to guide you. But if you refuse, then I'll just continue to be the sole X-factor of Dynamite!
Doane:
Sean, last week I realized, I can't cut it by myself just yet. And if anyone has to guide me to the top, I wouldn't want anyone else but you, the original X-factor.
A smile appears on Waltman's face.
Waltman:
You just saved your career, kid, come in.
Waltman lets Doane into his locker room and follows him to the inside, as we cut to a commercial.
*COMMERCIAL BREAK*
As we come back, we immediately cut to Eric Bischoff's all new GM room, which is looking mighty classy at this point. Bischoff is looking exceedingly happy when suddenly Jillian Hall, along with "her boys" Doug and Danny Basham, walks in.
Jillian Hall:
Mister Bischoff, can I please take a moment of your time? It's urgent.
Bischoff:
Anything for you, Jillian *smirks*. What's the problem?
Jillian Hall:
Well, for the past few weeks, we, my boys and I, we have been embarrassed, humiliated and basically tormented by those…those two clowns, Kash and Gibson! And my stallions here, they can't wait till they can get their hands on those two ingrates! And Mister Bischoff *Jillian rubs Bischoff's cheek gently*, I know you can make that happen.
Bischoff:
I've been watching this show closely the weeks before I entered the scene, Jillian, and you're right. Kid Kash and James Gibson have crossed the line, thinking they would please everyone with their actions. Well, their actions were inappropriate and undisciplined and if there's one thing that I stand for, it's discipline. So I'll tell you what I'll do. You won't be getting your hands on Kash and Gibson tonight, and you won't be facing them next week. In stead, you'll be facing Kid Kash and James Gibson, in a tag team match, on the big stage, at Easter Extravaganza. And you know what else? It won't just be your ordinary tag team match, no, no, no. At Easter Extravaganza, you will be battling it out for the brand new Global Tag Team Championships!
A huge smile appears on Jillian's face, as well as on Doug and Danny's faces.

Jillian Hall:
That's great, Mister Bischoff. We promise you we won't fail!
Bischoff:
I know you won't, Jillian, I know you won't.
Bischoff is smiling profusely, as the happy trio of Jillian Hall and the Basham Brothers leave the room and we cut back to ringside.
Joey Styles:
And welcome back, ladies and gentlemen, we have seen Eric Bischoff execute authority on several occasions tonight, but right now, it's time for a tournament Eric Bischoff, luckily, has nothing to do with! The Road-to-the-Gold Tournament will continue right here, right now, with Paul "The Great" Wight, going one on one with Rey Mysterio.
Mike Bucci:
Another interesting contest here, Joey, of which I can't predict the outcome. Some have billed this contest as David vs. Goliath and we all knew who won that exchange! But I have a feeling the outcome of this bout, this fantastic match no doubt, will shock the world!
Joey Styles:
And ladies and gentlemen, I have just been informed, that Carlito Colon is barred from ringside by General Manager Eric Bischoff. Finally, Bischoff takes a positive decision!
Mike Bucci:
I've always said that Eric Bischoff knows what's good for us and he knows that every decision he makes will only benefit the company. In Bischoff we trust, Joey!

"BIG" hits as Paul "The Great" Wight comes out to a large ovation from the crowd. The big man's still loved by our fans. He steps over the top rope and into the ring, waiting for his much smaller opponent.

"Back to the 619" hits the P.A. system a Rey Mysterio comes shooting through the stage to a HUGE pop from the fans! He takes his time to slap hands with the fans at ringside, before sliding into the ring and facing his 7 foot tall opponent. The size difference is almost ridiculous.
Road-to-the-Gold Tournament(1/2 Finals): Paul "The Great" Wight vs. Rey Mysterio
Summary:
A typical David vs. Goliath match-up right here. Mysterio tried to use his quickness to his advantage, but the strength of Wight was just too overwhelming and Wight quickly gained control over the match. Wight kept Mysterio down with headbutts, hard right hands, a rare big boot and a clothesline. He never was able to keep Mysterio down for the three count, however. Paul Wight then got a little overconfident as he hoisted Mysterio up in a military press. But Mysterio wriggled out and countered into a huge DDT, catapulting Mysterio back into this match-up! Mysterio followed up with several low dropkicks and legdrops to a fallen Paul Wight. Mysterio then went for a top rope double foot stomp, but Wight moved out of the way. Wight then got back into the match, as Mysterio's kicks didn't hurt "The Great Wight" all that much. Wight went for a surprise chokeslam, but Mysterio fought out of it and started kicking Wight like a mad man. Mysterio hit Wight with a variety of kicks, spin kicks, heel kicks and enzuigiris. Wight started to stagger, almost falling off his feet as Mysterio now dished out a series of dropkicks to the chest and jaw. The crowd was red hot at this time, as Mysterio looked like he finally had a chance to win this one. Mysterio kept dropkicking Wight, and the big man finally went down after what had to be the seventh dropkick to the jaw of Wight! Mysterio was exhausted though and couldn't capitalize immediately. Mysterio then tried to pick Wight up, but the Big man shoved him away. Wight then tried to surprise Mysterio with a quick clothesline, but Mysterio ducked and drop toe hold'ed Wight onto the second rope, setting Paul Wight up for the dreaded Six One Nine! Mysterio ran into the ropes and nailed a picture perfect 619! The crowd were really behind Mysterio at this point, as the little man really looked like winning at this point. Mysterio then hopped up on the top rope and went for the springboard seated senton, but suddenly, Wight caught Mysterio in mid-air and clenched his hand around Mysterio's neck, only to nail him with a huge Chokeslam! The crowd let out a loud "oooh" as Wight quickly covered Mysterio and got the victory!
Winner(6:31) and advancing in the RTTG Paul "The Great" Wight!
Joey Styles:
Rey Mysterio took everything he had and more to Paul Wight, but it wasn't enough as Paul Wight still got the victory after a huge chokeslam!
Mike Bucci:
It was a great effort by Mysterio, Joey, but Paul Wight, he's a nasty bald headed wall you run into, I can tell, I've faced him before. And well, kudos to Mysterio for putting up a fight like he did, but Wight was just too big of an obstacle to overcome tonight!
We see Paul Wight celebrating in the ring, and just as he's about to exit the ring, Carlito Colon comes storming down the entrance ramp! Carlito runs straight past Wight, who doesn't even care Carlito's there and continues to walk up the ramp. Wight's music dies down, as Carlito stares down a still fallen Mysterio with an evil look in his eyes. Remember that Carlito was barred from ringside during the match, but the bout is of course over at this time. Carlito then suddenly charged at Mysterio and started to unload on the man from the 619 with a flurry of rights to the forehead. The crowd was showering Carlito with heat, but the bad apple didn't care and continued to unleash at Mysterio with stiff rights to the face. Carlito then got off Mysterio and smiled profusely, as the crowd was all over the Caribbean Bad Apple. Mysterio was reeling in pain, as he tried to crawl up after that vicious beating. Carito helped Mysterio get up and then slapped him across the face! Mysterio nearly fell over, turning his back to Carlito, which wasn't the best thing Mysterio could've done. Carlito grabbed Mysterio's shoulder and nailed him with a brutal Backcracker! The fans were almost going berserk as Carlito raised his hands, standing over a fallen Rey Mysterio and we went to a commercial.

*COMMERCIAL BREAK*
Quote:
**VIDEO PACKAGE**

We see a location that looks like a desert, but with a temple standing in the middle of it. The clouds are dark and a storm is brewing. The temple is far off, but the camera slowly approaches it and instead of stopping in front of the temple, the camera goes to the inside, where we see an altar, in front of which Priest Parisi is looking to be praying. Then, Priest Parisi gets up and looks straight into the camera.

Priest Parisi: The time is drawing near. I have been in contact with the almighty one and he has assured me that the time of his coming is almost upon us. So fall to your knees, put your hands together and look up, for the moment of truth is at hand. Don't fear the arrival of The Divine One, pray for it. For he is our lord and saviour. He has god-like strength, super human speed and a divine appearance. And he will smite everyone that stands in his way. But if you pray, if you obey, the divine one will leave you be. So pray, pray for the coming of "The Divine One" Mark Jindrak.

The screen fades to black, as the following words flash the screen:

"The Divine One" Mark Jindrak is coming to Dynamite!...Soon

**VIDEO PACKAGE**
Joey Styles:
And welcome back, ladies and gentlemen, to Thursday Night Dynamite! I am still Joey Styles and up next is our Main Event. Matt Bloom will make his in-ring debut, and he will go up against Super Crazy!
Mike Bucci:
Super Crazy better pray to whatever Mexican God he worships, Joey, because Matt Bloom will not hold back against our loco Mexican! I'm afraid Super Crazy might be in for the beating of a lifetime!
"El Guerrero Nomad" hits the P.A. system as Super Crazy jiggles and jumps out to a nice pop from the fans. He slaps hands with the fans at ringside, before sliding into the ring and waiting for his impressive opponent.

"Bending tracks" hits as Matt "The Train" Bloom comes out, along with General Manager of Dynamite and co-owner of GWE, Eric Bischoff. The duo gets showered in mega-heat, but neither of them seem to care, as they're both smiling profusely upon entering the ring.

"Real American" hits the P.A. system as GWE Chairman and GWE Global Champion, Hulk Hogan, comes out to an INSANE pop from the fans. The man is loved by every single fan in this arena, and the roof is almost blown off by the ovation he receives. Hogan is wearing the same outfit as at the beginning of the show, but this time, he has his Global championship along with him. Hogan does not enter the ring, instead he goes over to the announce table and takes a seat in front of the announce table, ready to watch the action. Bischoff meanwhile gets out of the ring and stands near the ring apron, albeit at a safe distance from Hogan, who may still have some feelings of hatred towards Eric Bischoff.
Matt "The Train" Bloom vs. Super Crazy
Summary:
A basic squash here. Super Crazy hardly got any offence in, and this match's only purpose was to portray Matt Bloom's awesome strength and power. Crazy immediately started with a huge mistake, namely charging at Bloom, who nearly took Crazy's head off with a huge clothesline. Bloom proceeded by tossing Crazy in the corner and unloading with a plethora of punches to the jaw and gut. Bloom continued to showcase his dominance after a thunderous big boot to the unfortunate Super Crazy. Bloom then got cocky and focussed his attention on Hulk Hogan at ringside. This gave Crazy the time to recover and as Bloom turned around, Crazy was up on his feet, ready to charge Bloom once again. And this time, Crazy actually got some offence in, hitting Bloom with a dropkick, followed by a spin kick! The Train didn't go down, however, as the kicks were mere tickles to Bloom and he quickly tempered Crazy's hopes by clenching his hands around Crazy's neck and driving him into the mat with a huge chokebomb, the Baldo Bomb! But Bloom wasn't done just yet, as he picked Crazy up and slit his own throat, to signal this was the end. He hoisted Super Crazy back first on his shoulder and held him in that position with just one arm, to show his amazing strength. After about ten seconds of walking around with Crazy on his shoulder, Bloom finally dropped to his knees, delivering the extremely painful Train Wreck! Bloom finally covered Super Crazy and got the very easy victory.

Winner(3:21) Matt "The Train" Bloom
Joey Styles:
And there you have it. Matt Bloom has beaten Super Crazy, rather easily I might say.
Mike Bucci:
Easy is the word, Joey! Super Crazy hardly laid a hand on Bloom and well, he showed that he's ready for his big Title match with Hogan at Easter Extravaganza!
After the match, "Bending Tracks" hits the P.A. system as Eric Bischoff joins his "client" inside the ring. Bischoff raises Bloom's hand to a chorus of boos from the fans. Suddenly, Bloom goes to the side of the ring and yells something incomprehensible at Hulk Hogan. Hogan immediately sits up from his chair and all of a sudden, Bloom spits towards Hogan! Hogan is infuriated by this and immediately gets into the ring, face to face with Bloom! Bischoff quickly interrupts though and pushes Bloom back, constantly repeating "It's no the time, it's not the time!". Bloom backs off as Hogan is signalling to bring it on. Bloom exits the ring along with Bischoff, while Hulk Hogan takes off his championship belt and holds it high in the air, signalling HE is the champion and not anyone else! "Real American" blares through the speakers as Hogan is the last one in the ring, looking much stronger than at the same time last week. We see Matt Bloom and Eric Bischoff walking up the entrance ramp, still focussing on Hulk Hogan, while Hogan is still holding the title belt high in the air and the show comes to a close.

Re: GWE: Global Wrestling Enterprise
---
Alcoholic's Dynamite Review.
First of all, you know how long I've wanted to read this. Now it's finally here and I'm really excited. This promotion of yours gives me the aura of WCW, which is a real good factor because I loved WCW. The opening promo had to be between Hogan and Bischoff after the events that went down last week. This is a really intriguing story. It's one of those usual fights over who's more powerful. This is a feud that I have never read in BTB so that's why it's really good. Well that and your excellent writing
Bischoff continuing his 'asshole' personal was gold and you really have him downright perfect. I knew Hogan was going to come out and in the end it was a brilliant promo. It felt a bit too short though. That might just be me. However good to see Bloom in tonight's main event. I see him ploughing through some unknown though to be honest, in order to give him some hype for Easter Extravaganza. After the break we see Bischoff ordering everyone as usual. This proves that such a short segment can be such an important one. You've got me hooked on this whole power trip angle. Good work.
The first match was good. I usually skim matches but for some reason I just read the whole thing to see how you write the match recaps. I must admit you write them well. It has a good amount of action and description which makes for an entertaining read. I could see Van Dam winning this for several reasons. One he is the better draw out of the two, and two, because of the things you said in a previous post. Another thing I liked about this match was the fact that it came across as a pure wrestling match if you know what I mean. Also the hug at the end was amazing. You wrote it amazingly. Anyhow a great match but I'm confused. What does the winner of this match win though considering Matt 'The Train' Bloom will be facing Hulk Hogan at Easter Extravaganza?
I noticed you used the 'look what the cat dragged in' line that you were asking about in the discussion thread
this is another angle that is getting more and more intriguing as the weeks roll by. I'm still left pondering on the thought of Waltman turning on Doane but meh I could be wrong.
A great tag team match announced for Easter Extravaganza (Still having no luck with the poster
) I liked how you portrayed Jillian as the main talker again. This is great and there really becoming a good stable here in this company.
Another brilliant match up of which I read the whole thing
I really thought Mysterio was gunna pull this one out of the bag, especially because Carlito was banned from ringside. I think if you had Carlito interfere Mysterio would have sustained a bit of credibility. However with the clean loss I can't help but notice Mysterio's credibility has shot down a little. However the attack made up for that. It made Carlito look strong and it also took this feud to the next level. It's really getting intense and that's just the way I like it.
Another nice video package for Jindrak. It's good that you write these video's out in full because it really gives us some sort of idea to what his character will be like when he arrives in this company. Now onto the announcers. I don't get why Styles said 'I'm still Joey Styles' Huh? Of course he's still Joey Styles, he wouldn't change into anyone else
I wasn't a fan that the main event was shorter than the other matches, but I realize why this was the main event. The match itself was very good to build the feud and it really showed Bloom's power and strength heading into this big match with Hogan. It was great to see Hogan standing tall at the end of the show after getting put through a table last week.
Overall this was another great show Alcoholic and you know how much I've been anticipating this one. The feuds are looking really good at the moment and are getting better each week. Don't keep me waiting long for the next show plz
Posting Rules

You may not post new threads

You may not post replies

You may not post attachments

You may not edit your posts

---

HTML code is Off

---