Re: GWE: Global Wrestling Enterprise
---
ROFL, I love Hulk Hogan. Solid enough of an opening promo, although instead of him just using brother, throw in a few dude's and maybe even a jack or two. Hogan is the master of variety
…
brother
. Also, I think it'd be a nice touch to italicize the brother/dude/jack… I like doing it
… gives it more of an emphasis, if you will. I like the fact that instead of having a PPV, you're having a 2-hour edition of TV. I think that's a very wise decision, and refreshing. No need to jump right to PPV. 2 Titles is always beefy goodness, but not a big fan on bringing up TNA or the name of the show. Bringing up your competition (which TNA is, not WWE, really) is never a good thing. Putting word of mouth out about TNA would only make more guys want to watch it. If it was the WWE, it wouldn't matter; everyone knows about them anyways. Also, Easter Extravaganza… WAY TO DISCRIMINATE YOUR NON-CHRISTIAN BASE, BASTARD~!
…ROFL, just playing, although I don't like giving a big show a theme about a Holiday, especially one like Easter. It's not really a
big
holiday, outside of the USA. Too religious of a holiday.
Nice match in terms of over booking (WCW feel to it <3), and even though Basham took the job, he looked dominate as fuck. Psicosis was his bitch in the match. I like how you're slowly developing the beginnings of your tag team division, and these 3 teams should be great to pioneer the division, especially when you add the Belts for EE. Because that's obviously one of the Titles you're bringing in. The other, I'd go for the Cruiserweight Title, only because I'd rather see that than a mid-card Title already.
Am I the only one who doesn't like the quotations with dialogue? I dunno, but it's a tad annoying for some reason. Anyways, LOL at this segment, only because Sean Waltman was
totally
hitting on Kenny Doane there for a second. I'm smelling some pent up homosexual tendencies by Waltman. But hey, he did sleep with Chyna, and we all know what she's like… just as 'Mac
. But yeah, nice to these two getting some time, and I actually would like to see them team up. Waltman's solid in tag teams, although better in a the big man-little man team. But nevertheless, I liked this segment. The Waltman/Taylor match was nice, although possibly a bit too lengthy depending on how long the main event ends up going. LOL at Waltman, a little fucker, catching Taylor on a fall away slam… didn't like that part, mind you. Still, nice stuff.
While I love the concept of what you did with this Carlito and Rey angle, the "Boo" and Rey jumping up like a little bitch. That was just silly, and not really needed. Carlito really ended up looking like a bitch, but it was hilarious when he got kicked into the locker room. I would've really loved it if Rey locked Carlito in the locker, but alas, no such luck. Still, good way to continue to build their feud up.
Nice video package with Parisi and Jindrak, although now having an Easter themed show with a character like this, is just really stupid. You pander to one crowd, and then totally shit on them in the same show. This is the kind of risqué gimmick that would piss off the religious zealots, so don't see why you pandered to them earlier. Despite the logic flaws, I'll give this gimmick a chance, only if you later have a pedophilia angle with Parisi. Make it happen, booker man!
T'was no shocker that RVD was going over in this match, especially since Kazarian hasn't done anything to prove himself in GWE, and RVD is a household name. However, Kazarian did a solid job trying to make a name for himself, which is what you needed to do if you wanted to try and establish Kaz. You did that, so both men come away as winners, yes.
Solid show, and this is proving to be a solid BTB that is different to the plethora of average WWE BTBs out there. GWE is something fresh for readers, and I am enjoying what you've been doing. You set up a lot of stuff on this show for EE, and also the Waltman/Kenny and Rey/Carlito stuff, as well as the tag stuff. This continues to show a lot of promise, and has potential to be really good.
---
When An Empire Falls - The Tale of World Championship Wrestling
Szumi's back, but not in black - back in BTB! And yeah, I know, he's doing WCW again - so unoriginal.
My Awards:
2008 - Best PPV - Starrcade
2008, 2007, & 2006 - Best Promo Writer
2007 & 2006 - Best Promo(s)
2007 - Most Creative
2007 - Best Feedbacker
2006 & 2007 BTB World Cup - Top Overall Scorer
2007 BTB World Cup - Booker of the Tournament
Only Person to Ever Score Perfect Score in a Tournament
BTB Hall of Famer
World Championship Wrestling 2001 - The Trio Ownership
This was The Trio Ownership; I did it a long time ago, for a long time. T'was a good ready, I think. People liked it and stuff.
Re: GWE: Global Wrestling Enterprise
---

GWE.com

Bischoff is coming to Dynamite!

After it was announced last week that Eric Bischoff had bought himself into Global Wrestling Entertainment, becoming the co-owner, he will now be headed to Dynamite! Eric Bischoff will be officially presented as the co-owner of GWE this Thursday on Dynamite! Don't miss this spectacular episode as it is sure to be featuring a lot of memorable moments!
Quote:
PWHeadlines

*GWE's creative team are strong believers that the "Divine Jindrak" gimmick will work. They hope Jindrak will get over as a heel and they plan on making him the top heel in the company in the future.

*Speaking about top heels, Giant Bernard is said to be making his Dynamite! debut very soon, perhaps as soon as this Thursday. Hulk Hogan in particular feels that Dynamite is lacking one ingredient to be a thrilling show, and that's a high-profile heel to chase the championship. It is clear at this point Bernard will be thrown into the title picture almost as soon as his debut.

*There is no word yet on what kind of championships will be introduced come Easter Extravaganza, the two hour special edition of Dynamite!. One of the titles will most likely be some sort of Tag Team Championship and the other will serve as an equivalent to the United States and Intercontinental Championships they have over at WWE(r) or it could very well be a GWE version of the Cruiserweight(/X-division) championship. Sources indicate that the nature of the championships will be revealed before the actual Easter Extravaganza spectacular.
Years I've Been a Fan > Years You've Been Alive
Join Date: Jun 2005
Location: Kansas City - At the Argosy, Playing Blackjack with Harley Race
Posts: 808
Points: 0
Re: GWE: Global Wrestling Enterprise
---
Decent enough news there. Really think you should go with Matt "the Train" still though. Bischoff coming in is a good move. Controversy creates cash. Anyway, I read back over a lot of this, and your creativity here is actually very good. I usually hate created feds due to a severe lack of realism. But you have done quite the job here, imo. It feels as "real" as something "fake" could feel. You have proper explanations for everything, and have used proper type resources to create the fed. Example=Hogan. I mean, with some help, Hogan could - and SHOULD- start his own company. I love the fact that you didn't go with a "Vince is dead, and this happend..." type deal. Anyway, I usually don't go out of my way to comment on the work of an individual I don't know, but I think you deserve credit for your standout creativity. Btw, I am sure you have an idea of what your titles will be called, but for kicks, I have always thought a title called the "Flyweight" or "Fly-Wieght" Championship would be cool for the Cruiserweights. So, steal it if you'd like. Anyway, good luck sir, and I will try to observe and comment as much as I can.
---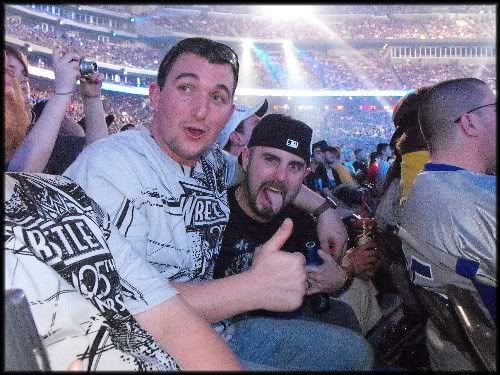 Re: GWE: Global Wrestling Enterprise
---
Quote:
GWE Dynamite! 02-28-2008 Preview

Road To The Gold!

For the fifth straight week, GWE Dynamite comes to you on the ESPN Network! And this week, the GWE superstars roll into Minot, North Dakota, to grant the fans 60 minutes of nothing but action and entertainment!

This week, the Road to the Gold tournament stands central, as we have no less than 3 matches on the card. In the three remaining quarter finals, we will see Rey Mysterio take on Super Crazy, Carlito Colon doing battle with Matt Sydal and Paul Wight taking on Ken Doane. This last match is a rematch of two weeks ago and one can only wonder if Ken Doane will be able to be a little more than a punching bag for Wight tis time.

Meanwhile, Carlito still has his eyes set on Rey Mysterio. Carlito wants to end Mysterio's career, but will he throw his chances for a GWE Global Title shot through the window by going after Mysterio in stead of focusing on his match with Sydal? And will Mysterio be fully focussed on Super Crazy or will he have his mind on Carlito, who tried to surprise Mysterio last week in his locker room?

Also, what will the Bashams have to say about The Invaders trying to upset the Basham Brothers for two weeks in a row? The Basham Brothers will adress The Invaders this Thursday on Dynamite! and their won't be any kind words towards Kash and Gibson!

And of course, this week, the grand and official presentation of Mister Eric Bischoff into the Global Wrestling Enterprise company! Hulk Hogan will be welcoming Bischoff to Dynamite as the new co-owner of GWE. Will Bischoff make an immediate impact and will he live up to the title of his book 'controversy creates cash'?

Find out all this and many many more, this Thursday, only on the ESPN Network
There you have it. I only have to write one promo and the show is ready to be posted.
Years I've Been a Fan > Years You've Been Alive
Join Date: Jun 2005
Location: Kansas City - At the Argosy, Playing Blackjack with Harley Race
Posts: 808
Points: 0
Re: GWE: Global Wrestling Enterprise
---
Was wondering what happend to you. Thought maybe the thread was through. Preview looks solid. Nice matches booked, and Bischoff's first night on the job should be intriguing for sure. Good luck, and once its posted, I'll get comments up on it as soon as I can.
---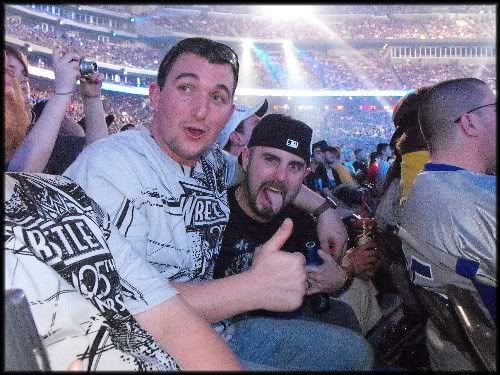 Re: GWE: Global Wrestling Enterprise
---
Nice Dynamite preview there Alcho. I'm actually expecting Doane to get a bit more offence in his match with wight. I'm particularly intrigued to read the Mysterio vs. Crazy match, because I want to see how you would write such a fast paced match-up. Adding Carlito into the mix is also cool and I'm thinking that maybe they will screw each other out of their matches. Just a guess though. I'm guessing that the Myseterio and Carlito feud will get going again tonight. It's creative to say the least that you have The bashams and The Invaders in some sort of feud. Good to see the tag team division get as much notice as the single feuds. Also Bischoff coming back is awesome. Is he going to be with A-Train or whatever the hell you called him?
Overall Alcho I'm really looking forward to this show. Glad to see your still enjoying yourself because that's the main thing mate.
Re: GWE: Global Wrestling Enterprise
---
GWE Dynamite 02-28-2008 MSU Dome, Minot, North Dakota
*Opening video*

**Pyro**
**Pyro**
**Pyro**
"Welcome to the jungle" is blaring through the P.A. system as we go live to the MSU Dome, where 10,000 fans have sold out the arena. The camera pans the arena and we see signs such as "619", "He's Super, He's Crazy, He's SUPERCRAZY" and "Size Does Matter". We then switch to ringside, where Mike Bucci and Joey Styles are present.
Joey Styles:
For the fifth straight week, GWE Dynamite is coming to you live on the ESPN Network. And for the fifth straight week, your broadcasting team, Joey Styles and Mike Bucci, ready to call the action. And speaking off action, Mike, the road-to-the-gold tournament continues with no less than three matches on the card tonight!
Mike Bucci:
Action, action, action, Joey! It's unbelievable. Indeed Dynamite is running for its fifth straight week and what a five weeks it has been! We've had some amazing matches, and some memorable moments and tonight, baby, there will be some more memorable moments added. What about the major, and I mean MAJOR, presentation of the new co-owner of GWE, Eric Bischoff?! I can't wait!
Joey Styles:
Indeed, that will no doubt make for an unforgettable moment, Eric Bischoff for the first time on GWE television and one has to wonder if he'll create controversy once again.

Mike Bucci:
I'm sure he will, Joey, and I'll love it!
"El Guerrero Nomad" suddenly hits as Super Crazy comes out to a nice pop from the fans. Crazy wobbles and dances his way to the ring, clearly excited about the upcoming contest.

"Back to the 619" hits the P.A. system as Rey Mysterio Jr. comes shooting through the stage to a huge pop from the fans! He is still a fan favourite! He gets into the ring and is ready for what is likely to be an amazing contest.
Road-to-the-gold Tournament(1/4 Finals): Super Crazy vs. Rey Mysterio Jr.
Summary:
As expected, this was a high pace, high impact style match between these two "luchadores". Mysterio controlled in the early going, keeping Super Crazy grounded with his pantented moves, such as a springboard crossbody, a running seated senton and a huge modified bulldog. Mysterio didn't get the pinfall at that juncture, however, and the match continued. Super Crazy then got into the contest with numerous consecutive spin kicks. Crazy got all fired up nailing Mysterio with a step up enzuighiri. Super Crazy jumped up on the second rope and went for a moonsault, but Mysterio rolled out of harms way, sending Crazy crashing into the mat. Mysterio saw his opportunity and connected with some quick leg drops, followed by a springboard splash, almost a frog splash. Mysterio picked Crazy up and drop toe holded the crazy luchadore, leaving him hanging on the second rope. But as soon as this occurred, Carlito came running down the entrance ramp and to the ring. But instead of entering the ring, Carlito just pushed Crazy off the second rope, "saving" him from the 619. But Mysterio scouted this and instead of going for the 619 he quickly changed his plans and catapulted himself over the top rope and onto Carlito with a beautiful crossbody! Mysterio finally unloaded on Carlito with tons of rights and lefts, as well as brutal kicks to the back and the head of Carlito! The crowd was ecstatic as Mysterio finally got his hands on Carlito. Mysterio was seemingly blinded with rage, but he did have the wherewithal to slide into the ring before the end of the ten count by the referee! Super Crazy, who had reached a vertical base, ran at Mysterio, but the man from the 619 drop toe holded Crazy into the ropes and went for the 619. He swung through the ropes and connected! The crowd was going wild, as Mysterio leaped up on the top rope and nailed Crazy with the West Coast Pop, pinning him for the one, two, three!

Winner(6:48) and advancing in the RTTG-Tourney, Rey Mysterio Jr.!

Joey Styles:
Rey has done it! He has overcome the obvious odds and will go to the semi finals of the road-to-the-gold tournament! What a match!

Mike Bucci:
Carlito had every right to be here after what Rey did to him last week, but truth be told, he screwed up. Congratulations, Rey, see you in the next round!
We see Mysterio climbing the turnbuckle nearest to the entrance ramp, as Carlito is scattering up that entrance ramp, looking mighty frustrated. He tried to secure a loss for Mysterio, but failed. Mysterio looks Carlito dead in the eyes, as we can even see some sort of anger in Mysterio's eyes. This doesn't last long, however, as Mysterio quickly turns his attention to the fans and celebrates his victory.
*COMMERCIAL BREAK*
When we return, "Bald and nasty" hits the P.A. system and Doug and Danny Basham, accompanied by Jillian Hall, come down to the ring to a chorus of boos. They don't have a scheduled match-up for tonight, so one has to wonder, what they're doing in the squared circle tonight. When they enter the ring, Jillian is being handed a microphone.
Jillian Hall:
"I brought my two handsome studs out here with me for one reason and one reason only. It's because we have a message for two certain wrestlers in the back. Those two clowns, you know who you are, had the guts to interfere in not one, but TWO matches, my boys were in. And I won't allow it to happen anymore! I'm sick of you two and I will do anything to get rid of you two no good renegades!"
*The crowd knows she's talking about The Invaders, so they boo Jillian*
Jillian Hall:
"What? You think being a rebel is cool? You think mocking us will get you anywhere? It won't! Because once you clowns actually grow the balls to step into the ring with my two stallions here, you'll see that you have no hope in hell to even walk out of the ring! In fact we…"
Jillian is suddenly cut off by "Bawitdaba", the theme music of the Invaders! The crowd is erupting, but we only see Kid Kash at the entrance way. He has a microphone in hand and slowly walks towards the ring, while talking.
Kid Kash:
"Hold it, hold it, hold it there, Jillian. It's not because Doug and Danny have a lack of them, that James and I have to grow extra balls all of a sudden, now is it?"
*The fans laugh and cheers as Kash continues to walk towards the ring*
Kid Kash:
"Now by the grumpy looks on your faces, I would say you're pretty pissed off that we cost you the match last week, yea?"
Jillian Hall:
"OF COURSE WE ARE!!(Jillian's screaming voice is near insufferable)"
Kid Kash:
"Well in fact, we never did cost you the match. Nope. What we did was making sure these people didn't have to suffer through the sight of mediocrity any longer. Because that's all you guys are…mediocre. And every single one of these intelligent fans in the arena knows that mediocrity is not excellence. Mediocrity is not perfection and mediocrity is certainly not entertaining… The Invaders are entertaining!"

*Big pop for Kash and his currently invisible buddy James Gibson*
Kash:
"And to give you and everyone in the arena a sample of just why we are so damn entertaining, my mate Jamie is standing behind your backs right now! Take a look."
A grin from ear to ear appears on Kash's face, as Gibson is suddenly standing behind The Basham Brothers. Apparently, he came through the crowd and slid into the ring while Kash was talking! The Bashams are initially anxious to turn around, seemingly realizing they're not in for a friendly hug. Finally, Doug Basham turns around, but this apparently triggers Gibson to storm at Doug and nearly taking his head off with a huge clothesline! Kash quickly slides to the inside of the ring now, starting a brawl with Danny. Jillian quickly scattered to the outside, wanting no part in all of this. Eventually Kash gets the upperhand over Danny as he places his head under his armpit and sets Danny up for the Dead Level! Meanwhile, Gibson kicks Doug in the gut and set him up for the Tiger Driver! And simultaneously Kash and Gibson hit their respective finishers to Doug and Danny Basham to a huge pop from the crowd. The Basham Brothers are down and out on the mat, as "Bawitdaba" hits and Kash and Gibson raise their hands into the air to another big pop.
As we see The Invaders celebrate, the camera switches to a backstage area, where we see a door on which "Ken Doane" can be read. Out of the door, as expected, comes Ken Doane, who is wearing a red and white training vest and his wrestling trunks. Doane immediately stops walking and as everyone could've seen coming, Sean Waltman is standing in front of him.

Doane:
"What do you want now, Waltman?"
Doane is looking quite frustrated upon seeing Waltman.
Waltman:
"Hold it, Doane. You know why I'm here. I still need an answer to my question from last week."
Doane:
"If you think that you've impressed me in your match last week, you're wrong. Terribly wrong. In fact, everybody could've beaten Dynamite's number one loser, Scotty Taylor without even breaking a sweat, even you, a washed up, old veteran. Now if you would please stop following me, I have a match-up next."

Doane appears to be wanting to leave, but Waltman again stops him.
Waltman:
"Look, I know you have your pride 'n all, but you gotta look at your future here, Ken. Work with me, and there's no stopping you, man! You know it, I know it and everyone else knows it!"
Doane:
"For the last freakin' time, I'M NOT INTERESTED. Now if you'll excuse me, I have a match next."

Doane firmly pushes Waltman to the side and walks away, as Waltman looks on, shaking his head in disapproval.
Joey Styles:
When we come back, the rematch, Ken Doane versus Paul Wight, it's next!
*COMMERCIAL BREAK*
When we come back, "Roxanne" hits the P.A. system as a seemingly annoyed Ken Doane makes his way to the ring, not even reacting to the mildly negative reaction from the fans. He gets into the ring and awaits his opponent.

"Big" hits as Paul 'The Great' Wight comes out to a big pop from the crowd. Wight takes the ovation in as he slaps hands with some happy fans along the entrance ramp, before going on the steel steps and stepping over the top rope to get into the ring.
Road-to-the-gold Tournament(1/4 Finals): Ken Doane vs. Paul Wight
Summary:
A short-lived match-up as expected. Ken Doane tried to start the match as he started the first bout between these two men, going at Wight like a man possessed. But just like in the first match, Wight wasn't impressed and he quickly laid out Doane with a huge big boot. Doane was crawling towards the ropes, looking for safety, as he suddenly saw Sean Waltman walk down to the ring. Wight didn't notice it, as he pulled Doane up by the trunks and lifted him above his head with a military press, looking mighty powerful. Waltman in the mean time had reached the ring, steel chair in hand, looking almost nonchalant. Wight then drills Doane into the mat, which sends the cocky young athlete rolling out of the ring in pain. Waltman immediately goes to check on Doane as Wight is not seeing it, posing for the crowd. Waltman helps Doane to his feet and hands him the chair, almost saying 'It's alright'. Doane slides back into the ring, chair in hand, and as Paul Wight turns around, Doane smacks him across the head with the chair not once, but twice, sending "The Great Wight" down to the mat and causing the referee to call for a disqualification!
Winner by DQ(4:22) and advancing in the RTTG-Tourney Paul "The Great" Wight
Joey Styles:
What is this? WHAT IS THIS? Ken Doane just got himself disqualified and for what?
Mike Bucci:
This is a smart move by Doane, Joey! He knew he wouldn't win against this giant beast and to not put his career in jeopardy, he got himself disqualified. Smart!
Joey Styles:
I guess you'll have an explanation for anything, don't you, Mike? Bottom line is though that Paul Wight is going to the semi-finals of the Road-to-the-gold Tournament and you can't disagree with the fact Wight has a big chance of going all the way!
Mike Bucci:
You sure can't!
We see Waltman walking up the entrance ramp, with Doane looking at him, confused and not quite knowing what to do, as the referee raises a fallen Paul Wight's hand to indicate that Wight's the winner of this match.
The camera then switches to the parking lot, where a black limousine stops right in front of the camera. The chauffeur exits the vehicle and walks towards the passenger's door. He opens the door and out comes none other than GWE's new Co-owner, Mister Eric Bischoff. We can hear a mixed reaction from inside the arena, as clearly not everyone loves Bischoff. Bischoff is smiling, as he tucks up his vest and walks out of the screen.
Quote:
**VIDEO PACKAGE**

We see a location that looks like a desert, but with a temple standing in the middle of it. The clouds are dark and a storm is brewing. The temple is far off, but the camera slowly approaches it and we can see a silhouette standing in front of it. The silhouette is of a man, apparently a priest of some sort, wearing a white robe with a large hood. The priest looks straight into the camera and it's Priest Parisi!

Priest Parisi: "The day of reckoning is almost at hand. The day you'll all come to know as the day "The Divine One" descended upon the earth, is near. For He is almost ready. Our lord and saviour is almost prepared to come down to our planet and smite everyone that stands in his way. The time is almost at hand that "The Divine One" shows off to the world, his god-like strength, his superhuman speed and most importantly, his divine appearance…"

A huge thunderbolt interrupts Parisi briefly, but he quickly continues.

Priest Parisi: "But do not fear the day that is nearly at hand. Pray for it. For "The Divine One" will only destroy those that question his almighty power. So pray, pray for the coming of "The Divine One" Mark Jindrak."

A big smile appears on Parisi's face, as the screen is filled up with dark clouds and the following words flash the screen:

"The Divine One" Mark Jindrak is coming to Dynamite!...Soon

**VIDEO PACKAGE**
*COMMERCIAL BREAK*

When we return, we immediately go to ringside, to the announce table.
Joey Styles:
And welcome back, ladies and gentlemen, up next, is without a doubt, a very interesting contest. And the third and final quarter final of the Road-to-the-gold tournament!
Mike Bucci:
It's Carlito going one on one with Matt Sydal, what a match that will be! Carlito will have to bring his A-game though, Joey, cause that young kid, Matt Sydal, he ain't no kid to mess with, I'm telling ya!
"I spit in the face of people who don't want to be cool!" Carlito Colon is making his way to the ring, looking cocky and confident as ever. He looks to be sure he'll squash Sydal like a bug tonight.

"Wake Up" hits the P.A. system as Matt Sydal comes out to a surprisingly large pop. The fans know what this kid can bring to the table and they love it! Sydal is loving the appraisal as he enters the ring, ready for this big opportunity.

Road-to-the-gold Tournament(1/4 Finals): Carlito Colon vs. Matt Sydal
Summary:
Another fast-paced, action filled contest here. Carlito totally dominated the first few minutes of the bout, with a series of jabs to the jaw, clotheslines, dropkicks and even a few headlocks thrown into the mix. When he went for his signature springboard back elbow, however, Sydal moved, sending Carlito crashing into the mat. Sydal seized control from thereon, grounding Carlito with a leg lariat, followed by a hurrancanrana and finally a standing moonsault, going for the pin. Sydal only got the two-count, however, and the balance was somewhat restored. Because Carlito got back into the match-up, with a swining neckbreaker. Carlito tried to follow up with a suplex, but Sydal countered in mid-air, into an amazing spinning DDT. The crowd was all behind Sydal, as the youngster looked strong in this contest. Sydal then climbed to the top rope, going for what was likely to be a high-impact move, but Carlito suddenly jumped up, leaped up on the top turnbuckle in athletic fashion, before nailing Sydal with a superplex! Both men were down and out for a while and it was Carlito who was the first back up on his feet. But as Carlito wanted to approach Sydal, none other than Rey Mysterio Jr. came sprinting down the entrance ramp and to the ring! The crowd erupted as Mysterio, looking furious, jumped up on the apron. But Carlito had scouted it and tried to take out Mysterio, but the quick Mysterio jumped off the apron, avoiding Carlito's attack. Sydal, meanwhile, was back to a vertical base and he took immediate advantage of the situation, as he rolled up Carlito and the referee counted ONE…TWO…THREE!

Winner (7:02) and advancing in the RTTG-Tourney Matt Sydal!!
Joey Styles:
Oh my god! I can't believe it! Matt Sydal won, he won the match and is advancing in the road-to-the-gold tournament! Oh my god!
Mike Bucci:
WHAT THE HELL IS THIS, JOEY? That little freak, Rey Mysterio, just barged in here and ruined a great match for all of us! He cost Carlito the match for absolutely no reason at all. NO REASON, JOEY!
Joey Styles:
Have you already forgotten that Carlito tried to do the exact same thing earlier tonight?
Mike Bucci:
But this is different, Joey! Mysterio actually cost Carlito the match! This is terrible!
We see Matt Sydal celebrating his shock victory, as Carlito is fuming and looking for Rey Mysterio, who is already at the top of the entrance ramp. Carlito looks as angry as he's ever been, and shouts a load of Caribbean nonsense(probably cuss words) to Mysterio, who doesn't laugh, but just stares at Carlito, dead focussed.
We then cut to the back where we see Eric Bischoff walking down a corridor, a black briefcase in hand. He has his patented evil smirk on his face as he keeps on walking. He'll be welcomed to Dynamite next!
Joey Styles:
Don't adjust your sets, folks, up next the official presentation of Eric Bischoff!
*COMMERCIAL BREAK*
Mike Bucci:
And welcome back, folks, I'm Mike Bucci, you're broadcast host at this time, sitting here by my lonesome, cause Joey Styles is in the ring right now, ready to take an interview with the boss, the chairman, the Hulkster, Hulk Hogan. Joey, take it away!
We switch to the ring, where we see Joey Styles, mic in hand. The canvas is covered in black carpet and in the middle of the ring is a wooden table. God knows why it is there.

Joey Styles:
"Welcome, ladies and gentlemen, my name is Joey Styles and my I present to you, the chairman of GWE and the GWE Global Champion, he is the immortal, Hulk Hogan!"
"Real American" hits the P.A. system as the roof is blown off for Hulk Hogan! He is wearing a grey, striped costume with a matching bandana, as he walks towards the ring, taking the massive ovation in. He steps into the ring and is handed a microphone.
Joey Styles:
"Good evening, Mister Hogan, of course the obvious question, how do you feel about the presentation of Eric Bischoff that is about to take place?"
Hulk Hogan:
"First of all, you can call me Hulk, dude, no problem. And to answer your question, I feel pretty good about bringing Eric Bischoff into the company. Because you know something, Joe, in the wrestling industry, you got to grow. Our company, got to grow to become a name in the world of wrestling brother. And there's only one way a company can grow and that's with money, brother. And you know what, Joe, Eric Bischoff had the money. He gave us an offer we couldn't refuse, 'cause all of us knew that the money would help us become a presence in sports entertainment!"
*Big pop for Hogan*
Hulk Hogan:
"And you see, Joe, that's our goal, dude. To become the biggest company in the world, in the universe, brother! And now, let me bring out the man that is helping us achieving that goal. The man that offered another brick for our GWE house, brother. Hulkamaniacs, GWEmaniacs, put your hands together for Mister Eric Bischoff!!"
"I'm back" hits the P.A. system as Eric Bischoff, still carrying the briefcase, walks down the entrance ramp to a mixed reaction from the crowd. Some love him, some hate him. Most hate him. He gets into the ring and puts the briefcase onto the table/desk, as Joey Styles hands Bischoff a microphone before leaving the ring himself.
Hulk Hogan:
"Welcome to GWE, brother!"
Bischoff:
"I think it's safe to say…cut the crap, Hogan!"
*Bischoff is immediately showered in heat*
Bischoff:
"You and I both know very well that this
partnership
is pure business. So drop the mask, Hogan, cause I certainly don't need it. Because we all know that I don't like you and you don't like me! The only reason I invested my money in this project is because I wanted to shine one last time as the mastermind of the biggest company in the world, just like I did 10 years ago. Because every single person in this arena and in the back knows and realizes that I, Eric Bischoff, am the most creative, the most intelligent and quite frankly the most genius man ever to graze the sports entertainment world! And let me make sure to each and everyone of you, that I don't care if my decisions bring smiles to your faces. I don't care if my decisions entertain you or not, the only thing I care about is my decisions generating money from your pocketbooks!"
*Mixed reaction, but overly negative*
Bischoff:
"And now that I am the co-owner of this company, it's time for a change around here. I'm gonna put an end to all the sugarcoating of clearly bad business moves. And I'm gonna set an example right here, right now, this instant! Let us take a look at the Road-to-the-Gold Tournament, shall we? While the general concept of the tournament is innovative and could make us a lot of money, the wrestlers involved are a joke! And you are the only one to blame for that, Hulk Hogan! Because you know damn well that none of the so called superstars on those brackets are capable of defeating you at Easter Extravaganza! You know damn well that whoever the winner is, you'll keep your precious championship!"
*The heat on Bischoff begins to build*
Bischoff:
"And from a business standpoint, this tournament is even more laughable, Hulk. Nobody cares about Super Crazy(small pop). Nobody cares about Paul Wight(very big pop)! And nobody cares about Rob Van Dam(HUGE pop)!"
*After the pops for the respective wrestlers, the crowd erupts into huge heat for Bischoff*
Bischoff:
"But you know what, Hulk, I'm gonna let your little tournament run it's course. And the winner will get to face you at Easter Extravaganza. BUT…I'm now going to execute my first decision as Co-owner of GWE. Because Hulk Hogan, know very well,
dude
, that I can counter EV-E-RY decision that you make! Every single one!"

Hulk Hogan's facial expressions tell the story, as he has about enough of Bischoff's ramblings.
Hulk Hogan:
"Now you listen to me, dude! I accepted you into GWE, because I believed you would give a boost to the company. I did not accept you to interfere with my decisions and make me look like a fool in front of all these Hulkamaniacs, brother! So you listen carefully. Either you and me work together to make this company the best in the universe, or I'm gonna make sure that you're outta here faster than you can say Hulkamania, jack!"
*Insane pop for the Hulkster*
Bischoff:
"Hogan, Hogan, Hogan. Need I to remind you of the fact that as Co-owner, I do what I want, when I want? And so, Hulk Hogan, I'm going to provide you with a number one contender that is worthy of challenging you for the championship, but above all, is more than capable of beating you all over the Easter setting…
brother
!"
*The crowd is confused, but boo Bischoff anyway*
Bischoff:
"I'm talking about a man who doesn't lay down for anyone. I'm talking about a man who's held five different championships. I'm talking about a man who has wrestled in four different countries. I'm talking about a man who goes to sleep with pain on his mind and wakes up with pain on his mind. I am talking about a man who's famous from the United States all the way to Japan."
*The crowd is waiting for the man of mystery to be unveiled, but Bischoff decides to ramble on a bit longer*
Bischoff:
"And that's why I brought this briefcase with me. In this briefcase lies a contract that will be signed in a few moments by GWE's newest superstar. Please give a warm welcome to the man formerly known as A-train and Giant Bernard…Matt "the Train" Bloom!"
"Bending tracks" hits the P.A. system as Matt "The Train" Bloom makes his way to the ring, wearing nothing but his wrestling trunks, looking physically impressive. He is showered in heat, but he couldn't care less, as he steps into the ring and shakes Bischoff's hand. Bischoff then opens the briefcase and takes out a contract and a pen. He lays them on the table and grabs his microphone.
Bischoff:
"Welcome to Global Wrestling Enterprise! Here is the official GWE contract which also guarantees you a shot at the GWE Global Championship at Easter Extravaganza! All you have to do now, Matt, is give me your signature."
The crowd is suddenly very violent towards the duo of Bischoff and Bloom, clearly not accepting the way things are going. Hogan can do nothing but watch on as Bloom signs the contract and throws away the pen. Bloom then pulls Bischoff's mic to his mouth.
Matt Bloom:
"Hulk Hogan, at Easter Extravaganza, what ya gonna do when The Train runs wild on you?!"
Bloom laughs uncontrollably as the crowd is booing the hell out of him.
Hulk Hogan:
"Now you listen here, jack, I…"
Bischoff:
"No, Hulk, no, YOU listen! I said it before, and I'll say it again! I do what I want, when I want. And if that means shutting you up, Hulk Hogan, then so be it."
Bischoff gets an even more evil smirk than usual on his face, as he looks at Matt Bloom and nods, as if he's giving permission for something.
Then, all of a sudden, Bloom goes for Hulk Hogan, who is totally caught of guard. Bloom grabs Hogan by the vest and pulls him over the table/desk. He then clasps both of his hands around Hogan's neck and hoists him up in the air, before drilling him trough the table with a massive choke bomb!

The crowd is erupting into never before heard heat, as Bischoff raises Bloom's hand, indicating he has scored a personal victory over Hogan already. Even our lovable commentary team is speechless and all Joey Styles can get out is 'this…this is unbelievable." We see Bloom and Bischoff standing tall over a fallen Hogan as the screen fades to black and the show comes to an end.
Moron
Join Date: Feb 2008
Location: North Wales
Posts: 469
Points: 0
Re: GWE: Global Wrestling Enterprise
---
Super Crazy vs. Rey Mysterio Jr.: Nice back and forth match with lots of action. Good choice matching these two luchadores up. Really enjoyed the match.

Invaders/Bashams segment: Nice promo, I like that the Invaders went after the Bashams because that is something I think they would do IRL.

Doane/Waltman segment: Short and sweet. Good way to continue the stroy line, liked it.

Doane vs. Wight: Didn't like the ending here but I can see why you have done it so ass to continue the storyline with Waltman.

Video Package: Nice, i liked it. It was a good way to hype Jindrak up.

Carlito vs. Sydal: nice match, I liked Mysterio getting involved and can see a great feud brewing here.

Bischoff/Hogan/Bloom segment: Great promo, really good with all of them in perfect character. Bloom using one of Hogan's catchphrases at the end was great and I didn't see the attack coming. This could be an incredible feud. Highlight of the night for me.

Overall: Superbly well written show, all the matches were good and the promos (especially the last one). Enjoyable read. Overall score: 7/10.

A review of my BTB would be great. Link in the sig.
Re: GWE: Global Wrestling Enterprise
---
Thought I'd drop you a review.
Anyway opening match between
Super Crazy
and
Mysterio
was good. Nce ending with Carlito comin out stopping the 619,still mysterio prevails even after the interferance and is moves on to the semis.Can sense revenge later in the night for Mysterio though. Possibly interfering in CCC's match.
Bashams come to the ring:
Nice to see Jillian doing the talking,can't imagine to listening to the Bashams on the mic to be honest.Liking Kid kash coming out,good lines from him,especially:
Because that's all you guys are…mediocre. And every single one of these intelligent fans in the arena knows that mediocrity is not excellence. Mediocrity is not perfection and mediocrity is certainly not entertaining… The Invaders are entertaining!"

. Invaders attack then,both Kash and Gibson hitting their finishers and are left celebrating in the ring.Can see some payback from the Bashams next week though,really need to do something to try and get the upperhand.
Waltman/Doane promo
was kinda meh,don't really care for either guy to be honest.Still not sure where it's going.
Doane/Wight
:Interesting ending,Waltman helping even if he doesn't want it apparently,surprised Wight didn't kill him after the match though
.BTW is Wight a face at the moment,I assume so.
Limo pulls up,Bischoff,can't wait for him later on,imagine he'll be ending the show.
Jindrak is coming:
Hmm "The Divine One" I actually like it,unusual kinda thing.Don;t know a lot about Parisi tbh.Still nice gimmick it seems and he'll add more depth to your roster.
Carlito/Sydal
: CCC dominates early on before Sydal comes back into it. Myserio eventually comes down and does what Carltio couldn't earlier and costs him the match. I'm expeccting Carlito's revenge next week. Good feud though,something that I find very interesting. Sydal advances,Don;t see him going any further though.
Final Promo:
Hogan comes out to a nice pop as expected.Seemed pretty in character here,so good work on that. Bischoff comes out and immediately gains heat from the crowd.No surprise to see him as a heel and uite rightly so too. Ha him rubbishing Hogan and his tournament is pretty much Bischoff as usual,nice to see.
So Bischoff thinks he needsa real challenge eh? Interesting.Woah it's A-train(lovin the name Matt"The Train" BTW)
Woah Bloom nails Hogan and lays him out in the middle of his ring,didn;t expect them to get physical right away but it gains Bloom and Bischoff instant heat and manages to make Bloom look like a monster too.
Overall good show.Keep up the good work I enjoy reading it as it's refreshing and different.
---
Last edited by Victarion; 02-16-2008 at

09:44 AM

.
Re: GWE: Global Wrestling Enterprise
---
Alcoholic's Dynamite Review by KF4E
~First of all the opening commentary got me psyched for the show. I mean the way they were describing how the company has been going for five weeks is brilliant. I must say it seems so much like a real company, and it very well might just be soon:P I have to say though you should have bolded the announcer names because it was merging with the actual lines.
~A very nice opening match here in the Road To The Gold tournament. It had a very nice feel and flow to it. That's why I always love reading tournament matches, because they just seem so important and they make the show seem more important.
~As I mentioned in a comment I left earlier. I absolutely love the fact that you have put The Basham Brothers in some sort of stable. I really loved the team when they used to wrestle in the WWE so I'm glad you're using them. And using them well I must stress. Having Jillian there as the mouthpiece was the best thing to do, it sort of reminds me of when Shaniqua used to be the Basham's mouthpiece back in 2003. I laughed when I read the line 'Jillian's screaming voice is near insufferable' because it's probably true. The brawl after the talking was written out well and I enjoyed it. It is a nice little tag team feud you have going on here and I must say, I like the way you have been developing your characters.
~The Doane and Waltman segment backstage struck me as intriguing. I love the fact that you mentioned Scotty Taylor (I think that's Scotty 2 Hotty) as the companies best jobber. The only reason I liked it is because it's the same as he was in the WWE. However I am a fan of Scotty and wish he was doing something. Overall this segment has made me wonder whether anything will go down in the match next.
~A good decision to have Wight advance to the next round. I liked the way Waltman came down to help Doane even after the little backstage segment earlier. Something fishy is going though and I can't see this 'friendship' thing lasting too long. It was a nice little tournament match aswell. Good writing overall.
~I love the detail you put in the video packages. 'The Divine One' is a nice and catchy title for Jindrack and I'm really looking forward to his debut in this company. I think your going to use him pretty well. One thing I have noticed, is that this company is not build around huge stars, but lesser known people. Propps for this because I am a fan of the lesser known guys
~I was not a fan of Mysterio costing Carlito the match. In my eyes it should only be the heel costing the face a match. By having Mysterio cost the heel Carlito, it makes Mysterio seem the same as Carlito, meaning that even the face will stoop to his level. However your keeping this feud going which is cool.
~The promo with Hulk/Bischoff and Matt Bloom was awesome to say the least. I love the way you write Hulk Hogan, he really sounds perfect. Hulk was great hyping this company. I didn't like the fact though that they were all just talking about money. It kinda degraded the company in my eyes. I have to say though I love the name you chose for A-Train
I'm a bit confused as to who will get the championship shot though. Will the winner of the tournament get the shot, or will it be Bloom. Either way you have portrayed Bischoff and Bloom in an awesome way on their very first appearance. Bischoff is best like this, being the jackass heel, and to make things better he has kind of a body guard character in Bloom.
~Overall this was a very enjoyable thread. I have realized that you are a very good booker and an extremely good writer. You kept me hooked and entertained which I respect you for. The only thing I really didn't like was Mysterio costing the heel Carlito the match. However I'm looking forward to the next show, and to the Easter Extravaganza.
PS:
I'm sorry to say this mate, but I'm not sure if I can make that banner. I mean I have tried the layout you asked but I just can't seem to get it right. I'll keep on having a few go's though for you
---
Last edited by Mr. Kanefan; 02-16-2008 at

04:45 PM

.
Posting Rules

You may not post new threads

You may not post replies

You may not post attachments

You may not edit your posts

---

HTML code is Off

---