Re: GWE: Global Wrestling Enterprise
---
Quote:
Originally Posted by PWHeadlines
GWE News and Notes

The 02/14 episode of Dynamite! scored a 2.3 rating, which is up .1 from last week's 2.2 rating. Amazingly, Dynamite! keeps scoring very high ratings, despite being an all new company. Apparently Rob Van Dam versus Hulk Hogan is a big draw, as TNA Impact was beaten for the third straight time in the "ratings war".

As previously reported, Eric Bischoff is in talks with GWE about a financial injection. Bischoff would be more than willing to invest in this rising company and by that becoming a big name in Sports Entertainment once again. It is no secret that Eric Bischoff would like to go back to the Monday Night Wars, in which Monday Night Raw would be competing with GWE Dynamite this time. If that will ever be the case, however, is very hard to predict.

GWE will host its very first semi-ppv show on the 27th of March. By semi-PPV we mean that it will air on free tv, but will be a two hour spectacular, featuring more wrestling and special moments than a normal show would, similar to what Saturday Night's Main Event is to the WWE. The show will be called Easter Extravaganza and expect the build up to start very soon.


So Easter Extravaganza = Saturday Night's Main Event, but it will be two hours and will take place on Thursday, which means it will replace Dynamite for that one week.
And thanks, Ownage, for the review and I hope some more pour in. At this moment I would like to thank everyone who has read/reviewed so far, cause you are the ones that keep me going! And of course the tremendous fun I have writing this
.
Re: GWE: Global Wrestling Enterprise
---
Jamie1 Presents Alcoholic with a review


First before I get started on the actual review I just want to tell you, I don't know a lot of the superstars you use and this is the first time I have ever read any of your shows. Anyway I have heard you are a real good booker and have impressed people even like Szum which is very hard! I think


The opening match of the night was very interesting and a great way to kick of the show, the superstars in the match I did know was the Bashams and Billy Kidman, I am not sure however of Frankie Kazarian, actually is that the guy in TNA, Anyway the match was actually entertaining and made me want to read more. Kid Kash and James Gibson attacking the bashams intrigued me. I think you ruined it a little right enough to be honest, I think you could have played this out better without actually telling us who the two superstars making the attack are but it is your choice and I cant say you are wrong as you can turn this into something good….. I hope


Carlito promo was absolute brilliant, a new side to Carlito which I totally loved. This is Carlito right. Carlito against Rey Mysterio, we all know about Rey Mysterio Jr talent as it has been proven but I do also feel Carlito has got unbelievable talent and I really do hope you can show it, this should keep readers as I think you have done what you should have done with the last promo, you have made people wait until Carlito is going to attack and end Mysterios career, you have not just arranged a match which is very good, hopefully we will not see a match until a Pay-Per-View.


OK Ken Doane I am not sure off, Is he in the WWE, is it Kenny Dykstra anyway without knowing his character to well you really did help me which I liked, by saying the cocky so that means I knew he was confident and if you are trying to make him cocky you done this promo tremendously well and I really do mean that, the confidence on the boy is just brilliant, when he said I am full of confidence I was not sure about this but then when he said and talent, this made me love it, making an open challenge was also great and answered by Paul White, all I can say is OH MY GOD! Paul White, Joey Styles Is the commentator right


This match was very realistic with a really realistic time on the match, Paul White obviously dominating in the match so this was good, Well Done!


Another very good promo, you got the character of these two absolutely brilliant, so realistic, you are really proving what a great booker you are!


Supercrazy and Matt Sydal was another good match and a match I would love to see on live TV, Like you said fast paced and high flying and that is why I would love to see this match, Another good match


Rob Van Dam v Hulk Hogan it just had to be the MOTN and it certainly was. What a match you put on for us here and once again showed you are a really good booker, Hulk Hogan retaining the title was good as he could not lose it on a weekly show


Overall: Entertaining to say the least, Realism gets a massive 10/10 Just a real great show
---
------------------------------
WATP
Re: GWE: Global Wrestling Enterprise
---
Quote:
Originally Posted by PWHeadlines
GWE News and Notes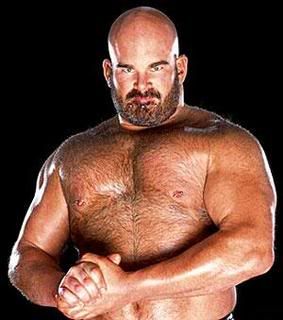 We have just been informed that Matt Bloom, better known under the ring names A-train and Giant Bernard, has signed a 2 month contract with GWE. What name he will be coming down to the ring with or what his role will be is unknown at this time, but sources within GWE say he will most likely play a heel role, because the Dynamite! show is currently lacking main event heels. However, whether or not Bloom will be a heel and be seen as a main eventer is yet to be seen.
It can now be confirmed that Eric Bischoff has found himself a way into the GWE company. Sources say he can now be seen as Co-Owner, along with the chairman of the board, Hulk Hogan. Bischoff, however, is not chairman, but he will no doubt be a big player within GWE. Sources say that Bischoff will have a lot of creative power, as well as control over the finances and wreslter contracts. If this means Bischoff will also be getting an on-screen role is yet to be seen. One thing's for sure, however, Global Wrestling Enterprise, from this day on, will never be the same.
Another set of news and notes, to keep the thread updated. As far as the fourth episode of Dynamite goes, I have about half of it written, and it will be up at the end of the week, if I work at a slow rate. I'm currently expecting it to be up around Wednesday.
Re: GWE: Global Wrestling Enterprise
---
Hey Alco, just wanted to let you know that I still look forward to reading this BTB, and if I can get the time tonight, will drop you a review of that 3rd show. If not, fuck college, and I'll try and review the next one.
---
When An Empire Falls - The Tale of World Championship Wrestling
Szumi's back, but not in black - back in BTB! And yeah, I know, he's doing WCW again - so unoriginal.
My Awards:
2008 - Best PPV - Starrcade
2008, 2007, & 2006 - Best Promo Writer
2007 & 2006 - Best Promo(s)
2007 - Most Creative
2007 - Best Feedbacker
2006 & 2007 BTB World Cup - Top Overall Scorer
2007 BTB World Cup - Booker of the Tournament
Only Person to Ever Score Perfect Score in a Tournament
BTB Hall of Famer
World Championship Wrestling 2001 - The Trio Ownership
This was The Trio Ownership; I did it a long time ago, for a long time. T'was a good ready, I think. People liked it and stuff.
Re: GWE: Global Wrestling Enterprise
---
Good signing, I would like to see you repackage Bernard into a different character for this thread. It looks like it's what you're planning to do since you asked that question in the Discussion thread, so I look forward to that.

I believe there have been two more shows since my last comment. The shows looked okay, the third one being especially good. I think the main event for the second Dynamite was rather weak and a bad way to end the show. I would've gone with Carlito vs Rey as the main event, but then the Hogan segment after it, as the closing moments of that segment were good and would've been effective to finish Dynamite with. Just remember that you don't have to make a match end the show. Other than that, everything was tops and I will probably come at you with a more detailed review for the next show once I get my show done.
Re: GWE: Global Wrestling Enterprise
---


GWE Dynamite! 02-21-2008 Preview!

This week, the superstars of GWE travel to Reno, Nevada, for another hour of thrilling Dynamite action inside the Lawlor Events Center!

Last week GWE already wrote history, as the main event of Dynamite was Rob Van Dam versus Hulk Hogan for the GWE Global Championship. The match lived up to the expectations, pleasing fans worldwide. And in the end it was Hulk Hogan who was left standing with the championship held high.

This week, Hulk Hogan will be opening the show with an important message. Will this message concern the Global Championship, or some other hot issue?

Also last week, we saw the rather dubious debuts of The Invaders, James Gibson and Kid Kash. They intervened in the tag team match between the Basham Brothers and Kidman and Kazarian, but said they didn't have any personaly issues with any of them. Will they be popping up again this week, or lay low for the time being?

Last week, Carlito Colon, GWE's Bad Apple, vowed to make an end to the career of Rey Mysterio. Carlito advised Rey to grow eyes in the back of his head, because Carlito could be showing up behind him any time he wants. Will Carlito live up to his promise this week, or postpone the judgment?

And as far as confirmed wrestling action for this week goes, we will see Danny Basham battling Psicosis and Sean Waltman, the X-factor, taking on Scott Taylor.

Don't miss all this thrilling action and excitement, this Thursday, only on the ESPN network!
Re: GWE: Global Wrestling Enterprise
---
GWE Dynamite! 02-21-2008 Lawlor Events Center, Reno, Nevada
*Opening video*

***Pyro***
***Pyro***
***Pyro***

We go live to the Lawlor Events Center, where 11,000+ fans have gathered to see the superstars of GWE! "Welcome to the jungle" plays as the camera pans the arena and we see signs such as 'Hulkamania is running wild', 'Mr. Thursday Night' and 'Gimme that apple, Carlito!'. We then go to ringside, where Joey Styles and Mike Bucci are ready to welcome us to the show!
Joey Styles:
Welcome, ladies and gentlemen, to a jam packed Lawlor Events Center, where more than 11,000 crazed fans are ready for another hour of pure entertainment! My name, Joey Styles, the name of my broadcast colleague, Mike Bucci, and Mike, are you ready for Dynamite tonight?
Mike Bucci:
Am I ever, Joey?! Tonight, as you said, 60 minutes of pure entertainment! Tonight, we will see the fallout of the amazing main event we had last week between Rob Van Dam and Hulk Hogan, our boss, and I, as well as everyone in this arena and watching at home, are curious to see where this is going!
"Real American" hits the P.A. system as the crowd goes crazy for the chairman of GWE, Hulk Hogan, who steps through the curtain, wearing a black suit and a black bandana. The Hulkster is smiling as he steps towards the ring, taking in the thunderous ovation.
Joey Styles:
And there he is, our chairman and still our champion, Hulk Hogan!
Mike Bucci:
Last week this man, our chairman, pulled out everything he had and came out on top! It was a tremendous match, Joey, and Hogan won and well, he is still our GWE Global Champion and I don't know a lot of people who don't love it. I love it!
Hogan steps into the ring and is handed a microphone. One thing that is noticeable though, we can't see Hogan wearing the championship. Is he even wearing it tonight?
Hulk Hogan:
"Brothers!(pop) Brothers!(pop) One more time, BROTHAS!"
*Huge pop for the immortal one*
Hulk Hogan:
"Now some of you may be confused, but take a look at this."
Hogan puts the mic on the mat for a second and starts unbuttoning his vest. And as he opens the final button, we see that the Hulkster is wearing his GWE Global Championship UNDER his vest! The crowd pops big time as Hogan points at his belt and tabs it, signaling it's still his.
Hulk Hogan:
"Now I am out here right now for two reasons. First of all, I'm here because I've done some thinking about the GWE Global Title situation. Last week, Rob Van Dam and myself gave you everything you wanted. Passion, excitement, entertainment and one hell of a terrific match, brother!"
*Big pop*
Hulk Hogan:
"And well, it really could've gone either way, but in the end, I am still your GWE champion, brother! But this leaves us without a number one contender. And I am a fighting champion, brother! I want to defend my championship anywhere, anytime, so I want a number contender, brother! So I have come up with an idea that will sure please me, the guys in the back, and especially all you hulkamaniacs!"
*The crowd cheers in anticipation*
Hulk Hogan:
"We will have an 8-man road-to-the-gold-TOURNAMENT, brother! In fact, since you're all so excited right now, how bout we start this tournament right here tonight?"
*Huge pop, as the fans don't want nothing more than for this tourney to start in their arena*
Hulk Hogan:
"Then tonight, in our main event, it will be a first round match between…Frankie Kazarian...(small pop) and…ROB VAN DAM!"
*The crowd goes crazy, as Rob Van Dam will be main eventing tonight!*
Hulk Hogan:
"But there's more, brothers! The second reason I am out here is to make a very important announcement. Not as your champion, but as your chairman! In just five short weeks Global Wrestling Enterprise will host its very first two hour spectacular, brother! On the 27th of March, we will have a two hour special edition of Dynamite and it will be called EASTER EXTRAVAGANZA!"
*The fans rejoice at the thought of the two hour spectacular*
Hulk Hogan:
"And I've got a surprise for all you hulkamaniacs, brother. At Easter Extravaganza the winner of the road-to-the-gold tournament will face me for the GWE Global Championship!"
*Huge pop*
Hulk Hogan:
"But that's not all, brothers, o no. GWE is a growing company and a fast growing company. And it's not a shame to say that Dynamite has beaten TNA Impact in the ratings for the past three weeks, brother! And we just keep on growing, brother, so that's why at Easter Extravaganza we will introduce two all new GWE championship titles!"
*The crowd goes crazy*
Hulk Hogan:
"I said three weeks ago that GWE was gonna shock sports entertainment and that's exactly what we're doing, brother. So whatcha gonna do? WHATCHA GONNA DO, BROTHER, WHEN GWE RUNS WILD ON YOU?!"
"Real American" hits as the crowd erupts into an enormous pop for the chairman, the champion, the Hulkster, Hulk Hogan!
*COMMERCIAL BREAK*
"Vrooar, vrooooaaaar" The sound of lawnmowers is heard and that's exactly what we see. Psicosis along with Juventud Guerrera drive their green vehicles down to the ring as we are ready for the opening contest.
Joey Styles:
Welcome back, ladies and gentlemen, after the thrilling opening speech by our chairman, it's time for some thrilling action. Psicosis, one half of the Mexicools, will do battle with one half of the Basham Brothers and that will be Danny. What are you expecting, Mike?
Mike Bucci:
This will be an interesting contest to follow, Joey, you've got two very talented individuals, going toe to toe, but I got a feeling, Danny Basham's raw strength will get him the win in the end. He's nasty, Joey!
"Bald and nasty" hits the P.A. system and out come Doug and Danny Basham along with their ho valet, Jillian Hall. They strut very cockily toward the ring and it's of course Danny who slides in, while Doug and Jillian remain on the outside.
Psicosis(w/Juvy Guerrera) vs. Danny Basham(w/Doug Basham and Jillian Hall)

Summary:
Danny definitely showed he's got talent in this contest. He dominated for the most part and truth be told, Psicosis sold everything really well. Psicosis wasn't able to lay even a finger on Basham as Danny completely dominated the first couple of minutes. He nailed a series of german suplexes, followed by an elevated DDT. He only got a two count, however. Psicosis then got into the match for a brief moment, hitting a spinning heel kick, followed by a standing moonsault. Psichosis then immediately went to the top for his well known guillotine leg drop, but when he went for it, Basham moved out of the way, sending Psicosis crashing into the mat. Danny Basham then hit an inverted DDT, but again only got a two count. Basham got frustrated and removed the turnbuckle padding. This was all just a distraction, however, as when the referee went to put the padding back on, Danny was handed a steel chair from the outside, ready to smack it across the head of Psicosis. But when Danny went to wield the chair, suddenly a man came running through the crowd and into the ring. It was none other than one half of the Invaders, Kid Kash, who grabbed the steel chair and threw it away, followed by a Hogan-like finger wag. Kash laughed and got out of the ring, leaving a confused Danny inside the ring. Psicosis was up on his feet by this time and tried to surprise Danny, but he sidestepped and nailed Psicosis with a huge club to the back, sending Psicosis down to the mat. Basham then looked around the ring, looking for Kash, who suddenly took Doug Basham's head off with a devastating clothesline. The referee went to check what was going on, when suddenly, James Gibson, Kash's fellow Invader, slid into the ring, surprised Danny and nailed him with a huge Tiger Driver! The crowd "ooooh"d, as Gibson smiled profusely, before exiting the ring. Psicosis crawled over a fallen Danny as the referee counted the one, two, three!
Winner (6:01) Psicosis(w/Juvy Guerrera)!
Joey Styles:
Psicosis causes the upset! He pins Danny Basham and wins the match!
Mike Bucci:
Psicosis causes the upset? PSICOSIS? It were those damn clowns again, damn it! They came out of nowhere and attacked Doug and Danny Basham, when Danny had the match practically won! This is outrageous, Joey, this shouldn't be. If Hogan has any sense of decency, he fires these two goons for ruining the second match in two straight weeks! God damn it!
Kid Kash, James Gibson and Juventud Guerrera enter the ring and celebrate Psicosis' victory. The Bashams are seen stumbling their way up on the entrance ramp, looking extremely furious and fuming. Jillian points at Kid Kash and James Gibson, who are seen pointing back and smiling profusely. We then cut to the back.
We see Ken Doane walking down a hallway, sporting a blue training vest and just his wrestling tights. He looks to be walking out of screen, when suddenly, he stops and the camera zooms out, to reveal that Sean Waltman is standing opposed to Doane.
Waltman:
"Ey, Ken, how ya doin'?"
Doane:
"What do you want?"
Waltman:
"Listen, I'm gonna cut right to the chase here with ya. I saw your match last week and what happened to you with Paul Wight."
Doane:
"Listen to me, Sean, I don't wanna hear anything about that match, got it? That big brainless gorilla, Paul Wight, he humiliated me. He embarrassed me. He made me look like a fool before the eyes of a worldwide audience. And I don't want anyone to remind me of that, you got that?"
Waltman:
"Well I'm sorry to disappoint ya, young Doane, but I will. 'Cause you see, when I look at you, Ken, I'm looking at myself fifteen years ago. I see a young, talented, good looking, athletic individual who just lacks one thing. You just lack one element, Doane, to make it to the top. And that's experience. What you need, Ken, is an experienced star to guide you to the big leagues."
Doane:
"Exactly where are you getting at, Sean?"
Waltman:
"Ken, I have a proposal for you. If there's anyone that has the experience and the knowledge of the business to lead you up the ladder toward the top, it's me. Let me guide you into the big leagues, Ken. Alongside me, you could become what I see in you, and that's the best in the business, Ken."
Doane:
"I don't need anyone to make it, Waltman, and I especially don't need you. You talk about experience? You have experience cause you're old, Sean. Fifteen years ago, you were nothing and you're still nothing today. What have you ever done that's worth mentioning? I'm better of by myself."
Doane looks to be leaving, but Waltman stops him. Apparently, he's not done talking yet.
Waltman:
"Listen, Ken, I have a match up next. And if you still don't think I'm the right man after that, then feel free to remain at the bottom of the ladder. Think about it, Ken, and realise what's good for ya."

Sean Waltman leaves the area, as Ken Doane is staring into blank space, looking to be thinking about the things Waltman just threw his way.
Joey Styles:
Sean Waltman in action, and it's next!
*COMMERCIAL BREAK*
As we come back, we see Scott Taylor standing in the ring, ready for his match against Sean Waltman.

"X-Factor" hits the P.A. system as Sean Waltman comes out to a rather good reaction from the crowd. He puts his arms in an X position in front of his chest, a sign that somewhat reminds us of his time in WWF as a member of Degeneration X, before walking down to the ring.
Joey Styles:
And hello again, everybody, I'm still Joey Styles and next to me is still Mike Bucci, and up next is an interesting contest to say the least, Mike.
Mike Bucci:
Interesting is the word, Joey. Apparently, Sean Waltman wants to prove to Ken Doane that he needs his help, that Ken needs his help in order to achieve success. And well, if Sean beats Scott Taylor here, he might be well on his way proving it, Joey.
Sean Waltman vs. Scott Taylor
Summary:
This wasn't a squash as most of the fans expected it to be, cause Scott Taylor got quite a lot of offence in. Waltman and Taylor were even in the beginning of the match-up, with Waltman going for a headlock, but Taylor countering it into a headlock takeover of his own. Scott Taylor even went over in an elevated chin lock, trying to force Waltman to tap. But Waltman didn't tap and started to take control. He nailed a series of chops, followed by a dropkick and finally a spinning heel kick. He only got the two count however and when he went for his 1-2-3 kick, Taylor ducked and nailed Waltman with a superkick of his own. Taylor went up to the top turnbuckle and wanted to connect with a huge crossbody, but Waltman caught Taylor in mid-air and nailed him with a fallaway slam. From hereon out, Waltman kept dominating the match-up. He went up to the top turnbuckle and nailed Taylor with a huge seated senton. Waltman motioned the end was near, as he put his arms in an X-position again, before picking Taylor up and nailing him with the X-factor, a sitout facebuster! Waltman went for the cover and scored the pinfall.

Winner (6:42) Sean Waltman!
Joey Styles:
And Sean Waltman scores an impressive victory here tonight, Mike. Taylor took him to the limit, but Waltman came out on top and won!
Mike Bucci:
He sure had to go to the limit to win, Joey, but he did win. And important right now is if whether or not Doane is impressed by this or not. One thing's for sure, though, I am impressed!
Joey Styles:
Whether or not he impressed Doane, we will not know until at least next week, but what we do know, Mike, is that in our main event tonight, Frankie Kazarian has the opportunity of his lifetime, when he faces Rob Van Dam in the first round of the road-to-the-gold tournament!
Mike Bucci:
Kazarian is one hell of an athlete, Joey, but will he be able to beat Rob Van Dam? It's gonna be tough, but hell, he might pull it out tonight!
We see Sean Waltman looking straight into the camera and saying "What about that, Ken? What about that?", before we go to the back.

In the back, we see Rey Mysterio walking down a corridor, wearing his "neutral" black outfit and mask. While he's walking, he's greeting several GWE superstars, the likes of Super Crazy, Matt Sydal and the Mexicools(Juvy and Psicosis). He then walks through a door that says 'Rey Mysterio Jr.', meaning, he's walking into his locker room. Mysterio goes to search for something in his bag, and as the camera turns around, we see Carlito Colon, standing behind the door! He must've snuck into Mysterio's locker room earlier! As Mysterio opens his bag, Carlito approaches him, with a steel pipe in hand!

Carlito:
"Boo."
Mysterio quickly jumps up and turns around as he has a shocked look on his face, as if he's seen a ghost.
Carlito:
"What's wrong, Rey? Didn't you see this coming? I warned you last week. This is where it ends, Rey. This is where your career is over and mine will flourish!"
Carlito then quickly wields the steel pipe toward Mysterio, who ducks underneath it just in the nick of time. Carlito hits the wall as he quickly swings away at Rey again. He doesn't seem able to hit Rey, however, as the man of mystery uses his quickness to avoid any contact with the steel pipe. Carlito keeps wielding the steel pipe like a mad man, until suddenly, Mysterio ducks underneath it yet again, coming up behind Carlito. Mysterio nails Carlito with a dropkick to the back, which sends the Bad Apple falling straight into an open locker! Mysterio quickly slammed the locker, before grabbing his bag, running out of the locker room and supposedly, out of the arena. Finally, Carlito comes stumbling out of the locker, looking extremely pissed off.
Quote:
*VIDEO PACKAGE*

We see a location that looks like a desert, but with a temple standing in the middle of it. The clouds are dark and a storm is brewing. The temple is far off, but the camera slowly approaches it and we can see a silhouette standing in front of it. The silhouette is of a man, apparently a priest of some sort, wearing a white robe with a large hood. The priest looks straight into the camera and it looks to be Johnny Parisi.

Priest Parisi: "Since the beginning of time, man has worshipped gods and waited for one of them to finally descend upon earth. Since the beginning of time, man has endured inhuman pain and struggle, in the hope one day, a divine figure would emerge and save humanity. Soon, that day will finally be upon us, as the god I have been worshipping all my life, will finally come to us and save all of mankind…"

A huge thunderbolt interrupts Parisi, but he quickly resumes.

Priest Parisi: "Soon, a creature with superhuman strength, godlike speed and divine looks, will be descending upon the planet earth to smite everyone that stands in his way and to strike fear in all of his adversaries. Nobody will even lay a finger on him, as he is… "The Divine One" Mark Jindrak."

A big smile appears on Parisi's face, as the screen is filled up with dark clouds and the following words flash the screen:

"The Divine One" Mark Jindrak is coming to Dynamite!...Soon

*VIDEO PACKAGE*
**COMMERCIAL BREAK**
As we return we are in a backstage area, where we see Frankie Kazarian walking down a hallway. He is in his wrestling gear, ready for his main event match with Rob Van Dam. Suddenly, Billy Kidman (along with Torrie) appears and stops Kazarian.
Kidman:
"Hey, Frankie, sup? Ready for your big match tonight?"
Kazarian:
"Yea, man, I'm ready."
Kidman:
"This is your night, Frankie, the night you can prove to the world you are A-material. Just know, man, that I as well as Torrie, believe in you, and we know you can pull it off tonight. You can do it, man!"
Kazarian:
"Thanks, Billy, Torrie. I won't let you down."
Kazarian and Kidman hug briefly, before Kazarian walks on, towards the entrance area, as we go back to ringside, to Joey Styles and Mike Bucci.
Joey Styles:
And welcome back, ladies and gentlemen, it is now time for our main event. The Road-to-the-gold Tournament kicks off right here tonight, with Rob Van Dam facing off with Frankie Kazarian. Will Kazarian be able to cause the upset, Mike?
Mike Bucci:
Well, Joey, I believe he will. Rob Van Dam lost to Hulk Hogan last week and you know that has to leave its mark on him. He doesn't have the confidence of a winner right now, Joey, and that will no doubt play a big part in tonight's match.
"Look up, beat down" hits as Frankie Kazarian comes out to a small pop from the crowd. The fans give the impression Kazarian has no hope in hell of winning tonight, but Frankie's looking motivated, running towards the ring and sliding to the inside.
"Walk" hits as Rob Van Dam walks out to an amazing pop from the crowd. They're red hot for Mister Thursday Night! Van Dam slaps hands with some fans at ringside, before entering the ring and getting ready for this main event contest.

Road-to-the-Gold(1/4 finals): Rob Van Dam vs. Frankie Kazarian
Summary:
A fast-paced, exciting contest between these two fine athletes. Frankie Kazarian started the contest like a man possessed, seizing immediate control over the match-up. Kazarian connected with some huge blows to the back of RVD, followed by a back suplex. Kazarian was all fired up, going for the top rope. He went for a double foot stomp, but RVD moved. However, Kazarian landed on his feet and nailed RVD with a quick DDT. The crowd was getting behind Kazarian, as he was dominating in the early going. Kazarian then got a little too confident, however, as he went for a belly to belly suplex, but tampered too long, giving RVD the opportunity to jump out and hit a beautiful enzuighiri. Rob Van Dam went to the top rope and nailed Kazarian with a double foot stop, doing what Kazarian couldn't do earlier! RVD went for the cover, but only got a two count…

From thereon the contest went back and forth till the finishing sequence. Both hit some high-impact moves that got the fans into this contest. Rob Van Dam hit a series of kicks and fists, followed by a monkeyflip. Kazarian on the other hand, tried to use high flying action to ground Van Dam, including a slingshot into a DDT and a huge Moonsault Side Slam, what he calls the Flux Capacitator! Frankie almost got the victory after that one, but RVD was able to kick out at two and seven eighth! This is where the finishing sequence kicked off, as Frankie Kazarian got slightly frustrated. He picked RVD up and wanted to hit a huge kick to the head, but RVD countered into a kick to the head of his own! Kazarian dropped to the mat, knocked out and motionless. Van Dam quickly ran into the ropes and nailed Kazarian with the rolling thunder! The crowd was all fired up, as Rob Van Dam did his patented R V D taunt, before climbing to the top turnbuckle. He leaped up into the air and nailed Kazarian with the Five Star Frog Splash! RVD hooked the leg and got the win!
Winner (9:01) and advancing in the RTTG Tourney, ROB VAN DAM!
Joey Styles:
Rob Van Dam is victorious tonight! What an exciting main event, Mike, and what an exciting winner!
Mike Bucci:
Finally, Rob Van Dam wins a match here on Dynamite and he did it in style, Joey, with the frog splash. If he continues to wrestle like this, Joey, Van Dam might go very far in the Road-to-the-gold Tournament!
Joey Styles:
But we got to hand it to Frankie Kazarian as well, Mike. This youngster pulled out all the stops and came this close to advancing in the tournament. A great performance by Kazarian!
Mike Bucci:
Without a doubt a great performance, Joey. This kid was hungry, he was ambitious and unfortunately, he drew the shortest straw. But I bet all my houses on it that this kid has a tremendous future lying in wait for him!
Joey Styles:
And with that, ladies and gentlemen, this edition of GWE Dynamite comes to a close. For Mike Bucci, I'm Joey Styles, good night, from Reno, Nevada!

The show ends with Rob Van Dam celebrating his victory inside the ring, and on all four turnbuckles, doing his well known RVD taunt.

Re: GWE: Global Wrestling Enterprise
---
The opening Hogan promo was pretty good, but I found some small faults in it that I want to point out. Firstly, you used 'brothers' in the beginning, but then drifted off and kept having him say 'brother', when you should've continued to use the plural since he was talking to the crowd. The Road to the Gold Tournament sounds good, I like the name, same goes for your Easter Extravaganza show. I didn't think that Hogan's speech flowed very well. 'But there's more, brothers! The second reason I am out here is to make a very important announcement' - that just didn't work for me, it made him sound really weird since he had a colloquial term 'brothers', then said all this official and formal stuff right after. The rest of the promo was fine and the last line was good.

The Invaders are a really interesting tag team, they act like heels, but are perceived as faces. I'm not too sure where this interference is going, as in your previous show's Invaders promo they stated that this was just because they could do whatever they wanted, which I don't see as a credible angle for a proper feud. You really should've had Kash do more on his part of the interference, as you described him as coming down, taking away the chair, leaving, then coming back for a clothesline, which would look really bad in reality.

Didn't see all that much in this segment, just a terrible insult by Doane, 'big brainless gorilla', and an interesting storyline in the works. Sean Waltman is a very out of the ordinary choice for a mentor role, especially with his X Pac heat from the past, but we shall see where it goes. You made Waltman sound like he was about to have a really impressive match, but it ended up being an expected squash. I guess it wasn't too bad, but I don't think a victory like that would make someone want to train under his wing to be honest.

I wasn't a fan of the Carlito backstage segment, I think you had Carlito stall way too much. A normal person would attack then talk, not give their presence away then try to strike. You made Mysterio seem rather cowardly having him grab his bag and run out of the actual arena in my opinion, so no one really wins in this segment.

Parisi is a very unique choice for a priest! I'm not sure if the gimmick would even fit him though. Great hype video though, I liked all of the new characters you are giving your workers. I see Jindrak debuting and dominating a lot of the roster like most hyped wrestlers do. Hopefully you go with an angle that doesn't include a face standing up to the unstoppable guy and beating him, because that has been done just too many times.

The outcome of this match was too obvious; coming out of a main event title match from last week, Van Dam should've been paired up with someone a bit more credible. I think this was a weak ending to the show. The match wasn't bad, but not a spectacular main event. Having Hogan come out at the end to clap for Van Dam would've improved the closing moments than just a celebration from RVD. This show was okay, there were ups and downs, but I must say that I am really liking the unique touch you are giving your workers with the new gimmicks and such. I didn't see any mention of Bischoff or Matt Bloom, I thought they would be making appearances of some sort on this show. You didn't include Paul Wight in the show either; after hyping him with a video, you really shouldn't have put him off his second show. That's all from me for now, I'll be looking out for the next show.
Moron
Join Date: Nov 2007
Location: England
Posts: 8,966
Points: 0
Re: GWE: Global Wrestling Enterprise
---
A very good show, I'll get a review up probably early next week at the latest. I was going to post a review now, but my computer buggered up as usual, so I'll post it very soon instead. Sorry.
Re: GWE: Global Wrestling Enterprise
---
Alcoholic's Review
Right then, to start things off the first show didn't do it for me. I mean I thought it was a bit too much HULK! Now don't get me wrong, Hulk is a legend, and he is the owner, but making him Champion on the first night was a bad move. I suppose it was good in the sense that the show and the company now would be more credible, but I would have predered it if an actual superstar won the match.
Having just one match on the card was also a bad booking decision, but at the same time good. I mean it was good because the certain match you chose showcased most of if not all of the roster.
So the first show was average I guess. It didn't do it for me on all aspects. The show was fun to read though and it debuted the company so that's a thumbs up.
The second show was a lot better than the first man. You really showed off your skills in this show. The opening promo already set a good match for next week in Hogan/RVD. Hopefully Hogan will not keep the tile for long. I'm starting to think that having the chairman as the champion might not be such a bad idea, because watching a superstar go after the title is a lot more fun to read, and a lot more exciting.
The whole second show seemed to be booked nicely. The main event went on for longer than expected. Like Szumi said, being that long wouldn't have worked out at all.
I'm not too keen on Stallone being used as an on air talent. This just seems weird to be. If they were given a personality which would suit the wrestling business then by all means I wouldn't mind as much.
Carlito as a face didn't work for me either man. Heel Carlito is how he should be and stay.
Carlito surprised me on the third show however. His promo had deffo improved. Which means you have improved. However it seemed a bit much considering all he did was lose to Misterio. However I'm looking forward to how you play this feud now.
Wight debuting was something I was interested in. However I didn't like how he debuted in a match. It all seems a bit 'wwe' I think you should have had him debut in a much more entertaining fashion rather that just beat the local jobber of the roster.
Now I personally liked the finish of The main event. RVD missing the frogsplash must have been a bummer for the fans, and especially because that's the move that put him away. Keeping the title on Hogan was the best move, at least for the time being anyway. I'm starting to like it more and more each week, and that means your improving more and more each week.
Overall Alcho, this was just a few comments on all first three shows. I am going to start reviewing properly from now on though, because you have shown that you're a brilliant booker, and that your willing to improve. Nice work so far man
EDIT: Damn didn't notice the last show had gone up. My bad sorry man
---
Last edited by Mr. Kanefan; 02-03-2008 at

10:06 AM

.
Posting Rules

You may not post new threads

You may not post replies

You may not post attachments

You may not edit your posts

---

HTML code is Off

---