Moron
Join Date: Nov 2007
Location: England
Posts: 8,966
Points: 0
Re: GWE: Global Wrestling Enterprise
---
90 Minutes? Awesome, longer shows will be great, especially for this thread, which is one of the best on here imo. I'll get a review up for Dynamite! once it's up.
Re: GWE: Global Wrestling Enterprise
---
GWE Dynamite! 04-24-2008 Preview!
This week, the GWE roster rolls into Richmond, Virginia, for its last night under a 60 minute format. Will the Robins Center, like every other arena GWE has been to, shake on its foundations this Thursday?
Last week, Matt Bloom made it clear that he is not yet ready to face Rob Van Dam for the Global Championship yet. Therefor, Eric Bischoff decided the champion needs to stay in shape, by going into competition each and every week, until Matt Bloom cashes in his title match opportunity. This week, Rob Van Dam has to go one on one with none other than the Largest Athlete in the world, Paul "The Great" Wight. Will the champion be able to overcome this very big hurdle, or will he suffer his first loss as a champion?
Also last week, Matt Sydal and Rey Mysterio had a heated confrontation with Carlito Colon, who's fuming mad over the fact he hasn't been able to end Mysterio's career yet. This week, on GWE.com it was announced that Matt Sydal and Carlito Colon will do battle this Thursday on Dynamite! Will Carlito be able to let out his frustrations and win, or will Matt Sydal cause the upset?
Last week, a special superstar made his debut on Dynamite. Kofi Kingston impressed the world by beating Super Crazy in dominating fashion. This week, he has another match on the card. Will he be able to impress yet again?
Find it all out this Thursday, only on the ESPN Network!
Confirmed Matches

GWE Champion Rob Van Dam vs. Matt "The Train" Bloom (non-title)

Kofi Kingston vs. Nic Nemeth

Carlito Colon vs. Matt Sydal
Years I've Been a Fan > Years You've Been Alive
Join Date: Jun 2005
Location: Kansas City - At the Argosy, Playing Blackjack with Harley Race
Posts: 808
Points: 0
Re: GWE: Global Wrestling Enterprise
---
90 minutes? Awesome. Sounds like a decent enough show. Make me proud.
---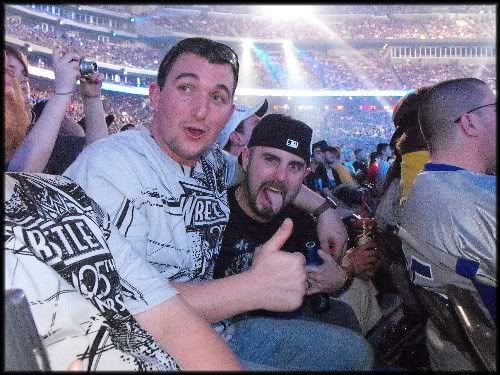 Re: GWE: Global Wrestling Enterprise
---
This looks really good. I will defenitly keep track of this.
---
Moron
Join Date: Jun 2008
Posts: 70
Points: 0
Re: GWE: Global Wrestling Enterprise
---
yes i also like the sound of a 90 minute show it will let you advance storylines in a more detailed way which in turn will make it better for ME. The reader
Moron
Join Date: Nov 2007
Location: England
Posts: 8,966
Points: 0
Re: GWE: Global Wrestling Enterprise
---
Solid Dynamite Preview, man, I'll be more than happy to drop in a review once Dynamite's up, but it would be great if you could return the favour.
Re: GWE: Global Wrestling Enterprise
---
GWE Dynamite! 04-24-2008 Robins Center, Richmond, Virginia

*Opening video*

**pyro**
**pyro**
**pyro**
"Welcome to the jungle" is blaring through the speakers, as we go to a jam packed Robins Center, which is entirely filled with rabid GWE-maniacs! The camera pans the arena as we various signs such as "R V D", "Sydal > Carlito" and "Bischoff = jackoff". We then switch to the announce table, where Joey Styles and Mike Bucci are ready to get the show underway!
Joey Styles:
Good evening, ladies and gentlemen, and welcome, to another exciting episode of GWE Dynamite! My name is Joey Styles, sitting alongside my broadcast partner, Mike Bucci! Mike, tell us what's new!
Mike Bucci:
Oh my god, Joey! What a great show we have in store for the GWE-maniacs yet again! Matt Sydal will go one on one with Carlito Colon tonight and in our main event, baby, Rob Van Dam, the GWE champion, will take on Paul "The Great" Wight in a non-title match!
Joey Styles:
That is sure to be an exciting match, and one has to wonder, Mike, if Van Dam will be able to overcome such a big hurdle!

"Wake Up" hits the P.A. system as the fans pop loudly for the arrival of Matt Sydal. He has really grown on the fans as of late with his unorthodox style and has become a fan favourite, among the GWE fans. The same cannot be said about his opponent tonight.

"Apple spittin', Jaw hittin'" hits the P.A. system as Carlito Colon comes out to a ton of heat. He's juggling with his apple, as he's coming down the aisle, looking ever so arrogant. He gets into the ring, apparently not caring about the fans' reception he's getting.
Matt Sydal vs. Carlito Colon
Summary:
A very exciting, high-paced match-up to open the show. Colon looked angry throughout the entire match, but managed to stay focused for the bigger part of it. Carlito dominated the first part of the match, trying to go at a slower pace, a pace more suited to him. Carlito dominated at first with various headlock takedowns, out of which Sydal managed to escape the first few times, until Carlito locked in a camel clutch, keeping the youngster down momentarily. After a while, Sydal managed to escape though, following a beautiful, onorthodox summersault, sending his feet in Carlito's face. Sydal was zoning in, nailing Carlito with a feint enzuigiri into a headscissors takedown! The crowd popped, as Sydal was all fired up at this point. Sydal nailed a standing shooting star press, looking for the early victory, but to no avail. Sydal then made a "rookie mistake" sort of speak, when he flew through the air for some sort of flying axe handle, when Carlito countered with a picture perfect Cool Shot, his variation of the reverse STO! The crowd was dead silent, suspecting this was the end. But they quickly became rabid once again, as Sydal kicked out of the pinfall attempt at two and a half! Carlito continued to work on Sydal, performing a side headlock takedown, before stepping onto the apron, launching himself up from the top rope and nailing a beautiful elbow drop. Carlito went for another cover, but again Sydal kicked out.

Carlito stomped the mat quickly, to show his frustration, but he would quickly go back to working on Sydal. Sydal, however, found his second wind and retaliated with kicks and punches to the gut and jaw of the Caribbean Bad Apple. Matt Sydal backed Carlito into the corner, before nailing a huge dropkick to the chest, causing Carlito to fall on the mat, lying knocked out on his back. Sydal climbed to the turnbuckle, undeniably thinking about a big aerial move. Sydal gave us all what we wanted and went for the 450 splash, but Carlito moved and sent Matt Sydal crashing and burning into the mat! The crowd booed, as Carlito got up, simultaneously with Sydal, however. Sydal, teetering and confused, got hit with a quick, yet vicious outward rolling cutter! The crowd thought that this match was certainly over, but Matt Sydal kicked out of the cover at two and seven eighth! The fans cheered as their favourite, Matt Sydal, was still in this ballgame.


Carlito started to show signs of frustration, as he picked Sydal up, undoubtedly for another devastating move. Carlito went for a back suplex, but Sydal rolled through, and nailed a sitout rear mat slam. Sydal got up and nailed Carlito with a picture perfect standing moonsault! The crowd popped, as Sydal was firing up. He scouted Carlito to finish him off with his signature pumphandle half nelson driver, but Carlito had it scouted and jumped out, only to kick Sydal in the gut, before driving him down with a beautiful overdrive! Surely this would settle this great match…but no! Sydal again kicked out at two and seven eighth! Carlito was fuming at this point, screaming all kinds of Puerto Rican jibberish at the referee. Carlito then exited the ring, only to grab a steel chair! The crowd started booing, as Carlito was ready to whack Sydal with the chair. But suddenly, the fans roared, as All-American champion Rey Mysterio sprinted down the aisle! Mysterio didn't' get inside the ring however, as Carlito had already noticed and ran towards the ring ropes. Carlito only had his attention on Mysterio now, who was shouting at Carlito not to use the chair. Meanwhile, Sydal was taking advantage to get to his feet. And when he realized Carlito was too busy focusing on Rey Mysterio, Sydal stormed at Carlito and rolled him up! ONE…TWO…THREE!!!
Winner (8:36) Matt Sydal!!!
Joey Styles:
Sydal caused the upset! Sydal just pinned Carlito for the one, two, three and scores his biggest victory in his GWE career!

Mike Bucci:
He sure did, Joey! But did you see what Mysterio did there? He distracted Carlito, leaving him a sitting duck for Sydal! There will be hell to pay now for the All-American champion, you can count on that!
We see Sydal and Mysterio backing up on the entrance ramp, looking overjoyed with Sydal's victory, while Carlito is left in the ring, fuming, with yet another loss under his belt.
We then go backstage, where Eric Bischoff is walking down a corridor. He is looking extremely pleased tonight, carrying a big smile from left ear to right. His smile soon disappears, however, when he enters his General Manager office, where a bunch of superstars are arguing. We see the Global Tag Team champions The Invaders, as well as the X-factors and the Basham Brothers and Kidman and Kazarian. The office is crowded.

Eric Bischoff:
What in the HELL is going on in here?
Kash is about to speak, when Bischoff rudely cuts him off.

Eric Bischoff:
No, no! Don't answer that! Who gave you guys the authority to burst into my office like this and have a lil' slumber party? HUH?
Eric Bischoff:
YOU (pointing at Danny Basham)! I want some answers!
Danny Basham:
Sir, these men, Kazarian and Kidman, they robbed us off our Title match opportunity!

Bischoff now looks at Kidman
Billy Kidman:
We just did what we could, Mr. Bischoff. They're just bitter.
Eric Bischoff:
Is that so? And what about you guys (looking at Kash and Gibson)?
Kid Kash:
Sean Waltman is nothing but a liar and a manipulator! He cheated us out of the victory last week!
Eric Bischoff:
Oh really? (Now looking at Waltman and Doane)
Sean Waltman:
The Global Tag Team champions, Mr. Bischoff, are just sore losers.
Bischoff gets a fake smile on his face, before speaking once more.
Eric Bischoff:
So it would seem to me that all of you, wanna get a piece of each other, am I right? Well, then that's exactly what you're gonna get! Tonight, all of you will be involved in a 4-way Tag Team Extravaganza! And for the record, the Global Tag Team championships WILL be on the line!
Huge pop can be heard from inside the arena, as all 8 man are about to leave.

Eric Bischoff:
And, eh, just to make things interesting…If either one of you EVER steps into my office without authorisation again…YOU'RE FIRED! Now get out of my sight, the lot of you!

The 8 man leave Bischoff's office quickly, as we go to the first Commercial Break of the night.
*COMMERCIAL BREAK*
When we return, we see Nic Nemeth standing in the middle of the ring, ready for his first ever on-screen television match.
"Everybody Dance Now!" hits the P.A. system as Kofi Kingston comes out, jiggin' and jivin', to a good pop from the fans. Kofi is enjoying the reception, as he makes his way to the ring, ready for his second ever televised match.

Nic Nemeth vs. Kofi Kingston
Summary:
A short and sweet match. Surprisingly enough, Nemeth got a ton of offense it at one point, but at the very start, it was Kofi who was in control. Kofi delivered a plethora of kicks to the abdomen and head of Nemeth, who was on the mat, more than once. When Kofi had hit Nemeth with a beautiful hurricanrana, he decided it was time to dance and show off to the fans, who ate it up! Kofi mixed some Capoera-like moves with some smooth looking breakdance moves, which all look really cool. Unfortunately for Kofi though, all this dancing gave Nemeth the time to get back to his feet and to nail Kingston with a beautiful bulldog. Nemeth saw his chance to take control over the match up, as he went for a Heelo and connected! Nemeth went for the cover, but Kofi kicked out. Kofi then got his act back together, as he countered a powerbomb attempt by Nemeth into an awe-inspiring mid-air enzuigiri! The crowd really got into the match at this point, as they were cheering Kofi on loudly. Kofi then dished out a nice cartwheel followed by his patented two-legged legdrop, much to the appreciation of the fans! Kofi smiled and did a little celebration danse, waiting for Nemeth to get up. When Nemeth had reached his feet, Kofi blasted him with the 540 Crescent Kick, securing the victory!

Winner (3:54) Kofi Kingston!

Joey Styles:
Another exciting victory after an exciting match for Kofi Kingston!
Mike Bucci:
Kofi's on a roll, baby. Two wins in a row, and it doesn't look like he's gonna stop anytime soon! I'm excited for this kid, Joey, I really am!
Joey Styles:
Well, we've seen some great matches tonight already, but there's more to come tonight. The Global Tag Team Championships will be on the line in a four-way tag team extravaganza, Mike!
Mike Bucci:
And in our main event, baby, Rob Van Dam will go mano a mano with Paul "The Great" Wight! Huge night, Joey, huge!

We then switch to a backstage area. It's not your usual backstage area, however. It's a small room, filled with candles, with two big, white, Greek pillars in the back. It's dark in the room, until a light goes on and reveals "The Divine One" Mark Jindrak and his personal priest Johnny Parisi. Jindrak is just staring dead ahead, while Parisi gets ready to talk.
Priest Parisi:
Last night, "The Divine" Mark Jindrak came to me in a dream. He made it clear that he has ploughed through all the possible competition that was thrown in front of his heavenly feet, during his spectacular tenure here in the GWE. But his quest on Dynamite has not yet come to fulfilment.

Jindrak just continues to stare into blank space.
Priest Parisi:
Our Lord and Saviour said to me that he demands a true challenger. A mortal that can at least put up a decent fight. A soul that can assure our heavenly ruler he will not have to be carried to the hospital, upon entering the squared circle! So it is very clear. "The Divine One" Mark Jindrak demands a challenger to rise up and go one on one with the Divine One.
Jindrak looks to be opening his mouth for talking, but instead, Parisi continues.
Priest Parisi:
Until a mortal challenger arises, we'll be right here, awaiting the noble conquistador. Be aware, however! For when you step into the ring with the Divine Mark Jindrak, there is only one thing you can do. And that is pray. Pray that you get out once more, in one piece. Moeahahaha…
Parisi starts laughing uncontrollably, while Jindrak just continues to stare dead ahead, as we go to another commercial.
*COMMERCIAL BREAK*
Joey Styles:
Welcome back to Dynamite, folks, coming up next, is the highly interesting 4-way Tag Team Extravaganza, with the Global Tag Team Titles up for grabs!

Mike Bucci:
Technically, Joey, The Invaders only have a 25 percent chance of walking out Richmond still the champions and that, well, that doesn't look good for the champs!
"Bald 'n Nasty" hits the P.A. system as Doug and Danny, The Basham Brothers, along with Jillian Hall come out to a good amount of heel heat. The trio make their way to the ring, looking pretty confident.
"You can run" hits as Billy Kidman and Frankie Kazarian, accompanied by Torrie Wilson, make their way out to a nice pop from the fans. They run towards the ring and slide in, immediately getting face to face with The Basham Brothers.
"Yo, you're dealing with the X-factor" The X-factors' themesong can be heard throughout the arena, as Ken Doane and Sean Waltman walk towards the ring with huge smiles on their faces. The fans don't give them a warm welcome, instead they're treated to a ton of heat. They slide into the ring, each doing slightly different "X-motions".
"Bawitdaba" hits the P.A. system finally to reveal the Global Tag Team Champions. Well, at least one of them, as Kid Kash is the only one coming out on stage. He walks towards the ring, title on his shoulder, and waits in front of the ring. From the crowd, fellow champ, James Gibson joins up and both men get inside the ring, ready to defend their championships.

Four-way Tag Team Extravaganza for the Global Tag Team Championships: The Invaders© vs. The Basham Brothers vs. Kidman and Kazarian vs. The X-factors
Summary:
A very exciting tag team match here, that was deservingly called "Tag Team Extravaganza". James Gibson, Doug Basham, Sean Waltman and Billy Kidman were the four men that started in the ring. And as the feuds had progressed in the past few weeks, you could've expected who went after who. It was James Gibson going toe to toe with Waltman, while Kidman was in a collar-and-elbow tie up with Doug Basham. The four men brawled throughout the ring, going into numerous slugfests, leaving the wrestling behind for a while. Then, Gibson tried to Irish whip Waltman into a corner, but at the same time, Kidman tried to do the same with Doug Basham into the opposite corner, resulting in Waltman and Gibson crashing into each other, much to the approval of the crowd. Gibson and Kidman crossed eyes and with the Tag Titles on their mind, they decided to go toe to toe at this time. Gibson and Kidman brawled briefly, before Gibson took control, nailing a vertical suplex. Gibson then tagged in Kash, who wanted to work on Kidman, but got levelled by a brutal leg lariat from Doug Basham, who then tagged in Danny. The tag team action continued and saw some high points, such as Kazarian hitting a springboard crossbody to Ken Doane, while Gibson was holding him up for an electric chair.

The ending came when Kidman and Danny Basham were brawling near Doug Basham's corner. Doug tagged himself in, without Kidman knowing it and surprised him with a quick backbreaker. Meanwhile, Kid Kash and Sean Waltman were doing battle on the other side of the ring, with Kash having the upperhand. Kash nailed a quick DDT, putting Waltman out for a brief moment. Kash went for the cover, only getting a two. The Basham brothers took advantage of the referee being with Kash, however, working on Billy Kidman together, with Danny Basham being illegal inside the ring. Kazarian took notice of this and decided to help his partner out. Kazarian came in and nailed Danny Basham with a thunderous Super Kick, catapulting him all the way out of the ring! Billy Kidman then followed the example of his partner, Super Kicking Doug Basham to the outside! The duo got the crowd on their hands, as both of them ascended two turnbuckles. The crowd popped as The Basham Brothers got up, only to be met with two devastating aerial moves. Kidman and Kazarian looked at each other, before nailing the Basham Brothers with two simultaneous Shooting Star Presses! The fans popped, as four out of the eight men were out of the game. This left the Invaders and the X-factors as the only ones capable of walking out the champions. Kash had the advantage over Waltman, as the ending sequence was about to reach its climax. Kash tagged in Gibson, who immediately took out an engaging Ken Doane with a huge lariat. Gibson then went to a dazed Waltman and locked in the Dragon Sleeper! The crowd popped loud, as they knew what was coming. Kash approached his teammate, as Gibson lifted Waltman in the air, only to drop him in a dropping reverse DDT, while Kash nailed a sit-out powerbomb! The Invasion Sensation had connected! Gibson covered Waltman and The Invaders retained the Global Tag Team Championships!
Winners (10:01) and still Global Tag Team Champions, The Invaders!

Joey Styles:
What an amazing contest for the Tag Team championships, we just saw?!

Mike Bucci:
Amazing, incredible, unbelievable…There are a lot of adjectives I can be throwing around now, Joey! It was a great contest, and you know, the Champions, they deserved their win here tonight, and they proved that they are the best tag team in the business today. Good job, guys.

We see The Invaders holding their belts high into the air, as they came out on top in their first ever Tag Team defence. The fans are popping, as their favourites put the titles on their shoulders, applauding the fans for their exciting cheers, as we go to another commercial break.
*COMMERCIAL BREAK*
Quote:
*A video package immediately aired after the break, showing Matt "The Train" Bloom working out. We see him lifting massive weights in the weight room, running up the concrete stairs of some empty football arena and finally, we see him doing various work-outs, showing off his amazing muscle mass.*
We then switch to a backstage area, where Brock Lesnar is enjoying a fresh cup of coffee. Suddenly, Paul "The Great" Wight walks in shot and Lesnar immediately puts down his cup, gets up and confronts Wight.

Paul Wight:
Hey, man. Listen. I wanted, ehm…I wanted to apologize, man. You know, for the way I've been behaving lately. I guess I got a lil' carried away. Anyway, man, you deserved the win last week. And, eh, I guess we'll meet again.

Brock Lesnar:
That's cool, Paul.
Paul Wight:
For now, I've gotta face the champ. So I'll see ya later, man.
Brock Lesnar:
Later, Paul.
Paul Wight walks away, as the camera keeps focused on him, and we see a huge smile, almost an evil smirk form on his face. Could Paul be having some evil intentions?
We then switch to ringside.
Joey Styles:
Ladies and gentlemen, there's one match left on the card for tonight. It's the main event! Our GWE Champion, Rob Van Dam, goes toe to toe with Paul "The Great" Wight! What a match!

Mike Bucci:
They crossed blades before, Joey, and it was Van Dam who came out on top! But tonight, I wanna put my money on Wight, baby! He's just so big, so powerful, so talented! I don't know if our champion can cause the upset twice in a row!
Joey Styles:
That indeed remains to be seen, Mike, but do remember, that our champion hasn't lost a single match since winning the championship at Easter Extravaganza!

"BIG" suddenly hits the P.A. system as Paul "The Great" Wight makes his way down the entrance ramp to a mixed reaction from the fans. He isn't the lovable big guy anymore. Instead, he's turned into a bitter big man, who isn't adored by the fans any longer.
"Walk" then hits as Rob Van Dam, the GWE Champion comes out to an ENORMOUS pop from the fans. He holds his GWE championship on his shoulder, as he does his patented R V D taunt, before walking towards the ring, eating up the fans' huge reception. He gets into the ring, and jumps around, posing with his massive gold championship, which he wears with pride.

Non-title match: GWE Champion Rob Van Dam vs. Paul "The Great" Wight

Summary:
As was to be expected, Paul Wight dominated most of this contest, outweighing and "outseizing" Rob Van Dam. Wight used his beast-like strength in the early goings, taking control over the match-up, using his mighty paws to disconnect Van Dam's jaw. The champion was struggling, as he was met with big right hands, clotheslines and big boots, but managed to kick out of every pinfall attempt. Van Dam got a sudden offensive flurry though, when he was able to make Wight stagger after numerous kicks to the abdomen, and even to the head, granted he got a little help from the ring ropes. The champ got overzealous, however, and went for a clothesline on Wight, who countered with a brutal lariat. This was immediately the trigger to a commercial break.
*COMMERCIAL BREAK*
When we came back from the break, Paul Wight had a hold of Van Dam's trapezius muscle, keeping him down and paralyzing his right side. Van Dam tried to fight out, and finally was successful as he hit multiple, athletic kicks to Wight's head. Van Dam bounced off the ropes and instead of going for an offensive move, he slid under Wight's legs and nailed a dropkick to the back, sending Wight chest-first into the corner. Wight turned around, only to see Van Dam charging and hitting an AMAZING monkey flip to the 450 pounder, Paul Wight! The crowd popped hard, as Van Dam had to recuperate from that unbelievable move. Van Dam saw Wight lying on his back, and went for three consecutive leg drops, which he all hit! The crowd was excited as Van Dam was building up a lot of momentum at this point, eventually hitting his patented Rolling Thunder, to a large pop! Van Dam went to the top turnbuckle and everyone in attendance knew what was coming. Van Dam did his R V D taunt, before flying through the air, looking for the Five Star Frogsplash, but he met nothing but canvas, as Paul Wight moved! The crowd booed, as Wight got up, landing a huge elbow on a fallen RVD. He repeated this process once more, before picking RVD up, and bending him over backwards(back facing the mat). Wight placed his leg over RVD's chest, and dropped to the mat, nailing the Great Leg Drop! Wight went for the cover and everyone thought it was over, but the resilient champion kicked out, staying alive in this match! Wight got up quickly, and sought to end this match once and for all. He picked the champion up and put his large paw around Van Dam's neck. Everyone knew what was coming, as Wight was looking for the Chokeslam. Wight hoisted Van Dam into the air, but the Champion then dished out one hell of a counter. As he was in mid-air and shifted the weight and surprised Wight with a Sunset Flip, pinning Paul Wight! The ref counted: ONE…TWO…THREE!!!
Winner (9:33) GWE Champion, ROB VAN DAM!!

Joey Styles:
Van Dam wins! Van Dam wins! Van Dam wins!

Mike Bucci:
Well, I gotta hand it to him, Joey, Rob Van Dam dished out one hell of a performance here tonight, and he managed to defeat Paul Wight once again. My hat goes off for the champ, baby!

We see Rob Van Dam walking up the entrance ramp, his championship tightly pressed against his chest, as he looks shocked he was able to score the pinfall on the massive Paul Wight, who looks as shocked, if not more, still inside the ring.

Joey Styles:
Well what a way to end this spectacular show, ladies and gentlemen. For Mike Bucci, I'm Joey Styles! Goodnight, from Richmond, Virginia!
Re: GWE: Global Wrestling Enterprise
---
This was a great episode.
---
Moron
Join Date: Nov 2007
Location: England
Posts: 8,966
Points: 0
Re: GWE: Global Wrestling Enterprise
---
Alcoholic's Dynamite Feedback
Matt Sydal vs. Carlito Colon
This was a match I was really looking forward to seeing, so it's great that it was the opening segment, let alone match, of the show. I thought Carlito Colon was going to win, until Rey Mysterio came down and screwed Carlito out of the match. Nonetheless, good to see Matt Sydal win, I'm glad that Sydal recovered from missing with the 450 Splash, that had to hurt!
Eric Bischoff Promo
All the Tag Teams are in Eric Bischoff's office, so it can only mean a big announcement. And it was! Man, awesome match made with the GWE Tag Team Championships on the line, I honestly don't know who's gonna win. Everybody was perfectly in character, which made this segment great, to add onto the huge announcement.
Nic Nemeth vs. Kofi Kingston
Jamaican Me Crazy! The future GWE Champion Kofi Kingston once again on Dynamite, and I'm loving every second of it. Good that you use a relative unknown, at least to GWE, to job to Kingston. Shame that Kingston didn't do his dancing antics after the match, but a consolation is that we got to see them when he made his entrance
Mark Jindrak Promo
I love Mark Jindrak's character, and having Priest Parisi at his side is awesome. I would like to see who answers "The Divine One"s challenge, hopefully this is paving the route for a new Superstar to join the GWE Roster. I hope it is. I liked it when Jindrak was about to speak, but Parisi kept rambling on, that was funny.
GWE Tag Team Championships Match
The result of this match is very unpredictable in my eyes, and The Invaders are at a huge disadvantage in this match. This match was awesome, and the double finishing maneuver by James Gibson and Kid Kash, the Invasion Sensation, was amazing, but the simultaneous shooting star presses by Billy Kidman and Frankie Kazarian were simply breath-taking. The Invaders retain, which is great, but I would love to see Kidman and Kazarian as Champs in the near future.
Brock Lesnar Promo
Damn you, Paul Wight, for interrupting Brock Lesnar's coffee-drinking session! Anyways, this was an interesting promo, not much came out of it, but maybe a Paul Wight face turn in the near future? Maybe, if Wight does turn face, then I would love to see him team with Lesnar for a one-off thing, that would be cool. Oh, I just saw Wight walk out with an evil smirk. Bummer.
Rob Van Dam vs. Paul "The Great" Wight
The easy favorite choice for the match would be Paul Wight, but never rule out Rob Van Dam, he is the GWE Champion, after all. Another solid match, surprised, but ecstatic, to see Van Dam win, the counter RVD made from that chokeslam was awesome, and I marked for Van Dam monkey flipping the big man, that was just insane.
Overall
Man, your shows are so great, it's not funny. I didn't have a single bad word to say about this edition of Dynamite, with the exception of the sarcastic lines, for example Paul Wight interrupting Brock Lesnar while he was drinking coffee
Anyways, another solid show, man, I can't wait for next week's show!
Re: GWE: Global Wrestling Enterprise
---
Quote:
Originally Posted by Rajah.com
GWE News and Notes

-Last Thursday's episode of GWE Dynamite drew a strong 2.6 rating. ESPN officials are said to be extremely happy with the way GWE has portrayed itself and with the way it has been able to draw as well as it did.

-Speaking of last Thursday's episode, the pre-show dark matches pitted "Hot and Heavy", Scott Taylor and Seth Skyfire against The Mexicools, Juventud Guerrera and Super Crazy, a match that was won by Hot and Heavy.

The other match saw Monty Brown defeat Paul Burchall.

-Two wrestlers have been signed to development contracts by the GWE. The wrestlers who we are speaking of are former WWE Tough Enough winner Matt Cappotelli and the British wrestler PAC(Ben Satterly), who's nicknamed "The man that gravity forgot". With Kofi Kingston and Seth Skyfire being called up to the main roster, it is no surprise that GWE is looking out for new developmental talent.

-Monty Brown has been cleared to wrestle, as he wrestled a dark match at last Thursday's Dynamite. He will not yet appear on television, however, as GWE officials believe he has to work off potential "ring rust" first.
Right, that's it for now. Thanks, Mr.R for the review and f* you, whoever you are, for that lame one-liner. The first 90-minute Dynamite is shaping up nicely and will be posted somewhere in the next week. Cheers!
Posting Rules

You may not post new threads

You may not post replies

You may not post attachments

You may not edit your posts

---

HTML code is Off

---