Re: GWE: Global Wrestling Enterprise
---


GWE Dynamite! 04-17-2008 Preview!

This Thursday, the superstars of GWE roll into Manchester, New Hampshire. Will history be made yet again in the Verizon Wireless Arena?

The main event of this week's episode of Dynamite is one of epic proportions! This Thursday, Paul "The Great" Wight and Brock Lesnar will cross blades in an Easter Extravaganza Rematch! At Easter Extravaganza, Lesnar came back to pro wrestling, only to beat Wight in under 30 seconds! Now, Wight finally has the opportunity to get revenge for that shameful loss. But will he be able to get his revenge on a very focused Brock Lesnar?

Last week, Carlito got his last chance to become an All-American champion. But in what was an act of pure evil, he threw away his chances, by nailing Mysterio with a steel chair. When he went on to try and destroy the All-American champion, however, Matt Sydal came out to stop the Carribbean Bad Apple. Carlito wasn't too happy at this development, and one can only wonder how he will react this week? Will he seek revenge on Matt Sydal, or will Carlito still be going after Rey Mysterio, like he has been doing ever since GWE got created?

Also last week, there were supposed to be number one contenders for the Global Tag Team Championships. However, in a great tag team encounter, The Basham Brothers, nor Kidman and Kazarian could secure a pinfall. Will either one of the teams claim victory this week, or will we have to have a rematch to decide true number one contenders?

And this week, we will see the debut of an entirely new superstar on Dynamite, Kofi Kingston. Kingston has declared that upon his debut, it will be party time! Will he indeed be able to party, or will he have to walk away with his head hung low, should he lose his debut match?

And also confirmed for this week, is a match involving the Global Tag Team Champions, The Invaders, and The X-factors, Sean Waltman and Ken Doane. Will the champions prove their dominance over the division, or will the X-factors be able to stun the champions in this non-title match?

All this and much, much more, this Thursday on Dynamite!, only on the ESPN Network!

Confirmed matches:

Paul "The Great" Wight vs. Brock Lesnar

Global Tag Team Champions The Invaders vs. The X-Factors

Kofi Kingston vs. Super Crazy
Years I've Been a Fan > Years You've Been Alive
Join Date: Jun 2005
Location: Kansas City - At the Argosy, Playing Blackjack with Harley Race
Posts: 808
Points: 0
Re: GWE: Global Wrestling Enterprise
---
Looks to be quite the interesting show coming up. Good luck with it. Glad to see you back out and about. Review for the show will come. <3
---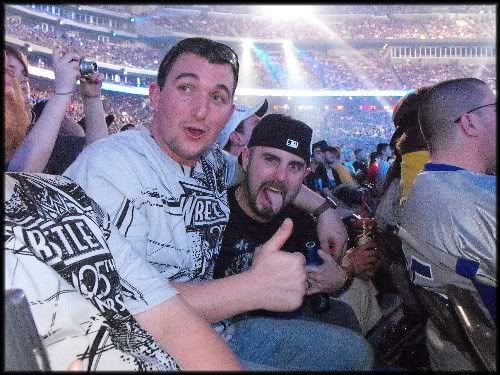 Re: GWE: Global Wrestling Enterprise
---
Dark Matches
Scott "Too Hot" Taylor and Seth "Heavy Duty" Skyfire defeat Two New Hampshire locals at 5:02
Paul Burchall defeats Mike Mondo at 6:15
GWE Dynamite! 04-17-2008 Verizon Wireless Arena, Manchester, New Hampshire
*Opening Video*
**Pyro**
**Pyro**
**Pyro**
As "welcome to the jungle" is blaring through the speakers, the camera goes to a jam packed Verizon Wireless Arena in Manchester, where the rabid GWE fans are ready for another exciting episode of GWE Dynamite! As numerous fans show off their homemade signs, the camera cuts to the announce booth, where Joey Styles and Mike Bucci are ready to welcome us all!
Joey Styles:
Ladies and gentlemen, good evening! I'm Joey Styles, alongside Mike Bucci and we welcome you to another edition of GWE Dynamite! Tonight, as you have read on GWE.com, Brock Lesnar finally faces off against Paul Wight in a Great Challenge rematch!
Mike Bucci:
Oh my god, Joey! What a main event! A match, that won't be like any other match, baby! Paul Wight won't be caught off guard a second time, that's for sure!
Joey Styles:
And that's not all for tonight, Mike, as we've got a very special superstar making his GWE debut tonight! He's from Jamaica and his name is Kofi Kingston!

"Yo, you're dealing with the X-factor!" hits the P.A. system as the X-factors, Sean Waltman and Ken Doane come out to a mixed reaction from the crowd. Doane and Waltman are laughing away, seemingly not caring about the fans' opinions on them, as they make their way to the ring.
Joey Styles:
But first off, ladies and gentlemen, a very interesting tag team match. The Tag Team champions, will fight in a non-title match against the men we are seeing coming down to the ring right now, the X-factors.
Mike Bucci:
I've been looking forward to this all week, baby! I wonder what this new team, that the X-factors is, will bring to the table against the undefeated Tag Team Champions. Let's do this!
"Bawitdaba" hits the P.A. system as one half of the Global Tag Team Champions, Kid Kash walks out to a good pop from the crowd. He walks to the ring and waits about five feet in front of it, looks to his left and from the crowd, James Gibson, his Invader partner joins him, as the duo slides into the ring and gets ready for the match.

Non-title contest: The Invaders© vs. The X-factors
Summary:
A surprisingly high-paced match-up here. Kid Kash started out against Ken Doane and that proved to be quite the cruiserweight encounter. Kash had the upper hand in the early going, nailing Doane with a back body drop, followed by a low dropkick to the jaw. Kash went for the early cover, but Doane kicked out. Doane then got into the match, nailing Kash with a quick enzuigiri. Doane tagged Waltman in, but Kash was able to tag Gibson in at the same time. Gibson and Waltman chose for a more slow approach, as Gibson, immediately grounded Waltman with a side headlock takedown. Waltman got out of the headlock quickly though and an all out brawl commenced, as the two engaged in a collar-and-elbow tie-up, that took them brawling all around the ring. Eventually, Waltman got the upperhand and nailed Gibson with a dropkick. Waltman and Doane then isolated Gibson with some quick tags, focusing on Gibson's back. The X-factors impressed here tonight, with some nifty tag team action, something that wasn't expected from this new team. Gibson finally was able to get out of his predicament, when he got the hot tag to Kash. Kash made quick work of Doane, nailing a hurricanrana, followed by multiple flying forearms. The crowd was hot at this point, as Kash was firing up, getting ready to hit Doane with the Dead Level. Kash got Doane in the front facelock and hoisted him up in the air, but Doane managed to shift his weight, flipping over to his feet, and nailing Kash with a quick, yet very effective neckbreaker. Doane went for the cover, but only got a two count. Doane then looked at Kash in maniacal fashion, scouting Kash for the RK-Doane. Kash stumbled to his feet and turned around, but managed to throw Doane off of him, when Doane went for the RK-Doane! Doane got up and turned around, only to be nailed with a brutal DDT from Kash! Waltman sensed trouble and left the ring apron, going to the time keeper's table and grabbing not one, but all two tag team belts! Waltman got into the ring, with one belt exposed and the other, hidden behind his back. The ref notices the belt and pulls it out of Waltman's hand. He doesn't want Waltman using the title belt as a weapon! What about the other one, referee?! With the ref out of the picture, Waltman approached Gibson, who got into the ring and drove the title belt straight into Gibson's skull! Gibson pummeled to the mat and out of the ring, while Kash turned around and got suffered the same faith as his partner, being whacked in the head as well with his own title belt! The crowd were fuming mad, as Waltman smiled and threw away the belt, just as the ref was done putting the other one away. Waltman rooted his partner on, padding him on the back, trying to make him get to his feet more quickly. Doane finally got to his feet, just as Kash was on his knees, still dizzy from the brutal championship shot. Doane got back to his senses and scouted Kash, who stumbled to his feet. Kash turned around only to be nailed with a devastating RK-Doane! The crowd showered Doane in heat, as he went for the cover and got the very dubious victory!
Winners (6:15) Ken Doane and Sean Waltman, The X-factors!
Joey Styles:
What a robbery, Mike! Sean Waltman used the tag team belt to knock out the champions and scrape an undeserving victory!
Mike Bucci:
So Sean bent the rules a lil' bit. Big deal, Joey! The Invaders did it all the time before they became champs, so this is more, MORE than deserved!
Joey Styles:
That's an awful thing to say, Mike! How could you approve off such heinous actions?!

Mike Bucci:
I don't know, Joey, I just do!
We see The X-factors walking up the entrance ramp with huge smiles on their faces, as the camera switches to a backstage area. We see Matt Sydal grabbing a cup of coffee, just as Rey Mysterio pops into screen.
Rey Mysterio:
Hey, Matt!
Matt Sydal:
Rey! How are ya man?
Rey Mysterio:
Hey, man, I just wanted to say thanks for last week. Carlito, he lost it there, man, he was crazy! I mean…
Voice:
Well, well, well, look at de lovebirds!
The camera turns to the left and Carlito is standing a small distance away, looking far from pleased.
Carlito:
YOU (
pointing at Sydal
)! Why the hell did you mess with Carlito's bizness last week? Huh? No, don't answer dat! There's a saying, where Carlito lives. You mess with Carlito's bizness and Carlito messes with your bizness! Comprende? I'm gonna make sure that you're life here, is gonna be a living hell!
Rey Mysterio:
Come on, man…
Carlito:
And as for you! Carlito hasn't changed his mind, Rey. I WILL end your career. So the two of you better grow eyes in the back of yer heads. Coz Carlito can show up when you least expect it. Remember dat!
Carlito lifts both of his eyebrows quickly, before walking off, leaving Sydal and Mysterio a confused duo.
*COMMERCIAL BREAK*
When we return, we see that Super Crazy is standing in the middle of the ring, awaiting his opponent for tonight.
"Everybody dance now" blares through the speakers, as Kofi Kingston comes jiggin' and jivin' onto the stage. He is wearing green and yellow trunks, with matching boots and sweat band. He jogs towards the ring, looking ever so excited.

Joey Styles:
And now, ladies and gentlemen, it's debut time! Or should I say, party time?! Kofi Kingston is coming to the ring, at this point, and he is ready to throw a party! In the ring that is, against Super Crazy! Will he be able to win upon his debut?
Mike Bucci:
Why the hell is he dancing like that? I hope his wrestling's better than his dancing, Joey!
Kofi Kingston vs. Super Crazy
Summary:
This match's only purpose was to put over Kofi Kingston in his debut match, and that was pretty clear from the get go. Kofi immediately took control from the get go, nailing some quick fists and knees to the gut. Kofi dished out a quick gutwrench suplex, before bouncing off the ropes, "pumping up" and hitting a double leg leg drop. Kofi went for the cover, but Super Crazy managed to kick out. Kofi then furthered his dominance, hitting a springboard crossbody, after stunning Super Crazy with a knee smash. Crazy didn't give up yet though and even got into the match-up briefly, when he nailed a quick enzuigiri to Kofi. Super Crazy tried to take advantage of the moment and hit a springboard moonsault, but Kofi rolled out of the way. Both men got to a vertical base at the same time, but Kofi was the quicker man, immediately hitting a corkscrew roundhouse kick, the PARTY KICK! Kofi covered Super Crazy and got the relatively easy victory.
Winner (2:48) Kofi Kingston!
Joey Styles:
Well, what do you know, an impressive first match by Kofi Kingston!
Mike Bucci:
You can say that again, Joey! All the idiotic dancing aside, he's impressive in the ring! Keep the good stuff coming, Kofi!

In the ring, Kofi is celebrating on all four turnbuckles, before being handed a microphone. Apparently, he has something to say.
Kofi
Kingston
: My name…is Kofi Kingston. And it…is…PARTY TIME!
Kofi throws down the mic, as "Everybody dance now" hits and the crowd pops. They have already accepted this unique superstar!
We then go to a backstage area, where Torrie Wilson is walking down a hallway. Torrie suddenly bumps into Jillian Hall, who looks very angry for one reason or another.
Jillian Hall:
You, just the tramp I was looking for!
Torrie Wilson:
Excuse me?
Jillian Hall:
Those two clowns you manage, Kidman and Kazarian, they robbed my stallions from a certain championship opportunity and I don't like that! And neither do Doug and Danny!
Torrie Wilson:
Billy and Frankie, they did everything they could to win. That's called a winner's mentality, Jillian, perhaps something you could learn to your boys.
Jillian Hall:
Listen, you no-good, washed up tranny! There is only one team, deserving off a shot at the tag team championships, and that's The Basham Brothers. So I've got a message that you could tell to your boys. The Basham Brothers want a rematch for a shot at the Global Tag Team Championships. And they want it next week! Oh, and maybe, you could add this to the message…
Jillian smiles, before slapping Torrie across the face with authority! Jillian immediately walks off, not giving Torrie a chance to retaliate. Torrie feels her cheek, looking surprised and upset, before we go to a commercial break.
*COMMERCIAL BREAK*
When we return, we see a New Hampshire local standing in the middle of the ring. He's geared up, and ready to go, but against who?

"Carmina Burana" suddenly hits the P.A. system and it is "The Divine One" Mark Jindrak, along with his priest, Johnny Parisi, who comes out to face the New Hampshire local. The local hero seems to be a little scared going into a match with "The Divine One" and rightfully so, cause Mark Jindrak has never been pinned since debuting on Dynamite!

"The Divine One" Mark Jindrak(w/Priest Parisi) vs. New Hampshire Local
Summary:
Did anyone think the local had any chance in this match? Of course not, and he didn't even get one shot in. Jindrak immediately opened with a brutal clothesline, folding the local wrestler up. Jindrak immediately picked his opponent back up, applying a devastating bear hug. Jindrak lets go quite quickly, before turning the local hero around, and nailing him with a huge Mark of Excellence! Jindrak covers with authority and scores perhaps the easiest victory of his career.

Winner (1:13) "The Divine One" Mark Jindrak!
Joey Styles:
Is there any stopping Mark Jindrak, Mike?
Mike Bucci:
No, there's not, Joey! Have you seen any of his matches? Not one of his opponents has been able to lay a hand on him! It's crazy! I wonder, Joey, I truly wonder, if there's anybody on the entire GWE roster who can stop this man! Or should I say, God?!
We see Parisi bowing down to his God, Mark Jindrak, as the camera switches to the back.
In the back, we see Dynamite General Manager Eric Bischoff talking to Matt "The Train" Bloom. Both men receive a ton of heat.
Eric Bischoff:
Matt, we've got to postpone your championship match as long as possible. So here's the plan. I am going to put Rob Van Dam in the most grueling, the most brutal matches possible against the most extreme of opponents. And after a few weeks, Matt, all you'll have to do, is scrape together Van Dam's bones to make the pin. And when all's set and done…you'll be the champion, Matt! And rightfully so…
Suddenly Bischoff looks to his right and looks a little shocked for a split second, before smiling profusely.
Eric Bischoff:
Well speak of the devil! It's the champ himself, Rob Van Dam!
Van Dam steps into shot to a huge pop from the crowd. Van Dam doesn't look too pleased, as Bischoff is just smiling away.
Eric Bischoff:
What's up, champ?
Rob Van Dam:
Cut the bullcrap, Bischoff! How could you even be smiling right now, when Hulk Hogan, our chairman, is in the hospital right now, recovering from injuries, caused by you and that oversized cockroach over there!
Huge pop for Van Dam's insults!
Eric Bischoff:
Listen. Hulk Hogan got all that was coming to him! And the fact of the matter is, Rob, Matt Bloom is the number one contender to your championship, Hulk Hogan is out of commission, and as for me, well, from now on…I'M THE ONE, WHO'S CALLING THE SHOW! Whether you, or anyone else, likes it, or not!
Mega heat for Eric Bischoff
Eric Bischoff:
But let's get back to business here, Rob. Matt has told me earlier, that he needs some time before the big championship match. You know, to preperate, to be at the top of his game, going into the biggest match of his career. But of course, during those weeks of preparation, we've got to keep you, the champ, in shape. We've got to make sure that you can go into the championship match as a worthy competitor for your challenger. We can't have you losing your focus, or getting out of shape, now can we, champ? Therefore, up until Matt Bloom, decides to cash in his championship opportunity, I will book you in a series of matches, to keep you at the top of your game. Beginning next week, when you face, in a non-title match…against PAUL THE GREAT WIGHT!
A very loud mixed reaction! Some fans like the decision, others don't.
Eric Bischoff:
Hey, Rob, stay focused!
Bischoff carries a smile from right ear to left, as he pads RVD on the shoulder, before leaving the area.
Joey Styles:
One match left on the card, ladies and gentlemen! Brock vs. Wight and it's next!
*COMMERCIAL BREAK*

Joey Styles:
And welcome back to Dynamite, ladies and gentlemen, it is now time for a main event of epic proportions! Brock Lesnar will take on Paul "The Great" Wight in a Easter Extravaganza rematch! And we have just learned, ladies and gentlemen, that this match, by order of Mr. Bischoff, is now for a shot at the All-American Championship!
Mike Bucci:
Oh my god, Joey! This just makes this match that more interesting! These two will go at it and tear each other apart and we'll be allowed to witness it! It's great, Joey! Let's do this!
"BIG" hits the P.A. system as Paul "The Great" Wight, also known as the largest athlete in the world, comes down the aisle, looking ever so imposing. He still gets a good reaction, but some boos are heard here and there. Wight doesn't let it come to his heart, though, and just gets into the ring, without any shenanigans.
"Here comes the pain 2.0" hits as the crowd goes absolutely BANANAS for the arrival of Brock Lesnar. Lesnar looks ripped tonight, as he's ready to go face to face with Paul Wight for the second time in three weeks. Lesnar jumps up on the apron, as fireworks are shooting through all four ringposts. Lesnar gets into the ring and this highly interesting, highly staked match-up is about to get underway!

Easter Extravaganza rematch: Paul "The Great" Wight vs. Brock Lesnar
Summary:
A match that could be liked by each and everyone watching the program. This was not your typical big men match, as both big men actually have great chemistry and delivered here tonight. It was a very close game at the early goings, with both men not wanting to lay down for one another. In an early test of strength, Wight got the upperhand, but after a few moments, Brock managed to get back into it, shifting the weight, and getting the upperhand on Paul Wight. The crowd popped and it was Brock who started dominating the match at this point. Brock started swinging away at Wight with furious lefts and rights, sending Wight staggering in the ropes. Brock Irish whipped Wight into the ropes and nailed him with an earth shattering powerslam! The crowd went crazy, as Brock went for an early pin cover, only getting the two, however. Brock continued to portray his dominance, by connecting with some well-aimed punches to Wight's jaw. Lesnar then went for a clothesline of giant proportion, but Wight had him scouted and leveled Brock with a lariat of his own! Wight finally was able to shift the momentum in his favor, and started dismantling his big adversary. Wight connected with some huge right paws to Brock's head, before scooping him up for the powerslam. Wight didn't go for the cover, however, instead, he nailed Brock with a big elbow drop. Wight continued his dominance, mainly by scoring big rights and clotheslines, that kept Brock down. It was clear that this match was gonna last much longer than their first encounter, but what would happen, after the break?

*COMMERCIAL BREAK*
After the break, Wight was still on top. He had Brock in a sleeper hold, as a matter of fact, and Brock wasn't looking very good. The referee even lifted Brock's arm to see if he was able to continue this match, but he didn't even have to count the one, because Brock was able to get his act together and fight his way out of the sleeper, using a very impressive side suplex. This triggered a period of impressive moves, executed by one Brock Lesnar. Brock impressed the fans by hitting three consecutive Belly-to-belly suplexes! Brock didn't get the three count, however, as Wight was still in this match. Brock then dished out everything he had in his body, scooping up Wight on his shoulder and nailing him with a devastating RUNNING POWERSLAM! The crowd popped like mad, as Lesnar looked exhausted after this amazing showing of strength. Lesnar finally covered Wight but Wight kicked out at two and seven/eighth! Wight was still in this one, although the fans didn't like it very much. Brock didn't look all too frustrated though, as he nailed Wight with a quick leg drop, before climbing to the top turnbuckle. Brock was standing on the top turnbuckle, contemplating some big aerial move. Some "smart fans" were shivering at the thought of Brock possibly going for the Shooting Star Press, shades of WWE's Wrestlemania 19. Brock didn't go for the Shooting Star, however, as he went for a flying elbow instead, and connected! The crowd popped, as Lesnar went for another cover, and again, Wight kicked out just in the nick of time. Lesnar did show signs of frustration at this point, picking Wight up and making an almost fatal mistake. Brock went for an instant F5, but Wight managed to slide off Brock's shoulders, nailing a falling inverted DDT in the process. When Wight went for the cover, however, Brock was able to kick out, just in time, saving his chances in this great match-up! Both men were down and out at this point and the ref started a ten count. Both men eventually got up, standing eye to eye, much to the approval of the fans! Brock suddenly dished out a huge right hand to Wight's jaw, before Wight did the same to Brock. Both men swung right after right after right at each other, as this epic battle of giants was nearing its conclusion. Brock eventually got the upperhand of the giant slugfest, and hit a number of consecutive rights to Paul Wight's jaw. Lesnar ran into the ropes, looking for a massive clothesline, but Wight had him scouted and suddenly clasped his giant paw around Brock's neck! Wight hoisted Brock in the air, looking for a chokeslam, but Brock jumped out of it, immediately lifting Wight up on his shoulders, going for the F5! But Wight slid off, immediately clasping his hand around Brock's neck yet again! Surely this time, he would be able to nail the chokeslam! But Lesnar summoned up all his strength, and broke out of the initial chokehold! Brock lifted Paul Wight up onto his shoulder, ready to deliver the F5! The fans popped like crazy, as Brock summoned up all his strength AND NAILED WIGHT WITH THE F5! The roof was blown off the joint as an exhausted Lesnar went for the cover: ONE…TWO…THREE!!

Winner (18:49) and new Number One Contender for the All-American Championship BROCK LESNAR!!!
Joey Styles:
History has been made! Brock Lesnar dished out everything he had and more and was able to pin Paul "The Great" Wight! What a classic match, Mike!
Mike Bucci:
History's the word, Joey! What an awesome match we just saw, with two men, giving it their all to try and, well, destroy each other, Joey! Brock's won though and now he's the number one contender for the All-American championship! Rey Mysterio better watch out, cause a match against Brock Lesnar, heh, it won't be a walk in the park!
Joey Styles:
And with that, ladies and gentlemen, this edition of GWE Dynamite comes to a close. History has been made, lives have changed! For Mike Bucci, I'm Joey Styles saying, good night from Manchester, New Hampshire!

We see Brock Lesnar raising his hands and celebrating this hard-fought victory, while the fans are cheering, as the screen fades to black and this episode of Dynamite is in the books.
Moron
Join Date: Nov 2007
Location: England
Posts: 8,966
Points: 0
Re: GWE: Global Wrestling Enterprise
---
Alcoholic's Dynamite Feedback


S1 -
Good to see the X-Factors get the victory, I loved the RK-Doane from Ken Doane, that was awesome! Doane and Sean Waltman are an interesting, but good, pairing, and I'm pleased that they won, but Kid Kash and James Gibson were unlucky in this contest.
S2 -
Great to see Matt Sydal in your BTB, man! Sydal's a phenomenal wrestler to have at your disposal, and you've used him well thus far. Rey Mysterio's an interesting induvidual to have in your BTB too, I see Rey as a World Title contender. I expected Carlito to show up, and I wasn't wrong. What's Carlito gonna do next?
S3 -
Hey-hey! My man, Kofi Kingston! I'm thrilled to see Kofi win this match, a good debut, and "Everybody Dance Now" is a very interesting theme song, to say the very least! Anways, good win for Kofi, and I hope you give Kofi a decent push in the near future. Jamaican me crazy, have mercy!
S4 -
A very heated exchange between Jillian and Torrie Wilson, man, Jillian had some harsh words to say to Torrie! Kidman and Kazarian sounds like an outstanding Tag Team, I rate them higher than the Basham Brothers TBH. I would like to see K&K and the Bashams go at it again in the near future, for sure. I hope Torrie accepts the challenge for next week's match.
S5 -
Well, a victory for Mark Jindrak was the only possible outcome, and it was.
at Priest Parisi, but anyways, the local had NO chance whatsoever, and you've built up Jindrak incredibly well.
S6 -
Very good segment here, I really liked how Eric Bischoff explained his plan for Matt Bloom to become Champ to Rob Van Dam. RVD versus Paul "The Great" Wight next week sounds like an excellent match, and I'm looking forward to it already.
S7 -
This match had tons of potential on paper, and you delivered, Alcoholic. Brock Lesnar is a HUGE acquisition for GWE, and speaking of huge, Paul "The Great" Wight was a decent opponent for Lesnar, especially after Easter Extravaganza, where Lesnar beating Wight in under 30 seconds was VERY surprising to say the least. The F-5 on Wight to finish the match was awesome, and great to see Lesnar win, you've got Lesnar fantastically, after just 2 matches!
OVERALL -
Solid show, Alcoholic, I haven't a bad word to say about it. The Main Event was fantastic, Lesnar and Wight always serve up classics, and this match was no different. I'll definitely be reading on, great stuff, man!
Asking JAMES ELLSWORTH for Wrestling Advice
Join Date: Mar 2007
Posts: 356
Points: 0
Re: GWE: Global Wrestling Enterprise
---
I'll try to edit a full review into this if I can, but as of now i'll just make a few comments on the show itself. Highlight of the night in my opinion was Lesnar/Wight, and your writing made it better imo. You've put Lesnar over as a beast, but I think it came at the cost of SOME of Wight's momentum. I mean, its not to bad, but I think he's lost a lot of the momentum he garnered early on.

Another high point that I enjoyed reading was the Sydal/Rey/Carlito promo. While the lines between Sydal and Mysterio in the first part of the promo were bland (not really your fault as neither of them are exactly masters of the mic) Carlito's part in it was done well. Truth be told, I was expecting this feud to get stale if it continued much longer, but with Sydal getting involved, its getting more intriguing.

Other points that caught my interest were Kingston's debut and the state of the tag division. I hated the font for Kingston's name when he talked due to the different colors, but thats probably just me as my eyes are sensitive to stuff like that. Nevertheless, Kingston was debuted well, and his party-loving personality should be a excellent addition to your roster. Although, I wasn't really a fan of two squash matches in a night, (Kingston/Crazy and Jindrak/generic jobber) it was fine and I suppose necessary. Your tag division is looking good, with K&K, The Invaders, Bashams and X-Factors all being a part of it. Its a unique tag division, which I like.

Anyways, great show overall, and this thread is shaping up excellently.
Re: GWE: Global Wrestling Enterprise
---
WCW Rules' Review of Alcoholic's (Shame on you) Dynamite

The debut of Jamaican Sensation Kofi Kingston should be good, seeing as you're a fan of him, and the rematch between Lesnar and Wight should also be a rather interesting Main Event.

Ah... I see you're starting off with a Tag Team match featuring the X Factors and The Invaders. Non Title though, aww.. Oh well. I knew, with the talent involved, it's be a fast paced match up and as an opener, and it did a good job, write up wise, to get the readers hyped for the show. Still weird to see Waltman in a BTB in this day and age, considering he's barely utlized to efficiency, but I'm guessing the tandem of him and Doane will be successful. Hehe, RK Doane? Not an original name, but a name to get his finisher somewhat over, I guess. The Tag Team Champions lose, however, due to cheating, which is an interesting booking decision. Where will this go, I wonder, for them, or was it just an exhibition match?

Sydal? He's not much a promo guy, and Rey Rey sounded just as he should. Carlito was off here and there, and as I read, I didn't feel the accent, and I'm half Puerto Rican, so I should know, hehe. In any case, nice hype for their ongoing feud and such, it piqued my interest, seeing as Carlito wants to end Mysterio's career? All I ask, is that he takes the damn mask off. So tired of ze mask..

Hehe, Everybody Dance Now? Cool. There was only going to be one winner in this match; Kofi Kingston of course, but he did get a good opponent in Super Crazy, poor jobber. Crazy's put away in little more than two minutes, which, for a squash match, is adequate. Hehe, indeed his name is Kofi Kingston; I guess he has a sort of gimmick where he's some party holic? He sure loves to dance, I can tell you that. Although he's not Brazilian, you should make him some sort of Capoeira kinda guy. Fits in with his wrestling, me thinks. Anyways, good debut. I expected nothing less, TBH.

Damn, Jillian just called Torrie a tramp. What a biotch, hehe. Not my type, TBF. In any case, I'm guessing a rematch is in order for the Tag Team Championships? I'm sorta confused; does she want the Bashams to fight Kidman/Kaz for revenge or the Tag Team Champions? Decent stuff, though.

Another squash match, in Jindrak/Local jobber. You should call 'em local Jobber, it's easier that way. Of course, Jindrak goes over in a rather short match, so yeah. Not a huge fan of Jindrak, he bores me, but it appears you have something big for him in the future. Hehe, Parisi; what a dunce. I hope we get some mic work from one of these two in the coming weeks, as these squashes can only go so far...

Nice segment, though RVD was a bit off. Bischoff as his usual, crap on good guys and build up bad guys, self. I see he's coming in with a plan to decimate RVD before Bloom's scheduled Championship match, which is all fine with me, seeing as that's how Bischoff is. RVD's place in the promo was a bit off; cockroach? Hehe, and.. HOLY CRAP, a match with Paul Wight! That's sick, right there. If only it was Hardcore or something of that nature, that'd be awesome. Can't wait for that.

I remember seeing a few matches of these two on DVD, and they're okay. Wight with the momentum before the break was expected, seeing as he's Heel, and that's usually waht occurs. I liked Brock's "coming back" sort of to speak, with him giving it all he's got. Shooting Star Press? Oh no, but not... Flying Elbow Drop? Cool. But no cigar in the pin, though. Very powerful match, with Brock and Wight getting in tons of offense, and it looked like it'll be over with the Chokeslam, but no, and an F-5 finishes it! Brock had to go over, simply because Wight beat him in under 30 seconds in their first bout in this promotion. Had to be Brock; looks like he's the Number One Contender for the All American Championship; a match with Rey Mysterio Jr. should be great, TBH.

All in all, solid show from beginning to end, though two squash matches weren't too welcoming. A nice opener and a solid Main Event make up for that, though. The storylines are progressing decently, and some new storylines can open up in the process. Good stuff, mang.
Re: GWE: Global Wrestling Enterprise
---
Don't have time to write up a review for you Alco, so i'll just post a few comments.
It was a solid show the whole way through. I quite liked the opener, fast paced and got the show rolling. The result was interesting and im not really sure where it is going. All the same nice match and X-Pac in a thread is fantastic as I am a big big fan of his.
The Carlito, Rey, and Sydal Promo did the job. Continued their fued along as it was meant too. So kudos for that.
Kofi winning on his debut was always going to happen, and it was a good choice having Super Crazy as his opponent. Well written match that flowed nicely.
Jillian calling Torrie a tramp, lmao.
Yet another squash with Jindrak beating local. Not sure why your making Jindrak look so good as he seems quite bland and boring to me. So hopefully you do something with him.
The Bischoff and Rob Van Dam Promo was very well written. RVD was good and Bischoff was great. Van Dam/Wight match should be off the chart.
Main Event was another great match, some good spots indeed. Was always going to be Lesnar's match, and I have no problem with it. Brock taking on Mysterio for the All American Championship should be quite the spectacle.
Overall I thoroughly enjoyed the show, two squashes were okay, not great. Storylines are progressing as they should be, and I really had no real faults with the show. Keep up the good work my friend.
Years I've Been a Fan > Years You've Been Alive
Join Date: Jun 2005
Location: Kansas City - At the Argosy, Playing Blackjack with Harley Race
Posts: 808
Points: 0
Re: GWE: Global Wrestling Enterprise
---
Dynamite Review

Love Bawitdaba being the theme for Noble and Kash, although the Invaders isn't the best name. X-Factors pick up the expected non-title win, albeit by cheating, furthering the ordeal with the champs. Decent start to the program here.

Now I am reviewing after reading, but I am confused about something. Tag Titles, All American Title, and World('ish) title right? Three titles, rit? Rey is the All American Champion, yes? Perhaps you should quickly mention those things more often, ex: "All American Champion Rey Mysterio steps into the camera shot". Love that you seemed to eliminate the "Jr." from Rey's name, and "Colon" from Carlito's. Short sweet interaction here with Sydal sort of caught in the middle. Carlito-Rey is the longest rivalry of the thread, and I imagine it will end in a huge war, likely at the first PPV.

Gotta admit that I am not as crazy about Kofi as everyone else seems to be. Much like Kennedy and a few others. Needless to say, I found it a tad disappointing to see Crazy get fed to him. And I'm not 'Super' Crazy mark. Kofi's a great young talent though, perfect for a thread like this.

Jillian and Torrie have quite the interaction, with classic female trash talk, and with each trying to put their team over. Tag division in the thread seems to be of major importance to you, which makes me a happy boy.

Divine hunk of shyte, tbh.

Bloom is certainly getting quite the push in the thread. Which is not altogether bad, I just am beginning to have trouble seeing him above guys like Lesnar, Show, and even Rey and Carlito tbh. RVD – hopefully – will simply retain his title and come out on top of the feud. RVD must face Show next week first though, ouch.

Big time main event, and a very well written match description. Brock doing a Macho Man Savage elbow is actually quite the nice idea. I'd make that a staple of his offensive arsenal if I were you, much like it is for HBK. It'd make for an awesome regular move. So Brock is set to kill Rey for his title, leaving Rey to feud with Carlito in non-title brutality I'd think. But who will Lesnar move on to face? Many questions needing answers.

This showed flowed very well. Easy reading, solid storylines, and sufficient progression. I still think your first few shows were the best though. The last couple weeks have been good, but seem to lack the proverbial fire of the earlier ones. Perhaps your World Champion RVD should've been involved more the last two weeks, in terms of actual wrestling. I dunno. Good shows nonetheless, and this is by far the best created fed and 1 hour show in BTB today; in my books. <3
---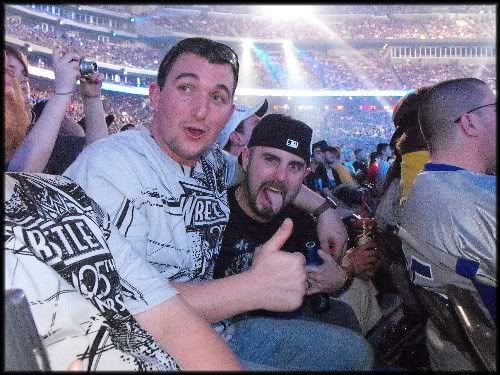 Re: GWE: Global Wrestling Enterprise
---
Quote:
Originally Posted by GWE.com
GWE Dynamite! goes 90 minutes!

In an exclusive press conference, Chief of Personal Relations, Sylvester Stallone announced that as of now, GWE has reached a 90-minute television deal with the ESPN network! After the first three months of GWE television, ESPN executives were so enthousiastic that they offered GWE a 90-minute broadcast per week, for the coming 6 months. If the succes continues, a 120 minute deal could be in the works after those 6 months. The first 90-minute episode of GWE Dynamite! will air on the first of May. That means that the upcoming episode, that airs on the 24th of April, will still air in the 60-minute format.
Quote:
Originally Posted by GWE.com
High flying in the Caribbean!
vs.
This week on Dynamite, it has been announced that Carlito Colon, the Caribbean Bad Apple, will take on Matt Sydal, the high-flying fan favourite! Who will come out on top in this highly interesting confrontation?
Some tidbits I wanted to get out of the way. Thanks to all the brotha's for their reviews, it's highly appreciated. I will try my best to improve the quality of the program in the coming weeks so that I don't lose your attention. That's about it. 'Till next time. Peace!
Moron
Join Date: Jul 2007
Location: England
Posts: 3,111
Points: 0
Re: GWE: Global Wrestling Enterprise
---
90 minutes? Nice. Soon it will be 2 hours. I like this BTB, Alco' it's definitely the best created federation, Be The Booker thread I have read on here.
Posting Rules

You may not post new threads

You may not post replies

You may not post attachments

You may not edit your posts

---

HTML code is Off

---