Re: GWE: Global Wrestling Enterprise
---
Quote:
Originally Posted by Rajah.com
GWE News and Notes

The Easter Extravaganza show, GWE's first ever two hour spectacular, did very well in the ratings, scoring an overall rating of 2.7. The first hour scored a 2.5, while the second hour scored a strong 2.9 rating. GWE is said to be very happy with this rating and only sees this as a sign to continue the hard work they've put into this project.

Regarding talent contracts, a number of current superstars have extended their running contracts. Most of the talent have extended their running 3-month contracts to 12 months, which means they'll be part of the GWE roster untill at least March next year. A few select superstars, however, have yet to sign a new contract. Including these individuals is Psicosis. The general feeling backstage is that Psicosis will be done with the company as soon as his three month contract is out and that he'll work in the Indies again. Creative was never too high on Psicosis as a person backstage and GWE will not try to keep Psicosis contracted by all means.

Brock Lesnar's return was seen as a huge succes. Nobody expected it to happen and even some guys backstage only find out the night itself. Brock is said to be very comfortable in the GWE environment and is said to be more motivated than ever to be a professional wrestler again. Right now, he won't be going for the top prize just yet, however, as GWE officials feel it's a tad bit too early for that. Except him to be thrown in a title-program by the end of the year though.

There is talk of composing some sort of primary PPV schedule for the year of 2008. They feel, after the big succes that Easter Extravaganza was, that GWE can draw on PPV as well. When the first PPV will take place and where, however, is yet to be seen.

At the moment, Dynamite will continue to be a one-hour show, with no indications of going to a two-hour format any time soon. Unless there's a clear and urging demand from the fans or the ESPN network for a two-hour show, Dynamite will continue to run one hour every Thursday for the time being.
That's a small chunk of news and notes for now. I'm still really motivated to keep this going, as I've got some rather nifty ideas still left in my head. Thanks to Sbuch for the review, all the things you pointed out will definitely be noted. Anyway, Dynamite will be up somewhere next week.
Greetz!
Re: GWE: Global Wrestling Enterprise
---
I totally forgot about this, and the review for Easter Extravaganza. I'm going to have to pull my finger out of my ass and get it done for you Alco. Glad you're still liking this thread. Top quakity stuff show after show.
Just give me a few days and hopefully the review will be up
Re: GWE: Global Wrestling Enterprise
---
I'd like to echo his comments, I have just been drifting the last few days with my GCSE work so review tomorrow because I actually have time then.
---
Re: GWE: Global Wrestling Enterprise
---
Okay, this BTB has been inactive for a while and even I thought to myself: is it worth continuing? Of course it is and I will continue! I'm working on the 10th Dynamite right now and am posting it by the end of the week. Keep an eye out for it, my lovely readers. And thanks for the support.
Moron
Join Date: Jul 2007
Location: England
Posts: 3,111
Points: 0
Re: GWE: Global Wrestling Enterprise
---
Glad to hear its continuing!
Re: GWE: Global Wrestling Enterprise
---
It's more than worth continuing. I am enjoying it so much and is the one BTB I keep in tune with. You know me and I don't review that often, but that does not mean I am not reading, and loving what I am seeing. Got to say though, you still suck for changing the great Giant Bernard to a stupid, ineffective name like Matt 'The Train' Bloom.
Don't like it at all!
---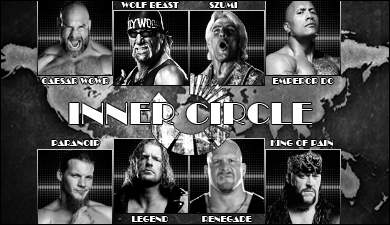 Re: GWE: Global Wrestling Enterprise
---
Yeah great that your continuing. Will definetly start to follow now. I have read a few of your shows and I have to say this is one of the most unique and one of my favorite BTBs at the moment. Expect to hear more from me.
Re: GWE: Global Wrestling Enterprise
---


GWE Dynamite! Preview 04-03-2008

This Thursday, it's the fallout of Easter Extravaganza! What will happen when the superstars of Dynamite roll into the Liacouras Center in Philadelphia?

Last week, at Easter Extravaganza, Rob Van Dam shocked the world when he defeated both Hulk Hogan and Matt Bloom in a triple threat match, to become the new Global Champion. With no clear contender at this point, who will step up and challenge the brand new champion? And what will Hulk Hogan, Matt Bloom and most importantly, Eric Bischoff have to say about all of this?

Also at Easter Extravaganza, we crowned a new All-American champion, Rey Mysterio Jr. Mysterio obtained the title after an epic ladder match with Carlito Colon. This week, Rey will have to show he's a deserving champion, when he engages in a non-title bout with Matt Sydal, Dynamite's fastest rising star. Will Mysterio prove to be the deserving champion, or will Sydal cause the upset and immediately catapult himself to championship contender status?

At Easter Extravaganza, we marked a shocking return of epic proportion. Issuing his first ever "Great Challenge", Paul Wight was very surprised to see none other than Brock Lesnar accept. Lesnar stunned Wight and won the Great Challenge upon the first try. This week, Brock Lesnar will adress the fans in the Liacouras Center and watching at home, to explain his surprise return.

And also last week, GWE crowned new Global Tag Team Champions, Kid Kash and James Gibson, the Invaders. After a great tag team match with The Basham Brothers, The Invaders picked up the championships using the invasion sensation. Now, will the Basham Brothers seek for revenge, or will new contenders rise to the challenge?

Last week, we witnessed the coming of a "Divine One", Mark Jindrak. Accompanied by his priest, Johnny Parisi, Jindrak made short work of Psicocis, before going after the legendary American Dream, Dusty Rhodes. With no fan support whatsoever, Jindrak will make his presence known on Dynamite this week. Who's his next victim and will he stop at just one this week?

Find out all this and much, much more, this Thursday, only on the ESPN Network!

Announced matches

Non-title: Rey Mysterio Jr. vs. Matt Sydal

"The Divine One" Mark Jindrak(w/Priest Parisi) vs. ???
Re: GWE: Global Wrestling Enterprise
---
Alcoholic's Easter Extravaganza Review By KF4E
So yeah, as you know I'm really sorry that this bad boy took so long. Hopefully I give you something to enjoy reading to make it up to you. I'd like to start off that this was one of the events that I was most looking forward too reading, because the buildup was splendid on your weekly shows. I really liked your opening video package. You always put a lot of effort into them, and it comes across as proffesional. There are quite a few things I'm looking forward to on this show, one of them is the debut of Jindrak.
I really liked the way you wrote out Rhode's seech at commentary. It really sounded like him and I found myself laughing just because It was brilliant. Also nice that your going that extra mile for the special show sort of speak.
Huh, did you say the Invaders have been acting like no good punks. I thought they were the faces in all of this. Please tell me I;m not wrong otherwise I'll look like a turd. Anyway the first match was great, and it was exciting from start to finish. I really wanted the INVADERS to pick up the win just to see what The Basham Brothers would do next with Jillian. I hope they don't feud with the Invaders again, because after a PPV, or a special event such as this, I prefer people to move onto new opponents just so things don't get repetative easily. You set the standard for the rest of the night with this tag team match and it was the perfect opener my friend.
I have to say, I don't think the comedy aspect worked in this Doane, Waltman promo. It all seemed a bit too cheesey and awkward. Don't get me wrong if that's the effect you were going for then you got it spot on. However I did like the added spice you gace it at the end. I wonder who they were talking about. Hopefully we will see later tonight. Good job at building the anticipation here.
Eastertron
very creative. I like.
Finally he debuts after weeks and weeks of hype. You have handled this hype very well and it all came together tonight in superb fashion. However it appears to me as if Super Crazy is your resident jobber
Don't get me wrong that's all he is in WWE at the moment too, but he is a fucking great wrestler and I wan't to see a push for him soon. If not I'll stop reading your thread
okay I won't stop reading but it was worth a try
Jindrak was obviously going to win with it being his debut, I'm looking forward to next week to see where he goes from here, and how you book this seemingly 'god' of GWE. I really liked how he attacked Rhodes, it seemed like something he would do. Also it got him over as a really good heel on his debut which is ace. I wonder who he will pick on next week, or whether Rhodes will return for revenge. That's why this was so good, because it opens up a lot of possibilities.
WOW, the ladder match kicked ass Alcoh. It really did provide a great deal of entertainment and could easily be match of the night for sure. The action was great and the way you desrcribed it actually made me feel like I was there watching it in person. Good choice of winner too and I admore you for chosing Rey Mysterio. I wonder what's next. I hope something bigger for Carlito, even though he lost. Mysterio can go and defend the belt against superstar after superstar, but give Carly a top feud plz. Then I'll be a happy man
OMFGMARKOUTPLZ I'm so chuffed that you've brought in Brock Lesnar. He is easily one of my favourite superstars and I <3 you now. I knew he would win, however I don't think he should have, noit tonight anyway. I know you wanted to hype Lesnar up and that's why you had him win the challenge in 22 seconds, however, it was the first ever challenge and it now has next to no credability.
By the way I'm looking forward to seeing what Bischoff whispered to Bloom, if he did indeed whisper anything. Anyway the main event. Most anticipated match on the card by miles. Let's hope it lives up the expectations. Well it sure did anyway. I mean it was so fun to read and just like all the other matches, your writing was top notch. I could picture everything that happened, and for everything I couldn't you pretty much explained it for me anyway. Van Dam coming out the winner was great for several reasons. It means Bloom is going to be a hungry bastard next week, it means Hulk Hogan, the actual owner is not holding the belt now, and it also means that Van Dam is on top of the world, which is where he belongs.
Overall it was a fucking great show man. I'm glad I got into this thread when I did because I have enjoyed it so much. You improve week after week like theres no tomorrow and I really can see this thread going somwhere because it's just so fresh and entertaining. Wish you the best in the future my man, and you know I'll be reading.
---
Last edited by Mr. Kanefan; 05-10-2008 at

04:52 PM

.
Re: GWE: Global Wrestling Enterprise
---
Quote:
Dark Matches

Kofi Kingston defeated Psicosis at 6:07

The X-Factors (Sean Waltman and Ken Doane) defeated Super Crazy and Kazarian at 6:39
GWE Dynamite! 04-03-2008 Liacouras Center, Philadelphia, Pennsylvania
*Recap video of Easter Extravaganza is shown, instead of the usual opening video*

**Pyro**
**Pyro**
**Pyro**

"Welcome to the jungle" is blaring through the speakers, as we switch to a sold out Liacouras Center in Philadephia, which is jam packed with GWEmaniacs, ready for the fall-out of last week's Easter Extravaganza edition of Dynamite! GWEmania is running wild in Pennsylvania as we see the fans up on their feet, holding loads and loads of signs into the air. We then switch to ringside, to Joey Styles and Mike Bucci!
Joey Styles:
A warm welcome to anyone that is even in the slightest interested in GWE and of course, to all those crazy GWEmaniacs around the world! This the ninth ever episode of GWE Dynamite coming to you live from Philadelphia, Pennsylvania! My name is Joey Styles, alongside Mike Bucci, and Mike, coming off the heels of a great two hour Easter Extravaganza, what can we expect here tonight?
Mike Bucci:
Easter Extravaganza was just flat-out awesome, Joey! It was everything you could expect from a GWE event and more! But tonight, baby, we're going to continue where we left off last week and that means more of that juicy, action-packed television we're used to here on Dynamite! I mean, at Easter Extravaganza, Joey, we saw The Invaders grab the Tag Team Titles, we saw Rey Mysterio lift the All-American Title in the air, we saw Brock Freakin' Lesnar, Joey! And above that, Rob Van Dam won the GWE Global Championship! What a huge night, last week was, I'm still a little in shock, Joey!

"Walk" hits the P.A. system as the NEW GWE Global Champion walks out to a THUNDEROUS pop from the crowd! He is wearing his newly won belt on his shoulder, as he does his patented R V D taunt, before walking toward the ring.
Joey Styles:
And speaking of which! There he is, ladies and gentlemen, our new Global Champion, Rob Van Dam!
Mike Bucci:
Rob excelled in the best match in GWE's short history, Joey, and coming down to the ring, well, is a deserving champion, RVD!
RVD gets into the ring, before grabbing a microphone. He waits for the enormous ovation and crowd noise to die down, before bringing the mic to his mouth.
RVD:
Thank you. Thanks, dudes.
RVD can't continue his speech, as the crowd just can't stop cheering the new champion.
RVD:
This is awesome, man, just awesome. Alright, I came out here for a couple of reasons. Well, actually, I came out for one reason and that's to thank a couple of people. First of all, last week, Matt Bloom, Hulk Hogan and myself, we gave everything we got in the main event. And I think I ain't lying if I say we stole the show, dude!
*Huge pop*
RVD:
Secondly, I want to thank everyone in the G Dubya E office. They believed in me and they knew that the Whole Dam Show still got it! That's right!
*Another big pop*
RVD:
And I could thank a lot more people, but there are just a couple that I really need to thank, right here and right now. And I know it sounds cheesy, I know it's corny and everybody does it, but, man, this is coming straight from my heart, dude. To every single fan in the audience, or at home, I thank you. Thanks, dudes!
*Huge pop as RVD makes a quick bow to all four sides of the arena*
RVD:
And I just wanted to say this. Last week I proved that I am The whole Dam show, I am Mister Thursday Night and I am the Global Wrestling Enterprise Champion! And Rob Van Dam may not be the biggest athlete back there, but I damn sure got the biggest heart, dude. And I got a message to anyone and everyone in the back. I'll be a fighting champion, man. It don't matter if you're two feet taller, or half a feet smaller, dude, I will dish out everything I got and beat your ass! Enjoy the show, dudes, thanks!
"Walk" by Pantera hits once again as the crowd erupts into a massive ovation for Rob Van Dam, but just as RVD wants to hand his mic back to a stagehand, "American Made" hits the P.A. system and Hulk Hogan comes out to a MASSIVE pop! RVD decides to hold on to his microphone, as Hulk Hogan is walking towards the ring in a white tux, sporting a bandana in the same color. Hogan's smiling, pointing at RVD in respect, before climbing into the ring and grabbing a microphone. He has to wait for a few moments though, as the crowd is still cheering him on in loud fashion.
Hogan:
You know somethin', brother? You came out here to thank a few people and I came out here to do the exact same thing, dude. Rob Van Dam, I want to thank you, brother. Thank you!

*The crowd pops, but at the same time, is confused*
Hogan:
Thank you, brother, for bringing out the best in me one last time, last week. You deserved to win that match, dude, and if I had to drop the title to anyone, I'm glad it's you, Rob!
*Big pop for Hogan's fair play*
Hogan:
But, Rob, I must thank you for something else too, dude. Last week, you made me realize, brother, that I am growing older. My body, it's growing older, and it's wearing down. Yes, dude, we had a classic last week, but I don't know how many of those matches my body can take. You opened my eyes, Rob and you made me realize that I am not the Hulk Hogan from twenty years ago. I'm not even the Hulk Hogan from ten years ago, brother. (a tear is shaping up in Hogan's eye) And I'm saying this, from the bottom of my heart. Perhaps it's time for Hulk Hogan…to take a step back.
*The fans let out a collective 'NO' as they clearly don't want Hogan to take a step back*
RVD:
Whoa, whoa, there, dude. Wait just a second there, Hulk. Slow down, man. You still got it in yah, you proved it last week! I mean…
Hogan:
No, Rob, brother, listen up. (Hogan's voice clearly is loaded with emotion) Some people might say my ego has gotten the better of me over the past few years, but I'm telling them right here, right now, it's time for Hulk Hogan to take a step back, dude, and it's time to let the younger talent shine and take the torch I have left. And, Rob, I couldn't be happier that it's you, who I can pass the torch to, brother. Thanks, dude.

*The fans are almost in tears, as Hogan is practically announcing his retirement*
Hogan:
But don't you all worry your little Hulkamania heads, brothers, I ain't outta here just yet. Oh no, dude, not at all! Hulkamania will still be running wild all over GWE, no doubt, my brothers! Count on it!

*Big pop, but some fans still can't quite agree with Hogan's decision here tonight*

Hogan:
And that leaves me to say one more thing. Rob, you defeated me and Matt Bloom for the GWE championship last week and for that, brother, congratulations.

*The crowd pops hard and Hogan has to stop for a brief moment*
Hogan:
I mean it, brother. It's from the bottom of my heart.
*We can see a tear forming in Hogan's eye, as the fans are standing up, applauding the Hulkster*
Hogan:
Now seeing as I am the former champion, I still got a rematch for that championship. However,…
*The crowd already knows what's coming and they're booing and disagreeing with the Hulkster's decision*
Hogan:
No…no, brothers, let me finish. I won't be cashing in my rematch-clause. I'm gonna take it a lil' easier from now on and my body, brothers, it can't put on five star classics anymore. So, as the chairman of this great company, I have to make sure, you guys, all the hulkamaniacs, but more importantly, dude, all the GWEmaniacs, get to see the best matches possible, brother! Therefore, I'm putting my championship match up for grabs. Any guy from the back, that thinks he deserves this match can try and earn it. And the superstar that does, he gets a title match with you, Rob. How bout that?
RVD:
Whoever it is, dude, I'll take him. Bring it on, man!
*Some fans pop, but the majority still doesn't agree with Hulk's decision. They want him to wrestle Rob Van Dam*
Hulk Hogan:
I'm sorry, brothers. I just have to do the right thing, dude, and this is it. I'm sorry.
As another tear forms in Hogan's eye, "I'm back" hits the P.A. system and Eric Bischoff struts, along with Matt "The Train" Bloom, to an enormous amount of heat from the fans. Bischoff is looking rather pissed and has a microphone in hand.
Bischoff:
Hold it, hold it, hold it, RIGHT THERE! I couldn't listen to this any longer! So basically, Hulk, you want to hang up the boots? Is that it? And Rob Van Dam, he opened your eyes? He made you realize you couldn't go anymore? Hulk Hogan, that…is…BULLSH~T!
*Large amount of heat*

Bischoff:
I'm gonna tell you right here, right now, Hogan, that you're not retiring until I say you will! Cause both Matt Bloom here and myself, we still have a score to settle with you, you old bastard, and it WILL BE SETLLED!
*The heat is building up to a near monstrous amount*
Bischoff:
And about that rematch. Why don't you finally use that peanut sized brain of yours, Hogan, and think about last week. You were in a Triple Threat, which means there were THREE people in that match, Hogan. Rob Van Dam, you and of course, Matt "The Train" Bloom. But let's think about the final outcome of the match, shall we? Rob Van Dam pinned you, YOU, HULK HOGAN! That means Matt Bloom did not get pinned and did NOT lose the match! And what does that mean? Matt "The Train" Bloom is the only one, that deserves to be the next number one contender!

*Mega heat*

Suddenly, Bloom snatches the mic out of Bischoff's hand, who looks confused.
Matt Bloom:
So give me your Title match, Hogan! Or do you want me to come drag it outta you?!
Bischoff suddenly smiles and grabs the mic.
Bischoff:
You know what, Matt? That gives me an idea! Hogan, listen up, old man! You ever heard of the expression 'Having the cake, and eating it too'? Well, here's how it goes, Hogan. Matt Bloom will fight for the Number one Contendership for the Global Title…with you!
*Some in the crowd pop, as Hogan may be in for another match, while others are just showering the duo of Bischoff and Bloom in heat*
Bischoff:
And after Bloom has beaten you. After Bloom has teared your body apart, limb from limb from limb from limb. And after Bloom has become the number one contender, Hogan, we'll have the cake and eat it too!
*Mega heat for Bischoff*
Bischoff:
Think about it, old dog. EVERYONE will be happy! Rob Van Dam, cause he wants to be a fighting champion. Matt Bloom here, cause he has his title match. You, Hogan, cause you will never have to get into that ring ever again! And of course, all our
great
fans will be happy, because they will get to see the main event of the decade: Rob Van Dam versus Matt "The Train" Bloom! As for me, I will take my responsibility and keep guiding this show into the right direction…all by myself.
*Mega heat*
Bischoff:
So what do you say, Hogan? You're up for one last challenge?
Bischoff smiles away, as the camera switches to Hogan, who is not looking as angry as you would expect after all that trash-talking.
Hogan:
Bischoff…you're the most evil son of a b*tch I've ever met. But you know something, brother? I am sick and tired of seeing your face around here, trying to take over my spot as chairman of GWE! Oh yea, jack, I know what you're plan is! All you wanted to do since day one, dude, is take me out and seize control! WELL IT'S NOT HAPPENING, BROTHER!
*Huge pop*
Hogan:
I may be taking it a lil' easier from now on, but you ain't taking me out, jack. Hulkamania is immortal, brother, and you'll come to learn that sooner than later, dude, mark on it! Now as for your clown over there…
Hogan stops talking briefly and looks to his side, where RVD is looking at this scene in awe. RVD looks Hogan dead in the eye and nods, almost saying "you can do it…brother".
Hogan:
A match with Bloom…I ACCEPT, BROTHER!

*Thunderous pop*
Hogan:
But you know, something? That's not all, dude! I'm gonna summon the power of all the hulkamaniacs in the universe, one last time, brother, to give you EVERYTHING I got! Cause we are gonna have a match, jack, with NO DISQUALIFICATIONS! AND WHATCHA GONNA DO, BROTHERS, WHEN HULKAMANIA, FOR ONE MORE TIME, RUNS WILD ON YOU?!!
"American Made" hits as the crowd goes absolutely bananas for this announcement. Hogan and RVD stand tall in the middle of the ring, while Matt Bloom and Eric Bischoff are fuming on top of the entrance ramp, as we go to the first…
COMMERCIAL BREAK
Joey Styles:
Welcome back, ladies and gentlemen, to Thursday Dynamite! Before the break we saw one of the most emotional, yet hate filled interactions in wrestling history, with Hulk Hogan versus Eric Bischoff. What are your thoughts, Mike?
Mike Bucci:
Don't forget Rob Van Dam and Matt Bloom, Joey, they play a vital role as well! But you're right. That was one of the most emotional speeches I've ever seen and I believe, Joey, although I don't want to, but I do, that Hogan is way in over his head here, going against Matt Bloom in no disqualifications!
Joey Styles:
That will be our main event for next week, ladies and gentlemen, but tonight, we've got more wrestling for you! Later on tonight, our newly crowned All-American champion, Rey Mysterio Jr., will do battle with GWE's fastest rising star, Matt Sydal in a non-title contest. Furthermore, Brock Lesnar, who shocked us all last week, when he came back to the wrestling industry, will come down to the ring tonight to address us all.
Mike Bucci:
Oh my god, Joey, that was a spine-shivering moment, when Brock returned to the ring and everyone in attendance, including me, were jumping up and down in excitement! I have to admit, I'm excited to see Lesnar, I wanna see Lesnar. I can't wait. And about our All-American champion, Joey. He deserved his victory last week, but he has another tough contest coming up here tonight, against Matt Sydal. I'm a fan of Sydal's and he may just shock us all here again tonight, with a victory over the newly crowned All-American Champion, Joey!
Joey Styles:
But coming up next, Mike, is another interesting contest. Scott Taylor will take on "The Divine One" Mark Jindrak!
Mike Bucci:
Jindrak came into GWE with a bang last week, Joey, but he did some things even I can't agree with, like taking out The American Dream! Nevertheless, I'm interested to see if he can dominate Scott Taylor, like he did Psicosis last week.

The lights suddenly go out as the Roman number ten, X, appears on screen. The number counts down to 0, before a huge round of pyros go off and "Carmina Burana" hits the P.A. system. After a few moments, "The Divine One" Mark Jindrak, along with his personal priest, Johnny Parisi, steps out to a huge amount of heat from the fans. Jindrak is wearing a golden and white robe, while Parisi is wearing his traditional Roman priest outfit. The duo gets inside the ring, as Jindrak takes off his robe, to reveal his amazing body, wearing golden and white trunks. He poses for the fans, who shower him in heat, before awaiting his opponent for tonight.
"Jiggin' 'n' jivin'" hits the P.A. system as Scott Taylor comes out to a surprisingly nice pop from the crowd. Jobbers don't get pops? This one sure does! Taylor walks towards the ring, slapping hands with some fans at ringside, before sliding to the inside, ready for this mismatch.

"The Divine One" Mark Jindrak(w/Johnny Parisi) vs. Scott Taylor
Summary:
Jindrak made quick work of Scott Taylor, who tried to put up a fight, but after being levelled with a brutal lariat, Scott Taylor abandoned all hope. He didn't get one offensive move in, as Jindrak dominated from start to finish. After the lariat, Jindrak picked up Scott Taylor and knocked his block off with a brutal left hook punch! Scott Taylor collapsed like a pudding, as Jindrak raised both of his arms to a huge amount of heat from the fans. Jindrak then decided to make an end to things and picked up Scott Taylor, turning him around in the process. He scooped him up for the back suplex and nailed the Mark of Excellence (which for the record is not a backsuplex). He pinned Taylor and scored the very easy victory.

Winner(1:53) "The Divine One" Mark Jindrak
Joey Styles:
All I have to say is…impressive. An impressive victory for Mark Jindrak here tonight.
Mike Bucci:
I don't think Taylor even landed a single hit, Joey! How amazing was Jindrak tonight? Unbelievable. Who's gonna stop this man, Joey, who?
We see Mark Jindrak celebrate his victory in the middle of the ring, with Johnny Parisi raising his hand. The crowd showers the duo in heat, as we switch to the back, to General Manager Eric Bischoff's office.

Bischoff is going through some paperwork, looking quite pissed off. Suddenly, the door opens, and The Basham Brothers, along with Jillian Hall, march to the inside. Neither of those three look too happy either. They're still not entirely recovered from last week's loss.
Jillian:
Look, Eric, it's simple. Those clowns got a fluke victory last week and we want our rematch. And we want it now!

Bischoff looks up, seemingly irritated.
Bischoff:
First of all, I don't care who you are, but it's MISTER Bischoff for all of you. Secondly, as you may know, I'm not in the best of moods, so the total lack of tact makes me even more irritated. And finally, you want a rematch? You'll have to earn a rematch. Next week, I'm putting you in a match with Kazarian and Billy Kidman. Should you win, you got yourselves a rematch. Should you lose, however, it's back to square one with all three of you. Now get the hell out of my office, before I change my mind!
The trio walk away, looking not pleased, nor displeased with Bischoff's decision. The camera then switches back to ringside, to Joey Styles and Mike Bucci.
Joey Styles:
Ladies and gentlemen, Rey Mysterio Jr. versus Matt Sydal, it's next!
Mike Bucci:
I'm amped up!
*COMMERCIAL BREAK*
*A video hyping the return of Brock Lesnar last week airs*
Joey Styles:
Welcome back, ladies and gentlemen, now it is time for a match that is sure to please all of our GWE fans and wrestling fans in general. In a few moments, the new All-American champion, Rey Mysterio Jr. will do battle in a non-title contest with Matt Sydal.
Mike Bucci:
The fastest rising star in all of GWE, baby, Matt Sydal! He may cause the upset here tonight!
"Wake up" hits the P.A. system as Matt Sydal comes out to a nice pop from the fans. He runs to the ring, slapping hands with some lucky fans at ringside, before sliding in, waiting for his opponent.

"Back to the 619" hits as All-American Champion Rey Mysterio Junior comes shooting through the stage! He is wearing his newly won championship with pride around his waist, as he walks towards the ring, posing for the fans, who cheer their champion on. Mysterio slides into the ring and hands his championship to the referee. Mind you that this is a non-title contest though.
Non-title contest: Rey Mysterio© vs. Matt Sydal
Summary:
A really fast-paced match-up here, between two high-flying experts. Sydal tried to take control over the match, but it was in fact Mysterio who first gained the upper hand, using his well-known high-flying offence. Mysterio kept Sydal down using a few flying clotheslines, followed by a swinging DDT. Sydal finally came into the match, however, when he reversed a hurricanrana into a powerbomb, giving him some time to recover. With Mysterio still grounded, Sydal nipped up and went for a springboard moonsault, but Mysterio moved, sending Sydal crashing into the mat. Mysterio quickly performed a small package, but Sydal kicked out just in the nick of time. Mysterio then went on to the attack some more, successfully hitting a hurricanrana, followed by a springboard leg drop. Mysterio was on a roll now and dragged the fans in, as he climbed the ropes, looking for some sort of devastating aerial move. But, Sydal quickly jumped up, athletically jumped up on the top rope and nailed Mysterio with a devastating hurricanrana from the top turnbuckle! The crowd had no choice but to applaud, as Sydal scattered up, using the ropes, looking down on Rey, almost in disbelief that he managed to pull a move like this off. Sydal got a sadistic little smile on his face next, though, looking to have come up with an even crazier move than the one he just pulled off. Sydal climbed to the top rope and looked over the crowd, before pointing toward Mysterio, who was lying flat on his back. Sydal fired up and leaped off of the turnbuckle, going for the 450 splash, BUT MYSTERIO MOVED, SENDING SYDAL CRASHING AND BURNING! The crowd erupted, as Mysterio and Sydal were both lying knocked out on the mat.

It was Mysterio who crawled up first, still feeling the effects of this highly demanding match. Mysterio picked up Sydal and immediately brought him down with a dropkick, before going for the cover, but only getting a two count. Mysterio picked Sydal up yet again, and Irish whipped him into the ropes. Mysterio went for a back body drop, but when he bent over, Sydal kicked him in the chest, before going for a enzuigiri, but nailing a hurricanrana instead! The crowd popped, as Sydal had an amazing showing tonight so far! Sydal went for the pin, almost scoring the victory, but Mysterio kicked out at two and seven eight! Sydal couldn't believe his eyes and even argued with the referee for a brief moment, but got back to Mysterio quickly. He picked the All-American champion up, cut the air with both of his arms and placed Mysterio in a front facelock position. He went for a suplex of some sort, but Mysterio jumped out and hit a drop toe hold, sending Sydal into the second rope! Everyone knew what was coming and so it happened, as Mysterio fired up and connected with the 619! The crowd popped, as Mysterio jumped up on the top rope and connected with a springboard frog splash, paying homage to the late, great Eddie Guerrero! Mysterio covered Sydal and got the very hard-fought victory!
Winner (7:58) Rey Mysterio Junior!
Joey Styles:
And there you have it! The new All-American champion did what he had to do here tonight and defeated Matt Sydal after a great match!
Mike Bucci:
Yea, it sure was a great match, Joey! Lot's of exciting action, as we are used to here on Dynamite, baby!
We see Mysterio celebrate on all four turnbuckles, before going to the middle of the ring and offer a handshake to a still grounded Sydal. Sydal grabs Mysterio's hand as Mysterio helps Sydal up and they go over in a friendly hug. The crowd pops loud, for this showing of utmost respect for one another!
Joey Styles:
We have to applaud this showing of true respect, Mike, we just have to!

Mike Bucci:
This is what wrestling is all about, Joey! It's pounding each other to a pulp, then shaking hands. Great!
Joey Styles:
Stay tuned, folks, cause in a few moments, Brock Lesnar will address all of the GWE fans!
*COMMERCIAL BREAK*

When we return we see Rey Mysterio walking down a hallway, carrying his title on his shoulder. He walks by Psicosis and Super Crazy, who pad him on the back and tell him he's done a "good job". Mysterio then wants to enter his locker room, but standing in front of the door is none other than Carlito Colon! The crowd showers Colon in heat and Mysterio's eyes widen in shock.
Carlito:
Sup…champ? No need to be scared, Rey, I ain't gonna hurt ya. You know what, Rey? Last week, you won fair and square. That's right. Funny to hear it comin' from me, isn't it? I always call it like I see it, Rey. Just like when I called you a washed-up has-been. But I haven't changed, champ. I still want to end your career. But I said a few weeks ago, that I was gonna wait for my opportunity, yea? Well, I still am. You can run, Rey, but you can't hide from Carlito. I don't care about you, I don't care about your stupid championship. The only thing Carlito cares about, is finishing you off once an' for all!
Before Carlito can continue, Rey interrupts.
Rey Mysterio:
Whoa, whoa, whoa! I know where you're going, Carlito. Quit all your fancy talk, cause all you want is another shot at my championship…you got it, next week!
Rey and Carlito go face to face for a brief moment, before Mysterio steps into his locker, closing the door behind him. Carlito looks on in the distance, getting a little smile on his face.

Carlito:
The opportunity is here…cool…

The camera switches to the announce booth, where Mike Bucci is sitting all by himself.
Mike Bucci:
Welcome back, folks, this is Mike Bucci calling the action all by myself right now, cause Joey Styles, well, he's in the ring right now! Take it away, Joey!
Joey Styles:
Good evening, ladies and gentlemen, this is Joey Styles and right now, please give a warm welcome to a man that has only recently returned to professional wrestling. Ladies and gents, here is…BROCK LESNAR!
"Here comes the pain v. 2.0" hits the P.A. system as Brock Lesnar comes out to a MASSIVE pop from the crowd. Fans still love the big guy and rightfully so. Lesnar does his usual jumping up and down on the stage, before walking towards the ring, eating the crowd reaction up. Lesnar jumps up on the apron of the ring, igniting a series of impressive fireworks, scaring Joey Styles in the ring. Lesnar gets into the ring and is handed a microphone. Styles waits for the crowd noise to die down a bit, before asking the first question.
Joey Styles:
Brock, first of all, welcome back to the world of professional wrestling. Let me just say that the entire industry is thrilled with your comeback. But my first question has to be, Brock, why did you decide to come back to wrestling?
Brock Lesnar:
The reason is very simple, Joey. I did American football. I did Mixed, Martial Arts and UFC, but there is nothing in the world that can compare to performing in front of a mass of crazy wrestling fans, baby!
*Huge pop*
Joey Styles:
Brock, last week, you returned with a bang. What do you plan to do, now that you joined the Dynamite roster?

Brock Lesnar:
When I was a football player and when I was doing MMA, Joey, there was one thing that never changed. Dominance!
*Pop*
Brock Lesnar:
And it ain't gonna change here. I will overcome all that's thrown in front of me. I will dominate my opponents and eat them alive in the middle of the ring, if I have to! I am Brock Lesnar, and whenever I arrive, people will scream in fear…HERE COMES THE PAIN!
The crowd pops loud, when suddenly "BIG" hits the P.A. system and Paul "The Great" Wight comes out, to a pop of surprise, which is a pop nonetheless. Wight walks down to the ring slowly, while Brock Lesnar has a look of surprise on his face, which quickly turns into a look of appreciation. He has a smile on his face, a smile of respect, one could say. Wight gets into the ring and yanks the microphone out of Joey Styles' hand, who immediately leaves the ring. Wight confronts Lesnar, but it's not exactly a heated confrontation. There's still a feeling of mutual respect.
Paul Wight:
Brock, man, I can't believe you're back. Welcome back, man. You 'no, I could go on an' on about how great it is that you're back, like all of these fans could, but I got somethin' on my mind that I need to tell you. Last week, I tried to show you some respect by offering a handshake. Yet you decided to screw me by surprising me outta nowhere! What's up with that, Brock? Huh, what's up with that?
Brock Lesnar:
I screwed you? You issued a challenge, Wight, and I accepted and won. That's what happened, nothing more, nothing less. If you can't accept that I'm better than you, then that's your freakin' problem.
Paul Wight:
Whoa, hold the phone, Brock! You better than me? You stunned me and screwed me last week and stole the Great Challenge. That didn't prove anything! You wanna prove you're better? How about we go at it again, in a Great Challenge rematch! Whoever wins, proves he's the better man!
*Huge pop*
Wight extends his left hand for a handshake, almost to seal the deal.
Brock Lesnar:
Paul Wight, I'm gonna prove you're not so "great" as your name says. I accept!
The crowd pops as Lesnar shakes hands with Paul Wight. Suddeny, however, Wight let's go and claps Lesnar's throat with his right hand! Wight doesn't lose any time and hoists Lesnar up in the air, only to slam him down with a thunderous chokeslam! The crowd erupts into jeers as Wight just looks down upon a fallen Brock Lesnar. Wight then slowly walks out of the ring and up the entrance ramp, not even looking back at Lesnar, who is slowly crawling up on his knees, looking furious.
Joey Styles:
What the hell have we just witnessed here? After Lesnar surprised Wight last week with an F-5, Wight returned the favour tonight, hitting the Chokeslam out of nowhere!
Mike Bucci:
This has certainly become an interesting development, Joey! I can't wait till these two cross blades once again! What a match that will be!
Joey Styles:
And with this surprising turn of events, ladies and gentlemen, this Dynamite comes to a close. For Mike Bucci, I'm Joey Styles, good night, from Philadelphia!

We see Lesnar staring down Paul Wight with a look of anger in his eyes, as the screen fades to black and this episode of Dynamite has come to an end.

Posting Rules

You may not post new threads

You may not post replies

You may not post attachments

You may not edit your posts

---

HTML code is Off

---