Re: WWE: A Strong Response
---
Raw Preview is looking awsome! Didnt get a reveiw up for Smackdown as i have been busy and not as much up to date with that show as opposed to Raw. Looking to the development of the Rhodes and Kofi situation aswell as the McMahons and Evolution. Its shaping up nicely. Will review when it is up man
Re: WWE: A Strong Response
---
RAW Results – Monday 21st April 2008
Live From The Acer Arena
Sydney, Australia
***Video Recap***
From Last Week


Randy Orton cutting a promo in the ring at the start of the show and being interrupted by Kane & Paul Bearer, leading to an RKO on Bearer with Orton escaping straight away
Orton leaving the arena after the first commercial break
Bearer being put in to an ambulance, provoking an angry reaction from Kane
The Big Red Machine attacking Cryme Time in the back
Val Venis being found laid out in the backstage area
Kane in the ring for his match when Orton came out of nowhere, blasting him in the back twice with a steel chair and then punting him in the head
The Legend Killer leaving the ring and taking Kane's belt, walking up the ramp with it

***OPENING VIDEO***
"Wanna Be Loved"


***PYRO***
***PYRO***
***PYRO***


"Line in the Sand" hits to a massive pop as all three members of Evolution, Triple H, Batista & Ric Flair walk down to the ring, dressed casually and not looking fairly serious. Triple H gets a microphone and opens by saying that last week, as much as it pains him to admit, JBL and the McMahon's got one over on him. That gets some boos from the Aussie's in attendance, but he lets them know that it doesn't him bother him as much as they might think, explaining that as much as he hates losing to anyone, let alone JBL, but says that these things happen. He looks quite calm and goes on to say that he has to admit that the way they went about it last week with the brass knucks was clever, but then looks in to the camera, addressing the McMahon's personally, asking them where clever got them at Wrestlemania. Another pop comes from the crowd with The Game continuing, telling the fans that what happened last week was a one off because when it really mattered in front of 80, 000 plus on the biggest stage of them all, Evolution did what it always does and comes out on top, just like they're going to in six days at Backlash.

That really gets the fans on side, and Triple H says that it might be a non sanctioned match where anything and he means anything goes, giving The McMahon's extra hope, but he explains that it's a two way street, the same applies to him, Batista & The Nature Boy himself. With Big Dave & Flair grinning at either side of him, The Game tells everyone that they're just as dangerous as anyone, but when it comes down to it and when there's nothing holding them back, they're the most ruthless collection of individuals ever to step foot in a wrestling ring. The fans cheer again, but just as Triple H is about to speak again, he's cut off by a voice coming from somewhere else. They all turn to the tron, and we see Vince & Shane McMahon with JBL, all sat down in a living room (Vince's) on expensive looking leather chairs watching Raw on an extreme widescreen television. Vince is sat closest to the camera with Shane & JBL sat on a sofa next to him, both looking very smug and clutching on to half empty glasses of wine.

With boos ringing out as Evolution look confused, Vince asks Evolution if they're enjoying their time in Australia, but doesn't give them time to respond, going on to say that being the intelligent men that they are, they decided it was best not to travel all that way when they have such a big match this Sunday at Backlash. He then says that they've been busy preparing for the sweet revenge they're going to inflict on them in just six days, but then explains that there was another ever so small reason why they decided to stay at home. Triple H, Batista & Flair all look confused as Vince mentions that there was some business they had to attend to, and being the close knit family that they are, they took the time out to show one particular man standing in the ring right now about how valuable family is. This just raises the curiosity even more and Vince quickly says that back home, there was a major event as far as wrestling goes, saying it's been all over the internet for the last week, the wrestling debut of one Reid Flair. The camera shows a close up of The Nature Boy panicking frantically, and he grabs the microphone from Triple H, then yells at Vince to tell him that if he's done anything to his son, he'll kill him.

Vince tells him to calm down and that he should be proud because Reid put on one hell of a show, and then says that he's recorded it for him so that he doesn't miss out on the moment. He picks up a remote control and presses play with the tron also showing the video of Reid's debut victory in FCW from Saturday night. Vince stops it and tells Flair that Reid did a great job as he can see for himself, but he then lets Evolution know that it didn't end there and presses play again to show Reid getting changed afterwards in his locker room when JBL walked in. Ric looks on closely in the ring as the video shows JBL locking the door behind him and walking up to a stunned Reid. Flair Jr doesn't know what to do as JBL walks menacingly up to him and tells him that he did a good job out there, but there's something he needs to know about this business. Reid stands there waiting for JBL to speak, but the Texan sends him crashing to the floor with a vicious right hand. He falls against the wall with JBL then kicking him in the face with the back of Reid's hitting the wall. JBL smirks and turns back to walk over to the door, unlocking and opening it, allowing Vince & Shane to walk in.

They walk in grinning and up to a now bloodied Reid with Vince kneeling down in front of him and telling him he should probably call his dad, but there's not much point as he's on another side of the world before slapping him across the face. Vince then grabs him by the head, holding on to it as he tells the groggy youngster that his dad and the rest of Evolution are going to look a lot worse than he is by the time Backlash is through and that they haven't seen what they're fully capable of just yet. Vince then lets go of Reid's head and stands up, rubbing his hands together and telling his boys that they're done here. They walk out chuckling, leaving the bloodied Reid leaning up against the wall. We then see Vince stopping the video at his home and putting the remote on a side table and picking a glass of wine up from there too. He then instructs Shane & JBL to raise their glasses for a toast to Reid Flair. All three men raise their glasses and laugh as they do so with Vince then telling Evolution they'll see them at Backlash. The camera cuts back to the ring and the infuriated Evolution with The Nature Boy then walking to the ropes and charging up the ramp. Batista & The Game follow him and try to catch up as we go back to The McMahon's laughing as they watch on from Vince's home.


[Commercial Break]


***Video Promo***
During the break

Evolution are shown in the back with Triple H & Batista walking behind Ric Flair. Naitch is dragging his travel bag in one hand and has his cell phone in the other, trying to get hold of Reid. He looks angry and leaves a message, telling Reid he's on his way home and to call him as soon as he gets this message. He then tells Trips & Batista that he is getting the first flight back to check on Reid because he has to make sure he's okay. Batista asks him if they want them to go with him, but says he'll be fine and tells them to stay before saying that he'll call them to let them know how Reid is. Big Dave says that he's not too happy about it, but Triple H tells him that they have a flight back first thing in the morning away. He then turns to Flair and reassures him that everything will be fine, and that they'll catch up with him the moment they get back. Flair says that's okay and that he'll see them soon before walking down the hall. Batista doesn't look happy and tells Triple H that there's no point them being here, but The Game says it's irrelevant because they can't get their hands on Vince and his boys until Sunday away. Big Dave stands there fuming, and then says that Sunday can't come quick enough with Triple H agreeing and saying that The McMahon's have signed their own death warrant.


[Cut Backstage]


William Regal & Eric Bischoff are sat down in their office with Bischoff telling Regal that he got a call from JBL last week about the match he made between him and Triple H. Regal tries to cut in, but Bischoff tells him not to worry and that even though he didn't want Evolution & The McMahon's getting their hands dirty before Backlash, he did a good job of not letting things getting out of hand. Regal thanks him and Bischoff says that what happened earlier with Ric Flair's son had nothing to do with the decision last week, just as Santino Marella & Melina walk in. Both of them look very angry, especially Santino as Regal shakes his head at their arrival. Marella tells Bischoff he wants to make a complaint about Will I Am Regal and how he treated them last week. Bischoff grins as Santino continues his rant, mentioning how Regal didn't stop the little green dwarf scaring Melina and how he is still lucky to be alive after having the big red monster set on him. Bischoff leans forward and agrees that maybe Regal was a little hard on him by putting him in a match with Kane, but says he believes in putting his superstars to the test, and called it an opportunity. He then tells Santino he'll do him a favour, but then turns to Melina and tells her she's going to be one of the divas in the number one contendership match at Backlash.

Santino cuts in though and asks Bischoff that people talk about him, and Bischoff does so, asking Santino that if he wants to scale the heights on Raw. Marella looks confused and asks what scales have to do about all this, then asks if Bischoff is calling him one of the fat people. Bischoff explains that he meant that if Santino is serious about becoming a star on Raw, he can help him out tonight, but Santino says he is already a star, the biggest star ever on Raw. Bischoff says that's a matter of his opinion, leaving Santino looking like he's going to throw a strop as the boss says that later on tonight, it will be Santino Marella going one on one with John Cena. Santino takes it quite well and tells Bischoff he knows what he's doing and he's not going to get angry, he's going to beat John Cena tonight, climb to the top of the Raw mountain and stick the Italian flag there. Bischoff & Regal try not to laugh, causing Santino to get angry, telling them that he is serious and they should watch if they don't believe him. He turns around too quickly and walks right in to Melina, resulting in them banging heads ever so slightly, making Regal & Bischoff laugh even more. Santino holds his head as he sees them laughing and rushes to get out of there, grabbing Melina by the arm and walking out of the room.


[Cut To Ringside]


***Match #1***

Shad Gaspard w/JTG vs Carlito w/Eddie Colon & Eric Perez

ENDING: Carlito urges Shad up to his feet, and as the big man stands up, he turns back and runs back in to the ropes, but as he comes back, Shad shocks him by planting him with a SIDEWALK SLAM. . . . . Eddie & Perez look concerned on the outside as Gaspard quickly reaches across and goes for a cover 1 . . . . . 2 . . . . . The relief is obvious as Eddie & Perez punch the air on the outside and breathe out while JTG looks disappointed but then encourages his partner by banging his hands on the canvas. Shad stands back up and reaches down to pull Carlito up, but before he can do so, Perez sees the need to act and hops up on to the apron, distracting both the referee and Shad. Eddie then runs round and stops JTG coming to the rescue by grabbing him and spinning him round to knock him down to the floor with a right hand. The ref walks across to the apron and tells Perez to get down, giving Carlito the chance to low blow Shad, who drops to his knees. Carlito then picks himself back up and shifts behind Shad with Perez stepping down off the apron, allowing Carlito to finish Shad off with THE BACKSTABBER. . . . . The elder Colon brother hooks the leg as the ref makes the count 1 . . . . . 2 . . . . . 3.


WINNER: Carlito by pinfall @ 6.38.

AFTERMATH: "Cool" hits as Carlito rolls under the bottom rope to join Eddie & Perez on the outside. They hold Carlito's hands aloft and look smug as JTG slips in the ring and looks on while Shad sits up.


[Commercial Break]


***Video Promo***





[Cut Backstage]


Cody Rhodes is walking down the hall with Kelly Kelly, and he stops at a door. He tells Kelly to stay there for a minute while he tends to some business. Kelly doesn't look happy about it but says okay as Cody then walks in to the room. Eric Bischoff & William Regal are sat down, but Bischoff greets Cody and asks him what brings him here. He says that it's simple, he wants an answer to his proposal for a match with Kofi Kingston for the Intercontinental Championship that Bischoff promised him a couple of weeks ago. The Head of Authority stands up and tells him he's sorry, but there's nothing he can do. Cody flips and asks if that's the best he can come out with. He then reminds Bischoff that Kofi won the title in a tag match that they were partners, calling it a joke that Kofi gets the title and he doesn't, but Bischoff butts in, telling Cody he doesn't understand and that they had a visitor earlier. Cody looks confused as Regal then stands up and explains that the visitor to which Mr. Bischoff is referring to was Mr. Kingston himself.

Cody looks shocked and asks what the hell he wanted, and Regal answers his question for him, saying that Kofi came to see them and asked for the same Cody wants, an Intercontinental Championship match at Backlash this Sunday. Cody looks stunned and Bischoff tells him that they agreed, the match is on six nights from now for the Intercontinental title. Cody calms down and Bischoff also informs him that his girlfriend, Kelly Kelly will be in a number one contender's match at Backlash too with three more Raw divas as well as a tag team match tonight, then asks Cody if he's okay to tell her that. Cody doesn't seem interested, but says he will before thanking them and leaving. He sees Kelly and tells her that she's got a match tonight but he has to go think some things through, walking off and leaving her there alone. She shouts his name as he walks up the hall, but she gives up and walks the other way, not looking too happy with her boyfriend yet again.


[Cut To Ringside]


***Match #2***

Val Venis vs Trevor Murdoch

ENDING: Val & Murdoch square up in the ring and Murdoch grabs Val by the head, pulling him in to a side headlock. As soon as he locks it in, "Burned" blasts out to the shock of everyone as Kane walks down the ring on a mission, climbing up on to the apron and over the top rope. Murdoch looks stunned and lets go of Val before running at Kane and in to a big boot with the referee calling for the bell.


WINNER: Trevor Murdoch by DQ @ 0.18.


Paul Bearer walks down the ramp as Kane grabs Val around the neck and chokeslams him down to the mat. Bearer then gets in the ring and collects a microphone as Kane kicks Val under the bottom rope. Bearer looks quite calm considering the events of last week, but he addresses Orton straight away, pointing out that The Legend Killer made not one but two mistakes last week. He says that Randy Orton showed his naivety by daring to put his hands on the father of the most dangerous superstar in Raw history, but that was nothing compared to the fatal mistake he made later on, making a dangerous man even more determined to unleash a storm that will be incomparable to anything anyone has ever seen in this ring. With the crowd half booing and half cheering, Bearer suggests that playing mind games with Kane is an accident waiting to happen, and by taking the WWE Championship away from its rightful occupant, Randy has all but hammered the final nail in to his coffin for when they meet at Backlash this Sunday. Bearer then turns to face the stage, as does Kane, with Bearer trying to persuade Orton to see sense by walking down to the ring and handing the title back to Kane before the monster goes back there and claims it himself.

They give it several seconds with no response, prompting Bearer's orders for Kane to march his way to the back, but as soon as Kane steps forward, "Voices" hits to a mixed but largely negative reception with Randy Orton walking out to the stage in his casual clothing with Kane's WWE Championship resting on his shoulder. He looks ever so pleased with himself as the blood starts to boil inside of Kane & Bearer as they have to stare at the smug challenger going in to Backlash. Orton lifts the microphone to his mouth and tells them that what he's going to say isn't exactly going to be the response they were looking for, explaining that all he did last week was take back what's his since he didn't lose it, and he's not going to hand it over until Kane beats him, which he says will not happen because he won't let it. He goes on to say that he wasn't the man to lose the title, meaning technically he's still the champion and that the belt is staying where it is, not just until Backlash but after it.

He then asks Bearer why he wants to know why that is, answering it for him, saying that he's done something others haven't, and that's get under Kane's skin, outsmarting him last week and leaving him lying on the mat for the whole world to see, leaving him the easy task of finishing the job in just six nights from now when he officially takes back the role he is meant to hold, that being the WWE Champion. It doesn't go down well with most in the crowd, and it pisses Bearer & Kane off too, with Bearer then telling Orton that he had his chance to do things the easy way, but since he declined, he's left Kane no choice but to do it the hard way. The WWE Champion then walks over to the ropes, but just as he's about to step over the ropes, Eric Bischoff & William Regal make their way out to the stage with Bischoff shouting at Kane to stay right where he is, which he does. Orton stands to the side as Bischoff tells them to save it until Backlash, and if they so much as touch other innocently tonight, their match at Backlash will be scrapped.

He then says that if they try and disobey him, there will be a price to pay, as if Orton puts his hands on Kane, he's lost his rematch period, and if Kane is stupid enough to go for him, he will be stripped of the WWE title. Orton smirks, and Bischoff sees it. He looks at Orton and tells him he's not going to accept what happened last week and orders him to walk down to the ring like a man and hand the title back to its rightful owner. The Legend Killer doesn't look best pleased, but he realises he has no choice and starts his slow walk down the ramp. Kane backs away from the ropes as Orton climbs up the steps and through the ropes. The look of arrogance has completely gone as he walks cautiously towards Kane and Bearer, taking the belt off his shoulder and holding it out in his hands, staring down at it for a couple of seconds before looking back up at them. Orton then holds the belt out towards Kane, but as the champion goes to grab it, Orton pulls it back and smashes it in the face of Bearer.

For the second straight week, Orton has laid out Kane's father in the middle of the ring, but this time, Orton is staying right where he is and he goads Kane in to attacking him, and the champion looks like he's going to snap. Bischoff interrupts though, saying that's about enough and shouts for some help for Bearer, and then asks Regal what he thinks they should do with them. Regal has a short think and accepts the microphone. He says that he would be happy to oblige and tells them that they need to channel their anger properly, and that there's no better way to do that than working together. Orton looks puzzled as Regal then says that there are two other angry men in the building tonight, and he suggests that the best way to remove all this aggression is by having themselves a tag team match later on that will see Randy Orton teaming with Kane to take on Triple H & Batista. That gets a huge pop as Bischoff smiles, looking impressed as Orton doesn't know what to make of it while the medics check over on Bearer with Kane staring right at Orton.


[Commercial Break]


***Video Promo***





[Cut To Ringside]


JR tells everyone at home that Paul Bearer is being checked over by EMT's in the back, but from what he understands, he is going to be okay but he may be taken to a local medical facility just to make sure there is no serious head trauma before flying back to America.

The four divas that will contest the number one contendership match at Backlash make their way down to the ring with Kelly Kelly coming out last without her boyfriend, Cody Rhodes or Kofi Kingston by her side. The camera then cuts to show the Women's Champion, Victoria watching on a monitor in the backstage area.


***Match #3***

Candice Michelle & Kelly Kelly vs Natalya Neidhart & Melina w/Santino Marella

ENDING: With Natalya dominating for the most part, Candice is dragged up by the dominant diva and whipped in to the corner, but as Neidhart runs in, Candice lifts her boot up in to the Canadian's face. Natalya staggers out of the corner with Candice pulling herself up to the second rope and then diving off for a CROSS BODY. . . . . She connects and forces Natalya down to the mat and for a pinfall attempt 1 . . . . . 2 . . . . . Natalya powers out and pushes Candice off her and closer to her corner with both divas then crawling to their respective partners and making the tags. Kelly & Melina race through the ropes with Kelly ducking a clothesline and nailing her with a dropkick. Melina doesn't stay down long and joins Kelly in getting back up to her feet, but Kelly looks to gain some momentum by running back in to the ropes, but as she runs back, Melina nails her with a LARIAT. . . . . The fans boo as Melina stands back up with a smile on her face, but we then see Hornswoggle pop out from under the ring like last week. He quickly crawls out and hops up on to the apron, and as Melina turns round and sees him, she screams out. Santino hears the scream and then turns round to see Hornswoggle at the other side of the ring. Melina tells the ref to get rid of him, and as he walks over, the leprechaun jumps back down and runs up the ramp with Santino not looking happy at all. Melina looks relieved, but as she turns round and tries to pull Kelly up, she's in for a shock as Kelly pulls her in to an INSIDE CRADLE 1 . . . . . 2 . . . . . 3.


WINNERS: Candice Michelle & Kelly Kelly by pinfall @ 5.38.

AFTERMATH: "Holla" hits as Candice steps back in to the ring and hugs Kelly with the referee then raising their hands while Santino looks disgusted as Hornswoggle runs up the ramp and to the back. Natalya shakes her head in disgust as Melina sits up looking very frustrated.


[Cut Backstage]


Leticia Cline is standing by, and she introduces us to her guest at this time, Randy Orton. The Legend Killer is booed inside the arena as he walks in to the shot looking very serious. Leticia mentions that later on tonight, he will team up with the man he will face at Backlash this Sunday, Kane to face Triple H & Batista, and that if either he or Kane attacks the other, their match will be cancelled. However, she says that she wants to ask Randy first about why he felt the need to hit Paul Bearer with the WWE Championship belt, just a week after he RKO'd him in the middle of the ring. Orton remains very serious and says that he did what he's done every night since Backlash, and that's make a statement, a statement that he will do whatever it takes to get the WWE Championship back that he didn't even lose in the first place.

He then tells us that kicking Mr. Kennedy in the head, smashing Kane with a steel chair, hitting an RKO on Bearer and smashing him in the face with the belt proves he will do anything and everything to make his point, because unlike some people believe, he isn't scared of Kane, and he'll prove it when he goes face to face with the so called monster and beats him in the middle of the ring in six days. Leticia then asks him how he feels about teaming up with him tonight. Orton says that he doesn't care what Regal and Bischoff want to throw at him because the way he sees it is he can show Kane in front of his very own eyes one last time before Backlash that only of them can be the WWE Champion, and tells Leticia that she's looking at him. She stares nervously at the intense Orton for several seconds before he turns round and walks out of the shot.


***Video Promo***





[Commercial Break]
***Video Promo***

Shots of Kane in a deserted warehouse are shown with a worried looking Randy Orton lurking in the corners. A trail of fire then ignites around the now empty warehouse with glass shattering.

VOICEOVER: There comes a time when consequences will be felt. . . They come when you least expect them. . . They come when you don't want them, but you have no option but to deal with them. . . You have to deal with the Backlash. . . Live this Sunday, only on pay-per-view.



[Cut Backstage]


Kelly Kelly is walking through the hallway and she stops at the locker room of the Intercontinental Champion, Kofi Kingston. She puts her hand on the door and contemplates not going in, but after a couple of seconds, she pushes the door open and walks right in. Kofi is sitting down on the bench at the time, but he hops up to congratulate Kelly on her win and hugs her for a quick second before saying she did great tonight and then tells her he's pulling for her at Backlash. Kelly thanks him, but her mind is elsewhere and she asks him if it's true he asked to face Cody on Sunday. Kofi nods his head and says that he guesses Cody knows now, but Kelly asks why he asked for the match. Kofi explains that he didn't want any of this to happen, and if he has to give Cody what he wants so bad, a shot at the Intercontinental title, then he'll do it just so they can all move on and forget what's happened.

Kelly shows signs of a smile and tells Kofi he's a real nice guy, but then we hear the door slam behind them, and the camera zooms out to show none other than Cody Rhodes standing there. He doesn't look happy and asks Kelly what she's doing there, but before she can answer, he carries on speaking and says that he's not stupid, every time he turns his back, they're both together all happy and smiling. Kofi tells him to chill and tries to explain, but Cody won't have it and says that he wanted to come find out why Kofi had asked for them to be in a match on Sunday. He then says that he now knows, believing Kofi thought he'd carry on seeing Kelly behind his back but give him the match to throw him off the scent and keep him happy. Kofi & Kelly both tell him that's not what it is, but Cody doesn't want to hear it and tells them that he's sick of them talking crap all the time, and says that the only talking that will matter is the talking he does with his fists when he takes the Intercontinental Championship on Sunday night from everyone's best friend.

Kofi shakes his head and starts to get a little hot himself. He tells Cody he's got it all wrong, and he (Cody) doesn't see the real problem like Kelly said last week, Cody is jealous because he's not the Intercontinental Champion. Cody tells him it's bull and gets in Kofi's face, saying that if anyone is jealous, it's Kofi, and that even though he might have done the right thing at last as far as the title is concerned, he has to remember one thing, Kelly is not his girlfriend. He looks Kofi right in the eye and tells him to stay away from her, and says that once Backlash is over, Kofi still won't have Kelly, and he won't have the Intercontinental title either. The two stare at each other with Kelly nervously watching behind them. Cody then steps back, grabs Kelly by the arm and drags her away before turning back and telling Kofi he'll see him Sunday. The fun loving Jamaican doesn't look so fun loving right now as he stares a hole through the door.


[Cut To Ringside]


"Priceless" plays to a heated reception with the fans down under not showing too much love for the Million Dollar Champion, Ted DiBiase Jr & "The Million Dollar Woman" Maryse. The youngster is smiling pretty widely as he steps in to the ring after holding the ropes down to allow the ever elegant Maryse to enter too. She walks across the ring and asks for a microphone, then walks back to hand it to the undefeated superstar. He says that when he walked down to the ring last week in the second greatest country to America, reminding them it was Japan and not Australia, to a lot of heat from the crowd, what he had planned didn't exactly work out, but it's a good thing, calling it great, historic even. He stops and smiles at Maryse before saying that last Monday, he extended his winning streak since joining Raw as the hottest prospect in its history by defeating not just one, but two of the toughest superstars in the WWE today, Finlay & John Cena. He then asks for the footage to be shown, and we then see the end of the tag team match from last week with DiBiase rolling Finlay up after a distraction from Santino Marella.

The camera goes back to the smug DiBiase, who then said that he proved why he is going to be one of the all time greats in the history of this business, but then says that for the benefit of the ignorant who choose not to believe him, he is going to leave them in no doubt by offering any tough guy in the back the chance and the honour to step in to the ring with him for an opportunity at the Million Dollar Championship, allowing him the chance to prove last week was no fluke. The fans cheer in anticipation of a title match and someone shutting DiBiase up. There's no response for a good five seconds, triggering a response from Ted Jr, telling everyone in the back that there's no need to worry about being shown up as that would happen to anyone. But all of a sudden, "How do you like me now?" hits with Hardcore Holly walking down to the ring with DiBiase turning to Maryse and laughing. Holly sees the arrogance of DiBiase & Maryse as he steps through the ropes, and it looks to fire him up.


***Match #4***

Million Dollar Championship
Open Challenge
Hardcore Holly vs Ted DiBiase Jr (c) w/"The Million Dollar Woman" Maryse

ENDING: DiBiase has fought back after a bit of a battering from the veteran in the early going, avoiding a standing dropkick by holding on to the ropes after being whipped in to them by Holly. He stands by the ropes waiting for Holly to get up, and as he does, DiBiase runs at him and takes him down with a clothesline. Hardcore is quick to get back up, but DiBiase follows up by kicking him in the gut and planting him with a vertical suplex. The Million Dollar Champion stands back up with a big smile on his face and walks over to the ropes, quite slowly, looking a little complacent as he climbs up to the second rope. He turns round and grins at Maryse on the outside before turning his attention back to Holly and jumping off and looking for a DIVING DOUBLE FOOT STOMP. . . . . But Holly rolls to the side as DiBiase's feet hit the mat only. Holly rolls on to his side and looks to stand up with DiBiase then reaching down to pull him up, but Holly puts him back on the foot by rising up and nailing him with a succession of right hands. He then grabs DiBiase by the wrist and whips him in to the corner, charges in and connects with a back elbow strike. The champ then staggers out of the corner with Holly then lifting him up in to the air for THE ALABAMA SLAM. . . . . The champ looks in trouble as he is lifted up, but he tries to escape, desperately wriggling away, and he somehow manages to escape after driving his elbow down on to Holly's head. As DiBiase then lands back on his feet, he ducks under a right hand from Holly and pounces straight away with a COBRA CLUTCH LEG SWEEP. . . . . Maryse looks relieved on the outside as DiBiase desperately rushes to hook both Holly's legs for a cover 1 . . . . . 2 . . . . . 3.


WINNER: By pinfall, and still the Million Dollar Champion, Ted DiBiase Jr @ 6.09.

AFTERMATH: "Priceless" hits with a relieved DiBiase standing back up to get his arm raised with Maryse climbing in and passing him his Million Dollar Championship. He walks over to the ropes and raises it up in the air emphatically, showing relief to have gotten through. Maryse walks up behind him and rests her hand on his shoulder before they both turn to walk to the back with Holly slowly sitting up.


***Video Promo***


[Commercial Break]


***Video Promo***





[Cut Backstage]


Todd Grisham is ready and waiting backstage, and he introduces his guests to us, The Miz & John Morrison. Grisham lets us all know that six nights from now, these two men will be challenging for the World Tag Team Championship before asking them how they feel about their chances after Brian Kendrick beat The Miz right here last week on Raw. Neither Miz or Morrison looks unsettled by it like you would think, and they just grin with Morrison explaining that what happened last week was a slip. He says that The Miz knows it shouldn't have happened, but every now and again, people can get complacent, and that's why he lost to Kendrick last week. The Miz steps in and says that just like everyone who was watching last week, he thought it was a complete fluke too, a fluke that won't rear its head again at Backlash, because last week is in the past, and the important thing is what happens this Sunday night when the tag team of the decade end the reign and the team of Paul London & Brian Kendrick. Todd looks confused and asks The Miz what he means, but Morrison leans in and tells Todd he'll handle this, taking the microphone and looking in to the camera, aiming his words at the champions.

He asks them what they're going to do when things start badly for them at Backlash, because he and the chick magnet will be hit the ground running at a pace not even they have seen. He then says that London & Kendrick are way out of their depth and that the challenge they face might well finish them off, since it's clear they're not a team anymore. With The Miz grinning behind him, Morrison twists the knife even more by saying that becoming the World Tag Team Champions isn't enough for them, they want to humiliate and obliterate the worst tag team champions ever to grace a wrestling ring. The second he finishes the sentence, he is pounced on by Brian Kendrick with Paul London attacking The Miz to a huge pop from the crowd with Grisham making a get away. The two teams go at it, throwing right hands at each other until about eight officials rush to the scene and separate them after a struggle. London & Kendrick back up, and Kendrick then unbuckles his title belt, lifts it up in the air and shouts at their challengers, saying they might have big mouths, but they don't have the belts, and they're not going to. The Miz shouts back the words "we'll see" as both teams stare each other out.


[Cut To Ringside]


***Match #5***

John Cena vs Santino Marella w/Melina

ENDING: Cena has been in control most of the match, and has got back on top after Santino managed to use dirty tactics to get ahead. With Santino slowly coming round by the ropes, Cena walks over to help him up, then pulls him away and sets him up for THE FREESTYLE (Jumping Fisherman Suplex). . . . . He hits it too and holds on for a cover 1 . . . . . 2 . . . . . Kick out from Santino, but he looks in trouble, and Melina worries too on the outside. Cena stands back and urges the Italian up to his feet as he slowly makes his way back up, and as he gets back up to a vertical base, Cena runs right past him and back off the ropes, connecting with THE THROWBACK. . . . . A big pop meets that as Cena stands right back up, followed by a groggy Santino, but he walks right in to Cena's path and a SPIN OUT POWERBOMB. . . . . Santino's back is slammed down to the mat, and Cena looks to take advantage by going for another cover 1 . . . . . 2 . . . . . Marella is putting up a fight in this one, but it might not be enough as Cena makes his way back up and urges the Italian Stallion up too. He looks in trouble as he attempts to get back up, and Cena lies in wait, but as he shifts towards him, Kenny Dykstra charges down the ramp in jeans and a shirt. He pulls the referee out of the ring and whips him right in to the steps, alerting Cena who turns round and sees Dykstra standing there. Cena looks pissed as he stares at his Backlash opponent, but as he takes his eye off the ball, Santino crawls up behind him and rolls him up. Dykstra then takes his shirt off, revealing a referee's shirt underneath and slips under the bottom rope, counting the fall incredibly quickly 1 . 2 . 3.


WINNER: Santino Marella by pinfall @ 6.05.

AFTERMATH: "La Vittoria é Mia" plays as Dykstra slips out of the ring and laughs, watching on as Cena rushes back up and goes after him. Dykstra turns back and races up the ramp with Cena in pursuit. Back in the ring, the stunned Santino pulls himself up to his knees and drops his head down in to his hands. He then stands up and runs in to the corner, climbs up to the second rope and raises his hands up before jumping down to the mat and walking across the mat, pretending to play the trombone, celebrating his win like crazy with Melina joining him in the ring. He turns round and walks over to the ropes by the announce table, gloating to JR & The King, but as he does so, Finlay & Hornswoggle make their way down the ramp and in to the ring. Santino continues to brag to the announce team, ignoring Melina who tries to warn him as Hornswoggle walks up behind him and bites the Italian's behind, causing Santino to turn round and scream, but as he pushes him off, Finlay smashes him over the head with the shillelagh. "Lambeg" hits as Finlay helps his little buddy up and smirks at the sight of Santino laid out on the mat with Melina kneeling down to help him.


***Video Promo***





[Commercial Break]


An irate John Cena is walking through the hallway and as he gets to his locker room, he shoves the door open and sees the wall spray painted with the words "You can't see me" in big red letters. His face goes an even brighter shade of red, and in front of him, he sees an empty tin of spray-paint. He bends down to pick it up and throws it against the wall. He puts his hands on his hips and composes himself slightly, then says to himself "it's like that huh? . . . Sunday. . . it's on!" He stares at the wall and shakes his head as the camera fades out.


***Video Promo***
"All Summer Long" by Kid Rock


JR & The King run down the Backlash card as the matches appear on the tron.
JR says that we just saw how personal things have become between John Cena & Kenny Dykstra, and that Dykstra might just regret his actions once Sunday is said and done.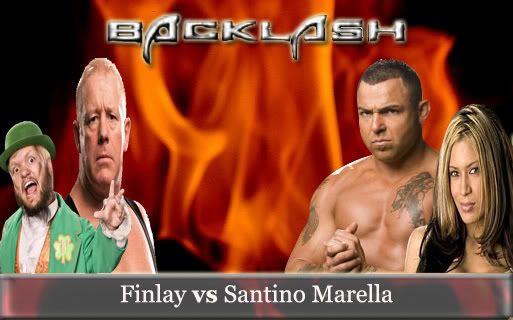 Good ol' JR then lets us know that during the break, Eric Bischoff acted on the recent problems between Finlay & Santino Marella by signing a match for this Sunday night.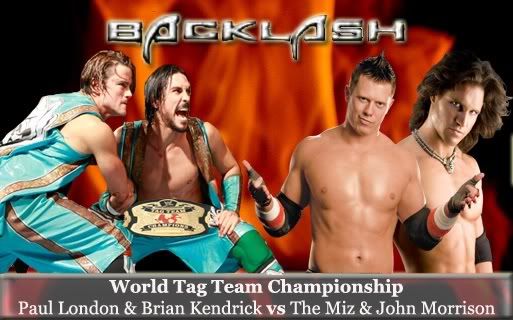 The King says that it's clear to see John Morrison & The Miz have got under the skin of the champions, the question is how much, and are they on the verge of collapse? JR doesn't think that's the case, proved by the display of unity earlier on. He then says that the cocky challengers are in for one hell of a fight come Sunday night.
The King gets excited and brings up the fact that there will be a lot of puppies on show when these four lovely ladies compete for a shot at Victoria and the Women's Championship. JR agrees but moves on.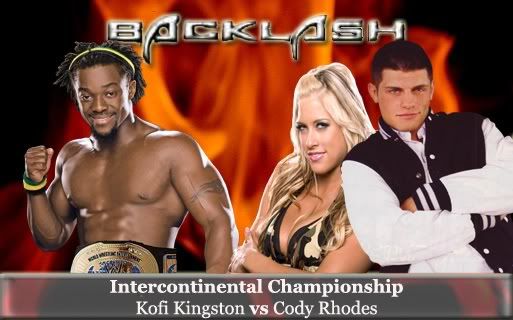 Good ol' JR says that it's a lot more than the Intercontinental Championship at stake when these two step in to the ring against each other for the first time, mentioning that a friendship hangs in the balance, as well as the relationship of Cody Rhodes and Kelly Kelly. The King brings up the fact that Kofi Kingston did the right thing by giving Cody a shot at the title, but he teases whether it will be enough for them to kiss and make up afterwards.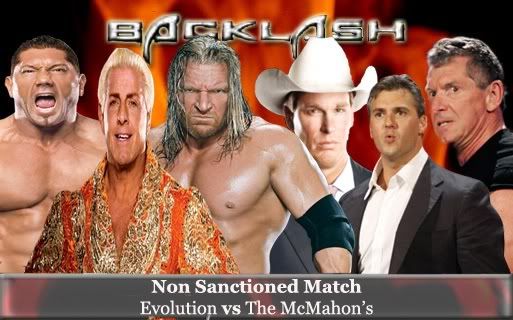 JR makes it clear that this isn't going to be pretty at all as it's as personal as it gets. The King agrees and speculates just how far the McMahon's will go after what they did to Reid Flair at the weekend, and what kind of response they're going to get from Evolution. JR says the McMahon's showed just how smart they are, and that he believes they may have something up their sleeve once again since they asked for this non sanctioned match. King then adds that they might have to since Evolution won't have forgotten what they showed earlier on.


JR then says this is what it all comes down to, the WWE Championship, asking if Randy Orton will be able to regain the title he lost at Wrestlemania without being pinned or made to submit. JR gives his opinion, believing that Kane is a monster, but Orton has showed just how desperate and ruthless he is to get back what he thinks is still his, and if he can continue that at Backlash, he has a real chance of once again becoming the WWE Champion.


[Cut To Ringside]


***The Main Event***

Triple H & Batista vs Randy Orton & Kane

ENDING: A really even match with both teams being very aggressive, but the tension has been clear between Orton & Kane with both of them looking wary of each other throughout. Triple H & Orton have been battling it out, and as both men try to get back up to their feet, Batista & Kane watch on with Triple H then blocking a right hand from The Legend Killer. He then hammers away at Orton and sends him back pedalling in to the ropes, then grabs him by the arm and whips him in to the opposite set of ropes. The Game then steps away and runs at Orton as he comes back, connecting with a HIGH KNEE STRIKE. . . . . The fans like that as Orton hits the deck, but he doesn't stay there for long as Triple H tries to keep the momentum going by helping him up and whipping him in to the ropes again. As Orton hits them, he holds on this time to the frustration of The King of Kings, who wastes no time in racing at him, but Orton lifts his boot up and drives it in to the face of The Game. It sends him spinning and away from the ropes with Orton following up behind him and spinning him round in to an ELEVATED DDT. . . . . The Game's head is driven in to the mat, and he doesn't seem to be moving as Orton looks to wrap the match up by going for a cover 1 . . . . . 2 . . . . . NO! . . . . .

Triple H fights on and gets his shoulder up to the anger of the number one contender to the WWE Championship. He pulls himself back up to his knees and stares at the ref for a couple of seconds before standing back up and walking in to his corner where he stares at Kane for several seconds before slapping his arm, tagging him in to the match. The Big Red Machine climbs over the top rope and stares Orton right in the eyes before turning his attention to The Game, walking over to him and dragging him up to his feet. He strikes with an uppercut thrust, putting Trips on the back foot and whips him in to the ropes, then plants takes his head off as he comes back with a BIG BOOT. . . . . The Game falls in a heap on the mat as the WWE Champion then walks in to the corner, steps through the ropes and climbs up to the top rope as Triple H slowly comes round and stands back up, turning round to face Kane and a FLYING CLOTHESLINE. . . . . As Kane then comes flying through the air, Triple H steps to the side with The Big Red Monster crash landing on the mat, allowing The Game to back track in to his corner and tag in Batista.

The Animal steps through the ropes and looks ready to explode as Kane gets up, running at the champion and taking him down with a clothesline. The champ is right back up though, but Dave nails him again with another clothesline. This time as Kane stands up, Big Dave grabs his wrist and tries for an irish whip, but Kane reverses it with Batista charging in to the ropes. As The Animal comes back though, he ducks an outstretched arm from Kane and runs through, races back off the ropes and sends the monster to the mat with a DIVING SHOULDER TACKLE. . . . . The crowd cheer like crazy, but the champ is getting right back up and it even surprises Batista as he also stands back up. He tries for an irish whip again, and this time he's successful, and as Kane comes back off the ropes, Big Dave connects with a SPINNING SIDE SLAM. . . . . It's deafening inside The Acer Arena as Batista hooks Kane's leg for a pin attempt 1 . . . . . 2 . . . . . NO!!! . . . . . The WWE Champion kicks out, leaving Batista, Triple H & the sell out crowd stunned and disappointed. Orton doesn't know what to make of it as he stares intensely in to the ring as Batista again makes his way up to a vertical base, and Kane is right behind him too.

The champ is showing us just why he is so dominant, but Batista tries to end it, kicking Kane in the gut and pulling his head in to position for the BATISTA BOMB. . . . . The fans go nuts, but Kane quickly puts an end to that as he lifts Batista over his head with a back body drop straight away. Kane falls forward and to his knees, close by Triple H, who walks the short distance across the apron to get a look at the champ as he picks himself back up, staring right at The Game with Batista making his way back up. As The Animal stands up, he races at Kane, but as the champ turns round, he sees Batista coming and steps to the side as The Animal runs through and charges right in to Triple H, knocking him off the apron. Batista looks groggy too as he turns round in to Kane, who grabs him by the throat and plants him with a CHOKESLAM. . . . . Kane isn't done as he stares at Orton while bringing his arm across his neck, signalling the end before reaching down and dragging Batista back up. He shows great strength as he then scoops him up and drills him with a TOMBSTONE PILEDRIVER. . . . . With Orton staring from the apron, the champion crosses Batista's arms and goes for the cover 1 . . . . . 2 . . . . . 3.


WINNERS: Randy Orton & Kane by pinfall @ 12.40.

AFTERMATH: "Burned" blasts out as Kane stands back up with Orton jumping down off the apron and grabbing the title belt from Lilian Garcia. He walks round to the ramp and lifts it up as Kane then walks to the ropes and stares right at Orton, knowing he can't touch him with Orton staring back very arrogantly at the WWE Champion.


[End of Show]


QUICK RESULTS
Carlito df. Shad Gaspard
Trevor Murdoch df. Val Venis
Candice Michelle & Kelly Kelly df. Melina & Natalya Neidhart
Ted DiBiase Jr df. Hardcore Holly
Santino Marella df. John Cena
Randy Orton & Kane df. Triple H & Batista


CONFIRMED FOR BACKLASH




Theme Song
"All Summer Long" by Kid Rock
WWE Championship
Kane (c) vs Randy Orton

WWE Intercontinental Championship
Kofi Kingston (c) vs Cody Rhodes

World Tag Team Championship
Paul London & Brian Kendrick (c) vs John Morrison & The Miz

Non Sanctioned Match
Evolution vs The McMahon Men

Number One Contendership Match
Candice Mchelle vs Kelly Kelly vs Melina vs Natalya Neidhart

John Cena vs Kenny Dykstra

Finlay vs Santino Marella
---
Last edited by Nige™; 01-30-2009 at

07:59 PM

.
Re: WWE: A Strong Response
---
3 NEW MATCHES ADDED TO BACKLASH THIS SUNDAY
Last night on Raw, three more matches were announced for Backlash, coming to you live on pay-per-view this Sunday night.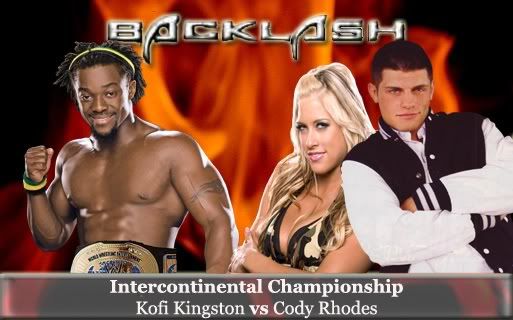 After weeks of insecurity, tension and arguments, we found out that Kofi Kingston went to Eric Bischoff and asked for him to agree to Cody Rhodes' demand for an Intercontinental Championship match. Kofi won the title three weeks ago in a four team elimination tag match with Cody as his partner, and it was Kofi that gained the pinfall and the title, much to the frustration of Cody. Along with the frustration of seeing his friend claim the gold from a match they both won, it appears Cody is convinced Kofi is chasing his girlfriend, Kelly. The Intercontinental Champion has done his best to talk Cody round, as has Kelly, but Cody doesn't believe either of them. Is he right to doubt the Jamaican sensation?
Kelly will be in action herself as she and three other Raw divas will compete for the chance to take on Victoria for the WWE Women's Championship at some point in the near future. All four of them went head to head in a tag team match last night with Kelly & Candice Michelle coming out on top ahead of Natalya Neidhart & Melina thanks to a distraction from Hornswoggle, costing Melina a defeat for the second straight week. Who will come out on top Sunday night and book a shot at the champion?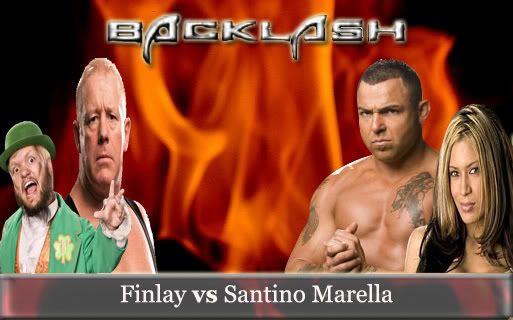 Hornswoggle has been a thorn in the side of not just Melina as of late, but her boyfriend, Santino Marella too. The Italian stallion tried to get even with Finlay last week, and succeeded in distracting the Irishman, causing him to lose a tag team match. It came as no surprise as Finlay retaliated last night, attacking Santino after a shock win over John Cena, cutting short the Italian's over the top celebration. Who will be celebrating after they meet this Sunday?


You can't afford to miss Backlash this Sunday. Make sure you don't!


Re: WWE: A Strong Response
---
IrishProdigy Raw Review




Oppening: Brilliant open to the show with Triple H talking some sense and stating what is important. When McMahon's came up on the tron i expected them to make a match or something, but what they did was so much better. Good way to get more intensity into a rivalry by bringing a family member into it. The beat down seemed good and Flair reacted well. It was good that Triple H and Batista didn't go and ims sure Flair will be out for revenge at backlash. Just one thing, i haven't decided what would be better yet but should you not have put that part in your FCW show?

Lol funny promo backstage with Santino and Regal and Bischoff. It was a good way to set up the match with Cena. I was surprised with how well Bischoff took what Regal did and praised him. The way you described Regals body language while Santino was moaning was good.

Shad v Carlito: Not much going on here, straight forward. Good win for Carlito and the right decision. Having Perez get involved was good for the excitement level rather then just having a normal finish.

Rhodes and Kelly: Some more heat between the couple as its getting more interesting as it goes on. Good way to get Cody's hopes down and then build them back up lol. It will be a good match and having Kelly wrestle some more with Rhodes not approving is another good move. Where is this one going, im sure we will find out at backlash.

Venis v Murdoch, when i saw this i was ready to unleash lol but then it turned out to just be because you wanted to get Kane out with an impact. So its not bad. Orton claiming he is still the champion was typical so good move. The whole you cant touch thing was genius because he hit Bearer and Kane couldn't anything about it. Good authority by Bischoff making him hand the belt back though. Good match made for alter aswel, how will they co exist. One thing i think Regal and Bischoff are together too much.

Diva Match: Not a bad match, did what you could. Hornswoggle getting involved was a good idea i thought and costing Melina the match worked out well. Orton backstage i thought was maybe a bit too quick after just being in the ring not long ago.

Kelly and Kingston: Kofi trying to win Kelly over by being nice? lol It was tense between the three of them. This is one of my favourite things in your thread at the moment and you deserve allot of credit for it.

Holly v DiBiase: I always liked open challenges. I think the challenger was a bit weak but ah well. It was a chance for DiBiase to show his skills and he did. It will be weird if anyone ever wins that title off him ha.

Kendrick and London gain the momentum going into the match at Backalsh. It was a good way to use these men on the show as they wouldn't want to be competing a few days before a title match but it is unlike them too be attacking someone from behind.

Cena v Santino: Santino in another high profile match lol. Loving the whole Dykstra making the count thing. It adds to their match at backlash which is coming along nicely now. Im not surprised Santino didn't really get any offence in during the match but i loved the way Hornswoggle bit him, it was realistic.

Main Event: A good match for a Raw match. I liked the interaction between Kane and Orton aswel as Triple H and Batista. I sense something going on between Batista and Triple H. Kane showed dominance well again but Orton taking his title again was a bit weird after being told to give it back.

Overall: Another good show, they all seem to be following a pattern now with one never being too much better or worse then another one. Maybe some more reference to it being in Australia would have been good but ah well. Well done again.
Re: WWE: A Strong Response
---
Nigel me old mucker, it's been a while since I've posted in here. Thought I'd leave some quick feedback for Raw.

I'm not too sure if it was a wise decision to have Kane pin Batista clean right before Backlash. I know you're building Kane as the 97/98 monster, but I think in this situation a DQ or No Contest would've been the best way to book without hurting any of the participants' credibility heading into Backlash. Apart from that, in general I think things are going well in the thread. The McMahons/Evolution angle is going well and gets more personal each and every week, as it should. I just hope from Backlash onwards, we get some new main event feuds as things need a little freshening up.
Learning to break kayfabe
Join Date: Apr 2008
Posts: 231
Points: 0
Re: WWE: A Strong Response
---
Hey Nige, I've been reading for a few months, and I really like your thread, but I haven't been posting so I just thought I'd give you a little feedback. I'll be reviewing in full after Backlash.

I liked your show, as always. Are you giving Kane an undefeated streak, or something? I don't think he's been pinned since the Royal Rumble.
Seriously, though, it was a good show and I can't wait for Backlash!
Keep up the good work.
---
In the year 3000... Youtube, Twitter and Facebook will merge to form one super time wasting website called Youtwitface.
Re: WWE: A Strong Response
---
D-K-L's Raw Review
The opening promo was great again, really good way to start the show. It must be quite hard keeping this going at such a high standard but this was a really great idea to make it even more personal. You really took adavantage of the show being in Australia by having the McMahon's stay home and attack Reid, really good idea. Maybe the attack could've been a little worse but it did it's job.
Flair going home was expected, was surprised to see HHH and Batista sticking around as well though. So Flair is gone now, wouldn't rule out some problems now with Batista and Triple H.
Pretty good segment this, it's always good to see Santino and it was a good set up for the match later. Santino was quite funny as well. The match should be good, I expect Dykstra will be involved somehow though.
Decent opener and a good win for Carlito. A dirty win for Carlito with the low blow stopped Shad losing too much credibility, and it leaves Cryme Time possibly to come back for more.
Another very good segment with Cody Rhodes, you are doing well with Cody Rhodes and it's good to hear that their match is on at Backlash. I would like to see some real problems between them later tonight, although it's clear that the Backlash match will be just the start with Kofi frustrating Cody with a win, and I expect it will be a full blown feud from there.
Thank God this match didn't take place LOL. Really fantastic promo again because you were really clever in having Orton hit Bearer again when he and Kane can't touch each other, really good idea again. Orton was great in this promo and I would actually like him to take back the belt at Backlash just for a little twist, I doubt it, but it's possible. I thought Bischoff would be angrier about what Orton did though. Good match announcement, should be really interesting situation in the main event as both teams could have problems.
Jeff Hardy is coming back! Yay!
Decent diva's match and the problems with Hornswaggle and Finlay continue for Santino and Melina. Another good win for Kelly Kelly as well, thought you would give Natalya the win tbh but I think Kelly is getting a bit of a push.
Good interview with Orton as usual, not really sure if we needed to hear from him but it adds a little more build for the main event later. Orton going over what he's done over the past few weeks was good too.
Awesome segment again. I know this sort of thing has been done before but I am really enjoying how you are booking this feud, I think Cody is really good in this jelous role and he was great here once again. Loved the tension between the two here and I liked what he said about Kofi not having Kelly or the title after Backlash. This could go many ways as well which makes it even more exciting, Kelly could go with Kofi, she could turn heel with Cody or go with neither of them. But I don't see a title change.
DiBiase looked impressive once again here and I like him getting mic time every week. The open challenge was a good idea and Hardcore Holly was a good choice to out DiBiase over again. He is looking good on Raw, and I wonder how long it will be before he gets a proper feud.
Good little interview with Miz and Morrison, typically cocky from them and I liked his excuse for losing last week. The brawl was something I didn't expect but it was good to show the aggression in Kendrick and London. I'm not sure where you are going with this, as I can see London and Kendrick pulling together and retaining as well as a split.
Huge win for Santino even with the interference. Dykstra is causing a lot of problems for Cena and costing him this match just makes it more intense. The aftermath was good with the little comedy thing with Hornswaggle followed by the shillelagh shot. Good to see the match has been added too, should be good.
The main event was great, lots of detail and excitement in this and you showed the problems with Kane and Orton well. Batista knocking Triple H off the apron makes me think even more about problems between the two at Backlash, but you might be just teasing again.
Overall it was a very good show again, hardly anything I didn't like and I am really looking forward to Backlash now.
Regularly Beating Up James Ellsworth
Join Date: Dec 2006
Location: Boston, MA
Posts: 3,160
Points: 1,221
Re: WWE: A Strong Response
---
Heyman Deciple's Raw Review

First off Nige, I'm digging the location. International Raw's are always a lot of fun. One of my favorite Raw's ever was the one that went to Japan in early 05. Anyway Australia is a great location.

Evolution-McMahon's & JBL: This was good dramatic stuff. With the McMahon's and JBL in the McMahon home with the footage of Reid's debut and his confrontation with JBL and The McMahon's. This was just a very well done segment that I really enjoyed.

Evolution: Nice little segment here with Ric leaving to check on his son and Triple H and Big Dave staying behind.

Regal & Bischoff-Santino & Melina: Santino bumping into Melina was the highlight of this segment.

Carlito Vs. Shad: Solid match with a nice win for Carlito after a little distraction from Eric Perez.

Cody and Kelly: I liked this segment as we found out Cody is finally going to get his match with Kofi Kingston and Kelly will be wrestling in the Divas match both at Backlash plus it nicely continued the problems between Kelly and Cody which I'm hoping is leading to a swerve of Kelly turning heel with Cody and costing Kofi Kingston the Intercontinental title.

Venis Vs. Murdoch: I was wondering what the deal was with this match but then out comes Kane looking bad ass which shortly bring out Randy Orton. By the way I've always been a big fan of the stolen belt angle, nice to see it being put to good use here. This now brings out Bischoff and Regal and just when it looks like Kane is going to get his belt back Orton blasts Paul Bearer in the face with the belt. Awesome and that leads Bischoff and Regal to book tonight's main event of Orton & Kane Vs. Triple H & Batista. Which will be a great Main Event.

Candice & Kelly Vs. Natalya & Melina: Solid divas action, I could have lived without Hornswaggle but it served it's purpose, nice win for Candice and Kelly.

Orton Interview: Leticia on TV makes me happy. Solid Orton interview hyping at the tag match later and the Backlash Title match.

Kofi-Cody: Cody Rhodes was really good here. I just was really entertained by his character the whole way through and it has me looking forward to the title match at Backlash where I hope Cody wins.

DiBiase Vs. Holly: Okay promo from Ted laying out the challenge which Hardcore Holly accepts. This was a good match, at one point I was a little worried it looked like Holly might pick up the win but Ted came through with the Million Dollar leg sweep, That's what I'm calling it anyway. Nice win for the Million Dollar champ.

Miz & Morrison: Okay interview here with Miz and Morrison being their cocky selves as they're soon attacked by London and Kendrick. Too bad Grisham got away unharmed, I would have liked to see good old T-Grish get caught up in the brawl. Solid segment though building up the Tag Team Title match.

Cena Vs. Santino: What the hell, Santino wins. Kenny Dykstra is my new hero. Santino's celebration is going awesome until the killjoys, Finlay and Hornswaggle come out to ruin the fun.

Cena's locker room: You can't see me. Ha, Kenny Dykstra officially rules. It's really something to see how you've been able to take Kenny Dykstra and turn him into a worthwhile opponent for John Cena. I mean I really want to see what happens in their match.

Triple H & Batista Vs. Orton & Kane: Good main event and I liked the finish with Kane sending a message to Orton after the choke slam on Batista by giving big Dave the tombstone. I like it because Big Dave just got owned.

Good show Nige, which should be no surprise as you are booker of the year. Congrats and I give the show an 8 out of 10.
Re: WWE: A Strong Response
---
RAW REVIEW
BySC2004 >>>

>>> Probably one of the longest opening segments you've given us in quite some time. When Evolution came out I was surprised at how calm they appeared. It was a typical promo, hyping the PPV match up until the McMahon's interrupted. The Reid Flair beat down was similar to the David Flair beat down by Taker back in 2002. This worked well however as you got across the distance between not only the McMahon's and Evolution, but between Rick and his son. That's what sold this and made it different. Flair is going to blow up at backlash, though I can see Reid stabbing his old man in the back at some stage.

>>> Logical follow up. Flair is being irrational, yet rational at the same time. He can't help his son now, yet he's running out of the arena and catching the next flight home. It's the motive of a distressed father.

>>> Jesus, another promo. This is not common in your booking style. Usually it's the opener, followed by a match. I'm a little surprised, but in a good way. The comedic value of Santino is much harder to get across in recap form, but you made a good effort. I'm liking the buddy, buddy relationship between Regal and Bischoff, though I wonder how long Regal will be happy playing second fiddle to Eric. I know you're willingness to have Santino come across as a serious wrestler, I just don't know if you can do that and use him for comedy.

>>> Well to say I'm shocked by you're relaxed opening match of the night would be an understatement. Very short, but as I always say, nobody reads TV shows for the matches. You're willingness to alter your booking style was more apparent then during this stage of the show. 3 promos and 1 short match. If this was six months ago you would never of booked like this.

>>> This backstage promo sticks to the formula of Santino's. Length, layout and direction are all the same. I'm a fan of using the GM, but I don't want to see Regal and Bischoff all over the show either. Kelly, Kelly, Kofi and Cody Rhodes as a storyline has a lot of potential. Cody can cut a decent promo and Kelly is one of the better diva actors. Kofi however is unproven on the microphone, so only time will tell how well this will get over.

>>> Oh my God a squash. So far tonight we've had less than 7 minutes of wrestling. Did I write this? LOL. Oh and what now, another lengthy in ring promo? Well I'll be…

>>> The whole "you can't touch each other or else" gimmick has been done to death, yet it is still an entertaining one. It would of worked better had you introduced it last week or the week before. Again we have Eric and Regal featured prominently in a major promo. That's the third time already tonight. Orton nailing Bearer was smart, yet I would of seen Kane snap here regardless. Is it fair now to say that the title means more to Kane then his own father? The tag match is cool, but having Batista and HHH wrestle seems like a underhanded way of helping the McMahon's out.

>>> Ugh! Candice and Kelly Kelly go over here against a much better team. At least it wasn't a clean win thanks to the antics of Hornswaggle. I hate the little bastard so much, but he has his uses I guess. Nothing special here, although if this were airing I'm sure wrestling fans who watch a wrestling show for exactly that, wrestling, would be pissed by the lack of it so far tonight! LOL

>>> This Orton interview came to soon. Since he attacked Bearer in the ring there has been 1 commercial break and the divas match, so basically it's been 10 minutes since we've seen Orton. Orton was very intense here. The fact he's trying to make he's not scared of Kane when he clearly is was funny. He's proud of his cowardly, sickening attacks and that's why he's a great heel.

>>> Okay, so this was without a doubt the best segment so far tonight. I've been very enthusiastic about this storyline and I like how much time you're giving it to get over. This can not be a 1 month thing and I hope you allow it to turn into a big deal on Raw. It should hopefully help everyone involved. It reminds me of the Lita, Jeff and Matt feud from late 2001.

>>> The million dollar man, million dollar woman gimmick is a hit in my opinion. I would never of put those two together, but it works so well. This was easily the best match of the night so far and it's good to see Dibaise wining clean over a veteran like Holly.

>>> With Backlash on the horizon it seems you're trying to put focus on every single match up. This backstage segment was just okay. The Miz and Morrison need to come across as more cocky. They seemed to relaxed and serious here. The attack from Kendrick and London was fine. I'm still not buying this feud as it does nothing for me.

>>> Who the hell gave Dykstra a referee licence? If he has one then can anybody get one? Didn't make a whole lot of sense and Santino winning although a surprise will do nothing for him as it was anything but clean. This will give Santino a starting point and some bragging points, but I still don't see him as a respected athlete yet. I know you'll do it, it will just take months (BTB Time). Even after the win Santino got his ass handed to him again, this time by Finlay!

>>> So is it just me or are you setting up a HHH and Batista feud in the future??? Anyway, Orton and Kane win in what was easily the best match up of the night! I'm surprised you went with a clean finish, but then again the way it was set up doesn't hurt Batista and he did get pinned by the champ, so it's all good.

OVERALL: This show was about one thing and one thing only and that was hyping Backlash, which you did very well. As I pointed out, this was a totally different kind of show from you and I preferred it. The entertainment value went up big time and I'm happy to see you cut down on match length. It's the promos and skits etc. that make people come back and read again. Perhaps my favourite Raw in quite some time. Looking forward to Backlash. I'm sure it will be up before Unforgiven. LOL
---
Re: WWE: A Strong Response
---




As for Raw getting freshened up, you can count on it after Backlash. Some feuds will carry on, as they have to, but there will be some new ones in the main event scene in particular, possibly with a new WWE Champion. LOL, I tease too much, but it may happen.




Posting Rules

You may not post new threads

You may not post replies

You may not post attachments

You may not edit your posts

---

HTML code is Off

---