Regularly Beating Up James Ellsworth
Join Date: Jan 2007
Location: Spewcastle, Australia
Posts: 3,346
Points: 0
Re: WWE: A Strong Response
---
Smackdown Review:

Wow good way to open the show, didn't expect Tazz to be named as the GM. I really liked this promo and I think it is the beginning of the things to come with Tazz really laying down the law, hopefully Smackdown will get a bit more extreme now as well.

I like that you have Shawn and Michael working together so closely, I think it could lead to a very good storyline with Michaels mentoring Michael Shane. Tazz appearing and making his firsts decision as GM was a good decision as it solidifies the fact that he means business and that Smackdown is going to become more entertaining.

The opening match between Chavo and Kid Kash was a good quick paced match and a good way to kick off the show. Having Kash pick up the win was probably the right choice because it solidifies him as a top heel in the cruiser weight division and sets up a possible unlucky/losing streak storyline with Chavo due to the fact that he seemed very frustrated after the match.

I really liked the backstage segment with Chavo and Killings, looks like Chavo's frustrations might be getting the better of him. I think a heel turn for him would be smart booking because he is more entertaining as a heel then a face.

Beth Phoenix and Mickie James are probably the two best divas in the WWE at the moment so a feud between the two of them is an obvious choice. The match was written well and didn't see the divas fighting more like men like you do in some BTB. Having Beth win was the obvious choice here.

Elijah Burke getting a match against MVP next week is pretty exciting and is a good way to get readers coming back and progress the thread. By the looks of things Tazz's office is going to be getting a real work out but hopefully he can hold his word and handle the pressure well.

Shelton Benjamin's promo was written really well and it looks like you are going for an angle where he finally realises how under used he is and hopefully you give him the opportunity to showcase all of his talents. The match with Funaki helped display Shelton as a dominate superstar and I think it was written particularly well. It appears you a setting up a feud between Shelton and Moore which should be a pretty interesting read.

The CM Punk promo was really good and I love seeing Punk as a heel, can't wait for him to return to action and continue feuding with Matt Hardy and maybe even start a feud between the Undertaker.

Bourne v Shane was a good fast past match which I really enjoyed reading, hopefully they will tie up again at some point in the future. This match was also planned as an obvious set up for a Bourne/Jetter feud which will be a very entertaining read.

You seem to be exceptional at writing these heel promos because the MVP promo was a great read. His character is really being built well and hopefully the MITB briefcase leads to a title reign for him in the near future.

The Masters of the Mat was a much better choice in terms of what would make a better wrestling match then Richards and Dreamer. I was actually a bit surprised that Richards and Dreamer lost due to the fact that the match was fought under extreme rules but it was still a very good choice in my opinion.

I agree with sc2004 when he said in his review that Matt's promo seemed a little irrelevant but it still built up the feud well it will be exciting to see what happens next in this intense rivalry.

The main event was a really good match and a DQ finish makes both the champion and the eventual number one contender stay strong. Undertaker's appearance at the end was a nice little touch to end the show and the show going off air with Michaels and Taker facing off with each other makes us wonder what happened after the show went off air and what will happen next.

Overall this was a really good show that I enjoyed reading, I think this BTB has a lot of good things going for it and I will definitely continue to read it in the future.
Forever
Join Date: Aug 2006
Location: From Downtown, outta nowhere, in a heartbeat!
Posts: 5,138
Points: 87
Re: WWE: A Strong Response
---
Probably the first time in a long time, I didn't need to read the video recap
Tazz was a fantastic and original choice. I liked how Linda thanked the fans like she would do. Tazz saying he is glad he is back in Japan was a nice little touch and a nice place for him to become GM. Acknowledging Cole was good but I don't think he would say that everyone has to call him boss, that came off quite heelish. Coach reminding us on who took Tazz out was a quick reminder there, thanks for that.
I could be wrong but have you put two debut packages one after another? Seems strange thing to do. EDIT: Sydal is already part of the roster
Thank God, HBK isn't the serious character the WWE have had him portray for a long time. Really liked Michaels having some fun here. Lets not overuse Tazz on his first night, I have a small feeling that you might.
Lovely Opening. I liked the fast paced of the match to kick off the action. Kash got the win, I was surprised, don't see many people having Kash win a match here at WF. As you had no entrances Im glad that you put crowd responses in, so I know whos heel and face.
Chavo/Killings - Wasnt a fan of this promo. Seems your trying make Chavo Heel here. I have no problems with that but the way in which you tried I don't felt worked. I couldn't see Killings trying help him out and then squaring up to him, which then leads into a fist fight. Just didn't seem in Killings character. Also I had problems reading what happened at the end, found it hard to read the last sentence.
McCool is a face, hmm, I know I can't get everything my own way, but she is soo much better as a heel. Beth really needed a strong showing tonight and you gave her that. Not sure about Mickie looking on concerned, would prefer her stand up to Beth and make her look like a legitimate challenge.
Liked how you linked the two segments together, it was one of those things I didnt think you would do and we would have Tazz segments throughout the show. Elijah and MVP feud continues and have their blow-off match next week. Glad this was announced a week before, as it seems to be a feud that has being built up on SD! for a while now. Ha tazz putting the past in the past and then making the Extreme Rules match was great. Loved how this played out and it looks like Tazz will be getting his own back later. Like the shot of Masters/Haas afterwards as it builds up the match more.
In the Shelton promo, I think you made an error in the grammar and meant to put "
Not
tonight or next week". Not much to say on the promo without repeating it in the review. I do like the overall focus on the fact that Shelton feels under appreciated.
I actually thought Funaki could steal this one, but in the end it just puts Benjamin over more as a heel. Shannon Moore attacking Benjamin! Not liking this im afraid. I have been really liking the pus Shelton just got over the past two segments and then you kinda bury him
. Hopefully Shelton can get over Shannon fast and move on to bigger things in this thread.
As soon as I say that, the match is announced for next week. I really don't mind who wins it as Benjamin could move onto the world title. The Punk promo was really good. Shows that he is over when he is really injured and still gets heat. Him blaming Linda McMahon helped to bring out on the heat to him. I see Punk and Hardy having a bloody battle some where in the future.
I mentioned my views of Jack Hayger last week
. No need say that again.
I have to admit, I was slightly worried, by the way you wrote this, that Sydal would go onto win it. Jeter! WTF! Not happy he spoiled a fantastic match. Good things about the match was the Cyclorama (not sure why sydal didn't go for the cover afterwards) and the handshake at the end.
Just a quick note, I myself really don't like all the graphics you have in the BTB. They dont look professional and the amount they are repteated is getting annoying.
Not much I can say about MVP in this promo. Hard review these in recapped. MVP seemed in character. Nice transition into the Jeter promo. Didn't like Josh saying that Jeter "cost Sydal" the title. As Sydal was never champion and it was not sure he would have hit the SSP.
Bit worried that after the UK Pack had a video promo, they wouldn't be used on the show, after last weeks minor role. But they are out here in this match from the start, which means more air time. Good move there. Damn you gave him the Bridiging German Suplex!! Please let Haas do another move for the long two count
. He has way more moves
. YES HAAS DOES THE OLYMPIC SLAM! Oh wait well he did attempt it! Oh wait he ends the match with it. Superb, and im so happy Haas isn't cast typed into the German Suplex Boy!. Masters of the mat going over the ECW vets in an extreme rules match, makes them look more stronger. Nice little stare down at the end to keep the focus on the feuding teams.
Maria looking surprised is no surprise as Hardy seemed very deep here. Matt has the ability to do this, so don't over do it and ruin how special it is, but I think you made a good decision to use it here. Punk and Hardy need lock up soon, it feud is red hot now.
Not often MVP is in the main event usually. Ahh man, I didn't like the DQ ending. Michaels was on a roll. Didn't see why MVP had to use the low blow, as he ducked the move. Didn't like the ending.
Holy Shit, I felt that MVP that was going to cash in the MITB. Luckily Taker and Shane stopped that. Didn't like Taker and Michaels going face to face as the show went off the air. I know both are faces but they need to have some physical encounter, and I thought this was the right time for HBK to take down Taker.
Overall: On the whole, I enjoyed the show, the ending and aftermath of the Main Event, were slight disappointments. I would slow down on all the graphics, but thats your prerogative.
Re: WWE: A Strong Response
---
D-K-L's Smackdown Review
Nice promo to introduce Tazz as the new GM. I like the choice, it's something new and I can't really think of many better options, and I think Tazz will be a great authrority figure here on Smackdown. The segment last week kinda gave it away and it might have come off as more of a shock if you didn't have that segment last week, but giving it a bit of build works too. I liked what he had to say as he was right in character as he certainly won't be taking any crap. I imagine we'll be seeing him a lot tonight, and I think he'll have a lot to do on SD as GM with lots of moaners like Edge, MOTM, MVP and others. Should make for some good promos.
Tazz certainly isn't wasting any time. Some good matches made there, although i'm not really sure about the main event. With MVP being the MITB holder it's giving away HBK vs. MVP which could happen in the future if MVP decides to cash in against HBK. It's not really a problem as he has a long time and he might not even cash in against HBK, and even if he does it may be after a match. It's a great main event though and it does look like a show to remember.
Good opening match, this would certainly make a good opener to get the crowd pumped. Not sure if the result was more about Kash or Chavo tbh, as Noble should be back in the future so I doubt he'll get a singles push. The little aftermath may lead to something for Chavo.
LOL at the old pole trick to put over his frustration. Chavo looks like he'll be turning heel now. The segment was decent enough to set up a feud, but would Chavo come out on top that easily, especially since he just had a match? I guess it shows he's dangerous after his turn. The wording of the last part wasn't easy to understand but I got it.
This was a good win for Beth Phoenix, I see you've stopped using match times so it's harder to tell if it was a squash or not, but I don't do it either. The staredown after the match was a good way to keep the feud moving slowly, and we'll be seeing more from this in the future.
These backstage segments were pretty good, gives Tazz some more TV time on his first night and you made some good matches. I don't like Burke and Layla as faces, both are good heels but i'll stop saying it now haha. The match next week will be great, thought it would be at JD possibly for the breifcase, but there is time for that. Extreme Rules is good too, again making the show one to remember for the Japanese fans.
Pretty good pre match promo from Shelton, I liked his arrogance and the victory celebration should be interesting, and saying it's wasted in Japan and Australia was something he would say. The match was a good match to put him over, and the aftermath was very good. Shannon Moore is a good talent and should provide a decent test for Shelton, and it has a slightly personal feel to it because of their recent split.
The promo from CM Punk was awesome as usual, he was so great here and it was a god way to develop the feud without him being at the show. You already know how I feel about this storyline and I am looking forward to the two guys meeting in the coming weeks.
Jeter costing Sydal this match was done very well, I was expecting this tension to continue a little longer but I'm glad it progressed a bit. Good decision making everyone miss it too as Shane is a face now. I'm looking forward to seeing what happens from here, but when they end up facing off it will be great. This feud is doing a lot for these two guys.
Combining these next two segments was good to hear from both guys. MVP's promo was very good and I'm glad he got some mic time tonight. Jeter was good as well saying he's not Sydal's friend, and I am glad he is getting a push of sorts as he is a talented wrestler.
It was the right choice for the Masters of the Mat to take the title shot, and this mini feud has made them look like serious threats to the UK Pack. With it being an extreme rules match it makes them look very strong as they won in the Extremist's match, but it doesn't do much for Richards and Dreamer, but who cares tbh.
The Matt Hardy promo was good, it was a good idea to hear from him after what Punk said and because of that this interview had to go on late. What he had to say was good, he isn't the best on the stick but he can do a good, intense promo like this one.
The main event seemed like a very good match and a DQ I guess was a good decision to keep both men reasonably strong. I know you like your DQ's, they get a bit frustrating but it was needed here as neither could really afford to lose. The aftermath was great, Shane trying to help out his cousin was realistic and the Deadman chokeslamming MVP will give him something else to complain about. The staredown between HBK and Taker was a great way to close the show.
Things are developing very well mate, great show and I enjoyed it a lot
Re: WWE: A Strong Response
---
The "CRUNK IN YO SYSTEM" Review:

~ The opening with Linda introducing Tazz was good. It wasn't exactly a surprise after last week, but it was still ok. I like Tazz in this position, he is a great on screen character and should thrive in a role like this.

~ The Shawn/Shane backstage segment was ok. It served its purpose for making two big matches later in the show, and Shane and Shawn looked like perfect faces by accepting the matches with no back-talk. This all adds to the idea of Tazz wanting to make this show awesome, so I have no complaints.

~ The Chavo angle was cool. When the match finished I didn't really know where you were going with it, but the backstage altercation with Ron Killings certainly added something. While the backstage fight was kinda random it did a lot to advance Chavo as the down on his luck type character I think you're building for him. I see another loss next week, possibly to Killings.

~ Good advancement of the Mickie/Beth feud here. This was a good next step after last week, and I like how you're not having them brawl or go after each other in a major way....yet. I look forward to see where you're going with this as you probably want to save their big match for the PPV.

~ Good backstage stuff here. It set up Burke/MVP for next week, and it set up the Extreme Rules match for later tonight. Tazz is making some big moves on his first night, I like it. I also think it was a nice touch adding extreme rules to the tag team match, giving the ECW guys a definate advantage. I don't see them going over, but it should still make the match a little more exciting. I'm not sure about the MVP/Burke match next week, not that it will be a bad match, but I thought you might be building it for something bigger, like the PPV.

~ I love your use of Shelton Benjamin. He not only looked great in his promo, but he also completely dominated his match. It was nice to have Funaki on the Japan show, and I'm sure the Japanese crowd would have loved to have seen some offence from him, but in order for Benjamin to look like a champ he had to dominate. I did see the Shannon Moore run-in coming, but I thought he might cost Benjamin the match instead of just laying him out at the end. Still, good revenge for the former Shellion (you knew I'd sneak the nickname in somewhere) and good continuation of their feud.

~ The Punk promo was fantastic. Very good and very realistic. I can't wait to see him back in your fed. By Judgment Day perhaps?

~ Good contnuation of the Jeter/Sydal situation. I'm honestly surprised you went ahead and pulled the trigged on this. I thought you'd have Jeter maybe accidentally cost Sydal the match, and then build for a slow full-fledged breakup, but either way good stuff. Sydal and Shane showed why WWE should still have a Cruiserweight division.

~ Good portrayal of MVP here. Solid promo, and I like him as Mr. MITB. The Jeter promo was good too, but I'm not sure if I like them right there back to back as it kinda made the reader forget about the MVP promo.

~ Nice match here between the ECW guys and the Masters. The Masters were the obvious choices for the win, but the ECW guys did give them a good fight. I didn't feel like there was enough extreme in the extreme rules match. I mean, a table broke but it would have been nice to see the ECW guys really thrive at the beginning of their match.

~ Good intense promo from Matt here. This feud is one of my favorites from your fed. Hardy was great here looking like the fearless face.

~ The DQ win for the main event was really the only way to go here. Especially with the aftermath. I liked The Undertaker saving HBK here, not only does it get 'Taker on the show face-to-face with Michaels, but it also shows that he wants Michales at 100% for their title match. Also MVP looked great here, getting Michaels down and then taking out Shane. Very good ending here.
---
NOT REMOVING UNTIL:
All my unrealistic expectations of WWE and TNA are met...or I can actually get the ball rolling on a BTB project
whichever comes first!
Moron
Join Date: Mar 2008
Location: Toronto, Ontario Canada
Posts: 3,978
Points: 1,054
Re: WWE: A Strong Response
---
A Canadians Point Of View:
Okay, so this is my first review on WrestlingForum and the first time I'm reading this diary lol. It's interesting to see Tazz as the new general manager and I just started to read your BTB and I can now fully see how your going to use him. I'm wondering myself.
I'm going to guess Jericho and Bourne got drafted to Smackdown? I always thought Bourne's character was more fit for Smackdown, but I don't know about for you. It'll be interesting to see how you use them.
Btw, I'm commenting as I read so yeah lol. Interesting that both the cousins are champions and its quite great that you have the Cruiserweight title. I haven't seen enough of this diary to fully judge the champions or your booking but it seems good as of now. HBK vs MVP should be good.. possible cash in?
I love how you just refer to Chavo as "The Mexican" lmao. But I really hope Chavo isn't a jobber..
Seems to be a good match.
Aww, Chavo's a sore loser.. Killings/Chavo match next week ftw. Chavo ftw as well.
Glamarellazon ftw. This diary was probably started way before Glamarella lmao but it would've been nice to see them together. I'm guessing Beth is off to better things though. Is Santino still even in this diary or did you release him?
Hmm, so is Burke a face? Layla as well? It seems that way lol. Oolala, Extreme Rules match? Looks like Tazz is still holding a little grudge against Masters/Haas. Should be a good match, as well as Burke/MVP on the next show.
Wild guess that Moore was the previous United States champion? Well, this seems like something WWE would've done. Gave Shelton some promo time and then just handed him a squash match. I don't know what to expect of this celebration..
Not really liking the CM Punk promo. Nor do I like the name Josh Hayger, but hey, who knows, I might get used to it.
Seems like an intense action-packed match from Sydal/Shane and would've been great to actually watch it. Good that Shane retained.Also, interesting that Jeter walked off..
"You Sold Out" chants for Jeter.
Anyways, interesting what you'll do with them next. MVP won't win tonight. If he does, I'll be surprised.
The Masters of the Mat take the number 1 contendership! By god JR, the ECW originals lost an Extreme Rules matches.
Never was a fan of Stevie/Dreamer anyways.
Wanna explain the Punk/Hardy feud for me. Im understanding that he took out Jeff but I'm not really sure?
Ending that match with a Disqualification was the right way to go. Both of them left credible. Taker saving a possible title switch? Hm, maybe hes really looking forward to a match with Shawn that he's willing to save him from losing the title. I wonder when MVP will cash in.. anyways, good show, I'll be reading.
Re: WWE: A Strong Response
---
"FCW" TV Results
(Saturday 19th April)
A video was shown of Reid Flair arriving earlier in the day and being greeted by Dusty Rhodes. The American Dream said it was a pleasure to have the son of The Nature Boy himself in FCW. Reid told Dusty he's looking forward to it and thanked him for giving him the chance he's got tonight. Dusty said it was nothing and then offered to show him to his dressing room, with Reid telling Dusty to lead the way. The camera then zoomed out to reveal Hade Vansen watching on in the distance, not looking too unimpressed with the arrival of Reid.
Steve Keirn & Tom Prichard talked up the debut of Reid Flair later on, as well as recalling the main event from last week with James Reiher defending the FCW Championship against his associate, Afa Jr. They reminded us that Reiher couldn't put Afa away and walked out on the match, getting himself counted out in the process, then ask what response that is going to get.
Dusty Rhodes then made his way down to the ring, all smiles as he collected a microphone. He opened by saying that the son of the legendary "Nature Boy" Ric Flair would be making his FCW debut tonight, calling it a big moment in the history of the FCW, but it's not all good tonight as he has some serious business attend to. He then said that there was a serious incident last week with one of his employees being laid out in the back, and the worst thing was it was a woman who was attacked. He said that he expects but doesn't condone that behaviour from men, but he doesn't expect women to act in that manner. He then said that it wouldn't take a genius to figure out who was behind the attack as it was ever so convenient for Katie Lea to get the match she wanted by taking Roucka's place in the six person tag match. He said that Katie Lea and her boys can play the prejudice and racist cards all they want, but that it's just their imagination and not his style, saying that if people make life difficult for him, he makes it difficult for them, it's that simple. Dusty then got a shock as Hade Vansen walked out with a microphone and called him a hypocrite before walking in to the ring.
He wasn't a happy bunny at all and told Dusty that he's stood back and stayed away from any controversy, but he had to tell Dusty to his face that he is a blatant liar. He then said that you just have to look at the proof, bringing up the arrival of Reid Flair & Joe Hennig, saying that the only reason they're in FCW is because of their family name and the relationship Dusty has or had with their fathers. He then said that Dusty can protect the truth to the fact that he is showing blatant favouritism, and if it carries on, there will be a backlash around the corner from the real talent that he is choosing to ignore. The angry Vansen then said that he and numerous others haven't worked their asses off just for guys like Reid to walk in and take the opportunities they've worked years for. Dusty's headache wasn't made any easier as Katie Lea & The Empire, the FCW Tag Team Champions, Drew McIntyre & Stu Sanders made their way down to the ring. Katie politely asked to borrow Vansen's microphone, and he gave it to her happily. She said that she couldn't agree with her fellow Englishmen anymore, proving what she's been saying about Dusty all along, he isn't objective in his position in FCW.
She then admitted to attacking Roucka last week but blamed it on Dusty's actions and refusal to co-operate with them that led to Roucka being hurt, putting it all on Rhodes's head and said he will have to accept that. Dusty said that was enough and that it was time she kept her mouth shut for once. He then said that they could be any nationality and it wouldn't change the fact that they're a pain in the ass and that they have no respect for authority when they don't get their own way. He reminded them that he is in charge, not them and that they can't go around attacking people for their own benefit, and then said that he has been too lenient with them, but that's going to change. He then said that later on tonight, McIntyre & Sanders will defend their tag team titles in a five team gauntlet, but not only that, they will start as the first team, meaning they have to beat all four teams to retain the titles. Katie tried to speak but Dusty cut her off and turned his attention to Vansen, telling him that if he wanted to question the decision to bring in Joe Hennig, then he can face him next week in the final qualifying match for the Television Championship. Dusty dropped his microphone and stormed away from the ring straight away, not giving The Empire or Vansen the chance to respond, leaving them very angry with McIntyre & Sanders looking very concerned.
**Commercial Break**
Steve Keirn & Tom Prichard said that they had an update on the teams that will contest the gauntlet match later on for the FCW Tag Team titles. Prichard said the four teams that will challenge The Empire are Jesse & Festus, Teddy Hart & TJ Wilson, The DiBiase Brothers & The Badstreet Boys.
Match 1
Afa Jr
vs
"Campus Legend" Brad Allen
Afa was aggressive from the opening bell, not giving Allen a chance to get any kind of offense in. After a hard whip to the corner with a splash to follow it up, Allen had the wind blown out of him as Afa then finished him off by dragging him to the centre of the ring, lifting him up and planting him with a vicious belly to back lift in to an elevated neckbreaker slam, the Lights Out. Allen remained motionless as Afa stood back up looking very intense, sending a message to the FCW Heavyweight Champion, James Reiher.
Winner:
Afa Jr.
Michael W. Kruel & Roucka were in the back with Roucka saying that Shawn Spears finally got what was coming to him, and that she was proud of him for putting him in his place. Kruel then said that she didn't do too bad last week either, getting up from that assault by Katie Lea and getting even like he did with Spears, proving why she is the toughest woman in town and the next FCW Women's Champ. He then said that they have other business to attend to tonight, ruining the debut of Reid Flair, and he said that it will be just as sweet as making a mockery of Spears last week. The vindictive duo smirked and laughed as the camera cut to Lena Yada standing by.
She was joined by Colt Cabana, and she asked him if he was indeed back in FCW. The ever enthusiastic Cabana told her that it was true, everyone can chill out because he can confirm it 100%, it's official, Colt "Boom Boom" Cabana is back in FCW. Lena then said that it was a shock to see him back last week, but asked just why he was applauding Joe Hennig after his match. Colt reminded Lena that he's Mr. Perfect's son, Curt Hennig, one of the greatest ever to step foot in a wrestling ring, and that he couldn't get enough of Perfect growing up, so he thought he'd show his respect, that's all. Lena stood back and looked a little shocked as Joe Hennig himself walked in to the shot, causing Cabana to grin like an excited school kid. Hennig said that he appreciates the respect, but he's here to make a name for himself, not off his dad and that he wants to earn the respect in the ring.
Lena turned to him and asked him how his debut was debut last week. He said that it felt good and that it was even better to get the win straight away to get his confidence going from day one. An excited Cabana then said he had a question for Joe and asked him if he would consider teaming with him tonight, saying it was always a dream of his to team up with his dad, and that this would be almost as good. Hennig looked a little taken aback as Cabana tried to persuade him, telling him to give it a go and asking him what he had to lose. Hennig thanked him for the offer but told him that he already has a match later. He then said that maybe they could do it another time, not all too convincing though as he turned around and left Cabana with Lena. Cabana asked her if he was telling her truth, but she said she didn't know, leaving Cabana a little curious.
**Commercial Break**
Match 2
Television Championship Qualifying Match
Reid Flair
vs
Michael W. Kruel
w/Roucka
Reid went all out in the early going, using his speed to his advantage, but he quickly became unstuck by his own enthusiasm and Kruel's experience. Kruel dominated for the most part, and looked to have had the match won after overhead belly to belly suplex, but Reid kicked out to give himself a fighting chance. Kruel thought he had it there, leaving him frustrated, but as he accepted it and was about to pull Reid back up from his knees, Shawn Spears ran down to the ring, catching Kruel's attention. Roucka ran round to Spears and shoved him, but he just pushed to her the side as Kruel walked over to the ropes, yelling down at him, giving Reid the chance to crawl up behind and roll him up for the victory. The fans cheered as a shocked Reid sat back up to his knees while Kruel sat up and stared at a grinning Kruel, who backed up the aisle with Roucka then going after him, followed by Kruel, allowing Reid to celebrate his debut victory.
Winner:
Reid Flair.
The DiBiase Brothers, Mike & Brett were hanging out with "The Natural" Nic Nemeth in the back. Mike was asking Nemeth if he saw what they did to The Badstreet Boys last week, saying that they showed the new kids in town exactly who the big boys are around here. Brett then said that they're not done just yet because they're going to do the same very soon when they win the gauntlet match and become the FCW Tag Team Champions. Nemeth then said that they won't be the only ones with gold around their waists after he moved one step closer to becoming the Television Champion last week, and that he's looking forward to that night on Raw when he is presented with the belt in front of all the inferior so called superstars. Mike said that he wishes him the best of the luck, but he and Brett have to go take care of business and that they'll see him around with a smug Nemeth wishing them look too.
Afa Jr stormed in to the dressing room of the FCW Heavyweight Champion, James Reiher. He demanded to know why Reiher walked out of their match last week, but Reiher didn't seem to take him all that seriously, saying that what he does doesn't concern Afa anymore. He told Afa that he chose the title shot instead of standing by his side and that he has no right to walk in to his (Reiher's) dressing room like it's his anymore, let alone demand answers from him. That just infuriated Afa, who said that they had a match with the title on the line and one of them walked out, and it wasn't him, meaning he has every right. Reiher then said that he's the champion, he has the rights and that Afa has nothing, then told him to get out. Afa composed himself and told Reiher that he will get another shot, and that he will have to realise that, and that next time, he won't be able to walk away, because he won't let him. Reiher looked very unimpressed and angered as Afa walked out of the room.
**Commercial Break**
FCW Tag Team Championship – Gauntlet Match

Match 3
The Empire (Drew McIntyre & Stu Sanders)
(c)
vs
The DiBiase Brothers (Mike & Brett)
w/Katie Lea
With The Empire looking very low key and angry, they didn't have their national anthem play in the arena and just dropped their flags by the side of the ring as they awaited their first opponents. The DiBiase Brothers, Mike & Brett walked out and started to make their way to the ring when The Badstreet Boys, JJ Matthews & Cameron York jumped them from the behind, pummelling them up against the security rails, knocking them to the floor and leaving them in a bad way. Sanders & McIntyre watched on and showed a sign of normality, but their mood changed for the better as the referee consulted with the ring announcer. The latter told everyone that due to the attack and The DiBiase's not being in a state to compete, the first match has been declared null and void. We were then told that because of their actions, The Badstreet Boys had been banned from competing in next match, leaving The Empire delighted as York & Matthews left the arena, not looking too bothered as The DiBiase's barely move on the floor.
Outcome:
No Contest.
Match 4
Jesse & Festus
vs
The Empire (Drew McIntyre & Stu Sanders)
(c) w/Katie Lea
The odd ball team of Jesse & Festus caused a real problem for the champions, but after McIntyre pulled Festus down from the apron to the outside and tossed him in to the steps to avoid Jesse making a tag, Sanders was able to drag Jesse back and up to his feet, finishing him off with a powerbomb. Katie Lea was grinning like crazy at this point, and McIntyre & Sanders were looking confident as the Scot joined Sanders back in the ring. Their jaws then dropped as they saw the final team of TJ Wilson & Teddy Hart, their bitter rivals making their way down to the ring, completely fresh with Shantelle Taylor, the Women's Champion by their side.
Winners:
The Empire.
**Commercial Break**
Match 5
TJ Wilson & Teddy Hart
vs
The Empire (Drew McIntyre & Stu Sanders)
(c)
w/Katie Lea
The champions looked in trouble with the fresh TJ & Teddy dominating for the most part, using their speed and agility to their advantage. It looked to be all over after McIntyre was whipped in to his partner by TJ as Sanders stepped in to the ring. The English part of the team fell to the mat and to the outside with Katie rushing to check on him as Teddy then waited for him to stand up before running at the ropes and hitting an impressive springboard shooting star press, sending both men and Katie to the floor. Back on the inside, TJ stalked McIntyre as he started to stand up, but the referee walked over to the ropes to survey the damage caused by Teddy. With his back turned, Hade Vansen raced down to the ring and grabbed one of the flags from the outside before sliding inside and smashing it across TJ's back. Vansen slid back out as TJ fell to the mat with McIntyre reaching down to pull him up and finishing him off with a swinging side slam in to a sit out face buster, the Ego Trip. The referee turned round and rushed to make the count as Teddy tried to stop the count, but was too late. McIntyre slipped out of the ring with Vansen grabbing the belts and running round to help up Sanders & Katie Lea, then passing the titles to the champs. McIntyre helped the groggy Sanders back up with Vansen doing the same with Katie Lea as Teddy checked on TJ with the smug Empire and Vansen enjoying the moment.
Winners:
The Empire.
**End of Show**
CONFIRMED FOR NEXT WEEK
Television Championship Qualifying Match – Final Quarter Final Match
Joe Hennig
vs
Hade Vansen
The Final 4 Competitors
CJ Red, "The Natural" Nic Nemeth & Reid Flair, plus Hennig or Vansen
Also, setting an example by not spamming, double posting or bumping up, i'll post this together with the FCW results.
Television & Pay-Per-View Schedule (Until the end of July 2008)
April
21st –
Raw
(Acer Arena, Sydney, Australia)
25th –
Smackdown
(Voadafone, Melbourne, Australia)
27th –
Raw Presents Backlash
(Pepsi Center, Denver, Colarado) –
Pay Per View
28th –
Raw
(Von Braun Civic Center, Huntsville, Alabama)
May
2nd –
Smackdown
(Alltel Arena, Little Rock, Arkansas)
5th –
Raw
(Honda Center, Anaheim, California)
9th –
Smackdown
(U.S. Cellular Arena, Milwaukee, Wisconsin)
12th –
Raw
(Credit Union Center, Saskatoon, Saskatchewan - Canada)
16th –
Smackdown
(Freeman Coliseum, San Antonio, Texas)
19th –
Raw
(Norfolk Spoke, Norfolk, Virginia)
23rd –
Smackdown
(Bi-Lo Center, Greenville, South Carolina)
25th –
Smackdown Presents Judgment Day
(Rupp Arena, Lexington, Kentucky) –
Pay Per View
26th –
Raw
(McKenzie Arena, Chattanooga, Tennessee)
30th –
Smackdown
(Colisée Pepsi, Quebec City, Quebec - Canada)
June
2nd –
Raw
(New Haven Coliseum, New Haven, Connecticut)
6th –
Smackdown
(US Airways Center, Phoenix, Arizona)
9th –
Raw
(Pensacola Civic Center, Pensacola, Flordia)
13th –
Smackdown
(Kansas Coliseum, Wichita, Kansas)
15th –
Raw & Smackdown Present King of the Ring
(Staples Centre, Los Angeles, California) –
Pay Per View
16th –
Raw
(Dunkin' Donuts Center, Providence, Rhode Island)
20th –
Smackdown
(Nutter Center, Dayton, Ohio)
23rd –
Raw
(Wells Fargo Arena, Tempe, Alabama)
27th –
Smackdown
(ARCO Arena, Sacramento, California)
29th –
Raw Presents Vengeance
(Joe Louis Arena, Detroit, Michigan) –
Pay Per View
30th –
Raw
(Cox Convention Center, Oklahoma City, Oklahoma)
July
4th –
Smackdown
(Halifax Metro Center, Halifax, Nova Scotia)
7th –
Raw
(Lawlor Events Center, Reno, Nevada)
11th –
Smackdown
(Blue Cross Arena, Rochester, New York)
– A Special 3 Hour Show!
13th –
Smackdown Presents The Great American Bash
(Nassau Coliseum, Uniondale, New York) –
Pay Per View
14th –
Raw
(MTS Center, Winnipeg, Manitoba)
18th –
Smackdown
(Richmond Coliseum, Richmond, Virginia)
21st –
Raw
(E Center, Salt Lake City, Utah)
25th –
Smackdown
(Target Center, Minneapolis, Minnesota)
28th –
Raw
(Freedom Hall, Louisville, Kentucky)
---
Last edited by Nige™; 01-25-2009 at

12:52 PM

.
Moron
Join Date: Mar 2008
Location: Toronto, Ontario Canada
Posts: 3,978
Points: 1,054
Re: WWE: A Strong Response
---
Canadian's FCW Review:
I honestly don't keep up with FCW so I won't know who most of these guys are. I really do love how you pointed out that there might be favouritism behind the fact that Dusty brang in the sons of legends and how much attention they are already getting. The 5 team gauntlet match is something I'm looking forward to as well as the Hade Vansen vs Joe Hennig. Shames WWE released Vansen in real life. Teddy Hart and TJ Wilson better win!! ;D. Afa Jr. is just a naturally born tag team competitor. I don't think he's fit to be anything more then a mid carder. No idea who Allen is. Roucka is honestly just flatout awesome, I love her lmao. I have little knowledge of Kruel and Spears though. Hennig doesn't seem to take Cabana to serious =[. Cabana for FCW champ =]. I can see a storyline playing out here with Cabana/Hennig sort of like Roucka/Beth in real life. Wait what, presented with it on Raw? Care to explain that part to me lol. No idea who Reihler is =[. But what I do know is that Afa can't draw! lmao, yeah, I have a thing against the guy, I don't know why =[. Guessing the badstreet boys are Christian York and Joey Mathews with little name changes? GOD DAMN IT VANSEN! =[ Was so sure Teddy and TJ had it.. The gauntlet was good and overall a good FCW show
.
Re: WWE: A Strong Response
---
RAW Preview – Monday 21st April 2008
Live From The Acer Arena
Sydney, Australia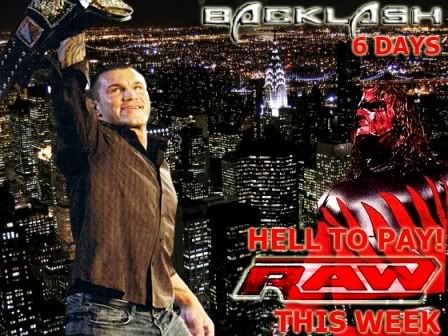 FOR THE FIRST TIME LIVE FROM AUSTRALIA!
IS ORTON ASKING FOR TROUBLE?
There is no doubting the determination of Randy Orton in his quest to regain the WWE Championship from Kane, but last Monday may just have escalated things to a whole new level and put The Legend Killer in grave danger. Not satisfied with showing Paul Bearer what an RKO feels like, the former WWE Champion made it look as if he had left the arena straight after, but that was not to be the case. Just as Kane was set to take on Santino Marella, Orton stunned everyone in The Tokyo Dome by racing through the crowd and smashing a steel chair in to the spine of The Big Red Machine before punting the monster in the head. However, that wasn't enough as Orton pushed his luck, taking possession of Kane's WWE Championship belt that the two will compete for in less than a week's time at Backlash.

Has Orton crossed the line and put himself in the line of fire?

McMAHON'S SHOCK EVOLUTION
Evolution were desperate to get their hands on The McMahon Men last Monday night, specifically JBL, and Triple H made that wish come true. Along with Batista & Ric Flair, The Game all but forced William Regal to make the match, and they got their way with the Executive Assistant also making it a no disqualification match. To the shock of most of the Japanese capital, JBL was able to pull out a victory over his bitter rival thanks to his father and half brother, some brass knucks and an accidental collision between Triple H & Batista.

With the six men due to collide once again this weekend in a non sanctioned match, just what can we expect from them as we head towards a war at Backlash?

DYKSTRA GETS CHANCE TO PROVE HIMSELF. . . AGAINST CENA
Kenny Dykstra has had no problem running his mouth since coming to Raw from Smackdown, but last Monday saw him get his hands dirty for the first time. John Cena interrupted Ted DiBiase Jr to call Dykstra out for costing him the chance to become the WWE Champion a week earlier. The youngster who claims he will be a future Hall of Famer wasn't keen, but his hands were tied as William Regal announced that they would not only meet one on one at Backlash but in a tag team match right there and then.

Their dislike for each other spilled over as they fought their way through the crowd, and one has to wonder if they will be able to keep their hands off each other just six days before their highly anticipated match.

TENSION CONTINUES TO GROW BETWEEN FRIENDS
Kofi Kingston & Cody Rhodes seem to be drifting further and further apart, and it looks as if Kelly Kelly is being drawn in to it more and more. Cody's girlfriend had her first match last week on Raw where she overcame Melina, but that wasn't enough to stop the bickering between Cody and the Intercontinental Champion. It seems that Cody is convinced Kofi has his sights set on Kelly despite reassurances from both Kofi & Kelly that nothing is going on between them. After Kelly won her match, it led to another argument between the two 'friends', causing Kelly to turn her back on both of them and walk away.

The plot thickens, and you have to assume that things won't become any easier as all three travel to Raw's first ever live television broadcast from the land down under!

CHAMPIONS MAKE A POINT
John Morrison & The Miz perfect in the art of getting under the skin of most people they come across, but there's no doubting that they have rattled the World Tag Team Champions. Paul London & Brian Kendrick have been targeted by the straight talking duo as of late, but last week they struck back. With the two teams knowing they would be meeting for the gold at Backlash, Kendrick went up against The Miz to make a statement that he and London are going to fight them all the way, and he did just that, winning the match.

With just six days to go before their vital clash, how will the challengers respond to the stand made by the champs last week?

ANGERING THE IRISH GIVES DIBIASE JR A BIG WIN
Ted DiBiase Jr has picked up some fairly comfortable victories since debuting on Raw three weeks back, but last Monday night saw that change as he managed to defeat the tough Irishman, Finlay in tag team action. There was an element of good fortune to it with Santino Marella lending a helping hand as he repaid the favour for Hornswoggle distracting Melina earlier on.

With The Million Dollar Champion continuing to make an impact on Raw and Santino making a valiant stand, will their luck carry though in to Sydney this week?

NATALYA HAS HER EYES ON SOME GOLD
The WWE Women's Champion, Victoria was sent a stern warning last week by the ever menacing Natalya Neidhart. She sent a strong message to the champ, telling her that life wouldn't be as easy as she thought with Beth Phoenix being drafted to Smackdown. Has Victoria met just as tough an obstacle in the dangerous Canadian?

COLON'S STEAL ONE FROM CRYME TIME
Tension got the better of Cryme Time & The Colon Brothers a couple of weeks back, and they tried to settle their differences in the proper manner last week in Japan as they met head on in tag team action. It may however have caused more trouble between the two teams as Eric Perez helped his fellow Puerta Rican's pick up the victory, surely leaving Shad Gaspard & JTG out for retribution. Is that the case?
**Don't miss the last stop before Backlash as it's going to be a wild ride Down Under!**
Re: WWE: A Strong Response
---
NIGE!
Long time no post in this thread haha. I plan on catching up with whatever I've missed during my month absence from BTB, or however long it's been.
I'll review Raw to get back into reading this thread full time. Glad to see you're still owning with previews
Asking JAMES ELLSWORTH for Wrestling Advice
Join Date: Oct 2007
Location: Australia
Posts: 357
Points: 0
Re: WWE: A Strong Response
---
Shows looks awesome as always Nige. As I said, you should have had the show in Melbourne, because then would get a front row seat
. Backlash is sure to be a hell of an event and I expect you to go full out in hyping it, and I should get a review when it is up.
---
Yeboi.
Posting Rules

You may not post new threads

You may not post replies

You may not post attachments

You may not edit your posts

---

HTML code is Off

---