Re: WWE: A Strong Response
---
The CRUNK IN YO SYSTEM Review:

~ The opening segment was good. I liked the two interruptions and Linda McMahon having to sort out all these hectic situations on Smackdown. The Masters of the Mat interruption made sense, since they have a legitamate gripe with the ECW guys not getting suspeneded, and the Matt Hardy interruption was good because it makes it seem like Matt realyl means business in his Punk feud. It was made even better by him jumping straigh the to point and demanding a match. Good stuff.

~ A riff between Shelton and the Shellion? I hope this is just Shelton asserting his dominance and not a hint to a breakup between these two. I guess We'll find out later in Shelton's match with Chavo. Anyway, good promo coming fresh off a title win. Benjamin looks good, and my guess it that his push will continue.

~ The Sydal/Jeter bit was nice. I like how you're developing these young guys, with these two getting mic time and a decent storyline going. I'm anxious to see where you take them from here.

~ Good win for Shelton Benjamin in an exciting match. No Shannon Moore? Darn. And after I came with a clever nickname for him and everything. I hope the Shellion isn't out of the fold completely. I mean, he could very well be a challenger to Shelton after the segment earlier.

~ Matt Sydal got a pretty good victory for someone who didn't seem like he had his head in the game last week or earlier in the show. I can see why he was confused by Jeter's celebrating at the end of the match, seeing as how the two had just argued, but it kinda seemed to me like he blew Jeter off. I like the slow transition and the building tension, instead of just having Jeter come out and cost Sydal the match (which I originally predicted).

~ The Mickie/Beth segment was good, especially Mickie's line about Beth's losing streak. These women are two of the best Divas, so hopefully this fued will restore some credibility to that division. I also liked them getting separated before a brawl could break out.

~ The Shawn Michaels and Michael Shane interaction was good. I like that they actually are interacting, and you're not completely ignoring the fact that they're related. This kinda picks up where last week's left off. The only complaint I have is that it seemed very random for Michales to ask Shane to team with him. To my knowledge, neither of them have any beef with any tag team on your roster, so why (other than just for the sake of teaming together) would they want to team together? Maybe my question will be answered later in the show...

~ Before I say anything else: Tazz as GM...make it happen! Tazz is a great on-screen character, and would make an awesome Stone Cold Steve Austin-like GM. Anyway, this segement was ok. HBK reminded me of a little kid running to ask his parent's permission before doing something. I like the Masters of the Mat V. Shawn and Shane, but I think the setup could've been better. Perhaps The Masters could've interrupted Shane and Shawn's convo earlier, saying something like "Oh, look at our champions..." then preceeding to bust on Shawn for being old, and Shane for riding his coattails. They walk away, then Shawn makes the suggestion that they team, and goes to ask Linda. Idk, just my thoughts, I'm excited for the match though.

~ Solid win for Elijah Burke. I like the intense staredown with MVP coming out to ringside, but never getting in Burke's face. Again with the slow build. Good stuff here.

~ The Masters segment was good, especially when the UK Pack stepped in. I like the build of the Masters, and I'm expecting an awesome title run from them. I think with the way you've beem building them they will go all the way. Looking past Shawn and Shane may come back to haunt them though.

~ The Matt/Punk segment was gold, especially Punk. The hot head/pot head line was brilliant. This could be a big money feud, especially with segments like this one. Linda McMahon is getting alot of screen time, and Punk has balls to be cutting her off. He learns his lesson though when she makes the main event. Great main event btw. I loved this segment, I call this Promo of the Year so far! (I know 2009 just started, but it's still a darn good segment).

~ Good tag team match. I expected the Masters to put up more of a fight than they did, escepcially with the way you've been building them. But, the action was good, Michaels looked like a star, and Shane got some instant cred just by being in the match as Shawn's partner.

~ The main event was a darn good match. You made the right call on the finish, as neither man could really lose, and Matt Hardy costing Punk the match would just be overkill on the screwjobs in their feud. Good match, good finish, great aftermath.
---
NOT REMOVING UNTIL:
All my unrealistic expectations of WWE and TNA are met...or I can actually get the ball rolling on a BTB project
whichever comes first!
Wheelman for James Ellsworth
Join Date: Jun 2007
Posts: 634
Points: 0
Re: WWE: A Strong Response
---
Sorry for dropping by without a review. Pain in the ass TBH! But reading it, well I missed the matches and read the endings and the Promos. Backlash looks in order, good luck mate.
Also, I cannot believe City equalised last kick of the game. I didn't speak to anyone all night.
PWInsider.com - FCW Results (12th April '08)
---
"FCW" TV Results
(Saturday 12th April)


The announce team of Steve Keirn & Tom Prichard reminded us that James Reiher will be making his first defence of the FCW Heavyweight Championship against his sidekick, Afa Jr later on. They also said that the new FCW Tag Team Champions, The Empire will team up with the number one contender for the FCW Women's Championship, Roucka to take on the Women's Champion, Shantelle Taylor and the team of TJ Wilson & Teddy Hart, the two men that McIntyre & Sanders beat last week to win the vacant titles.

Shawn Spears started the show by storming down to the ring and talking smack about Mike Kruel. He blamed Kruel for plotting and waiting for the chance to stab him in the back, which came last week, costing him his match in the Television Championship tournament. He called Kruel pathetic for taking his time and setting him up for a fall, then called him out to settle it like men. Kruel then made his way down to the ring with a microphone. He said that Spears had it figured out pretty good and that he's not going to argue about any little detail of it. He then said that Spears had it coming all along and it was simply the consequences of screwing with Michael W. Kruel. They got right in each others face, going nose to nose until Dusty Rhodes came out to the entrance and told them to pack it in right there, which they reluctantly did, backing away from each other but still sharing intense stares. It allowed Dusty to announce that next week, Kruel would have his chance to take part in the Television Championship tournament. Dusty then said he had the pleasure to announce Kruel's opponent would be making his wrestling debut, the son of the legendary "Nature Boy" Ric Flair, Reid Flair. Kruel didn't know what to make of it as he looked on from the ring, but Rhodes wasn't done before announcing that he also had the honour to reveal that Reid won't be the only son of a true wrestling legend joining FCW, as later on tonight, Joe Hennig, the son of "Mr. Perfect" Curt Hennig, would take part in his debut match. The crowd seemed to be excited about both announcements as Rhodes then warned Spears & Kruel to stay the hell out of each others way with Kruel then leaving to heat from the fans as Roucka walked out to meet him, clapping at the same time, showing she is proud of his actions.
**Commercial Break**
The Opening Match
Television Championship Qualifying Match
Ricky Ortiz
vs
"The Natural" Nic Nemeth
A decent match with Nemeth starting off strong before Ortiz fought back. Nemeth turned the screw and caught Ortiz with a rake to the eyes as he was pulled up, then nailed Ortiz with an inverted DDT. He took his time recovering and getting back up too, but he dragged Ortiz back up, finishing him off with a jumping russian leg sweep. Afterwards, Nemeth asked for a microphone and said this was the first win of three that will take him all the way to becoming the first ever FCW Television Champion, because there is no one who is remotely capable of shining his boots, let alone beating him.
Winner:
Nic Nemeth by pinfall.
Lena Yada was standing by with The Backstreet Boys, JJ Matthews & Cameron York. She asked them how it felt to make their debut last week and beat The DiBiase Brothers. Matthews said that being back with Cam' was fun and that they showed two spoilt kids that it takes more than a name to get respect or to have anywhere near what it takes to be successful in this business. Just as Lena was about to ask another question, Mike & Brett DiBiase jumped them from behind and pummelled them to the floor. They continued to stomp away on them until other wrestlers made their way in to the shot and pulled them away with Mike calling York & Matthews punks and asking them how they liked that for a proper welcome.
**Commercial Break**
Dusty Rhodes was talking on his phone in the back, when the new FCW Tag Team Champions, The Empire walked up to him with Katie Lea not looking best pleased. Dusty didn't look too happy to see them and told the person on the phone that he'd call them back. He hung up as an angry Katie Lea told Dusty she wanted to know what exactly he thought he was doing in putting Roucka in a match with her two guys instead of her. Dusty explained by saying it was simple, it would be the champions and the number one contenders together, and reminded Katie Lea that Roucka is first in line for a shot at the Women's Championship, not her, and saying that's the way it is in a patronising manner. Katie looked on the verge of snapping as she told Dusty that she knew what he was up to, saying it was plain prejudice once again, just like the reason not to throw the coronation tonight for McIntyre & Sanders after they won the tag titles last week. She then told him that TJ Wilson & Teddy Hart weren't worthy of being in the same ring as them after they were defeated easily last week and that they will go one step further and make an even bigger statement this week. Dusty said the boys can make whatever statement they want, but she won't be doing anything and banned Katie from ringside for the match. Katie protested and told Dusty he's not going to get away with this blatant racial prejudice, and then said he'll find out who really holds the power.


Pre match, the "Campus Legend" Brad Allen got in the ring and said that he had the honour of being the first man to take on the son of the ever so perfect, Curt Hennig in just a matter of seconds. He then said that Mr. Perfect was indeed a wrestling legend and a true Hall of Famer, but it's his fall from grace that he associates him with, something that didn't go down too well with the fans. Allen told them that Hennig wasn't as perfect outside of the ring as he was in it, then said his son, intentionally calling him John instead of Joe, could tell them just how proud of his father he is despite being him ending up being known as "Mr. Junkie". As the crowd booed the laughing Allen, Hennig's music hit and he angrily walked out to a very big pop, going right at Allen before the bell.
Match 2
Joe Hennig
vs
"Campus Legend" Brad Allen
Hennig put on a great showing for his debut, taking it right to Allen, roughing him up with some vicious shots in the corner. Allen managed to get back in it after the referee stood between them to calm Hennig down, resulting in Allen low blowing his opponent. Hennig fought back and stunned Allen with a jawbreaker, and once he got back up, he finished him off with The Perfect Plex. The fans gave him a great response, but as he was celebrating his win, a man walked out to the entrance. It looked to be Colt Cabana, and he applauded Hennig as the newest FCW superstar looked confused. Cabana then grinned and turned back round, leaving Hennig wondering what he was doing out there.
Winner:
Joe Hennig by pinfall.
The camera cut to panic in the back as several referees and Dusty Rhodes stood around in a circle. Michael W. Kruel then entered the scene looking worried and asked Dusty what the problem was. Dusty stepped back and we could see Roucka lying on the floor. Kruel looked shocked and kneeled down beside her straight away and checked if she was out cold, but she responded albeit faintly. One of the refs then checked on her, and she looked very groggy as he then told Dusty she needed a medic. The angry Rhodes then went off to find one as Kruel and the refs remained beside her.
**Commercial Break**
Afa Jr was taping up his wrists in his locker room when James Reiher walked in and greeted his bodyguard and opponent for the night. The FCW Champion said that they didn't have to go through with this ridiculous plan of Dusty's and told him to get changed again. Afa said that Rhodes came to see him earlier on and that there's no way out of it, there's nothing they can do, the match will go ahead. Reiher said that Dusty is a real piece of work, but he then seemed to get an idea, telling Afa that he had a resolution to all this. He then said that to show Dusty that they won't be manipulated, Afa could simply lie down later on so that he (Reiher) could retain his title. Afa didn't seem impressed and told Reiher that he comes from a respected wrestling family, and that he can't and won't show them the disrespect by tainting the family name by laying down for anyone, including Reiher. The champ didn't look happy, and he told Afa that there was only one possibility left, that he beat him like he beat everyone on the way to becoming the FCW Champion. Afa stood up to him and told him that was the only way he would beat him as he's not lying down for anyone. An angry Reiher stared Afa right in the eye for several seconds before saying if that's the way he wants it, then that's what he'll do and stormed out, leaving Afa to carry on getting ready.


The Empire, including Katie Lea made their way to the ring with both McIntyre & Sanders waving British flags, as well as having the FCW Tag Team Championship title belts wrapped around their waists. Katie grabbed a microphone and said it was very unfortunate that Roucka appeared to have been attacked backstage before the break and that she was now unable to compete, allowing her (Katie) to take her rightful place alongside McIntyre & Sanders. She grinned with a look of satisfaction on her face before saying that despite the prejudice of Dusty Rhodes, there will be a celebration, albeit a minor one to recognise and appreciate the achievements of the new FCW Tag Team Champions. She asked all the fans to stand up to show a sign of respect for the Great British national anthem. Once it played, the fans booed all the way through it, and when it finished, Katie launched a tirade on them for being just as disrespectful as Dusty. Before it got out of hand, TJ Wilson, Teddy Hart & Shantelle Taylor walked down, grinding Katie's rant to a halt. Katie, McIntyre & Sanders didn't look impressed at all as the fans cheered the three Canadians.
Match 3
TJ Wilson, Teddy Hart & Shantelle Taylor
vs
The Empire
A really good match up with everyone getting involved, but come the end, it was down to Taylor & Katie as Hart & Wilson brawled on the outside with McIntyre & Sanders. Katie dodged a missile dropkick from Taylor and mocked the champion as she rolled around on the mat, urging her up. Just as she was getting back up, Roucka ran down to the ring, leaving Katie shocked. Roucka jumped up on to the apron, causing Katie to run at her, but Roucka jumped back down with Taylor then walking up behind Katie and rolling her up for the victory to the delight of the fans. Roucka stared back at Taylor for a moment before Taylor exited the ring as McIntyre & Sanders slid back to check on a stunned Katie. Taylor joined Hart & Wilson on the outside, hugging them as The Empire looked pissed on the inside.
Winners:
TJ Wilson, Teddy Hart & Shantelle Taylor by pinfall.
**Commercial Break**
The Main Event
FCW Heavyweight Championship
Afa Jr
vs
James Reiher
(c)
Reiher was reluctant in the early going, but he was left with no choice but to fight as Afa went right at him. He put the champ on the back foot and came close to taking the title after a spin out powerbomb with Reiher just getting his shoulder up in time. The tide turned for a moment as Afa went up to the top rope for a diving headbutt with Reiher dodging it by rolling to the side. Both men took their time coming round, and it was Reiher who made his way up first as Afa sat up. The champ stepped back in to the ropes and looked for the Crack 'em in Da Mouth, but Afa pulled his head back as Reiher ran past. Afa stood up and grabbed Reiher around the waist straight away for a belly to back suplex, but Reiher blocked it with elbows, sending Afa down to the mat. As Reiher turned round though, he saw Afa getting straight back up, and the champ decided to cut his losses, seeing Afa getting once up again. He climbed through the ropes and grabbed his title before walking to the back with the ref counting him out. Reiher turned back and just stared at a not so happy Afa as the show came to a close.
Winner:
Afa Jr by count out.
**End of Show**
CONFIRMED FOR NEXT WEEK

Television Championship Qualifying Match
Reid Flair vs Michael W. Kruel



Re: WWE: A Strong Response
---
FCW Comments



Just thought i would drop in and leave some very, very brief comments on FCW.

Nic Nemeth > Ricky Ortiz. Nemeth should be the television champion.

The Dibiase's own the Backstreet Boys.

The Empire makes me drool, screw Dusty and his hatred towards them.

Joe Hennig well i have not heard much about him, is he anywhere near the talent of his father???

The Empire lot damn it, but i guess it was okay because my other favorite talent in FCW is Teddy Hart.

Afa Jr wins but thank god he is not champion i personally don't think he cuts it.

Another good edition.
---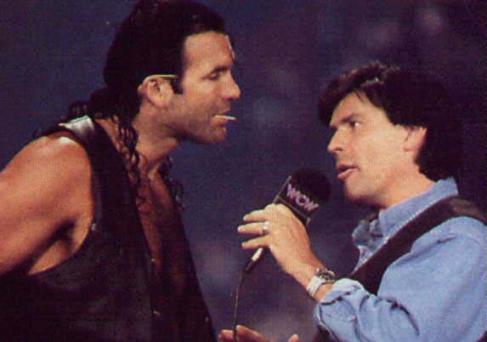 Wheelman for James Ellsworth
Join Date: Dec 2008
Posts: 834
Points: 3
Re: WWE: A Strong Response
---
I just read pretty much everything from Wrestlemania and I'm really impressed, this is a great BTB, and I'll be reviewing the next show.
Asking JAMES ELLSWORTH for Wrestling Advice
Join Date: Sep 2008
Location: Brighton, England.
Posts: 287
Points: 0
Re: WWE: A Strong Response
---
I think that Nic Nemeth could use a gimmick change. Maybe a pornstar-wannabe named Dolph Ziggler? Decent FCW show, gives you an idea of who's coming up to the main roster. My problem is Dusty Rhodes being some kind of authority figure, I just can't take him seriously with that voice.
Asking JAMES ELLSWORTH for Wrestling Advice
Join Date: Oct 2007
Location: Australia
Posts: 357
Points: 0
Re: WWE: A Strong Response
---
Sorry about the very late review Nige, but no internet access for three days means I couldn't check out your show, so I couldn't review
.
Nige's (late) Smackdown Review
With me being an Edge mark, it is sad to see that you have taken him out of action for about two months. It should be a good match between Michaels and Taker for Judgment Day, and a good opening promo by Linda and the Masters of the Mat. A standard heel promo here by the Masters of the Mat asking Linda to suspend their rivals, but Linda won't budge. It should be a good match next week between Haas and Masters against the Extremists, Tommy Dreamer and Steven Richards. Hopefully Punk vs. other Hardy is set for tonight.
Standard but good heel promo here with Benjamin and his lackey Shannon Moore, as he says that he simply beat Hardy to become the US Champ. Good to see that Shannon got owned by Benjamin and gets decked. Hopefully this is the start of a huge push for Benjamin without Moore by his side, and hopefully he beats Chavo tonight. A heel turn for Sydal or Jeter? I like it.
Good opening match between the new US Champion and Chavo Guerrero, and it was a simple but effective way to get Shelton over. It is good to see that you didn't completely squash Chavo and had him get a little bit of offense in, but it was a good decision to have Shelton go over Chavo.
It was nice to see that Sydal defeated Striker, and hopefully he gets a Cruiserweight Title push in the future. You know that I am a Sydal mark and so are you (I think
), so hopefully you have him in a feud with Jeter in which he goes over and gets a feud over the Cruiserweight Championship. With what happened after the match, I now think that it will be a Jeter heel turn.
Classic backstage Diva promo with the hair pulling and such, but it was effective which is why I liked it. Obviously you are continuing the Mickie/Beth feud which is reminiscent of Trish/Lita in my opinion, so I am liking this feud. I liked the interaction between Shane and Michaels, and it looks as though you are creating a family alliance.
TBH, I don't really like Elijah Burke as a face, just like you don't like Kofi in my thread as a heel
. Honestly, his character is just meant to be a face, and hopefully you turn him back heel once his feud with MVP is over. Obvious win for Burke over Orlando Jordan as Burke is getting a huge push, which I like.
Nice confrontation between the Masters of the Mat and the UK Pack, leading me to think that the Masters of the Mat will defeat the Extremists and go on to face the UK Pack for the titles at Judgment Day. Loving Hardy on the lookout for Punk.
Loved this promo between Punk and Hardy, and I love that both men are being aggressive, as it takes their feud up another level, perhaps even personal status. It was a very strong promo from both men and built up their feud greatly, and also it leads to what promises to be a great main event between Punk and the Undertaker.
I am not sure if the family partnership is a permanent one or a temporary one, but I will support you either way as both men can carry themselves as singles superstars, but they could take your tag team division to the next level. Anyway I was expecting some type interference from either the Extremists and/or the UK Pack, as it would be great way to further the feud in my opinion, but I think you did this to make the cousins look strong as they probably don't need interference to win, so kudos to you for that.
This is the match that I am most looking forward to, one of my all time favourite wrestlers up against one of if not my favourite superstars today, Undertaker vs. CM Punk. I would have loved to see this match in real life. I liked how you had Punk control a portion of the match as it really made him look like a superior superstar on the brand, as he had the upper hand of one of the veterans of the business. I liked the DQ finish as it didn't drain Punk of all momentum and it built him up as credible superstar after controlling a good portion of what was a great match. The aftermath was good, as I feel that since you have brought Punk and Hardy into the Taker and Michaels feud, it has made the Hardy and Punk feud a feud that is on the cusp of the main event as you have included them with the two main main-eventers.
Overall Nige, it was a good show by all means, but as previously mentioned, I think you have done better. It had some good stuff going on and you built up some feuds very well, but I just feel that something was missing in this show. FYI, I liked the font that you used for Raw than you did for Smackdown, Raw seemed more spaced out to me TBH. Anyway Nige, it was a good show, don't get me wrong, but I have seen you do better and then is room for improvement.
---
Yeboi.
Re: WWE: A Strong Response
---
Quote:
I think that Nic Nemeth could use a gimmick change. Maybe a pornstar-wannabe named Dolph Ziggler?
As Ziggler, he'll always be nothing more than a comedy character. His gimmick in FCW that he portrayed before his call up as
"The Natural" Nic Nemeth gives him a lot more credibility. It's similar to the Mr. Perfect gimmick.
Thanks for the feedback too y2j, i know this wasn't one of my better shows, but i'm experimenting with my roster for the time being and starting all new angles.
WWE.com - Preview - Raw (Preview - 14th April 2008)
---
RAW Preview
14th April 2008

Tokyo Dome
Tokyo, Japan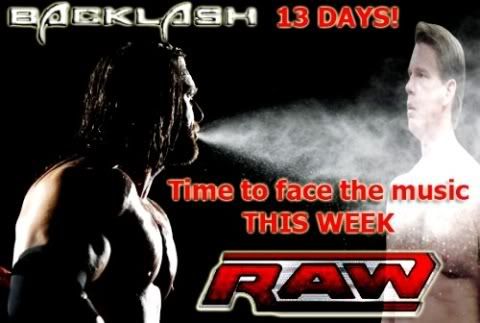 KANE RETAINS, AND ORTON'S NEXT!
"The Legend Killer" Randy Orton's rematch clause for the WWE Championship looked to be very simple, setting up a showdown at Backlash with Kane, the man who took the title away from him at Wrestlemania. However, a spanner was thrown in to the works last week as William Regal, Eric Bischoff's new Executive Assistant suggested Kane should defend his title. Bischoff agreed, and Kane put the gold on the line against the same man he pinned for the title at Wrestlemania in John Cena. The challenger put on a strong performance, but in the end it was Kane who retained the title, only for Orton to make a statement by storming the ring and giving The Big Red Machine a taste of the RKO as we get closer to Backlash.

Is that an act Orton may regret as Raw heads to the far east?

THERE'S GOING TO BE HELL TO PAY
We've seen strong words exchanged between Evolution and The McMahon Men over the last couple of months, but last Monday saw John "Bradshaw" Layfield take things way too far. After the permanent reformation of Evolution was confirmed, JBL, his father and half brother ground the celebration to a halt for Triple H, Batista & Ric Flair. They announced that they would be going for revenge at Backlash in a match that Eric Bischoff refused to sanction before JBL crossed the line and spoke of his desire to see his half sister, Stephanie McMahon-Helmsley miscarry hers and Triple H's unborn baby. It was no surprise to see The Game get angry as he and JBL ended up brawling at ringside, only for security to eventually break things up and then escort Evolution out of the arena as a result of Bischoff's orders.

All six men will be in Japan this Monday night, just what can we expect this week?

DYKSTRA SKATING ON THIN ICE
Kenny Dykstra hasn't been shy of talking himself up since coming to Raw in the draft a couple of weeks ago, but he may have cut short his Raw career last Monday night. After another run in with John Cena, Dykstra decided to anger him by playing a part in Cena's failure to reclaim the WWE Championship during his match with Kane last week. Just as Cena managed to get going and looked set to pick up a shock victory, Dykstra made his way down to the ring, distracting Cena. The distraction was enough to see Kane condemn Cena to defeat and satisfy the youngster who claims he will become a future Hall of Famer.

It's hard to believe there won't be a price to pay for Dykstra this coming Monday. Tune in and find out what how Cena will respond.


WHO'S SCHEMING? KOFI OR CODY?
Several weeks ago, we saw Carlito and his brother Eddie accuse Kofi Kingston of making a play for Kelly Kelly, Cody Rhodes' girlfriend, right in front of Cody. Both Kofi and Cody played it down, but it's seemed that in recent weeks, there is a connection of sorts between Kofi and Kelly, whether it is innocent or not. Cody questioned it himself for the first time last week having seen Kofi become the Intercontinental Champion the week before in a tag team match where Cody was his partner. We even saw Cody go to William Regal and ask for some kind of clarification on the title, staking his own claim for his friend's property. It looks like there is trouble ahead for these two young men.

Is there something going on between Kelly & Kofi, and does Cody really want to take the Intercontinental Championship from his friend?

REGAL'S IN THE HOT SEAT
No one was more shocked than William Regal when he was drafted to Raw a couple of weeks back, but the former General Manager of Smackdown has had no choice but to come to terms with the fact he won't be enjoying the same position on Raw. However, he was offered an olive branch by Eric Bischoff, and last Monday night he accepted the offer to become his Executive Assistant. It was also revealed that Regal will be in sole charge this Monday when Raw comes to you live from The Tokyo Dome.

What will he have planned for us on this special night?

SPARKS ARE GOING TO FLY IN TOKYO
John Morrison & The Miz really stuck the boot in to the World Tag Team Champions of Paul London & Brian Kendrick last Monday night, stating their disgust for their title reign. It led to a response from the powers that be, and it was confirmed that the two teams will meet for the titles at Backlash. There will be a sneak preview for us all this week as one member of each team will go head to head with Kendrick facing The Miz.

Will we get an indication of which team will leave Backlash as the World Tag Team Champions once these two step in to the ring on Monday night?

PLUS
Ted DiBiase Jr picked up another victory and successful defence of his Million Dollar Championship after defeating Eugene last week. He wasn't satisfied with just winning as he laid in to Eugene after his arm was raised. What is next for this impressive yet arrogant youngster?

Cryme Time had a run in with The Colon Brothers last week as Shad took offence to Carlito's big mouth, resulting in the elder Colon being knocked to the floor. We learnt that the two teams will meet again this week, only inside the ring this time. Will there be a similar outcome to last week, or can Carlito stay on his feet this time?

Santino Marella became Finlay's first victim last week since the draft brought the Irishman to Raw two weeks ago. Finlay's little friend, Hornswoggle wasn't part of the draft, but he made an appearance too, helping Finlay to a victory that left the Italian Stallion very unhappy. One must wonder if Santino will have something to say about the little man's role in the defeat.

With Beth Phoenix having left Raw for pastures new, Natalya Neidhart staked her claim for a shot at Victoria and the Women's Championship after an impressive victory last week. Victoria watched on from the announce position as Natalya forced Candice Michelle to tap out to the sharpshooter. Maybe life without Beth on Raw isn't going to be as easy as Victoria may have thought with the dangerous Natalya standing right over the champion's shoulder.
CONFIRMED FOR RAW THIS WEEK

Brian Kendrick vs The Miz

Cryme Time vs The Colon Brothers

Kelly Kelly vs Melina
Re: WWE: A Strong Response
---
Raw preview looks good mate, will be reviewd. Its in Japan lol. The matches you have booked will be good such as Kendrick v Miz because both men are up and coming. The Orton and Kane thing is coming along well and the fact that wwe are doing it will be good to see what diiference yours will be to their's. The psoter for Triple H and JBL is awsome.
Posting Rules

You may not post new threads

You may not post replies

You may not post attachments

You may not edit your posts

---

HTML code is Off

---