Pro Wrestling Insider.com
---
Backstage WWE News & Rumours
Quote:
Originally Posted by Pro Wrestling Insider.com

With Cyber Sunday rapidly approaching, it remains as no surprise that Triple H & CM Punk are the two front runners ahead of John Morrison to be voted in for the WWE Championship match against Randy Orton. The current storyline suggests that creative want Triple H as the one they want to be voted in but the internet community are bound to be pro Punk and it wouldn't be considered a shock if Punk was chosen despite the opinions that it is a big push too soon. Morrison is only in the reckoning as it is the best time to take advantage of his status gained as ECW Champion earlier this year. A storyline with Triple H not being voted in is already being considered and in the latter stages.

Chris Jericho is still expected to make a return to the WWE in the near future, but the promo videos have been scrapped for the time being at least as creative prepare to bring him in if a deal has in fact been signed. Several TNA stars have their contracts coming to an end very soon also, but it's believed that the WWE have no interest in them as they feel that they are more than capable of building a success out of their own product, rather than panicking into using TNA talent to make shows easier to book with the big and former stars joining the rosters. Ouch!!!

The Raw Rating saw a steady increase, up to 3.8 this week following two weeks at 3.6. With the next Raw slated to be a "biggy" following Cyber Sunday and starting up the build up to Survivor Series, it is considered that no stone will be left unturned for next weeks show.

The reason for Umaga's switch to Smackdown is down to the fact that he has done almost everything he can on Raw and with The Undertaker & Batista on Smackdown, it is thought that two high profile feuds will help Umaga get over as the monster he is being portrayed to be.

Mr. Kennedy's match with Jeff Hardy at Cyber Sunday is causing many an argument backstage as several members of the creative team believe that Kennedy is beyond the mid card point and believe that an extended title run for Jeff will only help his character. On the other side, other writers feel that Kennedy is in need of a serious title reign before being built up to a serious main event contender with Wrestlemania coming up in March.

The Santino Marella / Harry Smith segment this week is scheduled to start off a storyline between the two when Smith does make his debut very soon. Both men are considered to have a decent future on Raw and this could be a feud that is taken very seriously for the benefit of both men. The same goes for Carlito & Cody Rhodes. It is expected that the pair could meet at Survivor Series with both Cody & Carlito's fathers at ringside.

Deuce & Domino have indeed been switched to the Raw brand following their appearance on Raw this week. Since The Worlds Greatest Tag Team have been switched to Smackdown and become the WWE Tag Team Champions, it is beloved that they will get a big push, meaning that Deuce & Domino would be better off on Raw. More roster changes are expected, but whether or not big names will be moved around is not known yet.

Paul Burchill & Drew McIntyre made impressive debuts on Smackdown last week and it is believed that Burchill may get a strong push on the show in the next few weeks. McIntyre is set to chase the tag titles with Dave Taylor after they came close last Friday night.

Tommy Dreamer & Stevie Richards have received a strong push since joining Raw over two weeks ago and it is thought that they could leave Cyber Sunday the World Tag Team Champions. Lance Cade & Trevor Murdoch are well thought of and the push that the challengers have received may well result in a big win for Cade & Murdoch this Sunday. However, there are some strong pushes being made for a title change here.


WWE.com - Headlines
---
THREE MORE DAYS UNTIL VOTING IS CLOSED FOR CYBER SUNDAY
Quote:
Originally Posted by WWE.com

You have just three more days to cast your votes on what matches you want to see at Cyber Sunday, the most interactive show in the history of professional wrestling.

You can choose between Triple H, CM Punk and John Morrison for who you want to challenge Randy Orton for the WWE Championship in addition to picking the stipulation when Batista defends his World Heavyweight Championship against Smackdown's newest superstar, Umaga. There is the option of choosing Edge as the special guest referee as well as the options of a No Holds Barred match and a Last Man Standing match.

With every match having three options, you can determine just what happens this Sunday night! Get voting!
THESE ARE THE MATCHES YOU CAN VOTE ON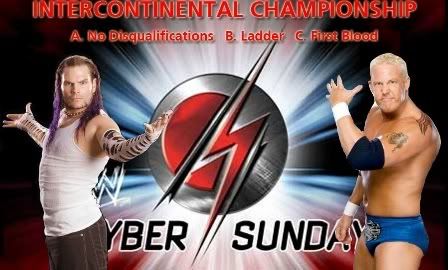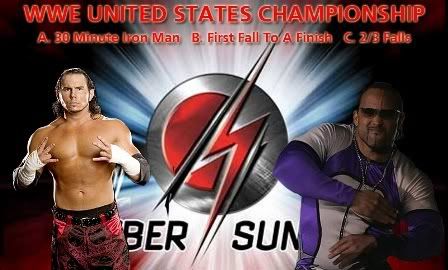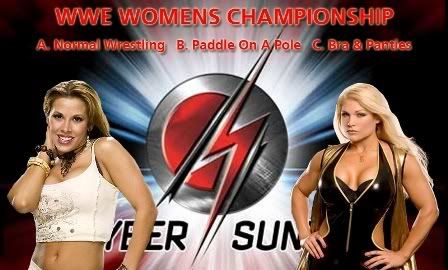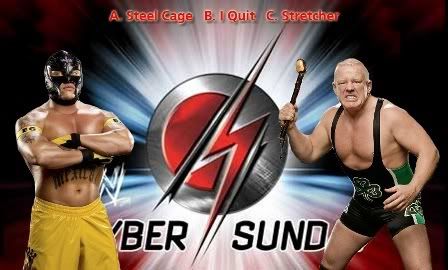 CYBER SUNDAY

WWE Championship
Randy Orton (c) vs ? ? ?

Vote for Randy Orton's Opponent
A. CM Punk
B. John Morrison
C. Triple H


World Heavyweight Championship
Batista (c) vs Umaga

Vote for Match Stipulation
A. Special Referee (Edge)
B. No Holds Barred
C. Last Man Standing


Intercontinental Championship
Jeff Hardy (c) vs Mr. Kennedy

Vote for Match Stipulation
A. No Disqualifications
B. Ladder
C. First Blood


WWE United States Championship
Matt Hardy vs Montel Vontavious Porter (c)

Vote for Match Stipulation
A. 30 Minute Iron Man
B. First Fall To A Finish
C. 2/3 Falls


World Tag Team Championship
The Extremists (Tommy Dreamer & Stevie Richards) vs Lance Cade & Trevor Murdoch (c)

Vote for Match Stipulation
A. ECW Rules
B. Tables Match
C. Bar Fight


Rey Mysterio vs Finlay

Vote for Match Stipulation
A. Steel Cage
B. I Quit
C. Stretcher


WWE Womens Championship
Mickie James vs Beth Phoenix (c)

Vote for Match Stipulation
A. Wrestling Match
B. Paddle On A Pole
C. Bra And Panties
ALL VOTING IS BY PM!
---
Last edited by Nige™; 11-13-2007 at

07:50 PM

.
Re: WWE: A Strong Response
---
Just gonna leave a few comments and predictions (won't count as votes) I am liking the open house ruling with a few shocks, I hope the ECW guys get the tag titles but I sense one major title change, expect a review soon.
---
Tag Teaming With James Ellsworth
Join Date: Mar 2005
Posts: 1,214
Points: 0
Re: WWE: A Strong Response
---
Raw Review
Opening promo looked very good through the recap. Haven't read this thread before so is very helpful Triple H talking about what has happened recently in his speech. Vinnie comes out and no suprises that he has put the odds against Triple H once again, but i see Triple H getting the better of Vince once again.
Good to see CM Punk going over strong here over Hardcore Holly in what looked a very solid match. However if this is the only bit of action he will be involved with tonight i would be very dissapointed, seeing how much attention Triple H is getting tonight.
Meh Cody Rhodes is bland as hell IRL and looks like the same in here too. Personally i would like to see him turn on his Dad and have them feud but anyway.
Burke v Val was much better than expected as i thought this was going to be a full on squash, but Val gave a pretty good fight. No suprise that Burke gets the victory and looking at the Taboo Tuesday card it looks like he is involved in no feud with anyone at the moment so i presume that your just building up some momentum for him leading to him eventually getting involved in the IC Title scene.
Very good interview here by Kennedy hyping his match with Jeff Hardy. Nice to see him bring up the match stipulations and matches that he won when involved in them.
Great 6 man tag match here building up all three of the feuds involved in the match. Good victory for the faces and with Mickie winning it looks like unfortunatly that Beth Phoenix will win their encounter
Very pumped up for the IC Title match at Taboo Tuesday and good to see that neither of them two lost by pinfall as it makes the result of this match at Taboo Tuesday more unpredictable.
Santino is GOD. Push him for the WWE Championship please
. Looks like your going to have a Santino/DH Smith feud but what the heck does DH stand for lol?
Nice little seg here, pretty obvious that Punk is going to get involved in the main event.
Great to see Dreamer and Richards teaming up in this thread and is a nice asset to the tag division. Suprised that a PPV match has been spoiled the week before the PPV itself. Huge victory for Richards and Dreamer picking up huge momentum for the PPV, but unfortunatly with them winning this match it looks like Cade and Murdoch will win at Taboo Tuesday but personally would love to see Dreamer and Richards with the belts.
No suprises that Triple H went through the first two teams but things really didn't pick up in this match until the third match. Looks like Triple H is going to pull off a shocker when Morrison gets himself disqualified which is the right way to end this match. Good aftermath with CM Punk making the save and he looks very strong going into the PPV.
Overall Rating: Overall was a solid show nothing spectacular but was very realistic compared to Raw shows IRL which is never spectacular itself. 7.75/10
Will pm you my votes now
Re: WWE: A Strong Response
---
Quote:
Originally Posted by kane01
Looks like your going to have a Santino/DH Smith feud but what the heck does DH stand for lol?
Thanks for the review, i appreciate it. When you get a show up, PM me and i'll return the favour. As for the DH Smith question, i referred to him as Harry Smith (90% sure). I will check back, so thanks for pointing that out if i've made a big balls up. As for his name, i think it means Davey Hart Smith or something like that, not sure!
Thanks again!
WWE.com - Headlines
---
KHALI FORCED TO RETIRE
Quote:
Originally Posted by WWE.com
WWE.com has just learnt that following surgery on his back injury sustained at No Mercy, The Great Khali has been forced to retire from professional wrestling. Less than a week after Mark Henry was forced into the same position, it appears that a second monster from Smackdown will be hanging up his boots.

We wish The Great Khali all the best and a speedy recovery.
SMACKDOWN PREVIEW (26th October)

The Sprint Center
Kansas City, Missouri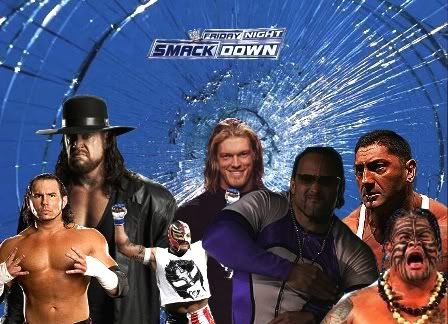 FINAL STOP BEFORE CYBER SUNDAY!


THE ANIMAL TO FACE THE BULLDOZER
In a night full of shocks last week, first we found out that Edge of all people would be the General Manager for the night as the Board of Directors continue their search for a permanent successor to Theodore Long. The former World Heavyweight Champion made his intentions clear to the current champion by putting Batista in a match with The Undertaker, but it didn't end there. Before the match could finish, Edge made his presence felt, but not as much as the debuting Umaga, who attacked both The Animal and The Undertaker. Edge then made it clear what Batista is dealing with as he announced that at Cyber Sunday, Batista will face Umaga with Edge as the special referee in a non title match.

However, we found out just hours later that the Board didn't agree with Edge's decision and saw it as an abuse of power before deciding that it will be a title match and that Edge can only be voted in as special referee as one of three options that the fans have been voting for this week. With the other two options being a No Disqualification match and a Last Man Standing match, it clearly shows that Batista is in for a heavy night at Cyber Sunday, but what will happen on the last stop this Friday night?

EDGE LAST WEEK, WHO TAKES CONTROL THIS WEEK?
We all saw that Edge took charge last week and Stephanie McMahon the week before, and this week we will see a new fresh face in the hot seat as General Manager. Just who could it be? Tune in to find out!

WE HAVE NEW TAG TEAM CHAMPIONS; WHAT NOW FOR THE FORMER CHAMPS?
The tension between Matt Hardy and the United States Champion, MVP has been brewing for months and months. But last week, it all came to a head as the duo were forced to put their WWE Tag Team titles on the line in a Gauntlet match. Starting the match, the defending champions overcame Deuce 'N' Domino, who have since left to join the Raw brand. However, in the next match, they fell foul of Matt Striker and more importantly, Big Daddy V for the second straight week, thanks to MVP's reluctance to get in Striker's hired gun's way as Matt lost the fall and subsequently, the titles.

The biggest shock came when we thought that Dave Taylor and the debuting fellow Brit, Drew McIntyre had the titles won after they defeated Striker & Big Daddy, but that wasn't the case as The Worlds Greatest Tag Team became the first superstars to take advantage of the Open House Rules. The opportunistic team came and stole the titles away from the devastated British duo and supporters in their home country. What does this mean for the new and former champions when Smackdown comes to Kansas City, Missouri? Especially Matt & MVP who meet this Sunday night for the United States title!

BURCHILL MAKES A WINNING RETURN
In what was a night of shocks, we saw another when Paul Burchill made his return to Smackdown in front of his own fans last week. After trashing Burchill's home country, Chris Masters was soon regretting his actions as Burchill upset him to get a big victory on his return, in addition to an impressive performance. What reaction will we get from an angry Masterpiece? And what is next for Burchill?

CRUISERWEIGHTS TO GO AT IT
Since the Cruiserweight Championship was vacated over a month ago, we have seen some great matches and this week, will see four of the best from the cruiserweight division go at it when Super Crazy, Jimmy Wang Yang, Kenny Dykstra & Jamie Noble meet in a fatal fourway match to go some way to determining who could claim the currently vacant title.

Plus: Don't forget the Open House Rules still apply, and after we saw Umaga & The Worlds Greatest Tag Team take advantage last week, we could well see some more Raw superstars join Smackdown's expanding roster this week! In addition, Rey Mysterio & Finlay will be in the house just two days before they meet at Cyber Sunday.


CONFIRMED FOR THIS FRIDAY NIGHT

FATAL FOURWAY MATCH
Super Crazy vs Jimmy Wang Yang vs Kenny Dykstra vs Jamie Noble

PLUS
Umaga makes his Smackdown debut!



Re: WWE: A Strong Response
---
The rivalries are shaping up nicely, I sense Hardy and MVP going for the tag titles once more and I would estimate 2 more jumps before the end of the year to Smackdown, I'm begging for HBK and Y2J. Also Cena for GM Plz.
---
You Don't Know What You're Talkin' About!
Join Date: Jan 2006
Location: Hyd, Pakistan. (hataf_siyal@hotmail.com)
Posts: 8,341
Points: 0
Re: WWE: A Strong Response
---
Sorry, this is too late. I know I haven't reviewed some shows of your thread, but I didn't really got any time left in my hands to dish out reviews. I got time now, and here I'm; dishing out reviews. Enjoy this review though. I'll start reviewing from now on though, btw.

RAW Review
Good way to kick off RAW, with Triple H and Vince hyping up the Cyber Sunday main event even more. They just looked right to me because I can't rate them exactly in a recapped promo. Looked like a good promo to start off RAW, and the finish was good too.

Punk looks strong now after defeating Hardcore Holly, but the match itself could've been better. You must've described more in this match, and Hardcore Holly should've attacked Punk more. HH is a legit tough guy, and you made him look like a jobber so that wasn't fair, but apart from it; Punk, as I said, looks strong, and that's what you need right now.

I've never found Cody Rhodes charismatic, but you made him look charismatic through Dusty Rhodes in this promo though. So yeah, that promo was nicely done.

Okay, the concept of this match was to put over Elijah, and you did a solid job here. The aftermath was scary though. Lol. The way you mentioned how Venis was looking pissed off means that we'd be seeing a feud between these two workers. Venis is too boring, and I hope we don't see a feud. Yeah, I really hope.

Awesome promo by Kennedy. Man, you've got amazing potential. GO THE FULL SHOWS NOW~! Lol. I just got excited after reading this promo. Kennedy's wordings were great, and the entire promo was great too. Awesome work.

Good action here in this 3 vs. 3 intergender tag team match up. I'm glad that the ladies were given a good amount of time in this match up too. The ending was also nice, as it puts Mickie over, but I would've liked more creativity here. Well, what I mean by that is that I just wanted to see Jeff picking up the victory or probably Cody, but not that sweet lady.

Okayish promo here with Randy Orton this time. It was decent enough to hype the Cyber Sunday main event though. Seeing John Morrison in this match isn't great booking, btw. You need more main eventers on this brand to make things more exciting.

The way Santino ranted about Cena here makes me believe that we might see a feud between them later on, but I hope not. Santino isn't great in wrestling, and I hate that guy. The promo was done nicely though, and the way Harry Smith's video interrupted was a nice touch. Looks like Harry is on his way to feud with Santino.

Interesting segment here between Regal and Punk. So far, Punk has been used brilliantly in your thread, by the way. The concept of this match was good. Lets see what Punk decides he's gonna do. Nice suspense.

You really don't have exciting rosters, and feuds going on. The only exciting feud on RAW is Hunter vs. Orton. Everything else is nothing too special. This tag team match didn't interest me at all. But the way you built up some momentum for Stevie and Dreamer here was nicely done.

Good main event to end the night for us. It was expected that we'd see Triple H with his hand raised in mid air to finish the night. Triple H has got a lot of momentum here by destroying all of his components (Although he got some help from Punk, but Triple H is the man of the night). Didn't like the champ getting pedigree'd though, because it made Orton look weak, and he should look strong as hell cause he's heading for a title defense at Cyber Sunday.

In the end, it was an okayish show. Nothing really too special. You haven't delivered the the 'excitement' yet on the RAW brand. Seeing Morrison in a main event of CS is a disaster to me. Sorry, but it is. And right now, I think you should go for the full shows. Recaps aren't really that much exciting, and don't worry; I know you've got a lot of potential, and you WILL do it. I know, but you've got to try. Just try once, and you'll be doing good.
---
**Banner/Avy Credit; Princess Xtyne**

------------------


------------------
Re: WWE: A Strong Response
---
Raw Review

Opening promo was very good as normal with your shows. The usual stuff you get with HHH and Mcmahon. Nice set up for Cyber Sunday and the show's ME.

Punk/Holly was nothing more than a filler match and too get Punk over. Build him up as a credible choice in the title match. He could do with a good feud after Cyber Sunday.

Rhodes promo was nothing much for me. The typical father/son respect thing and what you'd expect.

Good to see Burke's push continue. Came over as very arrogant and cocky which is good.

Kennedy promo was great. In character and very smart how you used the fact he's won big first blodd and ladder matches already. Great promo and well thought out

The 6 person tag was alright. Packing three feuds into one match makes sense with not much time to get them all on TV. Not too sure about Mickie pinning Beth. Smart move not having the men get pinned. Probably means Beth will retain at Cyber Sunday.

Orton promo was good again. Once again done by the book and what you'd expect on a normal Raw.

The whole Santino promo was a bit random. His hate for JR came out of nowhere and throwing Cena into the mix didn't make too much sense. Dont like it when 2nd generation wrestlers rely on their fathers or whoever too get them pushed. I'm alright with using Bulldog to get fans to know who DH is but don't overuse the connection and attach him to it. Give him his own character. The same with Cody.

Punk promo was good again. To the book and possible interference in the main event?

Not sure about the booking here having a match on the CS card on free TV. Would have been better going along with the two singles matches like last week. Good match though and the attack at the ned evened it up after Dreamer getting the pin.

Handicap gauntlet was a good idea. First two matches were obvious endings. Last one was more of a match. Morrison seems to be making the numbers up. Aftermath was good too. Punk coming out I saw coming but was a good touch. HHH eventually going over orton builds to his high momentum. I see Orton retaining now and continuing the feud. probably not a clean finish either. Obvious HHH is being pushed as the main contender.

Overall it was done very much to the book. What you'd expect from a normal Raw. Not your best one so far but still of a high enough standard. Booking was a bit random in places but promos and matches were all good. SD preview looks good too.
Re: WWE: A Strong Response
---
Alim's Raw Review
Hey, sorry for the lateness dude, I've just been playing Smackdown vs. Raw 2008 a lot, so yeah. Nice promo by Triple H to start off the show. I think that having him come out was pretty much a no brainer, seeing as how last week he was in the handicap match. I think it was also good to have him hype up Cyber Sunday by saying that the fans will have the power, they can make the matches, etc. Vince coming in was nice too, he's really great on the mic. Another handicap style match, meh, I'm kind of not too fond of it, wonder what Punk and Morrison will be doing?

This was pretty odd. You have CM Punk going into Cyber Sunday looking pretty strong, you'd think he'd be in a more higher profile match on Raw, but he faces Hardcore Holly? That's pretty low tbh, it looked just like a squash. I would have prefered maybe a tag team match or something.

This was a pretty good segment consisting of both the Rhodes. Like Hataf, I don't like Cody Rhodes either, really haven't heard any of his mic work tbh, but I like the father/son interaction.

Great way to put over Burke by having him face Val Venis, and you didn't fully job out Venis either. The ref bump imo was unnecessary, but I guess this puts over Burke by making him a really 'dirty' superstar too. Sorry i've been playing SvR too much. :P

I really, really liked this promo. Length was awesome. The thing I liked the most is that Kennedy really dug into his past and used his passed matches as an example to put himself over. I really don't mind what type of match these two face each other at CS, I know it'll be good.

I don't like mixed tag matches, I don't know why, but I just don't, but this one was good. You used a tag team match to build three feuds in just one match, I really like that and I think that's a great booking decision. It was good to see that Kennedy/Hardy got a good amount of ring time, and Mickie getting the win was icing on the cake.

I find Randy Orton very bland on the mic, he just isn't entertaining. This promo was ok. More hype for Cyber Sunday was good, and he got his message out pretty clearly stating that he's ready for anyone. I'm really hoping for CM Punk or Triple H.

Santino is great on the mic, and he's really funny too. This promo wasn't an exception. I enjoyed the whole barbeque thing, in real life, JR would probably be real pissed lol. Harry Smith video interupting him was nice, hopefully he comes soon and not under DH Smith.

CM Punk and Regal promo, pretty interesting. I like the fact that you gave Punk some mic time, because his mic skills are really underestimated in real life, in the WWE of course. Builds to the feud, and adds some suspense. I wonder if he'll stay or he'll leave, we'll see.

This match was kind of dull tbh. I like the fact that you're building up to a strong tag division on Raw, I just don't like Stevie Richards and Tommy Dreamer teaming up. To me, they don't suit as a tag team.

Usually in these kind of matches, handicap, gauntet, etc, you see the face come out on top, exactly what happened. The choices for the teams facing Trips were good too, I'm happy to see Deuce n' Domino on Raw, they should help out the tag division. I knew this Open House rule would spark some new feuds and move some wrestlers around. Normally this would confirm Triple H getting the title shot, but this time we decide.
Like I said earlier, I'd really like Punk or Trips to win the votes.

Overall, good show. I enjoyed reading it, you're promos are great and so are your matches. Cyber Sunday is looking fantastic, I've already sent in my votes. Good luck on Cyber Sunday dude!
---
THERE IS ONLY ONE DIAMOND IN THE BUSINESS AND HIS NAME IS TITUS O'NEIL
Posting Rules

You may not post new threads

You may not post replies

You may not post attachments

You may not edit your posts

---

HTML code is Off

---