WWE.com - Television - Smackdown (Preview - 21st March 2008)
---
Smackdown Preview
21st March 2008

Oceans Center
Daytona Beach, Florida





CHAMP ON THE END OF SOME NOT SO SWEET MUSIC
The World Heavyweight Champion, Shawn Michaels put on a lion's performance last week to overcome one of the toughest competitor's on Smackdown in Finlay. It looked like it would be a somewhat more straight forward night for The Heartbreak Kid with his Wrestlemania opponent, Edge banned from ringside for the match by Smackdown General Manager William Regal. However, that didn't prove to be the case as The Rated R Superstar stormed the ring after Michaels' match, not during as per Regal's orders. Michaels barely had time to stand up to have his arm raised before he was sent back down to the mat by the number one contender for his World Championship. Edge wasn't done there, not by any stretch of the imagination as he gave the show stopper his first experience of a con-chair-to.

Just what condition is Michaels in as we get closer and closer to Wrestlemania?

THE DEAD MAN RETURNS TO SLAY THE BULLDOZER
Just when you think it is safe to announce the end of The Undertaker, the phenom always seems to make his presence felt. That is exactly what he did again last week, sending one emphatic message to his Wrestlemania opponent, Umaga by returning out of nowhere and chokeslamming the hell out of The Samoan Bulldozer. It was an ironic sight as the dead man stood tall over The Samoan Savage just two weeks before they meet in what should be one brutal Last Man Standing Match at Wrestlemania.

With The Undertaker back on Smackdown, is Umaga in grave danger again this week?

MOST VALUABLE, BUT NOT MOST HAPPY!
MVP has certainly given Raw's Head of Authority, Eric Bischoff a few extra headaches since the Smackdown superstar was named as one of the competitors in the upcoming Money in the Bank Ladder Match at Wrestlemania. Travelling to Raw and causing trouble for him the past several weeks, Bischoff made a stand Monday night and banned MVP from coming to the arena. The Franchise Player wasn't in the best of moods having lost to Chris Jericho last Friday night, and with this adding to his frustrations, the highest paid star in Smackdown history may have a few choice words this coming Friday night.

UK BOYS DOING SMACKDOWN PROUD
We received one big shock last Friday night when Eric Bischoff travelled to Smackdown and made a deal with William Regal that led to them announcing that at Wrestlemania in less than two weeks, The UK Pack won't just be defending their WWE Tag Team Championships against The Pitbulls. The twist sees the two Smackdown teams taking on Raw's World Tag Team Champions of Paul London & Brian Kendrick as well as John Morrison & The Miz, with both titles on the line. If either champions defeat the other, they will immediately receive both titles. However if one of the challenging teams wins the match, they will win the loser's brands titles. With so much at stake this past Monday, The UK Pack travelled to London & Kendrick's home turf and were able to defeat them, sending a message to all three other teams in the huge match at Wrestlemania.

It has also been stated that this Friday in Daytona Beach, one representative of each team will compete in a fatal fourway match. Which team will gain a psychological advantage?

FOUR'S A CROWD FOR DYKSTRA
If anyone has even been guilty of making life more difficult, Kenny Dykstra jumped to the top of the list last week. After another argument with Michael Shane last Friday, the Cruiserweight Champion quickly learnt what his Wrestlemania fate would be, as William Regal announced a number one contendership match Shane and two more of Dykstra's rivals, Chavo Guerrero & Matt Sydal. Thinking that cutting the match short with a disqualification would get him out of defending his championship, Dykstra attacked Shane when it looked as if the two bitter rivals would meet at the biggest spectacle in sports entertainment. That was not to be the case as Regal laid out just what challenge the champion would face, all three of the contenders in a fatal fourway match.

Dykstra was visibly angry, just what we can expect the loud mouth to say this Friday?

THE MASTERS AREN'T SO MASTERFUL IN THE HARDCORE WORLD
For weeks we have seen Charlie Haas & Chris Masters take their actions to the extreme with some vicious attacks on former ECW Champion, Tazz, as well as his friends, Tommy Dreamer & Stevie Richards. Smackdown GM, William Regal has made it perfectly clear to The Masters of the Mat that he would not tolerate such actions, and last week he gave them a challenge that would really push them in to the extreme, a hardcore match. Masters & Haas took on Dreamer & Richards and finally learnt their lesson, as Dreamer was able to dodge a Singapore cane shot from Masters that ended up knocking Charlie out. Dreamer took charge from there and finished Masters off with a splash through a table.

What kind of mood can we expect The Masters to be when they roll in to The Oceans Center?

PLUS
Find out who will be unveiled as the penultimate inductee in to the 2008 WWE Hall Of Fame Class.
CONFIRMED FOR THIS FRIDAY ON SMACKDOWN
Harry Smith
vs. Paul London
vs. John Morrison
vs. Jamie Noble

Matt Sydal
vs. Michael Shane
Re: WWE: A Strong Response
---
Once again i was unable to get a review up for your show as i am lazy and i know you are probably getting sick of these messages but i will try and get one up for your next show as i really do enjoy this thread and i continue to post on here just to let you know that i am supporting this thread and its cause on the road to Wrestlemania. okay few comments on current storylines:

Shawn Michaels getting one man conchairtoed he will probably not be 100 % so hopefully he is not to vulnerable come Smackdown.

Umaga will probably get one up on Undertaker this week just not to make Wrestlemania result to predictable.

The whole tag team title scene is very interesting i have no clue what is going to happen next.

Dykstra looks like he may be in a bit of trouble at Mania. I guess he will come out this week and flap his gums about how it is unfair before somebody shuts him up.

I can maybe see The Masters having a bit of friction between them because Chris hit Charlie with Singapore Cane.

Overall i am looking forward to the show and your preview is looking first class as per usual.
---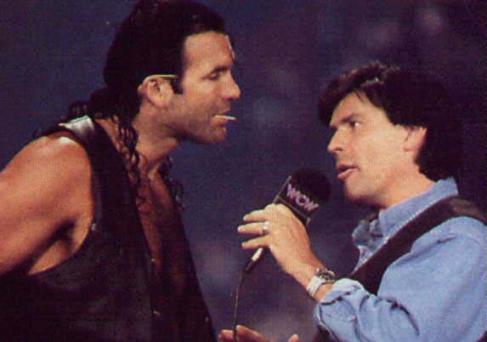 WWE.com HOMEPAGE - Smackdown Results (21st March 2008)
---
Smackdown Results
21st March 2008

Oceans Center
Daytona Beach, Florida



***VIDEO RECAP***
FROM LAST WEEK

Shawn Michaels defeating Finlay with Sweet Chin Music in the main event with Edge then charging down after the bell and attacking him, ending with a Con-chair-to.


***OPENING VIDEO***
"Rise Up"


***PYRO***
***PYRO***
***PYRO***
***PYRO***

"Metalingus" hits as a very smug looking Edge walks down to the ring in his casual clothes to a ton of heat from the crowd. He gets in the ring and goes over to collect a microphone before walking in to the centre of the ring and standing still with a huge smile on his face as the crowd boo him. He then asks them if they enjoyed what they saw last week, reminding them of what he did to Shawn Michaels last week and asks for the footage to be shown again, which it is. The crowd crap all over it as Edge then says that he calls that a statement of intent, a statement that he can dispose of Shawn easier than everyday garbage that you just throw in the trash. He then says as the crowd boo that they might not know it, but due to the unfortunate actions of last week, Shawn was sent to hospital and diagnosed with a concussion, sarcastically calling it a real tragedy so close to the biggest challenge of his life. Giggling away, he then says that there was a hidden message in that statement, and that is for Shawn's own sake, he does the right thing for himself and forfeits the title right now to avoid embarrassment at Wrestlemania. He follows on to say that Shawn might not even be cleared to compete then, and even if he is, he doesn't stand a chance.

The fans continue to boo Edge, but he welcomes it and carries on to say that he attacked Shawn for his own good, saving him the pain of suffering the most earth shattering moment of his life. He says that deep down, Shawn knows he doesn't stand a chance of leaving as World Heavyweight Champion, and as much as Shawn likes to call himself the show stopper, it's time for the show to be stopped. With heat just oozing from the crowd, Edge then says that the show stopper and Mr. Wrestlemania won't just be stopped, they will cease to exist and die, but all of a sudden, "Sexy Boy" blasts out to a huge pop as Shawn Michaels walks down to the ring in jeans, shirt and a jacket with the World Championship on his shoulder. Edge looks stunned to see Michaels as HBK grabs a microphone and then says as much as Edge would like to think so, he's made a very small yet critical mistake, and that's not quite getting the job done. With Edge looking angry, Michaels says that even though he's had a bell ringing in his head for the past week, nothing is going to stop him from defending the World Championship and beating Edge at Wrestlemania in nine night's time in Orlando, Florida. Edge doesn't look happy at all, but Michaels carries on, telling Edge that many people during his career have talked the talk going in to a match with the show stopper, but says that not many have been able to walk the walk.

The fans like that and cheer with Michaels then saying that Edge has made the one mistake that he shouldn't have made, and that's making things between them more than just business, because now it's personal. He says that thanks to having his skull smashed last week by a steel chair, Edge has woken the side of Shawn Michaels that not even he (HBK) can control, the ruthless, sadistic Shawn Michaels. Edge cuts in and says that if anyone can do sadistic it's him and tells him to think back to last week to when he got his bell well and truly rung. He then tells him to think back a couple of years to Wrestlemania and the hardcore match with Mick Foley, then says that he's done sadistic, been there, seen it and bought the damn ticket. Edge looks very smug after that, but Shawn then says that he's not quite as close to the same stage in his career as Mick was back then, but then reminds Edge that he's still the top dog and most importantly, the World Heavyweight Champion. He carries on to say that if Edge wants to change that, he (Edge) has to beat Mr. Wrestlemania on his favourite playground, and says that it's not going to happen over his dead body, saying it will take a lot more than a con-chair-to to beat the show stopper because Mr. Wrestlemania will once again rise to the occasion.

The crowd cheer like mad for him, and he continues to say that it means everything to be a World Champion at this stage of his career and tells Edge that he's going to make damn sure it carries on for as long as possible, and to make sure a man he despises doesn't rob of him his title, and more importantly, his pride. Edge smirks and then says Shawn has to accept that the clock is ticking and that the time will come at Wrestlemania, because the whole career of HBK is going to come tumbling down around him, and there's not a damn thing the old timer can do to stop it. Michaels seemingly takes it coolly, but then removes his jacket with Edge then screaming at him to make sure it all falls down on him now, goading him in to fighting, but we then see William Regal walking out to the stage. He tells them to pack it in immediately and reminds us that Shawn isn't cleared to compete, but tells Edge that he is, and that he knows of someone who is in a similar position to Shawn, having been attacked several weeks ago. Edge looks confused with Regal then saying that this person is cleared to compete however as opposed to Shawn, and says that tonight Edge will go one on one with this individual, with this individual being The Undertaker. "Promenade" hits to a pop from the crowd as Edge rubs his hands through his hair while Michaels grins and then leaves the ring to leave a shocked Edge looking very concerned.


***COMMERCIAL BREAK***


***VIDEO PROMO***





***VIDEO RECAP***
FROM LAST WEEK

The closing stages of the triple threat match between Chavo Guerrero, Matt Sydal & Michael Shane for the Number One Contendership for Kenny Dykstra's Cruiserweight Championship at Wrestlemania. Shane getting ready to his the super kick, only for Dykstra to leave the announce table and hit him in the face with the title belt. William Regal then announcing that at Wrestlemania, it will be a fatal fourway match for the title.


***CUT TO THE ARENA***


***THE OPENING MATCH***

Matt Sydal
vs. Michael Shane

ENDING: Sydal grabs Shane by the wrist and tries for an irish whip, but it's reversed, and as Sydal comes back off the ropes, both men connect for a double clothesline, sending them both down to the mat. After spending several seconds on the mat, Shane & Sydal get back to their feet with the crowd chanting for Sydal, and he is able to duck a right hand from Shane and then connects with a FEINT ENZIGURI IN TO A HEAD SCISSORS TAKE DOWN. . . . . A big pop meets that one with Sydal racing back up to his feet and charging to the corner, where he then climbs up to the top rope as Shane makes his way back up to his feet. As Shane then turns round, Sydal leaps off the top for a DIVING CROSS BODY. . . . . Shane sees it coming and hits a dropkick in to Sydal's chest, with Sydal crashing down to the mat. Shane sits up and takes a breath before standing back up with a big smile on his face, and then walks in to the corner to tune up the band like his cousin. The fans boo as Shane urges Sydal up, and slowly Sydal gets back up and turns round, giving Shane the opportunity to walk out of the corner and go for some SWEET CHIN MUSIC. . . . . As Shane lifts his boot up towards Sydal's face, Sydal ducks it and shifts behind Shane, then spins Shane round and rolls him in to an INSIDE CRADLE. . . . . 1 . . . . . 2 . . . . . 3.


AFTERMATH: Sydal's music hits to a big pop as Shane sits up in shock as watches on as Sydal slips under the bottom rope to the outside, followed by the referee who raises his arm. Shane looks stunned and holds his head in his hands as Sydal slaps hands with the fans as he backs up the ramp with a big smile on his face.

WINNER: Matt Sydal by pinfall @ 6.44


***CUT BACKSTAGE***


Leticia Cline is standing by and she introduces us to her guest, Montel Vontavious Porter, MVP. He walks in to the crowd with heat coming from the arena looking very serious with Leticia then asking him how he felt about being banned from Raw by Eric Bischoff this past Monday. MVP looks very agitated and rants a little, saying that Bischoff is an idiot, and more importantly a poor excuse of a business man, because everyone knows that MVP equals ratings. He says that Raw's ratings have been at the highest levels in recent memory since he's been appearing on Monday nights, but then says that if Bischoff can't see him for the star attraction that he is, then it's his own damn fault. MVP looks to have calmed down after getting that off his chest as Leticia then asks him how he feels about what Bischoff has organised for him tonight by sending a Raw superstar over to face him later on. MVP smirks and says that he's more than ready to face anyone from Raw or even anyone in the world right now he feels that good. He says that no matter who it is, it's his time, his destiny to make that step up to the next level, because there is nothing that is going to stop him on his path of walking in to Wrestlemania, climbing to the top of the ladder and reaching up to lay his hands on the one thing he deserves ahead of everyone in this business, the Money in the Bank contract. With the fans booing in the arena as MVP looks all intense, The Franchise Player says there is no getting round the fact he will grab that contract, and after that, he goes after the one prize he's yet to cease, the World Championship. He looks in to the camera and says it doesn't matter which champion will be in the line of fire, because once this phenomenon comes knockin, the WWE will be rockin to a new World Champion, MVP. He grins and walks out of the shot as Leticia giggles ever so slightly.


***COMMERCIAL BREAK***


Chavo Guerrero is stood in the hallway as Matt Sydal walks up to him, straight from the arena. Sydal stops and looks at Chavo, not sure of what he's going to do. Chavo stares at Sydal for a couple of seconds before saying he did a good job out there, but we then hear some clapping in the background. Sydal looks behind Chavo, who then turns round with both of them not looking impressed as Kenny Dykstra, the Cruiserweight Champion walks in to the shot, still clapping, albeit sarcastically with a stupid smirk on his face. He says well done to Sydal, again sarcastically and says that as much as he enjoyed Shane getting his ass kicked, he doesn't want Matt getting carried away. He then says the same applies to Chavo and warns them that beating Shane is one thing, but says that he's the one to beat, he's the one they need to worry about. Chavo & Sydal look angry at the arrogance of Dykstra, who then tells them that since winning the title at the Survivor Series, no one has even come close to taking the title off of him, then tells Sydal to ask Chavo all about that, but Chavo speaks for himself.He tells Dykstra that he's wrong, he's not the man to beat, pointing out that Kenny doesn't have to be involved in losing the title at Wrestlemania, and then tells Dykstra that things happen when you don't expect them, and maybe that time is coming. Kenny looks pissed for a second, but then pretends to be cool about it by saying that neither of them or even Shane for that matter worries him in the least, then mentions that he beat seven men, including those two at the Survivor Series to win the title in the first place. Sydal & Chavo look disgusted by Kenny as the champ then says that he's got it in the bag at Wrestlemania and that there's not a damn thing they can do about it. He then tells them to keep up the good work, turns round and leaves laughing. Sydal turns to Chavo and says that he hopes to god one of them beats him as Chavo nods his head while staring back up at the hall.


***VIDEO RECAP***
FROM LAST WEEK

The Extremists taking on Chris Masters & Charlie Haas in a hardcore match. Masters accidentally hitting Haas with a Singapore cane, with Dreamer then using it on Masters before splashing him through a table for the victory.


***CUT TO THE ARENA***


***MATCH #2***

Tommy Dreamer w/Stevie Richards
vs. Finlay

ENDING: Dreamer blocks a right hand from Finlay and is able to whip the Irishman in to the corner. The Extremist takes a second before running in, and as he gets to his target, Finlay reacts by lifting his elbow up in to Dreamer's face, sending him staggering out of the corner. Finlay waits for Dreamer to turn round, and as he does, Finlay runs out and tries to connect with a clothesline. Dreamer sees it coming and ducks it, and as Finlay turns round, Dreamer stomps him in the gut and pulls him in to position for the DREAMER DDT. . . . . A pop erupts, but Finlay fights it and is able to slip behind Dreamer, then plants him with a SIDE RUSSIAN LEG SWEEP. . . . . The Irishman is in a rush as he hooks his opponent's leg for a cover 1 . . . . . 2 . . . . . Dreamer lifts his shoulder up, leaving Finlay frustrated, but he's getting on with things. He stands back up and pulls Tommy back up to his feet, then turns back to run the ropes, but as he comes back, Dreamer steps forward and catches Finlay off guard by nailing him with a BACKBREAKER SLAM. . . . . Another pop breaks out as Dreamer nails that, and he looks to wrap it up by going for a cover 1 . . . . . 2 . . . . . Kick out from Finlay, but just! We then see Chris Masters & Charlie Haas, The Masters of the Mat running down the aisle and attacking Stevie Richards on the outside, beating him and tossing him in to the steel steps. Dreamer hears the bang and walks over to the ropes and tries to get at them, but the referee steps between Tommy and the ropes as Masters & Haas taunt him. Finlay is coming round and making his way back up as this unfolds, and as the ref is able to calm Dreamer down, Finlay approaches behind him and pulls him away from the ropes. Taking him off guard, Finlay then lifts Dreamer up and is able to nail THE CELTIC CROSS. . . . . A lot of boos ring out as Finlay hooks both of Dreamer's legs for the cover 1 . . . . . 2 . . . . . 3.


AFTERMATH: "Lambeg" hits to heat from the crowd as Finlay quickly leaves the ring as Masters & Haas enter it under the bottom rope. Haas walks over to Dreamer and quickly applies The Haas of Pain, causing Dreamer to scream out in pain. Masters walks round to Dreamer's head and drops to his knees to talk smack at him before leaving the ring and looking under it. As Haas continues to make Dreamer suffer, Masters pulls out a table from under the ring and slides it in to the ring with Haas then letting the hold go. Stevie bravely climbs back on to the apron, but Masters sees him coming and knocks him off with a hard kick to the ribs. He walks back over to Dreamer and tells Haas to set the table up, which he does as The Masterpiece then drags Dreamer up to his feet with the table in front of them, and seems to be setting him up for The Masterlock. However, as he applies the full nelson grip, instead of holding on for the submission, he lifts Tommy up in to the air and then drives him through the table with a Full Nelson Slam to heat from the crowd. He and Haas celebrate in the ring with high fives and pose for the crowd who crap all over them.

WINNER: Finlay by pinfall @ 5.12


***VIDEO PROMO***





***COMMERCIAL BREAK***


The Masters of the Mat are walking through the back, laughing and joking after what they just did to Dreamer & Richards, but they caught off guard as they walk right in front of a pissed off William Regal. The Smackdown GM asks them what the hell they thought they were doing moments ago, but Masters stands up to Regal and shows him no respect by saying that he wanted them to be hardcore last week and that they're carrying on just like Regal wanted. Regal looks like he's going to snap as he tells them that he's sick of them disobeying him and showing absolutely no respect for authority. With Masters & Haas not looking that bothered as they grin through it, Regal then says that they've had plenty of warnings in the past regarding consequences being placed upon them for their actions. Masters & Haas look at each other and smirk, only for Regal to then say that he's had it up to there with him and says that as of right now they're suspended. They look stunned and Masters explodes and tells Regal that he can't do that, but Regal says he can do whatever he pleases and that he doesn't want to see them until after the draft show where he hopes to god that they get switched to Raw. Haas takes a stand and tells Regal he's going to regret it, but Regal just says sarcastically "of course, I will" before calling for security to escort them out of the building. Masters turns back as they're led off and tells Regal that they'll be back soon enough, but Regal says any day will be too bloody soon as he watches the security staff escort an angry Masters & Haas away.


***VIDEO RECAP***
FROM MONDAY ON RAW

The UK Pack defeating Paul London & Brian Kendrick, with Paul Burchill winning with the C4 on Brian Kendrick.


***CUT TO THE ARENA***


***MATCH #3***

Harry Smith w/Paul Burchill
vs. Paul London w/Brian Kendrick
vs. John Morrison w/The Miz
vs. Jamie Noble w/Kid Kash

ENDING: Smith remains on the mat and London is outside as Noble & Morrison go at it, with Noble countering a kick from Morrison. Holding on to his foot, he then lets go and whips Morrison in to the ropes, and as The Shaman of Sexy comes back, Noble puts a serious hurting on him with a TILT A WHIRL BACK BREAKER. . . . . Noble scurries across and hooks both legs as the ref makes the count 1 . . . . . 2 . . . . . Morrison just gets his shoulder up as Noble sits up and holds his head in his hands as Morrison drags himself over to the ropes. Noble argues with the call by the ref as Morrison then uses the ropes to help him up. Seeing this, Noble stands back up and then runs at Morrison, but he sees Noble coming and lifts him over his shoulder on to the apron. He turns round and looks surprised as Noble stands there, but he blocks a right hand from Noble and quickly reacts by driving his knee in to Noble's gut. As Noble holds his stomach, Morrison runs in to the corner, and then connects with a SPRINGBOARD DROPKICK. . . . . Noble is knocked off the apron as he falls against the barricade with Kash going to check on him as Morrison smirks and uses the ropes to help him up again while Harry Smith walks up behind him and pulls him away from the ropes. He kicks him in the gut and then lifts him up in to the air for a DELAYED VERTICAL SUPLEX. . . . . Cheers come from the crowd, but as he holds Morrison up there, it gives London the chance to rejoin the fold as he slides under the bottom rope and hits Smith with a dropkick to the chest. Smith falls back and to the mat, but Morrison falls and lands on his feet as London then goes for a SUPER KICK. . . . . Morrison grabs London's foot though and spins him round, then kicks him in the gut and plants him with a CORKSCREW NECKBREAKER. . . . . Miz punches the air on the outside as Morrison rushes to make the cover 1 . . . . . 2 . . . . . 3.


AFTERMATH: "Ain't No Make Believe" hits to heat from the crowd as a delighted Morrison slips to the outside to join The Miz as they raise their arms in the air and back up the ramp as Burchill joins a frustrated Smith in the ring, who stands back up and stares at Morrison & Miz. Kendrick gets in the ring and checks on London as Noble comes round on the outside with Kash alongside him.

WINNER: John Morrison by pinfall @ 6.38


***CUT BACKSTAGE***


Josh Matthews is standing by and then introduces his guest to us, Umaga & Armando Alejandro Estrada. They don't look happy as they walk in to the shot, but they become even more angry as Josh then says that first off, he wants to get their thoughts of what happened last week and shows us the clip from last week that saw The Undertaker surprise Umaga before his match could start, attacking both Umaga & Estrada, ending in a chokeslam. As we cut back to the interview set, Umaga & Estrada are livid, and Estrada asks Josh if he knows how lucky The Undertaker is for them not filing a suit against him. Josh asks him if he's serious and Armando says that he's not because Umaga is going to go one better and make the dead man himself sorry at Wrestlemania because nobody puts their hands on Umaga & himself like The Undertaker did and gets away with it. he then says that they don't take kindly to being the victim of a sneak attack like that by anyone, Umaga especially, but says that The Samoan Bulldozer will show Taker who the real bully is at Wrestlemania when he takes away at the same time, the winning streak and the career of The Undertaker.

Boos can be heard coming from the arena as Estrada then looks straight in to the camera and tells Taker not to underestimate Umaga because on his day, no can stop The Samoan Bulldozer, not even the legendary Undertaker. He remains very serious as he stares in to the camera with a heavy breathing Umaga behind him for a couple of seconds before they then walk out of the shot. Several seconds later though, Josh looks round and sees John Morrison & The Miz walking his way, both looking very happy. Josh steps out in front and asks them if he can have a few seconds, but The Miz takes over and says that there's not long to wait now until they have gold around their waist and superstardom scoops them up off of their feet. A calmer Morrison then says that Wrestlemania can't come quick enough because their names are already written in the stars, in gold, because their quest to reach the big time is nearly complete. Miz agrees, saying "he's dead right baby" before he and Morrison then walk off very happy as Josh watches on.


***VIDEO PROMO***





***COMMERCIAL BREAK***


An agitated Michael Shane paces up and down his locker room as a nervous looking Edge laces up his boots, seemingly not listening to Shane ramble on as he says that he got screwed against Matt Sydal earlier. He says that the ref is to blame for a quick count and if the same thing happens again at Wrestlemania with the Cruiserweight Championship on the line, there'll be hell to pay. Edge then stands up and tells Shane to shut up and forget about it. Shane looks stunned as a very on edge Rated R Superstar tells him to put it in the back of his mind, but if he's that pissed, to make a statement like he did at Shawn Michaels' expense last week. Shane looks on as Edge tells him that if he wants to make a point, then he should do it and to make it quick and fast so no one sees it coming like Michaels last week and to do it fast because he has a real problem tonight. He stops and looks at Shane for a couple of seconds before saying that he has to face an angry as hell Undertaker later on, and that he'd quite happily swap positions with him. Shane takes it on board and apologies to Edge and says that he'll deal with his problems next week and that he'll be by his side tonight for his match. Edge then tells Shane that's more like it as they need to focus right now on The Undertaker and nothing else to prove to Shane's cousin, Shawn Michaels and the entire world just what good old HBK is dealing with at Wrestlemania in nine nights time, and that is the man who will single handedly rape Shawn Michaels of not just his title, but his legacy. Shane smiles and says he likes the sound of that and tells Edge to make it happen, and Edge replies by saying he can bank on it. The now calmer duo settles down as Edge returns to getting ready for his match.


***CUT TO THE ARENA***


"I'm Comin" hits as MVP struts down to the ring in a confident manner, and then waits with a smug grin for his opponent. It's almost silent as the crowd await the entrance of MVP's opponent, and after about five seconds, "Hell Will Be Callin Your Name" hits to a pop as Bobby Lashley makes his way down to the ring with his game face on while MVP looks stunned.


***MATCH #4***

Bobby Lashley
vs. MVP

ENDING: Lashley urges MVP to get up to a vertical base, and as The Franchise Player sits up, Lashley loses patience and walks over to try and pull him up. MVP reacts quickly though by punching Lashley in the chest as he remains on his knees, and then lands another to the gut of Lashley. MVP then stands up and hammers Lashley square in the head with another right hand before turning back and running in to the ropes. As he comes back off, Lashley shakes the cobwebs off and nails MVP with a SPINEBUSTER. . . . . A big pop rings out as Lashley then goes for a cover 1 . . . . . 2 . . . . . NO! . . . . . MVP gets his shoulder up, leaving Lashley a little stunned, but he shrugs it off quickly as he stands back up and walks in to the corner, seemingly stalking him for a SPEAR. . . . . Lashley looks ready to gut MVP in half as he starts to come back round, and as the half man, half amazing superstar gets back to his feet and turns round, Lashley charges right at him, but MVP sidesteps it with Lashley running through in to the corner pads. MVP turns round straight away and grabs Lashley by the tights, rolling him in to a SCHOOLBOY. . . . . 1 . . . . . 2 . . . . . Lashley kicks out with force as both men rush back up to their feet, and Lashley thinks quickest by ducking a right hand and then setting MVP up for a T BONE SUPLEX. . . . .

MVP fights it though and is able to escape Lashley's grasp by driving his elbow in to the side of his head, and then takes Lashley off guard with a SNAP DDT. . . . . MVP is in a hurry as he turns round and yells at the ref to make the count 1 . . . . . 2 . . . . . NO! . . . . . MVP is left holding his head in his hands as Lashley kicks out. MVP looks furious, but he stands right back up above Lashley and taunts him before going for THE BALLIN ELBOW. . . . . Just as he's about to drop it, Lashley rolls to the side with MVP hitting nothing but mat to the delight of the crowd. Both men are back up quickly, and Lashley grabs MVP from behind and sends him overhead with a FLIPPING RELEASE GERMAN SUPLEX. . . . . That gets a big pop, and the momentum takes MVP under the bottom rope and to the arena floor. The ref starts to count MVP out as Lashley slowly makes his way back up to his feet and waits patiently for MVP to get back in. At the count of five, MVP starts to stand back up with Lashley then gesturing for him to get back in, but MVP takes a look right back and doesn't seem interested and turns his back on the ring. Lashley looks shocked as MVP then walks up the ramp as the ref's count continues and gets to 10 with Lashley looking gobsmacked.


AFTERMATH: The crowd boo MVP as he walks to the back while Lashley watches on in disbelief.

WINNER: Bobby Lashley by Count Out @ 7.02


***VIDEO PROMO***


***COMMERCIAL BREAK***
***VIDEO PROMO***

Clips of Shawn Michaels, Randy Orton, John Cena, Edge, Kane, Jeff Hardy, CM Punk, Triple H, Batista, Ric Flair in studio shots posing under bright lights and a black background

VOICEOVER: There is one spectacle that eclipses them all. . . There is one spectacle where the best showcase their talent. . . There is one spectacle where dreams are shattered. . . This spectacle will return to create new dreams, for this spectacle is Wrestlemania. . .




9 DAYS TO GO!


***CUT TO THE ARENA***


The ring is set up for the United States Championship Contract Signing with William Regal proudly stood just behind the table. He then announces that at Wrestlemania, Matt Hardy will be defending the United States Championship against Shelton Benjamin, and that in a matter of moments they will both sign a contract to make it official. Regal then introduces the challenger and "Ain't No Stoppin Me" plays as a casually dressed Shelton Benjamin walks down the aisle with a big grin on his face to a lot of heat from the crowd. Shelton shakes hands with Regal once he's in the ring and then sits down in the leather chair, leaning back and looking very relaxed as Regal then introduces the champion. "Live for the Moment" blasts out to a huge pop as Matt Hardy walks down to the ring in his street clothes along with Shannon Moore. Once Matt gets in the ring, he too shakes hands with Regal, gives the belt to Moore and grabs the contract straight away, then signs it and slides it in Shelton's direction, staring right through him intensely. Shelton takes great pleasure in seeing Matt so wound up, and so stands up and picks up a microphone from the table. He looks over at Matt and asks him if he wants to take a second instead and think about just what he's getting involved in.

Matt just stares right back at Shelton as he says that everyone is overlooking something about Wrestlemania this year, saying all people are talking about is The Undertaker's winning streak, Evolution getting back together to face The McMahon's, Shawn Michaels defending his World Championship against Edge, and the crazy freak from Raw, Kane challenging for the WWE Championship. As they all look stunned, Shelton then says that the real talking point about Wrestlemania after it's all said and done will be him beating Matt Hardy and becoming the United States Champion, getting a lot of heat from the crowd. Matt smirks a little and then picks up a microphone and says that it's too late and guesses that he'll just have to take his chances, but then says if Shelton wants to make a statement right now, he's more than happy to create a talking point of his own. Shelton grins and walks round the table, getting closer to Matt. He says that Matt already knows he's not up to the golden standards and tells Matt he's living in denial, then says that he needs a pathetic crawler like Shannon Moore to give him the answers and reassurance that he wants. He then says that it's pointless even thinking about winning at Wrestlemania because it's just not going to happen, and then tells Matt that he knows he's not been sleeping since the day he found out about having to face him for the title.

Shelton says that he knows it's eating Matt up inside that he knows he just can't beat The Gold Standard, calling it a lost cause. Matt then challenges Shelton to put his money where his mouth is and to sign the contract. Shelton goes to collect the contract and asks Matt just before he signs it if he's sure he wants him too, with Matt saying he wants to get his hands on Shelton more than he could possibly imagine. Shelton grins and tells Matt to come real close as he signs the contract and effectively ends Matt's reign as US Champ. Matt shakes his head and then walks over to watch on as Shelton signs his name on the dotted line, but Shelton's not done. He lifts the contract up and puts it right in front of Matt's face, but we see Shannon Moore walk up behind Matt as he then smashes him in the side of the head with the title belt, knocking Matt down to the canvas. The crowd boo like crazy as Shelton then stomps the hell out of Matt, but Regal tells him to pack it in right now or he'll tear up the contract himself and cancel the match. Shelton reluctantly stops, but he and Moore grin as they look down at a motionless Matt before dropping the title on his chest. They then leave the ring and walk up the ramp to a ton of heat while EMT's come down and check on Matt as Regal watches on concerned.


***VIDEO PROMO***


***COMMERCIAL BREAK***
***VIDEO PROMO***

We see a video clip showing the highlights of the career of "Stonecold" Steve Austin.




2008 INDUCTEE: "Stonecold" Steve Austin



***CUT TO THE ARENA***


***THE MAIN EVENT***

The Undertaker
vs. Edge w/Michael Shane

ENDING: Taker pulls Edge up to his feet and holds on to him by the arm as he then pulls him over to the corner and climbs up to the top rope, looking to hit a little OLD SCHOOL. . . . . Taker walks the rope to a big pop from the sell out crowd, but Michael Shane comes to Edge's aid by walking round and distracting Taker by standing right by him. Taker looks down with distain at Shane, giving Edge the chance to pull Taker down off the top rope, resulting in Taker crash landing on the mat. Edge takes a short breather before walking over to the corner and climbing to the top rope as Taker starts to stand back up. Edge then reacts as Taker turns round by leaping off the top and taking the dead man back down with a MISSILE DROPKICK. . . . . Edge frantically scurries across and hooks both of Taker's legs, watching on with desperation as the referee counts the dead man's shoulders 1 . . . . . 2 . . . . . Easy kick out for Taker, but Edge isn't happy as he stands back up to his feet and takes several steps back as Taker sits back up. The Rated R Superstar's eyes look crazed as he then runs towards Taker and tries to drive his boot in to the phenom's face, but Taker ducks his head as Edge runs through against the ropes. Taker then stands back up as Edge then races back to his opponent, with the dead man planting him with a SIDEWALK SLAM. . . . .

The fans like that and a pop breaks out with Taker following up for a cover 1 . . . . . 2 . . . . . Edge gets his shoulder up, but Taker isn't going to take it easy as he picks himself back up and then reaches down to pull the number one contender up to his feet. He then scoops Edge up on to his shoulder and runs in to the corner, dropping Edge head first on to the turnbuckle pads. . . . . SNAKE EYES. . . . . Edge turns round all dazed as Taker runs back in to the ropes, runs back and drives his huge boot right down Edge's throat to a huge cheer from the crowd. Taker watches on as Edge struggles to stand back up, and once he's up, he turns round to the sight of The Undertaker grabbing him around the throat and then sending him crashing with a THUNDEROUS CHOKESLAM. . . . . The crowd are in raptures as Shane looks concerned on the outside. Taker then signals for the end, dragging his arm across his neck before reaching down and dragging Edge right back up. The dead man scoops him on to his shoulder and sets him up for THE TOMBSTONE PILEDRIVER. . . . . Shane reacts on the outside and slides under the bottom rope behind Taker and clubs him across the back, causing the referee to call for the bell.


AFTERMATH: Edge just drops to the mat as Taker loses the grip, but remains on his feet to turn round and see Shane still standing there. Shane begs Taker not to touch him, but the dead man instantly grabs him around the throat as we see Umaga & Estrada coming down the aisle, but Taker can't see them as he chokeslams Shane down to the mat. As he stands over Shane, Umaga enters the ring and walks up behind Taker, who then turns round in to an uppercut thrust as the bell is rung frantically. Umaga then grabs Taker by the head and head butts him three times, sending him down to his knees. Umaga then pulls Taker back up and whips him in to the corner, charges in and connects with the Samoan Wrecking Ball. Taker drops flat on the mat as Umaga stands tall, but Estrada yells instructions from the outside to Umaga as Taker starts to pull himself up slowly by the ropes.

Umaga lies in wait, but Edge too is getting up, and as Taker steps out of the corner, it's Edge who reacts first by charging at him and spearing him back down to the mat. Edge sits up with a big smirk on his face, only for Shawn Michaels to race down the ramp, but he stops as he sees Edge stand back up and turn round to come face to face with Umaga. Edge looks to each side before pointing at Taker and holding his hands up as if to say he's done nothing wrong. Umaga is breathing very heavily and grabs Edge around the neck as HBK watches on to see Edge fall victim to the Samoan Spike, getting a pop from the crowd. Michaels smiles, but Umaga quickly turns his neck to stare at the World Champion as an uneasy World Champion stares back as Smackdown comes to a close.

WINNER: The Undertaker by DQ @ 7.41


***END OF SHOW***


QUICK RESULTS
Matt Sydal df. Michael Shane
Finlay df. Tommy Dreamer
John Morrison df. Paul London, Jamie Noble & Harry Smith
Bobby Lashley df. MVP
The Undertaker df. Edge

DARK MATCHES
Afa Jr df. Super Crazy
Johnny Jeter & Shannon Moore df. Drew McIntyre & Stu Sanders


CONFIRMED FOR WRESTLEMANIA XXIV


Official Theme Song
Fall Out Boy "Thanks For The Memories"
To view the amazing video, click here!
WWE Championship
John Cena vs Kane vs Randy Orton (c)

World Heavyweight Championship
Shawn Michaels (c) vs Edge

The Ultimate Grudge Match
Evolution vs The McMahon Men

Last Man Standing Match
The Undertaker vs Umaga

Money in the Bank Ladder Match
Chris Jericho vs Bobby Lashley vs Rey Mysterio
vs Mr. Kennedy vs Elijah Burke vs MVP

Intercontinental Championship
I Quit Match
Jeff Hardy vs CM Punk (c)

WWE Unites States Championship
Matt Hardy (c) vs Shelton Benjamin

WWE Cruiserweight Championship
Chavo Guerrero vs Matt Sydal
vs Kenny Dykstra (c) vs Michael Shane

WWE & World Tag Team Championships
The UK Pack (Paul Burchill & Harry Smith) (c) vs The Pitbulls (Jamie Noble & Kid Kash)
vs Paul London & Brian Kendrick (c) vs John Morrison & The Miz

Womens Championship
Title Can Change By Disqualification
Victoria vs Beth Phoenix (c)


WWE Hall of Fame Class of 2008
Owen Hart, "The Million Dollar Man" Ted DiBiase, "The Nature Boy" Ric Flair, Ricky "The Dragon" Steamboat,
The Rock, "The British Bulldog" Davey Boy Smith & "Stonecold" Steve Austin

1 more inductee to be announced



Re: WWE: A Strong Response
---
SMACKDOWN REVIEW
BY SC2004.

HERE GOES!

- Liked Edge's opening comments. His arrogant and sarcastic character was at it's height here when he discussed attacking Michaels last week and disposing of him like everyday garbage. You've sold the attack by stating Shawn had a concussion, so I hope he sells it tonight. I'm sure Edge didn't expect to see Shawn, glad he seemed surprised. Nice line from Michaels in relation to Edge not getting the job done. Very nice, bringing up the Edge and Foley match at Mania. That sells Edge as a real threat. Shawn Michaels is Mr WrestleMania and it's cool to see him throwing that fact in the face of Edge. The last paragraph really intensified the fact that this is a class of two distinct wrestling generations and how Edge claims to be the pretender to the throne that HBK sits upon. Edge versus Taker, a huge match for TV. This promo was great and achieved everything it needed to in order to hype the world title match for Mania in nine days time.

- The Sydal, Shane match was a logical booking given the events from last week and of course the fact that these two will be part of that big fatal four way match at Mania. Not a bad opener. Nice and short, which is what I like. As you're well aware, I'm not a big match fan, still laughing over my nomination for best match writer! LOL.

- Great line here with MVP knocking Eric's business credentials stating that by banning him, he made a mistake as MVP equals ratings. Nice! Like how MVP is talking about his destiny and stepping up to the next level. If only the WWE would go this route! This interview succeeded in that it showed the world that MVP is not only confident and cocky because we already knew that. It showed that he is ready, ready to step up and be a top guy because he has self belief now and it shows.

- Again, another great backstage segment here involving Sydal, Dykstra and Chavo. Much in the same vein as MVP, Dykstra appeared cocky and confident. Hell he has a right to be given the length of this championship reign. However unlike MVP, Dykstra is putting on a brave face and that became obvious when Chavo mentioned the fact that Dykstra doesn't have to be pinned to loose the title at WM.

- Finlay wins it by pinfall, but it was not a clean victory in any sense of the word as Dreamer lost due to the distraction on the outside. I just want to say that those video recap's you consistently place throughout your shows are very helpful to the reader and help joy one's memory. The aftermath was typical but effective.

- You're getting as bad as me for using graphics throughout. I always feel they add something to a show and I'm sure you'll agree. I guess the backstage stuff with Regal and The Masters of the mat got across Regal's frustrations and also showed he is not afraid to use his power to punish people, yet I don't think this segment did anything for The masters of the mat that hadn't already been achieved in the previous segment.

- Something that consistently stands out in your booking is the willingness to use mid-card guys and take risks on unknowns. It's brave. There seems to be a reliance on top guys by bookers on here, I'm often at fault myself, but you seem to strike a nice balance between top guys and mid-card guys. This fatal four way had a lot happening mainly because of all the guys on the outside. I'm a big Morrison fan and I'm glad he got the win.

- You seem to have a lot more backstage segments this week, which I personally like. I figure it's down to WM fast approaching and you need to cover a multitude of storylines. The Umaga, Estrada comments weren't earth shattering by any means, but we do now Umaga is pissed off, but we already expected that. Nice shift at the end with the Miz and Morrison getting some mic time.

- In the backstage segment with Edge and Shane you conveyed just how "on edge" Edge is tonight. Pun slightly intended!!! LOL. I think you needed to show a less nervous, more focused Edge. He admitted he had a point to prove tonight in order to show Michaels what he's in for at Mania, which is true, but maybe in order for us to believe in him, we need to see the Edge that took on Foley two years ago.

- Ugh! Bobby Lashley, can't say I was ever a fan TBH. This would be a cool match up though, between Lashley and MVP. Odd finish. I guess you need to keep both men strong and a clean finish may of damaged the losers credibility going forward. Still MVP walking away contradicts everything he said earlier tonight.

- It's admirable that you've placed so much importance on the United States championship match up for WrestleMania. The contract signing is a novel idea that I like to use a lot, however I find it off that the match is being signed so close to WrestleMania. Great comments by Benjamin in reference to how people are over looking the match because there are so many other big matches signed for mania. Gee Wiz, Shelton is getting a lot of mic time and he usually sucks. At least what he's saying makes sense. He wants to make some history at Mania by beating Matt and becoming US champion. Nice swerve at the end with Moore, I liked that a lot.

- The finish to the main event didn't surprise me one little bit, though given how MVP and Lashley ended you would have had some pissed off fans. As a booker I get this logical finish as with only nine days left until Mania both Edge and Taker need to remain strong. The Aftermath was booking by numbers until edge got a Samoan spike, that surprised me. Nice close to the show.

OVERALL: No need to recap as the review should provide enough detail. Just another great show from you. Really enjoyed it and the entertainment value was through the roof even though everything on this show was rooted in realism. Who needs sensational booking when you can do all of this and be realistic in doing so. Looking forward to Raw man!
---
Re: WWE: A Strong Response
---
D-K-L's Smackdown Review

This was a very good opening promo and it added a lot of hype for their match at Wrestlemania for sure. The promo started off just as you would expect with Edge boasting about what he did last week and he was perfectly in character. HBK has a significant disadvantage heading into Wrestlemania now with HBK having a consussion and I like it as it adds a lot to the rivalry. Great line from Edge when he said the show needs to be stopped. HBK appearing was a surprise at this point but I knew he would be on the show, and from then on the promo was brilliant. Loved the intensity between the two guys and I like how they aren't just brawling as this type of promo adds so much more to the feud. Edge goading HBK to hit him was cool and I can just imagine it too. Regal coming out was interesting as I was wondering what you could do with these two later on since HBK has a concussion, but this was a great decision by putting Edge in action. Taker versus Edge is a massive match to have on Smackdown and it should be great, but I expect Umaga and HBK to get involved somehow. Great promo.

A cruiserweight match is always a good way of kicking off the action. This match did a good job of hyping the Crusierweight title match at Mania and by having only two of the people from that match you aren't giving much away. This seemed like a decent match and the ending was done well, I love seeing the SSP but at least Shane won't look to weak after this.

I always love to see MVP get some interview time so I was pleased to see him get some time here. This was a very good interview and I liked what MVP had to say, you write these MVP rants very well. I hope what he is saying about becoming Mr. MITB is true but I'm not sure. I bet Leticia loved to hear a rant from MVP on only her second night!

Pretty good segment here, again adding more hype to the match at Mania. I liked what all guys had to say really and its good to hear a little from Sydal to develop his character. The way Dykstra came in was great with the sarcastic clapping and the stupid face, just the sort of thing he would do. Sydal and Chavo made a good point saying that Kenny doesn't have to be pinned to lose the title as heels would normally be concerned by that. Good last line from two babyfaces as it shows how much Kenny is hated. Good segment.

I thought that the Extremists might be in line for a bit of a push after last week but I guess not. The result was handled very well with the distraction and I am glad that Finlay didn't resort to using the shilleglagh to win as its the only way he wins IRL. Good win for Finlay and it further established The Masters of the Mat as the bad guys. The aftermath was good too and they have made a big statement.

The Masters of the Mat are suspended? Didn't expect that. Does some good for Regal at least by showing he has authority, but it doesn't do much good for their push at all. I think we might hear from them still though in some way but if not it may not be good for them at all, then again it isn't that many weeks until the anniversary show.

This was a very interesting match with a guy from each team in the match. This is a very unpredictable feud becuase a lot of the teams keep picking up victories and all are looking fairly strong. London losing the match doesn't do a lot for London and Kendrick though as they lost on Raw again, they are looking the weakest heading into Mania at the moment but maybe thats the point. Good match and good win for Morrison, I expect the same next week with the other members of each team which should be good.

Nice warning from Armando and Umaga, I think Umaga will get some serious revenge on Taker tonight. I like how you fitted in Miz and Morrison too to give them a little mic time.

This was a decent segment, it did its job of building up Edge and the feud more. I like how you had Shane ramble on about his rivalry too as it shows that he hasn't forgotten about his rivalry while he helps Edge out.

Well MVP didn't really follow up his strong words with the win. I'm not a fan of these sorts of finishes but you need to keep both men looking strong heading into Wrestlemania, plus we have seen MVP just walk out many times before IRL. Would've loved an MVP win here but Lashley has looked very strong on Raw too. Didn't really like the finish but it was a good booking decision to keep both guys looking strong.

Shannon Moore just turned on Matt!? I didn't expect that at all. Shelton and Moore are an odd pairing really but for some reason I really like it. Moore can be a decent heel sidekick as we saw when he was Matt Hardy's follower IRL and he will no doubt be the guy who gets his ass kicked by Matt. Plus with the whole betrayal thing added in it adds a bit more to the feud. What they had to say was good too with Shelton saying a great few lines about the match being overlooked. Hardy was just as you would expect and in character. This was a good little contract signing that gave the match some importance, and it added a lot to the feud with only so little time left before Mania, good job.

Good to see Austin in the Hall of Fame. I don't know if you plan on doing something more with the inductees at Mania and I don't know if you will have the Rock on the show, but some sort of segment with Austin and the Rock would be awesome. I don't mind seeing them at all for a one-off segment.

Although another DQ is a little frustrating it was the right decision here. Both men need to remain looking strong as we head into Wrestlemania and a DQ finish helps to do that. The aftermath was great with Umaga coming down anf laying out The Undertaker as I expected, and Edge spearing Taker as well was cool. Umaga hitting Edge with the Samoan Spike was brilliant and it would be pretty hilarious to see, plus it means Edge got taken out without HBK having to even do anything due to his concussion.
I don't know if this thing is like a one off or whatever and I might be reading too much into it, but you seemed to put a lot of focus on the Edge-Umaga problems as well as at the end with HBK and Umaga staring at each other, can't help but think it would be better for Umaga to stare down at Taker and HBK to laugh at Edge, i'm just nitpicking though really. I expect it was to create a tag team match next week, either that or you'll say the winner of Umaga-Taker becomes no.1 contender.

Overall Nige it was a brilliant show, really did a great job of hyping all the matches at Wrestlemania. I really enjoyed reading it and the promos were great again with some interesting matches. I am really looking forward to Raw and Smackdown next week, and of course Wrestlemania! Great job Nige for the really enjoyable show.
Re: WWE: A Strong Response
---
PWInsider.com


"FCW" TV Results
(Saturday 22nd March)


Dusty Rhodes was sat down in his make shift office when Lena Yada walked in. She said that he had something to say, and he stood up to say that tonight would see a tag team battle royal with the remaining two teams battling it out in two weeks time to decide who will become the new FCW Tag Team Champions. Lena asked him about the rules, and Dusty said that just one member from each team has to be eliminated for the other to join him out of the match. She asked him if that was it, but he said that was far from the case, because he said that tonight and next week will see the two semi final matches in the FCW Heavyweight Championship tournament. He then said that he had arranged it if with the powers that be for the two finalists to fight it out for the big prize on the big stage. Lena asked him what he meant, and Dusty said that whoever it is that will be going at it for the title, they will be doing so at the Wrestlemania pre show, just minutes before Wrestlemania goes live. Dusty hyped up the fact that they would get the chance to perform in front of tens of thousands of wrestling die hards and called it the chance of a lifetime.


Dr. Tom Prichard & Steve Keirn were talking up Dusty's announcement and what that meant for the show tonight with Arran Banderas facing Vladimir Kozlov for the first spot in the final of the Championship Tournament when "The Natural" Nic Nemeth made his way down to the ring. Nemeth said that he was about to take on someone who made their debut, saying he wasn't sure what the hell his name is. He said he heard his opponent won last week and that this might not be his debut, but it will sure as hell be a reality check because there's no one more naturally talented than "The Natural". CJ Red then made his way down to a pop after his great performance last week.
Match 1: CJ Red vs "The Natural" Nic Nemeth
A really good match up with both stars taking their turn in control. It looked like Nemeth had it won towards the end, but Red was able to mount a fight back and surprise Nemeth with a sunset flip for the victory. Red escaped the ring quickly as Nemeth went off on one in the ring.
Winner:
CJ Red.
Lena Yada was stood backstage with The Empire, (Katie Lea, Drew McIntyre & Stu Sanders). She said that tonight is a big night for them, but Katie cut her off straight away. She told Lena that yes it was a big night, and with that comes pressure, but said they don't feel pressure like American's do because of the fact that there is no pressure placed on them by society back home like there is in the good old United States of America. Katie then said that America is full of plastic women and jacked up beefcakes because of pressure to make yourself look good, before calling America a disgrace for sending out a false and damaging message. She said that it doesn't matter how you look, it's what you do with your life that is important, but said it was just coincidental that she and the boys looked great anyway. McIntyre then took the microphone off of Lena and told her to get out of there, which she did. McIntyre said that they don't feel any pressure about tonight and getting a shot at the tag team titles because they're ready to go. He said that mentally and physically, they can't be touched because they are focused on what they want to achieve in life, striving to show everyone back home in the UK that you don't have to be some billionaire heiress acting in their own porn movie to become a star. Sanders then borrowed the microphone and said that making an example out of more than one American team tonight is a bonus, but then said that there should be someone else looking over their shoulder too, Shantelle Taylor. He said that Katie getting looked past by Dusty Rhodes because of her British passport was racism in its grandest form, and that Shantelle & Dusty would find out very soon why Katie Lea deserved that shot, and why she will make Taylor's dream a nightmare until the deserving champion gets her hands on that title.
**Commercial Break**
Mike Kruel was sat down with Roucka in their locker room when Shawn Spears walked in. Spears said straight off that he was sorry for what happened last week in their tag match and that it was an accident. Roucka stood up and gave him hell, telling him that he should be doing more than apologising to them, but Kruel stood up and pulled a livid Roucka away. He told her to calm down and that it was an accident before turning his attention to Spears. He told him that he knew it was a mistake and that mistakes happen, but he then told him he can't afford to let that happen again tonight with a shot at the tag titles on the line if they survive tonight. Spears said that he was well aware of that and told Kruel that he knows what it takes to be a tag team champion, then saying that he would more than make up for last week later on. Kruel looked right at him and told him to make sure of it. Spears seemed happy as a focused Kruel told him he needed to get ready, with Spears then leaving the room. Roucka told Kruel that he can't blame her if Spears screws up again, but Kruel turned his head and said that he won't let that happen.
Match 2: Nicole Bella vs Katie Lea
w/Drew McIntyre & Stu Sanders
With Shantelle Taylor, the Womens Champion watching on from the top of the aisle, Katie Lea looked in control the entire time, never giving Bella a look in and picked up the win with The Kat Nap, a spinning neckbreaker. After the bell, Katie & The Empire made a point of gesturing towards a on edge looking Shantelle Taylor.
Winner:
Katie Lea.
**Commercial Break**
Match 3: Tag Team Battle Royal – Final Two Teams Will Compete for the FCW Tag Team Championship
Jesse & Festus vs The Million Dollar Family (Ted Jr & Mike DiBiase)
w/Brett DiBiase & Maryse
vs Teddy Hart & TJ Wilson vs The Empire (Drew McIntyre & Stu Sanders)
w/Katie Lea
vs Shawn Spears & Mike Kruel
w/Roucka
The first team to go were Spears & Kruel as Festus blew his top on a sneak attack by the pair of them. With Jesse coming to his aid, Festus was able to see of Spears with a slam over the top rope, leaving Roucka pissed on the outside. She yelled at him on the outside before Kruel was forced out of the ring. He didn't look too happy but tried to calm Roucka down. Next to go were Jesse & Festus as The Empire double teamed Festus to isolate Jesse and force him over the top to the outside. With just three teams left, they fought hard for a while before an error from Mike DiBiase as he turned his back on Teddy Hart, thinking he had hit the arena floor when he had held on to the top rope instead. Teddy was able to pull himself back in to the ring to the surprise of DiBiase, who charged at him, only for Teddy to hold the top rope down to eliminate The Million Dollar Family and end the match. Ted Jr looked on in shock as Teddy & TJ then exchanged glances with The Empire.
Remaining Teams:
Teddy Hart & TJ Wilson and The Empire.
**Commercial Break**
Dusty Rhodes was in his office and was smiling as he seemed to be holding the new FCW Tag Team title belts when Ted DiBiase Jr walked in with Maryse and his brothers. Ted Jr was pissed and demanded Dusty put them in the title match, saying that they're The Million Dollar Family for a reason and that they should be in that match, not some joke over the top bullshit crap. He then said that they've been the one team who has proved themselves to be champions, even at TJ & Teddy's expense. Dusty called Ted Jr a spoilt brat, but then said that there was an element of truth to what he said about winning tag matches. He had a little think and then said that he had an idea that would work out for the both of them, next week it will be Ted Jr & Mike taking on the two final teams in the tournament, and if they can win the match, they will then compete for the titles too in a repeat triple threat match. Ted Jr told Teddy that it was the right thing to do and he won't regret it, but just as the happy family turned round, Dusty put his hand on Ted's shoulder and said that he won't regret it, but Ted might. Ted Jr asked what he was talking about, and Dusty said that it's not cut and dry like they think, and since Ted's been a pain in the back side for weeks and weeks, he's going to hang him some rope. Ted & Co looked confused, but Dusty then said that if Ted & Mike don't win next week, Ted Jr won't be able to run his mouth anymore because he will be fired on the spot. The Million Dollar Family started shouting with Ted screaming at Dusty, telling him he can't do that, but Dusty told them that's the deal and to get it out before he gets security to throw them out. They continued arguing until security came and hauled them out of the office in front of a smiling Dusty.


James Reiher walked out to the ring, getting heat from the fans. He looked very smug and said that he wanted to come out for two reasons, first was to congratulate Dusty Rhodes on pulling his finger out and staging the FCW Heavyweight Championship match at Wrestlemania, and secondly to call out the guy who will just fail to get there, Jake Hager. Reiher said that he and Hager were just one step away from the big time, but it will have to be Hager who will fall at the final hurdle and miss out on wrestling in front of tens of thousands of ungrateful Florida wrestling fans. Not going down too well with the Florida natives, Reiher carried on to say that next week he will show everyone that all the hype with Hager is just that, undefeated he might be, but like all good things, it will come to an end. He said that he knows he can beat Hager, but wanted to tell Hager face to face and that's why he wanted him to come out and face him right there and then. Hager didn't disappoint either, coming out almost immediately. He stood there calmly as Reiher tried to unsettle him, saying that he's never beat anyone worth beating and calling him a fraud before asking Hager how he will feel when his unbeaten run ends in the cruellest fashion possible next week. Hager asked Reiher if he wanted an answer, and Reiher gave him the microphone. Hager said that the answer is simple, he won't feel anything because his streak won't be ending as he knows he has what it takes to beat Reiher and whoever it will be in the final at the Wrestlemania pre show. Reiher stood there with a stupid smirk on his face, but Hager quickly pissed him off by calling him Deuce and saying that his good buddy Domino won't be able to help him either. That really angered Reiher, who slapped Hager right across the face. Hager looked pissed and stared right back at Reiher, who was goading Hager to go for him, and just as it looked like he would, Afa Jr appeared in the ring behind him and started hammering Hager across the back, forcing him down to the mat with Reiher then joining in to stomp him across the back of the head. After backing off and allowing Hager to get back to his knees, Reiher then struck again by running at him and kicking him straight in the face with the Crack Em in da Mouth. Hager slumped back down to the mat as Reiher and Afa admired their handy work for a while before leaving the ring and walking to the back as the fans booed them.
**Commercial Break**
Match 4: FCW Heavyweight Championship Tournament – Semi Final Match
Arran Banderas vs Vladimir Kozlov
A real back and forth match with Banderas putting Kozlov on the back foot early on. Kozlov managed to find his way back in to the match, but again Banderas came back fighting. It wasn't enough though as Kozlov was able to react to an oncoming Banderas and nail him with a battering ram to the chest, which was enough to earn him a three count and a place in the final for a shot at the FCW Heavyweight Championship.
Winner:
Vladimir Kozlov
**End of Show**
CONFIRMED FOR NEXT WEEK'S SHOW
FCW Heavyweight Championship Tournament – Semi Final Match
Winner Faces Vladimir Kozlov for the Championship
Jake Hager
vs
James Reiher
Last Chance Saloon
The Million Dollar Family Must Win to Receive a Tag Team Title Match – If They Lose, Ted DiBiase Jr will be fired!
Teddy Hart & TJ Wilson
vs
The Empire
(Drew McIntyre & Stu Sanders)
vs
The Million Dollar Family
(Ted Jr & Mike DiBiase)



WWE.com - Television - Raw - Preview (24th March 2008)
---
RAW Preview
24th March 2008

Key Arena
Seattle, Washington





***6 DAYS UNTIL WRESTLEMANIA!***


THE MACHINE IS STOPPED AT LAST, BUT NOT BY THE CHAMP
Ever since winning the Royal Rumble, The Big Red Machine has looked as close to unstoppable as one man could be, but last week, that all changed. Randy Orton thought he had done the damage a week earlier, but the WWE Champion was in for a shock as Kane sat up after multiple chair shots. Last week, The Legend Killer walked down to the ring with a full security team around him. However, that security team was quickly knocked off by both of Orton's challengers at Wrestlemania in six days time, John Cena & Kane. Together they took each security member out before Cena was able to get at Orton, nailing the champ with an F U. It came down to Cena & Kane as they battled in and around the ring, culminating in Cena sending Kane through the announce table with a thunderous F U.

After being left lying by Cena, how will the monster respond? What will the champ's response be to Cena's statement? With just six days to go before their huge triple threat battle, it is safe to expect the unexpected!

THE McMAHON'S DO IT AGAIN
The McMahon Men have done their best to outthink Evolution over the last six weeks or so, and last week they did it again. After being attacked backstage by Triple H, Batista & Ric Flair a week earlier, Shane McMahon was absent last week as his dad was put in to a match with The Nature Boy after questioning Flair's place in this year's Hall of Fame class. When it came to the match, Naitch had a two on one advantage in his corner compared to Vince, who was minus a son with only JBL by his side. However, the latest McMahon fast one came in to play as Shane O Mac did his dad proud by coming through the crowd and knocking Flair out cold with brass knucks, allowing Vince to pick up one big win.

With just six days to go before one of the most anticipated matches in Wrestlemania history, just what can we expect to see from these six men?

LASHLEY SNAPS & KENNEDY GETTING CLOSER TO A REPEAT?
This year's Money in the Bank Ladder match looks like being one of the most personal ever. And last week went some way to making us believe that even more. Eric Bischoff made a couple of matches with huge Money in the Bank consequences in place, including Mr. Kennedy gaining some revenge on Elijah Burke for the previous two weeks and moving a step closer to a second straight Money in the Bank contract. Can he do it again? However, the real tension came in a match between Bobby Lashley & Chris Jericho as Rey Mysterio watched on from the announce table. There's been plenty of tension between Lashley & Jericho for a while now, and that spilled over as Lashley was disqualified for refusing to stop choking Jericho. Mysterio came to Jericho's aid, but that wasn't appreciated by either Lashley or Jericho without them coming to blows.

With no one seeming to get along and with Smackdown's MVP allowed to come over to Raw after being barred last week by Bischoff, it could be one action packed night for the title hopefuls.

THE BULLY IS BACK
CM Punk went back to his vicious side last Monday after being told by Eric Bischoff that he would be teaming up with Colt Cabana after their attack on Jeff Hardy in the parking lot a couple of weeks back. With Jeff ready to go, he teamed up with Eugene to take on the dangerous duo, but Punk wasn't in the mood to be messed about as he won the match, looking more focused and sadistic than ever. He wasn't satisfied with just the victory over Eugene as he grabbed a chair after the bell and smashed it in to Eugene's skull. Jeff survived an onslaught, but he will surely be out to make Punk pay this Monday just six days before their I Quit match for Punk's Intercontinental Championship, the title Punk & Sunny screwed Jeff out of at the Royal Rumble.

Will Punk get what's coming to him, or will he extend his dominant streak?

BATTLE OF THE CONTENDERS
Last Monday saw each brand's Tag Team Champions collide in non title action in preparation for the four team double title match at Wrestlemania, and this week we will see the collision of the two challengers when John Morrison & The Miz represent Raw to take on The Pitbulls from Smackdown. Having only left Smackdown for Raw several weeks ago and already having a history with Jamie Noble & Kid Kash, it should be a difficult challenge for Miz & Morrison. It was Smackdown's champions that prevailed last week, can Raw even the score with a victory for Miz & Morrison. Last Friday night on Smackdown, Morrison won a fatal fourway with a representative of each team that will meet for the gold at Wrestlemania this weekend.

Will there be a repeat for Morrison, or will The Pitbulls stake a claim for the titles themselves?

VICTORIA LOOKING TO GET EVEN BEFORE MANIA
The Glamazon truly made her Wrestlemania challenger work last Monday by putting Victoria in a gauntlet match. Victoria did exceed Beth Phoenix's expectations by overcoming Melina, and then Jillian Hall. As soon as Victoria defeated Jillian, Beth & Natalya Neidhart jumped her before the Womens Champion then announced that Victoria's final opponent would be herself. Beth made the easy cover on the beaten down Victoria to secure a pinfall victory over the dangerous diva that stands in her way of retaining her title this coming Sunday at The Citrus Bowl. However, Victoria has a chance of retribution this Monday night when she is joined by another victim of Beth & Natalya's, Michelle McCool as they try and make the champ and her close friend pay for their actions.

Knowing Natalya won't be by her side in Orlando and with the knowledge she can lose her title by disqualification, what kind of mood will The Glamazon be in when she and Victoria meet less than a week before their title showdown on the biggest stage of them all?

PLUS
Cody Rhodes & Kofi Kingston talked things out last week after the seeds of doubt were placed in Cody's mind by The Colon Brother's the week before regarding the closeness between Kofi & Cody's girlfriend, Kelly Kelly. Kofi made it clear that there was nothing to the rumours, leaving Cody satisfied. Is Cody right to be satisfied with Kofi's comments?

Speaking of The Colon's, they had a run in with Cryme Time last Monday night, what will that lead to if anything when Raw rolls in to it's last stop before Wrestlemania?

Make sure you don't miss this hugely important edition of Raw.


CONFIRMED FOR RAW THIS WEEK

John Morrison & The Miz vs. The Pitbulls

Victoria & Michelle McCool vs. Beth Phoenix & Natalya Neidhart



Re: WWE: A Strong Response
---
I'm a new user on WF but I've been lurking around for a while, and I've read a couple episodes before. I have to say that Wrestlemania is shaping up very nicely, and I can't wait for Raw and Smackdown!
Re: WWE: A Strong Response
---
Wow, you're nearly at WrestleMania already Nige? That's crazy, good to see that you're writing at a strong pace, as it keeps the readers with you.

A quick question: Will WrestleMania be in full?
Re: WWE: A Strong Response
---
Quote:
A quick question: Will WrestleMania be in full?
Hell yeah! I'm not going to duck it and do recaps like other people i have seen. I'm really up to make it a good show, not just for the people who read the show, but for me too. I want to finish off these storylines i have started, and what better way than posting Wrestlemania?
I can't wait!
Posting Rules

You may not post new threads

You may not post replies

You may not post attachments

You may not edit your posts

---

HTML code is Off

---