WWE.com - Television - Raw (Preview - 17th March 2008)
---
RAW Preview
17th March 2008

Worcester Arena
Worcester, Massachusetts





ORTON PLAYING WITH FIRE?
Last Monday night, the WWE Champion, Randy Orton admitted to his elaborate plan the week before, giving Eric Bischoff all the ammunition he needed. Raw's Head of Authority was already more than suspicious after Paul Bearer was attacked seven days earlier, with John Cena being set up for a fall by Orton as all too easily, a John Cena hat was lying by Bearer when he was found. The Legend Killer confirmed Bischoff's suspicions, but maybe regrettably now despite being responsible for Kane chokeslamming Cena off the stage two weeks ago. Orton was left stunned when he was put in to a match with Kane by Bischoff last Monday, and what a match it was. The WWE Champion & the Royal Rumble winner gave each other everything, and it was Kane who emerged victorious after Orton got himself disqualified just before it looked like he was going to taste a tombstone piledriver from one of his Wrestlemania opponents. However, we weren't done there as Orton attacked Kane after the bell with a steel chair, pummelling him with five chair shots to the chest of The Big Red Monster. It looked as if Orton had made his mark on his challenger, but Kane stunned him by sitting up and showing that The Legend Killer has one hell of a fight on his hands if he is going to hold on to his title at Wrestlemania.

After seemingly waking the beast, just what mood has Orton left Kane in? What is the condition of the champion's other challenger, John Cena? With just 13 days to go before Wrestlemania, Orton might just have given himself a little too much to deal with.

McMAHON'S GET A TASTE OF THEIR OWN MEDICINE
Having masterminded the attacks on the unsuspecting members of Evolution several weeks back, The McMahon Men found themselves in their victim's position last Monday when Shane McMahon was left all alone in the locker room. Eric Bischoff had made a tag team match with Vince McMahon & JBL taking on Batista & Ric Flair, also barring Shane & Triple H from ringside. Seizing the opportunity gifted to them, Evolution pounced on Shane as his father & half brother were waiting in the ring. After seeing Shane suffering on the main screen in the arena, Vince & JBL rushed back in to a slanging match with a very happy Evolution.

Will there be any kind of reaction this Monday night?

MONEY IN THE BANK MADNESS
It seems that all six participants in the Money in the Bank ladder match at Wrestlemania just can't get along, and a further example of this came last week when Smackdown's MVP brought The VIP Lounge to Raw and the hometown of his guest, Y2J Chris Jericho. The Franchise Player didn't hold back on his comments towards Jericho or his hometown of Winnipeg, Manitoba. Jericho didn't take to them too kindly as you would expect, but MVP didn't count on Mr. Kennedy, another Money in the Bank participant coming out announced. He firmly put his cards on the table, leading to a triple threat match that saw MVP's buddy, Elijah Burke help MVP to a victory with Burke distracting and then attacking Kennedy. Just a week earlier, Kennedy & Burke were victorious in tag team action against Jericho & Bobby Lashley. The problems between Jericho & Lashley led to Burke picking up the win, but Kennedy proved that Money in the Bank truly is every man for himself by giving Burke a taste of The Mic Check afterwards.

Having seen these actions, Eric Bischoff has made a match between Kennedy & Burke this week. What else can we expect from the remaining participants in the must win match at Wrestlemania?

WILL THE CHAMP & CO BE ALLOWED ON RAW THIS WEEK?
After luring and then attacking Jeff Hardy in the parking lot two weeks ago, CM Punk was escorted out of the arena last week, along with Sunny and his apparent long time friend, Colt Cabana by Raw Head of Authority, Eric Bischoff. We have heard that Jeff was released from hospital the morning after the attack, but was not cleared to compete physically last week. Having been sent home last Monday, how will Punk, Sunny & Raw's newest superstar in Colt Cabana make their presence felt this coming Monday?

With Jeff also expected back, it could be one heavy night as we reach the penultimate Raw before Wrestlemania and the all important I Quit Match between Jeff and Punk!

TAG CHAMPS TO COLLIDE BEFORE MANIA
Friday night on Smackdown brought us a blockbuster of an announcement when both brands figureheads stating that at Wrestlemania, both the WWE & World Tag Team Championship's will be on the line in the same match. It means that either of the current champions could walk out with two titles or none altogether. The Pitbulls & the team of John Morrison & The Miz will be watching on with interest on Monday night when Raw's top dogs of Paul London & Brian Kendrick go head to head with their Smackdown equivalent, The UK Pack.

Will the high flying duo of London & Kendrick be able to stand up to the strength of Paul Burchill & Harry Smith in this Wrestlemania preview? There's only one way to find out!

IS THE GLAMAZON LIVING ON BORROWED TIME?
Beth Phoenix hasn't been able to shrug off the challenge of Victoria, and last week, the challenger to The Glamazon's throne at Wrestlemania sent her a clear message that she's not intimidated by either the Womens Champion or her partner in crime, Natalya Neidhart. After Natalya picked up a victory over Michelle McCool, she was joined by Phoenix in a two on one assault on McCool, only for Victoria to make the save, further frustrating The Glamazon.

Has Victoria proved too frustrating an opponent for the champion? We might find out just what state of mind The Glamazon is in this Monday night in Worcester.

TROUBLE IN PARADISE?
The Colon Brothers have never been shy of aiming jokes at Cody Rhodes, but last week they over stepped the mark, that is if it is a joke. As Carlito, Eddie & Eric Perez were hanging out in the back, Cody happened to walk past without Kofi Kingston or his girlfriend, Kelly Kelly. The Puerto Rican trio took a different approach last week by insinuating that something was going on between Kofi & Kelly behind Cody's back, but Cody didn't take it seriously, or did he? Later on in the night, he went one on one with Lance Cade and tasted defeat after Cade took Kofi out on the outside, leaving Kelly to check on Kofi. Cody was distracted by Kelly's concern for Kofi, causing him to lose the match to Cade. After coming round, it seemed that there were some doubts in Cody's mind.

Were The Colon's playing with Cody's head, did they know something or have they even got special powers?

SANTINO'S ON A ROLE!
Santino Marella has the ability to make us laugh and cringe, and last week it was a mixture of both as he held the first ever "Santino Sale Spectacular". Nothing ever seems to go to plan as far as Santino is concerned, and that was the case here too as Cryme Time & Ron Killings cut it short. With their history, it could only ever lead to action, and fortunately it took place in the ring. However, Santino's luck was in as Melina came to his rescue, distracting JTG long enough for Marella to roll him up and win the match.

Will Santino's luck can continue this Monday night?


CONFIRMED FOR RAW THIS WEEK

NON TITLE CHAMPIONS VS CHAMPIONS MATCH
Paul London & Brian Kendrick vs. The UK Pack (Harry Smith & Paul Burchill)

PLUS

Mr. Kennedy vs. Elijah Burke



Re: WWE: A Strong Response
---
An extremly solid Raw preview that deals with all the major storylines heading into the Biggest show of the year, WrestleMania. Sorry i haven't hit you up with a review of late, been well busy and struggling to get my own shows up. PM me when RAW is up and i'll do my best to review man.
---
Re: WWE: A Strong Response
---
Wow, that preview was simply amazing! I have some time on my hands, so i'll try to review it for you.
Re: WWE: A Strong Response
---
Okay Nige, I'm back and ready to review again
.
Been away from BTB for a bit now as reviews are concerned so i'm looking for a PM to dropped my way when Raw goes up.
Not too sure on the story-lines happening at the minute but i see FCW has started and it's looking good. Just another good factor added to this BTB.
The Raw preview is looking great and like others have said it does look quite sensational, it was like reading of off wwe.com.
---
------------------------------
WATP
Re: WWE: A Strong Response
---
Hey mate i do not know i have probably already told you this but i really love your previews. They just give so much detail and get the anticipation up for the show. And yes you have done that once again here. I am interested especially to see what Santino's knew role is. And Kennedy over Burke please.

Also i have said it before but i will be trying to review. It is just hard you always seem to post your shows when i am busy so hopefully our luck changes with Raw. Well done mate keep up the good work.
---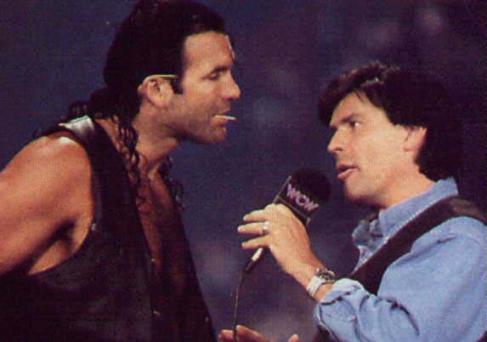 WWE.com - HOMEPAGE (Raw Results - 17th March 2008)
---
RAW Results
17th March 2008

Worcester Arena
Worcester, Massachusetts





***VIDEO RECAP***
From Last Week


Vince McMahon & JBL making their way to the ring for their match with Evolution
Vince & JBL waiting for them, but then seeing them with a knocked out Shane McMahon in the back
In the back, Vince & JBL exchanging words with Evolution
Eric Bischoff announcing to Randy Orton that he would be facing Kane in the main event
Orton getting DQ'd after a low blow, and then escaping to the outside, only to be followed by Kane
Orton attacking Kane with a chair, knocking him down and then hitting him across the chest five times
Orton walking away happily, only to see Kane sit up and then stand at the end of the show

***OPENING VIDEO***
"Wanna Be Loved"


***PYRO***
***PYRO***
***PYRO***
***PYRO***
***PYRO***


"Line in the Sand" blasts out & Evolution (Triple H, Batista & Ric Flair) make their way down to the ring dressed in suits and with big smiles on their faces. Once in the ring and getting a huge pop from the crowd, Triple H collects a microphone and acknowledges the reception, but says that he has something to say before they can all start up again. He says that they wanted to be on Raw early last week to do this, but they caught up celebrating. He apologises for that and says that for the benefit of those who may be unaware of what he's talking about, just over a week ago it was announced that the one and only, "The Nature Boy" Ric Flair was named as one of this year's inductees in to the 2008 Hall of Fame. The crowd cheer like crazy and stand up to applaud, with Triple H & Batista encouraging them. The Game then tells Flair that he's the benchmark for any aspiring superstar and that no one has deserved their place in the Hall of Fame more than him, and to show his and Batista's appreciation, they put together a little something for him. A video highlights his career, including his victory over Harley Race inside a steel cage to win the NWA Heavyweight Championship, winning numerous WCW titles and the 1992 Royal Rumble victory.

As it ends, the crowd give Flair a huge ovation with Trips & Big Dave applauding him too. Flair takes control of the stick and says that he is thankful to everyone who's paid to watch him over the years and supported him along the way, saying without them it wouldn't be possible. He then says that he knows his career is ticking away, but there's plenty of highlights to be added to that video before he does retire, mentioning that beating The McMahon's alongside two of his very best friends at Wrestlemania will be one of his finest moments of his career. Right on cue, "No Chance in Hell" hits as Vince McMahon and his illegitimate son, JBL walk out to the stage to a ton of heat. Vince says straight off that they can cut this ridiculous celebration right now because after what they did to his son Shane, they'll be lucky if they even get to Wrestlemania. Evolution smirk as Vince continues, saying that what they did to Shane last week was a disgrace, and because of that unprovoked attack, Shane is at home recovering from his injuries. He then says that they should be punished by Eric Bischoff if he sticks to the letter of the law that states he is the Independent Head of Authority, and that Flair should be banished from the Hall of Fame this year for taking part in such a despicable act.

Vince then says with the crowd booing, that the only reason Flair was chosen for the Hall of Fame was because the idiots at home were the ones who voted for him. He says they know absolutely nothing whatsoever about class and what it takes to be part of such a prestigious group of legends before saying he would not have been chosen had the right people including himself were voting like they should be. Batista then takes the microphone and asks Vince how he dare even begin to question the reputation of the greatest wrestler of all time, and then says that's what it's all about. He tells Vince that the only reason he is angry because Flair is the one man that Vince didn't make a star, Flair was already the best in the business before he came to the WWE. JBL grabs the mic off his dad at the top of the stage and tells Batista that he is way out of line, saying he should be grateful, just like Flair, because if it wasn't for Vincent Kennedy McMahon or his father, there wouldn't be a business for insignificant pieces of garbage like them to make a name for themselves in. He then tells them that The McMahon's made this business from the bottom up and that they made Evolution, then tells them to show some damn respect to the true biggest name in wrestling history, McMahon.

The fans crap all over JBL, but Flair snaps and says that everything he's earned, he worked damn hard for, day in day out and he's not going to show any kind of respect to JBL unless he wants to walk on down to the ring right now and beats it out of him. We then hear someone shouting "Woah, woah, woah" as Eric Bischoff storms through the curtain on to the stage. JBL & Vince step to the side as Bischoff then says enough is enough. He then says that even though he has no say in who joins the Hall of Fame, he believes Ric Flair is one of the most deserving, if not the most deserving to be in that group. He then turns to Vince & JBL to say that what Evolution did last week was no worse than what they did along with Shane several weeks back, saying that The McMahon's are hypocrites. He then says that the fact Shane isn't here along with The McMahon's hired gun, MVP, who he has banned from the arena tonight makes things a lot easier for what he has to say, because tonight things will be settled in the middle of the ring when two of the biggest names in sports entertainment history battle it out one on one, "The Nature Boy" Ric Flair & Vincent Kennedy McMahon. A massive pop breaks out as "I'm Back" hits as Vince looks stunned while Flair smiles widely.


***COMMERCIAL BREAK***


***VIDEO PROMO***





***VIDEO RECAP***

From Two Weeks Ago: Elijah Burke & Mr. Kennedy winning a tag team match with Kennedy hitting Burke with The Mic Check after the bell
From Last Week: Burke in MVP's corner against Jericho & Kennedy, and distracting Kennedy before tossing him in to the steel steps


***CUT TO THE ARENA***


***THE OPENING MATCH***

Mr. Kennedy vs. Elijah Burke w/Layla

ENDING: Kennedy is pulled up to his feet by Burke, who then whips his opponent in to the ropes, and as Kennedy comes back, Burke steps forward and plants Kennedy with a LIFTING SPINNING SIT DOWN SPINEBUSTER. . . . . Kennedy lands hard as Burke holds on for a cover 1 . . . . . 2 . . . . . Kennedy just lifts his shoulder up in time to stop the count getting to three. Burke looks frustrated and stands back up, urging Kennedy to get to his feet. It takes him a while, but once he's up, Burke pounces and tries to hit an inverted atomic drop, but Kennedy is able to jump back slightly and then connect with a SNAP DDT. . . . . A pop of sorts comes from the crowd as Kennedy scurries across to go for the pin 1 . . . . . 2 . . . . . Layla gets on the apron, and distracts both Kennedy and the referee. The ref stands up first and walks over, as does Kennedy while Layla yells at them both. Burke is coming round and slowly makes his way back up to his feet while the ref argues with a persistent Layla. As Burke stands up though, the ref steps away from Layla with Burke then charging at Kennedy, who turns round in time and steps to the side with Burke crashing in to Layla and knocking her off the apron. Burke looks on in horror as the fans cheer with Burke then turning round right in to a kick to the gut from Kennedy, who then plants him with THE MIC CHECK. . . . . A cheer breaks out as Kennedy then turns over and hooks the legs with the ref making the count 1 . . . . . 2 . . . . . 3.


AFTERMATH: "Turn Up The Treble" hits, only for the lights to go out with the microphone also dropping from the ceiling. The music cuts as the spotlight beams down, with Kennedy announcing himself the winner of not just this match but to be the first man ever to win back to back Money in the Bank ladder matches at Wrestlemania. Before shouting his name, he says that both world champions and their challengers should stand up and take notice, because they are looking at the man who will take their place at the top of the tree when he cashes in the contract to become the next world champion, then announcing that mans name is MR. KENNEDYYYYYYY. . . . . KENNEDY. He lets go of the microphone as his music hits to a mixed reaction from the crowd before leaving the ring and walking up the ramp.


WINNER: Mr. Kennedy by pinfall @ 6.25


***CUT BACKSTAGE***


Maria is standing by and she introduces her guests to us, John Morrison & The Miz. They walk in to the shot to heat from the arena with Maria asking them how they feel about Eric Bischoff & William Regal making the match for Wrestlemania with both the World & WWE Tag Team titles on the line. They both look very happy at the thought of winning gold and Morrison says that they couldn't feel any better, because last week they beat both the Raw tag team champions as well as the Smackdown equivalent. He then says that you don't have to be intelligent, even the residents of Massachusetts will be able to establish that makes them the team in the driving seat going in to Wrestlemania. Maria then says that there will be four teams in the match, and that they don't have to be pinned, meaning they might not leave as champions. Morrison grins and says that they beat two champions last week and to do the matches, at Wrestlemania they only have to beat one. He says that it's just a matter of whether it's London & Kendrick or The UK Pack, saying it doesn't matter which because the victory celebrations are already underway. The Miz then cuts in and says like Morrison said, they can only win one of the titles when they truly deserve both, but they're willing to accept one set of titles. He says that they really should have both since both champions don't deserve the titles and tonight's match will prove that, saying it's irrelevant and they proved their point last week by beating both champions. He finishes by saying it doesn't matter what London, Kendrick & The UK Pack do in their match tonight because no one cares, they only care about one team, The Shaman of Sexy & The Chick Magnet, as it should be. They laugh to themselves before walking out of the shot.


***VIDEO PROMO***





***COMMERCIAL BREAK***


Eric Bischoff is in his office, stood up talking to a very serious looking Bobby Lashley. Bischoff says he asked Lashley to come to see him for a reason, saying he wants to promote this year's Money in the Bank ladder match, and like the previous match with Kennedy & Burke, he wants to put on matches that people want to see. He then says that he's aware of just how much tension there is between Lashley & Chris Jericho, and then says that because of that and the fact he wants everyone to make a statement going in to Money in the Bank, he is making a match between them right here tonight. Lashley smirks and says that getting his hands on Jericho is just what he wanted, saying he is going to make him pay for everything he's said about him and hitting him with the chair a few weeks ago. He then says to Bischoff that he's sorry for what he's about to do and leaves as Bischoff looks concerned. He's about to sit down when CM Punk, Colt Cabana & Sunny walk in. The boos can be heard coming from the arena and Bischoff looks pissed to see them. Punk smiles and sarcastically asks Bischoff if they should stick around and if they're going to be sent home again like last week.

They all grin while Bischoff then says that last week was nice for them and also good for him because he's sick of the sight of Punk, who looks slightly satisfied by that admission. He then says that sending them home last week made his night easier, but tonight is a different story because a certain Jeff Hardy is here and ready to get his hands on the same two guys that attacked him in the parking lot two weeks back. Punk's smirk goes away as Bischoff then says that Jeff's going to get that chance tonight just thirteen days before his I Quit Match at Wrestlemania, because tonight it will be Punk teaming up with Cabana for his debut match against Jeff Hardy and his nephew Eugene. Cheers can be heard coming from the arena, but Punk looks at Cabana with both men then grinning. Punk then looks sadistically towards Bischoff and says that winning tonight is going to be like taking sweets from a baby, not that he'd ever do it, but thanks Bischoff for putting Eugene in the match too, because putting a beating on him is an added bonus he's really looking forward to. There's a heated stare between Bischoff & Punk for several seconds before a sadistic Punk says to Cabana they should go get ready. They then leave the room giggling as Bischoff stares at Punk's back with contempt.


***CUT TO THE ARENA***


***MATCH #2***

NON TITLE CHAMPIONS VS CHAMPIONS MATCH
Paul London & Brian Kendrick vs. The UK Pack (Harry Smith & Paul Burchill)

ENDING: Smith & London both crawl across the ring and make the tag to their partners. Burchill & Kendrick race in, but Kendrick's speed goes in his favour as he nails Burchill with a leg lariat, taking him down to the mat. It doesn't effect him too much as Burchill gets right back up with Kendrick lying in wait as Burchill turns round in to a SUPER KICK. . . . . Burchill just falls to the mat, close by to the ropes as Kendrick hurries down to the mat to make a cover 1 . . . . . 2 . . . . . Burchill just gets his foot on the bottom rope. Kendrick sits up and holds his head in his hands as Smith & London stand back up on the apron and watch on intently. Kendrick then stands up and pulls Burchill up as he gets to his knees, with Kendrick grabbing Burchill's head and then running in to the corner, looking to hit THE SLICED BREAD. . . . . As Kendrick comes off the ropes, Burchill throws him off his shoulders as Kendrick crash lands on the mat. Burchill then runs in to the opposite corner and knocks London off the apron with a forearm to the face. He walks back over and drags Kendrick back up to his feet, then nails him with THE C4. . . . . A mainly positive reaction meets that with Burchill following up to hook both legs for the pin 1 . . . . . 2 . . . . . 3.


AFTERMATH: "Britannia" hits to a pop from the crowd as Smackdown's tag champions are passed their titles by the referee. They pose for the crowd, but are interrupted as John Morrison & The Miz walk out to the top of the stage and applaud them with sly grins on their faces. Burchill & Smith stare back at them with curious looks on their faces.


WINNERS: The UK Pack by pinfall @ 6.16


***COMMERCIAL BREAK***


***VIDEO PROMO***





***CUT BACKSTAGE***


Todd Grisham is standing by and introduces his guests to us, Jeff Hardy & Eugene. T-Grish asks Jeff how he's doing after the attack from CM Punk & Colt Cabana in the parking lot two weeks ago, and if he's ready to compete tonight. Jeff says that he's been ready to go since the moment he left the hospital on the Tuesday morning, but he's been forced to stay home for his own sake in case something like that happens again. He then says that he knows what Punk is like, but admits that he gets under his skin, something that Punk knows and uses to his advantage. He also admits that in the heat of the moment, he let his guard down and paid the price, but says that he's back and ready for everything that Punk and his buddy have to throw at him because tonight is going to be just like Wrestlemania and the whole of his career, he's not going to quit. He says he never has and he never will, and that tonight CM Punk is going to find out just what Jeff Hardy can do. Grisham then asks Eugene if he has anything to say, and he does. He says that CM Punk is a bully, and he doesn't like bullies because they're bad, and that his Uncle Eric tells him to stand up to bullies. Grisham asks him if that's what he's going to do, and Eugene says he is with Jeff then saying that Eugene is right and that he'll make sure he's okay out there, and that Punk is going to get his just deserts. Jeff & Eugene walk out of the shot to a pop from the fans inside the arena.


***VIDEO PROMO***

Some brief clips of "The Million Dollar Man"Ted DiBiase are shown, including the announcement of him being inducted in to the Hall of Fame two weeks ago

VOICEOVER: He is arguably the greatest superstar never to have won a World Championship, but the legacy of The Million Dollar Man will never be forgotten. . .This legacy will be rewarded when he joins the WWE Hall of Fame the night before Wrestlemania XXIV, however his legacy will also continue in the shape of his son, Ted DiBiase Jr. . . Coming soon to Monday Night Raw.


***CUT TO THE ARENA***


"The Glamazon" plays as Beth Phoenix & Natalya Neidhart walk down to the ring with the fans booing quite loudly. Beth collects a microphone and puts her title on one shoulder before saying that she has arranged a very special challenge for her own challenger to her Womens Championship at Wrestlemania, Victoria. She says that if Victoria wants to prove herself tonight and impress her, then she should come down to the ring right now. We wait a couple of seconds before "Lady To Mess With" hits as Victoria walks down to the ring to a pop from the crowd. Beth says she's not convinced that Victoria is up to the standard required for Wrestlemania and that if she has going to have any kind of chance of not being embarrassed when they meet at the biggest spectacle in sports entertainment, she needs to prepare herself physically. Victoria keeps it together, just as Beth then says that she's arranged for Victoria to fight the gauntlet tonight, and then asks if she's going to try and prove herself as a challenger or just walk away empty handed like she will do at Wrestlemania. Victoria snatches the microphone and says that she'll go through everyone until there's just Beth left and take the Womens Championship. Beth smiles and then leaves the ring with Natalya as they stand by the announce table as Melina's music hits. Melina & Santino Marella walk out to the entrance, and Santino has a microphone. He says that just like he proved to the Crimes Times & Ronald Kill-Things last week, Melina will show everyone that it should be her and not Victoria challenging for the women's title at Wrestlemania. He then drops the microphone as they walk down to the ring.


***MATCH #3***

DIVA GAUNTLET
Victoria vs. Melina w/Santino Marella

ENDING: Both divas get up to their feet with Melina swinging a high kick at Victoria's head, but Victoria ducks it and is able to hit Melina with a BRIDGING REVERSE CHIN LOCK. . . . . The crowd cheer that, but as Victoria gets back up to her feet, she is distracted by Santino as he stands up on the apron. He quickly hops back down again as he sees Cryme Time & Ron Killings running down the ramp. Santino jumps over the barricade and runs through the crowd, followed by Shad, JTG & Killings with the fans cheering. Melina crawls up behind Victoria and rolls her up 1 . . . . . 2 . . . . . Victoria kicks out as Melina looks round to see where Santino is, and the distraction costs her as she then turns back round in to a SAVOTE KICK FROM VICTORIA. . . . . Victoria drops to the mat and makes the cover 1 . . . . . 2 . . . . . 3.


WINNER: Victoria by pinfall @ 3.39


Beth grabs a microphone and says that Victoria was lucky to survive, but that she won't be so lucky this time, with Jillian Hall walking out to her music.


Victoria vs. Jillian Hall

ENDING: Victoria grabs Jillian by the arm and whips her in to the ropes. Victoria ducks her head, giving Jillian the chance to come back off the ropes and kick her in the head. Victoria's head snaps back up with Jillian following up with a hard falling clothesline. Jillian stands back up with a big smile on her face before she then reaches down and pulls Victoria back up to her feet, setting her up for a suplex. Victoria blocks it though, and is then able to lift Jillian up vertically up in the air, but instead of hitting the suplex, she walks over to the ropes and hits a SLINGSHOT SUPLEX. . . . . Beth doesn't look happy as she and Natalya panic on the outside. Victoria doesn't look to mess about back in the ring as she gets back up to her feet and drags Jillian up to hers before planting her with THE WIDOW'S PEAK. . . . . A big pop breaks out as Victoria readjusts her position on the mat and makes the cover as the ref counts 1 . . . . . 2 . . . . . 3.


WINNER: Victoria by pinfall @ 2.02


Beth & Natalya slide in to the ring behind Victoria and club her to the mat. Beth still has the microphone as Natalya beats down Victoria while Beth says beating two divas is very impressive, but not impressive enough because Victoria's next opponent is her.


Victoria vs. Beth Phoenix

ENDING: Beth drags a motionless Victoria up to her feet and poses for a couple of seconds before hitting THE FLIGHT OF THE PHOENIX (Delayed Cradle Suplex). . . . . Beth turns over with a big smile on her face as she hooks Victoria's legs 1 . . . . . 2 . . . . . 3.


AFTERMATH: Beth's music hits to heat from the crowd as she stands alongside Natalya looking very smug with Victoria lying on the mat. The Glamazon makes a point of standing over Victoria and raising the Womens Championship in to the air before walking to the back with Natalya, as both divas look extremely satisfied.


WINNER: Beth Phoenix by pinfall @ 0.12


***VIDEO PROMO***





***COMMERCIAL BREAK***


***MATCH #4***

Jeff Hardy & Eugene vs. CM Punk & Colt Cabana w/Sunny

ENDING: Cabana urges Jeff to stand back up, and as Jeff gets to his knees, Cabana walks over and helps him up to his knees. Cabana's in for shock as Jeff shoots up to his feet, using every bit of energy he has left to nail him with THE TWIST OF FATE. . . . . The crowd go crazy, but Jeff is unable to seize the opportunity as both he and Cabana remain on the mat for several seconds before crawling across to their respective corners and tagging their partners. Eugene & Punk enter the ring with Punk running in to a chop from Eugene, who then follows up by chopping away several more times at Punk's chest. He then grabs Punk's head and looks to go for a BATTERING RAM. . . . . With Eugene running towards the corner, Punk is able to pull his head back and pushes Eugene in to the pads. And as the impact pushes Eugene back, Punk walks forward and absolutely hammers him with a JUMPING ENZIGURI TO THE BACK OF THE HEAD. . . . . The bang echoes inside the arena as Punk sees Jeff getting back up on the apron, and then runs over, knocking Jeff off the apron with a driving knee to the chest. Punk turns his attention back to Eugene as he walks over to him, lifts him up and on to his shoulders before knocking him out with THE GTS. . . . . Boos ring out as a smug Punk makes the cover 1 . . . . . 2 . . . . . 3.


AFTERMATH: Just as "This Fire Burns" hits, Jeff slides back in the ring, but before he can get at Punk, Cabana cuts him off with a clothesline. Punk then lifts Jeff up to his feet and plants him with the GTS. He then stomps him towards the ropes and under the bottom rope as Punk then instructs Sunny on the outside to give him his belt, but as she picks it up, she is distracted by a steel chair, and picks that up too. She walks over to the apron and slides both the belt and the chair in to the ring. Punk smirks and tells Cabana to pull Eugene up, which he does as Punk picks up the chair. With the crowd booing, Cabana then lets go of Eugene and steps back as Punk then steps forward and smashes Eugene in the skull with the chair to a chorus of boos. Punk then drops the chair, picks up his belt and walks over to the ropes to look down at Jeff. He holds his belt aloft looking very smug as Jeff lies on the floor with Cabana & Sunny then walking up behind Punk and patting him on the back.


WINNERS: CM Punk & Colt Cabana by pinfall @ 5.48


***CUT BACKSTAGE***


We go inside the locker room of Cody Rhodes, Kofi Kingston & Kelly Kelly. They're all sat down on fold out chairs when Cody asks Kelly if she minds giving him and Kofi a minute, which she looks surprised at and then says okay before leaving the room. Kofi looks a little surprised too and asks Cody if he's okay, with Cody telling Kofi that he needs to talk to him. He says that he's probably crazy for even bringing it up since it came from Carlito, but he has to know if what he said is true. Kofi doesn't know what he's talking about, and tells Cody that. Cody then says he needs to ask him outright, then asks Kofi if there's something going on with him and Kelly behind his back. Kofi looks stunned and says there's not, then says that The Colon's are troublemakers and that Cody shouldn't listen to them. Cody says that's what he thought and then says he's sorry but explains he had to ask, then asks Kofi if they're still good with Kofi saying that "it's all good man" in his delightful Jamaican laid back accent. Cody doesn't look too pleased, which Kofi picks up on and tells Cody he doesn't look so sure, and Cody then says that it wasn't just The Colon's, but it was that he saw Kelly looking at Kofi last week when he was hurt by Lance Cade. Kofi says she was just checking he was okay that's all, tells Cody to get real and not to worry about it, saying that nothing is going on. Cody seems to accept it, and Kofi then tells Cody to go take care of Kelly, to take her out for the night and have a good time. Cody smiles and says he will, then thanks Kofi and walks out with a small smile on his face while Kofi shakes his head in disbelief.


***VIDEO PROMO***





***COMMERCIAL BREAK***


***MATCH #5***

Chris Jericho vs. Bobby Lashley

ENDING: With Rey Mysterio sat at the announce table talking about his as well as Jericho & Lashley's Money in the Bank prospects, the two men in the ring give each other everything they have. Lashley continues to be aggressive, dragging Jericho back up to his feet and whipping him hard in to the corner. Jericho hits back first and hard as Lashley takes a couple of seconds before running down in at him, but Jericho lifts his boot up in to Lashley's face. With Lashley then staggering out of the corner, Jericho climbs up to the top rope, nailing Lashley as he turns back round with a MISSILE DROPKICK. . . . . Jericho scurries across and hooks both legs for a cover 1 . . . . . 2 . . . . . Lashley gets his shoulder up and then sits up, forcing Jericho in to action as he too gets back up to his feet. He then turns round and runs in to the ropes, coming back and hitting Lashley with a ONE ARM BULLDOG. . . . . The fans know what's coming as Jericho then runs in to the ropes AND SPRINGBOARDS FOR THE LIONSAULT. . . . . Lashley rolls closer to the ropes, dodging it, but Jericho lands on his feet. As Lashley then stands back up and sees Jericho running back in to the ropes, he charges at him and absolutely breaks him in half with A SPEAR. . . . . Jericho holds his chest and writhes around in agony as Lashley seems to lose it and starts pummelling Jericho with boots to the chest. He then stops stomping him and drags him over to the corner, sitting him up against the ropes. He then drives his boot in to Jericho's neck, trying to choke him, but the referee walks over and tells Lashley to let it go, but he carries on and ignores the ref's appeal to stop as Jericho nearly turns blue. The ref tries again, but Lashley carries on choking Jericho, causing the referee to call for the bell.


AFTERMATH: Lashley shoves the referee down to the mat and continues the attack on Jericho until Rey stands up at the announce table and climbs on to the apron, getting Lashley's attention. He tells him to stop, and he does back off before looking down at Jericho and climbing through the ropes to a negative reception from the crowd as Rey watches on. Mysterio then steps in to the ring and checks on Jericho, who is able to stand back up, but he pushes Rey away from him. Rey looks surprised and seems to ask why, but Jericho just stares aggressively at him.


WINNER: Chris Jericho by DQ @ 7.04


***CUT BACKSTAGE***


Cryme Time & Ron Killings are walking down the hall laughing about earlier on when we see The Colon Brother's & Eric Perez leaning against a wall and laughing back at them. Shad, JTG & Killings stop and stare at them with JTG then asking if there's a problem. Carlito stands up straight and says no, there's no problem but they had to laugh at one man making a joke of all three of them earlier, saying that wasn't cool. Shad then steps forward and tells Carlito to laugh again if he thinks it's that funny, but Killings & Perez shift to stand between both Shad & Carlito. The oldest Colon brother says that playing chase is for the playground and that they're not here to look like children who have had too much sugar. Shad makes an attempt to get at Carlito, but Killings & JTG hold him off with Perez standing firmly in front of Carlito too. Eddie then says to Carlito that he's right, that they looked pathetic, but then turns to Carlito and sarcastically asks him that don't they usually look pathetic anyway. Shad tries to get at them both, but he's held back again as The Colon's laugh and walk off with Perez following them. JTG & Killings let go of Shad once they're gone and Killings tells Shad not to get involved because they're not worth it. It doesn't seem to register with Shad, who just stares down the hallway.


***VIDEO PROMO***


***COMMERCIAL BREAK***
***VIDEO PROMO***

Clips of Shawn Michaels, Randy Orton, John Cena, Edge, Kane, Jeff Hardy, CM Punk, Triple H, Batista, Ric Flair in studio shots posing under bright lights and a black background

VOICEOVER: There is one spectacle that eclipses them all. . . There is one spectacle where the best showcase their talent. . . There is one spectacle where dreams are shattered. . . This spectacle will return to create new dreams, for this spectacle is Wrestlemania. . .




13 DAYS TO GO!


***CUT TO THE ARENA***


***THE MAIN EVENT***

Ric Flair w/Triple H & Batista vs. Vince McMahon w/JBL

ENDING: Flair blocks a right hand from Vince and starts unloading on him with a mix of chops and then right hands, forcing him back in to the ropes. He then whips Vince in to the ropes and walks back towards the centre of the ring, and as Vince comes back, Flair kicks him in the gut. He then follows up by hitting Vince with an inverted atomic drop, and then sweeps Vince's legs. Holding on to Vince's legs, Flair then tries to lock in THE FIGURE FOUR LEG LOCK. . . . . Vince starts squirming immediately and doesn't allow Flair to put the hold on, dragging himself back to the ropes. Flair doesn't want to let go as JBL then decides to get involved and stands up on the apron. The referee walks over and tries to get him down, with Flair then letting go and talking smack at JBL, but the referee tells Flair to leave it to him. We then see Shane McMahon jumping over the barricade and entering the ring as Flair turns round and walks in to a right hand from Shane that sends Flair down to the mat. Flair doesn't move as Shane then removes some brass knucks from his fist with Vince scurrying across and covering Flair. JBL drops down off the apron as Shane laves the ring, giving the ref the chance to count the fall 1 . . . . . 2 . . . . . 3.


AFTERMATH: "No Chance in Hell" hits as Shane & JBL pull Vince out of the ring and to safety as Triple H & Batista race in to the ring to check on Flair. They watch on as a victorious McMahon family retreat to the ramp smugly staring back at Evolution in the ring.


WINNER: Vince McMahon by pinfall @ 5.39


***COMMERCIAL BREAK***


***VIDEO PROMO***

We see a video clip showing the highlights of the career of "The British Bulldog" Davey Boy Smith.




2008 INDUCTEE: "The British Bulldog" Davey Boy Smith



***CUT TO THE ARENA***


"Voices" plays as a very satisfied looking Randy Orton walks down to the ring with around six security guards surrounding him. He gets a ton of heat from the crowd as he proudly displays the WWE Championship on his shoulder, and once in the ring, he walks over to the opposite side and asks for a microphone. He says that the time is getting close, every day brings us one day closer to Wrestlemania and the single biggest match in Wrestlemania history when he defends his WWE Championship against John Cena & Kane. He says that the fans have to admit he's intelligent, no one else would have thought up what he did to John Cena a couple of weeks ago, setting him up to be the one that looked to have attacked Paul Bearer. He said it worked brilliantly, saying that John Cena is currently at home getting a sponge bath from his dad while he watches The Legend Killer tell the world that he outsmarted John Cena. He then says that getting to Paul Bearer was the one sure fire way to really get another monster out of Kane, really pushing him over the edge. He says that he felt bad for the guy who was going to be on the end of it, and fortunately for him it was Cena, although he had no idea that Kane would have done what he did, chokeslamming Cena off the stage like that.

He grins and then says that is exactly why he will leave Wrestlemania still the WWE Champion, because he is the most intelligent and he has the game plan to make it work and then says that he will do absolutely whatever it takes to retain the WWE Championship. The fans boo loudly as Orton then admits that the odds aren't in his favour, but says that Cena's hurt and that allowed him to isolate Kane last week. He then says that he didn't know what he'd have to do to put Kane down, but says he got real close to beating him before he had to resort to tough measures. He says that with Cena & Bearer at home, there was no one to come to Kane's rescue and if he did enough damage with a steel chair, he wouldn't just have been responsible for Cena & Bearer on the shelf, but Kane too. He then say that he took it to Kane last week, but admits Kane is tougher than he thought, saying five chair shots couldn't keep him down, but says that he will put that right because nothing will stop him from finishing the job at Wrestlemania. "My Time is Now" blasts out to a big pop with Orton looking stunned to see John Cena walk out to the stage with a microphone in hand.

Cena walks to both sides of the stage to get the crowd going before saying that not for the first time, and certainly not the last, Randy Orton is talking out of his ass. The crowd cheer as Orton looks pissed, but Cena carries on and says despite Orton's words, he's clearly not at home getting a sponge bath, and as much as Orton wants to makes us a believer, even he knows full well that he can't stop Kane. Orton lifts the microphone up and says straight away that Cena's talking crap, stating that he came close last week to putting Kane out of Wrestlemania. It's Cena's turn to cut in immediately as he says that whatever he did, he failed, he didn't do it, and then tells Orton to forget about the third wheel because of two weeks ago, they too have unfinished business. The crowd like the sound of that, and Cena says that since Orton has come out and told the world just how he was set up, he's going to show Orton that there are consequences. Orton acts all tough with his security around him and asks Cena just what he's going to do about it. Cena just says "this" and drops his microphone, then walks down the ramp to a huge pop from the crowd. Orton tells the security to get him, and they do, leaving the ring, but Cena charges at them and starts brawling with all six of them as Orton watches on.

Cena is able to fight two off, throwing them in to the steps and barricade respectively. The other four get on top of him to Orton's delight in the ring, but then, "Burned" rips through the speakers as Kane storms his way down the ramp with his pyro scaring the life out of everyone in the arena. Orton looks stunned and worried as Kane joins Cena in taking out the security, but Cena gets in to the ring while Kane takes care of the last security guard standing by shoving him in to the ring post. Orton runs at Cena as he crawls under the bottom rope and tries to connect with the punt straight away, but Cena ducks his head and crawls away before racing up to his feet. As Orton the turns round, Cena lifts him on to his shoulders and plants him with the F U to a huge pop from the crowd. Cena drops to the mat and locks in the STFU while the crowd go nuts, but he then sees Kane climbing on to the apron and over the top rope. He lets go of the hold on Orton to get up to his feet as Kane walks over, but The Big Red Machine walks over to Cena just before he can stand up and grabs him around the throat for a chokeslam. The crowd boo, but Cena kicks him in the stomach to escape Kane's grasp.

He then pummels Kane back in to the ropes with right hands, and then takes him over the top with a clothesline. Cena follows him out as Kane stands up straight away, leading to them brawling and Kane reversing a whip in to the ringpost as Cena crashes in to it face first. Kane lies in wait as Cena picks himself back up, and as he turns round, Kane then charges at him, but Cena sidesteps as Kane collides with the ringpost. Cena then grabs Kane's head and smashes it in to the post three times, resulting in Kane falling to his knees. Cena then walks over to the announce table and strips it completely as JR & King quickly stand up and step away from it. Cena turns his attention back to Kane and walks over to him as he starts to stand back up, with Cena then dragging him over to the announce table and lifting him on to his shoulders for an F U. Kane fights it and is able to wriggle down Cena's back and then grab him around the throat, setting him up for a chokeslam, but Cena fights it this time with a swift kick to the groin. Kane loses his grip and Cena takes advantage to lift him on to his shoulders again and this time he connects with the F U right through the announce table. The crowd go crazy as Cena stands down and stares at Kane as Orton stands up in the ring and looks on in shock as Raw comes to a close.


***END OF SHOW***


QUICK RESULTS
Mr. Kennedy df. Elijah Burke
The UK Pack df. Paul London & Brian Kendrick
Beth Phoenix Won A Diva Gauntlet
CM Punk & Colt Cabana df. Jeff Hardy & Eugene
Chris Jericho df. Bobby Lashley
Vince McMahon df. Ric Flair

HEAT RESULTS
Natalya Neidhart df. Candice Michelle
Lance Cade df. Val Venis
Ron Killings df. Trevor Murdoch

CONFIRMED FOR WRESTLEMANIA XXIV
Official Theme Song
Fall Out Boy "Thanks For The Memories"
To view the amazing video, click here!
WWE Championship
John Cena vs Kane vs Randy Orton (c)

World Heavyweight Championship
Shawn Michaels (c) vs Edge

The Ultimate Grudge Match
Evolution vs The McMahon Men

Last Man Standing Match
The Undertaker vs Umaga

Money in the Bank Ladder Match
Chris Jericho vs Bobby Lashley vs Rey Mysterio
vs Mr. Kennedy vs Elijah Burke vs MVP

Intercontinental Championship
I Quit Match
Jeff Hardy vs CM Punk (c)

WWE Unites States Championship
Matt Hardy (c) vs Shelton Benjamin

WWE Cruiserweight Championship
Chavo Guerrero vs Matt Sydal
vs Kenny Dykstra (c) vs Michael Shane

WWE & World Tag Team Championships
The UK Pack (Paul Burchill & Harry Smith) (c) vs The Pitbulls (Jamie Noble & Kid Kash)
vs Paul London & Brian Kendrick (c) vs John Morrison & The Miz

Womens Championship
Title Can Change By Disqualification
Victoria vs Beth Phoenix (c)


WWE Hall of Fame Class of 2008
Owen Hart, "The Million Dollar Man" Ted DiBiase, "The Nature Boy" Ric Flair, Ricky "The Dragon" Steamboat, The Rock & "The British Bulldog" Davey Boy Smith

2 more names to be announced



Re: WWE: A Strong Response
---
RAW REVIEW
BY SC2004

(Haven't had a chance to review or read all that much over the last few weeks. Therefore I may not be privy to recent storyline developments.)

Anyway here goes!

- The Hall of fame stuff at the start of the opening promo was nicely done. It was reminiscent of Flair's farewell Raw the night after WM 24, but on a smaller scale. Nice job having the McMahon's knock Flair like they did, that would of gotten major heat from the crowd. I liked how mad Ric got, there is nothing better than watching Flair get worked up, always fun. Bischoff's interruption came a little too soon, but the match he made between Ric and Vince is great. These two factions hate each other, that comes across, but the intensity of this stand off lacked a little. Nice opener though.

- I like how you've paired Burke and Layla up. She's talented enough, the WWE are finally realising that as of late. I'm not the biggest Kennedy fan, I guess It's hard to take him seriously after the way he's been used of late. He looked so strong here though and the win helps him look like a strong contender going into WM.

- The Miz and john Morrison are young, Brash and full of confidence. The backstage interview with Maria highlighted that. However it also had a second purpose and that was to draw attention to the tag team divisions and show that the titles mean something and are worth fighting for. Nice, subtle segment. I'm liking the graphics throughout, but you know me, I'm a graphics whore. LOL

- Looking forward to the Lashley, Jericho match, although I think you could of run with this feud post Mania and made a match up between them at backlash. As for Punk, Cabana and Bischoff. Logical booking here, using four superstars in a tag match that will no doubt further the Punk, Hardy feud.

- A short match here featuring the tag champions. Well short by your standards. I don't think the win should of looked so easy, but I'm not too concerned. Again a subtle well constructed backstage interview featuring Hardy and Eugene! You know I'm not a fan of Eugene, but I won't bitch. It's ironic listening to Hardy talk about quitting and how he never has and never will. Just makes me think of his drug addiction! LOL.

- Nice booking here with the divas. I used a similar set up for Matt hardy, MVP in my old BTB. The Glamazon isn't the best on the microphone, but this was short and sweet and she needed the time to set up the gauntlet. The only trouble with this gimmick is that it makes Melina and Jillian look weak. The finish was predictable, but successful with the heels using heel tactics to pick up the cheap victory.

- Solid tag team match. I liked the finish a lot and I'm glad it was Eugene doing the "job" here. The aftermath was intense. I expected Punk to flee when Jeff returned to the ring, so it was a nice surprise to see Jeff get his ass kicked. Loving Eugene taking a chair shot to the skull. I'm sick, I know! HA.

- Cody Rhodes is a young guy, he's bound to be paranoid all the time with Kelly, Kelly on his arm. I smell a heel turn. It would be cool if you go with a Sable, Mero type angle here. Cody is good enough on the microphone. Kofi wouldn't fit into the angle all that much however.

- Well I wasn't expecting a clean finish in the Jericho, Lashley match and we didn't get one. I'm not complaining, I would of done the same, it's smart booking! It was lousy DQ finish though, kind of similar to what we've seen in the WWE of late. I liked the interaction between Jericho and Rey. That sure was interesting.

- Ugh! Flair, McMahon was a disappointment. Though given Flairs age and Vince's lack of ability, keeping it short was wise I guess. The Shane run in came as a surprise, actually didn't see it coming. Don't know how much this match actually added to the feud?

- At last Orton makes an appearance. Very strange not seeing him, Cena or Kane all night! Orton came across very smug in his opening comments, which is how he should be. He's gloating, but I expected him to be on edge after what happened last week with Kane appearing indestructible. Interestingly Orton acknowledges Kane's toughness! Ah, here comes Cena. JOY! NOT! First Orton puts over Kane, now Cena. I'm starting to think Kane is leaving WM the champion! The Cena, security guard brawl would have been fun to watch. It was cool how Kane and Cena joined forces, all be it for only a few moments. Cena looked the best here, taking out Orton and then Kane. The spot with the table was nice. I think after last week, with you making Kane look so strong and this week, with you making Cena look strong the only person looking weak is the champion! Anyway, awesome closing segment.

OVERALL: Pretty much perfect and I don't say that often, if ever! No need to say anything else, other than congrats on a great show dude!
---
Asking JAMES ELLSWORTH for Wrestling Advice
Join Date: Sep 2008
Location: Brighton, England.
Posts: 287
Points: 0
Re: WWE: A Strong Response
---
Seems like you have a really good lay-out and presentation for your shows. You have a lot of high-profile matches on Raw, and it seems you compliment them with good storylines. Wrestlemania's card is stacked and I'll be interested to see what happens. Do you ever write your promos out in full though, as in their exact speech?

Also, could you tell me which page the Royal Rumble is on? I'd like to read it so I can catch up on all the feuds and how the road to 'Mania began. Thanks.
Re: WWE: A Strong Response
---
D-K-L's Raw Review

The opening promo was a very well written promo and a good way to open the show. The Hall of Fame video was a nice touch and it was just a perfect set up for The McMahon's coming down. The confrontation between the two groups was good and all seemed in character, especially Flair when he went crazy. Eric Bischoff coming down was expected but a good decision, he has looked like a very strong GM recently and he sorts out all the trouble. The Vince vs. Flair match is huge for Raw simply becuase they are two huge names in wrestling, but I can see it ending with some sort of dirty finish. Good promo.

Now this seemed like a good opener between two top young stars. This adds to the MITB hype too by putting two of the participants together. I see now why you don't have Lance Cade do the sit-down spinebuster which I like as Burke used it here again. Poor Layla getting knocked off the apron, it was only a while ago that she got hit with a crossbody from Rey Mysterio! Big win for Kennedy and he looks strong heading into 'Mania.

Loved the Miz and Morrison interview, typically arrogant promo from them. I liked what they had to say and you got their characters spot on. The interview was topped off with a great last line from them too. Good interview and adds more hype to the 'Mania match, as well as giving M+M some more attention in their new home.

Nice couple of match announcements here, Lashley verses Y2J will be very interesting, I wonder if Lashley will keep up his momentum. The Bischoff/Punk/Colt was cool, Punk obviously winds Bischoff up a lot. I am liking the Cabana/Punk team already, I can just imagine the arrogance and smugness of Punk and Cabana together.

What a big win for the UK Pack, defeating the Raw champs on Raw is a big win for them. It doesn't do much good for Londrick but it does wonders for the UK Pack. Liked M+M coming out at the end too, typical heel thing to do.

Pretty good interview with Hardy and Eugene. Hardy isn't a great talker tbh but you can have him say anything in BTB. I liked what he had to say and it adds a bit more hype to this great rivalry. I hate Eugene as you know but what he had to say was typical of him.

Good set up for the gauntlet match, not too sure if Santino was needed but he his hilarious so any excuse is good enough for me. "Ronald Kill-things" Lol!
Victoria looked strong going through Melina and Jillian, Melina is a good wrestler but you had her lose in a good way after being distracted. I liked how you developed the Cryme Tyme-Killings-Santino rivalry during the gauntlet, good booking and I see now why Santino was out there. Jillian is also pretty good in the ring but nowhere near as good as Victoria so i'm fine with Victoria squashing her. I was half expecting Victoria to come back and pick up a huge non-title win over Phoenix but this was a great way to develop the fued further, Phoenix and Natalya would've gained a lot of heat from this and it was a good heel thing to do.

I'm glad that Punk and CC picked up the win here, I liked how you did it too by knocking Jeff off the apron after that vicious ezuigiri, ouch. GTS on Jeff after the match was cool and hitting Eugene with the chair was even better. Eric Bischoff won't be happy at all though, but I am looking forward to Punk rubbing it in his face.

I am loving this storyline already, last weeks' segment with Cody and Carlito was great and this one was pretty good too. I was expecting a few more weeks of Cody looking jelous before they talked it out but its no big deal, I don't know if you have anything for these two planned for 'Mania, but if you do I can understand why its been moved on fairly quickly. I still expect lots from this angle though even after this talk, I still expect Cody to turn on Kofi after saying they're cool.

I liked the aggressive Bobby Lashley here, I'm not sure if it was a heel turn or whether he just lost his temper, but I liked it. I was wondering who was going to take the loss out of these two but this was a good way of keeping both guys looking fairly strong. I liked the Rey/Y2J tension too, there is real problems between the MITB guys which I like.

Nice little segment here, looks like the start of a decent rivalry. A six-man between these guys would be pretty cool, but I look forward to next week to see where this goes.

Should've known that Shane wasn't injured enough to stay at home. I liked how you handled the interference, just a typical dirty finish from the McMahon's really. Again this develops the feud even further with the McMahon's continuing to grab dirty victories. I look forward to the fallout, although the run-ins are getting slightly repetitive so I hope we don't get it again next week before 'Mania.

Glad to see the Bulldog in the Hall of Fame.

Now this was a brilliant way to close the show. Loved Orton gloating becuase I knew he would be interupted. Its good seeing Cena back, I guess, and the brawl with the security is something I can just picture him doing. I think he's done it before actually. Kane coming down was well was great and I loved the three way brawl. Kane and Cena brawling on their own was great and you really teased it going either way with Kane slipping out of the FU only for Cena to pick him back up and FU him through the table. I am happy that someone has taken Kane out tbh as he can't look indistructable every single week heading into Wrestlemania. Cena looks strong, and although I don't like him he needs this. Great way to end the show.

Overall Nige it was another great show, Mania keeps getting closer and I can't wait!
Re: WWE: A Strong Response
---
PWInsider.com

Helms On The Comeback Trail!
It's been brought to our attention that Gregory Helms has resumed weight training over the past month following his neck surgery last year. From what we have been told, his neck is healing quite well and he is ready to begin ring work again very soon. Helms is held in high regard by creative and could be in line for a significant push when he does return to TV. It is just speculation, but there are rumours that he could be appearing on TV soon in a non wrestling capacity to build up his return.



Posting Rules

You may not post new threads

You may not post replies

You may not post attachments

You may not edit your posts

---

HTML code is Off

---