Re: WWE: A Strong Response
---
PWInsider.com

WWE MAKES NEW SIGNING, WE TALK TO CREATIVE HEAD!


Leticia Cline has been recruited to work as a backstage interview for the WWE, signing a 12 month contract. It is expected that she will work on Smackdown and replace Lena Yada who is said to be working at FCW now that a set has been set up for interviews in the arena.
We also got a chance to sit down with the head of the WWE creative team, Nigel Smith yesterday and he gave us some comments on all things wrestling.
On the problems surrounding Jeff Hardy & CM Punk – "There's no denying that Punk & Jeff don't get on too well, and there was a situation created after the comments made at the Royal Rumble. Vince sat down with them both and then Punk separately. They still don't talk much backstage, just the usual hey and that, but they've worked well on screen since then and hopefully they will put on a high quality match at Wrestlemania like they did at the Royal Rumble. I have no reason to believe they won't go all out and build on what they've had going on since November."

On Kane – "It was a big decision to have Kane return with the mask and win the Royal Rumble, but I have always thought that Kane has suffered from the very day the mask was taken away from him. The monster that we saw on a weekly basis back when he debuted was fearsome and unpredictable, something that was lost even before the mask came off. I felt that a return with the mask would get one big response, and the timing of the Rumble was just too good to resist, and obviously it had the shock factor as absolutely no one expected him to come back and win it. Putting him in to the main event of Wrestlemania was obviously going to be one hell of a risk, but the triple threat match with John Cena and Randy Orton for the WWE Championship will be action packed I'm sure. I have to say that I feel I could have done a lot better with him in recent weeks. I've wanted to create the intimidation factor all over again, but maybe I pushed that too much without having him do much more. Paul Bearer was brought back so that he could have a mouthpiece and Kane could do his own talking in the ring. From now on, Kane will be more active on Raw, that is for sure, but I can't tell you if he will leave Wrestlemania as the new WWE Champion though."

On Kenny Dykstra – "When I took over, there were several superstars who I thought weren't being utilised fully, and Kenny was one of the main guys I felt could offer something to the product I wanted to create on Smackdown. I think he has shown he can do that, and since becoming the Cruiserweight Champion he has worked very hard on his in ring performances and his promo work too. It's fair to say everyone backstage has been very impressed with his work ethic and it's no surprise to me that he has stepped up to the plate and worked in main events on Smackdown against the likes of Shawn Michaels and Batista. He has well and truly earned the chances he's received, and the sky is the limit as far as Kenny Dykstra is concerned. He carries himself well backstage and doesn't have the ego he has on screen. He could well be in a strong position by the end of 2008 along with a few other superstars that have performed well so far."

On The Undertaker's future – "I've not heard any rumours either from within the company or on the internet about Mark retiring. He's had some time off the last few weeks to let a few injuries heel and basically take a rest. He's obviously at that age where people are going to speculate about his future, but I honestly don't see him leaving anytime soon. The same questions do arise when I'm asked about Shawn Michaels and Ric Flair, but I expect that if it there was any truth to it, you would know about it before me."

On JBL's condition – "I am aware that John has been suffering again with the same back problems that forced him to take a year off. You won't be seeing John wrestle on TV all that much, if at all. He's not working matches at house shows, and I expect him to work Wrestlemania and Backlash as planned. Past that however, I'm not sure what he will decide, but he's such a valuable on screen character, I'm sure you won't see him disappear. There are alternatives planned for the Evolution/McMahon's feud, so there is some room for change there."

On Eric Perez joining Eddie Colon & Carlito on Raw – "The Colon's have worked well as a team in and out of the ring, and it has to be said that Carlito is doing a good job of getting Eddie, Kofi Kingston, Cody Rhodes & Kelly Kelly over. Kofi has the potential to be a big star as he has some amazing natural talent, and working with Carlito is certainly helping him. Eddie's confidence is growing week by week in promos and when in the ring. Having Eric Perez alongside them as a bodyguard is a move that will see them established as a strong team for now, with Carlito eventually moving back up the card and Perez teaming up with Eddie like he did in Florida."

On Colt Cabana – "Colt's promotion to the main roster was a long time coming. A lot of people on the creative team aren't too aware of guys in developmental and the indy scene, so talent like Cabana, Eric Perez, Eddie Colon, Matt Sydal & Johnny Jeter for example didn't have much of a chance before. Now that's changed, guys like Cabana are going to get that chance, and he has so much charisma and talent, he will be a great asset to the company, but of course his debut has not been confirmed just yet with some people recognising him and some not."

On developmental talent – "There are some great guys down in FCW, there really is. I was shocked to find out that Stu Bennett was from my own home town of Preston, so that was a nice surprise. From what I hear, he is going to be involved in something quite big in FCW alongside Drew McIntyre and Katie Lea, but I can't divulge much more about that. Of course you have big names like Ted DiBiase Jr, his brothers Mike & Brett as well as Joe Hennig, Reid Flair and Afa Jr. Joey Matthews and Christian York have signed deals a few weeks ago, as have Matt Cross & The Amazing Red. Ricky Banderas is down there too, as is Jake Hager, who is going to be a star by the way, plus TJ Wilson and Teddy Hart to name a few. The future is bright for the WWE if we can keep getting guys like these in developmental. We don't need to look at other companies and think about prizing big money stars away when there is just as good talent in FCW and on the indy circuit."

On Matt Sydal – "Matt's excelled since joining Smackdown. His work ethic is second to none, and his in ring talent has never been in doubt. He just has that spark about him and he has a big future ahead of him if he can carry on the way he is. The crowd have taken to him a lot quicker than other young talent, mainly due to his in ring style, but he is the first to admit that he needs to grow a bit more confidence when it comes to delivering promos. He will be given the chance to do that, and quickly too."

On The Rock & Stonecold Steve Austin – "They are two legends, and from what I hear they could be joining the Hall of Fame this year. They made the shortlist for nomination, so it wouldn't surprise me with the fans voting. For me, I think legacies are best left untouched, and I personally wouldn't like to see them make a permanent in ring return. I don't know what Austin's condition is, but I don't think he would ever be able to come back to the WWE now, and I think a lot of guys in the back would have something to say about that anyway. He's never going to be anything like he was, so I think he's best off continuing what he's doing now, making the odd appearance. The Rock, sorry Dwayne Johnson is obviously more than happy making films and talking down about the wrestling business. I saw him say on Jonathan Ross that wrestling has hurt his soul. Turning his back on The Rock is all well and good, but he should acknowledge that being allowed to show his personality in the WWE got him where he is today. Like he said himself, there will be no return because The Rock no longer exists."

On Kurt Angle – "Kurt's a phenomenal athlete, there is no getting around that, I just feel that he has pushed himself too far with all the neck problems he has had. His commitment to the business is tremendous, but I believe that he has to take a look at how serious his wrestling could be. I'm not a doctor so I don't know, but if what we hear is true, which it may well not be, he's been on a self destruct mission for a while now. If he goes in to MMA, then I dread to think what could happen, despite its schedule. When people ask me if he would come back to the WWE, I always think of the phrase never say never, but I think that is one time you can definitely say never."

On rumours of Gail Kim rejoining the company – "I love Gail's work in TNA, she really has taken the Knockout division to another level, and she can take a lot of satisfaction from that. I have had the chance to get involved in the recruitment process recently, and we are aware that her contract in TNA does end in April or May, I'm not sure which. We are looking to expand the women's division, and a wrestler of Gail's ability can only add to the talent we already have. I'm sure that if Gail wants to talk to us, I'm sure we will jump at that opportunity. If she does sign on the dotted line, I'd be more than happy to find something big for her return, touch wood."

On Post Wrestlemania – "I can't give any ideas away, but obviously everyone knows about the draft the night after Wrestlemania. We've gone through plans for roster changes and matches for pay-per-views up until Summerslam so many times with them changing a lot. Some changes are set in stone, but others remain up in the air. We've got The Big Show making his return as you will know which will be very interesting I'm sure. His storyline has been in place since his signing with the company, and I look forward to seeing how that goes down. The King of the Ring is returning too in June, and I can't wait to see this show make its comeback, and it will be coming back with a bang, believe me."


---
Last edited by Nige™; 09-05-2008 at

11:28 AM

.
WWE.com - Television - Smackdown (Preview - 7th March 2008)
---
Smackdown Preview
7th March 2008

Spokane Arena
Spokane, Washington
REGAL'S NOT A HAPPY GM

William Regal told WWE.com earlier this week that he was very angry with the events of the last two weeks on Smackdown as far as Evolution & The McMahon's are concerned. Ever since Smackdown superstars, Batista & Ric Flair came to the aid of Triple H several weeks ago, Smackdown has been invaded by The McMahon's. On both occasions, Vince McMahon and his two sons, Shane & JBL have left their mark on Evolution, and it appears that Regal is desperate to ensure that doesn't happen again. Just how will he prevent it from occurring this week?

EDGE GETS ONE OVER THE CHAMP
After Shawn Michaels was able to overcome the challenge of Kenny Dykstra two weeks ago, Edge pulled out one more challenge for the World Champion last week. It came in the shape of The Heartbreak Kid's cousin, Michael Shane who was able to dust himself down after an altercation with Dykstra earlier on. And thanks to the number one contender for Michaels' title at Wrestlemania, Shane was able to cover his cousin after a spear from Edge. Surely Michaels won't take this lying down, what kind of reaction will we see when Smackdown rolls in to Washington?

IS THE DEAD MAN SENDING UMAGA A MESSAGE?
Umaga & Armando Alejandro Estrada thought that they had seen the last of The Undertaker after The Samoan Savage left the dead man in a heap several weeks back. We all saw Umaga place the steel chair across The Undertaker's neck before connecting with a big leg drop on to the chair, resulting in the dead man bleeding from the mouth. After winning a tag team match last week, Umaga was walking through the back along with Estrada when the lights flickered and a storage box was pushed in their direction, knocking them to the floor. Was this a message from the dark side? Is The Undertaker on his way to back to earn retribution?

SHELTON'S ON MATT'S TAILS
It has been no secret in recent weeks that Shelton Benjamin is dead set on taking the United States Championship away from Matt Hardy. Last week he had the chance to prove himself against the champ when he joined forces with Umaga to take on Matt & Shannon Moore. Shelton was able to pick up a big victory, finishing Matt off after a lot of work from Umaga. The Gold Standard was very cocky after the match, but it was a different story for Matt & Shannon, with Moore offering Shelton the chance to face him this week, an offer we believe he has taken up. Matt will most likely be close by to see his long term friend take on his rival, but will Shelton get himself any closer to the shot he is so desperate for?

IS AN EXPLOSION ON THE CARDS?
It appears that Kenny Dykstra & Michael Shane are unable to co exist alongside Edge, and after Shane cost the Cruiserweight Champion his match for the second consecutive week last Friday, we have been advised that the two of them will team up this coming week. They will take on the two men that have also gotten to Dykstra, as well as making their intentions clear regarding the Cruiserweight Championship, Chavo Guerrero & Matt Sydal. Chavo & Dykstra have a lot of bad blood between them, and with Sydal defeating the champion last week, it seems that for the first time in a while, Dykstra is under real pressure. Can he and Shane put their differences to one side for one night only?

NO HOLDS BARRED IN THE CAPITAL
For weeks, we have seen Chris Harris & Finlay go back and forth at each other, but this week will see the culmination of this rivalry when they meet in a No Holds Barred match. The duo were called to William Regal's office last week with the GM firmly telling Finlay that he would not put up with anymore of the antics with the shillelagh, making this huge match for Friday night in Washington. Just who will prevail in their final match?

THE PITBULL'S GET THEIR WISH
Ever since coming so close to becoming the WWE Tag Team Champions at Saturday Night's Main Event, The Pitbulls have made it their mission to get another shot. And last week, after weeks of taking matters in to their own hands, they were given a rematch at Wrestlemania against The UK Pack. However, they received something else last Friday when Paul Burchill & Harry Smith bought them a new trailer before mocking the closeness of their friendship. As well as facing the champions at Wrestlemania, Kid Kash will go one on one with Burchill this Friday night. Can they get another one over their rivals and make up for the embarrassment they received last week?

THE MASTERS PUSH THE LIMIT
Chris Masters & Charlie Haas, The Masters of the Mat have sure as hell pushed all boundaries as far as human decency is concerned. Two weeks back, they suckered Tazz in to a trap and a heavy beat down, resulting in Tazz being sent to hospital. Last week we found out that Tazz was on crutches thanks to Haas and the Haas of Pain, but he brought along a couple of extreme friends with him, in Tommy Dreamer & Stevie Richards. The two teams collided, and it ended in Masters using Dreamer's cane to get himself and Haas disqualified. However, the attack didn't end there as they not only took out Richards too, they put another hurting on Tazz as Haas once again applied his deadly submission hold. Just what can we expect from them this week, and how is Tazz doing?


CONFIRMED FOR THIS FRIDAY ON SMACKDOWN

NO HOLDS BARRED
Chris Harris
vs. Finlay

Chavo Guerrero & Matt Sydal
vs. Kenny Dykstra & Michael Shane

Paul Burchill
vs. Kid Kash

Shannon Moore
vs. Shelton Benjamin
The FCW results will be posted several days later!
---
Last edited by Nige™; 09-04-2008 at

05:24 PM

.
Re: WWE: A Strong Response
---
preview looks awesome mate i am looking forward to juts about everything on the card as we steam towards Wrestlemania. I will be reading.
---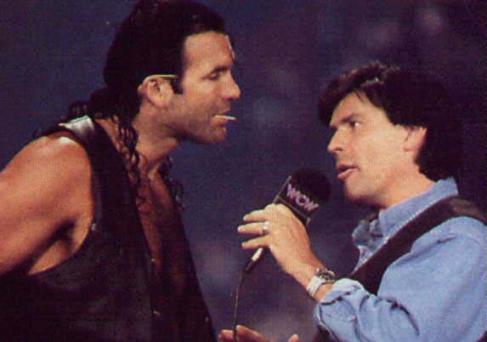 Re: WWE: A Strong Response
---
Very good preview Nige, I am looking forward to the show. There are some very interesting matches on the card, Finlay vs. Harris especially. I will be reviewing as always.

I also forgot to say earlier that the PWInsider sit down interview thing that you wrote was a very good read and you talked about some very interesting things. Gail Kim possibly signing would be good, she would improve the womens division for sure and she would be a very good addition for after Wrestlemania. And with her leaving TNA IRL you don't have to worry about the realism factor. It looks like you have some good plans for after 'Mania too which is great.

I look forward to reading the next set of FCW results too, I read the first recap and it seemed like a good show, you have some very good talent in there.
WWE.com HOMEPAGE- Smackdown Results (7th March 2008)
---
Smackdown Results
7th March 2008

Spokane Arena
Spokane, Washington



***VIDEO RECAP***

FROM LAST WEEK

Shawn Michaels & Michael Shane going one on one, with Edge spearing Michaels while the ref's back was turned to help Shane win the match.


***OPENING VIDEO***
"Rise Up"


***PYRO***
***PYRO***
***PYRO***
***PYRO***


"I'm Comin" hits as MVP walks down to the ring, all suited and booted. Getting booed as he enters the ring, he then collects a microphone and tells them to kill the music. He says that tonight he's home, not that Washington his home, because if it was, he wouldn't admit it, but it's fact he's back on Smackdown tonight. He says that the last few weeks being on Raw too has taken it out of him and that even such supreme athletes like him need to take it easy and chill now and then. He says that he's had to deal with Evolution the last couple of weeks, and then says that it won't be happening again tonight because he has the pleasure of announcing that Evolution including the home town boy Batista, as well as The McMahon's has been barred from the arena. The fans don't like that, but MVP tells them it's okay because they still have the highest paid superstar in Smackdown history to more than make up for that, which is also met by boos. He does say that he has something he needs to address however, because since Monday night, all he's had is people like the morons here in Washington mocking the fact that by some kind of miracle, he lost to Rey Mysterio. He quickly carries on says that just like the whole of Rey's career, it was a fluke.

He then says that this is the fluke World Champion he's talking about, the same guy who got lucky one time, winning the Royal Rumble and somehow managed to main event Wrestlemania. He says that it's thanks to Rey that he's not main eventing Wrestlemania this year, and says that he wants to show everyone just how much of a fluke Rey is by challenging him to a match right here tonight. That gets a pop, but we then hear "Metalingus" blasts out as Edge walks down to the ring looking quite chilled out. He collects a microphone as a confused MVP watches on. Edge says that since MVP's been on Raw the last few weeks, maybe he should go do his business over there because right now, the only thing these people care about is Edge and how at Wrestlemania, he will once again become the World Heavyweight Champion. The crowd boo very loudly with Edge then responding by saying that they might not like it, but they'll sure as hell have to get used to it, just like the man who will soon no longer be able to use the title of Mr. Wrestlemania, Shawn Michaels himself. He says that at Wrestlemania, he will show Michaels just who the true big time performer is when he takes away his World Title.

With the crowd booing, MVP tells Edge that he didn't come out here to be interrupted when "Sexy Boy" plays to a huge pop, leaving MVP even more pissed. Shawn Michaels walks out to the stage with his World Championship over his shoulder and with a microphone in hand. Edge doesn't let him speak and says that he's amazed to see him here after what happened last week, losing to his own cousin. Michaels smirks and says they both know how that happened, and then says that he's not out here because he wants his cousin, he's out here because there is one person he wants, and he's looking at him right now. Edge says it's tough crap because the next time he steps foot in the ring with him will be the night he sends Michaels' world crushing down around him, the night he ends the legacy of the show stopper, the main event, Mr. Wrestlemania. . . but he's cut off as "Booyaka 619" hits to a huge pop. Everyone looks on in shock, in particular a furious MVP as Rey Mysterio walks out to the stage to stand alongside Shawn. MVP looks pissed and asks Rey what the hell he's doing here. Rey grins and then asks for Michaels' microphone, which he gets. He then says that he came here tonight for a reason, because he knew MVP would run his mouth and talk crap like he always does when he knows he's (Rey) is not there.

He then says he's more than happy to do what he did on Monday night, and that's beat MVP. The crowd cheer with MVP looking confused at what to say when we see William Regal on the tron. He's standing in his office and says that after the trouble that happened last week, he's going to stay firmly in control this week, and that means dealing with the situation we see right now. He says that it all seems very clear to him, and since MVP challenged Rey Mysterio to a match tonight, and that Rey is more than happy to oblige, we will indeed see them compete in that very ring later on. The crowd cheer, but Regal quickly says he isn't finished. He says that it is also clear that Shawn Michaels wants Edge, and bearing the events of the last two weeks in mind, he thinks it is only right to have them compete tonight also. All four men look confused with Regal then saying that in tonight's main event, it will be Edge teaming up with MVP to take on the team of Rey Mysterio and the World Heavyweight Champion, Shawn Michaels. The crowd goes crazy with Edge & MVP not looking happy at all as "Booyaka 619" hits again. Michaels & Rey smile and walk to the back as Edge & MVP stare in shock at each other.


***COMMERCIAL BREAK***


***VIDEO PROMO***





***CUT BACKSTAGE***


Matt Sydal is in his locker room getting ready, putting his boots on. Cheers can be heard coming from the arena, and then we hear a knock on the door with Sydal telling whoever it is to walk in as Chavo Guerrero then walks in to the room, also getting a pop. Sydal looks a little confused to see him but is polite and says "Hey Chavo, what's up". Chavo looks relaxed and says he just thought he'd stop by and check his partner for tonight is ready to go after the big win last week. Sydal smiles and says he enjoyed beating Dykstra last week, and he's ready to do it again tonight so he can get one step closer to a shot at the Cruiserweight Championship. Chavo smiles and rubs his chin before sitting down alongside Sydal. He says the last thing he wants to do is upset him, but if anyone is getting a title shot it's him since he's still owed a rematch after Dykstra used all the tricks in the book to beat him at the Rumble.

He then tells Sydal he was watching last week and that the only reason he beat Dykstra week was because Michael Shane got involved. Sydal smirks and asks Chavo if that's the same Michael Shane that beat him (Chavo) two weeks ago. Chavo doesn't look happy with Sydal then saying that a win's a win, and he'll prove that tonight. He then stands up and puts his wristbands on before saying he thinks it's time to move on and since Chavo had his chance at the title, now he wants his. Chavo doesn't look best pleased and a little lost for words. Sydal then says they both have a chance to prove themselves tonight, and the best thing they can do since they want the same thing, is go out there and make a statement together. He extends his hand to Chavo, who stands up, nods his head and then shakes Sydal's hand, saying okay before leaving the room, looking a little uncertain.


***VIDEO RECAP***

FROM TWO WEEKS AGO: Jamie Noble picking up a win over Harry Smith by holding the ropes and Smith's tights.

FROM LAST WEEK: Paul Burchill & Harry Smith making fun of The Pitbulls by bringing out a trailer before William Regal made their match for this week and Wrestlemania.


***CUT TO THE ARENA***


***THE OPENING MATCH***

Paul Burchill w/Harry Smith
vs. Kid Kash w/Jamie Noble

ENDING: Burchill looks on top as he urges Kash back up to his feet. The Notorious K I D makes his way back up with Burchill then walking up to him and helping him up to his feet, following up by swinging a right hand at him. Kash ducks it though and then grabs Burchill by the arm, then tries for an irish whip, but it's reversed by Burchill. As Kash comes back off the ropes, Burchill ducks his head with Kash then kicking him square in the head. Burchill's head snaps back up with Kash then kicking him in the gut and pulling Burchill's head in to position for THE DEAD LEVEL (Brainbuster DDT). . . . . He struggles to lift Burchill, and the UK native is able to block the hold before pushing Kash away. Burchill then kicks him in the gut, setting him up for THE C4. . . . . The crowd cheer while Jamie Noble panics on the outside, hopping on to the apron straight away. Burchill is distracted immediately and lets go of Kash to walk over to the ropes, along with the referee. Harry Smith sees this on the outside and runs round to Noble, then pulls him off the apron by his feet. Noble's head hits the apron on the way down with Burchill then smiling at Smith before turning round to face Kash. Having turned round very quickly, Burchill left the referee to look on at Smith. Kash tries to seize the opportunity by going for a kick to Burchill's groin, but he is able to grab Kash's foot. He spins it round and then lets go, before grabbing Kash straight away and nailing him with THE C4. . . . . Burchill turns over and hooks the leg as the ref makes the count 1 . . . . . 2 . . . . . 3.


WINNER: Paul Burchill by pinfall @ 6.41


AFTERMATH: "Britannia" hits to a good reception from the crowd as the referee raises Burchill's arm. Smith joins him in the ring and pats him on the back with the ref then passing them title belts. They walk over to the ropes and raise them high in the air as Noble watches on angrily from the outside as he sits back up.


***CUT BACKSTAGE***


William Regal is in his office, pacing back and forth when The Masters of the Mat, Charlie Haas & Chris Masters walk in. They get a lot of heat with Regal reacting immediately, angrily asking them if they know what damage they did last week by attacking Tazz for the second straight week. They both grin, and Regal gets angrier, saying that what they did was an absolute disgrace and an act of cowardice, an act that nearly left Tazz with a broken ankle. Masters grins and says that he's surprised because he thought it'd be broken, with Haas cutting in and saying he can change that. Regal asks them if they have any morals at all, then says thanks to them, he has had the Board of Director's in his ear all week blaming him for all the carnage last week. Masters steps in and says that if he wants to blame anyone, he should blame Tazz for bringing his hardcore buddies along last week, and since it was them who brought the cane in to the ring, he then blames them for Tazz getting hurt.

Regal says he's had enough of them, and since he's already banned Evolution & The McMahon's from the arena, he's going to sort this out as well, making a match between Tommy Dreamer and Masters for later on tonight. Masters says he'll happily put Dreamer in the hospital bed next to Tazz if he so much as brings that cane to the ring. Regal says that won't happen as he is making a strict no cane policy tonight in their match, because anybody who so much as looks at a Singapore cane will be suspended on the spot. Masters & Haas don't look too bothered with Masters saying he just needs his hands to do enough damage to end Dreamer's career. Regal tells him to make sure that's all he uses before telling them to get out of his sight. Masters & Haas then walk out of the room looking very smug with Regal looking on the verge of having a stroke.


***VIDEO PROMO***





***COMMERCIAL BREAK***


***VIDEO RECAP***

FROM TWO WEEKS AGO: Chavo Guerrero just falling short against Michael Shane with Matt Sydal watching on from the top of the ramp. Then we see Kenny Dykstra facing Shawn Michaels with an error from Shane costing Kenny the match.

FROM LAST WEEK: Dykstra & Shane arguing in the back about last week, then Shane seemingly making a mistake to give Matt Sydal a win over Dykstra with Chavo watching from the announce table as Dykstra looked pissed as he came round with Shane smiling and then giving him a Cutter.


***CUT TO THE ARENA***


***MATCH #2***

Chavo Guerrero & Matt Sydal
vs. Kenny Dykstra & Michael Shane

ENDING: Sydal & Dykstra both get back to their feet, and it's Sydal who reacts first as he grabs Kenny by the arm and goes for an irish whip. It's reversed though as Sydal hits the ropes, but as he gets to the ropes, he grabs hold of them. Dykstra doesn't want to wait around as he charges at him, but Sydal turns to his side, lifting his elbow in to Dykstra's face and knocking him back to the centre of the ring. As Dykstra then turns back round, Sydal runs at him and connects with a FEINT ENZIGURI IN TO A HEAD SCISSORS TAKEDOWN. . . . . That gets a good pop from the crowd with Sydal rushing to go for a cover, hooking both legs as the referee makes the count 1 . . . . . 2 . . . . . Dykstra lifts his shoulder up in time as Sydal stands back up not looking too disappointed as he then walks over to his corner and makes the tag to Chavo. The Mexican star steps through the ropes and walks over to Kenny, then attempts to pull him up to his feet, but the Cruiserweight Champion pushes Chavo away as he gets to his knees. Standing back up, Kenny pulls Chavo back in to him and takes him down with a WHIPLASH. . . . . Kenny looks a little tired and decides to make his way over to his corner and tag in Shane. There's a little nervous glance between them as Shane steps in to the ring.

He then turns round and urges Chavo up to his feet as Dykstra steps back on to the apron. With Chavo now standing back up, Shane runs at him, but Chavo sees him coming and kicks him in the stomach. He then pulls Shane's head under his arm and hits him with a suplex, but as he keeps hold of the grip and swings his hips, the crowd cheer, knowing what's coming. Chavo gets back up and plants Shane with another suplex, and then another to complete THE THREE AMIGO'S. . . . . A big pop breaks out for Chavo as he goes for a cover 1 . . . . . 2 . . . . . Kenny races in to the ring and goes to drop an elbow on Chavo, but he sees it a mile off and pulls back with Kenny elbowing Shane across the chest. That also gets a good response from the crowd, and as Kenny stands back up in a hurry, Chavo spins him round and plants him with a TORNADO DDT. . . . . The impact takes its toll on Dykstra, so he rolls to the outside under the bottom rope. Now in total control, Chavo pulls Shane back up to his feet and again positions the head under his arm, this time connecting with A BRAINBUSTER. . . . . As he stands back up to a big pop, he pulls Shane closer to his corner and tags in Sydal. The high flyer doesn't enter the ring and just climbs to the top rope, then leaps off, connecting with THE SHOOTING STAR PRESS. . . . . Sydal gets all of it and then goes for the cover 1 . . . . . 2 . . . . . 3.


WINNERS: Chavo Guerrero & Matt Sydal by pinfall @ 7.57


AFTERMATH: Sydal's music plays to a big pop as Chavo joins him in the ring, both getting their arm raised by the referee. Straight away, Sydal offers his hand to Chavo, and Chavo shakes it to a big pop before walking to opposite corners and posing for the crowd as Dykstra comes round on the outside. He grabs his belt from the timekeepers table and walks round to the ramp in frustration.


***CUT BACKSTAGE***


Lena Yada stands by and introduces her guest to us, Shelton Benjamin. He walks in to the shot with a lot of heat coming from inside the arena. Lena asks Shelton why he wanted this time as Shelton just stands there looking very relaxed. He says that it's simple, after making Matt Hardy look like the pathetic champion that he is the last couple of weeks, he says he wants to make it clear he's giving him a break this week. Lena looks surprised which Shelton picks up on. He says that after leaving Matt in a heap two weeks ago, and after proving to the world last week that he can beat Matt one two three like everyone doubted, he says he's proved his point and he'll wait for his title match to be awarded to him, since it's what he clearly deserves. He takes a couple of seconds before saying that he also has another reason why he's here because when he arrived earlier today, he found out that he had been challenged to a match by Matt's good friend Shannon Moore. He says that Matt really should get friends who would actually give him a challenge, and that he's more than happy to do what he did to Matt last week to Shannon tonight, beat him in the middle of the ring. He looks really arrogantly in to the camera before saying that once he's through with Moore, he's coming for Matt's title and it will soon be around a deserving waist.


***COMMERCIAL BREAK***


***VIDEO RECAP***

FROM TWO WEEKS AGO: The Masters of the Mat talking Tazz in to The Masterlock Challenge in William Regal's office before then beating Tazz to a pulp in the ring.

FROM LAST WEEK: Masters & Haas laughing about last week only for Tazz to come out with a crutch and announce he found a team for them to face, Tommy Dreamer & Stevie Richards. The end of the match is shown as Dreamer brought the Singapore cane in to the ring, only for Masters to steal it and use it on both opponents, causing a DQ. Tazz then coming to make the save, only for Haas to apply The Haas of Pain again, with EMT's coming to help Tazz.


***CUT TO THE ARENA***


***MATCH #3***

Tommy Dreamer w/Stevie Richards
vs. Chris Masters w/Charlie Haas

ENDING: Standing back up, Masters stalks Dreamer as the extremist starts to come round and sit up. Masters looks like he's ready to explode as he sees Dreamer get up, and then runs at him. Dreamer reacts quickly though and hits Masters with a forearm to the face. Masters is knocked off balance and Dreamer tries to capitalise as he whips Masters in to the ropes, and as The Masterpiece comes back off the ropes, Dreamer catches him and tosses him behind with a FALLAWAY SLAM. . . . . A pop comes from the crowd while Haas looks nervous as Dreamer goes for a cover 1 . . . . . 2 . . . . . Masters lifts his shoulder up with time to spare, but Dreamer looks in control as he stands back up as Masters starts to sit up. Haas panics on the outside and quickly grabs a steel chair from by the timekeepers table and slides it into the ring behind Dreamer to Masters as he lies on the mat. Richards sees what Haas did and runs round, catching Dreamer's attention who watches on as Haas ducks a clothesline and then whips Stevie in to the steel steps. Dreamer doesn't look happy as Haas then holds his hands up innocently with the referee then walking over to the ropes, telling Haas to be careful as Masters stands back up with the chair in hand. And with the ref's back turned, Masters smashes the chair across Dreamer's back, knocking him down to the mat before quickly sliding the chair out of the ring. The ref turns round and looks curious as to what happened, but Masters plays dumb as he then drops to the mat and turns Dreamer over before going for the cover 1 . . . . . 2 . . . . . 3.


WINNER: Chris Masters by pinfall @ 5.22


AFTERMATH: "Masterpiece" hits as Haas then climbs in the ring to join Masters, raising his hand as they look down and laugh at the sight of Dreamer laid out.


***VIDEO PROMO***





***CUT BACKSTAGE***


We see Kenny Dykstra & Michael Shane shoving each other in the back with several officials standing between them. Dykstra tells Shane that he's sick of him (Shane) screwing up and it affecting him. He says week after week Shane's got in his business, and thanks to him, he's lost three matches that he would have won easily, then tells him to stay out of his damn way. Shane tells him to deal with it and that what happened tonight was just us much his fault for them losing. Kenny gets real angry and tries to get at Shane, but the officials have it under control. Dykstra then tells Shane that from now on, he wants him to stay the hell away, or he'll make sure he (Shane) doesn't come anywhere near him or anyone else period. Shane tells Kenny to try him, with the two of them then trying to get at each other again with Edge then walking in to the shot. He asks them just what the hell is going on, with Dykstra & Shane then shouting at the same time. Edge just shrugs his head and tells them to work it out themselves before carrying on up the hall.


***COMMERCIAL BREAK***


Chris Harris is in the backstage area, with the curtain not too far away. He is stretching and looks to be very focused, but he then sees something in the corner of his eye. He doesn't look happy at all as the camera zooms out to show Finlay by the hallway. The Irishman walks over to Harris after an intense glance between them. Harris looks very serious indeed as a confident Finlay asks Harris if he's ready, but he doesn't get a response. He says that he better be because tonight is going to be a real test, his first real test in the WWE to see if he can cut it. Harris doesn't seem fazed with Finlay then saying that tonight could either make or break his career, then says that he will be going out to end Harris's career before it's even started. He tries to make Harris jump by raising his shillelagh up, but it doesn't work. Finlay then says that tonight will be the fight of his life, and it might well be his last before staring him right in the eyes for a few seconds before turning round and walking off as Harris watches on, not taking his eyes off him.


***CUT TO THE ARENA***


***MATCH #4***

Shannon Moore w/Matt Hardy
vs. Shelton Benjamin

ENDING: Shelton pulls Shannon up to his feet and whips him in to the corner where he then runs at him and goes for THE STINGER SPLASH. . . . . Moore steps out of the corner and to the side as Shelton then runs in to the pads chest first. As Shelton then staggers, still back facing the pads, Moore steps behind him and rolls him in to a SCHOOLBOY 1 . . . . . 2 . . . . . Shelton kicks off as he just breaks the count. Moore has the momentum now though as both men get up and he nails Shelton with a standing dropkick. He looks to take advantage of it as he runs to the corner and climbs to the top rope. With Matt encouraging him, Moore jumps off and connects with a DIVING CROSS BODY. . . . . He hits it, and Shelton falls back to the mat with the ref counting his shoulders 1 . . . . . 2 . . . . . Shelton is able to roll through and get a cover of his own 1 . . . . . 2 . . . . . Moore kicks out and both men rush to their feet, but as Moore turns round, Shelton takes his head off with a VICIOUS ROUNDHOUSE KICK. . . . . Matt holds his head in his hands as Moore drops to the mat with the crowd gasping at the impact of the kick. Shelton remains on the mat, sitting there with a big smile on his face for several seconds before standing back up. He waits patiently and retreats to the corner as Moore somehow is able to slowly pick himself up. But as soon as he gets up and turns round, Shelton charges at him and takes him right back down with THE GOLDEN STORM (Charging Spike Reverse STO). . . . . That had to sting, and Shelton looks to end the match as readjusts his position and makes the cover 1 . . . . . 2 . . . . . 3.


WINNER: Shelton Benjamin by pinfall @ 5.09


AFTERMATH: Just as "Ain't No Stoppin Me" plays, Shelton pulls Moore back up to his feet and is about to hit a T Bone Suplex. His music cuts as Matt then gets in the ring and pulls Moore back and then hits Shelton with a series of right hands to the face, knocking him down to the mat after a third. Shelton gets back up quickly with Matt then setting him up for a Twist of Fate, getting the crowd cheering. Just as it looks like Shelton is in trouble, he manages to escape the grasp and rushes to escape under the bottom rope. As he walks round to the ramp, talking smack at Hardy, William Regal walks out to the top of the stage. He says he's sick of them giving him a bloody headache too and says that he's going to put an end to it right now, because Shelton will get his shot at Matt Hardy's United States Championship. . . at Wrestlemania. Shelton looks delighted as he stands by the ramp with Matt looking grateful to get the chance to shut Shelton up.


***COMMERCIAL BREAK***


***VIDEO PROMO***

Clips of Shawn Michaels, Randy Orton, John Cena, Edge, Kane, Jeff Hardy, CM Punk, Triple H, Batista, Ric Flair in studio shots posing under bright lights and a black background

VOICEOVER: There is one spectacle that eclipses them all. . . There is one spectacle where the best showcase their talent. . . There is one spectacle where dreams are shattered. . . This spectacle will return to create new dreams, for this spectacle is Wrestlemania. . .





***CUT TO THE ARENA***


"Virtual Voodoo" plays as Umaga & Armando Alejandro Estrada make their way down to the ring to a lot of heat. Umaga gets in the ready for action, waiting for his opponent for nearly ten seconds with nothing happening. He looks toward Estrada, who just like Umaga, looks a little uneasy. A couple of seconds later, we hear a gong and the lights go out to a huge pop. Some white spotlights come back on after another gong as we see Umaga start screaming in Samoan as the tron starts to flicker. It then shows, in slow motion the attack from Umaga on The Undertaker a couple of weeks ago with a steel chair across Taker's neck as Umaga hit the leg drop on the chair, resulting in Taker spitting blood. Umaga watches on curiously as the tron then flickers again before a lightning bolt strikes one corner of the ring, taking Umaga by surprise. He looks round for a couple of seconds before another bolt strike by the stage with the tron flickering again when he then hear The Undertaker's evil laugh through the speakers, worrying Estrada with Umaga looking a little less worried. We then hear Taker say that there is a price to pay for every sin, and that Umaga will pay that price when he walks hand in hand to his demise at the hands of the dead. The crowd cheer, but we then hear Taker's voice again as he says Umaga's destiny will be in is in his hands at Wrestlemania. The crowd cheer like mad again as the tron then reveals an image. . .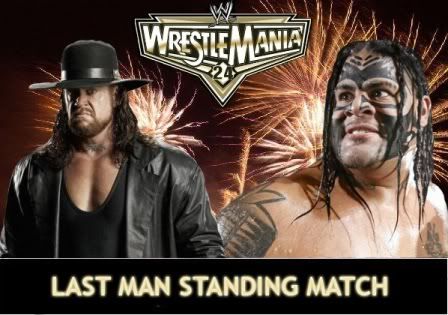 Umaga stares at the screen and looks very shocked as Estrada watches on helplessly.


***VIDEO PROMO***





***COMMERCIAL BREAK***


***VIDEO RECAP***

FROM TWO WEEKS AGO: William Regal taking Finlay's shillelagh to ensure he didn't use it in his match later on against Harris. The end of the match with Hornswoggle coming out from under the ring with another shillelagh to help Finlay pick up the win.

FROM LAST WEEK: Harris waiting in Regal's office when Finlay walked in with Regal announcing they would go at it this week on a No Holds Barred match.


***CUT TO THE ARENA***


***MATCH #5***

NO HOLDS BARRED
Chris Harris
vs. Finlay

ENDING: Finlay tries to get the upper hand as he throws a right hand at Harris, but it's blocked and Harris fires back, knocking Finlay back in to the ropes with a series of hard rights. Finlay though is able to counter the blows by driving his knee in to the gut of Harris, taking him by surprise before taking him down with a short arm clothesline. Standing by the ropes, Finlay decides to climb through them as he goes to the outside. He walks past the announce table and grabs a steel chair, then walks back to the apron and slides under the bottom rope with it still in hand. As he gets back up, Harris is also standing back up with Finlay then panicking as he rushes at Harris and swings the chair at him, but Harris ducks it. Finlay turns back round with the chair still in hand, but he's sent crashing by Harris, who takes his head off with a SUPER KICK. . . . . Finlay hits the mat, close by to the ropes as the chair escapes from his grasp with Harris then dropping to his knees and going for a cover 1 . . . . . 2 . . . . . Finlay just gets his foot on the bottom rope before the count of 3. Harris pulls himself back up to his knees and holds his head in his hands, he can't believe it. Finlay takes his foot off the bottom rope and crawls back towards the corner as Harris then stands back up. He watches on as Finlay uses the ropes in the corner to pull himself back up to his feet, but as soon as he gets back up, Harris charges at him and goes doe a SPEAR. . . . . Just as Harris gets close to the corner, Finlay steps to the side with Harris then unable to stop himself as he crashes through in to the ringpost, hitting his shoulder against it.

Finlay looks a little fatigued still and it takes him a couple of seconds before he walks up behind Harris and rolls him back in to a SCHOOLBOY. . . . . 1 . . . . . 2 . . . . . Harris kicks out with legs, and Finlay is pushed back down to the mat. As Harris remains in the corner, he sees Finlay's shillelagh and grabs it. It takes several seconds for both men to stand back up, and as they both stand up, Finlay turns round in to Harris and a VICIOUS SHOT WITH THE SHILLELAGH. . . . . Finlay just collapses to the mat as Harris lets go of the shillelagh, but before he goes for a cover, Hornswoggle appears from under the ring and gets inside. He walks up to Harris and grabs him around the legs, with Harris looking unsure of what to do. He tries to push him away, but Hornswoggle low blows him with Harris dropping to his knees and then to the mat. Finlay remains out cold as Hornswoggle laughs at Harris, who after nearly ten seconds stands back up and looks very angrily towards the little leprechaun. The grin goes from his face as Harris stares intensely at him. Hornswoggle turns round and rushes to leave the ring. Harris though is pissed and decides to go after him, leaving the ring and chasing him around it, unaware that Finlay is coming round. Hornswoggle manages to keep Harris at bay and after lapping the ring nearly twice, he slides back in the ring and runs across it. Harris is caught off guard as he runs across the ring, with Finlay there to meet him with a THUNDEROUS SHOT WITH THE SHILLELAGH ACROSS THE SKULL. . . . . Hornswoggle laughs on the outside as Finlay drops back down to the mat and goes for the cover 1 . . . . . 2 . . . . . 3.


WINNER: Finlay by pinfall @ 7.14


AFTERMATH: "Lambeg" hits as Finlay slowly stands back up. He bends down and high fives Hornswoggle as they look down and laugh at Harris to heat from the crowd before leaving with big smiles on their faces.


***VIDEO PROMO***


***COMMERCIAL BREAK***
***VIDEO PROMO***

We see a video clip showing the highlights of the career of "The Nature Boy" Ric Flair.




2008 INDUCTEE: "The Nature Boy" Ric Flair





***CUT TO THE ARENA***


***THE MAIN EVENT***

Shawn Michaels & Rey Mysterio
vs. Edge & MVP

ENDING: Edge gets back up to his feet, looking a little dazed as Michaels then starts to come round. Edge walks over to Michaels, pulls him up to his feet and grabs him by the arm before whipping him in to the ropes. As Michaels comes back off the ropes, he ducks an outstretched arm from Edge and runs through. He comes back off the ropes with Edge turning round in to a flying forearm from the World Heavyweight Champion. With the crowd cheering, they get even louder as Michaels flips right back up to his feet. Edge isn't far behind him either as he gets back up, only to walk in to a right hand from Michaels, which knocks him back down to the mat. The Rated R Superstar races back up, only to get knocked down again with a second right from Shawn. Edge rushes back up again, and this time he walks in to a scoop slam from The Heartbreak Kid. The fans are really getting behind Michaels as he walks over to the corner and climbs to the top rope. With the crowd cheering, MVP walks across the apron and distracts Michaels, with the two of them talking smack at each other as Edge gets back up to his feet. He walks over to the corner and punches Michaels in the chest before climbing up to the second rope. He rests Michaels' head under his arm and then plants Michaels with A SUPLEX FROM THE SECOND ROPE. . . . . Both men crash down to the mat while the crowd cheer the spot. They both lie there, but after about five seconds, Edge reaches over and places his arm across Michaels' chest for a cover 1 . . . . . 2 . . . . .

Michaels just lifts his shoulder up to a massive pop from the crowd while Edge just remains still. After several seconds, both men start to come to and crawl towards their respective corners with the fans clapping for Michaels to tag in Rey, which he does as Edge also makes the tag to MVP. They both step through the ropes and run at each other, with Rey ducking under MVP's arm and then kicking him in the chest a couple of times as he turns round. With MVP off balance, Rey then turns back and runs in to the ropes, then SPRINGBOARDS IN TO A CROSS BODY. . . . . MVP falls back to the mat with Rey on top of him as the ref makes the count 1 . . . . . 2 . . . . . MVP pushes Rey off to break up the count with both men getting back up pretty quickly. It's Rey who strike first again as MVP turns in to him and TILT A WHIRL HEAD SCISSORS. . . . . The crowd are going nuts now as Rey firmly gets in control. He stands back up and runs over to the corner, climbing to the top rope. As Edge sees it, he runs across the apron and pushes Rey down to the mat, crash landing face first. The fans boo Edge, and the referee walks over to him, warning him as Michaels then steps in to the ring and runs at Edge, knocking him off the apron with an elbow strike. The ref tries to get Michaels out, but HBK just stands by the ropes, holding on to the top rope as Edge gets up. As soon as Edge is back on his feet, MICHAELS LEAPS OVER THE TOP AND HITS A SLINGSHOT CROSS BODY. . . . . Both men hit the floor on the outside to a big pop from the crowd.

Back on the inside, Rey & MVP both get back up to their feet with Rey charging at MVP, but The Franchise Player lifts his boot up in to Rey's face. With Rey falling to the mat, MVP drops down and goes for a cover, hooking both legs 1 . . . . . 2 . . . . . Rey kicks out with MVP sitting back up, not looking too happy. He takes a couple of seconds before standing back up and reaching down to pull Rey back up, but he gets a surprise as Rey sits up and rolls him in to an INSIDE CRADLE. . . . . 1 . . . . . 2 . . . . . On the outside with both men getting back up, Michaels clotheslines Edge over the barricade, with the momentum taking HBK in to the crowd too. Back inside, both Rey & MVP stand back up with Rey retreating to the ropes as MVP then runs at him and in to a drop toe hold. . . . . MVP lands on the second rope as the crowd go crazy. Rey walks to the centre of the ring and dials up, then turns round to run the ropes, runs across and swings his legs through for the ropes for the 619. . . . . MVP pulls back from the ropes as Rey holds on to the ropes on the apron with Edge & Michaels now fighting through the crowd to the back. Rey stands back up and holds on to the top rope as MVP stands back up. The Mexican Sensation then springboards off the top rope, but MVP kicks Rey hard in the gut as he lands. Rey drops to his knees as MVP then backs up to the ropes before running back at him and nailing Rey with THE DRIVE BY KICK. . . . . Rey just falls back to the mat with MVP dropping down and going for a cover 1 . . . . . 2 . . . . . 3.


WINNERS: Edge & MVP by pinfall @ 9.38


AFTERMATH: "I'm Comin" hits as MVP stands back up in the ring to get his arm raised. He walks over to the ropes and gestures in to the crowd as Smackdown comes to a close.


***END OF SHOW***


QUICK RESULTS
Paul Burchill df. Kid Kash
Chavo Guerrero & Matt Sydal df. Kenny Dykstra & Michael Shane
Chris Masters df. Tommy Dreamer
Shelton Benjamin df. Shannon Moore
Finlay df. Chris Harris
Edge & MVP df. Shawn Michaels & Rey Mysterio

DARK MATCH
Johnny Jeter df. Jake Hager
CONFIRMED FOR WRESTLEMANIA XXIV
Official Theme Song
Fall Out Boy "Thanks For The Memories"
To view the amazing video, click here!
WWE Championship
John Cena vs Kane vs Randy Orton (c)

World Heavyweight Championship
Shawn Michaels (c) vs Edge

The Ultimate Grudge Match
Evolution vs The McMahon Men

Last Man Standing Match
The Undertaker vs Umaga

Money in the Bank Ladder Match
Chris Jericho vs Bobby Lashley vs Rey Mysterio
vs Mr. Kennedy vs Elijah Burke vs MVP

Intercontinental Championship
I Quit Match
Jeff Hardy vs CM Punk (c)

WWE Unites States Championship
Matt Hardy (c) vs Shelton Benjamin

WWE Tag Team Championship
The UK Pack (Paul Burchill & Harry Smith) (c) vs The Pitbulls (Jamie Noble & Kid Kash)

Womens Championship
Title Can Change By Disqualification
Victoria vs Beth Phoenix (c)


WWE Hall of Fame Class of 2008
Owen Hart, "The Million Dollar Man" Ted DiBiase & "The Nature Boy" Ric Flair

5 more names to be announced



---
Last edited by Nige™; 09-06-2008 at

11:32 AM

.
Re: WWE: A Strong Response
---

.com

HOMEPAGE

THREE NEW MATCHES ADDED TO WRESTLEMANIA CARD

Following Raw & Smackdown this week, the following three matches have been added to the Wrestlemania spectacular to take place in just over three weeks: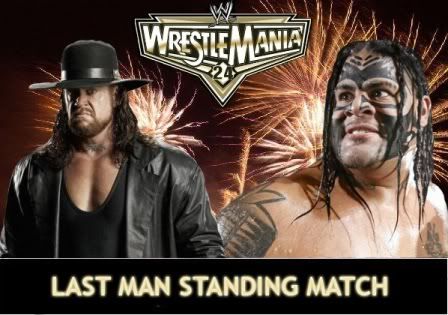 Re: WWE: A Strong Response
---
D-K-L's Smackdown Review

The opening promo was pretty good although you could see what was coming a mile off. The promo was a good set up for the main event tonight and it helped develop the feuds between Edge/HBK and MVP/Rey. It was good seeing MVP kick off the show and it was good seeing Rey back on Smackdown too. I like how you are keeping HBK relatively calm despite what Edge has been doing to him over the past few weeks, as a feuds are not as interesting if it is just about going out and getting revenge every week by assaulting someone, and that is something that I need to work on myself. Nothing major happened in the promo tbh but it was a decent start to the show. The main event should be great.

This was a very good promo between Sydal and Chavo. There was some tension building between the two and I can see the makings of a fatal fourway at 'Mania. I liked how Sydal stood up for himself and you ended the segment in the right way with a handshake, showing that they do have respect for each other despite the tension between them.

Good match to kick off the action. This is a huge win for Birchill and it just shows us even more that Kash and Noble have a massive challenge on their hands at 'Mania. The C4 is a great move too so I am glad he ended it with that. The UK Pack are looking very strong now in this feud.

Decent segment here. This push for the Masters of the Mat has been great and this promo really helped to show them as the bad guys again. Lol at the "No cane policy", I am sure they could find another weapon to use. The match later should be good, but its obvious who is winning.

This was a great match between four great athletes. You showed that there was still tension between Kenny and Shane again by having a little stare down with each other, and the elbow drop from Kenny onto Shane was great and I bet Shane won't be happy about that. The ending was great with Chavo hitting the brain buster and Sydal hitting the SSP, showing great teamwork between the two. Good match.

The Shelton interview was good, I liked what he had to say and the line about Hardy getting friends that can give him a challenge was cool. I am liking this feud and his match with Hardy at 'Mania should be great. I think this could be Benjamin's time.

Masters picking up the win over Dreamer was expected. He stuck to the no cane policy but decided to use another weapon instead, Regal should've thought of that Lol. A clean win for Masters would have been better for him tbh, but this puts them over as the bad guys again and it will give Regal something to complain about next week.

This segment did its job of showing the problems between Kenny and Shane. This was just your typical backstage altercation really with officials breaking them up. Would've thought Edge would be trying to get them on the same side tbh though since two men looking out for him would benefit him more, but I guess he is sick of it.

This would be awesome to see just because Finlay is great heel when he is in this brawling mood. This was well written with Finlay trying to get in his head and you did the right thing with Harris by having him be brave and not be scared. This adds more hype to the match later for sure.

A squash was the right thing to do here. Shannon Moore is very talented but with him being Hardy's mate he is the perfect choice to job to Shelton. You played the whole underdog thing with Moore surprising Shelton with a couple of moves and a near fall but the finish was obvious. Good finish and great aftermath, its nice to hear that their match at 'Mania is now official.

Last Man Standing, YES!!! Just what I wanted to be honest and it suits these two guys perfectly. I can just picture what this match will be like with both guys defying the odds and getting up at nine repeatedly. It's going to be awesome. Nice promo by the way too.

Great match by the looks of it here, this has been a very good little feud between these two, The finish was brilliantly done with Hornswoggle getting involved, I don't know if I said ti before but this is how I like Hornswoggle to be used. Finlay getting the win with the shillelagh was great but one of these times he needs to win without it. I was slightly surprised with Finlay winning again tbh but he is an established guy so it doesn't harm Harris' credibility. This is bound to continue and I wonder if this will come to an end at 'Mania with a Belfast Brawl or something.

WOOOO!!! Great to see Naitch in the Hall of Fame.

The main event was great, exciting stuff for sure and a good main event. The match flowed really well and you gave us some more detail, which was great. The ending was great with Edge and HBK brawling through the crowd, allowing MVP and Rey to go at it alone. MVP picking up the win for his team is just great, and it's nice to see him get one up on Rey after losing to him on Raw. Maybe the Edge/HBK feud should've took centre stage in the ending, but I guess you didn't want them involved in the finish as neither can really afford to lose heading into 'Mania.

Overall Nige another very good show heading into Wrestlemania.
Re: WWE: A Strong Response
---
PWInsider.com

"FCW" TV Results
(Saturday 8th March)


Dusty Rhodes made his way down to the ring and announced that last week two stars went to him and asked to be given an opportunity after not being chosen for the 8 man Heavyweight Championship tournament, reminding us also that the two remaining quarter finals will take place later on. He went back to the two guys he was talking about before and said that they will be getting an opportunity right now, and called them down to the ring. Shawn Spears walked down first, followed then by Mike Kruel who was accompanied by Roucka. Dusty told them their opportunity would see them go up against each other right now and that he would remain at ringside to watch. Spears & Kruel looked surprised before Dusty asked for the bell.
Match 1: Shawn Spears vs Mike Kruel
w/Roucka
In a match that saw Spears use the sharpshooter only for Kruel to get to the ropes, he was able to come out on top after Kruel escaped from a belly to back suplex attempt and try for a cross arm neckbreaker. Spears was able to escape this and then rolled Kruel in to an inside cradle for the win. After getting the cover, Kruel looked gobsmacked, as did Roucka while Spears seemingly tried to apologise as he backed up the aisle, holding his hands up.
Winner:
Shawn Spears
**Commercial Break**
Jake Hager cut an interview with Lena Yada and told her that despite the fact he is the one with the unbeaten record, Nic Nemeth acts like it is him, calling him a loudmouth. He said that he hates loud mouths and that he's going to enjoy making Nemeth eat his words later on as he starts his journey to become the new FCW Heavyweight Champion.

Ted DiBiase Jr, accompanied by Maryse & the rest of The Million Dollar Family made their way to the ring. DiBiase Jr said that along with his brother Mike, last week they were able to overcome one of the biggest upcoming tag teams in wrestling today. He then said that to prove they are worthy of becoming the new FCW Tag Team Champions, he issued an open challenge to any team in the back. After a short wait, Jesse & Festus answered the challenge. The Million Dollar Family mocked them by laughing at them as they came down to the ring.
Match 2: Jesse & Festus vs The Million Dollar Family (Ted DiBiase Jr & Mike DiBiase)
w/Brett DiBiase & Maryse
In a even match, Festus came in a frenzy to turn it in his & Jesse's favour until Maryse caused a distraction, allowing Ted Jr to come to Mike's rescue. Both Festus & Mike made tags to their partners, and it was Jesse who got on top, only for Ted to turn it round with a stiff kick to the face. His brothers then took Festus out of play while he wrapped up the match by applying The Million Dollar Dream to Jesse, who was unable to escape the hold.
Winners:
The Million Dollar Family
**Commercial Break**
Mike Kruel & Roucka were in the locker room with Kruel unlacing his boots off and not looking too happy as Shawn Spears came in. Spears said he hoped there were no bad feelings as he did what he had to after Dusty gave them no choice and then asks Kruel that he would surely have done the same with Kruel nodding reluctantly. Roucka didn't look too pleased with Spears presence and he said he just wanted to make sure things were cool. Kruel said whatever before Spears left, and Roucka then asked Kruel if he was going to let Spears get away with what happened. Kruel just turned his head towards her and then back before angrily pulling his boots off and tossing them across the room.
Match 3: FCW Heavyweight Championship Tournament – Quarter Final Match
Jake Hager vs "The Natural" Nic Nemeth
Hager looked very good in this match, but Nemeth was also able to mount some good offence after getting a cheap rake to the eyes. The Natural was on top and looked like he would get the win, only for Hager to fight back and take the match with The Hager-Meister, a tilt a whirl slam.
Winner:
Jake Hager
**Commercial Break**
Dusty was talking to Lena Yada backstage and told her he was happy to have here when James Reiher walked up to them. Lena said to him that she'd not seen him or Deuce for a while and asked him how he's been doing. Reiher looked at her in sheer anger, then told her that she should know full well that the Deuce & Domino crap is dead, it's in the past just like she'll be if she asks another stupid question like that. Dusty told her to leave and then had a go at Reiher, telling him what he did to Cherry last week was wrong as was that with Lena just then, saying that's not how you treat a lady. Reiher said that he'll do what he wants, just like he did last week and that he wanted to tell Dusty man to man that he's going to treat Cherry, Lena and whoever the hell he wants however he wants, just like Jay Bradley because no one is going to prevent him from becoming the new FCW Heavyweight Champion.

In the ring, Shantelle Taylor was announced as the new FCW Womens Champion. She made her way to the ring to a pop with the shiny belt sitting proudly on her shoulder. She got in the ring and said that it was such an honour to be the champion and that it was a dream come true. She then said that she wanted to thank all the fans who got behind her last week and helped her make all this become a reality. She was cut off by Katie Lea who came down to the ring along with Drew McIntyre & Stu Sanders (The Empire). Katie Lea said that Shantelle was the luckiest human being in the world last week, being given the chance to become the Womens Champion, but said the real luck was the fact that Shantelle didn't have to face her to win it. Katie then said that it was typical discrimination against the English that she was not chosen to compete last week, accusing Dusty of holding back The Empire from ruling this company. Shantelle said that it wasn't her fault Katie didn't get the chance, but then said that she would be more than happy to give her a title shot. Katie made fun of Shantelle for trying to be the respectable little champion that everyone will fall in love with, the perfect champion, but she then said that she would ruin it all starting straight away. She dropped her microphone and along with McIntyre & Sanders, they walked menacingly towards Shantelle, trapping her against the ropes until TJ Wilson & Teddy Hart charged down to the ring to save her, spinning round Sanders & McIntyre and knocking them down to the mat with right hands. Katie Lea quickly escaped by sliding to the outside, followed by McIntyre & Sanders. TJ & Teddy checked on a shaken Shantelle as The Empire stared right through them as they backed up the aisle.
**Commercial Break**

Match 4: FCW Heavyweight Championship Tournament – Quarter Final Match
Jay Bradley vs James Reiher
This was a very even match and the difference in styles allowed for that. Reiher started very aggressively but Bradley's quickness got him right back in to it, only for Reiher to use a low blow before finishing the match with The Crack Em in Da Mouth for the victory.
Winner:
James Reiher
**End of Show**
---
Last edited by Nige™; 09-22-2008 at

07:39 PM

.
Re: WWE: A Strong Response
---
hey man i really like how you write out the FCW results as well it adds a little something. I don't know what to say i just got to give you mad props on a sick fed. I will be reviewing Mania however i do not have time to review anything else at the moment as homework is time consuming but i think this is great only suggestion maybe you should bring the Million Dollar Family up to the main roster besides that perfect mate
---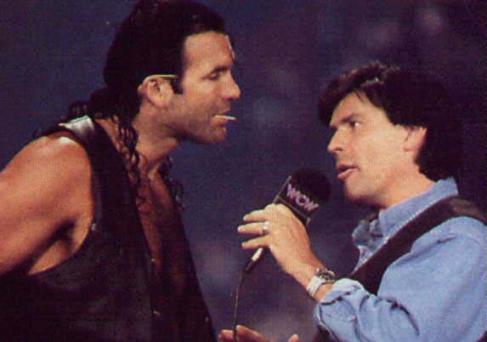 Re: WWE: A Strong Response
---
Quote:
Originally Posted by
wrestle_freak42
View Post
i think this is great only suggestion maybe you should bring the Million Dollar Family up to the main roster besides that perfect mate
Easy tiger!
Thanks for the comments, but the whole reason i'm doing this is to develop the developmental talent gradually. There are some that could get called up soon, but the majority aren't ready yet as i need to become comfortable with their characters and see what i can do with them. My main roster is pretty crammed right now anyway, so don't expect to see a flood of new stars on Raw & Smackdown very soon
Posting Rules

You may not post new threads

You may not post replies

You may not post attachments

You may not edit your posts

---

HTML code is Off

---