Re: WWE: A Strong Response
---
NUMBER ONE CONTENDERSHIP MATCH FOR THE WORLD HEAVYWEIGHT CHAMPIONSHIP
Batista vs. Edge vs. Ric Flair vs. Umaga vs. The Undertaker vs. MVP

WWE TAG TEAM CHAMPIONSHIP
The UK Pack Paul Burchill & Harry Smith (c) vs. The Pitbulls

WWE WOMENS CHAMPIONSHIP
Victoria vs. "The Glamazon" Beth Phoenix (c)

PLUS

Triple H vs. Kane
SPECIAL GUEST REFEREE: Vince McMahon
SPECIAL GUEST ENFORCER: John "Bradshaw" Layfield
SPECIAL GUEST TIMEKEEPER: Shane McMahon

Rey Mysterio vs. Elijah Burke
Crazier than Santorum and Bachmann's love child
Join Date: May 2008
Location: San Francisco
Posts: 2,283
Points: 0
Re: WWE: A Strong Response
---
NUMBER ONE CONTENDERSHIP MATCH FOR THE WORLD HEAVYWEIGHT CHAMPIONSHIP
Batista vs. Edge vs. Ric Flair vs. Umaga vs. The Undertaker vs. MVP
As others have said, it looks like you want Flair to face HBK

WWE TAG TEAM CHAMPIONSHIP
The UK Pack "Paul Burchill & Harry Smith" (c) vs. The Pitbulls
I expect them to lose their titles at WM or Backlash, and not before

WWE WOMENS CHAMPIONSHIP
Victoria vs. "The Glamazon" Beth Phoenix (c)
Beth will win, but Victoria will win a rematch at WM

PLUS

Triple H vs. Kane
The McMahons will screw Trips

Rey Mysterio vs. Elijah Burke
Elijah is being pushed, but Mysterio is higher on the card, so he will win
WWE.com - HOMEPAGE (SNME Results - 9th February 2008)
---
SATURDAY NIGHT'S MAIN EVENT

Saturday February 8th 2008
The O2 Arena
London, England




***VIDEO PROMO***
From earlier today

We see Randy Orton pacing through the back looking very serious in his causal clothes. He stops at a locker room door and walks in with The McMahon Men all sat down on leather sofas discussing strategy for the Triple H/Kane match later on tonight. Vince asks him what he wants and tells him they're very busy. Orton apologises, albeit insincerely and tells them that he has a proposition for them. Vince tells him to enlighten them with Orton then telling Vince that he thinks that Vince could be in danger tonight, refereeing a match with Triple H, someone who hates Vince with a passion, and Kane, a monster who is totally unpredictable. Vince asks Orton what he's getting at and Orton says that he doesn't think Vince should referee the match tonight, saying it's too dangerous before then suggesting he should in fact be the special referee instead. Vince seems to like the idea as he smiles but Shane and JBL look nervously at each other. JBL stands up and tells Orton he's got some nerve coming in here and then turns to Vince and tells him that the only reason Orton wants to referee is to get payback on Kane for the last couple of weeks. Orton doesn't look happy as it appears JBL has rumbled his plan. Vince asks if it's true with Shane then telling Vince that Orton's not going to admit it, but it's obvious that he only has one intention and that's to get at Kane, not to do Vince a favour by keeping him out of harms way. Vince stands up and looks Orton in the eye before telling him that his services are not required because between him and his sons, they have it all covered. Orton looks very frustrated before then turning round, leaving the room and slamming the door. Vince then tells Shane and JBL that this will be a night Triple H never forgets.


***OPENING VIDEO***

***PYRO***
***PYRO***
***PYRO***
***PYRO***
***PYRO***


Michael Cole alongside The Coach welcomes us to the show live from London, England and says that tonight we will find out just who will be challenging Shawn Michaels for the World Heavyweight Championship at Wrestlemania when six of Smackdown's superstars go at it in what should be one hell of a match. He then says that Randy Orton wasn't the only one up to something earlier today and says that there was a lot of tension growing backstage with some of the participants in tonight's main event. He talks over as we see a video play from earlier on.


***VIDEO PROMO***
From earlier today

Ric Flair arrives in the arena and walks down the hall with his travel bag, only to bump in to Edge. The Rated R Superstar tells Flair he's surprised he even showed up tonight, saying that there's no chance whatsoever of Flair headlining Wrestlemania, since he's never done it anyway in his so called illustrious career and then asks him what he thinks will change tonight. Flair looks at Edge and says "this", then slaps him across the chops. Edge looks pissed and shoves Flair against the wall with Flair then fighting back with right hands. The duo then brawl in the hallway with officials eventually splitting them up.


***CUT TO THE ANNOUNCE TABLE***

JR & King are at the Raw desk and JR says that it's clear everyone is the Wrestlemania mindset and that tonight we will not only see who will find out who will be facing Shawn Michaels at Wrestlemania as well as The McMahon's bid to humiliate Triple H, but we will see two championship matches starting with the WWE Womens Championship right now.


***MATCH #1***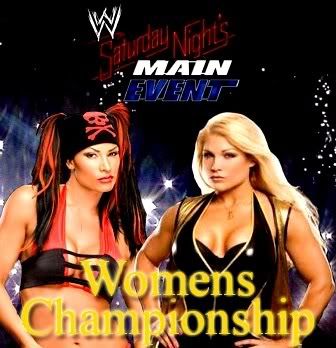 WOMENS CHAMPIONSHIP
Victoria
vs. Beth Phoenix (c)

ENDING: Beth is able to reverse an irish whip from Victoria and is able to catch her when she comes back, planting her with a SIDEWALK SLAM. . . . . She is quick to reach over and hooks both legs for a cover 1 . . . . . 2 . . . . . Victoria kicks out quite comfortably, leaving The Glamazon a little frustrated. She stands back up and sets Victoria up for a suplex by the ropes, possibly going for a SLINGSHOT SUPLEX. . . . . But before Beth can lift her up, Victoria blocks it with her foot and then surprises everyone by hitting Phoenix with a SNAP SUPLEX. . . . . This brings a pop from the crowd as Victoria then stands back up, opting not to go for a cover as she shakes her body before then going with a STANDING MOONSAULT. . . . . The crowd are about to cheer but The Glamazon lifts her knees up in to the chest of her challenger, getting her some heat from the UK crowd. Victoria crawls to the corner holding her stomach as The Glamazon makes her way back up to her feet, seeing Victoria using the ropes to help her back up to her feet. The Glamazon then steadies herself before running in to the corner, but Victoria sees her coming and stands out of the corner, then nails her with a SAVOTE KICK. . . . . A huge cheer breaks out as Victoria drops to her knees and goes for the cover 1 . . . . . 2 . . . . . NO! . . . . .

The Glamazon just gets her foot on the rope, leaving the crowd stunned and disappointed. Victoria can't believe it either but she forgets about it quickly as she tries to finish the match off. Standing back up, Victoria then reaches down to pull Phoenix back up, but The Glamazon pushes her back and in to the referee who falls down to the mat. He doesn't seem to be moving, but Victoria doesn't seem to notice as she walks back over and kicks Phoenix in the gut and sets her up for the WIDOW'S PEAK. . . . . Lifting her above her head, Victoria seems to be in control, but a mystery woman slides in to the ring and pulls Phoenix down off of Victoria's shoulders. She then kicks Victoria in the gut and plants her with a DDT. . . . . The crowd are confused and angry, booing loudly as Phoenix makes her way back up and smiles as the mystery woman than leaves the ring but remains on the outside with the referee still out cold. Phoenix then walks over to the ref and starts shaking him to come round, which he starts to, looking up as he lies on the mat. The Glamazon then drags Victoria up and plants her with the FLIGHT OF THE PHOENIX (DELAYED CRADLE SUPLEX). . . . . Phoenix yells at the referee to make the count as he slowly crawls over and makes the count 1 . . . . . . . . . . . . . . . 2 . . . . . . . . . . . . . . . 3.



AFTERMATH: Beth's music hits as the attacker walks round and grabs the Womens Championship from the timekeeper's table before sliding in to the ring and giving the title to a delighted looking Phoenix. She raises it in to the air before she puts it on her shoulder as she and the mystery diva revel in Victoria's downfall


WINNER: By pinfall and still WWE Womens Champion, Beth Phoenix @ 8.53


***CUT BACKSTAGE***


In a locker room we see Batista & Rey Mysterio. Both men are stood up and Rey wishes Batista the best of luck for his match tonight and tells him he hopes he gets the chance to main event Wrestlemania and become the World Champion once again. Batista says thanks and tells Rey he's going to go out there tonight and do everything to make sure that he gets that chance. He then asks Rey how he's been doing, and says he saw the deal with him getting jumped the other week on Raw, then asks him if he knows who did it. Rey says he banks on Elijah Burke having something to do it and that in just a few minutes, he's going to get some serious payback right here in the UK. Batista tells Rey to give him hell and they slap hands before Rey wishes him luck once again and then leaves the room.


***COMMERCIAL BREAK***


The Miz & John Morrison are sat down on some storage boxes looking pretty downbeat. Miz says that tonight should be their night and that they should be challenging for the tag titles, not The Pitbulls. Morrison agrees and calls it an absolute travesty and asks Miz what else he expects when you have an English general manager. Eric Bischoff then walks in to the shot and greets the team and tells them to liven up, saying Wrestlemania is nearly upon us. Morrison looks at Bischoff and asks him how he should feel right now since his and Miz's talent is being disregarded by a joke of a general manager. Bischoff smiles and tells them that if he were the general manager of Smackdown then he would have made sure that they would be getting a title shot and says that's what you get with a second rate GM like Regal, not him because he knows great talent when he sees it and that's why he's in the hot seat on Raw. Miz still looks depressed as he tells Bischoff that doesn't do them any favours, but Bischoff then tells them that he's aware that the Open House rules that were introduced last year still apply and that any superstar who is unhappy on their show can walk away without a care in the world. Miz asks Bischoff what he's getting at and he replies by telling Miz and Morrison to come for a quick word. They look intrigued as they follow him off down the hall.


***CUT TO RINGSIDE***


*** MATCH #2***




Rey Mysterio
vs. Elijah Burke w/Layla

ENDING: Burke pulls Rey up to his feet and whips him in to the ropes, but as Rey comes back he ducks underneath an outstretched arm from Burke and runs through into the ropes. He comes back off but in to a LIFTING SPINNING SIT DOWN SPINEBUSTER. . . . . Burke caught all of it as he holds on for a cover 1 . . . . . 2 . . . . . Rey just gets his shoulder up, leaving Burke, and Layla on the outside looking amazed. Burke hooks the legs again 1 . . . . . 2 . . . . . Burke looks at the referee and questions the count, saying it was a three, but the ref remains firm, leaving Burke angry as he stands up to protest his case. As he argues, Layla joins in as she stands up on the apron with Rey picking himself back up slowly behind Burke. As Rey stands back up, Burke and Layla are still arguing, giving Rey the opportunity to push Burke in to the ropes and in to Layla, knocking her down to the arena floor. Burke looks down in shock but quickly regains his focus as he stares at Rey in anger before running at him, but in to TILT A WHIRL HEAD SCISSORS. . . . . The crowd cheer as Burke lands on the second rope with Rey looking in control now. Rey dials up, runs the ropes and connects with the 619. . . . . The cheers get even louder as Rey stands on the apron while Burke remains still on the mat. Rey holds on to the top rope and then goes to DROP THE DIME. . . . . But no, Burke gets his knees up.

Both men remain down for a while before Rey starts to crawl to the corner and help himself up with the aid of the ropes. Just as Rey looks to be getting back up, Burke already is back on his feet as he charges at Rey for the ELIJAH EXPRESS. . . . . Rey though steps out of the corner and Burke's knees crash in to the corner pads before he falls back to the mat. Rey then climbs through the ropes and then up to the top as he then points to the ceiling, getting a huge cheer from the crowd before diving off for a FROG SPLASH. . . . . Burke dodges it again as he rolls to the side with Rey crashing in to the mat. With both men slowly making their way back up, Burke reacts first as he grabs Rey by the arm and whips him in to the ropes, but Rey holds on to the top rope with Burke then charging at him. Rey though steps out and drop toe holds Burke on to the second rope. Rey then dials up for a second time to the big pop and connects with the 619. . . . . Burke falls back across the mat and slowly makes his way back up to his feet while Rey waits patiently on the apron with the crowd cheering him on as he then springboards and hits Burke with the WEST COAST POP. . . . . Rey holds on for the cover as the ref counts 1 . . . . . 2 . . . . . 3.


WINNER: Rey Mysterio by pinfall @ 9.40


***COMMERCIAL BREAK***


Todd Grisham is backstage and he introduces us to his guest, Triple H. The Game walks in to the shot to a huge pop, but looks very low key. Todd asks him just how he feels going in to his match tonight against Kane with all The McMahon Men having a role to play tonight. Trips says he expected nothing less than to have some kind of gauntlet thrown his way tonight, and that's exactly what he's got. He says that he knew Vince, Shane and JBL would do everything they can to make him suffer in front of their very eyes, but says it's not going to happen. With the crowd cheering that line, he gets very intense and goes on to say that he's not going to lie down for anyone, let alone one of those pieces of crap who have forced Stephanie to stay at home for the fear of something happening to her. He says that tonight isn't about going out there and winning for Stephanie, his daughter, his unborn child or even for him, it's all about survival. He tells Todd that he's aware of the threat that Kane possesses and the fact that he's practically going 4 on 1, but that doesn't matter because he's The Game and he doesn't give up without a fight. He says that Vince and his two little bastards are going home disappointed tonight because even if he doesn't win the match tonight, he will win the war. Todd stands back as The Game stares at the camera for a second before walking without his game face on.


***CUT TO RINGSIDE***


***MATCH #3***




WWE TAG TEAM CHAMPIONSHIP
The UK Pack (Paul Burchill & Harry Smith) (c)
vs. The Pitbulls

ENDING: Noble pulls Smith up to his feet, but Smith stuns him as he hammers Noble with several right hands to the face. With Noble a little unsteady on his feet, Smith then grabs him by the head and pulls him in to position for a suplex. He then lifts Noble up in the air and keeps him up there for close to ten seconds before falling back to the mat, connecting with his dad's trademark DELAYED VERTICAL SUPLEX. . . . . The UK crowd get firmly behind Harry as he goes for a cover 1 . . . . . 2 . . . . . Noble lifts his shoulder up to just escape the hold. Despite acting surprised, Smith then stands back up and drags Noble back up to his feet. He doesn't waste any time as he then scoops him up on to his shoulder, setting him up for the RUNNING POWERSLAM. . . . . As Smith then walks in to the corner and then turns round to run across the ring, Kid Kash enters the ring and runs at Smith, clubbing him in the side of the chest and forcing Smith to fall to the mat, with Noble then dropping down too. The ref yells at Kash to get back on the apron, which he does as Smith and Noble then crawl across the mat to try and cover their partners.

Noble is there first as he makes the tag to Kash who runs towards Smith as he gets closer to tagging Burchill. Just before Smith can reach up, Kash grabs him by the legs and tries to pull him back, but Smith turns over on to his back and kicks him off with his feet. Kash falls back to the mat as Noble enters the ring, gaining the referee's attention as Smith then makes the tag to a huge pop with Burchill climbing through the ropes. Kash sits up looking worried as Burchill approaches him, but the ref turns around and tells Burchill to get back on the apron with the crowd booing like crazy. Burchill argues his case strongly as Noble then slides back to the outside and grabs one of the title belts, then slides it into the ring to Kash. The Notorious K.I.D picks it up as Smith stands back up and walks over just as Kash then swings the belt at him, but Smith is able to duck the shot as the belt slips out of Kash's grasp and falls to the mat. With the referee still dealing with Burchill, SMITH PICKS UP THE BELT AND SMASHES IT ACROSS THE SKULL OF KASH. . . . . Noble slides in the ring and yells at Smith, causing the referee to turn round and see Smith with the belt in hand. He immediately calls for the bell as Smith looks stunned.


AFTERMATH: Noble protests that he and Kash should be given the belts, but Smith just holds on to the belt as Burchill then is passed the other by the ref. Noble holds his head in his hands as Smith points at Kash, seemingly blaming him for having the belt in the first place before they leave ringside, not looking too happy themselves.


WINNERS: By disqualification, The Pitbulls @ 9.17 – But still the WWE Tag Team Champions, The UK Pack


***COMMERCIAL BREAK***


Josh Matthews is standing by and introduces his guest, Umaga and Armando Alejandro Estrada. Josh asks Estrada what he thinks Umaga's chances are of winning tonight and going on to face Shawn Michaels at Wrestlemania for the World Heavyweight Championship. Estrada tells Josh to cast his mind back to the Royal Rumble and asks him who lasted the longest in the match, reminding him it was Umaga who went from number two and was the second last man to be eliminated. Josh says he remembers and tells Estrada that it was The Undertaker who eliminated Umaga. This gets Umaga mad as he starts shouting out in Samoan with Estrada eventually calming him down. Estrada says that Umaga would have won the match had he come in at the same time as The Undertaker, but tells Josh that just a week before that, Umaga beat the dead man in a First Blood match. He says that The Undertaker has never beaten Umaga and he won't tonight because Umaga is going all the way to Wrestlemania and no one can stop him. Estrada smiles but then his eyes become locked on something else as the camera zooms out to reveal MVP standing close by. He looks at Estrada and tells him to think again because there's only person who deserves to main event Wrestlemania and that's MVP. He walks closer to Estrada and says no one, not even Umaga or even The Undertaker is gonna stop him from proving that he's the biggest star in the whole damn company when he beats the whole damn company tonight in this second rate country. Estrada and Umaga look pissed as MVP just grins and then walks away.


***CUT BACKSTAGE***


The Pitbulls storm in to William Regal's office. He asks just what the hell they are playing at, barging in his office like that. Noble tells Regal he wants to know just what The UK Pack were playing at tonight by getting themselves disqualified to save their titles, and then asks Regal just what the hell he's gonna do about it to make it right. Regal says the first thing he is going to do is tell them to calm down or he'll have them escorted them from the building. Kash and Noble remain pissed but stay quiet as Regal tells them he can understand their frustration before reminding them that they brought the belt in to the ring. Kash then asks Regal who the hell it was who used the damn belt. Regal asks to finish his sentence and tells them that both teams were in the wrong and he will make sure that he deals with the situation correctly, and that means having time to think about it before Smackdown this week. He asks them both to leave, which they reluctantly do after telling him he better make it good or they'll sort things out their way.


***CUT TO RINGSIDE***


***MATCH #4***




Triple H
vs. Kane w/Paul Bearer

Special Guest Referee: Vince McMahon
Special Guest Enforcer: John "Bradshaw" Layfield
Special Guest Timekeeper: Shane McMahon

ENDING: Kane and The Game exchange blows in the middle of the ring with Kane gaining the advantage, connecting with a series of uppercut thrusts, ending with one real hard blow that knocks Triple H down to the mat. Kane then walks over to the corner and climbs to the top rope as The King of Kings makes his way back up to his feet just off the centre of the mat. Kane waits patiently, and as The Game turns round, The Big Red Machine leaps off the top rope, looking for a FLYING CLOTHESLINE. . . . . Triple H though manages to duck to the side as Kane hits the mat, but both men are back up to their feet quickly. Kane though has to turn round, and as he runs at Triple H, The Game lifts him up by the waist and plants him with a DOUBLE A SPINEBUSTER. . . . . The crowd cheer like crazy as The McMahon's are all shown looking to be very concerned with The Game throwing his arms above his head for his trademark taunt. He seems to be getting ready for the Pedigree . He then walks over to Kane and looks down at him, but Kane sits up and grabs him around the throat. The look on Vince's face is a picture, smiling widely as Kane stands back up. The Game fights it with a couple of kicks to the gut and then pushes Kane back in to the ropes who just holds on to the top rope. Triple H looks fired up as he then runs at Kane, but in to a big boot to the face, knocking him back and down to the mat. As Trips then starts to get back up, Kane lifts his arm in the air, signalling for the CHOKESLAM. . . . .

With The Game looking groggy as he makes his way back up, and then turns round, Kane tries to grab him by the throat. Trips is able to duck his head underneath and then as Kane turns back round, The Game kicks him in the gut and sets him up for THE PEDIGREE. . . . . The crowd are on their feet and cheer loudly as Trips looks to finish the Royal Rumble winner off. However, Vince panics as he then grabs The Game by the arm, forcing him to let go of Kane, who just drops to his knees. Trips grabs hold of Vince by both shoulders, resulting in a big pop from the crowd. JBL immediately slides under the bottom rope and kicks The Game in the back, releasing the grip on Vince. Trips stands back up quickly, but he just makes things harder for himself as JBL is already one step ahead as he connects with THE CLOTHESLINE FROM WALL STREET. . . . . The crowd crap all over it while Shane applauds on the outside with Kane standing back up. He stares at a nervous looking Vince and JBL for a while until he sees Triple H starting to come round. He turns away and then walks over to The Game and pulls his out of it looking opponent back up before then scooping him over his shoulder and planting him with a TOMBSTONE PILEDRIVER. . . . . JBL smiles as he climbs through the ropes back to the outside as Kane then positions Triple H's hands over his chest giving a delighted looking Vince a chance to count his son-in-law's shoulders 1 . . . . . 2 . . . . . 3.


AFTERMATH: Vince calls for the bell as "Burned" blasts out with Kane standing back up as Paul Bearer joins him inside the ring. Vince decides to leave the ring, looking a little intimidated by Kane, then instructs JBL & Shane to join him. As they walk towards the ramp to meet Vince, they take a look at the fallen body of Triple H and smile at the sight. Kane sets his pyro off as The McMahon Men walk up the ramp to the back. Once the pyro stops, we see Randy Orton jump the barricade at the side of the announce tables. He slides inside the ring and seems to be gearing up for an RKO on Kane when all of a sudden, The Big Red Machine turns his head and sees Orton standing there. The Legend Killer panics and doesn't know what to do. They stare at each other for several seconds before Orton climbs through the ropes, looking a little worried while Bearer nods his head at Orton, seemingly to say he's made the right decision to back down. Kane stares him out as Orton retreats from ringside


WINNER: Kane by pinfall @ 11.40


***COMMERCIAL BREAK***


***MAIN EVENT***




NUMBER ONE CONTENDERSHIP MATCH FOR THE WORLD HEAVYWEIGHT CHAMPIONSHIP AT WRESTLEMANIA
Batista vs. The Undertaker vs. Ric Flair
vs. Umaga w/Armando Alejandro Estrada vs. Edge vs. MVP

ENDING: The Undertaker battles it out with Edge and swings a right hand at him, but Edge ducks it and slips behind the dead man where he starts pummelling him with a series of vicious clubs to the back which force Taker down to his knees. The Rated R Superstar steps back in to the ropes and then comes back, driving his boot in to the side of The Undertaker's head. Edge looks very pleased with himself but he gets a lot of heat from the crowd, but as he turns round he sees Batista standing back up and runs at him. The boos turn to cheers as Batista stands back up fully and tears Edge in half with an ALMIGHTY SPINEBUSTER. . . . . With the crowd cheering him, The Animal is about to go for a cover until he sees Umaga making his way back up. Batista then turns his attention to The Samoan Bulldozer and stalks him for a spear. As Umaga stands up, Batista charges at him, but Umaga sidesteps him with Batista running in to the corner pads. The Samoan Savage then takes several steps back before charging in to the corner and SPLASHING THE ANIMAL. . . . . Batista drops face first to the mat as both Flair and MVP get back in the ring, MVP crawling while Flair climbs through the ropes and runs at Umaga, only to fall victim to one hell of a SAMOAN DROP. . . . . Gasps come from the crowd as Flair hits the mat, looking out of it as he rolls towards the corner while Umaga then stands back up with MVP approaching behind him. The Franchise Player then strikes MVP with a couple of forearm shots to the back, having no effect whatsoever. Umaga turns round and stares intensely at an intimidated looking MVP who is then grabbed by Umaga and tossed overhead with an OVERHEAD BELLY TO BELLY SUPLEX. . . . .

MVP rolls under the bottom rope to the arena floor as Umaga looks in complete control, but he's unaware that his bitter rival, The Undertaker is getting right back up behind him. As Umaga then gets back up from the belly to belly, Taker walks over and strikes him with some hard rights to the head, forcing Umaga up against the ropes resulting in Taker then clotheslining him over the top to the outside. The clothesline has such force that the momentum takes the dead man over too, with both men landing in front of the announce tables. Back on the inside, all four men remain on the mat as Taker stands back up on the outside. With Umaga getting to his knees slowly, Taker decides to strip the Smackdown announce table to a huge pop. Cole & Coach panic and remove their headsets as back on the inside, Edge gets back up along with Batista who runs at Edge, resulting in Edge holding the top rope down with Batista going over the top to the outside. The Rated R Superstar then sees Flair starting to sit up and has him firmly in his sights as Taker grabs Umaga by the throat on the outside and CHOKESLAMS HIM THROUGH THE ANNOUNCE TABLE. . . . . The crowd go crazy as Taker just stares down at the carnage while Estrada looks on in amazement. Taker turns his neck and sees Estrada, but on the inside, Flair stands up and with Edge ready to pounce, he charges at Flair and takes him down with a SPEAR. . . . . Lots of boos ring out as Edge then goes for the cover, hooking both legs 1 . . . . . 2 . . . . . 3.


AFTERMATH: "Metalingus" blasts out as Edge sits up and raises his arms in the air. Taker looks in to the ring, not looking too happy as he sees Edge stand up and get his arm raised. The dead man then steps back up on to the apron, but Edge gets out of danger as he climbs through the ropes to the outside and throwing his arms in the air at the top of the ramp as Taker stares a hole right through him. Edge grins so smugly as Estrada checks on Umaga with Taker then switching back to stare at Umaga before the camera focuses on Edge one last time as he grins like hell to end the show

WINNER: Edge by pinfall @ 18.51


***END OF SHOW***


QUICK RESULTS
Beth Phoenix df. Victoria
Rey Mysterio df. Elijah Burke
The Pitbulls df. The UK Pack
Kane df. Triple H
Edge df. 5 others to become the Number One Contender for the World Heavyweight Championship


CONFIRMED FOR WRESTLEMANIA XXIV

WWE Championship
John Cena vs Kane vs Randy Orton (c)

World Heavyweight Championship
Shawn Michaels (c) vs Edge



Crazier than Santorum and Bachmann's love child
Join Date: May 2008
Location: San Francisco
Posts: 2,283
Points: 0
Re: WWE: A Strong Response
---
McMahons/Orton promo: An intense promo. I am liking Orton's involvement with the HHH/McMahon angle. Very creative.

Victoria vs Beth: You did a great job making me interested in a divas match. I like how you had each diva use many different moves. I wasn't expecting a run-in, so that was a cool angle.

Rey vs Burke: Great detail. Again, good job using both men's repitore. Rey getting the win was to be expected, but at least you didn't make Burke look weak.

HHH promo: A good promo. It wasn't spectacular, but it increased interest in the HHH/Kane match, so it forfilled its purpose.

Tag Title match: I didn't have huge expectations for this match, but it was pretty good. I liked how you made both teams look like tweeners. The ending was good, and it set up a WM match. You also did a good job conveying the emotions of all 4 men.

Umaga/MVP/AAE segment: A good hype segment to build up the #1 contenders match. Umaga talking about UT makes me think we will see a match at WM between the two men.

Pitbulls segment: Wasn't anything special, although I guess you had to do it, since the Pitbulls were pissed off after being cheated out of the titles. I sense that Regal is trying to stick up for the UK Pack. I assume Regal will announce at match at WM, which is fine with me.

Kane/HHH: You did a good job making both men look strong. Vince trying to save Kane and setting up the interference by JBL was a cool spot. As I expected, Kane won cheaply. Good match to further Kane's push and the HHH/McMahon angle. Orton coming out then turning around was wierd and unexpected. I hope it is explained on RAW.

Main Event: The spot with UT and Mags seems like it would have been hardcore IRL. I like how Umaga dominated. Every man got in some offense, which was good. I didn't really like the ending, however. I don't think one Samoan Drop would knock out Flair for over a minute. Maybe a Samoan Drop and Spike. Anyway, Edge/HBK should be a great match. You did a great job making us think Flair would face HBK, only for Edge to steal the win.

Overall: Even though the show was recapped, I still liked it. You are a great match writer and it showed. I love how you use so much detail. The promos did a good job increasing my interest in the matches. Another great show by you, and I am looking forward to the rest of the road to WM.
---
MADERAS
AIRAI
MALAKAI
WHATEVER THE SHIT TEAM IN ALL-STARS WAS
Re: WWE: A Strong Response
---
SNME Review

Saturday Night's Main Event in London, woohoo!!

The opening segment was very interesting, I wasn't expecting SNME to open with a backstage segment but I think it's a good idea to get us pumped up even further for the matches. I liked the McMahon's in this segment with Randy Orton as you're mixing the biggest heels on Raw together as well as keeping Orton involved despite him not having a match. I liked how they rumbled Orton's plan but it's clear that Orton will try and get revenge on Kane another way.

Wow I wasn't expecting Flair to brawl with Edge backstage! This is already a good start to the show. I'm guessing that it will be either Flair or Edge that wins tonight then.

Now this is a match I would like to see. These two are the best two womens wrestlers in the WWE in my opinion so it's cool to see them against each other. The ending flowed well and I liked the moonsault counter from Phoenix. When Victoria set up for the Widow's Peak I thought we had a new champ, but I wasn't expecting a run-in at all. Who is this mystery woman then I wonder? Anyway I liked the finish as it leaves it open for another match, probably at Mania which would be cool and it leaves us wondering who this woman is.

This was a bit of a strange segment with Batista and Rey, I know they are buddies but it seemed a bit pointless. Was it Batista who attacked Rey Mysterio backstage? I woudn't rule it out, Batista could make a good heel and there should be at least one inter-promotional match at 'Mania. I'm probably making something out of nothing though. Okay segment.

Miz and Morrison to Raw then? This was an interesting segment, all three seemed in character especially Bischoff as he always wants the top talent on his show. They would make good challengers to Londrick.

Good match between Rey and Burke, these two guys could put on one hell of a match. The ending flowed well, poor Layla though getting hurt twice in six days! I liked the counter from Burke after Rey tried to drop the dime, and the Elijah Express counter was also cool. The counters made for an unpredictable finish and I wasn't really sure who was going to win although I predicted Burke. Rey Mysterio winning is cool although I like Burke more, Rey is an established main event wrestler so this doesn't really hurt Burke too much and I'm sure you have plans for Burke in the future.

The Triple H interview was pretty good. Not very entertaining but it's not meant to be, it did it's job of adding more hype to the match later.

These are two very solid teams here so it makes for a good match. The ending was well written and I loved the referee not seeing the tag to Burchill, that is a great heel tactic from Noble to distract the ref. The DQ ending was interesting as you would expect the heels to be DQ'd rather then the faces, but you did it the other way around here. This was a good finish as Noble and Kash will brag that they won which will get them another shot, and also this would get Noble and Kash lots of heat with SNME being in England. Good decision, I expect a rematch at 'Mania.

The Umaga interview was pretty good. I liked what Estrada had to say but I would've thought he would've been more angry with Matthews for what he said. Good to here from MVP too, we've seen quite a few of the guys in the match later on already which is cool, you're doing a good job of building each guy up.

Okay segment with Regal and the Pitbulls, again it just served it's purpose and moves it the situation on quicker as we don't have to wait until Smackdown for the Pitbulls to complain. Wasn't it a title belt that was used in the match? Just a little mistake their but no big deal.

This was a good match but Triple H was never going to win this one with the odds stacked against him. The match was good and I liked how you kept describing Vince's expressions. Vince stopping HHH hitting the Pedigree was cool and then the clothesline from JBL was cool. Kane picking up the win was expected and this helps Kane a lot going into 'Mania while Triple H doesn't lose any credibility as the odds were stacked against him. I liked that you said the McMahon's took another look at the fallen Triple H before leaving, as if they just left it would be quite strange and the Orton-Kane thing didn't take all the attention off the McMahon-HHH feud. Orton coming down was good and it would be funny to watch Orton back track like that, and with Orton being heel it was a good decision as it fits his character. Orton is obviously scared of him so it will be an interesting feud heading into Wrestlemania along with Cena.

Great main event here. You did a great job of getting all of the men involved without it turning into a complete mess. I liked Umaga's dominance too although I knew he wasn't going to win. The Chokeslam through the announce table was a great spot, I reckon we will see 'Taker versus Umaga at Wrestlemania and that would be awesome, Last Man Standing match please! Edge spearing Flair for the win was a bit of a shock, I thought that Ric Flair was going to win but I should've known that you don't like doing the same as the WWE IRL. I said I least wanted to see HBK versus Batista or Edge but that was only because we have seen it before in this thread, but I'm sure the Mania match will even better. Plus a feud just between the two will be cool without Batista this time, I expect there will be some quality promos.

Overall Nige it was an enjoyable show as usual, some quality matches and some interesting promos. There wasn't anything I didn't like really, the Batista-Rey seg seemed a bit pointless unless it's leading somehwere, but apart from that it was a quality show imo. I'm really looking forward to Wrestlemania now as there are some great feuds developing and the events from this show will lead to even more interesting rivalries. Good job mate.
Re: WWE: A Strong Response
---
WWE.com - HOMEPAGE

EDGE EARNS MANIA TITLE SHOT!
Last night at Saturday Night's Main Event and in the main event itself, we saw six of Smackdown's finest compete for a shot at the World Heavyweight Championship and Shawn Michaels at Wrestlemania XXIV. When all the smoke cleared, it was The "Rated R Superstar" Edge that picked up the victory and found himself shot in to the main event of Wrestlemania for the very first time.

This now means that "Mr. Wrestlemania" Shawn Michaels will be defending his title against a man who has never been defeated on the grandest stage of them all. Something is going to have to give, but how big of a celebration will we see from the new number one contender this Friday night?


---
Last edited by Nige™; 08-24-2008 at

12:58 PM

.
Tag Teaming With James Ellsworth
Join Date: Mar 2005
Posts: 1,214
Points: 0
Re: WWE: A Strong Response
---
SNME Review

Opening promo was an interesting way to kick off the show,liked Orton trying to make himself the special referee so he can get revenge on Kane as it would be something he would do. Still expect Orton to get involved in the main event in someway however.

Wow the show is kicking off with a bang with the first promo and now Edge and Flair brawling. It's a nice way of setting up the main event.

Never been keen on Women's matches opening the show but I suppose this is an exception as you have got the two most talented divas on the roster. Was a well written match and for one moment I thought Victoria would win until the interference by the mystery women. Ending leaves room for future matches possibly a triple threat also involving the mystery woman. Got a feeling that the women is Natalya but it will be interesting to see who it is.

Batista/Rey promo was pretty much a filler as it was pointless. Hopefully this is leading to a Batista/Mysterio match and Batista was the mystery attacker.

Looks like Morrison and Miz are on their way to Raw which adds to their tag division. I think that there are more teams currently on Smackdown (Might be wrong) so moving them to Raw would be a smart choice.

Very good match between Rey and Burke as you would expect as they could put on a hell of a match. Ending of the match was very entertaining with Burke blocking the dropping the dime and Rey countering the Elijah Exspress. Rey getting the clean victory suggests that this little feud has ended, so I wonder what both men will be doing for Wrestlemania.

Triple H interview was a nice solid job of hyping the main event.

Another good match here and was very surprised that this match ended the way it did. The ending was very well written and was good to see the faces getting disqualified instead of going through the normal route by disqualifying the heels. Looks like you are planning to carry on this feud until Mania which makes sense.

Very good segment here, and Estrada was a very good mouthpiece for Umaga here to hype Umaga's match. You got MVP's character off very aswell with him coming across as his normal cocky self.

Kane/HHH was a very entertaining match, but it was a matter of when rather than if JBL and Vince would interfere in the match. Was pretty obvious that HHH was going to lose with all of the odds against him, and facing a man who is main eventing Wrestlemania but you did a good job of keeping both men looking very strong. Aftermath of the match was very good with Orton looking to attack only to bail out when Kane saw which he would do IRL. It is going to be interesting going into Mania as Orton and Cena for that matter are going to have to get one over Kane sooner than later but at the moment Kane looks very strong compared to Orton.

Great main event, you could of easily made this match a mess with the amount of wrestlers in it but you did a good job of preventing that. Liked how you made Umaga look very dominant throughout the match until he got Choke slammed through the announce table which was a great spot. Edge spearing Flair and taking the victory came out of nowhere, but was smart booking as it was typical opportunistic Edge with everybody else down or on the outside. Edge getting the title shot is the right decision to go with as it the top heel v the big babyface. HBK/Edge feud should be very entertaining as it will make for great promos and matches.

Overall was a very good show with nothing to complain about, with your promos and match recaps being very strong. It is now time for what every WWE booker on the site looks forward to and that's the lead up to Wrestlemania and the PPV itself. Looking forward to see the card being developed and what matches you will add to the show.
Re: WWE: A Strong Response
---
WWE.com HOMEPAGE - BREAKING NEWS

HALL OF FAME INDUCTEES TO BE CHOSEN BY YOU!
For the first time ever, you the WWE fans will be able to decide on just who will be inducted into the WWE Hall of Fame. That's right, the 2008 class will be nominated for and chosen by you, the fans. Once all the nominees have been selected, we will post the full list for you right here and then you will decide on the exact legends you wish to be included in this elite class.

All nominations will be sent via Private Messaging and please be advised that any votes that are deemed to be inappropriate will not be added to the shortlist which you will have the choice to vote for your final eight selections. Nominations can be sent now and you have a timescale of two weeks from today to make them (Thread Date not real time of 24th February), and after that time, we will post the shortlist (Thread Date not real time of 26th February) where you will then have another two weeks to make your final selections, meaning the final date to vote will be the 11th March (Thread Time). Once all the votes have been counted, the inductees will be revealed one by one on both Raw and Smackdown.


Current Members of the WWE Hall of Fame

Andre The Giant in 1993

1994 Class
Arnold Skaaland
Bobo Brazil
Buddy Rogers
Chief Jay Strongbow
Freddie Blassie
Gorilla Monsoon
James Dudley

1995 Class
Antonio Rocca
Ernie Ladd
George "The Animal" Steele
Ivan Putski
The Fabulous Moolah
The Grand Wizard
Pedro Morales

1996 Class
"Baron" Mikel Scicluna
"Captain" Lou Albano
Jimmy Snuka
The Valiant Brothers
Johnny Rodz
Vincent J McMahon
Pat Patterson
Killer Kowalski

2004 Class
Big John Studd
Bobby Heenan
Don Muraco
Greg "The Hammer" Valentine
Harley Race
Jesse Ventura
Junkyard Dog
Tito Santana
Sgt. Slaughter
"Superstar" Billy Graham
Pete Rose

2005 Class
Hulk Hogan
Roddy Piper
"Cowboy" Bob Orton
Jimmy Hart
Paul Orndorff
Nikolai Volkoff
The Iron Shiek

2006 Class
Bret Hart
Eddie Guerrero
Gene Okerlund
Sensational Sherri
Verne Gagne
The Blackjacks
Tony Atlas
Willian "The Refrigerator" Perry

2007 Class
Dusty Rhodes
"Mr. Perfect" Curt Hennig
Jerry Lawler
Nick Bockwinkel
Mr. Fuji
The Sheik
The Wild Samoans
Jim Ross


To vote, just send the following details:

My Hall of Fame 2008 Nominees
1 .
2.
3.
4.
5.
6.
7.
8.

You can nominate as many as you wish, but considering the shortlist will be around eight, please aim around that mark if you can. Enjoy your voting!


On a separate note, the WWE is proud to announce that this years Wrestlemania theme song will be "Thanks For the Memories" by Fall Out Boy.



Really good idea with the Hall of Fame. Adds Interaction to your BTB, but can you add to that post or post afterwards those who have already been Inducted into the HOF so I don't pick people who are already inducted. Again I tip my hat to you for a very good idea, which I may use in the future.
---
ECW: The Rebirth
Post your predictions for One Night Stand 2006 now.
Moron
Join Date: Nov 2007
Location: England
Posts: 8,966
Points: 0
Re: WWE: A Strong Response
---
Awesome idea, Nige, I cannot wait for Wrestlemania! I'll post my nominations shortly, and great theme song for Wrestlemania too, very creative on your part.
Posting Rules

You may not post new threads

You may not post replies

You may not post attachments

You may not edit your posts

---

HTML code is Off

---