Re: WWE: A Strong Response
---

THE BIG RED MACHINE RETURNS WITH A BANG!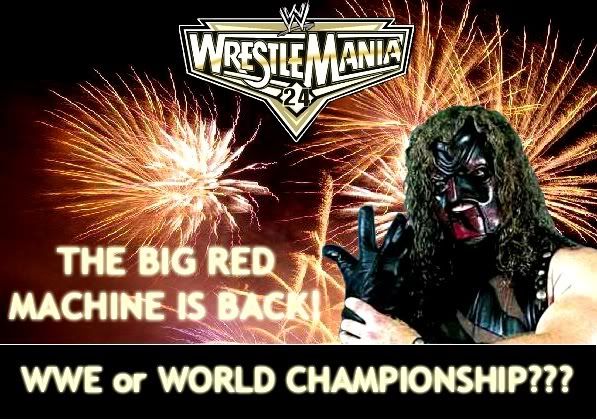 As we enter the early hours of Monday morning, many fans will be just resting their heads against the pillow having witnessed one of the biggest shocks in the history of the Royal Rumble late last night as Kane returned to earn himself a title shot at Wrestlemania 24!

For weeks we have seen video clips that have seemed to indicate that The Big Red Machine was making a return, with his mask too, but no one anticipated that he would return last night, let alone dominate the Royal Rumble match and eliminate his brother and last years winner, The Undertaker to end the show. With Wrestlemania just over two months away, Kane has a decision to make. Will he stay on Smackdown and challenge Shawn Michaels for the World Heavyweight Championship, who himself was victorious, beating Batista and Edge to retain his title. Or will Randy Orton's WWE Championship be in the monsters sights having seen Orton defeat John Cena in a TLC match last night?

Only time will tell!


Tag Teaming With James Ellsworth
Join Date: Mar 2005
Posts: 1,214
Points: 0
Re: WWE: A Strong Response
---
Long time no read, but since my GCSE's are nearlly finished expect me to get back to reviewing this thread. Skimmed through the Royal Rumble and looked to be a very good PPV. The Championship matches were very enjoyable and Kane winning the Rumble was pretty orgasmic
. Will be interesting to see who Kane faces for the title. Will leave review when you get Raw up.
Re: WWE: A Strong Response
---
Congratulations on another award Nige, you really are improving a lot in BTB. I have skimmed through the Royal Rumble and it was brilliantly written as well as booked. I'm the same as Kane in a way. Now that I have my laptop fixed I'm gonna start getting back into this thread.
I'm so pleased that you're using Kane in a propper way. It should be great to witness the fallout and his huge desicion. I'm expecting you won't make it clear till a bit closer to Mania. Anyway looking forward to Raw
Re: WWE: A Strong Response
---
JD SPURS ROYAL RUMBLE REVIEW
Right here we go finally for my review of the Royal Rumble …
Nice opening package as I would expect and well it buildup the Royal Rumble itself, I am a fan of building the matches as well, which you did but wasn't much detail but still it was satisfactorily
. Well down to the first match, not surprised this was the opening contest it is the strongest feud bar the World Titles, so you want to get the crowd going probably. It starts quick and the whisper in the wind is brought out in less than 30 seconds, surprised, but it works well as this match will defiantly have a quick pace. I see the text is spread out a fair bit, with two lines between each, just thought I'd note that. Back to the action, lots of faced pace moves and counter, I see Punk hits a Rock Bottom, strange using that, I think you should have just called it by the move, and maybe have Rock Bottom in brackets but that doesn't really matter. Now that's weird ref bump, don't understand why he is that close but now this gives me a felling of a Punk win, by dirty tactics. Oooooo Sunny screws Jeff! Thought it was going to be a crappy end with Punk just hitting him with the belt but it turned out better with Sunny completely coming out of nowhere for the heel turn, so this feud is far from done, has been going quite long now, I think one more PPV and it ends.
Nice segment, the bit with Shane and Orton was cringe worthy haha. Woooo! I wish Flair won the Rumble
. Chavo really has no chance tonight, Doane … sorry Dykstra is just too good a champion, and the match was just like before, very quick and counters all over the place. It was not as good as Jeff-Punk in quality and the feud is not as good, but they put in a good show. Some nice moves hit, namely the three amigos. The ending seemed to put Kenny over very strong for a heel, I would have expected a cheating pin or something like that but this made him look totally dominant. Chavo really doesn't have many complaints and now hopefully Kenny moves on to bigger and better things! Very good match. Good job.
Shawn Michaels owns tonight, Regal is a heel GM yeah? But bans the heel's sidekick, maybe Regal's a tweener? Awesome interview thought, Michaels on top class form. Meh random bit with Cena seemed it was added just to hype the match a little longer. No harm done there. How can Kennedy open the door with his eyes shut then see Chris Jericho to make him shocked? Didn't understand that, or is he shutting his eyes after seeing Y2J? Meh. I've waited for someone to use the Kennedy Kennedy thing since Triple H did it a while ago, funny stuff. Chris Jericho's insults suck
but that's just him. Nice Rumble hype man, always love these segments. Now the Triple Threat lets go! Reading it, it was the best so far, moonsault in to power slam is big spot moment, superb stuff. The match was frecking epic and was the best so far, all the signature moves pulled off and I really got into it, guess that's why you were writer of the month. Michael's ducked a spear? The ending was good, seemed a little force, would have thought Tista might go for a clothesline then Michaels ducked it, and then SCM but the Spear thing worked just a s well.
Haha – "Mum it's great to see you". "Shane be quiet" … owned. Hmm god segment and this is getting interesting, Linda vs. Vince. RAW is going to be good
. Punk and Triple H had a little confrontation at Cyber Sunday if I remember so there quite good together, I don't like Sunny, she's seemed like a bitch in this, she would have got a lot of heat. You really pulled out the move set of Cena and Orton, with the likes of Orton pulling out an overdrive, from back in the day. The match had some big spots, Cena taking most of the bumps, especially the RKO thought a table. I think there should however been a few more tables used, also the RKO was a big spot but for a TLC I thought maybe there could have been a bigger one, but it still was big, but something like a RKO off a ladder would have been bloody big. Also I wanted a 'superstar falls off ladder though tables spot' but there wasn't
. But still it was a great match and nicely rounded off the matches before the biggy. Orton holds the title for a longer, so that's all good, hopefully Cena will continue the feud.
MVP running his mouth = ratings, well done, good bit before the Rumble. Not sure how to makes comments on the Rumble, so I'll do what I did for JayBeeLoser's Rumble.
There didn't seem to be much start power until Triple H coming in so I expect him to make some eliminations. Bringing back old Kane, makes him more of a monster, don't think this could ever happen in real life, but this is BTB. Kane goes mental and I think he could win this haha, I know. Kane and Taker squaring off was cool, these two could (will) go all the way. Shelton joins the eliminations party, haha. Ric Flair gets rid of the two young guns, good to put him over for a little more. Trips gets the upper hand in the little feud as well, but then the re-entered JBL gets him out, I love the re-entered stuff
. Really good end with Kane and Taker, since the number 30 you kept going for a long time and then the big decision giving Kane the win. Yes, it's a brave move and you will have to build him up a little more over the next couple of weeks, but I feel you have the talent to pull it off. A great rumble man, like the others have said it is the best PPV you have done so far imo!!! Top stuff. (Note: I haven't check my spelling and grammar in here because I wanted to get this up asap, sorry)
---
Or is it?
WWE.com - Television - Raw
---
RAW Preview
28th January 2008

Madison Square Garden
New York City, New York



TIME FOR THE RUMBLE FALLOUT!!


BIG RED MACHINE SHOCKS US ALL, IS HE DONE?
With all the predictions made over the weekend as to who would win the Royal Rumble last night, no one guessed that the eventual winner would be "The Big Red Machine" Kane. Stunning the entire audience of Madison Square Garden, the returning Kane along with his mask, dominated the Royal Rumble match for the majority of the match before eliminating his brother, The Undertaker to remain the last man standing. However, most importantly of all, Kane now has a guaranteed title shot at Wrestlemania. The question on everyone's mind now must be whether Kane will remain on Smackdown and challenge for the World Heavyweight Championship, or will he shock Madison Square Garden for a second successive night by chasing Randy Orton and the WWE Championship?

Tune in to Raw tonight and make sure you find out the answer!

NEW HEAD OF AUTHORITY TO BE UNVEILED!
Linda McMahon warned he husband last Monday night that she had something in store for him at the Royal Rumble, and boy did she ever! With Mr. McMahon's sons preparing for the Royal Rumble match, Linda went to them and told them exactly what the bombshell was. She told them that with both Vince, Shane and Stephanie McMahon abusing their power for their own good, the Board of Directors were forced into action. With a conflict of interest from both parties, Linda told them that the board's decision was to introduce a new Independent Head of Authority on Raw.

It appears that any power trip is over, but who will be standing in the middle of the family feud when they start their role tonight?

ORTON REACHES UP FOR BIGGEST EVER WIN
Randy Orton said going in to his Tables, Ladders and Chairs match with John Cena last night, that if he could emerge victorious, it would be the biggest victory of his career. And unfortunately, it seems that The Legend Killer's ego will continue to grow as he did what he said he was going to, beating John Cena. It was an incredible match with both men fighting like lions, and only after a DDT through the announce table and an RKO through another table, Orton was able to climb up to another level, holding on to his WWE Championship.

And tonight, we will hear from The Legend Killer himself in what we are being told will be a victory address. It seems that we're going to be hearing a lot more from him this week than usual!

JBL STOPS THE GAME
The McMahon Men have had it all their own way for the most part recently, but last night everything exploded in front of our very eyes. After hearing Linda's announcement earlier, both JBL and Shane McMahon went in to the Royal Rumble match with one plan, eliminate Triple H and ensure he doesn't get a title shot at Wrestlemania 24. After spending almost all their time to do just that, The Game was able to eliminate them both, however it was a move that cost him dear. Taking his focus away from the match after forcing JBL out of the match, he seemed to revel in the moment before he turned round into Umaga's fury. Triple H fell over the top rope, but hung on to the apron for dear life, only for JBL to drag him off and down to the floor, controversially eliminating Triple H from the match and the Wrestlemania main event. The duo then went at it round ringside with security trying and failing to separate them.

You have to wonder just what will go down tonight when both these two huge personalities step foot back inside MSG!


JEFF SCREWED OUT OF THE IC TITLE
Jeff Hardy has had it tough lately with CM Punk doing everything he can to put him down and humiliate him. It seemed though that Jeff had support in the shape of Sunny, that was until last night when Punk's cruel scheme was exposed. In what was an incredible contest between two hungry competitors, it looked like Punk was going to defeat Jeff when he lifted him on to his shoulders for the GTS, but an inadvertent kick to the referee's head, changed anything that would have been honest about the match. It was then that Sunny struck, sliding Jeff's title into the ring, It looked like she had accidentally slid the belt too far as it ended up in the grasp of CM Punk, and she went as far to step in to the ring and grab the belt back. Just when we thought she was going to strike back against the dastardly challenger, she turned round and took Jeff's head off, resulting in the Intercontinental Championship switching to CM Punk's occupancy.

Will we find out why Sunny turned on Jeff in his hour of need? There may not be time however, as Punk has been forced in to making his first title defence tonight against Rey Mysterio tonight!

TAG TITLES ON THE LINE
It appears that CM Punk's Intercontinental Championship won't be the only title contested tonight as we have been informed that Paul London & Brian Kendrick will be putting their World Tag Team titles on the line against the former champions, Lance Cade & Trevor Murdoch. Will we see the high flying duo's title reign extend, or will The Redneck Wrecking Crew take back the gold?

PLUS
Carlito and his brother Eddie have sure made life difficult for Cody Rhodes since he and Kelly Kelly sparked a mutual attraction several weeks back, something that The Colon Brothers have found difficult to accept since Eddie's advances towards her back fired. Last Monday night, they yet again attacked Cody for no real reason, just as love young's dream realised their true feelings for each other. This time however, Cody's luck was in as Kofi Kingston heard the commotion in the hall and left his dressing room, cutting the attack short. We have been advised that after last week's show, Carlito challenged Kofi to a match for this week, with Kofi accepting. It looks like Cody might well have an ally to fend off the cowardly brothers cool!

Chris Jericho and Mr. Kennedy have never been shy of hiding their feelings of each other, and last night they went at it in the Royal Rumble match, with Kennedy making up for his loss to Jericho at Saturday Night's Main Event last December by eliminating Y2J from the match and preventing any chance of Jericho headlining Wrestlemania this year. How will Jericho respond to that tonight?

Elijah Burke was also on the wrong end of an elimination by his least favourite Raw superstar, Rey Mysterio. How bad will Elijah take that knock?
CONFIRMED FOR RAW THIS WEEK

INTERCONTINENTAL CHAMPIONSHIP
Rey Mysterio
vs. CM Punk (c)


WORLD TAG TEAM CHAMPIONSHIP
Paul London & Brian Kendrick (c)
vs. The Redneck Wrecking Crew

PLUS

Kofi Kingston
vs. Carlito

Randy Orton's Victory Address

Bobby Lashley in action!
---
Last edited by Nige™; 06-07-2008 at

12:18 PM

.
Re: WWE: A Strong Response
---
2oo8 Royal Rumble Review (WWE: A Strong Response)

S1 (Opening Segment) = The video was well put together, but, the way it was presented down played its quality. Cole & Coach were tight, so were JR & King in welcoming us to what promises to be a tremendous event indeed.

S2 (CM Punk v. JHardy - IC Title) = Your match format reminded me a lot of how matches in the Attitude Era went down. No rest holds whatsoever, just, straight away action. Worked for this match, as it had a heated feud attached to it. There were little 'mmmh' moments here and there, like a Stomp usualy is delivered when someone's down on the mat. And especially a stomp to the chest while someone is up is almost like a big boot. Also, I would have liked the Double Underhook Backbreaker to be called as the ''Welcome to Chicago M@therf@ck@r''. Still, the match and the turn in itself was a great way to start off the show with a big bang (Ohh, and the Rock Bottom Punk utilizes is called a Uranage Slam). I'm not too sure I like Sunny & Punk being involved sexually/romantically, since Sunny is a veteran of the business, I don't think she needs to prove herself that much, last I heard she was either engaged, married or seeing someone in real life, so, I don't know (even if this is all made up) she'd feel about doing that angle actually. Still, Punk & Sunny as heels works for me, as long as they keep their mouths to each other, because mostly, Punk in a romantic angle is kind of like so totally not CM Punk like. But CM Punk deserves that belt he won under shady circumstances and I hope we'll see a rematch between the two soon because they had a good match here at the Rumble.

S3 (Backstage, EdgeShane + Orton) = Good promo, Orton was on the weird and scripted side of things, but the Rated RKO reunion was cool. Although it lingered on a bit, this was a good PPV like promo, definetely.

S4 (Outside, Flair & Batista) = A bit out of character for both men, but I guess since they were outside and not yet in the building, this was kind of your reality tv like moment of the show. Good nonetheless to see Flair & Batista together.

S5 (Chavito v. Doane - CW Title) = A bit too much of a spotfest for my liking, especially since we saw pretty much the exact same thing from the opening bout. It would seem also that there was no real beginning and that Chavo just started this matchup by going over to Doane and punching away at him, mmh. It was a see saw contest all the way through the end, the coolest thing about this match was the I miss my top rope move and you do too portion of the match. I didn't particularly like the ballshot finish, considering the definition of the title at stakes, I would have rather liked to see the actual wrestling acumen of either men come into play at the end, but I guess you're really pushin this feud further and further more, so I guess it served its purpose on that level.

S6 (Interview, Matthews & HBK + Cena) = Good interview, Cena outshined Michaels a bit but I really didn't believe a word he said when he said he'd be blowing the roof of off MSG with his performance, if anything, as a face, Cena relies heavily on his opponents to sell for him. I haven't really read any of your singles matches with Cena so I hope with see the Cena of old without his routine 4 moves of utter doom to finish off Orton tonight, granted its a TLC match, that could help, still, good interview and good contrast with the Edge & Orton and now HBK & Cena segments.

S7 (Backstage, Regal/Maria/Michelle + Kennedy + Y2J) = Jericho was a bit shaky but the interaction in itself between Chris & Ken was cool. It looks like both Jericho & Kennedy will enter the Rumble late, so they could easily be serious winners of the 2008 Royale Rumble.

S8 (Video Promo, Triple Threat WHC Match) = Excellent way to bring up the matchup, very professional like.

S9 (Edge v. Batista v. HBK - WH Title) = Really much better match up than the previous two, in terms of really putting a lot of effort in it, it really showed. It was still filled with a bit too much spotfests moments here and there, but everybody looked strong and I especially liked the ending, with flashbacks of RR 96 when Michaels Super Kicked Diesel over to the top rope and then, a sick Sweet Chin Music to Batista who was charging in with an attempted Spear! It made Michaels look maybe a bit strong in the end, but still, I guess it somewhat works as any 3-Way match is always bound to be unpredictable.

S1o (Backstage, Vinnie Mac/JBL/Shane O Mac + Linda) = The announcement is really out of left field and I cant wait to see who that independent figure head'll be. The segment in itself felt a bit rushed, still, there were some nice enough moments to not make a total blowout and just about the announcement. JBL's reaction was priceless though, the, 'What are you talking about woman'! Lol.

S11 (Backstage, Maria/Michelle/CM Punk/Sunny + HHH) = I was a bit dissapointed at the turnout of this segment. Some bits felt rushed and felt too scripted at times. Although there were so damn good parts, a shorter version of that altercation between the two would have been historic, this was meh, okay I guess, both men made some valid points towards one another, but then, you had stuff that just lingered on and went nowhere.

S12 (Cena/Orton Hype Video) = I wasn't familiar at all with how these two made it to the Rumble I was please and not so pleased to see I missed some great things between the two, especially the Survivor Series thing for Orton. Your hype videos are professional and very well put together and to the point.

S13 (Cena v. Orton - TLC WWE Title Match) = Overall match was quite good. I didn't feel the actual heated rivalry between both men, as again, there was really no one who gained any kind of advantage from this bout and it was pretty much spot after spot. The seriousness of the bout also dropped down when you talked about the Cena supporters and bashed them for no reason. Also implying that Hugo Savinovich was a ''Fatty'' for again, no apparent reason. The action in itself was pretty darn good though, some good spots, the RKO at the end was really a HOLY SHIT moment but I'll come back to that a bit later. Just want to touch first on the actual decision of making this a TLC when we barely saw tables or chairs. The match mainly revolved around the Ladder (which it should) but it would seem as though both men were more preoccupied by the title than by their rivalry, and didn't fully use the objects put at their disposal. For Cena, this match didn't top his match against Edge, especially since the finish was more of a finish I'd have booked in a normal Tables Match, still, like I said earlier, it was a HOLY SHIT moment for sure. I was a bit surprised Cena couldn't make it after the RKO, but I think the injuries weren't sold enough by Cena at that point in time, so, that's why I felt it dragged the ending a bout. Overall, like I said, this was pretty good, problem with the Rumble event, is that, no matter what the undercard is and who's booked on it and what the matches are, the Rumble match is the match everybody is looking forward too. So, I hope this will lead to a continuation from both men in this feud and that No Way Out will see these two battle it out once more.

S14 (Superstars Rumble Warmup) = Cool little feature, dig it!

S15 (Backstage, MHardy + MVP) = Cool segment there, the interaction and the in-character aspect of it were tight all the way, plus, it wasn't too long and it wasn't too short, well done. Plus, it puts emphasis on guys aren't totally top notch Main Eventers and puts them in the running for them to actually win the Rumble match.

S16 (Royal Rumble Match) = A very well written out Match. Truly outshines the whole event, but, like I said earlier, this is what is was suppose to be. All about the Rumble. It had a bit too much spots (and, at the end, I could just feel a dead crowd just sitting there and seeing yet again another move out of nowhere). Rumble usualy have more brawling and the likes cause it is quite dangerous to just go all out and with more than 10 superstars in the ring, all the moves you pulled out made it a bit unsafe and Im actually surprised no one botched and no one got hurt bad. Still, with the way things flowed so fast, and I can overlook that and say that was a very well constructed Rumble match top to bottom. (I would have payed a lot of money to see Lashley stay in this long and, just imagining the sweat dripping off him like an African downpour) I think there were only two moments in the whole match that made me yawn and it was Carlito's entrance and the way he just demolished everyone. I think the highlights of this match are definitely the great Flair/HHH team-up and the Kane arrival. I just didn't like Michael Cole's comment at the end when Kane won and I doubt giving Kane the win was the way to go for someone who's been out and gone for as long as he was in this BTB, but I trust it won't just be a normal singles match that'll involve Kane and his shot at a Main Event Championship Mania, or else, the purpose of bringing back the masked Kane really serves nothing else than using the mask to give Kane a belt or a spot in the Main Event. When it should be used to slowly build back up Kane's credibility. All in all, tremendous match, we just have to see how everything pans out in the coming weeks, leading to Wrestlemania XXIV.

OVERALL = A good show overall, like i've said, felt a lot of the matches were spotfests, still, out of what 5 matches? You had 3 *** and more matches in there so, that's cool (The opener, WHC Title Match and Rumble Match). And really, what better way to close the show than with this tremendous matchup! What's so good about the Rumble, is, that the actual match itself leads up to so many things, so I'm really looking forward to you capitalizing on all those little altercations we saw and make something out of them. Most of the non matches segments were either meh, or good, but it was your typical PPV format with different kind of WWE action. A good show overall, no doubt about that.

Realism = 7.5/10
Length = 9.6/10
Quality/Entertainment = 8/10
Spelling/Grammar = 7/10
Matches/Booking = 8/10

Overall = 80.2/100 (B+)
---
WWWF is Coming...
WWE.com - HOMEPAGE (Raw Results 28th January '08)
---
RAW Results
28th January 2008

Madison Square Garden
New York City, New York



***VIDEO RECAP***
From the Royal Rumble last night

• Sunny hitting Jeff Hardy with the Intercontinental Championship to help CM Punk become the new IC Champion
• Randy Orton retaining the WWE Championship in the TLC Match with John Cena
• Triple H eliminating Shane McMahon and then JBL in the Royal Rumble, only for JBL to pull Triple H off the apron to eliminate him
• Kane winning the Royal Rumble, choke slamming The Undertaker off the apron


***OPENING VIDEO***
"Wanna Be Loved"


***PYRO***
***PYRO***
***PYRO***
***PYRO***


***CUT TO THE ANNOUNCE TABLE***


JR: Welcome everybody to Monday Night Raw, 24 hours removed from the incredible Royal Rumble we witnessed last night, where we saw one of the biggest shocks in the history of the Royal Rumble. . . Smackdown's Kane returned and dominated the field to guarantee himself a title shot at Wrestlemania 24. The question is whether he will remain on Smackdown or come over here to Raw to challenger Randy Orton, who retained the WWE Championship last night against John Cena in an incredible Tables, Ladders and Chairs Match. . . We've been wondering all day as to whether Kane will be here tonight as we again come to you live from Madison Square Garden


The King: And what a show we have in store tonight JR. Not only do we have a new Intercontinental Champion in CM Punk, he will be defending his title right here tonight against Rey Mysterio




JR: Also King, I had the chance to sit down earlier today with both CM Punk and Sunny to talk about what happened last night at the culmination of the Intercontinental Championship match where Sunny screwed Jeff Hardy out of the title

The King: But JR, we know that the Intercontinental title won't be the only championship up for grabs tonight, because Paul London and Brian Kendrick will be defending their World Tag Team titles against the former champions, Lance Cade and Trevor Murdoch





JR: And of course, tonight wouldn't be complete without us hearing from the WWE Champion Randy Orton. . .


"The Game" blasts out & Triple H storms down to ringside not looking happy at all. Wearing jeans and a T shirt, he gets a great pop as he gets in the ring and demands a microphone

Triple H: Let me cut to right to the chase. For the third time in the space of just over a month, I have been within touching distance of becoming the WWE Champion. I was so close that I could taste it. . . but we all know what happened. . . And last night, I stood in this very ring with the chance to put all that behind me and move on to the stage that I have made my own. . . Wrestlemania

***POP***

Triple H: But yet again, that didn't happen. It didn't happen for one simple reason. On no less than three occasions in a matter of a weeks, I have been screwed out of the title that I crave for. . . the title that I live for by a group of control hungry sons of bitches that have nothing better to do than screw up my career

***HEAT***

Triple H: But last night. . . last night it went too far, one of that group crossed the line. . . and that man is JBL

***LOTS OF BOOS***

Triple H: You know, just when I thought I had gotten past him and Shane McMahon, eliminating the both of them, deep down I thought that the Royal Rumble was mine, I could smell it. . . But for one lapse of concentration, I gave JBL the opportunity he must have dreamt of the night before, a chance I never give away. I got caught up in all the crap that has gone down in the last few months and I took my eye off the ball for that one split second, the split second that almost cost me the Royal Rumble match. . . You might be wondering why I say the world almost, but trust me, I'm right. I admit I took my eye off the ball, but I composed myself, only to turn round in to a great big mammoth, who again, almost eliminated me from the match

***HEAT***

Triple H: Like I said guys. . . almost. I landed on the apron, I didn't hit the floor. I regained my balance and was about to step back through these ropes and book my path to Wrestlemania when John Bradshaw Layfield, the bastard son of Vincent Kennedy Crapbag McMahon dragged me out of the match and my title match at Wrestlemania

***TONS OF HEAT***

Triple H walks over to the same ropes that he was eliminated at last night

Triple H: It was right here where JBL, the very man I eliminated just minutes earlier, reached up and took away my opportunity that was stolen from under my nose yet again

***HEAT***

Triple H: I think you all know how the story goes from here. . . I have just one thing left to say. . . John, get your ass down here right now

***BIG POP***

The Game waits about five seconds with no response

Triple H: COME ON JOHN. IF YOU DON'T COME DOWN HERE, I'M COMIN' BACK THERE, NOW BRING YOUR SORRY ASS DOWN HERE RIGHT NOW

"Longhorn" hits and JBL's limo enters the arena. A very happy Shane McMahon gets out first, followed by a smiling Vince and then a smug JBL to a ton of heat

JBL already has a microphone and talks as he walks to the ring

JBL: Hunter, what happened last night was just plain retribution. You took away my dream and I took yours

***HEAT***

Shane and Vince climb up the steps and then through the ropes, with JBL following them in

JBL: Hunter, if you want to find someone to blame for all of this, you should look no further than yourself. Let me remind you, it wasn't me that insinuated that Hornswoggle was my father's son to make the most successful business man on this earth look like an idiot in front of the world. . . However Hunter, last night it was me that made you look like a fool in this very same arena when I took you in my hands, then pulled you and your dream away from you

***HEAT***

JBL: Not only did you fall from the ring, you fell out of the Wrestlemania main event

***HEAT***

Triple H: Whatever I did was to teach Vince a lesson, but tonight I want you just mentioned. . . retribution

***POP***

Triple H: I taught your dad a lesson and now I'm gonna teach you a lesson. . . What I want is me and you one on one tonight

***HUGE POP***

JBL: Hunter, as much as I would enjoy carrying on where I left off last night, it's just not going to happen

***HEAT***

Linda McMahon's music hits as she walks out to the stage with a microphone, making The McMahon Men very angry as they look on from the ring

***POP***

Linda McMahon: Gentleman, like I told my beloved husband last night, any match making privileges you had, have now been removed. The power trip has gone too far and as I stated last night, a new independent Head of Authority will be taking control, starting tonight

***BIG POP***

Linda McMahon: This means Hunter, if you want to face JBL tonight, it will be up to the new Head of Authority to decide that, not the pair of you

Vince tells JBL to give him the mic, which he does

Vince McMahon: Linda, whoever the hell this person is, do you really believe for one second they are going to be able to control The McMahon Men? It just can't happen Linda, end of story

Linda McMahon: Oh I disagree entirely. . . Business is business Vince, not personal like it has been thanks to you over the last few weeks. . . And you know, it was because of you Vince and a significant business decision you made nearly six years ago that made the Board of Director's stand up and take notice. When a decision had to be made, you went against your own personal feelings and made the right decision for the good of the business. . . ironically something that has remained firmly in mind with the Board. . . That decision Vince was such a difficult but yet successful one that it has been implemented for a second time, as of right now in fact

***POP***

Vince McMahon: Damn it Linda, who is it?

Linda McMahon: Vince since you don't want me to keep you from it any longer, I will simply let actions speak louder than words

"I'm Back" hits & Eric Bischoff walks out to an incredibly good reception with some obvious boos too

He has a huge smile on his face as he stands at the top of the stage, shaking hands with Linda before she passes him her microphone and walks to the back. The McMahon's look on in shock while Triple H doesn't seem to bat an eyelid

Eric Bischoff: Vince it's funny don't you think? I never used to believe in the saying what goes around comes around, but I guess nothing could be appropriate right now could it?

***POP***

Eric Bischoff: And what comes around for you Vince McMahon, is me, your worst nightmare, ERIC BISCHOFF

***MIXED RECEPTION***

Eric Bischoff: However, as Linda quite rightly pointed out, I am not just the Head of Authority for Raw, but I am the Independent Head of Authority for Raw. I have been told in no uncertain terms that any conflict of interest would see me removed from my new position, so independent Vince I shall remain. . . I must tell you and everyone here that everything that has happened between us is ancient history. . . The time you brought me back here and made a fool of me, helping my nephew shave my head bald, force me to have my head shoved up another man's ass and fire me while putting me in a dumpster for the second time are all in the past Vince

Vince smiles and looks at JBL, mouthing the words "I did that"

Eric Bischoff: I've put that behind me Vince for the good of Raw, and you should know that I've been keeping up with Raw since I left. And now I'm back, I must categorically state that every decision I make will be for the benefit of the show and not either side of this family feud we have ourselves right now. . . With that in mind and after what happened last night, I have decided just what the first main event of my tenure will be right here tonight in Madison Square Garden

***POP***

Eric Bischoff: Tonight, you will see The Game, The King of King's, Triple H go one on one with Vince McMahon's son. . . not illegitimate son, but his birth son, Shane McMahon

***HUGE POP***

Eric Bischoff: I know it's not the match you wanted Hunter, I just feel that tonight it is best that you and JBL stay the hell away from each other. However there is going to be one very big incentive for all of you tonight, as in less than two weeks time, it's Saturday Night's Main Event coming to you live from London, England. And since you've both enjoyed the power you've had so much recently, I'm going to give you a little back to play with. . . Well I'm going to give the winner that power. . . See the winner of the match tonight will then choose the opponent and stipulation for the loser's match at Saturday Night's main Event

***POP***

Eric Bischoff: Gentleman. . . good luck!

"I'm Back" hits again and Triple H smiles as The McMahon's look unhappy


***COMMERCIAL BREAK***


***VIDEO PROMO***





***CUT TO THE ARENA***


***MATCH #1***

WORLD TAG TEAM CHAMPIONSHIP
Paul London & Brian Kendrick (c)
vs. The Redneck Wrecking Crew

ENDING: Cade stands up just by the ropes, urging London up to his feet as he slowly comes round. As London stands up and turns round, Cade charges at him, going for a LARIAT. . . . . London is able to counter with a LEG LARIAT. . . . . Both men drop to the mat and then start to crawl towards their corner with the crowd cheering London on as he gets closer to Kendrick and then jumps up, making the tag as Cade also tags in Murdoch. Both Murdoch and Kendrick enter the ring and run towards each other with Kendrick ducking underneath Murdoch's outstretched arm. As Murdoch turns round, Kendrick hits him with a dropsault.


Murdoch gets back up quickly, but straight into another dropsault from Kendrick, who looks on fire. As Murdoch stands back up again, so does Cade on the apron with Kendrick then running back into the ropes, which knocks Cade down and chest first into the barricade. As Kendrick comes off the ropes, he dives at Murdoch, hitting him with a CROSS BODY. . . . . Murdoch drops to the mat with Kendrick on top holding on for a cover 1 . . . . . 2 . . . . . Murdoch is able to push him off in time to save the match. As both men make their way back up, it's Murdoch who swings at Kendrick, but he ducks it and then nails Murdoch with an ENZIGURI. . . . .


A big cheer comes from the crowd as he then scurries back over to Murdoch and hooks the leg 1 . . . . . 2 . . . . . Kick out, but just. Murdoch looks groggy as he slowly makes his way up to his knees close to the corner. And just as he's standing up Kendrick approaches him from the behind, grabs him by the head, runs up the ropes and then plants him with the SLICED BREAD #2. . . . . A big pop rings out as Kendrick rushes to cover Murdoch, hooking both legs 1 . . . . . 2 . . . . . 3.


AFTERMATH: "Hey You" hits as London & Kendrick hug each other in the middle of the ring and are then passed their title belts as Cade looks on disappointed from the outside


WINNERS: Paul London & Brian Kendrick by pinfall @ 8.43


JR: The World Tag Team Champions just made a very impressive title defence right here tonight. . . But folks, it's time to take you back to earlier today when I had the chance to sit down with Sunny and the new Intercontinental Champion, CM Punk


***VIDEO PROMO***

We see Jim Ross sat down in a leather chair in a room backstage with a plain clothed CM Punk & Sunny on a sofa next to JR. The Intercontinental Championship is resting on the arm rest next to Punk

JR: Well I guess I should start by offering you my congratulations on your victory last night and becoming the Intercontinental Champion for the first time

CM Punk: Well thank you JR

JR: However, I must say that I still feel. . . well like a lot of our fans and Jeff Hardy will right now, and that's a little sick to the stomach of how you and Sunny here went about taking that title

Punk sits forward and looks right at JR

CM Punk: With total respect JR, I can understand why people including yourself and Jeff feel like that, but that's life. And like life JR, you have obstacles thrown at you, and you deal with them the best you can. . . But believe it or not, I do feel for Jeff, because he didn't really have much of a chance to see that coming. . . no one did. It was quick and incredibly efficient like all successful assassins. . . I'm not calling myself an assassin JR, but I did indeed take Jeff Hardy out, and I did take his title like you said

JR shakes his head as Punk sits back

JR: Now Sunny, don't take this too personally, but how can you live with yourself, knowing what you've done to Jeff Hardy?

Sunny: That's simple JR. . . very easily. . . Jeff Hardy got what he deserved. He doesn't have the intelligence or the character needed to be in this business, let alone at the level he is at, something that my good man here and I actually share

JR: It's apparent to me now that this sinister plan goes back a lot further than I originally thought. . .

Sunny: . . . Sorry JR hunny, but you're right, it does. We go back a long way, we know each other inside out, so well in fact that we both know we're not all that nice people. . . But that's irrelevant in this business JR and you know why? . . . Being nice in the wrestling industry gets you nowhere and fast. We both have the ambition and the understanding of this business we've lived in for so long, something Jeff Hardy fails to understand, but I guess will be coming to terms with roundabout now

JR: I have to say I'm shocked at what you've just told me. . .

CM Punk: JR, I told you we barely had any time to speak with you since I'm very busy right now, hell I've even got a title defence later on this evening. . . However JR, I respect that you had the courtesy to come and ask myself and Sunny to come and talk to you. But there's something that Jeff has to know

Punk turns to the camera with a real serious look on his face

CM Punk: Jeff, I know you're feeling so many emotions right now, but you'll have to get over it. . . hell I know I have, but jealousy isn't going to get you anywhere. All my life in this business I've had that over the women I've dated, it's just something I'm used to. But you know what else I'm used to Jeff? . . . Coming out best over the now former Intercontinental Champion. . . If you have even an ounce of a brain left after all the substance abuse it's suffered over the years, you'll realise that you need to show me the respect I deserve for doing what I said I was going to in proving what a low life piece of human life you are

Punk smirks as he turns to the camera and then stands up with Sunny before leaving the room as JR looks on disapprovingly


***COMMERCIAL BREAK***


With Hardcore Holly already in the ring, "Hell Will Be Callin Your Name" blasts out as Bobby Lashley makes his way down to the ring, getting a good pop

JR: Last night King, this man right here put in an amazing effort, entering the Royal Rumble match at number one, lasting for nearly a full hour and causing quite a scare for a number of superstars. . . I am eager to find out just how Bobby Lashley performs here tonight on the back of last night's effort


***MATCH #2***

Bobby Lashley
vs. Hardcore Holly

ENDING: Lashley pulls Holly back up to his feet, but is shocked as Holly catches him off guard with a right hand and then whips him into the ropes, hitting Lashley with a perfectly executed dropkick as he comes back. Holly doesn't look to waste a second as he crawls over and covers the big man 1 . . . . . 2 . . . . . Kick out from Lashley, who is then dragged back up to his feet by Holly. This time as Holly goes for a whip, it's reversed by Lashley, who then catches Holly as he comes back, planting him with a SPINEBUSTER. . . . . The crowd cheer that as Holly hits the mat and Lashley looks to take advantage by going for a cover 1 . . . . . 2 . . . . .


Shoulder up from Holly, surprising some fans who thought it was all over. Lashley stands back up, then drags Holly up to his feet and whips him hard into the corner. Lashley charges in and hits him with a vicious shoulder thrust to the chest. He then backs out of the corner as Holly staggers out holding his chest. Lashley then walks towards Holly, stomps him in the gut and places his head under his arm, then lifts him up vertically in the air, keeping him up there for nearly ten second before bringing him crashing him down to earth with a DELAYED SUPLEX. . . . . With the crowd cheering, Lashley looks to wrap it up as he turns over and tries another cover 1 . . . . . 2 . . . . .


Holly's not giving in as he kicks out yet again, but Lashley isn't fazed as he stands back up and walks into the corner, stalking Holly for the SPEAR. . . . . With the crowd getting behind Lashley, Holly then slowly makes his way back up to his feet, and as he turns round, Lashley charges at him. Holly though sidesteps the spear, but Lashley also stops dead and turns round at the same time as Holly. Lashley then scoops him up onto his shoulder, walks into the corner, then turns round and runs across the ring, planting him with a RUNNING POWERSLAM. . . . . A big pop breaks out as Lashley reaches across and hooks the leg 1 . . . . . 2 . . . . . 3.


AFTERMATH: Lashley's music hits again as he gets his arm raised to a pop from the crowd. He then walks to the ropes and poses for the crowd before leaving the ring


WINNER: Bobby Lashley by pinfall @ 5.02


***CUT BACKSTAGE***


There's panic in the back as an unknown official holding a clipboard and wearing a headset calls for help

The camera follows him into a locker room where we see Rey Mysterio lying face down on the floor. The official then walks back out and shouts out for help as two EMT's then run down the corridor and into the room where they check on Rey. They ask him if they can hear anything, but there's no response. They then turn him over and do more checks as the camera cuts across the backstage area


***CUT ACROSS THE BACK***


Maria is standing by with Santino Marella is with Melina

***HEAT***

Maria: Santino. . .

Santino Marella: Maria, I am not one to be-a rude, but I asked for-a this time for a reason. I wanted to tell all-a my fans about the tragedy that a-was the Royal Rum-bal. . . It was-a plain to see that I, Santino Marella deserved to win-a that match and take a trip to The Fruit Bowl in Orlando

***HEAT***

Santino Marella: But do you know what-a happened Maria? The man who should have-a won that match was-a robbed like a New York pedestrian

***HEAT***

Maria: Who was that Santino?

Santino looks pissed

Santino Marella: It was-a me Maria, I was. . .

Maria: . . . But you weren't robbed, you were the first eliminated

***POP***

Melina steps in front of Melina, not looking too happy

Melina: If I were you Maria, I would be very careful what you say

Santino Marella: You listen to Melina, she knows what to do with-a her mouth if you-a know what I mean. . . Maria, it is was easy for all these peop-al to see that I was robbed last night, no matter what-a you and these disgusting New Yorker's think

***HEAT***

Santino Marella: You know back home Melina, we have a saying for New York. . . we call it The Rotten Apple, and it is-a easy to see why

***HEAT***

Maria: I like New York

***POP***

Santino Marella: SHUT UP MARIA

Maria looks quite scared, but Ron Killings then walks into the shot and sees how worried Maria is

***POP***

Ron Killings: What the hell's goin on back here? . . . You a-ight Maria?

Santino Marella: I think you should-a go away and back to The Bronx because I have a record to set-a straight

Ron Killings: Does that record have anything to do wit you getting your ass thrown out of the Rumble first last night? . . . That gotta hurt

Santino turns to Melina, looking confused

Santino Marella: Is it just-a me Melina or did I tell this horrib-al human being to leave? . . . Did you not listen to-a what I had to say?

Ron Killings: Maybe for once, you should shut that big mouth of yours. . . But since you wanna act all tough around the ladies, maybe you should try me on for size instead. That's if you've actually got a set down those kids tights you're wearin little guy

Maria laughs

Santino Marella: Is-a this guy for real?

Ron Killings: You're damn right I'm for real, and if you wanna find out. . . act like a man for once in your life and you'll find out

Santino stands there looking confused as Killings turns to Maria

Ron Killings: Come on, let's get you away from this idiot

Maria walks away with Killings as Melina and Santino look on confused. Santino then turns to Melina

Santino Marella: What he is going to-a show me? How to wear a napkin around my-a head?

Melina laughs out loud at the dig about Killings' bandana while Santino nudges her flirtatiously


***COMMERCIAL BREAK***


Rey Mysterio is being checked over by EMT's in a doctor's room. One EMT checks his pupils and the other holds an ice pack against Rey's neck

***POP***

EMT #1: Rey, I'm not sure it's best you compete tonight. I don't think you should take any kind of risk

Rey Mysterio: Doc, it'll be fine by then, I wanna wrestle tonight

***POP***

EMT #2: You really should think about it Rey, we really don't advise it after the head trauma you suffered

Rey Mysterio: Trust me, I'm okay to compete

EMT #2: Okay, well be careful Rey

Rey Mysterio: Naturally. . . Can I go now?

EMT #1: I guess so since youe mind's made up

Rey Mysterio: Thanks

Rey takes hold of the ice pack and stands up off the medics table, then walks out of the room


***CUT TO THE ARENA***


***MATCH #3***

Kofi Kingston w/Cody Rhodes & Kelly
vs. Carlito w/Eddie Colon

ENDING: Kofi blocks a right hand from Carlito and kicks him in the lower stomach. He then grabs Carlito by the arm and whips him into the ropes, but Carly is able to cause a shock for Kofi as he SPRINGBOARDS OFF THE ROPES AND HITS KOFI WITH A BACK ELBOW SMASH. . . . . As both men make their way back up to their feet, Carlito has the advantage as this time he whips Kofi into the ropes, and as Kofi comes back, Carlito leaps up, connecting with a JUMPING HURRICANRANA. . . . . Carly holds on to Kofi's legs as the referee counts the shoulders 1 . . . . . 2 . . . . . Kofi pushes off with his feet as both men stand back up, again with Carlito in better shape as he stands up first. He grabs Kingston by the arm straight away and whips him into the corner, then takes a second before running in.


But as he gets there, Kofi lifts his boot up into Carly's face. Carlito then staggers out of the corner as Kofi then pulls himself up to the second rope, waiting for Carlito to turn back round. And as he does, Kofi then leaps off, connecting with a DIVING CROSS BODY. . . . . The referee counts as Kofi holds on for a cover 1 . . . . . 2 . . . . . Carlito pushes Kofi off and both men take a few seconds longer as they make their way back up to a vertical base. Carlito swings a right hand, but Kofi ducks it and slips behind Carlito, bends down and rolls Carly up 1 . . . . . 2 . . . . . Carlito pushes off again, this time with his legs as both men rush to their feet. Carlito back tracks to the corner, but Kofi runs at him and then jumps up to the second rope where he starts pummelling Carlito with hard right hands. After hitting four though, Carlito is able to push Kofi down to the mat.


As he is about to walk out of the corner, he turns round and looks down at Cody, then spits at him. Cody is furious and then stands up onto the apron, but the referee walks right over and tries to get him down. Cody argues his case as Carlito then turns round, but into a right hand from Kingston that knocks him down to the mat. Seeing the danger, Eddie walks round the ring and collects a chair from next to Lilian, then slides it in the ring towards his brother as he sits back up while Kofi looks at the goings on with Cody, who is still arguing with the referee. Carlito grabs the chair as he stands back up, and as Kofi turns round, CARLITO SMASHES HIM ACROSS THE SKULL WITH THE CHAIR. . . . . The referee hears the bang and turns back round, immediately seeing Carlito with the chair in hand and calls for the bell.


AFTERMATH: Cody climbs into the ring and runs towards Carlito, but Eddie steps forward and smashes him over the head with the steel chair. With both men on the mat, Kelly steps through the ropes to check on them both, but stays beside Cody. Carlito then walks over to Kelly from behind and grabs her by the hair. With the crowd booing as Kelly screams, Carlito yells all kinds of abuse at her. Eddie then shouts at Carlito and seems to instruct him to pull Kelly up, which he does. Eddie lifts the chair above his head as Kelly screams like crazy, but as he brings it down, he stops at the last second and drops the chair, then just pushes her down to the mat too. He and Carlito high five before leaving the ring laughing and turning back to see the damage they've done


WINNER: Kofi Kingston by DQ @ 7.41


***CUT BACKSTAGE***


Todd Grisham is standing by

Todd Grisham: Please welcome my guest at this time. . . Y2J Chris Jericho

Jericho walks into the shot to a big pop from the arena

Todd Grisham: Chris, last night didn't exactly go to plan at the Royal Rumble, especially considering it was Mr. Kennedy that eliminated you from the Rumble match

Chris Jericho: Todd, you don't need to point out that it was the yellow top snowman himself that did what he always manages to do. . . take advantage of me when my back is turned. . . But yeah last night was not a night I care to look back on. . .

Jericho looks a little surprised and then looks up as Mr. Kennedy stands at the side of Grisham

***HEAT***

Mr. Kennedy: Todd, I can take it from here, you can take off

Grisham looks confused

Mr. Kennedy: I said take a hike goofy before I send you packin just like I did Chris here last night. Just ask him how he feels

Grisham holds his hands up and walks out of the shot

Chris Jericho: Oh yeah, you're real funny Ken, real funny. You got anything else to amaze and astound us, or do I have to stand here and listen to whatever crap it is you have to say

Mr. Kennedy: Chris, bitterness is such a horrible thing. You need to put what happened last night to the back of your head, just like I have. . . You know as sweet as it felt to ruin your night last night, I bet we both woke up this mornin feelin the exact same way. . . I know I was ticked off, how about you Chris, cos I wanted the same thing you did, but yet here we both stand without a guaranteed title shot at Wrestlemania

Chris Jericho: Is there a point to all this or did you just come here to remind me how bad your breath smells?

Mr. Kennedy: I'm not here to play games Chris, I'm deadly serious. I didn't get what I wanted last night, but unlike you, I have a back up plan, an alternative if you will, something you don't. . . I just felt I had to warn you and everyone else on the roster that I will still get what I want. . . I will be getting the shot that I deserve, and there's not a damn thing you or anyone can do to change that

***HEAT***

Jericho looks confused as Kennedy then turns round and walks out of the shot


***VIDEO PROMO***





***COMMERCIAL BREAK***


***VIDEO PROMO***





***CUT BACKSTAGE***


The McMahon Men are in their dressing room. Shane is warming up, jabbing the air as JBL sits down on a leather sofa and Vince paces up and down

***TONS OF HEAT***

Vince McMahon: How can your mother treat me this way? After all I've done for her Shane, she comes back and spits right in my face. . . I mean, what is she thinking appointing Eric Bischoff the new Head of Authority for Raw? . . . Eric Bischoff of all people

Shane stops his warm up routine

Shane McMahon: Dad, it's not that bad

Vince McMahon: What's wrong with you Shane? He has all the power we used to have. How is that not that bad? Please enlighten me

Shane McMahon: Look, who is Bischoff going to be more intimidated by? Us or Triple H? . . . There's one of him and three of us. And like he said, he's independent, and if he's not, he's fired. . . He's already shown that things can go in our favour by making the match tonight. . . Look at this way dad, Hunter's going to be pissed right now, he didn't want to fight me tonight, he wanted John, but instead he has to deal with Shane O Mac

***HEAT***

Shane McMahon: And I know we didn't exactly do what we planned last night, but we got the job done in the end. Triple H isn't going to Wrestlemania, and his night is only going to get worse. I can make him suffer even more than he did when he got royally screwed last night, if that isn't enough already. . . Come on dad, look on the brightside of it all, we might as well get on with things

JBL stands up from the sofa and puts his hand on Shane's back

JBL: You know Shane, as much as I enjoyed screwing Triple H last night and would love to do the same tonight, I will be more than happy to watch you up close and personal watch Triple H cry like the baby he is for the second night in a row

Vince smiles with pride

Vince McMahon: That's my boy

Shane McMahon: Look guys, don't take this the wrong way, but I wanna do this on my own tonight. . . And believe me, I will really give Hunter something to cry about

Vince looks a little concerned

Vince McMahon: Shane, are you sure about this? It's no trouble us coming down there and supporting you tonight, it's what every family should do, even us, the richest, most successful family in the world. . . The McMahon Men!

***HEAT***

Shane McMahon: Dad, I appreciate the support, but it's something I need to do for me. But I promise you both, I won't let the McMahon boys down tonight

Vince McMahon: I know you won't son, good luck

Vince hugs Shane and JBL then does the same before Shane goes back to his warm up routine


***CUT TO THE ARENA***


***MATCH #4***

INTERCONTINENTAL CHAMPIONSHIP
Rey Mysterio
vs. CM Punk (c) w/Sunny

ENDING: Rey and Punk go at each other with some stiff kicks to the chest, but it's Rey who surprisingly who takes the imitative after struggling through the pain in the early going due to the sneak attack backstage. But as Rey takes a step back, Punk walks forward and hits a vicious martial arts kick right to the side of Rey's face. But Punk doesn't allow him to fall to the mat, reaching forward straight away to grab Punk's head and then pulls it into position before nailing him with a DOUBLE UNDERHOOK BACK BREAKER. . . . . Punk looks to go for the cover straight away as he hooks both legs 1 . . . . . 2 . . . . . Rey continues to fight through it as he lifts his shoulder up to stop the count. Punk looks angry as he sits up, but then decides to try for another cover with the referee counting again 1 . . . . . 2 . . . . . Rey again kicks out. Punk doesn't look happy as he stands back up, then reaches down to drag Rey back up to his feet.


He then whips Rey into the ropes, but as Rey comes back off the ropes, he runs through and past Punk, and as he comes back, he takes Punk down with a bulldog. Rey rushes as he turns Punk over onto his back and goes for a cover 1 . . . . . 2 . . . . . This time it's Punk who gets the shoulder up at the count of two. Rey then stands back up with Punk too making his way back up to his feet, but as he stands up, Rey reacts straight away, taking him straight back down TILT-A-WHIRL HEAD SCISSORS. . . . . The crowd cheer Rey on as he then stands back up to his feet and runs over to the corner, then climbs to the top rope. He points to the sky, getting a huge pop as he then leaps off for the FROG SPLASH. . . . . Punk gets the knees up and Rey holds his chest as he rolls to the side on the mat. Punk then crawls to the apron and slides under the bottom rope.


As he slowly stands back up on the apron, Rey too starts to get back up on the inside. With Punk now steadying himself as he holds on to the top rope, Rey stands up and turns round with Punk then SPRING BOARDING OFF THE TOP ROPE AND GOING FOR THE AIR PUNK. . . . . TAKING REY DOWN WITH THE FLYING CLOTHESLINE. . . . . Punk is all smiles as he stands back up, then reaches down to pull Rey to his feet. He whips him into the corner and then runs in, hitting him with the JUMPING KNEE SMASH. . . . . He holds on to Rey's head as he turns round, runs out of the corner and takes him down with a bulldog. The crowd boo as Punk gets back up and taunts Rey to stand back up, and as Rey slowly comes round, Punk gets anxious as he then pulls Rey up from his knees and lifts him on to his shoulders for the GTS. . . . . With the crowd booing, Rey is able to slip down Punk's back and then rolls him up for a cover 1 . . . . . 2 . . . . .


Kick out from Punk, and just! Both men stand back up with Rey close by the ropes as Punk then goes for a wild swing with his right leg, but Rey ducks it and pushes him away. Punk half runs back at Rey, but into a drop toe hold, landing on the second rope. The crowd goes crazy as Rey walks over to the other side of the ring and dials up. He then runs back across, swings his legs through the ropes and CONNECTS WITH THE 619. . . . . Punk is sent back across the mat while Rey waits on the apron, but as the referee focuses on Punk, Sunny walks round the apron and grabs Rey by the foot. Boos ring out as Rey looks down and eventually pushes her away. As he turns back, Punk is already up, so Rey SPRINGBOARDS FOR THE WEST COAST POP. . . . BUT PUNK WALKS FORWARD AND CATCHES HIM ON HIS SHOULDERS. . . . . REY'S IN TROUBLE. . . . . PUNK THEN CONNECTS WITH THE GTS. . . . . Rey's face smashes into Punk's knee, who then drops to the mat and makes the cover 1 . . . . . 2 . . . . . 3.


AFTERMATH: "This Fire Burns" hits as Sunny collects Punk's belt from ringside. She steps through the ropes, walks over to Punk, gives him the belt and raises his hand. The fans boo like crazy as Punk lifts the belt in the air as he stands over Rey's body with a big smirk on his face. Sunny directs heat to them both as she points at him with both arms before they hug and leave to go to the back


WINNER: CM Punk by pinfall @ 14.52


***VIDEO PROMO***





***COMMERCIAL BREAK***


Eric Bischoff is in his office with Victoria when Elijah Burke storms in with Layla

***HEAT***

Eric Bischoff: What the hell do you want, barging in here like that? I've got some business to attend to

Elijah Burke: Look congrats on the job and all, but I need to tell you that what happened to Rey earlier. . . it wasn't me. I know how it looks with all the crap we've been through, but as much as I hate Rey and he hates me, I swear to god it wasn't me that jumped him

Eric Bischoff: You know. . . Elijah right?

Elijah Burke: That's right boss

Eric Bischoff: You know I have to admit it upsets me a little bit that I have to come back here and one of the first things that I have to deal with is one of my superstars being attacked from behind in his own locker room. . . I don't need to tell you or any other superstar that shouldn't have to happen, but unfortunately it did. . . And like you said Elijah, you and Rey have been through a lot lately, I've heard all about it and it seems that a lot of people are pointing the finger in your direction. . . I don't know if you just saw Rey's match, but he showed everyone just what guts he has, yeah he fell a little short, but he went in to that ring and gave it his all. . .And that my friend is what competition is all about and how problems should be solved. . . kind of like how they will be at Saturday Night's Main Event

Elijah Burke: What are you talking about? Saturday Night's Main Event?

Eric Bischoff: What I'm talking about is that in less than two weeks time, you will be going one on one with Rey Mysterio, so Rey can even the score shall we say

***POP***

Elijah Burke: Look it wasn't me, I told you already

Layla: He's telling the truth, I've been with him all night, he's been nowhere near Rey's locker room

Eric Bischoff: Look, its not that don't believe you, but I have a job to do. And believe me, I will find out who did this to Rey Mysterio, and when I do, they will be punished

Elijah Burke: I don't know what it'll take to make it sink in boss, but when I said I didn't do it, it means I didn't do it, but I have absolutely no problem beating the crap out of Rey at Saturday Night's Main Event. . . And then you will have blood on your hands

***HEAT***

Burke and Bischoff look at each other with very seirous expressions for a couple of seconds before Burke turns round and walks out with Layla as Beth Phoenix walks in with the Womens Championship on her shoulder

***HEAT***

She looks stunned to see Victoria there

Beth Phoenix: What is she doing here?

Eric Bischoff: Well since it's my first night, I thought I'd get myself acquainted with the two of you. . . well I know Victoria. . . not like that, but that's why I sent for you to come here. . . See I understand you two have had a few problems

Beth Phoenix: Problems, I don't think so Eric. The only problem we have is a misunderstanding

Victoria: Misunderstanding, i don't think so. You gave me a concussion

Bischoff stands in between them

Eric Bischoff: Ladies please, we've had enough trouble tonight without you two adding to it. . . Look, the reason I brought you both here is the same reason I just used to sort things out with Rey Mysterio and Elijah Burke. Problems should be solved the old fashioned way, in the middle of the ring. . . And at Saturday Night's Main Event, in addition to the match I just made a few minutes ago, Beth you will be defending your womens title against Victoria

***POP***

Beth Phoenix: What? Why?

Eric Bischoff: Because Beth, I said so

Beth Phoenix: But Eric. . .

Eric Bischoff: . . . Look I've made my decision and it's final unless you wanna change that to next Monday night in I don't know. . . a first blood match

Beth Phoenix: NOO. . . Saturday Night's Main Event is just fine

Beth puts a fake smile on before leaving, while Victoria looks very satisfied

Victoria: Thanks Eric

Eric Bischoff: No problem at all

Victoria walks out while Bischoff smiles to himself

Eric Bischoff: Oh it's good to be back


***CUT TO THE ARENA***


***THE MAIN EVENT***

WINNER CHOOSES LOSER'S MATCH FOR SATURDAY NIGHT'S MAIN EVENT
Triple H
vs. Shane McMahon

ENDING: HHH pulls Shane back up to his feet, he then grabs him by the arm and whips him into the corner. As Shane hits the pads, The Game then runs in at him, but Shane pulls himself out of the corner as Triple H then runs right into the pads, chest first. He then turns round and staggers out of the corner with Shane then stomping him in the gut and pulling Triple H's head under his arm and then plants him with a SNAP DDT. . . . . Shane reacts quickly as he turns The Game onto his back and goes for a cover 1 . . . . . 2 . . . . . The Game gets his shoulder up, leaving Shane a little shocked, but Trips looks out of it as Shane then stands back up and drags him towards the corner, sitting him up against the pads. Shane then walks back across the ropes and climbs up to the top rope, seeming to be getting ready for the COAST TO COAST. . . . . The crowd boo heavily before Shane O Mac then leaps towards The Game, but Trips pulls himself out of the corner as the only thing Shane's feet hit are the pads.


With the crowd cheering, both men remain on the mat before they eventually come round and stand up at the same time. Both look groggy as Shane walks out of the corner and jabs Triple H in the jaw, and then again, but as he goes for a wild right, Trips ducks underneath it and then reaches back to grab Shane around then the neck before dropping to the mat to hit a NECKBREAKER. . . . . With the crowd cheering, The Game goes for a cover on his brother-in-law 1 . . . . . 2 . . . . . Shane just kicked out of that one as Triple H looks a little surprised. He then stands back up, then reaches down to pull Shane up to his feet and then whips him into the ropes. Shane though holds onto the top rope, with The Game then running at him, but Shane lifts his boot up into Trips' face, sending him back across the mat in a daze. As Triple H then turns back round, Shane runs at him, but The Game catches him, planting him with a DOUBLE A SPINEBUSTER. . . . .


It sounds like the roof just blew off MSG, and The Game isn't messing about as he immediately stands back up. He bends down and drags Shane into position for a PEDIGREE. . . . . Just as Trips has him locked in position, he sees Vince McMahon power walking down the ramp. Vince steps up on the apron straight away with Mike Chioda walking over to try and get him down. The Game lets go of Shane, just letting him drop to the mat and goes to yell at Vince when JBL comes out of the crowd and slides in the ring. With Vince still distracting Chioda, Triple H then turns back and runs right into a CLOTHESLINE FROM HELL. . . . . JBL then drags Shane over Triple H's body before leaving the ring. Vince then drops down off the apron, with Chioda then seeing Shane on top of Trips, he runs across the mat, drops down and counts the fall 1 . . . . . 2 . . . . . 3.


AFTERMATH: "Here Comes the Money" hits as JBL enters the ring again and helps Shane up to his feet. He raises Shane's arm in the air to a huge amount of heat from the MSG crowd. Vince then climbs up the steps and in to the ring as he then hugs Shane as Triple H remains flat out on the mat with the McMahon men smiling like crazy as they celebrate Shane's victory

WINNER: Shane McMahon by pinfall @ 13.37


***CUT BACKSTAGE***


We see a smug looking Randy Orton walking through the back as he makes his way towards the ring for his Victory Address, up next!


***COMMERCIAL BREAK***


"Burn in my Light" hits as Randy Orton walks into the arena to a lot of heat, dressed in jeans and a T Shirt with the WWE Championship draped over his shoulder

He collects a microphone and stands in the middle of the ring, waiting for the crowd to die down before lifting the microphone to his mouth

Randy Orton: I told you so

***MAJOR HEAT***

He looks into the crowd, getting angry by their reaction

Randy Orton: I DID WHAT YOU ALL THOUGHT I COULDN'T. I WALKED IN THE FACE OF THE ADVERSITY, STEPPED THROUGH THESE VERY SAME ROPES LAST NIGHT, PUT MY BODY AND CAREER ON THE LINE, AND I DID WHAT I SAID I COULD, AND WHAT YOU ALL THOUGHT WAS IMPOSSIBLE. . . I BEAT JOHN CENA

***HEAT with some cheers***

He stops and soaks up the heat before talking again, regaining his composure

Randy Orton: That's right, I beat John Cena in this very arena less than twenty four hours ago and sent most of you home in tears. . . There were however some of you who went home knowing and appreciating what they had just witnessed. . . See there are some people who realised what I said was the truth. They realised that I can back up everything that comes out of my mouth. When I say something, I don't sit back on it. . . I deliver it, just like I did last night when I climbed that ladder and grabbed which is rightfully mine. . . the WWE Championship

***HEAT***

Randy Orton: You don't have to like it, hell I don't care if you do or don't, but you have to respect it. You have to respect me and everything I've done, taking out challenger after challenger until there are no more left. I put all John Cena's hopes to bed last night, just like the parents of all the disappointed and confused children across the world who stayed up that little bit later in the hope to see him once again become the WWE Champion. But I'm sorry to say kids, it didn't happen

***HEAT***

Randy Orton: As much as it must look like I've come out here to brag about what I achieved last night, I feel there is absolutely no better way for me to sum up how I feel than this

Orton turns to the ropes and looks up at the tron

***VIDEO RECAP***
We see clips from the Cena/Orton match last night with Orton putting Cena through the announce table with a spike DDT, and then through a table in the ring after an RKO off the top rope. We then see Orton climbing up the ladder and collecting the WWE Championship belt and his emotion afterwards

***HEAT***

Randy Orton: Now you can call that what you want, but what I call it is satisfaction. . . Satisfaction because I was able to take everything John Cena could throw at me and more, but I still had more in my locker to throw back at him, climb the ladder and earn the right to stand here tonight in front of all you miserable New Yorker's as the WWE Champi. . .

"My Time is Now" blasts out & John Cena walks down to the ring, looking very serious, getting a better reaction than last night, but still some boos can be heard

John Cena: Randy do us all a favour and SHUT THE HELL UP

***BIG POP***

John Cena: Man, we get the message, you won last night, you're the champion, blah, blah, blah. . . we get it. . . But Randy before we get into the big debate, I have to congratulate you on your performance last night, you showed everyone just why you are the WWE Champion. . . But I came out hear after hearing every last thing you said, but let me throw you my take on all this. . . The way I see it, yeah you won the match last night, but the fact remains. . . you didn't beat me

Randy Orton: WHAT ARE YOU TALKING ABOUT? I'M THE CHAMPION, YOU'RE NOT. WHAT DOES THAT TELL YOU CENA?

John Cena: Yeah I know it might sound crazy Randy, but the fact is, you climbed a ladder last night to win that match, you didn't pin me or make me tap. You know what I think that proves Randy? . . . I think it proves one thing. . . The truth is out folks, I admit it. . . Randy Orton is better at climbing ladders than me. . . It doesn't prove that you deserve that belt any more than me and it doesn't prove you have what it takes to beat me in a normal match. And had that been a regular match last night Randy, you would have lost. And since you wanna show the world some footage, let's show them some more

***VIDEO RECAP***
We see Orton running into an STFU, fighting it for a while before eventually tapping out

***POP***

John Cena: So champ, what ya gotta say about that huh?

Randy Orton: I don't have to listen to you Cena, I won the match, full stop. Had that been a regular match as you put it, I would have fought my way out of that and did what I did anyway, get the job done to the rules of the match. . . It's not my fault you couldn't do that John, I think it just proves what I've been saying the entire time, The Orton Era is untouchable. . .

John Cena: . . . That's crap, it's not over because you and me Randy, we're not done. Last night was just the start, there's more Randy, a whole lot more

Randy Orton: YOU THINK SO HUH? YOU THINK YOU'RE GETTING ANOTHER SHOT? . . . WELL TOUGH SHIT JOHN COS YOU HAD YOUR CHANCE AND YOU BLEW IT, JUST LIKE EVERYONE ELSE. . . ROB VAN DAM, SHAWN MICHAELS, TRIPLE H, THEY ALL HAD THEIR CHANCE AND THEY BLEW IT LIKE YOU DID. . . YOU'RE JUST GONNA HAVE TO FACE FACTS JOHN, JUST LIKE EVERYONE ELSE, THERE IS NO ONE, AND I MEAN NO ONE LEFT ON THE SHAPE OF THIS EARTH WHO CAN TAKE THIS TITLE AWAY FROM THE LEGEND KILLER. . .

"Burned" hits and the stage rages with fire as Kane slowly walks down the ramp

***MIXED RECEPTION***

Cena and Orton look on in shock as the Royal Rumble winner, old school Kane walks up the steel steps and then climbs over the top rope. Orton looks stunned as he stands behind Cena while Kane enters the ring. Kane then lifts his arms up in the air and brings them crashing down, setting off his pyro on all four corners of the ring, making Cena and Orton jump. Orton looks scared as hell as Kane walks towards them, but with Cena in front of him, Orton pushes him right in to Kane's chest. Cena looks up at Kane for a couple of seconds before The Big Red Machine grabs him by the throat and CHOKESLAMS HIM DOWN TO THE MAT. . . . . Orton looks on and smiles until Kane turns his attention to him, staring across the ring, but Orton slides under the bottom rope straight away, getting right out of harms way. Kane looks on, tilting his head while the fans boo as Orton walks towards the ramp, still looking utterly gob smacked. Kane turns to face him, lifts his arms in the air again, then brings them down to set his pyro off again

"Burned" hits again as Orton looks on from the bottom of the ramp with a huge look of fear in his eyes as Kane stands over Cena's body, staring straight at The Legend Killer


The King: What the hell does this mean JR?

JR: I don't have a clue King. To me it looks like the winner of the Royal Rumble is putting Randy Orton on notice that he could be coming for his title

The King: My god JR, do you really think Kane is coming to Raw?

JR: I'm not sure King, I guess we'll find out more on Smackdown this Friday. . . But whatever you do folks, make sure you don't miss that and remember to tune in to Raw next Monday night. We'll see you then. . . But now, it's good night folks


***END OF SHOW***


QUICK RESULTS
Paul London & Brian Kendrick df. The Redneck Wrecking Crew
Bobby Lashley df. Hardcore Holly
Kofi Kingston df. Carlito
CM Punk df. Rey Mysterio
Shane McMahon df. Triple H

HEAT RESULTS
Santino Marella df. Stevie Richards
Mickie James df. Jillian Hall
Ron Killings df. Orlando Jordan

CONFIRMED FOR SATURDAY NIGHT'S MAIN EVENT





WWE WOMENS CHAMPIONSHIP
Victoria vs. "The Glamazon" Beth Phoenix (c)

PLUS

Rey Mysterio vs. Elijah Burke
Re: WWE: A Strong Response
---
Fuck me Nige that looks like one long and one great Raw. I shall try and get a review up but i have got other people too do first!
---
------------------------------
WATP
Moron
Join Date: Nov 2007
Location: England
Posts: 8,966
Points: 0
Re: WWE: A Strong Response
---
-TR™-'s Raw Feedback
S1 |
Solid opening promo courtesy of Triple H, you gave us an in-depth recap of what happened during the segment, which is good for those who didn't read the Royal Rumble. I expected Triple H to call out JBL sooner or later, as JBL was the very man who screwed The Game out of winning the Royal Rumble Match. As soon as the McMahons came out, I was certain that we were moments away from finding out who this "Independent Head Of Authority" is. I was shocked to see that Eric Bischoff is taking the position, I personally expected it to be Theodore Long, believe it or not. Eric Bischoff made a decent Main Event in Triple H versus Shane McMahon, you pretty much gave away the fact that both Triple H and Shane McMahon are going to be competing at Saturday Night's Main Event, but that's not important.
10/10
S2 |
Decent match between Paul London & Brian Kendrick and Lance Cade and Trevor Murdoch, a diminutive section of my mind thought that Cade and Murdoch were going to pull out the victory and become new World Tag Team Champions, but it was not to be. Good to see London and Kendrick retain, anyway.
8/10
S3 |
Great sit-down interview between JR and CM Punk & Sunny, this segment really got CM Punk over as the monster heel he is. I was surprised to hear that CM Punk and Sunny know eachother "inside-out" but that's only a small issue. Anyways, good segment, WWE don't normally do sit-down interviews that take place prior to the show, but it's good that you decided to do so.
9/10
S4 |
Decent match between Bobby Lashley and Hardcore Holly, this match was of respectable length when you take into account that this was seemingly a squash match. Good to see Bobby Lashley pull out the victory, it's nice that you're building up Bobby Lashley's character well, this is a great time to do so, right after the Royal Rumble, which Bobby Lashley performed exceptionally in. Good stuff.
9/10
S5 |
To be honest, I didn't see the point in this brief segment, unless it was CM Punk who attacked Rey Mysterio, which would make it seem relevant, and would make some great build-up to their Intercontinental Championship Match later on in the show. If not, then this is irrelevant.
7/10
S6 |
Good interview with Santino Marella, the inclusion of Melina and Ron Killings was handled well, this segment was very humourous as well, which made it entertaining to read, I liked it when Ron Killings made the reference to Santino Marella's trunks, calling them "kid's tights". I think Santino Marella needs to learn about bandanas in the near future, after this segment
9/10
S7 |
Not much to say about this segment, I hope this turns out to be CM Punk's fault that Rey Mysterio's injured. Good to see that Rey Mysterio's choosing to compete, I wouldn't want to see the match put in severe jeopardy.
8/10
S8 |
Very good match between Kofi Kingston and Carlito, it took me a while to find your indication that Cody Rhodes and Kelly Kelly were at Kofi Kingston's side, while Eduardo was as Carlito's side, but I found it in the end. Good to see Kofi Kingston win, even if it was by DQ, and Carlito and Eduardo were put over as heels exceptionally well, which is good. It's a good thing that this Eduardo doesn't have a broken leg!
10/10
S9 |
Solid Chris Jericho interview, you added some humour into it, which was good with regards to entertainment, but you managed to get down to the serious business eventually, which was needed in this Chris Jericho-Mr. Kennedy feud. Man, I don't have any idea why people hate Todd Grisham so much! What has he ever done to them?
9/10
S10 |
You've got the point across that Mr. McMahon is pissed, which is good, and this builds up the McMahons up to Shane McMahon's match with Triple H, and Saturday Night's Main Event, in which they will almost certainly be involved.
10/10
S11 |
Well, it was inevitable that CM Punk was going to retain, and it's a good job he did so. If Rey Mysterio were to win, then that would s**t all over CM Punk, as he would have a 1-day reign, which would be unacceptable. I see no indication of CM Punk being behind the attack on Rey Mysterio, which is a huge let-down, but hopefully you can resolve it.
8/10
S12 |
Good segment between Elijah Burke and Eric Bischoff, it's good that you've cleared up the Rey Mysterio attack issue, I wonder who did this? It would be great if it turned out to be Elijah Burke, Burke would have hell to pay with Bischoff! Great match made for Saturday Night's Main Event between Elijah Burke and Rey Mysterio, that sounds like a match I can enjoy reading. Another good match made for the Pay-Per-View too, Beth Phoenix defending the Womens' Championship against Victoria sounds good to me!
10/10
S13 |
Great match between Shane McMahon and Triple H, good to see JBL screw Triple H out of the match, again, I wonder what match stipulation Shane McMahon will choose for Saturday Night's Main Event? Hopefully it turns out to be good.
9/10
S14 |
Fantastic Randy Orton segment, the opening line was a bit off, it didn't exactly sound like Randy Orton, but it doesn't entirely matter. I expected John Cena to come out, and he did, which is good. Great to see Kane make an appearance, it's good that Kane didn't reveal which Championship he's going for at Wrestlemania XXIV, which'll attract people to read next week's show.
10/10
OVERALL |
Great show, I was surprised to see Eric Bischoff appointed as the new "Independent Head Of Authority", but the surprise factor was brought into play, which is good. Not much was revealed throughout the show, but that'll make people want to read next week's show - I know I will.
9/10
Re: WWE: A Strong Response
---
WWE.com HOMEPAGE


FIRST SATURDAY NIGHT'S MAIN EVENT MATCHES ANNOUNCED & BISCHOFF IS BACK!
We found out last night on Raw that Eric Bischoff is the new Independent Head of Authority for the brand. With The Board of Director's keen to remove the power struggle that was taking over on Raw with both sides of The McMahon family throwing their power around to try and gain an advantage at each others expense. It was a big shock for Mr. McMahon and both his sons as they watched on in horror as the former WCW boss made his return to Monday nights.
One of his first decisions was to put the believed attacker of Rey Mysterio, Elijah Burke in a match with the alleged superstar's backstage victim for Saturday Night's Main Event in less than two weeks time. Rey was found backstage earlier on his locker room, having been attacked from behind as he stated later on before just falling short in his Intercontinental Championship match against CM Punk.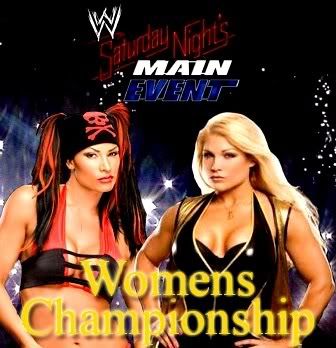 Bischoff then invited both Victoria and the WWE Womens Champion, "The Glamazon" Beth Phoenix in to his office where he informed them that Victoria will finally get her one on one opportunity at the gold. Having retuned at the start of the year, Victoria has made it clear she wants revenge on Phoenix for putting her on the shelf for over a month at the end of last year. Now she has her chance, but will she get the job done?


Posting Rules

You may not post new threads

You may not post replies

You may not post attachments

You may not edit your posts

---

HTML code is Off

---