WWE.com - HOMEPAGE (Smackdown Results - 11th January '08)
---
Smackdown Results
11th January 2008

E Center
Salt Lake City, Utah



***VIDEO RECAP***
FROM LAST WEEK

• Umaga attacking The Undertaker backstage before their scheduled Last Ride Match, and then shoving him in the back of the hearse
• It then shows the hearse with the back door wide open in a dark graveyard and then Umaga hitting the Wrecking Ball against a gravestone before showing slowed down images of The Undertaker's body slipping down the gravestone to the floor
• Shawn Michaels Victory Celebration grand entrance with the balloons, confetti, pyro and the musicians
• Shawn saying he felt guilty about winning the title thanks to Edge's mistake and that he wants to forfeit the title
• Batista coming out to the entrance and saying he doesn't want Shawn to forfeit the title and blames Edge not Shawn
• Edge out of the crowd and spearing Michaels at the end of the show

***OPENING VIDEO***
"Rise Up"


***PYRO***
***PYRO***
***PYRO***
***PYRO***
***PYRO***


William Regal is stood in the middle of the ring with a microphone in hand

William Regal: Ladies and gentleman, we have all just witnessed the absolutely despicable actions from The Samoan Bulldozer, Umanga last week on The Undertaker. . . And as you all are aware, last week those very same superstars were scheduled to compete in this very ring in front of a worldwide audience in a Last Ride match. However, thanks to Umanga, that didn't happen

***MAJOR HEAT***

William Regal: See in the romance of all this, Umanga thinks he has the seen the last of the phenom that is The Undertaker. . . However that is not the case. . . Oh it is quite the contrary. . . As the general manager of Smackdown, I have been made aware of The Undertaker's condition, and I sincerely regret to announce that he is not here tonight

***MAJOR HEAT***

William Regal: However, if you wish to see Umanga get the comeuppance that he deserves, then you shall next week right here on Friday Night Smackdown

***POP***

William Regal: Now I have a message for you Umanga, and for your keeper, Armando Estrada. . . I do not condone such actions that we witnessed last week, and for that reason alone, I am going to act as I see fit. . . You will be punished Umanga, and your punishment will not be handed out by myself, but by the very man you decided to put your hands on last week. . . The Undertaker

***POP***

William Regal: And your punishment will come next week. . . IN A FIRST BLOOD MATCH

***HUGE POP***

William Regal: Now I have to uphold my reputation as an enforcer of the law here on Smackdown, and to do that, I am going to make a decision that I may regret, however I feel that it is the correct decision. . . Like I said previously Umanga, I do not condone such violence. . . however to ensure that this match next week takes place and we do not get a repeat of last week, I am as of this very moment, awarding a spot in the 2008 Royal Rumble to both The Undertaker. . .

***BIG POP***

William Regal: . . . and Umanga

***HEAT***

William Regal: Followers of Smackdown, I am more than aware of your concerns, but you have to trust me with this one. Because if we do indeed see a repeat of the attack last week from Umanga, I will have no hesitation in removing him from the Royal Rumble match with immediate effect

***POP***

William Regal: Now with the Royal Rumble in mind, we do have a number of qualification matches in store for you right here tonight. And what better way to get things started than deciding two places in the biggest match of the year with two of your favourite Smackdown superstars joining forces in tag team action?

***POP***

William Regal: I have put together a team that I think you are all going to like. . . So without delaying this any further, let me introduce to you the sixteen time World Champion. . . from Charlotte, North Carolina, "The Nature Boy" Ric Flair

"Sprach Zarathustra" hits & Ric Flair walks out to a deafening reception, styling and profiling as he makes his way to the ring

William Regal: And let me introduce to you, his partner. . . He is the current reigning United States Champion. . . from Cameron, North Carolina. . . Matthew Hardy

"Live for the Moment" blasts out & Matt Hardy walks out to a big pop with a big smile on his face. He walks down to the ring and shakes hands with Ric Flair once inside

William Regal: And their opponents, at a combined weight of 392 pounds. . . Jamie Noble and Kid Kash. . . The Pitbulls

"Slam Smack" hits to some heat from the crowd as Noble & Kash walk out to the ring with typical arrogant looks on their faces


***MATCH #1***

ROYAL RUMBLE QUALIFYING MATCH
Matt Hardy & Ric Flair
vs. The Pitbulls

ENDING: Matt and Kash stand back up as Matt then proceeds to get the advantage as he pummels Kash with right hands to the face, knocking Kash off balance. Matt then takes advantage by stomping him hard in the gut, grabbing Kash across the neck and then planting him with the SIDE EFFECT. . . . . Hard landing for Kash as Matt then turns to the side and hooks the leg for a cover

1 . . . . .

2 . . . . .

NO!

Kash got his shoulder up in time to stop the three as Jimmy Wang Yang and Super Crazy walk out to the aisle and then down to ringside, obviously angry after The Pitbulls cost Yang his match with Finlay last week. Matt stands back up and then reaches down to pull Kash up to his feet. He then whips The Notorious K.I.D. into the ropes, but as Kash hits the ropes, he holds onto the top rope. Matt then runs at him, but Kash lifts his boot up into Matt's face, causing him to stagger back towards the middle of the ring. Kash then looks to use the situation to his advantage by stepping through the ropes as he then waits for Matt to turn round. And when he does, Kash springboards and hits a FRONT FLIP DROP KICK. . . . .

Huge move for Kash as Matt hits the canvas again. Kash then stands back up, rushes over to the corner and climbs to the top rope. He doesn't waste anytime as he then leaps off, looking for the FROG SPLASH. . . . . Matt rolls to the side as Kash hits the canvas chest first, and hard too! Matt then drags himself across to his corner, where he is able to tag in The Nature Boy. Flair walks into a big pop as he walks over to Kash, turns him over by the legs and tries to lock in the FIGURE FOUR. . . . . Kash fights it and is able to push Flair off with a hard push off the feet, knocking Flair back and down to the mat, landing on his back. Kash then turns right over and scurries across to his corner where he makes the tag to Noble.

Noble rushes into the ring as he charges over to Flair, who is picking himself back up and is then whipped into the ropes by Noble. And as Flair comes back off the ropes, Noble steps forward, grabs Flair around the waist and absolutely plants him with a TILT A WHIRL BACK BREAKER. . . . . Noble looks to wrap it up as he immediately reaches over and hooks both legs for a cover

1 . . . . .

2 . . . . .

NO!

Flair just got his shoulder up, leaving Noble shocked. He can't believe it and stands back up, then urges The Nature Boy up to his feet as he sees him starting to stir. Noble looks like he is ready to explode, and as Flair stands up, Noble walks over and Flair turns round, sees Noble and surprises him by rolling him into a SMALL PACKAGE. . . . .

1 . . . . .

2 . . . . .

NO!

Both men are back up on their feet quickly, but it's Flair who reacts first as he rakes Noble in the eyes. He follows up in typical Nature Boy fashion by sweeping Noble's legs and then locking in the FIGURE FOUR LEG LOCK. . . . . The crowd are on their feet as Noble screams in pain straight away. They stand up to their feet, but panic when Kash looks to climb through the ropes. But before he can, Jimmy Wang Yang walks forward and grabs Kash by the foot. He pulls him down to the arena floor and knocks him to the floor with a right hand. Back on the inside, Flair applies the pressure in the centre of the ring with Noble struggling before he then taps out and the ref calls for the bell.


AFTERMATH: "Sprach Zarathustra" hits to a big pop as Matt enters the ring to hug Flair before they then get their arms raised by the referee. Matt is passed his United States title belt as they then pose for the crowd as Yang & Crazy walk back up the aisle with a smile on their faces


***COMMERCIAL BREAK***


***VIDEO PROMO***





***CUT BACKSTAGE***


William Regal is sitting down at his desk in his office when Edge walks into the room

***MAJOR HEAT***

Edge: HEY REGAL, we need to talk

Regal stands up from his desk and doesn't look happy

William Regal: How dare you barge right in here after what you did last week? . . . Do you have any idea of the bloody expense I went to for Shawn Michaels' Victory Celebration, only for you to waltz in that ring just like you have just here now? . . . Well I've had about just about enough with you walking around here like you own the own bloody place, and it's going to stop tonight

Edge: You think so huh? . . . I don't. . . I proved to the entire world last week that I'm smarter than Shawn Michaels and Batista put together. . . Not only that, I ruined the biggest night of Shawn Michaels' life. . . And you know what? . . . I enjoyed every last second of it, taking him down in the middle of his oh so precious celebration. . . And you know what else that proved? . . . It proved that I, not Shawn Michaels should be the World Heavyweight Champion, and I want my title shot Regal, I want it tonight

***HEAT***

William Regal: Just what is your bloody problem? . . . Let me tell you something young man, this show does not revolve around you. . .

Armando Alejandro Estrada walks straight in without knocking

***MAJOR HEAT***

Armando Alejandro Estrada: Hey Regal, what do ju think ju are doing huh, putting Umaga in a first blood match with Thee Un-der-tak-er next week? . . . Did ju not see what my Samoan Bulldozer did to the dead man last week? . . . He how you say, killed the dead man once and for all

***HEAT***

Regal looks pissed

William Regal: What is it with you cretins around here? . . . What I said earlier on is going to happen next week whether you or that bloody mammoth of yours like it or not

***POP***

William Regal: It will be The Undertaker and Umanga in a first blood match right here next week, and I assure you that The Undertaker will very much be here

***BIG POP***

Armando Alejandro Estrada: Are ju crazy? Ju can't do. . .

William Regal: I can do what I jolly well like you imbecile. . . In fact I have a tremendous idea. . . Edge, If you want a shot at the World Heavyweight Championship, you're going to have to prove to me that you deserve it. . . And as for Umanga, I do not believe I have punished him enough. . . Therefore, out there tonight in front of all the fans who came here wanting to see The Undertaker, we are going to see a main event of epic proportions. . . Because one side it will be Edge. . . and Umanga. . . taking on Batista. . . and the World Heavyweight Champion, Shawn Michaels

***HUGE POP***

William Regal: Now I order you to leave right now before I suspend the pair of you. Now go

Edge: Fine. . . You see that as a punishment, I see it as getting one step closer to getting my world title back

Edge smiles as he leaves with Estrada staring at Regal intensely and shaking his head for a couple of seconds before turning round and leaving the room


***CUT ACROSS THE BACK***


Lena Yada is standing by

Lena Yada: Please welcome my guest at this time. . . Montel Vontavious Porter, MVP

MVP walks into the shot looking very serious while boos can be heard coming from the arena

Lena Yada: Montel, last week you faced Matt Hardy in your rematch for the United States Championship. . . However you were unsuccessful. . . do you intend on changing that when you try to qualify for the Royal Rumble match later on tonight?

MVP: What do you think Lena? You think I'm gonna walk out there and make a fool out of myself tonight huh? . . . IS THAT WHAT YOU THINK LENA?

***HEAT***

MVP: Well let me set the record straight. . . Yes I lost to Matt Hardy last week. . . But you know what I say Lena? . . . For every cloud, there is a silver lining just ready for the only ever half man half amazing, worldwide superstar to climb onto. . . See losing my United States Championship is what we call a blessing in disguise. It's in the past, it's gone, it's history. . . just like Matt Hardy is to me. . . See I've got bigger fish to fry right now Lena, because tonight is where the real journey begins for MVP. I have the chance to not only qualify for the Royal Rumble, but when I'm done doing that tonight, not only will I be in the Royal Rumble, I will win the Royal Rumble

***HEAT***

MVP: But you know what? . . . It doesn't end there. . . not by any stretch of the imagination Lena, because from there, there is only one place to go and one historical arena that awaits for MVP. . . And that is Wrestlemania. . .

***MIXED REACTION TO THE MENTION OF WRESTLEMANIA AND MVP'S LINE***

MVP: . . . The very same stage that I was born to perform at. . . And at Wrestlemania, we all know how it goes down. The winner of the Royal Rumble, which will be none other than the Franchise Player, Montel Vontavious Porter will walk into The Citrus Bowl in Orlando, Florida and take that World Heavyweight Championship from around Shawn Michaels' skinny little waist of his

***MAJOR HEAT***

MVP: If you wanna see a real champion like you should, you're gonna get it at Wrestlemania. . . You know I congratulate Matt Hardy, and even Ric Flair on getting to the Royal Rumble, but it doesn't make one tiny little bit of difference, because there is only one person who will be winning the Rumble, and that's M. . . V. . . P

***HEAT***

MVP stares into the camera for a second or two before turning round and walking out of the shot, still as serious as when he walked in with Lena looking a little startled


***CUT TO THE ARENA***


Chris Harris walked out to a decent reaction from the Smackdown crowd with Michael Cole & The Coach hyping up his debut match


***MATCH #2***

ROYAL RUMBLE QUALIFYING MATCH
Chris Harris
vs. Matt Striker

ENDING: Striker grabs Harris by the arm and tries for an irish whip, but it's reversed. And as Striker comes back off the ropes, Harris stomps him in the gut, pulls Striker's head under his arm and then lifts him up into the air legs first. He keeps him up there for a good five seconds before he then brings him crashing down, falling backwards with a DELAYED VERTICAL SUPLEX. . . . . That got a big pop from the crowd, clearly impressed by Harris as he then stands back up and walks over to the corner. He climbs to the top rope and then leaps off, connecting with a DIVING LEG DROP. . . . . His legs landed across Striker's neck, and he looks to finish the match off as he readjusts his body position to try for a cover on Striker

1 . . . . .

2 . . . . .

NO!

Striker escaped that one with a kick out. Harris stands back up and looks to wrap it up as he moves over to Striker's legs and applies the SHARPSHOOTER. . . . . The crowd cheer like crazy as Striker looks in a great deal of pain as he tries everything to hold on. Harris doesn't relent as he puts a lot of pressure on Striker, who starts to feel the hold more and lets the occasional scream out. He starts to fight it and tries to drag himself towards the ropes, getting closer and closer in time. Harris tries to hold on, but Striker is just able to get to the bottom rope, using every bit of energy left. There's a lot of boos ringing out as the ref tells Harris to let go of the hold, which he reluctantly does.

He stands back up and straight away he grabs Striker by the legs and turns him over. He then pulls Striker's legs to either side of his waist and shifts to the side a little as he then goes for a CATAPULT. . . . . Just as Striker looks to be hitting the turnbuckle, he is able to reach out and grab hold of the top rope. He smiles into the crowd for a second before turning round. He then turns round and sees Harris standing in the middle of the ring. Striker's smile goes as he then runs at Harris and into a SPINNING SPINEBUSTER. . . . . Harris doesn't mess about as he shimmies across and hooks Striker's leg for a cover

1 . . . . .

2 . . . . .

NO!

Harris doesn't look too frustrated as he gets back up to his feet and then reaches down to pull Striker back up, but then turns back and runs the ropes. As Harris comes back off, Striker ducks his head as Harris then continues to run through. And as he comes back this time, he jumps forward at Striker, hitting a LOU THESZ PRESS. . . . . He hits Striker with a succession of hard right hands to the face before the ref tells him to let go. With the crowd cheering him on, Harris then pulls Striker back up and whips him into the ropes again. As Striker comes back, Harris takes a step forward and catches him across the shoulders, spins round and brings him crashing down to the mat with THE HARRIS-TORM (The Catatonic). . . . . Striker is motionless as Harris shimmies into position to hook both legs for a cover

1 . . . . .

2 . . . . .

3 .

IT'S OVER!!!


AFTERMATH: Harris's music hits as he stands back up to get his arm raised by the referee, getting a decent pop


Michael Cole: What an impressive debut victory for Chris Harris here tonight, going straight into the Royal Rumble


***COMMERCIAL BREAK***


***VIDEO PROMO***
We see video clips of every Royal Rumble winner, split seconds of each one and it ends in a graphic of Madison Square Garden




NARRATOR: For over twenty years, one of sports entertainment's most landmark events has captivated the hearts of millions across the world, but in 2008, this most prestigious of events will return to the heart of the United States of America. . . New York City. . . The Royal Rumble, Sunday 28th January, live only on pay-per-view



***CUT BACKSTAGE***


Josh Matthews is standing by

Josh Matthews: Please welcome my guest at this time. . . Shelton Benjamin

Shelton walks into the shot, getting some heat from inside the arena

Josh Matthews: Shelton, tonight you will be competing for a place in the hugely important Royal Rumble match when you go head to head with your former tag team partner, Charlie Haas. . . What are your thought going into this match?

Shelton Benjamin: Tonight you're gonna see the real Shelton Benjamin. No distractions, no restrictions, it's just me and no one else holding me back. For years I've had to carry Charlie Haas to title after title, but starting tonight, it's all about the gold standard. . . You know Josh, I walk around the back and all I hear is that Shelton Benjamin doesn't have what it takes to get to that next level. And you know what. . . they're right. Not because of me, but because of Charlie Haas. And tonight I'm gonna cut him loose in front of the world and prove to everyone just why I am the gold standard of this damn business and the man who will win the Royal Rumble, then go all the way to Wrestlemania and shut all the doubters up once and for all when I become the new World Heavyweight Champion

Shelton just turns his head and walks out of the shot


***CUT TO THE ARENA***


***MATCH #3***

ROYAL RUMBLE QUALIFYING MATCH
Funaki
vs. Montel Vontavious Porter (MVP)

ENDING: MVP pulls Funaki back up to his feet, stomps him hard in the gut, grabs him by the wrist and then whips him into the ropes. But as Funaki comes back off the ropes, he shocks MVP by diving at him for a cross body. MVP though is able to hold onto the Japanese superstar thanks to how light he has and tosses him back as he falls back too with a FALLAWAY SLAM. . . . . MVP sits back up and thinks about going for a cover, however instead, he stands back up and pulls Funaki right back up. He holds him tight across the chest and then tosses him overhead again, this time with an OVERHEAD BELLY TO BELLY SUPLEX. . . . . MVP thinks he has it won as he turns over and hooks both legs as the ref counts

1 . . . . .

2 . . . . .

NO!

MVP looks frustrated as hell as he pulls his head up and stares angrily at the referee. He then sees Funaki stir in the corner of his eye and slowly makes his way back up to his feet. Reaching down, he lifts Funaki back up to his feet too and grabs him by the arm looking very focused as he then whips him hard into the corner. MVP taunts him from the opposite corner for a couple of seconds before then charging across the ring and connecting with a vicious boot to the face, THE PLAYA'S BOOT. . . . . Funaki's head just got crushed as MVP pulls his foot back slightly and Funaki drops face first down to the mat. The Franchise Player moves over to Funaki's body and drags him by the arm away from the corner before then turning him over, dropping to the mat and going for a cover

1 . . . . .

2 . . . . .

NO!

MVP looks stunned again as he then seems to explode. He picks himself back up and urges Funaki to stand back up as he starts to stir on the mat. As Funaki slowly starts to pick himself up, MVP pounces straight away, pulling Funaki towards him and then stomps him in the gut before driving him down to the mat face first with the PLAYMAKER. . . . . The fans boo loudly as MVP then drops to his knees, turns Funaki over onto his back, hooks the leg and watches the ref count the fall

1 . . . . .

2 . . . . .

3 .

MVP'S IN THE RUMBLE!


AFTERMATH: "I'm Comin" hits & MVP gets back on his feet to get his arm raised by the referee. He pulls his arm back straight away, walks over to the ropes and demands a microphone

MVP: Let me set this straight for ya playa's. . . You are not just looking at the winner of this match. . . YOU ARE LOOKING AT THE WINNER OF THE ROYAL RUMBLE AND THE NEXT WORLD HEAVYWEIGHT CHAMPION

***HEAT***

MVP drops the mic and leaves the ring with a hugely serious look on his face


***COMMERCIAL BREAK***


We see Shawn Michaels and Batista stood together in a locker room in casual clothes with Shawn having the World Championship over his shoulder

***BIG POP***

Shawn Michaels: Look Dave, you know by now that I've got no ulterior motive like Edge tried to put in your head. I do not and never have had one single problem with you, I want you to know that. And last week when I offered to forfeit the title, I meant every single word and I still do

Batista: Shawn, Shawn, you don't have to tell me. I believe you when you say you felt bad for the way you won the title at Saturday Night's Main Event. . . And Shawn, I don't blame you one bit for what happened. . . I blame one man. . . and that's Edge

***HEAT***

Shawn Michaels: Well I guess that's something else we can agree on Dave. After what happened last week when he speared me right out of nowhere, he's given me just as much reason to go out there tonight and kick his head clean off that ugly head of his

***POP***

Batista: Shawn I can appreciate that, but out of the two of us, I feel that I should be the one to put Edge in his place tonight. . . But between the pair of us, and regardless of Umaga being out there too later on, we can finish him once and for all

***POP***

Shawn Michaels: Big man, that sounds good to me

Ric Flair walks into the shot, just getting out of the shower with a towel around his waist

***BIG POP***

Ric Flair: Fellas, you better get ready to party tonight, because The Nature Boy is on the way to the Royal Rumble. . . WOOOOOOO

***POP***

Shawn Michaels: Yeah, congratulations Ric. Just maybe we'll have the match everyone wants to see on the grandest stage of them all. . . The Nature Boy versus The Heartbreak Kid for the World Heavyweight Championship

***POP***

Ric Flair: Maybe we will

Shawn Michaels: Anyway guys, I gotta go get ready. I'll see you out there big guy

Batista: Sure will

Shawn leaves as Ric turns to Batista

Ric Flair: Big man. . . THE NATURE BOY IS GOING TO WRESTLEMANIA. . . WOOOOOOO

Batista smiles at Flair as the camera fades out


***CUT TO THE ARENA***


***MATCH #4***

ROYAL RUMBLE QUALIFYING MATCH
Shelton Benjamin
vs. Charlie Haas w/Chris Masters

ENDING: Shelton stands back up and waits for Haas as he slowly stands back up and turns round. Shelton moves forward a step and goes for a roundhouse kick, but Haas ducks it. Shelton spins back round and Haas grabs him by the arm, then tries for an irish whip, which is reversed by Benjamin. And as Haas comes back off the ropes, Shelton absolutely nails him with a SAMOAN DROP. . . . . Masters winces on the outside as Shelton looks to follow it up by standing back up, then bends down to pull Haas right back up. He whips him into the corner, then runs in straight away, not wasting a second as he then gets to the corner and goes for the STINGER SPLASH. . . . . Haas though is able to step out of the corner as Shelton eats the turnbuckle pad. He then turns round and staggers out of the corner as Haas stomps him in the chest, pulls Shelton's head under his arm and then plants him with a NORTHERN LIGHTS SUPLEX. . . . .

1 . . . . .

2 . . . . .

NO!

Kick out from Shelton as Haas looks to be in control now and enjoying it as he gets back up to his feet and urges Shelton to get up. With Benjamin making his way back up, Haas shifts behind his former tag team partner, grabs him around the waist and then falls back, holding on for a GERMAN SUPLEX PIN. . . . .

1 . . . . .

2 . . . . .

NO!

Again Shelton is able to kick out, leaving Haas a little frustrated. Haas lets go of Shelton's waist as he then slowly stands back up to his feet, followed slowly too by Shelton. And as Shelton turns round, Haas goes for a scoop slam, but Shelton is able to slip down and then nails Haas with a DRAGON WHIP. . . . . Perfect counter from Shelton, hitting Haas with a thunderous kick to the upper chest and sending him down to the mat. With Haas holding his chest, Shelton is quick back up to his feet as he then reaches down and pulls Haas right back up and sets him up for the T BONE SUPLEX. . . . . Masters then stands up on the apron, distracting Shelton who then lets go of Haas, who just falls to his knees. Shelton walks over to Masters and shoves him in the chest.

It's not enough to knock him off as Masters then throws a right hand at Shelton, which he ducks. The ref then walks over and yells at Masters to get off the apron, who argues his case while Haas then walks up behind Shelton and grabs him around the waist. Shelton though takes advantage with the referee focused on Masters as he drags his foot back and into Haas's groin. The crowd boo as Haas drops to the mat and Shelton then turns to the side and super kicks Masters off the apron with a thunderous boot to the chin. The ref even looked stunned at that one as Haas starts to move back up onto his knees. Shelton then walks to the corner and waits for Haas to stand back up, and as he does, Shelton runs out of the corner and plants him with the INVERTED BULLDOG FACE BUSTER. . . . . Haas isn't moving as Shelton turns onto his side and covers him, hooking both legs

1 . . . . .

2 . . . . .

3 .

SHELTON IS ON THE WAY TO THE RUMBLE!


AFTERMATH: "Ain't No Stoppin Me" blasts out as Shelton picks himself back up with a big time smile on his face. He looks down and grins at Haas as Robinson tries to raise his arm. Shelton just looks at him in disgust and steps back before leaving the ring laughing


***COMMERCIAL BREAK***


"Superstar Fallin" hits as Kenny Dykstra walks down to the ring in jeans and a shirt, looking very serious with the Cruiserweight Championship over his shoulder

***HEAT***

Kenny Dykstra: I'm out here for one reason and one reason only. . . and that is Chavo Guerrero

***POP***

Kenny Dykstra: Last week, that low class border crawler felt the need to drag his ass down here and attack me. . . me, the Cruiserweight Champion and future Hall of Famer. . . He walked down that aisle, crawled into this ring like he crawled over the border between American and Mexico, then stooped so low and proved what a coward he is by attacking me from behind

***POP***

Kenny Dykstra: You see these border dodgers like Chavo don't know anything else but to. . .

"Chavo Ardiente" hits & Chavo Guerrero walks down to the ring with a real angry look on his face in casual clothes

***POP***

Kenny Dykstra: What the hell do you think you're doing out here? You've got no right interrupting the biggest star this company has ever seen. What explanation can you possibly have for interrupting me?

Chavo grabs the microphone off of Kenny, causing Kenny to look shocked as he then walks over to get a new one

Chavo Guerrero: I don't need to explain myself to you after all the crap you just came out with. . . I've had to put up with so much crap from you already, but you forgot to mention just why I attacked you last week. . . Aside from the fact you're the biggest asshole in this company, you beat the crap out of me a month ago, to the point that I nearly missed out on Christmas with my family because you put me in a hospital bed

***HEAT***

Kenny Dykstra: You're right Chavo, I did. And if you're lucky, I might just send you back there

Chavo Guerrero: I'm sure you'd like all these people to believe you could, but between you and me, we know that it's not gonna happen. . . If anyone's a coward Dykstra, it's you, not me

***POP***

Chavo Guerrero: It was you who took the easy way out of defending that title against me, that you jumped on me with that title belt the very second I stepped foot in this ring. You knew that you can't beat me and Kenny and it's you that proved you're a coward not me

***POP***

Kenny Dykstra: Me a coward? I could beat you in a heartbeat and you know that. . . But it runs deeper than that Chavo, just admit it. We all know the truth, especially you. . . Deep down it bugs you to the point that your blood boils, knowing the fact that not am I only younger and better looking than you, but I'm ten times more talented and successful than you ever have been in your entire career

***HEAT***

Kenny Dykstra: But let's talk about your career Chavo, it must be really difficult when everyone knows that your career revolved around being the let down of the successful Guerrero family

***MAJOR HEAT***

Kenny laughs right in Chavo's face, who looks really pissed off, but manages to compose himself after a couple of seconds

Chavo Guerrero: A let down huh. . . Maybe you're right, but then again. . .

Chavo looks past Kenny, then drops the mic and knocks Dykstra down to the mat with a right hand. He jumps right on top of Dykstra and pummels him with right hands to the face. He then stands up and pulls Dykstra up to his feet, whips him to the corner, runs at him and clotheslines him hard across the chest. Chavo takes a couple of steps back as Dykstra then staggers out into a stomp to the gut from Chavo, who then plants him with a brain buster. The crowd goes nuts as Chavo then walks back to the corner, climbs to the top rope and leaps off, connecting with the Frog Splash. Chavo stands back up and smiles as he looks down at Dykstra. He then bends down and picks up the microphone he dropped earlier

Chavo Guerrero: You're not looking so good champ. I just hope you look a little better in a few weeks time at the Royal Rumble. . . Oh, did I forget to mention that? . . . I got out of William Regal's office earlier tonight and in just over two weeks, it's gonna be me and you for the Cruiserweight Championship. . . And I'll tell you something. . . it won't be me being the let down that night

Chavo drops the microphone as "Chavo Ardiente" hits again to a good pop from the crowd


***VIDEO PROMO***
"Burned" plays


***COMMERCIAL BREAK***
***VIDEO PROMO***



***CUT TO THE ARENA***


***THE MAIN EVENT***

Shawn Michaels & Batista
vs. Edge & Umaga w/Armando Alejandro Estrada

ENDING: Michaels looks to put Umaga on the back foot as he nails him with a succession of right hands, but they don't seem to be leaving their mark as Umaga fights back with a couple of hard chops to the chest. Michaels is knocked off balance by the sheer force that Umaga hits them with as The Samoan Bulldozer then grabs Michaels' arm and whips him into the ropes, and as Michaels comes back, Umaga steps forward, lifts him up onto his shoulders, falls back and plants Michaels with a SAMOAN DROP. . . . . Michaels landed hard there as Umaga then turns himself round and covers the World Heavyweight Champion as Micky Henson counts Michaels' shoulders

1 . . . . .

2 . . . . .

NO!

Umaga reacts surprisingly well as he stands back up and then drags HBK back up to his feet. He then whips Michaels into the corner and takes a couple of seconds before running at him. But Michaels lifts his boot up into Umaga's face, sending him out of the corner and in a spin as he looks dazed. And as Umaga turns round, Michaels steps out and nails him with some SWEET CHIN MUSIC. . . . . The crowd are on their feet, but Michaels isn't as he feels the fatigue of the match as he too drops to the mat with Umaga. With the crowd cheering on HBK, both men start to crawl towards their respective corners after a good five/ten seconds with Umaga getting closest first. It is Umaga who makes the tag to Edge, who races in as Michaels is about to tag in Batista, but Edge runs right at The Animal and barges him off the apron.

The crowd boo like crazy as Edge now turns his attention to Michaels and pulls him back into the middle of the ring by his feet. Edge then lifts Michaels' legs up and seems to be going for a submission hold, but Michaels is able to use the strength in his legs to push Edge backwards and down to the mat. HBK then drags himself back towards his corner, but Batista isn't back on the apron yet. Michaels looks a little confused and then starts to help himself up in the corner as he pulls himself up using the ropes as Edge too picks himself back up. Michaels then as he's back on his feet, runs at Edge, but the Rated R Superstar lifts his boot up and drives it right down Michaels' throat. Edge reacts at super speed by dropping down to the mat and hooking the legs

1 . . . . .

2 . . . . .

NO!

Michaels kicks out with his legs there and turning his shoulder over emphatically. Edge doesn't look happy as he stands back up and walks into the corner, urging Michaels to get up and even jumping up and down a couple of times, losing patience as he waits for HBK to stand back up. As Michaels slowly stands back up, Edge charges out of the corner and runs at Michaels for the SPEAR. . . . . Michaels steps to the side before Edge gets there and drop toe holds him to the mat. Michaels then thinks quickly as he stands back up, grabs Edge's legs and turns him over, then tries to lock in the SHARPSHOOTER. . . . . The crowd cheer but Edge is able to push Michaels off before he can get the hold locked in, leaving the crowd booing as Batista looks on nervously as he now stands back on the apron.

With both men standing back up, Edge walks into Michaels who lifts Edge up by the waist and hits him with an inverted atomic drop. Edge looks in pain as he holds his groin, but still stood up, but just as Michaels then turns back and runs into the ropes, runs back and nails Edge with a FLYING FOREARM. . . . . The crowd are on their feet again as Michaels regains the initiative for his team. He then flips back up to his feet getting a big pop as he walks towards the corner and climbs to the top rope. With the crowd cheering like crazy, Michaels then leaps off looking for the DIVING ELBOW DROP. . . . . But Edge rolls to the side and Michaels hits the mat. Lots of sighs can be heard as it then takes both men several seconds to try and reach their partners, and this time it's Michaels who gets their first, tagging in The Animal.

Batista climbs through the ropes to a massive pop as he then charges across and is able to drag Edge back in time to stop him making the tag to Umaga. He pulls Edge right back up to his feet straight away and whips him hard into the corner. He then charges in at him and connects with a hard clothesline across the chest. Edge staggers out as Batista steps back, grabs Edge by the arm and whips him into the ropes, and as Edge comes back off the ropes, The Animal lifts him up by the legs and then brings him crashing down into the mat with a VICIOUS SPINE BUSTER. . . . . The crowd are going nuts as Batista shimmies forward to hook the leg with Henson counting

1 . . . . .

2 . . . . .

NO!

Umaga in just in time as he stomps across the back of Batista's head, getting a ton of heat, bringing Michaels into the ring. He charges across at Umaga and knocks him off balance with a dropkick. And as Umaga staggers back into the ropes, Michaels then runs at him as he stands back up and takes him over the top with a clothesline. With the crowd cheering again, Michaels holds onto the top rope and waits for Umaga as he stands back up. And then Michaels goes for a SLINGSHOT CROSS BODY. . . . . Umaga though is able to catch him, holds on and then runs at the ringpost, driving Michaels' back right into the steel post. Umaga lets go of Michaels who just drops to the mat, clutching his back in sheer agony, but then the lights go out

***GONG****

An enormous pop erupts from the crowd as they anticipate The Undertaker's arrival. After five seconds or so, the lights come back on and there is no sign of The Undertaker. Umaga looks around pissed and starts shouting out in Samoan. He then gets a crazed look on his face and then charges off to the back, seeming to be looking for the dead man. Edge and Batista are getting back up in the ring, with Edge using the ropes to pull himself up, but he sees Umaga leaving right in front of him. As he gets back up fully, he screams out for Umaga to come back, but it's too late as Estrada too follows Umaga to the back. Boy Edge looks pissed, and as he turns round looking very frustrated and walks towards Batista, he walks right into a SPEAR. . . . .

Batista caught all of that one, and the fans love it. The Animal then walks to the ropes, shakes them in a frenzy and then walks back over to Edge while the crowd all get to their feet. Batista pulls Edge up to his feet and then puts his head between his legs, setting him up for the BATISTA BOMB. . . . . Edge though drops down to his knees and drives his wrist right into the groin of The Animal, causing Micky Henson to call for the bell and getting a lot of heat from the Salt Lake crowd.


AFTERMATH: Edge picks himself back up slowly and stalks Batista for the Spear. As Batista gets up and turns round, Edge charges at him and nails him with a spear. "Metalingus" blasts out as Edge stands back up to his feet. He then walks over to the corner and climbs to the second rope to taunt the crowd with Michaels below him on the arena floor and Batista on the mat behind him as Smackdown comes to a close


***END OF SHOW***


QUICK RESULTS
Matt Hardy & Ric Flair df. The Pitbulls
Chris Harris df. Matt Striker
MVP df. Funaki
Shelton Benjamin df. Charlie Haas
Shawn Michaels & Batista df. Edge & Umaga


DARK MATCHES
Mike DiBiase & Ted DiBiase Jr df. Colt Cabana & Michael W. Kreul
Michael Shane df. Shannon Moore
CONFIRMED FOR THE ROYAL RUMBLE

Intercontinental Championship
Jeff Hardy (c)
vs. CM Punk

Cruiserweight Championship
Chavo Guerrero
vs. Kenny Dykstra (c)

Royal Rumble Match
Participants (Qualified So Far)
Paul Burchill, Harry Smith, Finlay, Rey Mysterio, Bobby Lashley, Kofi Kingston, Carlito, CM Punk, Jeff Hardy, The Undertaker, Umaga, Matt Hardy, Ric Flair, Chris Harris, MVP & Shelton Benjamin
Re: WWE: A Strong Response
---
JD SPUR's Smackdown Review
Okay Regal starting the show off, shame Umaga doesn't get his comeuppance this week, wonder if he is in action. Big announcement and well I've never been a fan of First Blood Matches but hey that me still a massive match to have, I'm getting into this feud which is good, keeping these two away from the title at the moment. Anyway all seems good. Both getting in the Rumble for free, I know how hard it is to get qualifying for the Rumble so I don't mind this.
Regal doing the announcement for the match and I like having this type of a match to qualifying, having two stars put together and trying to qualify. Any who onto the match now, The Notorious K.I.D., makes me laugh every time. This match was good match not surprised by Flair and Hardy winning the match and well good to see Flair getting win by submission, a very solid start to this edition of Smackdown. GIVE HIM THE TITLE SHOT REGAL YOU BASTARD! J Sorry, so if Edge wins he gets the title shot? Confused me sorry. Regal's character was perfect, I can just imagine him saying it.
MVP was a solid interview, nice to see him his cocky self, good job by Lena, one question and let Montel speak
. Good job, oooooo and now the debut of Chris Harris, hmmm don't know about him but lets see. SQUASH! Haha … no really good match, Chris Harris has to turn hell i.m.o , his character is built for that, assuming he still the same from TNA? Shelton Benjamin, made for mic work? No. But good you didn't keep it too long, straight to the point, he has to win, or with Haas get a sneaky win. Solid enough.
MVP has to win this with ease. Easy enough match, good job, it was okay but really what do you have to work with when it's Funaki. MVP rumble winning, you are hinted at it me thinks? Boooooooooooooo Batista, I hope he turns on Shawn tonight, he can't blame Edge, blame himself to be honest but I like him as a heel, so a turn on Edge would be good. Shawn Michaels character was okay I guess, didn't sound right to me, Dave did, and so did Flair, I really hope he goes to Wrestlemania. It was an okay promo.
Great match with Shelton-Haas and it was really well written, flowed great and had good back and fourth action with Shelton hitting some good counters. Best match so far tonight. Next promo, Chavo as a face is something I am just getting used to, hope it doesn't stay too long like that, Kenny heel, I would like to see him face, but cocky and arrogant character is always good for him. Good brawl I thought it was all going to kick off,
Chavito 1
Kenny 0
Kane masked = ratings … Return the monster!
Greta Main Event, I was hoping Edge and Umaga would win it clean, what does this mean for Edge's title shot? GONG didn't see it coming at all, should of done, well caught me be surprise, then he doesn't show up , hmmmm were is he? Edge YAY! SPEAR on Titsa, whoop! Awesome match man.

Overall
: Good building up to the Rumble, feuds and storylines coming on nice, Chavo-Kenny, Umaga-Taker (even if he didn't show), MVP-Himself, well MVP and his Rumble chance. Really looking good Nige as per-usual!
---
Or is it?
---
Last edited by JayDeeSpur; 04-22-2008 at

12:32 PM

.
Re: WWE: A Strong Response
---
WWE.com

CHAVO GETS SHOT AT REVENGE AND GOLD AT THE RUMBLE!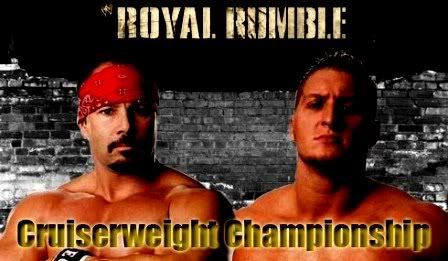 We learnt last night on Smackdown that Chavo Guerrero will be getting the chance to pay back the Cruiserweight Champion, Kenny Dykstra for the attack that put him in hospital with a concussion at the end of last year. Chavo returned last week, attacking Dykstra after his match with Shannon Moore, but last night, there were some harsh words thrown at Chavo from the arrogant champion. However, after going too far as to call Chavo the let down of the Guerrero family, the fire underneath Chavo's eyes were well and truly lit as he dropped Kenny and then gave him a frog splash before announcing to the fallen champion and everyone in attendance that earlier in the night, he was told by William Regal that he will be getting a shot at redemption and the gold in two weeks time at the Royal Rumble.

Will Kenny get what he deserves at Madison Square Garden?
INDUSTRY NEWS

TNA FINAL RESOLUTION RESULTS
Kurt Angle df. Christian Cage & Samoa Joe to retain the TNA World Championship
Tomko & AJ Styles df. Scott Steiner & Petey Williams, Team 3D & LAX to retain the TNA Tag Team Championship
Rob Van Dam df. James Storm in a Hardcore Rules Match
Booker T df. Robert Roode
Awesome Kong df. Gail Kim & ODB to win the TNA Knockout Championship
Rhino df. Christopher Daniels
Jay Lethal df. Daivari to retain the TNA X Division Championship
Kaz & The Motor City Machine Guns df. The Rock 'N' Rave Connection & Joey Matthews


---
Last edited by Nige™; 04-22-2008 at

08:21 PM

.
Re: WWE: A Strong Response
---
RAW REVIEW
By SC2004

(Sorry for the delay. Don't even have the time to be doing this but it's all good. Ha)

-The opening promo was great. Vince was spot on, Shane was excellent and the decision to have a rematch for the title works well, even though I reckon it should have been held back until the Royal Rumble. There was one problem I had with this, I just don't like JBL in the role of Vince's son, it comes off awkward and the lines JBL is forced to spew, come off out of character, for example "JBL: Watch what you say bro because I will put you in your place son."

- I couldn't help but laugh when I saw Lashley and Rey teaming here, given what I'm doing with the two of them in my BTB. Ha. This was a sweet opener and you wrote out a lengthy finish. No surprise who came out victorious here, but it was the right way to go and it helped kick start what promises to be a great night.

- Very "cool" backstage segment, the only thing I didn't like was the fact Kelly, Kelly got assaulted, even if it wasn't major. Anyway, I'm not a Rhodes fan, but he came off pretty good here. Kelly, Kelly is T&A and I'm glad that she didn't get to talk all that much here, because when she does, she comes off terrible IMO.

- Great job with the Triple H interview here. He could of come off weak and emotional, which would have been a disaster going into his title match. He came off intense, focused and mad as hell, just what he needs to be in order to win back the gold tonight.

- I've not used Kofi Kingston on my shows, he just irritates the hell out of me with all that damn clapping and dancing, like a 3 year old after three tubes of Smarties. Anyway, I can't deny the fact he is good in the ring and it was cool to see him go over the older and more established Holly here.

- I love when enemies have to team up, it always makes for a crazy match up. I think the CM Punk, Hardy versus Jericho, Kennedy match will be great tonight. Interesting to see Randy turning down JBL'S help and wanting to go it alone tonight. Strange!

- Carlito beats Val, thank God for that. This was an okay match, typical of what we get on TV every week. Having Rhodes and Eduardo on the outside added to the overall entertainment value of the match. The Punk, Hardy promo made sense I guess with them having a match tonight.

- Easy win by Duggan. Cool to see Orlando Jordan return. I'm still not sold on the JBL, Vince thing, but maybe in time I'll buy into it. This show seems a lot longer to me, so long in fact it could be one of my two hour shows. Ha.

- It doesn't make sense to me, why the heck would CM Punk cost himself a spot in the Rumble? Okay it's fine to hate someone enough, in that you want to ruin there chances, but not at your own expense. Strange! Great match up though, this could have been a main event.

- The Beth Phoenix and Burke stuff could have been left out. Didn't add anything to the show IMO and wasn't the best way to keep the excitement up going into the main event.

- I think you could be thinking about turning Orton face, just a vibe I'm getting. This was a great match, shame about the finish. I don't like Shane turning, but it was a shock. The Game is seriously out numbered here, it almost reminds me of the Austin, McMahon feud, when Steve seemed to overcome the impossible every week on Raw. Hopefully the Game can do something to stop this because if he doesn't, he'll never be champion again.

OVERALL: Very good show, as I said earlier, it seemed a lot longer, that may be due to the match length, in particular the main event. A lot happened, some of it I liked, some I didn't. I've said it about ten times now, but JBL as Vince's son just isn't washing. Didn't see CM Punk doing what he did tonight, didn't make sense. The person who shone tonight and was all over this show, was Vince, which may, or may not be a good thing.

SMACKDOWN REVIEW
By SC2004.

- I thought the opening promo was a little flawed. Regal was okay, but off at times. Putting Umaga in the rumble, well I don't think he should of, instead I think he should of out him in a match tonight in order to qualify and give taker a spot in the Rumble. Also making a first blood match in place of the last ride match makes no sense in that the original stipulation should stand. Also to sell this, I would keep Taker off TV until the Rumble and I would have had the last ride match between the two at the Rumble, just makes more sense to me.

- I didn't think you'd have this match go so long, but you did and it was a cool match. Just noting how you started both Raw and SmackDown with tag team matches this week. Ha.

- Regal was much better here, in the backstage segment with edge and Estrada. Glad to see Regal being mad at edge for what he did last week and it's cool to see that Estrada is so worked up over the match next week. The main event tonight looks solid IMO.

- A really great backstage interview with MVP. It was exactly how MVP would sugar coat his current situation, pretending not to care and insisting that it was a blessing in disguise as now he can win the Rumble and go on to win the World title at WrestleMania. Just great writing here.

- As Michael Cole said, this was an impressive win for Harris as he advances into the Royal Rumble match. The rumble qualifying idea is great and it transforms what would normally be a pointless filler match into a match with purpose and meaning. One of the WWE'S smartest moves in recent years.

- Short, sweet, intense and to the point by Shelton, man I hope he wins. Funaki are you freaking kidding me, Funaki??? Oh boy. Anyway, no shocker here, MVP wins it, thank God!

- The Shawn Michaels, Batista segment was well written, but uninspiring and run of the mill, that is until Ric flair got involved and then it became something fun and entertaining. Trust Flair. I remember seeing something very similar with HHH, Shawn and Ric, Royal Rumble 2006 maybe, I don't know. Ha.

- Great to see Shelton pick up the win here in what was a very competitive match up. The Chavo, Kenny promo was okay. It was little repetitive, with the whole, "I beat the crap out of you" stuff. Kenny as the cruiserweight champion is odd, as he is a big enough guy, but it is starting him on the ladder to better things. This is a nice little feud.

- So we get a dirty finish in both the main event on Raw and SmackDown this week, tut! tut!. Ha. Anyway, this was a good main event tag team match, with a lot going on. Edge stands tall yet again, works for me.

OVERALL: Well after reading Raw and SmackDown back to back, it's blatantly obvious that SmackDown is lacking star power and Raw is full of it. This show was so different to Raw, in that it had no soap opera content whatsoever. Such a contrast. I didn't get the opening and the MVP, Funaki match left me puzzled. But apart from that this was an okay show. Not the best SmackDown that I've read on here, but it was entertaining none the less.
---
Re: WWE: A Strong Response
---
Thanks for that man, i appreciate you reviewing both, that's respect boy!

The reason the shows are longer is down to the fact that the match length is increasing as i'm trying to add that bit more experience as i build up to Wrestlemania. Some of the promos are longer too, there are two huge ones on the Raw coming up

JBL as Vince's son is something i don't expect to work overnight. It's like marmite, some like it, some don't. It's similar to the Melina storyline in your show, it's hard to imagine them in that position, but it's a test to work people round. He and Vince are alike and it was the opportunity to bring him back into the wrestling scene from the announce table. Things will pick up even more soon though

The tag match on Raw with Punk/Jeff and Jericho/Kennedy, Punk won it after Jeff got the swanton and hit the GTS on Jeff before covering Jericho, down to Kennedy's balls up. Punk & Jeff are in the Rumble, Jericho and Kennedy aren't! Watch this space

The Regal promo at the top was going to cause some mixed opinion, but Smackdown's roster is small compared to Raw, hence the automatic spot in the Rumble and why MVP faced Funaki

Smackdown does have less star power, but i've gradually increased it by moving over Shawn Michaels and Umaga. With Batista, Edge, The Undertaker & MVP, it's not bad. Yes it's less soap opera as i want each brand to be different. Smackdown isn't straight up wrestling, i'm trying to change that with some intense promos, like the Chavo/Kenny feud. Developing Dykstra is fun and one of the feuds that i am really into writing it, by having him cut that promo this week, it's a way of breaking up the matches with some entertaining promos too, i hope!

Thanks again Sean, let me know when your Smackdown is up!
Re: WWE: A Strong Response
---
D-K-L's Smackdown review:

Decent promo from Regal to open the show, him adressing the Taker/Umaga thing was probably the right thing to do to build their rivalry. Undertaker vs. Umaga in a first blood match should be great, although I wouldn't rule out another sneak attack. You got Regal's character right too with him using the posh language and saying "Umanga", and him not liking the Umaga attack last week was good, as normally he seems a bit more of a heel GM.

Good tag match to start off the action, but we always knew which team was going to qualify. The team of Hardy and Flair is interesting and the pitbulls are a great tag team too, so it was a good match to read. Yang knocking out Kash was cool, we will see a match between those two teams soon.

Decent little segment here with Regal, Estrada and Edge. All seemed in character with Estrada wanting Umaga out of the match next week and Edge trying to get a title shot. Good little set up for the match later.

Great MVP interview here, you really write MVP's promos well. It's good to see that MVP is moving on from Matt Hardy and the US Title, I don't want to see him lose to Matt again. I liked what he had to say about him winning the Rumble and going on to Mania, I would love MVP to win the rumble and face HBK at Mania, but I doubt that it'll happen.

It's great to see Chris Harris on Smackdown, I've been waiting to see his debut for a while. This was a decent match but it was a squash really and rightly so on Harris' debut. I prefer Harris as a heel or tweener tbh but I think that's because I loved him and Storm as a team in AMW, but I know that he can go face too. Harris in the Rumble should be good, hopefully he'll go far and make a good impression, some more squash matches untill then methinks.

Short but good Shelton interview here. I liked what he had to say about Haas holding him back, hopefully he'll win later and put Haas and the tag division behind him.

Squash match for MVP here. He needs a good run of victories now after losing to Hardy twice recently. I liked the moves you had him use, he basically destroyed Funaki with his whole moveset, I love it when he does the belly to belly and the Playa's boot. Good to see him qualify for the Rumble and the little promo afterwards was good, please make him win the Royal Rumble! I hope the last line from his promo is true, but I doubt it to be honest.

The Batista/HBK/Flair thing was pretty good, it was exactly the type of backstage segment we see IRL with these guys. This was good to build up the main event.

Good match between Haas and Benjamin. The match was well written with Haas hitting two of his many suplexes, and Benjamin hitting the low blow on Haas to take advantage. I loved Benjamin hitting Masters with the superkick, that made even more of an impact and it was great to see Shelton pick up the win. Hopefully he'll recieve a push now, a US Title feud with Hardy would be good.

Good little promo between Dykstra and Guerrero, I'm liking how you are building up Dykstra in the CW division and this feud is really getting good. The CW division has really picked up recently and it's good to see after them dropping it IRL. I fully expect Kenny to retain at the Rumble, but you're doing a good job of making Chavo look stronger heading into the RR.

Great main event here, a real exciting way to end the show. I was wondering who would win this match as either team could have won really, espacially after you teased The Undertaker's entrance. Typical heel tactics by Edge to hit the low blow, we've seen him do that many times before. Edge hitting Batista with the spear and looking down at HBK makes Edge look really strong at the moment.

Overall Nige it was a good show once again, there wasn't much wrong with the show at all IMO so sorry for not giving you much to work with. Some people may not like the squash matches as there were two really, but they have to be done sometimes and MVP and Harris really needed strong victories. I'm enjoying these fueds that you've got going a lot, and I'm looking forward to the Rumble! Good job man.
Tested Positive For Thread Performance Enhancers
Join Date: Dec 2007
Location: Nikki Roxxville, USA
Posts: 6,802
Points: 0
Re: WWE: A Strong Response
---
sirdilznik's Smackdown review
Starting off with Regal addressing the U-Manga situation. Good call. You can never go wrong with starting off with my boy Regal and you always do an excellent job of writing him. Again you deliver the goods here. First Blood against Taker... NICE OK the just putting them into the Rumble Match seems a bit weird. You explain it well, but I don't know... then again Taker shouldn't need to qualify for anything and U-Manga is my boy... Nevermind, go ahead and just put them in the Rumble, I'm totally down. No need to have them go through jobbers.
:
Qualifier Tag Match #1 - OK so you already know I don't like tag matches as Rumble qualifiers but it's all good and I'll just move on. It's pretty obvious who will win this match. Flair wins with Fig 4. Great call. Nice feel good moment for the 16 time (More like 22 time) World Champion. You didn't have Flair do too much which is realistic and still had him beat basically a jobber team. Good call all around. BTW I was a bit hard on Matt Hardy last week (though I meant everything). I like the guy, I just think that in singles he's the perfect guy for the job of being the guy who always beats the little guys and comes close to the gold but never gets it, always losing to the bigger stars. Though a thank you reign for being a good soldier as US Champ is OK in my book I guess. Just make sure that MVP is the guy that comes out smelling like roses in the end. He's the guy who has a main event future.
Ar-man-do goodness (I totally love that you spell out his full name too, I seriously do).
Quote:
He how you say, killed the dead man once and for all
Gold!
Does it get better than an exchange between Ar-man-do and Regal. Maybe, but not by much. Damn that's a nice tag match you just made there. Edge manipulating his way toward the main even gotta love that.
MVP's not ready to win the Rumble yet, though I'm glad he thinks he is. He's not through with Matt either though I love the fact that you have him say he is (we all know better). Anyway you write MVP very well as always. His cockiness and "I'm better than you" attitude comes through as always. Whao M... V... P... just did an R... V... D... Is that a bit of really clever small foreshadowing? I love to do things like this in my own shows and I know you are really good at laying down really small hints too. I may just be reading too much into this though.

YES
the debut of Wildcat (with Cowboy's gimmick, sort of)!!! No way Wildcat loses this match. No freakin' way. I bet the whole damn house on it. Great Sharphooter (It's always the Scorpion Deathlock in my mind) struggle. Well written. I'm a big mat/technical/submission guy so I love this kind of stuff. YES Catatonic!!!! I like the new name you gave to it too (Harris-torm. So awesome. More play off of James Storm and one of his moves "Eye of the Storm", the man he stole the Cowboy gimmick from. Awesome!!! I seriously love it). Despite the fact that U-Manga also does basically the Catatonic (and better a lot of times) and it's not even his finisher, I really love the move and am glad you have Chris finish with it. I personally would have U-Manga stop using it (or tone it down), he's got plenty of other awesome moves.
You know Shelton has been getting better... less horrible on the mic on TV as of late and I can kind of believe that he could cut a promo as good as that. Plus it was short which is a plus. Baby steps... Anyway good job and again he's right.
Smackdown #1 Announcer/MVP - OK so this has got to be a squash. I absolutely love Funaki, but he's a jobber in the WWE, that's what he is. I'll still cheer for him though. Wow! Funaki kicked out of the Playa's Boot!! MVP wins with "Generic Finisher"!!! Good squash. Funaki got no offense in (which is right) but he did kick out of a jobber-finisher so thanks for that. Sorry to break it to you Montel, you're not winning the Rumble. I love his confidence though.
HBK you are working Dave so bad. The more you say you want to give back the title the more I
know
to are orchestrating at least some part of this. This is great.
Benjamin/Haas - Shelton HAS TO WIN this. Yes! Northern Light Suplex!!! I LOVE that move. I've always been pissed that no one uses it for a finisher. I think it's superior to the Fisherman Suplex. Would be an awesome finisher for a woman... Ok a bit confused. Is DRAGON WHIP a Dragon Screw Legwhip? If so it's usually a counter to a kick where the guy catches the leg. It could work the way you wrote it. Just wanted clarification not really criticizing. Nice finish. Shelton wins like I always knew he would. Too bad he didn't get to hit the T-Bone. Love that move. But it's cool he can't hit it every match. I'm an Exploder Suplex maniac. Love the move. Shelton's version where he turns it into a powerslam and pin is awesome.
Quote:
Kenny Dykstra: Last week, that low class border crawler...
I'm taking the Y2J approach here... sirdilznik.want.Kane.
Main Event - SCM setting up the double 10 cout/crawl to corner situation. Good standard stuff. Really good build to the hot tag to The Animal. Nice kip up from HBK. Gotta have that. Nice Taker mind game. Love U-Manga shouting in Samoan too! Nice crazy finish. All your other matches were clean so the dirty DQ finish is fine here.
Great show. Very entertaining. The matches were all really predictable save the main event but that's expected from Rumble Qualifiers. Again not a fan of tag matches as qualifiers but since you don't have ECW you need to qualify more people at a time so it's understandable. The Wildcat... err Cwoboy debut was great. Good stuff. I love that HBK is playing innocent and super-face. It's only a matter of time...
---

STILL A Proud Member of Roid Sox Nation

sirdilznik's Random Rhetorical Question Of The Week:
If Hornswoggle turned heel could he hide in Mike Knox's beard?



Quote:

Originally Posted by Frank Zappa

Look here brother, who you jivin' with that cosmik debris?
---
Last edited by sirdilznik; 04-24-2008 at

02:46 PM

.
WWE.com - Television - Raw (Preview - 14th January)
---
RAW Preview
14th January 2008

Landon Arena
Topeka, Kansas





McMAHON BOYS SCREW THE GAME. . . AGAIN!

Saturday Night's Main Event at the end of last year was a nightmare for Triple H when the combination of Mr. McMahon and his illegitimate son, JBL arrived on the scene to wreck The Game's dreams of once again becoming the WWE Champion, costing him the chance of winning WWE Championship from Randy Orton. And on the first Raw of 2008 last week, Mr. McMahon unveiled JBL as his son before letting us know that the latest boy wonder would we returning to the ring on a full time basis.

However it was later on when they made the mark after Shane McMahon gave his brother-in-law, Triple H his support and another shot at the WWE Championship, setting up a rematch from Saturday Night's Main Event for later on in the evening. JBL even went to the reigning champion to offer his and his father's services, but The Legend Killer made it clear he wanted to do it on his own. It appeared that JBL respected the decision, however it didn't turn out that way, as just as it seemed Triple H had the match won, JBL and his father stormed to the ring and attacked The Game.

Getting Orton DQ'd saved him the title, but the McMahon's weren't done with The Game. Along with the returning Orlando Jordan, JBL was about to force Triple H into the Vince McMahon Kiss My Ass Club until Shane came out to save the day, or so it seemed. After picking up a steel chair from under the ring and helping his brother-in-law fight off JBL and Jordan, Shane then did the unthinkable and turned on Triple H, smashing him across the back with the steel chair. It was a chair shot that stunned the world, followed by the McMahon boys all celebrating in unison at the end of the show. What will they have to say this week, Shane in particular.

JEFF & PUNK TO FINALLY MEET AT THE RUMBLE
After being physically and mentally abused by The Straight Edge Superstar for nearly two months, Jeff Hardy finally had enough last week and went to resolve the matter with Raw GM, Shane McMahon. However, it was the Chairman of the Board that he came across instead, and boy did he make two big matches. First off, Mr. McMahon informed Jeff that he would be defending his Intercontinental Championship at the Royal Rumble against CM Punk.

But what came next was a shocker to Jeff, as he was told that he would be teaming up with Punk later on that night with the winning team gaining entry to the Royal Rumble match up. After seemingly being able to co-exist to pick up the victory against two more fierce rivals in Chris Jericho & Mr. Kennedy, Punk made a blind tag before Jeff hit a Swanton Bomb, then entered the ring to hit Jeff with the GTS, and then made the cover himself. What could possibly happen next when these two enter Topeka this week?

KENNEDY COSTS JERICHO. . . AND HIMSELF!
Mr. Kennedy made his point after suffering a defeat at the hands of Chris Jericho at Saturday Night's Main Event, sending Y2J crashing down with The Mic Check. However, as much as Jeff Hardy and CM Punk were able to co exist for the most part last week, Kennedy and Jericho failed to do so, resulting in their defeat and their lack of a place in the Royal Rumble match. It all came to a head when Jericho hit his own partner with a super kick, sending Kennedy off the apron.

However, as soon as Kennedy was back on his feet, he stormed in the ring to get his revenge, nailing his rival with another Mic Check, which led to their downfall and the gloom that they won't be competing for a place at Wrestlemania. After being on the wrong end of Kennedy's actions in his last two outings, what can we expect to see when these two angry superstars come to the state of Kansas this Monday night? Fireworks are at the ready!

THE TRUTH TO BE DELIVERED!
We saw a video promo last week that featured a superstar by the name of Ron Killings. It appears that he will be appearing for the first time on Raw this week. What will we see from Raw's newest superstar?

CODY TO THE RESCUE
It is no surprise to see that Carlito's brother Eduardo is a chip off the old block, and last week he tried to work his magic on Kelly Kelly. However, his very to the point lines didn't work on the star of Extreme Expose, resulting in the youngest member of The Cool Connection being slapped across the face. It was something that Eduardo didn't take too well as he then grabbed the scared diva. However, she was rescued by Cody Rhodes who saw off Eddie and his older brother, earning a sweetly surprised Cody a kiss on the cheek.

Cody & Val Venis have had their problems with the brothers cool for a while, and later on in the evening, Carlito defeated Val to earn a spot in the Royal Rumble. This week, Cody will go one on one with Eduardo in the first match of Eddie's Raw career. Having being trained by his older brother, is he ready to move on and collect a place at the Royal Rumble in the process? Or will it be Cody who will be stepping into the 30 Man Battle Royal in two weeks?

RUMBLE QUALIFYING CONTINUES
We saw Bobby Lashley, Rey Mysterio, Carlito, Kofi Kingston, CM Punk & Jeff Hardy book their places in the Royal Rumble match last Monday night, and with Cody Rhodes and Eduardo meeting for one spot, who else will be celebrating this week after clinching their places in the most important match in the WWE calendar year?


CONFIRMED FOR THIS WEEK ON RAW

ROYAL RUMBLE QUALIFYING MATCHES INCLUDING
Cody Rhodes
vs. Eduardo

PLUS

"The Debut Appearance of Ron Killings"



Re: WWE: A Strong Response
---
Great RAW preview, all seems good, like to her what Shane O'Mac will have to say, hopefully Trips gives him a revengeful Pedigree
... not many amtches confirmed but I know they will all still be good. Intresting to see Ron Killings in action as well. Look forward to reading it.
---
Or is it?
Re: WWE: A Strong Response
---
Quote:
Great RAW preview, all seems good, like to her what Shane O'Mac will have to say, hopefully Trips gives him a revengeful Pedigree
... not many amtches confirmed but I know they will all still be good. Intresting to see Ron Killings in action as well. Look forward to reading it.
True about the matches, it's just that there will be a lot going on with the show, and there is one big shock in store as well as matches being announced throughout the show
Posting Rules

You may not post new threads

You may not post replies

You may not post attachments

You may not edit your posts

---

HTML code is Off

---