Re: WWE: A Strong Response
---
The draft, if it is indeed going to happen, should go down on the first Raw of 2008. New year, new start, perfect line for you. lol. I like the draft idea, but the WWE always do it after Mania, as its the start of their new year. However if you did it before the Rumble, then it would throw everyone, as by now, many people reading your BTB would be looking ahead to what you may do at mania. By having a draft, it would make everyone rethink your Mania card and it's always good to keep people guessing!!!
---
WWE.com - Television (Smackdown Preview)
---
Smackdown Preview
21st December 2007

Kansas Coliseum
Witchita, Kansas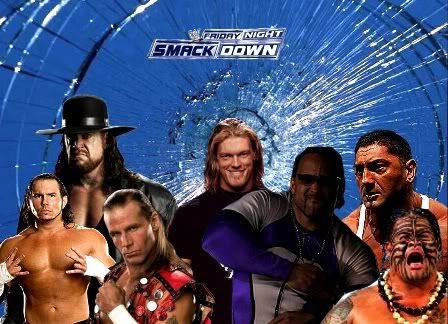 FINAL SMACKDOWN OF 2007!
24 HOURS UNTIL SATURDAY NIGHT'S MAIN EVENT – THE LAST SHOW OF THE YEAR!


WILL THE BEAST BE UNLEASHED ON HBK?

Last Friday night saw Shawn Michaels super kick his opponent at Saturday Night's Main Event, the World Heavyweight Champion, Batista. For the last couple of weeks, The Rated R Superstar, Edge has been casting doubts about The Heartbreak Kid's intentions as he gears up for his World Title match with Batista this weekend, and last week, the floodgates opened. After trying to persuade Batista earlier in the night as to Michaels' history of turning on his friends, Edge was put in his place by Michaels and GM William Regal as the main event for the night was made with Edge facing Batista in addition to Michaels being given the role of guest referee.

And when Edge took his protests about a two count too far and slapped the show stopper, Michaels had enough and let fly with some sweet chin music, only for Edge to duck out of the way with the oncoming Batista walk right into it. Michaels looked shocked and had no choice but to reluctantly count the fall for Edge. The challenger to Batista's title was quick to leave the ring afterwards, but when The Animal came round, he didn't look happy at all. Have Edge's words and Michaels' mistake gotten to Batista?

THE DEAD MAN SENDS UMAGA A MESSAGE
After destroying The Undertaker over a week ago at Raw's 15th Anniversary Show and costing him a shot at the World Heavyweight Championship at the same time, The Samoan Bulldozer returned to home turf last Friday night and left Shannon Moore lying in the ring after continuing his destruction from Monday night. However, after Armando Alejandro Estrada directed some comments earlier on to the phenom, the lights went out with Umaga and Estrada in the ring. When the lights came back on, the dead man was nowhere to be seen, but did it have enough of an impact to worry Umaga? And will the dead man be present this week?

GETTING READY FOR THE CAGE
With just hours separating Matt Hardy, Montel Vontavious Porter and a Steel Cage at Saturday Night's Main Event, with all the problems they've been through, what will go down when these two set foot in Kansas? After defeating MVP last week in a tag team match which saw Matt team up with "The Nature Boy" Ric Flair as the United States Champion joined forces with Finlay. The Franchise Player must be fuming that his challenger this Saturday gained some serious momentum, and you've got to think he will be out to make a point this Friday night.

NEW TAG TEAM CHAMPIONS, BUT FOR HOW LONG?
We all knew that The World's Greatest Tag Team and Chris Masters had their problems in recent weeks, but it all came to a head last week as Shelton Benjamin's ego got to him at the wrong time as he decided to argue with Masters instead of watching on as Charlie Haas fell victim to a C4 from Paul Burchill to give The UK Pack the WWE Tag Team titles. With Burchill and Harry Smith now occupying the gold, their first duty will be to defend them this coming week against the former champions. Will the former champions be able to sort themselves out in time to claim back their titles?

DYKSTRA TAKES THE COWARD'S WAY OUT
Ever since becoming the Cruiserweight Champion at the Survivor Series last month, Kenny Dykstra's ego has seemed to have grown each week. And after he failed to convince Smackdown GM, William Regal to change his No Disqualification match with Chavo Guerrero later on in the evening, Dykstra took matters in to his own hands. As soon as Chavo entered the ring, Dykstra showed his cowardice and sadistic side as he smashed him with the title belt across the skull. Chavo immediately fell to the mat, but Dykstra wasn't done as he continued to pummel the head of Guerrero until the referee saw enough and stopped the match. We later found out that Guerrero was taken to a local medical facility where he was kept in for observations, and it appears he will not be in Kansas this week. What will the arrogant champion have to say for himself this week?

PLUS
Ric Flair returned to Smackdown last week after not being seen for months and months. After standing up to MVP in the V.I.P. Lounge at the top of the show, he and Matt Hardy beat MVP and Finlay to give Flair a winning return. Will we see "The Nature Boy" in action again this week when Smackdown comes to Witchita?

Kid Kash continued with a one hundred percent last week as he defeated Super Crazy, a week after he and Jamie Noble were reunited and saw off Crazy and his tag team partner Jimmy Wang Yang. And this week it will be Noble's turn to represent The Pitbulls when he goes one on one with Yang. Can The Pitbulls continue their streak, or will there be a spanner in the works?


CONFIRMED FOR THIS WEEK

Shawn Michaels
vs. Finlay

WWE TAG TEAM CHAMPIONSHIP REMATCH
The UK Pack (Paul Burchill & Harry Smith) (c)
vs. The World's Greatest Tag Team

Jimmy Wang Yang
vs. Jamie Noble


WWE.com - HOMEPAGE (Smackdown Results - The Animal wants answers!)
---
Smackdown Results
21st December 2007

Kansas Coliseum
Witchita, Kansas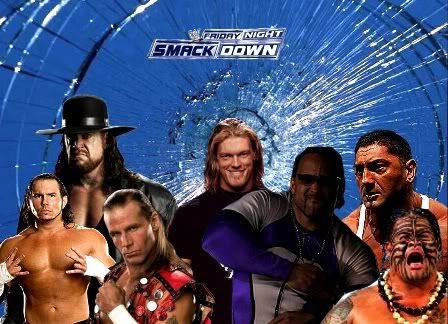 FINAL SMACKDOWN OF 2007!
24 HOURS UNTIL SATURDAY NIGHT'S MAIN EVENT – THE LAST SHOW OF THE YEAR!


***VIDEO RECAP***
FROM LAST WEEK
• Batista talking backstage with Ric Flair and Shawn Michaels, and as Michaels leaves, Flair and Batista talking about whether The Animal can trust him
• Main event and Michaels acting as special referee in Batista's match with Edge. Michaels counting a two from Edge who then argued with him and slapped Michaels. Edge then ducking a super kick and Batista being on the receiving end of it as Michaels then reluctantly counts with Edge seizing the opportunity
• Michaels leaving the ring looking frustrated as Batista started to sit up by the ropes and staring at him

***OPENING VIDEO***
"Rise Up"


***PYRO***
***PYRO***
***PYRO***
***PYRO***
***PYRO***


"I Walk Alone" blasts out and an a serious looking Batista makes his way down to the ring, dressed in a suit

***BIG POP***

Batista: I think it's obvious to everyone why I'm out here. We all saw what happened last week at the end of my match with Edge. And after hearing him for the last couple of weeks try and stir up some tension between myself and Shawn Michaels, last week he proved himself to be right. . . I admit that I had my doubts about Shawn Michaels and whether he would stab me in the back when I least expected it. But you know I admit I made a big mistake and believed Shawn when he told me that he wouldn't do that, a mistake I will not let happen again. . .

***MIXED REACTION***

Batista: Shawn, I have to make things perfectly clear to you. . . Now you've proved yourself to be the lying, back stabber we all know you are, you just made your job tomorrow night a whole lot more difficult, because you pissed the wrong person off this time

***MIXED REACTION AGAIN FOR THE ANIMAL***

Batista: I gave you the benefit of the doubt Shawn, and what do you do? Super kick me right in the face and count my shoulders to the mat. . . Well. . .

"Metalingus" hits as Edge walks down to the ring with a smile on his face

***HEAT***

Edge: Woah Dave, I don't blame you for being angry, not one bit. But listen to me for a moment. . . I know we've been through a lot and we're never going to be friends, but I came out here not to brag about me beating you, the World Heavyweight Champion last week, but to tell you that I was right about Shawn Michaels. . .

***HEAT***

Edge: I told you all along what he was capable of, and last week he proved that and made you like a fool in front of the entire world to see. It might not be difficult, but he did it. . . But Dave, you've got to forget about that, because quite frankly we're in the same boat here, neither of us wants Shawn Michaels to be the World Heavyweight Champion. I don't want that and I sure as hell know you won't want that. . . So what you've gotta do Dave is this, forget all about what Shawn did last week and make him pay tomorrow night in your match. Don't let him see you're all wound up, because that's he wants. . . All you've gotta do is wait twenty four hours and you can tear Shawn Michaels limb from limb

***HEAT***

Batista: As much as I appreciate your advice Edge, I think I can handle myself. I'm not the World Heavyweight Champion for no reason, and that's why Shawn Michaels plays it the way I say. . .

"Sexy Boy" blasts out as Shawn Michaels walks out with a microphone in hand

***POP***

Shawn Michaels: Woah, woah, woah, cut the music. . . Am I living in some kind of parallel universe? . . .

Shawn then climbs through the ropes and gets into the ring

Shawn Michaels: For a start, Rated R shit stirrer, you need to shut that poisonous little mouth of yours before I actually do hit you this week. . .

***POP***

Shawn Michaels: Hell Dave, that's what it's all about. I didn't mean to super kick you last week, I was going for this blonde big mouth when he ducked for you to walk right into it. . . I know all about my past Dave and the things I've done, but when I said I would not stab you in the back, I meant it and I still do

***POP***

Shawn Michaels: But Dave, if you want me to be perfectly honest. . .

Edge: What, you're not gonna listen to him are ya?

Shawn Michaels: I'm seriously warning you, if you want me to kick your head off, I'll do it like that. . . (Clicks his fingers)

***BIG POP***

Shawn Michaels: But Dave, I'm not gonna lie to you big man cos you know me better than that. . . I have to admit that I have thought about getting an advantage by hitting you when you weren't expecting it, I have. But Dave, I haven't done it and I won't. . . However, you know that I had every reason to do it, and that reason is on your shoulder right now. It's the same reason you had the chance to do the same thing to me, but you didn't Dave, and there's also a reason for that. . . we respect each other

***POP***

Edge: Come on Dave, are you buyin this crap? . . . You know what you two need? A reality check and you need it tonight. . . How about you both go at right here tonight, and this week I will be the special guest referee?

***HEAT***

Shawn Michaels: You seriously need to butt out of our business, this has absolutely nothing to do with you. I beat you three weeks ago and you lost your chance to be World Champion again. So why don't you take your Rated L for loser ass and get to steppin before my foot accidentally steps right into your face

***MASSIVE POP***

Michaels and Edge go face to face when Batista drops the title off his shoulder, forcing Michaels to turn round. Edge then clubs Michaels from behind and hits him again, knocking him down to the mat. Michaels crawls to stand up as Edge looks at Batista as The Animal then pulls Michaels to his knees and places him between his legs for the Batista Bomb. The crowd are shocked as Edge looks on with a big smile on his face until Batista pushes Michaels back down to the mat and gets right in Edge's face, scaring the hell out of him

"Promenade" hits as William regal walks out to the entrance ramp

William Regal: Gentleman, stop it right there. I'm not having a bloody massacre on my hands tonight. This is the last Smackdown of 2007, so let's keep this pleasant for now shall we. . . However, later on I have an idea to give these people what they want to see on the last show of this year. . .

***POP***

William Regal: Now as Shawn Michaels is otherwise engaged tonight with a match, you Edge will be in action tonight against Batista. However you won't be alone, because you will both have a tag team partner. . . Because tomorrow night, there is another title match from Smackdown when Matt Hardy and Montel Vontavious Porter go at it inside a steel cage match. . .

***POP***

William Regal: So in our main event tonight and Smackdown's final match of this year, it will be Edge and the United States Champion, MVP facing Matt Hardy and the World Heavyweight Champion, Batista

***BIG POP***

"Promenade" plays again as Michaels stands up by the ropes, looking angrily towards Edge with Batista looking very intense


***COMMERCIAL BREAK***


William Regal is in his office with the Cruiserweight Champion, Kenny Dykstra

***HEAT***

William Regal: Do you realise the damage you did to Chavo Guerrero last week? . . . You don't do you? . . . Well let me tell you something young man. Thanks to your actions last week when you hit that belt of yours into Chavo Guerrero's skull and proceeded to treat him like a bloody prisoner by stamping all over his head, you gave him a serious head injury. It was so serious in fact for his wife to contact me with instructions to sue me and this company for failing to maintain a safe environment for her husband. . . I have had the board of directors on my back all week simply because you went out there and didn't want to put that title of yours at any risk, so decided to beat Chavo Guerrero to a bloody pulp before he had chance to defend himself

Kenny Dykstra: Woah, before you get too carried away, maybe you should look at all the facts. . . First off, it was a no disqualification match and that means anything goes. . . Second of all, Chavo knew what he was getting himself into when he signed up for that match, so his wife hasn't got a case, and neither do the board of directors. Everything I did in that ring was within the rules of the match whether or not you, Chavo's wife and the board of directors like it or not. In fact I should be the one who is angry Regal. . . See I had that match won when the ref stopped it. I had Chavo beat and all I had to do was pin him, but I didn't get that chance Regal. What are you gonna do about that?

***HEAT***

William Regal: Well, I haven't quite worked that one out yet, but I think I will wait until the new year to decide what to do with you, but rest assured you will pay the price for what you did last week. . . But I'll tell you what you are going to be doing tonight. . . Since you didn't give Chavo a chance last week, I think I have something that will show you all about respect, because you should respect your opponent tonight. Because later on you will be facing none other than The Nature Boy, Ric Flair

***POP & WOOO's***

Kenny Dykstra: You think I'm gonna learn a lesson from Ric Flair? . . . Come on man, I'm thirty five years younger than the guy, you shouldn't be putting Dick Van Dijk's dad in a match with me, I'll finish him with one punch

William Regal: Well I guess we'll see won't we young man

Dykstra laughs as he turns round and walks out of the room. Regal sits back down when MVP barges in the room

***HEAT***

MVP: Yo, Regal. What the hell are you thinkin puttin me in a match tonight? . . . You know I've got a steel cage match tomorrow night with Matt Hardy and you go and put me in a match with him and Batista tonight? . . . Are you out of your mind? Your saw how much of a nut job Batista was earlier, and you're puttin your biggest star at risk against that big crazy freak. . . You need to sort this out and quick

Regal stands up

William Regal: Is that so?

MVP: Damn straight

William Regal: Well Mr. Porter, there is nothing for me to sort out as you put it because the match will go ahead as planned as much you like it or not. . . But I don't see it as a problem for you since I'm led to believe you are half man, half amazing. . . If that's the case, then this match tonight really shouldn't be any kind of problem for you should it?

MVP shakes his head in disbelief before turning round and storming out of the room


***CUT TO THE ARENA***


MATCH #1

Jimmy Wang Yang w/Super Crazy
vs. Jamie Noble w/Kid Kash

SUMMARY: A really fast paced match up to start the show. Both men showed their ability in this even encounter. Yang seemed to have the edge on Noble as he flew around the ring at great speed, ducking a clothesline as he came back off the ropes and Noble turned round into a spinning wheel kick. Yang tried to take control from there as he pulled Noble back up, whipped him to the corner, ran in and flipped back after kicking Noble in the process. Kash looked stunned on the outside as Noble then walked out of the corner looking slightly dazed as Yang then ran back to the corner, climbed to the top rope and was about to go for a moonsault until Kash climbed ran round and climbed on the apron, distracting Yang. Crazy saw it and climbed up on the opposite side, which the ref saw first and went over to try and get him down as Kash then pushed Yang off the top rope, with Yang hitting the mat back first. Kash then jumped down as Crazy argued with the ref until Noble ran across and knocked him off the apron with a knee to the gut. He then walked back over to Yang who was starting to get up, but looking groggy. Noble pounced straight away, lifting him onto his shoulders and connecting with the double knee gut buster to pick up the win.

WINNER: Jamie Noble by pinfall

AFTERMATH: "Slam Smack" hit as Noble quickly left the ring and slapped hands with Kash as they looked back into the ring and smirk as Yang squirmed around on the mat


***VIDEO RECAP***
We see the finish from the WWE Tag Team Championship match last week where The UK Pack of Paul Burchill and Harry Smith challenged The World's Greatest Tag Team. It shows Chris Masters pull Shelton Benjamin down off the apron and their argument that distracts Haas before he falls victim to the C4 and loses the match and the titles as Burchill & Smith celebrate with Shelton & Masters looking on and Shelton then losing it as he kicks and smacks the ring apron.

Michael Cole talks over the end of it and reminds us that their will be a rematch tonight for the titles


***CUT BACKSTAGE***


The World's Greatest Tag Team and Chris Masters are watching the clip in their locker room

***HEAT***

Shelton turns to Masters, not looking too happy

Shelton Benjamin: You see that Chris? You're the reason why we lost our titles last week. I just hope you're pleased with yourself

Chris Masters: My fault? You were the one who turned your back on the match. . .

Haas gets in between them both

Charlie Haas: . . . Come on guys, let's forget about last week. We've got a rematch tonight and if we just stick together, we'll get our titles back

Shelton Benjamin: What, you think it's that easy with this goof ready to screw things up again? . . . You know what? . . In fact Master screw up, I'm not even gonna let you have the chance to screw things up for us tonight, cos I don't want you anywhere near that ring later on. . . There ain't gonna be a repeat of last week I can promise you that. So you can sit your ass down in here tonight and watch me show you how it's done without you getting in the damn way like last week

Charlie Haas: Come on Shelton, there's no need for that

Shelton Benjamin: Back off Charlie, we're doing it my way tonight, and that means no big dumb screw up is gonna mess things up for us tonight

Haas looks at Masters, shakes his head and holds his hands up, looking rather defeated

Chris Masters: It's alright Charlie, don't worry about. Do it Shelton's way, this way he's not gonna have any excuses

Shelton smirks

Shelton Benjamin: Maybe you should just sit your ass down right now Chris, or you could just leave me and Charlie to get on with it ourselves. . . Oh sorry Chris I forgot, you haven't got anyone else have you?. . You need us to make you look like you're some kind of star when in fact you're just a regular guy with a day pass

Masters and Shelton get right in each others face as we go to commercial


***COMMERCIAL BREAK***

MATCH #2

Ric Flair
vs. Kenny Dykstra

SUMMARY: Dykstra took the match to Flair in the early going, but The Nature Boy was more than a match for the Cruiserweight Champion as the match went on. With Kenny missing a missile dropkick, Flair was quick to pounce as he tried to lock in the figure four, but Dykstra used all his strength to kick Flair off. As Flair came back at him, Dykstra rolled him in to an inside cradle but only got a two count. With both men getting back on their feet, Dykstra fell victim to several hard chops to the chest, but as Flair took a step back and then moved forward again, Dykstra drove his knee into his chest and hit a rolling cutter on Flair. He tried for a cover, but only got a two as Flair kicked out. Dykstra was livid but rushed to the corner as he climbed the top rope and leaped off for the guillotine leg drop, but Flair rolled to the side with Kenny then hitting the canvas. Flair then started to come round, and as he and Dykstra both got up at the same time. They exchanged rights, but Flair blocked one from Kenny and then hit him with a couple of chops, but as he went for a third, Dykstra swung his foot and kicked Flair right in the mid section, giving the referee no choice but to call for the bell.

WINNER: Ric Flair by DQ

AFTERMATH: As boos rang out, Dykstra demanded the referee pass him belt, which he did and he left the ring with the belt in hand as Flair started to sit up and looking angry


***CUT BACKSTAGE***


Josh Matthews is standing by

Josh Matthews: Ladies and gentleman, will you please welcome my guest at this time. . . The Heartbreak Kid, Shawn Michaels

A huge pop comes from the arena as Michaels walks into the shot

Josh Matthews: Shawn, in just twenty four hours, you will be facing Batista for the World Heavyweight Championship. Your thoughts

Shawn Michaels: Well Josh I think it's fair to say that Shawn Michaels has the old butterflies in his belly, the tingle is going through his body and he most certainly has the shakes. . . For the first time since Wrestlemania, the show stopper has a shot at a world title, only this time it's not John Cena and the WWE Championship at Wrestlemania. . . Oh no, no, no, no, it's not on the biggest stage of them all Joshua my man, it's at Saturday Night's Main Event against The Animal Batista, but still one of the biggest occasions of the illustrious career of Shawn Michaels

***POP***

Shawn Michaels: I can count on one hand the amount of times I've set foot inside that ring with Batista, and it's been a long time since we've danced that dance together. But tomorrow night that's all going to change, when we take that next step and put on a show for the whole world to enjoy. . . But Josh in all seriousness I have to get something off my chest before it explodes. . . I think it's fair to say Edge has a rather big mouth, but when he said what he did earlier on about Shawn Michaels, he crossed the line of no return. . . I can state that I have not and will not deliberately stab Batista in the back to get an advantage for our match tomorrow night

***POP***

Shawn Michaels: Although it might sound like something I might do. . . I won't. . . You might be asking yourself about the amount of times you've seen Shawn Michaels kick someone's head off, in fact Josh I believe I owe you an apology for doing the very same to you back at the Survivor Series. . . Well Josh, it's long overdue, but I do apologise. It was an emotional time like it will be for both me and Batista tomorrow night. . . But Batista you have to believe me when I say that I have no intention of catching you off guard tonight, but come tomorrow night I will be doing everything I can to become the next World Heavyweight Champion. . . And Dave after I'm done with Finlay tonight. . . tomorrow night, as much as I like ya big guy, it will be The Heartbreak Kid standing in the middle of the ring getting his arm raised and being announced as the winner and new World Heavyweight Champion

***POP***

Michaels stares into the camera with his game face on


***COMMERCIAL BREAK***


***VIDEO PROMO***
We see footage of an old fashioned bar you would see in a Western movie, and a real evil looking guy puts his hands on a girls arm with a guy sat down at the bar with his back to them. The girl screams and the guy turns round, takes his hat off and pushes the evil guy down to the floor, picks him back up and throws him up against the wall, sits back down and drinks his beer with the girl smiling

NARRATOR: Over the course of its history, the WWE has seen its fair share of heroes and villains. . . In the year that will be 2008, WWE Friday Night Smackdown will welcome a new hero, a hero that despises villains and fights for the people of today. . . In the year that will be 2008, WWE Friday Night Smackdown will welcome its newest superstar. . . Chris Harris


***CUT TO THE ARENA***


MATCH #3

WWE TAG TEAM CHAMPIONSHIP
The UK Pack (Paul Burchill & Harry Smith) (c) w/Drew McIntyre
vs. The World's Greatest Tag Team

SUMMARY: Shelton looked angry on the apron for the most part and didn't seem interested in the match. However he did make a tag to Haas, a blind one as Haas hit the ropes and Shelton walked across the apron. And as Smith came back off the ropes facing Shelton, Benjamin hit a springboard clothesline, taking Smith down, but only got a two count. He looked fired up as hell as he then got back up on his feet and pulled Smith back up, then whipped him into the corner, ran in and hit a stinger splash. Smith then staggered out of the corner as Shelton then tried to set him up for the T Bone, but Smith escaped by elbowing Shelton in the side of the head. Shelton was knocked to the side, and as he walked back over, Smith stomped him in the gut, whipped him into the ropes, but as Shelton came back, he slid through the legs and then hit Smith with a jumping enziguri. Shelton dropped down and turned Smith over to go for a cover, but only managed to get a two as Smith kicked out. Shelton looked livid and started to pull Smith up to his knees when he instead made his way back over to his corner to tag in Haas, although it was a hard slap across the arm. Haas then climbed through the ropes with Shelton still standing in the corner as he then tried to pull Smith up until Shelton then walked up behind Haas, spun him round and knocked him for six with a T Bone suplex. The crowd were mixed in their reaction as Shelton just looked down in disgust at Haas before leaving the ring with Burchill looking on in shock. Smith remained on his knees and then sat up, not knowing what happened. As he turned his head to see Haas on the mat, he looked shock for a couple of seconds before hooking his leg to get the win.

WINNERS: by pinfall and still the WWE Tag Team Champions, The UK Pack

AFTERMATH: "Britannia" hit as Smith and Burchill looked bemused at what just happened. Shelton stood in the aisle with a sly smile on his face before turning round and walking to the back as the ref passed the belts to Smith and Burchill who remain baffled in the ring, along with McIntyre as he joined them


***COMMERCIAL BREAK***


Shelton Benjamin is walking through the back when Chris Masters walks right up to him

***HEAT***

Chris Masters: What the hell do you think you were doin out there huh? You think it was smart to stab your own partner in the back like that, costing him and you the tag team titles?

Shelton Benjamin: You know what . . . who the hell do you think you are Chris? . . . Me and the tag team titles have got absolutely nothing to do with you. I couldn't give a rat's ass about the tag team titles. I haven't cared about those titles for weeks now, let alone Charlie. . . Do you know what it's like to carry someone throughout the whole career huh Chris? . . . I have more talent in my left foot than Charlie Haas does in his whole body. So it was about time I started caring about myself Chris, and my career. . . See I have a career here on Smackdown Chris, you don't. You're nothing . . . you're nothing like a tag along Larry like I called you a couple of weeks back. . . So if you wanna care about the tag team titles and Charlie Haas, be my guest cos I'm through with the both of em

Shelton then storms past an angry looking Masterpiece


***CUT TO THE ARENA***


MATCH #4

Shawn Michaels
vs. Finlay

SUMMARY: A real back and forth match with both men being very aggressive. Michaels had an extra edge in this one as he aimed to prove a point twenty four hours before his World title match with Batista. Despite Finlay's aggression, Michaels was able to take control of the match, reversing a whip to the corner, running in and splashing Finlay. With Finlay staggering out of the corner towards the centre of the ring, Michaels climbed to the top rope and jumped down, hitting Finlay with a double axe handle smash as he turned round. Only able to get a two count, Michaels was right back up on his feet, but Finlay wasn't giving in as he was quickly back up too. Michaels chopped Finlay back up against the ropes and tried for an irish whip which was reversed by Finlay, but as Michaels came back off the ropes, he hit Finlay with a flying forearm and then flipped right up. The crowd were cheering for Michaels as Finlay again raced back up, but was this time the victim of an inverted atomic drop and then a scoop slam as Michaels then raced back to the corner and the top rope.

From there he leaped off to hit the heartbreak elbow drop, and instead of going for the count, he stood right back up and walked over to the corner where he started to tune up the band, getting the crowd on their feet and stomping their feet in tandem. But as he was getting ready to explode and Finlay was crawling towards the opposite to corner, Hornswoggle appeared from under the ring and started jumping up and down on the outside before climbing in the ring. The referee walked over and tried to get him outside again as Finlay then picked up the chalily from the corner without the ref or Michaels seeing. While the ref was with Hornswoggle, Michaels walked over, but Finlay then walked over to Michaels with the weapon in hand and swung at HBK. However, Michaels saw it and ducked under the shot as Finlay then turned round into some sweet chin music, dropping his little toy as Michaels then lifted Hornswoggle up and dropped him on his feet on the outside before covering Finlay for the win.

WINNER: Shawn Michaels by pinfall

AFTERMATH: "Sexy Boy" blasted out as Michaels stood back up and got a huge ovation as he then posed for the crowd for a good three minutes


***COMMERCIAL BREAK***


"Virtual Voodoo" hits as Umaga walks down to the ring with a very happy looking Armando Alejandro Estrada

***HEAT***

Umaga looks quite relaxed in the ring as Estrada goes to collect a microphone

Armando Alejandro Estrada (In his Cuban accent): It appears that last week after my Samoan Bulldozer Umaga destroyed yet another opponent, Thee Un-der-tak-er tried to send him a dark mysterious message

***POP***

Armando Alejandro Estrada (In his Cuban accent): But Un-der-tak-er, you can send all da messages ju want, but I am telling ju now dead man. . . ju can not scare Umaga

***HEAT***

Armando Alejandro Estrada (In his Cuban accent): Ju can try all you like Un-der-tak-er, but when ju decide to come face to face with thee real monster, ju will be crushed just like ju were on Raw last week

***HEAT***

Armando Alejandro Estrada (In his Cuban accent): Let me give ju some advice dead man. . . if ju want to. . .

Mystery Voice: Excuse me Mr. Estrada

We then see William Regal on the titan tron, standing up in his office as Estrada looks up towards it

William Regal: Mr. Estrada, I am very sorry to interrupt you, but I also have a message for you. It hasn't come from The Undertaker, but it does involve the very same man that Umanga there cost a chance at the World Heavyweight Championship just over a week ago on Raw's 15th anniversary show. . . And since you attacked The Undertaker that night, no one has seen or heard from him, meaning that luckily for you two, he is not here tonight

***HEAT***

William Regal: But I have a feeling he will be back in time for the first show of 2008. Because two weeks from tonight in that very ring, it will be Umanga going one on one with The Undertaker in a Last Ride match

***HUGE POP***

Estrada looks shocked as he then turns to tell Umaga what Regal just said and he starts to flip, shouting out in Samoan when the lights go out. . .

"Burned" blasts out – (Kane's original music when he debuted in 1997)

***POP***

The crowd cheer as the lights remain off for around ten seconds before they come back on and there is no sign of him. Umaga and Estrada look just as confused as last week before Estrada then drops the microphone and leaves the ring looking spooked, followed by an angry Umaga


***COMMERCIAL BREAK***


***VIDEO PROMO***
A brief history of Saturday Night's Main Event

• Clips of Matt & MVP brawling in the V.I.P. Lounge two weeks ago
• Clips of Shawn Michaels and Batista's stare down at the end of last weeks show when Michaels accidentally super kicked The Animal
• Finally, we see highlights of the brawls between Randy Orton and Triple H

NARRATOR: It has a place in WWE history. . . It has a place in the history of sports entertainment. . . but it also has a place in its future. . . For Christmas will not be the same this year for the stars of Raw and Smackdown as Saturday Night's Main Event makes its return tomorrow night where four championships will be decided. . . For one battle will take place in the confines of a steel cage, a structure so devastating it ends careers. . . However, there is more at stake when two World Champions will give everything that they possibly have to hold on to what they hold most dearest. . . Don't miss any of the action, tomorrow night, Live only on NBC!

The clip cut to a graphic showing "Tomorrow night. . . Finishing 2007 With A Bang!. . . Live on NBC"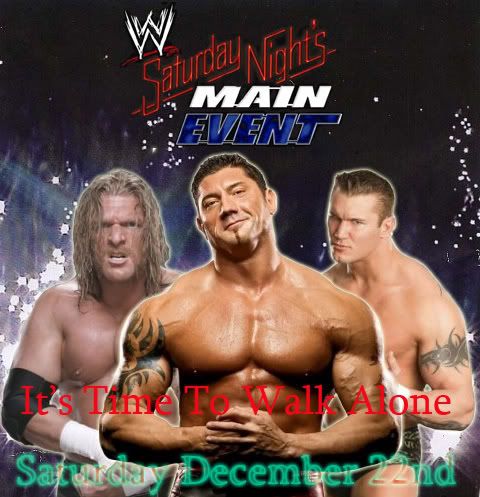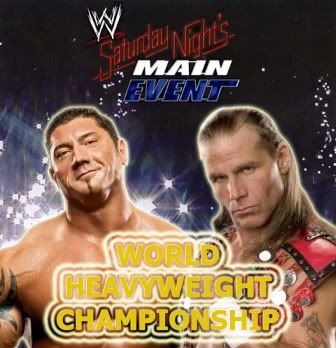 ***CUT TO THE ARENA***


THE MAIN EVENT

Batista & Matt Hardy
vs. Edge & MVP

SUMMARY: Batista and Matt took the match to Edge & MVP from the get go, but some dirty tactics got them back in it. With Matt about to set MVP up for the Twist of Fate, Edge climbed through the ropes. Micky Henson raced over to try and keep Edge away from the action, and at the same time, MVP dropped to his knees and low blowed Matt. With Matt falling down to the canvas, MVP too dropped back down to the mat due the fatigue of the match. Both men started to get back up and it was MVP who was up first as he threw a right hand at the top of Matt's head, knocking Matt off balance before he could fully stand back up. The Franchise Player then whipped Matt into the ropes, but Matt came back off and took him down with a clothesline. MVP was back up quickly as Matt then whipped him into the corner, charged in and clotheslined him again, but held onto MVP's head as he then turned round and ran out of the corner, planting Porter with a bulldog. The crowd cheered like crazy for Matt as he then walked back to the corner, climbed to the second rope and jumped off for a diving leg drop, but MVP was able to move to the side in time to dodge it. It took both men a while to come round as they then crawled across to their respective corners and tagged in Batista and Edge. The Rated R Superstar charged at The Animal, but Batista knocked him down with a clothesline.

Edge raced back up to his feet as Batista then whipped him into the ropes and connected with a spinning side slam. The fans were going nuts for Batista as he then went for a cover, only getting two. He was back up to his feet, immediately pulling Edge back up as he whipped him hard into the corner, charged in and connected with a big shoulder thrust to the mid section. As Edge then staggered out of the corner, Batista turned round and ran off the ropes, but as he came back, Edge was able to drive his boot right into Batista's face. Edge looked groggy but quickly dropped down to try for the win with Batista kicking out at two. Edge didn't look impressed as he then stood back up and walked over to the corner, stalking Batista for the spear. And as Batista slowly picked himself back up and then turned round, Edge charged at him, but Batista side stepped as Edge then ran through off the ropes and Batista then hit him with a spear of his own with Edge rolling across the mat and off the apron to the outside. MVP then climbed through the ropes and ran at Batista, but into a spinebuster. The Animal then heard the pop from the crowd and pulled MVP back up to his knees and set him up for the Batista Bomb, but MVP dropped to his knees and low blowed him, forcing Henson to call for the bell.

WINNERS: Batista & Matt Hardy by DQ

AFTERMATH: Matt then got back in the ring and ran over to MVP, lifted him back up and planted him with the Twist of Fate. Matt stood back up and looked down at MVP, totally unaware that on the outside, Edge was back up and had picked up a steel chair from ringside. He slid back in the ring behind Matt and smashed the chair across his shoulder blades, getting a ton of heat. He then saw Batista starting to come round and set his sights on The Animal as he slowly started to pick himself back up. But before he could get back up fully, Shawn Michaels stormed down the aisle to a huge pop, leaving Edge in shock. As Michaels slid in the ring, he charged at Edge, who then swung the chair at him, but Michaels ducked it and then laid Edge out with the super kick onto the chair which Edge held in front of his face. With Edge crashing to the mat with the chair, Batista stood back up and turned round to see Michaels stand over Edge's body. Michaels lifted his head up and looked right at Batista, who looked back not knowing what just happened as "Sexy Boy" hit to finish the last Smackdown of 2007.


***END OF SHOW***


QUICK RESULTS
Jamie Noble df. Jimmy Wang Yang
Ric Flair df. Kenny Dykstra
The UK Pack df. The World's Greatest Tag Team
Shawn Michaels df. Finlay
Batista & Matt Hardy df. Edge & MVP


FINAL CARD FOR SATURDAY NIGHT'S MAIN EVENT TOMORROW NIGHT

WWE Championship
Triple H vs. Randy Orton (c)

World Heavyweight Championship
Batista (c) vs. Shawn Michaels

WWE United States Championship
Steel Cage Match
Matt Hardy vs. Montel Vontavious Porter (c)

WWE Womens Championship
Trish Stratus vs. Beth Phoenix (c)

Chris Jericho vs. Mr. Kennedy



Re: WWE: A Strong Response
---
How the hell do you find the time to write so fast? lol. O and why aren't you looking at season 2 of Gavin and Stacey on BBC3. lol. seriously though, i'll try and get a review up soon.
---
Re: WWE: A Strong Response
---
** Sorry this is so late Nige, I hope you don't mind me posting this now, I had done this earlier on but didn't post it, and i've just seen you put Smackdown up. **



D-K-L's Raw Review:



We start off with a Randy Orton promo. First of all I'm enjoying his run as the WWE Champion, you are making him look like a really credible champion and I hope his title reign continues beyond SNME. What Orton had to say at the start was pretty good, nothing special but he got the point across, making a big deal about 2007 being his year. The DNA thing I liked, as it was creative. I am however a bit suprised at how much Orton doesn't want to be Vince's son and vice versa, as I wouldn't think they would dislike each other so much, being heels and so on. Vince was good and seemed in character, I was suprised at him saying that HHH would beat Orton at SNME, but I suppose he's being honest and he's trying to prove that he's accepted HHH in his family. I loved the line about the grapefruits, that was really in character from Vince. Wow, Vince vs. Orton tonight! I was suprised at that but he'll have a trick up his sleave. This promo was well written, a good way to start the show.

It's great seeing Trish Stratus back on Raw. I read your show when she returned, and it was great hearing that she might return if she beats Phoenix. I was suprised to see her in action tonight TBH since she is not officially back yet, but still it's good to see her in action. There was only going to be one winner in thsi match, and that was Trish. I liked how you mentioned that Trish was rusty, it kept it realistic. Trish vs. Phoenix should be great.

The Kofi Kingston interview was decent. Short, but it did it's job. Holly was in character as were Maria and Kofi, I like how Kofi didn't take much offense to what Holly said, showed how light hearted he is. Maria's line at the end made me laugh, and it added a bit of comedy to the segemnt.

The tag match with Venus and Cody vs The Rednecks was again pretty good, I liked Cade and Murdoch getting the win as they are a solid tag team. The interference from Carlito and his brother was well done, I like these brothers together. I like how you have got some good mid card feuds going as well Nige. Keep pushing Carlito please.

I think you made the right decision here, swapping Shane O Mac for Vince. I know who would put on the better match. I was suprised at Vince saying that he might have made teh wrong decision by putting himself in the match, I just think that he wouldn't go back on his word and show fear like that. Anyway, this was a good segement and it added some more hype for the main event.

The Triple H interview was solid. He seemed in character and he got his point across. I'm glad that he isn't trusting Vince, as Vince would just turn on him once he did.

Kofi Kingston taking on Holly again next, this seemed like a good match with Kofi getting the win. I was expecting Kofi to get the win but I expected him to hit the kick that he does, so the rollup was quite suprising. It also doesn't make Holly look too weak, so it was a good way to end the match. Holly hitting him with the Alabama Slam was interesting, it looks like we are going to have another match between these two. This is another solid mid card feud, but I expect Kofi to go over.

I loved this CM Punk promo, you're really doing well with Punk as a heel. Having him come out to Jeff's music and fool the fans was funny, and a good heel thing to do. I loved what he was saying all the way through and I loved him talking to the Jeff Hardy fan. I'm not sure if that would happen IRL unless it was a fan that was planted there by the WWE, but still it was great. Him making fun of Jeff and his 'habits' was great, that is something that a heel CM Punk does. Sunny coming out was OK, i don't really know why she came out for Jeff, but it was OK. She would have looked better if she really had a go at Punk and put himin his place, but she didn't really, Punk just made fun of her really, I think that's why it didn't come off as well as it could for me.

The Mountie against Kennedy next. I wasn't sure about the winner here, as Kennedy could have squashed him and made a statement, but with Y2J there it was open for an interference. And that's what you went for. It seemed well written, and certainly something that could happen IRL. Mountie winning was funny and it helps build the Jericho/Kennedy feud.

I'm liking the pair of Layla and Burke. It's good to see Burke doing pretty well on Raw, and I liked the "midget" line. The next segement was good too with Kennedy attacking Mountie, gives him a little credibility back.

We had some good, solid tag action next. I was expecting Mysterio and Lashley to win and they did, it seemed well written too. Lashley is looking strong after his return.

Saturday Nights Main Event is looking really good, there are some excellent matches on the card.

The main event was next, it's good to see Shane O-Mac back in the ring. I think Shane could have put up a bit more of a fight, but I know he hasn't wrestled in ages and Orton's the champ. Shane going for the pedigree was a bit of a suprise, that shows that HHH has been accepted. So Shane put up a good fight for his father but it wasn't enough, as Orton hit the RKO for the win.Having Triple H come out and pedigree Orton after the match was great and it really adds to this feud, and HHH needed something to do as he wasn't in action. But he isn't trusting Vince just yet.

Overall: This was an entertaining show to read Nige. You have got some really good feuds going and I like how you have the big feuds and then the lower/mid card feuds, so all of Raw is solid. I'm looking forward to SNME, I'll be reviewing it.
Tested Positive For Thread Performance Enhancers
Join Date: Dec 2007
Location: Nikki Roxxville, USA
Posts: 6,802
Points: 0
Re: WWE: A Strong Response
---
sirdilznik's Smackdown review

Starting off with The Animal. Predictable, but the right thing to do. I love Batista in a suit BTW. My man can rock a suit. Aaahh, Edge coming down to rub it in. This should be good. Nice, Edge even takes a shot at Tista while he's manipulating him. HBK is so full of it. Aah, the classic tag match before the two singles matches at SNME scenario. Standard stuff. Good call.

Ok, I'm not big on following Regal out on the ramp immediately with Regal back in his office. You at least had a commercial break to split it up, still would have preferred something else before this segment. Let's see where it goes. You tell him Kenny and whoop up on Natch while you're at it too!

Yang/Noble - Noooooo!!! that no good Noble gets the win on my boy Jimmy Wang Yang. Oh well. Good match. Kid Kash with the interference and then Crazy making it worse. Classic heel screw job goodness.

Shelton still blaming everyone but himself. Nice. They're so getting beat tonight.

Kenny/Flair - Ok by kicked to the mid section did you mean his jewels? Cause I always thought mid section meant stomach and that would be legal. I'll just assume it was a low blow. Haha Kenny went Flair on Flair except he's not crafty enough to not get caught. Perfect.

Oh HBK you lying son of a gun. You know you'll kick Tista's head off when you get the chance. HBK is playing the emotional card. He's laying it on so thick too. He's so going to kick Tista's head off unless Tista wises up and Batista bombs him first.

Another Wildcat promo. I hope we see Wildcat make an appearance at SNME. these promos are great to hype up his debut but don't drag it out too long (i.e. Y2J return).

Ha Shelton turns on Haas. I figured it would go down this road. How will Masters fit into the Shelton/Haas feud?

Brutal verbal lashing from Shelton. He's right though.

HBK gets the win despite the attempted screw job by Hoirny and Finlay. Good stuff. "chalily" LOL. It's spelled shillelagh. No biggie.

Yes, my boy U-Manga!!! Armando is awesome. I'm picturing the image of U-Manga flipping out. Good stuff. U-Mange vs. Taker should be great even though my boy U-Manga will inevitably get beat.

Great SNME promo as usual

Main Event time - Good match. Another DQ finish. I'm not a big fan of so many dirty finishes, especially DQs that's why I write my own matches so clean usually. I can live with it though. Wow, HBK didn't kick Tista's head off. I'm a bit surprised . Tista missed his chance to Batista Bomb HBK right there too, but I expected that.

Good show overall. I liked last week's show better but this was still solid. Way too many screw job finishes for my taste but then I'm all about clean finishes so take it with a grain of salt. SNME looks really good. Solid stuff. Not your best, but SNME should be great. Good promos as usual. Regal and Armando are awesome. 8/10
---

STILL A Proud Member of Roid Sox Nation

sirdilznik's Random Rhetorical Question Of The Week:
If Hornswoggle turned heel could he hide in Mike Knox's beard?



Quote:

Originally Posted by Frank Zappa

Look here brother, who you jivin' with that cosmik debris?
Re: WWE: A Strong Response
---
RsX Reveng3's Review

Batista starting it off, i like it. Edge coming down was a good idea. This is looking good. I thought it was a good promo and i liked how HBK came in. Having Regal come out and announce MVP and Edge vs. HBK and Batista was nice. Nice job can't wait for SNME

Regal in another short promo. I liked how you made Regal seem like a good GM nice job. Having MVP come in all wondering why he has a match, nice job. Not much to say but nice promo.

Yang vs. Noble - Nice match, these two going together would be nice to see in real life. Liked how Noble got the win. I liked how you pulled a heel move on Noble getting the win. Liked how you had Kid Kash come in. Nice job on the match overall. It flowed well and i liked it

Little Shelton promo. In character, not much to say but good job

Kenny vs. Flair - It was an ok match. I just don't like either Flair or Kenny, but i like how you are given Kenny a heel type character, good job, you are using him well. Overall ok match

Haha HBK, seems like he would be in real life, sweet chin music his team mates head off hah. Good job

Nice Chris Harris promo, can't wait to actually see him.

Shelton turning on Haas, didn't see it coming, nicejob.

HBK gets the win, nice match with some good distractions. I liked it good job.

Umaga vs. Taker would be good, nice job. I like armando and Umaga, good job

SNME promo, not much to say here except for...good job!

Main Event - Nice match. Don't really like the DQ finish. Damn i was surprised you didn't have HBK take Batistas head off, nice job very unpredictable. Overall nice main event, match of the night. I liked it, flowed good and i liked the moves you used. Good job.

Overall i enjoyed this showed. Didn't like the DQ finishes but ill be ok. Show was overall good and flowed nicely, all promos were in character, all matches were good. Can't wait for SNME. I like your BTB, can't wait for SNME. Nice job 8.5/10

Review for Review
Re: WWE: A Strong Response
---
Thanks for the reviews guys. The two DQ finishes weren't something i over panicked about as it is something i do think about when planning out my show. Anymore than two is a no go, but i see where you're coming from just to clean that up
Re: WWE: A Strong Response
---
SMACKDOWN REVIEW
By SC2004

- I'm sure you know my feeling on Batista by now, especially Batista on the stick, so it's safe to say I wasn't filled with confidence when he made his way to the ring to cut a promo at the start of the broadcast. Ha.

- I liked how angry Batista was. Sometimes he seems to be stuck in neutral when he talks, but he actually seems to get across some emotion here. Glad Edge came out early. Edge was great, really made Shawn out to be a backstabber. Shawn comes out. He wouldn't say "shit" simply because The CW network would get find a few hundred thousand dollars from the FCC if he did. Shawn was out of character a little, especially when he was threatening Edge. The physical stuff was intense and well written, you really got across how confused Batista was. Really liking the main event. I see Batista and Matt winning this one.

- Really nice backstage segment with Regal, Kenny and MVP. Man Regal was on fire in this and he was perfectly in character. The whole idea that the WWE could get sued because of something that happened in the ring doesn't make sense, but you pointed that out yourself. MVP was mad as hell, I guess he has a right to be.

- The opening match was a great way to get things going. Both Noble and Wang are very evenly matched and this match would be great to watch because of this. I didn't care who won, as both of them were worthy of the victory.

- The Hass, Benjamin and Masters segment was much better than I expected it to be. I don't use any of these guys nearly as much as I should. Shelton Benjamin really came across as a prick here, which I suppose was the point and if it was, it worked really well.

- Dykstra and Flair, well I doubt it would of set the ring on fire, but it would have been an okay match. I guess you needed to go with a DQ finish, as you're pushing Dykstra here, but I would of liken to see Flair teach the youngster a lesson and win it clean, but that's just a personal choice.

- The Shawn Michaels backstage interview was pure gold. Michaels was amazing. I hate how nice he is being though, I'd like to see him get mad, have more of an edge and be a little more arrogant. But this is the new Shawn Michaels, so I guess that wouldn't work in your BTB. The promo for Chris Harris was nicely done, like the "A hero is coming" gimmick.

- Shelton hit's the T bone on Hass, that surprised me to be honest, I liked the match, mainly because of Shelton, his attitude and I didn't know what the hell he was going to do. The Chris Masters and Benjamin backstage promo was awesome man, so intense and I bought every word that Shelton Benjamin spoke.

- I'd love to see Finlay and Michaels have this match. They both have totally different styles, but I think those two styles would work well together. A nice win for Michaels going into SNME.

- Great promo with Estrada, Umaga and Regal. Umaga taking on the Undertaker in two weeks, man I can't wait for that. It's PPV quality on TV, but I'm buying it. Umaga in my mind is one of the few guys in the WWE that can totally take it to the Undertaker.

- A DQ finish in the main event, was it needed, I'm undecided to be honest. I know you've got some stick for having 2 DQ finishes out of 5 matches tonight, but leading into a big show like SNME, I think everyone involved needs to remain strong. So I'm going to say that I agree with your booking decisions tonight, they were in my mind, justified. As I predicted, Matt and Batista win it.

Overall: Another solid show, very entertaining. I liked how you manages to build towards SNME as well as laying the foundations for the brand in 2008. The promo's were all spot on. The match matches weren't as strong as past shows, but they were all fine. I'm looking forward to SNME.
---
WWE.com – HEADLINES
We have just received some huge news, straight from the office of Acting Raw General Manager, Shane McMahon, just ahead of the last show of the year.

A couple of months ago, Stephanie McMahon-Helmsley announced that the WWE would be under "Open House Rules" until the end of the year, meaning that superstars from Raw and Smackdown could switch brand without consequences. However, we understand that from now on, these rules will be available to all superstars, removing the deadline of end of year and that they can switch brands at any time. This sure makes for exciting times!


Posting Rules

You may not post new threads

You may not post replies

You may not post attachments

You may not edit your posts

---

HTML code is Off

---