Tag Teaming With James Ellsworth
Join Date: Mar 2005
Posts: 1,214
Points: 0
Re: WWE: A Strong Response
---
Smackdown Review
Very strong promo to kick off the show, you wrote both Flair and MVP's characters very well and it was an entertaining confrontation. Smart booking for MVP to get the better of Flair until Matt Hardy makes the save. Would of liked to of seen Hardy have a few words with MVP to add some heat to their feud, but maybe that will come later in the show.
Good Cruiserweight match, seemed a bit of a filler unless it is to help build Kash up for a future title shot. If so that would be good to see as he would make a good challenger for Kenny.
Nice promo here, think Regal would be a better GM as a heel but you are using him well as a face GM. Nice tag team match announced here, no mention of whom MVP's partner is though. Lol at Kenny trying to weasel out of his match. Expect him to retain the title tonight by cheating somehow.
Three promos in a row? Anyway another good promo from Armando, I always like your Armando promo's and made me lol when he said "That Shannon Moore character" for some reason. My spider senses are telling me that a squash is on the verge.
Very well written Tag Team Match, very entertaining match. MVP losing surprised me as I thought that Finlay would take the pinfall, and Hardy has the momentum going into SNME at the moment so unless MVP regains some next week it looks most definitely like MVP will win at SNME.
Good Chavo promo hyping the CW Title match. Liking the hype that this match has been receiving, as it makes the CW Division look credible.
Batista's promo was ok, didn't really pick up until when Edge came in. Thought Batista's speech went on a bit too long so it got a bit boring, but the only way they can become entertaining Is having him as a bad ass Heel/Tweener character like some brilliant booker has booked him
. However Edge's part of the promo was very entertaining and you wrote him very well as the heelish manipulator character to stir trouble between HBK and Batista. Big announcement for the main event and I have a feeling that HBK will cost Batista the match.
Umaga squashes are always enjoyable to see, expected some appearance from The Undertaker but we didn't get it so it is obvious that you are building anticipation for the time they go at it.
WGTT/Masters split? Can't see Haas taking too much more from Benjamin.
Wow didn't expect Dykstra to squash Chavo like this. Very good booking as you made Dykstra look very good by destroying Chavo like this.
Well so much for the Edge alliance lol. Edge getting rid of them shocked me as they only recently joined together as a stable so surprising to see it end this quickly.
Great tag team match and good ending to the match with miscommunication leading to the UK Pack winning the titles. Nice aftermath with the fallout continuing and I expect to see them split up in the next week or two. Good to see the UK Pack as Tag Team Champions, as both Benjamin and Haas can now become good additions in the midcard division when they eventually split up.
Very well written match, and very well booked ending to the match with HBK hitting Batista with SCM. Expect hell to let loose on the next show between Batista and HBK.
Overall another very good show, not too much to complain about on this show. Some very good booking the CW Title match and the main event, and some enjoyable matches and promos. Look forward to Raw.
Re: WWE: A Strong Response
---
show looks amazing. I wish I wasn't so swamped with work and university. otherwise I'd have a review up by now mate. That being said I hope to have one up v soon. SNME looks amazing too by the way. everything is coming together. rocks.
---
WWE.com - Television - Raw
---
RAW Preview
17th December 2007

Myriad Arena
Oklahoma City, Oklahoma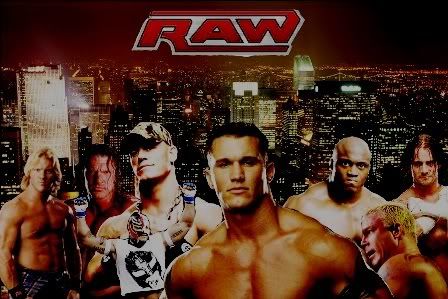 LAST RAW OF 2007 & 5 DAYS UNTIL SATURDAY NIGHT'S MAIN EVENT
THE BOSS IS BACK
Mr. McMahon made his highly anticipated return to Raw last week, and dropped a bomb that no one expected. With revenge firmly in our minds on the cards, the Chairman of the Board laid all his cards on the table and told the world that he doesn't care about whoever his bastard son is and just wants to have a normal family life with his current family. He told his daughter Stephanie McMahon-Helmsley that he was ready to accept his son-in-law, Triple H as a member of the family. With Stephanie firmly believing her father, her brother and Raw GM Shane McMahon remained firmly on the fence. Has Mr. McMahon really turned over a new leaf? And what does his son-in-law think of all this?

ORTON ON THE BRINK
The last couple of weeks, the WWE Champion, Randy Orton has been really up against it as two weeks ago he was put in a match against the returning Bobby Lashley. Ending in a no contest thanks to Triple H's arrival to pay Orton back for setting him up earlier in the evening, The Legend Killer just escaped The Game's clutches. And with his title defence against his former Evolution team mate this weekend at Saturday Night's Main Event, Orton was put into a match last week by Mr. McMahon. It was a dream match that saw Raw's WWE Champion go head to head with Smackdown's World Heavyweight Champion as Orton met another former Evolution team mate in The Animal, Batista. However, Triple H was unable to control his hatred for his rival as he once again couldn't wait for Orton's match to finish as they ended up brawling once again. With just one last chance to get one over each other, what will go down when Raw comes to Okalahoma this week?

JEFF PUNKED OUT
The rivalry between the Intercontinental Champion Jeff Hardy and CM Punk went to a whole new level last week. A week after suffering a revenge attack by Jeff, Punk was able to pin his bitter rival in a tag team match, but that wasn't enough for the Straight Edge Superstar. Just as Jeff was about to go on a date with one of Raw's most popular divas of all time in Sunny, Punk pounced backstage as he jumped Jeff. He took Jeff through the doors to the parking lot where he hit Jeff with a modified version of the GTS on a car bonnet. With Jeff needing medical attention, it appears that Jeff may not be on Raw this week as he was taken to a local medical facility following the attack last week.

KENNEDY SHOCKS JERICHO. . . LITERALLY
In a special challenge for the 15th Anniversary Celebration last week, Mr. Kennedy was told to find a tag team to meet Chris Jericho and a team of his choice. The Green Bay superstar was able to recruit Smackdown's tag team of The Pitbulls as Jericho brought out one of Canada's best ever teams in The Quebecers. It was a decision that backfired on Jericho as Kennedy ended up using The Mountie's cattle prod to gain a big victory going into their match this weekend at Saturday Night's Main Event. We at WWE.com have also found out that this week on Raw, Kennedy will go one on one with The Mountie with Chris Jericho by his side.

619 DIALLING UP ON RAW
Raw gained itself a huge star last week when Rey Mysterio made his return from a serious concussion sustained at Cyber Sunday during his I Quit Match with Finlay. And how ironic it was that on Rey's return, Shane McMahon announced that not only was Rey switching to Raw from Smackdown, but his first match would be against Finlay, and it was a match that he would win. He will follow up his debut win by joining forces with Bobby Lashley who also made his return from injury, just a week before Rey as they go up against two of Raw's most arrogant and youngest superstars in Elijah Burke and Santino Marella. Will Rey follow up with another victory?

RAW GETS SOME STRATUSFACTION
Last Monday night saw the Trish Stratus and Sunny, two of Raw's greatest ever divas compete for the prize of the title "Greatest Ever Diva". It was down to those two following a vote here on WWE.com in the build up to last Monday's show, and it was Trish who topped your votes. This however didn't settle well with the WWE Womens Champion Beth Phoenix. The Glamazon made her way down to the ring and insulted Trish, but the champion got more than she bargained for when Trish made her an offer she couldn't refuse. So now it will all come down to a match between them this Saturday night when Trish challenges Beth for the Womens title. If Trish loses, she says she will walk away again, but if she wins and takes The Glamazon's title, she will return to Raw full time as the WWE Womens Champion. And this Monday night, Trish will get a tune up match when she meets Jillian Hall. Will Trish start as she means to go on before she goes head to head with a diva she has never met before?

PLUS
Two weeks back, Kofi Kingston made his Raw debut as he defeated Hardcore Holly. Word has it that Kofi will be in Okalahoma this Monday night, as will Cody Rhodes and Val Venis. The duo have had their problems with the brother's cool lately but couldn't tempt Carlito's brother Eduardo into action yet two weeks ago. This week however, they will have a match, but against the former World Tag Team Champions, Lance Cade & Trevor Murdoch.


CONFIRMED FOR THE LAST RAW OF 2007

Rey Mysterio & Bobby Lashley
vs. Santino Marella & Elijah Burke

The Mountie
vs. Mr. Kennedy

Trish Stratus
vs. Jillian Hall

Cody Rhodes & Val Venis
vs. Lance Cade & Trevor Murdoch
Re: WWE: A Strong Response
---
hey, amazing preview! look as good as 1 of mine..........lol..............joke'n. tag team match should be great man. The women's match stands out, didn't expect to see that booked.
---
Re: WWE: A Strong Response
---
Preview looks to be marvelous. I might fit in a review, but can't guarantee it. You write your shows too fast for me
Re: WWE: A Strong Response
---
Yeah... just a little bit more time between RAW and Smackdown so I can write a review! Still loving the Jeff/Punk storyline and I hope to see Mysterio/Santino in the future.
---
WWE.com - HOMEPAGE (RAW Results - Punk crosses the line!)
---
RAW Results
17th December 2007

Myriad Arena
Oklahoma City, Oklahoma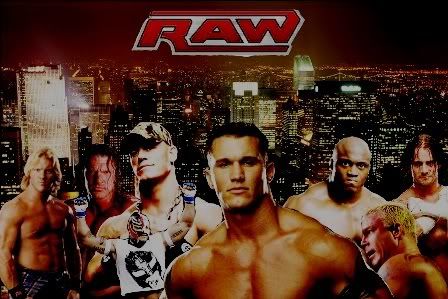 LAST RAW OF 2007 & 5 DAYS UNTIL SATURDAY NIGHT'S MAIN EVENT


***VIDEO RECAP***
• Mr. McMahon returning last Monday night and announcing he wants his family back and that he doesn't care about who his bastard son is
• Stephanie hugging Vince in the back after he said he accepts Triple H as his son-in-law with Shane looking on cautiously


***OPENING CREDITS***
"Wanna Be Loved"

***PYRO***
***PYRO***
***PYRO***
***PYRO***
***PYRO***


"Burn in my Light" plays throughout the arena as a serious looking Randy Orton walks down to the ring in casual clothes with his WWE Championship over his shoulder

***HEAT***

Randy Orton: You know, I came here tonight as the current WWE Champion on the best run of my life. . . Three years ago I became the Legend Killer, knocking legends off, one after another, giving them the most damaging moment of their career, falling victim to the single greatest superstar this world has ever seen. . . The list was endless. Mick Foley, Harley Race, Jake Roberts, Sgt Slaughter, Ric Flair to name just a handful. But three years on and the story is the same, it's just with the exception that I've taken that list to the next level. Over the last twelve months, not only have I become the most dominant WWE Champion of all time, but I have gone from eliminating legends to beating some of the biggest names of the current day. Names like Shawn Michaels, Rob Van Dam, CM Punk, even John Cena, and now Triple H will be the final one to fall at my feet on the year that will go down as not just 2007, but the year that belonged to Randy Orton

***HEAT***

Randy Orton: And that's what makes tonight such a landmark night and a personal satisfaction for me as I can stand here and disappoint every single one of you. . . You all came here tonight expecting this to be the last time you see Randy Orton standing in front of you as the WWE Champion

***POP***

Randy Orton: But I must warn you that will not be the case at all. This might be the last Raw of 2007, but I can guarantee that when Raw comes along in 2008, I will still be the holding this title, and not your chosen one, Triple H

***POP***

Randy Orton: I urge you to cling on to that hope you hold on to, as small as it is because it's all you're going to be able to have when I beat Triple H this weekend at Saturday Night's Main Event and sign off 2007 with the biggest and most important RKO of the year

***HEAT***

Randy Orton: You don't have to like it, but you are going to have to accept it, and when it comes to acceptance, I can't stand out here without talking about what happened last week. . . See we all saw Mr. McMahon, the chairman of this company come back after several weeks due to having the holy hell beat out of him by Triple H at the Survivor Series, the same Survivor Series in fact that I overcame the odds of having three opponents to eliminate by myself, and I did, one by one. But that's not important right now because what we saw last week was life changing for the McMahon family. Vince McMahon walked down here and said in front of the world that he accepts Triple H as his son-in-law and wants his family back

***MIXED REACTION***

Randy Orton: See to me that's pathetic, but it still doesn't clear one nasty rumour that's been doing the rounds for the last month that I need to publicly address right here right now. . . As much as some people would like to see me as Vince McMahon's bastard son, I can tell you that I am one hundred percent not a McMahon. And to prove that to you and not myself, I had a DNA test to make sure, as if looking at my father wasn't enough, and surprise surprise the results came back as a positive match to my father, Cowboy Bob Orton. So just to make it official, I've brought the results with me, right here. (Orton takes a piece of paper from his back pocket of his jeans) And what I'm going to do is this

He climbs through the ropes and gives the paper to Lilian Garcia

Randy Orton: Lilian, will you please state for the record the name of my father is as of the official test results

Lilian looks a little taken aback

Randy Orton: Lilian it's fine, go ahead

Lilian Garcia: It states that Randy Orton's father is Bob Orton Junior

Randy Orton: Thank you Lilian for clearing that up. Now if you would also pass that into the audience so they can read it for themselves just to ease their minds

Orton then climbs back up the steps and into the ring as Lilian passes it to a guy behind her in the front row

Randy Orton: Not that there was ever any doubt, but at least you all know now that I am not a McMahon. Hell I couldn't even care less about them. You know if it wasn't for me, their empire wouldn't be what it is today without me standing at the top of the tree as the biggest star in the WWE. Vince, Triple H, Shane, Steph, Linda can all do whatever the hell they want, because even if all five got in the ring with me, I would do what I've done to every single person I've faced this year and added them to the victim list, and that's where Triple H's immediate future lies. . .

***HEAT***

Randy Orton: And with that said. . .

"No Chance in Hell" blasts out as Mr. McMahon walks out to the entrance with a microphone in hand

***MIXED RECEPTION***

Mr. McMahon: Randy as much I am sure you would love to be part of the McMahon family and all this pretence you've shown just now, I for one am also delighted that you are not my illegitimate child. If you were Randy, you'd be straight on that adoption list let me assure you. . . Now you've told everyone here tonight about just how great a champion you are, and Randy I have a real problem with that, because it's simply not the case. You and I both know that if it wasn't for me awarding you that title and making Triple H wrestle three times in one night, you would not be standing there right now as the WWE Champion. That's a decision that I now regret Randy and something that I am determined to put right at Saturday Night's Main Event, but my hands are pretty much tied on that. But I'll tell you someone's hands who are not tied, and that's Triple H

***POP***

Mr. McMahon: See Randy, I can respect Triple H as he goes out and gets the job done, he sets a goal, goes out and does it, simple as that. It's similar to how my family have become one of the most successful families in the world today, and that's why I can accept Triple H into my family. You however rely on doing whatever despicable act it takes, however underhand it may be. . . But Randy, I have to say as the chairman of this company that I don't see you as great a champion as you like to point out. For one, like I said earlier you won that championship in more than dubious circumstances. You then dodged a bullet by not facing Triple H at Cyber Sunday, and you didn't even have to defend your title at the Survivor Series. . . But Randy, let me assure you that this Saturday night, you will be in for a rude awakening Randy because not only will you have to defend your title against Triple H, you will lose that title to Triple H

***BIG POP***

Randy Orton: Vince, I think you need to get yourself back to the hospital, because it seems to me that you're a little delusional. You're clearly showing symptoms of head trauma Vince, so what I'd do is check yourself back to into the hospital before you piss me off even more and end up getting the same treatment your son-in-law is going to get first hand Saturday night

***HEAT***

Mr. McMahon: Randy, do you really think you can intimidate Vincent Kennedy McMahon? Do you really think that I don't have the grapefruits to walk down to that ring right now and slap that one hundred percent Orton face of yours? Because let me tell you something Randy, I've faced bigger struggles than a jumped up arrogant bastard like you before and come out on top like I always do

***POP***

Randy Orton: Vince, I really think it's for the best you calm down because before you get yourself into something you really shouldn't, I think you should consider your family, because if you came down here and got in my face, I would have to remove one member of the precious member of this huge family, that being you Vince

Mr. McMahon: You know Randy, that confidence reminds me a lot of me and the trouble I've often found myself in. But Randy, I always seem to live to fight another day, so if you want to put your own words to the test tonight, I'm going to give you that chance, because I have the urge to do something that my son-in-law Triple H will be doing very soon, and that's beat the smug expression off that face of yours

***POP***

Orton smirks and even laughs a little

Randy Orton: Vince, if that's what you call a warm up, you're gonna have to do better than that

Mr. McMahon: Randy, this is my company and I don't have to listen to you or anyone for that matter. And with that said, right here tonight in that very ring, it will be the WWE Champion Randy Orton going one on one with yours truly, Vincent Kennedy McMahon

***BIG POP***

"No Chance in Hell" plays again as Orton looks amazed at first before smiling as Vince looks deadly serious at the top of the ramp


***COMMERCIAL BREAK***


***VIDEO RECAP***
From last week and Trish Stratus being awarded the title of Raw's greatest ever diva, then Beth Phoenix coming out and talking Trish down, leading to the challenge from Trish for a match at Saturday Night's Main Event. The stipulation being that if Trish loses, she goes back to her normal life, but if she wins Beth's Womens title, she comes back for good with Beth accepting


MATCH #1

Trish Stratus
vs. Jillian Hall

SUMMARY: With Beth Phoenix at the announce table looking on, Trish looked rusty as the match started but got back into it as she got used to being back in the ring. Jillian was able to counter the Stratusfaction by Trish as she blocked it with her foot and was then able to slip behind her. Jillian then grabbed Trish around the waist and tried to roll her back, but Trish swung her elbow back into the side of Jillian's head. Jillian was dazed by this, and as Trish turned round, she hit Jillian with the Chick Kick, dropped to the mat and covered her for the victory.

WINNER: Trish Stratus by pinfall

AFTERMATH: Beth Phoenix stood up as "Time to Rock and Roll" hit and looked concerned as Trish walked over to the ropes, looked down and pointed to Beth's title belt and then said it was going to be hers again. Phoenix didn't know what to say and looked worried as the crowd popped like crazy for Trish


***CUT BACKSTAGE***


Maria is standing by

***POP with wolf whistles too***

Maria: Ladies and gentleman, please welcome my guest, Kofi Kingston

Kofi walks into the shot, getting some cheers from the arena

Maria: Kofi, you made your Raw debut two weeks ago, let's take a look


***VIDEO RECAP***
We see the finish of his match with Hardcore Holly where he won with the 540 kick


Cutting back to Maria and Kofi

Maria: How did it feel to win your first ever match on Raw?

Kofi Kingston: Maria, it feel good. . .

Hardcore Holly walks into the shot, not looking too happy as Maria seems to be quite worried as Kofi stands up to Holly

Hardcore Holly: Who the hell do you think you are kid? No one makes fun of me, no one, especially kids like you who get lucky one time. . . If you wanna try and poke fun at me tonight, how about you bring that scrawny body of yours to the ring tonight and I'll do what I have should have done two weeks ago and beat the crap out of your funny looking ass

There's a nervous look from Kofi

Kofi Kingston: You got it man, I'll see you out there

Holly shows a slight smirk before turning round and walking out of the shot, leaving Maria and Kofi to watch him walk away. Maria then turns to Kofi and looks at his ass

Maria: Your ass isn't funny

Kofi laughs and puts his arm round Maria, then walks up the hall with her as they can be heard giggling


***COMMERCIAL BREAK***


MATCH #2

Cody Rhodes & Val Venis
vs. Lance Cade & Trevor Murdoch

SUMMARY: A real even match up all the way through, but with Cody & Val taking control towards the end. Having made a hot tag, Val cleaned house, taking down both Cade & Murdoch with Cade being legal. After clotheslining Murdoch over the top rope, Val turned his attention back to Cade, but as he walked over to his feet and hit him with a spinning sit down side suplex, Carlito and his brother Eduardo charged down the ramp and pulled Cody down off the apron, with his head hitting the apron on the way down. The ref looked over and just saw Cody on the floor by the ring steps, as did Val who then walked over and pointed angrily at them both. Carlito and Eduardo just looked on playing all innocent and laughing at Val as Cade started to stand back up behind Val. With Cade back on his feet and a fair distance away from Val, Carlito directed Val to turn round, and as he did, Cade charged at him and connected with a lariat to pick up a victory for The Redneck Wrecking Crew.

WINNERS: Lance Cade & Trevor Murdoch by pinfall

AFTERMATH: Cade & Murdoch's music hit as Carlito & Eduardo continued to laugh as they then backed up the ramp with Cade & Murdoch then following


***CUT BACKSTAGE***


Mr. McMahon is in Shane's office and they are sat down together on the leather sofa

***POP***

Mr. McMahon: You know Shane, I probably went a little too far out there tonight. I mean challenging Randy Orton to a match. Do you think I'm trying too hard to make up for everything I've done to Steph and Hunter?

Shane McMahon: Dad, I think we both know the answer to that one. You're over emotional right now and you're trying your best to make everything right again, it's bound to take time. I'm sure Hunter and Steph will see that, well Hunter will after you went out there and stood up for him tonight

Mr. McMahon: Yeah but I can't help but I think I made a big mistake by doing that. I would love nothing more than to show Hunter that I do want him in my family, but I think the match I made for myself was a little rash. I only came out of hospital two weeks ago and now I'm putting myself in a match against the WWE Champion

Vince rubs his chin for a couple of seconds

Shane McMahon: Yeah dad it was kind of rash, but you know you don't have to go through with it. Everyone knows you're still not one hundred percent or anywhere near it, even Hunter

Mr. McMahon: This isn't really about letting Hunter down, if I don't go through with the match tonight, I'll be letting me and all the fans out there by not going through with what I promised earlier on

Shane McMahon: Hey, they know what you've been through too dad, don't worry about it. It's not that big a deal is it?

Mr. McMahon: Shane, I made them a promise out there that they would see Randy Orton in action tonight against the head of the McMahon family empire, I have no other choice but to go out there and fulfil my word

Shane stops and thinks for a few seconds

Shane McMahon: You know dad, I think I might have an alternative that might just work. . . How about these people still get to see Randy Orton tonight against one of the McMahon family?

***POP***

Mr. McMahon: No Shane, I won't allow it. This is my problem, not yours. There's no need for you to help me out of this mess. I got myself into it and I'll get myself out of it

Shane McMahon: No you won't dad. I'm the general manager of Raw and I'm officially taking you out of the match tonight and making it Randy Orton versus Shane O Mac

***POP***

Mr. McMahon: And you're sure about that Shane?

Shane McMahon: You think I don't want to pop Randy Orton dad? The guys been asking for it for weeks now, it would be a pleasure

Mr. McMahon: Well it sounds like you've got it all worked out son, thank you

Shane McMahon: You're welcome dad, but you better be there with me

Mr. McMahon: You can count on it son

They both smile at each other as the camera fades out


***COMMERCIAL BREAK***


Todd Grisham is standing by backstage at the interview set

Todd Grisham: Please welcome my guest at this, the man who will challenge Randy Orton for the WWE Championship this Saturday. . . The Game, Triple H

A huge pop rings out as a focused looking Triple H walks into the shot

Todd Grisham: Triple H, in just five nights from tonight, you will finally get your rematch for the WWE Championship against The Legend Killer, Randy Orton. What are your thoughts about once again possibly becoming the WWE Champion?

Triple H: Todd, I think everyone knows by now that the WWE Championship means everything to me. It is the one thing in my life that makes people stand up and realise that you are the very best at what you do, and that's exactly why I am The Game. . .

***POP***

Triple H: I've been World Champion eleven times. That's more than most that I've followed into this business and the chance to make it twelve at Saturday Night's Main Event is a chance I'm going to take. . . Randy Orton can say whatever the hell he likes, it doesn't bother me because all that Randy Orton stands for is being a coward. . . Well Randy, you finally have the chance to prove everyone wrong this Saturday night, but we both know the way it's going to go. You can come out with all this crap about how you outgrew Evolution when you became World Champion for the first time, but the fact remains the same today as it did back then. I am better than you Randy. I'm better than everyone Randy, don't you get it? . . . This business needs Triple H because without me, there would be no one who would be able to inflict the pain you're going to go through at Saturday Night's Main Event when you step into my ring Randy. That's right, my ring and in that ring Randy, I will take back that title that you stole from me, and you have no choice but to come to terms with it

***POP***

Todd Grisham: Hunter, I can't let you go without asking you about what you made of Mr. McMahon's words on his return last week, and even earlier tonight when he challenged Randy Orton to a match tonight

Triple H: Todd, I for one don't find it easy to trust people being in the position I am in this business. But as far as Vince McMahon goes, I have never or will ever be able to trust that man. He can put on an act without even knowing it himself, but right now, I have my wife's feelings to think about. . . Steph is happy and she believes he is telling the truth about this new start he's been talking about, so I've got no choice but to let Steph be happy. . . Does that mean I'll let Vince see my daughter? . . . Yeah. . . Does that mean I trust him? . . . Well I think we both know that I'll trust every single one of those fans out there sooner than I ever trust Vince

***POP***

Trips looks dead serious as he walks out of the shot


***CUT TO THE ARENA***


MATCH #3

Kofi Kingston
vs. Hardcore Holly

SUMMARY: Kofi looked more confident in this one than his debut two weeks ago, but Hardcore was his usual aggressive self, but too much, leading to his downfall. With Kofi coming back at him, Holly got frustrated but was able to reverse an irish whip and hit one of his own perfect standing dropkicks. As he got back up and stomped across his body, the ref tried to pull him away as he started getting carried away. Holly turned and gave a stern look at the ref, then pointed his finger right in his face, forgetting about Kofi for a few seconds. As Holly turned back, he pulled Kofi up from his knees as the youngster tried to pull himself up, but as Holly threw a right hand, Kofi ducked it, slipped behind Holly and then rolled him up to get the victory.

WINNER: Kofi Kingston by pinfall

AFTERMATH: Kofi's music hit as he stood back up and got his arm raised by the referee. He then turned round and climbed to the top rope to celebrate, but as he climbed back down, Hardcore was back on his feet and shocked him with an Alabama Slam, getting a lot of heat from the crowd. Holly shrugged it off as he then left the ring, not showing any emotion as he walked up the ramp


***COMMERCIAL BREAK***


"Loaded" blasts out

***HUGE POP***

The fans continue to cheer as they wait for Jeff Hardy, but after ten seconds of the music playing, CM Punk walks out with a microphone in his hand

***MAJOR HEAT***

CM Punk: Alright guys, the job's done, you can cut the music now

***HEAT***

Punk continues to walk down the ramp in ripped jeans and a Jeff Hardy shirt. But instead of getting in the ring, he walks round to the barricade beside the fans

CM Punk: Can I just say that I expected a better reaction for Jeff Hardy than you people gave him. I mean he's a hell of a superstar and my personal favourite

***HEAT***

CM Punk: You don't believe me? Why else would I be wearing a Jeff Hardy shirt? In fact I came out here to find out if there were any other big Jeff Hardy fans in the front row tonight

A lot of cheers come and some kids jump up and down with Jeff Hardy signs. Punk sees one and walks over to them and their dad stood with them

CM Punk: You mind I if I ask your kid some questions? . . . What do I care, I don't need your permission. . . What's your name kid?

Kid: Josh

CM Punk: Okay Josh, so you're a big Jeff Hardy fan right?

Josh: Yeah, he's the best!

CM Punk: He is Josh, well not really but I have a question for you cos I'm all about the fans. . . Do you know why Jeff isn't here tonight?

Josh: No

CM Punk: Well Josh, I've a got a treat for you and all Jeff Hardy fans here tonight, so guys roll the footage


***VIDEO RECAP***
From last week and Jeff Hardy walking through the back with Sunny as they're about to go on a date until CM Punk runs up behind Jeff and attacks him, pushing him through the doors to the parking lot. It then shows the modified GTS on to the car bonnet and Sunny checking on Jeff as Punk goes back inside


***HEAT***

CM Punk: Now let me ask you again Josh, do you know why Jeff Hardy is not here tonight?

***HEAT***

Josh's dad puts his arm across Josh's chest and tells him to sit down and says something to Punk

CM Punk: For the benefit of you all who didn't here that, Josh's father thinks that I'm being irresponsible and inappropriate. . . See I don't care about being those things whatever your name is, but I see you don't either. . . I don't have a problem being totally honest, and if the truth hurts, then so be it. . . But if there's someone in the wrong here, it ain't me man, it's you. . . If anyone is irresponsible, it's you since you're the parent that allows your son to come here and cheer on Jeff Hardy. You sit by while your son worships Jeff Hardy and you allow that. . . See I have a real problem with that because I'm sure everyone's aware by now about Jeff's out of the ring habits, including you right?

The dad looks confused and Punk gets so much heat

CM Punk: You're aware that Jeff Hardy is a user, a drug user, a junkie, a no good disgusting waste of human life, and you haven't just allowed you son to watch him, but you sit there and you allow him to worship a junkie. . . You're basically telling your son that it's okay to be a junkie, jump off ladders and almost kill themselves. How can you live with yourself?

***MAJOR HEAT***

A couple of officials, Tony Garea and Sgt Slaughter make their way down the ramp and round to Punk as they then try to usher him away from the fans

CM Punk: What's wrong guys? You got a problem with me telling it how it is? These people deserve to know what world they're bringing their kids up in because this guy here clearly isn't doing a good job

Slaughter & Garea step between the barricade and Punk, who then slides into the ring as the official's apologise to the kid and his dad

CM Punk: Alright, you got your wish, I'll keep my mouth shut about parental advice if that's what you want, because that's not all I came out here for. . . Now I know that Jeff's not here tonight, but I have something that I need to say regarding myself, Jeff and the Intercontinental Championship. . . I think last week proved that Jeff Hardy is. . .

"I Know You Want Me" hits as Sunny walks out to the ramp with a microphone

***BIG POP***

CM Punk: Well look what we have here. I want all of you to please welcome back Raw's second greatest ever diva, but also Raw's biggest ever slut. . . SUNNY

***HEAT***

CM Punk: You know if you got all the guys you showed sunny days back in the 90's to vote for you, you would have won that vote last week in the first hour of voting. I know Trish got a good number of votes, but between me and you, I think it's safe to say I think you would have taken it

***HEAT***

Sunny: Are you done? . . You can insult me all you like, it's like water of a ducks back to me. I've had guys like you talk down to me for years and I'm not going to let that bother me, let alone from someone like you. Someone who has to sink to levels so low that you get your kicks from coming out here and say to that kid and his dad what you just did

CM Punk: Listen tuts, whether you like it or not, what I said about Jeff is the damn truth and I think all these people need to know about it. . . Now to be honest, I didn't expect you to come out here tonight, but it seems you too have some kind of fascination with the ever popular Jeff Hardy. I know it doesn't take much to get some female attention from you, but even you're sinking to new levels yourself

***HEAT***

Sunny: Hey, I have news for you. I've seen a lot of jerks in my time, but you are without a doubt, the most despicable human being I think I've ever had the misfortune to meet. Not only do you have a disturbed and twisted mind, you get a kick out of upsetting kids and attacking people from behind in parking lots. . . But I have a message for you Punk, I've been with Jeff since he went in and came out of hospital and he told me to come here tonight and deliver you a personal message. . . That message is, as much as it pains him that he can't be at Raw tonight, he will be back for the next Raw, the first of 2008 and he is going to make sure you have the worst new year of your life

***POP***

CM Punk: Oh am I supposed to be scared? . . . Is Jeff going to bring out a ladder, climb it and jump off for a swanton on me?. . Look, we all know Jeff was entertaining the first couple of times he did that, but those days are gone. Just like your days of the attitude era. The era that DX said they had two words for you, and guess what everyone, they had two words for Sunny and I think we all know what she did

***HEAT***

CM Punk: You're a real classy lady Sunny, I can just imagine the sordid and disgusting things that you and Jeff will be doing now you've found each other

Sunny: You know, I think there's something seriously wrong with you, because you seem to have got me wrong. Maybe you're not familiar with who I am

CM Punk: Oh Sunny, there's not a guy in the world who ain't familiar with you. . . Seriously though, since you brought me a message from Jeff, I think it's only fair you send him one from the man who will single handedly ruin him without the help of all the crap Jeff feeds his brain. . . The message I have for him is to have a very happy Christmas and New Year, but when he comes back to Raw next year, he is in for the worst time of his life, because I am making it my own personal mission to rid the WWE of an addict like Jeff Hardy. And I will do it at all costs Sunny, at all costs. I will stop at nothing to make sure that Jeff Hardy is not influencing these wrestling fans anymore, because I guarantee that I will do whatever it takes to finish Jeff Hardy once and for all

***TONS OF HEAT***

Punk drops the mic and takes off the Jeff Hardy shirt he's been wearing. He spits on it and then tosses it into the crowd

"This Fire Burns" hits as CM Punk stares at Sunny who looks back, stunned by Punk's actions and words


***COMMERCIAL BREAK***


***VIDEO RECAP***
From last week and we see the finish to the six man tag team match featuring Chris Jericho and The Quebecers facing Mr. Kennedy and The Pitbulls. The finish showed Kennedy using The Mountie's cattle prod to beat Jericho


MATCH #4

The Mountie w/Chris Jericho
vs. Mr. Kennedy

SUMMARY: Kennedy put a beating on The Mountie early on, but somehow Kennedy fell on the back foot as The Mountie came back at him with some offence. After hitting a hard clothesline in the corner, The Mountie followed it up with a hard right hand, but his fist was closed and the ref told him to back off. With the ref stood in between them, Kennedy then picked up the cattle prod from under the bottom rope. As he then walked out of the corner, Jericho climbed on the apron to try and warn The Mountie, with the ref then walking over and trying to get him down as The Mountie then saw the cattle prod and kicked Kennedy hard in the gut, resulting in Kennedy dropping it. The Mountie then picked it up and shocked Kennedy with it, getting a big pop as he then tossed the weapon out the ring and covered Kennedy as Jericho dropped the apron and the ref then walked back and counted to three.

WINNER: The Mountie by pinfall

AFTERMATH: "I am The Mountie" blasted out as Jericho slid in the ring and raised The Mountie's arm as Kennedy started to come round and looked up furiously at the laughing Jericho


***CUT BACKSTAGE***


Elijah Burke is with Layla in his locker room

***HEAT***

Elijah Burke: Can you believe what happened to me last week? Just who the hell do Ric Flair and Steve Austin think they are, attacking me like that? . . I can't believe that they let Ric Flair back in this company after that. But you know what baby, it's a good thing he went back to Smackdown. He might be over the hill, but he ain't stupid. He knew being on the same show as Elijah Burke meant he fade under my shadow. Everyone knows that I'll be better than Flair, especially him

Layla: That's right and you can show all the ungrateful people who cheered them on last week that you're better than both Austin and Flair put together in your match tonight

Elijah Burke: You know what babe, you're right. When I get in that ring tonight with Lashley and that crazy circus act, Rey Mysterio, I'll make a statement so loud that Flair won't even need to turn his hearing aid up to hear it. . . Raw's my show and if Rey wants to come over here and stand in my way, he's gonna find out that there's no blocking out this guiding light and that his taste of the Elijah Experience sends his ass back to Smackdown with Flair quicker than you can say midget

Layla laughs

Layla: You sure will baby, but make sure you leave enough some of that body for me later on

Elijah Burke: Oh you can count on it. . . Now let's go get the formalities out of the way and we can go home and celebrate

Layla smiles as Burke then kisses her, and there's no holding back as they go at it and it's a good thing commercials are up now before these two forget about the match!


***COMMERCIAL BREAK***


Shane McMahon is in his office wearing his ring gear and doing a light warm up with Mr. McMahon standing up close by

***POP***

Mr. McMahon: Shane, I'm really grateful that you're doing this for me tonight, I just hope I can make it up to you soon

Shane McMahon: Dad look, its fine. It's not like you planned this to happen or anything, all you've got to do is come out there with me tonight and make sure Orton doesn't try anything. You can do that can't you dad?

Mr. McMahon: You know Shane, I don't deserve you. . .

Shane McMahon: . . . Dad, don't say that

Mr. McMahon: No Shane, seriously it needs to be said. I've done some terrible things to my family that anyone else wouldn't even think about doing to the people they love most in the world. . . And Shane, you've been a great son to me after everything that we've been through like the WCW deal, it just makes me realise that I don't care about this bastard child of mine, not one bit. All I care about is getting back to the way things were and making things better with Stephanie and Hunter. . .

Mr. Kennedy storms in the room

***HEAT***

Mr. Kennedy: Hey Shane, quit the stretchin man, you're not gonna beat Randy anyway, so just drop it and listen to what I have to say. . . What on earth possesses you to allow freaks like The Mountie onto this show, let alone in the ring with me when he has that damn right dangerous cattle prod with him? . . Do you realise the damage he could have done to me if that was a more serious shock I just got? You could have lost your number one guy for crying out loud. It's an absolute disgrace for you to run this show this way and treat me like a damn guinea pig for testing electric shocks

Shane McMahon: Are you serious?

Mr. McMahon: Woah, I'll take care of this Shane

Vince gets in Kennedy's face

Mr. McMahon: I've seen what you've been up to while I've been away Kennedy and I have to say I don't like you one bit. And as far as you trying to find out if you're my bastard son, I'm absolutely thrilled that you're not related to me. . . You might not be my bastard son, but you sure are a bastard. So I suggest you leave my son's office and get ready for your match this Saturday cos something tells me you're gonna need it

Mr. Kennedy: Nobody, not even you talk to me like that

Mr. McMahon: GET OUTTTT!

Kennedy shakes his head in disgust and then walks towards the door and out of the room. But just as Vince is about to talk to Shane, they hear some commotion coming from outside as Shane then rushes to the door and opens it to see Mr. Kennedy stomping all over The Mountie

Shane McMahon: HEY. . . get the hell off of him Kennedy

Kennedy turns round and laughs at Shane before turning back and connecting with one hard stomp across The Mountie's skull

Mr. Kennedy: Tell your buddy Jericho I'll see him Saturday night

He then stomps viciously on his head one more time as he then turns round and walks off as Shane shouts down the hall for some help as The Mountie lies motionless on the floor


***CUT TO THE ARENA***


MATCH #5

Rey Mysterio & Bobby Lashley
vs. Santino Marella & Elijah Burke w/Layla

SUMMARY: Lashley took the match in to his control early on and after tagging Rey in, the Mexican high flier continued to dominate Santino until he dodged a diving cross body and tagged in Burke. It was Burke who then took control as he pummelled Rey, but after missing the Elijah Express with Rey side stepping it, both men ended up on the mat and crawled back to their corners to tag in their partners. Lashley came in on fire and took Marella apart with two clotheslines followed by a diving shoulder block. Marella was able though to slip off Lashley's shoulders as he went for the running powerslam, with Lashley running into the corner pads. Marella took a couple of seconds to recover before charging in at him, but Lashley lifted his boot up into Santino's face, who was knocked round and staggered back to the middle of the ring as Lashley then charged at him and connected with a huge spear. With Burke climbing through the ropes, Rey saw it and entered the ring himself, ran across and took Burke down with a flying forearm that knocked Burke to the outside as Lashley covered Santino for the win.

WINNERS: Rey Mysterio & Bobby Lashley by pinfall

AFTERMATH: "Hell Will be Calling Your Name" hit as Lashley and Mysterio celebrated in the ring as Burke sat up on the outside with Layla by his side. Burke stared furiously in the ring towards Lashley and Rey


***COMMERCIAL BREAK***


***VIDEO PROMO***
A brief history of Saturday Night's Main Event

• Clips of Matt & MVP brawling in the V.I.P. Lounge ten days ago
• Clips of Shawn Michaels and Batista's stare down at the end of last weeks Smackdown when Michaels accidentally super kicked The Animal
• Finally, we see highlights of the brawls between Randy Orton and Triple H

NARRATOR: It has a place in WWE history. . . It has a place in the history of sports entertainment. . . but it also has a place in its future. . . For Christmas will not be the same this year for the stars of Raw and Smackdown as Saturday Night's Main Event makes its return this weekend where four championships will be decided. . . For one battle will take place in the confines of a steel cage, a structure so devastating it ends careers. . . However, there is more at stake when two World Champions will give everything that they possibly have to hold on to what they hold most dearest. . . Don't miss any of the action this Saturday, Live only on NBC!

The clip cut to a graphic showing "This Saturday. . . Finishing 2007 With A Bang!. . . Live on NBC"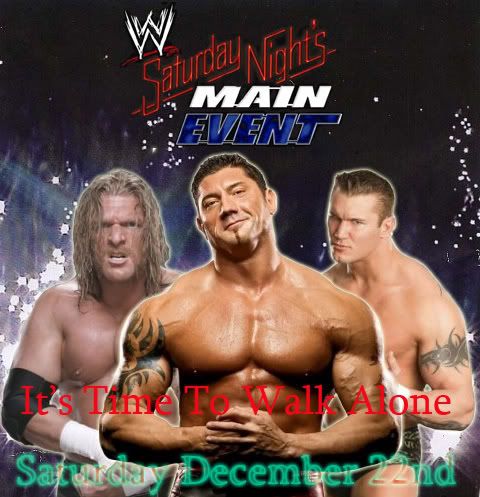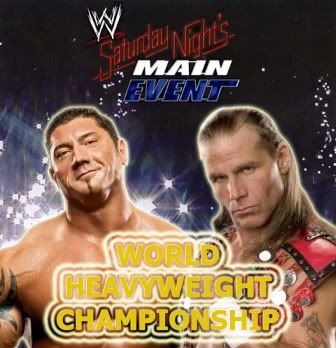 ***CUT TO THE ARENA***


THE MAIN EVENT

Shane McMahon w/Mr. McMahon
vs. Randy Orton

SUMMARY: Shane put up a really gallant fight against Orton, but the Legend Killer looked pretty comfortable for the most part until he lined Shane up for the punt, but as he charged at him, Shane was able to duck his head, reach up and roll Orton back up, but only got a two count. Both men were back up on their feet quite quickly, but Shane started hammering Orton with hard jabs and then hit his trademark dance and punch, knocking Orton down. Shane seemed to panic as to what to do, but Vince directed him to calm down, which he did as he stood by Orton, urging him up. As Orton got back up, Shane stomped him in the gut and set him up for the pedigree, getting a big pop, but Orton countered with a back body drop. Vince looked concerned as Orton then stalked Shane for the RKO, and hit it as Shane slowly got back up. Orton turned over hooked the leg for the victory.

WINNER: Randy Orton by pinfall

AFTERMATH: "Burn in my Light" hits as Orton stands up and gets his arm raised by Mike Chioda. He looks over at Vince who then responds by standing up on the apron, getting Orton to turn his attention to Vince. The Chairman of the Board starts talking smack with Orton looking shell shocked by it as he asks Vince if he's talking to him. He then walks over to Vince and gets in his face with neither man backing down, but then Orton's music stops and "The Game" blasts out to a huge pop.

Triple H appears at the top of the ramp in jeans and a shirt, pours a bottle of water over his head and storms down the ramp. Orton turns round and stares angrily at The Game as he slides in the ring and then they both charge at each other with Trips taking Orton down with a Lou Thesz press as he pummels Orton with hard right hands to the head. With the crowd going crazy, Triple H stands back up and waits patiently for Orton to stand back up, and as he does, The Legend Killer turns round and tries to leave the ring, but turns into Vince on the apron, and with nowhere to go, he turns back round into a kick to the gut and a Pedigree from The Game. A huge pop rings out as "The Game" blasts out again. Triple H stands back up and looks at Vince on the apron with Shane getting back up in the background. Vince smiles while Trips looks uneasy as he stares at his father-in-law as Raw goes off the air


***END OF SHOW***


QUICK RESULTS
Trish Stratus df. Jillian Hall
Lance Cade & Trevor Murdoch df. Cody Rhodes & Val Venis
Kofi Kingston df. Hardcore Holly
The Mountie df. Mr. Kennedy
Rey Mysterio & Bobby Lashley df. Elijah Burke & Santino Marella
Randy Orton df. Shane McMahon

HEAT RESULTS
Stevie Richards df. Michael Shane
Paul London & Brian Kendrick df. Mike Mondo & Nick Nemeth
Carlito df. Tommy Dreamer


FINAL CARD FOR SATURDAY NIGHT'S MAIN EVENT THIS SATURDAY

WWE Championship
Triple H vs. Randy Orton (c)

World Heavyweight Championship
Batista (c) vs. Shawn Michaels

WWE United States Championship
Steel Cage Match
Matt Hardy vs. Montel Vontavious Porter (c)

WWE Womens Championship
Trish Stratus vs. Beth Phoenix (c)

Chris Jericho vs. Mr. Kennedy



---
Last edited by Nige™; 03-11-2008 at

08:10 PM

.
Tested Positive For Thread Performance Enhancers
Join Date: Dec 2007
Location: Nikki Roxxville, USA
Posts: 6,802
Points: 0
Re: WWE: A Strong Response
---
sirdilznik's Raw review
Alright I can't wait to see how Vince continues his "face turn" tonight. With any luck he will continue to be "sincere" and sucker the poor victims in /rubs hands together
Starting out with the champ. Pretty standard, solid stuff.Randy creaming all over himself. I love it. If Vince has accepted HHH as his son would he maybe call him "Hunter" sometimes? Not a criticism so much as a question. Maybe publicly he would still call him Triple H. I'm a bit divided on that. Not a big deal either way. "Slap that 100% Orton face of yours"
Wow, Vinnie Mac vs. Randy! I envision some craziness. Damn Vince sound so sincere in his face turn. I almost want to believe him (OK, no I don't).
Good women's match. What i wouldn't do to see Trish in a WWE ring again. Nice that you didn't finish with the Stratusfaction. Beth looks somewhat weak.
Aah, so Holly is going to job to Kofi again? I'm OK with it.
I'm totally down with my boys Cade and Murdoch taking the win I just don't think they need help to beat a jobber team like Rhodes and Venis (Venis is a jobber in my eyes anyway and Rhodes isn't ready
).
Aah, now Vince is calling him Hunter in private. OK, forget what I wrote earlier
that works perfectly. Whoa!? Vince scared? "I'll be letting me and all the fans out there by not going through with what I promised earlier on" - All 5 of them,
(I kid) Wait a minute... Is Vinnie setting Shane-o-mac up for tonight??? It would be cool, but I hope not because I want to see "face Vince" a while longer.
You do a really good face Trips (that being said, evil asshole Hunter, please
). His promo was great. Damn straight he ain't going to trust Vince.
Just as expected Kofi beats hardcore Jobber again. At this stage in his career that works just fine. With Holly attacking him after the match will Kofi have to whoop up on Hardcore jobber for a third time?
Before even reading your Jeff/Punk stuff I want to make the comment that by chance with Jeff getting suspended this week, your storyline is even more delicious now because of the wacky real life comparison. Sometimes fate just works out like that.
Nice Punk comes out to Jeff's music. Even fooled me
I really like evil Punk. Always liked him better as a heel (though I've never seen him quite like this). Get him Punk! You get that no good junkie! (I'd be writing that regardless of the real life news
)
Oh shit, Kennedy just jobbed to The Mountie!!! Haha. I'm glad Jericho got involved like that. Good stuff. More heat for SNME
My only fear is that with using an electrified prod twice, you do the electrified cage match (god that was dreadful in TNA)
I kid, you already have a different cage match anyway.
I'm liking Elijah Burke. He's someone I haven't seen much on TV, but I like him in your thread.
Man, Vinnie is laying the love on thick. I'm getting a bad feeling. Oh man you whooped up on The Mountie
I knew there was no way Santino and Burke would win, but a man can hope... Nice match. there are entirely too many people that use the Spear as a finisher (not your fault, I'm talking real life) so I'm not that big on the move even though it can look real good and come out of nowhere.
No one pours a bottle over their head like HHH
no one
Anyway I like those kind of little touches. Makes a big difference adding little mannerisms in like that. Predictable but good finish. I'm glad Vinny didn't screw Shane-O-mac (not obviously so anyway).
Very good show overall. Would have preferred if Cade and Murdoch had won without help and altercations took place after the match, but it's all good. Go evil Punk go! I like face Vince but am not sure if I like how you had him back down from the fight. I'll have to see where this goes to see if I agree with his apparent character. Continued the heat for some feuds for SNME which was nice, but did you have to whoop up on my boy, The Mountie? 9/10
---

STILL A Proud Member of Roid Sox Nation

sirdilznik's Random Rhetorical Question Of The Week:
If Hornswoggle turned heel could he hide in Mike Knox's beard?



Quote:

Originally Posted by Frank Zappa

Look here brother, who you jivin' with that cosmik debris?
---
Last edited by sirdilznik; 03-12-2008 at

06:01 AM

.
Re: WWE: A Strong Response
---
RAW REVIEW
By SC2004.

(Man you're moving at an ungodly speed! Ha)

- I liked the start of the opening promo with Randy not only blowing himself up, basically claiming he is the greatest WWE superstar ever, very Orton. He did a good job building up his match with Triple H at SNME, he seemed extremely confident, as he would do I guess.

- Not so sure on the DNA test idea. You made it clear Randy Orton doesn't care about the rumour, so for him to go to all of this trouble to prove the fans and the wrestling world wrong contradicts that idea and is also a little out of character for Orton. Plus its blatantly obvious to look at him that he is not a McMahon, he even eluded to that in this promo, so I don't think anyone was buying him being Vince's bastard son.

- Okay so Vince's promo helped to establish that his actions last week may in fact be genuine and not all part of some master plan. I still don't trust him yet and I'm sure the fans would be the same, therefore it may be hard for them to buy into an Orton, Vince match. I know they popped at the announcement, but would they really, I don't know. Doubt last weeks stuff and this promo would of actually gotten Vince over yet. Still I am looking forward to the match.

- Not many people open with a diva's match, but when you have Trish in action and winning I guess it works. Looking forward to the women's title match at SNME.

- "You're ass isn't funny" a classic Maria comment. Who else would get away with that. I liked the Kofi, Holly spot, it worked and the match should be an okay one.

- Solid tag team match, with Cade and Murdoch picking up the victory, thanks of course to the interference on behalf of Carlito.

- Vince thinks he has fans, that cracked me up. This spot with Vince and Shawn worked as it justified Vince's actions earlier when he challenged Orton. Thank God you had the brains to swap Vince and Shane around in this match. Shane can have awesome matches and I think his match with Orton is PPV worthy.

- The Hunter interview was interesting as we saw two different sides of the Game. The mad as hell, power hungry want to be champion who will do anything at SNME to destroy Orton and take back the WWE title and then we saw a more subtle, intelligent man, who has trust issues. The Game even came across as fragile, in the sense that its just him and the fans against the world as he can't allow anyone else in.

- The Kofi, Holy match was booking my numbers, it's exactly how I would of done it, giving Kofi the win. Holly makes a much better heel, than a face and he is getting great heat of late.

- CM Punk was amazing, that promo, with him going into the crowd was gold. However the whole ripping apart of Hardy is very intense, too intense even. In reality, I don't know would the WWE or Jeff Hardy for that matter let the writers use some of that stuff. That being said, this was great. Sunny coming out, I think it would have been better not to bring her out. She just seemed off to me, I love Sunny, but something didn't seem right when she and Punk were talking. She had no spark.

- The Mountie beats Kennedy thanks to an assist from Chris Jericho, very funny. Poor Kennedy, I'd be laughing my ass of to if I saw this. It served a purpose, just wonder how bad the match itself would of looked. would have been very short I'd imagine, ha.

- The Burke, Lalya stuff was fine. Not much to say, but that it god across just how much Burke thinks of himself. The Vince, Shawn stuff, again played on the notion that Vince is a changed man. I liked how Kennedy interrupted and told Shane to quite stretching because he isn't going to beat Orton. Lol. The Jericho, Kennedy match should be great at SNME.

- It was a given that Lashley and Mysterio would win the tag team match. Burke didn't get pinned however, which was the right booking move to make, he still looks strong. The video package building up SNME was nicely done IMO.

- I'd pay to see this match, on a PPV card, I'm a huge Shane fan. This was all ready nicely set up. Orton wins with the RKO. Shane still looked okay in the match though and obviously as champion, Orton had to win it. Liked how Hunter came out and kicked ass, still say Orton will win at SNME, even more so now.

Great show, nothing bad to report. The only things I didn't like were Orton having a DNA test done, Sunny coming out during the CM Punk promo and Kennedy taking on the Mountie. But in saying that, most of that was personal and took nothing away from the show overall which was very entertaining, well booked and did a great job of building up the SNME show, which I can't wait to read.
---
PWInsider.com

DRAFT COMING SOON?
Word going around backstage at the moment is that Stephanie McMahon-Helmsley is considering having a draft in the early part of 2008. With some new superstars either just coming in or on the verge of doing so, in addition to talent being promoted from developmental, it is considered that maybe it would be a wise idea to have a draft either before or after the Royal Rumble. There are discussions going on between creative and the McMahon family at the moment.

Any information we get will be posted when we hear it.


Posting Rules

You may not post new threads

You may not post replies

You may not post attachments

You may not edit your posts

---

HTML code is Off

---