Re: WWE: A Strong Response
---
Preview looks great Nige, lots going on! Just noticed that this SmackDown is taking place in the Pontiac Silverdome. Correct me if I'm wrong, but isn't that where WrestleMania 3 was held, we're talking 93,000 people here! The VIP lounge with Ric Flair should be very interesting indeed. All in all, this is shaping up to be a good show, I'll read as always, but i may even get a review up this time.
---
Re: WWE: A Strong Response
---
Doddsy's Raw Review
Nice opening segment for the 15th anniversary, wonder if Vince will stay like this or just be faking it

Nice opening match here, happy with the result aswell. Would have been and awesome, fast paced match in real life and you did well with it. 8/10

Both in character here, both of them would put their problems ahead of anyone else. Looking forward to their matches later on

Kenny was in character here, choosing Gillberg, who is tiny and crap, to fight. Obviously meant to put Kenny over and you did a good job of that. Nice work hyping the cruiserweight title match on SD aswell. 7/10

Hope Trish wins at SNME, so then she comes back full time. Good promo here, Trish and Phoenix were in character and they should have an alright match.

Obvious result, with Rey returning. Good match nonetheless. I think this may be evolving into a feud? 7/10

HBK is in character here, should be a good match later on

Having Gangrel come back for a show, only to make Edge looks strong i didn't really like. You could have made Gangrel vs someone else while Edge just destroys some lower-midcard guy

Nice promo, it was entertaining. Is Sunny going to manage Jeff now?

Good tag match, surprised with the result. Though the Hardy's were going to win but Punk pinning Hardy helps build their feud. Nice there and i liked Punk in the aftermath, good stuff. 8/10

Nice match here, not entirely sure who the quebecians are but i liked the finish with Kennedy using the cattle prod on Jericho. Hope Kennedy wins at SNME!! 7.5/10

Good promo, it's looking like Vince is turining face

I liked the finish of this match, the no-contest finish was good as it made Orton and Batista look equal, so no one's champ is better. HHH making the save helps build the feud well, hope HHH wins the belt! 8.5/10

lol, this promo was funny with Punk attacking out of nowhere. You've done really well hyping this feud up

Nice promo here, i would have liked to see Austin wrestle but it doesn't matter. All of them were in character perfectly and i really enjoyed it.

Awesome match, would be great to see. I really hope HBK can pick up the belt at SNME. I liked Umaga attacking Taker, i think these 2 could have a great feud together and i look forward to seeing what happens.

Great show, really looking forward to Saturday Night's Main Event and i'll look out for it. An awesome show 8.5/10
---
Re: WWE: A Strong Response
---
RAW REVIEW
By SC2004.

(First time reviewing, how exciting. Ha. Fell free to point out my oversights,)

- I nearly passed out when I read that the main event was going to be a number 1 contenders match between Shawn Michaels and the Undertaker, awesome. One small thing, you repeated yourself in the opening of the promo. "Tonight is not about my return, it is purely a co-incidence, but let me remind you that tonight is not about my return," just a small thing.

- The tag team match is another great booking choice. I'm unsettled by how gracious and nice Vince is being, freaking me out. I really liked how Vince is trying to win over Hunter. I don't trust Vince for a minute. I smell a rat here. Orton was awesome, I can't believe we're also going to get Batista versus Randy Orton here tonight. This is shaping up to be a very special show indeed.

- I just want to comment on this promo from a technical stand point. It was pitch perfect. The lay out, first with Vince, then with Hunter coming out, followed by Orton was some really well. The match making made sense and you got that out there in between the unfolding storyline. Everyone was in character and It all came across very real. Great job.

- Solid opening. I lie how you write your TV matches, with the match summary and Aftermath separated. it's a good idea. Your lay out is very good in general, makes things easy to read. Anyone could of won this match, either way it didn't matter all that much.

- The Kennedy, Orton backstage segment, got across just how mad randy Orton is after Vince signed a match with him and Batista tonight. Too great promo guys together, you can't go wrong. Dykstra squashes Gillberg, didn't think this belonged on the 15th anniversary show. I liked the comments Dykstra made before the match however.

- No surprise Trish won the diva award thing. Didn't think Sunny would of got a huge pop, most people wouldn't remember her or may not of even been around when she was in the WWE. I love Sunny though. I really liked the interaction between Beth and Trish, with basically Beth saying Trish is nothing more than a pretty face and can't wrestle.

- I see you're anti Finlay push. I also picked that up from a few of you're comments on other BTB'S. I'm not a fan of either Rey Mysterio or Finlay, but this match would have been great to watch. I didn't care who won, but after the into from Shane, I figured Rey would take this one and he did.

- Really nice interview with Shawn Michaels. He managed to show his respect for the Undertaker and look confident at the same time. That's a hard thing to write and get across and you did it perfectly right here. O Jesus Gangrel returns, not exactly the big name return I would of expected on this type of show to be perfectly honest. I didn't really like this TBH.

- Sunny still hasn't lost it. Once a vixen, always a vixen. I'm so glad you used her more than the WWE did in the real show, she is so talented on the stick, more than any diva before her, or since. I would love to see the Hardy's take on MVP and CM Punk in real life. MVP and CM Punk win it dirty, makes good booking sense.. The CM Punk promo after the match was intense, even disturbing, but I liked it.

- No offence, but any segment which involves Batista talking is a no, no for me. Ha. Hate the guy. Anyway, in saying that, you did have it worked out in such a way that Hunter did all the talking, so I'm guessing you feel the same way as me on the matter. Lol.

- Jericho - "Is that seriously the best you can do frosty top? A pair of inbred, trailer park ass clowns." classic. I couldn't stop laughing when I read the Quebecers were Jericho's partners, funny stuff. Okay, I know we will never, ever see this match again, which I think is a good thing. The main point was obviously to have Jericho and Kennedy in the ring together, but not alone. This continued the feud with neither man, pinning the other. All makes sense.

- Stephanie throws her arms around Vince, damn it. I know this is all some master plan on behalf of Vince, wish she didn't fall for it. Great match between Batista and Orton. it's a shame the Game wasn't in action tonight. The Orton, HHH match at SNME should be awesome, you did a good job hyping it tonight.

- Yeah, more Sunny. This was a nice little spot with Sunny and Jeff. I liked how you lulled me into a false sense of security. Everything seemed so nice and fluffy until CM Punk showed up and attacked CM Punk. Man CM Punk makes a great heel, major heat for him tonight. The Flair, Austin, Burke promo is what I would of expected more of on an anniversary show like this. Classis Austin.

- The Undertaker, Shawn Michaels match is a match worthy of a PPV main event and would never be seen on a regular edition of RAW or SmackDown. However as this is the anniversary show, I'm all for it. Superb main event. I'm an Undertaker fan, but its okay that Michaels won as it wasn't a clean victory. The Umaga attack was vicious and it was more than enough to put Taker down for the three. Both Michaels and the Undertaker remain strong, but even after the loss, Taker to me, looks the stronger of the two men.

Okay, so it was my first time reviewing a show of your's and I guess I got lucky, as it was the 15th anniversary show of RAW. So I guess the sheer amount of PPV calibre matches isn't the norm? The match of the night for me, had to be the main event, because it is a match I long to see again after the amazing matches these two have had in the past. You're promo's tonight were off of the chart good, amazing even. It's obvious I have a lot to learn and a long way to go when it comes to my BTB and my writing. The only criticism I do have is the lack of appearances from other past stars. I don't think just having Austin and Sunny cut it. That being said, I really enjoyed this show and I look forward to the next. Good job.
---
WWE.com - HOMEPAGE (Smackdown Results)
---
Smackdown Results
14th December 2007

The Palace of Auburn Hills
Auburn Hills, Michigan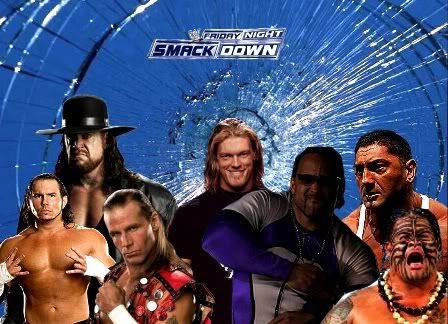 ***OPENING VIDEO***
"Rise Up"


***VIDEO RECAP***
• The Undertaker beating Umaga last week in the second number one contender tournament match
• Monday night on the 15th Anniversary of Raw, Shawn Michaels becoming the number one contender for Saturday Night's Main Event, beating The Undertaker thanks to interference from Umaga


"I'm Comin" hits & MVP walks down to the ring for the VIP Lounge, dressed to impress in a suit

***HEAT***

MVP: For all of you that tuned in to watch Raw Monday night, the fifteenth anniversary in fact, you would have seen yours truly, the WWE's United States Champion represent by showcasin my talent on the second rate show by once again being victorious. . . But I'm not here to poke fun in the face of Matt Hardy, I'm gonna do that a week from tonight when I not only beat him to retain my United States title, but take him apart in a way that only I, Montel Vontavious Porter can inside the twenty foot high steel cage

***HEAT***

MVP: But tonight ain't all about Matt Hardy, because if you all saw Raw this past Monday night, you would have witnessed a momentous occasion, an occasion that I was indeed lucky to be on hand for. And in typical MVP and VIP Lounge fashion, I pounced on that occasion and created the opportunity for everyone here tonight to witness in person what you only saw on your small, hand me down television sets by bringing to you, one of the greatest moments in recent history here in the WWE. . . Because right here tonight on the premier talk show on television, the VIP Lounge brings to you it's most decorated guest to date. . . Not only does he have a lot in common with myself, as not only is he better than you too, just like me, he is one of the most talented superstars to ever grace a wrestling ring, winning championship after championship in the NWA, WCW and the WWE. . . And I know all of you here aren't all that intelligent and won't be able to guess who I'm talkin about, so I'm just gonna do the easy thing right now and bring him out here. . . Ladies and gentleman, I, Montel Vontavious Porter, present to you courtesy of the VIP Lounge, the sixteen time World Champion, the Nature Boy Ric Flair

***MASSIVE POP***

"Sprach Zarathustra" hits as Ric Flair walks out to a standing and deafening ovation in a custom made suit, looking very happy

As he gets into the ring, MVP shakes his hand and then Flair picks up another microphone off the leather sofa

MVP: Ric, let me start by saying that it is not just an honour to have you on my show, but it is an honour for me to be standing with possibly the greatest of all time

Ric Flair: Well thank you

MVP: Alright, my first question is this. . . Ric, I was at Raw on Monday night, and I have to say in my honest opinion that I have never experienced anything like the response you got from those fans. It was without a doubt the loudest reception I have ever heard with the exception of when I made my debut here on Smackdown. . . How did it feel Ric for all those people to be so happy to see you come back? Why was that?

***WOO'S RING OUT***

Ric Flair: Well, for one is because it's been so long since the Nature Boy has stood in this ring and said. . . WOOOOOOOOOOOOOOOOOO

***BIG POP***

Ric Flair: For months and months there was speculation about whether anyone would ever see Ric Flair in this ring once again, and I answered that in person like only the limousine ridin, jet flyin. . .

MVP: . . .Yeah, yeah Ric, we get it. . . See I have a different opinion on this Ric, because I was sittin in the back watchin on in complete shock at I was seeing with a former acquaintance of yours, Finlay, and we were under the impression that you had come back to say your goodbyes, because Ric you can't be serious about coming back to wrestle right?. . . Look at you Ric, you look like you've been sat in the bath for the last couple of months, cos it sure as hell ain't right to have the amount of wrinkles you do

***HEAT***

MVP: You gotta ignore these people Ric, they don't care about you like I do. You and I both know what would happen if you got back inside this ring at your age Ric. . . you'd embarrass yourself and make a mockery of your career. . . Look at yourself Ric, you can't seriously consider getting back in this ring with the likes of someone like me for example. How the hell is a sixty year old man gonna be able to mix it up with some one half man, half amazing like me huh? . . . You got any answers to that Ric?

***HEAT***

Ric Flair: I appreciate your concern as genuine and touching as it was, but you've forget something you shouldn't when your in the presence of the greatest wrestler of all time kid. . . I'm more than half amazing, inside this ring I am one hundred percent amazing. More amazing than a punk like you who tries make a name out of me like many others who have tried and failed

***POP***

Ric Flair: So I suggest you consider that your answer if you don't want to fail like everyone else who has ever shown me the disrespect that you have tonight

MVP looks a little ticked, but cools down quickly

MVP: Alright Ric, you can have that one, but let me remind you of something Naitch. This ain't 1987, it's 2007, nearly 2008 and you're stood next to today's star, whereas I'm stood next to yesterday's news. You might have been the greatest of all time, but like all these MVP wannabes here tonight, you know deep down that in ten years time, no one will remember the name Ric Flair. The only name any one will need to remember is Montel Vontavious Porter, better than you Ric Flair

***MAJOR HEAT***

Ric Flair: Kid, I've met plenty loud mouth punks like you down the road, and you know what's happened?

MVP: WHAT?

Ric Flair: I'm stood right here and they're not, and if you wanna jump right to the top of the waiting list, then you can find out first hand why I'm the dirtiest player in the game and at the same time, you'll have that smug look of yours wiped off your face for eternity

***POP***

MVP: Woah Ric, calm down, I don't wanna give you a coronary. . . I don't need to wrestle you Ric for people to find out I'm better than you. . . See Ric, I just want to make you see sense and realise in that beat up body of yours to see that if you step inside this ring Ric, you will. . .

Ric Flair: . . . Hey, don't even go there man. If you seriously think I'd come back and put myself at risk, you're even stupider than you look. . . Nobody and I mean nobody knows Ric Flair better than I do, especially someone who runs their mouth and doesn't know when to stop like a jerk like you. And if you wanna put me to the test, I'm more than happy to knock that goofy look right off that face of yours

***POP***

Flair gets real hot as MVP gets really close to Flair, getting hot too

MVP: You think I'm gonna put you on the shelf Ric, cos that's what'll happen if. . .

Flair then smashes MVP in the face with a hard right, knocking MVP down, who drops his belt off his shoulder. Flair then moves to MVP's legs and tries to lock in the figure four, getting a huge pop, but before he can get it locked in fully, MVP picks up the title belt that he dropped and smashes it in Flair's skull. A ton of boos meet it as MVP then gets back up, looking really pissed. But he then reaches down and pulls a motionless Flair back up to his feet and sets him up for the Playmaker, but before he can hit it, Matt Hardy runs down the aisle. MVP hears the cheers from the crowd and in the knick of time, lets go of Flair and gets out of the ring with his title belt as Matt slides in the ring. MVP walks round the ring and backs up the ramp staring at Matt, raising his belt as Matt checks on Flair


***COMMERCIAL BREAK***


***VIDEO RECAP***
From before the break and Matt Hardy saving Flair's skin after MVP hit Flair with the US title belt and going for the Playmaker


MATCH #1

Super Crazy w/Jimmy Wang Yang
vs. Kid Kash w/Jamie Noble

SUMMARY: A real back and forth match up with both men getting on top throughout.

Kash is on control as he dodges a missile dropkick from Crazy and then stands back up. He pulls Crazy back up and whips him into the corner, runs in and hits him with a back elbow smash. Crazy staggers out of the corner as Kash then climbs up to the top rope, jumps off and connects with a hurricanrana, holding onto Crazy's legs for a cover 1 . . . 2 . . . Kick out from Crazy as Kash then stands back up and stalks him, and as Crazy gets back up, Kash pounces and tries to set him up for a brainbuster, but Crazy quickly slips behind and then spins Kash round, whips him into the ropes and then connects with a dropsault. A pop is heard from the crowd as Crazy then stands back up, runs to the corner and climbs to the top rope. Jamie Noble then runs round the ring and climbs on the apron, distracting Crazy, but Jimmy Wang Yang runs round and pulls Noble down. As Crazy turns his attention back to Kash, he sees the notorious K.I.D. getting back on his feet and jumps down off the top and runs at him, but Kash stomps him in the gut and plants him with the Money Roll (Leg Hook Brainbuster), drops to the mat and hooks the leg. Noble and Yang are going at it on the outside as the ref counts the fall 1 . . . 2 . . . 3.

WINNER: Kid Kash by pinfall

AFTERMATH: Kash's music hits as Noble pushes Yang into the barricade on the outside. The ref tries to raise Kash's arm, but Kash pushes him away as Noble then gets in the ring to congratulate Kash. They look down and smile as they then leave the ring


***CUT BACKSTAGE***


William Regal is pacing up and down his office when MVP walks in, looking quite smug

***HEAT***

MVP: You wanted to see me chief?

William Regal: Too bloody right I do. . . What in the name of jesus christ do you think you were doing earlier on, attacking Ric Flair like that?

MVP: Hey, it was Flair who threw the first shot at me remember. I was only acting in self defence, and if you've got a problem with that Regal, I suggest you take a look at who you're talkin to

William Regal: Yes I know who I'm talking to, someone who will be in action tonight. . . If you want to get tough with Ric Flair, you can do it like a man, inside that ring in competition. But it's not going to be just you and Ric, oh no. . . Tonight Ric Flair will be joined in tag team action by your opponent for that United States Championship of yours next Saturday night, Matt Hardy

***POP***

MVP: Are you out of ya mind Regal? I've got a steel cage match in eight days time, how the hell am I supposed to be ready for that huh?

William Regal: Well it's the same for Matt Hardy too, so I advise you to go and get yourself a tag team partner and quick cos you're up next. . . Let that be a lesson to you

MVP turns round in a huff and slamming the door as he leaves, but as the door slams shut, a couple of seconds later, Kenny Dykstra walks in

***HEAT***

William Regal: That's all I need, what do you want?

Kenny Dykstra: What the hell's up with him?

William Regal: That is absolutely none of your concern, so I suggest you answer my question as to your reasoning for being here

Kenny Dykstra: Well Regal, I was thinking about the match you made for tonight with me and Chavo, but I thought I'd come and see you about an idea I had. It works out a lot better for Smackdown, trust me. . . What you do is, tonight instead of me and Chavo going at it in a no disqualification match for my Cruiserweight title, we have an over the top rope battle royal with the winner getting a title shot at Saturday Night's Main Event in a straight up wrestling match. Sounds good right?

***HEAT***

William Regal: You want me to cancel your match with Chavo tonight? The same match that should take place in less than an hour? . . . I don't think so Kenneth, the match stands. You will be defending your title tonight in a no disqualification match against Chavo Guerrero if you damn well like it or not, do you understand that?

***POP***

Kenny Dykstra: Alright Regal, have it your way, but don't blame me afterwards

Dykstra turns round and walks out of the door

William Regal: What is he bloody going on about, the stupid fool!


***COMMERCIAL BREAK***


Josh Matthews is standing by

Josh Matthews: Ladies and gentleman, please welcome my guests, The Samoan Bulldozer, Umaga and Armando Alejandro Estrada

***HEAT***

The boos are loud and clear as they walk into the shot with Estrada smiling away and Umaga looking quite relaxed

Josh Matthews: Armando, what we witnessed Monday night on Raw with Umaga costing The Undertaker a shot at the World Heavyweight Championship was absolutely despicable. Just why did you feel the need to let that happen?

Armando Estrada (In his Cuban accident): Josh, the answer to your question is simple my friend. If The Undertaker had not of cheated against this unstoppable monster last week, it would and should have been Umaga fighting Shawn Michaels on Raw for a title match against Batista. . . See Josh, The Undertaker only has himself to blame, all the proof is there, have a look. He used a steel chair to beat Umaga, and that is the only reason that Umaga is not the number one con-ten-der right now for the World title. The Undertaker simply got what he deserved

***HEAT***

Armando Estrada: And I think everybody will see by now that Umaga had to bulldoze his way through the dead man to get how you American's say, revenge. What is that phrase you have Josh? Payback is a bitch! . . . Well The Undertaker sure knows by now that payback is a bitch and that you should never mess with Umaga, and if you do, you will suffer the consequences like this Shannon Moore character tonight

Josh Matthews: But I have to ask you Armando, is Umaga not worried about what will happen when The Undertaker recovers from whatever injuries he suffered Monday night?

Armando Estrada: Josh, does he look worried? . . . Of course not, Umaga isn't scared by anyone, not even a dead man. . . And when The Undertaker is able to walk again, Umaga will be ready and waiting to prove to everyone why he should be the World Heavyweight Champion

***HEAT***

Armando & Umaga walk out of the shot, looking very relaxed


***CUT TO THE ARENA***


MATCH #2

Matt Hardy & Ric Flair
vs. MVP & Finlay

SUMMARY: MVP & Flair are in the ring with MVP putting a beat down on Flair in the corner with hard stomps to the chest as he then whips him into the opposite corner. He then charges at Flair, going for the Player's Boot, but Flair sidesteps it. MVP is able to stop himself by reaching out for the top rope and grabbing at. But as he turns round with a big smile on his face, he turns into Flair who hits him with a couple of hard chops before planting him with an inverted atomic drop. Flair then sweeps MVP's legs from under him and is able to lock in the Figure Four. The crowd go crazy as MVP screams out in pain and after a good ten seconds, MVP looks ready to tap, but Finlay then charges in and stomps on Flair's head. Flair then loses control of his grip and lets go of MVP. The ref tells Finlay to get back on the apron, which he does as Flair & MVP then start to crawl to their respective corners, and it's Flair who gets there first, tagging in Matt who is able to charge across the ring and prevent MVP from making a tag by pulling his feet back. Matt then walks the short distance to the ropes and knocks Finlay down off the apron with a right hand. Matt then turns round and pulls MVP back up to his feet, but sends him crashing back down with a Side Effect, then goes for a cover 1 . . . 2 . . .

MVP kicks out just as Matt then stands back up, walks to the ropes and climbs to the second rope, but Finlay climbs back up on the apron and pushes Matt off as he then crashes down to the canvas. The ref has to warn Finlay again, but as he does, both Matt and MVP stand back up slowly as they exchange right hands with Matt getting the advantage. He takes a step back and swings once more, but MVP ducks it and then hits a snap over head belly to belly suplex, turns over frantically and covers Matt 1 . . . 2 . . . Shoulder up in time from Matt as MVP then gets back up and urges Matt up, and slowly he picks himself back up. MVP pounces straight away and sets him up for the Playmaker, but he takes too much time as he looks into the crowd posing. Matt pulls himself back, pushes MVP into the ropes, and as he comes back, Matt stomps him in the gut and plants him with the Twist of Fate to a massive pop. Finlay runs in at him, but Matt hits him with a side effect before dropping to the mat and covering MVP 1 . . . 2 . . . 3.

WINNERS: Matt Hardy & Ric Flair by pinfall

AFTERMATH: "Live for the Moment" blasts out as Matt stands back up and Flair gets back in the ring while the ref then raises their hands in victory. Flair hugs Matt before Matt then looks down with a smile at MVP, then signals he will be the next United States Champion


***COMMERCIAL BREAK***


Lena Yada is standing by

Lena Yada: Please welcome my guest, Chavo Guerrero

***POP***

Chavo walks into the shot, looking very focused

Lena Yada: Chavo, later on tonight you will be going one on one with Kenny Dykstra for the Cruiserweight Championship in a no disqualification match. What are your thoughts?

Chavo Guerrero: My thoughts are plain and simple. . . One, hurt Kenny Dykstra to the point he can't stand back up. . . And two, take the Cruiserweight Championship away from him and take it back to El Paso, Texas tonight

***POP***

Lena Yada: Ever since he won the Cruiserweight title at the Survivor Series, Kenny Dykstra hasn't been shy about opening his mouth. . .

Chavo Guerrero: . . . Yeah you're damn right, but tonight that's all going to change. . . For the last few weeks we've all had to listen to how great Kenny thinks he is, but tonight he's got no place to hide as he can't hide behind that big mouth of his. He's long overdue getting his ass kicked, and I'm grateful that tonight I get the chance to be the person to step inside that ring and beat the living crap out of the soon to be former Cruiserweight Champion

***POP***

Chavo Guerrero: You might have a big mouth Dykstra, but believe me kid, when you get in that ring with me tonight, you're gonna need more than that because everything goes tonight. . . That's right, no rules and you're up against someone who knows what it takes to win big matches, and tonight if anyone is going to steal one, we all know that there's only person who's going to do that, and it's not you Dykstra. . . it's me!

***POP***

Chavo Guerrero: I'll give you credit for trying to weasel your way out of it earlier on, but after what you did to me several weeks back, you're gonna regret every last thing you've done because I will walk out of here tonight as the new Cruiserweight Champion, and there's not a damn thing you can do to stop me

***POP***

Chavo looks right into the camera with an intense look on his face


***CUT TO THE ARENA***


"I Walk Alone" hits & Batista walks down to the ring in a suit, not his ring gear

***BIG POP***

Batista: I guess after a difficult few weeks, we've finally found out who my opponent is going to be at Saturday Night's Main Event. . . Some people might have found it difficult to except that they're not as deserving as they think they are, but that's not important now that we know that the person challenging me for the World title a week from tonight will be someone I've never faced in a big match situation before, and someone who I have the utmost respect for. . . It's not often that you get the chance to step through these ropes and actually look forward to beating the hell out of your opponent while they do the exact same to you, but in this case, I can even call it an honour. . . It doesn't matter whatever spin some people might have put on it, but the fact of the matter is to get the shot at my World title, he had to beat one of the best ever in this business in The Undertaker. . .

***POP***

Batista: And despite the circumstances around that match, the result is the same and I will have to defend this title against the icon, the show stopper, the main event, the heartbreak kid Shawn Michaels in eight nights time

***BIG POP***

Batista: When I said it was an honour to be facing Shawn Michaels, I mean that one hundred percent from the heart. All my career, I've had the chance to headline shows with some of the biggest names that this business has ever had to offer, guys like Triple H, The Undertaker, Ric Flair and even the late great Eddie Guerrero

***POP***

Batista: But now for the first time, I get to step inside this ring and do what myself and Shawn do to the very best of our ability. Shawn might not have the same kind of ring presence that The Undertaker has, but next Saturday night when that bell rings, I know that he will give it everything he has and will leave his body in this ring if that's what it takes to entertain every single one of you, and you can guarantee I will be doing the same damn thing

***POP***

Batista: And that's why I respect the hell out of Shawn, I mean how can you not? . . . The one thing that I realise now is that I have to. . .

"Metalingus" blasts out as Edge walks down to the ring in jeans and a t-shirt with a confused look on his face

***MAJOR HEAT***

Edge: What the hell are you trying to do Dave? Make these people sick, because you're sure as hell doin a great job of it. . . That title's not about defending against guys you respect, it's about the honour of being the World Heavyweight Champion. . . You come out here and you sound like some freak stalker of someone off American Idol. . . I love Shawn Michaels, I can't wait to get in the ring of him, I love him. . . You know what it sounds like you're gonna say next Dave? . . . I can't wait to get in this ring with Michaels, pull his stupid leather pants down and kiss his ass

***HEAT***

Edge: You're the World Champion Dave, the heavyweight Champion of the world and you know what you're lacking Dave. . . a set of balls

***HEAT***

Edge: You can say it's an honour and give Michaels a bigger even ego boost than he could ever give himself, but the only thing you should be doing is making sure you do everything you can to make sure that it's you not him who leaves Saturday Night's Main Event with that title around your waist, because if you keep on with this sissy approach Dave, it won't be you leaving with that title, it'll be Michaels, and you know why that is don't ya Dave? Because you know that he will do whatever it takes to win that title, including stabbing you right in the back when the time is right. . . Accept it Dave, you're ready and waiting for it, you might as well have a big red mark on your back with Shawn's name on it. . . And last week, you were tempted. You forgot all about this so called friendly competition didn't ya, when I speared Michaels right in this very ring. Did you try and look out for your buddy Dave? No you didn't, you stood there and watched me spear his freakin ass. That's what it takes Dave if you're gonna keep that title on your shoulder

***HEAT***

Batista: This might seem like a stupid question Edge, but what the hell has all this got to do with you? You come out here every week with some kind of dumb excuse to why you think you should be champion but. . .

Edge: Woah Dave, stop right there. . . Bull, bull excuses, after what I did last week to Michaels, I think I made it crystal clear just why I should be carrying that title and not you. . . I showed in front of both you and the so called icon that I have what it takes to hold that title with pride. I showed you that I will do whatever it takes and that I fear nobody champ, absolutely nobody. . . I mean how many people would have the nerve to walk down here and tell you all this and say in front of a worldwide audience that the World Heavyweight Champion doesn't have any testicles

***HEAT***

Edge: Oh it's true. What kind of World Champion would stand and watch his friend or whatever Michaels is to you, get speared and do absolutely nothing about it. You wanna tell me I'm a liar Dave, well you can't because everybody saw it happen. . . When are you gonna face facts and admit that the reason you won't give me a title shot is because you don't have the guts Dave? . . . Come on big man, admit it in front of the world, I dare ya

***HEAT***

Batista: Edge, maybe you've lost track of your memory because last week I came out here and told you I would gladly give you what you wanted if it would shut that big mouth of yours, and that's not changed. . . If you want a title shot so badly and it will get you off my back, then I'll happily shut you up once and for all right here tonight

***BIG POP***

"Promenade" hits & William Regal walks out into the entrance with a microphone in hand

William Regal: Why is it I get a feeling of déjà vu? . . . What is it going to make you realise Edge that you are not the number one contender for the World Championship? . . . There is only one way you are going to get that privilege Edge, and that is by winning the Royal Rumble next month, because you are all out of title opportunities

Edge: Is that right Regal? I don't think so. . . I don't need to win the Royal Rumble because I know that I will take back that title before then, trust me Regal it's gonna happen

Batista: Regal, I know it's not my place to interfere in this kind of situation, but maybe giving him one last shot isn't the worst thing in the world. I mean, he wouldn't have to come out here every week and talk crap like he seems to enjoy. Just maybe you should think about it

William Regal: Well there is a simple answer to that Batista, there can only be one number contender and that person is Shawn Michaels, whether Edge likes it or not. . . Therefore Edge will not bet getting a shot at the World title as long as you are champion Batista due to the rulings of your last match, but I agree that this situation needs to be resolved as soon as possible. And tonight we are going to put an end to this because in the main event we are going to see Batista go one on one Edge in a non title match. . . And there will be a special guest referee. . . the heartbreak kid Shawn Michaels

***POP***

"Promenade" plays again as Edge & Batista look at each other, not knowing of what to make of Regal's announcement, with Edge looking angry too


***COMMERCIAL BREAK***


MATCH #3

Shannon Moore
vs. Umaga w/Armando Alejandro Estrada

SUMMARY: An easy squash match for Umaga from the bell.

After a hard Samoan Drop, Umaga drags Moore's lifeless body to the corner and sitting him up against the bottom rope. He then backs up into the opposite corner, runs in and hits Moore with the devastating Samoan Wrecking Ball, snapping his neck back. Moore looks out of it as Umaga then drags him back up to his feet and into the centre of the ring, then smashes him down with a Samoan Spike. Umaga is set to go for a cover, but Estrada stands up on the apron and instructs him to go to the top rope, which he does. The Samoan Bulldozer then leaps off, connecting with a huge splash and then covers Moore 1 . . . 2 . . . 3.

WINNER: Umaga by pinfall

AFTERMATH: "Virtual Voodoo" hits as Umaga then gets back up to his feet and stares into the eyes of the intimidated referee, who just leaves the ring. Estrada stands back up on the apron and climbs in the ring, then instructs him to pull Moore back up to his feet. The Samoan monster does just that, but as he is about to hit the Samoan Spike again until the lights go out. There's a huge pop as a gong then hits, getting an even bigger reaction. The lights come back on as Umaga and Estrada look round, but there's no sight of The Undertaker, but it's enough to worry Umaga who lets go of Moore as Estrada constantly looks round and Umaga starts to yell out in Samoan


***CUT BACKSTAGE***


The World's Greatest Tag Team and Chris Masters are in their locker room, with Shelton & Charlie getting ready

***HEAT***

Shelton finishes lacing his boots up and stands up, then walks over to Haas, who is sitting down to put his boots on with Masters sitting next to Haas

Shelton Benjamin: Well I'm ready Charlie, are you? Are you ready to dig us out the hole you've got us into tonight huh? Didn't me telling you last week not to screw up make any difference, because if you had listened to me, we wouldn't be defending our titles tonight, but we are

Chris Masters: Give him a break man, so he didn't win his match, big deal

Shelton Benjamin: Yeah, and what's it got to do with you tag along Larry? You're not part of this team, what's stopping you from standing your ass up and get to steppin?

Masters stands up and gets in Shelton's face

Chris Masters: For the record Shelton, I was part of this team when we beat these guys at the Survivor Series, the only time you've ever got a win against them. And I'm not about to stand back and let you put all the blame on Charlie's shoulders while you've laid back and done squat since you won those titles. If anyone needs to do something about it, it's you. . . You wonder why you're not the big star you think you are Shelton? It's cos you're an asshole

***POP***

Chris Masters: You're not a big star and you won't be until you pull your head out of your ass and actually do something about it, instead of shifting the blame on everyone else

Shelton Benjamin: Big talk Chris. You think I'm gonna listen to anything you have to say huh? What have you ever done with your career? . . . I've won more gold than you could ever dream of and you're gettin heavy with me. Maybe you wanna step up and take a look at a real man, not a pussy

Haas stands up and gets between them

Charlie Haas: GUYS, STOP IT RIGHT NOW. . . Shelton, we've got a match coming up, now focus on that or we'll lose our titles. Is that you want cos it sure looks like it?

Shelton Benjamin: Look, I don't need either of you gettin in my face. As long as I'm in that ring tonight Charlie, we can't lose alright. And just like always, I'll carry this team to another win

Shelton then storms out of the room as Haas and Masters look on shocked and angry


***CUT ACROSS THE BACK***


Batista is stood in the hallway with Ric Flair, now out of his ring gear

***HUGE POP***

Batista: I've gotta say Ric, it's great to have you back, we've missed you around here

Ric Flair: Dave, it's good to be back and doing what I do best all over again. But it's you Dave who has it all on the line by the look of things. . . Edge tonight and Shawn Michaels at Saturday Night's Main Event. . . that's huge Dave, but I know you can do it. . . You know why?

Batista: Why's that?

Ric Flair: You shouldn't need to ask big man. . . Who trained you to be the very best like you are right now huh? . . . That's right, the WOOOO, sixteen time World Champion, limousine ridin, jet flyin. . .

Mystery Voice: . . . Kiss stealin, wheelin dealin son of a gun. . .

Flair looks confused and Batista smirks as Shawn Michaels walks into the shot

***BIG POP***

Shawn Michaels: Well look what the cat dragged back in. . . the dirtiest player in the game, the reason why I'm here baby, the nature boy himself, Ric Flair. How's it goin buddy?

Ric Flair: Shawn Michaels

Shawn Michaels: The one and only

Ric Flair: I'm great Shawn, just great. In fact I was just talking to Dave about your match next weekend

Shawn Michaels: Yeah, it's gonna be a big one too let me tell ya. . . The Animal, the beast will be unleashed against the show stopper, the main event for the biggest title in sports entertainment today. . . But you know I actually came looking for you Dave. . . This match tonight with Edge, I just want to let you know, face to face, man to man that all this crap Edge has been trying to get you to believe about me stabbing you in the back. . . just ignore it. . . We both know what he's like and what he's trying to do, I thought it was right to come and let you know big fella that you've got absolutely nothing to worry about. The only thing that matters right now is what you said earlier, next Saturday night. Me and you putting on the match of our lives for the World title, and we can't do that if we listen to that Sideshow Bob lookalike and let him get under our skins. . . Are you with me?

***POP***

Batista: (Pauses). . . Absolutely

Shawn Michaels: Great, I better go find myself a referee's shirt. . . I'll see you out there big man. . . good to see you too Ric

Michaels turns round and walks out of the shot as Flair turns to Batista

Ric Flair: You believe all that Dave?

Batista: All that matters is I know what he's capable of and I won't turn my back for a minute

Ric Flair: Make sure you don't

There's a nervous look from both men as we go to commercial


***COMMERCIAL BREAK***


MATCH #4

CRUISERWEIGHT CHAMPIONSHIP
No Disqualification Match
Chavo Guerrero
vs. Kenny Dykstra (c)

SUMMARY: As Chavo made his way down the ring, Dykstra kept hold of his title belt, not letting the referee take it off him. As Chavo enters the ring, he walks over to Dykstra and the referee who fight over the belt, but before the referee can get it off him, Dykstra pulls it back and smashes it right in Chavo's face. He seems to snap as he then drops to his knees by Chavo's head and pummels Chavo with some vicious right hands to the skull, one after another. He then stands back up and pulls a motionless Chavo back up, stares right in his eyes and yells right in his face before exploding with a rolling cutter. As Chavo hits the mat face first, the ref looks concerned and checks on him, but Dykstra just pushes him down to the mat before stomping him in the head with some real hard boots to the skull, not letting go until the ref stands back up and gets in his way. Dykstra pushes him to the side again, continuing to attack Chavo with hard boots to the skull before walking over to the corner, climbing to the top rope and leaping off for the guillotine leg drop. He stands back up and just stares down at Chavo as he gets so much heat from the crowd. The ref drops to his knees straight away and checks on Chavo again as Kenny just stares down in some kind of trance. The ref then calls for help from the back and then signals for the bell

WINNER: by stoppage and still Cruiserweight Champion, Kenny Dykstra

AFTERMATH: There's a huge amount of boos from the crowd as EMT's charge down the aisle to check on Chavo as Dykstra smirks and then bends down to pick his belt back up. He then leaves the ring with a big smile on his face and then as he gets to the entrance, he turns round and raises his belt in the air before the shot goes back to the EMT's working on Chavo


***CUT BACKSTAGE***


Edge is in his locker room with John Morrison & The Miz

***HEAT***

Edge: Do you know how pathetic you guys looked last week? More importantly, do you realise how pathetic you made me look by losing last week. I don't need this shit right now and I don't need two talentless pieces of crap like you getting in my way of bringing the World Heavyweight Championship back where it belongs, and that's around my waist. . . So from now on, I don't wanna see you two guys anywhere near me, next to me, footsteps away from me or in my line of sight, cos as long as you are, you're dragging me down to the basement level that people like you are never gonna get past, and I'm not having that. . . I was put on this earth to be the biggest star this industry has ever seen, not babysit two wannabe grease monkeys who can't even wipe their own asses by themselves. . . So I'd appreciate it if you got the hell out of my locker room right now and don't come anywhere near me ever again

John Morrison: You have a serious attitude problem my man, and you need to step down off that platform you think you're on, because you're setting yourself up for a fall, and a big one

Edge stares back at Morrison with a really pissed off look

John Morrison: If you want us to leave, that's fine because we're done acting as your line of defence. We're better than that and we know it. . . Let's get out of here

The Miz: Right behind ya bro

Miz gives Edge a dirty look as he and Morrison walk out while Edge just stares right through them. He turns round and starts to walk up and down the room


***COMMERCIAL BREAK***


***VIDEO PROMO***
We see a guy dressed in traditional blue jeans, a white shirt and a cowboy hat sat down at a bar, drinking a bottle of beer when a fight breaks out in the background at a pool table. One of the two guys hits the other with a pool cue and tosses the cue away, landing at the foot of the guy drinking the beer at the bar. He looks down and sees the cue, picks it up and walks over calmly, asks the guy whose cue it is and puts it back on the table. He asks if there's any trouble, when the guy who was fighting tells him to get lost, which gets a response of "I can't do that" and then results in punches being thrown at the guy who threw the cue, who then falls to the floor after being smashed in the face with a beer bottle. The guy in the white shirt then walks back over to the bar and orders another beer and the barman says he's sure handy with his fists and asks him what his name is, to which the guy replies, "It's Chris, Chris Harris". The barman gets him a bottle of beer and tells him it's on the house for beating that trouble maker up to which Harris replies "It's what I do".

It freezes to a still image of Harris drinking when it changes to a black screen, saying Chris Harris - Coming Soon to Smackdown!


***CUT TO THE ARENA***


MATCH #5

WWE TAG TEAM CHAMPIONSHIP
The UK Pack (Paul Burchill & Harry Smith) w/Drew McIntyre
vs. The World's Greatest Tag Team (c) w/Chris Masters

SUMMARY: A real even back and forth match with Shelton & Charlie working well together.

As the match comes to a close, Benjamin and Smith come back off the ropes and hit each other with a clothesline, with both men dropping to the mat. They both start to stir and then turn over and crawl across the mat, tagging in their partners. There's a big pop as Burchill enters the ring and charges at Haas, not giving him time to think as he takes his head off with a hard clothesline. Haas shows some resilience as he picks himself back up quickly, holding onto his head, but Burchill whips him into the ropes and plants him with a backbreaker slam. Haas looks in some pain as Burchill reaches across and hooks the leg 1 . . . 2 . . . Haas just gets his shoulder up as Burchill looks to take finish the match off, he stands back up and pulls Haas back up to his feet, then sets him up for a neckbreaker, but then jumps up in the air before he releases Haas. As he goes to make a cover, Shelton charges into the ring and takes a swipe at Burchill's gut before he is able to stand back up. The ref warns Shelton and tells him to get back on the outside, which he does. As he stands back on the apron, he sees Masters and takes exception to an in noxious look from The Masterpiece and starts to talk smack. Masters takes exception to it and pulls Shelton down off the apron and they then yell at each other as Haas and Burchill pick themselves back up. With Haas using the ropes to help him up, he looks confused as he sees them arguing. Shelton then pushes Masters, who responds by pushing him back. Haas stands up and shouts at them to stop, but they don't hear him or just ignore him as Burchill then walks up behind Haas, spins him round and plants him with the C4. The crowd goes nuts as Burchill then turns over and covers Haas 1 . . . 2 . . . 3.

WINNERS: by pinfall and new WWE Tag Team Champions, The UK Pack

AFTERMATH: "Britannia" blasts out as Burchill sits up and then drops his head to his knees in shock. Smith enters the ring and collects the belt from the referee. Benjamin and Masters look round in total shock. Shelton yells at Masters, who looks stunned as Smith & Burchill celebrate in the ring with McIntyre too as he climbs inside. They pose for the crowd with their newly won belts and then as they turn round, they stare back at Masters and Shelton, still stunned, but Shelton is livid as he kicks the ring apron in disgust


***COMMERCIAL BREAK***


***VIDEO PROMO***
A brief history of Saturday Night's Main Event

NARRATOR: It has a place in WWE history. . . It has a place in the history of sports entertainment. . . but it also has a place in its future. . . For Christmas will not be the same this year for the stars of Raw and Smackdown as Saturday Night's Main Event makes its return. . . Live on NBC!

The clip cut to a graphic showing "Saturday 22nd December. . . Shaking Up Saturday Night. . . Live on NBC"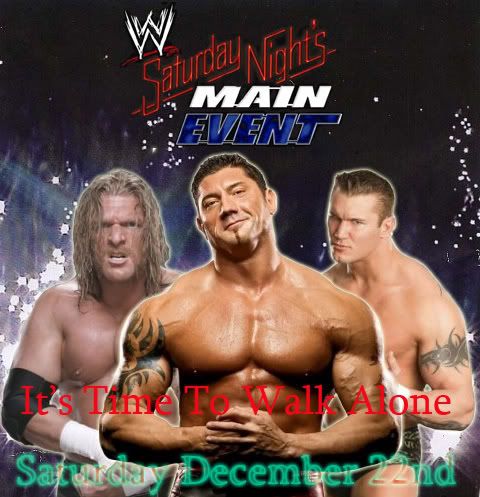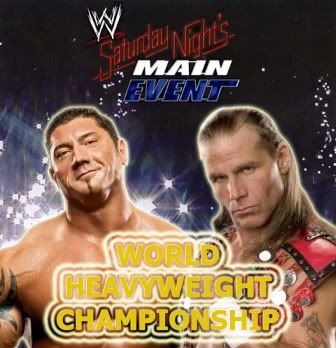 ***CUT TO THE ARENA***


THE MAIN EVENT

NON TITLE MATCH
Batista
vs. Edge
Special Referee: Shawn Michaels

SUMMARY: A real intense match with Edge going at it early on, but with Batista getting back into it as the match goes on.

Batista tries to finish Edge off, battering him with hard right hands, forcing him against the ropes and then whipping him into the opposite set, and as Edge comes back, Batista charges at him, connecting with a hard falling clothesline. A big pop rings out as Batista then stands up and pulls Edge back up to his feet, whips him into the corner and charges in, but Edge sidesteps and Batista runs through into the ropes, Edge runs into the ropes, comes back and drives his boot into Batista's face, then goes for a cover as Michaels counts 1 . . . 2 . . . Batista lifts his shoulder up, leaving Edge angry. He then stands back up, pulls The Animal up and chops at his chest a couple of times, turns round and runs into the ropes, but as he comes back, Batista steps forward and plants him with a spinning side slam. A big pop breaks out as Batista then tries a cover 1 . . . 2 . . . Edge kicks out comfortably as Batista then stands back up and looks at Michaels innocently and then bends down to pick Edge up, whips him into the ropes and plants him with a spinebuster. Again the crowd go crazy as The Animal looks to be in complete control. He then walks over to the ropes and shakes the top rope Ultimate Warrior style. He turns round and looks at Michaels and then sees Edge starting to stir on the mat.

He walks back over and helps Edge back up to his feet, stomps him in the gut and sets him up for the Batista Bomb. As he then lifts him above his head, Edge fights it and hits Batista with a couple of right hands across the top of his head, forcing Batista to let go as Edge then drops to his feet, stomps Batista in the gut and hits the Edgecution. Some gasps are heard from the crowd as Edge takes a couple of seconds before he is able to turn over and put his arm across Batista's chest for a cover 1 . . . 2 . . . NO!! The Animal kicks out. It takes Edge a couple of seconds to get back up, and when he does, he gets right in Michaels face and tells him it was three. HBK looks pissed as he continually has to tell Edge it was just two, but he won't listen. Edge then slaps Michaels right in the face, knocking his head back. Shawn remains with his head back for a couple of seconds, before then lifting his head up and exploding with a super kick, but Edge ducked it and Batista got up behind him and felt the full force of it as he fell back to the mat. Edge looks shocked and Michaels can't believe it, but Edge then seizes the opportunity as he drops to the mat and covers Batista. Shawn shakes his head for a couple of seconds before dropping down and reluctantly counting 1 . . . 2 . . . 3.

WINNER: Edge by pinfall

AFTERMATH: "Metalingus" blasts out as Shawn leaves the ring, looking frustrated after calling for the bell. Edge stands up and throws his arms up in the air as Michaels turns round and looks back at the ring as Batista pulls himself up to his knees using the ropes and stares towards Michaels who just looks guilty and can be seen saying he's sorry as Edge celebrates in the background


***END OF SHOW***


QUICK RESULTS
Kid Kash df. Super Crazy
Matt Hardy & Ric Flair df. MVP & Finlay
Umaga df. Shannon Moore
Kenny Dykstra df. Chavo Guerrero
The UK Pack df. The World's Greatest Tag Team – NEW WWE TAG TEAM CHAMPIONS
Edge df. Batista

FINAL CARD FOR SATURDAY NIGHT'S MAIN EVENT

WWE Championship
Triple H vs. Randy Orton (c)

World Heavyweight Championship
Batista (c) vs. Shawn Michaels

WWE United States Championship
Steel Cage Match
Matt Hardy vs. Montel Vontavious Porter (c)

WWE Womens Championship
Trish Stratus vs. Beth Phoenix (c)

Chris Jericho vs. Mr. Kennedy
---
Last edited by Nige™; 03-08-2008 at

08:15 PM

.
Tested Positive For Thread Performance Enhancers
Join Date: Dec 2007
Location: Nikki Roxxville, USA
Posts: 6,802
Points: 0
Re: WWE: A Strong Response
---
sirdilznik's Smackdown review
Great promo to start. natch was great. MVP was awesome. You write him really well. So freakin' cocky. I love it. Matt making the save was a no brainer. Will we see Flair vs. MVP?
Good opening contest to get the action rolling. I'm glad Kid Kash picked up the win. The distraction bit was well done. I love the little touches like Noble shoving the ref out of the way after the match.
Nice a tag match with Flair/Hardy and MVP/??. Perfect set up. Save the singles matches for a larger occasion and hype it with a tag match. Classic. Hmmm.... I wonder who MVP's partner will be? The set up was for Finlay to be the partner.
William Regal is awesome. Excellent writing as usual. Hmmm.... Does Kenny have something up his sleeve?
Damn you write Armando well "Con-ten-der" - Awesome
I can't wait for U-Manga to squash Shannon Moore. I'm seriously becoming an U-Manga addict. U-Manga for world champ! (OK I'm getting carried away)
MVP & Finlay it is. Great match. Good stuff from all involved. I loved MVP's showboating costing him. Matt taking both guys out
and
getting the pin
and
after a small delayed cover makes him look really, really strong. Great way to use Flair (indirectly) to make Matt look very strong heading toward the match at SNME. Well done. I wonder what kind of retaliation MVP will have next week? I kind of think MVP will find a way to sneak out with the title at SNME despite it being in the cage. Should be great.
Good Chavo promo. Too bad I don't see him taking the belt from Kenny tonight.
Batista showing HBK tons of respect doing the good face thing. Absolutely brilliant stuff from the Rater R Superstar. The master manipulator at his finest. OK I think I see what's going on. Edge is going to help HBK win the belt. Boy he's f'n buttering Batista and Regal up too. Brilliant. Damn Edge is awesome!
U-Manga squash. Loved it. Thank you Armando for having him not settle for the Spike, but hit the Splash too. Nice Taker mind game at the end.
Shelton just keeps hammering Charlie. Nice verbal lashing. I like it.
Awesome Batista/HBK/Flair promo. Really captured all of them and the scene as a whole really well. Is HBK going to kick Batista's head off before SNME? I say yes, but not tonight.
Holy super squash for Kenny
I had Kenny keeping the title but I totally didn't see that coming. Man he just tore Chavo up. And by the rules of the match totally legal too. Kenny's got a mean streak. Good I like mean streaks. That caught me off guard. I'm usually against 2 squashes in one show but that was sweet so I can live with it. Wow I suddenly like Kenny Dykstra
More Edge goodness. Just lacing into Miz and Morrison. You sure got a lot of people just brutally verbally lashing each other this week. That's not at all a bad thing.
I still can't get over Wildcat running Cowboy's gimmick. Nice. I can't wait to see Wildcat in action. The anticipation builds.
Alright the Tag title match! WGTT start off looking good... What's going to go wrong? Aaah... Shelton and Masters arguing. The fall continues. Will WGTT crumble completely? I'm definitely interested.
Nice. Spinning Side Slam from the Animal. The Batista Bomb attempt/Edgecution sequence was sweet. Classic Edge counter. Great work having the kick out on the delayed cover too. Wow I didn't see the Superkick to the Animal coming, but that's even better than what I was thinking. Good stuff because it looks like HBK did it by accident when we all know better. I think he's in cahoots with Edge. That was planned I think. Great stuff either way.
Another great show. Entertaining from start to finish. Really good build throughout the show toward SNME. Damn Matt looks almost Cena-strong right now (OK maybe not). Excellent promos as usual. Very good matches. 2 squashes, but the second was a shocker to me and I liked it. 9/10
---

STILL A Proud Member of Roid Sox Nation

sirdilznik's Random Rhetorical Question Of The Week:
If Hornswoggle turned heel could he hide in Mike Knox's beard?



Quote:

Originally Posted by Frank Zappa

Look here brother, who you jivin' with that cosmik debris?
Re: WWE: A Strong Response
---
WWE.com Homepage

SMACKDOWN HAS NEW TAG TEAM CHAMPIONS
Last night on Smackdown, we saw Paul Burchill and Harry Smith, The UK Pack overcome the now former WWE Tag Team Champions of Shelton Benjamin and Charlie Haas. Having usually got the better of The World's Greatest Tag Team since they debuted two months ago, they finally made it count at the right time as they stole the gold. The tension between the champions and their friend Chris Masters has been boiling over recently and last night it finally reached the ultimate boiling pointt as Benjamin took exception to what seemed like an innocent look from Masters. And as they argued on the outside, it distracted Haas on the inside and cost them the titles. What kind of response are we going to get from the former champs next week on the final Smackdown of the year?

We also saw what could prove to be a huge turning point in the World Heavyweight Championship a week from tonight at Saturday Night's Main Event. In the main event last night we saw the World Champion, Batista face Edge with The Animal's opponent next weekend, Shawn Michaels acting as guest referee. With Edge planting seeds of doubt in Batista's mind about his ability to trust Michaels, it was Michaels who seemingly by accident, cost Batista the match with a super kick only after Edge ducked it. There was a nervous look between them as the show came to an end, but will The Animal see it as an accident?

It has also been brought to our attention that Chavo Guerrero was taken to a local medical facility after his, well not what we can call a match after Kenny Dykstra completely took the limits of a No Disqualification match to a new level as he smashed Chavo across the skull with his Cruiserweight title just as Chavo entered the ring. He continued a horrific attack, and the referee had to stop the match, fearing for Chavo's condition. Word is Chavo was kept in last night for observation following the repeated blows to the head. Smackdown GM, William Regal has been advised of Chavo's condition and is said to be less than happy with Dykstra's behaviour.
Re: WWE: A Strong Response
---
I'll try and get a review up for Smackdown, looks great
---
Re: WWE: A Strong Response
---
PWInsider.com

THORN BACK IN OVW
It has emerged that since Kevin Thorn was not on Smackdown the last couple of weeks, he has now been removed from the Smackdown roster and will be wrestling this coming week in Louisville for the OVW TV taping against Chuck Palumbo ironically, as he too was sent back to developmental last week. There is no news on whether this is a temporary move for either of them or if they will end up back on the roster.


Re: WWE: A Strong Response
---
DH6's SmackDown! Feedback
MVP starting off the show is a good choice. MVP's lines were in big chunks, too big of chunks, imo. Not really sure why Flair would be his guest if he's fighting Matt Hardy at SNME. Unrealistic for MVP to call Flair the greatest of all time and that it's an honour to be with him. Glad Matt did get involved though, because if he didn't, there really wouldn't be much momentum heading into their Steel Cage Match at SNME. 8.5/10
I really like how the Cruiserweights are getting involved, but are these four guys on two separate teams? I really admire Kash in the ring, so I hope you don't let his talent go to waste. He's good as a heel, and his sort of 'western' accent might even be a gimmick opening. 9/10
Having the Tag Team Match up next isn't the best idea. Would have been better to have it at the middle part of the show. Don't know who MVP will find as a partner, but probably somebody who's really over as a heel. 8.5/10
Dykstra as Cruiserweight Champion probably isn't your best choice for CW Champ, but I like that you're using your young talent well on both Raw and SmackDown! I can't see Chavo winning tonight, as Dykstra just hasn't held the title long enough. I take it Chavo is now face or something? Just a little note, I don't think Regal would say 'damn'. 8.5/10
So this has been 3 segments in a row, but I guess you get that sometimes on shows. This is now 4 segments and 1 match, just like I had done on my latest Raw, but we'll forget about that
. I like having Estrada with Umaga because then Umaga is basically getting microphone time. 7.5/10
Finlay was probably the best choice for MVP's partner. Very interesting that you had the Side Effect get the pin fall, since it usually just gets a two count. This obviously raises the credibility of the move, especially if it put away someone with as much credibility of Ric Flair. Flair/Finlay would be a good match to put on the SNME Card, imo, but that's just me. 9.5/10
Two interviews have been very close apart. Just make sure to spread them out a little bit more for next time. I actually was liking Chavo's character, because it made me want to read more. Too bad Chavo won't win the title tonight. 10/10
Batista's character seemed to formal if you know what I mean. You gave him more mic time than he can handle, which might not have helped. Batista/Michaels will be a great match, and I'm looking forward to it in a sense because Michaels is getting a World Title Shot. However, Michaels probably won't win, so I'll be upset
. Edge coming out was good because I know just how angered Edge is that he's not getting a World Title Shot. Edge's character made me chuckle, but it was really well done. You sort of got carried away with balls and testicles lmao, and I don't really think they would ever say testicles on national television like that. I want Edge to win the Royal Rumble, but they don't usually talk about the Royal Rumble before the previous Pay-Per-View has even been aired. The Main Event should be huge, but I think that this would have been a good segment to open up the show. 9/10
Umaga squashing jobbers is fabulous, and I love it. Well actually, it's not that fabulous because he probably can be doing more than squashing. Obviously not much in store for Moore in the future. At least you gave this squash a little 'zest' by having the lights go out. Undertaker/Umaga feud to come in the future. 9/10
Nice little locker room segment with WGTT. I expect them to retain the titles, but I guess anything can happen. Interesting that they're all getting mad at each other, but I still think that they'll manage to pull through. 9/10
A side note here before I comment on this segment, capitalize someone's gimmick, so for example, but The Heartbreak Kid, not the heartbreak kid. Anyways, this segment was actually not bad, and now there's a distinct possibility that Flair could get involved at SNME. It seems as if Flair is leaning towards Batista, but maybe Flair might turn on him. 9.5/10
I was marking out for a great match, but I guess you had other plans. I personally think it would have been better to have Chavo enter first and then Dykstra come running behind him and smash him with the belt. Dykstra put on a pretty good attack, and it puts him over more. 8/10
Edge getting rid of Morrison/Miz shocked me, but I guess it establishes his heel personality. All that I ask is that you do something with Morrison, and hopefully leave Miz out of the picture. 9/10
~Chris Harris should be a nice edition to your roster to use as a mid-carder possibly
Good to hear that Haas/Benjamin worked well together even after that backstage argument involving Chris Masters earlier in the show. Not a lot to say about this match, except that this young talent is getting better. You seem to be using your young talent quite a bit. The UK Pack getting the victory really shocked me. I don't think they're ready for the tag titles yet, but I'll wait and see how it develops. 8/10
This match I knew would be good from the moment it was announced. The finish was great with Michaels accidentally hitting Batista with Sweet Chin Music for the win. Edge should definitely be involved at SNME somehow, but I have no clue how. He deserves to be in the World Title scene, but I guess I'll have to wait for that to happen. 9.5/10
Overall the show was entertaining and enjoyable to read. Saturday Night's Main Event looks good, but I think Jeff/Punk and Finlay/Flair could be fitted on the card, as 5 matches just isn't enough. However, it's good to know that each match will be getting a reasonable amount of time and that SNME won't disappoint. Overall rating -- 132.5/150 = 88% = A
Re: WWE: A Strong Response
---
Thanks for that review man, it's great to get good, honest feedback like that

The reason the Batista/Edge/Michaels promo didn't open the show is because they have opened the last two if i remember rightly and i wanted to mix that up a little. The V.I.P. Lounge with Flair was simply to get him back on TV, and at the top of the show too, plus getting MVP a bit more heat by bad mouthing him and attacking him like he did. Dykstra as Cruiserweight Champion has raised eyebrows but i feel it is a great way to develop him, and Chavo is a face too. There is more to come from that situation for sure. Thanks for mentioning the use of young talent, it's something i will be doing a lot as i feel it helps me as a booker and makes it a challenge to get them over

As for Saturday Night's Main Event, as it's going to be a two hour show with commercials, i can't have more than 5 matches really when two are World title matches, one is a Steel Cage match for the US title and their will be promo's done too. It will basically be like a TV show for its promos and a PPV for the matches if you get where i'm coming from
Posting Rules

You may not post new threads

You may not post replies

You may not post attachments

You may not edit your posts

---

HTML code is Off

---