Tested Positive For Thread Performance Enhancers
Join Date: Dec 2007
Location: Nikki Roxxville, USA
Posts: 6,802
Points: 0
Re: WWE: A Strong Response
---
Nice preview. I'm really psyched for the 15th Anny show. Should be great to see how you write up some of the stars of the past making cameos and stuff. I can't wait to find out what kind of retribution Vinny Mac will have planned. I can see the possibility of a major power trip coming. I think it's pretty obvious who the fans will vote for as the greatest Diva of all time.

I can't wait to see how you handle such a momentous occasion.
---

STILL A Proud Member of Roid Sox Nation

sirdilznik's Random Rhetorical Question Of The Week:
If Hornswoggle turned heel could he hide in Mike Knox's beard?



Quote:

Originally Posted by Frank Zappa

Look here brother, who you jivin' with that cosmik debris?
WWE.com - HOMEPAGE (Raw 15th Anniversary Results)
---
RAW 15th ANNIVERSARY
3 HOUR SPECIAL – RESULTS

10th December 2007
Gund Arena
Cleveland, Ohio






***OPENING CREDITS***
"Wanna Be Loved"

***PYRO***
***PYRO***
***PYRO***
***PYRO***
***PYRO***


"No Chance in Hell" hits throughout the arena as Mr. McMahon walks down to the ring, looking very subdued

***HEAT***

Mr. McMahon has to wait a good twenty seconds for the boos to stop before he holds his hands in the air

Mr. McMahon: Ladies and gentleman, I can appreciate that I deserve that response, believe me I am more than aware of what you think of me. . . But that is why I come out in front of every single one of you tonight to do the right thing. . . Tonight is not about my return, it is purely a co-incidence, but let me remind you that tonight is not about my return, it's about celebrating the fifteenth anniversary of Monday Night Raw

***POP***

Mr. McMahon: This is why you are all here tonight, to witness a celebration like no other, and as chairman of the WWE, it is my job to give you a show to remember for the rest of your lives, and that is exactly what you're going to get

***POP***

Mr. McMahon: Because right here tonight, we are going to find out just who will be going to Saturday Night's Main Event to face Smackdown's World Heavyweight Champion, Batista. . . That's right, during my three weeks recovery, I've had plenty of time to think about things and of course watch both Raw and Smackdown, which comes in extremely handy for tonight's celebrations. . . So right here tonight on this incredible occasion, you will see two of Raw's greatest ever superstars go at it, the only two WWE superstars that were on the debut show of Raw and are still here today will go at it for the right to become the number one contender for the World Heavyweight Champion, because in your main event tonight, it will be Shawn Michaels going one on one with The Undertaker

***MASSIVE POP***

Mr. McMahon: But if you think it ends there, you would be wrong, because you are also going to see Raw's World tag Team Champions take on Smackdown's WWE Tag Team Champions in addition to the reunion of the Hardy Boys to go to war with CM Punk and the United States Champion, Montel Vontavious Porter, MVP

***BIG POP***

Mr. McMahon: But after all that, I feel that I not only need to make it up to every single one of you because if it wasn't for you, we wouldn't be celebrating this joyous anniversary tonight, not by a long shot. It would be very easy for me to say that it is all down to me, hell I've said it before, but that was just me and my ego getting the better of me. . . Like I said earlier on, over the last three weeks since I was hospitalised after my match with my son-in-law Triple H at the Survivor Series, I've had a lot of time to stop and think about what is really important to me. Usually when I've been in hospital for a while, I've had my family visit me throughout my stay, but not this time. And after a great deal of mental burnout, I realised that there was only one person to blame for all that, and that person was me. I can stand here in front of a worldwide audience and admit that, in front of millions of people. It might not have been easy for me to come out here and say that, but it's the truth. . . When I was lying in that hospital bed for other a couple of days without a single visitor, phone call or a get well soon card, well apart from the sarcastic one I received from Triple H. . .

***POP***

Mr. McMahon: . . . and I deserved that by the way, it made me think about what I wanted from the rest of my life. I had to really evaluate what it was I wanted as I lay there miserable without my family at my bedside, and it was then that I realised that the one thing that I truly want to be happy, is my family

***MIXED REACTION***

Mr. McMahon: I can understand your reaction, believe me I can. But I have to be honest with myself, I don't have all that long left with my life and I had to ask myself if I want to make enemies and force the people that are close to me away for whatever time I have left. . . So with that said, with you all back there, Shane, Stephanie, Linda and even you Triple H, I would like to offer my public apologies to every single one of you for the despicable treatment that you have had to suffer at my expense

*** MIXED REACTION***

Mr. McMahon: There's one more thing that I really have to say and I don't expect you to come out and listen to this Stephanie, but I want you to understand that I mean every word I am about to say. . . For what I have put you through, I am more sorry than words could ever express. You're my little baby girl, but I realise that you're not little anymore and that you can make your own decisions, and make them very well. . . So that brings me to what I really came out here to say Steph and that is that I want you and your daughter, my beautiful granddaughter to be a part of my life

*** MIXED REACTION***

Vince looks emotional as he looks towards the tron for nearly five seconds. He lifts the microphone back to his mouth when. . .

"The Game" blasts out as a casually dressed Triple H walks down the ring with a very serious look on his face

***HUGE POP***

Triple H stares Vince right in the eyes for several seconds before walking past him to get a microphone

***"Triple H chants echo around the arena"***

Mr. McMahon: Hunter, I'm so glad you ca. . .

Triple H: Vince. . . SHUT YOUR MOUTH

***POP***

Triple H: Do you seriously think you're gonna make this all better my coming out here and spouting sorry this, sorry that about everything you've done to me and the rest of your family? You really think that we're going to forgive you just like that because you've had three weeks to lie back on your egotistical ass? . . . No Vince, it's not going to go down like that, you know why? I've heard you come out here and make out like you're sorry hundreds of times before, only for you to turn back round and stab people right in the back because you're Vincent Kennedy McMahon and you think that you can what you want to whoever you want, whenever you want. . . Well Vince, you're done screwing with me, Linda and most importantly Steph, so what I think you should do is go back to that hotel bed of yours and stay there permanently so we can all get on our with our lives, cos I gotta be honest with ya Vince, they're a whole lot better without you

***POP***

Vince looks like he's taken it on the chin

Mr. McMahon: Hunter, I don't blame you for being angry, really I don't. But hand on heart, I swear to you that this time it's different

Triple H: You really expect me to believe that?

Mr. McMahon: Yeah Hunter I do, because it's the truth. And if you want the entire truth, I'll give it to you. . . When I was laid up in that hospital bed that you put me in, for the first couple of days all I wanted was for me to find out who the hell my bastard son was so that together we could come back and put you in a hospital bed too. But it didn't take long for me to realise that the only family I wanted is the one I already have, and that includes you and my granddaughter, your daughter, Aurora Rose

Triple H stares at Vince, seeming to calm down and listen

Triple H: Vince, if indeed you do have a heart, do you really and honestly hand on heart accept that me and Stephanie are married? Do you. . .

Mr. McMahon: . . . Hunter, let me stop you there because I want to make this perfectly clear so everyone knows where they stand. . . I Vincent Kennedy McMahon accept you, Triple H as my son-in-law and will treat you, Stephanie and my granddaughter with the respect and dignity that you deserve

Triple H doesn't know what to say as he looks back at Vince, who looks genuinely truthful when all of a sudden. . .

"Burn in my Light" hits and Randy Orton walks out to the entrance ramp with a microphone in hand

***MAJOR HEAT***

Randy Orton: I feel that I must also apologise to you two for coming out here to break up this beautiful family moment, but you don't leave me much choice. And while I'm out here and just for the record, I would like to categorically deny the rumours that seem to be circulating that I am in fact the illegitimate child of Mr. McMahon. I am one hundred percent Orton. . . Back to business, and this whole show tonight shouldn't be about the fifteenth anniversary of Monday Night Raw, it should be a celebration of Raw's greatest ever WWE Champion, and that is the legend killer

***HEAT***

Randy Orton: It goes without saying Vince that with the most talented superstar in history here tonight, it makes clear sense that there should be some kind of honour in my name for the contribution that I have had on this show in the last five years. . . And seeing that I'm going to beat your son-in-law at Saturday Night's Main Event. . .

Triple H: Randy. . .

Mr. McMahon: Hunter, let me take care of this. . . Randy you're right, you're absolutely right. What kind of a show would this be without the WWE Champion and the current Raw Champion of Raw? . . . I can change all that for you Randy, and I believe I have a solution for you. How do you feel about being a part of WWE history?

Randy Orton: Vince, I already kind of am, but please proceed

Mr. McMahon: Well how very dignified of you Randy. . . See what I have in store for you is something that I missed and I really shouldn't have. I put that down to being slightly off the ball recently, but I assure you Mr. Orton that tonight you are going to have a huge part in this celebration. Because right here later on tonight in this very ring, you will be in action against a former friend of yours and he also just happens to be the current World Heavyweight Champion

***HUGE POP***

Orton's face is a picture, he's stunned as Triple H smirks a little

Mr. McMahon: That's right Randy. Tonight you will go one on one with the animal Batista when the WWE Champion meets the World Heavyweight Champion on the fifteenth anniversary of Monday Night Raw

***POP***

"No Chance in Hell" hits as Vince stares a hole through a stunned Orton as Triple H looks very confused towards Vince as we go to our first commercial break


***COMMERCIAL BREAK***


***OPENING MATCH***

WORLD TAG TEAM CHAMPIONS VS WWE TAG TEAM CHAMPIONS
Paul London & Brian Kendrick vs. The World's Greatest Tag Team

SUMMARY: A real fast paced match with several high flying moves with it being pretty even, but as the match went on Shelton took control for his team. He had Kendrick in trouble after a series of moves, including a springboard clothesline. Following that up, he got a two count and then lifted Kendrick back up to his feet and whipped him hard into the corner, then followed in, connecting with the stinger splash. As Kendrick then staggered out of the corner, Shelton grabbed him and tried to get him in position for the T Bone Suplex, but Kendrick fought it with elbows and was able to escape Shelton's grasp, then took a couple of steps back and hitting Shelton with a dropsault. Both men crawled across to their respective corners and made tags to their partners. London flew in at Haas and took him down with a series of clotheslines. As Haas got back up, so did Shelton and London took them both out with a double cross body, knocking Shelton under the bottom rope to the outside. Shelton was quick to pick himself back up, but Kendrick then got back to his feet and took him out with a suicide dive. Haas then got back up and turned round into a super kick from London who then dragged him close to the corner, climbed up to the top rope and hit the Sunset Flip for the victory.

AFTERMATH: "Hey You" hits as London gets his arm raised in the ring, joined after a few seconds by a sore Kendrick as Raw's Tag Champions hit the ropes to celebrate. Shelton sits back up on the outside and flips as he sees them celebrating


***CUT BACKSTAGE***


Randy Orton is walking through the back into the locker room where Mr. Kennedy is anxiously pacing around

***HEAT***

Mr. Kennedy: Randy, I just saw what Vince did man, that sucks

Randy Orton: Sucks. . . sucks, it more than sucks. In less than two weeks I have to defend this WWE Championship against Triple H, and tonight his father-in-law because he feels protective of all a sudden, puts me in a match against Batista. I mean what the hell is all that about huh? This night should be all about me, the legend killer, the WWE Champion, and what does he do? He puts me in a match with a big crazy nut job like Batista. . . Why doesn't he just send me to Japan and put me in a sumo ring with fifty of the. . .

Mr. Kennedy: . . . You think you're the only one Vince is screwing with tonight? I found out a couple of minutes ago that he's taken it upon himself to put me in a six man tag match with Chris Jericho

***POP***

Mr. Kennedy: And not just that, I've got to go and find two partners who don't even wrestle on Raw. You think you've got it bad, maybe you wanna trade places with the fastest growing superstar on Raw

Orton is clearly not listening to a word that Kennedy says

Randy Orton: If he thinks he's gonna screw around with Randy Orton, he's got another thing coming, I 'm gonna go out there and prove to all these losers in Cleveland tonight that I'm not just the WWE Champion, but the greatest superstar in the history of this business

***HEAT***

Kennedy too seems too wrapped up in his own business

Mr. Kennedy: If Jericho gets to pick someone from Raw, I'm going to knock Vince McMahon's door right down, march in there and tell him just who the hell who he is screwing with and that no one, and I mean no one messes with Mr. Kennedy. . . no one. . . Not even Vince freakin McMahon

Kennedy storms out of the room as Orton tosses his belt down on the bench and starts to pump himself up


***COMMERCIAL BREAK***


"Superstar Fallin" hits & Kenny Dykstra makes his way down to the ring in his wrestling gear, getting heat from the crowd. Once in the ring, he gets a microphone from Lilian Garcia

Kenny Dykstra: Tonight is without a doubt a very special night for many reasons. You have the fifteenth anniversary of this huge show that is Monday Night Raw, you get to see some of the shows all time greatest stars, and most importantly, Raw's greatest ever superstar and future hall of famer returns here tonight wearing the Cruiserweight Championship, and that is me, Kenny Dykstra

***HEAT***

Kenny Dykstra: I left this show in the draft lottery earlier this year with all the potential in the world, and at the Survivor Series, I showed that I am without a shadow of a doubt, the most talented, most determined and the single greatest superstar to have ever graced this ring, and Raw should count itself lucky that they are blessed with my presence on this most special of nights. . . And to celebrate this momentous occasion, instead of issuing an open challenge like I have been on Smackdown recently, I went out and handpicked an opponent for me to face tonight for my Cruiserweight title. . . I went out and I got the very best to prove to all the doubters that I deserve to carry this title, so I didn't just go and pick anyone to step in my ring tonight, oh no! My opponent tonight is not only a legend in his own right, but he is also a former Cruiserweight Champion. . . You wanna find out just who gets a shot at my title tonight, well let's bring him out

After a couple of seconds, the camera cuts to the back and we see a flock of security guards and one of them knocks on a dressing room door and Gillberg walks out as his music hits the arena

***POP***

Dykstra smirks in the ring as Gillberg then walks out to the arena and threw his pyro on the way to the ring


***MATCH #2***

CRUISERWEIGHT CHAMPIONSHIP
Gillberg vs. Kenny Dykstra

SUMMARY: Pretty much a squash match for Dykstra. After hitting a standing dropkick on Gillberg, he stands up and urges him to get up. And when he does, Kenny pounces straight away with a rolling cutter. As Gillberg lies motionless on the mat, Dykstra walks over to the corner and climbs to the top rope. He poses there for a couple of seconds before leaping off and hitting the guillotine leg drop for the victory.

AFTERMATH: "Superstar Fallin" hits as Dykstra stands back up and is passed his Cruiserweight title belt by the referee. He walks over to the corner and climbs to the top rope to celebrate, taunting the fans as the camera zooms in on him. And with the camera focused on Kenny, all of a sudden we see him look stunned. The camera zooms out, as in the ring, Chavo Guerrero grabs Kenny by the legs and powerbombs him down to the mat, getting a big pop from the crowd. Chavo then climbs to the top rope and hits the Frog Splash as "Chavo Ardiente" hits to another pop. Chavo stands up and looks down at Kenny with a smile on his face and mouths to him "See you Friday champ"


***VIDEO PROMO***
A brief history of Saturday Night's Main Event

NARRATOR: It has a place in WWE history. . . It has a place in the history of sports entertainment. . . but it also has a place in its future. . . For Christmas will not be the same this year for the stars of Raw and Smackdown as Saturday Night's Main Event makes its return. . . Live on NBC!

The clip cut to a graphic showing "Saturday 22nd December. . . Shaking Up Saturday Night. . . Live on NBC"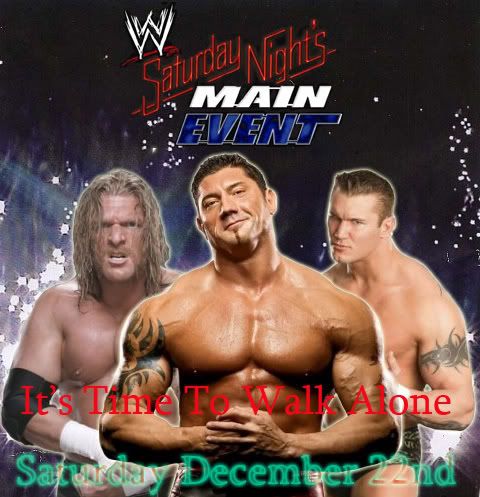 ***CUT BACKSTAGE***


As we come back, we see Jonathan Coachman in the ring with a big smile on his face

Jonathan Coachman: I don't know about you, but this is the part of the show I've been looking forward to all night, because it's time to find out who will be voted the greatest ever Raw diva

***POP***

Jonathan Coachman: You've been voting on WWE.com since last Monday night and right here tonight we have the two divas with the most votes. And I guess just like me, you want to see them, so let's bring them out here right now

"I Know You Want Me" hits & Sunny walks down to the ring to an amazing pop

Jonathan Coachman: Ladies and gentleman, give it up for SUNNY

As she gets into the ring, Coach looks her up and down with a goofy smile on his face

Jonathan Coachman: Okay, if it can possibly get any hotter we're about to find out. Please welcome back Trish Stratus

"Time to Rock and Roll" plays as Trish Stratus makes her way down to the ring

***HUGE POP***

Jonathan Coachman: Wow, it's great to have you back Trish, but the reality is only one of you will be crowned Raw's greatest ever divas. . . So let's get to it

Sunny & Trish hug politely as Coach then pulls out an envelope out of his jack pocket

Jonathan Coachman: Drum roll please. . . The fans of the WWE have voted in their numbers to determine which one of you will go down as Raw's greatest divas. . . And the winner is. . . . . . . . TRISH STRATUS!!!

"Time to Rock and Roll" hits again as Trish smiles and is then hugged again by Sunny for a second as Coach then hugs her too until out of nowhere. . .

"Count on It" hits and Beth Phoenix walks down to the ring, looking very angry

***HEAT***

She climbs into the ring and walks over to Coach, then asks for his mic, which he gives her

Beth Phoenix: Coach, I believe your job is done here if you don't mind

Coach then nods his head and leaves the ring to the back

Beth Phoenix: So Trish, I believe congratulations are in order. . . or maybe not. . . Do you think it is okay for you to come back onto my show and embarrass me? I'm the WWE Womens Champion Trish, not you. And for the record, not only am I more glamorous than you ever have been, the same goes for you too Slutty, I am the greatest women's wrestler in the history of Raw

***HEAT***

Beth Phoenix: The only reason these people voted for you twp is because you look pretty in a bathing suite, not because you can wrestle. That's why you left isn't it Trish, because you heard that The Glamazon was on the road to recovery and was coming back very soon. It had nothing to do with you getting married or starting a new career, it's because you're scared of me

***HEAT***

Trish looks on in shock, as does Sunny. Trish walks over to Lilian and asks for a microphone

Trish Stratus: Can I talk now? It just seems like you're a little jealous Beth. Or is it because you're out of competition? . . . I saw what you did to Victoria a couple of weeks ago, does that make you a great wrestler? . . . I don't think so, and if you're trying to tempt me back Beth, it's not going to happen. Even though I love all the WWE fans. . .

***POP***

Trish Stratus: . . . I've done all I can in the WWE and there's no need for me to come back. And if these great fans think I'm better looking than you, then I'm sorry

Beth Phoenix: Woah Trish, don't get carried away with yourself there. I wasn't trying to get you to come back to Raw, I mean what would the point of that be? . . . I'd beat you in three seconds flat Trish and you know it

***HEAT***

Beth Phoenix: Trish, when you left Raw, the standard of women's wrestling was the lowest it's ever been, something I hold you responsible for, but now the bar has been raised. It's been raised by me, The Glamazon, and you know the only reason you won't come back is because you know you can't beat me

Trish Stratus: Okay, let's go along with that for a minute shall we. . . Beth you can believe whatever you want to, but I'm a multiple time WWE Womens Champion, there is no getting around that. But Beth, I'm not scared of you and I could beat you. In fact I'm so confident I could beat you, maybe you want to put your money where your mouth is and give these people what they want to see

Beth Phoenix: What are you getting at Trish?

Trish Stratus: Well Beth, I think that these people would be happy to see me get back in the ring one more time, but for you Beth, I might take you up on your theory. . . If you think you can beat me in three seconds flat did you say? Then you won't have any problem facing me at Saturday Night's Main Event for that title of yours

***BIG POP***

Trish Stratus: I'll make it worth your while Beth. If you do win, I'll do what I have the last year and stay away from your show. But if I win, I take your title and come back to Raw full time, what do you say?

***POP***

Beth Phoenix: I don't even have to think about it Trish. . . you're on

"Time to Rock and Roll" plays again as Beth and Trish stare at each other while Sunny looks disapprovingly at The Glamazon


***COMMERCIAL BREAK***


"Lambleg" hits & Finlay makes his way to the ring as he waits in the ring for his opponent

***HEAT***

"Here Comes the Money" plays as Shane McMahon walks out to the ramp with a microphone in hand

***POP***

Shane McMahon: Finlay, I guess you're wondering why you're here tonight, I mean you're not a Raw superstar after all are ya? . . . Well last week, you came over here and helped Randy Orton get one over on Triple H, and now a week later, it's ironic that you're back here and you don't know who your important is like Triple H didn't last week. . . I'm a firm believer in what goes around comes around, and guess what? It comes around for you tonight

***POP***

Shane McMahon: See a couple of months back, my sister Stephanie announced that until the end of the year, the WWE is under open house rules, meaning that any superstar can switch brands if they so wish. . . And it's appropriate that tonight, there is a certain superstar who is leaving Smackdown for pastures new here on Raw. And it just so happens that this is his first match since Cyber Sunday, the same match that he suffered a very serious concussion at the hands of. . . well you. . . You don't need me to tell you who it is Finlay, but everybody here in Cleveland tonight, please give a strong Raw welcome to REY MYSTERIO

***HUGE POP***

"Booyaka 619" blasts out as Rey Mysterio walks out to a thunderous reception from the fans, looking in good shape and happy to be back


***MATCH #3***

Rey Mysterio vs. Finlay

SUMMARY: A real back and forth match with Rey really going on the offensive early on, but Finlay was able to get on top after Rey exhausted himself and going for one big move too many. Finlay pulled Rey back up to his feet after a hard falling clothesline and chopped him repeatedly, hitting three hard stingers across the chest. He then whipped Rey into the ropes, but Rey was able to slide through Finlay's legs as he came back and continued to run through. As he came back off the ropes, Finlay caught him in position for a fall away slam and then set Rey up for the Celtic Cross. With the crowd booing, Rey quickly turned it into cheers as he slipped down the back of Finlay, pushed him in the back, towards the ropes. He then dropkicked him in the back, and Finlay landed on the second rope, sending the crowd wild. Rey then dialled up, ran back off the ropes and connected with the 619. Finlay fell back across the mat as Rey then stood back up on the apron, hit the springboard and dropped the dime to pick up the victory.

AFTERMATH: "Booyaka 619" blasted out as Rey stood back up and celebrated in front of his new Raw fans


***CUT BACKSTAGE***


Todd Grisham is standing by

Todd Grisham: Ladies and gentleman, please welcome back to Raw, the Heartbreak Kid Shawn Michaels

***MASSIVE POP***

A happy smiling HBK walks into the shot

Todd Grisham: Shawn, later on tonight, you make a speedy return to Raw when you take on The Undertaker

***BIG POP***

Todd Grisham: But it's not just an ordinary match Shawn, if you win, you get to face Batista for the World Heavyweight Championship at Saturday Night's Main Event

***POP***

Shawn Michaels: That's absolutely right Todd, one hundred percent on the button and not anywhere around it. . . Yes, right here tonight, all the Raw fans get to see not just the show stopper, the icon, the main event, Mr. Wrestlemania, the heartbreak kid, but they also get to see the next World Heavyweight Champion, Shawn Michaels

***BIG POP***

Shawn Michaels: Todd tonight is a night to celebrate, and what better way to celebrate than becoming the number one contender for the World Heavyweight title? . . . See I know people might be thinking, does he know that he's got to wrestle quite possibly the most feared superstar in the history of not just but Raw, the WWE but the whole of sports entertainment? . . . Believe me, no one knows The Undertaker more than me. Hell, we've had our battles, I mean who will ever forget the first ever hell in a cell match? A match that I believe Todd might just have gone in my favour if I remember rightly. . . In all seriousness though Todd, this is a night to celebrate, but for me and The Undertaker, it's also very serious. We might be fifteen year veterans of Raw, but we're as hungry now, if not hungrier than we've ever been of being the top dog around this place

***POP***

Shawn Michaels: You don't get many chances to get a chance like this Todd, and we've both had to earn it, just like the winner will tonight. You can rest assured that both myself and The Undertaker will put on one hell of a show tonight, and we will leave absolutely everything we have in that ring tonight. And I just hope and prey that when it's all said and done, the winner is the heartbreak kid Shawn Michaels

***BIG POP***

Michaels walks out of the shot to that massive pop as the camera fades out for the commercial break


***COMMERCIAL BREAK***


"Metalingus" blasts out & Edge makes his way down to the ring, looking very pissed off

***HEAT***

Edge: I don't know what the hell is going on around here, but I found out minutes ago that I have a match tonight and that I needed to get my ass out here by William Regal and Shane McMahon. They told me that they've found me a special opponent tonight, and you know that's fine by me, but let me make myself perfectly clear. . . Shawn Michaels and The Undertaker might be going at it tonight for the number one contender's spot for the World Heavyweight Championship, but I am making it my. . .

Edge's microphone is stopped as the lights go out and then The Brood's music hits and Gangrel appears at the top of the ramp, being raised in the ring of fire

***POP***

Edge looks stunned as Gangrel starts to walk down the ramp, drinking blood


***MATCH #4***

Gangrel vs. Edge

SUMMARY: Edge took the match to Gangrel, who was able to get some offence in, but Edge was quick to turn it round on his former Brood team mate. After hitting a big boot on Gangrel, Edge then taunted him up to his feet and hit him with the half nelson bulldog, but only got a two count. Getting himself more frustrated, Edge then stood up, walked to the corner and stalked Gangrel for the Spear. Slowly, he got back up to his feet, and as he turned round, Edge charged out of the corner, but Gangrel was able to dodge the bullet as Edge ran through into the corner pads. Gangrel was quick to pounce as he walked over and rolled Edge up, but only got a two count. Edge kicked off hard and Gangrel then set Edge up for a suplex, but the Rated R Superstar slipped down his back and hit a reverse DDT. With both men feeling the fatigue, they got back up at the same time and Edge threw an unsuccessful punch which Gangrel blocked and then whipped Edge into the ropes. But as Edge ran back, he ducked a clothesline, ran threw off the ropes and came back to hit the Spear for the victory.

AFTERMATH: "Metalingus" blasted out through the speakers as Edge then left the ring to collect two chairs. He slid them both back in the ring before getting back in himself. As his music stooped, he then picked up one chair and put it under Gangrel's head, then picked up the other before smashing his skull in for the one man Conchairto. He looked down with a sadistic look on his face before his music hit again as he just looked up into the audience with the same evil look on his face


***CUT BACKSTAGE***


Sunny is walking through the back as we then see Matt and Jeff Hardy walking the other way towards the ring

***POP***

Matt Hardy: Hey, look who it is Jeff. . . Sunny

Jeff Hardy: Really Matt, I see that

Matt Hardy: It's great to meet you, we're big fans of yours, real big fans actually. If you weren't in the WWE, we would never have wanted to come here

Sunny: Well thanks Matt, youre sweet. . . you too Jeff

Sunny looks at Jeff's eyes with a real flirtatious expression

Matt Hardy: You know Jeff won't tell you himself, but he used to have a massive crush on you, a big one

Jeff shakes his head

Sunny: Is that so? . . . Is that true Jeff? . . . Did you have some Sunny thoughts?

Matt gets a little flustered and cools himself down by waving his hand across his face as Sunny gets close to Jeff, standing right in front of him

Matt Hardy: Sorry Jeff but you wouldn't have said it. . . Maybe I should leave you two for a little while, I'll see you out there bro

Jeff turns to look at Matt walk up the hall, shaking his head again, looking unimpressed with Matt for dropping him in it. He turns back round and Sunny is still right in front of him and smiling

Jeff Hardy: I'm sorry about him, you know what big brothers are like

Sunny: Actually I don't, but I wanna know more about the not so little brother. . . that's if you want me to

Jeff looks quite cool, but a little caught off guard

Jeff Hardy: You know this might be the first time I'm happy Matt actually put his foot in it

Sunny: So you did have a crush on me Jeff? Or do you still have a crush on me?

Jeff Hardy: What guy wouldn't right? Look at you, you could have any guy you wanted

Sunny: Really. . . well what if I was only interested in this one?

***POP***

Jeff is lost for words as Sunny moves even closer

Sunny: I'll tell you what Jeff. . . You go out there for your match and knock em dead, then maybe you and I can get to know each other a little better after the show

***POP***

Jeff smiles and his eyes open wide, but he still doesn't know what to say as Sunny then moves in and kisses him for a good ten seconds before they both stop

Sunny: What do you say Jeff?

Jeff just nods and smiles like a teenager before turning round and walking away as Sunny watches on, looking very smitten


***COMMERCIAL BREAK***


***MATCH #5***

The Hardy Boys (Matt & Jeff) vs. CM Punk & MVP

SUMMARY: A really good even match up with all four men going at it. As the match was coming to a close, MVP was working over Matt with some real vicious kicks to the mid section in the corner.

He then whipped Matt into the opposite corner and took a couple of seconds to taunt Jeff before he than ran in for the Player's Boot, but Matt walked out of the corner and planted MVP with a side effect. The crowd went nuts as Matt slowly but surely was able to pick himself back up and climbed up to the second rope where he then jumped off, connecting with a leg drop. A huge cheer burst out as Matt then looked to take advantage by going for a cover, but only got a two count. He then walked over to his corner and tagged in Jeff as MVP started to sit back up. Jeff climbed through the ropes and saw MVP making his way on his knees to tag in Punk and allowed him to. Punk looked a little reluctant at first, but then accepted the tag and climbed through the ropes. He and Jeff then charged at each other and nailed each other with hard right hands, and it was Jeff who took control, whipping Punk into the ropes and then hit a spinning heel kick.

Punk was up quickly though, but again Jeff was able to pounce, hitting him with a sit down jawbreaker. The crowd were getting right behind him as he then walked over to the corner and climbed to the top rope, but MVP then ran across the apron and pulled his foot down, leaving Jeff in a sitting position on the top rope. Matt was livid as he then charged into the ring and across the apron, knocking MVP off with a hard boot, driven into the shoulder. Matt then slid under the bottom rope as he and MVP ended up brawling into the crowd after MVP was clotheslined over the barricade. With Punk and Jeff both in pain, Jeff had enough time to jump down off the rope and then walked over to Punk, who was just getting to his knees as the ref checked on him. As Jeff walked over to him, Punk held onto the ref's leg as he pulled himself up and then pushed the ref to one side, giving him the chance to low blow Jeff as the ref was momentarily pushed to the side. Punk then stood up quickly and lifted Jeff onto his shoulders, then hit the GTS for the victory.

AFTERMATH: "This Fire Burns" hits as Punk stands back up and gets his arm raised before bending down and spitting in Jeff's face. He then walks over to the ropes and demands a microphone, which he gets

***HEAT***

CM Punk: I bet you all think that what I just did was uncalled for right? . . . Well let me tell you something. No one and I mean no one does to me what Jeff Hardy did last week. Never in all my life have I been subjected to such a hideous act like that

Punk walks over to Jeff's body and looks down at him

CM Punk: If you can't handle the truth about your sordid past as nothing more than a disgusting, rotten, filthy user Jeff, then you shouldn't have given in to temptation. . . You're weak Jeff and last week you did something far worse than giving into the ultimate evil. You crossed the line of competition, the very same competition that I stand for Jeff, and from now on there are no rules, no barriers obstructing the pain and suffering that I can and will inflict on you. . . You're going to need eyes in the back of your crack ridden head Jeff, but just remember who started this, so when I gain my retribution, and believe me I will, you have no one to blame but yourself

Punk drops the mic on the mat as his music hits again and he leaves the ring, but keeping his eyes locked on Jeff


***CUT BACKSTAGE***


Batista and Triple H are together backstage in the locker room

***BIG POP***

Triple H: You know it's great to see you again Dave, but I need you to do me a favour tonight

Batista: Yeah, what's that?

Triple H: When you step inside that ring with Randy tonight, I don't want you to go easy on him cos I know you hate him almost as much as I do, but I want you to leave him with enough so that I can finish him myself at Saturday Night's Main Event. . .

***POP***

Triple H: See Dave, this goes way beyond the WWE Championship, I want to hurt him in a way that only you and I could possibly do, and only you and I know how severe that is. . . Randy Orton walks around here week after week thinking he is god's greatest creation, but all that credit goes to me, you and Ric for making him the WWE Champion, and he needs taking down a peg or two. And who better to sweep that rug from under his feet and the WWE title off his shoulder than The Game. . . So promise me Dave, you will leave some part of Randy Orton for me after you face him tonight

Batista: Hunter, if that's what you want, I'm fine with it. As much as I would enjoy beating Randy within an inch of his life, I'd be more than happy to leave you with some kind of scraps to feed on. And once your done beating Randy at Saturday Night's Main Event, we'll both be wearing gold, as it should be

Triple H smiles

Triple H: And there's not a damn thing Randy Orton or anyone else can do about it

Batista nods and smiles as he and Trips guy hug it out


***COMMERCIAL BREAK***


"Turn up the Trouble" blasts out as Mr. Kennedy makes his way down to the ring and waits for his microphone to drop the ceiling

***HEAT***

Mr. Kennedy: Once again the gods of Raw have conspired against me and it's fastest rising star, because earlier tonight I was ordered by Shane McMahon, the very definition of mismanagement ordered yours truly to search the locker room to find two tag team partners, and not from the Raw brand to face Chris Jericho and two partners of his choice. . . So I scowled that locker room for two of the hungriest, most vicious superstars I could find, and in a stroke of luck I stumbled across the men perfect for the job to come alongside me and embarrass Chris Jericho for the talentless piece of crap that he is. . . Jericho, tonight Raw is not about you, tonight it's RAW IS KENNEDYYYYYYYY

He lets the mic go as it then is pulled back up

The Pitbulls's music hits as Jamie Noble & Kid Kash walk out as Kennedy smiles approvingly in the ring

They then wait in the ring as. . .

"Break Down the Walls" blasts out & Chris Jericho walks out to the top of the ramp

***BIG POP***

Chris Jericho: Is that seriously the best you can do frosty top? A pair of inbred, trailer park ass clowns. . . Well have I got a surprise for you. I went out and found myself one of the greatest Canadian tag teams to slap some sense into you and that humongous head of yours. . . So my surprise just for you Kennedy. . .

"We're not the Mountie's" plays as The Quebecers, Jacques and Pierre walk out to the ramp alongside Jericho

***POP***

They walk down to the ring as Jacques carries his cattle prod in his hand


***MATCH #6***

Chris Jericho & The Quebecers vs. Mr. Kennedy & The Pitbulls

SUMMARY: The Pitbulls spent most of the match going over Pierre and Jacques, but as the match went on, Jacques was able to reverse an irish whip from Noble and hit him with a back body drop. As both men got back up, Jacques then hit him with a couple of right hands, knocking him right back down. With Jericho screaming on the apron to get in, Jacques gave him what he wanted as Jericho came into a huge pop, taking Noble down with a clothesline and then with an enziguri. Kash then came flying in, but Jericho was wise to it and hit a drop toe hold on him. But as Jericho got back up, Kennedy entered the ring from behind and clubbed him down to the mat, then continued to stomp the hell out of him. This brought in Jacques and Pierre, causing chaos to unfold as they clotheslined both Noble and Kash out of the ring, then followed them out to the outside as the brawl continued. Back on the inside, the ref seemed to lose track of what was going on and assumed Kennedy was the legal man, but got sidetracked again as Kash whipped Pierre into the steel steps, letting out a huge bang. Kash then stood back up on the apron, but the ref saw him and walked over. Kennedy then saw the opportunity as he kicked Jericho in the groin and then walked over to the corner, picking up the cattle prod. With Jericho slowly standing back up, Kennedy then did the unthinkable and used the cattle prod to send Jericho down to the mat in shock. Jacques then pulled Kash down off the apron as Kennedy then tossed the weapon out of the ring and covered Jericho, with the ref turning back round and counting the fall.

AFTERMATH: Jacques slipped back in the ring, but it was too late as Kennedy got out of there as quick as he could. Noble and Kash walked round to join Kennedy as they backed up the ramp with wide smiles on their faces


***CUT BACKSTAGE***


Stephanie McMahon-Helmsley is with Shane McMahon in his office when Vince walks in

***HEAT***

Mr. McMahon: Kids, it's good to see you

Steph and Shane look quite tentative

Mr. McMahon: Look, I don't blame you for being cautious around me, really I don't, but you have to believe that I have come back to make things up with you, the both of you. Please give me another chance, I promise you there will be no more games, I just what the chance for us all to be a proper family again if you want that too

Shane and Steph look at each other for a couple of seconds, both seeming to be wary

Shane McMahon: What do you think Steph? It's your call, it's you he's hurt

Steph looks towards Vince, looking very emotional

Stephanie McMahon-Helmsley: I don't know what to think dad, you've put me and Hunter through hell for so long. Why should I trust you now and believe that you've changed? . . . I really want to believe you dad, I really do but I know what you're like

Vince moves closer to Steph and puts his hands on her shoulders

Mr. McMahon: Steph, please, you have to believe me. All I want is for you to forgive me and let me back in. I don't care about the business anymore, it means nothing to me if I can't have a normal family life with you, Shane, Linda and the grandkids. . . I know it must be hard to accept Steph, but every single word I said out there tonight and in here now is the god's honest truth

Steph then throws her arms around Vince and starts crying

Mr. McMahon: It's okay Steph, it's all going to be okay from no one

The camera focuses on Shane looking on, not knowing what to make of it


***COMMERCIAL BREAK***


***MATCH #7***

NON TITLE MATCH
WORLD HEAVYWEIGHT CHAMPION VS WWE CHAMPION
Batista vs. Randy Orton

SUMMARY: A real back and forth match with Orton trying to grind Batista down with headlocks and chin locks.

With the match getting towards the finish, both men are going for it as they slug it out in the middle of the ring. Batista takes the initiative and hits Orton with three straight right hands, then whips him into the ropes and plants him with a spinning side slam. A big pop rings out as Batista then goes for a cover, but Orton manages to kick out at two. The Animal doesn't waste any time as he stands back up and then pulls Orton back up, whips him into the ropes and tries for the spinebuster, but Orton manages to hammer him with right hands to the skull before Batista can turn round and drop him. Batista is dazed from the shots and drops Orton, who then hits him straight away with the inverted side back breaker. It's Orton who then drops down to the mat quickly and goes for a cover, only getting a two count. Orton looks frustrated as he stands back up and stomps across the head of Batista, then lets him make his own way back to his feet as he stalks him for the RKO. With the crowd booing, Orton just gets more intense as Batista starts to pick himself up, and Orton pounces for the RKO, but Batista is able to push Orton back into the ropes, and as Orton comes back, Batista plants him with the spinebuster.

The crowd are on their feet as The Animal then walks over to the ropes and shakes them in a frenzy, raises his arms up and then his thumbs before bringing them down to a huge pop from the crowd. He turns back round to see Orton squirming on the mat, walks over and sets him up for the Batista Bomb. As he gets Orton in position, the Legend Killer is somehow able to back body drop him to the mat. He then drops to the mat too, and after a good twenty seconds, both men resurface as they slug it out again, but this time Orton ducks a right hand and hits a reverse DDT, but only gets a two count. He stands back up as Chioda Mike explains it was only a two count, but Orton snaps and RKO's him. He just stares down at Batista as The Animal starts to stir, then Orton backs up into the corner, getting ready to go for the Punt. After five seconds, "The Game" blasts out and Triple H storms down to the ring. Orton turns round and stomps the hell out of Triple H as he tries to get under the bottom rope and the music stops. The Game fights it though and is able to get up to his feet and fight Orton with right hands, then whips him into the ropes, but Orton manages to hold on and pulls himself under the bottom rope to the outside.

AFTERMATH: "The Game" hits again as Triple H stares a hole through Orton, as does Batista as he stands back up. Orton grabs his title from the timekeeper's table and walks round the ring to the ramp, turns round and raises it up in the air to a lot of heat, before turning round and walking to the back. Batista and Triple H then hug in the middle of the ring as the music changes to "Line in the Sand", getting an even bigger pop as they pose for the crowd


***COMMERCIAL BREAK***


Sunny is walking backstage and we see her walk into Jeff and Matt Hardy's locker room

***POP***

Sunny: Jeff are you okay?

Jeff Hardy: Yeah I'm fine

Jeff looks quite distracted after what happened earlier

Matt Hardy: Hey, I'll leave you guys to it. . . See you later Jeff, Sunny. . . Have fun

Sunny: Thanks

Matt leaves the room as Sunny then walks over to Jeff who is now changed

Sunny: Do you still wanna go and do something Jeff? I saw what happened earlier on with. . .

Jeff Hardy: No, it's fine seriously. . . Let's go. I'm not about to let CM Punk ruin my night again

Sunny: I'm glad you said that, now let's go forget all about what happened and have a good night

Jeff Hardy: Sounds like a good plan to me

Jeff picks his bag up and walks out of the room with Sunny and up the hall towards the parking lot

Sunny: What is that CM Punk's problem with you anyway? Is it down to you being better looking than him and a lot better wrestler?

Jeff Hardy: Woah, don't let him heat you say that, he seems to think that since he doesn't drink or anything else, it makes him a better person or something

Sunny: So what's that got to do with you?

Jeff Hardy: I've done some things in my life I'm not proud of. I'm not ashamed of it, but that guy just rubs my face in it every chance he gets to try and make me look bad. . . If I get the chance, I'll. . .

All of a sudden, CM Punk runs up behind them and pushes Jeff into the wall, leaving Sunny screaming as Punk continues the attack by stomping across Jeff's back. He turns to Sunny and puts his arm across her mouth

***HEAT***

CM Punk: If you know what's good for you bitch, you'll shut that tramps mouth of yours before I do something I really regret

Sunny looks really scared as Punk then picks Jeff up and tosses him through the door to the parking lot. With Jeff landing on the floor, Punk continues to attack him with stomps and a stiff kick to the face until he kicks Jeff in front of a car. He then lifts Jeff up to his feet and places him on his shoulders and drops him onto the car bonnet with the modified version of the GTS, just not dropping him onto his knee, like an FU. He then leans across to look Jeff in the face

CM Punk: I told you Jeff, but you didn't listen. . . You mess with me addict and you will pay the price

He walks back into the building and past Sunny, before turning round

CM Punk: Oh by the way, have a good night

Sunny then runs over to check on Jeff as the camera fades out


***CUT TO THE ARENA***


"Sprach Zarathustra" hits and the crowd goes wild as Ric Flair walks out into the arena, making his way down to the ring in an expensive looking suit

***The "WOOO'S" are deafening***

Flair has to wait almost a minute for the crowd to die down, but he has the biggest smile on his face

Ric Flair: WOOOOOOOOO. . . Don't adjust your tv sets because the Nature Boy is back baby

***MASSIVE POP***

Ric Flair: Just when you thought you had seen the last of the jet flyin, limousine ridin, kiss stealin, wheelin dealin son of a gun, he comes right back in front of your very eyes. . . And after months of months of speculation about where the greatest wrestler of all time has been and if he's coming back, there was only way I was going to let you find out, and that was by telling you all in person. . . So you all better get ready because I'm back and better than ever for one last run at the big time

***POP***

Ric Flair: I've not just come back to be one of the guys and cruise my way to retirement, I am here to get back where I've been all my career, and that's at the top of the ladder. . . So Friday night on Smackdown, I will be back where I belong in the middle of the ring, doing what I do better than anyone else ever has in my ring. . . I know all you kids in the back will be licking your lips at the thought of getting one over the Nature Boy, but I've got a message for everyone back there. I know I'm old, I know I'm not what I was, but I can still beat anyone whether they're 18, 21, 25, 40 or 100 because WOO, I'm a sixteen time World Champion baby and I'm not gonna lie down and die for anybody who tries to get to space mountain baby

***POP***

Ric is about to talk again when. . .

GLASS SHATTERS & Stonecold Steve Austin walks out to a huge pop

Flair looks confused in the ring as Austin climbs into the ring and poses in all four corners before collecting a microphone

Steve Austin: Well I'll be damned, The Nature Boy Ric Flair in front of my very eyes. . . The limousine ridin

***WHAT***

Steve Austin: Jet flyin

***WHAT***

Steve Austin: Kiss stealin

***WHAT***

Steve Austin: Wheelin dealin son of a gun

***WHAT***

Steve Austin: Is back on Raw

***WHAT***

Steve Austin: And so is Stonecold Steve Austin. I ain't gettin back in this ring to wrestle, nah arhh, but I thought I'd come down here, offer my congratulations to the greatest of all time and ask a very important question. . . Ric, I don't have any champagne or anythin like that but would you like to have a beer with Stonecold Steve Austin right here in Cleveland, Ohio tonight?

***BIG POP***

"Don't Waste my Time" hits & Elijah Burke walks down to the ring with Layla, getting a ton of heat for interrupting

Elijah Burke: You think these people wanna see you two drink beer? Hell at your age Ric, the only thing you should be doin is pickin out the suit for your casket

***HEAT***

Elijah Burke: And you Austin, shouldn't you cut down on the beer and concentrate on you know, soberin up a little bit. Look at ya man, you're a mess. You even look older than ain't no face paintin, death waitin son of a bitch here

***HEAT***

Elijah Burke: I came out here cos I find it an insult that Shane McMahon tells me I'm not needed here tonight and I have to watch two over the hill guys come out here and take the limelight off someone who should be out here, Raw's guiding light, Elijah Burke. . . Why the hell should I have to listen and watch you two makin a bigger fool out of yourself than Britney Spears huh?

Steve Austin: What, you want an answer son? You stomp your ass down here actin more like Raw's biggest piece of crap, not its guiding light. And the less said about that tramp the better

Elijah Burke: Who the hell are you callin a tramp baldielocks?

Austin laughs as Flair then winks at Layla, who looks disgusted. Burke sees it and tries to hit Flair, but Austin moves forward, stomps him in the chest and hits him with the Stonecold Stunner, getting a big pop. Layla drops to the mat as we hear glass shatter again and Austin signals for the beer, which is tossed in the ring

***HUGE OVATION***

Austin and Flair then smash cans together and drink their Steveweisers and pose for the crowd


***COMMERCIAL BREAK***


***MAIN EVENT***

NUMBER ONE CONTENDERSHIP MATCH FOR THE WORLD HEAVYWEIGHT CHAMPIONSHIP
Shawn Michaels vs. The Undertaker

SUMMARY: A really great match with the fans torn between both men. After going for an irish whip to the corner by Michaels, it was HBK who hit the corner after a reversal from Taker.

The dead man then follows in and hits an elbow smash to the side of Michaels' head before then grabbing his arm, twisting it and climbing to the top rope for some old school, connecting too. As his feet touch the mat, Taker looks into the crowd to a big pop and then bends down to pick Michaels back up, whips him into the ropes and connects with a side backbreaker slam, then turns over to hook Michaels' leg, only getting a two count. Michaels isn't giving up without a fight as he lifts his head up off the mat, but the rest of his body remains against the mat. Taker stands back up, runs back into the ropes and comes back, looking for a leg drop, but Michaels moves to the side as Taker hits the mat. Another cheer rings out as Michaels then rolls to the ropes and uses them to help himself back up to his feet, followed quickly by Taker. HBK walks over to the dead man as the pair then exchange right hands in the middle of the ring, but surprisingly it's Michaels who gets on top, nailing Taker with three hard rights and then a couple of jabs, knocking the fatigued phenom off balance.

He then turns back into the ropes, but as he runs back, Taker goes for a clothesline, but Michaels is able to duck it and run through, as he then comes back off the ropes and hits a flying forearm. The crowd are off their feet as Michaels then flips up, getting a huge cheer from the crowd. With Taker starting to stand back up, Michaels walks over and is just about able to scoop slam him back down to the mat as he then walks over to the corner and climbs to the top rope. As he's climbing to the top rope, Taker sits up to a big pop, leaving Michaels in shock as he then decides to jump down off the rope and runs at Taker as he stands up, but Taker drives his huge boot down Michaels' throat. A big pop rings out as Taker then reaches down and picks Michaels up to his feet, wraps his hand round his throat for the chokeslam, but as he lifts Michaels into the air, HBK drops down, takes a step back and hits the Super Kick. The momentum and fatigue takes Michaels down too though and takes Michaels just over five seconds to crawl across and put his arm over Taker's chest for a cover 1 . . . . . 2 . . . . .

Taker just got his shoulder up and a huge gasp comes from the crowd as Michaels then looks up in amazement at Henson, who just shows him with his fingers that it was a two count. Slowly he is able to pick himself back up to his feet as he then walks slowly across to the corner where he starts to tune up the band as Taker then starts to stand back up. With the crowd stomping their feet in tandem with Michaels as he makes his way across the ring, but as Taker turns round, Michaels foot is grabbed by the dead man who then spins him round and then chokeslams him. There's another big pop as the fans are undecided on who they want to win and are caught up in the whole drama of the match. Taker then looks into the crowd and drags his arm across his throat, signalling for the end as he reaches down and scoops Shawn up onto his shoulder, and then in position for the Tombstone, bringing him crashing down to the mat. Boos then can be heard coming from the arena, but the camera focuses on Taker then covering Shawn 1 . . . . . 2 . . . . .

Henson is pulled out of the ring as the camera then pans to show Umaga and Estrada at the apron. Taker turns his head in shock as Umaga then enters the ring under the bottom rope and charges at The Undertaker, knocking him down with a clothesline. He then pulls Taker back up to his feet, whips him to the corner, runs in and splashes him. Taker drops against the ropes in a sitting position as Umaga then backs up into the opposite corner before then charging at Taker again, this time hitting him with the Samoan Wrecking Ball. The boos ring out inside the arena as Umaga then drags Taker across the ring, lifts him up and nails him with the Samoan Spike. The heat fills inside the arena towards Umaga as a motionless Taker looks well and truly out of it while Estrada pulls Henson up on the outside and then tosses him back in the ring. Henson also looks out of it as Umaga climbs through the ropes and Michaels starts to stir. Michaels then slowly drags himself towards Taker's body and stretches out an arm across his chest as Henson starts to crawl over and slowly counts 1 . . . . . . . . . . 2 . . . . . . . . . 3.

AFTERMATH: "Sexy Boy" blasts out as Shawn Michaels very slowly picks himself back up to get his arm raised by an also groggy Micky Henson. Umaga and Estrada look back into the ring with Estrada smiling insanely as Umaga looks satisfied. Michaels turns to see them standing there and looks shocked as Raw goes off the air


***END OF SHOW***


QUICK RESULTS
Paul London & Brian Kendrick df. The World's Greatest Tag Team
Kenny Dykstra df. Gillberg
Rey Mysterio df. Finlay
Edge df. Gangrel
CM Punk & MVP df. The Hardy Boys
Mr. Kennedy & The Pitbulls df. Chris Jericho & The Quebecers
Batista vs. Randy Orton was a No Contest
Shawn Michaels df. The Undertaker
CONFIRMED FOR SATURDAY NIGHT'S MAIN EVENT

WWE Championship
Triple H vs. Randy Orton (c)

World Heavyweight Championship
Batista (c) vs. Shawn Michaels

WWE United States Championship
Steel Cage Match
Matt Hardy vs. Montel Vontavious Porter (c)

WWE Womens Championship
Trish Stratus vs. Beth Phoenix (c)

Chris Jericho vs. Mr. Kennedy
WWE.com - HOMEPAGE
---
MAYHEM ON RAW
On a night of surprises, we saw the return of "The Nature Boy" Ric Flair as he shocked us all after being off our screens for months. The sixteen time World Champion told us all that he is back and will be doing what he does best, getting back in the ring, and he will be at Smackdown this Friday night, saying that before he and Stonecold Steve Austin drank a couple of beers to celebrate the occasion.
He wasn't the only superstar to return as Rey Mysterio made his comeback after suffering a concussion at the hands of Finlay at Cyber Sunday back in October. Not only did he come back and defeat the fighting Irishman, it was announced that he will be switching to the Raw brand as part of the open house rules. What happens now as the 619 comes to Monday Night Raw?
The biggest news of the night came when Shawn Michaels defeated The Undertaker to book himself a World Heavyweight Championship match with Batista at Saturday Night's Main Event in under two weeks time. However, it was The Samoan Bulldozer, Umaga who cost the dead man the match after he brutally assaulted the man who cost him the chance to get the much coveted title shot. What response will we get from the dead man?
Despite all the shocks, nothing came anything more of a surprise as when Mr. McMahon returned and announced that he wanted to put the past behind him and accept the family he has, including his son-in-law, Triple H. It seems that neither The Game nor Shane McMahon is that convinced while Stephanie McMahon-Helmsley looked to be quite relieved. Are Vince's intentions honourable?
We also saw Trish Stratus pip Sunny to the title of Raw's greatest ever divas in a fans poll, but the current Womens Champion, Beth Phoenix was quick to get involved. After insults rebounded back and forth, Trish laid down a challenge that The Glamazon couldn't turn down. At Saturday Night's Main Event, Trish will return for one night only unless she can defeat Phoenix and take her Womens title, and if that happens, Raw's greatest ever divas will make a full time return to Raw with the title in hand.
With two more matches, set for a week on Saturday's blockbuster end of year show, it sure promises to be a hell of a finish to 2007
ADDED TO SATURDAY NIGHT'S MAIN EVENT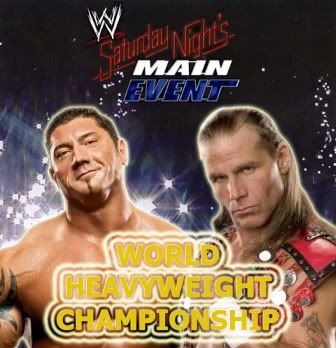 Tested Positive For Thread Performance Enhancers
Join Date: Dec 2007
Location: Nikki Roxxville, USA
Posts: 6,802
Points: 0
Re: WWE: A Strong Response
---
sirdilznik's 15th Anniversary Raw review
Opening with McMahon. Very fitting for an anniversary show. Vinny Mac trying to play the face. Niiiiiiice. I wonder what he's buttering the people up for? Wow McMahon is really laying the "face turn" on thick. I like it. Great opening promo. Everybody was in character, especially Orton. Gotta love the Vinny Mac "face turn". I wonder if he'll keep it going all show long? I like the idea of all the Raw vs. Smackdown matches. Makes this feel more like a company-wide celebration.
Good opening tag match. My only problem with it is I'm not sure London is a big enough guy to take down both members of WGTT with a Cross Body, but I'm just nitpicking. Nice ending with London on fire then winning with a Sunset Flip.
I really liked the Orton/Kennedy promo. That was great how they were both completely ignoring the other. Great stuff. My only complaint is that I would have finished Kennedy's rant with "Mr. Kennedy!... ... ... ...Kennedy!" , but you're probably just saving that for later on in the show.
Oh shit! Gillberg.... Gillberg.... Gillberg.... Gillberg
[sarcasm]A squash against the great Gillberg? Wow, Kenny is on fire![/sarcasm] Good stuff! Great stuff from Chavo afterwards too.
Trish Stratus wins, surprise, surprise, not really. I would have had The King bring out the ladies myself, but having Coach do it is OK. Trish coming back at Saturday Night's Mani Event. I knew it was leading to that. Nice! My only problem with this part of the show was that Sunny was basiclly just an afterthought. I wish she could have gotten at least a little mic time.
Good Finlay vs. Rey match. I like the clash of styles. Good classic Rey finish. I like the baseball slide under Finlay. Classic.
Very respectful promo for The Showstopper.
Edge vs. Gangrel. This brings back memories of The Brood. If only Christian was there too... Nice little match. I really like the finishing rebounding off the ropes/Spear sequence. Gotta love the Conchairto (single man or whatever). I can never get enough Conchairto action!
Nice, you have Sunny in the next promo. This makes up for her lack of mic time earlier. Well done. The Legend Thriller getting some action from Sunny! Why do I feel a heel turn coming on? Maybe it's just me...
Punk, you dirty devil you. I like heel punk. The "Summer of Punk" is one of my favorite periods in ROH. Punk makes a good heel. Again I love Punk using his "Straight Edge" lifestyle to get heel heat. That's good stuff!
Too bad the Y2J promo was so short, but you got in a good "Ass Clown" so I'm happy
Wow,a cattle prod! Good stuff. Love the dirty finish. I like Jericho, but I like to watch him suffer too. The only thing that match was missing was a good Facewash sequence from Kennedy... Kennedy.
This is great. Vinny Mac just seems so darn geuine. Awesome stuff. I wonder how long you will keep this going until the inevitable heel swerve. I would go a month or two myself to sucker the people in but good, then
*bam*
Major heel swerve!
Great Legend Killer/Animal match. The ending was spot on with Orton taking out the ref then going in for the kill before Trips makes the save. Classic stuff.
Damn, Punk is really beating the shit out of Jeff. I must say I like it. I wonder if this is a one off thing with Sunny or if she will continue to be on the show. I hope she stays on the show and has a heel turn maybe ending up with Punk, revealing that she's been setting Jeff up. Either way, you beat Jeff up but good, which makes me a happy man.
Natch! Wooooooooooooooooooooooooo!!!!!!!!!!!!!!! Awesome classic mic work form Natch. Just totally dead on! The SCSA stuff is great too as is your Elijah
Quote:
You even look older than ain't no face paintin, death waitin son of a bitch here
Great Main Event. Awesome work with the Superkick/delayed cover sequence. Perfectly done. Only someone like Taker would kick out of SCM even after 8 seconds. Nice finish. Umaga is one of the very few stars that could have pulled off the screw job on the Phenom like that just dismantling him. Since it was U-Manga it was very believable. Plus I wanted HBK to win and I got my wish
Great show with great matches, but here is where my problem lies. You had way too much wrestling (Did i just really say that?) and not nearly enough other stuff for an anniversary show. In my mind 8 matches in 2 too many. I would have done way more promos and skits and incorporated way more classic stars. I mean you had Trish, Sunny, SCSA, Natch, Gangrel, Quebecers and Gillberg. That's your entire list of old timers for the 15th anniversary show? IMHO you needed at least cameo (or longer) appearances by
at least
6 more from the following list:
Hogan
Rock
Sgt. Slaughter
Iron Sheik
IRS
Repo Man
Marty Jannety
One Man Gang
Kimala
Bushwhackers
Nasty Boys
Doink
Million Dollar Man
Lita
Ivory
Molly Holly
Sable
Ron Simmons (You didn't include me? ... ... Damn!)
Arn Anderson
etc...
It was a really well written show with great matches and really good promos, but this just felt like an extended regular Raw with a little extra star power. I would have had
WAY
more cameos and appearances on such a special show. I wish I could give you a higher rating because your matches were excellent and it was a great show, just not what I was looking for in an anniversary show. The lack of old timers really killed it for me.
7/10
---

STILL A Proud Member of Roid Sox Nation

sirdilznik's Random Rhetorical Question Of The Week:
If Hornswoggle turned heel could he hide in Mike Knox's beard?



Quote:

Originally Posted by Frank Zappa

Look here brother, who you jivin' with that cosmik debris?
---
Last edited by sirdilznik; 03-02-2008 at

10:28 AM

.
Re: WWE: A Strong Response
---
Yeah i understand your comments about there not being enough of the former guys in the show. I had it planned it that way, but after writing some short segments, they seemed very pointless when i could bring some more meaningful returns back and write a more entertaining show with some former superstars and an inter-promotional based show
Re: WWE: A Strong Response
---
Can I just say, those are some mean GFX's. Nice work, they're awesome. I'm not familiar with most of the work on this forum, but I hear yours is one of the best, so I'm gonna definitely try keep up to date on this one.
PWInsider.com

WWE Talent Update
Following the 15th Anniversary of Raw on Monday night, we have some updates to clarify some situations that we have been emailed about regarding the rosters.

We have it on good authority that Sunny has indeed signed a deal with the WWE, although we have no firm details on how long the deal is but from what we hear, you can expect to see her up until Wrestlemania at the very least. It is not thought she will be getting in the ring however, just for those who are curious.

Trish Stratus's return on Raw may well be a temporary one as we have not got clarification on if she will be coming back full time after her match at Saturday Night's Main Event with Beth Phoenix. At this point it is tough to speculate as the details are sketchy as to who will win that match. Obviously if Trish does and takes the title, she will back on TV full time, which can only be a good thing. Trish and Sunny on Raw at the same time? Brings on a HD, and we're not talking High Definition! Both divas profiles are now on WWE.com.

Rey Mysterio's profile has now been switched to the Raw section too following his move over to Raw on Monday night, and also "The Nature Boy" Ric Flair's profile is back up too and on the Smackdown page. It looks like we will be seeing Naitch back on Friday nights.

It should also be brought to your attention that Chuck Palumbo and Dave Taylor have been removed from the Smackdown roster. Palumbo has been moved to OVW while creative decide if they wish to call him back up in the future, while Taylor is working with FCW in Florida to help develop the young talent there. With the UK Pack now settled on TV, Taylor's services on screen are no longer needed. He was last seen to have suffered a knee injury at the hands of The World's Greatest Tag Team and Chris Masters.


Tag Teaming With James Ellsworth
Join Date: Mar 2005
Posts: 1,214
Points: 0
Re: WWE: A Strong Response
---
Raw Review

Fitting to open the 15th anniversary with Vince. Vince sounded very face like in this promo, which means he's either face now or your just playing with us. Will be interesting to see if Vince stays face from now or it just Vince making HHH feel he is better. Huge main event announced for tonight, and I expect HHH to get involved in some way.

Good tag team match, was a shame that WWE didn't put on a Tag Feud between these two teams in real life as they would of made awesome matches. Good match and good to see Londrick get the win.

Orton/Kennedy promo was very good, and was in character as I could imagine both Orton and Kennedy caring about their own issues more than the others.

LMAO GILLBERG! Not liking the amount of disrespect you are showing Gillberg by making him lose to that Jobber Kenny Dykstra. The aftermath was nice hoping Dykstra and Chavo's match on Smackdown.

Trish wins over Sunny? Should be a recount tbh. Trish/Beth segment was very good and look forward to their match at SNME, a win for Beth over Trish would make her look very good.

Rey on Raw is good to see, as he has been on Smackdown his entire WWE career so good for a change. Yeah it was a good match, not really surprised to see Rey win, as it was comeback match.

HBK interview was good, only problem I have is that I believe this is the first time HBK and Taker have faced since HBK came in 2002, and would be much better to see this match saved for a PPV. Nitpicking aside, HBK sounded in character and all was fine.

Edge/Gangrel gives me good memories of the Brood, their entrance was pretty damn awesome. Edge win was not surprising, aftermath was very good and made Edge look like a Badass with the Con Chair Co.

Entertaining promo here with The Hardy's mixing with Sunny. Fuck Jeff Hardy for getting to kiss Sunny lol.

Really good tag team match, and since this was a reuniting of the Hardy's I was surprised they didn't get the win. Good traditional heelish stuff by Punk to win the match. Promo afterwards was very good and I liked Punk's line about "Crack ridden head". CM Punk is a lot better as a heel.

LOL THE QUEBECORS! This moment alone has made this show better than Wrestlemania 17 tbh. Loved the ending with Kennedy using the Cattle Prod on Jericho but please bring the Quebecors back for good and put the titles on them

Lol at Vince making Stephanie and Shane look like fools. Expecting Vince to steal his grandkids of Shane and Stephanie any time soon.

Surprised that this is on before HBK/Taker, but I can see why however. Keeping this match as a no contest was the smart thing to do, ending was spot on in character for Orton attacking the referee. Nice aftermath with HHH making the save for Batista

A lot of attention has been put on the CM Punk/Jeff Hardy feud tonight which is good to see. CM Punk attack on Hardy was brutal and I am liking this physical side of CM Punk. Good booking

Very enjoyable promo here was probably the best of the night. Liked the interaction between all three men, and I thought Elijah's lines on Flair and Austin were very funny. Bit surprised at the lack of past talent on the show, yes there was a few like Austin, Flair, Trish, Sunny and a few jobbers but honestly thought there would be more.

Fantastic main event which you wrote very well. Throughout the match had no clue who was going to get the win. Ending to the match was well booked with HBK getting the win but only thanks to Umaga which keeps both men looking strong. Liking HBK as Number 1 Contender as Batista/Taker has been done far too many times, and HBK/Batista is something fresh and hopefully we will see a new Champion come out of it.

Again Nige was a very enjoyable show. Some great matches and a couple of great promos as ever and looking forward for SNME which is building up to be a hell of a PPV.
WWE.com - Television - Smackdown (Preview)
---
Smackdown Preview
14th December 2007

The Palace of Auburn Hills
Auburn Hills, Michigan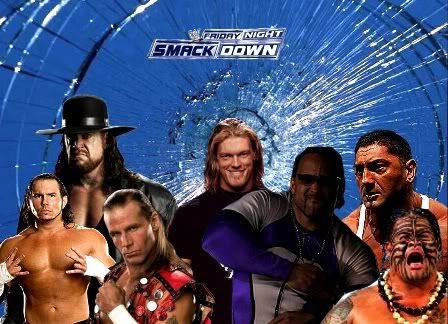 HBK TO CHALLENGE THE ANIMAL
We found out Monday night on Raw's 15th Anniversary show that it will be "The Heartbreak Kid" Shawn Michaels who will be challenging Batista for the World Heavyweight Championship in just over a week's time at Saturday Night's Main Event. After defeating Edge two weeks ago, Michaels met The Undertaker on Monday night and came away victorious in more than controversial fashion to say the least. Now that The Animal knows his opponent, what response will we get this Friday night? And with Edge trying to manipulate Batista as to Michaels' intentions, will The Animal be concerned?

UMAGA LOOKING INTO THE EYES OF THE DEAD
Last Friday night, The Undertaker defeated Umaga to book his place in the number one contender's match with Shawn Michaels, but it is a victory that the dead man may now be regretting as The Samoan Bulldozer showed just how vicious he could be against possibly the most feared superstar in the history of the WWE. Just as it looked like the phenom could be heading to Saturday Night's Main Event for a shot at the World Title, Umaga made his presence strongly felt as he entered the ring and dismantled The Undertaker, leading to Shawn Michaels winning the contender's spot instead. With The Undertaker suffering such a brutal attack a few days ago, will he be able to appear this Friday night?

THE NATURE BOY IS BACK
One of the biggest surprises we saw on Raw this past Monday night was the return of the legendary Ric Flair, and he announced that he will be making his return to Smackdown this week. And we have now learnt that The Nature Boy will be the special guest on The V.I.P. Lounge this Friday. What will one of the legendary names in the history of the business have to say to the United States Champion?

TWO TITLES ON THE LINE THIS WEEK
Both the WWE Tag Team Champions and the Cruiserweight Champion will be defending their titles this Friday in Pontiac. Ever since The World's Greatest Tag Team laid eyes on The UK Pack, they have suffered numerous defeats to both Paul Burchill and Harry Smith either in tag team action or in singles matches. Last week with a warning from Shelton Benjamin ringing in his ears, Charlie Haas suffered a defeat to Burchill in a triple threat match that also included Johnny Jeter. After the show went off the air, William Regal told WWE.com that this coming Friday, Benjamin and Haas will have to defend their titles against Burchill and Smith. Will the champions be able to finally get one over on their rivals, or will complacency catch up with them yet again?

But there rivalry is nowhere near as personal as it has got between Chavo Guerrero and the Cruiserweight Champion Kenny Dykstra. The cocky champion took exception to some blunt comments from Chavo several weeks ago and assaulted him backstage. And with Dykstra showing Chavo noting but disrespect over the last couple of weeks, Smackdown GM William Regal stepped in and made a title match for this week, and also made it a No Disqualification match. Dykstra was obviously angry at the decision, and with Chavo desperate to get his hands on the young star, what fireworks can we expect to see this week when these two collide?

PLUS
Kid Kash's return last week caught everyone off guard as he and Jamie Noble overcame Jimmy Wang Yang and Super Crazy. We have been told that this Friday will see the singles return of the former Cruiserweight Champion when The Notorious K.I.D. goes one on one with Super Crazy. With The Pitbulls now reunited, will the Mexican high flyer be able to stop the aggressiveness of Kash?


CONFIRMED FOR THIS WEEK

WWE TAG TEAM CHAMPIONSHIP
The UK Pack (Paul Burchill & Harry Smith)
vs. The World's Greatest Tag Team (c)

CRUISERWEIGHT CHAMPIONSHIP
No Disqualification Match
Chavo Guerrero
vs. Kenny Dykstra (c)

Super Crazy
vs. Kid Kash

PLUS

The V.I.P. Lounge
With "The Nature Boy" Ric Flair



---
Last edited by Nige™; 03-06-2008 at

07:46 AM

.
Re: WWE: A Strong Response
---
Nige..... i am going to leave it until Saturday Night Main Event to begin reviewing your shows again!
---
------------------------------
WATP
Posting Rules

You may not post new threads

You may not post replies

You may not post attachments

You may not edit your posts

---

HTML code is Off

---