Tag Teaming With James Ellsworth
Join Date: Mar 2005
Posts: 1,214
Points: 0
Re: WWE: A Strong Response
---
Raw Review
Very long opening promo, for me parts of the promo were great and parts were off for me. Liked the flash back to Evolution, and HHH's comment about teaching Orton to be confident and how he brought him crashing back to the ground. Great match announced between HHH/Finlay, one I would personally like to see IRL.
Great opening match, which sounded like your typical brutal No DQ Match. Expected Orton to interfere since it was made a No DQ Match, so the ending was pretty predictable but adds some heat to the feud. Good to see Finlay get a win over HHH, which even though wasn't clean hopefully means that he gets a push over on Smackdown. Much better for Finlay and Hornswoggle to be Heels, as they are lame as faces.
Decent promo to hype next week's show. Thought the promo went on too long however, and looks like we are going to get a major squash tonight thanks to Beth Phoenix.
Good to see Kingston win in his first match. I have never in my life watched ECW, so I don't know who Kofi is but he sounds like a pretty decent wrestler. Will be interesting to see how big of a push you give him.
Will be interesting to see who Orton's opponent is, but I expect HHH to get revenge on Orton for his loss tonight and screw Orton out of the match.
Firstly lol at Burke calling Jericho a Blonde Bimbo. Jericho/Burke would be a hell of a match to see, but I expect Ken Kennedy to get involved in someway. Is Layla the Residential Slut on Raw? First Shane, now Burke.
Beth Phoenix wins OMFG YOU CAN'T BE SERIOUS! Yes my Sarcasm sucks
Good to see you have brought Eddie Colon in as it gives something for Carlito to do. Val Venis push sounds alright, as back in the day he probably did deserve a push. Having Carlito teach Eddie how to wrestle is the right way to go around it.
Great match, and great to see Burke get the victory over Jericho, was pretty obvious that Kennedy would interfere as soon as he came down to do commentary. Not so sure if Orton will lose now, as him losing thanks to Triple H would make too many upset victories through interference in one night.
CM Punk interview was very strong, sounds much better as a heel as it adds some personality to him. Jeff Hardy's attack was well done, adding some interest to the feud.
Bit of a shock to see Lashley back, not a big fan of him however so not so great he has comeback and will most likely beat Orton now thanks to HHH. The main event was very good, very well written was not pleased to see Bobby Lashley kick out of the RKO, but it does make him look strong on his comeback. Triple H's interference make sure he gets revenge for his loss earlier in the night.
Overall the show was very entertaining as always Nige, shows are very realistic and liking the fact that you are bringing in young guys like Kofi Kingston, Eddie Colon and a couple of guys from Smackdown. Look forward to the 15th Anniversary, and SNME is building up very nicely.
Re: WWE: A Strong Response
---
Smackdown Preview
7th December 2007

Van Andel Arena
Grand Rapids, Michigan



DEAD MAN MEETS THE BULLDOZER
This Friday night, we will see the second match up for number one contender spot at Saturday Night's Main Event when The Undertaker and Umaga battle it out for the very first time. With Shawn Michaels waiting to face the winner, what lengths will the legendary phenom and the Samoan Bulldozer go to when they meet this Friday night in what should be one explosive contest.

MICHAELS GETS THE EDGE
With The Undertaker and Umaga going at it this week for the right to face him, Shawn Michaels fought his way to within one match of a title match against Batista by defeating the former World Heavyweight Champion, Edge last week. The Rated R Superstar was understandably angry from the week before when he was robbed of the World title following Umaga's interference in his match with Batista that ended in Batista retaining via disqualification. How will Edge respond this week to a further setback on his quest to regain the World title he still thinks is his?

MOST VALUABLE CONTRACT SIGNING
MVP and Matt Hardy are getting closer and closer to what will be one of the most anticipated matches in recent memory when they meet at Saturday Night's Main Event for the United States Championship inside a twenty foot high steel cage. And this Friday night they will make it official when they will both sign on the dotted line in the middle of the ring. Following Matt Hardy's forceful reaction to MVP's strongly worded comments in the VIP Lounge last week, we are sure to see fireworks this coming Friday night in Grand Rapids.

DYKSTRA SETTING HIMSELF UP FOR A FALL?
Ever since he won the Cruiserweight Championship at the Survivor Series over two weeks ago, Kenny Dykstra has been coasting so to speak as he has simply saved his own skin from defending his title after promising to do so if any challenger could beat him in non title matches. Two weeks back, Matt Sydal tried and failed as Dykstra hung on for a double count, while last week he got himself disqualified against Chavo Guerrero. However, he may be in for a rough week following his actions after his match with Chavo last week when he blindsided him after a confrontation, throwing Chavo into a collection of steel poles backstage. Is Kenny playing with fire?

TAG CHAMPS IN DANGER?
Shelton Benjamin and Charlie Haas last week slipped up again as they were defeated in non title action against the young team of Matt Sydal and Johnny Jeter. This came after a defeat the previous week to their long term rivals in the shape of The UK Pack. With the champions being victims of complacency, it seems they must up their efforts as their challengers pile in, and this week Charlie Haas will be representing his team when he meets Paul Burchill and Johnny Jeter in tag team action. Can Haas pull it out when it matters, or will we see the hunters turn up the pressure?


CONFIRMED FOR THIS WEEK ON FRIDAY NIGHT SMACKDOWN

NUMBER ONE CONTENDERS SEMI FINAL MATCH
The Undertaker vs. Umaga

Paul Burchill vs. Johnny Jeter vs. Charlie Haas

PLUS

The United States Championship Contract Signing Between Matt Hardy & MVP



Re: WWE: A Strong Response
---
Nige, I will get a review up for your Smackdown, the preview keeps me intrigued
---
------------------------------
WATP
WWE.com - HOMEPAGE (Smackdown Results)
---
Smackdown Results
7th December 2007

Van Andel Arena
Grand Rapids, Michigan





***OPENING VIDEO***
"Rise Up"


***VIDEO RECAP***
From last week

• William Regal announcing that Shawn Michaels will face Edge (last week), and The Undertaker will face Umaga (tonight) with the two winners meeting for the chance to face Batista for the World Heavyweight Championship at Saturday Night's Main Event
• Michaels beating Edge in the main event


***PYRO***
***PYRO***
***PYRO***
***PYRO***


"Metalingus" blasts out & Edge walks out to the ring in casual clothes with a face like thunder

***HEAT***

Edge: You people need to shut your stinkin mouths right now cos I'm not gonna wait to say what I have to. . . What happened last week just sums up the crap I've had to go through ever since I came back to Smackdown. Every single time I get close to taking back my World title, someone SCREWS me out of it, and the list is endless. We've had Batista at the Survivor Series, Umaga two weeks ago and last week, Shawn Michaels jumps right to the top of the list I call, look which jackass got in my way and wants his ass kicked by the greatest World Champion of all time. . .

***HEAT***

Edge: It doesn't matter what order they're in, but you better believe me when I say that the Rated R Superstar is going to take them all apart, only after I get what I deserve. . . It's pretty obvious that after the amount of times I've been robbed, and I mean robbed of my title, at the very least I should be given a one on one shot right here tonight before some other unworthy son of a bitch decides it's their turn to screw me over

***POP***

Edge: Oh you think that's funny huh? You wanna see me screwed again huh? Well at least I've been screwed less times than every single one of your little sisters you Grand Rapids losers

***HEAT***

Edge just smirks

Edge: So come on Regal, all you've got to do is come out here and tell me the match is on. Come on Regal, all I need is one shot with no one else getting in my damn way and I will do what everyone back there is afraid of. And that's me winning back my title because they all know that once I get my hands back on it, there'll be no taking it away from me because I am the single greatest thing on this damn show. . . Come on Regal before I come back there and beat it out of ya. . .

"I Walk Alone" blasts out & Batista walks down to the ring in his casual gear

***HUGE POP***

Batista has a confused look on his face while Edge looks pissed by him coming out

Edge: Just what the hell do you think you're doin out here huh? I'm waiting for my answer Batista, now get the. . .

Batista: . . . Woah, let me stop you right there Edge. What makes you think you're going to get the answer you want? See the way I see it is you lost at the Survivor Series, two weeks ago and last week. It's getting kind of a habit now don't you think? What on earth do you think gives you the right to get a title shot?

Edge: Hey, it's got nothing to do with you Batista, now just. . .

Batista: . . . It's got everything to do with me, because Edge it's my title you think you've got some kind of right to, and I have to come here every week and listen to you come out here and try to come up with some kind of excuse. . . Let me tell you something Edge. I'm sick of it. You want a shot tonight, then if that's what it takes to shut you up, then I accept

"Sexy Boy" hits and the crowd go crazy as Shawn Michaels makes his way down to the ring

***MASSIVE POP***

Shawn Michaels: Woah, let's get back to sense of normality guys huh, come on! . . . Am I the only one with some kind of brain activity in this ring right now, cos what I heard back there is just one hundred percent pure trash

***POP***

Shawn Michaels: See the way it goes is like this Edge, I bust my ass last week, beating you I might add to get a chance at what you want right now. But this is the part I think you need to listen to Edge cos you're just making yourself look like even more dumb than you already are. . . I'd give you a little reminder myself, but hey this is 2007, nearly 2008 and we've got the technology, so let's use it. Guys if you will

The finish of last weeks match between Michaels and Edge is shown on the tron

***POP***

Shawn Michaels: Now Edge, can you explain to me how me beating you fair and square with absolutely no one else in sight translates to you being screwed and makes you, NOT ME deserving of a title shot?

Edge: Wel. . .

Shawn Michaels: . . . No Edge, you can't do it cos there's nothing you can say to back up all the crap you've fed every single one of us here tonight. So this is how it's gonna go, so listen carefully so you don't get confused again alright. . . You're not going to get a title shot, me and Dave are gonna kick back later on and watch The Undertaker and Umaga battle it out to see who faces me, ultimately leading to whoever gets the title shot against Big Dave at Saturday Night's Main Event. Does that sound about right to you Dave?

Edge: Are you quite done Shawn? Because I'm about done listenin to ya old timer

***HEAT***

Edge: You know what Dave, do you really think you're gonna sit back there with Shawn Michaels tonight, kick back and watch a match with him? Everyone knows his rep, everyone knows that he'll stab you in the back the first chance he gets. You know it's true Dave, you better watch yourself

Batista and Michaels look at each other for a second, seeming not to acknowledge Edge's comments

Batista: Look, Shawn's history is something is we're all aware of Edge, but that's for me to worry about, not you

Edge: Oh I'm not worried big man, I'm just trying to do you a favour and let you know what you're in for because I guarantee when you're least expecting it, good old HBK over there will take your head off without even thinking about it

Batista shakes his head and stares at Edge, as does Michaels. They both stare right at him as Edge looks on with a satisfied smile on his face when. . .

John Morrison & The Miz, Edge's associates run down the aisle, sneak inside the ring and attack Batista and Michaels from behind, clubbing them across the back and then stomping on them as Edge then joins in. William Regal then appears on the tron from his office

William Regal: Gentleman, stop that this instant

Edge tells them to back off, which they all do

William Regal: Edge, I don't know what it's going to take to make you understand, but I'm going to put it as bluntly as I possibly can for you. . . You will not receive a title shot as long as Batista is World Champion, as per the contracted stipulation from your match two weeks ago

***POP***

William Regal: But seeing as you're hell bent on getting some kind of personal retribution on Batista and Shawn Michaels, then tonight you will have a match. . . Right here tonight it is going to be you and your two little friends there facing both Batista and Shawn Michaels in a handicap match

***POP***

Edge, Miz & Morrison look at each other in the ring, not sure what to make of it as the tron blacks out and "Metalingus" hits again


***VIDEO PROMO***
A series of still images appear, telling us that tonight we will see. . .

• The contract signing for Matt Hardy's United States title shot against MVP inside the steel cage at Saturday Night's Main Event
• The Undertaker one on one against Umaga with the winner facing Shawn Michaels to determine the number one contender for the World Championship


***COMMERCIAL BREAK***


"Slam Smack" hits & Jamie Noble walks down to the ring in his ring gear

***HEAT***

Jamie Noble: Last week I did what I did best and beat the livin crap out of that border crawler Super Crazy, and after the match I find out that him and his redneck wannabe buddy wanna challenge me, Jamie Noble to a tag team match. . . Ya know, they did let me choose my own team mate, and it's a good thing they did, let me tell ya cos have I got a surprise for y'all. . . I want y'all to stand up and give this guy the respect he deserves. I went out and got myself the best partner. He's a pit bull just like me, give it up for the Notorious K.I.D. . . Kid Kash

***HEAT***

Kid Kash's music hits as he makes his way down to the ring, slapping hands with Noble when he gets there as they wait for their opponents


***MATCH #1***

Jimmy Wang Yang & Super Crazy vs. The Pitbulls (Jamie Noble & Kid Kash)

SUMMARY: A really great opener with lots of quick action. With Noble taking a lot of offence following a Super Crazy comeback, he was eventually able to reverse an irish whip and connect with the tilt a whirl backbreaker, but dropped to the mat too as he felt the effects of the previous attacks. After several seconds, both men crawled to their corners and were able to make the tag to their respective corners. Yang came in to a pop and ducked under a right hand from Kash, then hit him with a stiff kick to the chest, knocking Kash off balance as he then ran back into the ropes, came back and hit a spinning heel kick. Kash was able to get up after a couple of seconds as Yang then ran to the corner and climbed to the top rope. As Kash then turned round, Yang came off the top with a moonsault, but Kash sidestepped it, but Yang landed on his feet. Kash then drove his knee into Yang's chest and planted him with a brain buster DDT (The Dead Level), then dropped for the cover as Noble ran in and across the apron, knocking Crazy off the apron as the ref counted to three.

AFTERMATH: Noble walked back over towards Kash, but the Notorious K.I.D. stood back and stomped Yang's body across the mat and off the apron to the outside, looking extremely sadistic.


***CUT BACKSTAGE***


We see Shelton Benjamin and Charlie Haas with their WWE Tag Team title belts over their shoulders, stood with Chris Masters in the backstage area

***HEAT***

Shelton Benjamin: Charlie look, you know how important tonight is right? You can't lose to either of those guys, and after last week, you better make sure you don't

Charlie Haas: Oh yeah, what's that supposed to mean Shelton?

Shelton Benjamin: Hey, don't get all hot with me Charlie it was you who lost us the match last week. Meaning it's your fault you got us in this mess tonight with this damn match

Charlie Haas: What do you mean us? It's alright for you, you're not even in the DAMN match

Shelton Benjamin: Yeah and that's because I'm not the one who cost us the match last week. And if you lose again tonight against either one of them, you just know what will happen next. We'll have to defend these titles against them, and if that happens Charlie, I don't know if I can carry your ass one more time. . . Now since we're all barred from ringside tonight, you go out there and make sure that we don't have to defend our titles, ya hear me?

Charlie Haas (Looking pissed): Yeah, I hear ya Shelton

Shelton turns round and walks off while Haas looks angry and Masters looks shocked

Chris Masters: Look Charlie, don't worry about him. You know you can beat that British joker and whatever his name is, just go out there, prove Shelton wrong and all this goes away

Haas stares past Masters, gets himself focused and puts his hood up on his top, turns round and walks off


***COMMERCIAL BREAK***


William Regal is in his office when Kenny Dykstra walks in wearing casual clothes with his Cruiserweight title over his shoulder

***HEAT***

Kenny Dykstra: Regal, how's it goin man?

William Regal: I beg your pardon. Don't speak to me like that sunshine

Kenny Dykstra: Woah, calm down chief, no need to get all heavy like that man. Take it easy

William Regal: Oh kind of like you, you mean. I've seen your antics the last couple of weeks, taking it easy as you put it to avoid actually defending that title of yours, and quite frankly I don't approve, especially after what you did to Chavo last week

Kenny Dykstra: Look man, Chavo got what he deserved and I dare anyone who thinks different to say so, but it's kind of why I came to see you. . . See I was thinking about Chavo when I got here tonight and I thought that maybe Chavo could go some way to making up for what he said about me last week and you could put him in a match tonight

William Regal: Let me get this straight young man. You want me to put Chavo Guerrero in a match because he talked you in to attacking him like you did last week? . . . If anybody should be in a match tonight, it's not Chavo, it's you

***POP***

Kenny Dykstra: Hey, before you get carried away, I'd love to get in that ring tonight and show Michigan what a real star looks like, but I think I put my back out last week when I. . . well you know, in my match

William Regal: Or when you threw Chavo into those poles you mean? . . . Well I'll tell you what I am going to do Kenneth despite the fact I'd bet bloody good money on nothing being wrong with your back, I am going to let Chavo Guerrero compete here tonight, but you can bet that arse of yours that you won't be going anywhere near him tonight because next week you will be facing him one on one right here on Smackdown

***POP***

William Regal: Oh and that's not all young man, make sure you bring that shiny belt with you too because you will be defending that title against Chavo. . . in a no disqualification match

***POP***

Kenny Dykstra: Are you out of your damn mind Regal? You can't make me face Chavo with no disqualifications, I've got rights as the Cruiserweight Champion

William Regal: The only bloody right you have is to get out of here right now before I strip you of that bloody title of yours

Dykstra is livid as he turns around and storms out of the room as Regal smiles slightly


***VIDEO RECAP***
From the last two weeks

• Paul Burchill & Harry Smith defeating The World's Greatest Tag Team two weeks ago
• Last week and Matt Sydal & Johnny Jeter beating The World's Greatest Tag Team


***CUT TO THE ARENA***


***MATCH #2***

Paul Burchill vs. Johnny Jeter vs. Charlie Haas

SUMMARY: A real good match with lots of back and forth action given the triple threat rules. Haas took most of the battering as both Burchill and Jeter both went for him. As we came to the close, Jeter was on the outside and Burchill picked Haas up to his feet, then hit him with a northern lights suplex, only getting a two count. That was close as Burchill then stands back up, but at the same time, Jeter climbs back on the apron and to the top rope. He then leaps off and hits a missile dropkick on Burchill, gets back up and then hits a springboard moonsault on Haas, but again Haas just kicks out. Jeter sits up and holds his head in his hands as Burchill starts to get back up behind him. As Jeter then stands up, so does Burchill and Jeter turns round into an overhead belly to belly suplex, sending Jeter across the mat and off the apron to the outside. Burchill then gets back up to see Haas squirming, walks over and pulls him back up to his feet and then nails him with the C4 to get the victory.

AFTERMATH: "Britannia" hits as Burchill gets back up to his feet and gets his arm raised by the referee. Harry Smith and Drew McIntyre make their way down the aisle and into the ring to congratulate Burchill


***VIDEO PROMO***
A highlight reel of the biggest moments in the history of Raw is shown, featuring Stonecold Steve Austin, Shawn Michaels, Triple H, The Undertaker, Sunny & Trish Stratus

NARRATOR: For fifteen years, superstars have come and gone. For fifteen years, superstars have put their bodies and lives on the line. For fifteen years, superstars have performed on the most successful show on cable television. . . Monday Night Raw. . . And to celebrate this landmark achievement, those superstars will once again perform in a celebration like no other. . . It's going to get Raw

The clips cut to a graphic showing "Next Week. . . 3 Hour Raw, 15th Anniversary Celebration. . . Only on USA"


***COMMERCIAL BREAK***


***VIDEO PROMO***
We see a guy dressed in traditional blue jeans, a white shirt and a cowboy hat sat down at a bar, drinking a bottle of beer when a fight breaks out in the background at a pool table. One of the two guys hits the other with a pool cue and tosses the cue away, landing at the foot of the guy drinking the beer at the bar. He looks down and sees the cue, picks it up and walks over calmly, asks the guy whose cue it is and puts it back on the table. He asks if there's any trouble, when the guy who was fighting tells him to get lost, which gets a response of "I can't do that" and then results in punches being thrown at the guy who threw the cue, who then falls to the floor after being smashed in the face with a beer bottle. The guy in the white shirt then walks back over to the bar and orders another beer and the barman says he's sure handy with his fists and asks him what his name is, to which the guy replies, "It's Chris, Chris Harris". The barman gets him a bottle of beer and tells him it's on the house for beating that trouble maker up to which Harris replies "It's what I do".

It freezes to a still image of Harris drinking when it changes to a black screen, saying Chris Harris - Coming Soon to Smackdown!


***CUT BACKSTAGE***


Josh Matthews is standing by

Josh Matthews: Ladies and gentleman, please welcome my guest at this time. . . the World Heavyweight Champion, Batista

***POP***

Josh Matthews: Batista, tonight you and Shawn Michaels team up to face Edge, John Morrison and The Miz in a handicap match. And after what Edge said earlier on about you being able to trust Shawn Michaels, has he put any kind of doubt in your mind about where Shawn's intentions lie tonight?

Batista: I know where Shawn's intentions lie Josh, the same place my attentions lie. In fact the same place everyone else on Smackdown's lie, and that is on what is around my waist and not theirs. . . the World Heavyweight Championship. . . I'm the World Heavyweight Champion Josh, part of the job carrying this title is having eyes in the back of your head. . . Does that mean I don't trust Shawn Michaels going in to our match tonight? . . . Yeah Josh it does. See I wouldn't respect Shawn or anyone of they didn't take any chance they had to help themselves become the World Champion, it's what this business is all about. Hell I've been there myself with Triple H and even the great Eddie Guerrero, but I've learnt to deal with it. That means going out there and looking out for number one, and that's exactly what I'll be doing tonight when me and Shawn team up to shut Edge up as well as that big mouth of his

***POP***

Josh Matthews: Do you think Edge deliberately stirred the pot between you and Shawn earlier on in order to try and get you two mad at each other and not him?

Batista: Josh, there's no doubt about that. Edge is just holding on to any little hope he has of getting a shot at the World title. He's so obsessed that he's completely seen past the fact that it might not even be Shawn Michaels I defend my title against at Saturday Night's Main Event

Josh Matthews: That's right, because later on tonight we will find out who will face Shawn Michaels for the right to be number one contender when The Undertaker goes one on one with Umaga. . . And Batista, out of those three men, who would you most like to defend your title against at Saturday Night's Main Event?

Batista: Josh, all I care about right now is going out there and doing the world a favour, and that is beating the living hell out of Edge and his little followers. Saturday Night's Main Event isn't important until we find out who my opponent is, but we all know it's not Edge

***POP***

Batista then turns round and walks out of the shot as we then see a still image that also appears on the tron, reminding everyone that later on tonight The Undertaker faces Umaga for the second semi final match in the right to become the number one contender


***CUT TO THE ARENA***


***MATCH #3***

Chavo Guerrero vs. Finlay

SUMMARY: Finlay took the match to Chavo early on, but was surprised by Chavo's determination. Finlay looked in control after ducking a right hand from Chavo and hitting him with a vicious short arm clothesline. He went on to lock in a modified indian death lock, but Chavo used all he had in him to get to the ropes. Finlay argued with the referee before walking back over to Chavo and trying to pull him away from the ropes, but was shocked as Chavo rolled him into a small package, only to kick out at two. As both men got back up to their feet, Chavo ducked a right hand from Finlay, then connected with the three amigo's. The crowd quickly got behind Chavo as he slowly made his way back up to his feet and walked over to the corner, then climbed to the top rope. Pointing to the ceiling, Chavo then leaped off for the Frog Splash, but Finlay had enough time to roll to the side. As both men lay on the mat, Hornswoggle then appeared from under the ring and was spotted by the referee who walked over to the ropes and told him not to get involved as Finlay got back up, walked across to the corner and picked up the chalily. Chavo then started to stand back up as Hornswoggle grabbed the referee's foot, who then tried to pull it back. With the distraction set, Finlay walked across and as Chavo turned, Finlay smashed him across the skull with the chalily. Finlay then tossed it out of the ring as Hornswoggle then let go of the ref's boot, allowing the ref to go over and count the fall.

AFTERMATH: "Lambleg" hits and Finlay gets some heat as he gets his arm raised. He quickly lets go and leaves the ring, lifting the apron up for Hornswoggle to crawl back out as they leave to the back, with Hornswoggle getting a small pop


***COMMERCIAL BREAK***


Lena Yada is standing by

Lena Yada: Please welcome my guests, The Samoan Bulldozer Umaga and his manager, Armando Alejandro Estrada

The camera zooms out to show them in the shot

***HEAT***

Lena Yada: Later on tonight, Umaga has the chance to move one step closer to a shot at the World Heavyweight Championship when he meets The Undertaker. Your thoughts

Armando Alejandro Estrada (In his Cuban accent): Lena, my thoughts go something like dis. . . Tonight, my Samoan Bulldozer Umaga will not just beat The Undertaker, but he will destroy The Undertaker bit by bit and make him how you would say, a real dead man

***HEAT***

Armando Alejandro Estrada (In his Cuban accent): There is a-nothing anybody including The Undertaker can do to stop him, Umaga is a machine and once he is done with the dead man, the Heartbreak Kid Shawn Michaels is next, and not even Shawn Michaels will be able to stop Umaga from being the number one con-ten-der for the World title. And when Umaga gets his hands on Batista at Saturday Night's Main Event, there will be a new World Heavyweight Champion, I guarantee it

Estrada laughs as Umaga looks all intense behind him before the camera fades out


***CUT TO THE ARENA***


***MATCH #4***

2 ON 3 HANDICAP MATCH
Batista & Shawn Michaels vs. Edge, John Morrison & The Miz

SUMMARY: As the match gets towards the end, Morrison and Batista are on the mat after Morrison was able to duck under a clothesline from The Animal and hit him with an enziguri. With Batista looking out of it, Edge was screaming at Morrison to tag him in. The Shaman of Sexy slowly made his way across the ring and was just about able to tag Edge as Batista crawled closer to Michaels in the opposite corner. Edge ran in at speed, trying to make sure Batista didn't make the tag and grabbed The Animal's foot. Edge smiled with delight, but as he took his eye off the ball, Batista turned himself over and pushed Edge off with a powerful kick. Edge was knocked back across the ring, towards the centre as Batista then made the tag to Michaels. Edge stood back up as Michaels then charged at him and knocked him down with a right hand. Edge was right back up again and was the victim of another right hand, but this time Michaels followed up with a second and whipped Edge into the ropes. Edge though was able to hold onto the top rope, and with Michaels in a foul mood, he ran at Edge, but the Rated R Superstar lifted his boot up into Michaels' face. As Michaels then staggered away, Edge followed him out and hit him with a half nelson bulldog, only getting a two count.

Edge then walked back over to his corner to tag in The Miz, who immediately made his way over to Michaels, lifting him up to his feet and set him up for a DDT. Miz posed for a couple of seconds, which cost him as Michaels escaped the grip and slipped behind before hitting a side suplex. With the crowd firmly behind him, Michaels flipped back up, pulled Miz back up to his feet and scoop slammed him right back down to the mat. Michaels then walked over to the corner and climbed to the top rope, but Morrison walked across the apron to distract him. Michaels though saw it coming and kicked out at Morrison, who fell off the apron and hit the barricade on the way down. HBK was then quick to leap off the top and connect with an elbow drop on The Miz. The Heartbreak Kid stood back up as the crowd went crazy at the sight of Michaels then tuning up the band for some Sweet Chin Music. Edge then entered the ring and charged at Michaels, but HBK ducked under Edge's outstretched arm and hit him with the Super Kick, sending him over the top rope. Michaels then turned back round after a funny shrug of the shoulders, then continued tuning up the band, before taking Miz's head off with the Super Kick, then getting the cover.

AFTERMATH: "Sexy Boy" blasts out as Michaels stands back up to get his arm raised by Micky Henson. Batista climbs through the ropes and walks over to Michaels, offers him his hand, which Michaels accepts. The duo then walk over to opposite corners and celebrate for the crowd when Edge slides back in the ring, and as Michaels steps down off the ropes and turns round, Edge charges at him and hits him with a Spear. The music cuts and Batista steps down off the ropes, sees Edge as they stare at each other with Batista looking confused and Edge smiling


***VIDEO PROMO***
A still image appears, telling us that up next is the contract signing with Matt Hardy and MVP


***COMMERCIAL BREAK***


***VIDEO PROMO***
A brief history of Saturday Night's Main Event

NARRATOR: It has a place in WWE history. . . It has a place in the history of sports entertainment. . . but it also has a place in its future. . . For Christmas will not be the same this year for the stars of Raw and Smackdown as Saturday Night's Main Event makes its return. . . Live on NBC!

The clip cut to a graphic showing "Saturday 22nd December. . . Shaking Up Saturday Night. . . Live on NBC"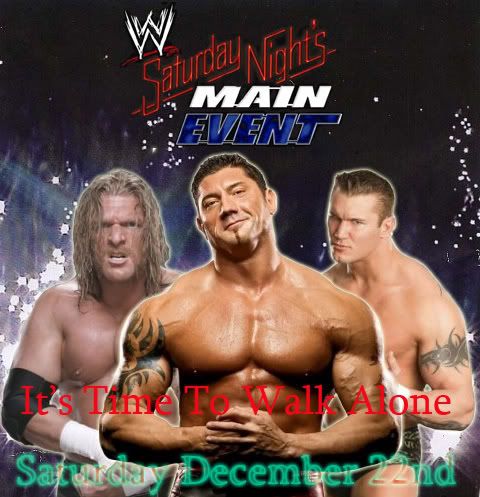 ***CUT TO THE ARENA***


William Regal is in the ring, which is set up for a contract signing as "I'm Comin" hits and MVP walks down to the ring in a suit with his United States title around his waist

***HEAT***

MVP looks serious as he takes his belt off, then places it on the table and sits down

"Live for the Moment" blasts out as Matt Hardy makes his way down into the ring to a huge pop from the crowd

As Matt gets in the ring, he stares at MVP and then the title belt

William Regal: Now gentleman, shall we proceed with the formalities

Matt remains on his feet and continues to stare at MVP, who then reaches forward and picks up a microphone before standing up

Montel Vontavious Porter: You not hear him Matt, sit your ass down and let's get this over and done with

Matt smirks for a couple of seconds before sitting down, followed by MVP

William Regal: Now for those of you who are not aware of what is about to take place, in just over fourteen days at Saturday Night's Main Event, Matt Hardy will be challenging the WWE United States Champion, Montel Vontavious Porter inside a twenty foot high steel cage

***POP***

Matt and MVP continue to stare at each other intensely

William Regal: And right here I have the contract that both men will sign to accept this match for Saturday Night's Main Event. . . MVP, if you don't mind, as champion will you please sign the contract first

Regal places the contract on the table and puts a pen alongside it. MVP takes about five seconds, still staring at Matt before leaning forward and picking up the pin. He looks at where to sign, places the pen there and looks back up at Matt as he signs his name, then drops the pen and tosses the contract across the table

William Regal: Matt, it's your turn if you would

Matt looks across at an intense MVP for almost five seconds before he leans forward to pick up the contract, but before he can sign it, MVP stands up with the microphone in hand

Montel Vontavious Porter: Matt, before you sign that, I want you to be absolutely clear about what you're getting yourself into. . . If you sign that contract, you're letting yourself in for the single most dangerous match of your life. You're not just stepping inside a twenty foot high cage made of solid steel, you're setting yourself up to go up against the greatest ever United States Champion of all time

***HEAT***

Montel Vontavious Porter: Ignore the haters Matt cos they're just like you, jealous of me because I'm better than all of you, every last person in that crowd and in the arena tonight. I was brought to Smackdown to do a job, and that job was to dominate this show. And Matt, that's exactly what I've done from the very first day I walked through the door as the highest paid star in the history of this show. And you know what makes it even better Matt, I've backed up every last word that's come out of my mouth, every last one. So take a little time Matt before you put your low value signature on that contract and think about what will happen when you get inside that cage in two weeks at Saturday Night's Main Event. Not only will I embarrass you Matt, I will ruin your career in one foul swoop

***HEAT***

Montel Vontavious Porter: So go ahead Matt, think about it. Do you wanna make the biggest mistake of your life and face the greatest star on the planet?

***Chants of "Sign it" are heard from the crowd***

Montel Vontavious Porter: Go on Matt, listen to what these people have to say. They don't care about you Matt, they're just blood thirsty and selfish, all they care about is seeing you bleed, because you will Matt if you sign that contract

Matt stands up and looks up into MVP's eyes before reaching down to pick up the contract and pen

Montel Vontavious Porter: Go on Matt, do it. After you disrespected me last week, I can't wait to make you suffer like you've never suffered before. All those TLC matches you've been in will be nothing compared to the pain and suffering you will feel at the hands of the only person who could ever rightly claim to be half man, half amazing, M V P

***HEAT***

Matt just grins at MVP, then looks down and signs the contract before passing it to Regal

***POP***

William Regal: Ladies and gentleman, it is official. At Saturday Night's Main Event, it will be. . .

Matt picks up his microphone from the table

Matt Hardy: I'm sorry to cut you off Regal, but what's official is that in just two short weeks, MVP, the so called greatest star in the history of Smackdown is going to lose that United States title of his and get the long overdue ass kicking he's been crying out for the last few months

Montel Vontavious Porter: Yeah, you think so Matt? I don't. . . You feel so confident about it huh? How about you put your money where your mouth is? . . . If you feel so confident, what would you say if I told you, if you lose at Saturday Night's Main Event, you will never, never get another title shot as long as I am champion? . . . But and it's the biggest but you will ever hear spoken, cos if I by some great miracle am to actually lose to you, I will give up my right as champion for a rematch. . . What do you say Matt?

***POP***

Matt Hardy: Simple. . . I ACCEPT

MVP nods his head as he tosses his microphone to the mat as Hardy stares at the smug looking champion as "Live for the Moment" plays once again to a big pop. They continue to stare at each other until the camera fades out


***VIDEO PROMO***
A still image appears, telling us that up next is The Undertaker against Umaga


***COMMERCIAL BREAK***


***MAIN EVENT***

NUMBER ONE CONTENDERS SEMI FINAL MATCH
The Undertaker vs. Umaga w/Armando Alejandro Estrada

SUMMARY: A really enthralling match with both men going at it hell for leather. Umaga was able to handle most of what Taker threw at him, and countered a chokeslam attempt by using his sheer power to pull Taker into his chest and then hit him with a belly to belly suplex. Estrada was clearly delighted on the outside as Umaga stood back up and then pulled Taker back up to his feet, whipped him into the ropes and planted him with a huge Samoan Drop. With Taker looking in pain on the mat, the crowd's dismay was evident as Umaga then pulled a motionless Taker towards the corner, setting him up against the bottom rope. The Samoan Bulldozer then backed up into the opposite corner, then ran at Taker, connecting with the Samoan Wrecking Ball. Umaga looked in total control as he then dragged Taker out of the corner and into the middle of the ring before dragging the lifeless dead man back up to his feet for the Samoan Spike. But as he was getting ready to drive the spike into Taker's throat, Estrada gestured at him to go to the top rope. Umaga looked confused but then dropped Taker, who just dropped flat to the mat. Umaga looked back at Estrada for a couple of seconds before going over to the corner and climbing to the top rope. But before he got to the top, Taker sat up to a huge pop and then stood right back up, then walked over to the corner and grabbed Umaga around the throat.

With the crowd going crazy, Taker then planted him with a chokeslam, with Umaga crashing from the top rope down to the mat. Taker still felt the effects before he was able to go for a cover, but Umaga was able to kick out at the very last split second. Estrada looked close to a stroke on the outside and after calming down, he walked round to the timekeeper's table and dragged a steel chair away from Justin Roberts. As he walked back towards the ring, he slid inside as Taker stood back up with his back to Estrada. Estrada entered the ring, and it was then that Micky Henson saw him and went straight over, demanding him to drop the chair, which he wouldn't do. Taker turned round and glared at Estrada who then swung the chair at Taker, but Taker ducked it as the chair dropped from Estrada's clutches. Henson then yelled at Estrada to leave the ring as Umaga started to sit up. Taker turned his attention back to his opponent and pulled him up to his feet, then wrapped his arm around his throat again and planting him with a chokeslam, with Umaga landing back first on the steel chair. Estrada pleased with Henson to turn round as Taker then pulled the chair from under Umaga and tossed it out of the ring. He then walked over to Estrada and knocked him down with a right hand before going to cover Umaga for the three count.

AFTERMATH: "Deadman's Symphony" hits as Taker stands back up. The lights go out and a purple spotlight shines down on him as he does his signature taunt on one knee, before standing back up and gesturing that he will be the next World Heavyweight Champion as Smackdown goes off the air


***END OF SHOW***


QUICK RESULTS
The Pitbulls df. Jimmy Wang Yang & Super Crazy
Paul Burchill df. Charlie Haas & Johnny Jeter
Finlay df. Chavo Guerrero
Batista & Shawn Michaels df. Edge, John Morrison & The Miz
The Undertaker df. Umaga


DARK MATCH
Jake Hager & Ron Killings df. Michael Shane & TJ Wilson


CONFIRMED FOR NEXT WEEK

CRUISERWEIGHT CHAMPIONSHIP
NO DISQUALIFICATION MATCH
Chavo Guerrero vs. Kenny Dykstra (c)


CONFIRMED FOR SATURDAY NIGHT'S MAIN EVENT

WWE Championship
Triple H vs. Randy Orton (c)

World Heavyweight Championship
Batista (c) vs. The Undertaker OR Shawn Michaels

WWE United States Championship
Steel Cage Match
Matt Hardy vs. Montel Vontavious Porter (c)

Chris Jericho vs. Mr. Kennedy



---
Last edited by Nige™; 02-25-2008 at

05:10 PM

.
Re: WWE: A Strong Response
---
Nige's Smackdown Review from KF4E
Okay so I must apologize if there are any comments that seem weird, because as you know. I'm not very up to date on the Smackdown side of this thread. However I intend to be after tonight. So here goes….
Okay I have to say the opening promo was both fantastic and weird at the same time. I loved the way you had Edge cause some kind of friction between Batista and Shawn Michaels. That was really nicely booked and the writing was good too. That was what made this promo great. However I didn't understand how Edge's associates could sneak attack Batista and Michaels because like you said they ran down the ramp, so surely Michaels and Batista would have seen them. However your run of the mill match announced and I'm looking forward to it. Good job here.
The opening match was pretty nice. It's good what you have going on here with all these cruiserweights. A nice way to end the match with the Dead Level. I always liked that move. However something tells me he is going to have a big role on Smackdown from now on.
I'm not too sure if I liked this backstage segment between Haas, Benjamin and Masters. For one Masters seemed a lot of key tonight. It sounded as if you had given him an all new character or something. However the friction and the tension between Benjamin and Haas is great to see. Let's just hope you book this one well.
Lol everytime I see William Regal in a promo of yours I mark. You have his character and characteristics spot on in my personal opinion. I mean just the things you have him say are brilliant. A nice little announcement you have got here too which should be a 'bloody' good match.
It was very good to see Birchill win the match. I mean I pretty much knew that Haas was not going to win after his little segment earlier in the night with his tag team partner Benjamin. However this match was an entertaining one too and I was really enjoying it.
Decent hype for the 15th anniversary show. As you know from numerous MSN conversations, I am really, really looking forward to it. So I hope you don't dissapoint
Ohhhh you've got me excited now with Chris Harris coming. Was it me or did you keep this one quiet, you sunabitch! Lol I'm joking, but yeah this was a very nicely written and though out promo here. Good job on this.
I kind of liked Batista's interview. You actually gave Batista some sort of personality which boded well with the kind of ma he is. You're really making the main event scene great, I just wish we saw a little bit more if it from time to time.
Finlay beating Chavo just didn't do it for me. I mean after earliers announcement about Chavo facing Dykstra next week, you really should have made Chavo look string by winning. However I'll give you the benefit of the doubt here, because after all it was a distraction that caused it so he didn't lose all credibility I guess.
Estrada was jus his usual self in the interview with Lena. I would have liked to see Umaga screaming or something. However it adds hype and tension to tonight's main event which I'm really excited about.
I liked seeing Shawn Michaels win the match for his team here, because it really gives him a lot of momentum going into his number one contenders match. The aftermath was a bit confusing though. The spear on Michaels was fair enough but then why was Batista looking confused at Edge. Maybe it was because Edge is scared of Batista. I don't know I guess I'll wait and see. Good match and great ending none the less hyping up the World Title Scene.
Saturday Night's Main Event Promo was the norm and again added more hype which is needed to be honest.
The contract signing was very nice. Both men were superbly in character. I would have liked to see them come to blows however, but the way you booked it actually makes sense after thinking about it because it is still not clear which one has the upper hand so well done on second thoughts.
Main Event time man. I must say I have been looking forward to this all night and since out talk on MSN of course. I knew Undertaker was going to win the match. Not because it was obvious but just because he is the bigger star of the two and at a big event I can only see Undertaker there. This also sets up a fantastic match betweek Shawn Michaels and Undertaker for the number one contendership. The match itself was the match of the night by sure and I really enjoyed it. It just didn't get boring. Probably because it had so much at stake.
Overall I am beginning to like Smackdown Nige. Tonight's show may have swayed me over. It has me looking forward to next week's show and Saturday Night's Main Event. You showed some good booking skills tonight and I give you propps for entertaining me
Tested Positive For Thread Performance Enhancers
Join Date: Dec 2007
Location: Nikki Roxxville, USA
Posts: 6,802
Points: 0
Re: WWE: A Strong Response
---
sirdilznik's Smackdown review

Pretty good, long opening promo. I thought the players were fairly in character. I would have had Miz & Morrison sneak through the crowd, but that's a minor point. A little weird making a handicap match (in Edge's favor) to punish Edge even if it is against Batista and HBK. I like how you had Edge try to plant the seeds of doubt in Batista's head.

Pretty nice opening match. I liked the ending sequence with the missed moonsault. That was well done.

Decent WGTT promo. Shelton is really givin' it to Haas.

I love your William Regal. You pull him off as face about as well as can be done. He's really in character. I can tell you enjoy writing him. Kenny is doing a heel version of RVD sort of.

Man, Haas is jobbing out hardcore right now. Looks like WGTT will have to defend those belts. I have a sneaking suspicion that they will sneak away with the belts though.

Nice promo. Dang, the 15th Anny show has got me pumped. I can't wait for that.

I kind of like Harris doin' the ol' James Storm beer bottle smashin' He's doing a face version of the "Cowboy" gimmick to some degree, which was always the better gimmick of the two. I can't wait to see him in the ring. He should probably lay off the beers to lose the gut, lol.

Nice Batista promo. Serious, to the point. Hyped up the tag match and Saturday Night's Main Event. Good job there.

I liked the Finlay/Chavo match a lot with the classic Hornswoggle distraction/dirty finish. Good clash of styles. It's spelled "shillelagh" not chalily, lol.

I love your Armando. Why oh why did the WWE split him and Umaga up? Great stuff here.

Good tag match. HBK looked really strong at the end fighting everybody off by himself. The superkick sequence was nice too. Edge taking out HBK, but not Batista... Interesting. I like how Edge planted the seeds of doubt in Batista's mind, then went after HBK. Devious.

I'm glad you're making the US Title seem important by having this contract signing. It's sad that the US and IC belts are meaningless in the real WWE right now, I'm glad they're important in your BTB. Great stuff from MVP. Really well done. Really good way to have an intense confrontation without actually having a fight break out. Well done.

No surprise that Taker takes the victory. Good match. Kind of weird how Armando may have cost Umaga the win when he stopped the Samoan Spike, but it's a good way to have taker get the win and still have Umaga looking strong.

Really fun show on the overall. I have to say I'm definitely more into Raw recently, but I still found this show to be pretty entertaining. My favorite match was the Handicap match with HBK cleaning house at the end and Edge laying HBK out after the match. My favorite part was the contract signing. Really well done. I'm glad you take the US belt seriously. Nice video packages throughout the show. The no DQ match for the CW title next week sounds good. Some minor spelling mistakes, but nothing major.

Overall 8/10
---

STILL A Proud Member of Roid Sox Nation

sirdilznik's Random Rhetorical Question Of The Week:
If Hornswoggle turned heel could he hide in Mike Knox's beard?



Quote:

Originally Posted by Frank Zappa

Look here brother, who you jivin' with that cosmik debris?
---
Last edited by sirdilznik; 02-26-2008 at

01:32 PM

.
WWE.com - HEADLINES
---
NUMBER ONE CONTENDER SHOWDOWN SET!
Following Smackdown last night, we discovered the superstar who would meet The Heartbreak Kid Shawn Michaels for a chance to meet Batista and get a shot at the World Heavyweight Championship at Saturday Night's Main Event. That superstar was the phenom that is The Undertaker. He defeated Umaga to book his place against Michaels after the show stopper beat Edge last week.

With these two set to go at it, will The Animal be looking over his shoulder. He will be if he knows what's good for him.


Re: WWE: A Strong Response
---
Brilliant. It was for the best to be honest. I am torn on who's going to win this big match. I'm thinking that either someone will be screwed, or it will end in a draw resulting in a triple threat. Either way I can't wait man.
Tag Teaming With James Ellsworth
Join Date: Mar 2005
Posts: 1,214
Points: 0
Re: WWE: A Strong Response
---
This is your lucky day because your review is my 1000th post. Lol at the fact it took three years to do so. Anyway onto your Smackdown Review
Smackdown Review
Strong promo to start off the show, I liked the way that you got Edge to cause friction between the two men. Edge's part of the promo was very on and off tbh, as there were things which I could not imagine him saying. Promo however picked up from when Batista came down, and all three men sounded on character. Nice match announced for tonight, and I have got a feeling that HBK or Batista will turn on the other man in that match.
Good to see you bring Kash in to team with Noble, as it makes a very good addition to the tag Division. The match itself looked to be pretty solid, and the Pitbulls winning were no surprise as it was their first match back together. Hopefully you give these guys a tag team title run in the future.
Bit of tension between WGTT means that a split is on the horizon?
Decent promo here, loved how you wrote Regal in this promo. Kenny/Chavo should be good, but seeing the push you are giving Dykstra I expect him to retain the title.
Good victory for Burchill, expected Haas to lose after that promo earlier on in the night and should put some tension between him and Benjamin.
Lol you wrote the Harris promo very well, and should be interesting to see him being used as a face in this thread.
Batista promo was very good, short and straight to the point. Nice hype for the main event and SNME
Finlay/Chavo seemed to be a very good match, and good booking to have Finlay cheat to win as it keeps Chavo looking relatively strong. However bit surprised that you got Chavo doing the job, as it is pretty obvious that he is going to job to Dykstra so would have been better if he gone in with a win.
Armando promo seemed alright, bit too short for someone as awesome as Armando however
.
Very well written Handicap Match, good to see Michaels getting the victory as it gives him some momentum going into his number one contender match. Was surprised a bit however so see that HBK or Batista didn't turn on one another. Don't know why Batista would be looking confused at Edge for spearing HBK though after the match.
MVP/Hardy promo was by far the best promo of the night, you showed MVP's intensity and cockiness off very well during the promo. Added stipulation makes it seem that Hardy is going to win at SNME, otherwise the stipulation wouldn't of been added.
Great main event, looked to be a very entertaining match. Was hoping Umaga got the victory, but not surprised to see Taker win. And Taker v HBK in number one contender match should be one hell of a match and look forward to see it.
Overall tonight's Smackdown was very good, your matches were all very strong and your promos were pretty good too especially the MVP/Hardy segment.
PWInsider.com
BIG SHOW NOT COMING BACK!
Rumours have been rampant over the last couple of weeks regarding the possible return of The Big Show, and with the 15th Anniversary episode of Raw this Monday night, it was expected that he could be returning there. However, we have learnt from sources within the WWE that there was contact between both parties, but it appears that it was instigated by Paul Wight and not the WWE. Apparantly creative are reluctant to bring him back into the company due to his lack of in ring ability and are not pursuing him at all.

It has been confirmed that Chris Harris will be debuting soon on Smackdown following the promotional video that was broadcast on Friday's show. Kid Kash also made his return and Ron Killings is expected to make his return early in the New Year, but there is still no word on the status of Ric Flair.


Posting Rules

You may not post new threads

You may not post replies

You may not post attachments

You may not edit your posts

---

HTML code is Off

---