WWE.com - Televison (Raw Preview)
---
RAW Preview
3rd December 2007

News Garden
Portland, Oregon





A SIGN OF THINGS TO COME?
In recent weeks Randy Orton has looked almost untouchable as the WWE Champion after overcoming odds of 3 on 1 at the Survivor Series to become the sole survivor and dishing out an RKO to his Saturday Night's Main Event opponent, Triple H two weeks ago on Raw. However last week, things were different as Orton again tried a sneak attack on his challenger, but The Game was wise to it and was able to escape the clutches of The Legend Killer. With Saturday night's Main Event and their eagerly awaited match just under three weeks away, what will go down when Raw and these two fierce rivals come to Portland this Monday night?

JEFF FEELS THE EFFECTS OF A STRAIGHT EDGE. . . SUPERSTAR
It's fair to say that CM Punk shocked everyone when he turned on Jeff Hardy at the Survivor Series, but last week on Raw, we really did see a new side to Punk, an evil and sadistic side. Following Jeff's match to Santino Marella, Punk raced down to ringside and stole the steel chair Marella brought into the ring, and scrambled Jeff's brains with it. However, Punk wasn't done there as he sent a chilling face to face message to Jeff as the Straight Edge Superstar lay flat across the mat, right in Jeff's face, letting everyone know of his deep feelings of contempt for Jeff and his past. After being attacked physically and personally last Monday night, how will the Intercontinental Champion respond this week?

JERICHO AND KENNEDY WILL MEET
The ego clash between Chris Jericho and Mr. Kennedy got too much several weeks ago, and after pushing acting GM, Shane McMahon too far last week, Kennedy found out that he shouldn't push authority as Shane announced that the two would meet at Saturday Night's Main Event. Not only that, they met in tag team action last week when Mr. Kennedy fell victim to a pedigree from Triple H as he and Randy Orton lost their match to The Game and Jericho. This week, Jericho will be in singles action as he takes on one of Raw's other egos in Elijah Burke. And Burke was in action himself last week, defeating Tommy Dreamer and then separating a cat fight between Raw's newest divas, Kelly Kelly and Layla. Both men are undefeated in singles action since they returned and debuted on Raw respectively, but something has got to give when these two hook up.

TWO COOL'S!
Carlito stunned us all last Monday night when he revealed the identity of his mystery helper the week before as his brother, Eduardo. It seems that Eduardo is a chip off the old cool block as he too likes his divas and has the same arrogance and attitude as his brother. And with another win notched up last week for Carlito, this time over Val Venis, will life on Raw be the same with the two cool brothers?

PLUS
Mr. McMahon has not been seen or heard from since his defeat to Triple H at the Survivor Series, will that change this Monday night? And we are any closer to finding out who is bastard son is?

Beth Phoenix sent a chilling message last week in response to the unfortunate accident with Victoria two weeks ago, that kept her in hospital for a week. With the warning message sent, how will the other divas react to The Glamazon's actions?

We will also see the debut of Jamaican superstar Kofi Kingston this week, what can we expect from the Jamaican sensation?

Check out all this and more when Raw comes to you live from The News Garden


CONFIRMED FOR RAW THIS WEEK

Chris Jericho vs. Elijah Burke

The Debut of Kofi Kingston



Re: WWE: A Strong Response
---
The Rock Smackdown review
This will be a short review Nige. And I'm not gonna be like those other people and say that they had a huge one written up and then there computer messed up and they loosed, I'm just gonna tell the truth. I didn't feel like writing a big one as I have been sick the past couple of days.

Edge promo: Edge seems in character throughout this promo. Shawn Michaels coming out is pretty cool. I liked this promo.

Dykstra promo: I don't like Dykstra as CW Champion, but it's your choice. Good to see Chavo answer the open challenge.

Dykstra vs Guerrero: I liked the finish to this match. Nice way to have Chavo pick up the win, but not pin Dykstra. Aftermath was good to.

Regal/Sydal promo: Disappointed to see no accent on Regal. The tag match should be good. Armando walking in is pretty cool. Umaga going one on one with Taker next week. Wow that's big! A good promo.

Super Crazy vs Jamie Noble: I liked this match. Great cruiserweight. The Tilt a whirl back breaker was pretty cool. Nice to see Noble picking up the win. He should have the cruiserweight title not Kenny Dykstra.

Burchill promo: I don't know much about Paul Burchill, so I don't know if he was in character or not, but I bet he was. Very good promo.

Tag Title match: I liked this match. Way to have the WGTT cheat to win.

Batista/Michaels promo: This was as all your other promos are a very good one. They both seemed in great character.

Tag match: I don't like 2 tag matches in a row. Don't like how Taker and Thorn are teaming up. Yuck! Oh well, it's your BTB, so you can do what you want to do. Pretty good match except for the fact that Thorn and Taker were teaming.

MVP promo: MVP seems in character. I like how Mat Hardy comes out. Good promo.

Main event" I like how Michaels got the super kick on Edge. This is my first show of yours that I have reviewed, so I may be lost. Hope there is a future rivalry between the two if there hasn't been one already or is one.

Overall: Your show was really good. Super Crazy vs Jamie Noble was good, but I have to say the Main Event was the best. Your promos are really great. Good show and I will try to read and review Raw.

RAW Results
3rd December 2007

News Garden
Portland, Oregon





***OPENING CREDITS***
"Wanna Be Loved"

***PYRO***
***PYRO***
***PYRO***
***PYRO***
***PYRO***


***VIDEO RECAP***
A recap from last week

• CM Punk laying Jeff Hardy out with a steel chair and then cutting an intense face to face promo while Jeff lay on the mat
• Shane McMahon announcing that the main event will be Triple H and Chris Jericho facing Randy Orton & Mr. Kennedy
• Triple H getting the win over Kennedy and then dodging an RKO from Orton at the end of the show


"The Game" blasts out as Triple H walks out to the arena in his causal gear

***BIG POP***

Triple H: You know being out here the last couple of weeks, things have just felt right. . . And you know why that is? . . . It's because THE GAME IS BACK

***POP***

Triple H: After months of having Vince McMahon stare over my shoulder and put obstacle after obstacle on my back, I'm free to do what I do best. And that is be the best damn wrestler there is in the world today

***POP***

Triple H: But it appears that we have someone else around here who seems to be under the impression that he thinks he's the greatest thing that god ever created. . . I don't need to tell you who it is, but you all know that, that person is Randy Orton

***HEAT***

Triple H: And Randy likes nothing better than marching him and his title down here every week and telling us all just how wonderful he is and why he's the greatest WWE Champion of all time, yada, yada, yada. . . Well Randy in three weeks time, that's all going to change. Because with Vince McMahon well and truly out of the picture, it's going to be the way it should be. Me and you, one on one, man to man, challengers versus champion for the WWE Championship at Saturday Night's Main Event

***BIG POP***

Triple H: See Randy, if Vince hadn't of got involved at No Mercy and saved your ass by giving you a second shot that night, it would be standing out here with the WWE Championship, not you

***POP***

Triple H is about to start talking again when "Burn In My Light" hits & Randy Orton walks out to the top of the ramp with a microphone in hand and wearing casual clothes

***MAJOR HEAT***

Randy Orton: Hunter, we've been all through this. History is history and now is now, but if you wanna talk history Hunter, then let me tell you what history says. The history book says that at No Mercy, one man left as the last man standing and as the WWE Champion, and that man Hunter, was me, Randy Orton

***HEAT***

Randy Orton: See Hunter, there's nothing you can do to change that. Yeah, you've got a match at Saturday Night's Main Event, but the outcome is going to be the same. . . I will be the last man standing once again, and I will still be the WWE Champion

***HEAT***

Triple H grins and thinks for a couple of seconds

Triple H: You know Randy, it's great that you're confident, I taught you that. But something else I did Randy was bring you crashing down to earth with one hell of a bang. And you know Randy that I can and will do it again. You might have had Vince McMahon to help you out at No Mercy, but right now he's in a hospital bed somewhere, worried like you

Randy Orton: Worried. . . Me, come on Hunter, get real

Triple H: Oh yeah Randy, I can see it in your eyes. You know deep down Randy that you can't beat me by yourself, and that scares the crap out of ya. . . At Saturday Night's Main Event, there's no one to stop me getting at you and that title you've got right there, the same title that I was robbed of a couple of months ago Randy by you and Vince McMahon. Well let me make myself perfectly clear. There is absolutely no way you're getting out of this one Randy, that title is coming back where it belongs, to The Game

***BIG POP***

Randy Orton: Are you done Hunter? Have you finished convincing yourself of something that you can't possibly do? I'm not the same punk kid you pushed around when I outgrew you, Ric Flair and Batista three years ago. I am the WWE Champion, not you and there's not a damn thing you can do about it. But if you wanna go ahead and kid yourself Hunter, be my guest because I assure you and everyone here tonight that I will leave that ring in three weeks time with this belt where it is right now, and I guarandamtee it

***MAJOR HEAT***

Triple H: Randy, believe it all you want because it's not going to happen. Right now I'm better, stronger and a hell of a lot more focused than I have been for a long time, and that spells trouble for you Randy. You might not wanna see it, but there's nobody I couldn't beat right now, including you

Randy Orton: Look who's confident know huh Hunter? Preaching what you can't back up is dangerous Hunter, especially in front of all these people who came here to see you fall victim to the R K O

***MAJOR HEAT***

Randy Orton: But as much as I would love to come down to that ring and face you tonight, that wouldn't solve anything. So what I suggest is this Hunter. You put that theory to the test, that you could beat anybody right now, right here and right now. What do you say to that oh great one?

Triple H smiles

Randy Orton: Come on Hunter, you lost that confidence you just had, or were you just talking out of that overused ass you call your mouth?

Triple H: Alright, you want me to prove it I will. I've not got a problem with that, just to show you what you're facing at Saturday Night's Main Event

Randy Orton: I know what I'm facing Hunter, and I know who you're facing tonight. In fact, I know who you're about to face right now. . . See I couldn't help but notice a friend of mine backstage earlier on, consoling someone you upset a few weeks ago, and he didn't look happy. And naturally, I had to go and talk to him, seeing he was part of the victorious Team Orton at the Survivor Series

Triple H looks up curiously

Triple H: You just wanna tell me who my opponent is Randy, or do we have to listen to you spout crap all night?

Randy Orton: Yeah I'll tell you who. You're going to face the man who looks after the kid you played games with for your own benefit to get at Vince McMahon. And tonight it's going to be payback for what you did to Hornswoggle, cos it's not just going to be an ordinary match Hunter, oh no. It's going to be a no disqualification match. . . And let me introduce you to your opponent, fighting on Raw for one night only

"Lambleg" hits as Finlay walks out to the entrance with Hornswoggle and shakes hands with a visibly happy Orton, who stays at the top of the ramp. HHH rips his shirt off, leaving his jeans on to wrestle in as Finlay and Hornswoggle walk down the ramp just as we go to commercial


***COMMERCIAL BREAK***


***VIDEO PROMO***
A Kofi Kingston still image is shown on the tron, saying that he debuts later on tonight


***CUT TO RINGSIDE***


***OPENING MATCH***

NO DISQUALIFICATION MATCH
Triple H vs. Finlay w/Hornswoggle

SUMMARY: Both men started really aggressively and as the match was coming to its close, Triple H was on top after reversing an irish whip and hitting Finlay with a double A spinebuster. Throughout the match, Orton stayed at the top of the ramp watching on nervously. HHH stood back up after the spinebuster and bent down to pick a steel chair up that Hornswoggle had put in earlier, but as The Game picked it up, Hornswoggle slid in the ring and grabbed HHH's leg from behind. Triple H looked down and saw Horny, then dropped the chair as Finlay started squirming on the mat and then picked the chair up. As The Game then tried to pull Horny off his leg without hurting him, Finlay stood back up with the chair in hand and swung it at The Game's head, but somehow he managed to duck the shot and then pushed Hornswoggle off by swinging his right leg. He then turned round and stomped Finlay in the gut, forcing him drop to the chair as the referee checked on Horny after he hit the mat. As Triple H then set Finlay up for the pedigree, Orton ran down the ramp with his title belt and slipped into the ring. Before Trips could hit the pedigree, Orton smashed him in the back of the head with the title belt. HHH dropped flat down to the mat as Finlay then put his arm across his chest to cover him as Orton then instructed the referee to count, which he did, resulting in a three count.

AFTERMATH: "Lambleg" hits as Orton helps Finlay up and raises his hand in the air before staring down and smiling at Triple H. Finlay then checks on Hornswoggle who seems to be okay as the camera cuts back to Orton's sadistic expression


***CUT BACKSTAGE***


We see Torrie Wilson, Mickie James and Candice Michelle in the back, all stood close together talking

***POP***

Candice Michelle: How great is next week going to be? Raw's 15th anniversary, I can't wait

Torrie Wilson: You know I hear that Stonecold Steve Austin is going to be here too

***MASSIVE POP***

Candice Michelle: REALLY? Oh my god, Stonecold back on Raw, that's awesome

Torrie Wilson: Hey Mickie, did you know that Trish Stratus is going to be here too?

***POP***

Mickie James: Yeah I heard about that, but someone told me that there's going to be some kind of award given to Raw's greatest ever diva or somethin

Torrie Wilson: Yeah that's right. Trish is coming back, and I even hear that Sunny is too

***POP***

Candice Michelle: Really? . . . Wow, well she was pretty amazing ladies

Torrie Wilson: What do you think Beth will think about all this?

Mickie James: Don't even mention her name Torrie, she makes me sick

Torrie Wilson: I know, can you believe what she said last week about what she did to Victoria?

Mickie & Candice look a little shocked as they stare at Torrie, who doesn't realise

Torrie Wilson: I know it was an accident, but she actually made out that it's like a warning to all the divas not to mess with her. She's just. . .

Candice coughs so that Torrie realises that she & Mickie are staring at her

Torrie Wilson: What?

She then looks behind her and realises Beth Phoenix is standing behind her

***HEAT***

Beth Phoenix: Don't stop on my account Torrie. I'm what? . . . Sick, twisted. . . Well I'll tell you what I am Torrie, I'm the WWE Womens Champion, and that means eliminating your challengers. . . I didn't mean to hurt Victoria like that, but like I said, it shows that you shouldn't get in the way of The Glamazon

***HEAT***

Beth Phoenix: But maybe that's what you want Torrie. And seeing I'm in a good mood tonight, maybe I'll eliminate you too. . . How about it Torrie? Would you like a chance to get it out of your system and get a chance at my Womens Title?

Torrie looks stunned as Phoenix just stares at her without any emotion

Torrie Wilson (Nervously): Okay

Beth Phoenix: Good, I'll see you out there Torrie

Phoenix walks off as the three divas stare at her, looking slightly freaked out

Candice Michelle: There's something not right about her

Torrie Wilson just nods her head and looks really worried as the camera fades out


***VIDEO PROMO***
A Kofi Kingston still image is shown on the tron, saying that he debuts next


***COMMERCIAL BREAK***


***MATCH #2***

Kofi Kingston vs. Hardcore Holly

SUMMARY: Kofi put a fight up early on, but Holly gave him a beat down for a good five minutes. Kofi kept getting back up, shocking Holly who thought he had the match won after a standing dropkick and pulled the youngster back up to his feet. He set him up for the Alabama Slam, but Kofi was able to slide down and roll into a victory roll, resulting in a two count. Holly was up first and tried to whip Kofi into the corner, but it was reversed and as Kofi ran in, he jumped up to the second rope and laid into Holly with successive right hands. Holly was dazed as he got back up and turned round into a 540 kick from Kingston, who then dropped down to the mat and got a three count for a debut victory.

AFTERMATH: Kofi's music hit and the surprised looking Jamaican got a great pop from the crowd as the ref raised his arm in victory. Holly started to come round as Kofi turned round and saw him sitting up, glanced over looking quite worried as Holly glared back at him and JR & King hype up Kofi's debut victory


***CUT BACKSTAGE***


Shane McMahon is in his office on his cell phone when Randy Orton walks in to the shot

***HEAT***

Shane hangs up his call while Orton looks pissed

Randy Orton: Someone tells me you wanted to see me

Shane McMahon: That's right Randy, I did. . . See I can forgive you for setting Triple H up earlier on, but what I don't appreciate is guys like you running around here and acting like you run the show. That's my job Randy. . .

Randy Orton: . . . With all respect Shane, I've got more to do with my time than listen to some lecture from you or anyone round here. So if you don't mind, I'm gonna get out of this dump before. . .

Shane McMahon: . . . Woah where do you think you're goin Randy? I don't think you should go anywhere too quickly

Randy Orton: Oh and why's that?

Shane McMahon: I'm so glad you asked that Randy because right here tonight, just like Triple H, you're going to be action too

***POP***

Shane McMahon: And just like earlier on with Triple H, you're going to find out your opponent right before your match starts when you're in the ring, ready and waiting. It's only fair

Orton shakes his head from side to side, looking kind of angry

Randy Orton: You know what Shane? . . . Fine. . . I'll go out there tonight and prove to everyone why I'm the WWE Champion and why Triple H doesn't stand any chance of beating me at Saturday Night's Main Event. . . This is my title and no one is taking it away from me. . . NO ONE

***HEAT***

Orton turns round to walk out and Stephanie McMahon-Helmsley walks in

***POP***

There's an awkward look between them for a couple of seconds before Orton turns his neck and carries on walking out of the room

Shane McMahon: Hey sis

Stephanie McMahon-Helmsley: What's up with him?

Shane McMahon: Let's just say he got put in his place. . . So what brings you here Steph?

Stephanie McMahon-Helmsley: I was just talking to mum and she told me that dad's out of hospital and he's coming here back next week

***HEAT***

Shane looks at Steph for a couple of seconds

Stephanie McMahon-Helmsley: And I'm worried that he might try and get involved in Hunter's match at Saturday Night's Main Event. I don't know what Hunter would do if dad cost him the chance to be the WWE Champion again. He already put him in hospital at the Survivor Series, just imagine what he'd do this time

Shane McMahon: Yeah, it could be a problem Steph, but if we put our heads together now, we can try and stop him from doing anything stupid

Stephanie McMahon-Helmsley: Like what?

Shane McMahon: Let's have a think about it Steph and we'll talk to him next week. . . Sit down Steph and we can talk this out

They sit down as the camera fades out


***COMMERCIAL BREAK***


Elijah Burke and Layla are backstage in the locker room, holding each other close

***HEAT***

Elijah Burke: You know baby, last week was hot. . . real hot

Layla: There's more of where that came from, just don't tire yourself out tonight, I need my Elijah Experience too

Elijah Burke: Don't you worry, by the time I'm done with that blonde bimbo, and I don't mean Kelly Kelly since you saw to her last week, I'll be more than ready. . .

They here the door slam as they both turn to see Mr. Kennedy walks in

***HEAT***

Burke lets go of Layla

Elijah Burke: What the hell do you want man?

Mr. Kennedy: What I want, is the same thing you want. . . I want you to beat Chris Jericho tonight

***HEAT***

Elijah Burke: Yeah, and what's that gotta do with you?

Mr. Kennedy: I think it's pretty obvious to everyone that there's a slight clash of personalities between me and Chris I'm a failed rock star and I've come back to hog the limelight Jericho. . . See everyone around here knows that Jericho is a selfish son of a bitch who is just walking round ready to get his ass kicked, and tonight the chance to do that falls your way, like it does mine at Saturday Night's Main Event. . . You've gotta ask yourself if you're ready to step up and make a name for yourself right here tonight against not only a former World Champion, but the first ever Undisputed Champion. Can you handle that?

Elijah Burke: Can I handle that? . . . Chris Jericho could learn a lesson from me. If I was around when he became the Undisputed Champion, it wouldn't have been Y2J walking around with the strap let me tell ya. . . It'd be the same story as tonight, six years on when Elijah Burke, Raw's Guiding Light makes Jericho look like a joke, just like he did whenever he got a live microphone with Fozzy

***HEAT***

Kennedy nods and smiles

Elijah Burke: So don't you worry about me bro, Chris Jericho is in for a surprise when I get in that ring with him tonight and beat his ass quicker than you can say Y2J

Mr. Kennedy: I like that, I like your attitude. You go out there and show Chris Jericho why he should have stayed away from Raw and never come back

Elijah Burke: I'll go one better than that, and make sure he doesn't come back to Raw after I'm done with him tonight

***HEAT***

Kennedy smiles and shakes hands with Burke


***CUT TO THE ARENA***


***MATCH #3***

WWE WOMENS CHAMPIONSHIP
Torrie Wilson vs. Beth Phoenix

SUMMARY: A squash match for Beth Phoenix as she takes Torrie apart. Following a sidewalk slam, she pulls Torrie back up to her feet, whips her into the ropes, stomps her in the gut and then lifts her into the air for a suplex, walks over to the ropes and hits a slingshot suplex. With Torrie motionless on the mat, Beth picks her back up to her feet before finishing her off with the Flight of the Phoenix (Delayed Cradle Suplex) to pick up the victory.

AFTERMATH: "Count On It" hits as Beth Phoenix stands back up and gets passed her title belt with no emotion on her face whatsoever


***COMMERCIAL BREAK***


***VIDEO PROMO***
A highlight reel of the biggest moments in the history of Raw is shown, featuring Stonecold Steve Austin, Shawn Michaels, Triple H, The Undertaker, Sunny & Trish Stratus

NARRATOR: For fifteen years, superstars have come and gone. For fifteen years, superstars have put their bodies and lives on the line. For fifteen years, superstars have performed on the most successful show on cable television. . . Monday Night Raw. . . And to celebrate this landmark achievement, those superstars will once again perform in a celebration like no other. . . It's going to get Raw

The clips cut to a graphic showing "Next Week. . . 3 Hour Raw, 15th Anniversary Celebration. . . Only on USA"


***CUT TO THE ARENA***


"Cool" hits & Carlito walks down to the ring with Eduardo for the Cabana. Eddie sees a cocktail in the ring and starts drinking it as Carlito picks up a microphone

***HEAT***

Carlito: For everybody who didn't get the chance last week, let me introduce you to my brother Eduardo

***HEAT***

Carlito: Eddie, ignore these people, they're not worth it. They boo everybody, including me

***"You Suck"***

Carlito: Say what you want about me, don't boo my brother. . . You know what, I was thinkin about having a match tonight, but you can forget about seeing Carlito fight tonight, and it's all your fault

***HEAT***

Carlito: Ya know, I think it's a good idea I have a night off. In the last two weeks, I've beaten both Cody Rhodes and Val Venis, it's about time I put my feet up. . . But seeing how much everyone loves to see Carlito, I have an idea. . . Yo, guys in the truck, show da footage of me beating Cody Rhodes two weeks ago

The end of the match comes up on the tron as Carlito talks over it

Carlito: Look at dat, dat's beautiful. Nobody does it better than Carlito. . . Oh and luck, there's my brother Eddie making a fool of Cody too. . . Well it's not difficult is it. . . Now show the footage from last week where Carlito won for the second straight week

The clip from the end of match comes up

Carlito: Now look at dat people, dat's cool. I easily beat both those losers in the last two weeks. . .

Val Venis's music hits as he and Cody walk out to the top of the ramp

***POP***

Val Venis: Carlito, maybe you should just give your mouth a rest for a week instead

***POP***

Val Venis: I think we're as sick of you as these people are, and as much as you want to put your feet up tonight, me and Cody here have a better idea. . . Why don't we come down there and face you two right here, right now?

***POP***

Carlito: You wanna fight us tonight? See I have a problem with dat, Eddie isn't fully trained yet. I'm still training him, but he could embarrass you like I have the last two weeks, but you don't want dat

Val Venis: Carlito, embarrassment is nothing to me. And I think I just decided you don't have a choice in the matter

Val drops the microphone as he and Cody then walk down the ramp to a pop

Carlito: Woah, woah, you wanna a piece of the Colon brothers? . . . Cool, get in here

Carlito drops the mic and Eduardo panics as he drops his cocktail and Carlito picks up a couple of apples and tosses one to Eddie. As Cody and Val slide in the ring, Carlito instructs Eddie to throw his apple, which they both do to distract Val and Cody before high tailing to the side of the ring and under the bottom rope. They then walk over to the ramp and turn round to smile at both Cody and Val who look pissed. Val urges them to get in the ring, but they just back up the ramp and "Cool" then hits


***COMMERCIAL BREAK***


"Turn up the Trouble" blasts out just as the bell is about to ring. Mr. Kennedy walks down to the announce table to join JR & King as Chris Jericho looks on with an angry look on his face

***HEAT***

***MATCH #4***

Chris Jericho vs. Elijah Burke w/Layla

SUMMARY: A really great match, having both fast paced action as well as some great technical exchanges. It was pretty even before Jericho was able to get on top following Burke's failed attempt at the Elijah Express, with Jericho dodging it. As Burke then staggered out of the corner, Jericho grabbed his legs and tried to get him in position for the Walls of Jericho. Burke tried to fight it but he was unable to stop Jericho turning him over as the crowd went crazy. Layla then stood on the apron to distract Jericho, who bought it as he had some cleavage flashed at him. He stood up as the referee then walked over and told Layla to get down, but she refused to listen as Kennedy then dropped his headset at the announce table and was about to enter the ring when Jericho turned round and saw him. Kennedy protested his innocence to Jericho as Y2J walked over to the ropes, not realising Burke was coming back round on the mat. Kennedy saw Burke moving and started taunting Jericho as Burke crawled up behind Jericho, getting closer and closer as Layla then dropped off the apron to se Burke roll Jericho up, holding on to the tights and the rope to get the victory.

AFTERMATH: Burke's music hit as he quickly slipped under the bottom rope to the outside where Kennedy raised his arm. Layla walked round the ring and hugged Burke before they all looked up and laughed at a frustrated Jericho as he stood up in the ring, then walked over to the ropes and kicked them in anger


***VIDEO PROMO***
A brief history of Saturday Night's Main Event

NARRATOR: It has a place in WWE history. . . It has a place in the history of sports entertainment. . . but it also has a place in its future. . . For Christmas will not be the same this year for the stars of Raw and Smackdown as Saturday Night's Main Event makes its return. . . Live on NBC!

The clip cut to a graphic showing "Saturday 22nd December. . . Shaking Up Saturday Night. . . Live on NBC"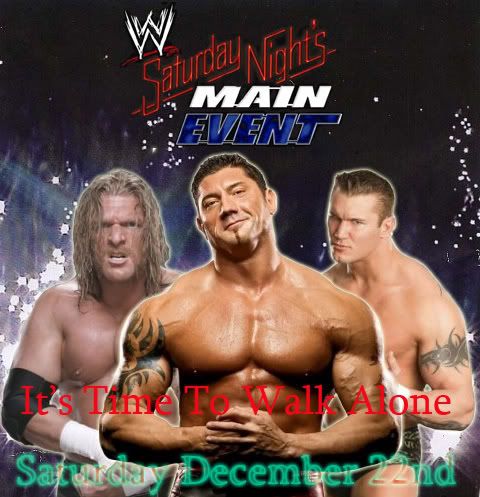 ***CUT BACKSTAGE***


Todd Grisham is standing by

Todd Grisham: Ladies and gentleman, please welcome my guest at this time. . . CM Punk

Punk walks into the shot to a ton of heat from the arena

Todd Grisham: Punk, what you did last week to Jeff Hardy was absolutely despicable, how can you justify what you did?

CM Punk: How can I justify what I did to Jeff Hardy last week? Well that's an easy question Todd, coming from a guy who can't justify asking that question since you have no idea what it means to step foot inside that ring. You don't have a clue what this business is all about, and neither does Jeff Hardy for that matter. He gets all the attention and praise from fans because he's got absolutely no intellect, which allows him to jump off ladders and through as many tables that's put in front of him. . . Any moron is capable of doing that, but for some inexplicable reason, Jeff is made out to be like some kind of superhero. A superhero is someone who excels at doing significant good, and that's not Jeff Hardy, all he does is encourage these kids in the arena to go home at the end of the night, pull a ladder out of their garage and set up their kitchen table outside, jump off the ladder and through the table. What kind of a message is that sending to all these kids apart from to go home and nearly kill themselves because some brain dead dare devil with more personality in his hair than anywhere else in his body does it?

***HEAT***

CM Punk: It's about time that the fans had a proper role model like me. Someone who kids can look up to without seeing someone fall out of a club drunk, end up in rehab or lose their job because they were an addict hey Jeff. . . See that hits a nerve with Jeff because he knows that I'm not weak like him and I have the balls to stand up and tell it like it is. I have no problem standing in front of a live worldwide audience and saying that Jeff Hardy was a user

***HEAT***

CM Punk: That's right, no need to look shocked everyone, it's the truth. I'm not going to stand by and let a user like Jeff Hardy get the acclaim in place of someone who actually deserves it like me. And that's the exact reason Todd I smashed Jeff's chemically damaged brain with a steel chair last week. He's got to learn the hard way that. . .

All of a sudden, Jeff Hardy attacks Punk from behind, clubbing him across the back and then tossing him into the wall

***POP***

Punk falls to the floor as Jeff gets a crazed look on his face and stomps him over and over across the back. Grisham can be heard shouting for security as Jeff then drops to his knees by Punk's head and hits him over and over in the head with some hard right hands. Security then run into the shot and pull him away from Punk, but Jeff puts up one hell of a fight before they eventually get him away

Jeff Hardy: I'M NOT DONE PUNK. I'M NOT DONE WITH YOU YET YOU SON OF A BITCH

***POP***


***COMMERCIAL BREAK***


"Burn In My Light" hits as Randy Orton walks down to the ring, looking very serious

***HEAT***

He gets into the ring and takes the microphone of Lilian Garcia

Randy Orton: Shane, I don't know what you've got planned, but let's get it over with so we can all go home after I beat whoever it is you've got for me to face tonight

There's a short pause before "Here Comes The Money" hits and Shane McMahon walks out to the entrance ramp

Shane McMahon: Seeing as you seem in a rush Randy, I won't delay you any longer. . . You thought you'd have it easy tonight didn't you, setting Triple H up like that with Finlay being here, but you're about to find out that what comes round, goes around. . . So let me introduce to you your opponent, returning to Raw. . . BOBBY LASHLEY

"Hell Will Be Callin Your Name" blasts out as Lashley walks out to a thunderous reception. Orton looks shocked and is visibly worried as Lashley makes his way down to the ring

***HUGE POP***


***MAIN EVENT***

NON TITLE MATCH
Bobby Lashley vs. Randy Orton

SUMMARY: Lashley started the match on fire, taking the match to Orton who got back into it following a low blow behind Mike Chioda's back. After receiving a beating himself earlier, it took Orton a while to get back up to his feet too as he and Lashley then got back up around the same time, both looking worse for wear. It was Orton who struck first, pulling Lashley down into position and hitting him with an inverted side backbreaker. He quickly went for a cover, but was livid when Chioda only counted to two. The frustration was growing inside the champion, but as he saw Lashley starting to squirm, he backed up into the corner before then charging at him, looking for the punt, but Lashley was able to duck his head as Orton ran through into the corner. Lashley was quick back up to his feet as he then ran back into the ropes, charged back and connected with a Spear as Orton turned round. The roof blew off as Orton was knocked down near the ropes. Lashley then dropped to his back and hooked the closest leg, only to get a two count as Orton managed to put his left leg onto the bottom rope right next to him. The crowd were in shock and displeased, as was Lashley who then stood back up and pulled Orton to his feet, then scooped him into his shoulder. He had him set up perfectly for the running powerslam and ran towards the opposite corner, but Orton was able to sneak down and pushed Lashley into the corner pads.

As Lashley then turned round, Orton connected with the RKO. Both men hit the mat and it took Orton close to five seconds before he could capitalise and go for the cover, only getting a two count as Lashley managed to recover with the extra time. Orton went ballistic as the crowd cheered like crazy. The Legend Killer didn't know what to do as he stood back up and smashed Chioda in the face, knocking him down, then dropped back down to the mat himself, stalking Lashley for another RKO. But before Lashley could sit back up, "The Game" blasted out and Triple H made his way down the ramp to a huge pop. The fans went nuts as Orton looked up in shock, just as Triple H slid into the ring. Orton stood back up and went to throw a right hand, but it was ducked by The Game who then hit three rights in a row, putting Orton on the back foot before stomping him in the gut and trying to set him up for a Pedigree. Orton was able to escape, slip behind him and whip The Game into the ropes, but as Orton went for an RKO, Triple H held on and pushed Orton forward into the ropes, and as Orton came back, Trips was this time able to stomp him in the gut and plant him with the Pedigree. Triple H stood back up to a big pop and "The Game" hitting again as Lashley too got back to his feet. The two looked at each other for a couple of seconds before Triple H stared back down at Orton and did his signature taunt as Raw goes off the air.


***END OF SHOW***


QUICK RESULTS
Finlay df. Triple H
Kofi Kingston df. Hardcore Holly
Beth Phoenix df. Torrie Wilson
Elijah Burke df. Chris Jericho
Bobby Lashley vs. Randy Orton ended in a No Contest


HEAT RESULTS
Mickie James & Candice Michelle df. Melina & Jillian Hall
Carlito df. Jim Duggan
Lance Cade & Trevor Murdoch df. Stevie Richards & Tommy Dreamer


CONFIRMED FOR SATURDAY NIGHT'S MAIN EVENT

WWE Championship
Triple H vs. Randy Orton (c)

WWE United States Championship
Steel Cage Match
Matt Hardy vs. Montel Vontavious Porter (c)

Chris Jericho vs. Mr. Kennedy



---
Last edited by Nige™; 02-19-2008 at

05:28 PM

.
Tested Positive For Thread Performance Enhancers
Join Date: Dec 2007
Location: Nikki Roxxville, USA
Posts: 6,802
Points: 0
Re: WWE: A Strong Response
---
sirdilznik's Raw Review
Awesome opening promo. Both were in character and that's about as good as Randy gets on the mic too. Very well done.
Oh it's good to see Trips lose, even if it is by screw job. Great match, and the part with the chair and Hornswoggle was really well done.
Beth makes a pretty good monster heel so this direction is really good. I like how a lot of the other women are really intimidated by her too. If you push Beth right then someone can get great rub when they take the belt off her.
Nice debut for Kofi. Great choice of opponent in Bob Holly and a really good debut match. You didn't make Kofi look too strong, but you made him look good. Classic holly stuff there too with the failed Alabama Slam sequence.
I always loved Shane O Mac more as face than as heel. Good stuff here.
Good stuff from Kennedy... ... Kennedy. I honestly don't know Burke enough to know if he was in character (or Layla) but the promo went well and was entertaining
Love the Beth squash. I mean there is only so much you can do with a squash match, but I want to see Beth squashing the other divas. Good stuff.
Sweet ass promo.
Carlito & Eduardo, lol! If I get a chance i'll have to read a few weeks back to see where this stuff with Val Venis came from, but great entertaining stuff here.
Pretty good slick victory for Burke. I didn't see him beating Y2J coming, but well done.
Nice way to use Punk's straight edge motto to get him heel heat. Imaginative and well done. It works mainly because it's against a mega-face like Jeff. I really like this angle.
As much as I hate killing a main event, it was necessary here and sets things up really well. Will there be payback? Really good match both before the DQ finish and the aftermath with Trips.
Really, really well done. There is nothing I can really say bad about this show so I'll have to nitpick on a very few spelling errors. Great stuff all around. Good flow to the show. Great matches. Some really well done promos. Sweet video packages. The graphics for the packages is a really nice touch too. I really liked this show top to bottom, start to finish. it held my interest throughout. There was intense stuff. Humor. Clean Wins. Dirty Wins. Really good episode. The whole thing is just really professional looking. I hope I have time to go back a few weeks in this thread. I'll definitely be reading from here on out for sure!
9.5/10
---

STILL A Proud Member of Roid Sox Nation

sirdilznik's Random Rhetorical Question Of The Week:
If Hornswoggle turned heel could he hide in Mike Knox's beard?



Quote:

Originally Posted by Frank Zappa

Look here brother, who you jivin' with that cosmik debris?
Re: WWE: A Strong Response
---
Nige's Raw Review Courtesy of KF4E

I have to start off by saying every time I review it's for Raw. I think I'm just enjoying Raw more than Smackdown. However I will try and review more often mate.

Nice opening video. I have noticed something about you. You build up the feuds really well. I'm not too keen on only having the big four PPV's but I guess the Saturday Nights Main Event makes up for that, and so far it's looking to be a brilliant event no pun intended.

I was particularly fond of 'the Game is back' line. I could just imagine how the crowd would react in real life. It was something the Game actually said if I remember correctly on this week's Raw. Just from the perspective Triple H was in during this promo I can see Mr. McMahon coming back probably at Saturday Night's Main Event to screw Triple H out of the Championship. The rest of the promo seemed like it was just both men constantly saying that they are going to win the championship match. However it was good hype for Saturday Night's Main Event I'll give you that. Orton wasn't in character throughout, it almost seemed like he kept coming in and out of character. The match that was announced was pretty cool. Overall it was an okay promo to start the show.

The match was very good. It flowed well and you had the right amount of action in it for a normal TV match. I liked the ending too with Randy Orton costing The Game the victory. This feud is really getting good now and I'm intrigued.

Oh by the way I am excited for Kofi's debut


Lol the backstage segment with all the divas was nicely booked and brilliantly played out. I like how you got hype in for the 15th anniversary next week, which I have to admit I'm looking forward too. I also like how you had The Glamazon challenge Torrie. This is going to be a squash match no doubt. I have to say aswell while I'm at it that the whole Victoria and the chair thing is a really nice angle.

Good solid stuff here with Kofi. It was good to see him win. He had to really otherwise there would be no point in him at all. Good choice of opponent in Hardcore Holly and a very nice way to end the match. I can see Holly wanting a rematch which is good.

Ahhhhhhh the tension. It's, excuse my language, fucking awesome that Mr. McMahon is coming back next week. I really loved this promo as it really adds to the excitement about McMahon coming back. Seeing as it is the 15th anniversary I can see something massive coming. Lets just hope you don't dissapoint.

The Kennedy and Burke segment backstage seemed just meh. I didn't love it and I didn't hate it. It was just average, and more hype for the match. I can see Kennedy and Burke becoming something soon though which would be creative and enjoyable at the same time.

Just as I expected, a simple squash match for Beth Phoenix. Nothing more to say on the actual match.

Nicel little video for the 15th anniversary. I'm really expecting a brilliant show from you and you can count on me reading. Hell just the announcement of McMahon returning has made me want to read this. Hurry with it plz


A very short Cabana here. It's good to see you make something out of these four not so main eventers. It's almost as if there getting a mini kind of push. The heels hightailing was good and I can expect to see a tag team match at Saturday Night's Main Event. Although I think they should just have one on Raw, and leave the card open to people higher on the card.

Elijah beating Jericho was okay. Not sure I like Jericho losing but meh that's life I guess. It was good to see all the heels working together to cheat the face out of the victory. Overall a nice little match which was a fun read, so welld done for that.

A nice video package again hyping Saturday Night's Main Event. This is looking to be a very nice little Christmas PPV. Some good matches announced. It's also nice to see you write your videos on full too. All adds to the anticipation.

Still going with the hell push for CM Punk. I'm still going to be honest and say I don't like it, but your doing a bloody good job of doing it. He seems so much more intense which I guess is a good thing, and now he has a good character to be portrayed. It was interesting to see what Punk had to say and you chose the words perfectly. Jeff attacking I couldn't see tbh so that was a good little surprise. Nice feud with two great wrestlers. Things are going well.

A very nicely written main event. It was great to see Bobby Lashley return to Raw. I have to tell you, I've missed the guy lol. It looks like Lashley will be a main eventer which I can't argue with. The ending was pretty neat too and the aftermath was even better. I liked the detail you put in, when you said Triple H and Lashley stared at each other. This could mean a number of things. Good main event and the feud between Triple H and Randy Orton is kept strong.

Overall there was a few things I didn't like but the majority was good. You seem to be building up all the young stars and that shows a lot. Overall a nice entertaining read. Looking forward to the 15th anniversary for sure
Tag Teaming With James Ellsworth
Join Date: Apr 2005
Posts: 1,710
Points: 0
Re: WWE: A Strong Response
---
Great opening promo. It might have gone a little too long but it got the point across and continued the great build up between Trips and Orton WWE Title match at SNME. The use of the NO DQ rule for the opening match was well booked. With that said no surprise that Orton interfered and got involved in the match to cost Hunter the win. Kofi winning his debut match was expected as well. Orton competing later on but his opponent is still a mystery until match time? Like Orton earlier, IMO Hunter will interfere in Orton's match as well. Vince back on Raw next week at the 15th Anniversary of Raw=Ratings! As far as the Diva's segment goes, great way to continue to build up Beth based on the segment between herself and Victoria a couple of weeks ago in this thread. Burke, Kennedy, Layla as a team=Ratings! Beth retaining her title against Torrie was predicatable. Decent Cabana segment, as it is used as a way to introduce Carlito's brother, Eduardo, and continue the feud between the two brothers and Val and Cody. Burke gets the huge win over Y2J and I'm quite shocked to be honest with Burke getting the win. Promo of the night from CM Punk as once again Heel Punk>Face Punk! However Jeff Hardy attacking Punk during Punk's interview was well done, and gives Hardy his momentum back. Wouldn't be surprised to see these two face off for Jeff's IC Title at SNME. Lashley is BACK ON RAW! That's cool! Not surprised to see Triple H interfere in the match and the match ends in a no contest. However Hunter once again has momentum concluding the show. Also could there be a possible Hunter/Lashley feud sometime down the road in this thread?

Overall Comments: Once again another great show. While I've read both the Raw and Smackdown shows in this thread recently, I must say that the Raw brand shows have been the better of the two brand shows as of late. With that said, looking forward to Smackdown and next week's 3 hour 15th Anniversary Edition of Raw!
Re: WWE: A Strong Response
---
DH6's Raw Feedback
It seems as if Triple H has been starting off the show a lot. Maybe would be better to mix it up more. Triple H's character was great, but was expecting more out of him. It's a shame, because it seems that whenever you're doing really well with somebody's character, somebody else comes out. However, Randy Orton's character was good as well. Good for Orton to choose Finlay right there, but hopefully Triple H will win.
Not really liking that this match is No DQ, but it means that Orton will probably interfere, which will help the Orton/Triple H build even more. Good that Orton cost Triple H the match. With this match coming so early, it will give Triple H a chance to attack Orton later on.
Felt like Candice, Torrie and Mickie had far too many lines. It would have been better for Beth to interrupt the whole 'gossip' much earlier. Realistic that the match was made, but pretty obvious it will be a squash, if not pretty close to one.
Good move for Kingston to win his debut match. Was hoping he would go over somebody weaker than a tough guy like Holly. Might have been better for him to start off in SmackDown, but Raw has been showcasing a lot of young talent lately in your thread, so maybe having him on Raw is actually a good choice.
Have no clue who Orton's opponent will be. Hopefully somebody unexpected. This segment was really interesting, and it's left me hanging and wondering what's gonna happen next.
Is Layla going for Burke or Shane? Hopefully it will be come more clear over the next few weeks. Jericho/Burke should be an alright match, but would be better to give Jericho the momentum. Good that Kennedy talked to Burke, since Burke is facing Kennedy's SNME opponent.
Obvious win here for Beth as she squashes Torrie. Fine with me, because Torrie shouldn't be doing anything lately anyway. Beth dominating is sort of building up Victoria returning as a face to go after Beth, imo.
~15th Anniversary Show should be awesome
Val Venis push = blah, imo, but I'll give you props for being brave enough to try and use him. Short for a Cabana, but less screen time for Venis, so I'm fine with it. Cody > Val, so I'll have to see where this goes. This isn't really entertaining me, but at least you're trying.
As soon as I read Kennedy came down to help commentate, I had a feeling that Jericho would lose. Sometimes if somebody's commentating, their rival wins, but I just knew that wouldn't be the case here. Glad Kennedy's distraction wasn't actually touching Jericho, because that would have been two 'physical' so to say interferences on the same show. Well, just did it in my thread at No Way Out, but ugh, whatever!
Punk's first line was too long, but his character was pretty good. Never seen Punk as a heel, so it gives you a chance to make him into how you want to make him. Jeff attacking him was obviously the revenge from last week, and let's just get the SNME match announced, because I'm eager for it.
Bobby Lashley returns against Randy Orton?! Lashley really needs to win clean, which obviously means without Triple H helping him. However, Triple H had enough time to recover, so I can see him coming out. Disappointed because this was the third match with interference. Still a pretty good match, though.
[Overall, the show was pretty good, but 3 interferences was too many, imo. Just didn't seem realistic, but the show was still good. It seems as if you're really pushing towards the young guys, which is fine, but make sure you include the veterans as well.

Re: WWE: A Strong Response
---
Bradley's RAW Review

Shades of Triple H's return in '02 with this promo. I have a qualm with this though, it seems to be the same type of promo every week with Triple H getting all intense and trying to put one over Orton. A little change wouldn't go amiss. I liked the line where Hunter said that he taught Orton to be cocky and it really underlines the mind games these two men are having. Randy was on top form here, perfectly cocky and arrogant, HHH was a little so-so, nearer the end of the promo he was actually quite good but at the beginning I wasn't a huge fan. I am eagerly anticipating the NO DQ match but why does it have to go on first???

This match should be feckin' interesting as they say (or not) in Preston. Nice to see in the first line that it was physical and brutal, exactly what a no DQ match should be and you already highlighted Finlay's intent from the get go which makes it a better read. I look through the match and saw it was rather short which was annoying as I have seen you do longer matches but I guess you will repay us with SNME. Kind of predictable that Orton would interrupt proceedings but it was for the best and keeps Finlay over but doesn't make HHH look weak. Finlay for a massive push on Smackdown would be great and make a change from other BTB's.

Shameless plus for next week's show. It felt really awkward with the Divas hyping up the show, it would have been better suited if JR and King did it. Wilson will get jobbed tonight which build up Phoenix even more. I like the way you are building Phoenix up and whoever beats her will be over.

That's the perfect way for a newcomer to make a name for himself in this business, it certainly gets him over. Dissapointed to see he didn't control more of the match but beating Holly will do wonders for him but I don't think the mini feud will end just yet.

Iffy grammar from Orton at the beginning, I think it should be 'Somebody' instead of 'Someone'. I like Shane as a face and I would supercalifragilisticexpialidiousmarkout if we see Shane/Orton down the line as this looks like where this is heading. Interesting interaction and Orton will surely enlist the help of Vince to help him win at SNME. The camera should have stayed back there so we could have seen how Shane is going to kick Orton's ass! One of your better moves making Shane the GM.

Interesting partnership of Layla and Burke. At least Layla has a bit of personality under your booking. The Kennedy/Burke dialogue just felt out of place to me, it seemed very awkward and I wasn't a big fan of it but I loved the failed rock star line and the quality of one liners he can pull out are amazing. Burke was unspectacular in this promo though, just average.

I knew it would be a squash but no aftermath kind of does suck the life and point of the previous promo. I would have hoped that Beth would go mental on Wilson.

RAW had better be in full next week! My wishlist: Stone Cold to Stunner Vince, Foley to return, Cena to go face to face with Orton and for Shane to be in a hardcore match. Oh, and a Santino monster push for the WWE title.

The Colon brothers will definitely beef up your tag division but Carlito saying 'I was thinking of having a match tonight.' wouldn't happen. The GM makes the matches and there is no way around that. I wish Eddie would make his full wrestling debut but Carlito training him is the best path to go to give Eddie exposure and finally have him debut on PPV or something. I think it's a bit obvious what Eddie's first match will be now but Eddie should have spoken.

Fairly predictable win for Burke but I would have liked to have seen it done differently. Kennedy should have caused a DQ rather than the same old mind games to roll up but at least Burke got the win but Jericho is looking like Kennedy's bitch seeing as he has had no mic time tonight.

Best promo of the night, a clearly heartfelt worked shoot which got Punk over as a heel and made this get personal. Fantastic monologue on the state of Hardy's wrestling and I hope he pulls more promos like this out because it wasn't generic and it had meaning. Uhhh... slightly disappointing ending, Hardy proving all the things Punk had to say was right by violently attacking him and swearing at him. On first glance you would have thought he was a heel and his character is getting a little wayward now.

Lashley returning early= unrealistic OMGZ!!! I joke. Anyway I was really in to this match because of the length of it and Lashley kicking out of the RKO ensured he got a strong return. There was no way Orton was going to get a clean win after screwing HHH earlier in the night but it wouldn't end in a no contest, it would end in a DQ win for Orton, wouldn't it?

A very good show and I am eagerly anticipating what should be a great RAW and an even better SNME. 8.5/10
---
Learning to break kayfabe
Join Date: Feb 2008
Posts: 82
Points: 0
Re: WWE: A Strong Response
---
Opening Promo: Great promo, I tought they where both in character and the interaction was good as well. Triple H had some good lines like the one when he said he tought Orton to be confident. Great to see a Finlay/HHH No DQ Match. Hopefully Finlay wins, but I don´t think that´s going to happen.

Finlay/HHH: Very good match, I tought that match was going to Main Event the show but it doesn´t matter. Randy Orton interfering was expected but I tought HHH was going to win somehow. Good to see Finlay win this match.

Divas Backstage: Too much hype for next week´s show. I tought it was just too much. Phoenix challenging Torrie to a match was good. It´s going to be a squash... and a big one. Phoenix was great in this segment by the way.

Kingston/Holly: Good match and a great way to put Kingston over. I tought his opponent was going to be someone like Val Venis, but beating Hardcore Holly is great for him. Not sure if this feud with Holly will continue.

Orton/Shane/Stephanie: Pretty good. Good interaction between Orton and Shane, also Stephanie coming in was good too. I´m looking forward to see who´s Orton´s opponent. Also... NO MORE VINCE! lol. By the way, Shane is a great face GM.

Burke/Layla/Kennedy: It was okay, I didn´t like it that match. I tought Burke was a little off sometimes. Burke Vs Jericho should be a great match. I´m expecting a Kennedy interference here.

Phoenix/Torrie: Expected squash. Good build for Phoenix´s character. Looking forward to see Victoria as a face against Beth Phoenix.

Carlito/Eddie/Rhodes/Venis: First of all, Eddie Colon is fully trained and is a great wrestler. I´ve seen some of his matches in Puerto Rico. It´s okay tough, this storyline is pretty cool. Val Venis in the mic=SHOCKER. Never tought I´ll live to see Val Venis in the mic. Good segment here.

Jericho/Burke: Good match, I enjoyed it. Of course Burke was winning after Kennedy came down to do commentary. Nice Burke win, and Jericho didn´t look weak. This feud with Kennedy is one of my favourites.

Punk Interview: Fantastic. I ove CM Punk as a heel. This feud with Jeff Hardy can be a great personal feud. Jeff Hardy attacking Punk was expected but it was very well done. I really want them to go at it in Saturday Night´s Main Event.

Main Event: Good match. I´m not a fan of Bobby Lashley so I wanted Orton to win. Lashley kicking out of the RKO was good for him, but it was obvious that Triple H was interfering. Good finish and a nice build up for the WWE Title match at Saturday Night´s Main Event.

Overall: A great show, I liked pretty much everything. I´ll stay tuned for sure.
Re: WWE: A Strong Response
---
Thanks for all the reviews guys, very much appreciated and i can take those comments on board. But some news for you all



From PWInsider.com
Saturday Night's Main Event Update
There has been a lot of speculation over the last week or two with what matches will go down at Saturday Night's Main Event, but we have received clarification of what to expect. With three matches already confirmed plus the World Heavyweight Championship match with Batista defending his title too, there will be one more match announced as it will only be a two hour show with commercial breaks as always. The time constraints and two World title matches are the reason behind this.

This means that some of the other feuds that are gaining attention like the Jeff Hardy/CM Punk feud for example could be held off until the Royal Rumble to allow more heat between them and further the feud even more. It could be that Jeff & Punk do face each other at the December show as Raw and Smackdown both have two matches each so far, with one more to be announced soon. This could also be the case with the Colon's feud with Val Venis & Cody Rhodes, The UK Pack and The World's Greatest Tag Team, Chavo Guerrero and Kenny Dykstra, plus more, it's just a waiting game. It should also be said that the feud between Jeff and Punk, has got great reviews and is pleasing backstage as creative were unsure of how Punk's heel turn would go down.

The reasoning behind back to the big four pay-per-views and the return of the King of the Ring was to give feuds more time and allow the characters to develop more instead of rushing them and changing directions every month.


Posting Rules

You may not post new threads

You may not post replies

You may not post attachments

You may not edit your posts

---

HTML code is Off

---