WWE.com - RAW Results
---
RAW Results
26th November 2007

New Haven Coliseum
New Haven, Connecticut





***VIDEO RECAP***
A recap from last week

• Shane McMahon announcing that Randy Orton will defend his WWE Championship against Triple H at Saturday Night's Main Event
• Mr. Kennedy demanding Triple H tell him who Vince McMahon's son is
• Triple H telling Kennedy he wasn't the son and pedigreeing him before Orton slipped in the ring behind and RKO'd The Game to the end the show


***OPENING CREDITS***
"Wanna Be Loved"

***PYRO***
***PYRO***
***PYRO***
***PYRO***
***PYRO***


"The Game" blasts out to a huge ovation straight away as Triple H makes his way down to the ring, looking very serious in his casual gear

He waits for the crowd to die down as they chant his name for a while


Triple H: You know it's funny. Last week I try and do a nice thing, and in the end it comes back and bites me in the ass. . . See, I was on the way back to the hotel with Steph when I hear someone shouting my name out for me to come down to the ring. And being the nice guy that I am, I turned round and did the decent thing by coming out here to find out just what the hell this person wanted. And it appears that, that person was Mr. Kennedy. . .

***HEAT***

Triple H: I know, the guys a jackass, but there's nothing anyone can do about that. . . Anyway, back to last week and I stood right here and listened to all the crap that he had to say. Word after word after word, I listened to all of it, all the crap he had to say, but I did the decent thing and put the poor deluded moron out of his misery. . . See I don't understand why anyone would want to publicly admit or let alone privately hope that there was a chance that they were the illegitimate child of Vince McMahon

***HEAT***

Triple H: Whoa, sorry Steph, you know what I meant. . . See, ever since I got involved in this whole business with Vince, it's just been one thing after another. And right now, he's sat at home recovering all by himself after I quite frankly beat the crap out of him at the Survivor Series

***POP***

Triple H: And Vince I know you're watching, so I've got a special message for you, from me to you. . . I'm sorry that me and Steph haven't come to visit, well not really but on the behalf of Stephanie and I, I wish you a speedy recovery so you can come back and make my life a living hell again. Oh no wait, you can't can you Vince? God bless Shane and Linda for freezing your power since you're clearly out of control, and now you're all alone, even without your bastard son, whoever that maybe hey Vince. But of course, I know, Stephanie knows and Shane knows who that unlucky person is. And Vince last week I could have let it slip in front of everyone, but I didn't. I think I'm going to let you take care of that one like I know you're probably doing right now, getting on the phone to all the best private detectives money can buy, and Vince, I don't blame you, not one bit. But Vince, I really couldn't give a damn because I've finally got what I've wanted all this time you've been doing everything you can to make life hell for me and Steph, and that's a shot at the WWE Championship

***BIG POP***

Triple H: So Vince, I want you to lean forward a little so you can hear this. By the time you've recovered and back on Raw if you ever dare to come back, I will be on top of the mountain again, because at Saturday Night's Main Event, I will once again become the WWE Champion

***POP***

Triple H: But you know, last week I admit I made a mistake, I let my guard down. But I guess you don't need me to tell you what happened after I let Mr. Kennedy down gently, well he didn't take it gently, maybe because that had something to do with him being on the wrong end of a pedigree

***POP***

Triple H: And you know at that point, I thought my night was over and I could just go back to the hotel with Steph and kick back for a while, maybe watch a little TV. . .

"Wreckin Ball" hits as Mr. Kennedy walks down to the ring

***HEAT***

Kennedy gets a microphone from Lilian and looks very pissed off

Mr. Kennedy: What the hell do you think you're tryin to do huh? You made me look like an ass last week, and you're trying to do the same thing right here tonight. Just what the hell's your problem huh?

Triple H: Right now, my problem is you. And if you ask me, you made a pretty good job of making yourself look like an ass last week without me helping you

Mr. Kennedy: Oh, you think you're so smart and so funny don't ya? You think that this whole business revolves around Triple H, The Game, The King of Kings. . . Well you know what I say to that. . . Bullshit!

***HEAT***

Mr. Kennedy: See last week you might have got one up on me, but that will be the first and last time, let me tell ya. But you do realise that when Mr. McMahon finds out who his son is, whoever it may be, there will be hell to pay Triple H, hell. . . hell to pay. And I so wish I was that person who could inflict the beat down of a lifetime on you because. . .

"Burn in my Light" blasts out as Randy Orton walks out with a smug smile on his face as he walks down to the ring with a microphone with Triple H and Kennedy looking on

***HEAT***

Randy Orton: Whoa I've gotta stop you both right there because Hunter, I feel like there's something strange going on round here the last couple of last weeks. You said earlier that you were sat back there last week and you heard someone talking crap in the ring and you had to come out and put them right huh

Orton (turns to Kennedy): Sorry man, no offence

Orton turns back to Triple H

Orton: See that just happened to me too, cos correct me if I'm wrong, but you just said you're gonna be the next WWE Champion

***POP***

Triple H nods back seriously at Orton, who rubs his chin for a couple of seconds

Randy Orton: See the other amazing similarity is that last week you came out here and shut Kennedy up right?. . . Oh right hang on, I've got this all wrong because that's where all the similarities end. See last week, after you pedigreed Kennedy, what happened Hunter? Did you get to go back to the hotel with Steph and watch a little TV like you planned?

Triple H looks to be getting hot as Orton's smile gets wider and Kennedy starts to grin too

Randy Orton: You look a little confused there Hunter, maybe I can sort this little problem out here with some footage I put together earlier on. Roll that tape

We see on the tron, Orton slipping in the ring last week in slow motion after Triple H pedigreed Kennedy, and then the RKO from Orton on The Game

***HEAT***

Orton & Kennedy smile as Triple H seems to accept it and cool down

Triple H: You know Randy, you're right. You really showed me last week with that RKO. I guess there's no point me even turning up at Saturday Night's Main Event, because that will just happen again right?

Orton just smiles

Triple H (Sounding a little sarcastic): You know, I didn't think it through at all. I really should have thought about just how Randy Orton, The Legend Killer is going to embarrass The Game at Saturday Night's Main Event and not gotten carried away with finally getting the shot I deserve. And Randy, I gotta say you took your chance last week and I applaud you for that, that's the kind of thing myself and Ric Flair taught you all those years ago. That was very brave and you pulled it off. And you know coming out here tonight, standing in front of me and showing that footage, you know what that is Randy?

Randy Orton: Courageous Hunter, it's what I'm all about

Triple H: I guess that's one word you could use, but maybe there's something else we'd call it, and this is how I would put it

Triple H drops the microphone down from his mouth for a second and looks to be thinking, when he drops the mic altogether and starts pummelling Orton with right hands as the crowd go crazy. But Kennedy jumps right on the back of The Game who is able to fight him off momentarily before Orton then fights back as he and Kennedy then double team The Game with some vicious stomps to the back. But all of a sudden. . .

"Break The Walls Down" blasts out as Chris Jericho runs down the ramp to a huge pop

Kennedy turns round in shock as Jericho slides in the ring and makes a bee line for Kennedy, hitting him with hard right hands. He manages to force him against the ropes and then clotheslines him over the top. Jericho then turns round and goes for Orton, but the champ is able to slide under the bottom rope and away to safety as Jericho then checks on Triple H. Kennedy stands back up and walks round to the bottom of the ramp to join Orton as they stare down Jericho and a pissed off Triple H as he comes round


***COMMERCIAL BREAK***


***OPENING MATCH***

Brian Kendrick w/Paul London vs. Lance Cade w/Trevor Murdoch

SUMMARY: Cade was visibly frustrated and angry as he started the match, taking the fight to Kendrick with lots of stiff attacks, battering him in the corner with hard kicks and punches to the chest. Kendrick took a beating early on, but he managed to get back into it as the referee separated them both as Cade was pummelling Kendrick with closed fists in the corner. Cade holds his hands up for a couple of seconds before walking back over to Kendrick, who in desperation lifts his boot up into Cade's face, then holds onto the top rope as he then lifts his feet up and pushes them out and into Cade's back, pushing him out of the corner. As Cade staggers out, Kendrick then takes a second before running out of the corner, but as Cade turns round, he nails Kendrick with a thunderous LARIAT. . . WHAT AN IMPACT. . . Kendrick got nailed and lands hard on the mat as Cade crawls on his knees to cover him 1 . . . . . 2 . . . . . NOOO! . . .

Cade can't believe it and stands back up to argue with the referee for a good five seconds before Kendrick starts to sit up on the mat. Cade turns back to Kendrick quickly and then pulls him back up to his feet and whips him into the ropes, but as Kendrick runs back, he slides through Cade's legs, runs through and then hits him with a DROPSAULT. . . Cade is back up quickly and at the same time as Kendrick, who still looks sore after the beating he's taken. Cade swings for a right hand, but Kendrick ducks underneath it and then rolls Cade up 1 . . . . . 2 . . . . . NOT OVER YET. . . Cade pushes off, and again both men are back up quickly as they start exchanging right hands, with Kendrick then trying for an irish whip to the corner that gets reversed by Cade. Cade charges in, but Kendrick sidesteps as Cade hits the pads and Kendrick then takes full advantage by hitting the SLICED BREAD. . . 1 . . . . . 2 . . . . . 3.

AFTERMATH: "Hey You" hits as Murdoch then rushes into the ring under the bottom rope, but Kendrick sees it coming as he runs and slides off the apron to the outside. London hugs him and passes him his title belt as they both then lift them up in the air towards Murdoch, who stresses out, throwing his arms about like a mad man as Cade remains on the mat


***CUT BACKSTAGE***


Shane is on his cell in his office when an angry Mr. Kennedy storms in

***HEAT***

Shane McMahon: Hey, I'll call you back

Shane looks a little annoyed as he hangs up the call

Shane McMahon: What the hell do you think you're doin, bursting in here like that?

Mr. Kennedy: Did you not see what that crazy son of a bitch Jericho just did out there? What the hell are you gonna do about it Shane O?

Shane McMahon: You know coming in here and shouting your mouth off is not gonna get you what you want is it? And maybe you wanna think about who you're talking too. Seeing as I'm acting general manager of Raw, you might wanna think about it how you speak to me

Mr. Kennedy: I'll speak to you and whoever else how the hell I want after I just got jumped by a failed rock star who thinks this show has his freakin name in it

Shane McMahon: Well maybe you shouldn't have smashed him with a steel chair at the Survivor Series and run your mouth off like you did last week. But then again, all you seem to do is run your mouth, and since you want me to do something about Jericho. . .

Mr. Kennedy: . . . You're damn right I do, he should be suspended at the very least for attacking me like that

Shane McMahon: Well that's the difference between me and you Ken, because I make the rules around here and not you. And since Jericho wants to get his share of payback for the Survivor Series and you so obviously aren't happy with him either, you really leave me with no other choice but to put you guys in a match. And what better place for that that match to take place than at Saturday Night's Main Event. . .

***POP***

Mr. Kennedy: You're kidding me right. After what he just did, do you not see what he's capable of?

Shane laughs

Shane McMahon: Yeah, but I also saw what you're capable of with a chair in your hands, but I wasn't finished before you so rudely cut in. . . See you're not only going to face Jericho in a few weeks time, you're going to face him tonight

***POP***

Shane McMahon: Because right here tonight in the main event, it's going to be Mr. Kennedy teaming up with the WWE Champion, Randy Orton to take on Chris Jericho. . . and Triple H

***BIG POP***

Kennedy shakes his head in frustration as Layla walks into the room, catching Shane's attention

Shane McMahon: Now if that's all, I've got someone else who needs to speak to me, so if you don't mind

Mr. Kennedy: I can't wait till your dad gets back

Shane McMahon: Are you leaving or not?

Kennedy looks pissed as he then turns round and slams the door on his way out. Shane smiles as he leaves

Layla: You look like you're having a good night Mr. McMahon

Shane McMahon: Oh it's getting better, and please call me Shane. . . Now what can I do for you Layla?

Layla: Well, you said last week you might have something for me on Raw, so here I am. . . Shane

Shane smiles

Shane McMahon: Well in fact I do. I prepared a contract for you to sign tonight. In fact it's around here somewhere

Layla looks happy as Shane walks around and pulls it off a desk

Shane McMahon: If you just want to come over here and we'll make you Raw's newest addition. And quite an attractive addition too I must say

Layla walks over and smiles at Shane, then signs the contract

Layla: Thanks so much Shane

She then hugs Shane as the door can be heard opening and Kelly Kelly walks in behind. Shane sees her and lets go of Layla, who turns round with her fire in her eyes

***POP***

Layla: What the hell is she doing here?

Shane McMahon: Well I thought since I'd decided to bring you to Raw, I had a great idea to bring Kelly and extreme expose too

Layla: I don't think so. I told you last week what a tramp she is and that I wasn't going to get involved with that ECW rubbish again, and I meant it

Kelly just grins, but Shane looks shocked as Layla then grabs her contract off the desk and storms out of the room with an angry scream ringing in Kelly and Shane's ears. They both look on as the door slams and the camera fades out


***COMMERCIAL BREAK***


***MATCH #2***

Tommy Dreamer vs. Elijah Burke

SUMMARY: An even match up in the early going with Dreamer eventually putting Burke on the back foot. As we get towards the end, Dreamer lifts Burke back up following a suplex and goes for a right hand, but it's blocked by Burke who then smashes Dreamer with hard rights and whips him into the ropes. As Dreamer comes back, Burke kicks him hard in the gut, turns back and runs into the ropes, then runs back and hits him with a falling clothesline. Burke then is quick to go for a cover 1 . . . . . 2 . . . . . KICK OUT. . . Burke looks frustrated as he gets back up, lifts Dreamer back up and whips him hard into the corner before pulling his knee pads down for the ELIJAH EXPRESS. . . He runs in and Dreamer moves to the side, but Burke manages to jump onto the second rope, holding onto the top rope.

Dreamer turns round in shock as he sees Burke on the ropes and then walks over, but Burke kicks him away with a kick to the head. He then jumps down off the second rope and whips a dazed Dreamer into the ropes, and as Dreamer comes back off the ropes, Burke plants him with a LIFTING SPINNING SIT DOWN SPINEBUSTER. . . Burke lets go surprisingly as he gets back up right away and urges Dreamer up to his feet. It takes around ten seconds before Tommy is able to stand back up, and he does but slowly as an intense looking Burke gets ready to pounce. The moment Dreamer gets back on a vertical base and turns round, Burke is on him like a shot and plants him with the ELIJAH EXPERIENCE. . . Burke goes for the cover straight away, hooking both legs 1 . . . . . 2 . . . . . 3.

AFTERMATH: "Don't Waste My Time" hits as Burke stands up and gets his arm raised by the referee before walking to the corner, climbing up to the second rope and posing for the crowd before jumping down and walking to the back


***VIDEO PROMO***
A short highlight reel of Lashley's Raw history is shown, ending in a black screen with the words

"LASHLEY RETURNS. . . COMING SOON"


***CUT BACKSTAGE***


Cody Rhodes is talking with Val Venis in the back when Carlito and the man who helped him beat Cody last week walk into the shot

***HEAT***

Carlito: Well what do we have here? Some kind of women's meeting or something? Gotta say guys, dat's not cool

Val stands forward and into Carlito's face

Val Venis: Actually I was just telling Cody that he got robbed last week by you in your match, and the only reason he lost was because of. . . well him

Carlito: Him? He has a name ya know. . . Meet my brother, Eduardo, and if ya wanna talk trash about last week Val, maybe you should try and do what ya little friend couldn't last week and beat me tonight

Val Venis: You know that's the best offer I've had in ages. In fact how about we go right now?

***POP***

Carlito: Right now? . . . Okay, you're on

Val Venis: I'll see you out there

Val walks off as Cody looks at Carlito before he follows Val

Cody Rhodes: And I'll be down there to make sure you don't do to him what you did to me last week

Cody walks off as Carlito doesn't seem fazed

Carlito: Do what ya want. . . Come on Eddie, let's go

Just as they walk off they hear screaming and the camera pans to see Layla slapping Kelly Kelly and pushing her into the wall, then pulling her hair and head down to the floor

Carlito: Catfight bro, you gonna see a lot of dat around here

Eduardo: Now that's cool!

Just as they're about to walk off, Elijah Burke, walking back from the ring, then runs into to break up the fight, pulling Layla off Kelly and holding around the waist as Layla tries to get at Kelly

Kelly Kelly: Get off me

Elijah Burke: Whoa calm down, that skank ain't worth it

Kelly looks up at Burke & Layla in shock

Layla: You won't get so lucky next time Kelly, I promise

Elijah Burke: Come on, let's get you out of here

Layla calms down as she walks off down the hall with Burke as Carlito & Eduardo then walk past Kelly and have a good look, nodding their heads, but Eduardo stops

Eduardo: Hey bro, maybe ya don't need me out there tonight

Carlito grabs his arm and pulls him back

Carlito: You can do better den dat bro, now let's go

They walk up the hall as Eduardo then looks back at Kelly with a smile on his face


***VIDEO PROMO***
A recap of the build up to tonight's main event tag team match

• Mr. Kennedy smashing Chris Jericho across the head with a steel chair at the Survivor Series, getting himself disqualified and eliminated
• Randy Orton taking advantage and covering Jericho to eliminate him
• Last week at the end of Raw when Triple H pedigreed Mr. Kennedy and Randy Orton slipped in behind and hit Triple H with an RKO
• Earlier tonight and Triple H going at it with Orton and Kennedy, then Jericho making the save
• Still image comes on the screen with the tag match advertised for later on tonight


***COMMERCIAL BREAK***


***MATCH #3***

Val Venis w/Cody Rhodes vs. Carlito w/Eduardo

SUMMARY: Carlito has taken the match to Val, who has put up a strong fight, and as Carlito whips him into the corner, then follows in for a right hand, Val blocks it and turns the tables on him by grabbing Carlito and pushing him into the corner as he steps out. He follows up with some right hands, whips him to the opposite corner, runs in and nails him with a hard clothesline across the shoulders. Carlito staggers out as Val then plants him with a SPINNING SIDE SUPLEX. . . A pop rings out as Val then tries a cover 1 . . . . . 2 . . . . . SHOULDER UP. . . Carlito isn't giving up as Val then walks to the corner and climbs to the top rope, looking to hit the MONEY SHOT. . . Just as the crowd start cheering, Eduardo steps up to the apron and distracts both Val and the referee. Val jumps down to the apron as Eduardo then steps down to the floor. The ref looks down and warns Eduardo as Val then steps back through the ropes to lift Carlito back up to his feet as he gets back to his knees.

Val then whips Carlito into the ropes, but as he comes back, Carlito back flips over Val and then runs through to hit a SPRINGBOARD BACK ELBOW. . . The cool one is back in the driving seat as he then runs to the corner and hits a DOUBLE SPRINGBOARD SENTON SPLASH. . . Carlito stands back up and smiles before he then sees Cody and points to him, then laughs, causing Cody to stand on the apron. The ref then walks over and tells Cody to get down, which he does, but Eduardo walks over and starts shouting smack towards him. Cody then snaps and runs the short distance towards Eduardo, but he drop toe holds him onto the arena floor. With the ref looking on at what's going on outside the ring as Val starts to stand back up, Carlito takes full advantage by shifting behind Val and low blowing him before hitting the BACKSTABBER. . . With Eduardo yelling at the referee to turn round after the finisher, Carlito goes for the cover 1 . . . . . 2 . . . . . 3.

AFTERMATH: "Cool" hits as Carlito then stands back up, Eduardo then climbs in the ring to raise his brother's hand. Cody sits back up on the outside and looks on, holding his head and looking pissed off as the brothers point and laugh at him


***VIDEO PROMO***
A WWE.com Exclusive from after the show last week

Maria is in the locker room as Santino Marella then walks in

Santino Marella: Maria, what do you think you were a doing? I told you to a stay backstage during my match, but what did you a do? You broke my words and walked back to the ring like I told you not too

Maria: I'm sorry Santino, but I just wanted to check if you were okay

Santino Marella: Well I am not okay Maria, I lost another match because of you. It is all your fault Maria and I can not a take it anymore. I am a winner Maria and I do not need someone to make me a big fat loser like you, so get out of my-a way Maria

Maria looks upset and starts to cry

Maria: Santino, please. I'm so sorry

Santino Marella: I do not want to a hear it Maria, now leave me a-lone

Santino gently pushes her to the door and opens it, then Maria turns round crying to look at an angry Santino before turning back round and walking out of the door, sobbing her heart out


***CUT TO THE ARENA***


Santino is stood in the middle of the ring with a microphone in hand

***HEAT***

Santino Marella: You all a know by now that Maria is no a longer by my side. And there is only one person whose a fault that is, and that is Maria's

***HEAT***

Santino Marella: Thanks-a to Maria, it is a why I stand here in front of all you stupid people without the Inter-cont-i-nental Championship I would have a won at the Survival Series

***HEAT***

Santino Marella: And last week, she a did it again, costing me my match against 2YK Chris Jericho's. So tonight I am a going to do what I a would have done at the Survival Series if it a wasn't for Maria, and that is beat the Inter-cont-i-nental Champion

"Loaded" blasts out straight away as Jeff Hardy makes his way down to the ring

***BIG POP***


***MATCH #4***

NON TITLE MATCH
Jeff Hardy vs. Santino Marella

SUMMARY: Santino for the most part has been frustrating Jeff with cheap tactics. After a rake to the eye, Santino kicks Jeff in the shins a couple of times before whipping him into the ropes and then connecting with an arm drag. As Jeff gets back up, Marella then chops him across the chest before hitting an ATOMIC DROP. . . As Jeff hobbles around, Santino then walks back into the ropes, then comes back looking to hit a chop block, but Jeff jumps in the air to dodge it as Santino then hits the mat. Jeff then rushes to take advantage as he runs to the corner, jumps up to the top rope, and as Santino is back on his feet, Jeff jumps off and connects with the WHISPER IN THE WIND. . . The crowd are going crazy as Jeff then stands right back up, lifts Santino up to his feet and whips him into the corner, runs in and hits him with a clothesline. Jeff then holds onto the top rope as Santino drops into a sitting position against the ropes, jumps up and then brings his feet crashing down into Santino's upper body. Wow that looked painful. Jeff then stands back up and drags Santino across the ring, then goes for a cover 1 . . . . . 2 . . . . . TWO COUNT. . .

Santino got his shoulder up but Jeff isn't bothered as he stands right back up and walks back over to the corner again as he climbs up to the second rope. He lifts his arms up for a signature taunt, getting the crowd going before he then jumps down for a DIVING LEG DROP. . . But Santino moves as Jeff crashes and burns. Both men remain on the mat for a few seconds before they both start to come round and stand back up. It's Jeff who takes the initiative, connecting with a couple of right hands and then hitting a SIT DOWN JAW BREAKER. . . Another big pop for Hardy as he then reaches across for a cover 1 . . . . . 2 . . . . . KICK OUT. . . So close for Jeff, but Santino is putting up a fight here. Jeff then stands back up and stalks Santino, setting him up for the TWIST OF FATE. . . As Santino gets back up and turns round, Jeff stomps him in the gut and drags his head under his arm, but before he can hit it, Santino drops to his knees and low blows him, causing the ref to call for the bell

AFTERMATH: Santino walks over to the ropes, slips under the bottom rope to collect a steel chair and then climbs back in the ring. As he waits for Jeff to get up, CM Punk walks down the aisle to a lot of heat. Santino looks bemused as Jeff then starts to come round and squirm around on the mat while Punk then slides in the ring. He walks over to Santino and grabs the chair away from him after a short tussle. Santino then leaves the ring as Jeff starts to stand up behind Punk, but Punk then turns round and sees Jeff, then smashes the chair against his skull, getting a ton of heat as he smiles sadistically. He then drops the chair, walks over to the ropes and demands a microphone, which he gets and then walks over to Jeff's motionless body and lies down on his stomach so he is face to face with him as he then put the microphone to his mouth

CM Punk: What's wrong Jeff? You're not looking so good right now are ya buddy? You don't look like the superstar everyone's making you out to be do ya? . . . See that's my problem with you Jeff. What have you built your reputation on huh? Climbing up ladders and jumping off like a stunt man. Well Jeff, that's not wrestling my friend. You wanna try wrestling sixty minute matches and dedicating your entire life to this business like I have. . . And unlike you Jeff, I am straight edge and I've never touched the crap you have and never will. And you know why Jeff? Cos I'm not weak like you and the only addiction I've ever needed is competition. And right now Jeff, that competition is you and your Intercontinental Championship

***HEAT***

CM Punk: Listen to these people Jeff, they love you, but not for the right reasons. See they loved me for the right reasons, the same reasons why I will take that Intercontinental Championship away from you Jeff, because I come out here and I give every last bit of energy that surges through my body to win matches against users like you. . . But see Jeff, these people love you and I really have a problem with that, such a problem that I'm out here lying across the ring talking to someone who can't even here what I'm saying just so that these people can understand I don't care one little bit what the hell they think of me and send you a message loud and clear. . . This little role you've been on Jeff. . . IS OVER, and it's over because CM Punk says it's over

***HEAT***

Punk pulls himself back up to his knees as "This Fire Burns" blasts out. An intense looking Punk stares down at a motionless Jeff before standing back up and dropping the microphone on the mat, not taking his eyes off of Hardy


***COMMERCIAL BREAK***


We see Todd Grisham standing by at the interview set

Todd Grisham: Ladies and gentleman, please welcome my guest at this time. The WWE Womens Champion, Beth Phoenix

Beth walks into the shot looking a little downcast

***HEAT***

Todd Grisham: Beth, last week we saw Victoria suffer what looked to be a very distressing injury as she was taken away by medics to a local medical facility due to you hitting her across the head with your championship belt

***VIDEO RECAP***
Footage from last week is shown when Beth Phoenix left the ring after her match, walked past Victoria at the announce table, turned back and hit her with the belt, resulting in Victoria hitting a steel chair against her head as she fell, causing her to bleed. We then see her being put in the ambulance and taken away

Back to the interview set, and Phoenix looks very disturbed by the footage

***HEAT***

Todd Grisham: As you can see Beth, Victoria lost a lot of blood, and from what we've been told by the doctors that treated her, she suffered a very severe concussion and has had more than twenty stitches in the side of her head. We also hear that she has been suffering black outs since coming round, all down to that unprovoked attack

Beth Phoenix: Todd, you have to believe me when I say it was an accident. I didn't mean for her to hit her head against the chair like she did, really I didn't

Todd Grisham: But at the end of the day, Victoria is still in hospital and will be out of action for the rest of the year thanks to you and the unprovoked attack

Beth Phoenix: Look Todd, what more do I have to say to make you believe it was an accident? . . . But truthfully, it wasn't unprovoked. She came down to ringside for my match and stood up as I left the ring after, and after I walked past her, for all I know she might have attacked me, so I beat her to it. But I never meant for her to go through all that, I swear. . . But if you look at it Todd, Victoria might have learnt a valuable lesson now, and the rest of the divas too, that if you try and mess with Beth Phoenix, you're going to get hurt

***HEAT***

Todd Grisham: I can't believe you can see some good out of this

Beth Phoenix: Like I said Todd, it was an accident, but maybe everyone will realise now that The Glamazon is the most dominant divas in the world today. And if someone has to suffer like Victoria did, then so be it

***HEAT***

Todd shakes his head in disgust as a Phoenix turns round and walks out of the shot


***CUT ACROSS THE BACK***


We see Mr. Kennedy walking through the back for a couple of seconds, followed by Randy Orton, then Chris Jericho and last not but least, Triple H walking out of his locker room as they all separately make their way through the back

***POP***

Jim Ross: Our main event is coming up next folks, you don't wanna miss it!


***VIDEO PROMO***
A brief history of Saturday Night's Main Event

NARRATOR: It has a place in WWE history. . . It has a place in the history of sports entertainment. . . but it also has a place in its future. . . For Christmas will not be the same this year for the stars of Raw and Smackdown as Saturday Night's Main Event makes its return. . . Live on NBC!

The clip cut to a graphic showing "Saturday 22nd December. . . Shaking Up Saturday Night. . . Live on NBC"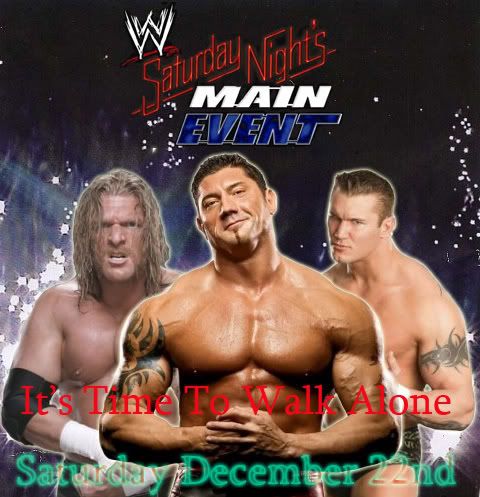 ***CUT TO THE ARENA***


***MAIN EVENT***

Triple H & Chris Jericho vs. Randy Orton & Mr. Kennedy

SUMMARY: Jericho & Triple H really took the match to their opponents in the early going. As the match goes on, it gets very aggressive as Kennedy and Jericho go at it, slugging it out in the middle of the ring. Kennedy looks to get control, but Jericho isn't giving up as he fires back with a block, followed by a series of hard right hands, followed by a chop. He then grabs Kennedy by the arm and tries for an irish whip, but it's reversed and as Jericho comes back off the ropes, he nails Kennedy with a FLYING FOREARM. . . There's a big pop from the crowd as Jericho flips his way back up to his feet, followed quickly by Kennedy as Jericho then runs behind him, comes back off the ropes and nails him with a ONE ARM BULLDOG. . . The crowd are getting right behind Jericho now as he looks into the crowd and then runs to the ropes, looking for the LION SAULT. . . But Orton sees it coming and moves across the apron and hits Jericho with a forearm to the face as Y2J gets to the ropes and then drops down following the interference.

Mike Chioda walks over to Orton and warns him as Kennedy and Jericho then start to crawl towards their respective corners, with Kennedy tagging in Orton first as the WWE Champion then storms across the mat in a panic to try and stop Jericho tagging in Triple H, but it's too late as The Game smiles at Orton for a second before climbing through the ropes. Orton backs up and looks worried as Triple H casually walks closer to him as Orton then puts his arms up in the air, before dropping them suddenly and running at The Game. He throws a right but it's blocked and Triple H unleashes some real heavy blows on Orton, putting him right on the back foot as he then whips Orton into the ropes and hits him with a HIGH KNEE LIFT. . . Orton's face took the full force of that as he drops to the mat, but he's tough and picks himself back up and into The Game's chops across the chest.

Again he whips Orton into the ropes, but as Orton comes back, he ducks underneath an outstretched arm and nails Trips with a SIDE INVERTED BACK BREAKER. . . Orton too drops to the mat. He then stands right back up and stalks Triple H for the RKO, getting a ton of heat from the crowd. As Triple H starts to squirm round on the mat with Orton waiting, Jericho enters the ring and runs at Orton who stands up fully, only to get knocked down by a clothesline from Jericho. This brings in Kennedy, but the moment he steps through the ropes, Jericho runs at him and clotheslines him over the top rope to the outside. Chioda then gets Jericho out of the ring as Orton stands back up, as does Kennedy on the outside. As Kennedy gets back on the apron, Orton makes the tag with Triple H getting back up to his knees. Kennedy walks over to the opposite corner and knocks Jericho off with the apron with a hard shove, with Jericho falling against the barricade.

He looks down and smirks as Jericho hits the arena floor, but as he turns round, Triple H is on his feet and smashes Kennedy with a right hand and whips him into the ropes, then plants him with a DOUBLE A SPINEBUSTER. . . The crowd go wild as Orton looks pissed on the apron as he then drops down, walks to the timekeepers table and picks up a chair from next to Lilian Garcia. Triple H sees it as he gets up with Orton standing back up on the apron with the chair in hand. He runs over to the ropes and Orton, knocking him back down to the floor. Kennedy slowly picks himself back up as Trips then turns round, walks over and places Kennedy between his legs for the PEDIGREE. . . He doesn't hesitate as he then brings Kennedy face first down to the mat and covers him 1 . . . . . 2 . . . . 3 . . . ALL OVER!

AFTERMATH: "The Game" blasts out as Triple H gets back up to his feet, and Chioda raises his arm straight away. Randy Orton then sneaks back in the ring behind The Game, stalking him for the RKO, and as Triple H turns round, Orton leaps up for the RKO but Triple H pushes Orton back into the ropes. As Orton hits the ropes, he is able to hold onto the top rope and pulls himself out of the ring to dodge the bullet. He stands on the outside and stares in at Triple H, who signals to Orton using his fingers that he was that close as an angry Orton yells back from the outside with Triple H smiling as Raw comes to a close


***END OF SHOW***


QUICK RESULTS
Brian Kendrick df. Lance Cade
Elijah Burke df. Tommy Dreamer
Carlito df. Val Venis
Jeff Hardy df. Santino Marella
Triple H & Chris Jericho df. Randy Orton & Mr. Kennedy


CONFIRMED FOR SATURDAY NIGHT'S MAIN EVENT

WWE Championship
Triple H vs. Randy Orton (c)

WWE United States Championship
Steel Cage Match
Matt Hardy vs. Montel Vontavious Porter (c)

Chris Jericho vs. Mr. Kennedy




---
Last edited by Nige™; 02-08-2008 at

01:11 PM

.
Re: WWE: A Strong Response
---
Nige's Raw Review By KF4E
First of all sorry I couldn't get the Smackdown review up, I was pushed for time. Anyway Raw is looking good. The opening promo worked on all accounts. I loved Triple H coming out and basically letting everyone know that he was the one to take the championship from Orton. I didn't like the over usage of the word right? Though. It was like everyone kept saying it every other line. Apart from that all three ment were on character and the brawl was a nice touch. I think this was just a way to set up a tag team match either tonight or on a different night.
Kendrick vs. Lance Cade was an average start to the action tonight on Raw. Both men got some good offence and the match seemed to flow. I love having the straps on London and Kendrick, as they are suitably the best team on Raw atm. I can see Cade and Murdoch being the number one contenders, and imo they would put on some pretty decent matches.
I'm still not interested in Layla and the whole Extreme Expose coming to Raw. However it seems like a nice little way to add them to the show now that ECW is gone, and it also seems like a feud is brewing between Kelly, Kelly and Layla. I liked the first part of this segment too with the tag match announced, also the match at Saturday night's main event is looking good too.
Dreamer vs Burke was only made because of an altercation last week. This is both good and bad. The match however was pulled off quite nice. It was nice to see the younger Burke get the win. Oh Lashley returning is awesome. I have the same thing going on too
The whole segment with Carlito and his brother seemed like a cheap way to introduce his brother. It would have been so much cooler to have him introduce his bro on the cabana. Then the whole Layla and Kelly Kelly thing was predictable but seemed pretty good. I do however think there was too many things going on in this segment.
Adding the video promo here was good. I liked it as it just added a lot of realism to tonight's show.
Carlito vs. Val Venis was a pretty cool match. I enjoyed reading it from start to finish. The finish was nice and I'm glad you continue to have Carlito win. I can see a push lined up for him especially now that you have introduced his fictional brother.
The little wwe.com exclusive was cool. That was another thing that added more realism to the show. I like the angle you have going too because I have always wanted to read a thread where Santino and Maria break up. I'm looking forward to seeing how this whole thing unfolds.
Santino was gold on the stick as usual. You actually pull his character off really well. I love how you miss spell and miss pronounce words just like he does in real life. I loved the point if the promo too setting up a great match with Hardy. I can see Maria coming down though tbh. It was a nice finish to the match with a DQ finish. I loved the match as it all seemed to flow really well. I'm still not liking the whole CM Punk heel turn. I love the idea of being so creative and turning him because I've not seen that before, but I just don't think it works that much. I guess it will take a while for the whole thing to sink in. However you are booking the intercontinental Championship scene very nicely, and propps for doing it.
I've never heard or seen Beth cut an interview so I can't comment on her character. However you have a nice angle going on and I really like the woman's division.
I liked the Saturday Night's Main Event promo, it sounded genuine and it got me excited for the show.
Now onto the main event. The match being the longest was great and it certainly had the best action. I liked the way it flowed, but it just seemed to get a bit boring and repetitive at some parts. Nice ending though with the pedigree on Kennedy. I'm glad he didn't get the pin over the WWE champion. I actually thought Orton was about to get planted but it was great to have him slide back out of the ring last minute, because that is something I can see Orton doing.
Overall a good show, progressing nicely from the last Raw I read. The feuds you have going are good, and your writing continues to improve week after week. I'm looking forward to the next show man, and especially SNME
Tag Teaming With James Ellsworth
Join Date: Apr 2005
Posts: 1,710
Points: 0
Re: WWE: A Strong Response
---
Nige, I had written a review for Raw yesterday, but when I went to post it an error with the forum appeared and I lost the review. So here is some comments for the show.

The opening promo was a good way to continue the Trips/McMahon feud and continue the build for the Trips/Orton match at SNME. Thought Cade would get the win in the match and not Londrick. Good match by the way. It's good to see that both Layla and Kelly Kelly are on Raw. Dreamer losing to Burke was not a surprise as it puts over Burke some more in this thread. Odd way of introducing Carlito's brother, Eduardo, IMO. Looks like a Kelly Kelly/Edurado storyline might be taking place down the road. Carlito beating Val was expected. The wwe.com/in ring Santino segment was great, as it put over Santino as a great heel. As far his match with Jeff Hardy goes, Punk ending the match and costing a DQ finish was great as it set up an excellent promo from the Straight Edge Superstar. Promos like this from Punk is why IMO, Heel Punk>Face Punk. Interesting interview from Beth. This is an original storyline involving the Divas, and I'm looking forward to see how you plan on continuing it in this thread. MOTN without dobut goes to the Main Event. However Kennedy comes out looking real weak after the match, after losing to Triple H cleanly two weeks in a row. Great show once again as this was better than last week's Raw. Looking forward to Smackdown.
Re: WWE: A Strong Response
---
Thanks for the comments guys, and just to clarify a couple of things. Mr. Kennedy didn't lose last week, he just got pedigreed in the promo at the end of the show while KF4E, Eddie Colon is Carlito's brother IRL too, it's not fictional!

Cheers guys, will return ASAP
Re: WWE: A Strong Response
---
Hey Nige, Raw looks great as usual. I know I owe you a review so I'll try and get a review for Raw up for you soon, probably Sunday.
Re: WWE: A Strong Response
---
D-K-L's Raw review:

The opening promo was good and the right way to start the show after last week. I think it can be quite hard writing promos for a face Triple H, but it seems like you can write some good promos with him. What he had to say was interesting, I loved the part when he talked directly to Mr McMahon at home, that was well written and realistic. Somebody was always going to get involved and it was Mr Kennedy. Kennedy was also in character although I didn't like the first part of what he said, although the rest was fine. The 'bullshit' line was great, It was a line that I could really see Kennedy saying IRL. Orton was next to come down and you seemed to have captured his character well too. I liked how Triple H started off the brawl too, that was well done. The brawl was a realistic thing to do and Y2J coming down to save the day was expected too, this was a great way to set up the tag match later on.

The Cade vs. Kendrick match was decent. I like having one half of a team against one half of the other team, they do that a lot IRL and it's a good way to build a rivalry for tag teams. I like how you mentioned that Kendrick has taken a beating throughout the match, that was realistic as he seems to take beatings IRL in every match. The action was exciting and well written, I think Cade could have possibly used his size as a bit more of an advantage though as there is big size difference there, but Kendrick using his speed to combat it is realistic. The ending was well done and I think it woudl come off well, although I was quite suprised to see Kendrick pick up the win, as it's normally the team without the tag titles who come out on top in singles matches to make a statement. I expect another title match between the two teams but Londrick will keep hold of the titles,it's good seeing them as the champs.

I'm liking Shane O'Mac as the acting GM, you can make some good little promos with Shane. It's funny seeing Shane and Kennedy together here as in my BTB they are arch enemies. Both seemed in character and I liked the 'failed rockstar' line from KK, Y2J will be getting a lot of those lines I think. The match between Kennedy and Y2J at SNME should be good, we should get a good, exciting wrestling match there. The Tag match being made was expected but it was good how it was announced.

I don't really know what you're planning with Layla and Shane but it seems there is a little romance angle between them. I think that Shane might be a little too proffessional and smart for this type of angle though, especially after the promo before. I quite like Layla and her attitude IRL so she should be a good addition to Raw, and hey, she's one of us Brit's after all Lol. It looks like you might have a Layla-Kelly feud in the works too but I can't say I'd be too interested in that after it happened IRL, just make sure it doesn't go the same way if you are planning it. I know Kelly is hot but it doesn't really matter in BTB does it really, hopefully she won't get too much of a push. Maybe Kelly and Layla will fight over Shane?

The Dreamer/Burke was a good match, I enjoy Burke's matches and Dreamer can put on a good match too. It was again well written but isn't the 'lifting spinning sitdown spinebuster' Tommy Dreamer's move? I thought it was. Anyway, the ending was good and it's great to see Burke get the win. I'm all for an Elijah Burke push as I'm a great fan of his, it looks like he might be getting one too. I thought it might be hard for him too on Raw.

The backstage seg between Carlito and Venis was good, it looks like your a fan of Carlito and giving him a push which I'm all for too. I don't know much about Eddie Colon but I've heard of him and I know he's Carlito's brother. These two could be good together and it'll be fun seeing Carlito with a sidekick, better than that Jesus guy from a few years a ago that he had. The line after the catfight between the brothers was funny. Is Burke with Layla then? Becuase I think that would be a good little team, they both have that good heel attitude.

The next match was pretty good and it has a bit of hype now after the backstage segemnt. But you know what type of match it is when Venis is involved, however you made a good job of making it as even as possible. BTW what is a 'spinning side suplex'? Is it like a scoop powerslam? It's not really that important. The ending was well written with Eduardo getting involved and Carlito cheating to win, It was good to see Carlito get the win.

The short promo from Santino was good and it got his point across. The '2YK Chris Jericho's' line was hilarious and made me chuckle, it's just the sort of thing he would say IRL.
Marella vs. Hardy was another good match. I was really interested to see who would win this match as Santino made it look like he would win with the pre-match promo. A DQ was probably a good way to end it as neither Santino or the champ look too weak. CM Punk coming down after was expected with their rivalry but it was great, Punk hitting Jeff with the chair was a great way for him to make a statement while gaining heat. What Punk said on the mike was great and this rivalry is really getting good. These two could put on a really good match so I can't wait for when they face off for the title, hopefully Punk will win as Hardy has had the title enough times. I'm loving CM Punk as a heel.

The Beth Phoenix interview was okay and a good way to build the rivalry between Phoenix and Victoria. Altough Todd Grisham seemed to question Phoenix a lot and I don't know if she would take that so easily IRL.

SNME should be good, are the matches going to be in full though? The WWE Title match and Y2J/Kennedy should be good, I'm also really looking forward to the U.S title match. I really hope MVP will win but I think Hardy will walk out the champ. It being a Cage match it should be really good.

The main event was great, another well written match with lots of excitement. I liked it being more detailed too. I always felt that the face team would win although both teams had their fair share of offence. The ending was well writen with all four superstars being involved. Triple H getting the victory was the right decision IMO as it keeps him looking strong in his rivalry with Orton. Their rivalry is picking up and their match at SNME should be good although I expect Orton to walk out still champion.

Overall:This was another great addition of Raw, I really enjoyed reading it. The storylines are building nicely, I'm really enjoying the Orton/HHH and Punk/Hardy rivalries. I also like how you are pushing mid-card talent like Elijah Burke, Carlito and possibly Marrella. Keep it up mate!
Re: WWE: A Strong Response
---
DH6's Raw Feedback

Liked how you started things off with Triple H, but his character could have been better, imo. His character just didn't feel like him, and I couldn't picture Triple H saying his lines that were there. Just to let you know, Mr. Kennedy's thing music isn't Wreckin' Ball. It's called Turn up the Trouble. Kennedy's character was great, and was a lot better than Triple H's. Disappointed that he hardly got any mic time before Orton came out, because you had Kennedy going perfectly. Don't know if being sarcastic is the best fit for Triple H, but it still worked pretty well, imo. Great for Jericho to come out since Kennedy and him have been having a rivalry (I think). If not, a Kennedy/Jericho rivalry would be pretty good.

I know this is a singles match, but I'll address them as teams. Love these two teams working together, because they both have contrasting styles, which makes the match that more unique. Don't think any of these teams are your tag champions, because I think you're tag champs are Cryme Tyme (correct me if I'm wrong please). If Cryme Tyme are your champions, I personally would have liked to see Cade/Murdoch win, but Londrick getting the win in the opening matchup really got the fans going, imo.

Good that Kennedy was angry after being attacked by Chris Jericho, but I figured both Orton and Kennedy would come in, and then the tag team match up would be made. I think it would have been better to do the part with Layla in a different segment, not the same one. Possibly a Shane/Layla relationship, but tbh, I can't see it happening.

Nice match here, what have prefered it as the opening match, but I guess you wanted a solid match as the opening match, which is understandable. Dreamer isn't doing anything lately, so having him job against somebody with as much potential as Elijah Burke was a good booking decision.

You're introducing Carlito's brother? That's an interesting booking decision, and I guess we'll have to wait and see what he does after managing Carlito. Didn't like how Kelly and Layla were fighting here. Would've been better if they fought in Shane's office, because having them appear twice backstage on one night was a bad booking decision, imo.

Like the Val Venis/Rhodes pairing you've got here. They can be that team that jobs to help other teams work up to the tag titles. I just hope these two don't wear gold, because that would basically ruin the tag team division, unless you build them up right. Not surprised that Carlito got the victory, and I'm hoping you give him a big push. I like how you have his brother here to manage him, as it could really pay off in the long run.

Hopefully a Santino/Maria breakup, because I've hated their relationship since day one. Interesting to see if Santino does turn on Maria somehow.

So Santino did leave Maria? Glad we got some clarification on that, and a well made booking decision, imo. Hoping Santino will job to Jeff, so that we can see a Jeff vs. Punk match in the future, followed up by a Jeff vs. Carlito match. The low blow was an alright finish, but Punk attacking Jeff might have been better, imo. Good that Punk did get involved in the aftermath, though, as I can really sense a Jeff vs. Punk match happening at SNME, with Jeff retaining.

Didn't really like how Beth was actually sincere towards Victoria. That's not like her; she would believe that it's too bad for Victoria and whatnot. Bad characterization (is that a word lolz). However, I could sense that you were trying to write her as sympathetic and like a Glamazon, so I'll give you props on that.

~Awesome SNME card so far. I'll be reviewing for sure.

Hyped up for this match, and it would certainly deliver in real life if it was written the way you wrote it. Glad that the face team got the victory, because it was probably the best booking decision you could go with. Also glad that Triple H got the victory over Kennedy, because it would make Orton look extremely weak if Triple H pinned him instead. Didn't think the attempted RKO after the match was necessary. If he was going to do it, you should've had Triple H hit him with the Pedigree as well.

Overall, I've seen better shows from you, but it was still a pretty good show. The whole 'Bastard Son' angle looks like it might interfere with Triple H's title match, but we'll have to wait and see. Jericho/Kennedy looks good, and Jeff/Punk is shaping up nicely. Keep up the great work!
Re: WWE: A Strong Response
---
Thanks for the reviews guys. DH, Londrick are my tag team champions, i don't have Cryme Time on the roster and it's good to see you appreciate the Punk heel turn
Re: WWE: A Strong Response
---
Nige, i am sorry, i didn't see that you had Raw up, my bad and seeing that i owe you a review, i must give you a review for your smackdown.
PWInsider.com
---
BREAKING NEWS
We have just learnt in the last few hours, that the WWE have agreed contracts with not just Chris Harris as expected, but they have also re-signed Kid Kash. We can also confirm that they are in talks with several other former stars and we have been told that Stonecold Steve Austin, John Cena, Trish Stratus and Sunny will be at the Raw 15th Anniversary show in two weeks time.



Posting Rules

You may not post new threads

You may not post replies

You may not post attachments

You may not edit your posts

---

HTML code is Off

---