Re: WWE: A Strong Response
---
Alim's Survivor Series Review

Well, once again, I'm sorry for not reviewing your Cyber Sunday pay-per-view, but I was really caught up. I'm back, and I'm here to review your Survivor Series pay-per-view which looks extremely solid like I have said before. You already know I had an almost 2 month hiatus from BTB, so I really couldn't follow your thread from a little before Cyber Sunday until now. With that being said, forgive me if I get some of the things wrong, and don't hesitate to correct me afterwards.

Alright, first thing's first, the opening video package for the pay-per-view. Now I see this being very necessary, because I'm a video package whore :P. I found this a little to one sided if you know what I mean. In the video package you only had clips and captions of only two storylines, when you could have had more. You could have had some for the WHC match, IC title match, CW title match, there's a lot you could have put in there. So I kind of found the video package sloppy, sorry.

What a match to start off the show! Seriously, this match was so fun to read, it had all the moves that gets the crowd fired up, and I even noticed you had London do a 450, but sadly he missed. The nearfalls in this match really got me going too, because as I'm reading, I see "1..... 2..... NO!" there were just so many, damn. I think you also did a really, really good job of getting everyone the same amount of time in the ring and to showcase their skills, but I would have liked to see a bit more of Dreamer and Richards, but they got eliminated early on. I kept seeing the Cyclone DDT though, I must have seen it 3 times I think, that move was a bit overused. Great match to kick off the show. ***1/4

Great promo with Stephanie and Shane. You have really improved on your promos ever since you've started this new thread, and that was also evident on the Smackdown before this show. I'm still not entirely familiar with this storyline, but by the looks of it, you have Vince not accepting Triple H into his family, so you got some real life stuff going on there too, I have never seen that before in a BTB, which is great. I'm guessing Hornswoggle is not Vince's son, thank god lol. I was surprised that you had Stephanie tell Shane who the son was, I was sure she would have kept it a secret for a little while longer.

Lashley returning is great. Will add some even more star power to Raw.

I like the fact that you always have atleast one stable going on in your thread. In your last thread you had the whole Ric Flair/Johnny Jeter/CM Punk thing going on, and in this thread you have the unique UK Pack. I would have actually thought this guys were heel, but they turned out to be face after I noticed that they got a pop when they came out. Exciting moves in this match too, such as the moonsault, shooting star press, etc. The heels getting the win was surprising, because I thought the UK Pack would win their pay-per-view debuts, I guess not. **1/2

Nice to see your using video packages wisely. I mark for video packages. 15th Anniversery show was expected, but I still find it early when it should really be in January.

This is like a dream feud at the moment for the WWE divas, I'm glad you have it in your thread. Thank you for writing your matches in full, because it really adds to the pay-per-view and I find it more exciting to read full matches on pay-per-view then recapped ones like you've always been doing, and I'm pretty sure I'm not the only one. You made this match exciting too, many nearfalls again and lots of moves that you wouldn't expect seeing. I think you kind of made Beth look a little weak with the finish though, you just had her pick up the scraps from Victoria when she could have done it herself. Still pretty solid though. **3/4

Regal and Edge promo was pretty good, there really isn't anything I'd fix about it, it was pretty straight forward and got the point out pretty clearly. Miz and Morrison not being able to interfere doesn't matter imo, I still think Edge will pick up the win some how.

Without a doubt this feud between Vince/Triple H is the top feud in your thread right now. This interview had solid written all over it. Triple H was completely in character, and I could picture him perfectly by reading the interview. I expect a really bloody battle between the two.

The Cruiserweight title match was definatly Match of the Night so far, by far. Really enjoyed this match because of all the action going on. You showcased the lost Cruiserweight Division extremely well. All of the guys got to showcase themselves like you've been doing for the other 3 matches too. I was actally surprised to see Sydal go all the way to the end, I thought it was going to be Chavo vs. Jimmy Wang Yang to be honest. Despite Sydal losing, he still made a good showing since he lasted all the way to the end. Wouldn't be shocked to see him get a push towards the CW title. ***3/4

Really heated promo with Shane and Vince. The tension is really building up, big time, and the fact that you had Vince say he doesn't need anyone anymore hit the spot right there. I see the illegitimate siding with Vince some how, but man, this is definitly my favorite storyline in this thread. It's so heated, I love it. When you had Kennedy say 'Good to see you sir,' I knew you were foreshadowing something...

Another great match dude, but I still think the CW title match was a tad bit better. I really didn't see Jeff Hardy retaining the gold, but I guess you had to do it because of this next feud which I see coming... Punk vs. Hardy. I'm extremely glad that it won't be a face vs. face feud, if the feud even happens, which I'm sure it will. Punk is an amazing heel, and I can see you taking him to great heights. ***

A confrontation between the WWE Champion and the World Heavyweight Champion... interesting to say the least. It was nice to see you brought up the past about how Batista and Triple H screwed over Orton a few years back, but it's kind of getting old now. We see that a lot nowadays. Something tells me that this isn't going to be their final confronation for the time being.

As expected, a bloody brawl between Vince and Triple H. I knew it was going to be a traditional street fight with nothing too intense such as diving off ladders. It was a good match though. You used Vince very well by using the heel tactics such as running away at the start of the match. I was glad there wasn't any interference either, it just added more to the match. Fun match. ***1/4

Another intense promo, which was solid. HBK seemed in character throughout, and I agree he has bitten off more then he can chew, but hell, he's the Heart Break Kid! Him superkicking Josh Matthews was very unexpected, but it added more heat to the match later on.

NOOOOOOOOOOOOOOOOOOO! BATISTA RETAINED! I wanted Edge to win lol. I didn't think Umaga would win at all, and you didn't have him get pinned either, which was a right move to make so you could keep Umaga as that dominate monster, unlike what WWE is doing right now with him.. This was a solid match, but I still think the CW title match is MOTN so far. ***1/2

Saturday Night's Main Event should be good, and after taking a look at the poster, it looks like Batista, Randy Orton, and Triple H will have some big parts on the show.

Excellent main event. My second favorite storyline in this thread, and it was a great way to end the show. There was so much action, but it all flowed together greatly. The eliminations were all at the right time imo, and it was good to see Orton the soul survivor, but it doesn't make HBK look weak because he put up a great effort. I'm also surprised Undertaker got eliminated by Orton, I would've thought he'd get out via DQ or something, but that's what's so good about this thread, the surprise factor. I liked HBK using the Sharpshooter too :P. Excellent main event man. ****1/4

Overall, an amazing show. All matches were top class with tons of action and emotion. I'm really glad you wrote this pay-per-view in full because I could enjoy it to its full potential. You've improved immensly, especially your promos. I hope you continue to write your pay-per-views in full. Overall, I give this show ****. Good job.
---
THERE IS ONLY ONE DIAMOND IN THE BUSINESS AND HIS NAME IS TITUS O'NEIL
Tag Teaming With James Ellsworth
Join Date: Apr 2005
Posts: 1,710
Points: 0
Re: WWE: A Strong Response
---
Survivor Series Review:

I must admit that the last month's (thread time) storylines got me interested in this thread, especially the Triple H/Mr. McMahon feud.

Opening Video: Great opening video to highlight the matches for the PPV. This should be a great PPV, due to the great hype and build up that it has recieved from Raw and Smackdown.

World Tag Team Championship-Elimination Match:

Decent match to start the show off with. Since you didn't announce who was eliminated, it was kind of diffcult to see who was still in the match. Glad to see that Londrick are the new champions. ***

Shane/Stephanie Promo: Great promo to put over the upcoming street fight. The street fight should be one of the Matches of the Night.

Six Man Tag Match:

Not surprisingly this match is on early in the PPV. WGTT and Masters getting the win, was not a surprise, as they were the better team, IMO. The stars of the match however where Hass and Benjamin. ***

Women's Championship:

With the three divas involved in this match, I'm surprised that the match was kept short. However, all three divas were booked extremely well in the match. I thought Victoria might win the title, but it's Beth who retains the championship in a great match. **1/2

Edge/Regal Promo: Short promo, that basically puts Edge at a disadvantage in the match. However I have a feeling that Edge might still become the World Champion, by the end of the show.

Triple H's Promo: Promo of the night so far. This feud has been booked so well, unlike any other feud I've seen in BTB in quite some time. I'm sure that the Street Fight match will be a classic.

Cruiserweight Championship:

Excellent match man! I thought that Jeter would win the match, but it was not to be. While some of the eliminations were done in a quick fashion, the match never slowed down, which it shouldn't do, since a bunch of Cruiserweights in the match. As the match continued, it became clear however, that Kenny would be winning the match. As expected Kenny wins the match, and is the new Cruiserweight Champion. ***.5

Shane/Vince Promo: Strong promo here to continue this excellent feud between Hunter and Vince. This promo was almost flawless, as it really put over the huge match.

Intercontinental Championship:

Not surprised about the first two to go, as that was kind of expected. However the match was able to pick up during the middle part of the match. I thought that the match ended though when there was just one survivor, regardless if one team has been eliminated. Hardy and Punk wins, and Punk makes the match decision more understandable, by hitting the GTS on Hardy after the match. Jeff vs. Punk for the IC title, will be gold! Good match. ***1/4

Orton/Batista Promo: Nice to see that the history between the two is discussed in this promo. The attack from Miz and Morrison to Batista was well booked. However with that said, now it looks like Batista will be retaining his World Heavyweight Championship.

Street Fight:

Now this was a fight! Despite the fact that the match was kind of short, the match was excellently written from the beginning to the end. Though the ending of the match was a bit unrealistic, the match was great in its storytelling of the feud. Great match, and no surprise that Triple H wins the match. ***.75

Michaels Promo: Michaels really puts over the feud, and the upcoming Elimination Match. As much as I want Michaels to win, I have a feeling that Orton's team will be winning the match.

World Heavyweight Championship:

I must say that Umaga up to the end of the match was booked real well. Edge was booked greatly as well. However the finish kind of brought down the match. Umaga should have taken more than the spinebuster, before rolling out of the ring. That kind of took away the strong booking he had in this match. As far as Batista retaining his title, it was kind of obvious that it was going to happen, following the earlier attack to him from Miz and Morrison. ***.75

SNME is returning soon, as well as the upcoming 15th Anniversary Raw Episode. Both shows should be excellent, IMO.

Main Event Traditional Elimination Match:

Excellent match to end the show. I'm not surprised that Orton won the match, as he needed to win the match. However the way Orton was booked in this match, was genius, and goes right with his legacy at the Survivor Series. Excellent booking of Orton, for an excellent match! ****

Overall Comments: I know this is only the second PPV that you've written in full. With that said despite some of the matches, ending too quickly, the show was still great. The Matches of the Night, IMO, were the World Heavyweight Championship, the Street Fight, and the Main Event Elimination Match. Once again, great PPV, and looking forward to the next Raw and Smackdown, in this thread! Overall Score: 80/100 = B!
Re: WWE: A Strong Response
---
Nige. great show my man. I am nearly done reading it. I was going to post the first half of my review now and finish it off at home when I get back from college, but I've decided to just post it all in full when I'm done
EDIT:

Nige's Survivor Series PPV Review

First of all, I liked the opening video package. As Alim said in his review video packages are somewhat of a necessity. Reading what I have missed in the main feuds was good. I also liked that you didn't highlight all of the feuds because it would have been too crammed imo. The ones you did highlight were good. I still think you should have made the cideo bigger, as in wrote it out in full, but meh video packages aren't that much of a necessity lol. Good job with this.

The opening match was a good one to choose. It was fun to read because it was a very fast paced match. It was the perfect opener because it would have got the crowd riled up for the rest of the show. Everyone got a good amount of in ring time to showcase their skills, so this was a plus. You had a good choice of winners too because London and Kendrick were by far the best team in the match, or at least in my opinion.

The promo next was clearly written and furthered this feud even more. I like how you use your imagination Nige. Having Michaels be the one behind the messages instead of Jericho, and having Hornswoggle turn out not to be the son. The promo was a shock but it was a good shock man.

Finally Lashley is returning. I really like Lashley so I hope for big things for him. I think this is a great time to bring him back too.

Yeah The UK Pack are good. I'm just not a fan of stables. I just find it hard to deal with. This does not take away the good booking your doing, I just find it hard. I thought the UK Pack would have won too. I wonder where they go from here.

The 15th anniversary show is looking pretty good. I think it will be one of the best shows you write.

Beth retaining the championship was a good call. The match was the right length for my liking because I don't really like to read long massive matches, especially diva matches. You made each woman look string though.

Well thought out promo here with Edge and Regal. You have booked all of these matches to be really exciting and this is why I like your thread. It looks like Edge is not winning later. I actually didn't think he would win anyway.

Again another nice promo. Triple H was well written in character. It certainly makes this match look brilliant. It has been booked superbly lately and this is the match I am most looking forward to tonight. The reason it was such a good feud and build-up is because it's personal.

Nice to see things shaken up a bit with new champions Nige. Kenny is my pick too. I really hope that you build him up well and eventually move him up to the United States Championship, and then maybe the World Title Scene
Meh I can dream reet? The match itself was a gooden because you kept things going at a plausible pace, thus making it as exciting as it possibly could be.

Just more hype for the Street Fight. Brilliant hype I might add though


The Intercontinental Championship match had a match of the night tag imo. I don't like the fact that most of these matches tonight are traditional survivor series. I know that's what you went out to do, but that's just my personal opinion. Good match, great action and a fantastic finish.

Triple H winning the street fight was predictable, although it was brilliant. The match was a pure out brawl, which is what it is supposed to be. Ending was a bit iffy but other than that an excellent read. This is my match of the night simply because I love gimmick matches that have lots of action inJ

Batista winning I didn't see. I actually did think Umaga would have won the match. Everyone was booked each in their unique way which I liked. Umaga was booked the strongest imo and that was a good call. That's what made me think he would win. The match was good to read. A bit slow at parts but good enough for my liking.

Saturday Nights main event returning too. In my honest opinion this is a bad move, with the 15th anniversary show coming up. However two more shows to read isn't a bad thing.

A brilliant main event for a brilliant PPV mate. I really liked seeing Randy Orton win the match. As usual you booked everyone superbly, and like Kid O Mac stated, Orton was booked so well for his character, and for his tradition at this PPV. A great mix of talent and styles for the main event and it ended a brilliant show.

Overall for the most part, this show was brilliant. I disagree bringing back Saturday Nights Main Event, near another special show, but I'm sure you can do some good things with them both. The matches were well written, and you really are showing how much you can improve man. Good writing and it was a joy to read
---
Last edited by Mr. Kanefan; 01-21-2008 at

11:31 AM

.
Re: WWE: A Strong Response
---
I just wrote my whole FUCKING review out and for some damn reason my Internet Explorer shut down. I swear on my life I was just about to post the damn thing but it fucked up, all I have is this saved:
Bradley's Survivor Series Review:
Condensed because I am Ill
A good opening video package to start off, good to see that you didn't pack it with every feud you have under the sun but no Smackdown World Title video package was a letdown. Nice banter between the two sets of announcers introducing the matches, I always found you to be good at writing these types of dialogue.
This first match should be very interesting, I am a little worried you will pack too many things in to a short space of time as it is elimination but the vast array of styles should make this a very interesting fight indeed. After a predictably slower start with Cade and Richards (I would have chosen these two to start to make the rest seem better) it picks up. I didn't like Richards completely dominating the champion, I am pretty sure Cade is something like 6'5 as well but it is nice to see someone push Stevie once in a while. Shame to see no Londrick in the opening but you made a good job of a nice back and forth encounter so far and the physicality in the match is immense. Shame to see Stevie and Dreamer go first, I wouldn't have liked seen them go this early because basically it killed all of their momentum, even if it was with slightly underhand tactics. OUCH at London missing the 450 splash, that one must have hurt a hell of a lot. I don't remember ever seen Domino go for the Cobra Clutch but it was probably the best move to use in the circumstances to wear down London after that massive move and to stop him from getting an advantage. Nice paragraph explaining the submission and the escape btw. DAMN London and Kendrick were really working as a team to eliminate Deuce and Domino. A back flip dropkick was a nice PPV-type move and a high impact ending made it all the sweeter. This is what is HAD to come down to, the fan favourites against the champions, good move. A great story emerging with the champions trying to wear down Londrick with pure strength and then Londrick try to battle out of it. A few good moves in the outset especially with the enzugiri, a great way to get a big man down. Now, the ending, don't quote me on this but I am not sure if London can hit Cade in the face with a boot, unless it was from the top rope. An awesome ending to an awesome match, if this is a predecessor for what is to come then I think I may wet myself. (Note: Is Goodnight Nurse a Northern word for something? :P
Interesting McMahon promo now. Stephanie looks up to something dubious. It's all getting a bit emotional, I would have liked an appearance from Hornswoggle to add to the emotion. I strongly sense a Shane turn, how bloody awesome that will be. Shane vs. Hunter at the Rumble plz.
Lashley coming back should be pure awesomeness, I wonder where he will fit in though? A feud against Burke wouldn't go amiss.
A very interesting match here, a very unique faction you have in the UK Pack, they are being pushed straight in to the big time which is good. You really showcased your writing skills here, a lot of action in the first half. I don't know in depth everyone in the UK Pack but the moves they used were good. A Bulldog Bomb not getting the three count was criminal but you gave Haas some heel heat there. I like that move, is it his Smith's finisher? It gets very technical later on which I am liking, I didn't see Masters being in a team like this, he seemed to get upstaged during the whole match as well. My favourite part was when Smith basically broke free of the Masterlock which was a good move. It was a shame the UK Pack lost on their PPV DEBUT but it wasn't exactly clean. They put up a great fight and it was a good match, one for the future I think!
There has to be a WWE title match in the 15th anniversary show, or at least a return from Cena.
Women's triple threat matches are fun to write.
Anyway a nice with Mickie going kamikaze on Beth, Mickie looked very weak in the opening basically getting brushed aside like that so that wasn't exactly uplifting. I don't think we need every move that isn't a punch in capital letters, I don't mind it but it isn't neccessary. Victoria is looking insanely strong, easily getting the upper hand on both of her opponents, she should get a strong push. You definitely made this match PPV-worthy with moves like the moonsault and the enzuguri so it all had a big time feel to it. Surprised Mickie didn't get a real chance to mount much offense, nice use of a DDT cutting Beth's momentum short. The ending was perfectly written, it played out a little bit like mine at Vengeance with a reversed finisher and a complete robbery of a win. Beth was made to look powerful at the end (wo)manhandling Victoria. Shame Mickie was underused compared to the other two but still a worthy match for the women's title.
A slight spelling error at the beginning of Regal's promo but I'll let it slide. Regal was definitely in character sounding all snooty. Nice to see Edge go in to one of his rambling psycho states and I don't think Edge will take the win now which is good.
This HHH promo was a real mixed bag. He should have been a hell of a lot more intense, he kept slipping in to DX mode which I didn't like, especially for this type of intense rivalry. It gets a hell of a lot better towards the end and it reminds me of (I think) the promo HHH had 2 weeks ago on your RAW, very emotional and got the point across very well. Recap: Bad first half, great second (much like Blackburn)
You know that I have been looking forward to this match all night because your match on RAW last week was so damn awesome. A very pacey start which sets the tone for the match really, how you keep it from being a massive clusterfuck I'll never know as there were bits that seemed hectic but were never jumbled up or unclear. Striker as a whipping boy makes no sense after splitting from BDV as he needs a good singles push. He didn't perform to badly and although he went first you did cite a good reason for it (fatigue) so that was fine. I wouldn't have put out the shooting star press so early in the match either. You pulled out pretty much every move in the book which was a great thing because, like with the women's match, it feels like a PPV standard match. Kenny should have covered Jeter as it makes more sense as he doesn't want to be upstaged by his former Spirit Squad teammate. Sydal is on fire, a standing shooting star press is a damn awesome move and you made Kenny look strong by kicking out of it. I loved the part where Chavo was eliminated, he thought he had the chance to eliminate Yang because he missed the missile dropkick but he was too arrogant and was made to pay, good job there. Yang is definitely a great prospect and you are using that to your advantage, surprised Yang recovered from Noble's series of moves and was the Hurricanrana a pinning combination or was it just the straight move. Because it seemed a little weak to be eliminated like that. The old leg drop from Kenny, I remember the last one he did on PPV in your old thread, off the ladder... awesome moment that was. Sydal was never going to recover after missing the 450, a very big move indeed. Sydal has so many awesome moves it's unbelievable, I'll never know why Sydal didn't pin Kenny after the Cyclorama but it was a good match and Sydal vs. Kenny would be an awesome feud if this match is anything to go by. One of the CW matches of 2007/08? You bet it is.
My other comments were something like I didn't like Santino getting eliminated early and nice Punk heel turn, shame he couldn't do it in the actual match. Vince/Hunter was a fantastic, brutal fight and it truly signified a battle and when HHH didn't go for the pin at the end it showed he wanted to seriously hurt him. The WHC match was entertaining because of the varying styles and I liked how you made Umaga look strong, despite not looking like winning. I REALLY liked the main event, a lot of action, Orton/Michaels opening and ending were my favourite bits and I rated it 9.5/10. I may add the rest of the review in at a later date but right now I don't have the time and I feel too pissed off. This is three times now in as many months this has happened! Again, really sorry.
---
Tag Teaming With James Ellsworth
Join Date: Mar 2005
Posts: 1,214
Points: 0
Re: WWE: A Strong Response
---
WWE Survivor Series review
Tag Title elimination match:
Great choice of match to open the show, and would really get the crowd into the show. Was slightly surprised that Richards and Dreamer were the first team out, as you have given them a small push over the last few weeks. Not too surprised at Deuce and Domino's elimination leaving The Hooligans and Cade and Murdoch. A lot of great action between those two teams and wasn't 100% sure on who would win the match. Sliced Bread and it's over. Would of liked to of seen London get the pinfall since Kendrick got both of the pinfalls, but otherwise was a good match to kick things off. ***
Interesting segment here, dragged on a bit too much for my liking however. It is going to be interesting to see who Vince's illegitimate son is. I would think Kennedy, but yet again that's a bit too obvious so there might be a chance it might be someone else.
Bobby Lashley? Who's Bobby Lashley? So forgettable..
Six Man Tag
Six-man tag was a pretty decent match but I however think there was some unrealistic moments like the Angle Slam and the Moonsault by Charlie Haas. A lot of near falls in this match kept the match entertaining. Harry Smith looked very good in the match blocking the Masterlock and coming close with the Running Powerslam. The match picked up a lot when Drew McIntyre came in and I had a feeling that the UK stable would get the win. But my prediction before the match was right as the UK lot had a lot of momentum going into the match. Decent ending to the match with some nice heelish tactics by Benjamin. I expect the UK lot to get a win back in the future. **3/4
Womens Title Match
This is pretty much the best Womens match the WWE could give us, and good to see that you have utilised this match quickly. With the three workers that were in this match, I was actually surprised to be interested in reading this match lol. It was another action packed match, haven't seen a match go really slow yet. No surprises about Beth being the victory, but the ending keeps Victoria looking strong as it was her finisher which did the job **3/4
Meh promo here, got the main purpose across though. Slight spelling error at the start of the promo was the only minor problem. Good to see that there will be no interference during the match, but I somehow expect to see Miz and Morrison get involved somehow.
Triple H interview was very solid, did think however that the promo should of seen Triple H more intense than as a comedian.
Cruiserweight Match
Just got to say now that it would have been better, if you had announced who had been eliminated in each match. Anyway the match itself was great and so far is definitely Match of the Night. Was another very enjoyable match, as It was yet again non-stop action. Wasn't so keen on Matt Stryker getting eliminated first, as he has the mic skills to become a good champion instead of a jobber but whatever. Was also very surprised to see Jeter and especially Chavo eliminated as early as they were. The final two is Dykstra and Sydal and Dykstra is the Champ! Big shock for me here as I didn't see Dykstra winning it over some of the other superstars, and I also see Dykstra as more of a United States Title contender than Cruiserweight. ***3/4
Another interesting McMahon segment, but hopefully this will be the last one. Was very interesting to see Shane not tell his dad who his son was, and the ending suggests that Kennedy will be the son. But I think that's a bit too obvious, it would be better if it was a surprise like Chris Jericho. I wonder what brilliant booker used that idea?
Intercontinental Match
Like the last match was an entertaining match, but wasn't as keen on this match as the Cruisrweight match. The match didn't really pick up till halfway through the match. I was very disappointed to see Elijah eliminated, but you did do a good job of making him look very strong through out. I was a little confused by the ending as I though that Punk and Hardy would then wrestle since they were the only two left, but noticed that it was the last fall to win the title. Not a big fan of that as I would have liked of seen Punk and Hardy wrestle. But the aftermath makes up for it, and it is great to see Punk turn heel in a thread, and a Punk/Hardy feud will be very entertaining. ***
Orton/Batista promo was very good and both men sounded in character throughout. I liked how Edge used Orton to set up Batista for the attack, but I have a feeling now that Batista might retain the title.
Street Fight
With the buildup to this match I was looking forward to this match. And it was a very well written intense match between the two, and even though it was a little short was still a good match. It was good to see that it wasn't completely a squash and Vince got some offence in without someone coming down to help him. I had a feeling that Vince's son was going to come down to make the save and help Vince win. I liked Vince going to finish off Triple H with the pedigree only to be back body dropped. Good to see Triple H a good clean dominating victory over McMahon, as there was no way McMahon could beat him without any interference. Wasn't the best streetfight, but was fun for what it was worth ***1/2
Another solid promo here, HBK seemed to be in character throughout. Liked HBK hitting the Sweet Chin Music on Matthews, as it shows HBK's intensity going into the match.
World Title
Was a little surprised actually to see this was not the main event, as I rank a World Title match over a Survivor Series match, but seeing as though there is a World Champion in the other match I can understand why. Liked the way you used Umaga throughout, as he looked like a Bad Ass in the middle of the match and was actually hoping he would win, even though I knew he wouldn't. I had a feeling that Edge was going to win the match after the Spear on Umaga, so was very surprised to see him kick out. Was a shame to see Batista retain the title, I wasn't so keen on the ending with Batista hitting the Batista Bomb straight after the Edgecution and would of liked to see him atleast hit the Spinebuster beforehand. This was a great match and I will rate It the same as the Cruiserweight match which I would still rank MOTN so far. ***3/4
Main Event
MOTN by bar for me, was an excellent well written match. Was a lot of action to follow and a lot of superstars to use in the ring in 25 or so minutes and you did a very good job of spreading the action. All the eliminations were pretty much as I expected them to go leaving Orton and HBK. Was great to see HBK using the Sharpshooter ten years after Survivor Series 97. HOLY COW at Orton winning the match. Was very surprised to see HBK lose the match as you made him look like Orton's bitch on Raw (Or Smackdown?) and now for him to lose to Orton basically removes a lot of creditability he had. Would of preffered HBK to win the match to add heat to the feud leading to a future HBK/Orton match, but is nice to see a surprise thrown every now and again. ****1/4
Overall was a great show, and was much better that you wrote the matches in full rather than just a long recap of the ending. All matches were very action packed and enjoyable, some decisions I wasn't so sure on but overall a good PPV especially the second half of the PPV. I still think though that you could better this PPV in the future. Overall the grade I would give it is a B just under a B+
Re: WWE: A Strong Response
---
I've got to say thanks to everyone who reviewed the Survivor Series, all 12 of you. Man, that's awesome and i really do appreciate all your comments and feedback. All the reviews you know will be returned if they haven't already

There are some questions i need to answer or respond to some comments

It was my first full pay-per-view and i knew that the matches were a little shorter, and by doing this first show now it will help me develop longer matches for the Royal Rumble and Wrestlemania

Saturday Night's Main Event replaces Armageddon as for those of you who missed my backstory when i started this thread, i'm only doing the big four shows plus the King of the Ring and having three meaningful SNME's

Batista retaining Edge was always going to receive some interesting comments. Hell i hate Batista IRL and i like Edge, but my head seems to be giving mixed messages

Bradley, loving the Blackburn comments about a good second half!! The Raw Anniversary will be big, as for a WWE Championship match or a Cena return, you well get one and not the other, but you will be getting an awesome main event, trust me!

The Punk heel turn was always going to be a shock as i think only person said before the show that a Punk turn would be cool. I thought that would be a big move and after thinking how good a Jeff/Punk feud could be, i had to turn Punk

Orton winning was was always going to be the case since he is the WWE Champion and was a way of making him look stronger. I can see why you thought Michaels looked a little weak kane01, but i don't think i would have changed too much about what i did in the build up

I have to end with the McMahon/Triple H storyline as the Kennedy tease was always going to happen. Whether or not i do reveal Kennedy as the son is something you'll have to wait and see on, but a lot of you said, you know what i'm like for the surprises

Thanks again everyone!
WWE.com - Televison - Raw Preview
---
RAW Preview
19th November 2007

OnCenter
Syracuse, New York





SURVIVOR SURVIVES FALL OUT!



ORTON SURVIVES AGAIN!
Randy Orton's incredible record at the Survivor Series continued last night as he was the last man standing against Team HBK to become the sole survivor in four of the five elimination matches he has been in at the event. The WWE Champion has been on a role since winning the title at No Mercy and after overcoming the odds of 3 to 1 when Mr. Kennedy was eliminated, he was somehow able to defeat Chris Jericho, The Undertaker and Shawn Michaels to cement his status as the WWE Champion. With that said, Orton is bound to be in good spirits when Raw comes to Syracuse tonight.

THE KING OVERCOMES THE BOSS – BUT WHO'S McMAHON JR?
In what was the most personal match up last night, Mr. McMahon fell foul of his son-in-law, Triple H in one of the bloodiest street fight's ever seen. Giving as good as he got for the most part, Mr. McMahon eventually fell at the feet of The Game before being taken to a local medical facility close by in New Jersey. We learnt earlier today that he is still there, but it is just precautionary, meaning that the Chairman of the Board will not be on hand tonight.

But after the bombshell dropped last week by Triple H, just who is Mr. McMahon's son? The Game admitted to his father-in-law that he and Stephanie had approached the mother of the illegitimate child and her attorney before Hornswoggle was announced as the newest addition of the McMahon family. Only Triple H and Stephanie had agreed a deal with both the attorney and mother for them to make out that the little guy was the son when he wasn't. So now we know the truth, it appears that we have to wait and see to find out who actually is Mr. McMahon Jr. Just how long will we have to wait?

GETTING PERSONAL!
It appears that a situation could be developing between two of Raw's biggest ego's. Last night in the main event, Mr. Kennedy found himself being eliminated as he collected a chair and smashed it across Jericho's skull. However, that chair shot resulted in Jericho being eliminated from the match as Randy Orton took full advantage of Kennedy's ruthlessness. Neither man is likely to forget last night's actions when they walk into the OnCenter in New York.

JEFF RETAINS BUT PAYS THE PRICE
In what was always going to be an incredible and competitive match, Jeff Hardy was able to retain his Intercontinental Championship, eliminating Elijah Burke to finish off the match. However, there were consequences for the rainbow haired warrior as CM Punk was also a survivor in the match up, but was a victim of a blind tag from Jeff who finished the match while Punk was recovering on the outside. Just as Jeff started celebrating, it appeared that Punk entered the ring to congratulate his partner, but that wasn't the case as we soon found out when Punk hit Jeff with the GTS. Just why did Punk do this? The straight edge superstar will be in action tonight, and maybe we'll find out what's going through his mind.

WE HAVE NEW TAG TEAM CHAMPIONS
Lance Cade and Trevor Murdoch's reign title reign finally came to an end last night as they were unable to cheat their way to victory. Up against three other teams, The Redneck Wrecking Crew managed to survive until the end when the fell just short as Paul London and Brian Kendrick stunned the champions as they took the titles away from Texas. Tonight the two teams will meet in a six person tag team match, just what kind of response will we get from the new and former champions?

CHAMPION STEALS ONE
Beth Phoenix last night met her toughest challenge to date as Womens Champions as she had her back against the wall against both Mickie James and Victoria. Both were gunning for The Glamazon and her title, but they both fell short as Phoenix took full advantage of a Widow's Peak on Mickie James by throwing Victoria to the outside straight away and then covered Mickie to retain her title. And tonight she will team up with The Redneck Wrecking Crew to take on the new World Tag Team Champions and Mickie James. Will The Glamazon's luck carry on tonight?


CONFIRMED FOR RAW THIS WEEK

Cody Rhodes vs. Carlito

Paul London, Brian Kendrick & Mickie James vs. Lance Cade, Trevor Murdoch & Beth Phoenix

PLUS

Chris Jericho & CM Punk in action



Re: WWE: A Strong Response
---
RAW Results
19th November 2007

OnCenter
Syracuse, New York





***VIDEO PROMO***
A recap from the Survivor Series

• Triple H defeating Mr. McMahon in the Streetfight
• Randy Orton overcoming the 3 on 1 odds to win the elimination match


***OPENING CREDITS***
"Wanna Be Loved"

***PYRO***
***PYRO***
***PYRO***
***PYRO***
***PYRO***

***No time for introductions***

"Burn in my Light" blasts out and a very smug looking Randy Orton walks down to the ring in jeans and a shirt with the WWE Championship over his shoulder

***HEAT***

Randy Orton: You people should be ashamed of yourselves. You should show me the respect I deserve as the WWE Champion

***HEAT***

Randy Orton: With all the crap this city has to offer, it's about time it had a winner, and tonight you've got one right in front of your very eyes, in the legend killer, the WWE Champion, Randy Orton

***HEAT***

Randy Orton: You all need to shut up, get some respect and listen to what the hell I have to say. But then again, it's no secret that New Yorkers live up their own ass than to show real winners any kind of respect

***HEAT***

Randy Orton: Yeah, I thought that might get the response I wanted, but you have to sit back and understand just what happened last night. . . See last night at the Survivor Series, I eclipsed all other achievements ever set, even ones set by myself. . . Over the course of five years, I Randy Orton have left the Survivor Series as the sole survivor. Four years, you hear that? Four times I've walked out to this ring and out lasted every other superstar that is put in front of me. And one by one I knock them out of the park, just like every team playing against the Yankees

***HEAT***

Randy Orton: Whether you like it or not, it doesn't matter because it's the truth. One by one I took apart three former World Champions, beating every single one of them in the middle of the damn ring. It didn't matter how hard they tried, how close they came, the only thing that matters is that only one person was left standing at the end of the night, and that was me!

***HEAT***

Randy Orton: There's no need to get upset, it's just natural. But then again you people probably wouldn't understand the concept of what I call progression. See last night I didn't just beat three former World Champions one after another against the odds, I put the legacy of Shawn Michaels and The Undertaker firmly in the past, just where it should be. And as far as Chris Jericho goes, he just found himself in the wrong place at the wrong time with the wrong person. It was a performance that I would call legendary, a champion's performance if you will. I put on a performance that no one else in the WWE could, I survived the best that this company has to offer and proved to everyone, even you ungrateful morons that I am without a shadow of a doubt, the greatest superstar ever to have graced this ring. .

***MAJOR HEAT***

"Here Comes the Money" hits as Shane McMahon walks out to the ramp with a microphone in hand

***POP***

Randy Orton: With all due respect Shane, I'm kind of in the middle. . .

Shane McMahon: . . . And Randy, that's as far as you're gonna get, because someone had to come out here and stop you from forcing these people to stand up and walk out of the arena

***POP***

Randy Orton: Look, these people need to hear what. . .

Shane McMahon: . . . These people need you to shut up, just like I need you to shut up as I have something to say. . . Yeah Randy, last night you showed us all just how talented you are and that you are a deserving WWE Champion. But the fact of the matter is you weren't the only person who put on a performance of a champion last night. . . See, Jeff Hardy was actually defending his Intercontinental Championship in an elimination match, and ended up leaving with the title intact

***POP***

Randy Orton: Shane, there's a real big difference between who Jeff Hardy beat and who I beat last night

Shane McMahon: Randy, you're absolutely right, but then again you were talking earlier about something called progression and that sounds a lot to me like how Jeff Hardy is performing right now. . . And tonight Randy, you thought you would come out here and tell us all how great you are, put your feet up and then go home. . . But I have an ever so small problem with that Randy in the fact that as being the acting general manager of Raw, that doesn't really set well with what I have in store for these people tonight

***POP***

Shane McMahon: So tonight Randy, right here in that very ring, you will be going one on one. . . with Jeff Hardy

***MASSIVE POP***

Shane McMahon: We can call it a match of champions if you will

Randy Orton: You're not serious? Shane, I went through hell to win that. . .

Shane McMahon: . . . Randy, I'm deadly serious. Tonight you will face Jeff Hardy, but that's not it. . . See in just four weeks time, Saturday Night's Main Event makes its return, and what kind of a return would it be without the greatest ever superstar to have graced that ring?

***POP***

Randy Orton: What the hell are you trying to say?

Shane McMahon: What I'm trying to say is, that in under four weeks time, you will be defending your WWE Championship against another former champion, only one you didn't beat last night

***POP***

Shane McMahon: You will be defending the WWE Championship against not just a former World Champion, but an eleven time World Champion, the man who last night bled buckets and gave it his all against my own father in a streetfight

***HUGE POP***

Shane McMahon: At Saturday Nights Main Event, you will be facing. . . The King of Kings, The Game, Triple H for the WWE Championship

***HUGE POP***

"Here Comes the Money" hits as Shane smile at Orton, who shakes his head and looks absolutely livid



***COMMERCIAL BREAK***


***VIDEO RECAP***
The aftermath of the Intercontinental Championship elimination match from the Survivor Series last night and CM Punk turning on Jeff Hardy after Jeff retained by pinning Elijah Burke


***OPENING MATCH***

Stevie Richards vs. CM Punk

ENDING: Punk dominates since the start, fending off any Richards attack and looking very aggressive as he hit Stevie with some real hard kicks to the mid section. As he tries to wrap the match up, he walks over to the apron after a succession of knees to the head of Stevie and waits for him to get up, holding onto the top rope. Stevie then picks himself up looking groggy and turns round as Punk then springboards off the top rope and connects with a SPRINGBOARD CLOTHESLINE. . . Punk stands right back up with a determined look on his face as he pulls Stevie up to his feet and whips him into the corner. He then charges in and nails him with a knee smash to the side of Stevie's head and holds onto it as he then turns round, runs out of the corner and plants him with a BULLDOG. . . With the crowd booing Punk as he stands up, he urges Stevie up, lying in wait and looking like he's ready to explode. As Stevie slowly picks himself up, he then turns round as Punk pounces, lifting him onto his shoulders and sending him crashing back down to the mat with the GTS. . . Punk drops down to the mat and hooks the leg, looking completely emotionless as the ref counts the fall 1 . . . . . 2 . . . . . 3.

AFTERMATH: "This Fire Burns" hits as Punk stands back up, walks over to the ropes and demands a microphone as he then walks back to the middle of the ring and his music stops. Stevie is helped out of the ring by the referee as Punk looks on before lifting the microphone to his mouth

***HEAT***

CM Punk: I gather by all the heat I'm getting right now, you wanna know just why I did what I did last night to a certain Jeff Hardy

***HEAT***

CM Punk: The simple fact is that I don't owe you or anybody any kind of explanation whatsoever, but being the straight up guy that I am, you are going to get one. . . See all I've heard all day back there is guys who aren't even at my level say that I'm jealous of Jeff Hardy's popularity and jealous of the fact he won last night and kept the Intercontinental Championship at my expense

***POP***

CM Punk: That's why what you people think is completely irrelevant and wrong, because you just jump on the bandwagon and go along with what ever the person sat next to you, in front of you and behind you does. You don't have a clue what is going on and what could possibly go on inside this ring

***HEAT***

CM Punk: You all think you know what goes on, but you don't. This ring is my home, the place where I excel to a point that no one else can, including Jeff Hardy. And that's where my problem lies see. It was Jeff Hardy who blindsided me last night, not the other way round like everyone seems to think. It was me who was in the ring with the chance to win the title, and when I had my back to Jeff, what does he do? He makes a blind tag and finishes the match

***POP***

CM Punk: It's well known that I am a team player and a straight up guy, and last night I went out and was that same guy, only it was Jeff Hardy who turned the tables and stabbed me in the back. Jeff is the selfish one in all this, not me. He deprived me of becoming the Intercontinental Champion and do you really think I was going to stand back and let him get one over CM Punk? No, that's not gonna happen. . . See Jeff, this business and the competition that it presents means everything to me and I'm not gonna allow you to hold me back because of your own selfishness. . .

"Loaded" blasts out & Jeff Hardy walks out to the entrance with a microphone in hand

***HUGE POP***

Jeff Hardy: Punk man, you're not making me out to be the bad guy in all this dude, it was you who stabbed me in the back, not the other way round. If you wanted a shot at the Intercontinental title man, all you had to do was ask

CM Punk: Oh Jeff, it's way more than that. I want to make you realise that you are the one who caused me to kick your ass and take that strap off your shoulder like I'm going to. But if you're not man enough Jeff. . .

Jeff Hardy: . . . Man enough huh. Let's see shall we. . . Last night you say I stabbed you in the back and you didn't see it coming. Well look real close, because this you will see coming

***MASSIVE POP***

Jeff runs down the ramp and drops the microphone. He slides into the ring, but Punk turns to the side and slips under the bottom rope, leaving the microphone in the ring as Jeff looks on frustrated

Punk walks round the ring and stares intensely at Jeff and clearly mouths at him "On my terms Jeff, not yours". Jeff looks right back at Punk and urges him into the ring, but Punk just backs up the ramp as "Loaded" plays again


***CUT BACKSTAGE***


Todd Grisham is standing by

Todd Grisham: Please welcome my guest at this time. . . Y2J, Chris Jericho

***HUGE POP***

Jericho walks into the shot, looking quite serious

Todd Grisham: Chris, last night you were on the unfortunate side of a victory for Team Orton as you and Team HBK lost out. What are your thoughts?

Chris Jericho: My thoughts huh Todd. What do I think about last night? . . . Let me think for a minute. . . no actually wait, I'm there. I think I'm a little pissed off. . . actually I'm very pissed off Todd as it happens. And before you ask why, it might have something to do with that bleached haired fairy who is too stupid he has to say own name twice to remember just who the hell he is, hitting me in the head with a steel chair

***POP***

Chris Jericho: Yeah that's it. Those are my damn thoughts ass clown

Todd Grisham: It seems like you and Mr. Kennedy have got off on the wrong foot so to speak

Chris Jericho: Wow someone's on the ball tonight. I think even double K can see past his own eyeballs to figure out what he did last night and realise it was a big mistake. . . See I know I've not been around for a while and that this oversized ego of his doesn't seem to know what Y2J Chris Jericho is all about. No one with half a brain cell would be stupid enough to scramble my head with a steel chair, but then again he obviously is that stupid

Jericho looks right into the camera with a focused look on his face

Chris Jericho: You might wanna look real close at this Kenny boy because I'm only gonna say it once. . . Y2J is back baby, and last night you made a big dumb mistake, just like Mrs. Kennedy nine months before she pushed out that disgusting, hideous creature known as KENNEDYYYYYY. . . Kenny boy, you better get ready because you're about to find out why Raw is JERICHOOOOO!

***MASSIVE POP***

Jericho turns round and walks out of the shot, still looking very focused


***COMMERCIAL BREAK***


Backstage, we see Shane McMahon in his office with Stephanie McMahon Helmsley, sitting down as there's a knock at the door

***POP***

Shane stands up as Layla from Extreme Expose walks in, with quite a cleavage on display

Shane McMahon: Hey, what can I do for you?

Layla: I know we've not met, but I'm Layla from Extreme Expose on ECW, well before it got. . . well you know what happened

Shane McMahon: Yeah I remember, how can I not remember you? You won the diva search last year and have put on many an impressive performance on ECW, it has to be said

Layla: Yeah that's right, and it's kind of why I'm here Mr. McMahon

Shane McMahon: Layla, you have my undivided attention. And please call me Shane, there's no need to be too formal around me

Stephanie looks up and smiles as Layla looks at her and back to a smitten Shane

Layla: Well since ECW finished, I've not had anything to do around here and I thought that maybe you could give me a chance to come to Raw

Shane McMahon: Layla, I think that's a great idea. You're exactly what we need on Raw right now. . . Hey, how about we bring extreme expose to Raw?

Layla: Shane, I'd love too, it's just that Kelly Kelly and I don't get along. I was thinking about. . .

Shane McMahon: . . . Hey, don't worry about that Layla. I'm sure I can figure something out for you here on Raw

Layla smiles as Stephanie continues to laugh to herself. Layla then hugs Shane

Layla: Oh thank you Shane, you won't regret it, I promise

Layla lets go and turns round to walk out of the door with a big smile on her face. Shane doesn't take his eyes off her as she leaves the room

Stephanie McMahon-Helmsley: Shane, do you want me to wipe the dribble off your chin for you?

Shane doesn't seem to notice as he looks at the door before snapping out of it and turning round

Shane McMahon: You say something Steph?

Stephanie McMahon-Helmsley: What exactly are you going to do with her?

Shane smiles as Steph then shakes her head

Stephanie McMahon-Helmsley: Actually don't answer that, I'm going to find her Hunter

Shane McMahon: Yeah whatever

Steph walks out of the room as Shane nods his head for a second and tightens his tie


***CUT TO THE ARENA***


***MATCH #2***

Cody Rhodes vs. Carlito

ENDING: Carlito started the match on top, but Cody got back into it, countering a missile dropkick by sidestepping it and then hitting a standing dropkick of his own as Carlito got back up. He then lifts Carlito up to his feet and hits him with a BIONIC ELBOW. . . Cody then makes his own way to the top rope and waits patiently as Carlito stands back up, and as Carlito gets to his feet, Cody leaps off and connects with a DIVING CROSS BODY 1 . . . . . 2 . . . . . Carlito rolls through for a cover of his own 1 . . . . . 2 . . . . . Cody pushes off and both get back to their feet as Carlito is then whipped into the ropes, but as he comes back, he back flips over Cody, runs through and hits a SPRINGBOARD BACK ELBOW. . . Carlito then runs to the corner and then goes for a DOUBLE SPRINGBOARD CORKSCREW SENTON. . . Cody gets his knees up and into Carlito's chest, getting a pop from the sell out crowd. As Cody then gets back up to his feet and Carlito picks himself up to his knees, a tanned man with dark hair, wearing jeans and a white long sleeve shirt walks down the aisle, distracting Cody as he sets Carlito up for a DDT. . . The guy then steps up onto the apron, forcing Cody to let go of Carlito, who just drops to his knees. Cody walks across the ring and looks confused at the guy on the apron who then drops down as Carlito then walks behind Cody and plants him with the BACK STABBER. . . Carlito then turns over and covers Cody 1 . . . . . 2 . . . . . 3.

AFTERMATH: "Cool" hits as Carlito stands back up and gets his arm raised by the referee. He turns round as the unknown guy slides into the ring and hugs Carlito before they both look down and grin as Cody starts to sit up


***COMMERCIAL BREAK***


Backstage, Todd Grisham is waiting backstage as we see Carlito and the guy from before walking past as Grisham shouts towards them

Todd Grisham: GUYS! Hold on

Carlito turns back

Carlito: What d'ya want?

Todd Grisham: Who is that you're with?

Carlito: All in good time Todd, all in good time

Grisham then turns round as Mr. Kennedy walks into the shot with a smug look on his face

***HEAT***

Mr. Kennedy: I believe you wanted to ask me a few questions, so I'd appreciate it if you got on with it as I've got a lot to do tonight

Todd Grisham: Okay. . . Last night you were part of the victorious Team Orton that beat Team HBK. . .

Mr. Kennedy: . . . That's right. As if there was ever any doubt to which team would win, all you had to do was look at Team Orton and just see the sheer talent and greatness that was assembled. Not only did you have Finlay, the toughest bastard you could ever have the misfortune to meet, you had the United States Champion, MVP and the WWE Champion, Randy Orton. But of course, there was one star that made that team what it was and that star was Mr. Kennedy

***HEAT***

Todd Grisham: Well, I have to ask you about Chris Jericho. I was speaking to him earlier on tonight and he is slightly angry about what you did to him last night in what eliminated you from the match

Mr. Kennedy: I should never have been eliminated at all last night, there was some kind of conspiracy between Michaels' Team and the referee. There was no way that anyone from that team actually beat me, so I'd get my facts right if I were you before I wipe that pathetic look off your face

Todd Grisham: The facts don't lie, you were eliminated because you hit Jericho with a steel chair, something that caused him to be eliminated. And it's fair to say he's not too happy about it

Mr. Kennedy: I don't care if he's happy about it or not, he's just got to live with that and the fact that since he's come back, there's a bigger star around here than him. He can talk himself up all he wants, but it's obvious to everyone that if Raw is anyone's show, it's not Jericho's, it's mine

***HEAT***

Mr. Kennedy: I mean, who the hell does this guy think he is? He says he left the WWE to become a rock star, but because his band sucked so much, he thinks he's gonna come back to Raw and try and take my spot. Well you look at me Jericho, once I'm through sorting out some extremely important business tonight, I'll make sure I give you the welcome back you deserve and smash the other side of your face with a steel chair. . . But right now, I've got business to attend to

***HEAT***

Kennedy stares into the camera for a second before walking to the side as Grisham looks slightly confused


***CUT TO THE ARENA***


Santino is in the ring with Maria

Santino: Last night there was a carriage miss of justice. I was having my chance to get back my Inter-conti-nental Champion-ship, but for some a reason or another, it was a taken away from me. And you know whose fault it is? . . . It is Maria's fault

***HEAT***

Maria looks shocked as Santino turns to her with a look of anger on his face

Santino: Maria, I was a going to win, but thanks to you I am stood here with an empty hand that should be full of gold, but I am not. And to make sure I do not a lose again tonight Maria, I want you to go leave this a ring and wait for me to beat 2YJ

***HEAT***

Maria looks really upset as Santino drops the mic, grabs her hands and tries to drag her to the ropes

"Break the Walls Down" blasts out and Chris Jericho walks out to the ring. Santino lets go of Maria to turn his attention to Jericho, who still looks upset and then walks to the back


***MATCH #3***

Chris Jericho vs. Santino Marella

ENDING: Santino tried every dirty tactic in the book after back tracking from Jericho as much as he could, managing to convince the referee to look behind and then low blowing Jericho. He stomps the hell out of Jericho as he lies on the mat before dropping down and going for a cover 1 . . . . . 2 . . . . . Jericho gets a shoulder up as Santino then sits up and looks angrily at the referee for a couple of seconds before then standing up to his feet and pulling a squirming Jericho back up. As he lifts Jericho up, Santino is shocked as Y2J hits him with a couple of right hands to the stomach and stands right back up, where he then chops Marella across the chest a couple of times and whips him into the ropes and then connects with a BACK ELBOW SMASH. . . He then lifts Santino back up and tries for an irish whip, but it's reversed by Marella, and as Jericho comes back off the ropes, he slides through Santino's legs and then connects with an ENZIGURI. . . There's a huge pop for Jericho as he then grabs Santino by the legs, turns him over and locks in the WALLS OF JERICHO. . . Santino screams out in pain as Jericho puts the pressure on the Italian. Then, Maria runs down the ramp looking concerned for Santino as he sees her and continues to fight the hold for a nearly five seconds before tapping out. . . IT'S OVER!

AFTERMATH: "Break the Walls Down" hits as Jericho stands up, gets his arm raised and then poses for the crowd as Maria looks in from the outside as Santino starts to come round and looks angrily towards Maria


***COMMERCIAL BREAK***


Elijah Burke is walking backstage and doesn't look too happy as he then turns round a corner and bumps right into Tommy Dreamer

***POP***

Tommy Dreamer: HEY! Watch where you're going

Elijah Burke: You got something to say me old timer?

Tommy Dreamer: Keep talking to me like that and I will

Elijah Burke: What, am I supposed to be scared by that huh? Get real Dreamer. . . see even your name says it. You're a dreamer, and Tommy, I ain't

Tommy Dreamer: Really. So is that why you didn't win your match last night?

***POP***

Burke stands back from Dreamer, looking pissed

Elijah Burke: My match has got nothing to do with you. And since you asked, it's a travesty that I'm not the Intercontinental Champion right now after the show I put on last night. I did everything I could, but it was stolen away from me Tommy. . . STOLEN

Tommy Dreamer: It didn't look that way to me

Elijah Burke: Well maybe you need to get your eyes tested. Hey, you're about due for your retirement, maybe you should do it quick huh before all your body parts fail too

Tommy Dreamer: There's life in me yet, trust me. . . If you don't believe it, I'll more than happily show you the old fashioned away next week in the ring

***POP***

Burke smirks

Elijah Burke: You seriously wanna piece of me?

Tommy Dreamer: I sure do

Elijah Burke: You know what? I'm not gonna let an old man down. . . Next week, you'll get your last request, and then I'll finish your career

***HEAT***

Dreamer starts breathing heavy as Burke just grins and walks off up the hall


***VIDEO PROMO***
A brief history of Saturday Night's Main Event

NARRATOR: It has a place in WWE history. . . It has a place in the history of sports entertainment. . . but it also has a place in its future. . . For Christmas will not be the same this year for the stars of Raw and Smackdown as Saturday Night's Main Event makes its return. . . Live on NBC!

The clip cut to a graphic showing "Saturday 22nd December. . . Shaking Up Saturday Night. . . Live on NBC"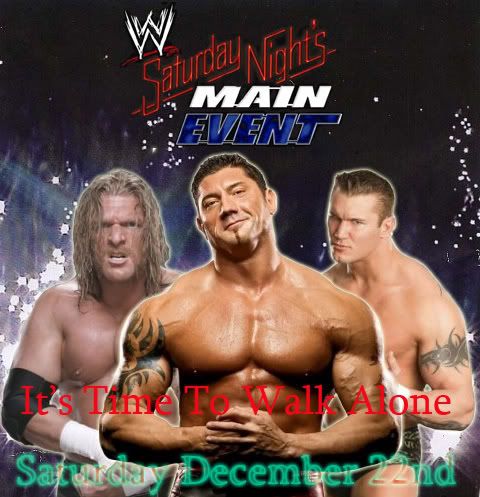 ***CUT TO THE ARENA***


***VIDEO RECAP***
The end of the World Tag Team Championship elimination match and the Womens Championship match from the Survivor Series

• Paul London & Brian Kendrick winning the tag titles from Cade & Murdoch
• Beth Phoenix tossing Victoria out of the ring and pinning Mickie James after Victoria hit the Widow's Peak


**Just before the bell rings, "Lady to Mess With" hits & Victoria makes her way down to the announce table and sits down next to the table, not at it, staring at Beth Phoenix**


***MATCH #4***

Paul London, Brian Kendrick & Mickie James vs. Lance Cade, Trevor Murdoch & Beth Phoenix

ENDING: Beth looks in control of Mickie after a hard falling clothesline and then tries to finish her off as she lifts her back up to her feet. She then stomps Mickie in the gut and places her head between her legs for a POWERBOMB. . . She is able to lift Mickie above her head, but as she's about to slam her to the mat, Mickie counters with a HURRICANRANA. . . She's able to hold onto the legs for a pin 1 . . . . . 2 . . . . . KICK OUT! . . . Phoenix is shocked as they both get back to their feet, and back tracks to her corner where she tags Lance Cade in. Mickie's left with no choice as she then turns back and tags in Paul London. The moment London steps through the ropes, Cade charges at him, but London ducks under the outstretched arm and then hits Cade as he turns round with a DROPSAULT. . . There's a big pop for London, until Murdoch then decides to get in the ring and charges at him, but London sees him coming and hits him with a DROPSAULT. . . Murdoch is knocked under the bottom rope and off the apron as London then makes the tag to Kendrick. London though stands by the ropes and as Murdoch gets up, he hits a SLINGSHOT CROSS BODY. . . The crowd goes crazy as London lands on the apron and Kendrick stands on the top rope, jumps down as Cade gets up and hits a MISSILE DROPKICK. . . Phoenix then gets in the ring, prompting Mickie to climb through the ropes as she then charges and takes Phoenix down with a SPEAR. . . Cade starts to pull himself back up as Kendrick then runs at him, grabs him by the head, runs to the corner and connects with the SLICED BREAD. . . 1 . . . . . 2 . . . . . 3.

AFTERMATH: "Hey You" hits as London & Kendrick celebrate with Mickie as Beth Phoenix rolls off the apron. After standing back up, she walks over to collect her title belt and then walks past the announce table to stop and look at Victoria. Beth smiles and Victoria then stands up as the two then square up. Beth then turns her head, but quickly turns back and smashes Victoria across the head with the title belt. But as Victoria falls, she drops back and hits her head on the edge of the chair she was sitting on, causing her head to cut open. Beth looks on as blood oozes out of Victoria's head, and then EMT's rush down to check on Victoria


***COMMERCIAL BREAK***


***VIDEO RECAP***
Footage is shown of Victoria being taken up the ramp on stretcher by EMT's and then put into an ambulance during the commercial break. JR & King say she has lost blood and that she is out cold


***CUT BACKSTAGE***


Backstage, Triple H and Stephanie McMahon-Helmsley are in their dressing room

***BIG POP***

Triple H has stitches in his head and has other visible cuts to his face

Triple H: Steph, I know what I did to your dad last night was a little over the top, but everything he's put us through just came flooding through my head and I couldn't stop it. . . Plus, have to be honest, I kind of enjoyed it

Stephanie McMahon-Helmsley: Hunter, it's fine, you don't have to explain to me. When I saw him last night after your match, I was a little worried. I know he's still in hospital right now, but he's okay and it's just precautionary. . . I think what mum and Shane said about the tough love was right, he deserved what he got last night

Triple H: Good things come to those who wait

Stephanie McMahon-Helmsley: Look Hunter, I need to talk to you about something

Triple H: Sounds serious Steph

Stephanie McMahon-Helmsley: It is

They both sit down

Stephanie McMahon-Helmsley: You know that dad knows now about us making out Hornswoggle was his son. . . well Shane came to see me last night before your match and he asked me who our brother actually is

Triple H looks stunned

Triple H: What, and you told him?

Stephanie McMahon-Helmsley: Hunter, I had to, he's my brother. He has a right to know. But Hunter, he promised not to tell dad, Shane even told him that he couldn't his kids

Triple H looks at the floor for a couple of seconds before seeming to cool down

Triple H: Yeah, I guess you're right. Shane's a good guy, but you do realise that Vince is going to do everything he can to find out who his son really is

Stephanie McMahon-Helmsley: That's why I was thinking, maybe we should tell him ourselves. He's going to find out anyway

Triple H: Steph, I know it's hard for you, but I'd let him worry about that and not us. It'd be like he won if he told him who his son is and that we've forgiven him for all the crap he's put us through the last couple of years. You really want that?

Stephanie McMahon-Helmsley: Yeah, I guess you're right

Triple H: Look, I know it's hard for you Steph, but you've got me now. You don't need your dad, and you know, now he's out of the way for a bit, maybe I can win the WWE Championship without him doing everything he can to stop me. And then everything will have worked out for best

Stephanie McMahon-Helmsley: You're right. Soon it could all be over

Triple H smiles as Stephanie then puts her arms around him


***CUT TO THE ARENA***


**Before both Jeff Hardy and Randy Orton make their way to the ring, "This Fire Burns" blasts out & CM Punk walks down and joins JR & The King at the announce table**

Jim Ross: What in the hell are you doing out here?

CM Punk: I didn't ask you what you're doing so shut up JR

Jim Ross: After what you did last night, I think I've got every right to ask. . .

CM Punk: What do you want me to say JR? I'm down here to beat the crap out of Jeff Hardy huh. That what you want me to say . . . Well I'm sorry to disappoint you JR, but I'm simply here to call the match like you, so keep your nose out of my business otherwise you might be going to sleep earlier than you think


***MAIN EVENT***

CHAMPION VS CHAMPION - NON TITLE MATCH
Jeff Hardy vs. Randy Orton

ENDING: A real back and forth match for the most part with Orton edging it slightly. As the match comes towards the end, Orton nails a tired looking Jeff with right hand after right hand in the middle of the ring and then whips him into the ropes, but as Jeff comes back, he catches Orton with a SPINNING WHEEL KICK. . . The crowd react with cheers as Jeff picks himself back up, followed by Orton as Jeff then puts the WWE Champion on the back foot with a series of right hands. Knocking Orton against the ropes, Jeff then whips him into the opposite ropes and then runs at him as he comes back, hitting him with a FLYING FOREARM. . . Orton drops to the mat as the crowd go nuts again. Orton is quick to follow Jeff back up to his feet as Jeff then kicks Orton in the gut and then nails him with the LEG FEED SPINNING MULE KICK. . . The roof is close to coming off as Jeff then runs into the corner, jumps up to the top rope as Orton gets back up and then jumps off, turning in air, hitting the WHISPER IN THE WIND. . . Huge pop as Jeff then scurries across and makes a cover on Orton 1 . . . . . 2 . . . . . SHOULDER UP. . . Sighs ring out as the disappointment is obvious at Orton's kick out. Jeff then gets back up, not letting himself get frustrated as he waits for Orton to get up, stomps him in the gut and then sets him up for the TWIST OF FATE. . . The fans are on their feet, but Orton is quick to escape, slip behind and then immediately nails Jeff with a SIDE INVERTED BACK BREAKER. . . The crowd's disappointment again is obvious, but Orton doesn't mess about as he quickly turns over and hooks Jeff's legs 1 . . . . . 2 . . . . . NO! . . .

Orton looks a little annoyed as he then gets right back up, reaches down and pulls Jeff up, whips him hard into the corner, runs in and goes for a clothesline. Jeff though lifts his feet up into the face of Orton, who then turns round and staggers out of the corner as Jeff pulls himself up to the second rope and then leaps off. But Orton turns round and hits Jeff with a big STANDING DROPKICK. . . Orton looks in control now as he is able to stand back up as Jeff starts to squirm around. Orton then backs up into the opposite corner and stalks his prey as Jeff starts to sit up. That gives Orton all the encouragement he needs as he charges towards Jeff and goes for the RUNNING PUNT. . . But Jeff pulls his head back as Orton runs through into the corner pads. Jeff jumps back up to his feet as Orton then turns round into a kick to the gut from Jeff, who then plants him with the TWIST OF FATE. . . Massive cheers ring out inside the arena, but it takes Jeff a couple of seconds to get back up to his feet before slightly hobbling towards the corner and climbing to the top rope. But as he gets there, CM Punk stands up at the announce table, distracting Jeff, who then turns his head to talk smack at Punk, but gets it right back. Punk then turns his head to look at Orton who remains on the mat. Jeff then turns back, stands up straight and leaps off the top for the SWANTON BOMB. . . OH NO! . . . Orton rolls to the side, helped by the delay, but Jeff is able to roll through into a forward roll in time. As he gets back up, Orton is already up as Jeff then turns round and runs at Orton who is able to leap up and hit Jeff with an almighty RKO. . . Orton turns over and hooks the leg as Mike Chioda counts the fall 1 . . . . . 2 . . . . . 3.

AFTERMATH: "Burn in My Light" hits as Orton gets back up to his feet and is passed his title belt by Chioda. Punk remains on his feet and just smiles as he then walks round the ring and back up the ramp as Orton raises his belt in the air


***COMMERCIAL BREAK***


***VIDEO PROMO***
A short highlight reel of Lashley's Raw history is shown, ending in a black screen with the words

"LASHLEY RETURNS. . . COMING SOON"


***CUT TO THE ARENA***


"Wreckin' Ball" hits & Mr. Kennedy walks down to the ring in casual clothes with a serious look on his face

***HEAT***

Kennedy demands a mic, not looking up to the ceiling

Mr. Kennedy: Look, you all need to shut the hell up because I'm out here for a very important reason, so I'd appreciate it if you shut your stinking holes while I get on with what I have to say

***HEAT***

Mr. Kennedy: I don't know if you heard me, but I told you to shut the hell up

***HEAT***

Mr. Kennedy: You know what, screw it, I don't even care if you hear this or not, because it doesn't even involve you. . . Now Triple H, I know you're back there, but I need you to get the hell down here, right here right now

***POP***

Kennedy waits for around ten seconds, pacing from side to side

Mr. Kennedy: Come on, I haven't got all night

"The Game" blasts out and Triple H walks down to the ring

***HUGE POP***

Mr. Kennedy: Thanks for rushing down here

Triple H: I was just about to get the hell out of here and I hear you shouting your mouth off for me to come down here, so just what the hell do you want?

Mr. Kennedy: What I want is for you to tell me what I've known for the last couple of months, what these people all know and that is the identity of Mr. McMahon's secret son. See everyone knows who that person is, everyone knows that it could only be one person, and that person is me

***HEAT***

Triple H smiles and warms to the situation

Triple H: You think your Vince's son?

Mr. Kennedy: You're damn right I do. Isn't it obvious?

Triple H: Hey, I can't argue with that, you do both have a lot of similar qualities. You both have strong personalities, you try and get what you want, you're both the most arrogant people I've ever met, but without a shadow of a doubt, you are both assholes!

***POP***

Triple H: And not small ones either. I'm talking big, wide, stretched assholes like you've had each others head hiding up there on a daily basis

***POP***

Mr. Kennedy: You think that's funny huh? You think this whole situation is funny don't you. Well it's not, so just tell me

Triple H: As a matter of fact, I am enjoying myself and screwing with Vince's head was almost as funny as seeing you squirm right now. But if you want me to be serious, I will be because like you said, it's not a laughing matter, relationships are at stake here right?

Mr. Kennedy: Right

Triple H: So, let me cut right to the chase because I kind of like ya

Kennedy looks bewildered

Triple H: Na, not really, but I will tell you want you and these people want to know. . . To answer your question if you're Vince's son, I have to say that. . . you are. . . NOT Vince's son

***POP***

Mr. Kennedy: You're lying, I know you are. I am Vince's son. . . Everyone knows it, just grow a pair and admit it

Triple H: Why would I lie huh? What have. . .

Mr. Kennedy: . . . Oh come on, you want to screw with Vince's head as much as you can

Triple H: Look I did all I had to last night as far as Vince goes. All I want now is to get back the WWE Championship at Saturday Night's Main Event when I face Randy Orton. Vince can stay at home recovering for all I care

Mr. Kennedy: BULL! Tell me the truth Triple H, you've got the proof

Triple H: You're right I do. But the proof doesn't just come from what I've been told by the son's mother, it also comes from what I already know

Mr. Kennedy: Oh yeah, and what's that?

Triple H: See, I've seen your mum backstage a couple of times right?

Mr. Kennedy: Yeah you might have, but you bette be damn careful what you say

Triple H: See I thought that was the case, but I see why you think you could have been Vince's son had I already not known what I do. That being that not even Vince, not even Vincent Kennedy McMahon would become so desperate or sink that low to have sex with your mother

***POP***

Kennedy snaps and throws a punch at Triple H, but The Game blocks it, kicks him in the gut and pedigrees him. But before he gets back up, Randy Orton runs down the aisle and slides in the ring. He stalks Triple H as he gets up, and as Triple H turns round, Orton leaps up and connects with an RKO. The crowd boo like crazy as Orton stands back up and stares down at Triple H as Raw goes off the air


***END OF SHOW***


QUICK RESULTS
CM Punk df. Stevie Richards
Carlito df. Cody Rhodes
Chris Jericho df. Santino Marella
Paul London, Brian Kendrick & Mickie James df. Lance Cade, Trevor Murdoch & Beth Phoenix
Randy Orton df. Jeff Hardy


HEAT RESULTS
Tommy Dreamer df. Colt Cabana
Hardcore Holly df. Jim Duggan
Elijah Burke df. Val Venis


CONFIRMED FOR SATURDAY NIGHT'S MAIN EVENT

WWE Championship
Triple H vs. Randy Orton (c)




Tag Teaming With James Ellsworth
Join Date: May 2007
Posts: 1,028
Points: 0
Re: WWE: A Strong Response
---
Here we go, the RAW after SS.

Opening promo: Well I must say Orton was in character and I am waiting for somebody to shut him up as I am from NY lol (however some of this is true). You will get repped because I hate Yankees and Orton's making fun of them. Anyway back to review…Shane is also in character, big announcement for the match tonight. Bigger announcement for SNME, sounds great. I expect to hear from HHH later in the show.

Punk v. Richards- Punk was in total control. Stevie got no attacks in this one. Seems like your trying to put Punk over as a bigger heel than I thought. Turing Punk heel is something I never saw coming so lets see how it plays out. I think it might be hard to pull off this change but his talking after the match was very good I must say. I'm looking forward to a Hardy/Punk feud which I assume is coming soon. Here comes Jeff. He doesn't talk much in real life but I must say you got his character perfectly. Kind of expected Punk to run away but I didn't expect Jeff to run down there in the first place.

Jericho/Grisham- Nice little interview. Kennedy/Y2J feud=ratings….or in this case good reviews. not much else to say here.

Layla/Shane-I don't know why you are brining back Layla. I don't think she's so good in the ring and I don't see a point in bringing back extreme expose but we will see where this goes I guess.

Carlito/Cody-This was an entertaining match. Good to see you brought back the old highflying Carlito. I don't think I have ever seen him do a double springboard corkscrew senton but I probably have and just never knew that that was what it was called. I have no idea who this guy could be. I assume he's from OVW because he wasn't wearing a mask or anything. I'm eager to find out. I think it might be Carlito's brother actually.

Kennedy interview- Kennedy in character ( I see your promos are your specialty, they have all been great tonight) all I have to say was I don't think Kennedy would say that he shouldn't have been eliminated. I think he would brag more about crushing Jericho. I like how he dissed out Fozzy and how he thinks he is so much better. Good promo, lets see what this business is.

Santino/y2j-Glad Maria is gone. I don't why WWE still has them together. Now for the match. This was a better match then I expected. I assumed this would be a squash. I assume he will blame Maria for not helping.

Burke/Dreamer-Nothing too special about this. I am not all that excited for this match next week but we will see how it turns out. Hopefully Burke will be added to the IC title hunt.

Londrick and Mickie vs. Beth and Redneck Wrecking Crew- Very fast paced match as is every match with Londrick. Hopefully this is the beginning of a C and M/Londrick feud. That would be fun to read.

Aftermath- This was a little bit weird. I doubt the chair would make her bleed so much but I guess the point here was Beth and Victoria entering a feud. Victoria deserves a title match, she's one of the greatest divas in WWE right now so I hope a feud happens and Victoria ends up winning.

HHH/Steph-I thought you might just drop the son angle but I guess not. Hopefully this works out for the better, especially now that Horny isn't the son. I do think Shane will tell Vince though. Good promo.

Orton/ Hardy- Well I can see a nice little beat down happening in the end due to the fact that Punk is at the table. This was MOTN by far. All big moves happening at the right times. I assumed Orton would win due to Punk distraction. This Punk/Jeff feud could really be good. I think that HHH is gonna come out to save Jeff from a 2 on 1 beat down….if there s one that is….nope there's not. Still a good match.

HHH/Kennedy- Kennedy in character again. Maybe a little too much of an asshole but still its fine. I had a feeling he'd come say he was Vince's son. HHH also in character, I hope he revels the son tonight. I have no idea who it could be, I assumed it was Kennedy but now I don't think so. HHH was pretty funny in this one. I am guessing HHH vs. Kennedy next week. I doubt he's taking the title off Orton.

Overall a good show. I was expecting some bigger matches such as rematches but i guess you're saving all the good stuff for SNME. I am eager to find out Carlito's friend and who Vince's son is. This SNME should be really good if you put the matches i think you will on the card.
---
2008 MLB playoff predictions (made on 7/20)

AL East- Boston Red Sox
Al Central- Chicago White Sox
AL West- Los Angeles Angels of Anaheim
Wild Card- New York Yankees

NL East- New York Mets
NL Central- Chicago Cubs
NL West- Los Angeles Dodgers
Wild Card- Milwaukee Brewers
Re: WWE: A Strong Response
---
Nige's Raw Review
First of all I must say that after that excellent Survivor Series PPV, I was and still am really hyped for tonight's raw. So here we go with the review….
Orton coming out first was good. It really had to happen after his big win last night. Orton was in character from the get go and this made the promo very entertaining to read. I loved the way you wrote Orton to insult the crowd all the time. This was typical Orton fashion, especially when he was going on about what he has achieved at Survivor Series. Adding the Yankees comment was another good point because the crowd wouldn't have liked that. Having Shane come out just added more good bits to the promo. I didn't like the way Shane kept interrupting Orton, but then again that's probably part of his character. Overall this promo started the show off in a good way, added a great match for tonight, added a great match for Saturday Night's Main Event, and also moved on from Survivor Series which was good to see.
Punk vs Richards was an average match. I prefer reading promos than matches, but obviously whats a wrestling show without a match lol. The match was fine, and the aftermath was just fine too. I don't like the Punk heel turn because I'm so used to seeing him face. However it shows you have the creative skill and the confidence to do something like this, and that gets my respect man. Especially because you did it so well too. I'm thinking there will be another match between these two, probably at Saturday Nights Main Event.
Well it looks like a Jericho/Kennedy feud is beginning to take shape. This is brilliant (I have started the same feud on my Raw brand
because they are two of Raw's best up and comers if you will. They are both gold on the mic, and with your writing skills, I'm sure you can pull this off greatly. This promo was okay, a bit boring, but Jericho was absolutely genius. Good work per usual man!
The Steph/Shane/Layla segment was okay I guess. It basically just got the point across that Extreme Expose are coming to Raw. This is good as it shows that getting rid of ECW was a good thing for this thread. However, I do think the promo tried to be more funny than it actually was. I'm not being harsh man, just what I thought whilst reading it.
Rhodes vs Carlito was good as it got them both on TV in an entertaining way. I knew Carlito was about to win. It doesn't seem like Rhodes has a push in his path anytime soon, but I can see Carlito has something. This mystery man angle is brilliant. I am now excited to see who it actually is. Good work here man on keeping up the suspense.
Carlito and the mystery man backstage didn't need to happen imo. It could have waited until next week. The Kennedy interview was a nice little addition though as it added more hype to the Kennedy/Jericho feud. I'm looking forward to see how you play this feud. I like the angle your going for too, with kennedy making out as if he's the best star since Jericho went. Good characterisation again nige.
Jericho was always going to beat Marella otherwise there would be no point in the match. The whole situation with Marella blaming maria happened to fast imo. It was like the second or third line he said. It would have been netter to pan out this storyline for a few weeks before he blamed her. I might have missed something though because I have only really started reading. So my bad if you have been playing this storyline out for a while. Anyway it was cool to see Maria come out at the end of the match actually looking concerned for Marella. I think he will blame her for that loss too. I love the way you are starting new feuds here, they all seem to be unique in their own little way.
The Burke and Dreamer segment backstage was a real surprise. Good to see Dreamer get some TV time because he does deserve it. I'm intrigued about their match nect week now because here could be a possibility now that Dreamer actually leaves after the match. Good suspense building again.
Saturday Nights Main Event hype, it's looking pretty cool man.
I was quite confused by the aftermath of match four. Was it actually Victoria or was it Mickie James, I just didn't see how Victoria came into things. The aftermath was good however as you are building up the womans's division nicely now.
Triple H and Stephanie were well written in their little segment backstage. It was nice little hype for the son storyline. It's brilliant how you've kept this going for the amount of time you have done, without it getting stale. This shows how good of a booker you are Nige.
The main event was brilliant. Well written, and I like how the main event was longer than the other matches, this shows that you have got your priorities right. The content of the match itself was good and the ending was superbly written. Orton winning was goo because he is the WWE Champion and all, but I think a win for Jeff Hardt wouldn't have been a bad thing in this situation.
The end promo was also showing off your skills. In my honest opinion the promo should have gone before the main event, but as I said before, this shows that your willing to be different and unique which is a very good quality not many bookers have. The promo was entertaining and I love how you had Triple H tease Kennedy whether he was the son or not. With him now not the son (supposedly) I'm left wondering who is.
Overall Nige, it took me a hell of a long time to do this review, but it damn sure was worth it. This is the one thread I have got glued to lately, and when I noticed Raw had been posted tonight I was surprised in a good way. The show moved on from Survivor Series which was good, and it was well written all the way through. You also kept the suspense up for next week. I'm looking forward to Smackdown now Nige, to see how their storylines progress from the PPV. Brilliant work again
Posting Rules

You may not post new threads

You may not post replies

You may not post attachments

You may not edit your posts

---

HTML code is Off

---