Re: WWE: A Strong Response
---
DH6's Survivor Series Feedback
-Sorry that it's so short. January and February are going to be busy months for me, so I can't spend all of my time reviewing. Again, my appologies
~Good opening video package, but I think you should've highlighted the World Title Match
Good choice to start things off with the World Tag Team Championship. I actually thought that the Intercontinental Title Match would kick things off, but I guess not. Interesting style of match up, with only two people being in the ring, not four. It's good writing wise, and realistic wise, imo. It was good for the team of Richards & Dreamer to start off, because they need that push more than Londrick. Deuce using a Cutter was surprising, especially since it's basically an RKO. I think Stevie should have tagged in either London or Kendrick, rather than Dreamer. That way, everyone would've been involved in the first minute. The action was good in the opening part, but I knew it would get better when either London or Kendrick entered the match. Unrealistic for Dreamer & Richards to get eliminated before Londrick got in the match, but I knew they would be eliminated early. I marked when London got the tag, but my smile was swept right off of my face when he missed the 450 Splash. Glad you're letting him use that move, because he executes it so well. Good choice for Londrick to end up with Murdoch, as I can sense a rematch at Armageddon (if it's cross branded). I was totally shocked to see Londrick get the win. I didn't expect that at all, but like I said, rematch coming.
I enjoyed this segment, and good for Shane to go at Steph like that about not telling him who the child is. Interesting for Stephanie to actually tell Shane. I didn't think that she would.
~Lashley returning sounds good. He's not good unless you try to improve his mike skills, imo.
I liked the teams you've made for this match, especially the UK team. It's good to have an International group like this. Angle Slam and Moonsault on Paul Burchill yet a two count?? Very unrealistic. Because of this, I have a feeling that Angle will be returning soon and Benjamin & Haas will be with him as 'Team Angle.' This match was actually pretty good, a lot better than I expected it to be. A decent enough finish, with Shelton sneaking in and hitting the Charging Spike Reverse STO.
I noticed when the commentators were speaking while Mickie James was making her way to the ring, they said Mickie would have a tough challenge against Victoria and Mickie. I assume it should've been Victoria and Beth Phoenix, but it's just a minor error, nothing too serious. It was good for Victoria to be dominate in the opening part of the contest after she intimidated Beth on Raw. Mickie with an Enziguri? I can sort of picture her doing it, tbh. The match had some big moments for a Women's Match, and the finish was good when Beth pinned Mickie after Victoria did all of the dirty work.
This promo was good, but I don't know how Edge can get disqualified in a Triple Threat Match. I don't think he will, but it would be interesting to see how Edge would get disqualified.
I didn't like how Triple H was trying to be funny with Vince Horse Crap McMahon, especially after his calm tone last Monday on Raw. Triple H had some good lines, but I felt it was slightly too long.
The Cruiserweight Title Match was well written, and really showcased each superstars talents, imo. The match was good because we were guaranted a new champion. I think it was a good choice to eliminate Striker first, since he doesn't have a lot of credibility. I was hoping Chavo would win the title, not Kenny, but still a good choice, because he has some alright mike skills. I also like the push you gave Sydal by getting him down to the final two. The finish was pretty good with Dykstra holding the tights. It was realistic and will hopefully set up a singles match between Dykstra and Sydal in the future for the title.
A little unrealistic for Regal to ask "What son?" but it was still funny. Some heat between Vince and Shane is really interesting, and Vince being turned on by his family is great. I'm liking the idea already. Nice diversion with Kennedy being there greeting him, but I believe that's just to make some people believe Kennedy is Vince's son, when really he isn't.
Good choice for Rhodes to get eliminated first, because he's obviously not the favourite. This was similar to Striker being eliminated first in the Cruiserweight Title Match. I liked how it came down to Burke by himself. This was a good push for him, and it definitely will help his future. I got confused though and misunderstood the rules of the match. I thought that if an entire team got eliminated, the remaining members of the remaining team would fight it out, but I guess not. The finish was great with Burke knocking Punk down, allowing Jeff to get the victory on Burke without Punk interferring. Interesting for Punk to hit Jeff with the GTS? Heel turn? Or just two faces fighting? I guess we'll wait and see.
I liked that you had this segment, because I've been planning to do a segment with Orton and Batista as well, with Orton as WWE Champion and Batista as World Champion, so this gave me a few ideas. Orton and Batista were in good character, and the attack on Batista was great, because Morrison and Miz aren't allowed to interfere in the match, but they can backstage. As soon as I read that Batista got jumped like that, I knew he would win. It would put him over even more as a face.
Really looking forward to this match, because it's so intense, emotional, personal, and has a ton of depth to it. People always babble on that we've seen Triple H and Vince before, but it's your BTB, so do whatever you please. This match was written really well, and it was good for you to give Vince an advantage during the match, showing that he actually had a chance. It was good for Triple H to get back into the match by reversing Vince's Pedigree attempt. Very realistic match writing. Predictable that Triple H would be victorious, but I enjoyed reading this match none-the-less.
Hulk Hogan was the first person to win back to back Royal Rumbles (1990 and 1991 if I'm correct), not Shawn Michaels. You did a good job on this segment, especially since Shawn is quite hard to write as a face. The Superkick was a good way to send the message to Orton, so I liked that.
After the segment earlier, I knew that Batista would win. Before the segment, I knew it would be either Batista or Edge, with Umaga clearly out of the picture. I liked how you booked this. Batista against two heels, being weakened earlier. It was the perfect way to make him look like Superman if he won. You're giving him a lot of credibility, more than he deserves, imo, but none-the-less, still a good job building him up. Several moments in the match where you made the crowd think that it would be over, which was good on your part. I didn't like the finish. I think Umaga should've been the one to take the fall, not Edge. I would really like to see Batista vs. Edge for the World Title at Armageddon, but since Edge took the fall, that would be unrealistic if it happened.
~Good move having a SNME. It's good to help develop feuds.
Surprised to see that Michaels and Orton would start, but it was a good way to kick off the match. I thought Matt Hardy would be eliminated first, but Finlay being eliminated first was a good choice. Shawn's team getting up by two was a surprise. I figured it would be the other way around, and it would be 4-on-1, but Michaels would come back and win it. Good move for Matt to be the first eliminated from Shawn's team, because he's built up as the weakest. Kennedy gets eliminated by DQ? That was a shock, but it was a good move on your part, because it was different. I thought Undertaker would be eliminated before Jericho, since Jericho's fresh from his return. Taker kicking out of the RKO was a surprise, and that would've been a good way to get rid of him. Michaels and Orton put on quite a one-on-one bout, but I did not expect Orton to win. I figured Shawn would win, and then debate that he deserves a shot at the WWE Title.
Overall, the show was amazing, All of the matches and segments were great. I will be looking forward to what happens after Survivor Series, leading up to your next PPV.
Re: WWE: A Strong Response
---
D-K-L's Survivor Series review:




First of all Nige, I think it's great that you wrote the matches in full. It made the PPV even more fun to read. I've tried to do a really detailed review for you Nige . . .

Tag Title elimination match:
This was a good match, it started off well with some good wrestling moves with nobody really dominating. I was surprised that Richards and Dreamer were eliminated first really, as it seemed that they were receiving a bit of a push in recent weeks, but it was good how they were eliminated from the match with the double team. The next part of the match was good too, again some good wrestling here, even with the heels vs. heels which can sometimes be hard to write. I like how you use their move sets fully too, like the double knee lift from Domino, jumping heel kick from Deuce, flying forearm from Kendrick etc. Deuce and Domino being eliminated next was expected, but I liked how you did it with the Cyclone DDT. I would maybe of liked London to get the pinfall though considering Kendrick also got the pinfall later on, but that doesn't really matter. The next part of the match was the best with just two teams left in it. It was really well written and exciting, I think you could write a really good regular tag match between these two teams. When Murdoch went for the sunset flip powerbomb, (I'm assuming it's the Canadian destroyer), I thought it might be over but the reverse was good, this is where the match got really exciting. There was lot's of great action with lot of near falls in this last part and it was great. I loved the lariat spot with Kendrick doing a 360, for some reason I found it funny, I can just imagine that happening in real life. The hooligans came back after this but I wasn't expecting them to win at all, I was expecting C+M to get a quick pin at the end, but it didn't happen! It was a good ending with the superkick and the sliced bread, and good night nurse! I think London could of gone to the top and finished Cade off just to make the ending even more great, but it was great as it was. I really wasn't expecting London and Kendrick to get the win, but I'm glad they did. It will be great to see them holding the titles on Raw. Great match and a great way to start the show.

Steph/Shane backstage:
First of all I like how you have brought Shane and Steph into this storyline, I like having the two involved in the WWE. I think they add a bit more drama to the Vince/HHH feud too. This was a good little segment, I was surprised that Shane found out who his brother is just like that though with no real shock. So it looks like Steph, HHH and Shane know now, I want to know who it is now! Shane said 'it certainly makes sense' so it can't be that much of a shock. Maybe Mr Kennedy? I think it would work, I think it worked in my BTB too, but I think you might be planning for someone else to be the son.

Looks like Bobby Lashley is coming back. That should be good, as long as he doesn't get the title I don't mind. I wouldn't mind seeing him return as a heel.

Six man Tag Team Match:
Damn you Nige for making a U.K stable with these three! Lol. I was planning to bring these three up to Smackdown as a stable along with Dave Taylor, but you beat me to it so I had to change my plans! Oh well, I am liking this team of Brits in your BTB and hopefully they will do well. I like how it started with Haas and Birchill, there was some good wrestling here. I don't really know how Birchill wrestles in his current gimmick, whether he's technical or another style, but the move set in this match seemed to suit him. I liked the little Masters/Smith part in the match too but I was waiting for Shelton to get involved, once he did it started to pick up. I liked the reverse of the Stinger splash from Smith, Smith was doing well after this, I liked how he used the Sit-down powerbomb and brainbuster too. Smith is looking strong in this match. The match again picked up when Drew McIntyre was tagged in, there was some good writing in this last part. Haas nearly getting the win with the roll up was a nice little part, I thought he might of sneaked the win with that but that wasn't the case. The ending was great, a typical heel victory really with Shelton getting involved when he wasn't legal. I was actually expecting the young Brits to get the upset, oh well, the WGTT and Masters are looking strong now. It will be interesting to see what you do with these two teams now. I liked Haas and Benjamin with MVP and I like them as Tag champions, so I think you are booking them well at the moment. This was a decent match.

Womens Title Match:
This match was an exciting match, which is good for a Womens title match. Having Victoria and Beth Phoenix in the same match is great and I hope we see them one-on-one soon. The early stages was well written with each of them controlling at one point, you again used the move sets perfectly with all the hitting their regular moves. I loved the 'on her knees in front of them' line, that made me chuckle! The rest of the match was good and enjoyable to read, especially the action between Mickie and Victoria. The ending was great with lots of near falls, I was expecting Phoenix to pick up the win, which she did but she did it in a typical heel fashion, which was great. It would really come off well on TV too. So Phoenix takes the advantage and gets the win. This was a enjoyable match Nige, just around the right length for a Womens match too IMO.

Edge/Regal:
Good, short little segment here. I am glad that The Miz and Morrison won't spoil the main event now.

Triple H Interview:
This was a brilliant interview, you really captured Triple H's character well, which is a hard thing to do in my opinion when he's a face. I loved how aggressive he was, yet he still came out with little jokes. The screwing line was funny. This added a lot of hype for the match later.

Cruiserweight Title Match:
This was an excellent match to read, very entertaining. I like the format of the match with the sole survivor taking the title and face vs. heels. The match started off well with some good wrestling between Chavo and Jeter. It is good to see Jeter in this match, as he is a great talent. The little battle between Jeter and Striker was good too. The first elimination came quick but it was a good way to eliminate Striker with the SSP from Sydal. I don't really know this Sydal, but he seems like an exciting talent. The rest of the match was brilliant, lots of great cruiserweight-style moves and some good eliminations. I was hoping that Noble would get the win so I was disappointed that he didn't win. As the match went on it looked more and more like you were going to give the win to Sydal, which would have been one hell of a PPV debut for him. After Yang was eliminated we got a great little fight between Dykstra and Sydal, I though you wrote it well. I was shocked at Dykstra winning the title as there didn't seem to be any build up or any focus on him before the match really,I was expecting it to be one of the new guys or maybe Chavo. Dykstra as CW champ should be interesting.

Shane/Vince backstage:
Another good little intense segment here. It looks like Vince is on his own now until his son is revealed. It looks like you are going with Mr Kennedy after all after that little stare after Vince left.

Intercontinental Championship Match:
Another great match here, one of the best of the show. It again started well with Marrella, Punk, Cody and Burke all getting a little action. Rhodes got eliminated quite quickly by Burke, but I suppose he isn't ready to win the title yet so it was probably the right decision. After the first elimination there was some good wrestling, mostly including Jeff and it started to get more exciting. Marrella's elimination probably came at the right time, but I thought that you might have had Marrella win the title so I was a little surprised. Punk giving him the GTS was good, he and Burke are looking strong now after eliminating the first two. The next bit of action was good between Punk and Carlito, it was well written and exciting. I was expecting Carlito to be the next one eliminated, which he was, but having the champion eliminate him means that he will not lose his credibility, especially as it was a roll up. The last part of the match was no doubt the most exciting part between Jeff Hardy and Elijah Burke. Lots of near falls and many signature moves made it very exciting, it was very well written too. I was really hoping that Burke would win the title, but it wasn't to be. I was happy that it took a lot to pin Burke for the three though. When Jeff Hardy got the win I was surprised really, I was really expecting a new champion. I'm not really that much of a fan of Hardy, but I don't mind him as champ, the way he won was expected, a good clean finish with his finishing manoeuvres. After the match was the huge turn of Punk, and I love it! A great way for Punk to turn heel and I doubt anyone was expecting it, nailing him with the GTS was a great way for him to make a statement. I think that Punk will go on to take the title from Hardy later on, and I bet it'll be one hell of a match. If you write a I.C title match between the two in the future please write it in full, I think it would be an awesome match. Punk as a heel should be very interesting, hopefully you'll have him cut a great promo to gain heat on Raw. I have seen him as a heel before his WWE days and he is great, he can cut a great heel promo. This feud is going to be great, good match, good twist, and good job.

Batista attacked:
This was OK really, I suppose it makes people think that Batista won't be up to retaining his title due to the beating. It was quite realistic TBH, something that Edge would do IRL.

HHH vs. Mr. McMahon:
I like how it started, very realistic heel tactics from Vince, if you just started with them going at it then HHH would have finished it very quickly. I like how you kept it realistic in the early stages with Triple H dominating. Vince had to have some offence in this match for it to be a good match, and he was always going to gain control through a dirty move or a lucky move, which he did. Having HHH run into the steel was a good way for Vince to start controlling. What you did from then on was great, having Vince stay in control by using weapons and dirty tactics. However, it was never going to last, HHH coming back and gaining control was good. I liked how you had HHH let go of the cover too, showing everybody that he could beat him easily there and then. HHH brining out the sledgehammer was expected, you added a nice little twist with Vince hitting the low blow but HHH quickly regained control, hitting him with the sledgehammer and the pedigree for the win. I think the match was the perfect length too, not to long for it to be unrealistic considering Vince's age. It'll be interesting to see the fall out to this match. Before the match I was hoping that this son of Mr. McMahon would come out and help his Dad, I think that would have been a great twist. However, when I saw it was match 6 I knew it would not happen really. It'll be interesting to see the fallout of this match and it'll be interesting to see what Stephanie will think of what happened.

HBK Interview:
This was a decent interview, just a normal pre-match interview really. You captured his character well though as it's quite hard when he's a face IMO. I'm not sure about him hitting Matthews with the SCM though, but I suppose it's something that HBK would do.

Edge vs. Batista vs. Umaga:
This was another exciting match. I am not really a fan of Batista but he can put on some good matches just like this one, Edge is always exciting and Umaga can put on some good matches too. The match was great, you used their movesets to the full and it flowed very well. I think there could have been a bit more one-on-one action though like triple threats IRL, when a superstar is destroyed and a superstar isolates the other, but that doesn't really matter as it made an exciting match. There was lots of near falls and every competitor got their chance to control which was good. The ending was good but I was shocked when it happened, I really did not expect you to have Batista retain the title, I was sure that Edge would get the win. I think Edge deserves the title more and would make a better champion, but I'm sure you have your reasons. I can see another match between Edge and Batista at the next PPV though which would be good, it'd be interesting to see if Batista would retain the belt one-on-one against Edge.

Main Event:
This was a fantastic match, no doubt the match of the night in my opinion so you were right to make it the main event. It started with the two team captains which was good, HBK taking the early advantage was the right decision really. Some good action followed and it really stepped up when Taker came in. Finlay eliminated first was expected really considering who is on his team, and he doesn't lose any credibility either since he was beaten by Taker. I was expecting the heel team to gain the advantage with an elimination first though. Hardy eliminated MVP next which I was again a little surprised about, I was hoping he would put in a bit more fight, the face team have the advantage now. But shortly after Kennedy eliminates Hardy after a bit of cheating, I think this was a great decision as it keeps the Hardy/MVP feud going too. Again, there was some good action now. The next two eliminations were great too, very creative, well done for thinking of it. Kennedy getting DQ'd keeps his rep up and Y2J being eliminated after a chair shot keeps his up too. I can just see Orton sneaking a pinfall like that too, very realistic. The next part of the match with Taker vs. Orton was great, very well written and entertaining. The two can really work with each other. Having The Undertaker kick out of the RKO was great, I really wasn't expecting it and it shows The Undertaker's strength. I liked how Orton eliminated The Undertaker next with the RKO on the chair, again very realistic and creative. It was going to take a dirty tactic to eliminate The Undertaker. This last part of the match with the battle between Orton and HBK was no doubt the best part of the match, lots of good moves and action made it exciting. I liked HBK locking in the Sharpshooter, pulling out all the stops and I though that might have been it, but Orton managed to keep going. The ending was exciting, HBK never hits the SCM the first time so that was expected, but I was expecting HBK to hit it out of nowhere, but Orton won! I was really shocked at that, I really thought that HBK would win and go on to face Orton for the title. Anyway, it was a fantastic match and a great ending.

Overall:
I thought this was a fantastic PPV Nige, the matches were excellent and the backstage promos were too. The great thing about the show was that it was so hard to predict beforehand, I had no idea who would win most of the matches, and that made it great. There were many shocks too, that MOTN would be the main event for me. Good work Nige, it was a great Show. Keep it up!
Re: WWE: A Strong Response
---
Nige, I know it is taking me a while to get your review up, I am now on the Street Fight Match
---
------------------------------
WATP
Moron
Join Date: Nov 2007
Location: England
Posts: 8,966
Points: 0
Re: WWE: A Strong Response
---
Nige's Survivor Series Review
Sorry about the slight delay posting this review, Nige, but at least I've got it up now.
Paul London & Brian Kendrick def. Stevie Richards & Tommy Dreamer, Lance Cade & Trevor Murdoch and Deuce n' Domino
An outstanding match to start the PPV, like others I too was very surprised that the first team to be eliminated was Richards and Dreamer. I was also surprised that London and Kendrick won the match, as I believed that Cade and Murdoch would win. Never mind about my predictions though, a great way to begin the show, and will set the standard for the other matches to follow.
Shane McMahon - Stephanie McMahon promo
This was a good promo, and not letting the Triple H/Vince McMahon feud be forgotten. I was generally surprised that Stephanie told Shane who the son was, as this was only the second event that happened at the PPV. Some good dialogue used by both as always.
Lashley return promo
Good to see that Lashley's coming back, and it'll be interesting to see what you can do with him. Will he be a face? Will he be a heel? Will be go for the title, regardless of whether he's face or heel? We don't know, but obviously you do.
Six-Man Tag Team match
It's great to see that you have a UK Stable, Nige, and this is the best way to use Smith, Birchall and McIntyre in my opinion. A good match in all aspects, and I was startled to see that World's Greatest Tag Team and Masters won the match, I thought the U.K Pack were gonna do it. Nevermind.
Raw 15th Anniversary promo
It's good that you're hyping the event, and hopefully your 15th Anniversary show will be better than the one the real WWE produced, which I'm sure it will.
Beth Phoenix def. Mickie James and Victoria
Damn, I though Victoria was gonna win! I really need to work on my predictions! Anyway, this was a great match judging by diva match standards, a whole lot better than a normal diva match. Phoenix wins, which is fine, but not for my predictions though.
William Regal - Edge promo
A good promo you've written here, and interesting that Edge will be disqualified if Miz and Morrison interfere, so the triple threat title match looks to be a good old wrestling bout. A humorous ending to the promo with what Regal said.
Triple H interview
Some strong words used from Triple H in this interview, which is just the right thing to do with him leading up to his match. The street fight looks to be brilliant.
Cruiserweight Championship match
This was a phenomenal match, Nige, the best of the night so far. Lots of high-flying action, which is obviously what the cruiserweight division needs.But most importantly, my prediction for the outcome of the match was true! Woohoo! Good to see Dykstra win the match, and it will be interesting to see how this big cruiserweight feud will continue after this match.
McMahons promo
A good promo written here, Regal's line "Certainly sir, which one?" was hysterical. A vintage McMahon promo, and interesting to see Shane's decision.
Intercontinental Championship match
Yet another top class match, Nige! Great to see Hardy win, although I predicted a win for CM Punk. Speaking of Punk, I was astonished to see the aftermath of this match. Punk turning heel will be entertaining, and it will be interesting to see where he goes from here.
Batista attacked
A very interesting promo here, although I was surprised that Orton was involved in this, as he has nothing whatsoever to do with the World Title feud, and he's strongly involved in another big feud of his own. Also very eye-catching that Batista was attacked, although as soon as I saw this happen, I knew Batista would put on a superhero act and retain the title.
Triple H def. Vince McMahon
Another great match, McMahon's dirty tactics really blended in with his character, which is very clever by you, Nige. I thought Triple H would be screwed by someone from the back, and Vince would win the match, but I was proved wrong again. Triple H lifting up McMahon's shoulder indicated that he was gonna win this match, and he did.
Shawn Michaels interview
A good, realistic interview by HBK, fitted his character well. Building more hype for the big match, which is good. Still surprised at how you used Orton though, having him involved in the World Title feud minorly.
World Heavyweight Championship match
And Batista wins! Realistic as he was attacked earlier, and he put on a superhero act, similar to Cena's character in reality. I was expecting an Edge victory before I saw the Batista-Orton promo, but obviously the Rated R Superstar didn't prevail. An outstanding match, some good moves used.
Main Event
It is now time for our mainnnnnnnnnn eventttt!!!! It's finally here. You've put a lot of build up into this match, which is great. Team Orton prevailing is good, not a typical face team win. Orton once again the sole survivor in the match, proving why he's the WWE Champion. A nice, long match with a lot of action involved, the best way possible to cap off a memorable Pay-Per-View.
Overall
It was only your second PPV, and what a PPV it was! Tons of build-up, and you proved exactly why. Now that Survivor Series has come and gone, it will be interesting to see what happens in the coming weeks. Nothing at all that you need to work on, you are among the elite in BTB writers!
Rating
10/10
Re: WWE: A Strong Response
---
Just thought I'd let you know man, Survivor Series looks great, and I'm hoping I can get my review up by the end of the weekend.
---
THERE IS ONLY ONE DIAMOND IN THE BUSINESS AND HIS NAME IS TITUS O'NEIL
Re: WWE: A Strong Response
---
Thaks for all the reviews guys, i appreciate it very much - me love you long time!
Anyways, some news
Quote:
Originally Posted by PWInsider.com
The WWE have today released The Highlanders, Balls Mahoney and Nunzio from their contracts.
Details have not been posted as of yet on WWE.com, but the releases have been confirmed.
Also, a poster for the upcoming Saturday Night's Main Event has been released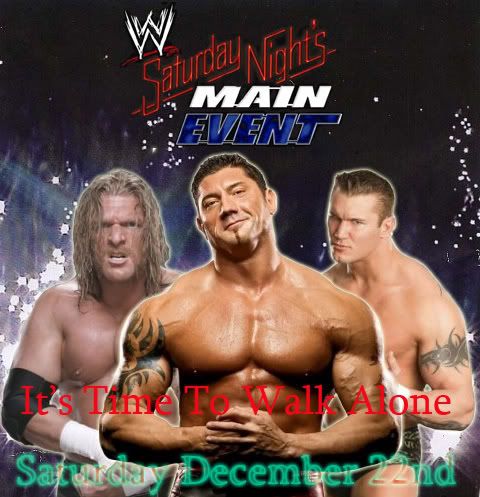 ---
Last edited by Nige™; 01-18-2008 at

12:38 PM

.
Moron
Join Date: Nov 2007
Location: England
Posts: 8,966
Points: 0
Re: WWE: A Strong Response
---
That PPV poster looks interesting, Batista, Triple H, and Orton are on the front, so I have a minor suspicion that you could do something with Evolution. I'm not certain though.
Re: WWE: A Strong Response
---
Jamie1 Presents Nige with a Survivor Series review



As you will already probably know Nige I am new to this Forum so have not been able to see your shows and all the build up to this card but I do want to say the card looks absolute brilliant, I looked over some parts of Raw and Smackdown, I really only read the last promo and last match as I feel that is usually when most things happen and what I did pick up on was the Stephanie McMahon, Triple H and Mr McMahon angle you are currently carrying and I got to say you are really making it entertaining so far, Stephanie and Triple H husband and wife was obvious to all and if you watched the WWE or WWF as it was called then around late 1999 you would know about this but you have decided to bring this into your BTB and I believe it is a very good idea. Anyway I will now begin to review the show


OK the opening credits with the narrator was good if you are going for the true Survivor sort of thing and really trying to show what this pay-per-view is all about but I would have prepared to see more on the matches, I know the videos showed the rivalry of all the matches but I believe the narrator should have something to say about at least Mr McMahon and Triple H, the huge street fight match but anyway your choice and at the end of the day it does not matter


The tag team championship I felt was a good match to open the show like DH6 above said especially due to the fact that we have two of the best athletes in the match knowing as London and Kendrick, OK the match started with Lance Cade and Stevie Richards, unlike the last reviewer I was not surprised that you only had two men in at the start as it is a tag team match, Anyway Richards showed a little bit of dominance to begin with before Cade got the upper hand, I liked the way Cade tagged in Deuce instead of his own partner as that is what usually happens and it was good to see, I felt throughout the whole of the match Deuce was rather dominant when he was in the ring and I was glad to see this, I was thinking Deuce and Domino had a good chance of winning which I would not have minded, anyway Dreamer finally got the upper hand over Deuce and tagged in his partner Dreamer, I was glad to see their was a pop for Dreamer, Dreamer did start well when he came into the match but soon Deuce got better, I feel you made Dreamer look a little weak at this point, Anyway first team to go out was Dreamer and Stevie Richards which really did not surprise me, are they on the Smackdown or Raw roster now? Anyway I think it is better keeping the Extremists away from the tag titles, Moving on London finally gets into the ring, thank you Murdoch, London going for a huge move before he has even stepped in the ring was typical of London and I was glad to see this, him not connecting was maybe a good thing as It kept Deuce and Domino in the match a little longer, Deuce and Dominos elimination was obvious to me unless you pulled plain stupidity and put out the two best talents London and Kendrick but I knew you would not do this, I loved the way Deuce and Domino got put out, great teamwork showing, the match went on and it was down to the champions and the challengers, to be honest Nige I skipped a couple of small paragraphs when it was down to the last two tag teams just so I could read the last two small paragraphs, anyway London and Kendrick got the win, you don't how happy I was to see this, now a little credibility in the tag titles again, Good way to kick of the pay-per-view and it makes me want to keep on reading



Shane and Stephanie McMahon promo was just brilliant, their were no faults in this promo and that is a surprise coming from me, I usually find something but I could not in this one, Nige you got the character of these two to the best you could, I really do mean that, the realism was very good as I could picture these two talking to each other like this, Stephanie on the phone to Linda, I am actually sitting picturing it, this was just brilliant and what a way to keep me and all the other bookers interested, who is Mr McMahon's son, I do not have a clue but I am sure will find out, hopefully by the end of this show but I doubt it, I am sure you will keep this going for a little longer, another question I ask myself is Shane going to keep the secret or will he screw Stephanie and Triple H, will Shane end up siding with his dad, we seen at Wrestlemania 21, well I am sure it was that when Stephanie backed up her dad over Shane, will Shane now back up his dad over Stephanie, this could get interesting


OK the next match another tag team match, I am not sure no well I am actually it is Survivor Series LOL, OK Nige I did not have enough time to read all of this match so I very quickly skimmed threw it and really only read the last two paragraphs, The Worlds Greatest Tag Team and Masters picking up the win was good, I am really sorry Nige I just cannot think of anything else to say on this match


The Women's Championship match I did read, I wasn't not going to read it fully as I don't think women wrestling is up to much, anyway this match was actually very entertaining and the flow of the match was very good, Beth Phoenix dominating for most of the match kept on powerful and no messing with me look with her, before the match started I thought Mickie may have won this match but as the match gradually went on I knew this was not going to be the case, I then thought it was going to be Victoria getting the win and my thought were made clear when I was just waiting to read. 1.2.3 over Mickie but this was not to happen, Beth coming into the ring and tossing Victoria out the ring and then getting the pin was really great and good to read, maybe Beth retaining the title Is a good idea


William Regal and Edge promo was realistic I felt and a good way to make sure the match later tonight runs smoothly instead of interference ruining the damn match


Triple H interview was great and really helped build up this absolute amazing feud you are building, Triple H sentence at the end was brilliant, Since Step screwed you she has been screwing me ever since, brilliant and a real good promo


The Cruiserweight match was a real excellent match to read and I honestly mean that Nige, once again their really isn't any faults on my part, you had the match length and everything brilliant, So onto the match, like I have said in the last match I was not going to read all of this but I decided to it, its cruiserweights for crying out loud, Anyway first person to get eliminated Matt Striker, do I agree, yes and no, I think Striker is better than the Cruiserweight division not because he has amazing talent just because I think he should be managing a big heel superstar, So him out was OK for me, I am going to work on the eliminations first, Jeter out next, I like him and thought he may get a little further in this match to be honest but I see he isn't, Chavo pinning him was the right guy as Chavo I feel is the strongest man in this match, Next person eliminated Chavo, no! no! no!, how could you eliminate Chavo, he plays the cruiserweight champion role so good, you should have at least kept him in for a little longer, the fourth person eliminated is bad and really weakens Chavo in my opinion, anyway moving on the next person eliminated was Jamie Noble, the next superstar I expected to win after Chavo went out, I think Chavo and Noble should at least of been in the last three superstars left in the match, one thing I do like is it is really making one of my favourites not for this match but in actual wrestling Jimmy Wang Yang look every so good, eliminating to former and arguably best Cruiserweights of all time Chavo and Noble, is he going to win it I wonder?, I see not as Dykstra eliminates him next, well at least you let Jimmy eliminate a few people and really show himself as the talented guy he truly is, Dykstra against Sydal, you look like you are really pushing this guy to be a top star which is not a bad thing as he is amazing, Dykstra getting the win by cheating was a great way to end what I personally have to call MOTN so far. I had so many changes in my mind who would win at first I was thinking right Chavo or Sydal because I was thinking a push for him, then I remembered Noble so I was really confused, when I read Yang really dominating in the match I thought he was going to get the win, the three men I didn't expect to win was Dykstra, Striker and Jeter and one of them did, this is a good thing though, a very good thing as it keeps me surprised!


Mr McMahon and Shane McMahon promo I felt was just another promo to add to the feud, I thought the promo was OK sometimes men drifted out of character but not to much, the bit I loved was when Mr McMahon left the room and Kennedy was their, Mr Kennedy Mr McMahon's Son, it has to be, I would think this with anyone else but it is you Nige, you like surprises


This match had me intrigued just with the rules but no offence Nige, it really disappointed me, I don't know why it just did, the match was entertaining for I suppose, Cody going out first was the right thing but then after that I felt the match got a little boring, I actually am not sure if I like Cody going out first as I would like to see him get a push, but then it just got worse for me Santino Marella getting eliminated, No why did you have to do this, Santino I thought had a chance of winning the title and him being eliminated before Carlito I felt was rather strange, Anyway moving on next out is Carlito and that was correct even though he should have been out before the Italian comedian, It was down to Elijah Burke, I would liked to have seen a little bit of arguments going on between Punk and Jeff Hardy and then Burke taking advantage of this, Now onto Elijah Burke getting pinned, I really could not see Hardy doing what he done, tag his partner in, its that bad or am I being honest, I just cant imagine him being like that, Jeff Hardy winning was alright, the end was rather good right enough, CM Punk turning heel, this could be excellent and I look forward to seeing what unfolds


Randy Orton and Batista promo was good, Orton being his cocky self and Batista telling him so, then The Miz and John Morrison, The Miz and John Morrison attacking Batista, The Miz….. And John Morrison attacking the Animal, well I don't think so but anyway Randy helping his old pal Edge was good to see, RatedRKO were the best


Triple H v Mr McMahon was probably the best match I have read so far in this Forum, OK I loved the way you started the match Nige, Mr McMahon running away from Triple H was something I liked to see, him then sneaking into the ring and stomping on the game was also good and very realistic, Triple H dominated the match in the early stages and that is what had to happen, Mr McMahon slowly got into the match and you done this so realistically, this is exactly what you see in every McMahon match, he Is getting beat badly and then he hits with a punch to the gut and then hits with a clothesline looking completely tired, Mr McMahon started to dominate using all the dirty tricks in the books, choking the hell out of Triple H and then he snapped. LOL, I loved this, you cant have a match with McMahon without him completely losing the plot, Anyway moving on Triple H got back into the match, hitting with the pedigree but then saying he is not finished, this was great, The game leaves the ring and gets the sledgehammer, Now at first I was wanting Triple H to take him down with the sledgehammer and then get the win but when McMahon got the hammer, I was praying he would knock the lights out of Triple H, imagine you made McMahon win, this would have been great and an ultimate surprise, Anyway Triple H ended up getting the win what was fine with me anyway. The only thing that disappointed me was Shane McMahon wasn't involved at all.


Shawn Michaels interview had a great ending even though it was just to build up the main event. Shawn Michaels sweet chin music to Josh Matthews was great


The World Heavyweight Championship Match was another great match, I didn't think it was better than McMahon and Triple H but I still thought it was really good, before the match I was expecting Edge to pick up the victory but I am glad you have decided to keep that championship on Batista, Sorry I didn't say a lot about this match, I just want to get on with the main event


There is no doubt in my mind that this was truly MOTN, I thought to myself nothing could beat the McMahon Triple H street fight but this certainly bet it and by far, OK even though Finlay is a good wrestler and always has been if we be truthful he was the weakest superstar in this match so for the first time Nige I agree with who you eliminated first, Undertaker eliminating him was also good to see, I would actually like to see a Finlay, Undertaker rivalry, OK the next person out is MVP, why! Why! Why! No only joking I was not happy with this at first but then when Matt Hardy got eliminated it did make it better as they two brawled up the ramp, Mr Kennedy eliminating Matt Hardy made him look strong in this match, Kennedy out next but what a way to go totally taking down Jericho with the steel chair, this was very good, him getting DQ was also good, Randy Orton taking full advantage was brilliant and got the 1.2.3 over Jericho. Next person eliminated was The Undertaker and it was Orton who done it, I love Randy Orton as a wrestler and I think he is really the best in the WWE, him eliminating The deadman made him look really strong which always has to be good, Now down to the two captains could it be any different way, Randy Orton getting the win after delivering the RKO was brilliant as well, Randys team picking up the win I love. Great match Nige to end a great show.


Overall: What a show Nige, What a show. I know I criticized a few little things but still this has got to be the best show I have read so far on this forum, Absolute brilliant and this stuck you out as a great booker. Congratulations
---
------------------------------
WATP
Re: WWE: A Strong Response
---
Paul London & Brian Kendrick def. Stevie Richards & Tommy
Nice way to start off the PPV. Surprising with Richards and Dreamer getting eliminated first, but it was unpredictable, nice job on that. I liked that you have Paul London and Brian Kendrick the win, i don't like Cade and Murdoch, so nice result for it. It was a good way to start off this pay per view, nice job
Shane McMahon, Stephanie McMahon promo
Nice promo you have here, some memories of the HHH/McMahon era. They both seemed in character and spoke well, nice promo.
Lashley's Return Promo
Im happy to see Lashleys return, i wonder if you will make him face or heel, hmmm? Hope you don't push him down our throats like Vince did, but im sure you won't. But can't wait to see how Lashley returns
Six Man Tag Team match
I liked this United Kingdom stable you have, i am hoping the WWE makes something like this. I wanted the UKK stable to win, but having WGTT and Masters winning isn't bad. Overall it was a good match.

Raw 15th Anniversary promo
Nice idea hyping up the 15th anniversary show, make yours better then the real WWE's. Im sure it will be. I can't wait to see this RAW, i will defiantly review that.

Beth Phoenix def. Mickie James and Victoria
Nice match with the Divas, it was a lot better then this garbage i see on RAW that the WWE calls a Diva Match. I wanted Victoria to win, because i thought she deserved it, but Beth is to strong i guess, nice pick though.
William Regal & Edge promo
Nice promo that you wrote. Its interesting that Edge will be DQ'ed if Miz and Morrsion interfere, hope the triple threat match is good. And i loled at the end of the promo with Regal
Triple H interview
Damn HHH using some words, i liked how you did it though, makes him look though for his street fight match that is going to happen. Nice interview
Cruiserweight Championship match
I liked this match a lot. A lot of high flying, cruiserweight action, i love cruiserweights. So far the favorite match of the night for me. Dykstra coming up with the win was good, nice idea. hope this fued lasts.
McMahons Promo
A nice promo that you wrote. You make Regal sound funny, i like that. Old school McMahon promo you got here.

Intercontinental Championship match
Another great match you got here. Some good action and moves went on in this match, i liked it. Nice to see Hardy getting the win, i also liked how you turned Punk heel after the match, i hope he makes a good heel, it was surprising actually.

Batista gets attacked
Promo with Batista getting attacked, interesting. Having Randy Orton come in wasn't that surprising because of the past these two have had but w/e. The promo was well written and caught my eye.
Triple H def. Vince McMahon
Nice match you got here, even though this has been done before, i think lol. But i liked how you gave McMahon those dirty tactics, its liked what he would do in the real WWE. Im surprised Vince didn't have someone else come in and help him get the win. I liked how HHH won though. Nice job

Shawn Michaels Interview
Another interview, but it was good, HBK seemed in character. Nice job building the hype for his big match. Can't wait to see the match!
World Heavyweight Championship match
Batista wins, seems realistic because he was attacked earlier on. I wanted Edge to get the win, but its cool with Batista. I liked this match, it had good action and moves. Hope this feud stays with them, looks like a good feud.

Main Event
Main Event time, nice job building this match up. Having Team Orton win was good, Nice job by making Orton look stronger by making him the only one to move on. Long match, but it was good, nice moves and action, it was a good main event, one of the best matches tonight. Good way to end the Pay Per View.

Overall
It was an amazing PPV. It was built up good and had amazing matches. Hope some of the feuds move on. I liked this PPV a lot, i hope you write more PPV's like this. This PPV proves why you are one of the best BTB writers around. So overall, it was a good PPV, hope to see more of you.
Review for Review, please
Regularly Beating Up James Ellsworth
Join Date: Dec 2006
Location: Boston, MA
Posts: 3,160
Points: 1,221
Re: WWE: A Strong Response
---
Heyman Deciple's Survivor Series Review



World Tag Team Title Elimination Match: This was a very good match and a great way to lead off the pay per view. I was glad to see Brian Kendrick & Paul London walk out as the new World Tag Team champions.

Shane McMahon – Stephanie McMahon: I liked this segment, as it had some good interaction between Shane and Stephanie and does a good job of building interest in the Street fight match later, which I am really looking forward to.

Burchill, McIntyre, & Smith vs. Benjamin, Haas, & Masters: A lot of good young talent in this match and Chris Masters too. This was a damn good 6 man match with Benjamin, Haas, & Masters getting the win. Which I thought was the right decision. By the way JBL calling Cole a moron and treating him as such gets high marks from me. Good stuff.

Mickie James vs. Victoria vs. Beth Phoenix: This was a very good Divas match as all three women can really go in the ring and I enjoyed the ending with it looking like Victoria was about to pick up the win after hitting the widows peak and then Beth throws her out of the ring and steals the pin on Mickie James. Good booking.

William Regal – Edge: Solid segment here with Regal telling Edge that Morrison and Miz would not be allowed at ringside.

Triple H Interview: Nice interview here with Triple H as he talked about his upcoming street fight with Vince, the family conflict, and some of the past history between him and Vince.

Cruiserweight Title Elimination match: I liked the idea of putting titles on the line in the elimination matches that was pretty original. This was an exciting match with Kenny getting the win, in the end I was rooting for Matt Sydal but still it was a good match and a good win for Kenny.

Vince McMahon – Shane McMahon: Another good segment building up to the street fight with Vince confronting Shane and Shane standing up to his father and then we see Mr. Kennedy for some possible foreshadowing? I liked it.

Intercontinental Title Elimination match: This was a great match with Jeff Hardy ultimately retaining his title. I was hoping to see CM Punk walk out with the Intercontinental title but what happened after the match with Punk hitting Hardy with the GTS was absolutely awesome. I really enjoyed Punk turning heel here. To me CM Punk is one of those wrestlers like Ric Flair or Shawn Michaels you like them when they're good guys but you like them even better when they're bad guys. So I'm really looking forward to seeing where this Punk heel turn goes. Good stuff.

Randy Orton – Batista: I enjoyed this segment as Batista and Orton were having a good confrontation bringing up their past history and then Batista is attacked by Morrison and the Miz as Edge looks on and then Edge and Orton exchange pleasantries. Good segment.

Triple H vs. Vince McMahon: I felt this was a great street fight. This match was really a lot of fun to read. I really thought Vince was going to somehow pull out the win, maybe with a Shane double cross or a Kennedy run in but this was good with Triple H getting the win and then the little moment at the end with Triple H and Stephanie was good too.

Shawn Michaels Interview: Solid interview here with Shawn, I particularly liked Shawn hitting Josh with the super kick because I did not see that coming at all.

Batista vs. Edge vs. Umaga: Good Match and a nice win for Batista. I really thought Edge was going to win or maybe even Umaga, I really didn't expect Batista to walk out with the title but I'm glad he did, as it kept things unpredictable. This was a great match.

Team HBK vs. Team Orton: It was a good choice putting this match on last, I've really been looking forward to this one as I am a fan of just about everybody in this match. Finlay was the first man eliminated which surprised me at first but after I thought about it, with the level of talent in the ring it makes sense. Next was MVP which made me sad because well MVP rules, then Matt Hardy. Kennedy was the next eliminated by disqualification, which surprised me but I liked it because at least Kennedy didn't have to take a pin fall defeat or anything and it keeps Kennedy looking strong, which I like. Next Jericho was eliminated and then the Undertaker. Shawn and Orton were the final two and in the end Randy Orton pulled out the victory for his team, which works for me.

This was a really good pay per view, I give it a 9 out of 10.
---
Not currently watching WWE... I refuse to continue to be part of the problem by supporting something I do not enjoy.
To get my PROFESSIONAL WRESTLING fix, I am currently spending my money on independent wrestling and listening to the following podcasts:
Solomonster Sounds Off
Wrestling Soup
Don Tony & Kevin Castle
Posting Rules

You may not post new threads

You may not post replies

You may not post attachments

You may not edit your posts

---

HTML code is Off

---